Last updated on October 22nd, 2023 at 12:04 pm
Yarrow is a wonderful disc shaped flower that can be used in both fresh and dried forms. Learn how to dry yarrow, and preserve these romantic blooms for use in dried flower arrangements and other everlasting projects.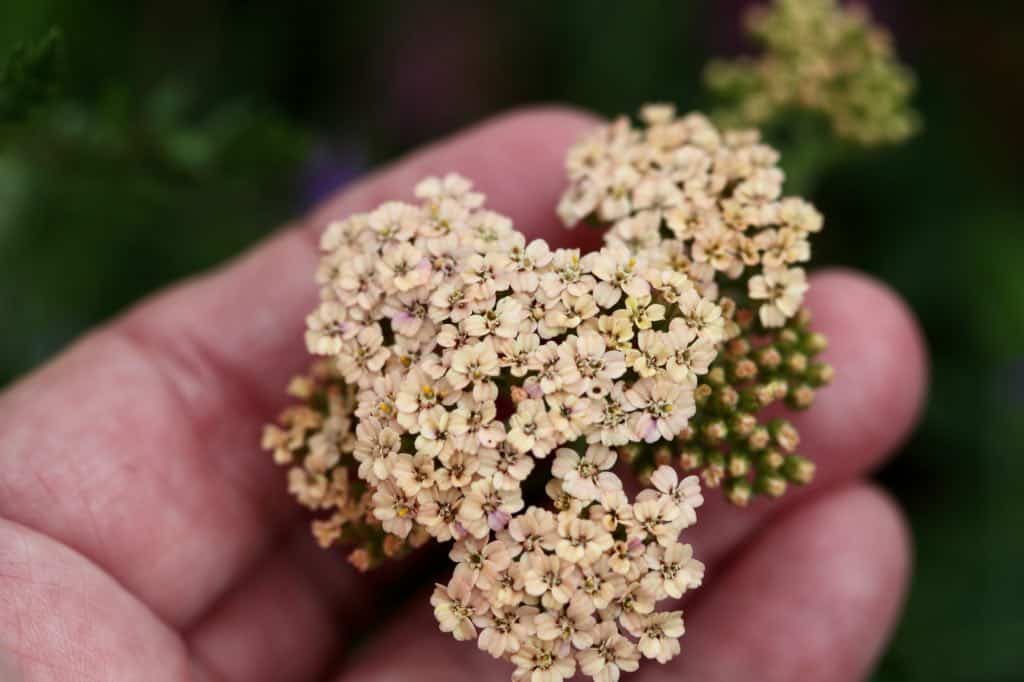 Naturally dried everlasting flowers are absolutely beautiful in bouquets.
We grow many types of flowers that can be used to display in both their fresh and dried forms. Many cut flowers can also be dried and preserved, and used as everlastings.
Yarrow is no exception, and is the perfect flower to use in both fresh and dried flower bouquets.
We grow lots of yarrow at the flower farm. It is a wonderful multifunctional flower and herb.
There is something wild looking about the yarrow flower. In fact, most people will recognize this flower as a common wild flower or herb, growing in the garden, and sometimes even in the lawn.
It is known to grow with abandon in sunny open fields, as it prefers a full sun location.
Yarrow Is Much More Than A Cut Flower
Also known as Achillea millefolium, yarrow is a common perennial plant that can be found all over the world.
It is a wonderful cut flower, both in the fresh form and the dried.
Yarrow has a beautiful flower which comes in a number of different varieties and colors.
The plant is also frequently used and valued for it's herbal properties.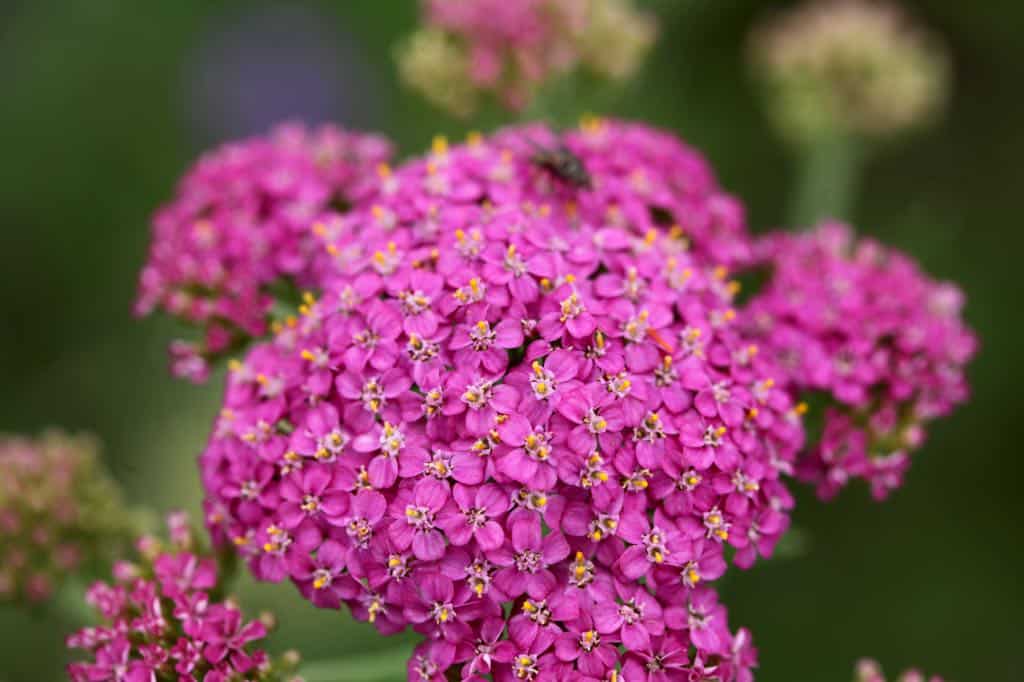 Wild Yarrow
I love to harvest and dry wild yarrow for herbal tea.
The flowers and leaves can be dried in the dehydrator, and used throughout the year. The tea has a calming and sweet taste, and the dried leaves and flowers have a pleasant and familiar fragrance.
The tea tastes just like the leaves smell, after you have stripped them from the stem.
The wild version of yarrow grows all around the farm in early summer. It is typically white with a very faint pink tinge, and the bees and pollinators absolutely love it.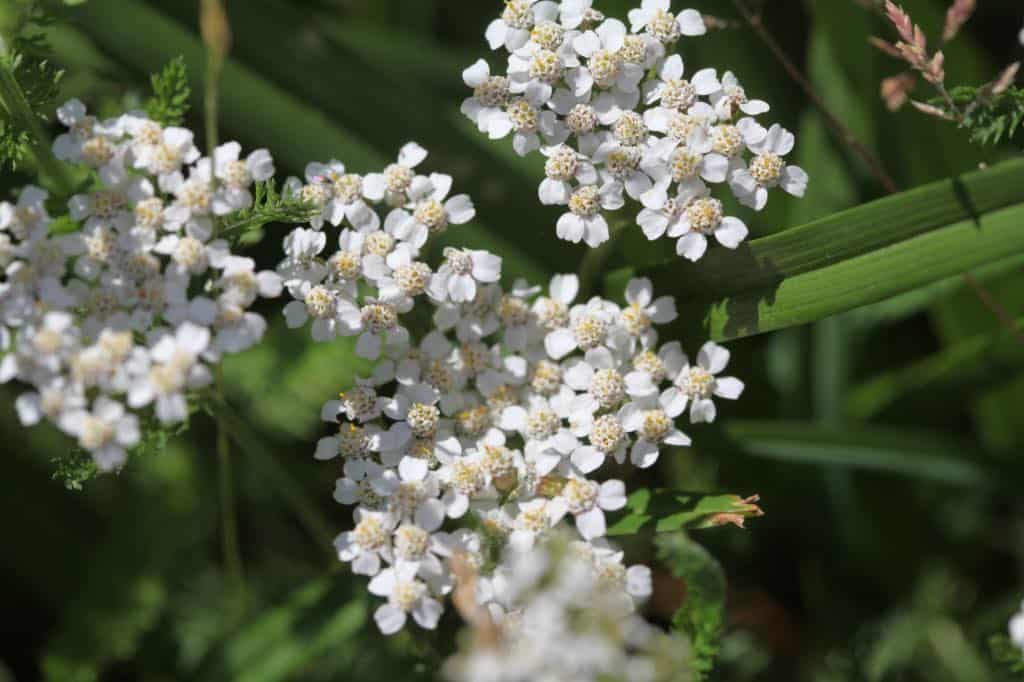 It is generally smaller and dainty with more delicate flowers and leaves than the hybrid cultivars grown for cut flowers. Yet it is just as beautiful, in my opinion.
Wild yarrow grows by self seeding, and as well as by the spread of the plant via underground rhizomes.
You can forage for the wild yarrow flowers, and besides using them in tea, can also use them for cut flowers in the fresh or dried form.
You can also grow wild yarrow in your garden by transplanting a few, that is, if they are not there already.
These plants are more than meets the eye, and have a special place in many gardens.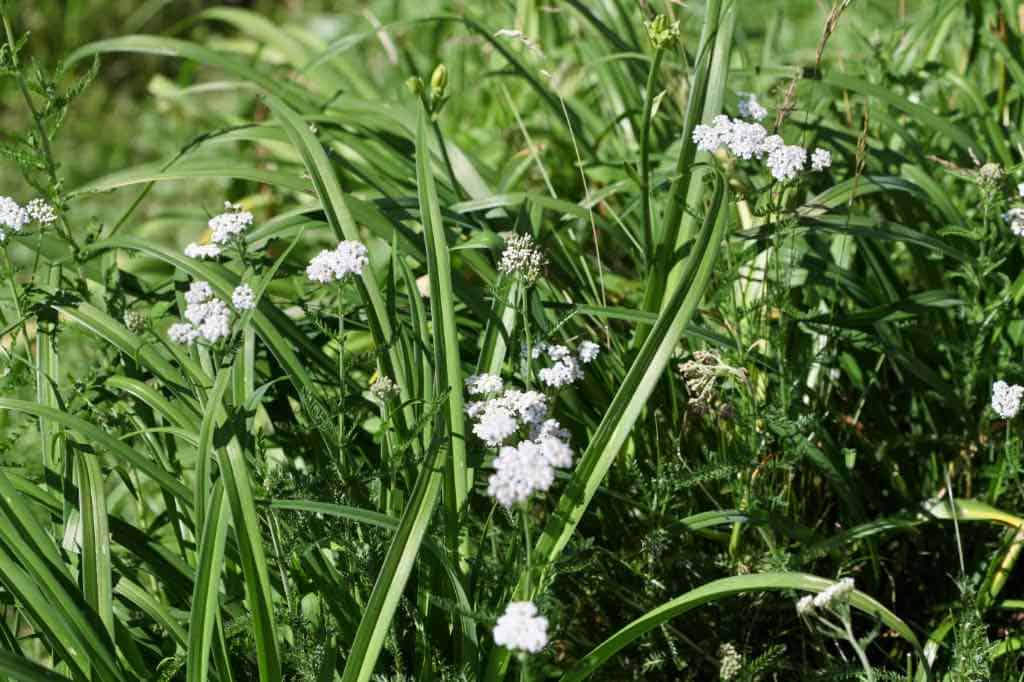 Yarrow Hybrids
Many of the yarrow cultivars grown for cut flowers are hybrids grown from seed.
These varieties also self seed, and as well as grow via underground rhizomes. They tend not to be as hardy as their wild cousins, and are a short lived perennial in our zone 5b location.
We use several of the cut flower varieties in our garden.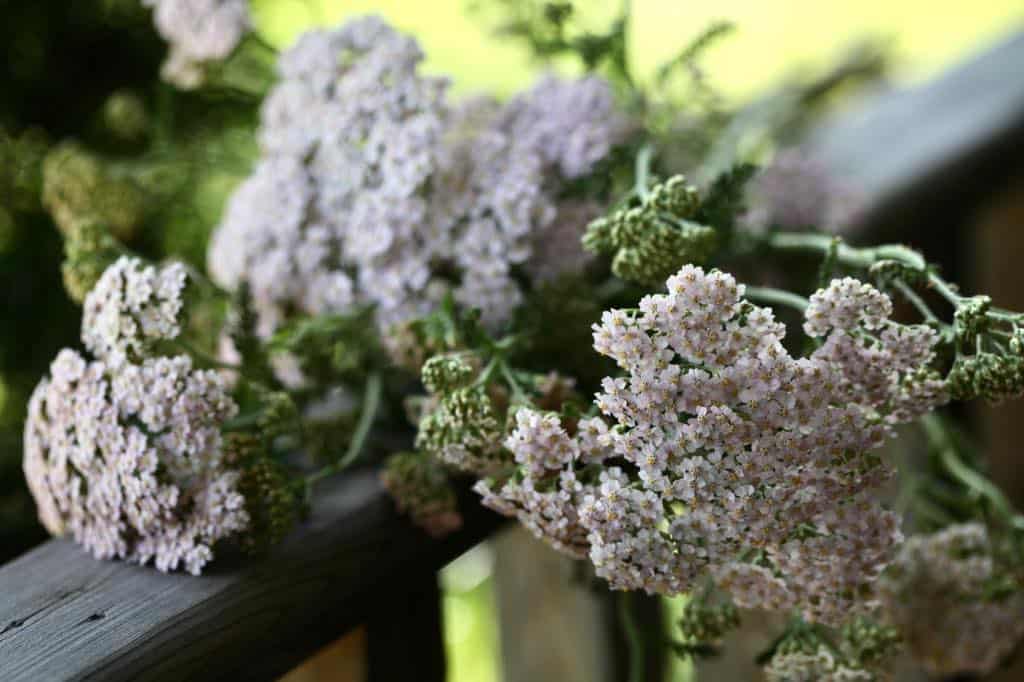 One variety is called Colorado mix. This variety has a lot of beautiful colours in the mix, such as apricot, antique beige, and yellow pale. It has larger sturdier stems and larger disc shaped blooms than it's wild flower counterpart.
This variety is fabulous for drying.
Another variety we have grown is Summer Berries. This variety has more jewel tones, such as raspberry and rose, and these large flowers are also great for drying.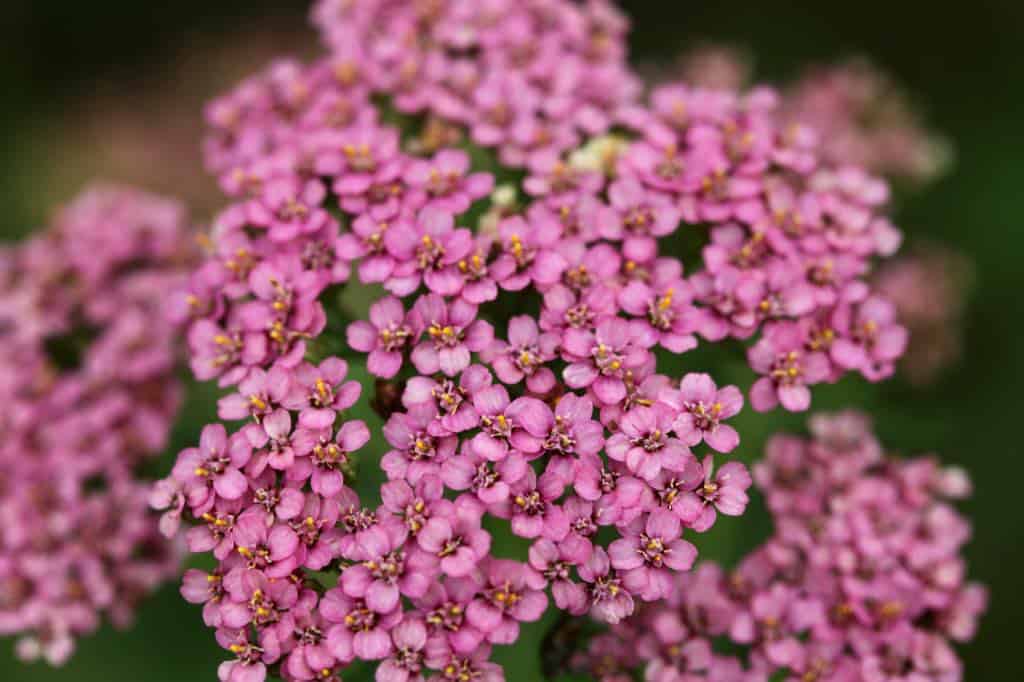 Is Yarrow A Good Dried Flower?
Yarrow are most definitely good flowers for drying.
Yarrow flowers dry very well, and look great as everlasting blooms.
The dried flowers also smell great and have a lovely herbal fragrance.
Yellow yarrow or golden yarrow dries to be a nice bright yellow color. White yarrow dries with a lovely clear white bloom.
The brighter pink flowers become more muted as they dry, and often dry to a more dusty rose coloration.
Flowers are best picked at maturity, when they are in peak bloom, for the best color.
Choose a bright color if possible, as the flowers tend to fade as they mature and dry.
It is especially important to pick the flower at peak bloom for drying.
You will have best results if drying from fresh flowers at their peak, rather than drying stems from a cut flower bouquet, which may have aged for several days after being cut.
Yarrow flowers have long stems, and the disc shaped blooms remain full, and flat, even after drying.
They add an attractive element of texture and shape to dried flower arrangements.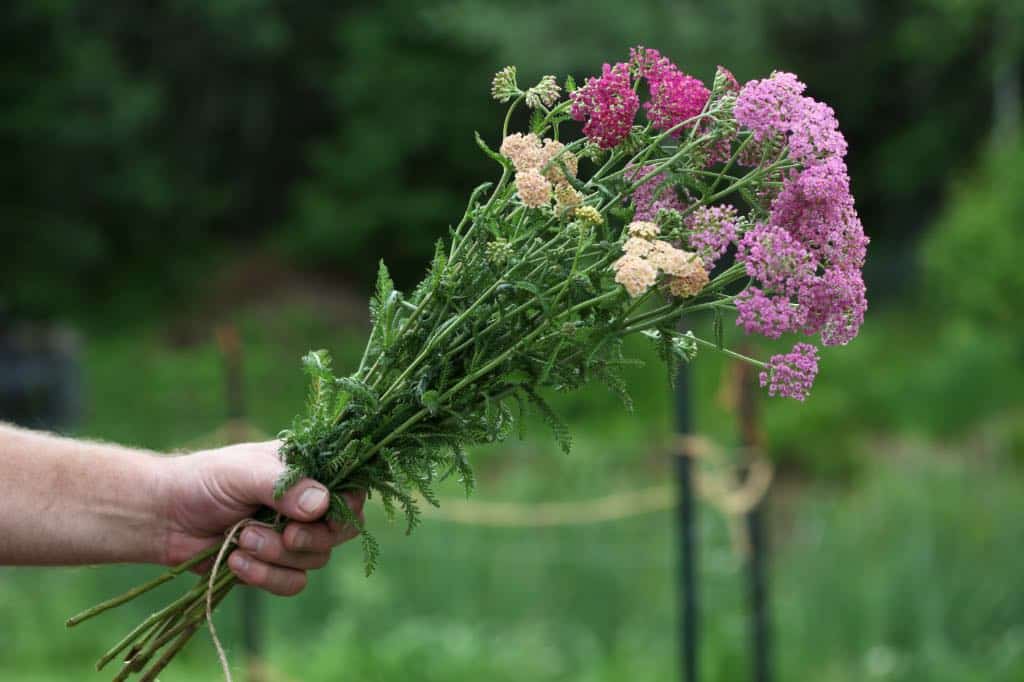 Harvesting Yarrow For Drying
When To Pick Yarrow For Drying
The best stage at which to pick yarrow for drying is when the flower heads are mature and the blooms become stiff.
If picked when the blooms still have a lot of unopened buds, these flowers are more likely to wilt, and are not best for drying.
Don't pick the blooms if the flowerhead is soft, as again, it is more likely to wilt.
Pick at maturity for best results, when the flowers are firm and open, and before they start to fade.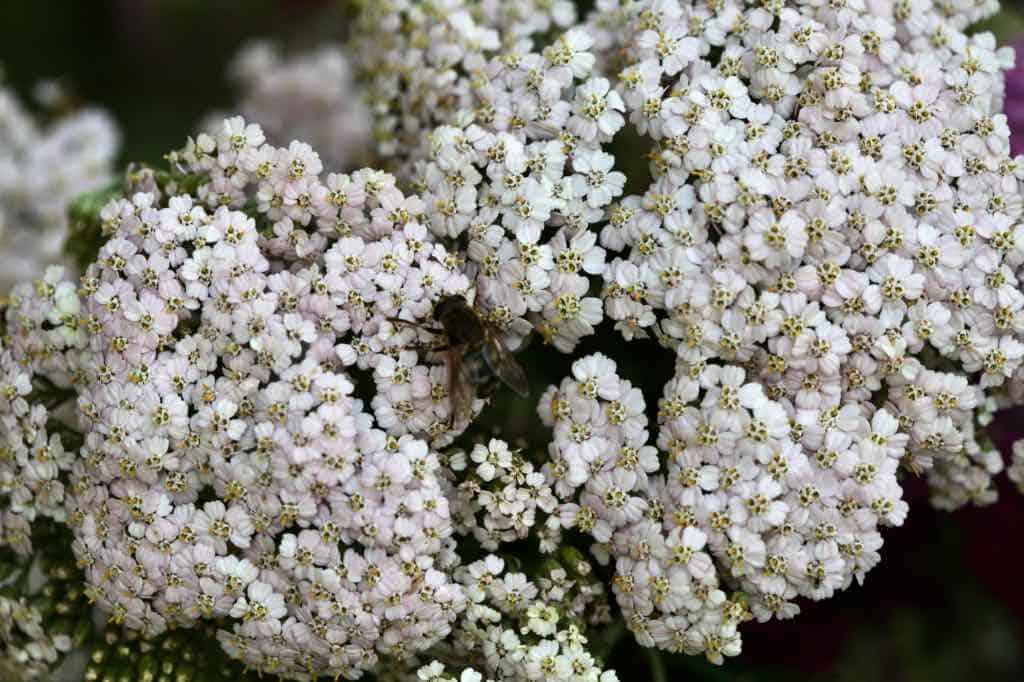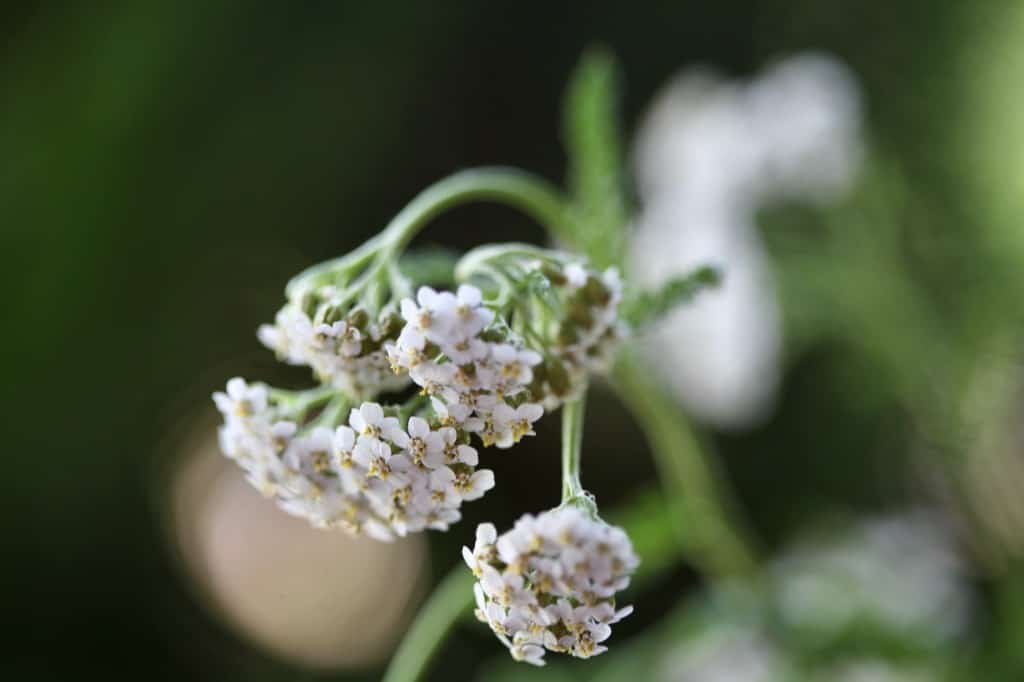 How To Harvest For Drying
Pick yarrow flowers in the early morning, when the blooms are hydrated.
The best type of day to harvest is on a dry day, that is not raining or misty.
Cut deep down onto the stem, cutting at ground level.
Strip all the leaves from the bottom two thirds of the plant. Stripping the leaves helps to keep the flowers hydrated, allowing more moisture to remain in the bloom.
This will help with the conditioning of the flower, before the conditioning process is started.
Place the stems immediately into a container of clean water or holding solution, and set aside in a cool shady location to allow the flowers to condition and rehydrate.
If you pick the blooms later in the day, especially on a sunny day, you may notice that the blooms will wilt very quickly. If this happens, make sure to get the flowers into water immediately, and into a cool and dark location, so that they can recover.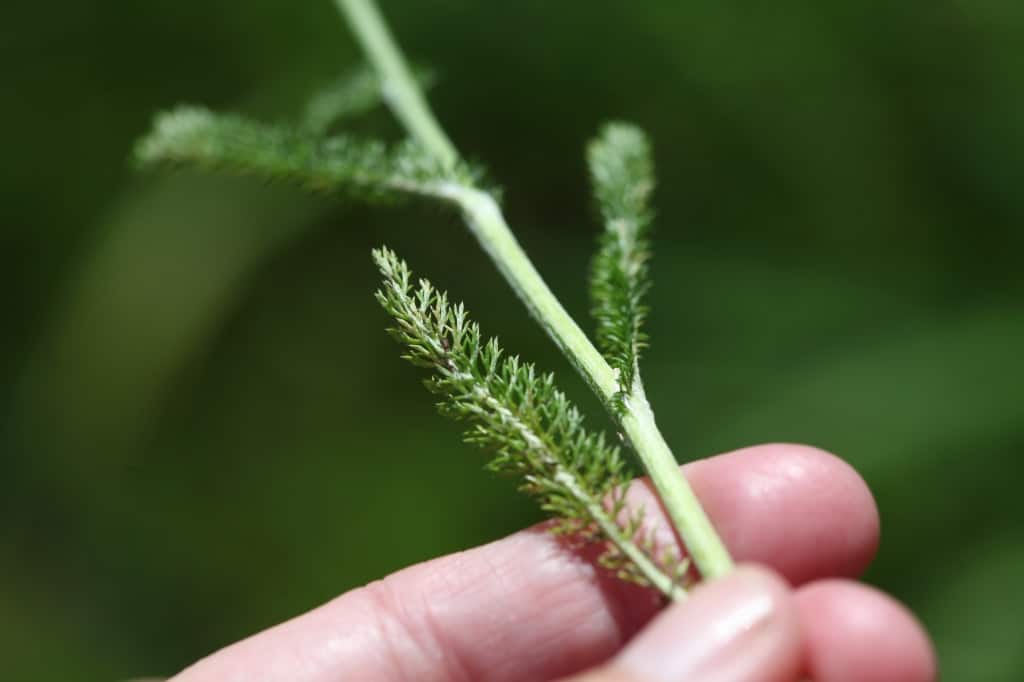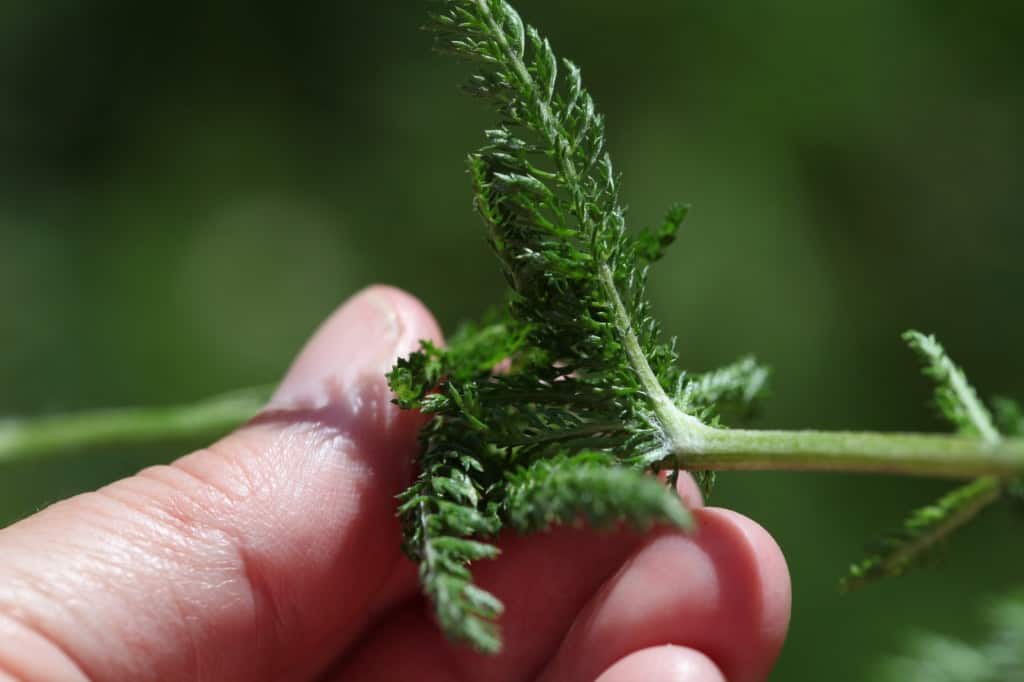 Condition The Flowers
Although you will be drying the flowers, it is important to dry them at their peak for best results.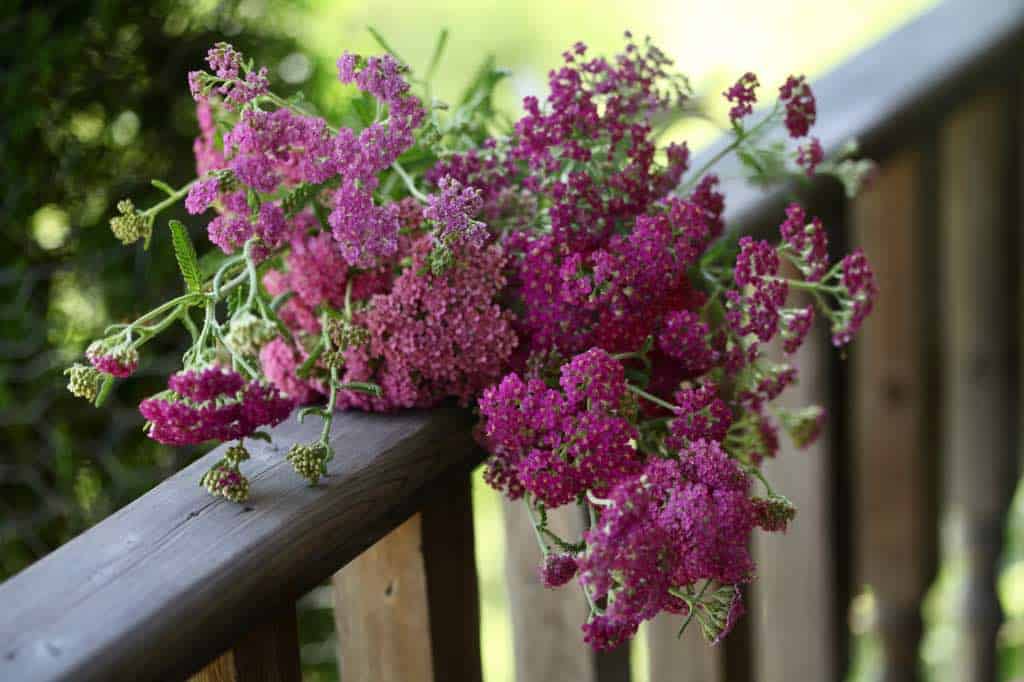 To get the flowers into shape, and into their peak condition prior to drying, condition them as you would any other cut flower.
Cut in the morning, place into cold water or a holding solution, and store in a cool shaded location for up to twenty four hours.
After four to eight hours in a bucket of holding solution or water, you will be able to notice a difference in the quality of the blooms.
When they are conditioned, flowers and stems become brighter, and stiffer, and are much more easily handled.
If you are drying flowers, conditioning prepares them to be in the best state in which to start the drying process.
The final result will be a more beautiful dried specimen.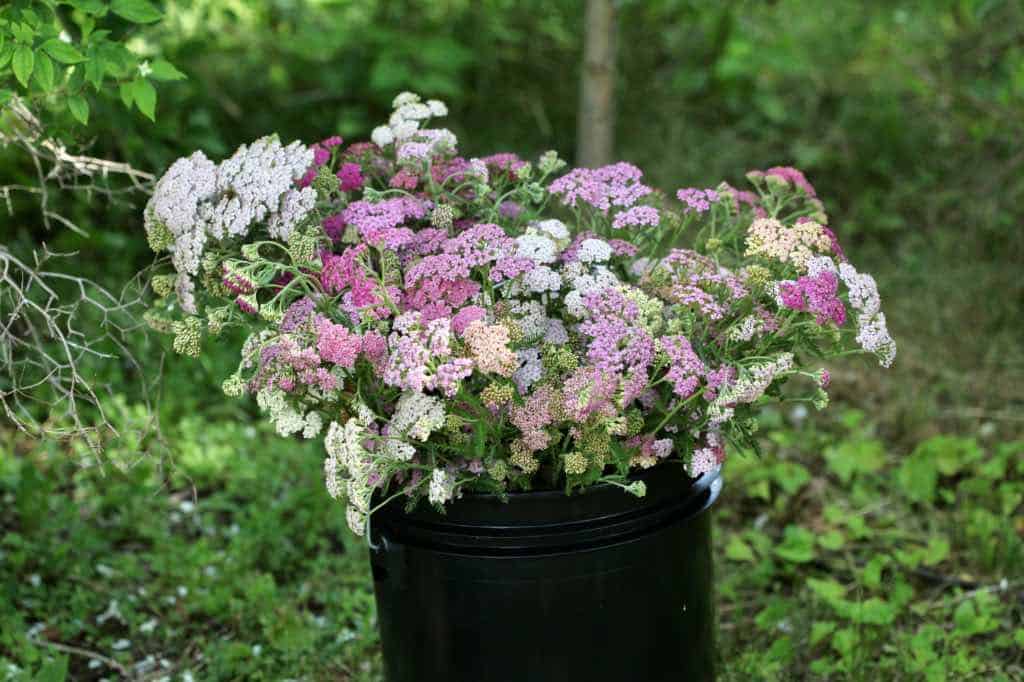 How To Dry Yarrow
There are several methods for drying yarrow which are fairly easy to do, and involve simple techniques.
Air Drying Yarrow
The first method of drying yarrow is by air drying, and involves drying the whole stem while preserving the disc shaped flower head.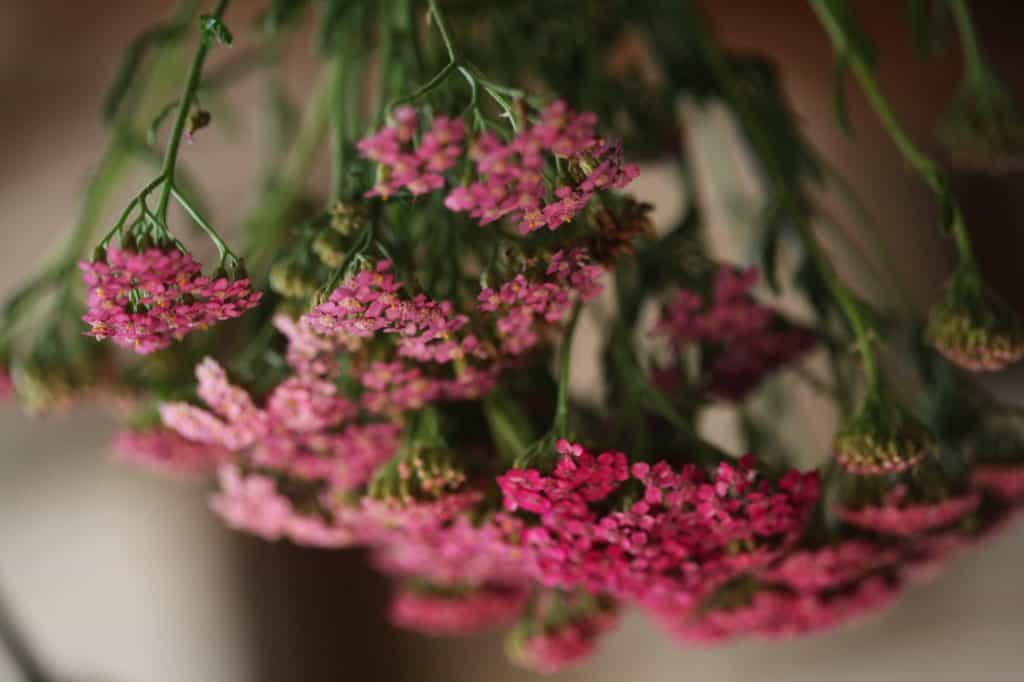 Perhaps the simplest way to air dry yarrow is to hang the flowers upside down.
Once the flowers are properly conditioned, they are ready to be hung to dry.
Bundle about eight stems of similar coloured yarrow flowers together in small bunches, and gather them snuggly by the stems with an elastic or rubber band, placed around the bottom of the bundle.
The elastic band will hold the stems in place as they dry and shrink, and will help prevent any slippage or loss of stems from the bundle itself.
Try to use elastics rather than string or twine, as this will allow flexibility and maintain a good grip on the stems as they dry.
As stems dry they will shrink in diameter, and if you are not using elastics, there is a chance that some of your stems will fall out of the bundle and end up on the floor causing breakage.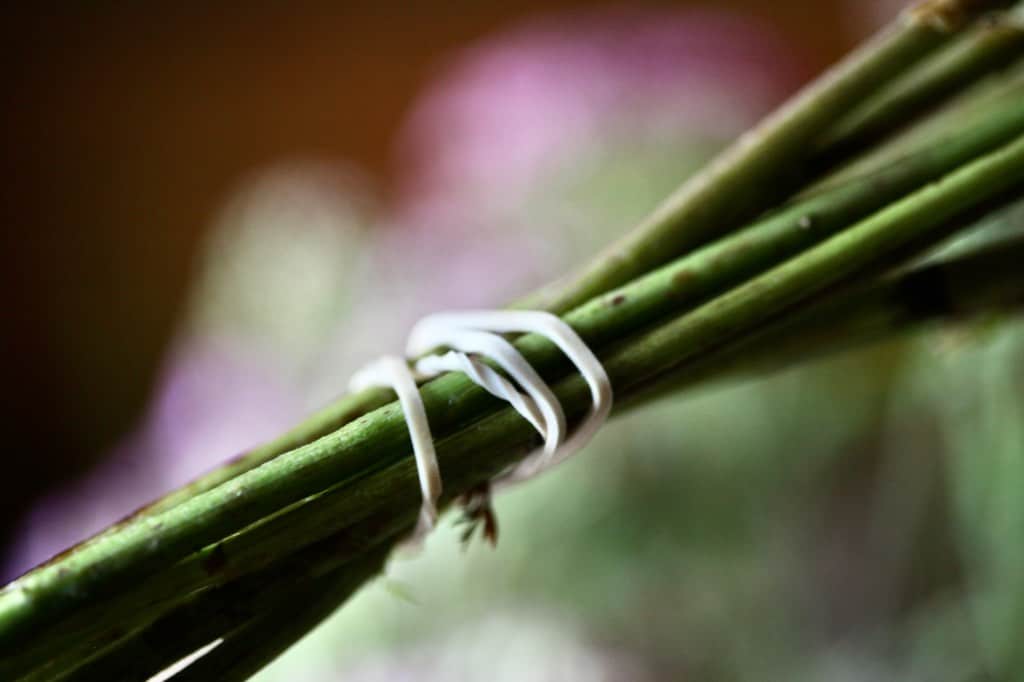 Hanging To Dry
The location where you hang the flowers should be warm and dark, with good air circulation and good ventilation.
Make sure that the flowers are out of direct sunlight, as this will cause fading of the blooms.
Allow for good air circulation within the bundle of flowers as well, to prevent molding.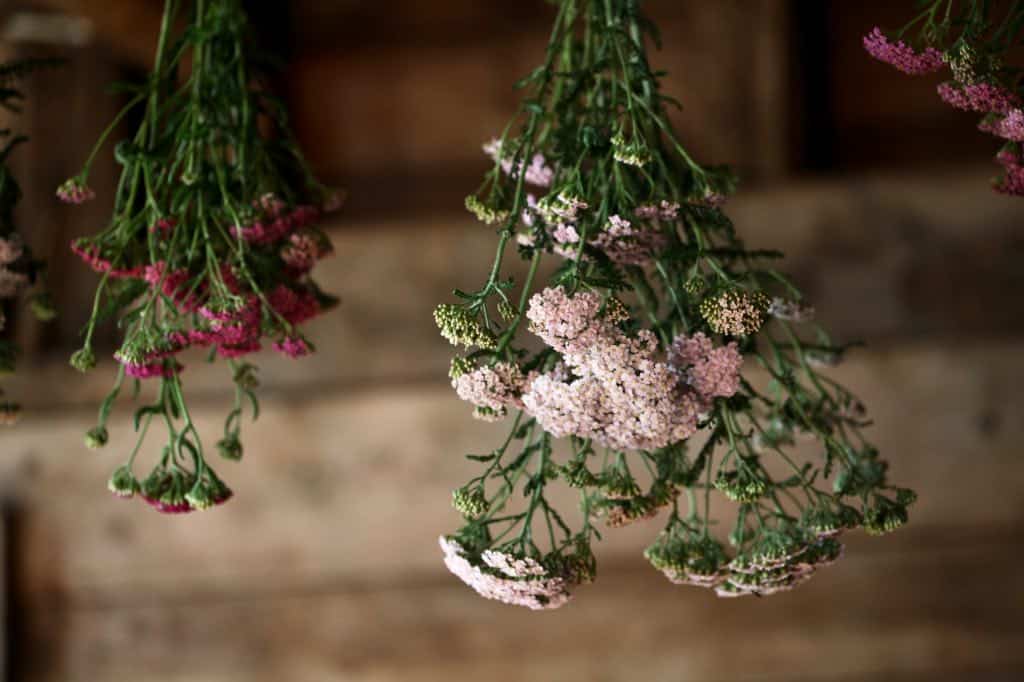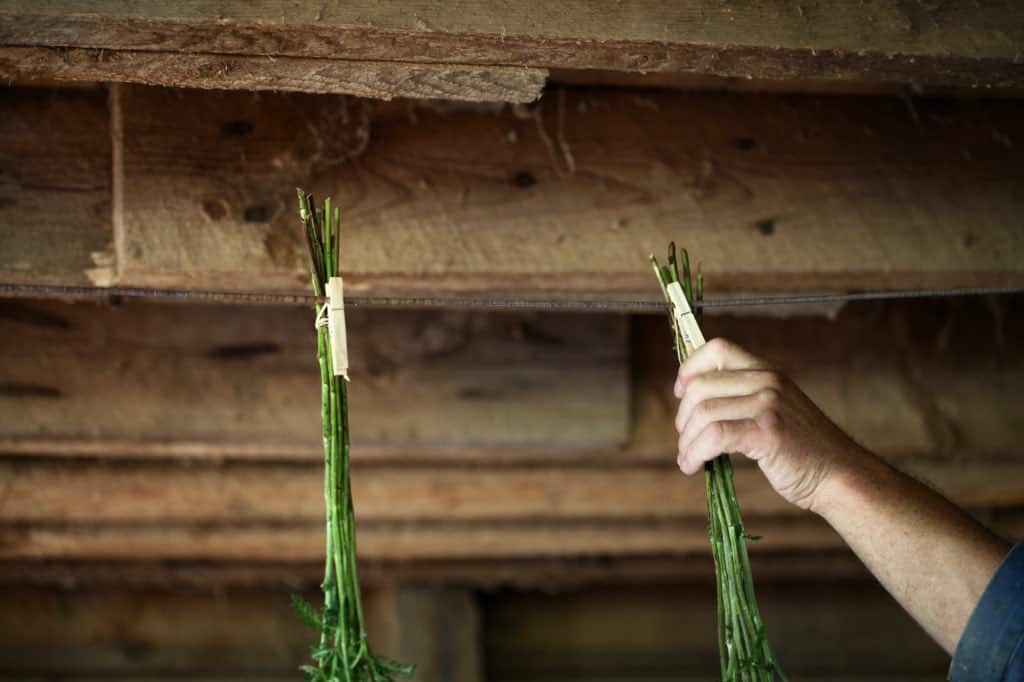 Slip a hanger such as a clothespin or a hook, through the elastic band.
Suspend the stems upside down on a drying line or rack.
The flowers should be dry within several weeks. They may even require further drying, depending on the drying environment.
Make sure that they are completely dry before removing them from the drying line.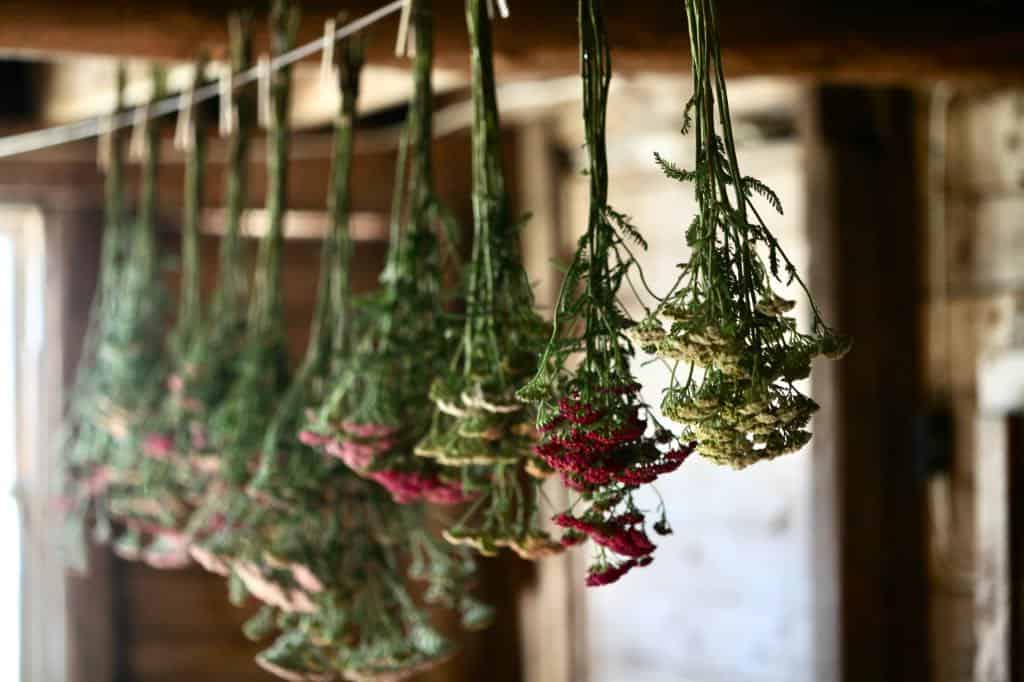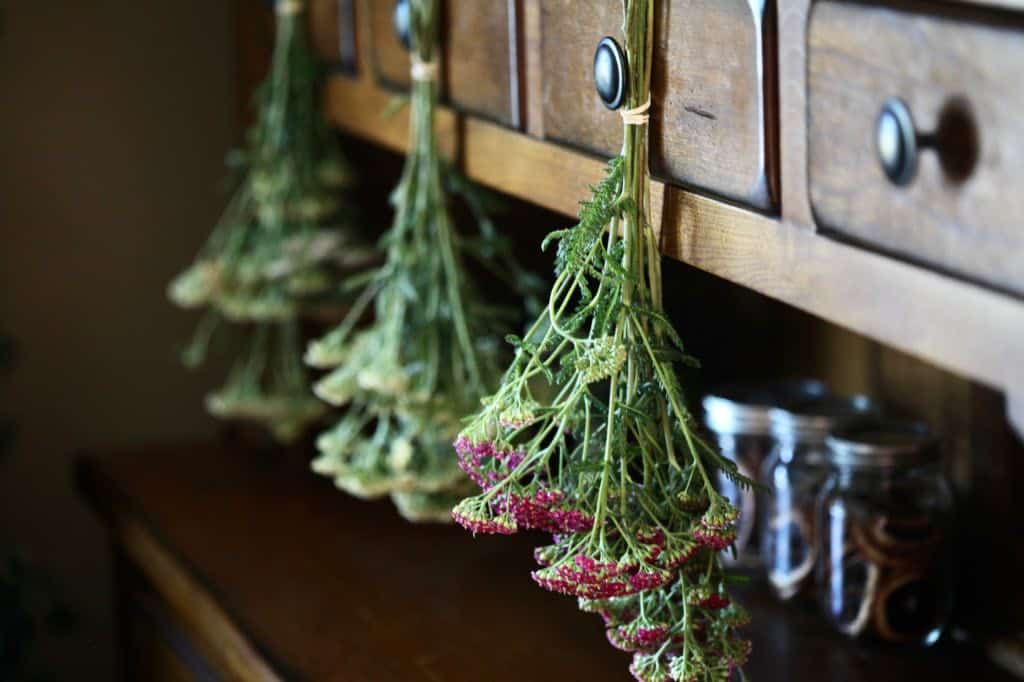 Air Dry In A Vase
Another way to air dry flowers is to dry them upright in a vase, although this method is not as successful as drying upside down.
Place the yarrow in a clean vase wth a small amount of water at the bottom of the container.
Once the water has been absorbed, allow the flowers to remain in the vase dry.
They will naturally dry in this state within several weeks.
The same environmental factors will apply to this setup.
There should be good air circulation, and a dark, warm, and dry place in which to keep the flowers while they are drying.
If the yarrow blooms begin to wilt in the vase after the water is absorbed, just turn them upside down and air dry in an inverted position.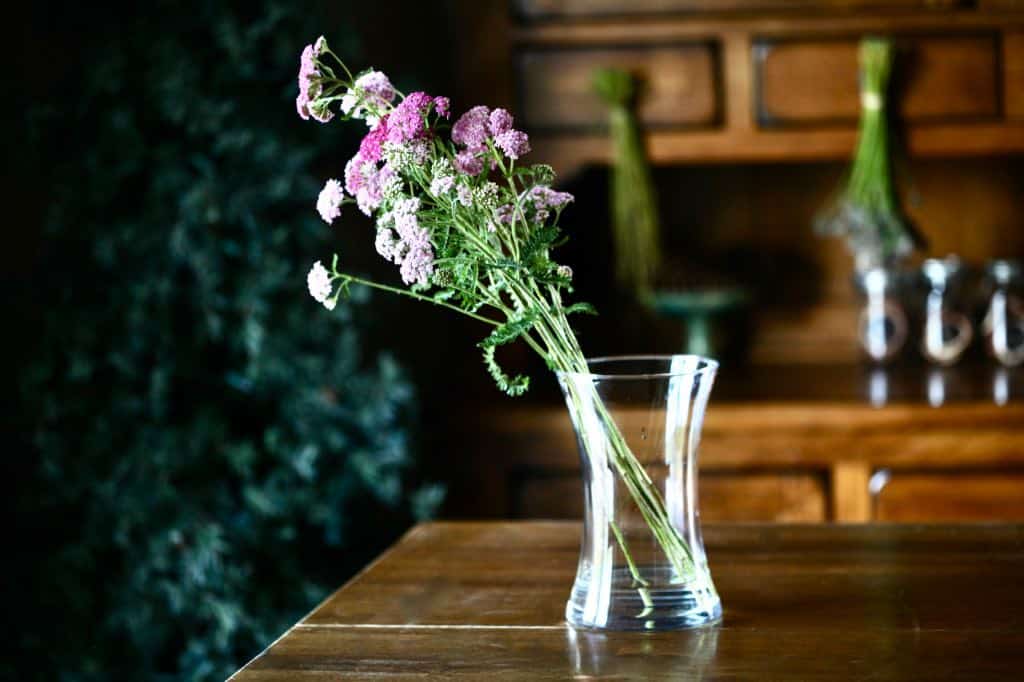 Pressing Yarrow
Another way to dry yarrow is to press the flowers to remove moisture from the blooms.
The lacy flower heads of yarrow can be pressed in order to preserve the blooms.
The pressed flowers will be different that those dried by air drying, as they will be flattened and preserved by pressing.
The flower stems will generally be removed for this method of drying, and you can dry the flower clusters as well as the leaves.
To press yarrow, you can use either a standard or DIY flower press to press the blooms. You can also press the flowers between the pages of a heavy book.
Just make sure to protect the pages of the book with extra layers of paper on both sides of the flowers that are being pressed.
Otherwise the flower dye, or even mold formation, can damage the pages of the book itself during the pressing process.
Pressing yarrow will provide a pressed and lacy bloom to use in many everlasting projects.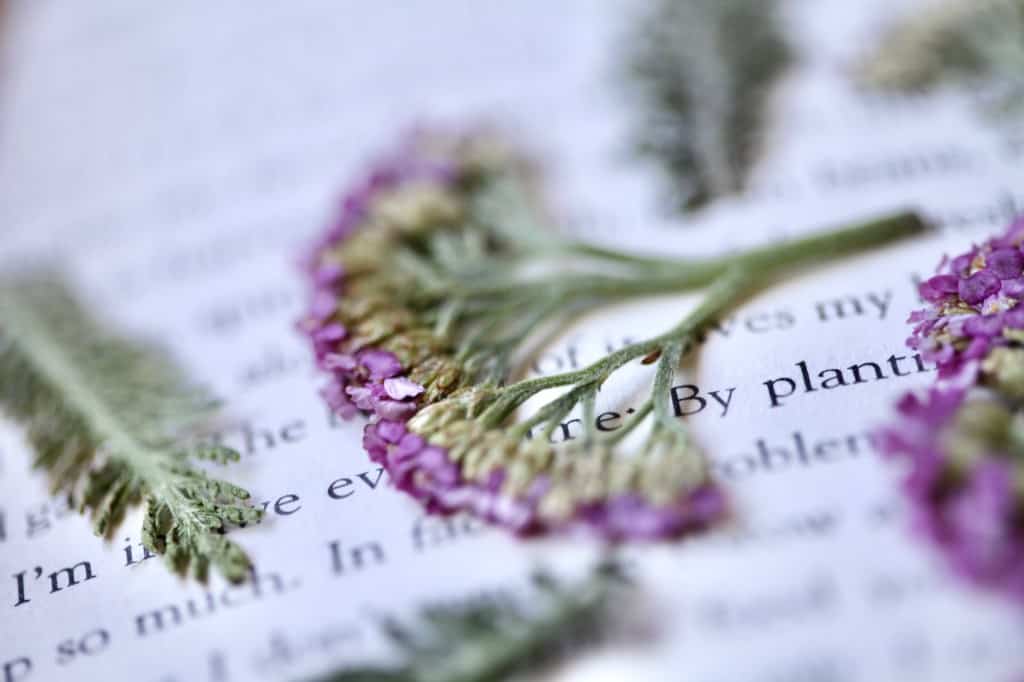 Drying Yarrow In Silica Gel
Another method for drying yarrow is to dry the flowers with silica gel.
Silica gel is a drying agent that will dry the blooms well, however the flowers will still dry and shrink, and the color of the blooms is not maintained and they will become darker.
Due to the nature of this method, it will be difficult to dry the blooms with the stems attached, due to the length of the blooms, and amount of silica gel required. You can always wire stems after drying.
Blooms dried in silica gel can be used in projects such as decorative wreaths, or smaller arrangements with wired stems.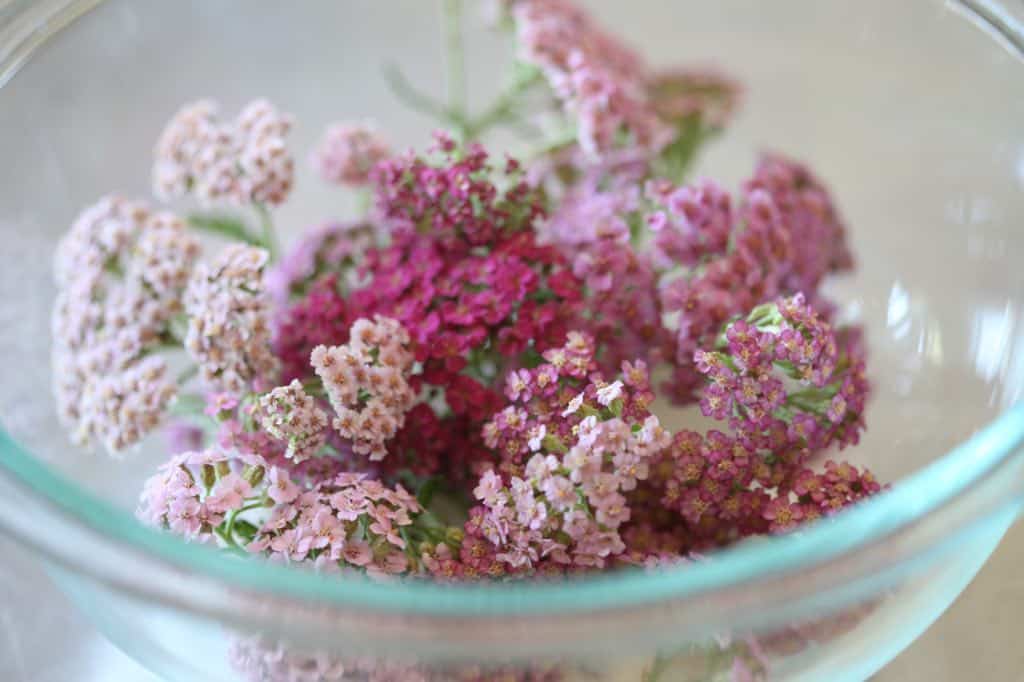 Storing Dried Yarrow
Once the yarrow stems are fully dry, they can be stored away in a dry area and dark place until ready to use. There are a number of different methods for storage, depending on the size of the flower or flower head.
Loosely wrap the whole flowers with stems in Kraft paper or newsprint for added protection. The paper will help to wick away any moisture.
Dried flower heads can be stored in tissue paper in a cardboard box for safe keeping, until ready to use.
Keep similar colors wrapped together for easy access when arranging.
Label the color on the outside of the paper, for easy access.
Conclusion
Dried yarrow is textural, and dries exceptionally well. It is a wonderful addition to any dried arrangement.
Newer cultivars will be larger and fuller, while wild yarrow has smaller flowers and is more delicate in appearance.
Drying the colourful larger cultivars of hybrid yarrow will give you lots of different choices in dried floral arrangements.
Drying in the dark, away from direct sunlight, will also help to maintain the color of the blooms.
Cut yarrow blooms at their peak in order to maintain the best color for your dried blooms.
Pair yarrow with other similar garden flowers for drying, such as german statice, rudbeckia, globe amaranth, baby's breath, sea holly and globe thistle. These flowers are also great as fresh specimens as well.
Consider growing yarrow this growing season, for all it has to offer, with fresh and dried flowers, as well as herbal benefits.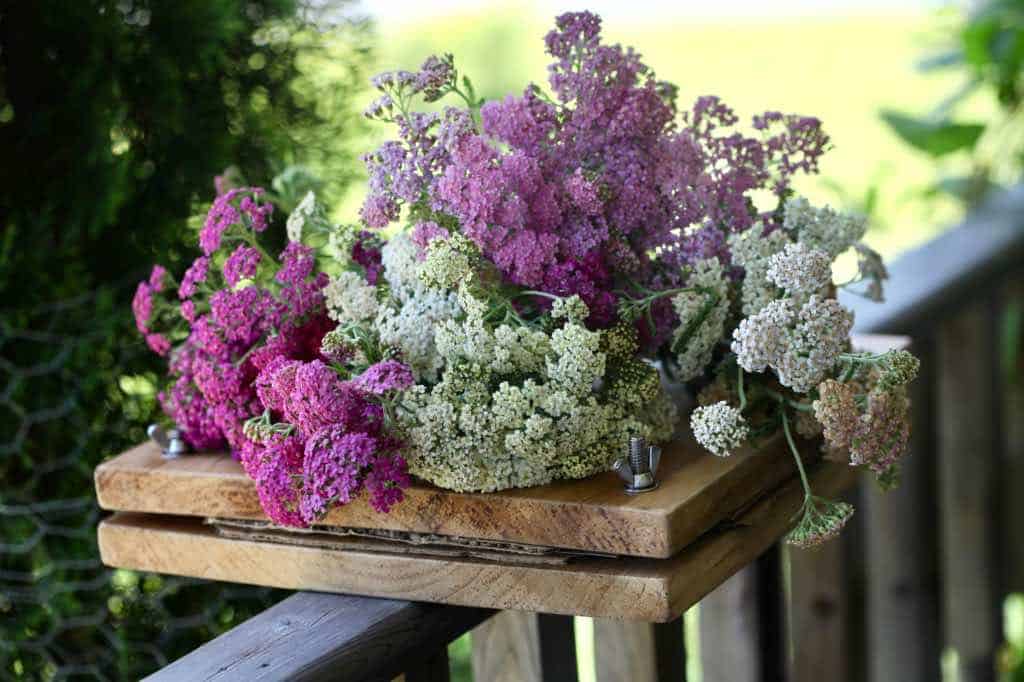 Have you ever tried to dry yarrow for flower arrangements and everlastings? Be sure to share your experience by leaving a comment below!
Other Posts You May Like:
See the Web Story on Drying Yarrow For Flower Arrangements!
PIN IT FOR LATER!