Have you ever wished that lilacs could last a just little longer in the garden? It often seems that lilac season has just begun, and then in the blink of an eye, the lilac flowers are fading on the bush. Let's have a look at exactly how long lilacs bloom, and the factors that affect bloom duration.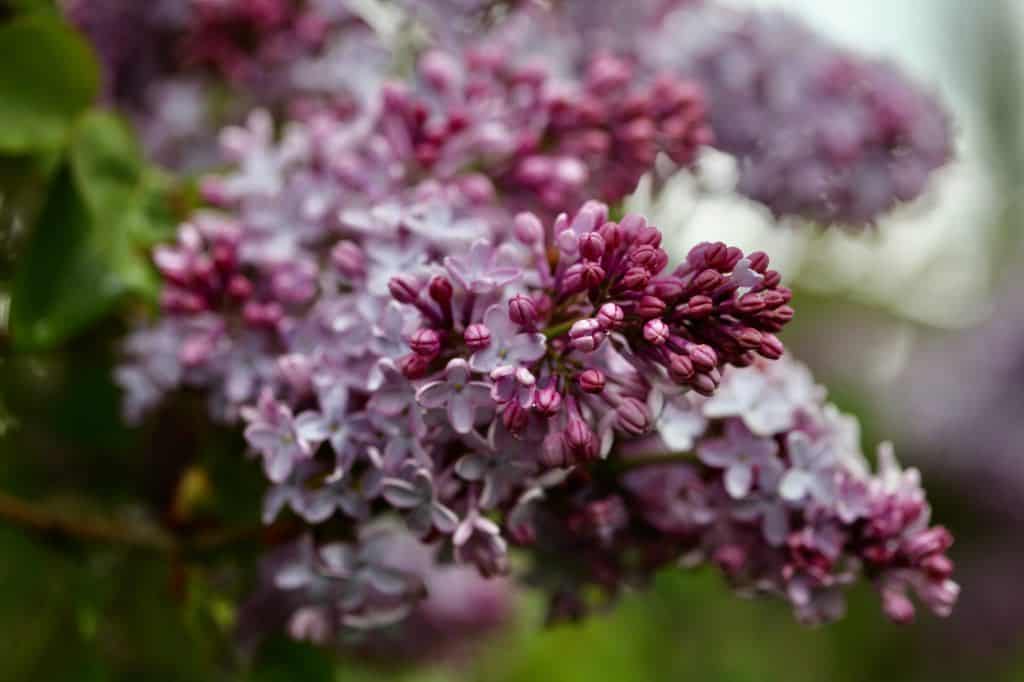 Every year I look forward to the first beautiful blooms on the lilac hedge, as they herald the return of the next gardening season.
Lilacs are popular deciduous shrubs known for their vibrant and fragrant blooms. They come in a small range of delicate colors including purple, pink, blue, and white flowers.
These spring-blooming shrubs are cold hardy, and often do best in cooler climates and temperate zones.
The lilac flowers not only captivate the senses with their fragrance and beauty, but they signal the beginning of the growing season. The plants carry a promise of the warmer summer months ahead, especially after a long cold winter.
Lilacs are some of the most cherished flowering shrubs, and they are adored by many for their intoxicating spring blooms.
Not only are these flowers enjoyed for their scent and beauty, but the mere blooming of the lilac bushes is a signal, representing the transitioning from the starkness of winter, to the bounty of new spring growth.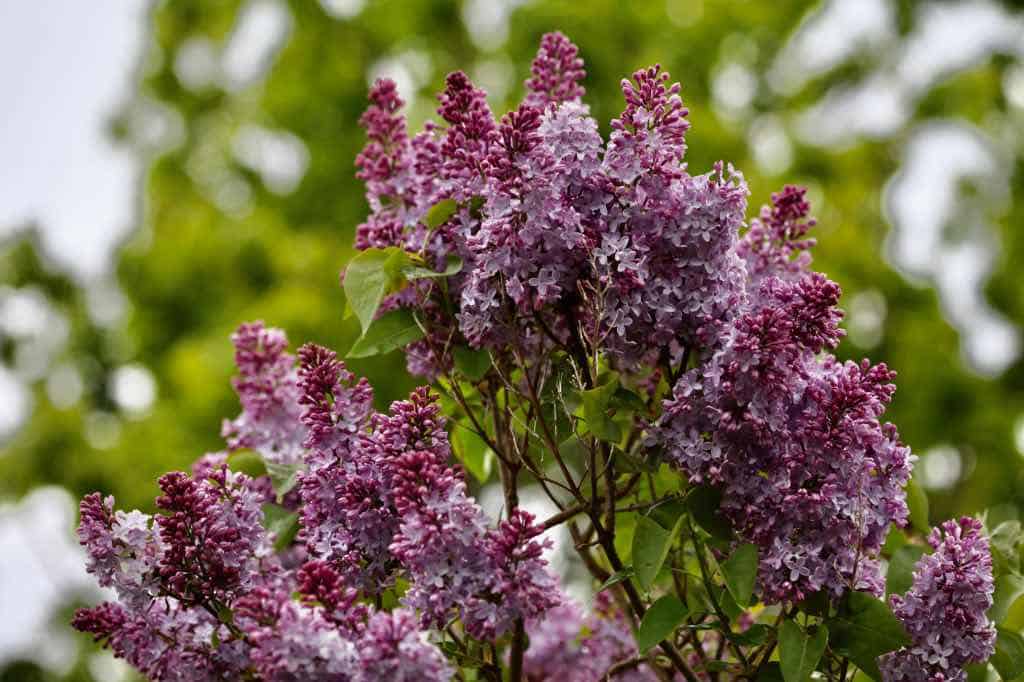 How Long Do Lilacs Bloom?
Each lilac variety will generally bloom for approximately 2 to 3 weeks in duration. There are many different lilac cultivars, each with it's own bloom time, with some flowering earlier than the common lilac, and others flowering later. Combine different lilac varieties in the garden for an extension of bloom time.
Why Is Bloom Duration Important?
Lilac bloom duration is important for both gardeners and flower enthusiasts alike.
Those who appreciate lilacs want to take advantage of the bloom time of these fabulous flowers.
There is a short window of opportunity to enjoy the flowers on the bush, or to cut the flowers and use them, for the vase or for culinary purposes.
Lilac flowers are edible, and can be used to make culinary creations, such as making lilac jelly, and lilac simple syrup. The edible flowers can also be used to decorate baking, such as decorating cakes and making edible flower cookies.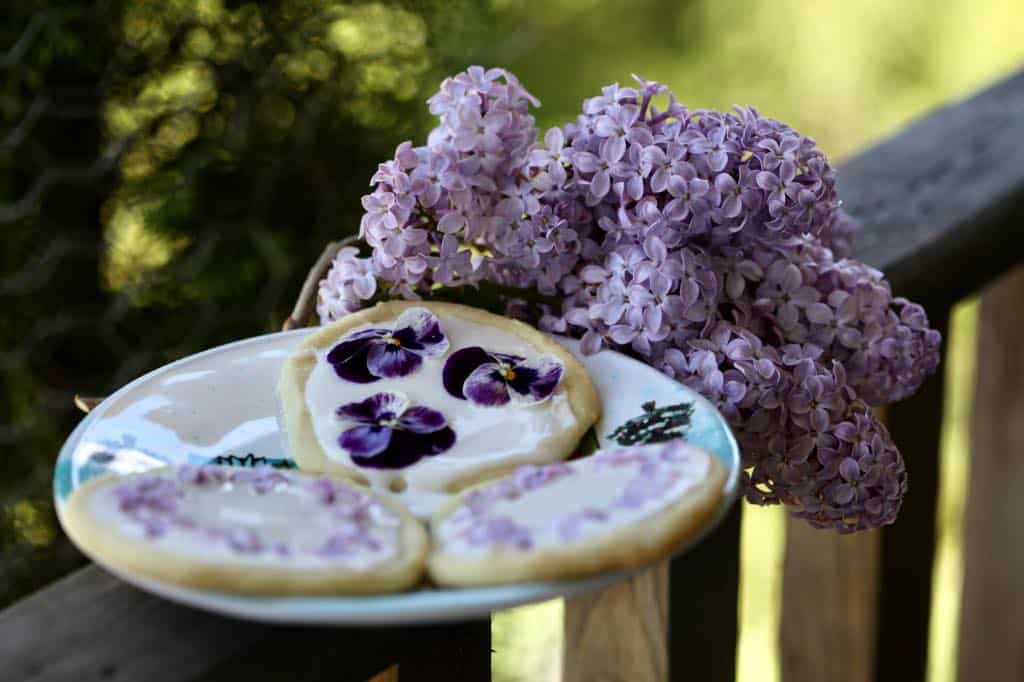 The bloom time for each lilac variety can be fairly short, with some as little as 2 weeks in duration. Therefore it's important to catch the lilacs, and enjoy them, and use them while they are blooming.
The beginning of the blooming period can vary from year to year, so if you are not paying attention you may miss it all together.
I always make sure to enjoy the blooms when they are in season. It's important to keep an eye out however, for exactly the right time to harvest the flowers.
If not, the season passes so quickly, and the opportunity is lost. I have missed the bloom period in seasons past, so now always make sure that I recognize when the blooming period begins.
There is a way to extend the lilac season however. This extension involves having different lilac cultivars blooming in the garden space, for a variation of bloom times.
This, along with other factors, can create an extension of the blooming period, and therefore a longer enjoyment of these coveted blooms.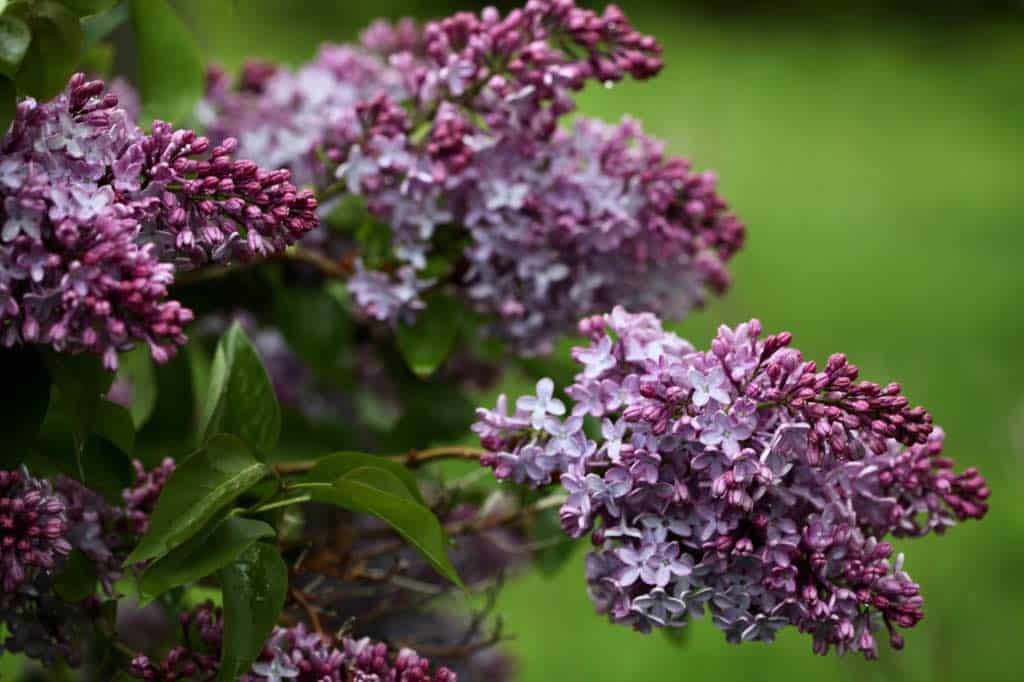 So let's have a look at different factors affecting lilac bloom duration.
Factors Affecting Bloom Duration
There are a number of different factors which affect the bloom duration of lilacs. These include lilac variety, climate and geographical location, as well as growing conditions.
Let's have a look at each of these factors:
1. Lilac Variety
There are many different varieties of lilac cultivars, each with their own unique bloom time. Some cultivars are early bloomers, while others can bloom later in the season.
The timing of blooming will vary from year to year depending on various factors such as cultivar, geographic location, weather conditions and moisture provision.
Common Lilac (Syringa vulgaris)
The common lilac, or Syringa vulgaris, typically blooms in early spring at approximately the end of May in our USDA plant hardiness zone 5b.
Sometimes the blooms open a bit earlier, and sometimes they arrive a bit later, depending on the weather.
Full bloom duration is typically 2 to 3 weeks in length.
I generally keep a close eye on the flower buds, in expectation of the first of the opening blooms, and harvest them as soon as they are ready, for a large lilac floral arrangement.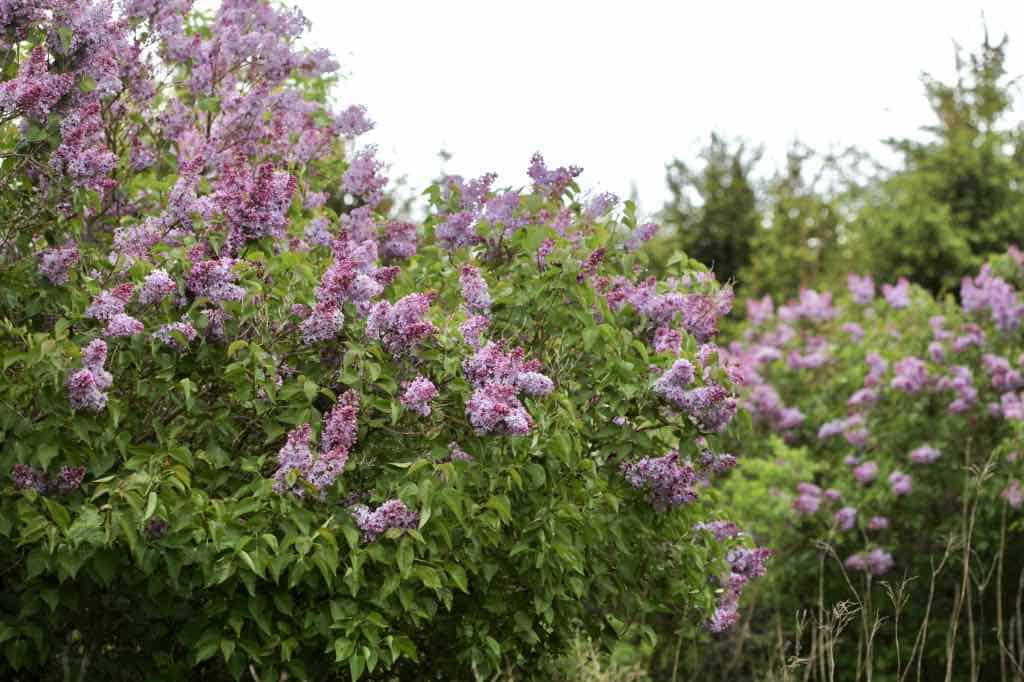 Late Lilac (Syringa villosa)
The cultivar Syringa villosa, also known as villous lilac, is a late flowering lilac which blooms approximately 2 weeks later than the common lilac.
Often used for hedges, this lilac variety can be interspersed with the common lilac in the hedging, prolonging the bloom time of the hedge.
The flowers of the villosa lilac are pink or white in color, and will bloom for approximately 2 to 3 weeks in duration.
Other Varieties
There are numerous other lilac cultivars, each with their own unique characteristics and bloom durations.
Some of these lilac varieties include:
Syringa meyeri "Palibin"(Dwarf Korean Lilac): This lilac variety is a compact and dwarf variety, great for smaller gardens. Bloom time is late spring to early summer, and bloom duration is 2 to 3 weeks.
Syringa pubescens subsp.patula "Miss Kim" (Miss Kim Lilac): This lilac variety has great resistance to powdery mildew. Bloom time is late spring to early summer, and bloom duration is 2 to 3 weeks.
Syringa x hyacinthiflora (Hyacinthiflora Lilacs): Another variety of lilac with powdery mildew resistance, this lilac is an early bloomer. Bloom time is early spring, 1 to 2 weeks before the common lilac, and bloom duration is 2 to 3 weeks.
Syringa x prestoniae (Preston Lilacs): Also known as the Canadian lilac, this variety is a late bloomer. Bloom time is late spring to early summer, approximately 2 weeks or more later than the common lilac, and bloom duration is 2 to 3 weeks.
Syringa reticulata (Japanese Lilac Tree): Native to Japan, this lilac tree blooms later than the common lilac. Bloom time is early to mid summer, and bloom duration is 2 to 3 weeks.
Syringa oblata (Early Lilac): Bloom time is late spring, earlier than the common lilac, and bloom duration is 2 weeks.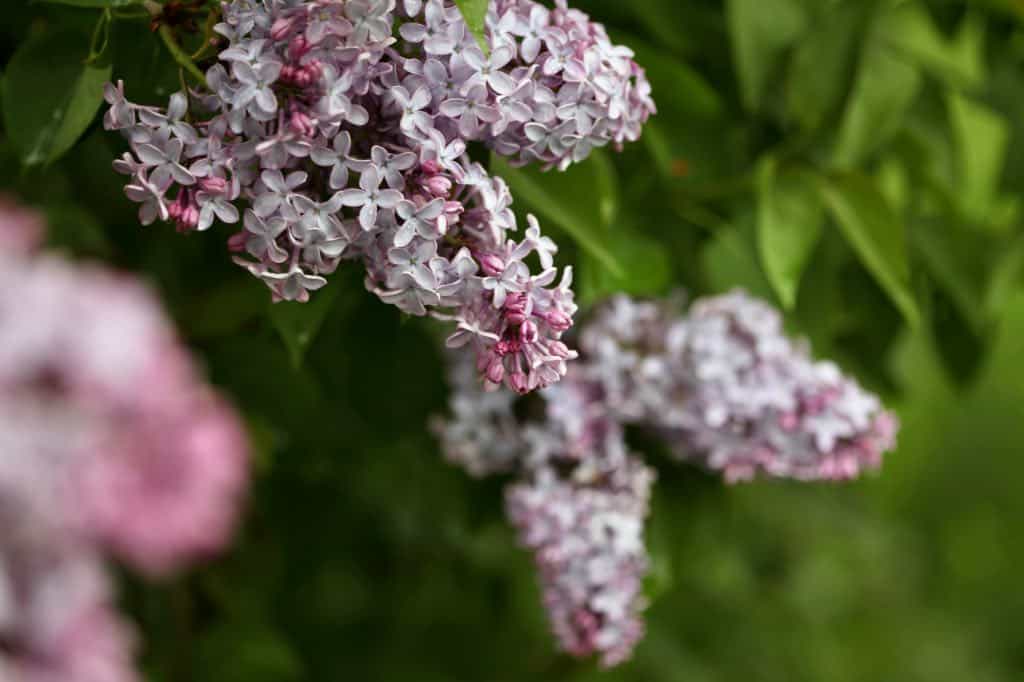 2. Climate and Geographic Location
Climate and geographic location can have a significant impact on the blooming duration of lilac plants.
As well, it's important to know that certain lilac cultivars are better suited to certain climates, so make sure to choose a variety which grows well in your hardiness zone.
Temperature
Most lilac shrubs are cold hardy plants that grow well in temperate zones and colder climates.
Lilacs require a period of winter dormancy with chilling hours, in order to set new buds successfully.
In warmer zones the plants may not receive the required chilling hours, resulting in bloom reduction, or no blooms at all.
As well, lilacs that bloom in warmer climates may have a shorter bloom duration, because the flowers may wither and fade more quickly in warmer temperatures.
Growing Season Length
Lilacs growing in colder growing zones will likely have a shorter growing season. This can impact flowering, resulting in later blooming, as well as a shorter blooming duration, from the limited time for growth and development.
Alternatively, those with a longer growing season may get to enjoy longer bloom duration, due to a longer period of growth and development, and a more positive effect on the plant.
Locations in higher altitudes will likely have both cooler temperatures as well as shorter growing seasons. Therefore these locations make experience a later bloom time as well as a shorter bloom duration.
Precipitation
Precipitation has an effect on growth and development of lilac plants, which therefore contributes to blooming and bloom duration.
Climates with insufficient rainfall will have less blooming and shorter bloom times.
Conversely, those climates with excessive rainfall or humid summers can also have an impact on blooming. Excessive moisture can lead to fungal diseases of the plant, which will have a negative effect on plant health and blooming.
Microclimate
Within each climate, microclimates can exist, which can have an impact on lilac flowering and blooming time.
Local factors such as the specific placement and location of the lilac bush can affect bloom time and duration.
For example, if the lilac is planted in a protected area against a south facing wall, this plant may bloom earlier and longer than one planted in a more exposed location.
3. Growing Conditions
Growing conditions can have a significant impact on lilac shrub bloom duration.
Important factors to consider under growing conditions include soil type and fertility, sunlight exposure, and moisture provision.
Soil Type And Fertility
Lilacs grow best in fertile, slightly alkaline and well-draining soil. Lilacs do not like to have wet feet.
For a healthy plant with optimal flower production and bloom time, amend the soil with lots of organic matter to improve drainage and soil health.
Sunlight Exposure
Lilacs grow best in full sun light, with improved flower production and bloom time.
Insufficient sunlight can result in leggy growth and decreased flower production, as well as reduced bloom time.
Lilac plants require at least 6 to 8 hours of full sun daily, however a direct sun location is ideal.
Moisture Provision
Adequate moisture provision is essential for lilac health, especially when young lilacs are establishing in a new growing location.
Once established, the plants will become drought tolerant, and tolerate dry weather.
That being said, the plant will benefit from moisture application, and will bloom best with consistent moisture.
Best watering routine is to water deeply, although infrequently, during periods of drought. Often the elements will take care of the watering needs of the plant.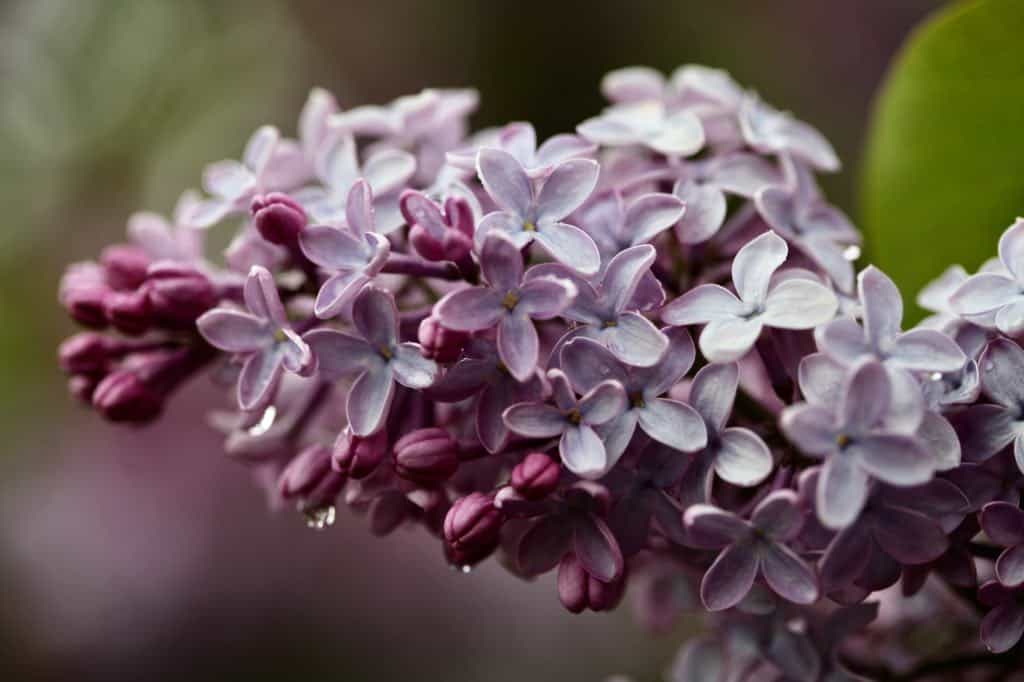 Tips To Extend Bloom Time
Here are some tips to help extend the bloom time of your lilac plants:
1. Planting Multiple Varieties
One of the easiest ways to extend lilac bloom time is to plant multiple varieties with different bloom times.
Planting early, mid, and late season lilac varieties will stagger bloom times, for an extended show of lilac blooms, throughout the season.
2. Pruning And Maintenance
Pruning is done after the lilacs have finished blooming.
The pruning process will contribute to plant health by removing old dead and diseased wood, promoting new growth, as well as opening up the plant to better air circulation and light penetration.
This helps to contribute to overall plant health and growth, especially in an older lilac, resulting in improved flowering and bloom duration the following year.
It can also help to prevent fungal disease with improved air flow through the plant.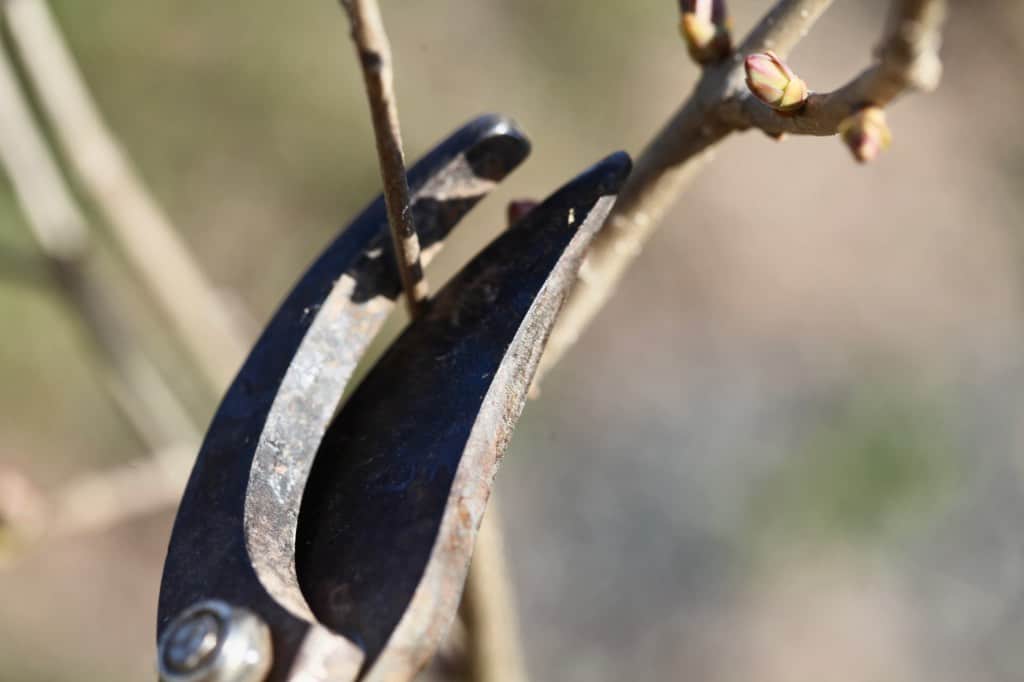 3. Fertilizing The Lilac Bush
If fertilizing your lilac bush, make sure to use the right type of fertilizer.
Avoid high-nitrogen fertilizers, as these may contribute to excessive foliage growth and flower reduction.
Rather, use a slow release balanced fertilizer in early spring.
Another option is to add compost to the soil around the bush to improve fertility of the soil.
4. Mulching
Application of a thick layer of organic mulch at the base of the lilac bush will help to conserve moisture in the soil, as well as suppress weed growth.
Mulch will also help to amend the soil over time, contributing to the health of the plant.
This in turn can help improve flowering and bloom time for some plants.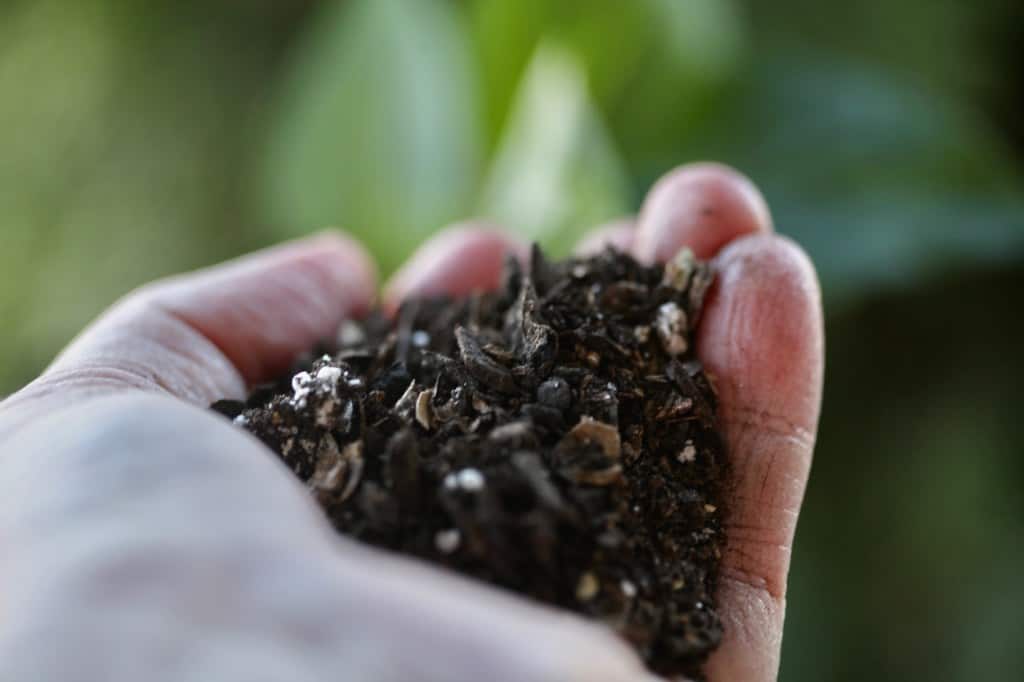 5. Deadheading Spent Blooms
Deadheading spent flower heads can extend the blooming time slightly, by diverting energy from seed production into plant growth and flowering.
The most noticeable result of the deadheading process will be improved flowering in next year's blooms, as a result of the increased growth and development of the plant.
6. Managing Pests And Diseases
Watch out for diseases such as powdery mildew and aphids, and others which can affect plant health and flowering.
Address disease and pest issues as they arise, and care for your plant, by providing for optimal plant health.
A healthy lilac plant will result in optimal blooming and bloom duration.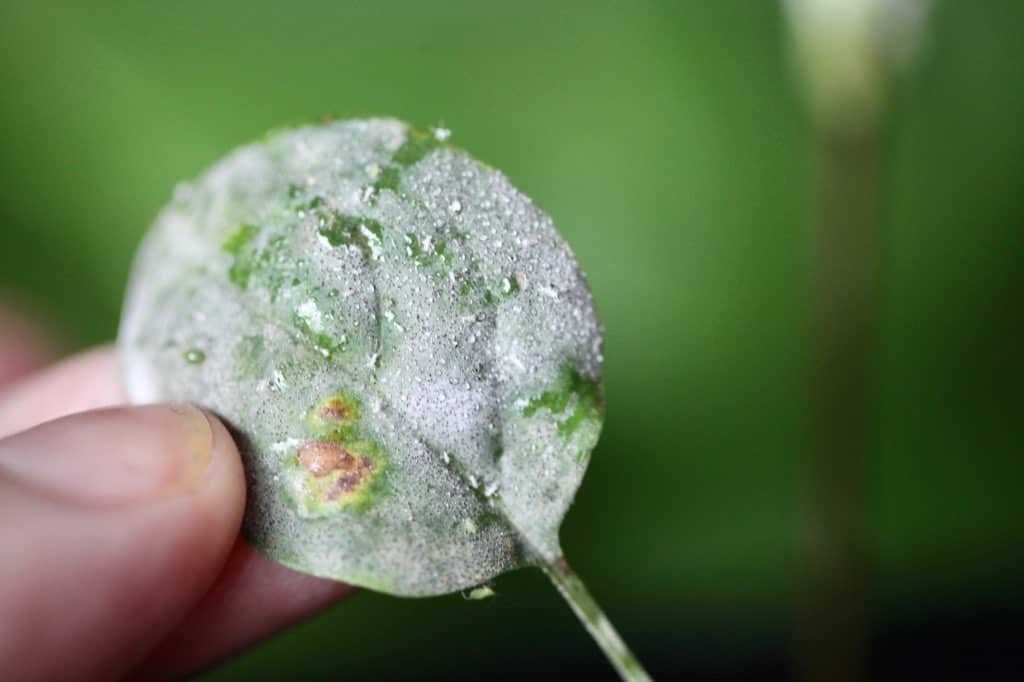 Frequently Asked Questions
Do Lilacs Bloom All Summer?
Lilacs do not bloom all summer. Rather, most lilacs are considered to be spring blooming plants, with bloom times of approximately 2 to 3 weeks.
Some lilac cultivars will bloom earlier in the spring, others will bloom mid spring, then others will bloom in late spring.
The Japanese Lilac Tree will bloom in mid summer, and the bloom duration for this plant is also 2 to 3 weeks in duration.
What Is The Lifespan Of A Lilac Bush?
Lilac bushes have a long lifespan, and can survive for generations.
The plants can live for 75 years and longer if they remain healthy, and are planted in the right location with optimal growing conditions.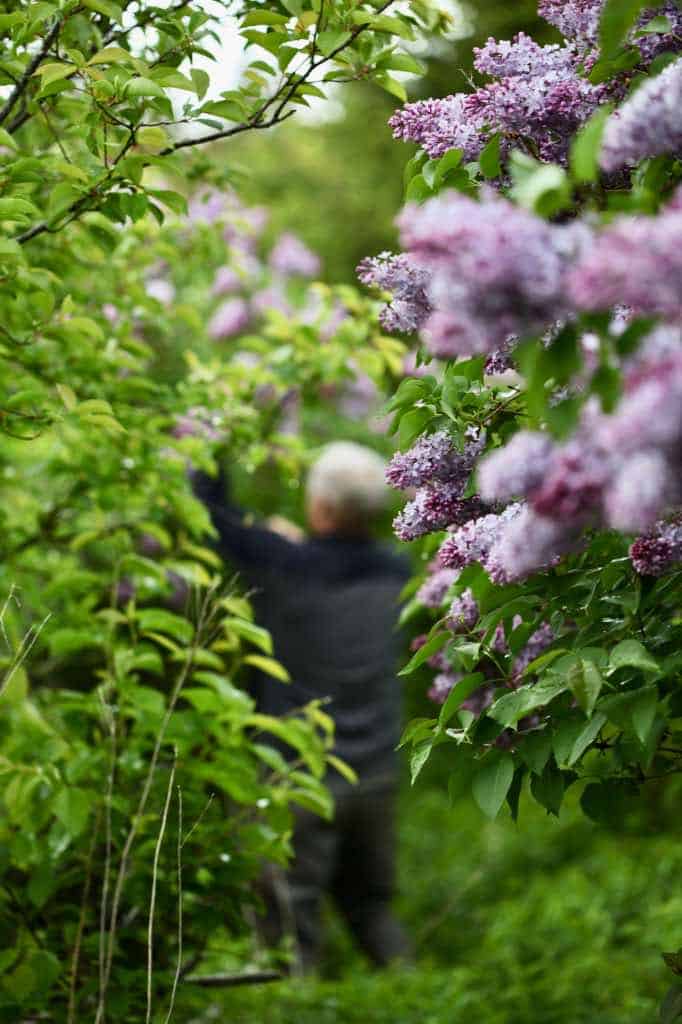 Should You Deadhead Lilacs After They Bloom?
You can deadhead the old spent blooms if you are pruning the bush, unless you are planning to save some lilac seeds for planting. In that case, leave some spent blooms on the bush, to allow them to develop into seed pods.
The best time to prune lilac bushes is after the shrubs have bloomed.
You can also deadhead the spent blooms without pruning.
The deadheading process will divert the plant's energy away from seed production, back into growth of the plant. It will also clean up the look of the plant and improve the plant's aesthetics.
Deadheading can also improve flowering for the following season.
Deadheading lilac bushes is not essential however, especially if you have a large hedge or taller bushes where the blooms are difficult to reach.
I generally do not deadhead my spent lilac blooms, and see the seed pods as just another stage of the lilac's life cycle.
The old wood and lilac stems from faded flowers will eventually fall from the bush over time. They can also be cut away anytime, when you are giving your lilac bush or hedge a pruning.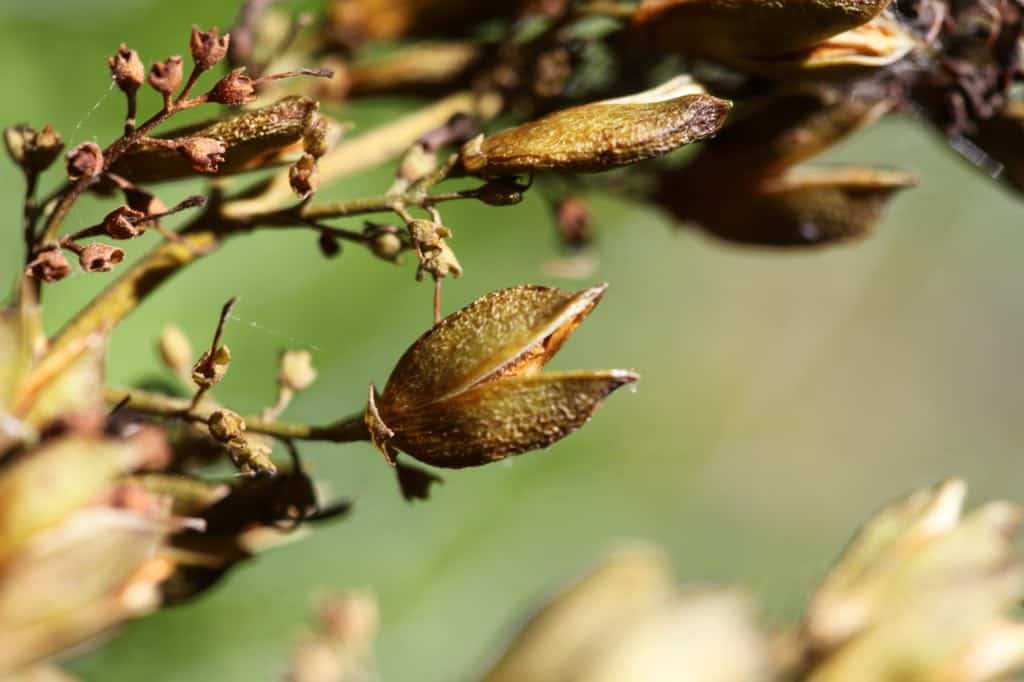 Conclusion
Lilacs are cherished for their colorful and fragrant blooms, which grace many gardens every spring.
The bloom time of lilacs is typically 2 to 3 weeks in duration. To increase bloom time, try planting a combination of early, mid, and late-season varieties for bloom succession.
To extend bloom time, maintain healthy plants by providing optimal growing conditions for the plants, including well-drained soil, sufficient hours of sunlight, proper moisture, and regular pruning.
By caring for your lilacs and selecting the right plants for your growing location, you will get to enjoy this wonderful plant and fragrant blooms in your garden for many years to come.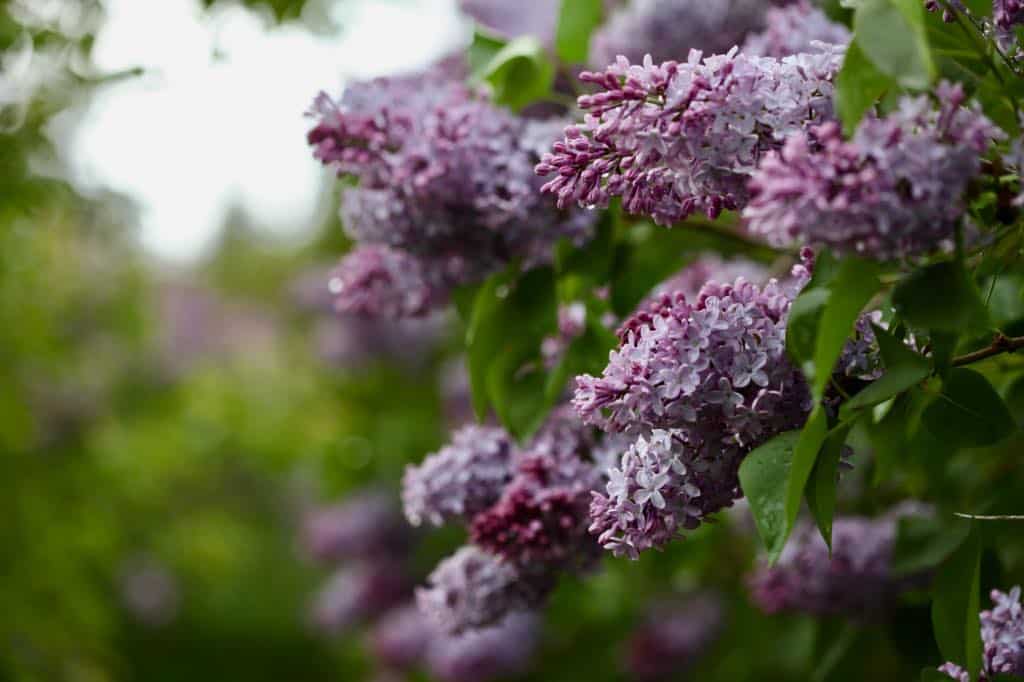 Have you ever wondered how long lilacs actually bloom? Have you found a way to extend your own lilac bloom time? Be sure to leave a comment below to share your experience!
Other Posts You May Like:
PIN IT FOR LATER!