Last updated on March 27th, 2023 at 08:21 pm
Vintage bottle brush Christmas trees have become all the rage. They are symbols of Christmas past, yet still fit right in with the eclectic holiday decor ideas of the present. They are perfect for home decor, especially farmhouse and country decor, with their simple vintage look.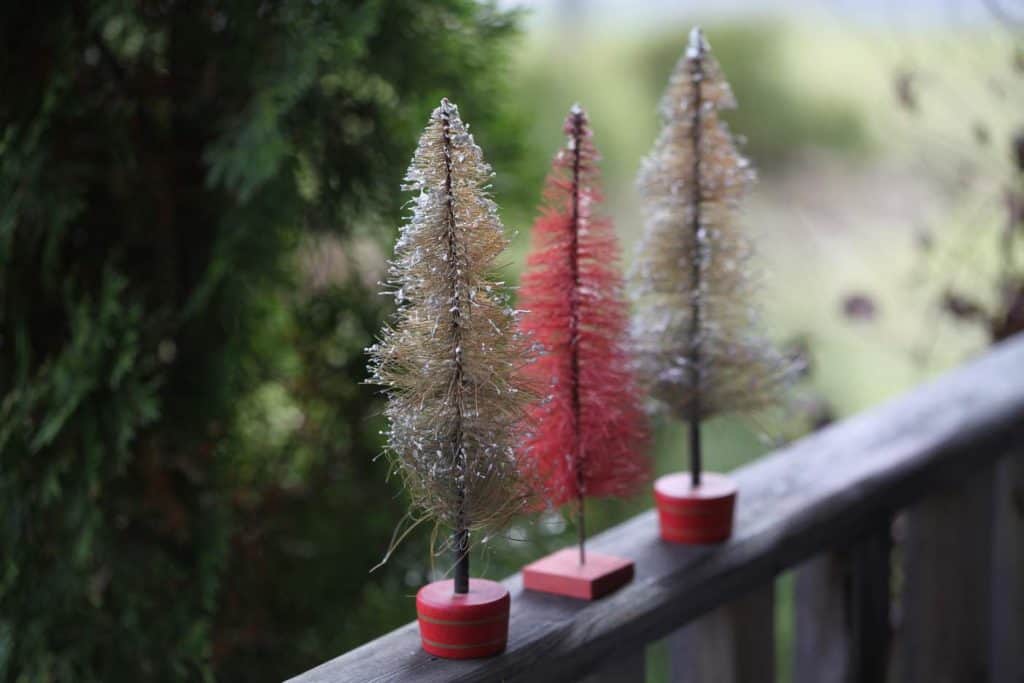 If you are lucky you may find or inherit a genuine vintage Christmas bottle brush tree. Otherwise the next best thing is to create a vintage look with a newer tree.
These sweet bottle brush trees inspire a sense of Christmas nostalgia in just about everyone who sees them, as they are a reminder of our childhood.
I started my collection of old vintage bottle brush trees over twenty years ago.
This special collection of trees is very close to my heart.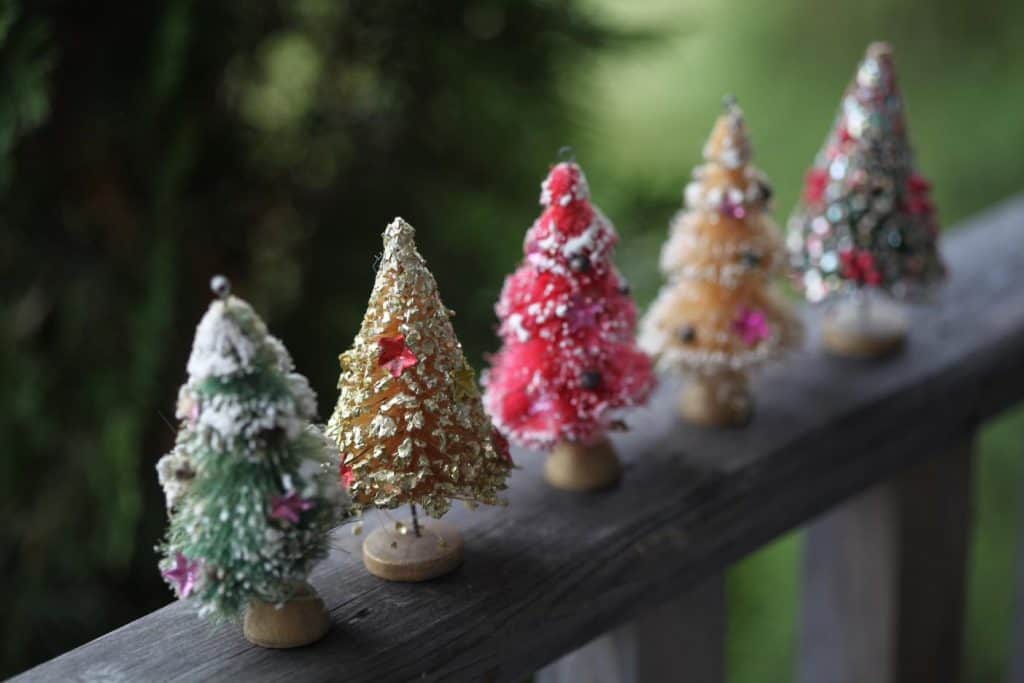 With each weathered and worn tree that I found for this collection, I wondered about it's history, where was it made, who owned it, and how was it displayed.
I wondered what little hands may have held these trees, and if they felt the same sense of awe that I did.
What Do Bottle Brush Trees Look Like?
Vintage bottle brush trees can have quite a varied appearance. The come in many sizes, shapes and colours.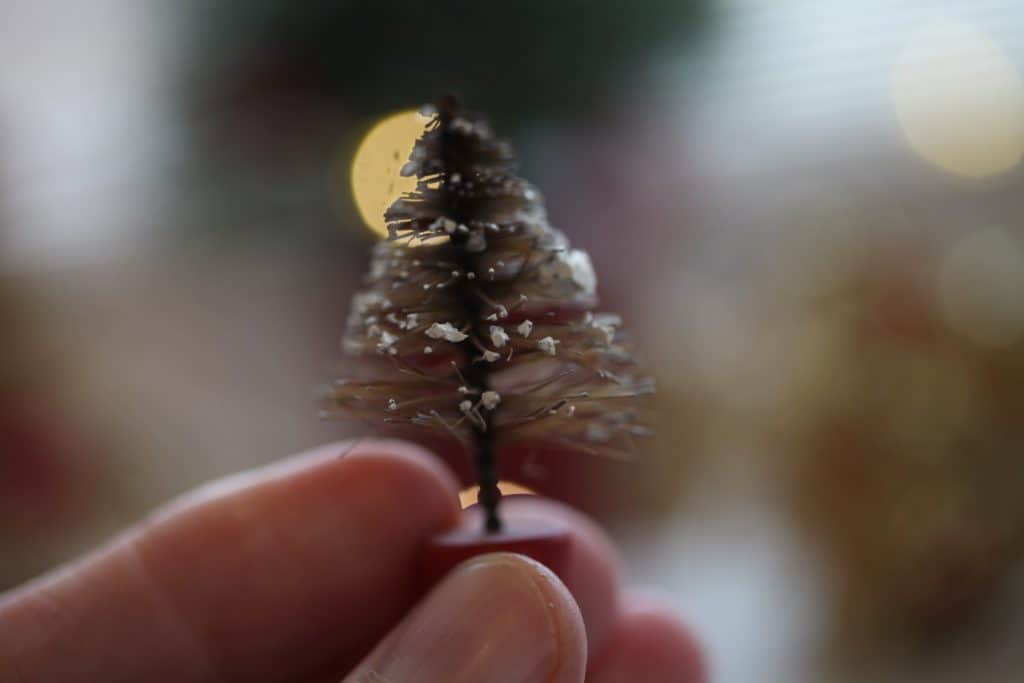 In my collection, some of the pieces are in great condition, and others show their age. It's all part of the package, and they are all loved just as they are, in their own special state.
There are many different sizes in this collection of approximately twenty five trees. Three are in need of repair, so I do not count them in my numbers.
There are tall ones, and little minis.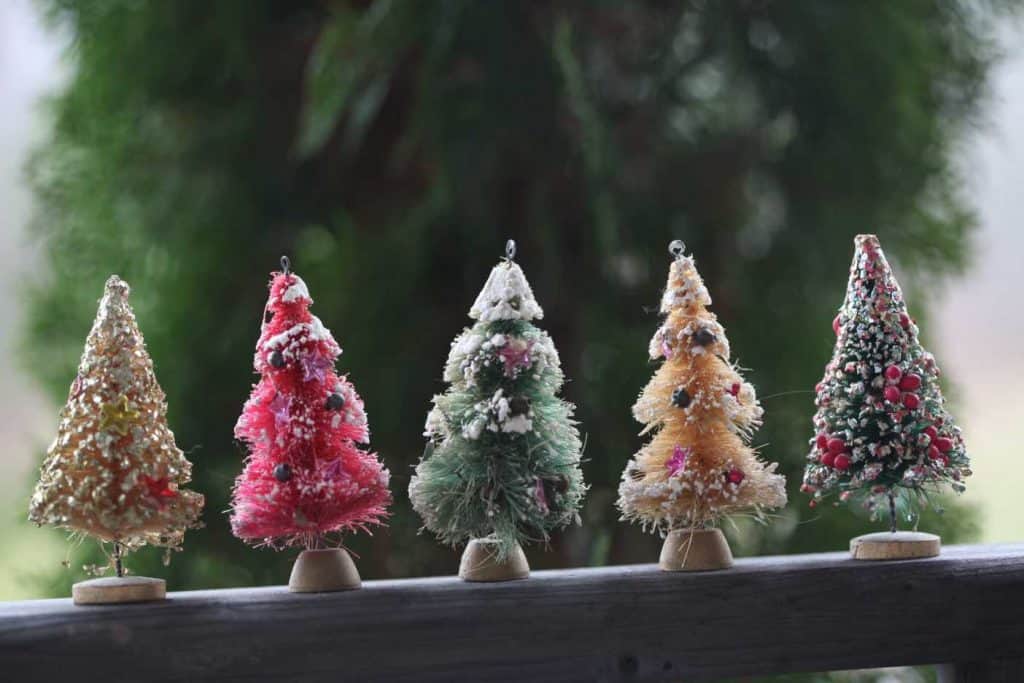 There are many different colors. Some are green trees, some are pink, and others are bleached and a vintage cream colour. There are also bright pastels.
Some are decorated with tiny vintage mercury ornaments and glitter, and others are decoration free. Many are flocked with faux snow, and others are not.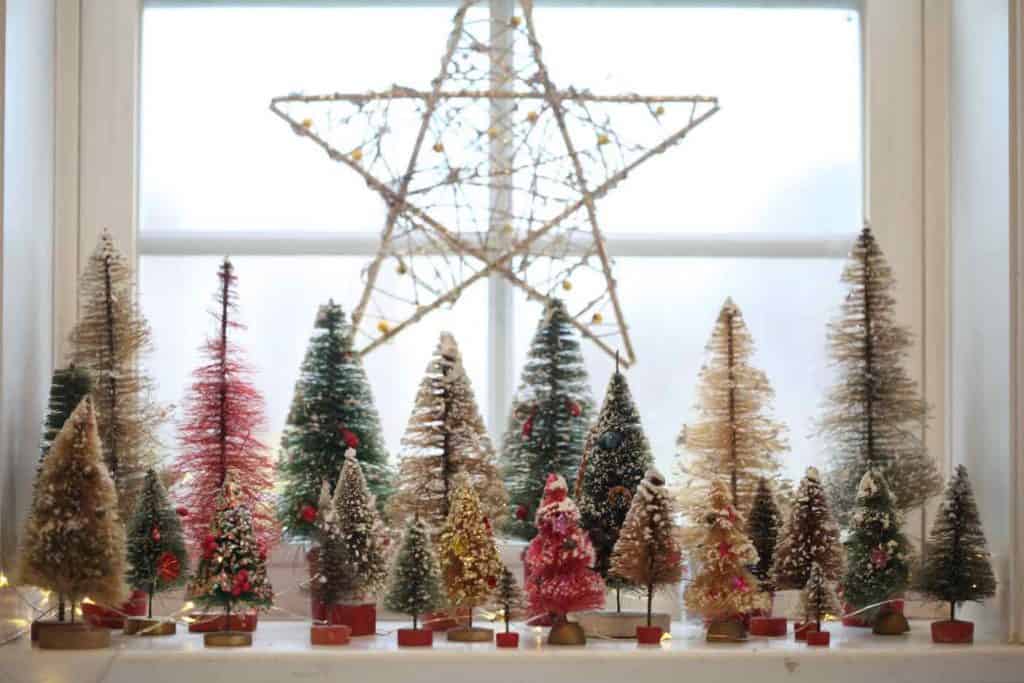 I love the snowy look.
They all have wooden bases of different shapes and sizes. Most have red bases, although some are white and gold as well.
Where To Find Vintage Bottle Brush Trees.
If you are lucky, you may have already inherited some of these treasures from your mother or grandmother.
Mine were not inherited, but rather sought out, and I feel quite fortunate to have gathered this little collection of trees.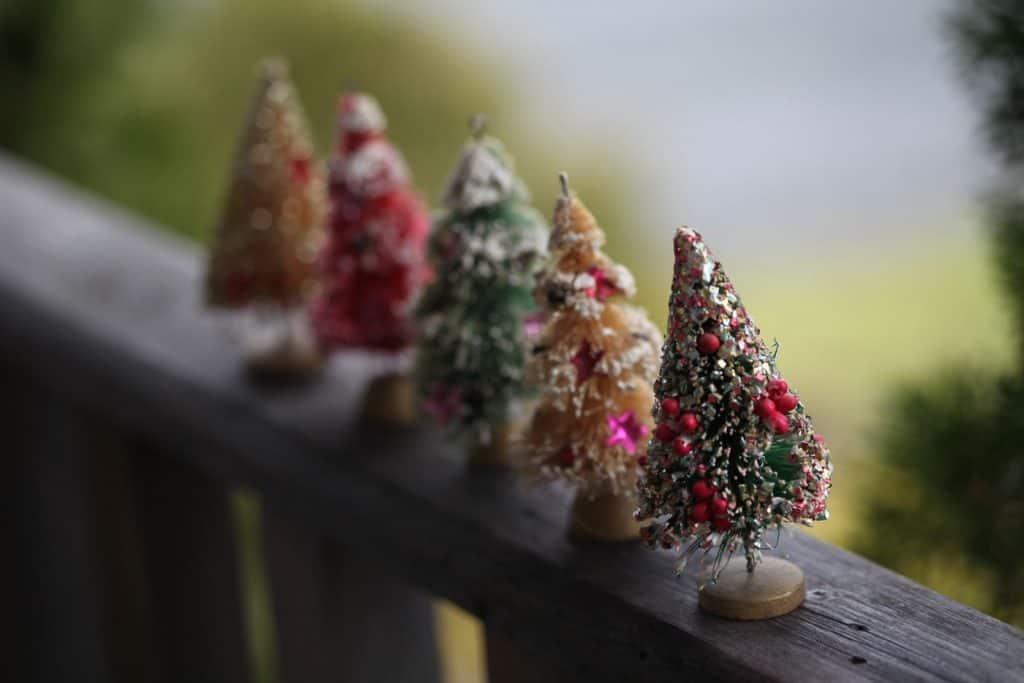 You may be able to do the same.
Just look in any antique or vintage shop, or thrift stores in your area. You can even find them at estate sales.
You may get lucky, especially at this time of year.
Look for vintage bottle brush trees on Amazon and eBay as well.
The trees on Amazon are usually new but vintage inspired. Vintage bottle brush trees on eBay are generally the real deal.
When Did Bottle Brush Trees Become Popular?
Bottlebrush trees were popular in the 1950's, however have been around even before that time, since sometime in the 1930's when artificial trees first came to be.
Just like with many trends, bottle brush trees are popular again, and the vintage look is also coveted.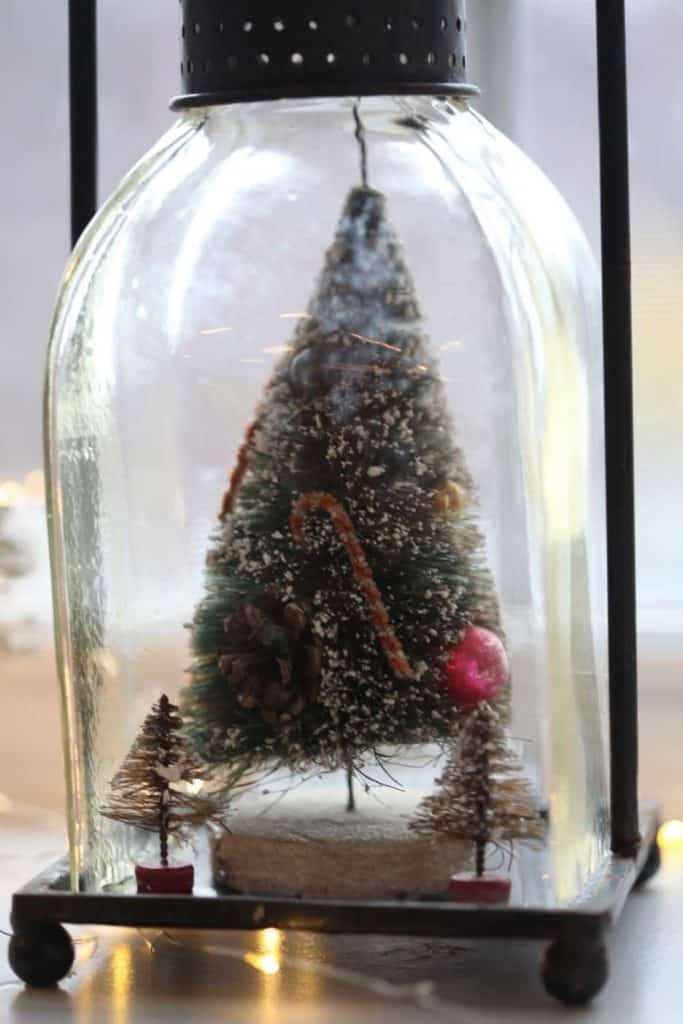 Many are recreating the vintage look of the 50's and 60's by adapting their newer bottle brush trees for that nostalgic vintage appearance.
These bristly little trees have been around for a long time, and will likely be popular for many years to come.
How To Identify A True Vintage Bottle Brush Tree
A true vintage bottle brush tree is not difficult to spot.
These retro versions of bottle brush trees can be hot collectibles.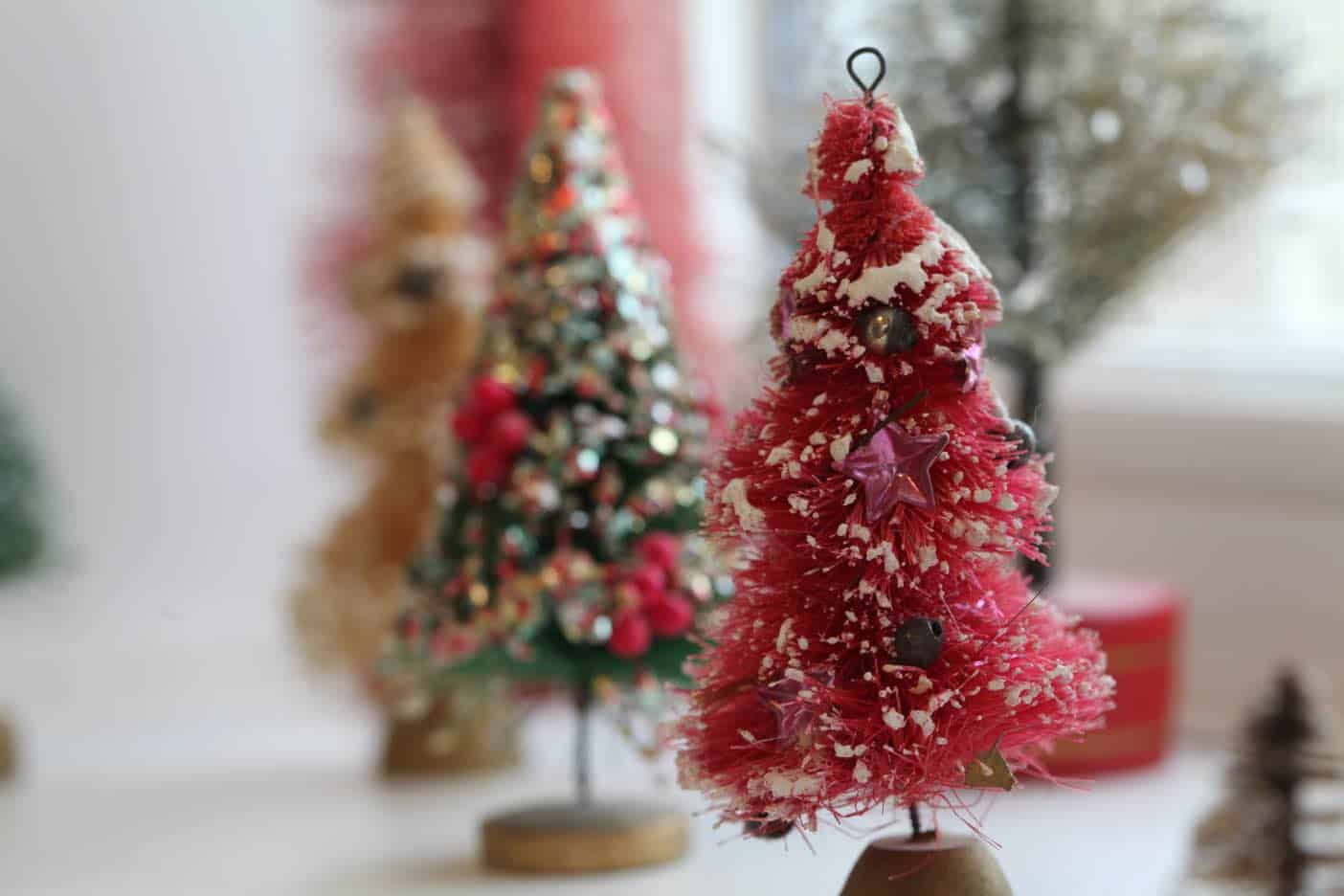 Here are some of the characteristics of a vintage bottle brush tree:
The base is often worn, as it has been around for quite a few years and will have some wear and tear.
The central wire that holds all the bristles or tree branches will most likely have some rust, through oxidation of the metal over time.
You may find a stamp or label on the base, indicating vintage origins.
I have some labels and some stamps identifying "made in Japan", which is where many of these trees were made.
The decorations are often vintage, such as old mercury glass ornaments and vintage glitter.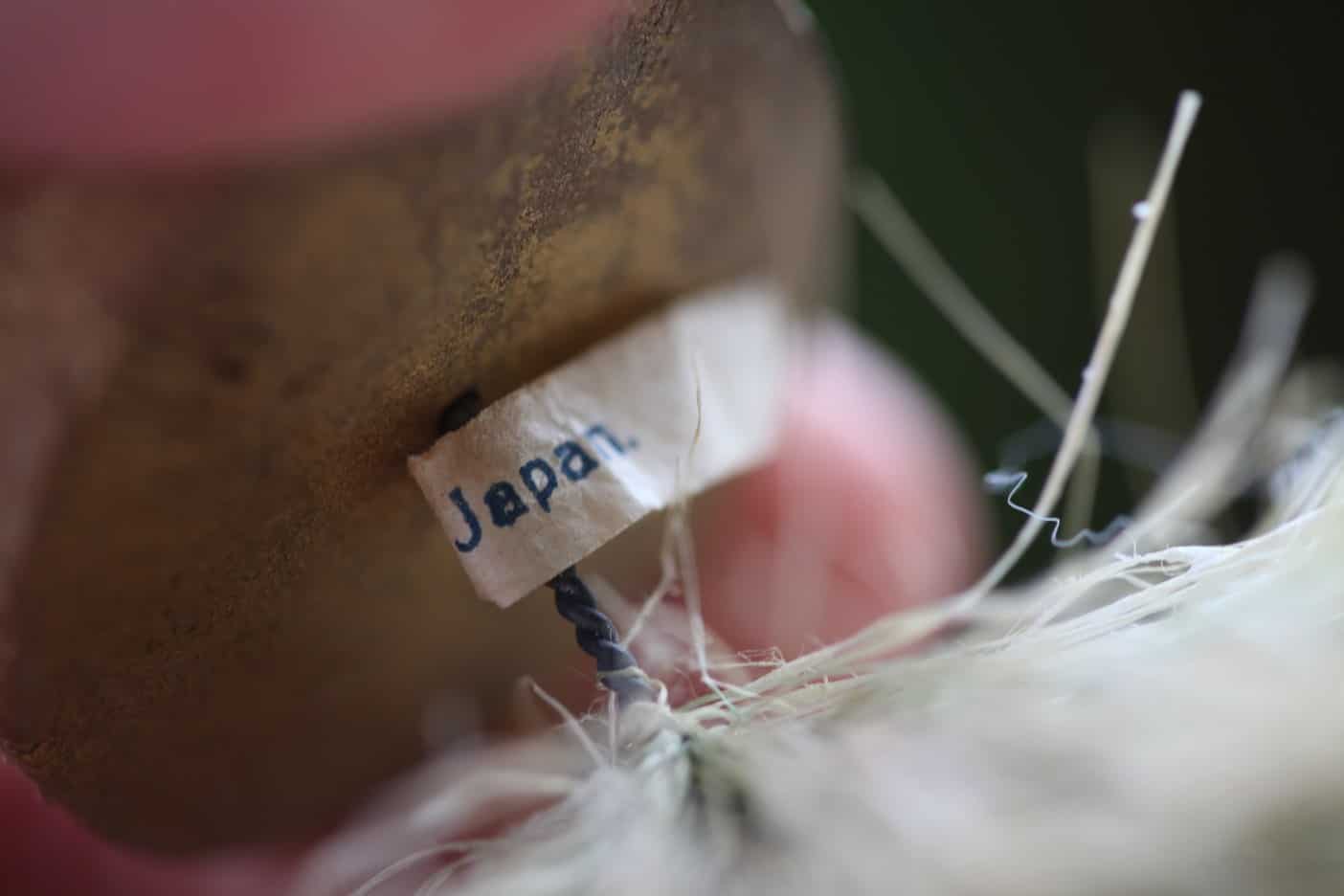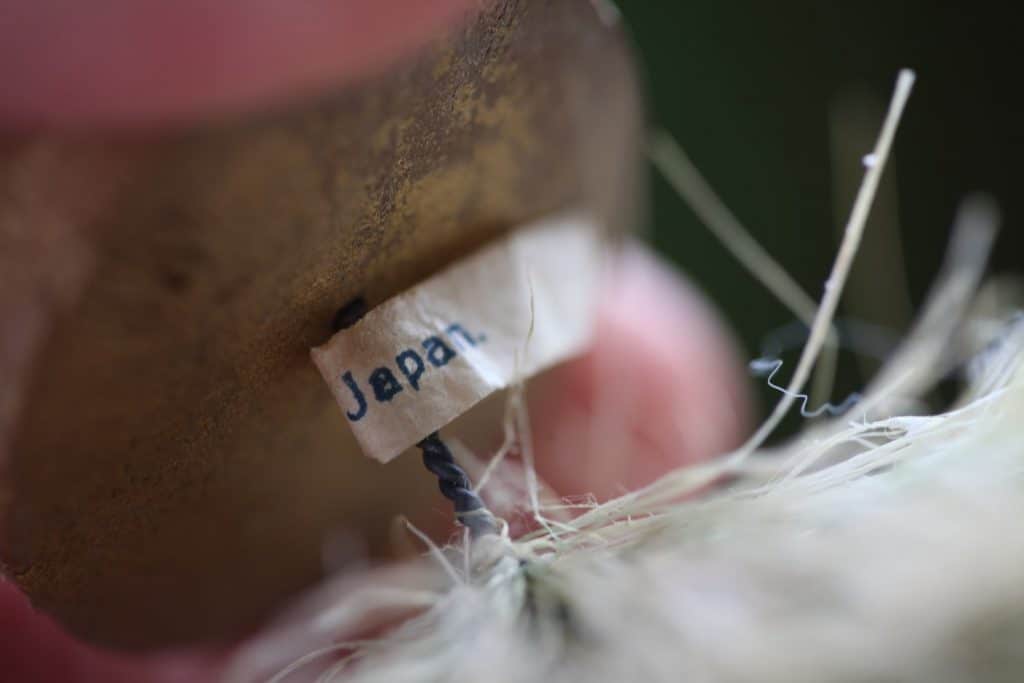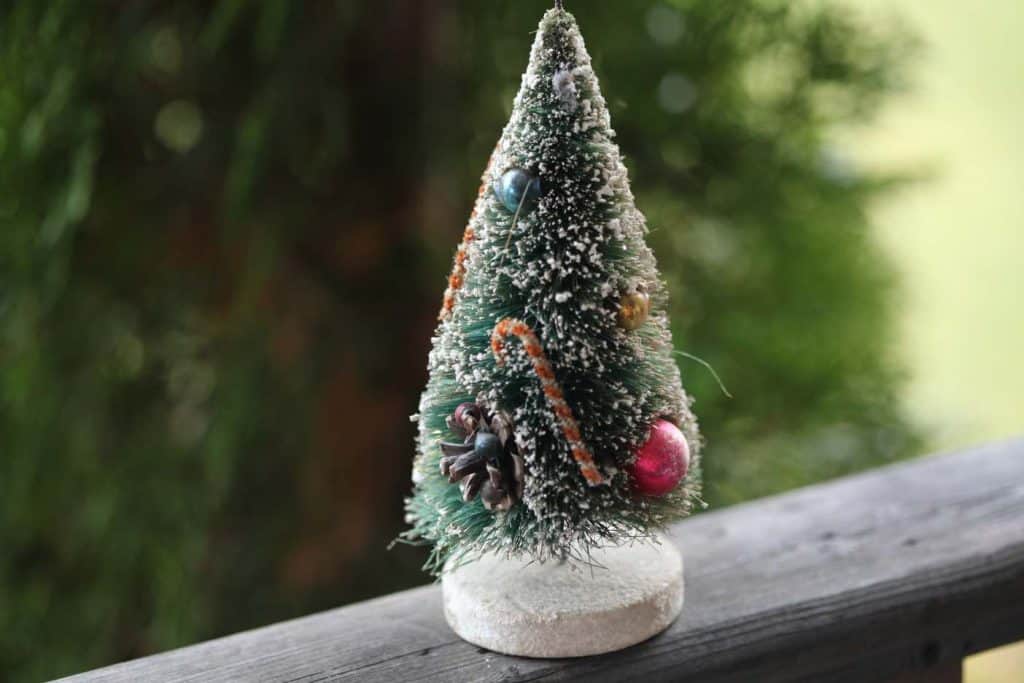 DIY Vintage Bottle Brush Trees
Although not vintage and rather vintage inspired, some crafty people are making their newish bottle brush trees look vintage made in creative ways.
New bottle brush trees are not expensive, and sometimes you can pick them up at dollar stores.
Vintage-look bottle brush trees can be made using the following methods:
Bleaching makes the trees look old and worn. This DIY technique gives any plain green bottle brush tree a brand new look with vintage charm and handmade style.
Making Sisal Bottle Brush Trees
These sisal bottle brush trees from Smile Mercantile look like my vintage trees, and they have that authentic look. However they are newly crafted out of sisal fibre and floral tape, and made into these sweet bottle brush trees.
Adding Glitter To Bottle Brush Trees
Many of my vintage bottle brush trees are adorned with glitter. Adding glitter to new bottle brush trees will give these playful trees that vintage appeal.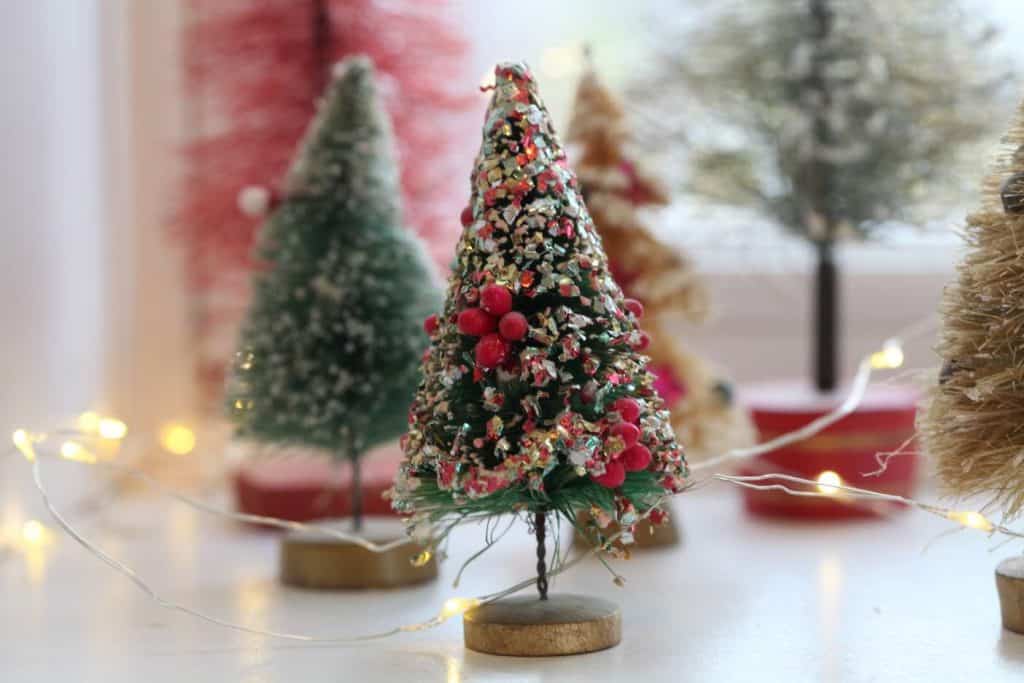 How To Display Vintage Bottle Brush Trees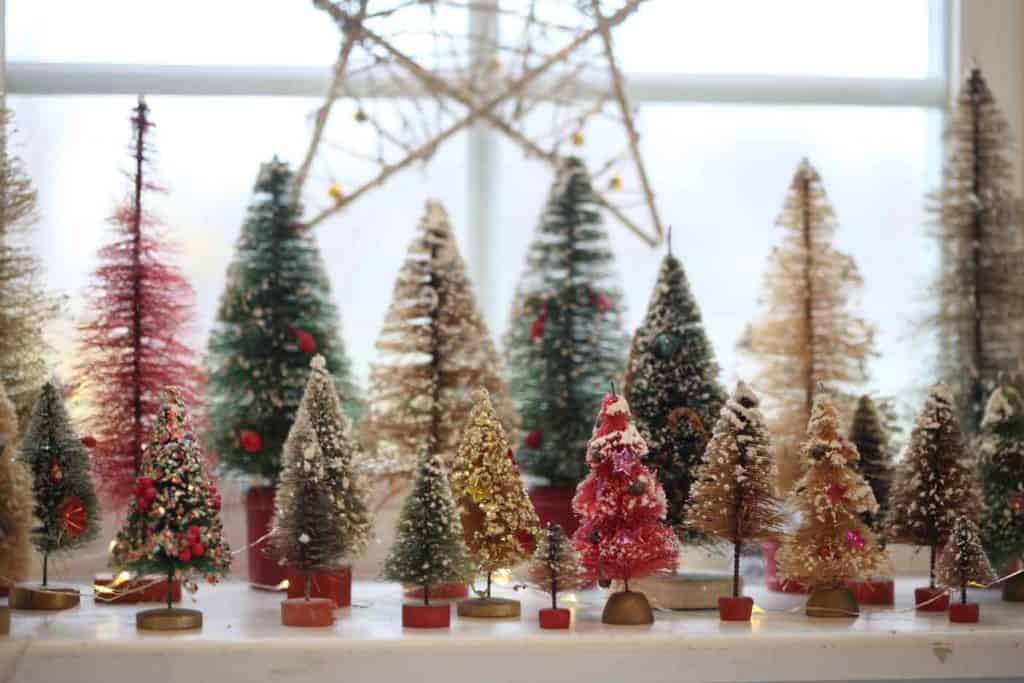 Display your vintage bottle brush trees together for the best visual impact, although even one tree standing alone makes a wonderful Christmas ornament. I love to group the collection of pieces of varying size, shapes and colours together.
I often divide it up my collection as well and make several groupings.
Place them on top of your holiday mantel with evergreen boughs.
Or place them together on a window ledge with white mini lights for a cosy Christmas look.
It's a great way to decorate a new window space.
Place them on your dining table as part of your centrepiece.
It's also an interesting look to place them in a cloche or mason jar for an extra special touch. It can be a bit awkward getting the trees to stay upright during the process, but it is doable and an accomplishment when completed.
How Do You Fix A Squashed Bottle Brush Tree?
It is very easy to fix a squashed bottle brush tree.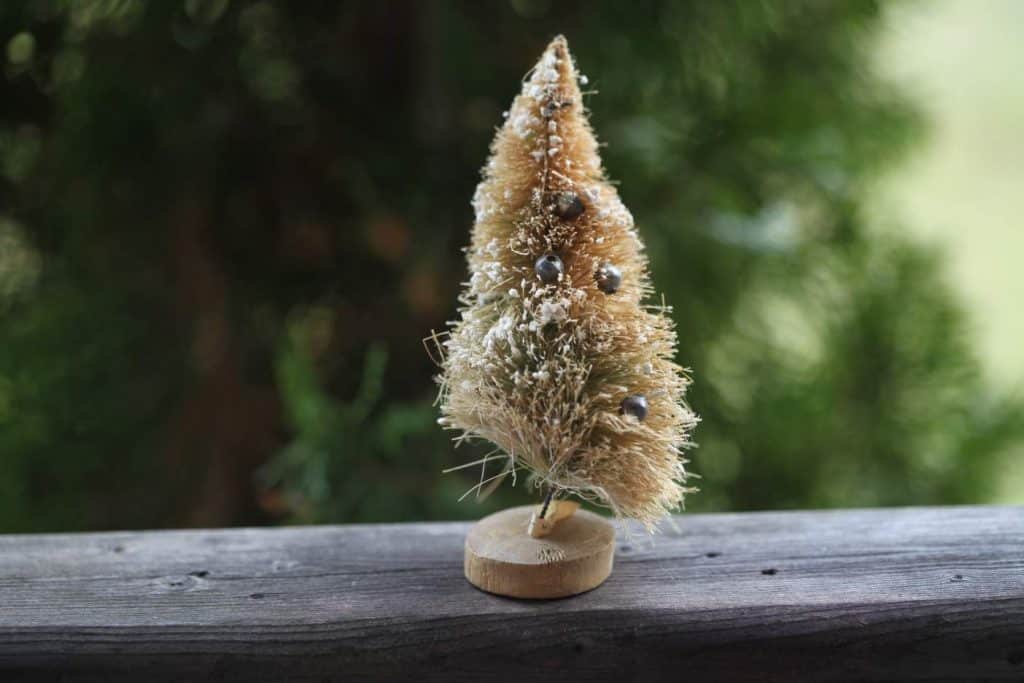 These trees can easily get flattened during storage, and may require some fluffing up.
Gently move the fibres of the tree with your fingers, fluffing them into an unflattened position.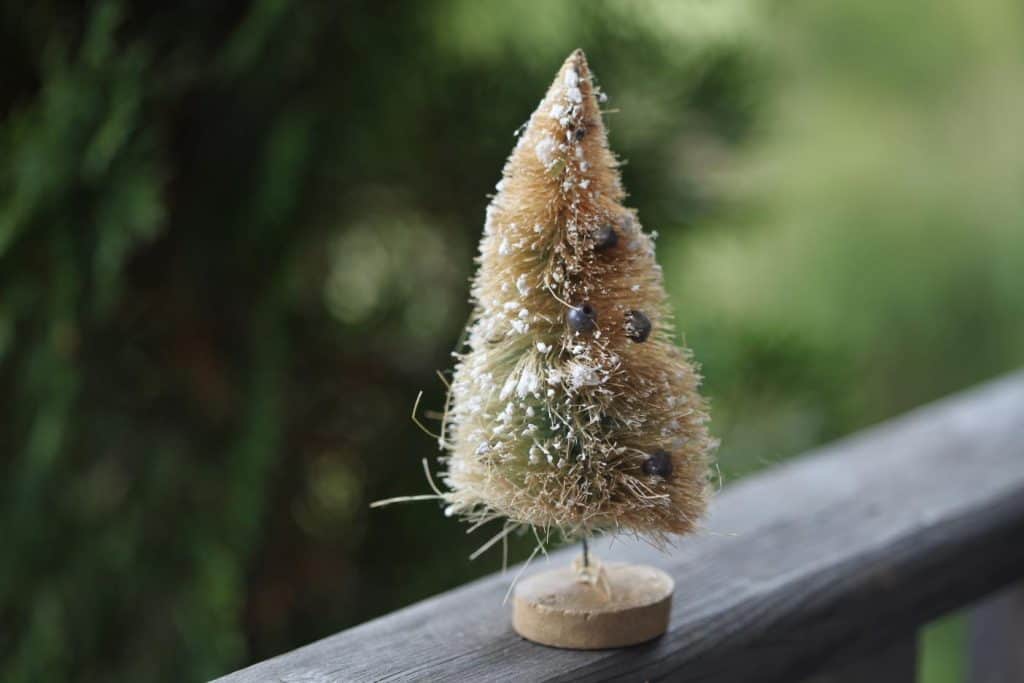 The end result may not look perfect, however that is generally the look you want anyway with a vintage bottle brush tree.
Sometimes however the tree may be too fragile, and the fibres may separate from the wire base, causing them to fall out.
If you notice that some of the fibres in the tree are falling out, take care during the fluffing up process and handle gently.
How Do You Straighten A Bottle Brush Tree?
Bottle brush trees have a central wire from which all of the tree branches protrude.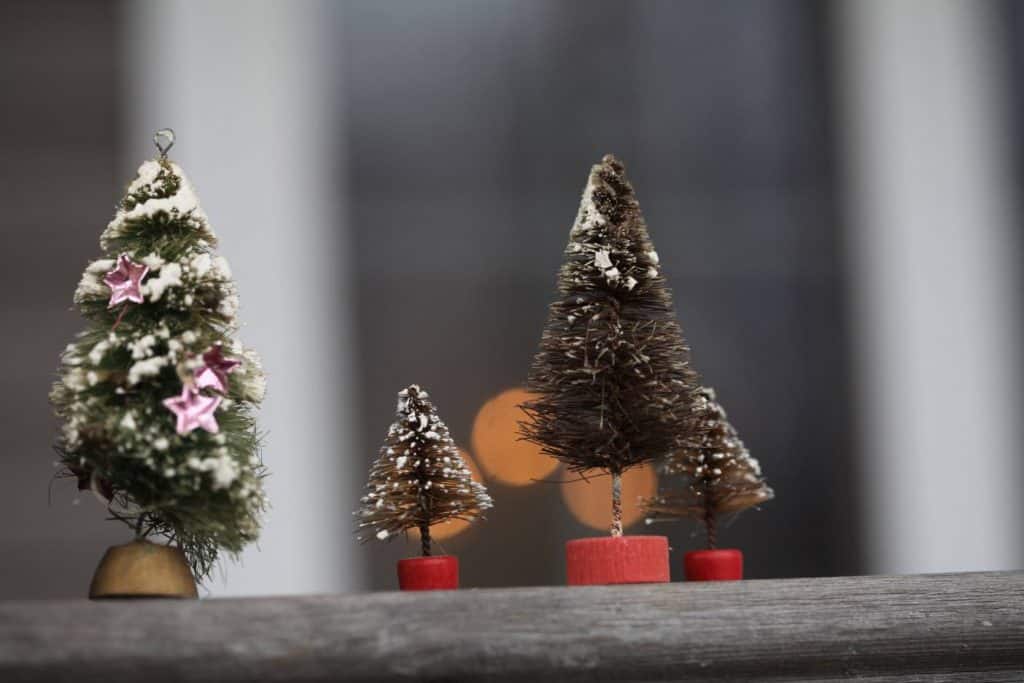 In true vintage nature, sometimes the central wire of the tree can get bent from wear and tear, falling, or bending during storage.
If this occurs, it should be an easy fix.
Hold the tree by the wood base and gently move and straighten the wire until you get it into an upright position. You can usually just do this by hand, and no tools are required.
Are Bottle Brush Trees Messy?
Vintage bottle brush trees can be a bit messy if they are losing bristles. However, not all bottle brush trees will lose their bristles.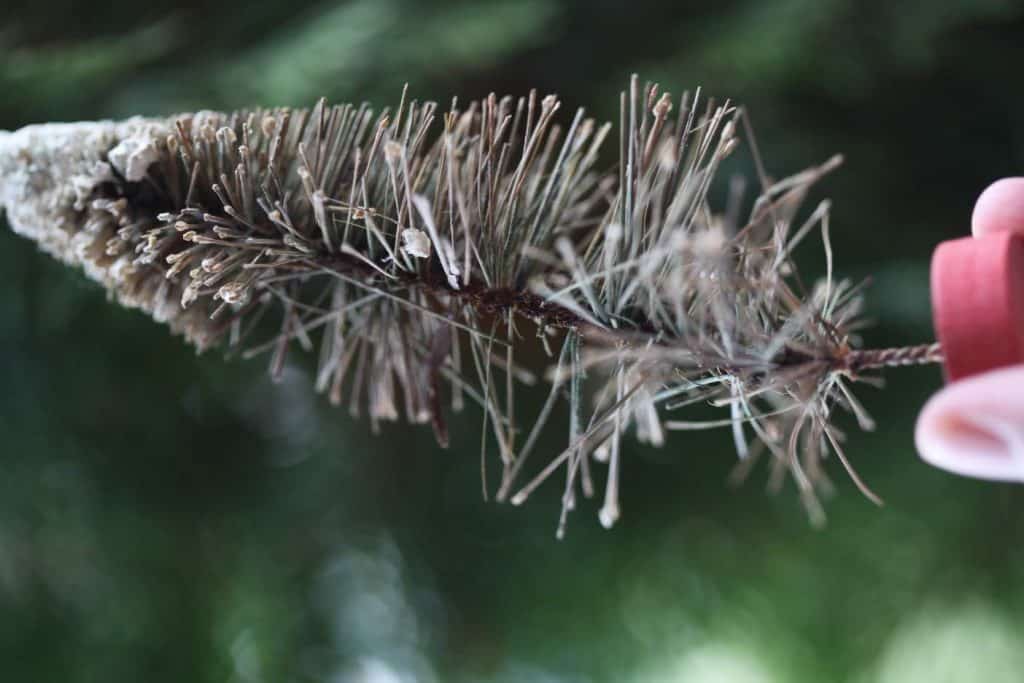 Even when they do, they are no messier than evergreen boughs or traditional Christmas trees losing their needles.
Cleanup is quick and easy.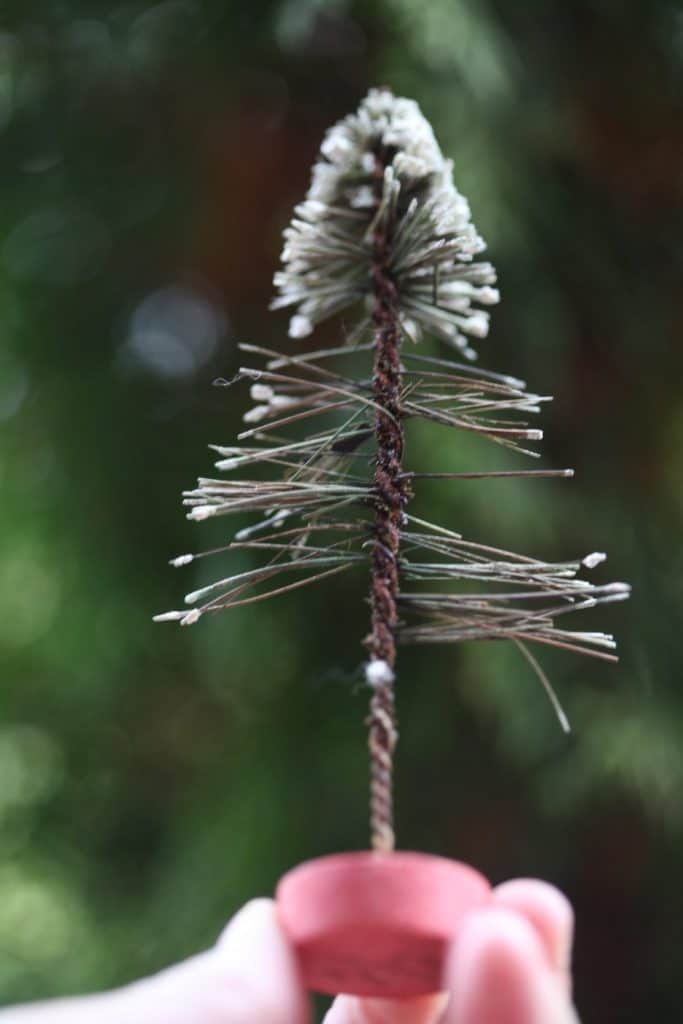 How Do You Store Old Bottle Brush Trees?
Wrapping each piece in tissue paper and storing in a box is a great way to protect these vintage trees.
If you place them in a box on top of each other without wrapping them ( which I have done ), they tend to stick together.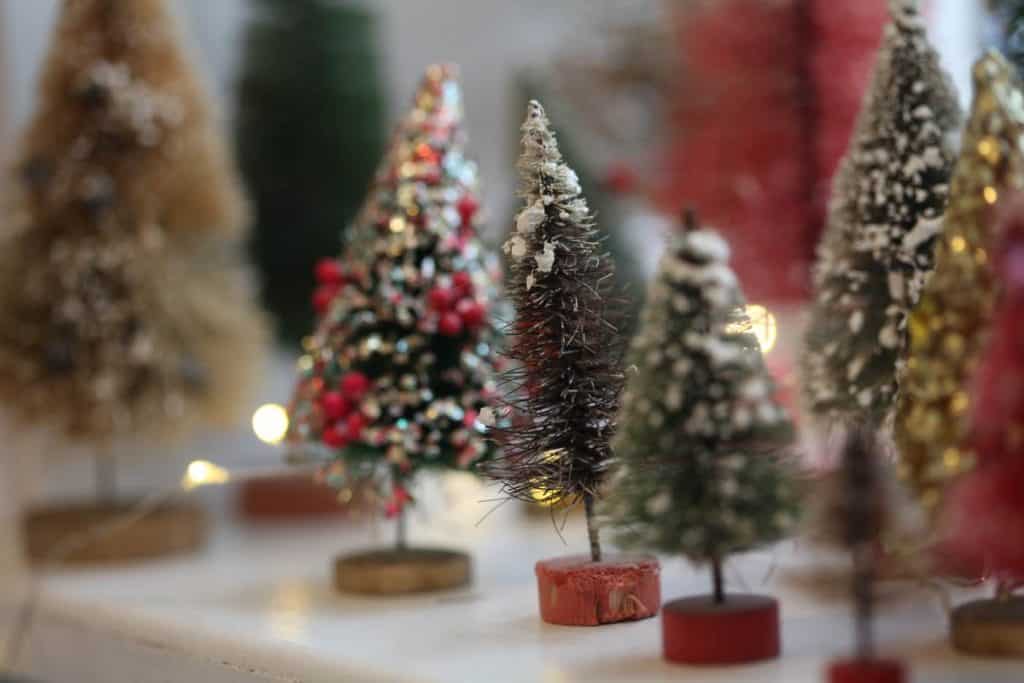 Then when you try to remove them from storage, you can lose a few bristles in the process, by trying to pull them apart.
By wrapping them individually you protect them from getting tangled together.
Best to be safe and take care of your vintage bottle brush trees, so that you can enjoy them for many more seasons to come.
Conclusion
Vintage bottle brush trees are at the top of my list for simple yet elegant Christmas ideas and affordable decorations.
Collecting vintage bottle brush trees has been a fun experience, and I certainly plan to hand these vintage decorations down when the time comes.
In the meantime I will use them during the holidays to decorate for a festive yet simple look.
I may even try my hand at a DIY vintage bottle brush tree creation.
I hope you are inspired to try decorating with bottle brush trees this holiday season, and bring a bit of the past into your holiday decor with these adorable vintage Christmas decorations.
RECOMMENDED PRODUCTS FROM THIS POST
This post contains affiliate links, which means I make a small commission at no extra cost to you. See full disclosure on privacy policy here. As an Amazon Associate I earn from qualifying purchases.
These are vintage inspired, and not actual vintage bottle brush trees:
Have you ever collected vintage bottle brush trees, or made a DIY vintage bottle brush tree? Be sure to leave a comment down below to share your experience!
OTHER POSTS YOU MAY LIKE:
PIN IT FOR LATER: