Last updated on November 24th, 2023 at 07:49 pm
Globe Amaranth, also known as Gomphrena, is a bright lollipop-like flower that is very easy to grow. It is fabulous in bouquets for a fun punch of colour, and it also looks adorable in a vase all on it's own. Learn how to grow Globe Amaranth, and bring this sweet flowering plant into your garden.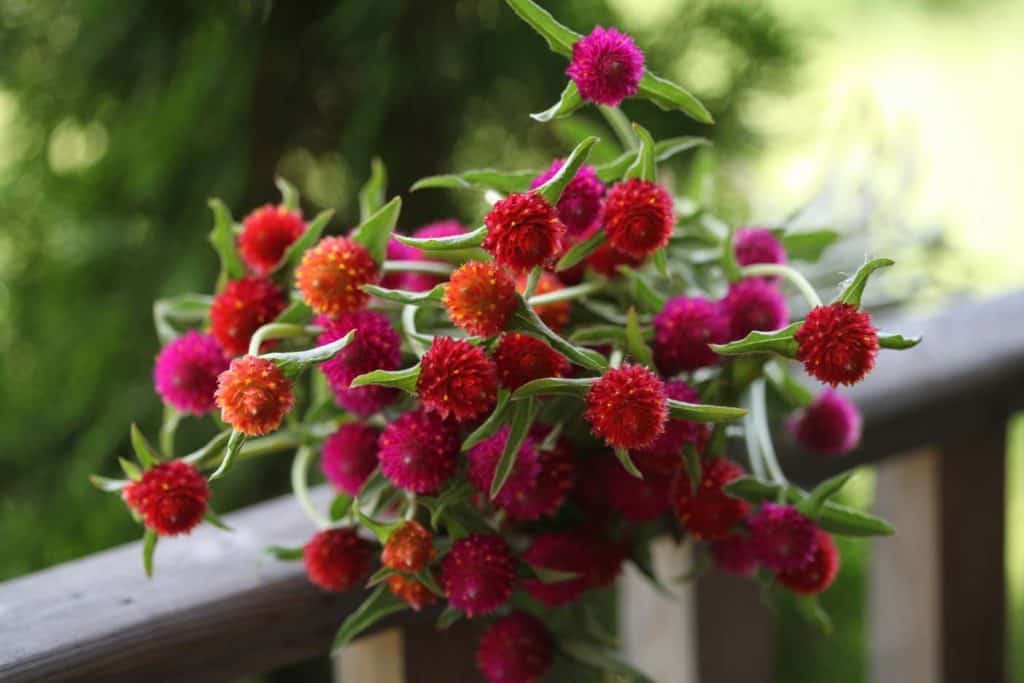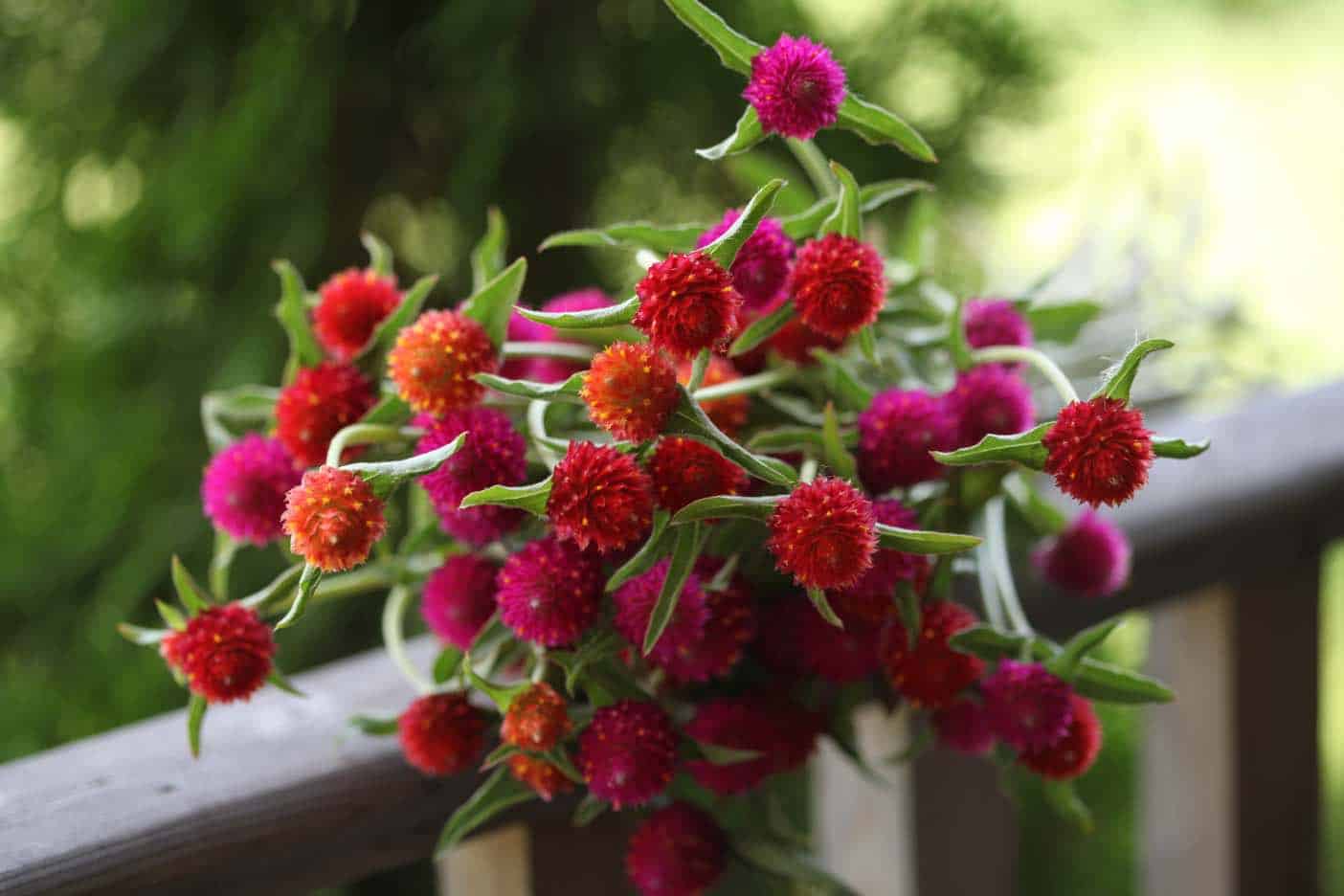 My first year growing Globe Amaranth was a curious one.
When I first saw these tiny flowers growing in the garden I was not much impressed, mainly due to their size.
They grew singly on a tall stem, and although there were side branches with other developing smaller flowers, they did not really stand out in the garden.
As a grouping they just didn't shout "Hey look at us", like some of the other more unusual flowers did.
Not at first at least… until I looked closer.
When I first used one of these tiny flowers in a farmhouse bouquet, that's when it hit me.
In a grouping with other flowers they really stood out. Even just one or two of these sweet flowers in a bouquet drew your eyes to the tiny blooms. They were tiny, colourful and round, and were amazing accent flowers.
I realized how beautiful they actually were and started to take notice.
Now I see that they are absolutely spectacular in a grouping with other flowers, and all on their own as well.
Bringing all of these sweet little flowers together makes for an uncommon and whimsical grouping of tiny beautiful blooms.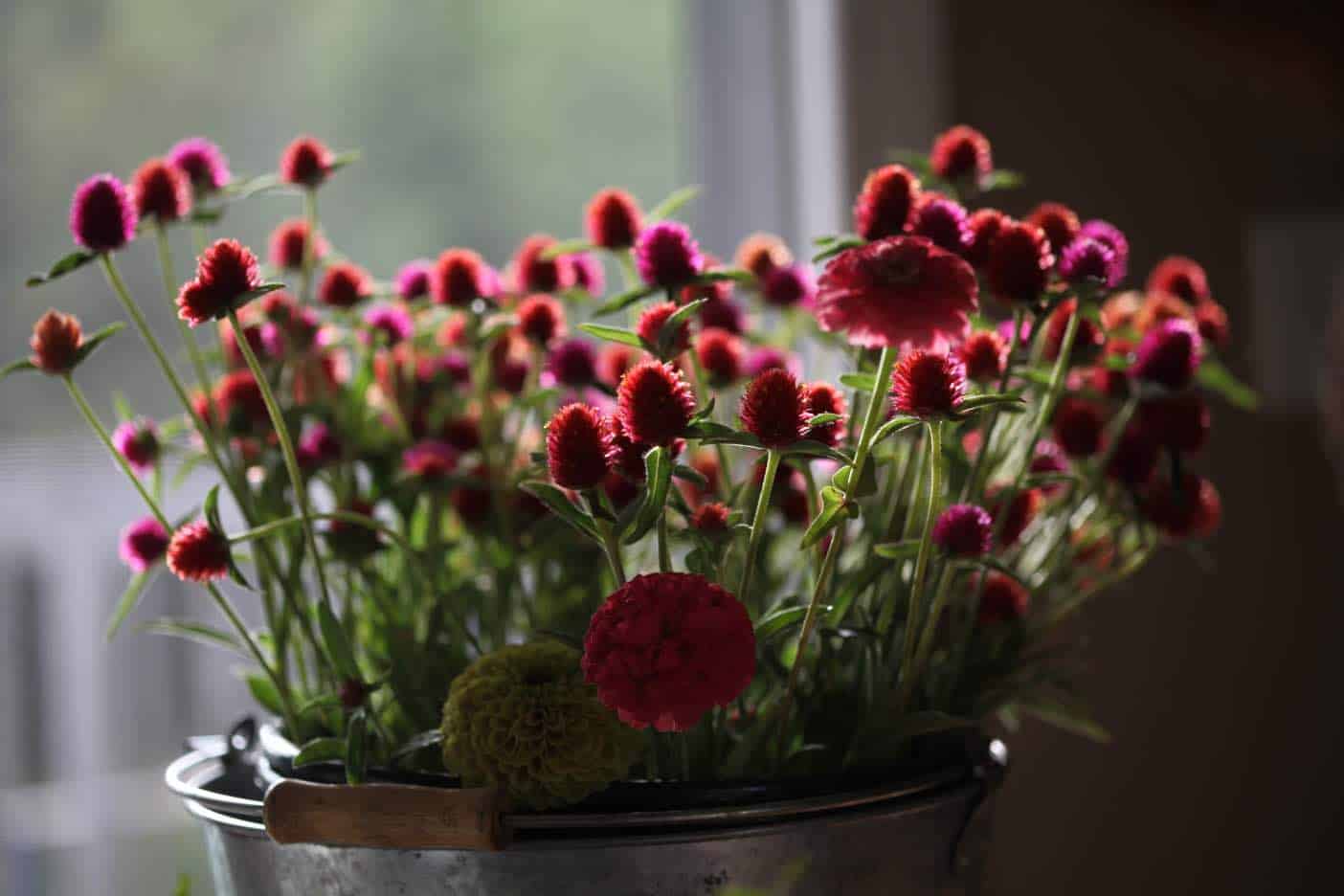 With the sunlight catching those sweet little blooms, they absolutely glow with joy.
Or at least that is how I imagine it.
Globe Amaranth Annual Or Perennial?
Globe Amaranth is an annual flowering plant.
The good thing about being an annual is that it can be grown in many growing zones, even the colder ones like ours in zone 5b.
In cooler climates these annual flowers can be started indoors early in the season.
When the weather warms up and the chance of frost is over, they will be good sized seedlings to grow on in the garden.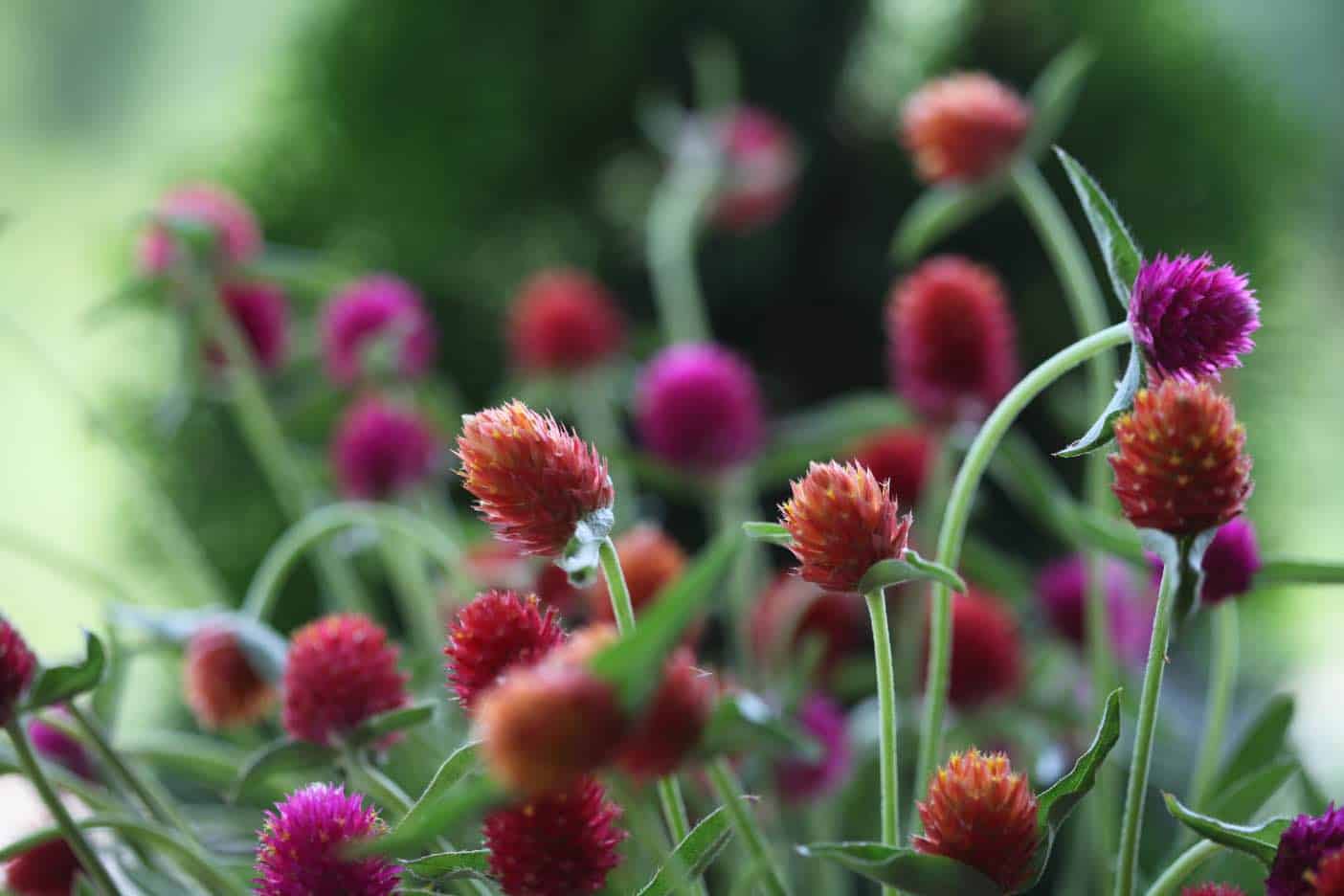 Globe Amaranth Colours and Shapes
This flower comes in a variety of colours, ranging from orange to red, fuchsia ,white, and shades of purple.
The flower colour starts to become less intense as the blooms mature.
This tiny flower is drum stick shaped, with a long stem and a little ball shaped flower at the tip of the stem.
The bloom is similar to that of clover, although it has a different colour and drier texture.
With recent hybridization there will be other varieties developing, such as the more open bloom in Gomphrena Fireworks, which is less ball shaped and more splayed out at the top of the bloom, just like fireworks.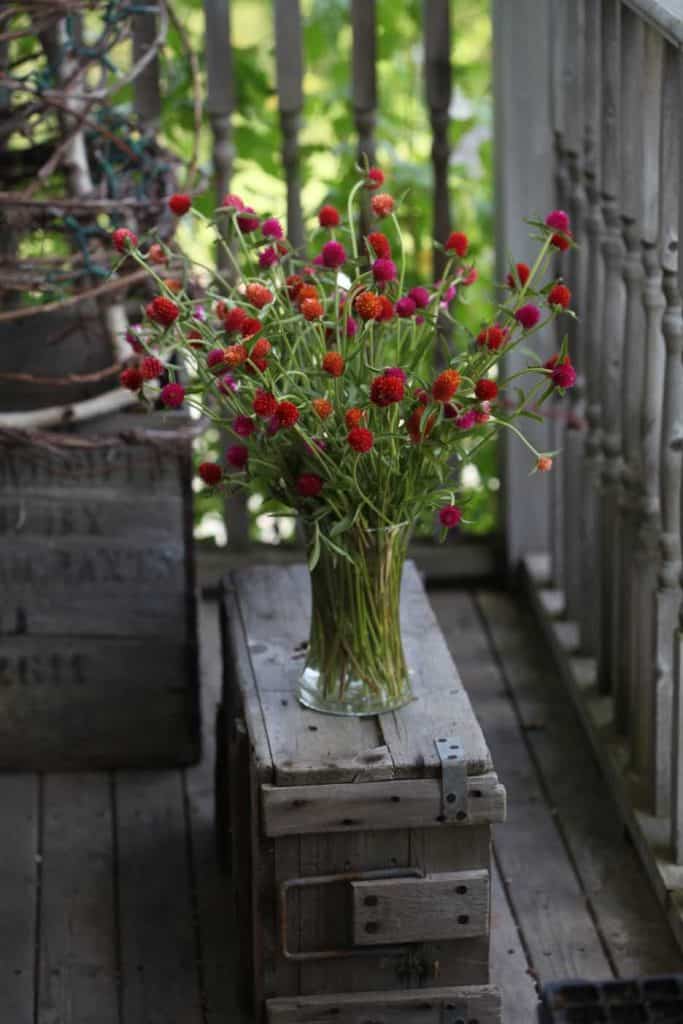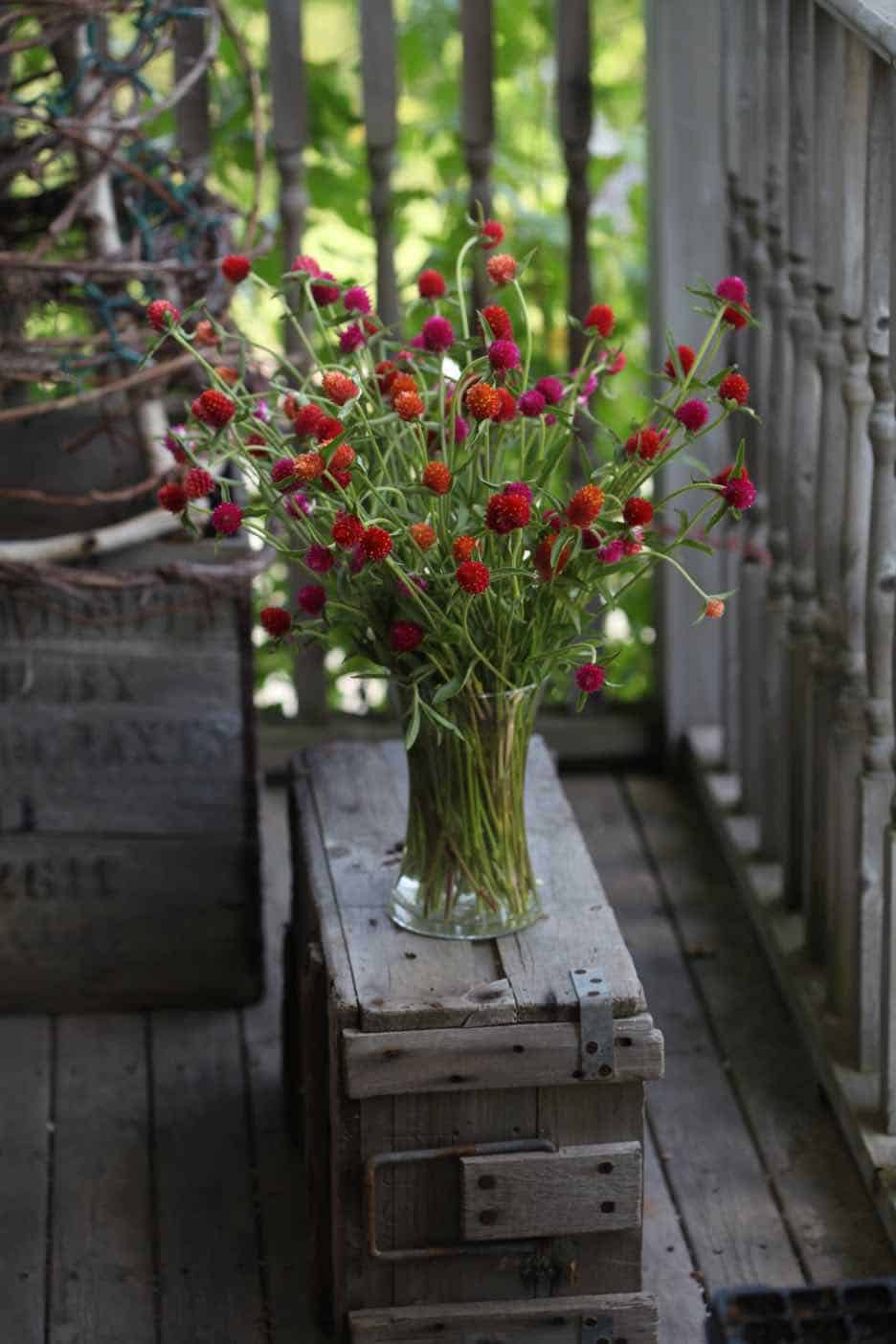 What Do Globe Amaranth Seeds Look Like?
When I first started growing Globe Amaranth, I received my seeds from Floret. I did not see anything unusual about them, and they were planted and grew very nicely in the garden.
Last year I decided to save some seeds, and I watched as the little round blooms elongated in their mature form.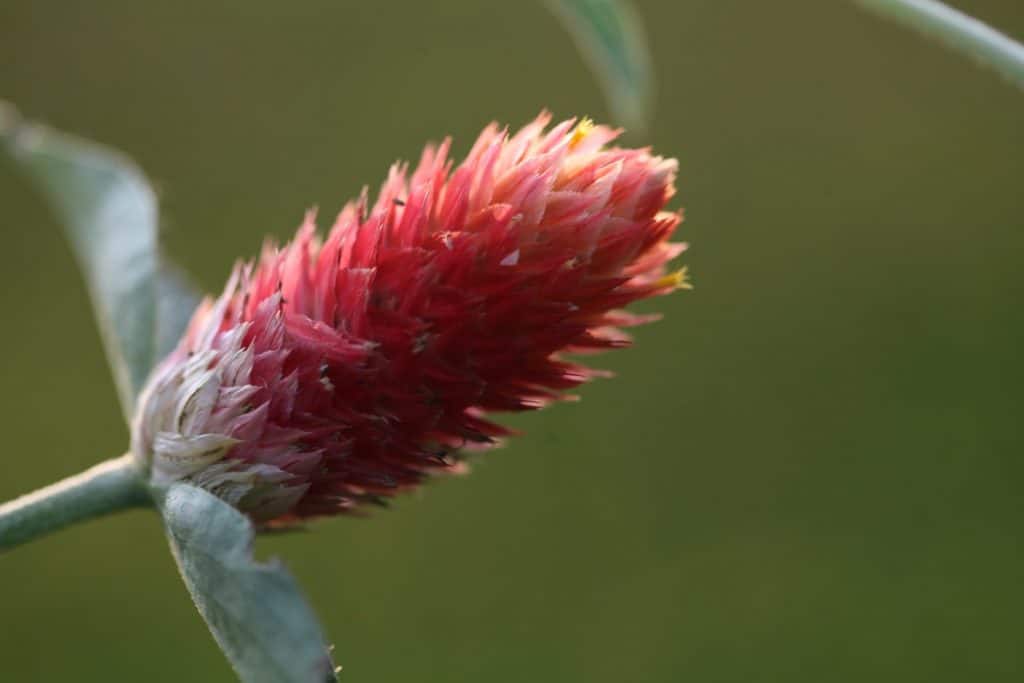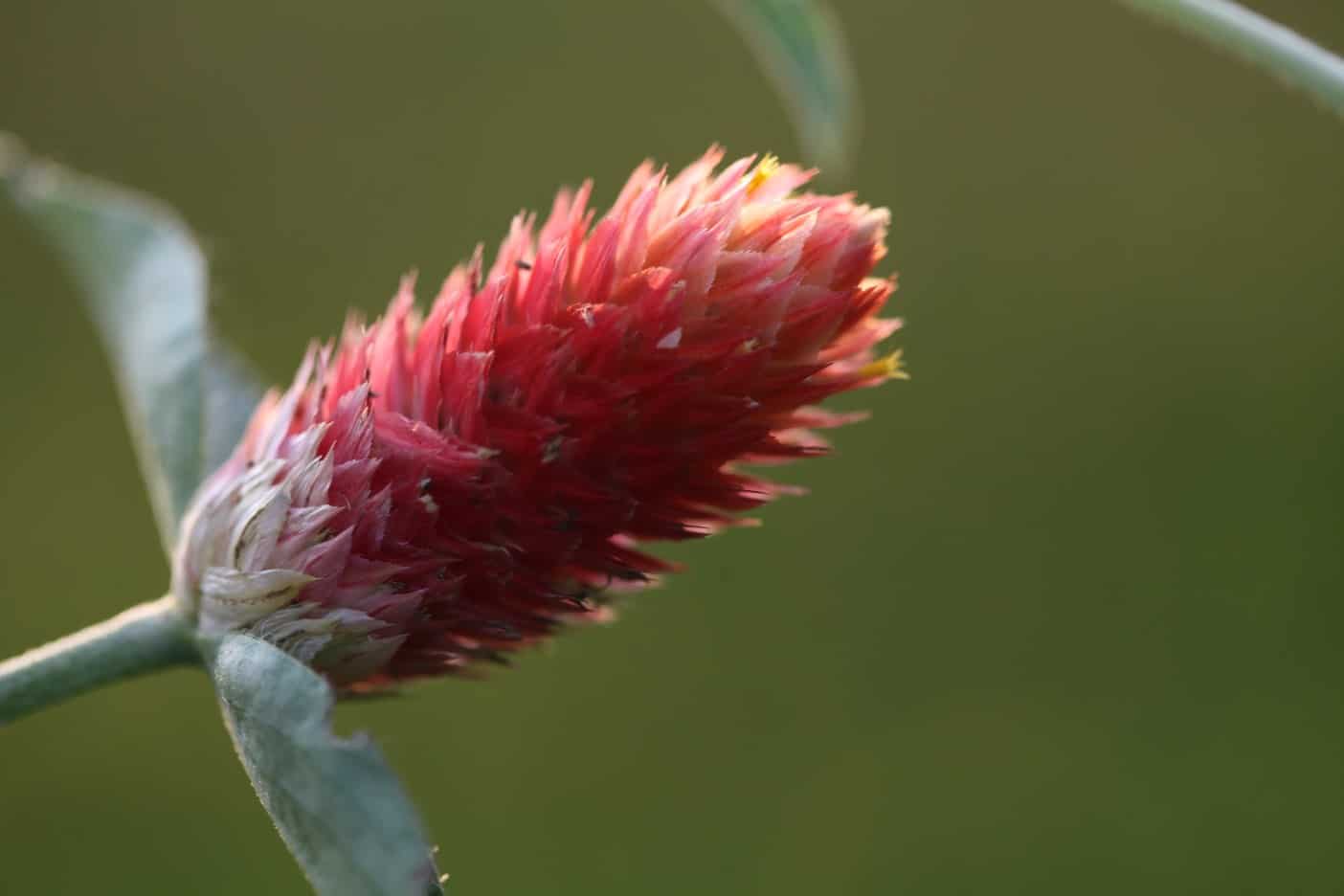 At the base of the elongated blooms were dried bracts containing seeds, that easily fell off with the slightest touch. The seeds were very easy to harvest.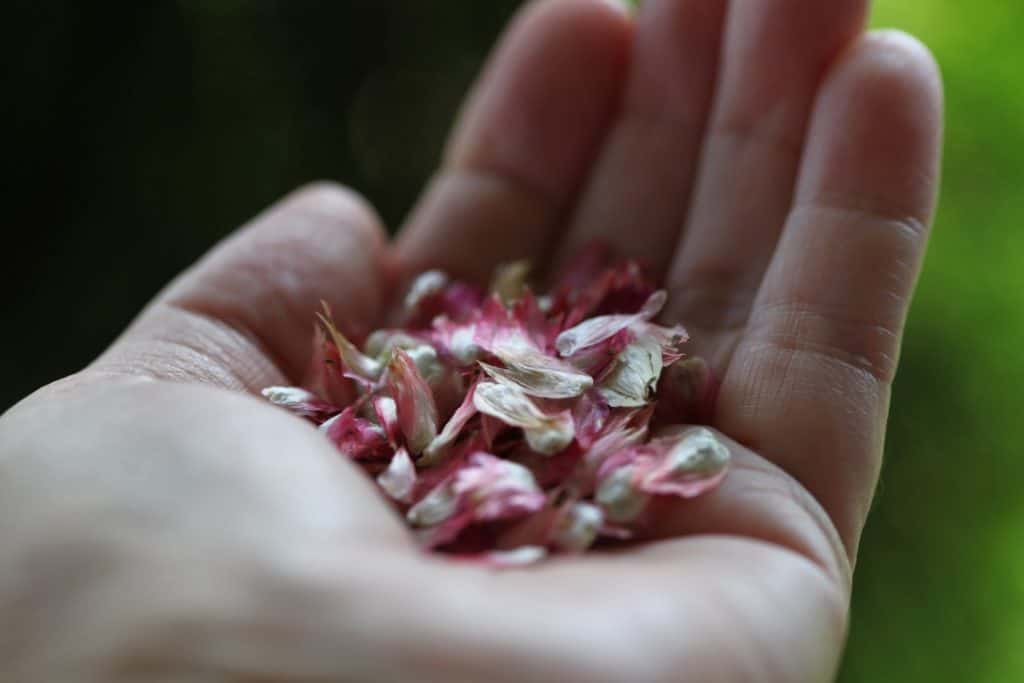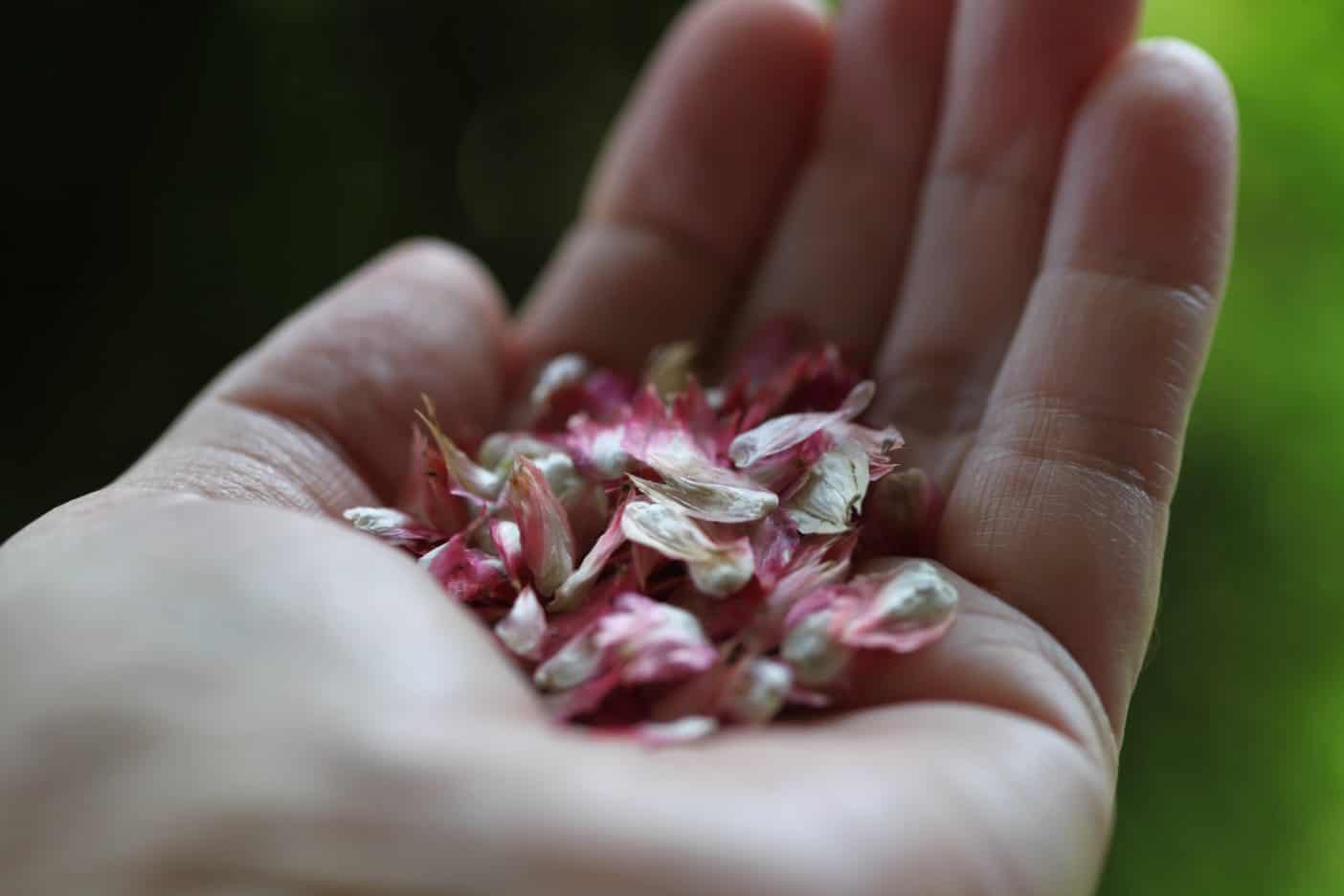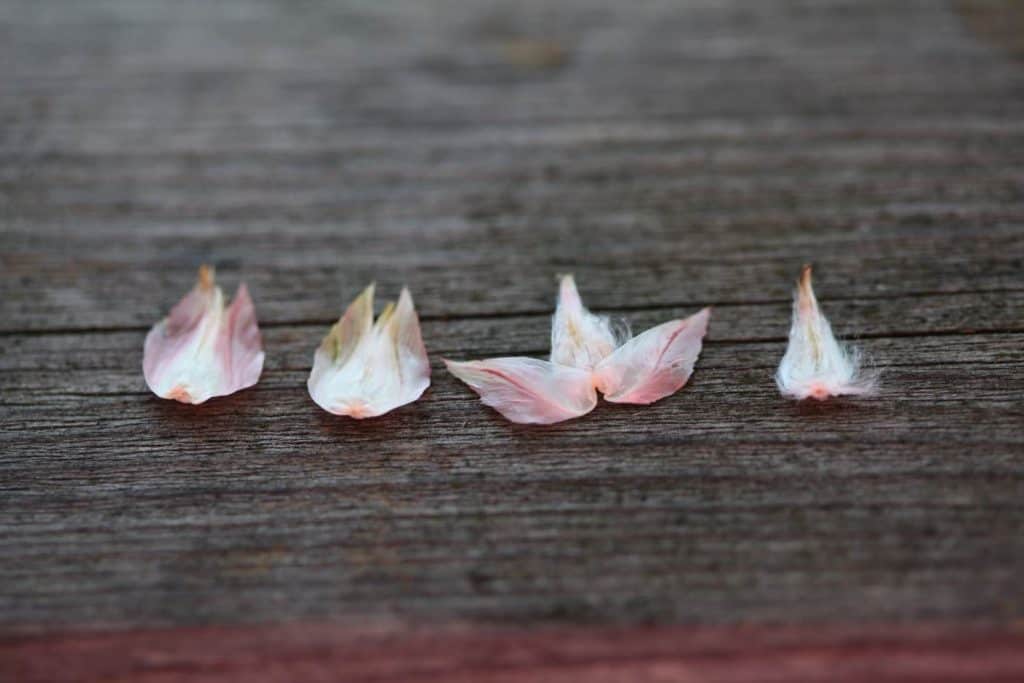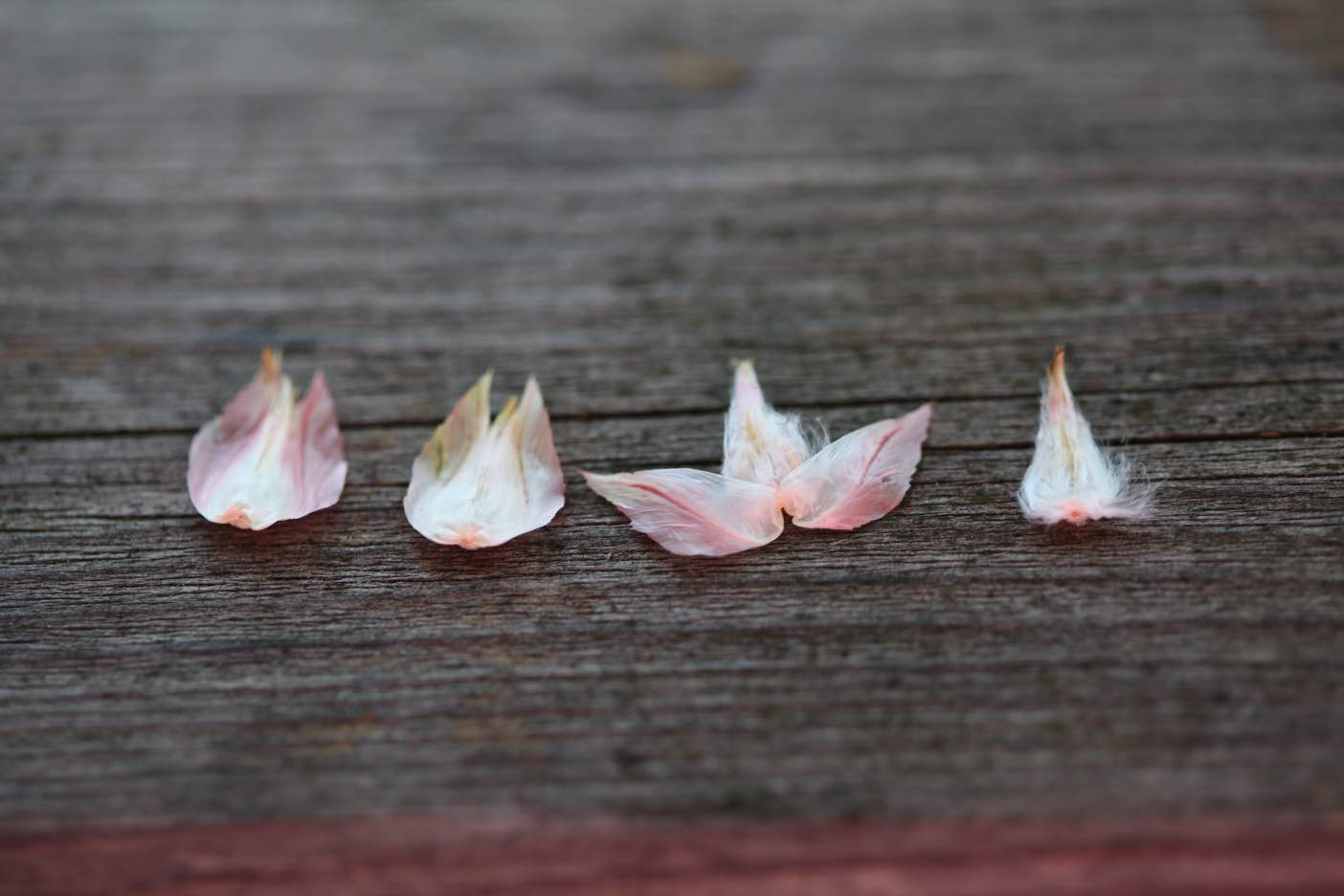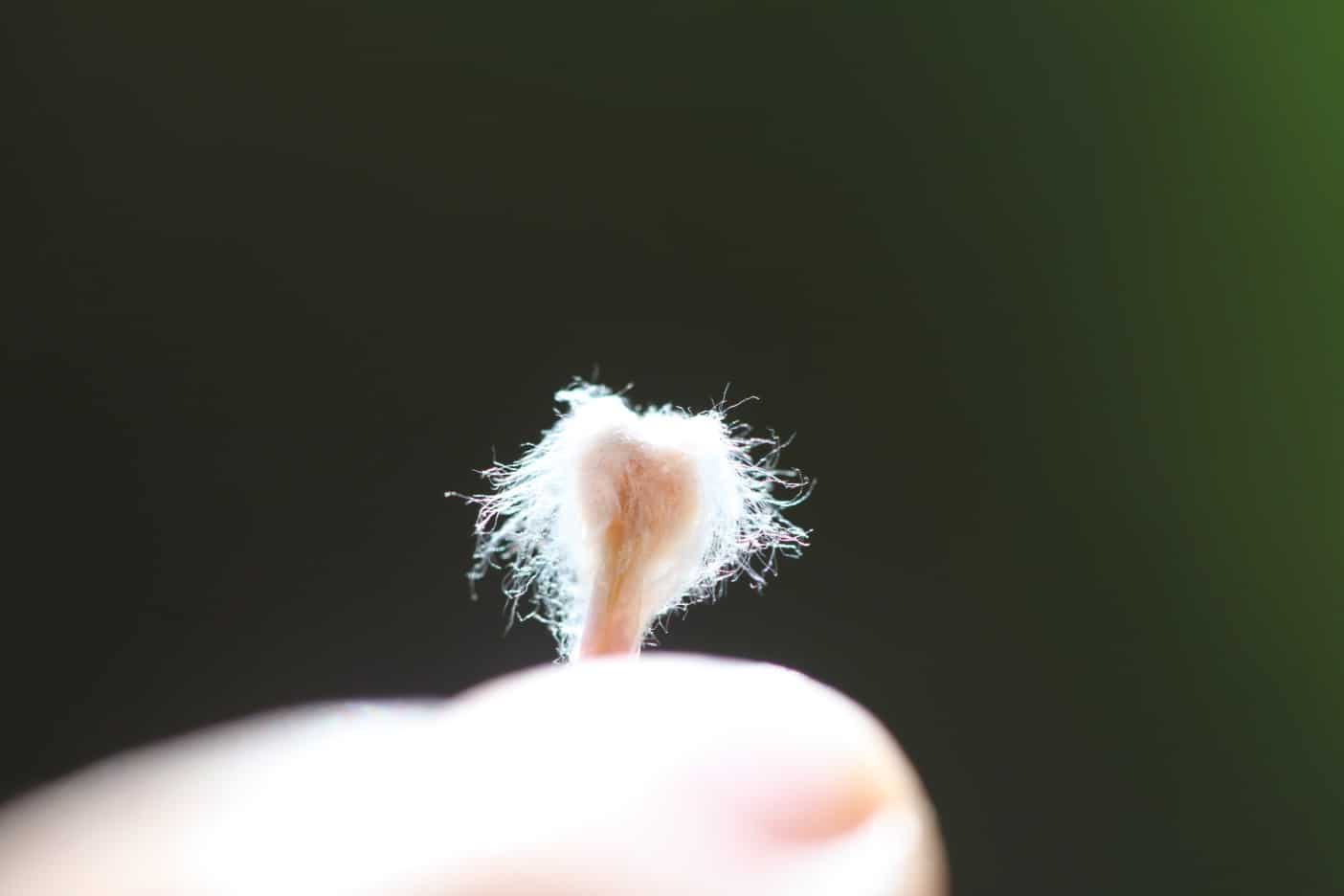 When I decided to save my own Globe amaranth seeds, I found the seeds to be quite interesting in appearance. They have a very furry outer surface which was not evident on the purchased seeds in the spring.
I wondered if this outer coat would somehow prevent germination, and if it should be removed.
I planted the seeds anyway, in their furry coats, and lo and behold they grew very well.
Growing Globe Amaranth From Seed
Globe Amaranth is fairly easy to grow from seed.
Since we are in zone 5b here in Nova Scotia, we start all of our seeds indoors in early spring or late winter, to give them a head start on the growing season.
This way they will be a good size when they get planted out in late spring.
Globe amaranth is best grown from transplants, and direct seeding is not recommended for these flowers.
Here is a post which describes our process for growing seeds indoors in more detail:
HOW TO START FLOWER SEEDS INDOORS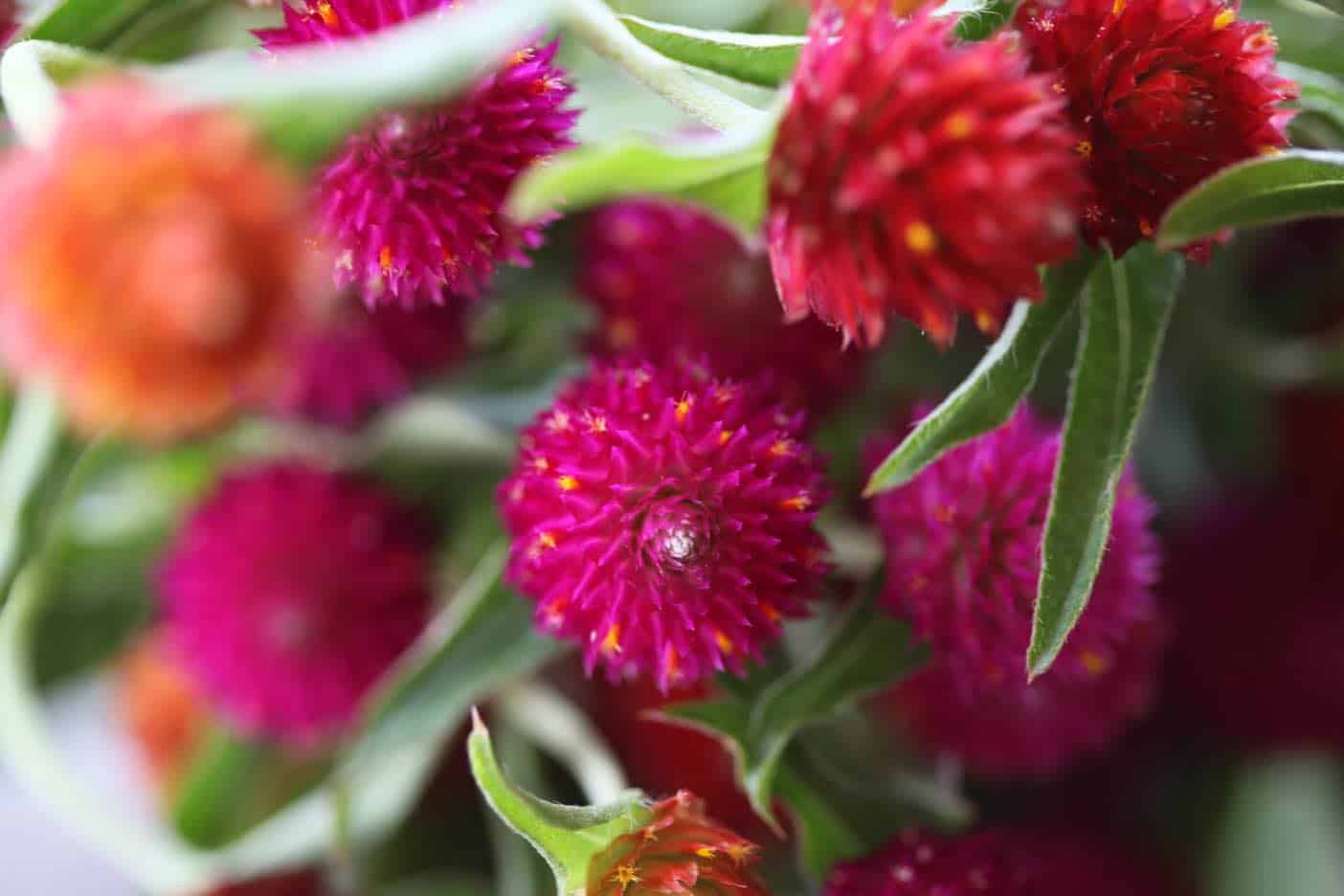 How To Grow Globe Amaranth From Seed
Planting The Seeds
We plant all of our flower seeds indoors in late winter and early spring.
The Globe Amaranth seeds are started approximately six to eight weeks before our last frost date.
Globe Amaranth seeds are started in seedling cell trays.
We use both 128 and 72 cell trays. These seeds can be planted in either sized tray, although the 128 cells will allow for more seedlings per tray.
The cell trays are filled with a good seed starting medium, and I generally do this when the medium is dry. I find it easier to work with in the dry form.
Give the tray a good tap on a hard surface to remove any air holes, and refill as required.
Make a little indent in the centre of each cell in the tray to place your seeds.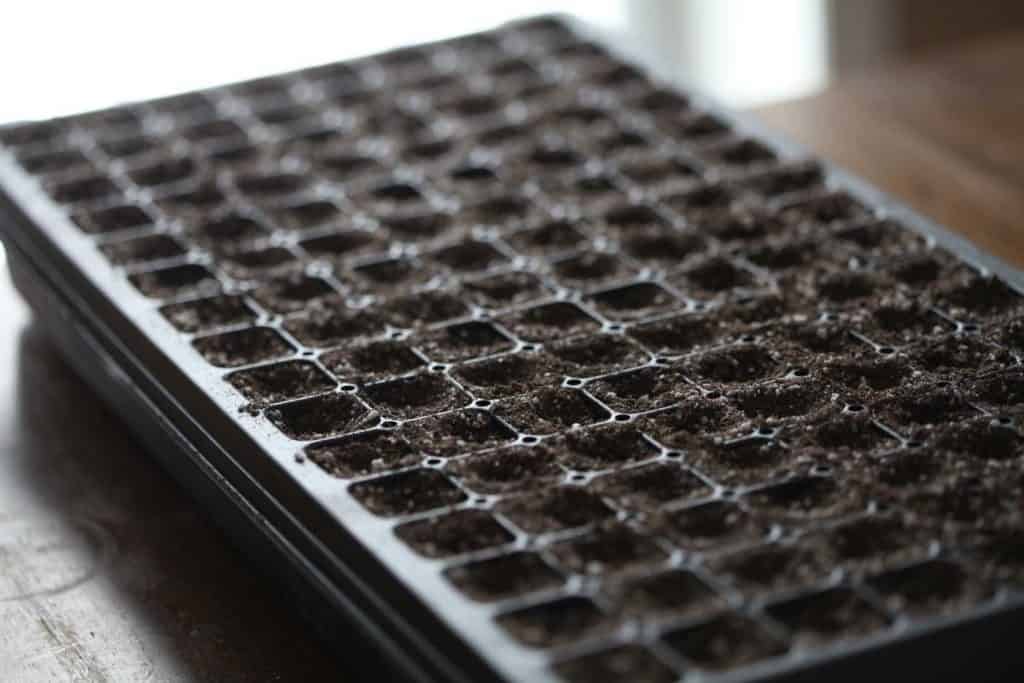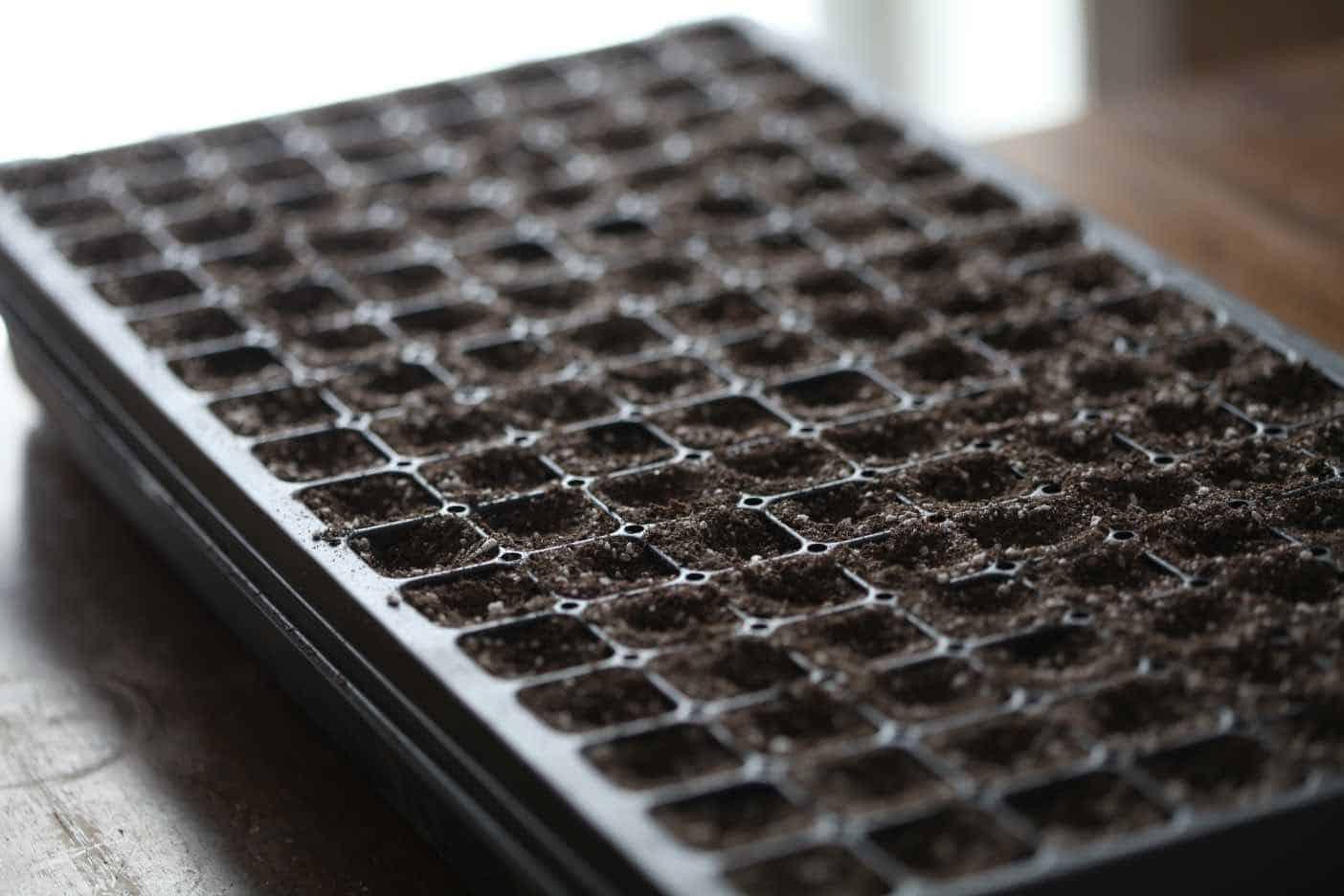 Globe amaranth seeds are easy to handle. Place just one seed per cell in the centre of the indent that you made.
Cover each cell with a sprinkling of vermiculite. This will cover the seed and also allow the medium to maintain some moisture.
Now it's time to moisten the cell tray.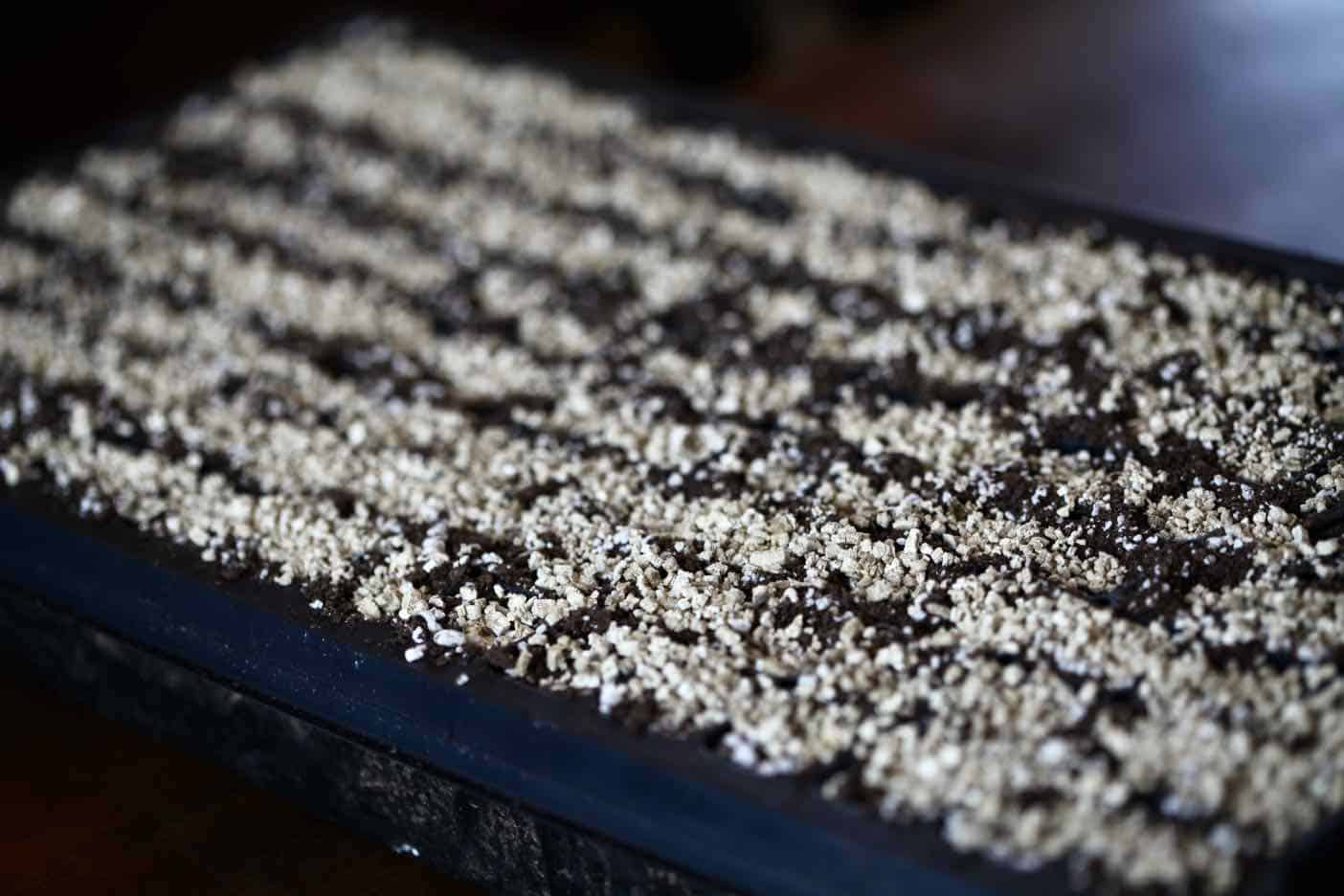 Maintaining A Moist Medium
Maintaining a moist medium during the germination process is very important. Do not allow the cells to dry out while the seeds are germinating, as they may not continue to grow.
The next step after planting the seeds is bottom watering the cell tray.
I do this by placing in a container larger than the tray, that is filled with water.
Allow the cell tray to draw up the water until it is saturated.
Bottom watering prevents dislodging of the seeds at the top of the cell. It is a gentle and thorough way of watering the trays.
After the tray is completely saturated, it's time to provide bottom heat.
Bottom Heat
Bottom heat aides in the germination of the seeds, and we do this by placing the trays on heat mats.
I like the four foot long mats, as they fit nicely on a four foot wide shelf, and I can place four seedling trays on one heat mat all at the same time.
The use of bottom heat makes a difference in my opinion, and I have tried growing seeds indoors without it without success.
With bottom heat the seeds germinate very well. Globe amaranth seeds will germinate within five days to two weeks.
Once sixty percent of the seedlings have germinated, the trays are removed from the heat mats and placed under grow lights.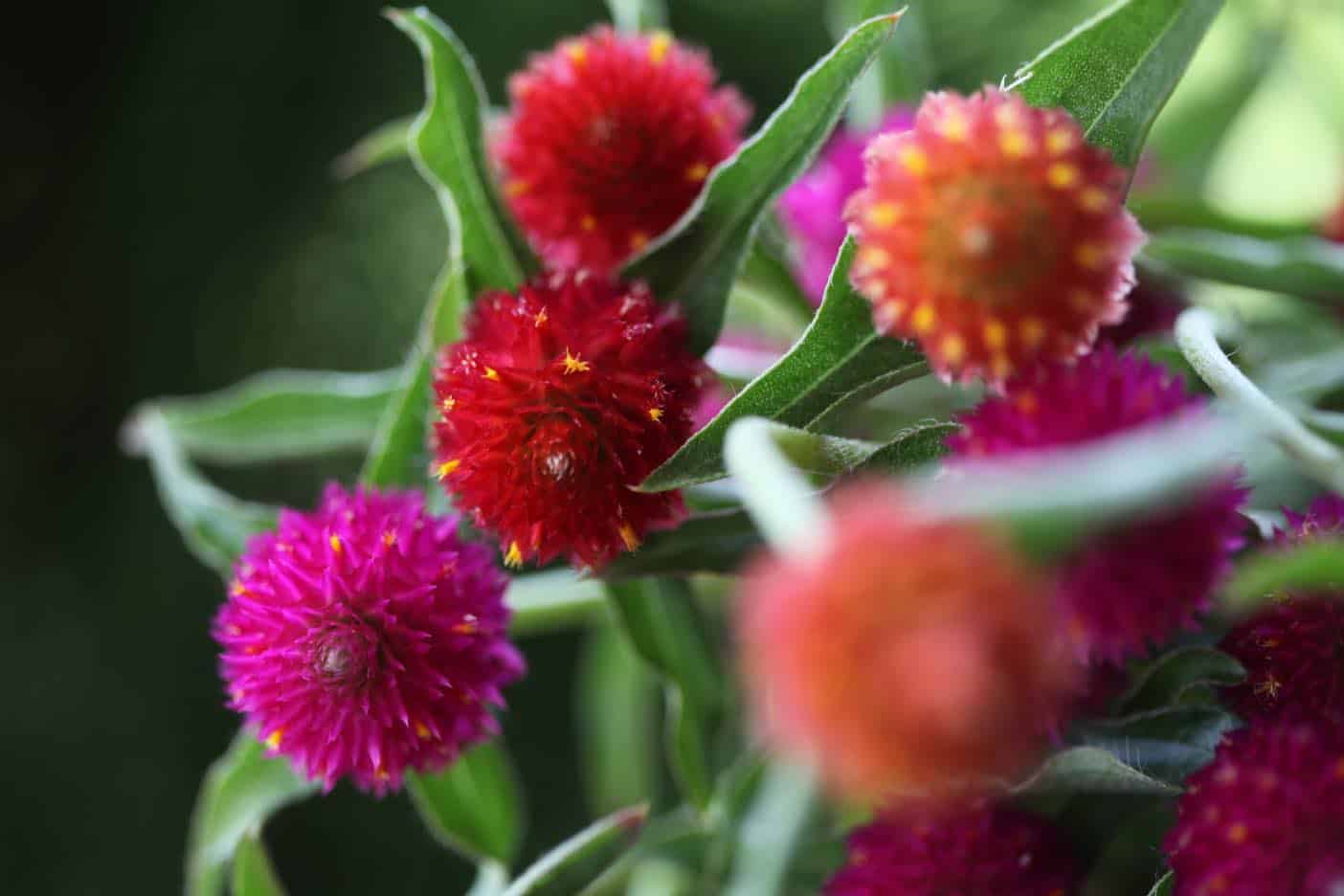 Grow Lights
The seedlings are grown under grow lights until they are ready to be planted out into the garden.
We do not use any special setup or expensive grow lights. We suspend two shop lights over each shelf, each of which contains two T8 bulbs.
This lighting is sufficient to allow the seedlings to grow well and strong until they can be planted out into the garden.
They are not transplanted out until the risk of all frost has passed. You can check on your last frost dates here.
When we are preparing to transplant out, we start the hardening off process. This process allows the seedlings to become sturdier and more hardy, and able to endure the outdoor elements .
Hardening Off
It is very important to harden off your seedlings before transplanting outside.
These seedlings that have been growing indoors up until this point are still quite tender.
Even if transplanting outside to an area that is frost free, they are still vulnerable to sun and wind damage.
The hardening off process will allow your seedlings to acclimatize and adapt to the outdoor elements before they are finally transplanted out into the garden space.
Transplanting Out
Transplant out into the garden once the risk of all frost has passed, and the seedlings have been hardened off.
The seedlings will establish and grow to maturity within two to three months.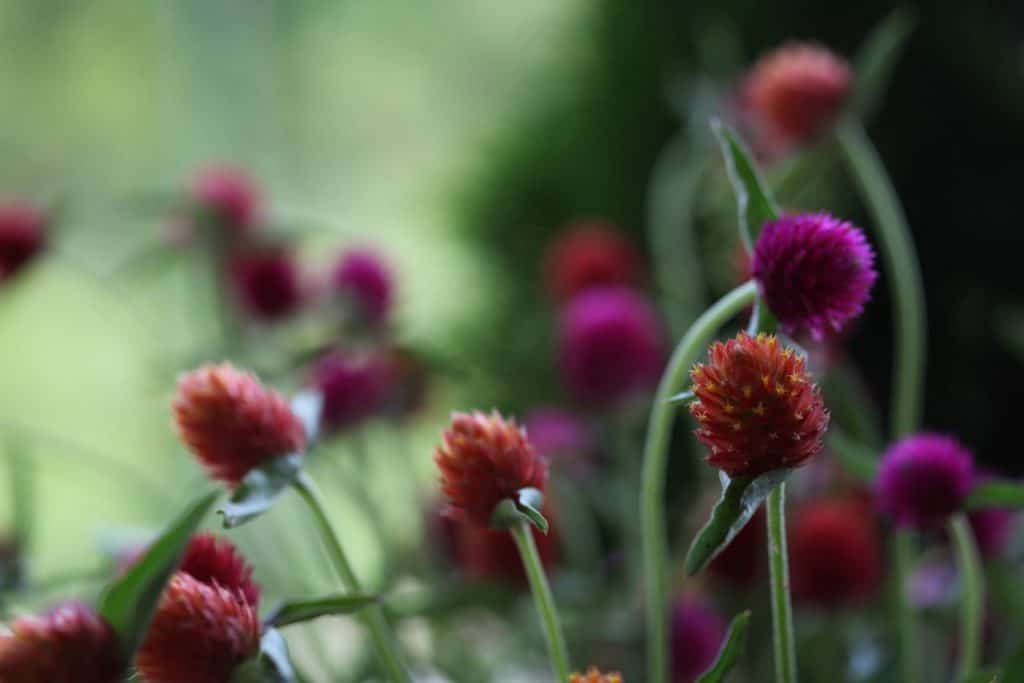 How Do You Care For Globe Amaranth?
Globe amaranth is an easy to care for garden plant. There are some things to consider however to grow it to it's best blooming state in the garden.
1. Planting Considerations
Here are some planting considerations for Globe amaranth:
Location- Does Globe Amaranth Need Full Sun?
Plant in full sun for best growth. They can tolerate some shade, however this will result in fewer blooms and weaker stems.
We had a patch of Globe amaranth growing under the shade of a few tall weeds. I was surprised at the difference in stem strength compared to those which were not growing in any shade.
Those growing in part shade had thinner stems and less blooms.
Soil Requirements
Plant Globe amaranth in well drained soil.
It will tolerate many soil types, and grows well in the clay soil at our farm. The plants will benefit and grow well in soil amended with organic matter, however will also tolerate soil without amendments.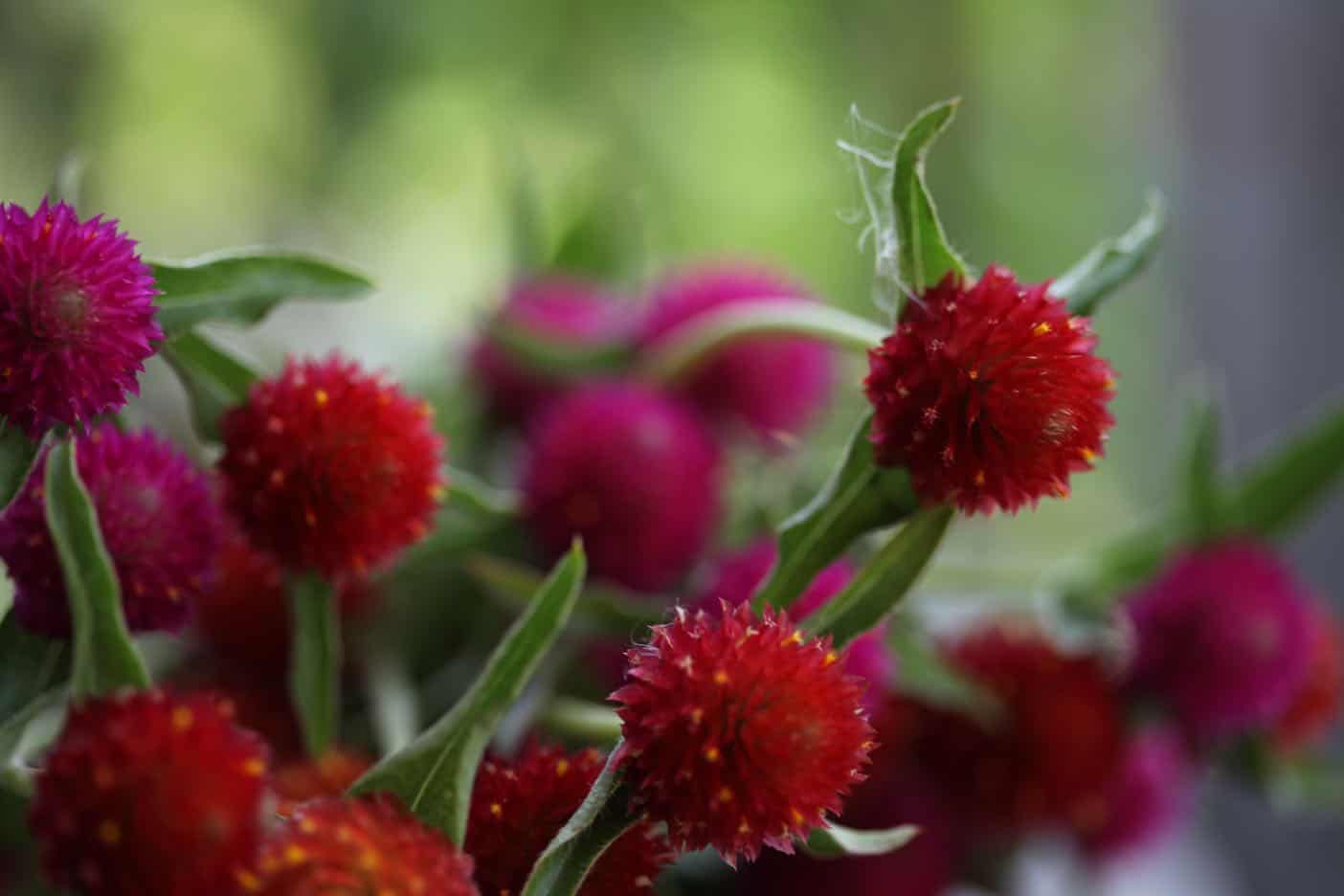 Moisture Requirements
Globe amaranth will benefit from regular watering, even if just from the outdoor elements.
They will tolerate some drought, however you will get the best blooming plants with regular moisture provision.
We generally water only if required when the seedlings are first getting established in the garden. Thereafter we allow the elements to provide the moisture.
We tend to get a heavy dew most mornings, as we are situated along a large body of water. The dew provides quite a bit of moisture which keeps the plants healthy and happy.
Globe Amaranth Spacing
We plant our Globe amaranth into landscape fabric with burned holes at a spacing of nine to twelve inches.
The plants can be planted even closer, at six to eight inches apart, for longer stem length.
Should Globe Amaranth Be Pinched?
There is no need to pinch Globe amaranth, and they will grow well without pinching.
They will become bushier if you do decide to pinch, and will develop more side stems.
I personally prefer the single stem without many side branches, as I find that the side branches are more fragile and tend to get caught up in a bouquet and are more vulnerable to breakage.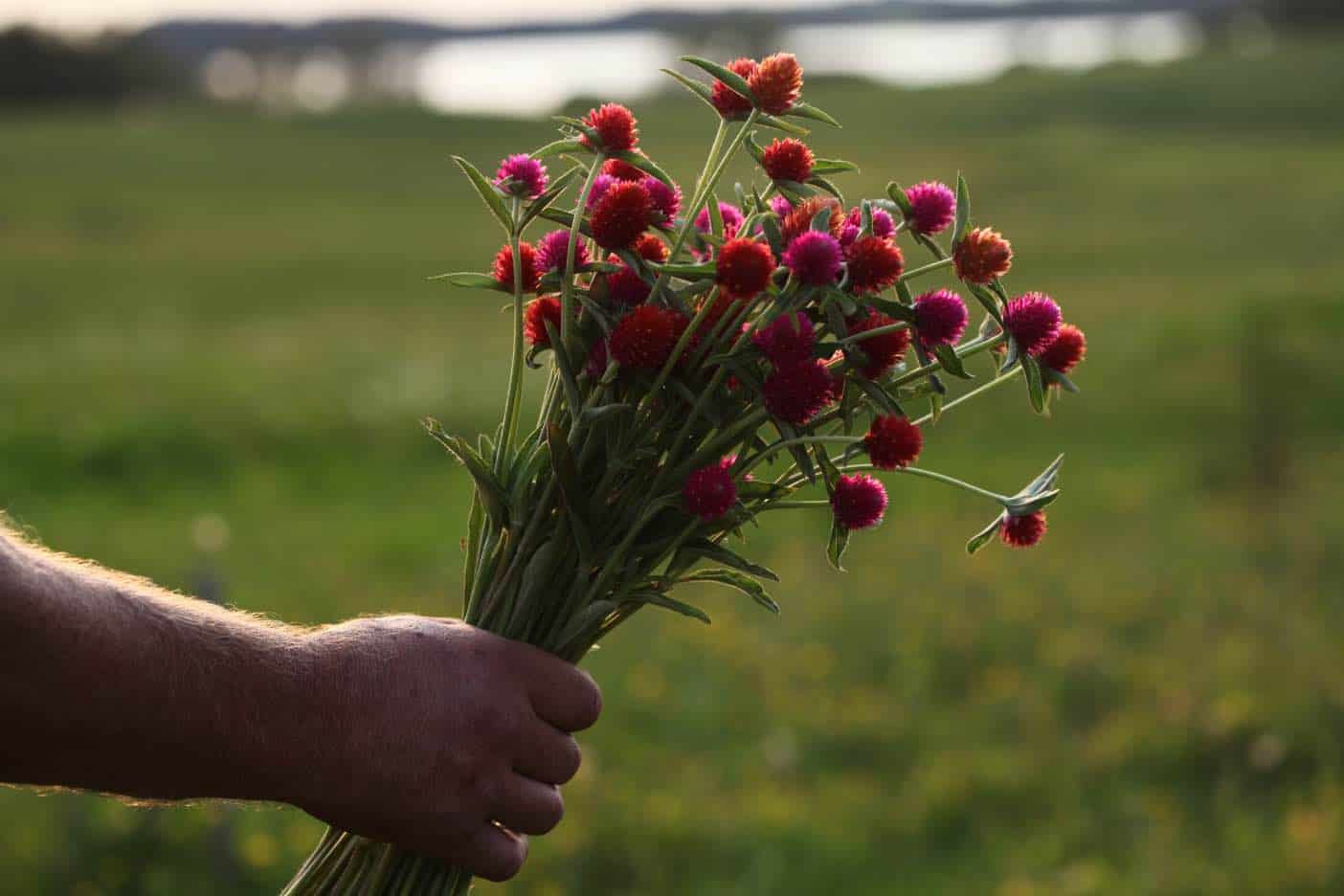 2. Do You Deadhead Globe Amaranth?
There is no need to deadhead Globe amaranth, as the plants will continue to grow throughout the season. As you harvest, more stems will grow.
Sometimes if you do not get to them on time the more mature flowers will elongate and start to shed bracts and seeds from the bottom of these elongated blooms.
I don't use these flowers, as they easily drop the bracts, which can drop into the vase water. Unless I am planning to keep these mature blooms to dry for seed, I will snip them off as I come across them in the garden while harvesting the flowers.
3. How To Harvest Globe Amaranth
Globe amaranth are easy to harvest.
Follow the flower stem deep down into the plant until you get to the base where the flower stem attaches to the main stem. This is where to make your cut.
Cut at an angle, which will allow the stem to take up water in the vase or container.
Remove side shoots and leaves. The immature blooms on the side shoots tend to droop and don't hold up well, so are generally removed.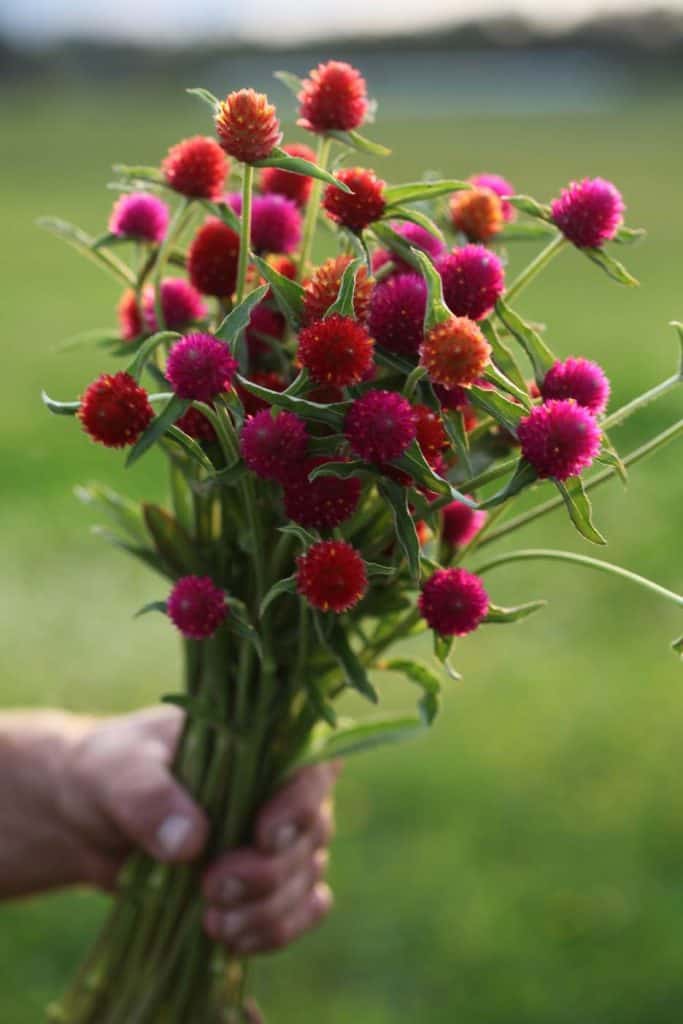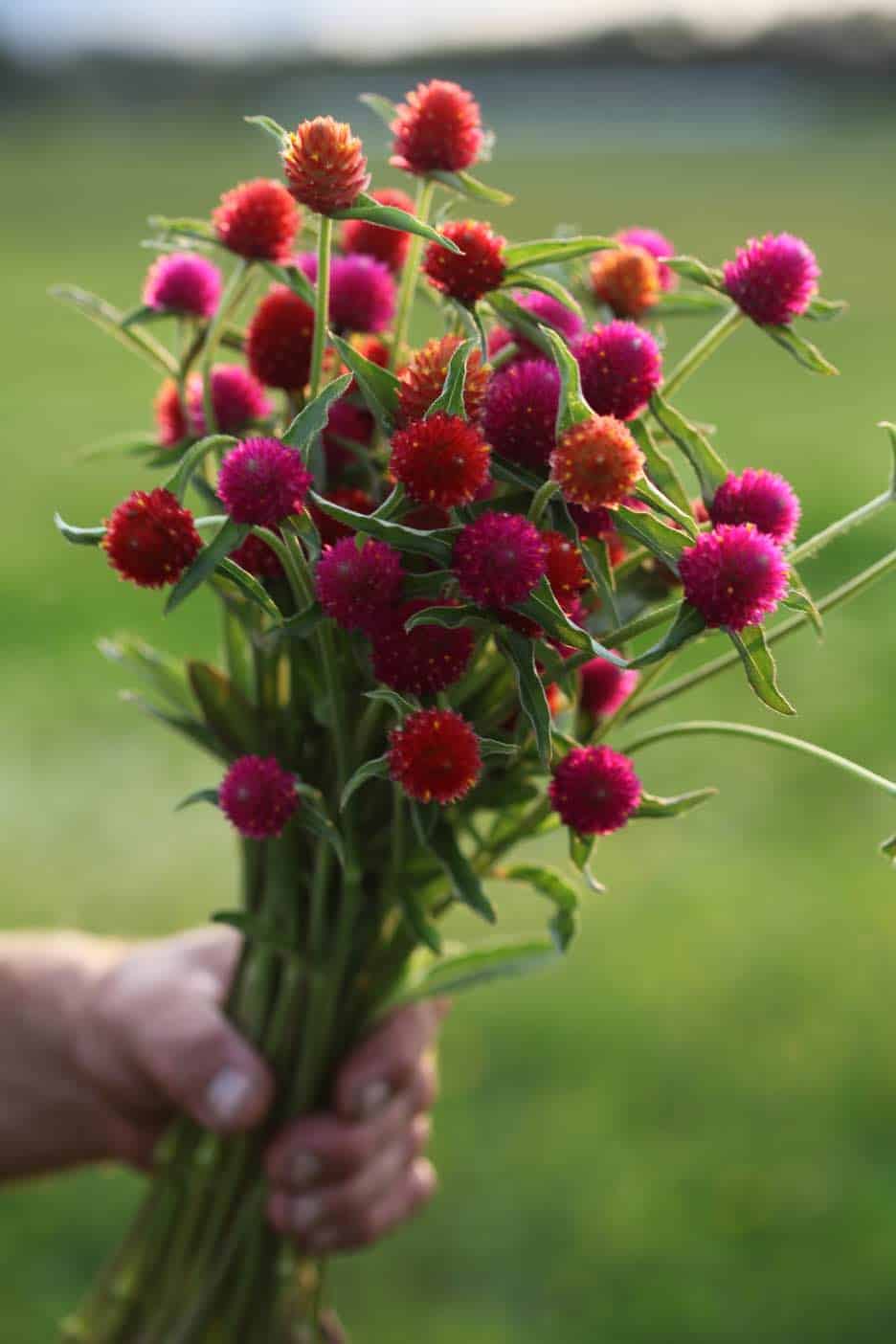 Is Globe Amaranth Cut And Come Again?
Globe amaranth is considered a cut and come again flower. The more that it is harvested, the more stems it produces.
These flowers are fabulous to have in the garden, for a non stop production of adorable blooms throughout the season.
Does Globe Amaranth Reseed Itself?
Globe Amaranth can reseed in some locations.
It has never reseeded for us in our zone 5b garden.
Is Globe Amaranth Invasive?
Globe Amaranth has been identified as an invasive plant in some tropical locations, as it has escaped cultivation in those areas. You can read more on this subject here on the Invasive Species Compendium.
In cooler climates it can reseed, however the unwanted plants are easily removed if necessary.
It has never reseeded for us in the garden.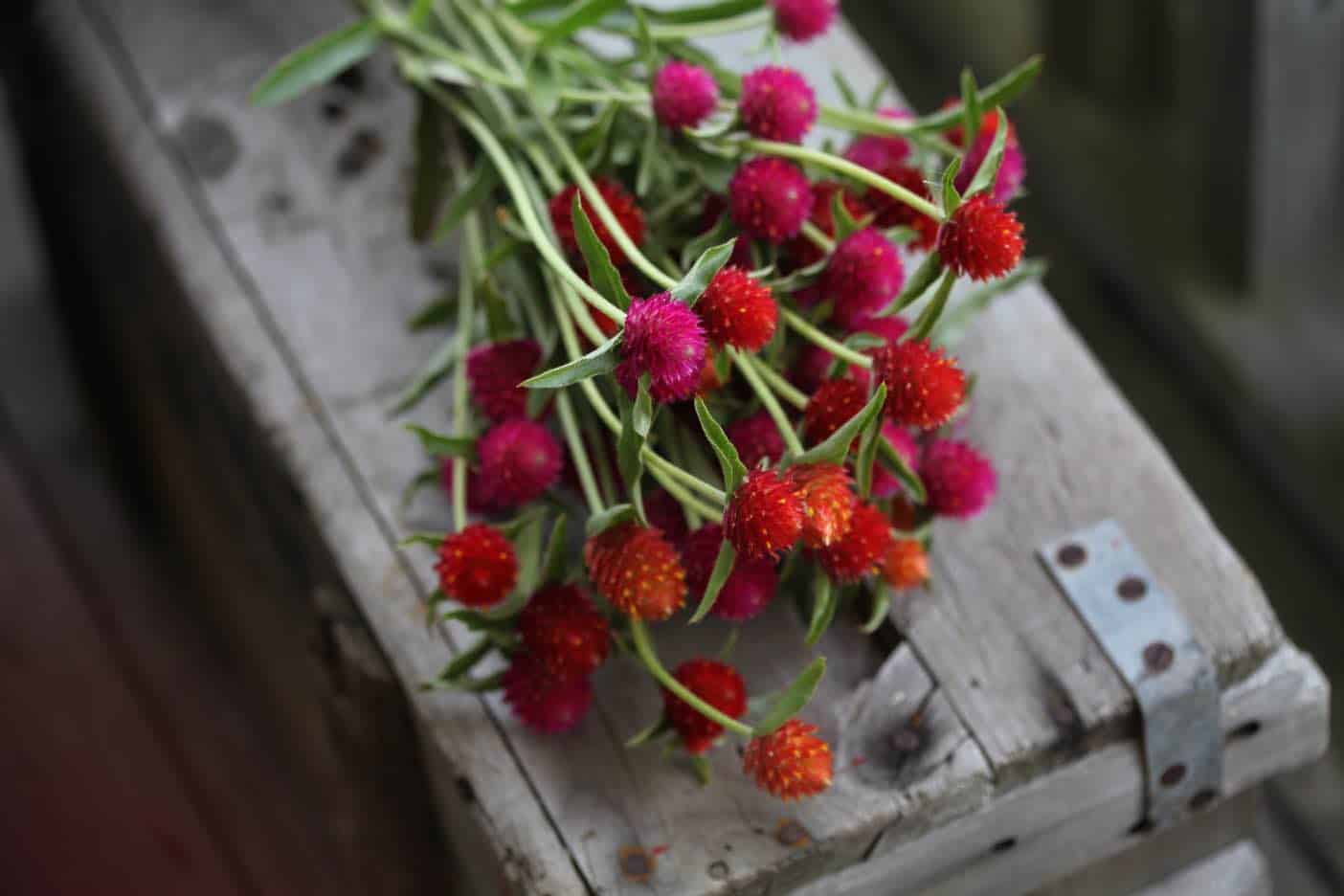 Globe Amaranth Companion Plants
Globe Amaranth can be grown with complimentary companion plants.
We grow it for cutting and drying.
If you are growing for cut flowers, excellent companion plants to grow are zinnias, cosmos, ammi and sunflowers. These flowers bloom at the same time and look wonderful together in a flower arrangement.
Growing Globe Amaranth For Cut Flowers
Globe Amaranth are long lasting in the vase, and when freshly harvested they can last up to two weeks.
They are beautiful in fresh arrangements and perfectly compliment many different types of flowers.
They are also wonderful in a bouquet all on their own, especially if you have a variety of different coloured Globe amaranth blooms.
Globe Amaranth are one of our best annual flowers for cutting.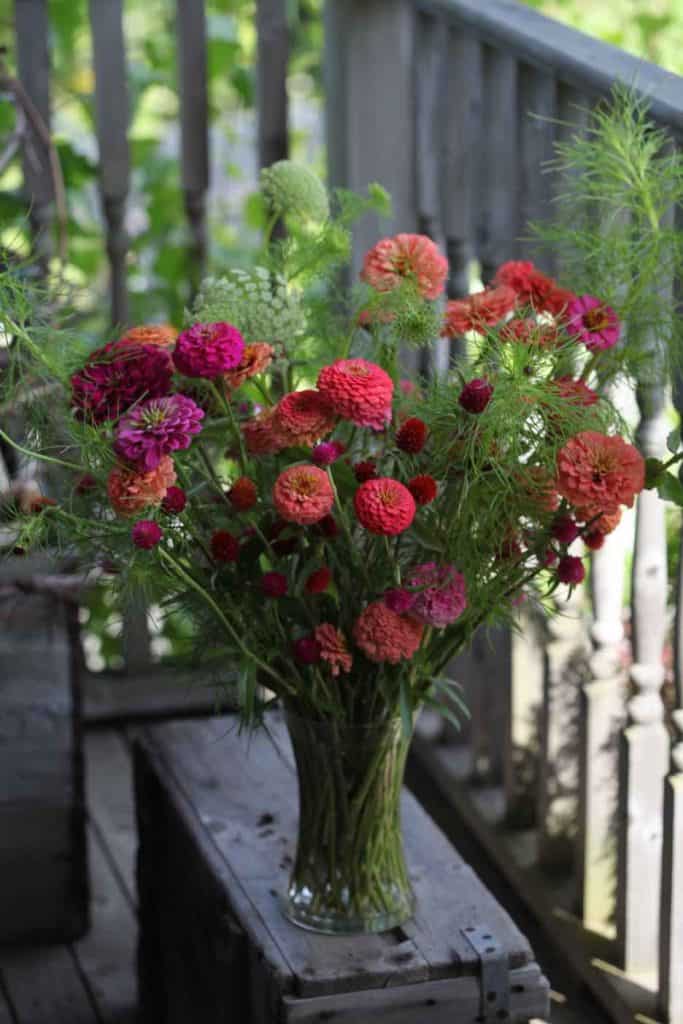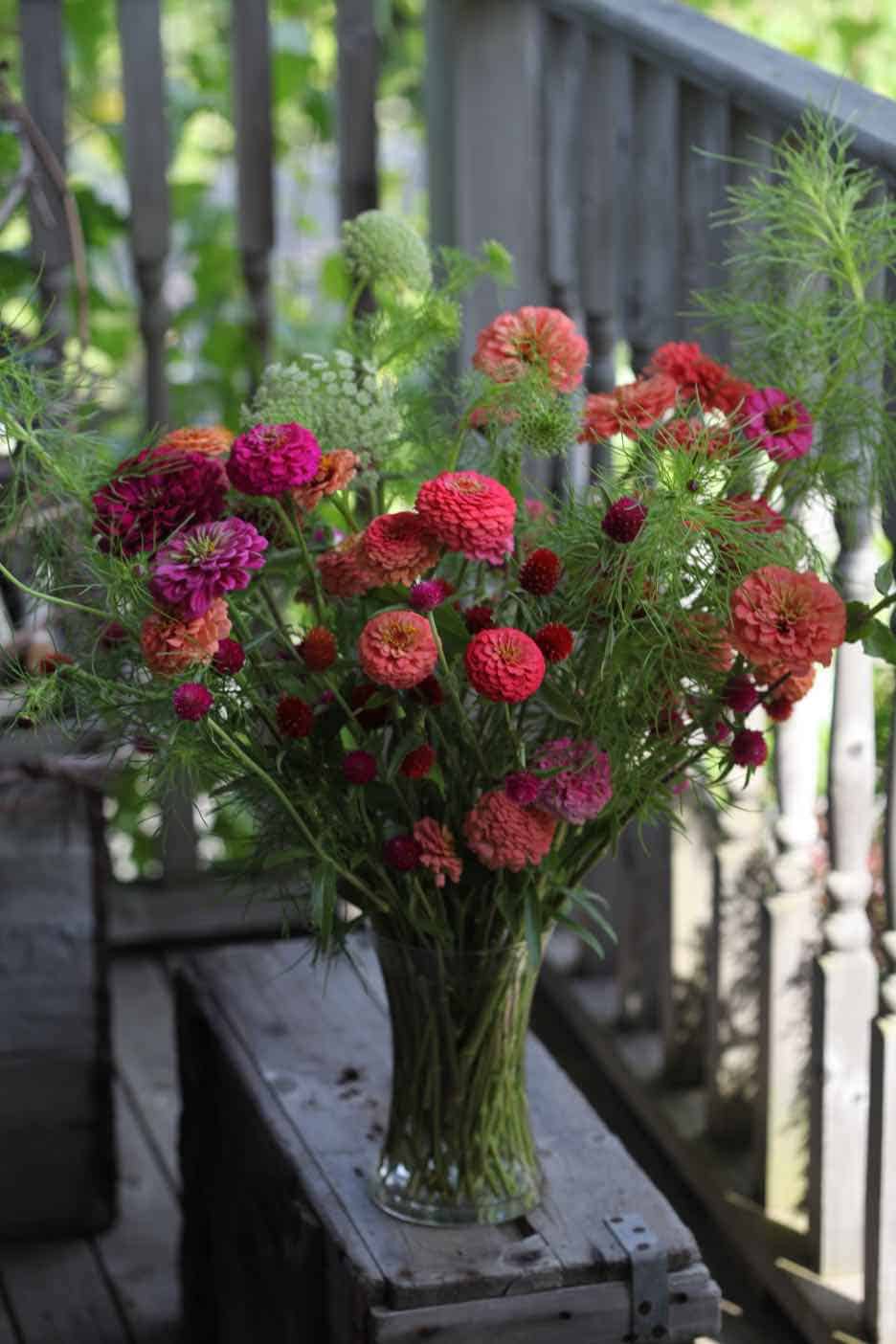 How To Dry Globe Amaranth
Globe amaranth is easy to dry.
Dry when the stems are fresh and just harvested.
Gather up a bunch of about thirty stems, and place an elastic band on the bottom of each bunch. The elastic band will continue to hold the stems together as they dry.
Suspend upside down on a drying line, using clothes pins or twine secured to the elastic band.
Dry for approximately two weeks in a warm darkened area. The less light the better as it will help to maintain the colour of the dried blooms.
Globe amaranth is a wonderful flower to dry as an everlasting bloom.
Be careful when handling the dried flowers, as they become quite delicate in their dried state.
The dried blooms can be used in many different types of dried flower projects and arrangements.
Globe Amaranth is one of our favourite flowers for drying.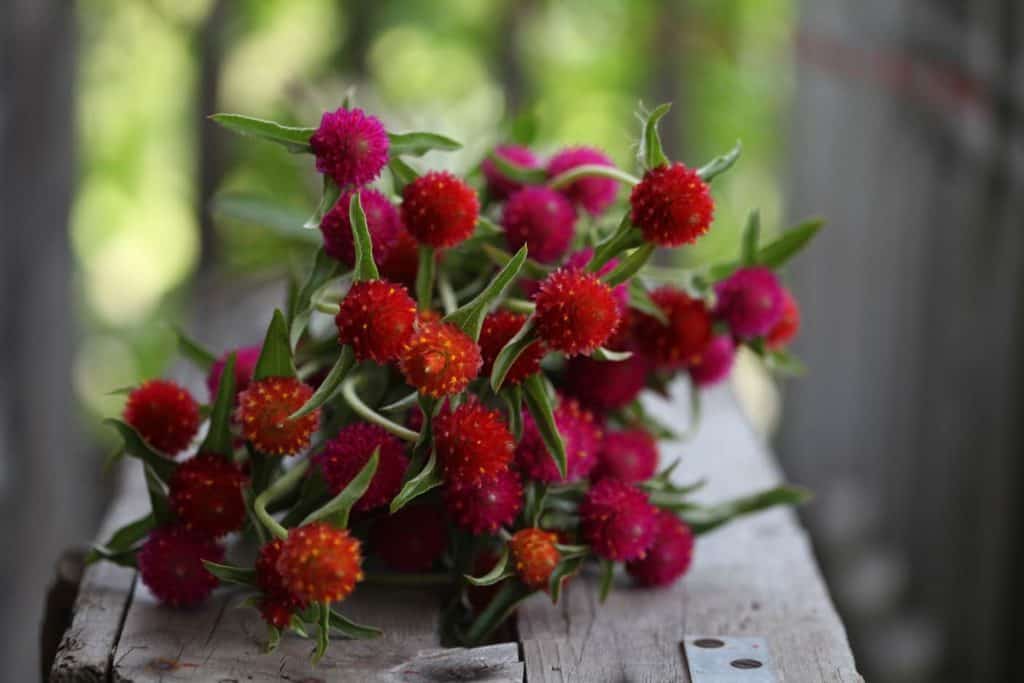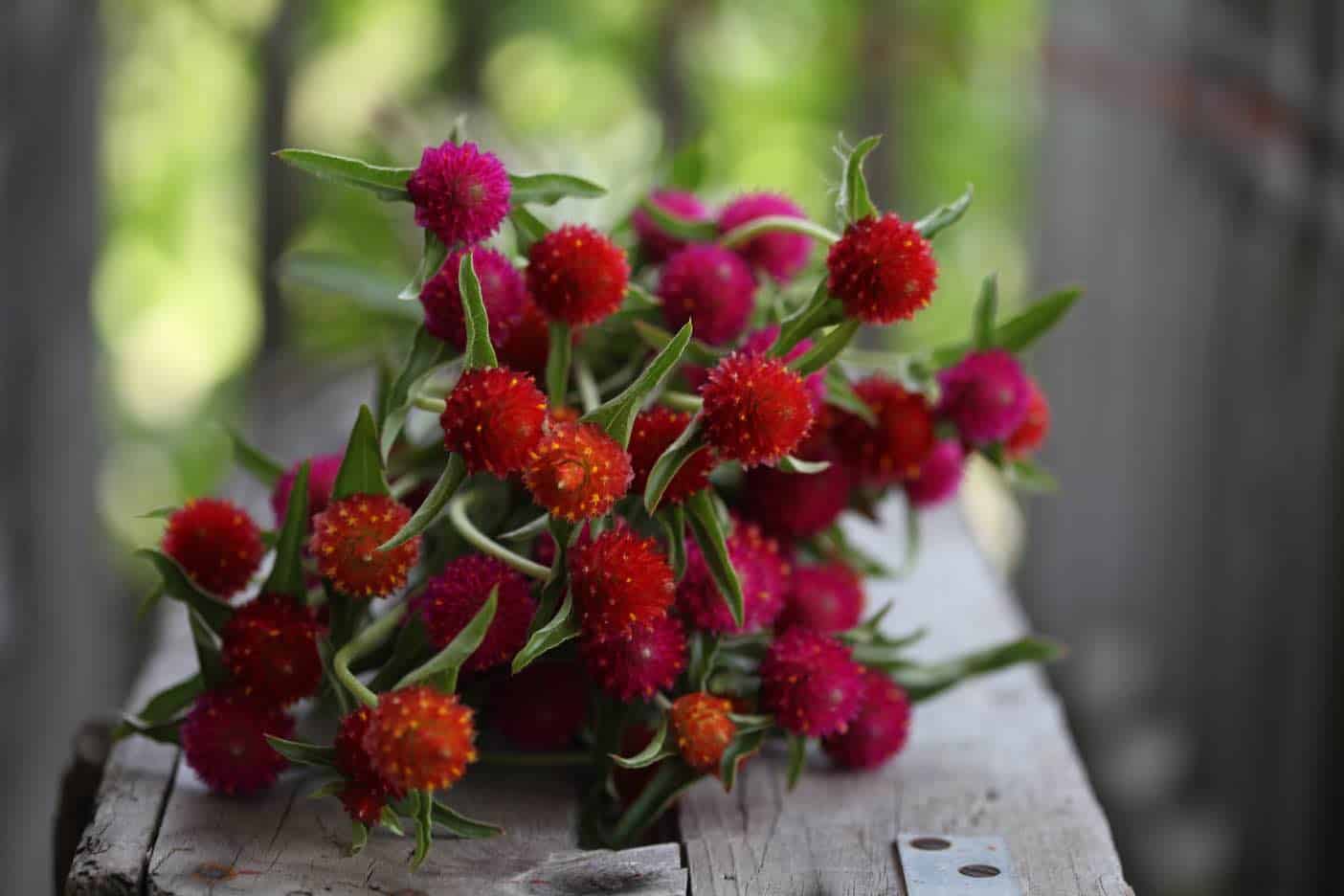 Have you ever tried to grow Globe Amaranth? Be sure to leave a comment below to share your experience!
Other Posts You May Like:
HOW TO GROW AMMI- AMMI MAJUS AND VISNAGA
HOW TO GROW AMARANTH IN THE GARDEN
PERENNIAL BACHELOR BUTTONS IN THE GARDEN
HOW TO GROW LOVE LIES BLEEDING – AMARANTHUS CAUDATUS
HOW TO GROW ZINNIAS FROM SEED TO BLOOM
PIN IT FOR LATER!