Strawflowers make exceptional dried flowers, due to their low moisture content and ability to maintain their color when dry. Learn how to dry strawflowers, and preserve these popular everlastings, for use in floral arrangements and crafting.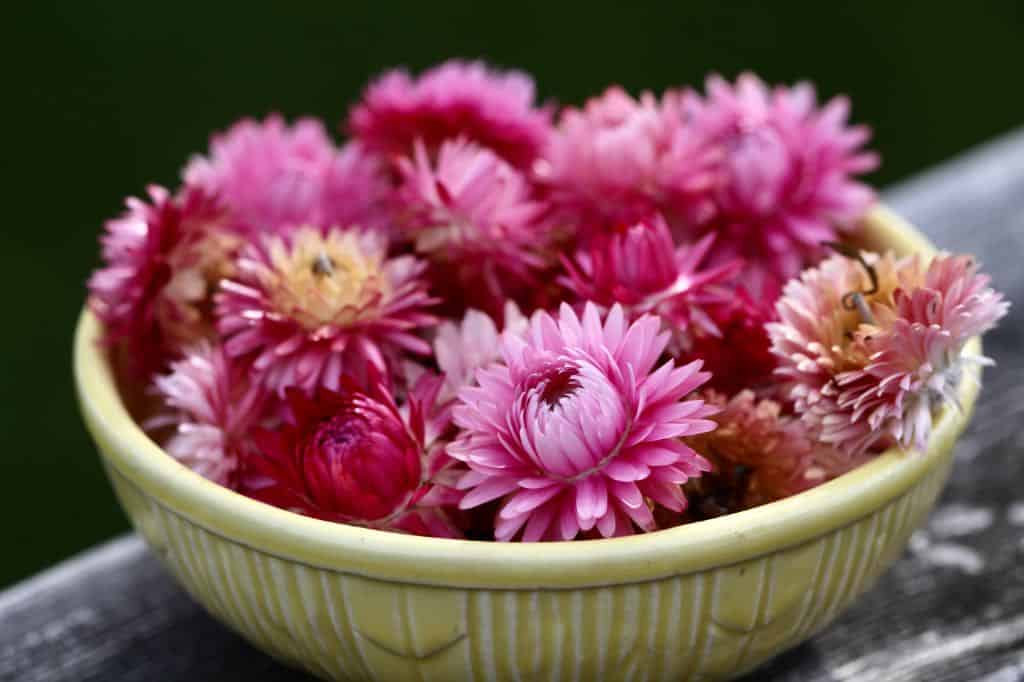 A Little About Strawflowers
Strawflower plants are native to Australia.
Their attractive daisy-like flowers are dry and straw-like, even in their fresh state.
I love to touch the flowers and feel their papery texture. You can hear the crisp sound of the bracts on contact.
There are a variety of colors to choose from. The flower colors range from white, pink, apricot, orange, yellow and red flower varieties.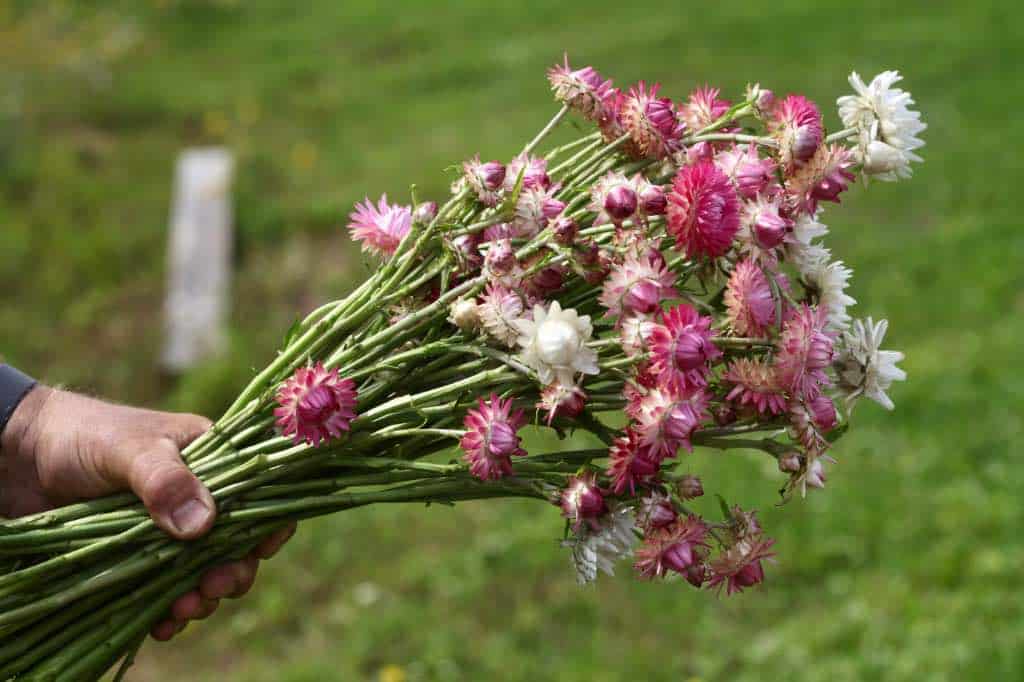 The plants can be grown in the flower garden just for their beauty. They can also be grown in the cutting garden, to use throughout the season as cut flowers.
The blooms can be grown and used as both fresh cut flowers, as well as dried flowers.
Strawflowers are easy to grow, and with the proper care, will produce lots of flowers throughout the growing season.
These interesting flowers are known commonly as paper daisies, golden everlastings, and strawflowers. The scientific name for the plants is Xerochrysum bracteatum.
Strawflowers are members of the aster family, or Family Asteraceae.
The plants bloom for months on end during the summer months. They are considered to be cut and come again flowers, producing a lot of flowers over the course of the season.
They also attract many beneficial insects and pollinators to the garden space, which is an added bonus.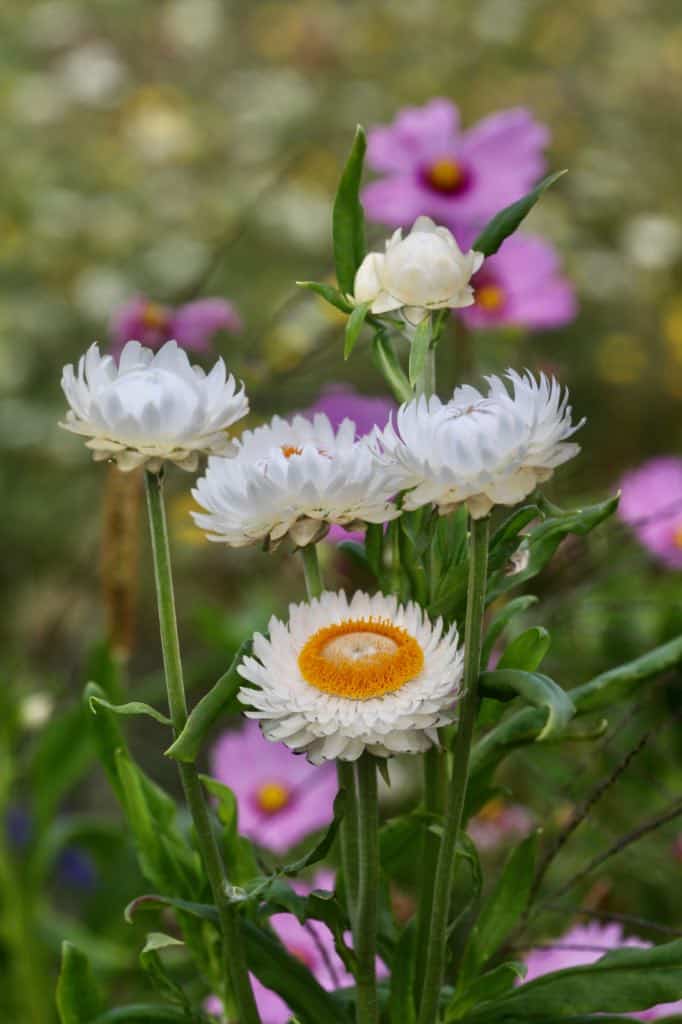 Why Dry Strawflowers?
Strawflower blooms are excellent for drying. The petals, which are actually bracts, are already papery and brittle, even in the fresh state.
The flowers dry easily, and they offer a nice daisy shape with a unique papery crunch when touched.
Strawflowers are known as everlasting flowers because they dry so well, holding their color and shape. The flowers keep much of their vibrant colors when dried, with minimal fading.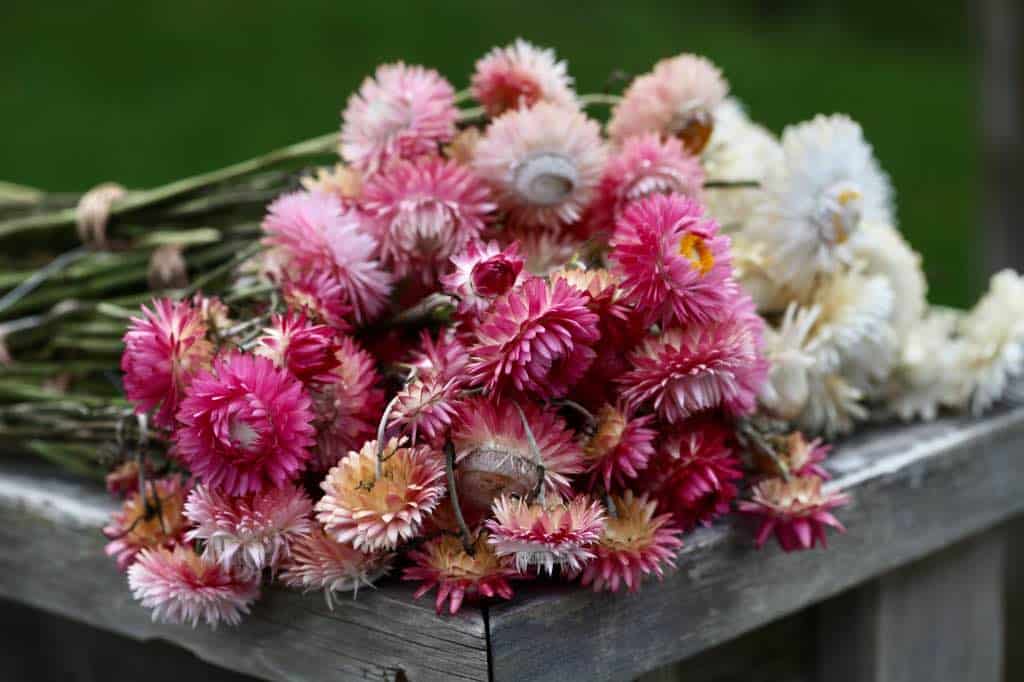 The only downside for drying strawflowers is that the flower stems can get very weak when dried. This is partly due to the immature stage at which the flowers are harvested for drying.
This is okay however, because it is mainly the strawflower blooms that are coveted, rather than the dried stems.
And there are solutions as well, that can be helpful and prevent wilting.
In fact sometimes the flowers are wired, eliminating the stem entirely. This involves replacing the stem with a wire stem, and wrapping with floral tape.
The choice to wire the flowers is dependent on the intended use of the dried strawflower blooms.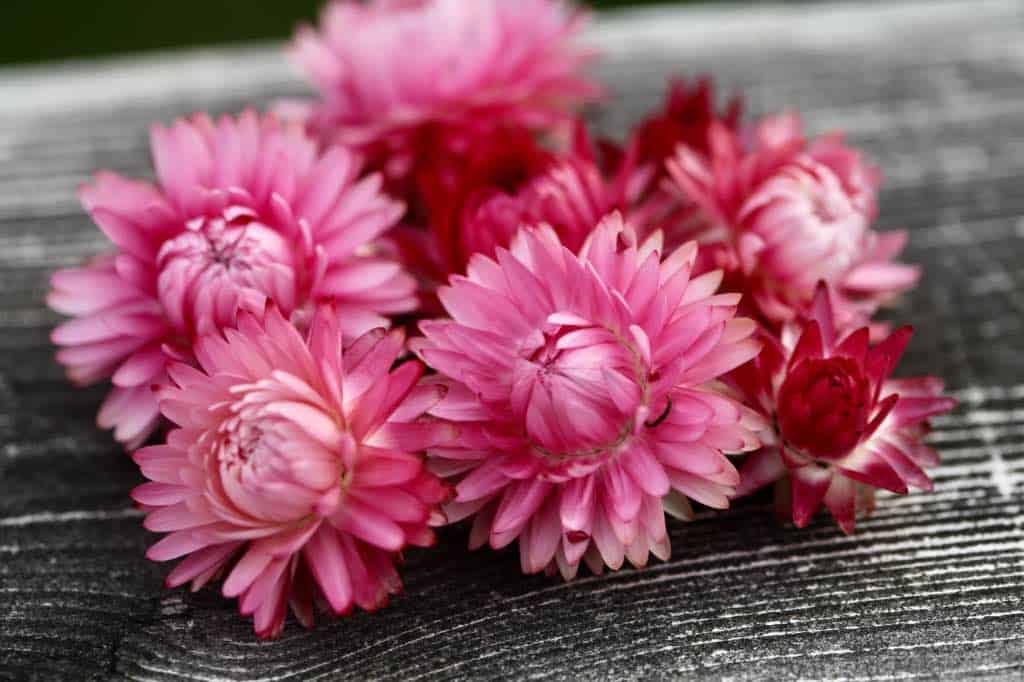 How To Dry Strawflowers
Materials Needed
Materials needed for harvesting and drying strawflowers include:
A bucket of fresh clean water
Twine, clothes pins, or paper clips for hanging
Drying lines, racks, or hooks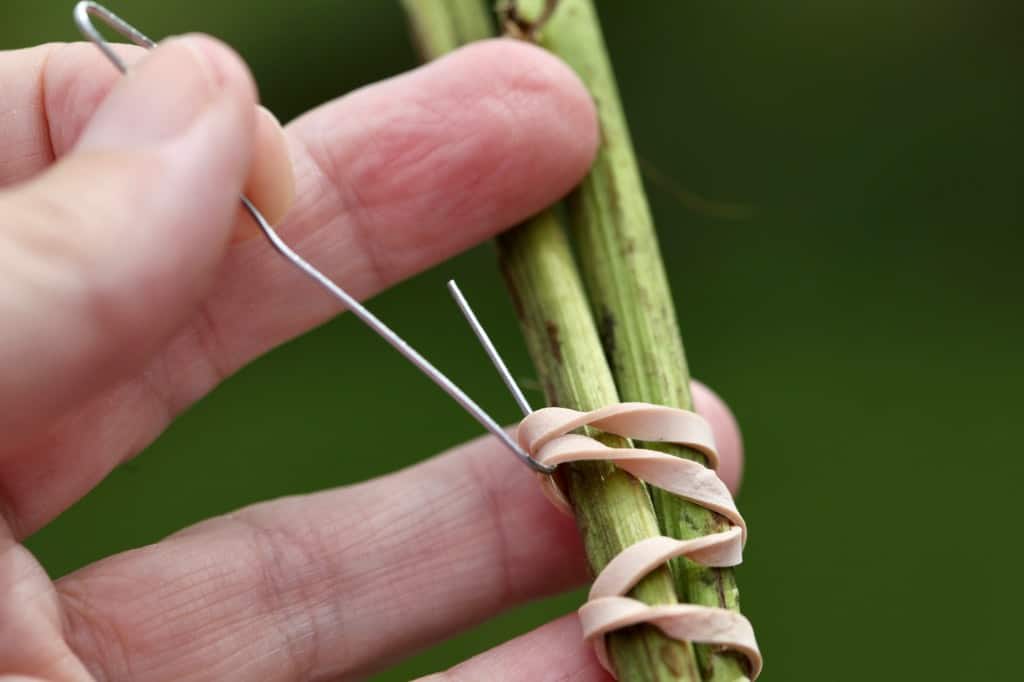 When To Harvest For Drying
If harvesting strawflowers to dry as everlasting flowers, there are some special factors to consider with the harvest. These considerations include the stage of harvest, the weather, as well as the right lighting for harvest.
First of all, it's important to harvest strawflowers on a dry day, so that they will dry properly. Avoid harvesting in rainy or misty weather, as well as in heavy dew.
Secondly, it's important to know that strawflowers will continue to open, even after they are harvested for drying.
Keep this in mind, as it will have implications for the final appearance of the dried flower.
If harvested in a too mature stage, the final dried flower may have a muddy brown center disc, with petals that are bent backwards. This, for many, is considered an undesirable appearance for a dried strawflower.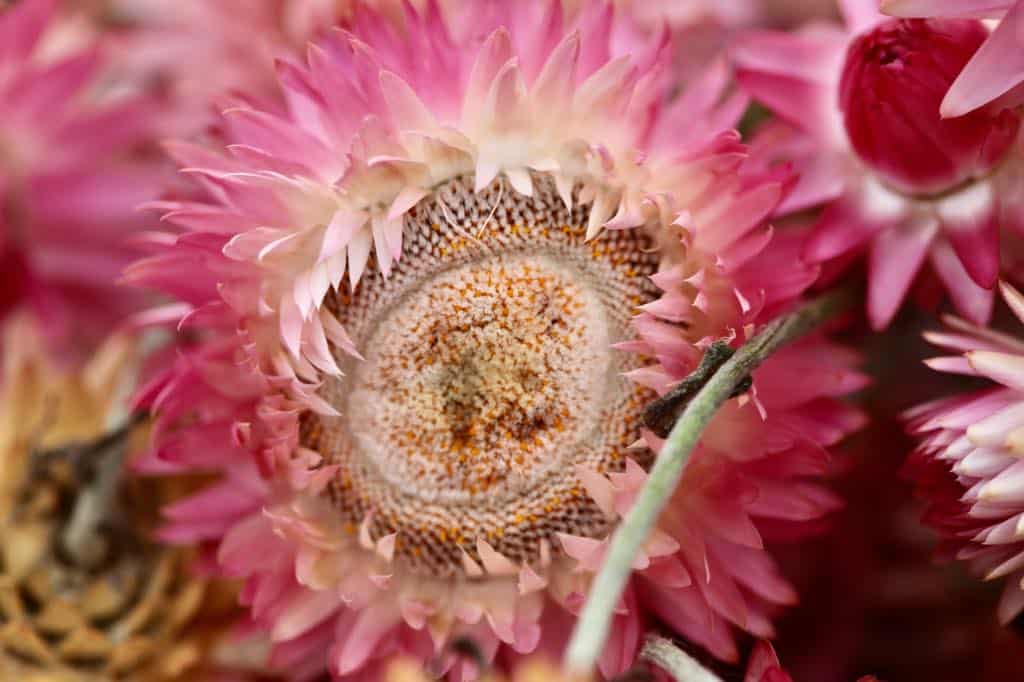 Ideally, the final state of the dried strawflower will result in the central disc still being covered by colorful bracts.
This stage will help to conceal the dried brown centre of the flower. You will still be able to enjoy the beautiful color of the bracts, without revealing the dried brown centre of the flower.
In order to achieve this final appearance, it is important to harvest the flowers at the right stage for drying.
This stage is an earlier stage than what you would harvest the strawflowers as fresh cut blooms.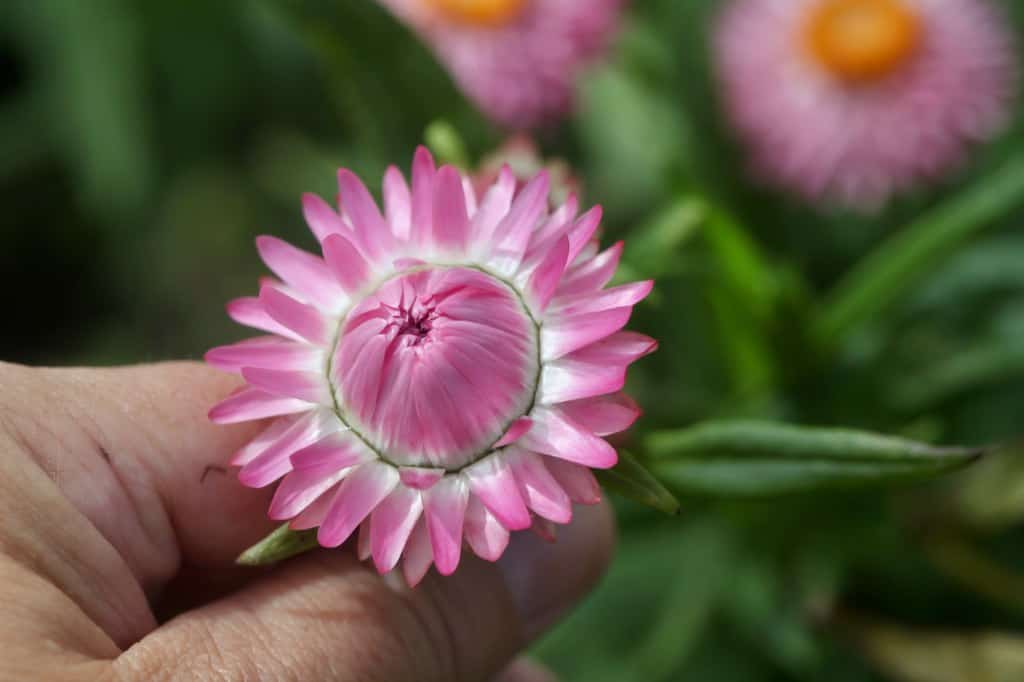 Stage To Harvest For Drying
Harvest strawflowers for drying when the first two sets of bracts have opened. This is an early stage, but perfect for dried flowers.
The blooms will continue to open for several more layers, or even more, after they are picked. However if picked at the right stage, the centres are likely to remain closed in the final product.
Any blooms where the center of the flower is starting to open, revealing the golden centers even just a bit, are past their prime for drying.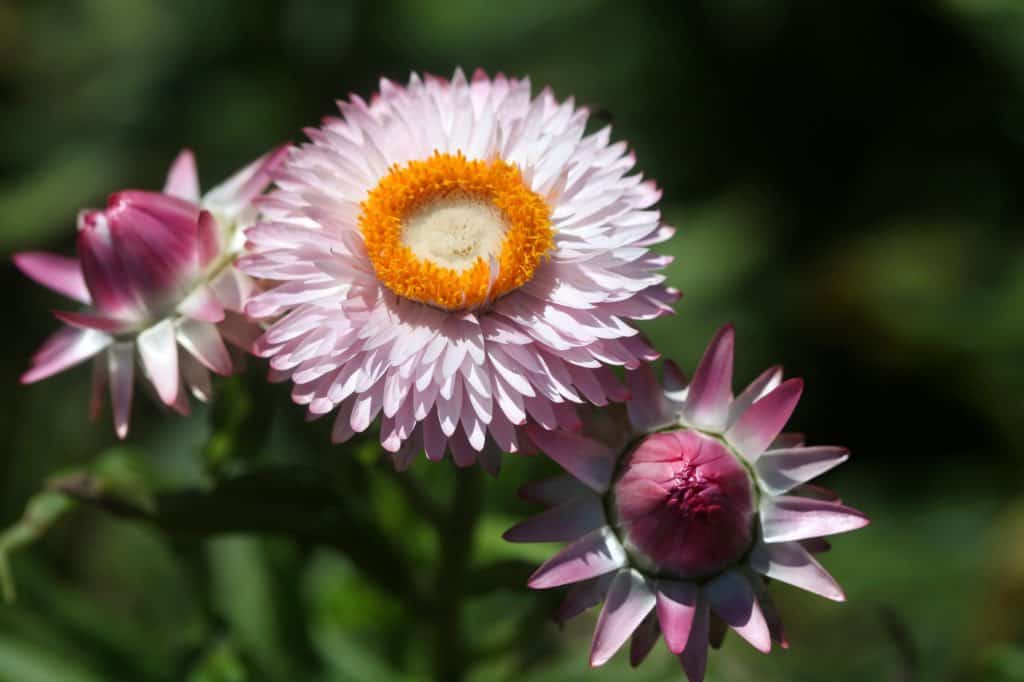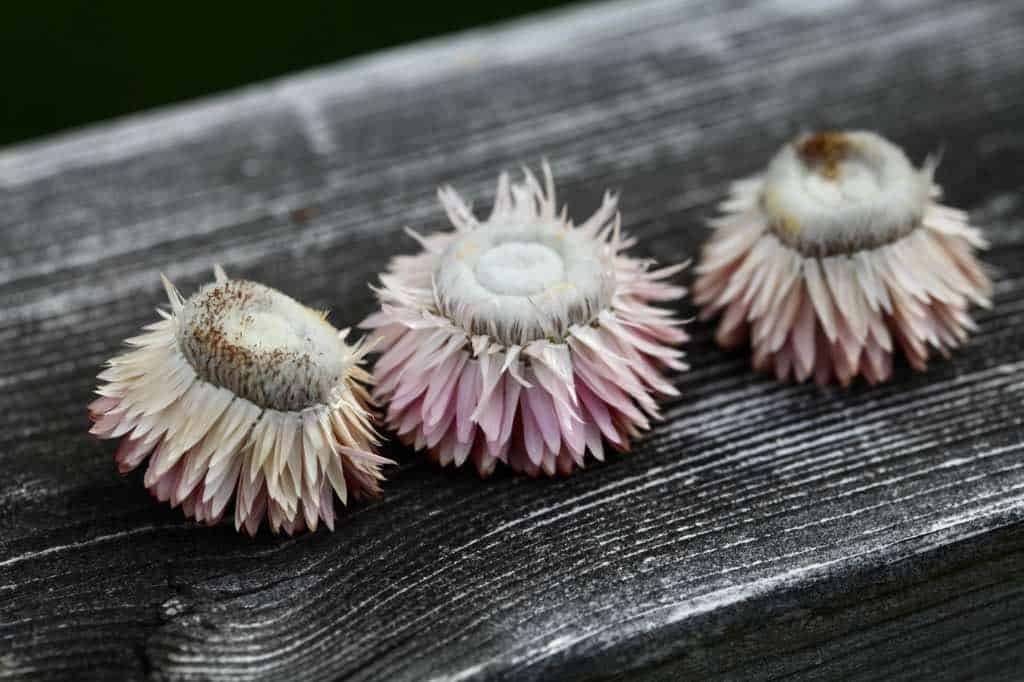 These flowers will continue to open after they are hung to dry, and the centers will eventually turn brown.
You can also harvest the small flowers, or immature buds on side shoots next to larger flowers. These tiny blooms are perfect as bowl fillers, or as ingredients in potpourri.
The Importance Of Lighting
One important factor for harvesting strawflowers is the influence of lighting on the blooms.
Strawflower blooms tend to open and close depending on the light and the weather.
As a result, the perfect stage for harvesting is sometimes difficult to determine.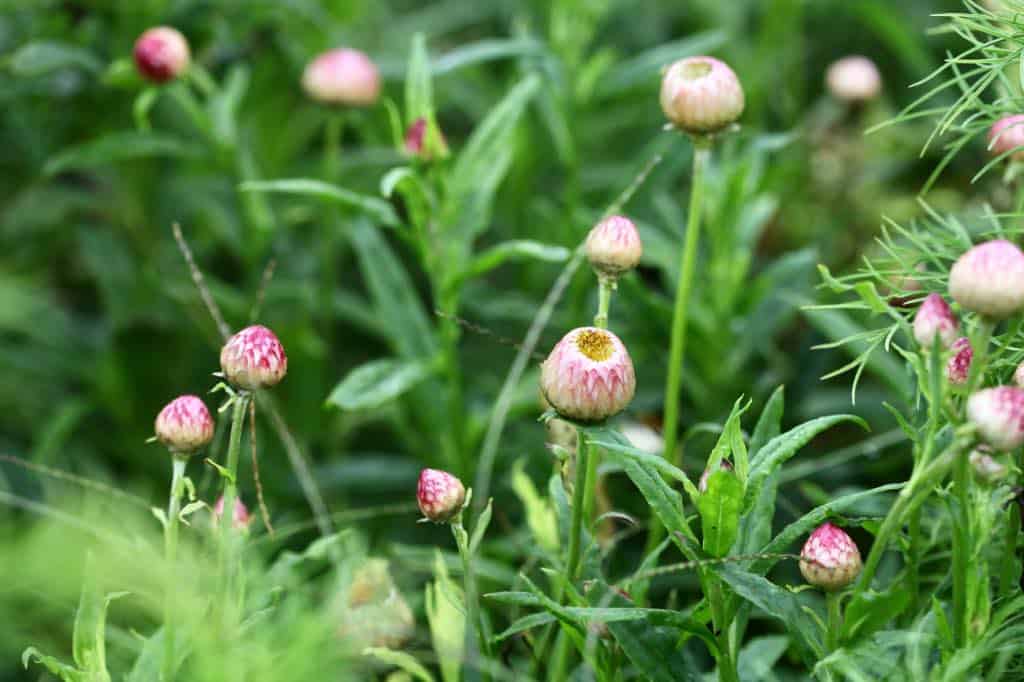 Even the mature flowers will close up on a dark cloudy day, giving the appearance that they are less mature than the flowers actually are. This therefore may make it difficult to judge the maturity of the blooms for harvesting.
If you harvest on a cloudy day, or later in the day when it's darker, you may very well end up harvesting mature flowers which were closed up.
Therefore, try to choose a bright sunny day for harvesting, to be able to properly observe the flowers for the actual stage that they are in.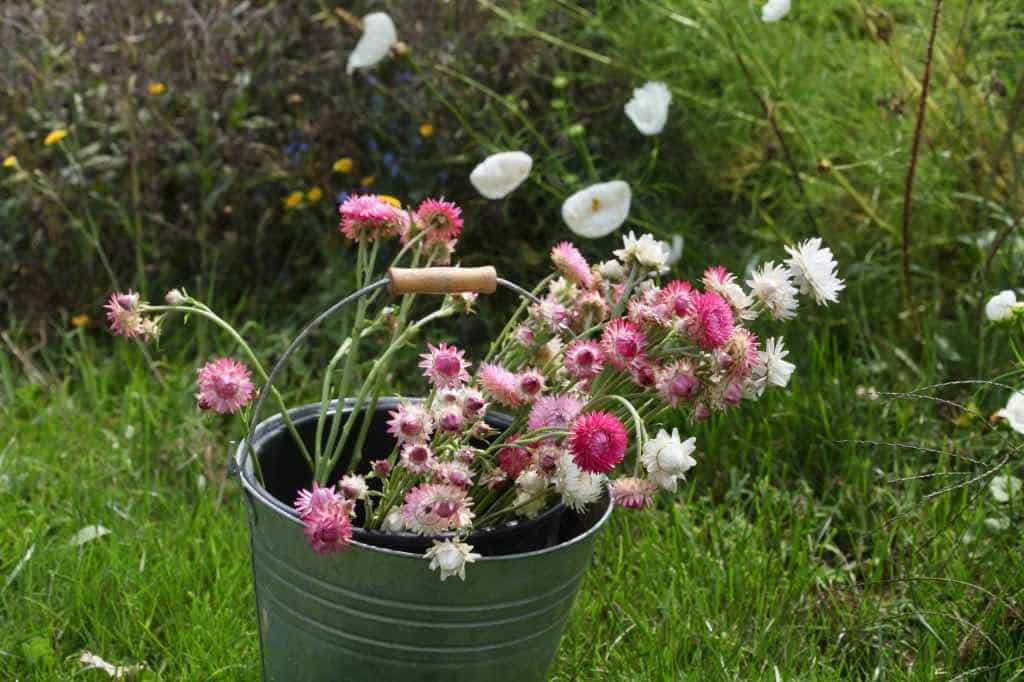 How To Harvest For Drying
Depending on the intended use of the dried strawflowers, the flowers can be cut with or without the stems attached.
For example, if you intend to wire the flowers, all you will need to harvest is the flowers themselves, in the right stage of bloom. The flowers can then be dried, by laying them out on a flat surface to dry.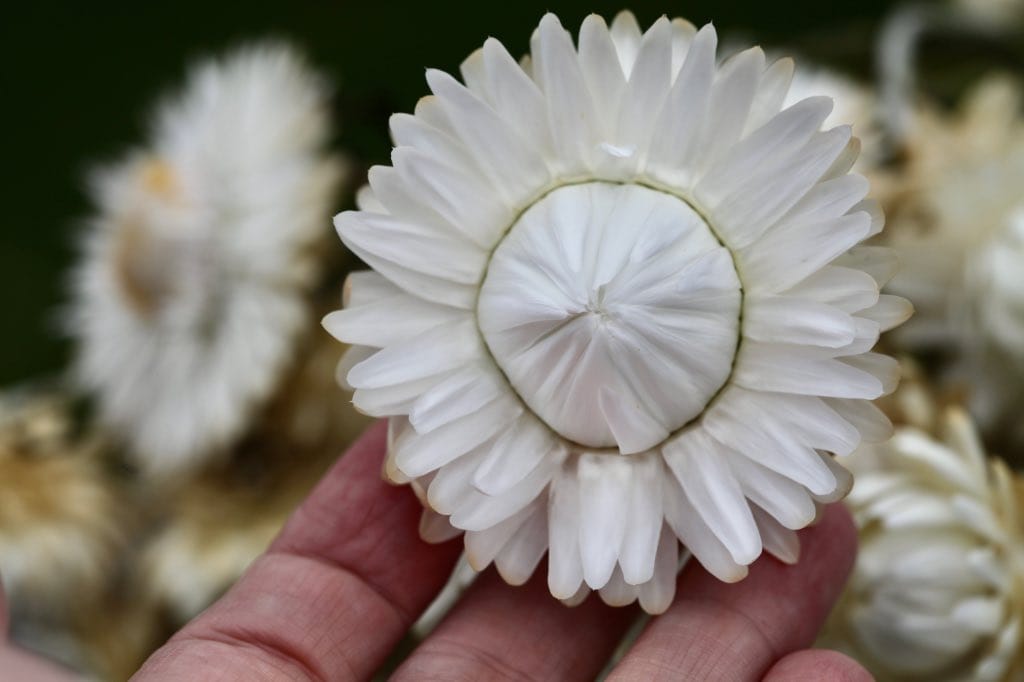 You can also harvest these flowers with just a bit of stem as well, so that they can be hung to dry. The stems can then be removed after the flowers are dried.
Alternatively, if you plan to harvest the strawflowers with the long stems attached, cut long and deep to obtain a good length for the stem. An 18″ stem is a reasonable length, depending on the desired stem length for their intended use.
When harvesting stems, cut down to set of leaf nodes, and make the cut just above a set of leaves. This will stimulate the plant to produce two new stems from the leaf nodes at the location of the cut.
Cutting the strawflower stems promotes new growth of flowers, for future harvesting.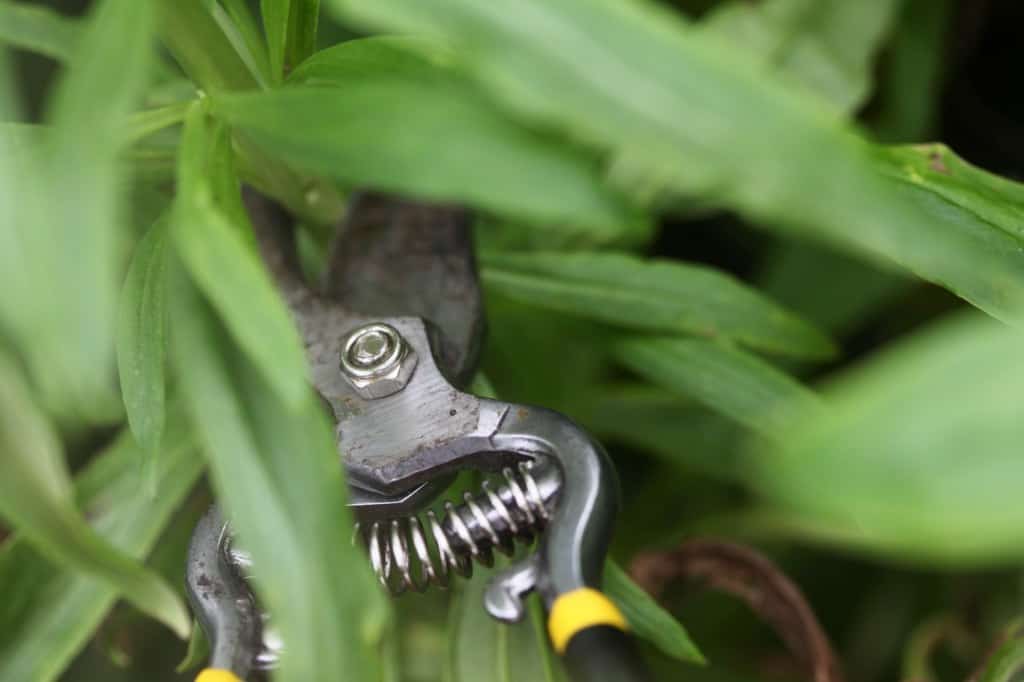 Preparing The Strawflowers For Drying
Most often the unwanted leaves are stripped off the stem completely before drying, leaving a nice clean stem.
With strawflowers, it's all about the flowers themselves.
Cut off any flowers from the bunch that are too mature for drying, like those with any visible golden centers.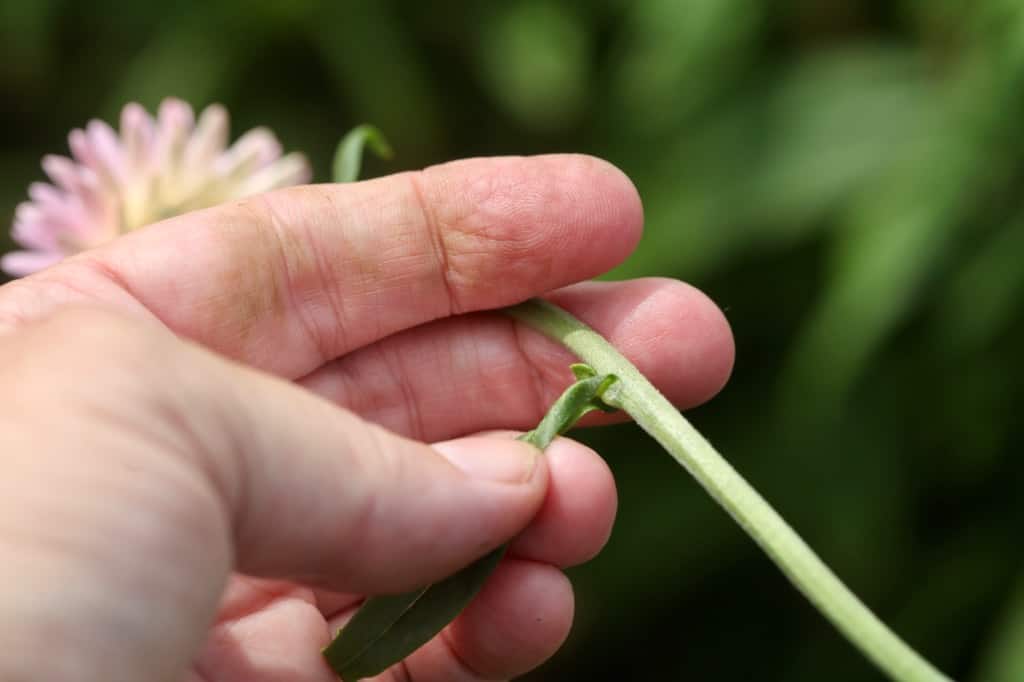 Methods Of Drying
There are a number of different techniques for drying and preserving flowers in general, and some methods work better than others, for certain types of blooms.
For strawflowers, the simplest way to dry the flowers is by air drying them.
Yes, you can dry the flowers using the silica gel method, or press your strawflowers flat with a flower press, or even try to dry them in the oven to save some time.
However the most common method of drying strawflower heads is the air drying method.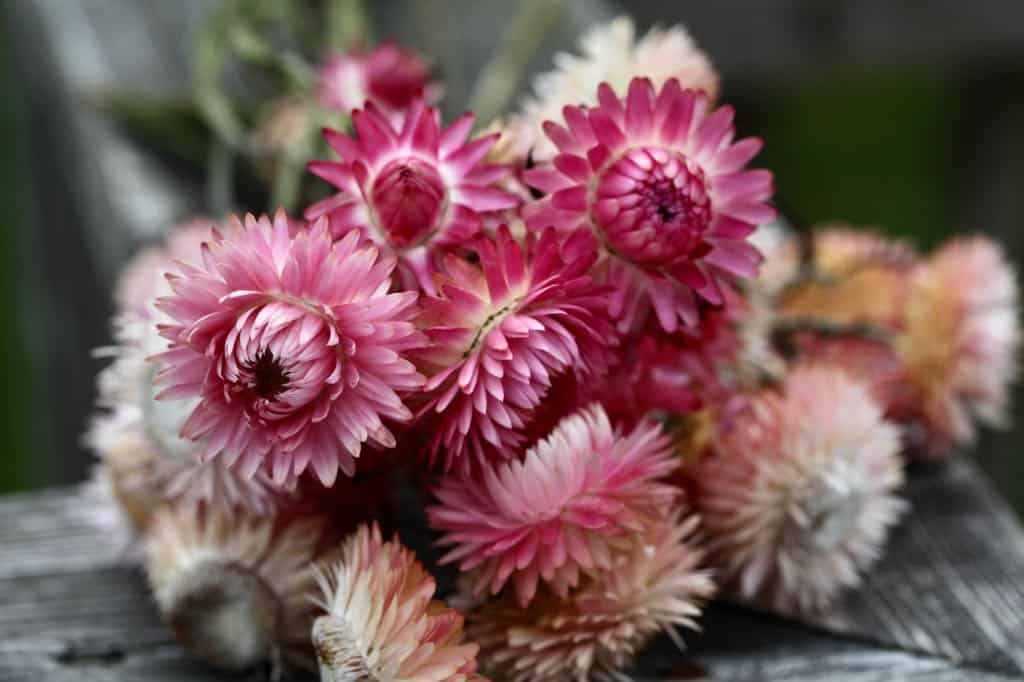 There are a few different ways to air dry strawflowers, so let's have a look at these drying methods:
Hanging Upside Down
Dry in small bunches of up to 5-10 stems.
This allows for good air flow between plants, to help them to dry properly.
It's a good idea to bundle together similar colors, or coordinating colors, that you plan to use in your arrangements or projects.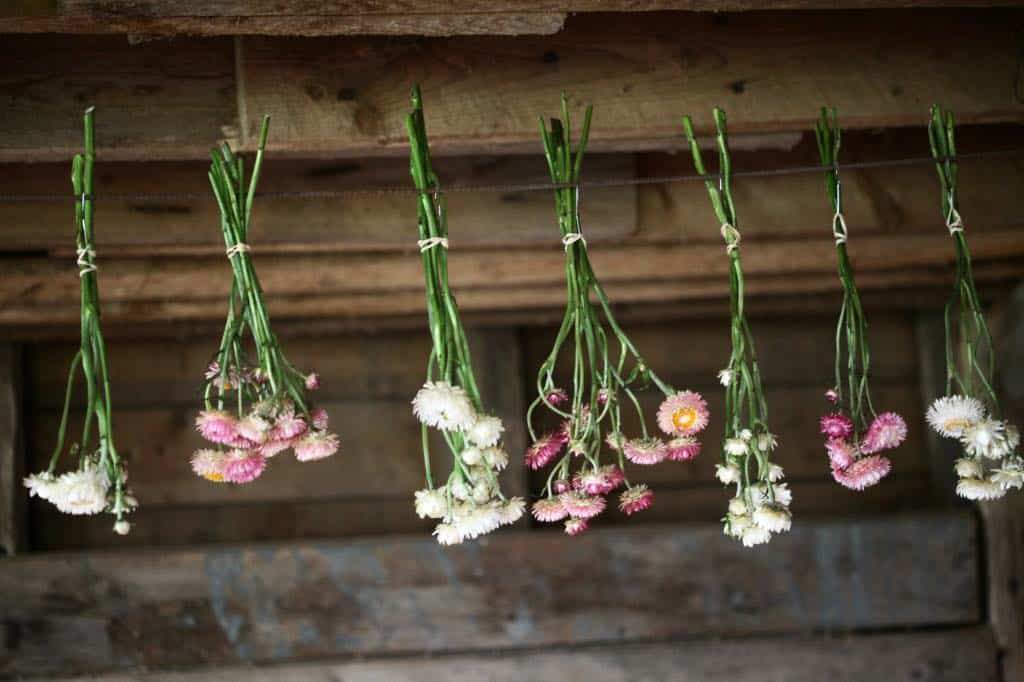 Attach a rubber band to the bottom of the bunched flowers, holding them together. Make sure that the rubber band is secured tightly to the stems to prevent slippage from the bundle as the stems dry.
The bundles can be hung from a drying line or a drying rack. They can also be hung on a knob or a hook.
Attach a string, clothespin or some kind of hook to the rubber band, and then attach these to the drying line or rack, which will allow you to suspend the bundles upside down for air drying.
Dry flowers in a dry, dark place, away from direct sunlight or other lighting sources which can fade the blooms, as well as cause the strawflowers to open up even more.
Drying time is approximately 2 to 3 weeks.
A fan can help to provide air circulation, and enhance drying time as well.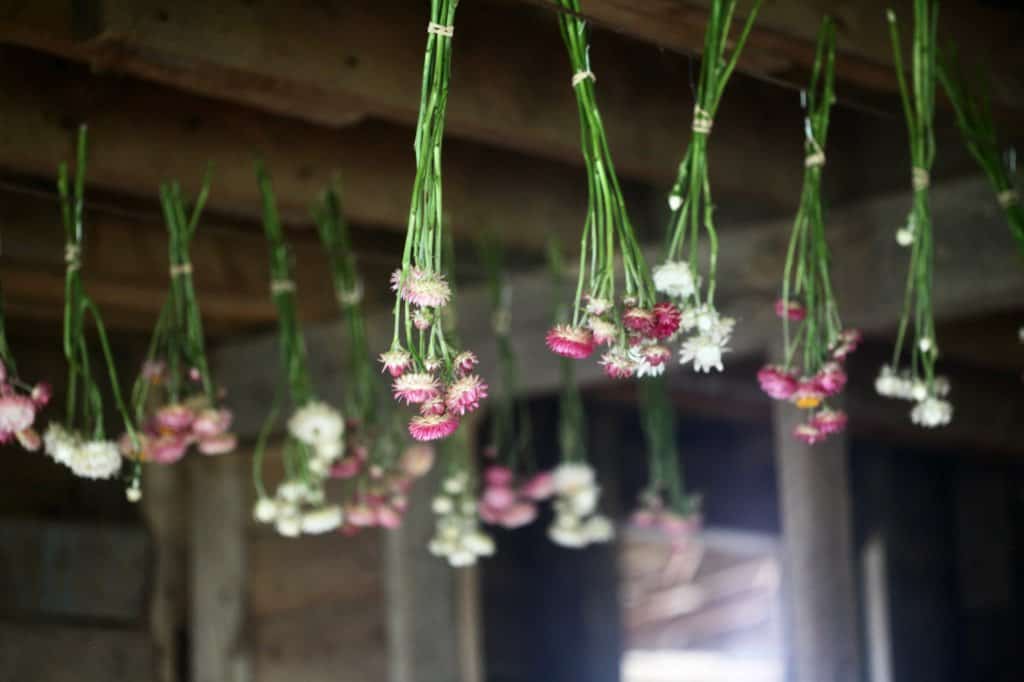 Drying Flowers Without Stems
Strawflowers can also be dried without the stems. This is because it is the flower that has the most value for drying, rather than the stems.
To dry the individual flowers, just set them out on a flat surface, such as a on cookie sheet. Dry upright in a single layer for best air circulation.
Place the drying container in a dry, dark, and warm location, with good air circulation, to dry.
Make sure however that the area is not too warm, as this will cause the flowers to open even more after harvesting.
If you plan to wire the flowers, place the floral wire into the fresh flowers, before they are set out to dry.
Drying Tips For Best Results
Pull the rubber bands holding the bundles of strawflowers tight, because as the stems dry and dehydrate they will shrink, and the flowers can fall out onto the floor. The tight rubber bands, however, will continue to hold the stems in place, protecting them from falling.
It's best to dry strawflowers upside down, if they are still attached to their stems. This is because flowers harvested for drying are immature, and there will be bending and even collapsing of the stems if dried if in an upright position.
The stems will also become very brittle when dry, and are prone to snapping. If this occurs, remove the flower from the stem, as it is still a usable bloom.
When planning to wire strawflowers, make sure to do so when the flowers are fresh and pliable. Do when fresh, rather than waiting until they are dried, and more brittle.
If you have multiple harvest times for your flowers, it's a good idea to tag your bunches with the date of the harvest. This will help to determine drying completion.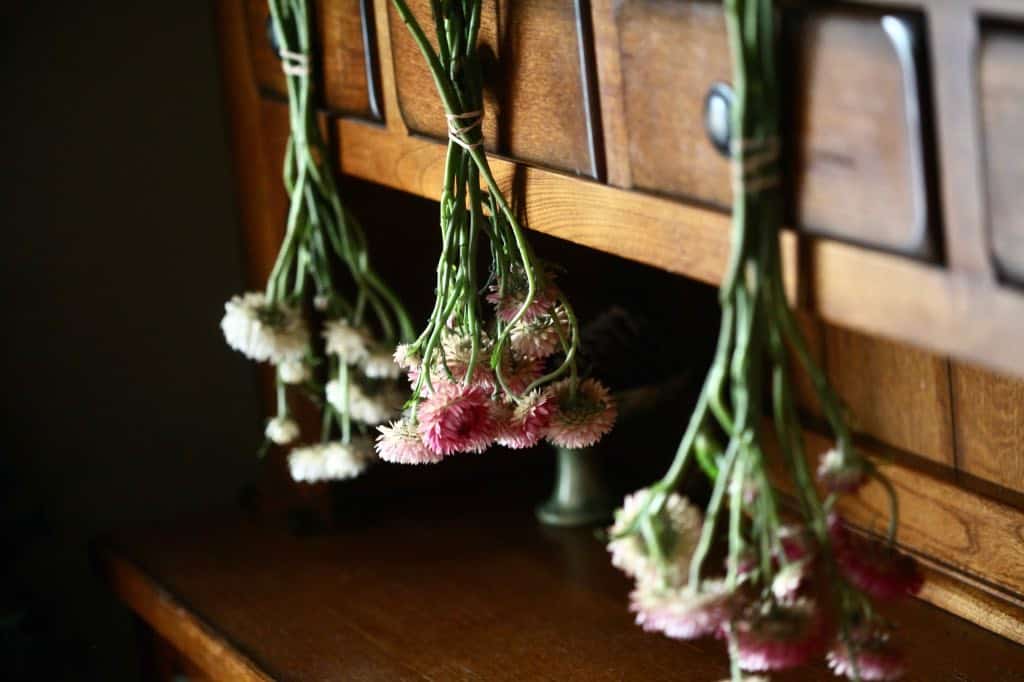 Storing Dried Strawflowers
Store dried strawflowers in an airtight container, such as a large plastic container with a lid. Place in a dark and dry place for best storage.
You can use tissue paper to wrap around the delicate petals to protect them while in storage.
These everlasting blooms will last for a very long time if stored properly.
Using Dried Strawflowers
Dried strawflowers can be used in many different dried flower projects.
Use them in dried flower arrangements either alone, or mixed in with other types of dried flowers, pods and grasses.
String the flowers together to make a colorful flower garland.
Use different colors and sizes of dried straw flowers to make floral art.
The dried blooms are also popular on fall wreaths, and can be either glued or wired into place.
And don't forget about potpourri. Use the smaller flowers, which may have been removed from any stems after cutting, to add to the potpourri.
You can also place the smaller dried flowers into a small bowl to display all on their own.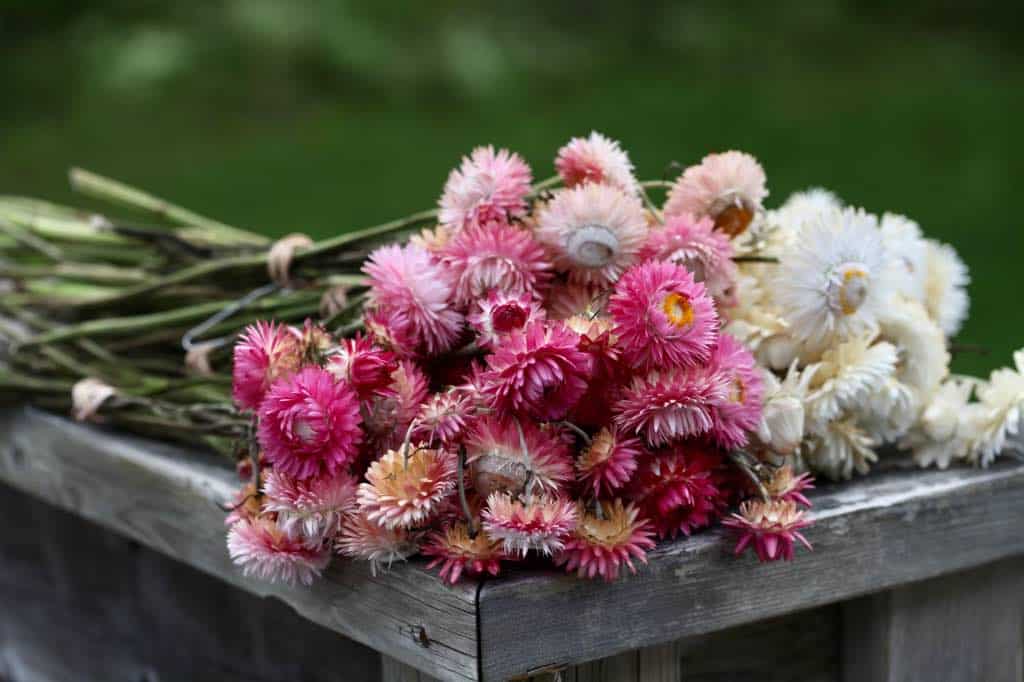 Frequently Asked Questions
How Long Do Strawflowers Take To Dry?
Strawflowers will dry fairly quickly, because they are low moisture flowers to begin with.
Flowers hung to dry will be dried within 2 to 3 weeks, or sooner.
Individual flowers set out to dry on a flat surface will also dry within that same time frame.
How Do You Make A Strawflower Wreath?
Making a diy strawflower wreath is a fun and simple project.
It's a great way to creatively use those dried strawflowers.
Use a pre-made grapevine or willow wreath as a base for your diy wreath.
The strawflowers can be glued to the wreath's surface, or alternatively wired to the surface, if the flowers were wired before drying.
Either method works well, and will result in a beautiful wreath to hang, or to gift to someone special.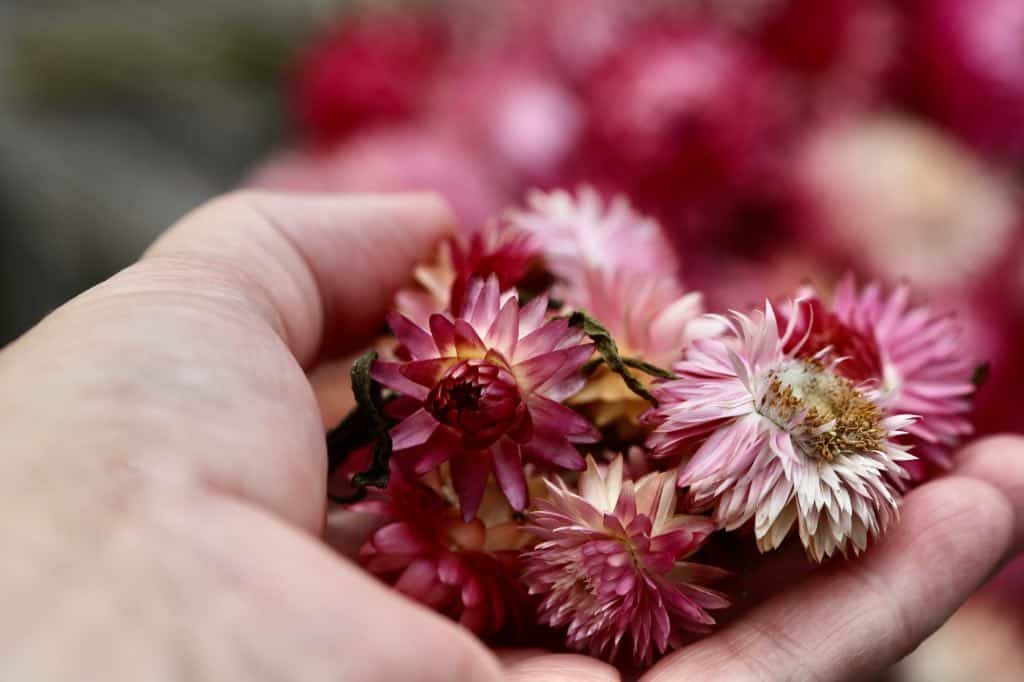 How Do You Make A Dried Strawflower Garland?
Making a strawflower garland is another fabulous way to use strawflowers.
Harvest the flowers and remove the stems.
Pierce the blooms for garland making when the flowers are freshly cut and more pliable, rather than waiting until they are completely dry.
Thread the flowers together using a needle and strong thread.
Intersperse with wooden beads if you like, for a different look. Place a bead at each end of the garland as a stopper as well.
Hang to dry in a warm and dark location.
Use the garland as an organic decoration for special events, parties, and special occasions. You can even use this special floral garland to decorate a holiday tree.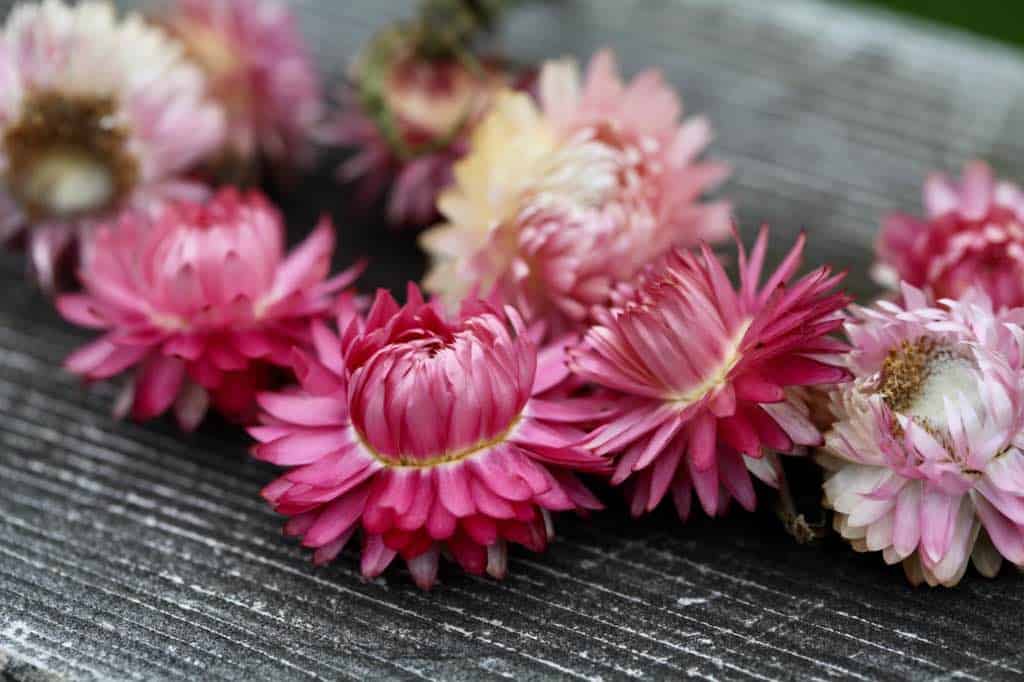 How Long Do Dried Strawflowers Last?
There is a reason that strawflowers are called everlastings.
Dried strawflowers will last for years with the right care and storage.
They may not last forever, however they can last for a very long time.
Conclusion
Strawflowers have the most beautiful color and texture, both in their fresh and dried forms. Their versatility to be used both fresh and dried, makes them one of my favorite flowers.
The flowers of the strawflower plant are so dry, that they actually feel like straw. Even the fresh flowers have a straw-like texture.
Drying strawflowers is easy. Just make sure to harvest at the right stage for drying, to get the best dried flower appearance.
Try growing some strawflowers in your garden next year, and try drying your own flowers to make these beautiful everlastings.
Other Posts You May Like:
PIN IT FOR LATER!