Last updated on June 5th, 2023 at 01:57 am
Peony flowers are some of the most gorgeous of all the late spring blooms. These romantic flowers are great cut flowers, and look beautiful in bouquets. Learn how to keep cut peonies fresh for longer in the vase, by providing the right cut peony care.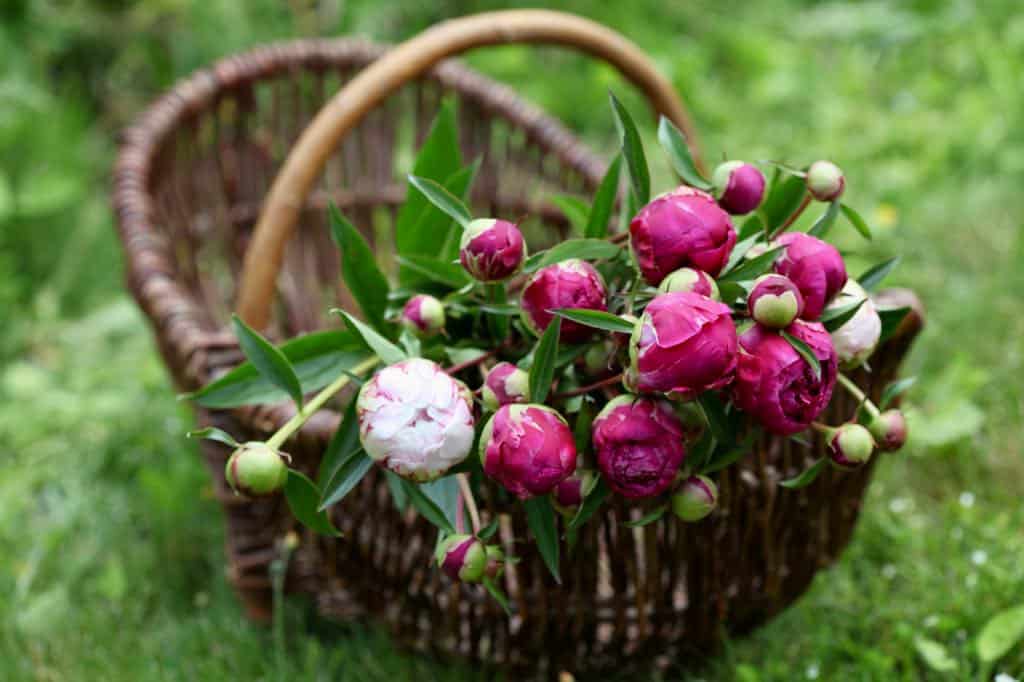 Peonies come at a time of year when there are not a lot of other flowers blooming in the garden. Peony season helps to fill that flower void by providing early summer blooms.
Herbaceous peonies return to the garden year after year. Having a few of these peony plants in the garden will offer a wonderful opportunity to make a peony bouquet or two for those special people in your life.
If you are planning to enjoy your peonies as cut flowers, there are some specific techniques to getting the most enjoyment out of your blooms.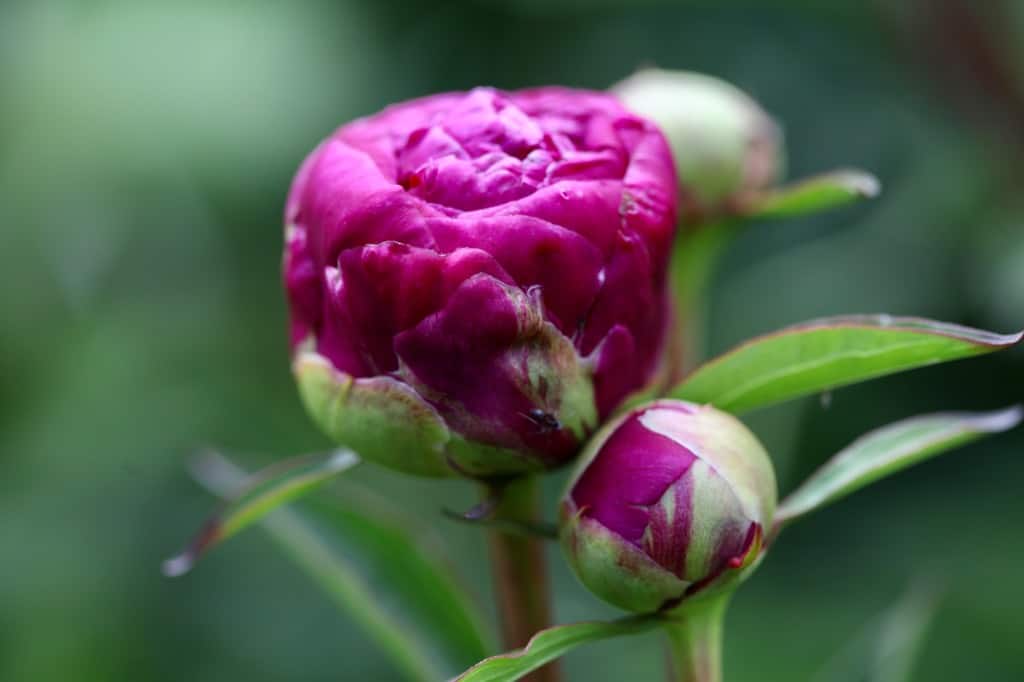 Cut Peonies At The Right Time
If the flowers are cut when they are open and blooming, the vase life of the blooms will be significantly reduced. You may even experience petals dropping from the stem, after just a few days in the vase.
Peonies won't last long as a cut flower when picked in full bloom. They are beautiful for a day or two in the vase, and then they are done.
There is a way however, to provide your peonies with a much longer vase life.
With just a few simple strategies for cutting and caring for your peony flowers, you can extend the vase life and enjoy them for a bit longer.
One of the first tricks for post harvest peony longevity is to cut them at just the right stage.
Knowing the right time to cut peonies will make all the difference in the length of their vase life and bloom time in floral displays.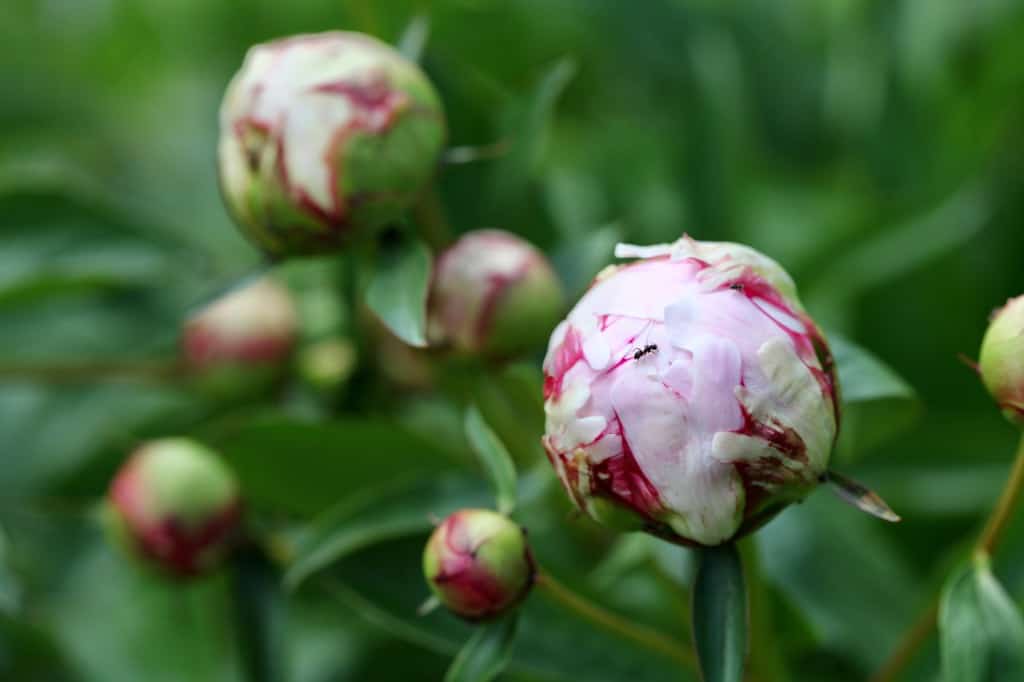 When To Cut Peonies
Knowing when and how to cut your peonies is the first step to keeping them fresh for longer, and an important part of cut peony care.
Peonies are long lasting flowers if cut at the right time.
If you cut the flowers in the fully open stage, they will only last two to three days at the maximum.
This is okay for your own personal use, especially if you are displaying them for an event. However you would definitely not want to give away or sell any cut flowers this way.
The right time to harvest a peony is in what is called the marshmallow stage.
If harvested in this stage, you will get six to seven days in the vase, and up to ten in ideal conditions.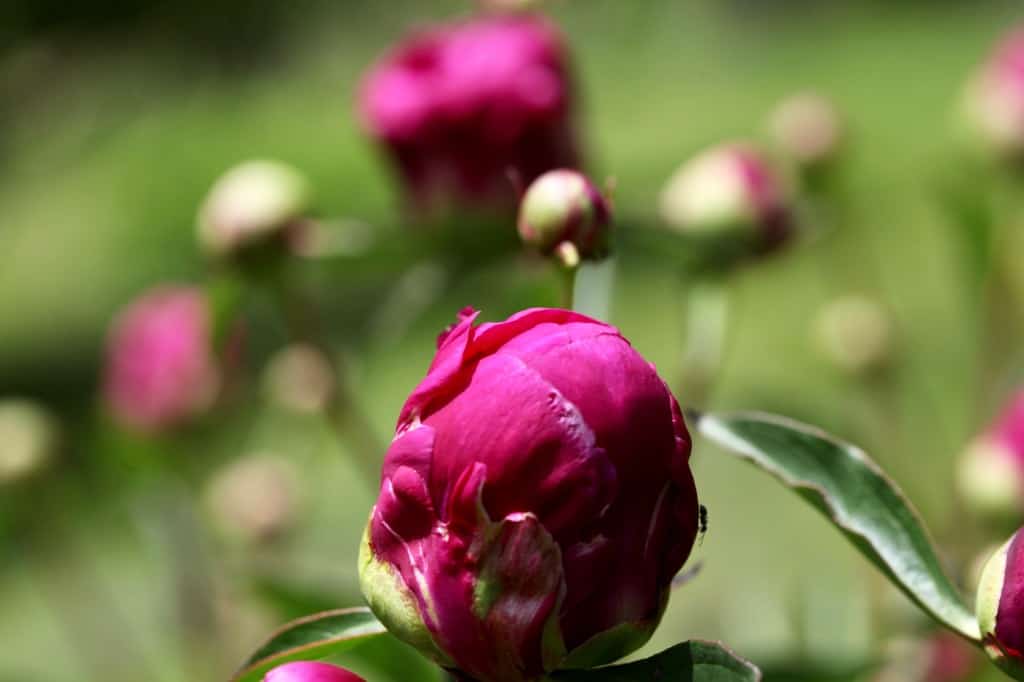 Peony Marshmallow Stage
If the peony bud is firm and hard when pinched, it likely will not open if harvested.
The smaller firmer buds are said to be in the marble stage. They are hard and round, and feel just like a marble.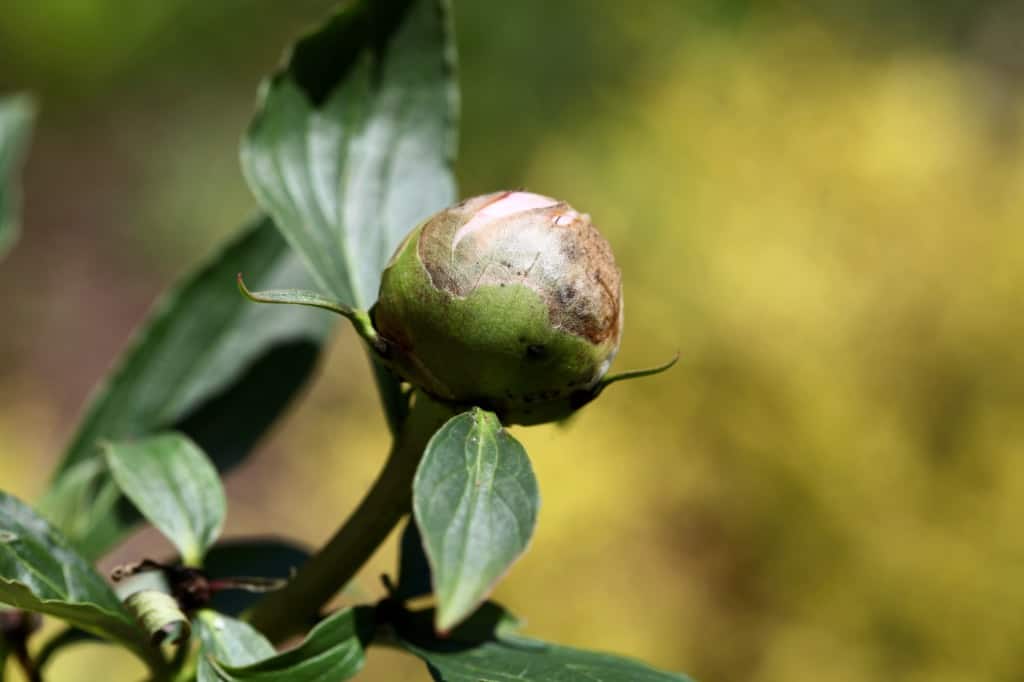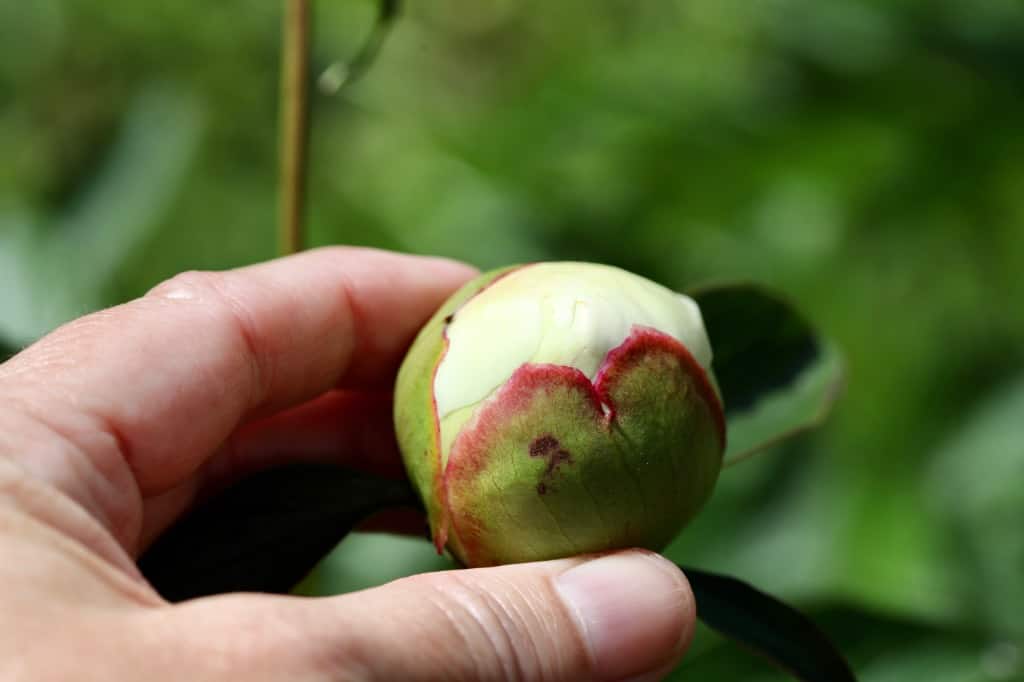 A peony bud in the marshmallow stage is a harvestable bud.
This is an earlier stage than a soft bud in the open stage, or a fully open peony.
In the marshmallow stage, the bud is softening and swelling, and beginning to produce visible color. When you pinch the bud, it feels soft, just like a marshmallow.
The sepals at this stage start to pull away from the bud, and are not as tight.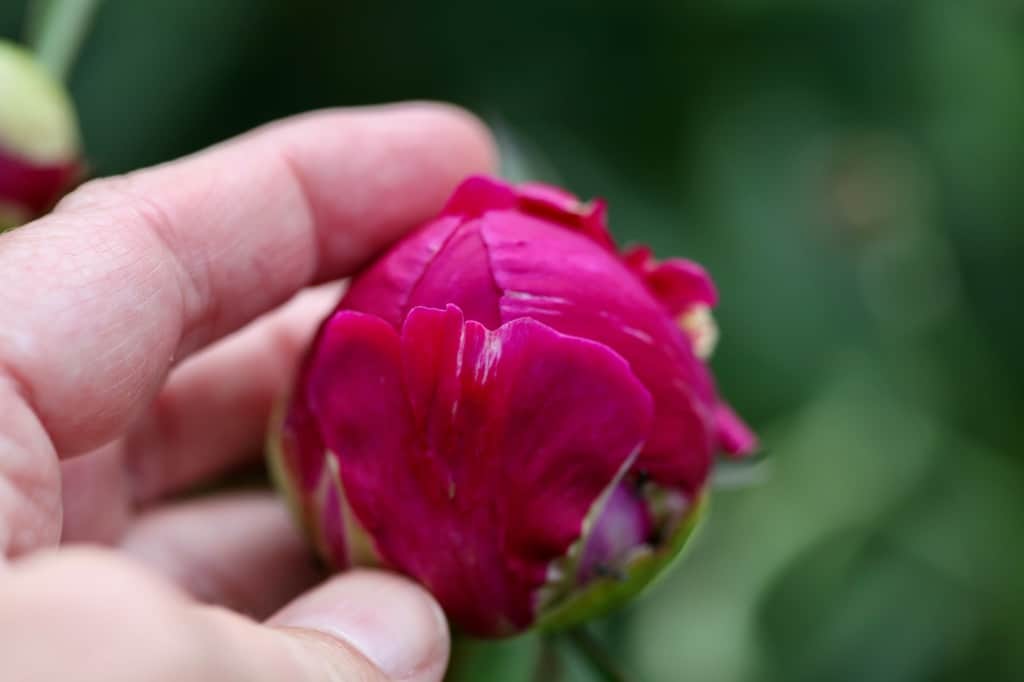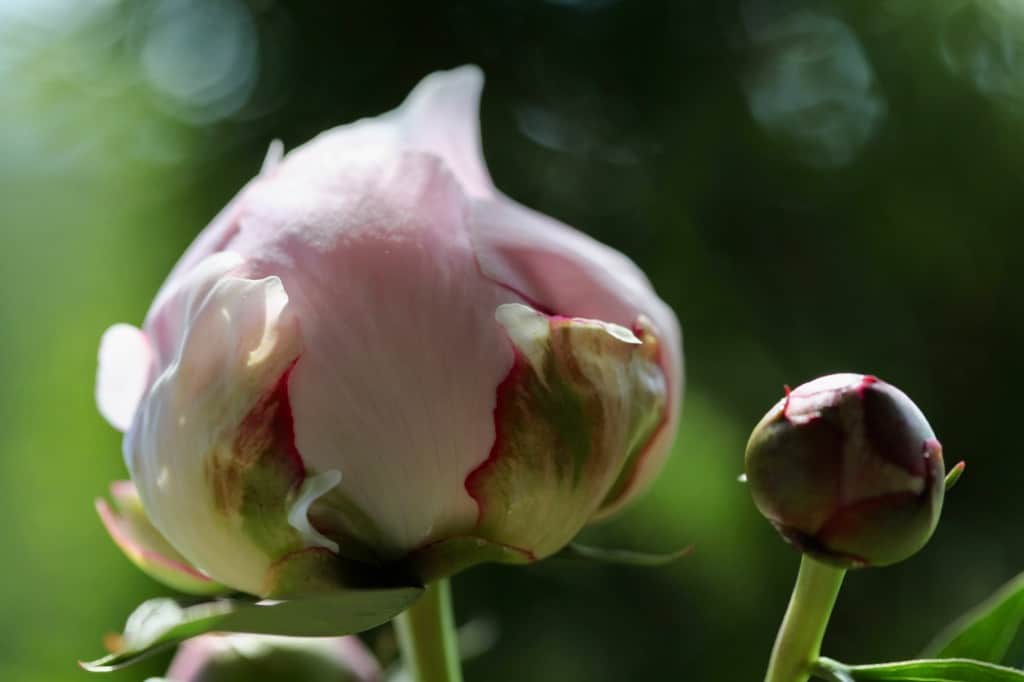 This is the perfect stage to harvest for best vase life, and for storage.
If the buds are slightly more open than the marshmallow stage, and just beginning to bloom, they can still be picked. They will still have a longer vase life compared to a flower that is fully open, and are still good to harvest at this stage as well.
The fully open already blooming flowers are past the stage for cutting. These flowers should be left on the plant to enjoy in the garden, as they will not last long in the vase.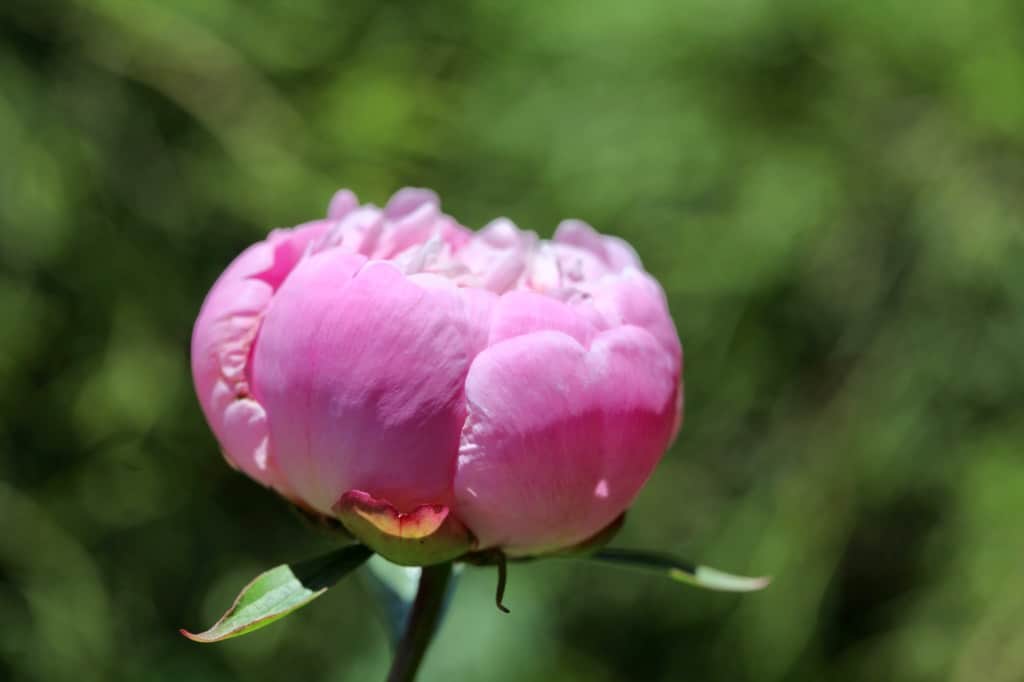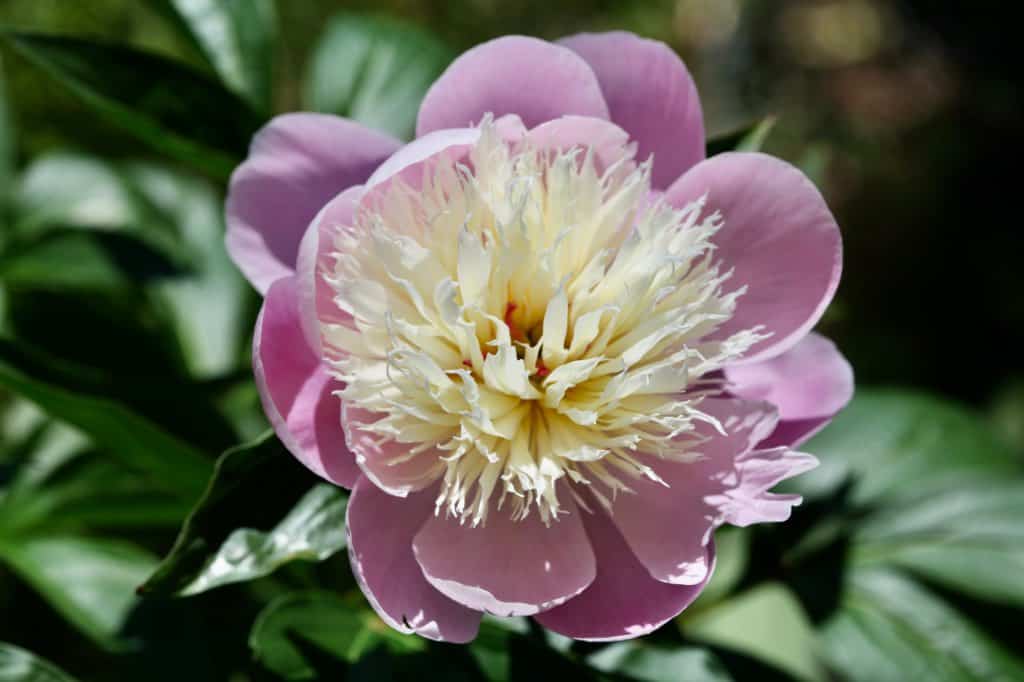 Know Your Peony Varieties When Cutting
Make sure not to harvest too early, and make sure that the buds are soft like a stale marshmallow before cutting. Always try to pick your peonies in this marshmallow bud stage.
This is particularly important with the larger flowered peonies. You really want to make sure that you get soft buds before harvesting them.
Some single varieties can be picked a bit tighter.
You will get to know the different varieties and how they respond to harvesting them in the bud stage as you work with them.
Cutting peonies in the marshmallow stage regardless, will help to extend the bloom life of the flower.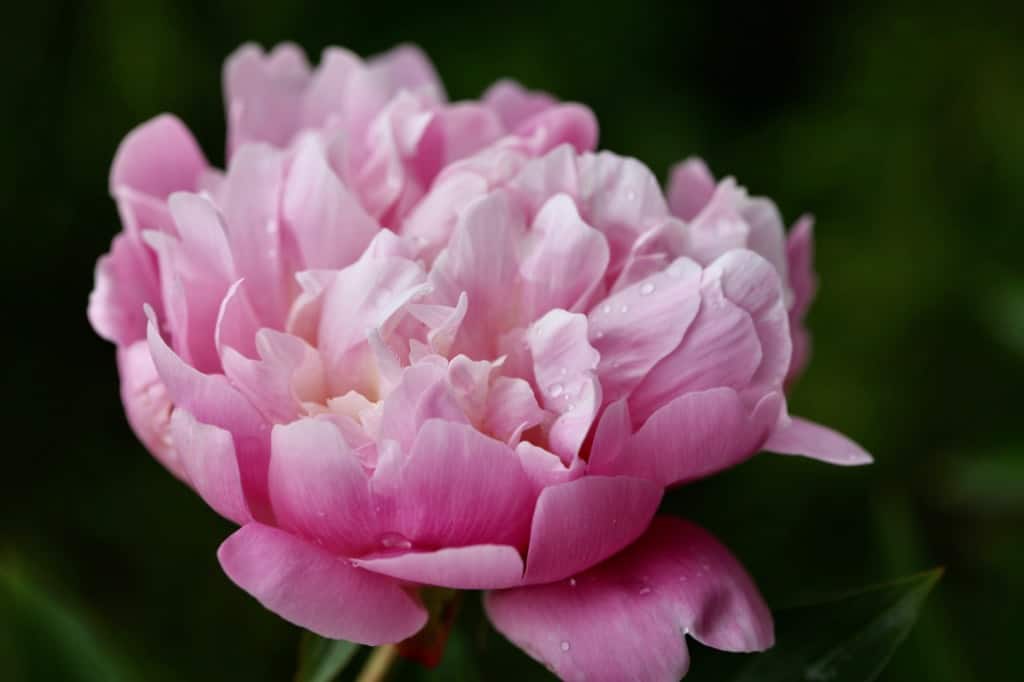 Time Of Day For Cutting
The best time of day for cutting is in the morning, when the plants are fully hydrated.
Try to cut when the morning dew has evaporated, especially if you plan to store your peony stems. Any extra moisture can contribute to moulding of the blooms in storage.
Harvest on a dry day, rather than a rainy or misty day, for the same reasons. Extra moisture can cause problems.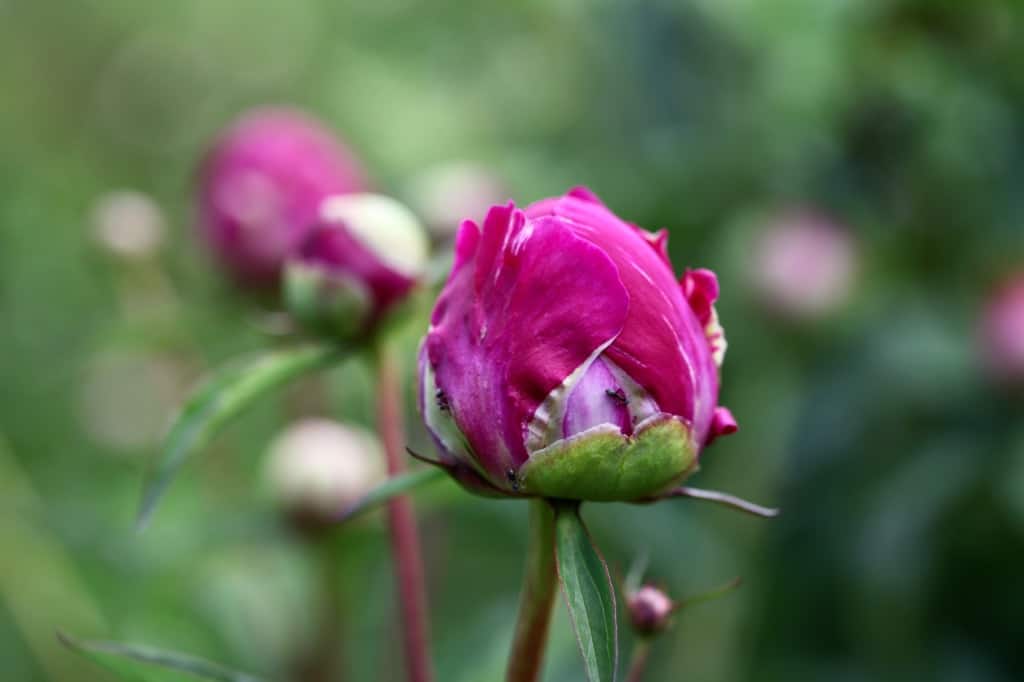 How To Cut Peonies
Cutting The Stems
Before you cut your peony blooms, ensure that your tools are sharp and clean.
Find the peony stems with buds in the marshmallow stage. There may be side buds as well on these blooms.
Reach down into the plant, and cut the peony stems at approximately 18″.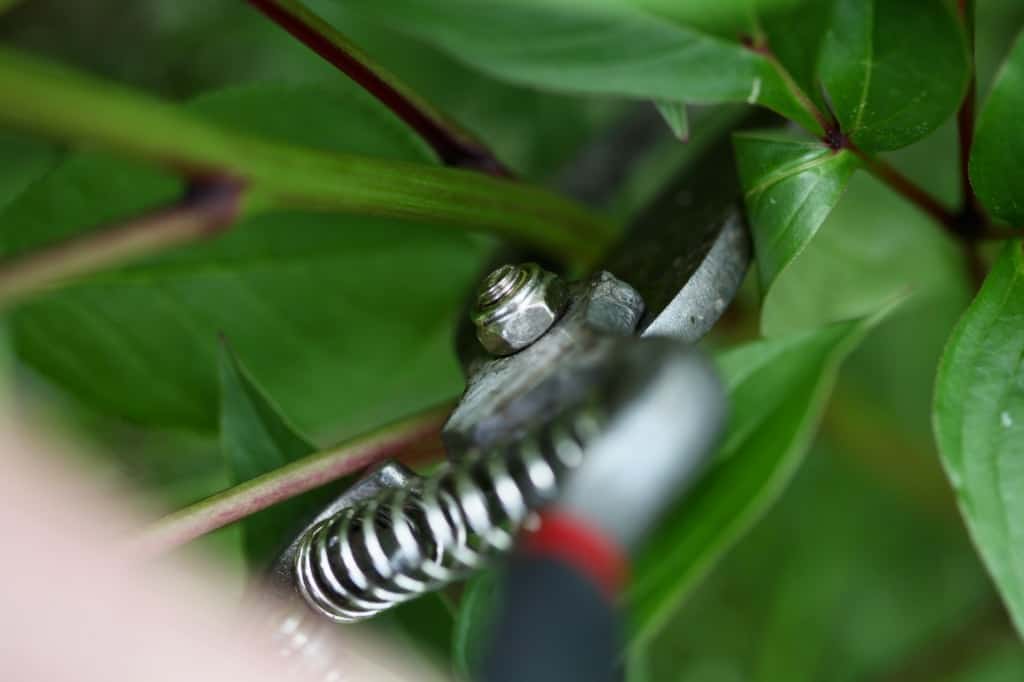 Leave a few sets of leaves from each stem remaining on the plant, to help to provide energy for new flower production next spring.
Strip the bottom leaves from the stem, leaving only several leaves at the top of the stem.
You can remove most of the side buds as well, or keep them for decorative purposes.
If you are planning to use your peony stems in a bouquet after cutting, place them directly into a clean bucket of lukewarm water.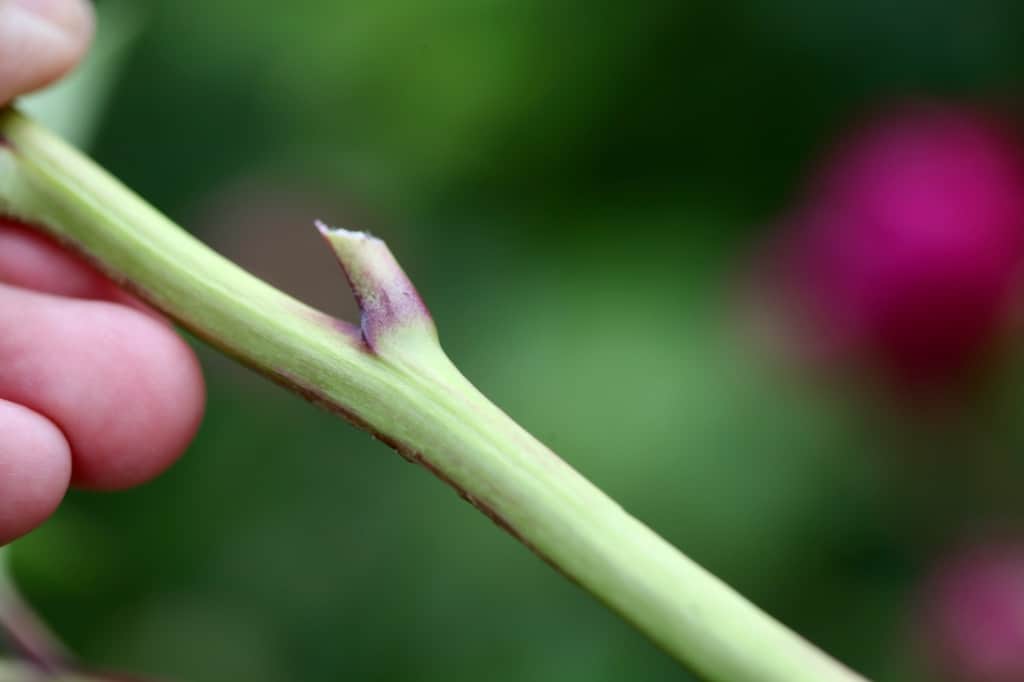 Storing Peony Buds
All of the freshly cut stems can be stored in a fridge, whether dry stored or stored in water.
If you are planning to dry store them away for later use, do not immerse them in water at this time. These stems will be dry stored for later handling.
If you are planning wet storage, place the stems in a clean bucket of holding solution.
The cool temperatures will preserve them in this bud stage, until they are ready to be taken out and displayed.
Storing peony buds allows you to have some control over the bloom time.
The buds can be stored at a cold temperature in a cooler, and either dry stored or wet stored.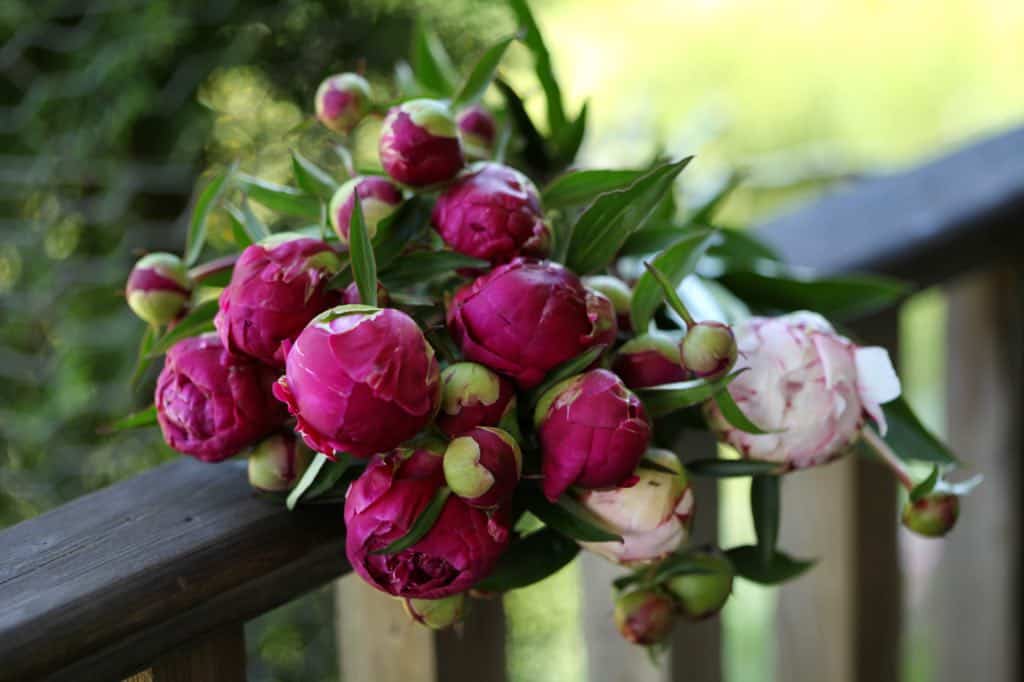 Dry Stored Peonies
Peony buds can be stored dry packed, and wrapped in paper or plastic, stored out of water.
To dry store, wrap in tissue paper, kraft paper, paper towel, or newsprint, ensuring the flowers are fully dry before wrapping. Label with the harvest date.
You may also choose to cover the paper with plastic bags.
The key is to avoid excess moisture in storage, as it will place the stems and buds at risk for disease. Alternatively, if the environment is too dry, some buds will dry out and not open.
The paper will help to wick away any moisture.
Dry stored peonies can be stored in a horizontal position in the cooler.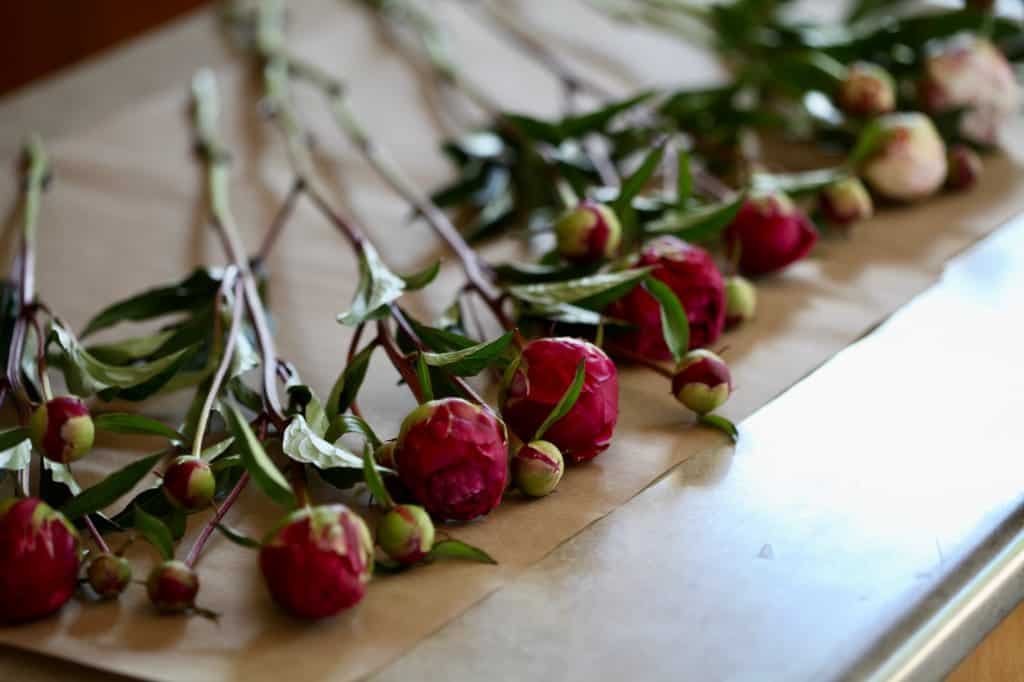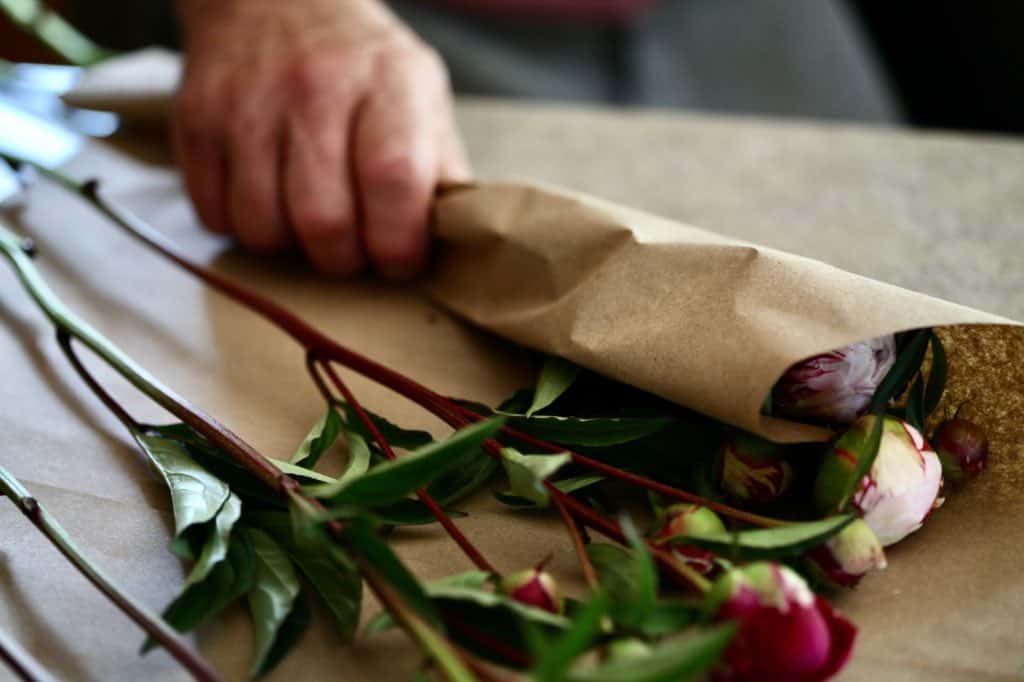 Wet Stored Peonies
Wet stored peonies will have a much reduced time in storage than dry stored peonies.
Store the peony stems upright in containers of holding solution, in cold storage, for up to one week.
Unlike those in dry storage, the buds in wet storage will slowly start to develop and open, even in the cold.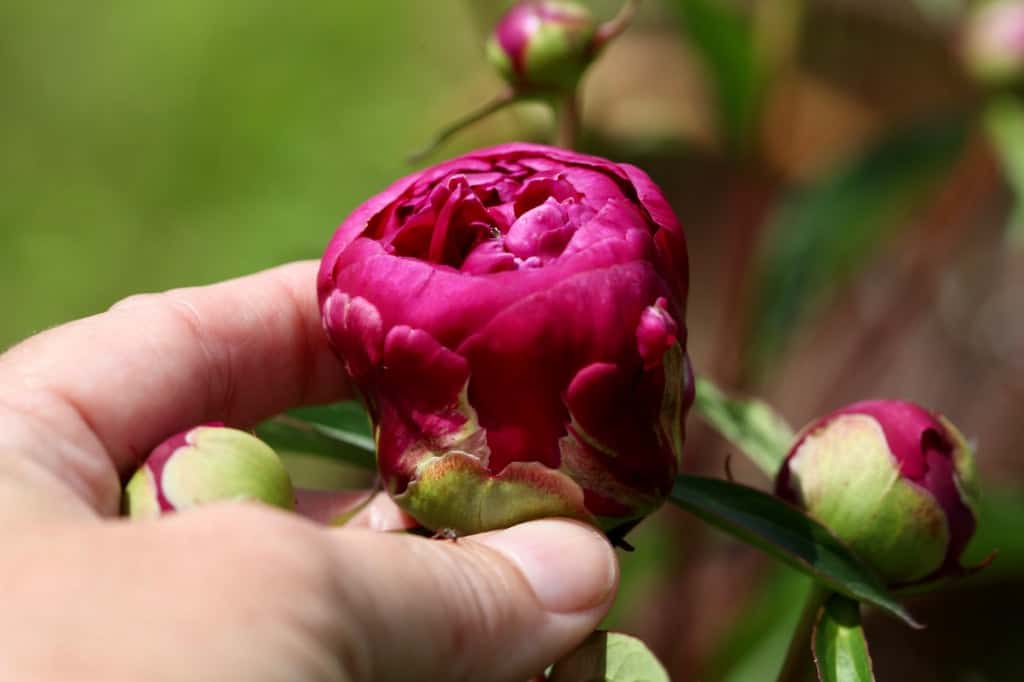 Removing Peonies From Storage
Essentially the peony stems are stored suspended in the bud state. They will remain this way until they are removed from the cold environment, brought out into the warmth, and placed into a vase of water.
Storing peonies in this way allows you to keep them, and hold them, to bloom at a later date.
Peonies can be dry stored for up to four weeks in this suspended state before blooming.
When the peony buds are removed from cold storage in the marshmallow stage they will open.
Remove the stems from cold storage, give them a fresh cut on an angle, place them in water, and they will bloom. You can keep the wrapped in the paper for support until they are fully hydrated.
These stored peony buds will produce full and open peony blooms within twenty four to forty eight hours.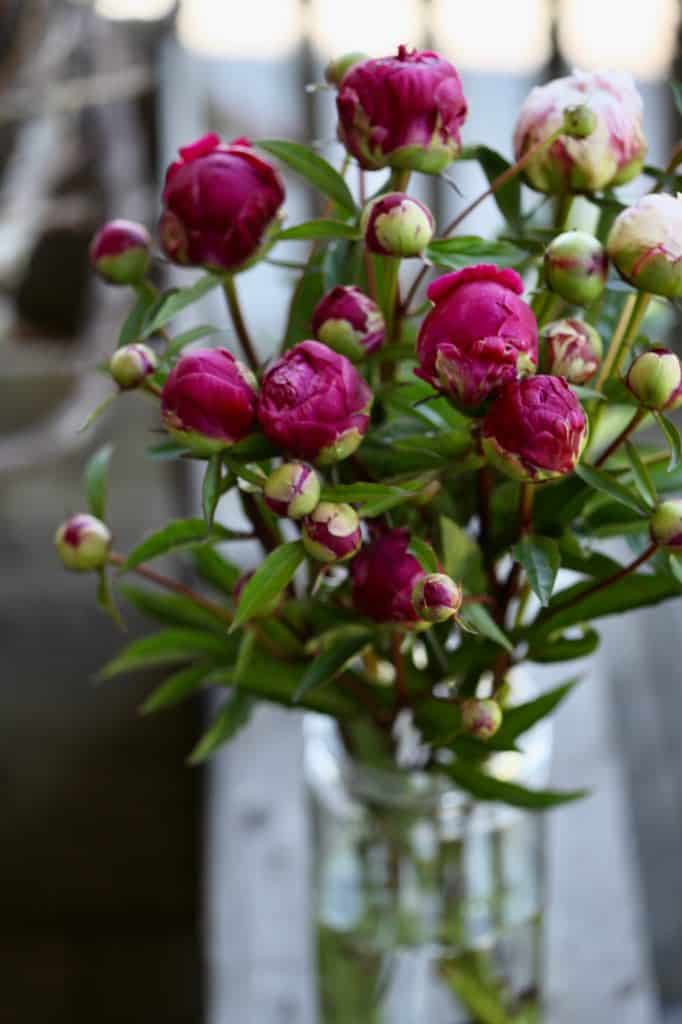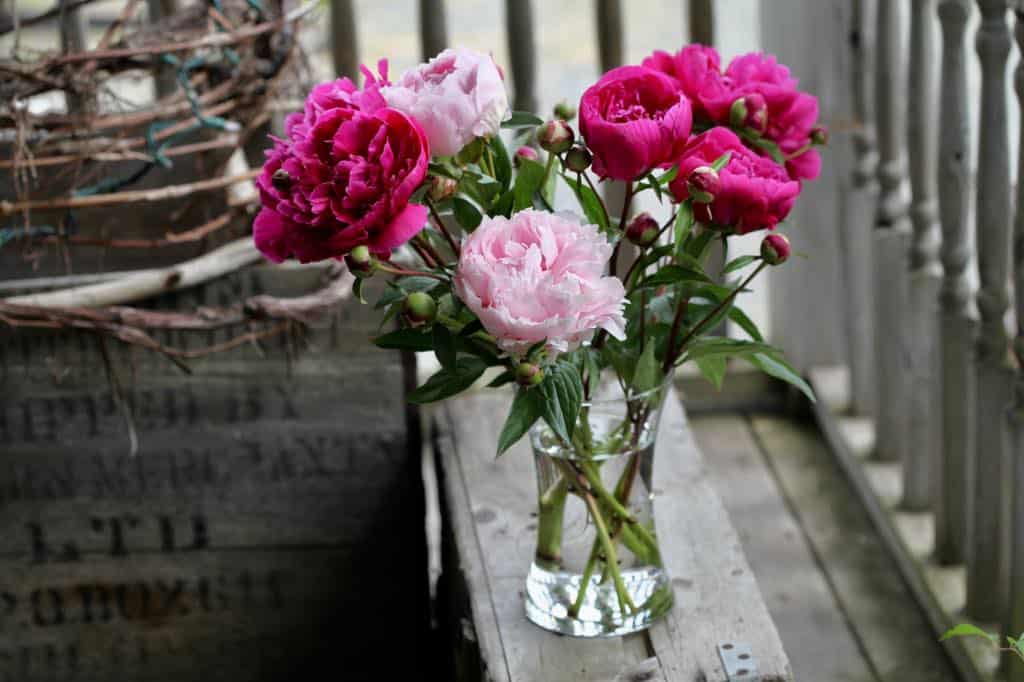 Cut Peony Care
After cutting your peony buds, you can either store them away in cold storage for later use, or place them directly in a vase for a beautiful floral display.
So let's have a look at the next important step in keeping cut peonies fresher for longer- cut peony care post harvest.
How To Take Care Of Fresh Cut Peonies
One of the most important things you can do for your cut peony flowers, and any cut flowers for that matter, is post harvest care.
When it comes down to it, care of peonies post harvest can be pretty simple, and yet can make all the difference in the world between a beautiful fresh flower, and one that struggles in the vase.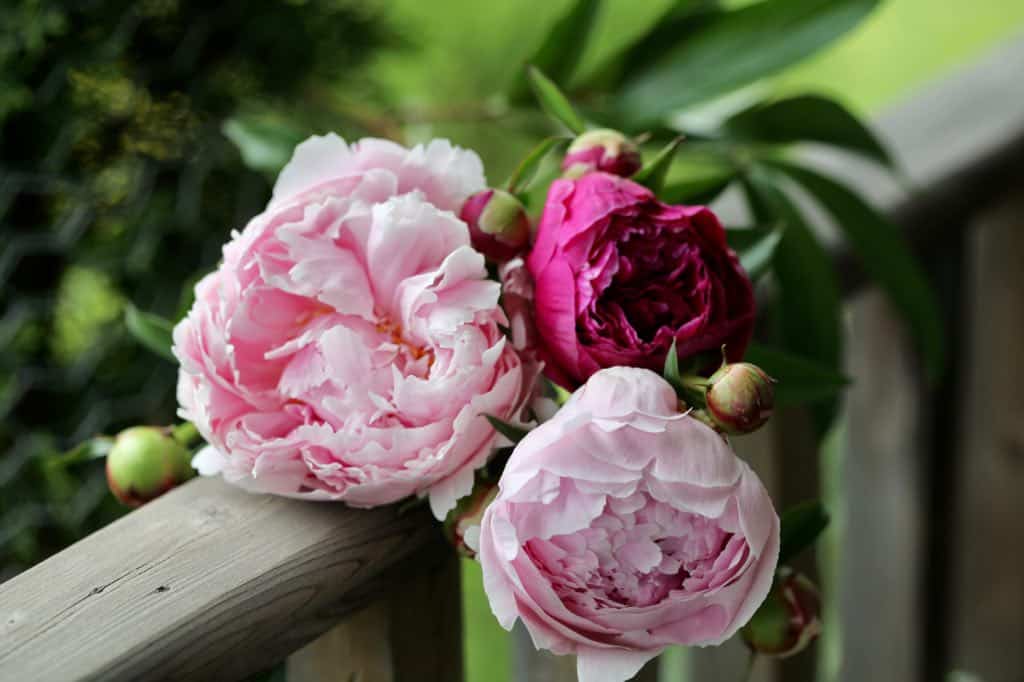 Cut Stems With Clean Sharp Tools
Make sure that cutting tools are clean, and sterilize if possible to prevent contamination of the cut ends of the stems.
Bacteria can be transferred to stems from cutting tools, and this will reduce the life of your cut flowers.
A simple alcohol wipe will do the trick. Just give your shears a wipe and allow them to dry before using.
You can also clean them well with detergent if you do not have disinfectant, although disinfectant does the best job.
A sharp tool also makes a difference when cutting peonies or any other cut flowers.
A pair of sharp snippers will make a clean cut, and this will help the stem to take up water more readily.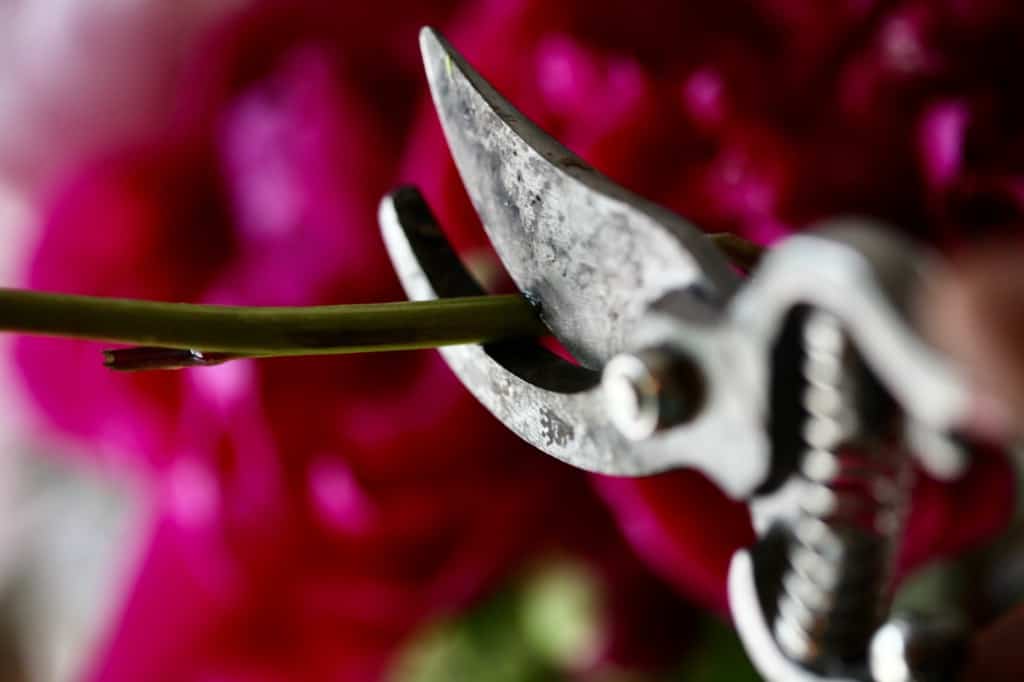 Keep Containers Clean
Using dirty containers will reduce the life of your flowers.
Make sure that any buckets, containers or vases in which you will be placing fresh cut peonies, are clean and free of pathogens for best bloom longevity.
I use a product called Floralife DCD which helps to sterilize the buckets and vases before filling them with water or holding solution.
Rinse the containers well after cleaning.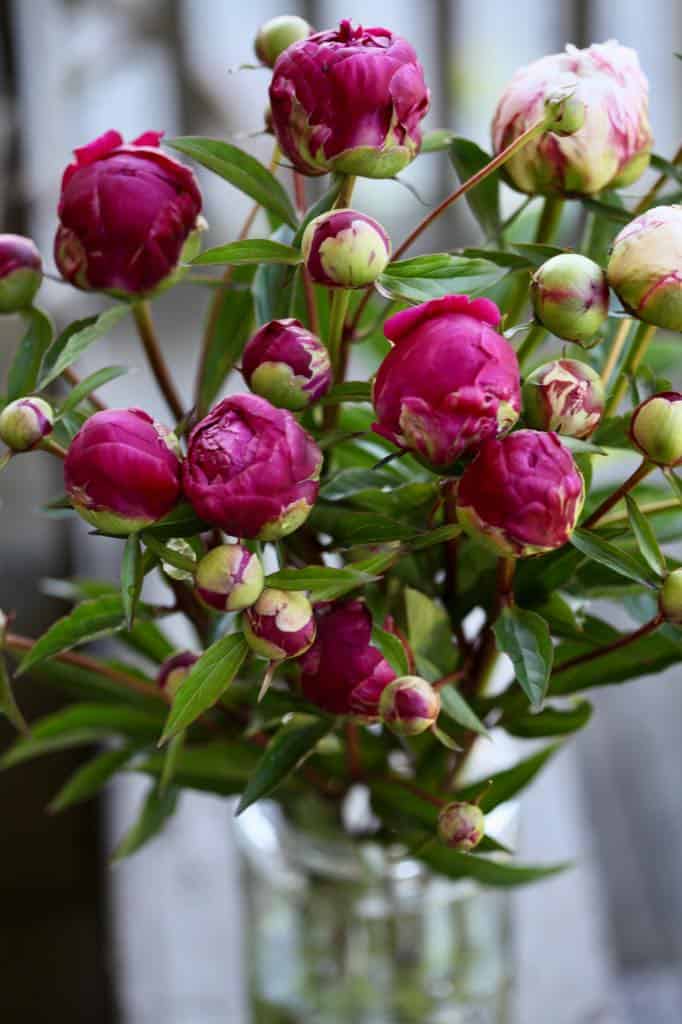 Feed The Flowers
Feeding cut flowers can make a difference in the longevity of the blooms.
We use a holding solution when first processing the blooms. The flowers generally sit in the solution in the vase until the next water change.
This holding solution is called Chrysal Transport and Display, professional 2, which helps to feed the blooms and keep them fresh.
I definitely see a difference between just using water and using a holding solution.
Water is the next best thing however, and fresh water is good for the blooms.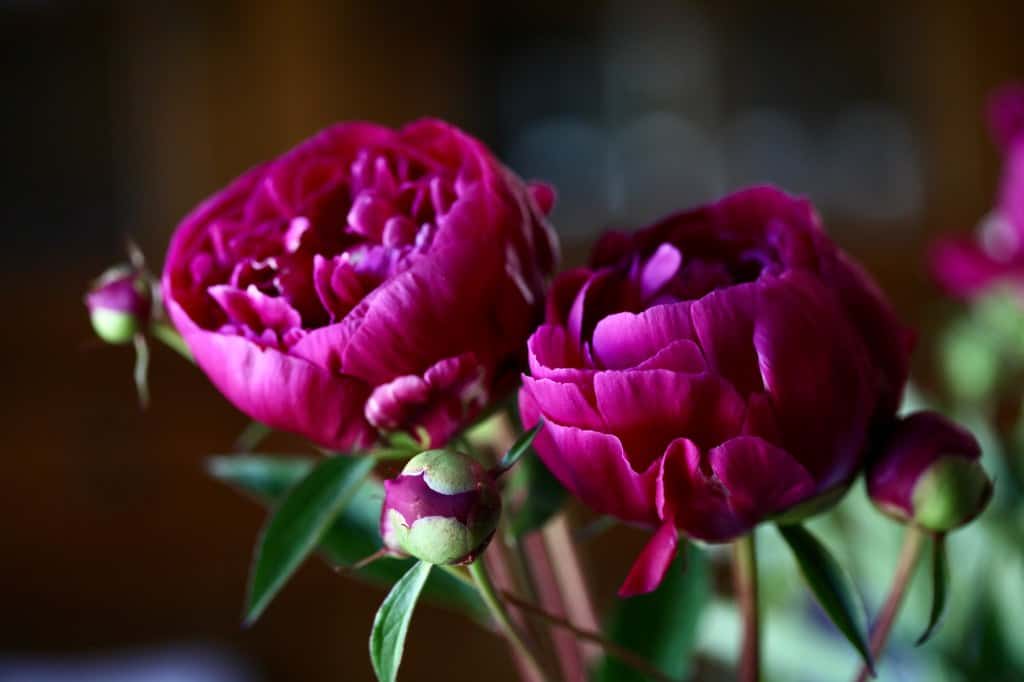 Keep Them Cool
The temperature of the room makes a difference in the condition of cut peony flowers.
Peonies like a cool environment, and will last longer in the vase in a cooler location.
In fact, if you really want to prolong the life of your cut peony blooms, consider giving them a good chill at night.
This could be placement in a cooler or fridge overnight.
A cool garage, outdoor porch or basement will also do.
Avoid placement near a heat source or in a very warm room. Also avoid placing the blooms in direct sunlight, which will decrease vase life quickly.
If placing cut peonies in the fridge, avoid contact with fruits and vegetables, which can emit ethylene gas and cause the flowers to age more rapidly.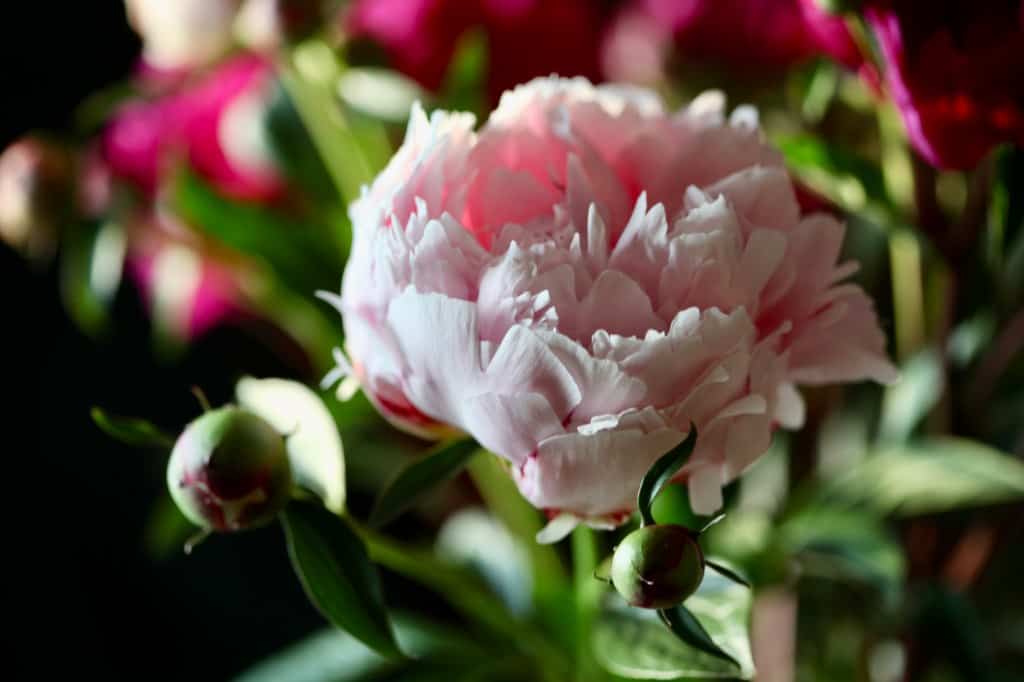 Change The Water
Change the water in the vase on a regular basis. Every few days is a good choice for providing the blooms with fresh lukewarm water or cool water.
If you notice that the water begins to become murky, change the water to make it fresh.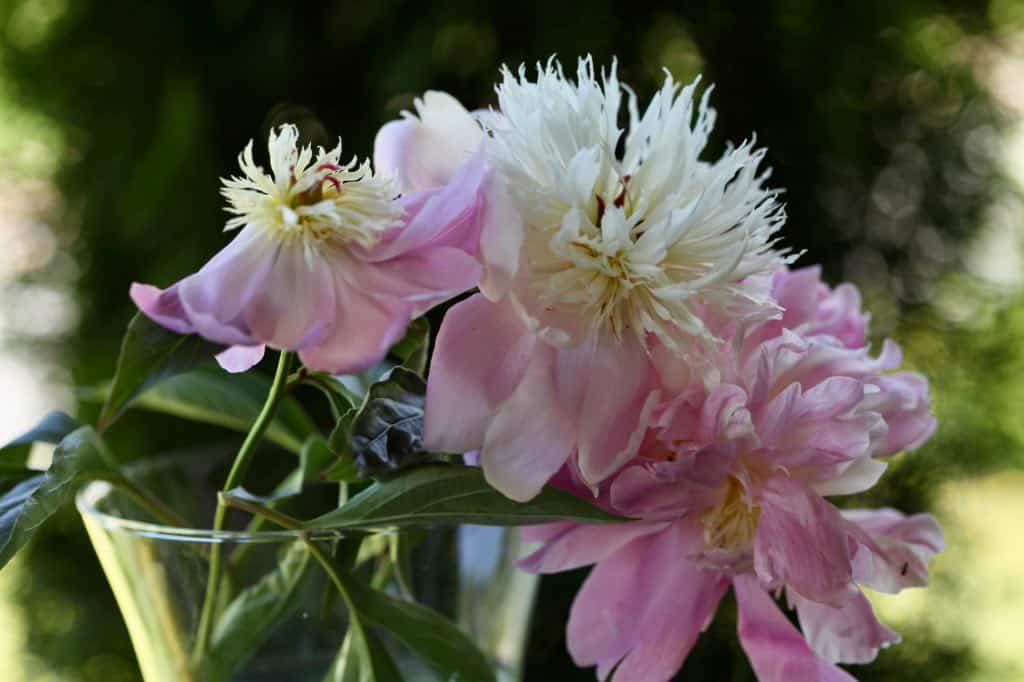 Trim The Stems
Trim a small amount off the bottom of the peony stems every few days, about an inch of the stem to promote uptake of water. Cut the stems on an angle.
This helps to prevent the bottom of the stem from laying flat against the bottom of the container, and blocking water intake and flow to the cut flowers. It also contributes to maximum water absorption.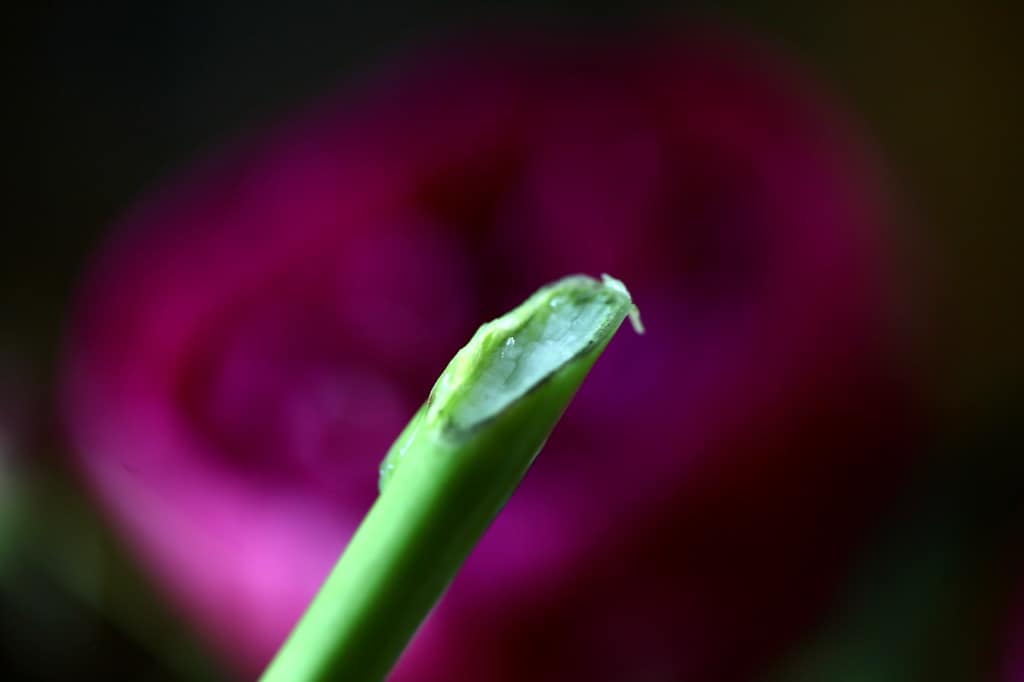 How To Keep Cut Peonies From Wilting
In order to prevent cut peonies from wilting, first of all it's important to understand why they would wilt.
Cut Peonies Can Wilt For A Number Of Reasons:
One of the first things to consider is if they have been placed close to a heat source. This can be as simple as having been placed in direct sunlight or in a warm room.
Cut peony flowers will do much better in a cooler location. It is important to remove them from the heat source as soon as possible.
Another reason for wilting of peonies is that the stems may also have become occluded, and they can't take up water.
The stems may have become dried out prior to placement into the water, especially if they were stored dry.
They can also become occluded from bacteria in the container or vase from not using clean tools or vessels.
The stems can also become blocked if they are cut flat or straight across, and are placed directly against the bottom of the vase. This will prevent uptake of fluid.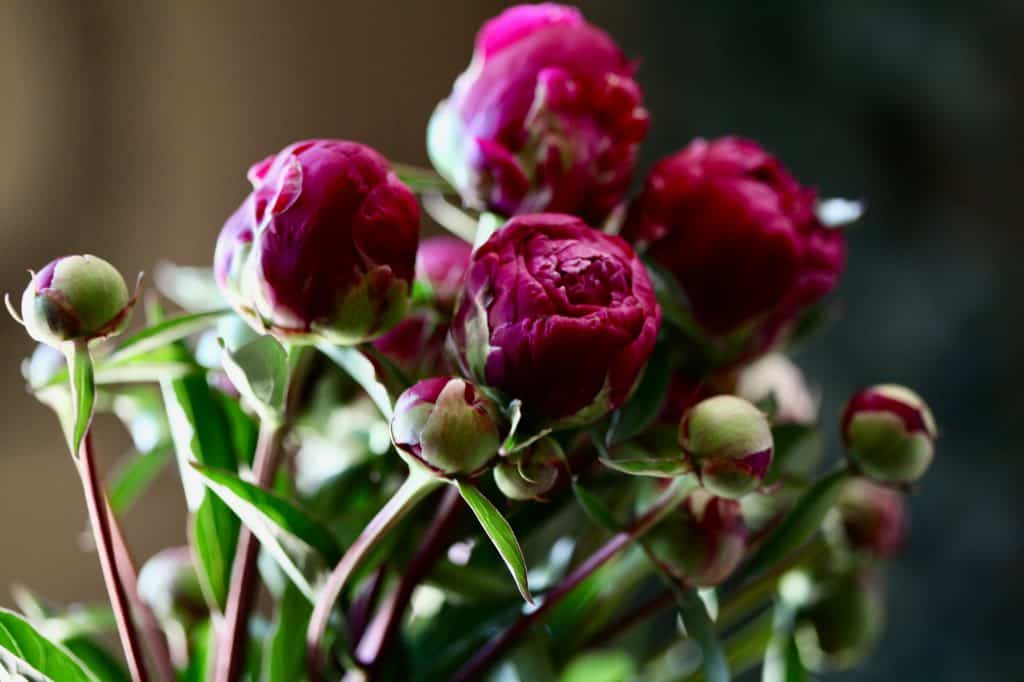 By providing the correct cut peony care, you should help to prevent your cut peonies from wilting.
For best results, keep your tools and containers clean. Keep the flowers in a cool place and out of direct sunlight.
Keep the water fresh, and provide flower food if available.
Trim your stems the right way, and make sure that the flowers are taking up water.
How To Help Wilting Peonies Recover
Trim the ends of the stems, up by approximately one inch, and cut on an angle.
An angle cut is very helpful, as it prevents the stems from sitting flat on the bottom of the container, allowing the flowers to drink up the water.
Make sure to place the stems back into a clean vase with fresh water.
Place the recovering peonies in a cool and shaded location.
Give the flowers time to recover and rehydrate after you have done these steps. Once rehydrated they will continue to bloom until spent.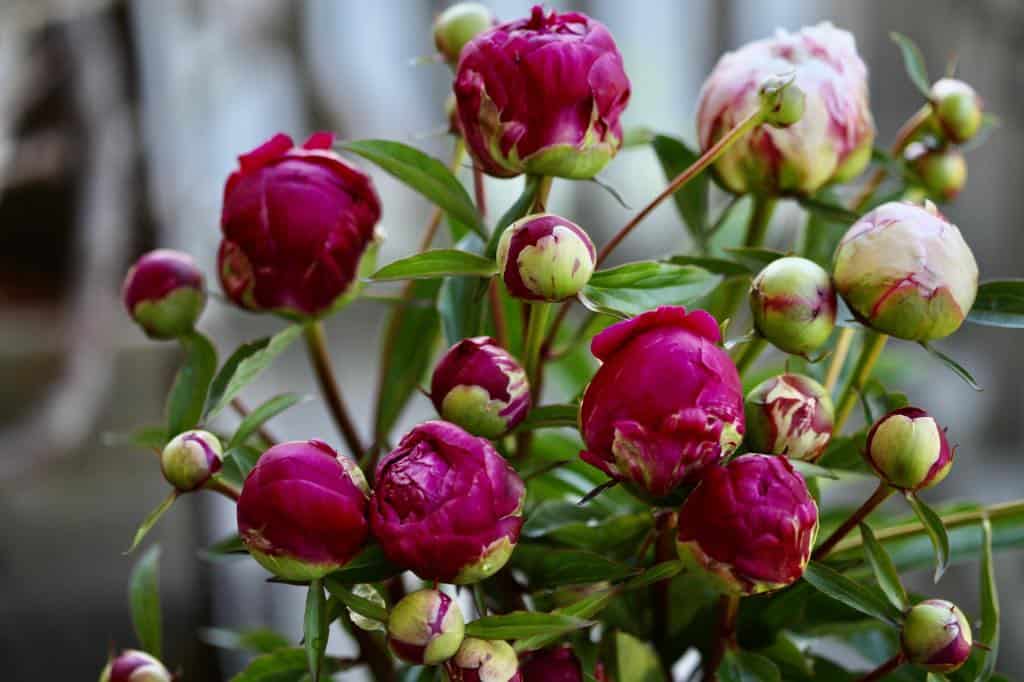 How Long Do Cut Peonies Last?
Cutting peonies at the right stage of development is the best way to give them a much longer vase life.
If the peony stems are cut when the buds are in the marshmallow stage, your peonies are sure to have an extended bloom time.
Stems can be stored in a cool location, and brought out when you are ready to have them in the vase.
Once the cut peony buds come into a warm environment and are placed in water, they will begin to gradually open, and start to bloom.
The bloom time will be anywhere for five to ten days in ideal conditions.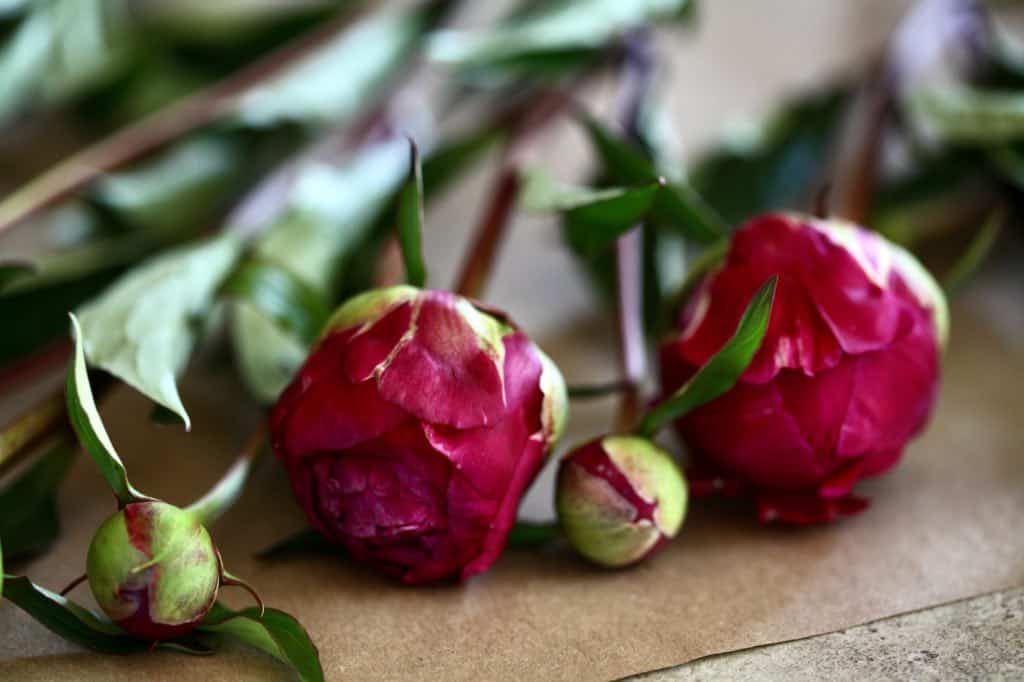 Conclusion
Garden peonies are popular cut flowers. When cutting fresh peonies it's important to cut them at the right stage for long lasting beautiful blooms.
The large blooms are outstanding in floral arrangements, and are perfect flowers to have for any special occasion during the growing season.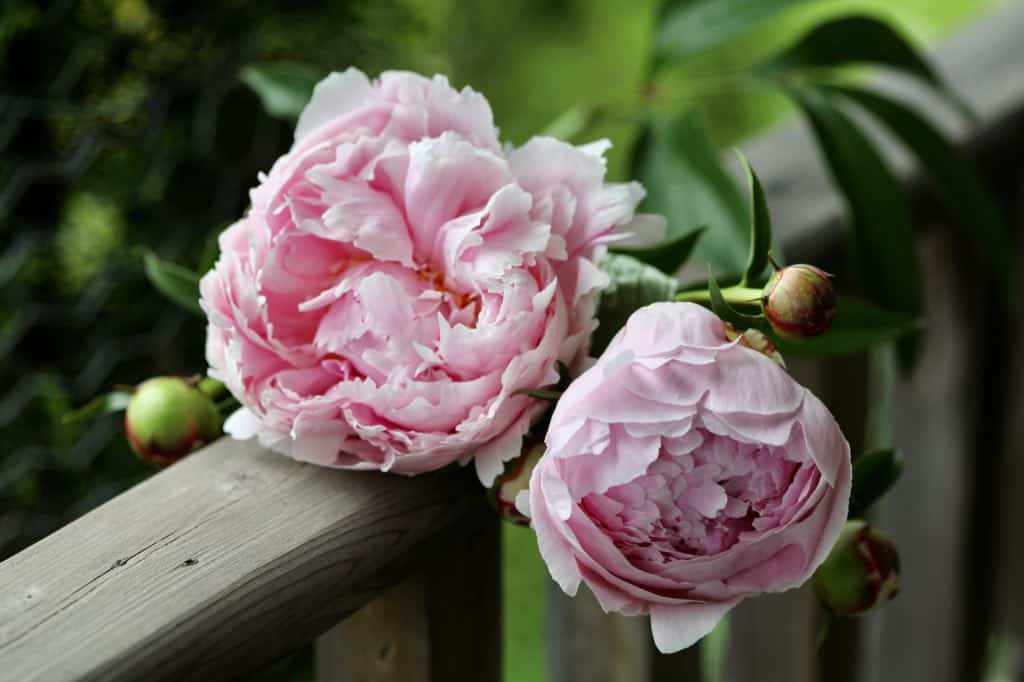 Floral designs made with beautiful peonies can be longer lasting with the right cut peony care.
Longer lasting blooms start with the right care from harvest to vase, and cutting those sweet blooms at just the right time.
Before you know it you will have mastered the art of cutting peonies, and getting them to the vase for their best performance and longevity.
Some peony connoisseurs prefer the large double blooms, while other prefer the delicate and simple single flowers.
I personally love both.
Learn how to grow peonies so that you can use them in flower arrangements.
Try different peony types to see what looks best in your own arrangements. Have fun, and enjoy the flowers.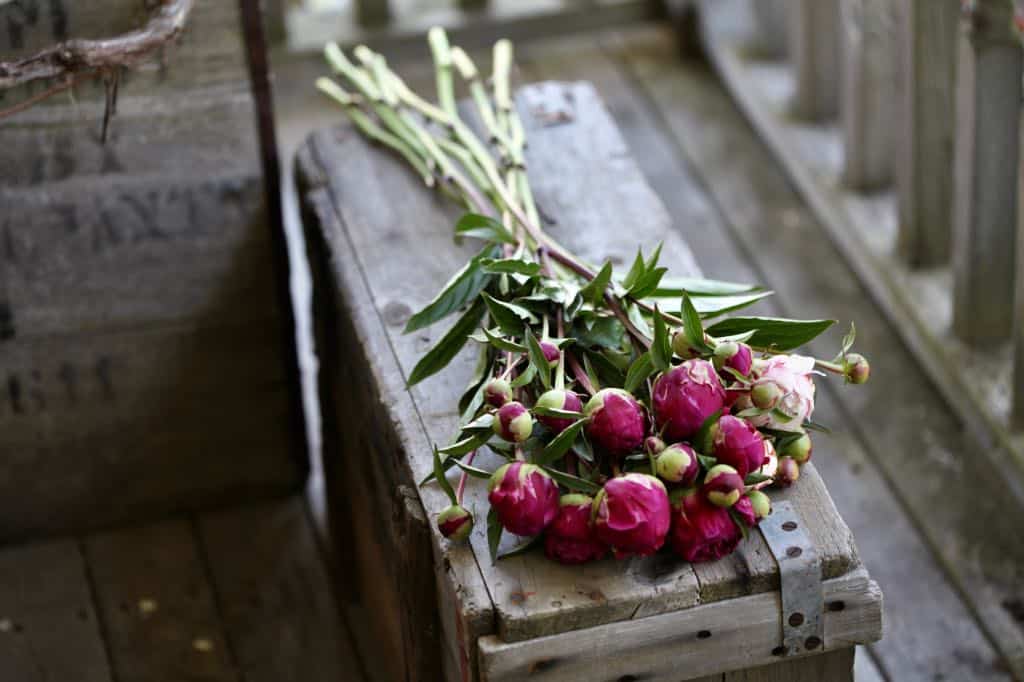 Have you had success with cut peony care and growing peonies from the marshmallow stage? Be sure to leave a comment below to share your experience!
Other Posts You May Like:
See the Web Story on Providing Cut Peony Care!
PIN IT FOR LATER!