My first Sea Holly plant grew in gravel on the south side of our house, self seeded from a bird feeder placed above. I watched this interesting plant grow throughout the summer, and almost magically turn from green to a brilliant blue . From then on I was hooked, and have grown these plants ever since. Learn how to grow Sea Holly, Eryngium, to add visual interest and a touch of magic to your garden.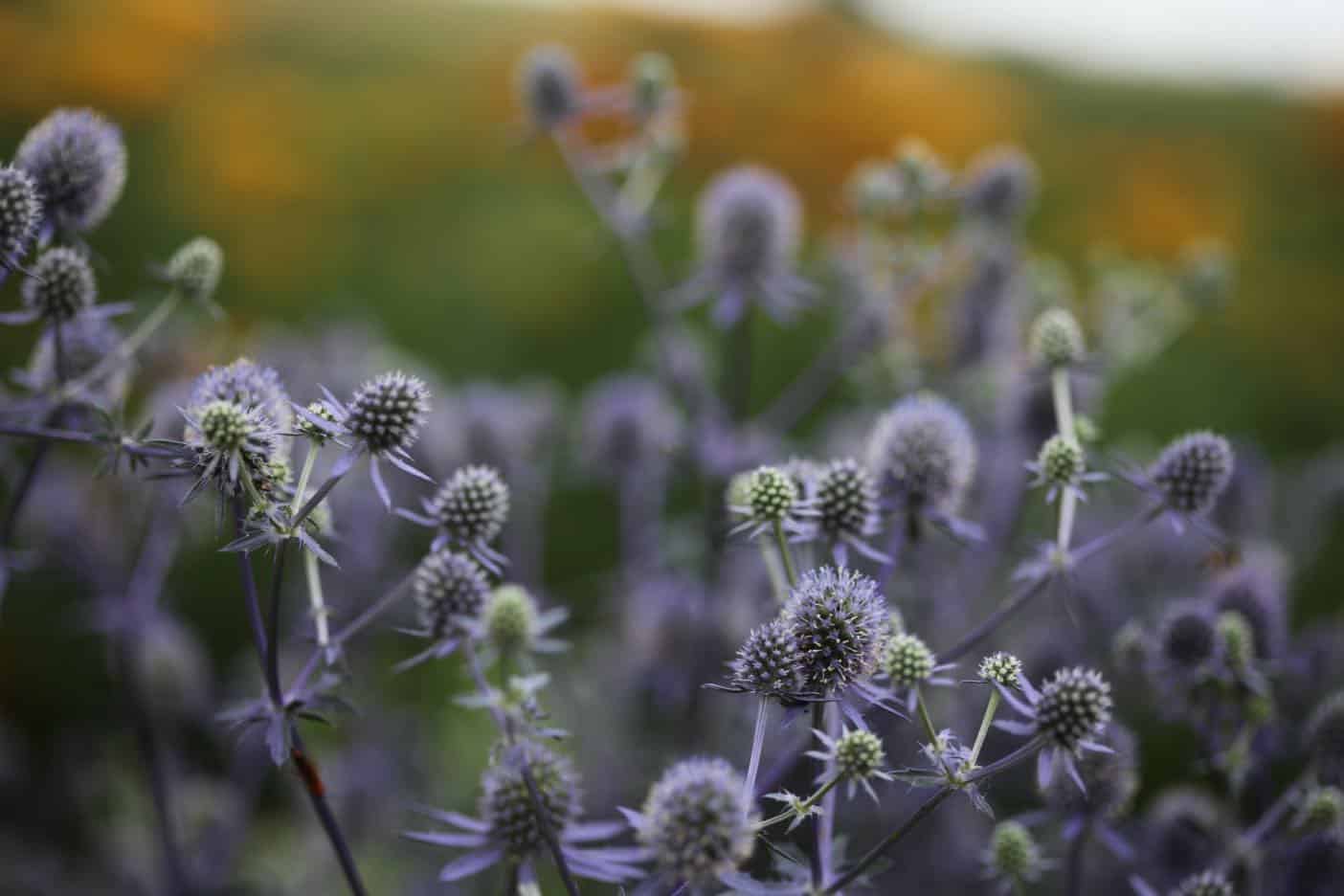 Sea Holly is the common name for Eryngium, which is the botanical name. It is a plant that originated from the Mediterranean, and therefore loves growing in similar growing conditions as those from it's origins.
That would explain why my very first Sea Holly plant grew in gravel on the south side of the house, where most other plants could not tolerate the heat!
Sea Holly is actually a flowering herb with over 200 species.
The Sea Holly blooms are thistle-like, and are surrounded by spiky bracts, which certainly add to their unique structural appearance.
The flowers, bracts and parts of the stem gradually change colour throughout the growing season as the blooms mature.
Most often you will find Sea Holly in shades of blue and purple, but they also come in a creamy white, which we grow in our garden mixed with the blues.
Is Sea Holly Easy To Grow?
Sea Holly is very easy to grow, although can be a bit tricky to grow from seed unless you are using the right techniques.
This plant is quite hardy and easy to care for once it is established in your garden.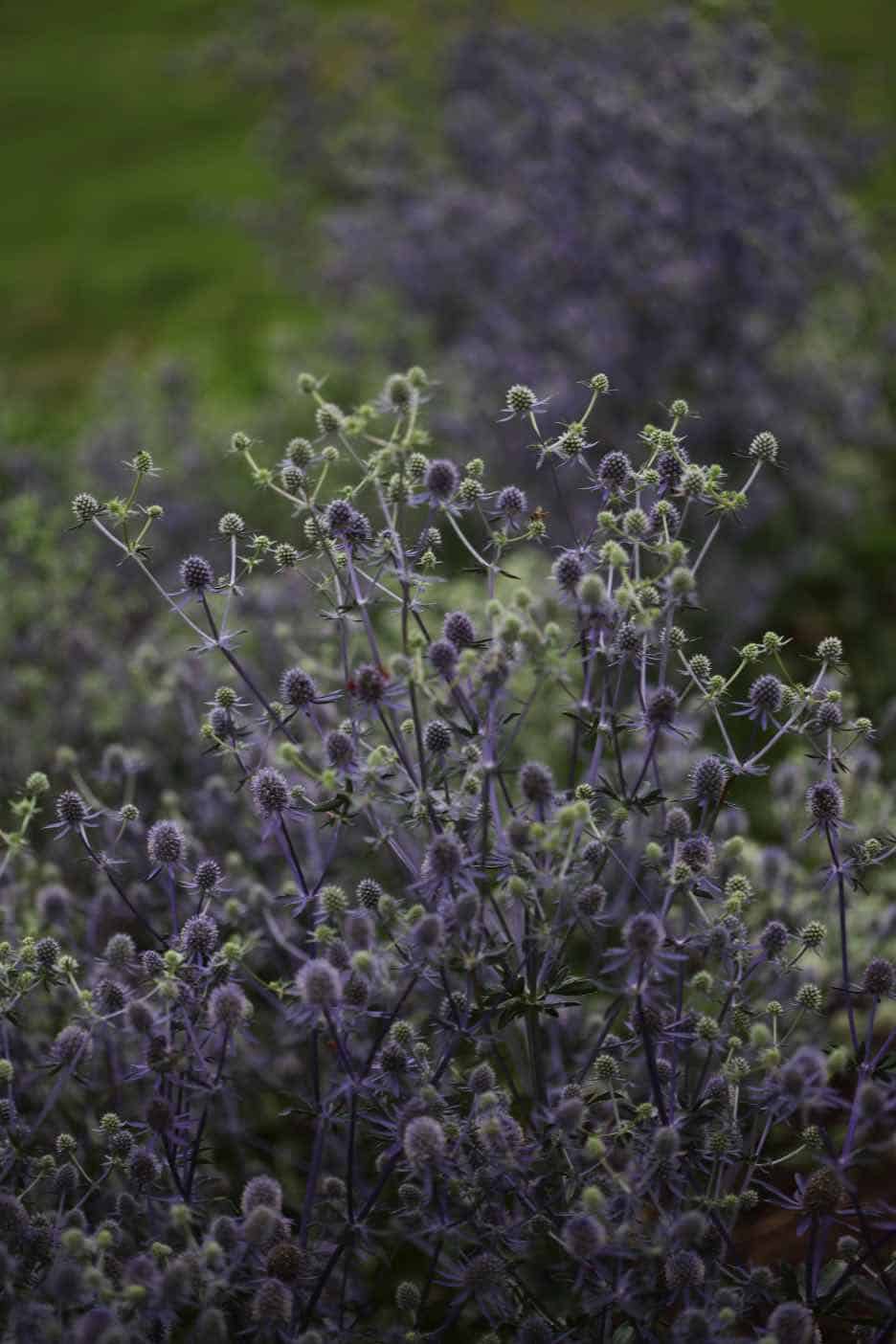 How To Grow Sea Holly From Seed
Our stand of Sea Holly was grown from seed.
We planted our seeds indoors in winter.
These seeds required a period of cold moist stratification to germinate successfully.
To do this, the seeds were put in moist paper towel in a zip lock baggie, and placed in the fridge for about a month. After this period the baggie was placed on the heat mat.
Within a short period of time we had lots of great seed germination, and planted the germinating seeds into individual cells in a seedling tray, with a good seed starting mix.
The trays were placed under grow lights and the seedlings were grown until they were ready to be transplanted out into the garden.
During the time under grow lights, the soil was kept moist by bottom watering the trays as needed.
Our seedlings are always hardened off before they are planted out.
The seedlings were planted out after the risk of all frost had passed. For us in zone 5b that's usually mid to late May.
Know your last frost date to calculate the best time to transplant your seedlings out into the garden.
Although Sea Holly is a hardy perennial, it is still tender when it is in the seedling stage and at risk for frost damage if not acclimatized before putting outside.
Where Does Sea Holly Grow Best?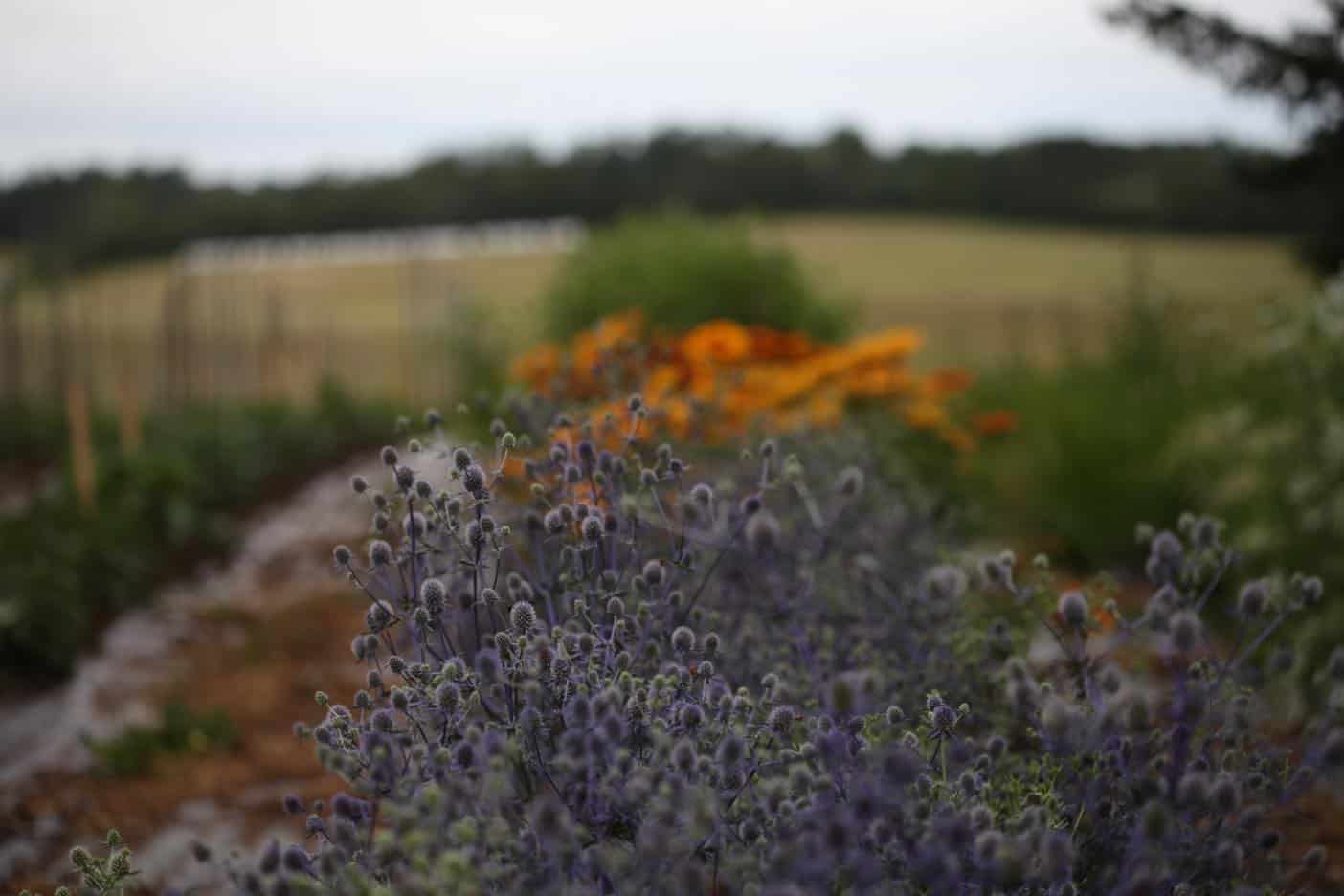 Sea Holly grows in zones 4 to 10, however the zones will vary depending on the species grown. Make sure you check the correct zone for any species of Sea Holly you are planning to grow.
Does Sea Holly Need Full Sun?
Sea Holly thrives in full sun. It is a Mediterranean plant, and does well in a sunny location with well drained sandy soil.
Soil Type
It does not require any special soil type, especially when mature due to it's long taproot which is able to obtain nutrients deep in the ground. It will grow well even in nutrient deficient soil.
Moisture Requirements
Once established Sea Holly is able to tolerate drought like conditions.
While Sea Holly is getting established in the garden, water as needed during dry spells.
Sea Holly Leaves
Sea Holly has spiny thistle-like leaves. The leaves grow from a rosette at the base of the plant, and are also spaced out along the branching stems.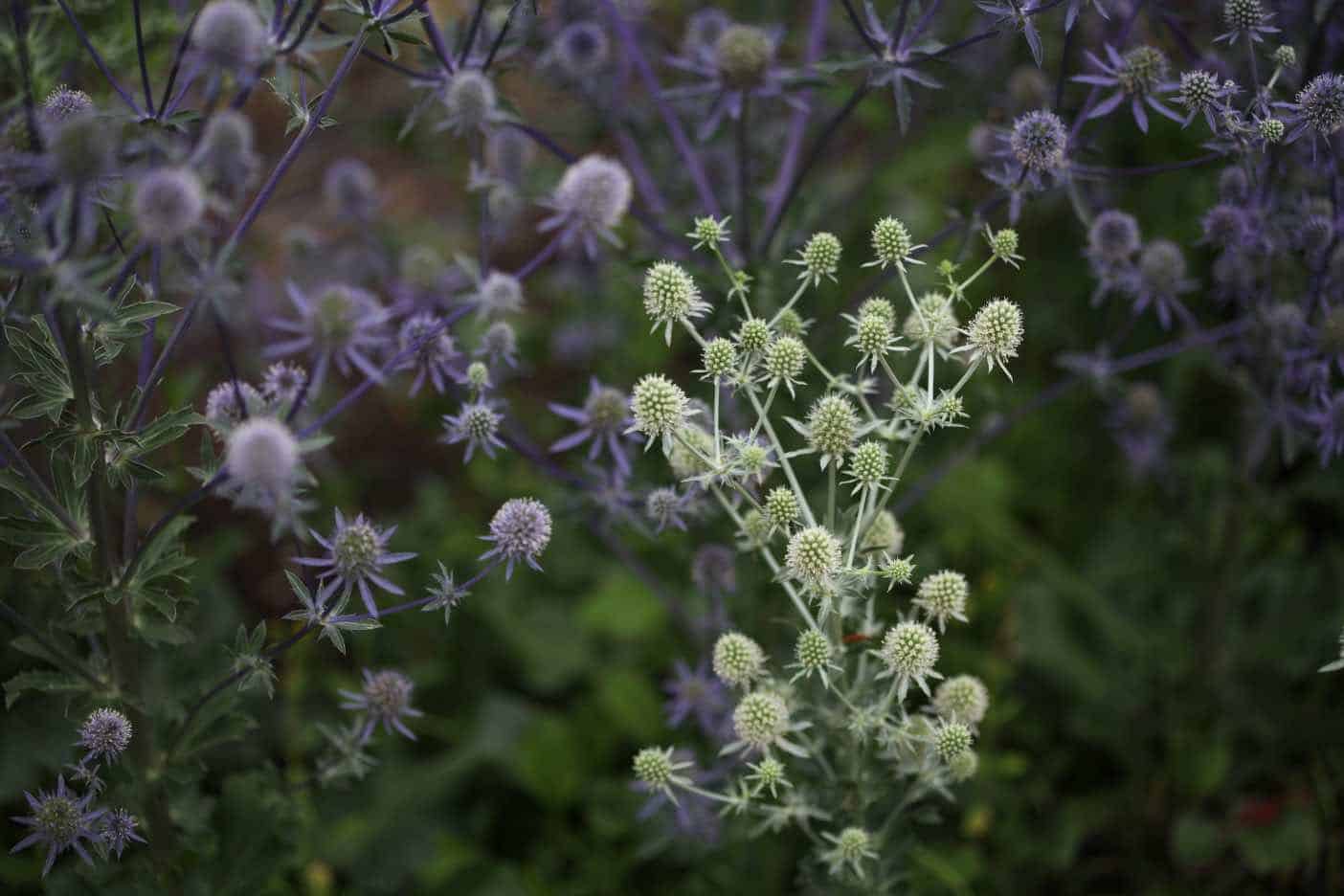 If you are growing Sea Holly for cut flowers, it's important to remove the leaves from the cut stems. They have a tendency to yellow once removed from the plant.
Is Sea Holly An Evergreen?
Sea Holly is semi-evergreen and clump forming.
Here in our zone 5b garden the leaves do not look great after a long winter. However before long the plant produces new growth in the spring and starts to take off.
Is Sea Holly A Thistle?
Sea Holly has the appearance of a thistle with it's thistle-like spiny bracts and spiky blooms, however it is not a true thistle.
Sea Holly was named after a thistle plant, Eryngium campestre, in Ancient Greece.
Is Sea Holly A Perennial?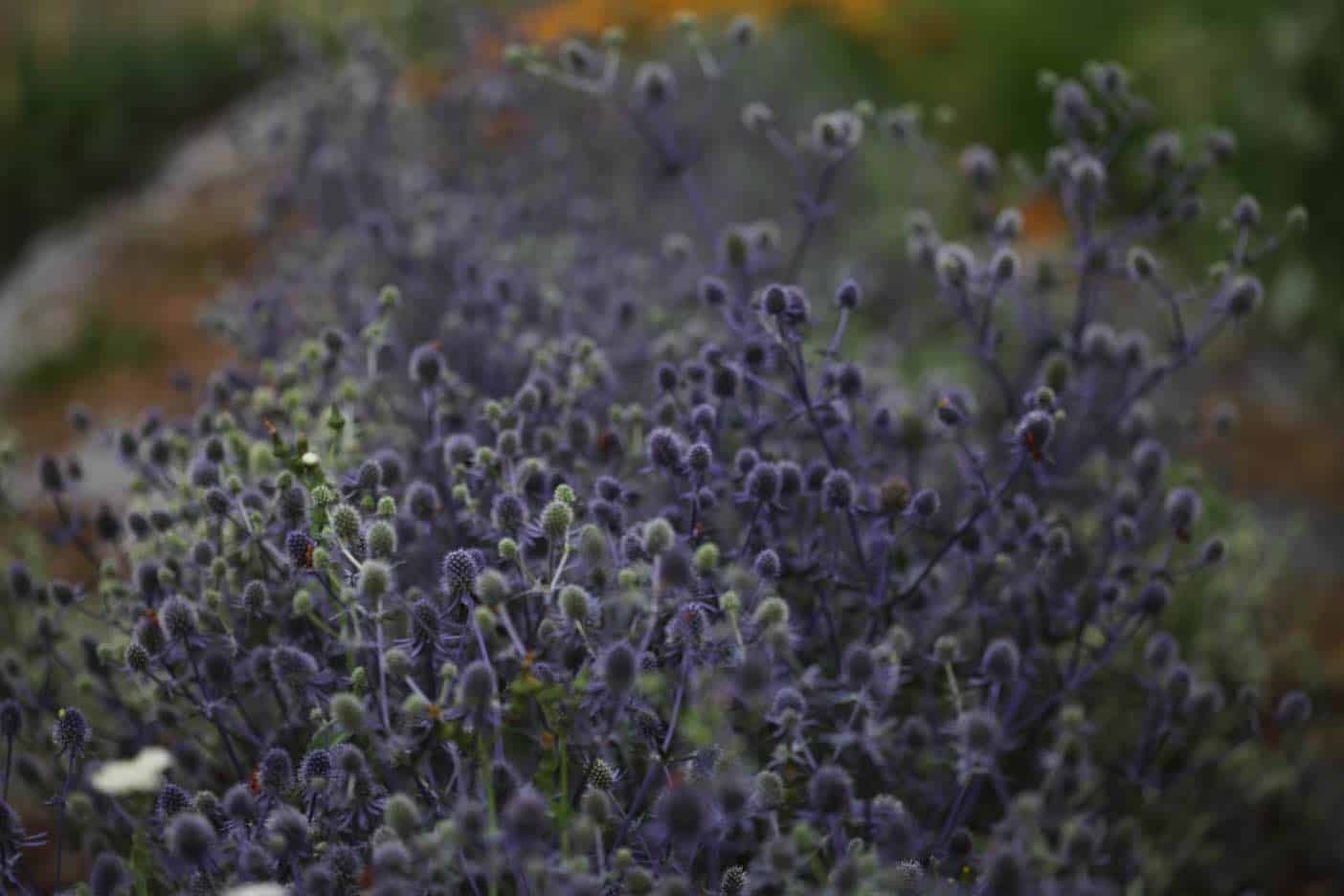 There are some species of Sea Holly that are perennial, such as the ones we have growing in our garden, Eryngium planum, with cultivars Blue Glitter and White Glitter.
There is are other species of Sea Holly that are annual, and some that are biennial, such as Eryngium giganteum.
Does Sea Holly Bloom First Year?
Sea Holly will generally not bloom in it's first year.
In the second year of growth you should have a plant full of thistle-like blooms.
Sea Holly Not Flowering
If your Sea Holly is not yet flowering it may be too immature. It generally blooms in the second year.
Can Eryngium Be Transplanted?
Sea Holly prefers not to be transplanted when it is mature, because it has a long taproot that does not tolerate disturbance.
Sea Holly can be propagated from root stock however, and is often sold in this form for transplanting.
I transplanted a bed of one year old Sea Holly without any losses early in the spring. These plants are now well established in their new location, and will not be moved.
How Do You Take Care Of A Sea Holly Plant?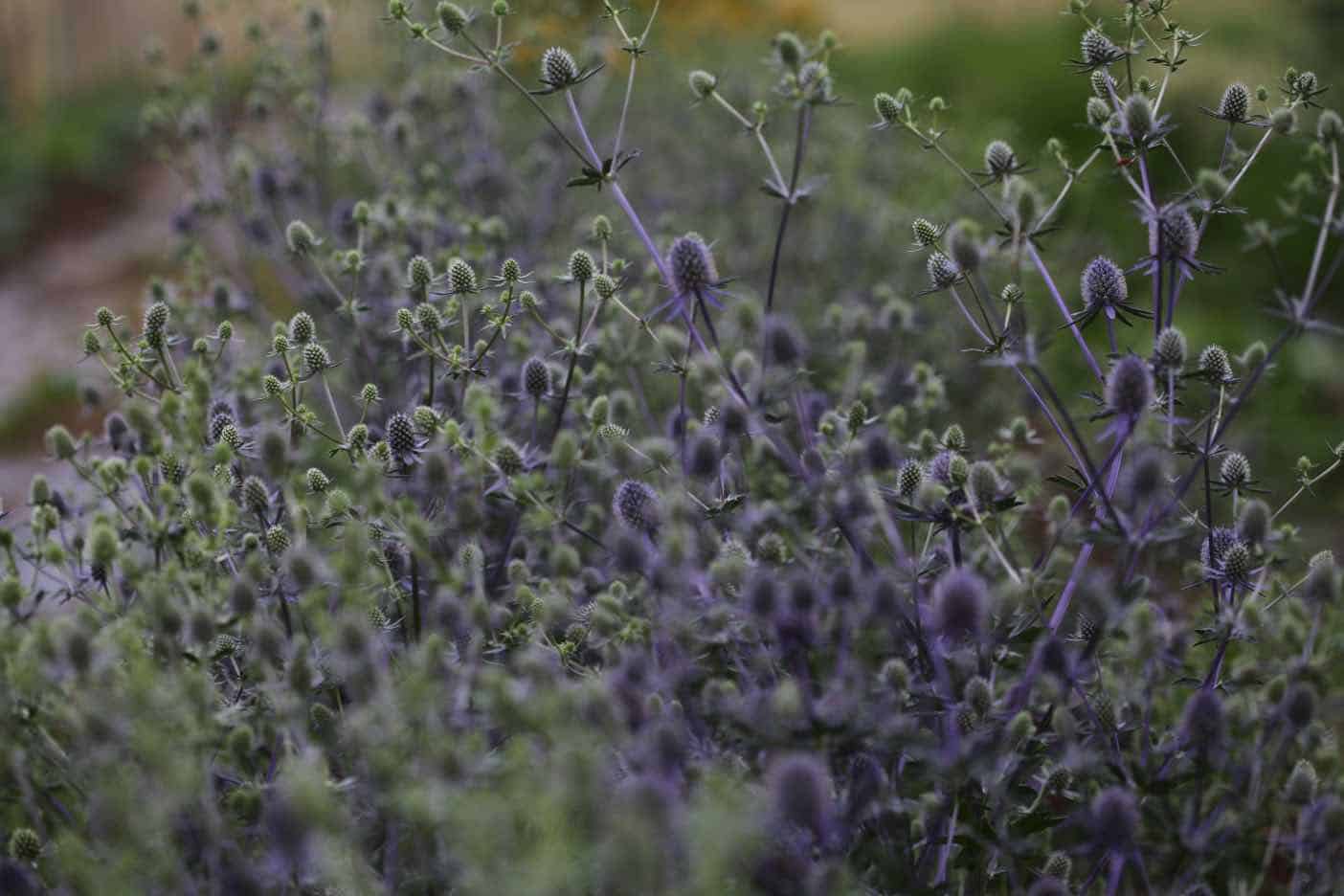 Sea Holly is an easy care plant after it becomes established in the garden.
Deadheading
Deadheading will help prolong blooming. It will also promote rebloom later in the season.
Rebloomed stems are smaller and fewer, however it is nice to get a few late season stems from this unique flower.
Plant Support
I have found that some plants have required staking in heavy winds, but for the most part the plants did not require support.
I would consider corralling my Sea Holly patch in the future to keep the plants upright in the high winds off the harbour.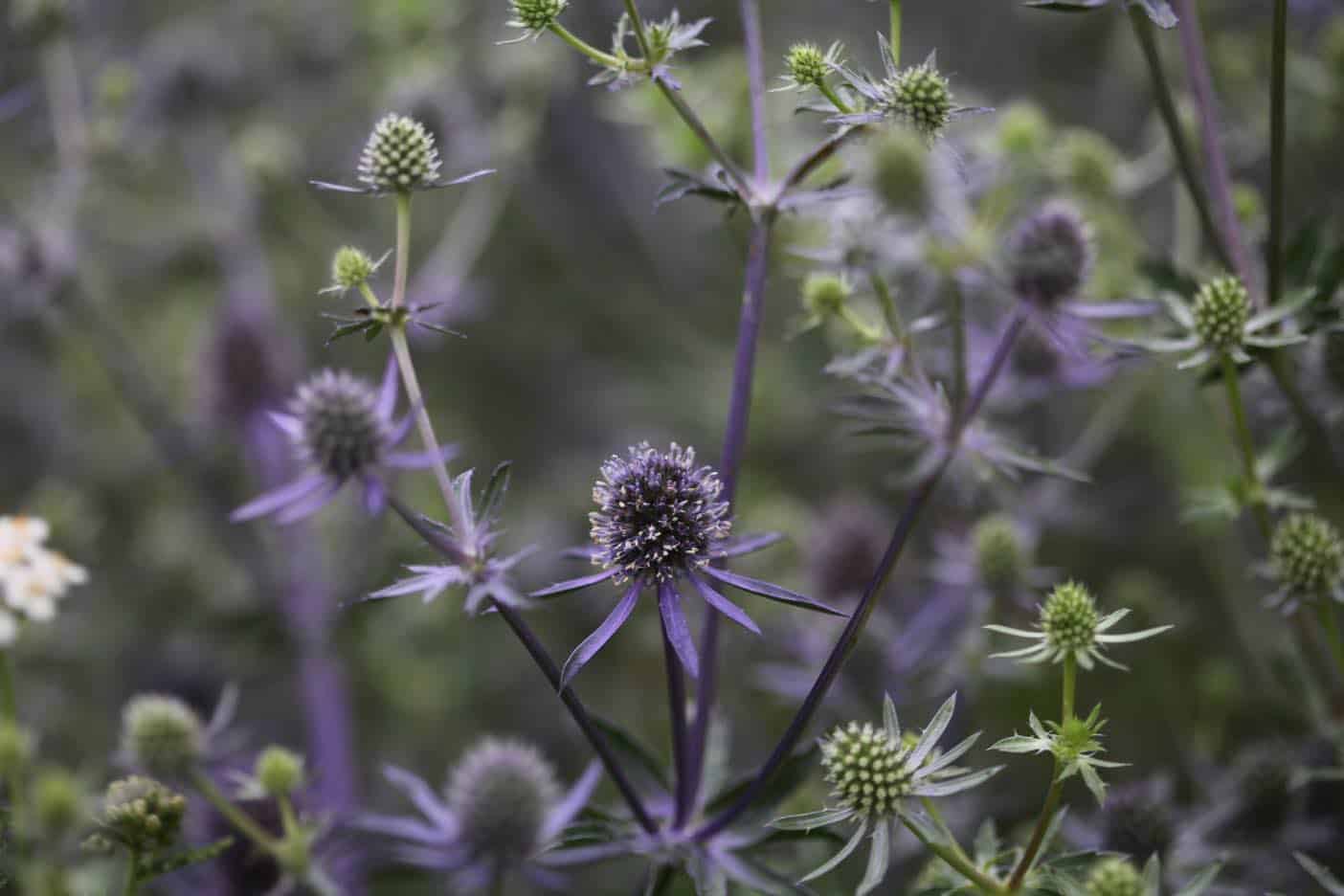 Does Eryngium Die Back In Winter?
Sea Holly will not die completely back in winter since it is semi-evergreen.
In colder climates the leaves will brown and have winter damage, however new healthy leaves will emerge in spring.
Do You Cut Back Sea Holly?
You can cut back the spent blooms and stems of Sea Holly in the fall, or you can wait until spring.
Do not cut back the rosette of leaves at the base.
Is Eryngium Deer Resistant?
Sea Holly is deer resistant due to it's spiny leaves and blooms.
We always love to have deer resistant plants in the garden.
Does Sea Holly Attract Pollinators?
Sea Holly attracts bees and butterflies to the garden. It is a wonderful plant for bringing pollinators into the garden!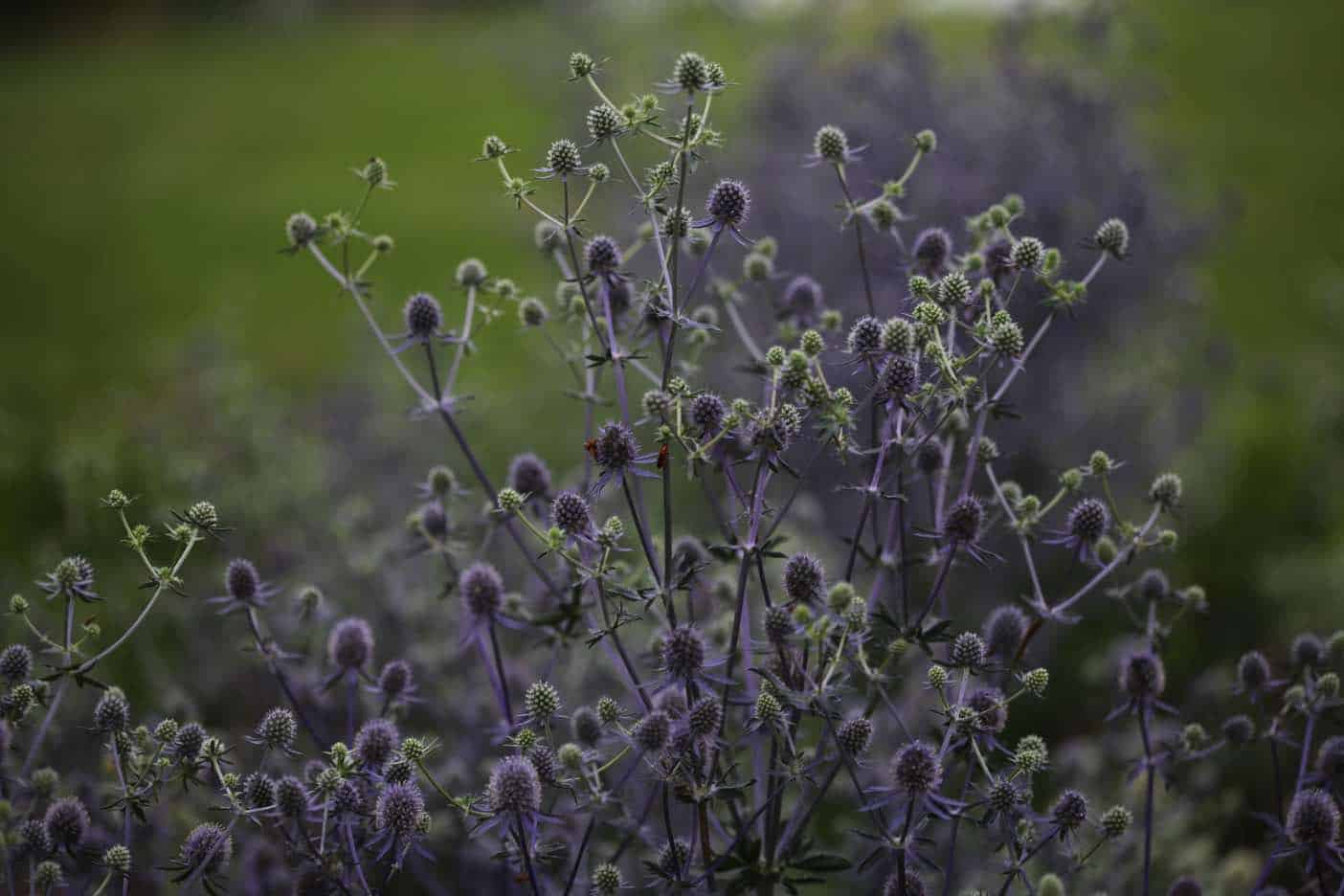 Does Eryngium Smell?
Sea Holly, Eryngium, does not have a floral fragrance, however it's wonderful form makes up for this.
In fact, this plant has been known to have an unpleasant fragrance for some people. I personally have not noticed this when harvesting Sea Holly from my garden.
Is Sea Holly A Good Cut Flower?
Sea Holly is an excellent filler for cut flowers due to it's unique architectural form. The flowers can be used in both fresh and dried forms.
Harvest when the thistle-like blooms have turned colour, but before the pollen begins to form.
Storing the cut blooms in a cooler will help make the colours more intense in appearance.
Vase life is very good at 7 to 10 days or longer.
Drying The Flowers
To dry the flowers, harvest when the blooms are mature. You can hang them to dry, or leave them in a vase where they will dry nicely.
I hope that you found this post on how to grow Sea Holly-Eryngium helpful.
Any questions or comments are always welcome!
PIN IT FOR LATER!