Last updated on March 27th, 2023 at 08:50 pm
Making a flower press is an easy way to get started pressing your beautiful spring and summer blooms. Flowers are amazing when in bloom, however they usually don't last long. Learn how to make a DIY flower press, to preserve your precious blooms and use them as everlastings.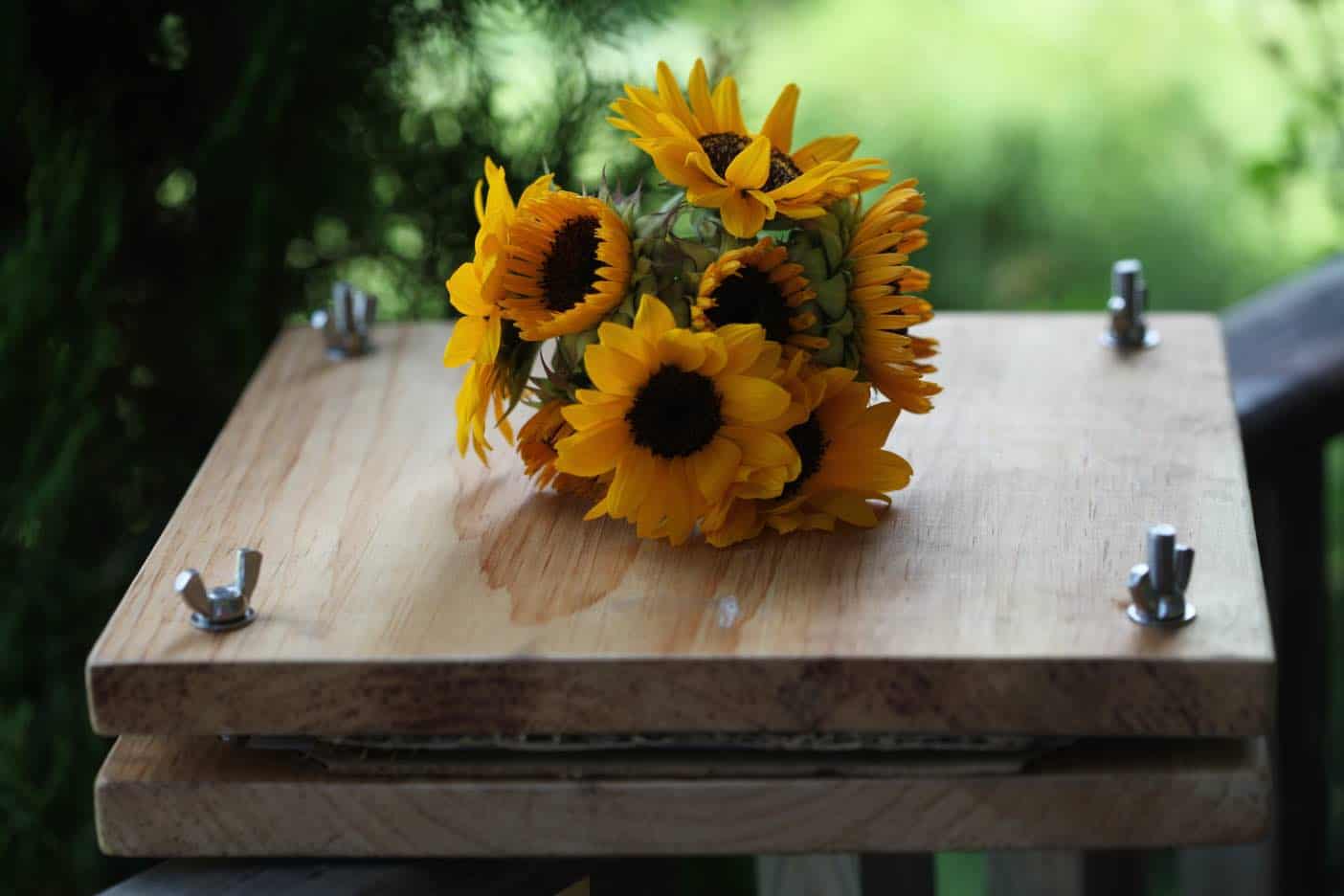 Pressing flowers is a wonderful way to get creative with your blooms. Pressing will preserve them, and then you can use them in projects later on, when gardening season is all done.
Preserving flower petals and leaves by pressing allows you to enjoy these beauties for so much longer. It's a great way to stay connected to your garden, and cherish the memories created there.
Kits for pressing are widely available.
Making your own flower press is another less expensive option. It also allows for custom sizes, different wood types, and a made to your own specifications style.
Can I Make My Own Flower Press?
If you are even slightly handy with a drill, or know someone who is, you will be able to make a wonderful DIY flower press. The skill set is basic for making this press.
The great thing about making your own is that you can customize the size based on your own needs.
You can make the press large or small, depending on your pressing requirements.
I wanted a small to medium sized press, and chose a 12″ by 12″ size to begin with. It is lightweight and easy to carry.
What Do You Need For Flower Pressing?
When considering making your own DIY flower press, it is important to consider the components of flower pressing, and what to gather up to put inside the press once it has been created.
Essentially, for flower pressing you will need:
some good quality absorbent paper
and as well you will need some wonderful freshly cut leaves or blooms of your choice
The cardboard and paper will be part of the inner workings of the press, however can be switched out and freshened up as needed.
What Kind Of Paper Do You Need In A Flower Press?
Paper used in a flower press should be absorbent, and non patterned. All papers for pressing are not equal.
Paper Not Recommended For Use:
Paper towel is not the best choice, as it will most likely leave it's patterned textures ingrained on your pressed flowers.
Waxed paper or parchment paper are also not the best choices, as they are not absorbent, and your flowers and leaves may not dry out quickly and get mouldy.
Newsprint with ink may cause the pressed flowers to be spoiled by the ink.
Paper Recommended For Use:
Newsprint without ink is a great choice
Construction paper without dye
Any type of art paper or absorbent paper without a pattern
Printer paper works great
How Do You Make A Plywood Flower Press?
Supplies
Supplies you will need to make a DIY flower press:
2 pieces of wood, approximately 12″ by 12″( or whichever size you would want your press to be)
You can use plywood, or really any type of wood. We used pine.
A drill to make holes in the wood
2 pieces of cardboard, cut smaller than the dimensions of the wood
2 pieces of paper to fit inside the press
Directions For Making A DIY Flower Press
Here are the directions for making the flower press:
1. CUT AND SAND THE WOOD
Cut the wood to size. Ours was made to the 12″ x 12″ specification.
Sand any rough edges as needed. This makes for a nicer edge to work with and hold.
2. MAKING THE HOLES FOR THE BOLTS
Mark off the placement for the four corner holes on one piece of wood. These holes will be where the bolts will be threaded to hold the two pieces of wood together for the press.
We took a ruler and made intersecting lines approximately one inch from the corner edges.
Drill the four corner holes through the wood at the intersecting lines.
Next drill through the second piece of wood, making sure the holes are lined up correctly.
There are a number of ways to do this. We used a drill press, which allowed to drill through the two pieces of wood at the same time, ensuring placement.
You could also stick a pencil through the hole of the first piece of wood, marking the spot on the second piece of wood. It's important to get the holes matched up so that when you insert the bolts, they go smoothly through both pieces of wood.
If by some chance your holes have not matched up well, or the placement is very tight, don't despair! Re-drilling the holes to make them slightly larger can help alleviate this problem.
My DIY press was quite stiff initially, so we enlarged the holes ever so slightly. Now it slips on and off the bolts like butter.
3. PLACING THE BOLTS, WASHERS, AND WING NUTS
After drilling the holes, it's time to place the bolts.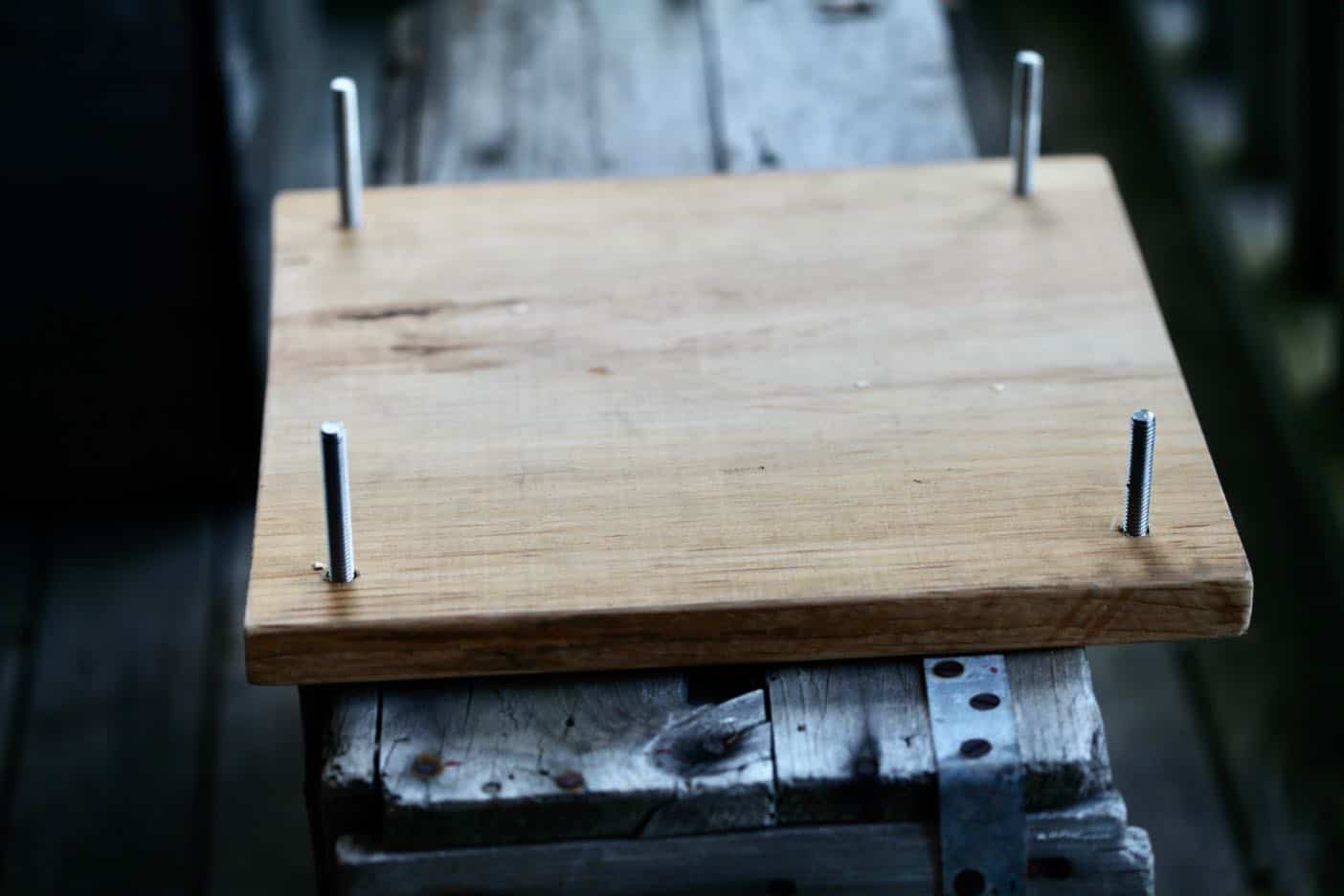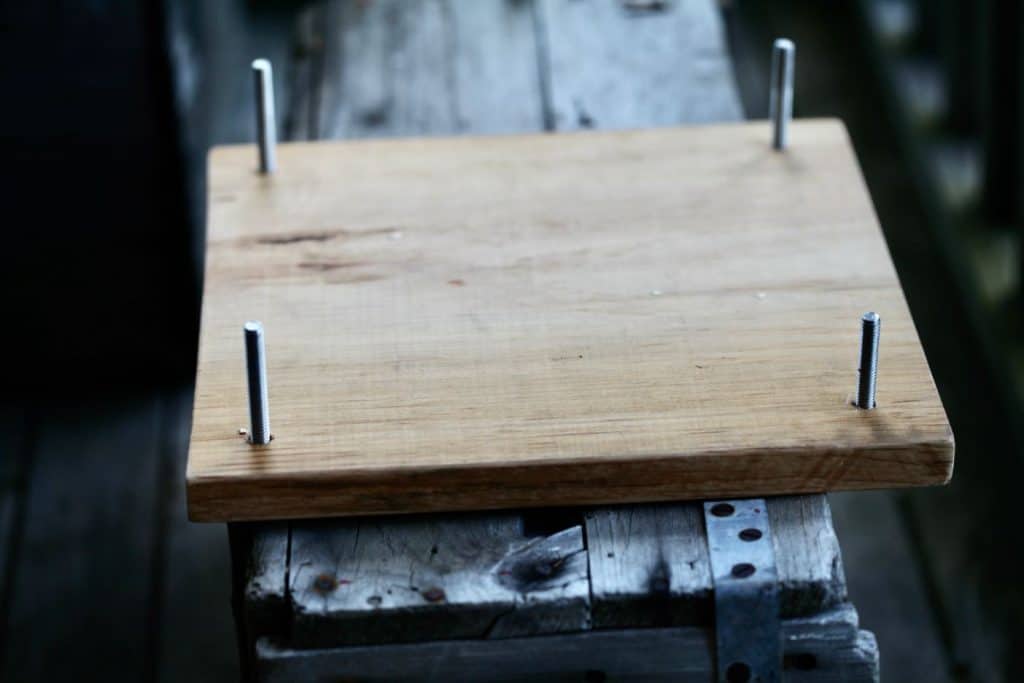 Place your two pieces of wood together, lining up the holes. Insert the bolts into the holes until they protrude through the other side.
Or you can start by placing the bolts in one piece.
Then place the second piece of wood on top of the bolts. Do whichever way is easiest and works for you.
Next it's time to slip on a washer, and a wing nut onto each bolt to check the fit.
The washer will help to prevent gouging and wearing away of the wood over time. It will also help to enable the function of the press to compress the flowers tighter.
The wing nut of course is the tightening nut. Tightening the wing nuts on all four corners will create the compression in your flower press.
The outside of the press is now complete.
Now it is time to place the inner workings of the press inside the press.
4. PLACING THE CARDBOARD AND THE PAPER
Essentially what you will need next are two pieces of cardboard placed together.
In between these two pieces of cardboard will be two pieces of paper.
It's like a sandwich, where the cardboard is the bread, and the paper is the filling.
In between the two pieces of paper is where you will place your flowers for pressing.
Cutting The Cardboard
You can notch the cardboard on each corner, so that the pieces slip easily in and out of the press.
Alternatively, you can also cut holes in the cardboard to fit over the bolts. This is NOT the easiest way!
I chose to notch my cardboard, as I plan to add several layers to my press, like a double decker sandwich. That way I can dry more flowers at the same time.
What I mean by this is that I will start off with two pieces of cardboard, and two pieces of paper. I will then add another two pieces of cardboard and another two pieces of paper, to make a double layer.
I have quite a few flowers at the end of the season, and I'm hoping to put these sweet blossoms to good use.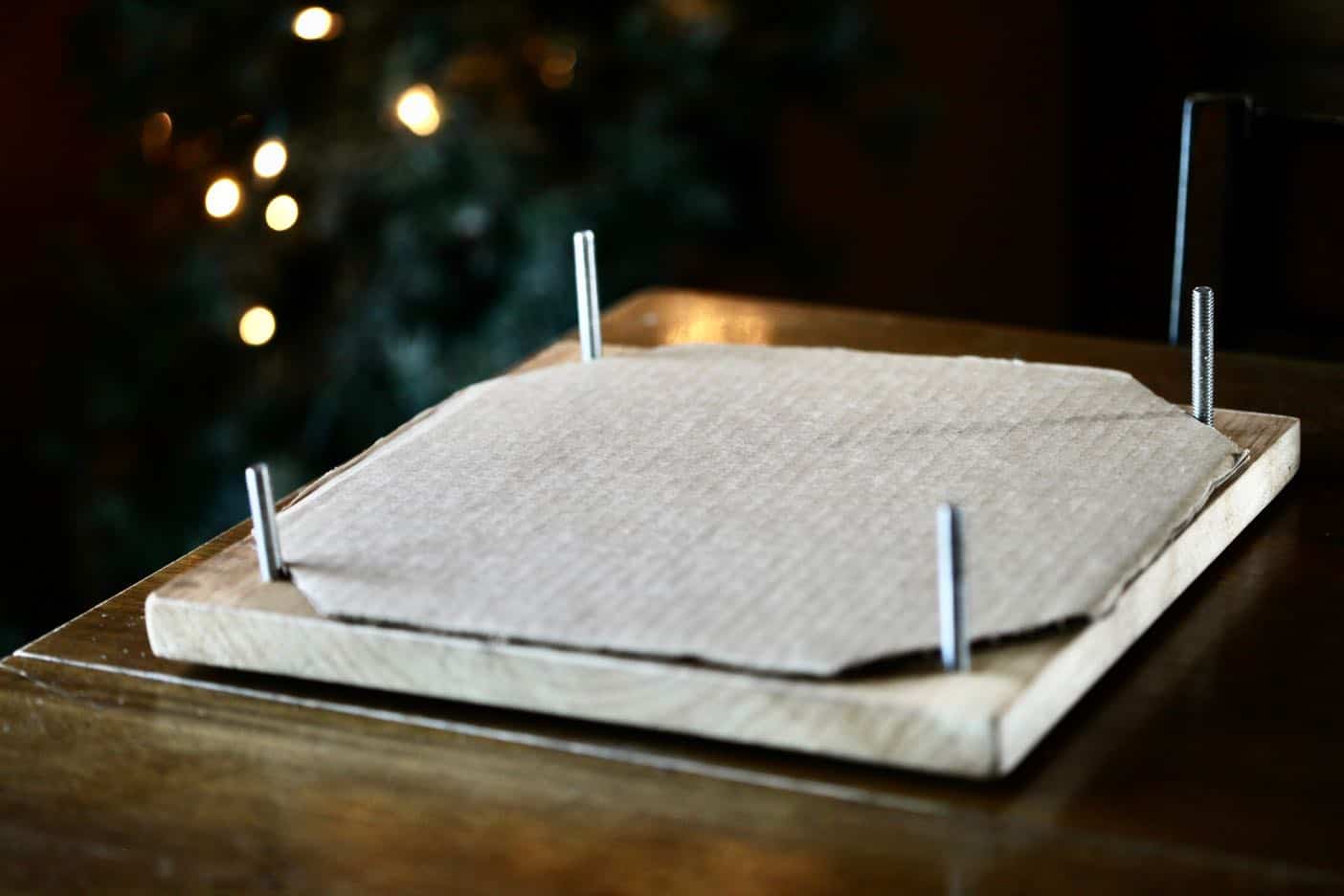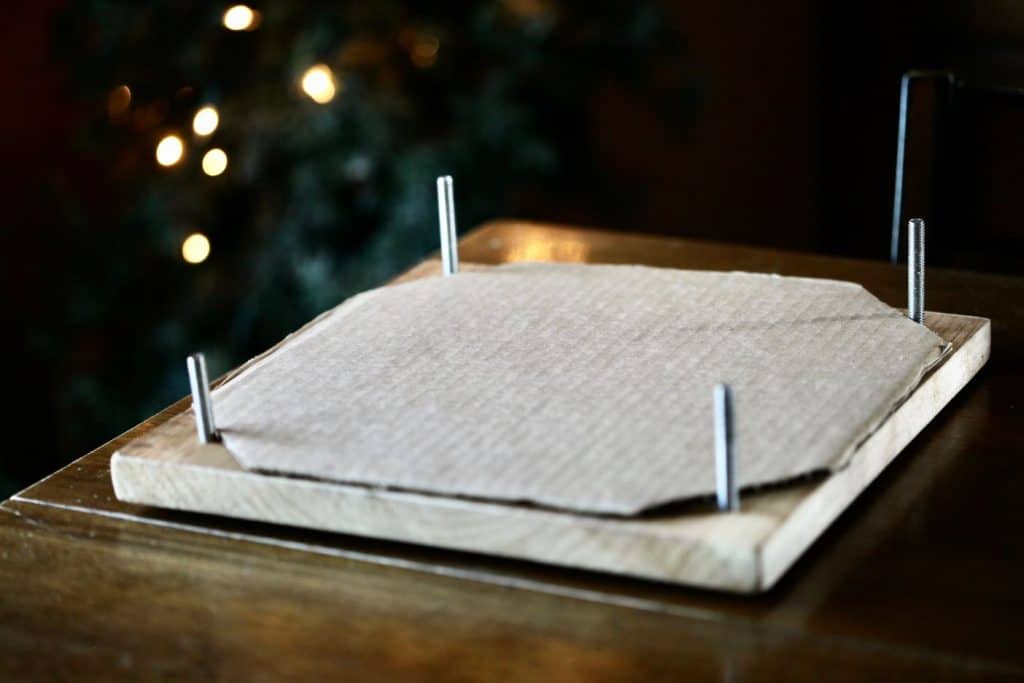 Cut The Paper To Fit
Cut the two pieces of paper to fit inside the pieces of cardboard.
Now it's time to position your flowers.
Side Note For Sandwiching The Flowers :
If you want to have multiple layers of pressed flowers between your wood, the amount that you can accommodate will be affected by several factors.
First of all, the thickness or depth of your wood press itself will make a difference. My press is made from one inch thick pieces of pine.
That is two inches of bolt space already spoken for.
To allow for more sandwiching, you will need either thinner pieces of wood, such as plywood, or longer bolts.
5. PLACE YOUR FLOWERS IN THE MIDDLE
Place your flowers on your paper. Space them out so that they are not touching each other.
Large flowers with large centres sometimes press better if you remove the centre of the flower so that they can flatten more easily.
Experiment a bit with the flowers that you use. You will figure out which ones work best for pressing.
The most important thing is that the flowers are fresh and dry (meaning that they are not covered with moisture from rain or early morning dew).
Damp flowers are more at risk for moulding. If they are damp, just put them in a vase of water and allow the petals to dry off before pressing.
Some flowers are better for pressing than others, and some more easily retain their beautiful colouring.
After placing your flowers on the press, cover the flowers with the second piece of paper, then the second piece of cardboard.
6. PRESS YOUR FLOWERS
Placing the top piece of wood over the cardboard is the next step.
Carefully thread the bolts through the holes.
Add the washers, then the wing nuts. Tighten the wing nuts, and press the flowers.
Put your press in a warm dry location for this time frame.
You can certainly open the press up to check on your flowers from time to time. You may need to freshen up the paper or cardboard by adding new pieces, if there is any mould or mildew.
Once your flowers are pressed, they can be stored until ready to use.
Gift A DIY Flower Press
I think that these homemade flower presses would make the most fabulous gifts.
Anyone can press flowers, even if they don't have a garden. Foraging for some sweet little wildflowers will provide adorable flowers to preserve and press.
I see this as a special gift for just about everyone!
You can customize this flower press by painting it if you so choose.
I will definitely be making some of these wonderful diy presses to give as gifts this year.
RECOMMENDED PRODUCTS FROM THIS POST
This post contains affiliate links, which means I make a small commission at no extra cost to you. See full disclosure on privacy policy here. As an Amazon Associate I earn from qualifying purchases.
Have you ever made a DIY flower press? Be sure to leave a comment below and share your experience!
OTHER POSTS YOU MAY LIKE:
HOW TO DRY FLOWERS ( 7 METHODS TO PRESERVE YOUR BLOOMS)
HOW TO PRESS FLOWERS – 5 WAYS TO PRESS EVERLASTINGS
PERENNIAL BACHELOR BUTTONS IN THE GARDEN
HOW TO MAKE SEED BALLS FOR THE GARDEN
HOW TO MAKE CONCRETE STEPPING STONES WITH LEAVES
PIN IT FOR LATER!