Last updated on May 28th, 2022 at 11:34 am
Learn how to make edible flower ice cubes in ice trays, and enjoy beautifully decorated drinks with blooms from the garden.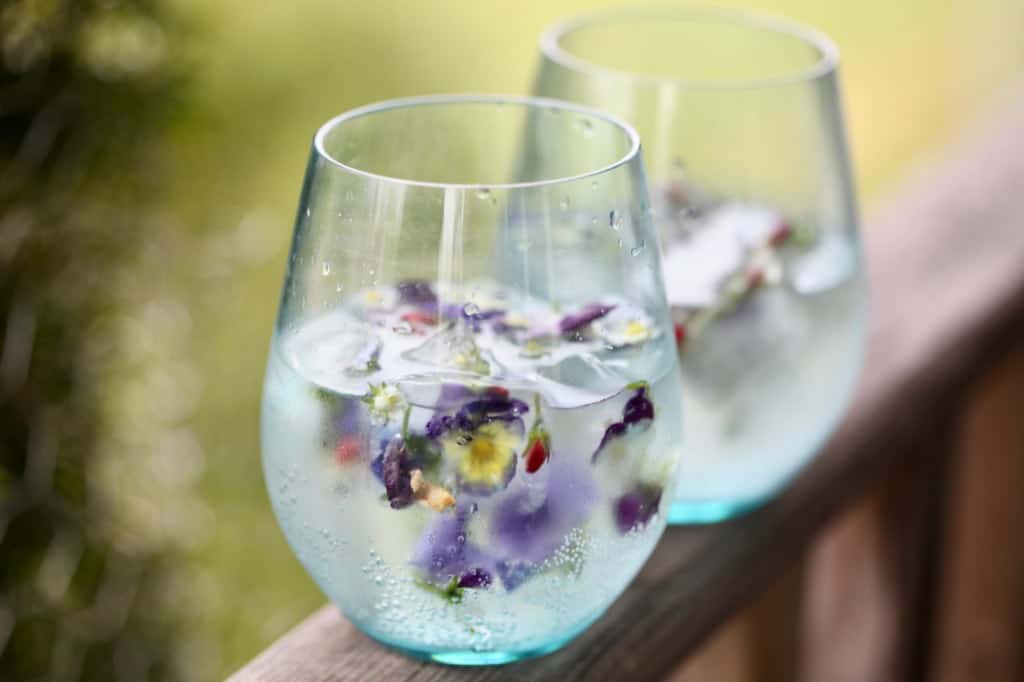 Edible flower ice cubes will make any cool and refreshing drink so much more exciting. They are the perfect touch to add to any drink during special occasions.
Add large floral ice cubes to a punch bowl for a beautiful display.
There are so many different types of edible flowers, all with different sizes, shapes and colours.
You can choose from what's blooming in the garden, and also are likely find edible flowers at the grocery store or at whole foods.
Edible flower ice cubes are perfect for brightening up a punch at special gatherings, and making that extra special touch to any occasion.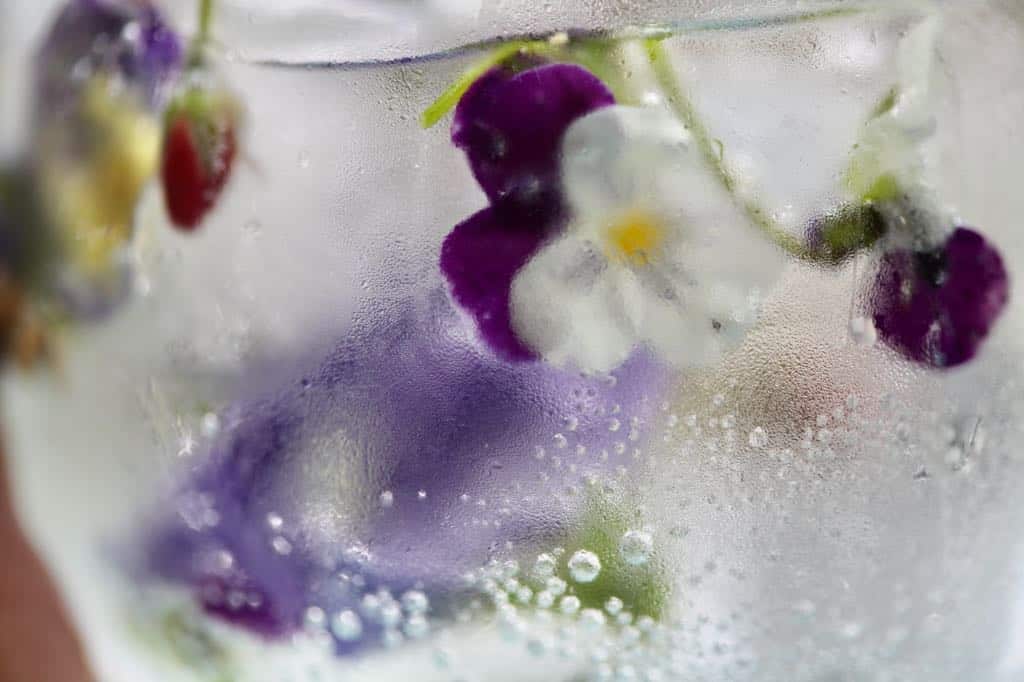 Safety Considerations For Edible Flowers
It is very important to make sure that your flowers are of the edible kind for this project.
Some flowers are not edible, and consuming them can make you very sick.
So make sure that you are safe, and use edible flowers only, when making floral ice cubes.
Another consideration for safety, is to make sure that any edible flowers from your garden or yard are free from chemicals or animal waste.
If your neighbours use weed treatment on their lawn for instance, and they are uphill from you, your edible flowers may not be safe to consume.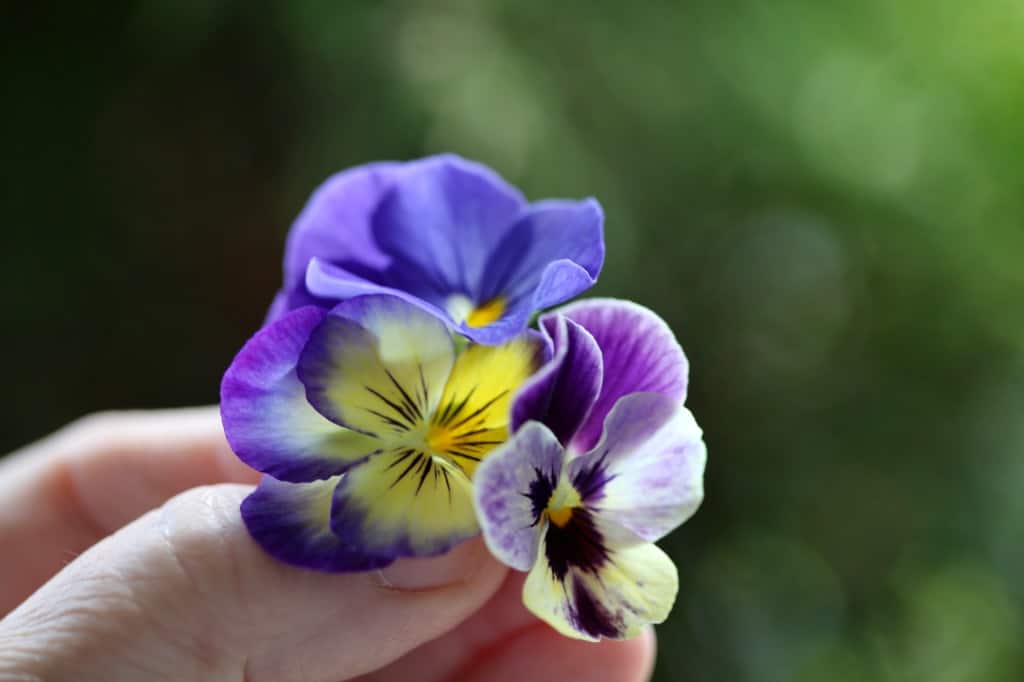 Edible Flower Varieties For Making Ice Cubes
Common Edible Flowers
Not all types of edible flowers will bloom at the same time during the growing the season.
It is great to have multiple varieties to choose from, that bloom at different times. This will help to vary the colour and texture of edible flowers for use during the entire season.
It's great to make a list of common edible flowers to grow in your garden, to pick from and use to decorate and eat.
I have chosen a number of new edible flowers to grow in my own garden this season.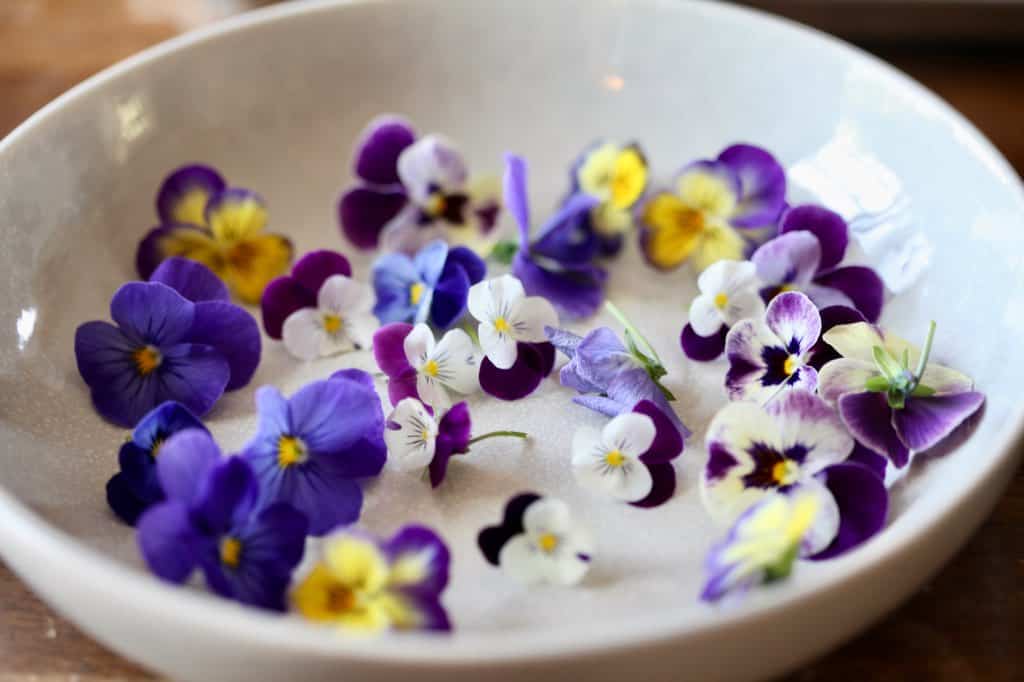 Some Easy Edible Flowers That Are Wonderful Choices For Freezing In Ice Cubes
Annual Bachelor Buttons
Annual Bachelor button flowers are bright and appealing, and perfect edible flowers for freezing in ice cubes. They are just the right sized flowers for the standard ice cube tray.
These blooms come in a variety colours, with the most popular being a bright cornflower blue.
Apple Blossoms
Only available in spring, apple blossoms not only smell wonderful, but the delicate blossoms look wonderful when frozen in ice.
Be careful just to pick a few, as you are giving up potential apples when you pick from these blossoms for your ice cubes.
Basil
If you let your basil go to flower, why not use the delicate blooms and small flowers of this aromatic herb in your ice cubes.
The basil flowers add a delicate touch to the floral ice cubes.
Bergamot
Another fragrant flower, Bergamot will add wild looking petals to frozen ice.
The blooms will be purple or red, and have interesting flower petals.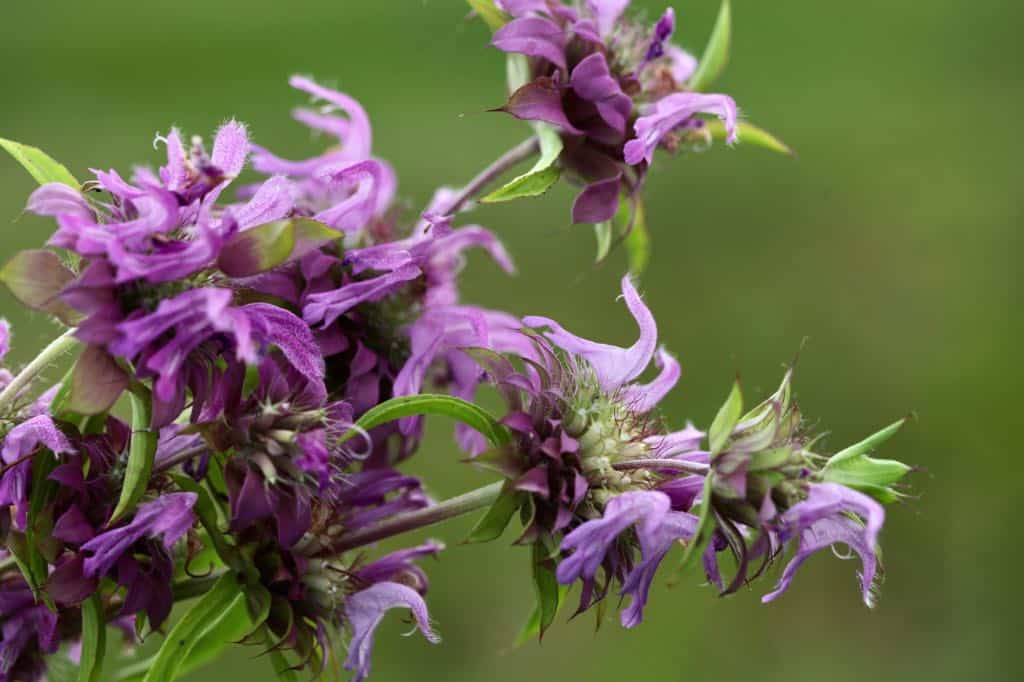 Borage
I am just starting to grow this sweet blue flowered herb this year, and it's a great addition to the edible flower collection.
Calendula
These edible blooms offer a bright pop of orange and are a seasonal favourite.
Chamomile
We grow chamomile for tea, although the flowers are perfect to use in the kitchen.
These edible daisy like flowers are like dainty wildflowers in ice.
Chicory
The lavender blue flowers of chicory are magnificent and eye catching, and a fabulous colour to use in your floral ice cubes.
Chives
Sweet chive blossoms, with a subtle onion flavour, are perfect flowers to use in ice if you are looking for a savoury flavour.
Chives are perennial, and they will keep coming back every year.
Clover
We all know clover with it's white or pink pompom-like blooms.
These edible flowers are whimsical and charming in ice.
Dame's Rocket
Dame's rocket sometimes gets confused with wild phlox. It grows wild in Nova Scotia.
If using as an edible, make sure not to collect it at roadsides due to exposure to contaminants from runoff on the roads.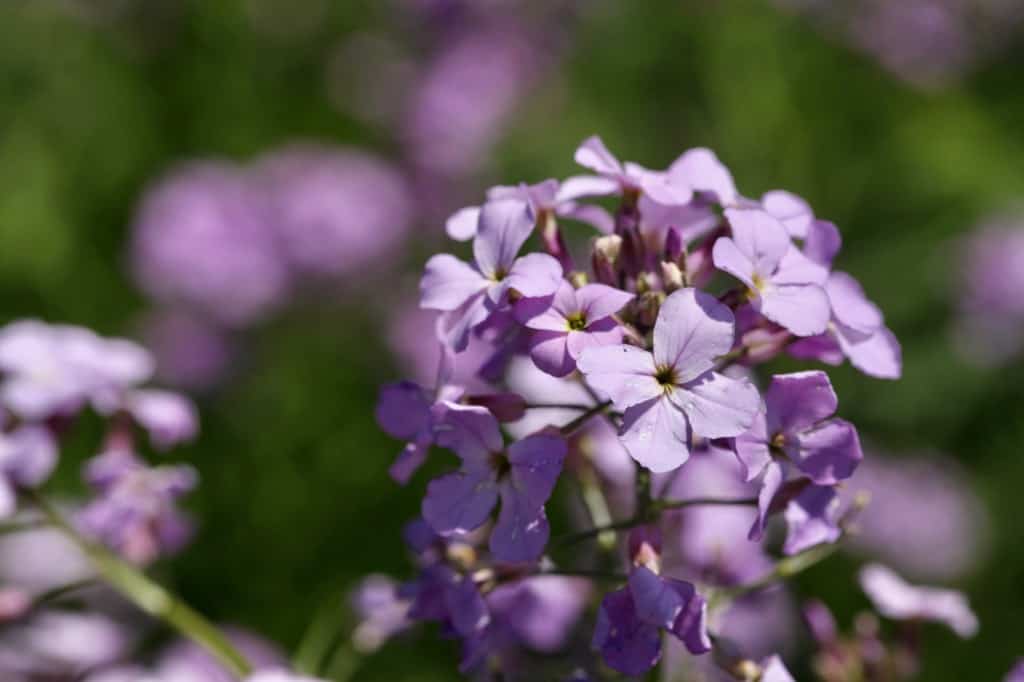 Dandelion
Another fun spring wildflower or weed, dandelions are actually edible flowers.
Make sure to pick them from a space that is free from chemicals.
Daylilies
If using these larger flowers in ice cubes, you will likely need to take from smaller blooms, and use the petals rather than the whole flower in your ice cubes.
Another option is to use ice cube trays with larger cube compartments.
Dill
Yellow dill flowers add a herbal touch to your edible flower ice cubes.
Lavender
Try these lavender blooms in your ice cubes for a pretty design.
Lilacs
I absolutely love using lilac blossoms in the kitchen.
These edible blooms can be used in so many ways, and look amazing in ice.
Marigolds
Marigolds come in many sizes, and grow in warm colours of orange, red and yellow.
If growing giant marigolds you will need to break the flowers down to use the petals in your ice cubes.
Nasturtiums
Another warm coloured edible flower, nasturtiums are great to use in floral ice.
Rosemary
Rosemary is another herb to make use of it's flowers, when the plant starts to bloom.
Spray Roses
Tiny rose blooms, or miniature roses and buds are so romantic when used as edible flowers. You can also use separate rose petals.
Roses look wonderful in edible flower ice cubes.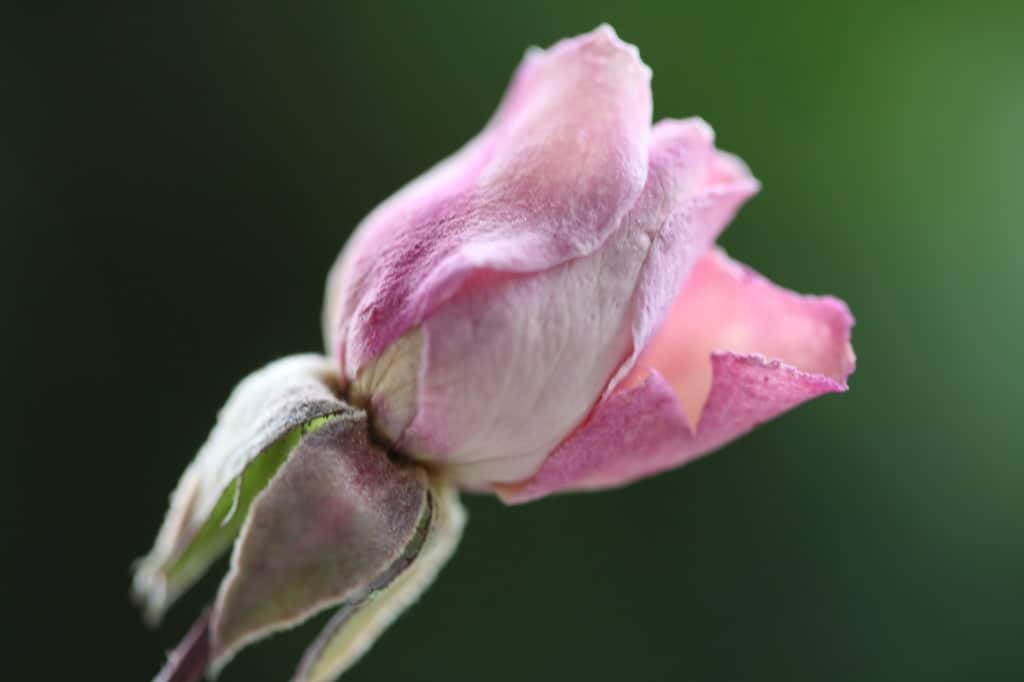 Sunflowers
Sunflowers are another edible bloom that you will need to search for smaller flowers, or use parts of petals in your floral ice.
Violas and Pansies
These are some of my absolute favourites, and some of the best flowers for edible flower ice cubes
Each little adorable pansy and viola flower face can make your ice cubes unique and interesting.
How To Make Edible Flower Ice Cubes
Use lots of flowers for more impressive results, especially if you are creating larger ice cubes.
Sometimes smaller ice cube molds will only hold a single flower, and these simpler cubes are just as beautiful as well.
Can You Use Dried Flowers In Ice Cubes?
You can use edible dried flowers in ice cubes, however be very selective.
Do not use flowers that have been dried with silica gel.
Use only organic and naturally dried or pressed flowers in your ice cubes.
Keep in mind that dried flowers can be fragile, and that the flowers may not tolerate the exposure to water as fresh flowers do, so handle them with care.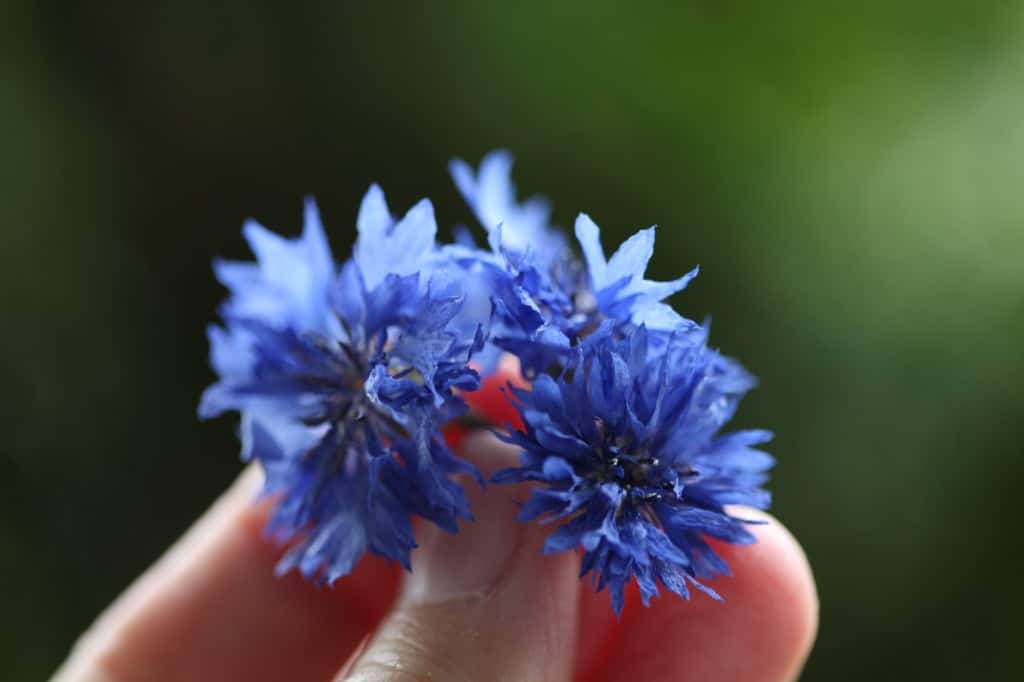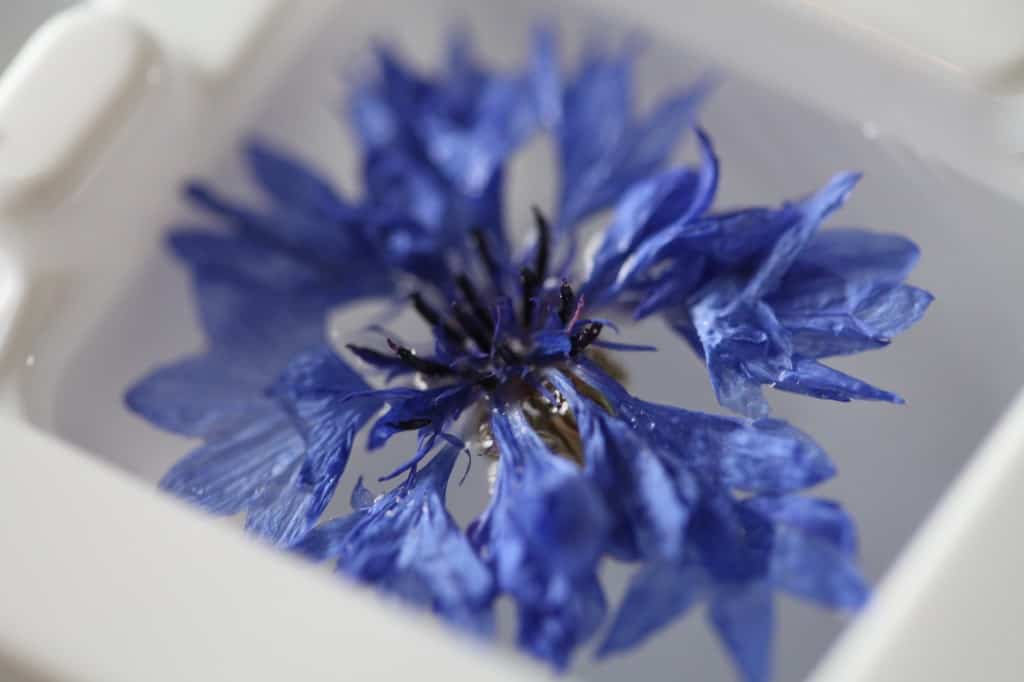 Water For Making Edible Flower Ice Cubes
Distilled water helps to prevent cloudy ice, which can take away from the beauty of the flowers.
Tap water may also cause the multiple layers of frozen water to be more evident in the cube.
If you do use tap water or filtered water and notice this effect, try distilled water for a different look and clearer ice.
Equipment:
Ice-cube tray- there are many different sizes and shapes to choose from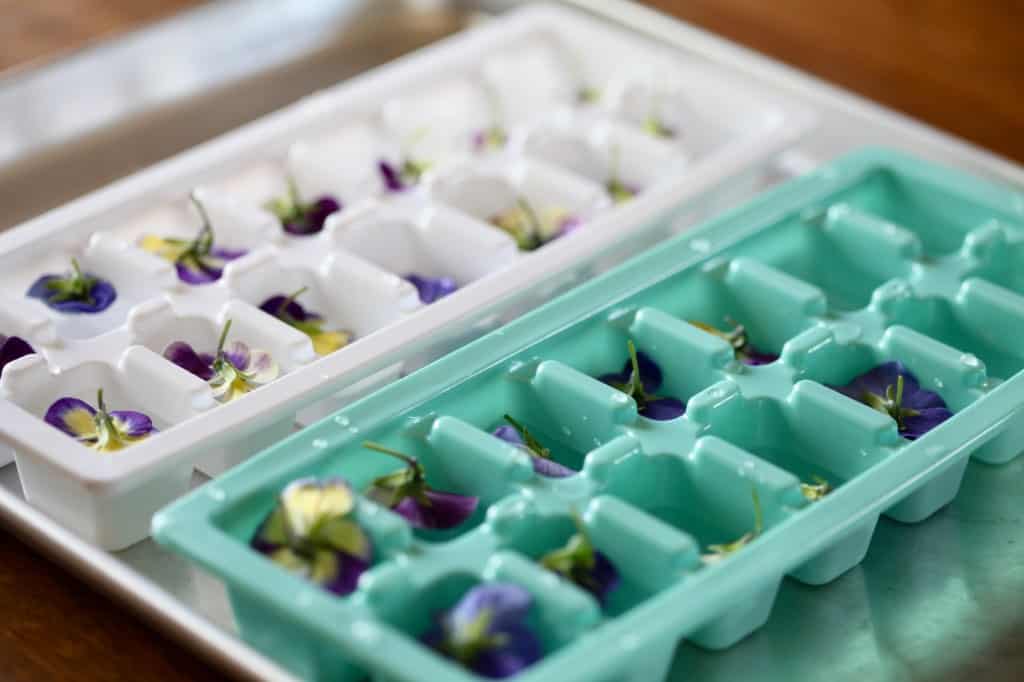 Ingredients:
Distilled or filtered water
Directions:
Making edible flower ice cubes is easy. You will figure out your style as you work with the flowers and decide what works best for you.
Wash The Flowers
Wash the flowers off if you have picked them from the garden. This will remove bugs and dirt from the blooms.
If you have picked your flowers from a pot, you may not need to wash them if they are free of dirt and bugs.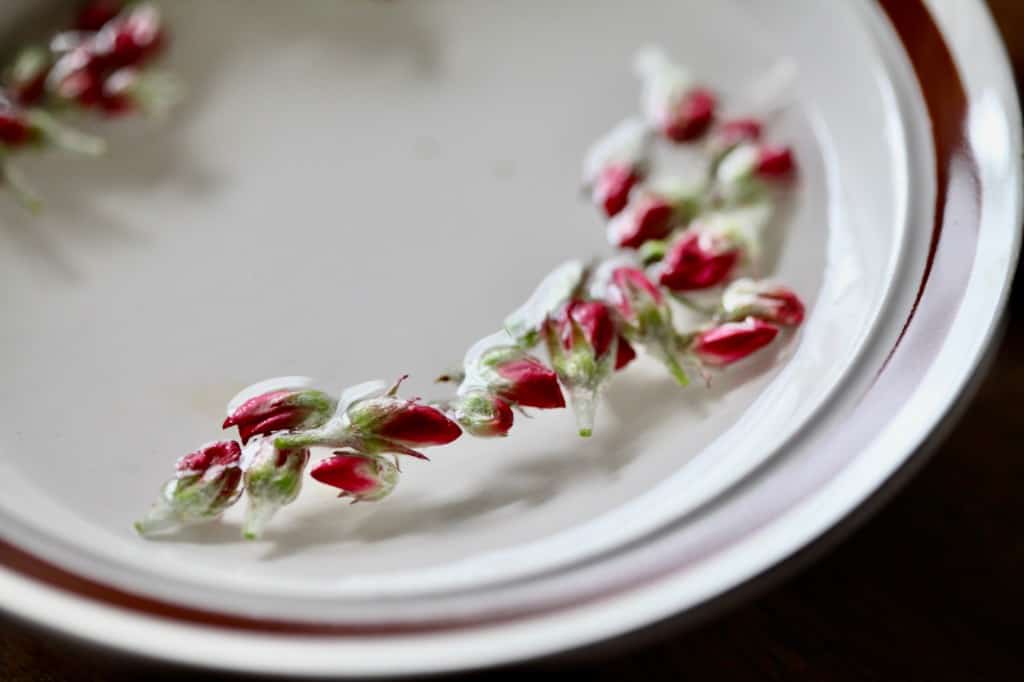 Placing The Flowers
There are a few ways to place flowers into the ice cube tray, and your options will be dependent on your individual flowers and the size of each compartment.
It will also be dependent on the volume of blooms available.
For large cubes in larger trays, you will likely want lots of flowers. These can be whole flowers, or even parts of flowers and petals.
You are creating ice cube art, and the canvas is your own.
You can place the water in first, and then add your flowers, or vice versa.
If you have petals or parts of flowers, sprinkle the flowers into the ice cube compartment.
You may notice that some of the flowers float to the top. That's okay, just push them down so that they are covered with water.
If you have whole flowers, it's a nice look to place the first flowers in face first, and then the last flowers face up, for good aesthetics.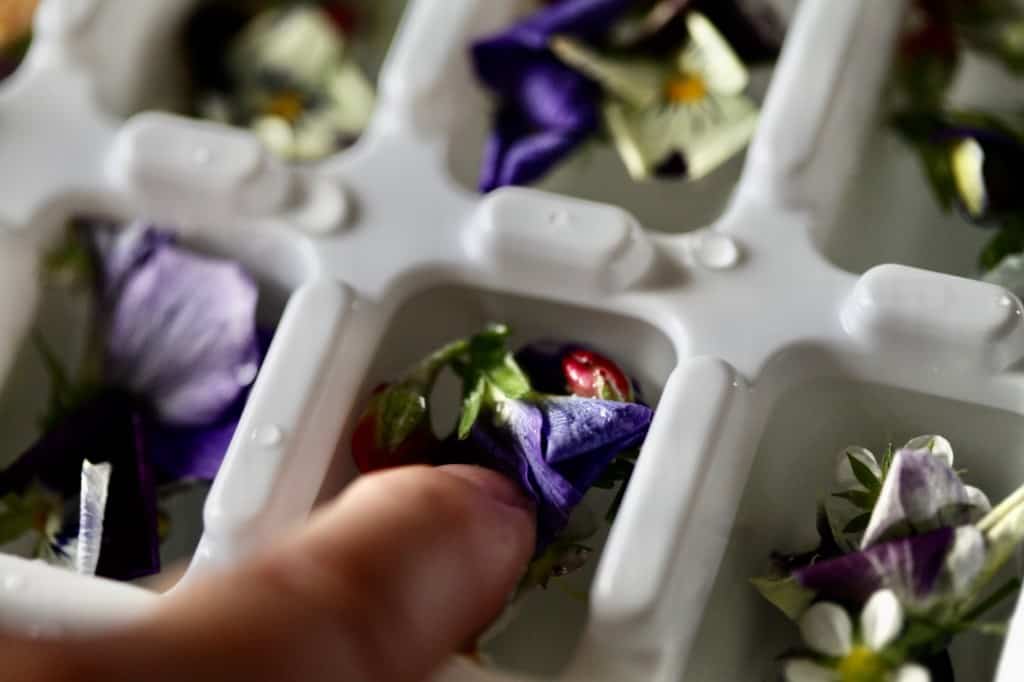 Creating Layers Of Flowers
For larger cubes, the flowers can be laid in layers for a suspended look, with each individual layer frozen before the next layer is created.
When creating layers, make sure to only partly fill the compartment with water, depending in the number of layers you will be making.
If making three layers for instance, fill the cube spaces 1/3 of the way for each layer made.
When working with multi layers, the best way to create a crystal clear cube without much evidence of the layered process, is to use distilled water.
Once the cubes are filled, or each layer is completed, place in the freezer for up to six hours. You can even leave them overnight.
Repeat the same process with each layer.
After freezing the first layer, work on the next layer, with more flowers and more water.
Work quickly to prevent the first layer from melting and dislodging flowers. If this does happen, all is not lost.
Just push the flowers back down into the water.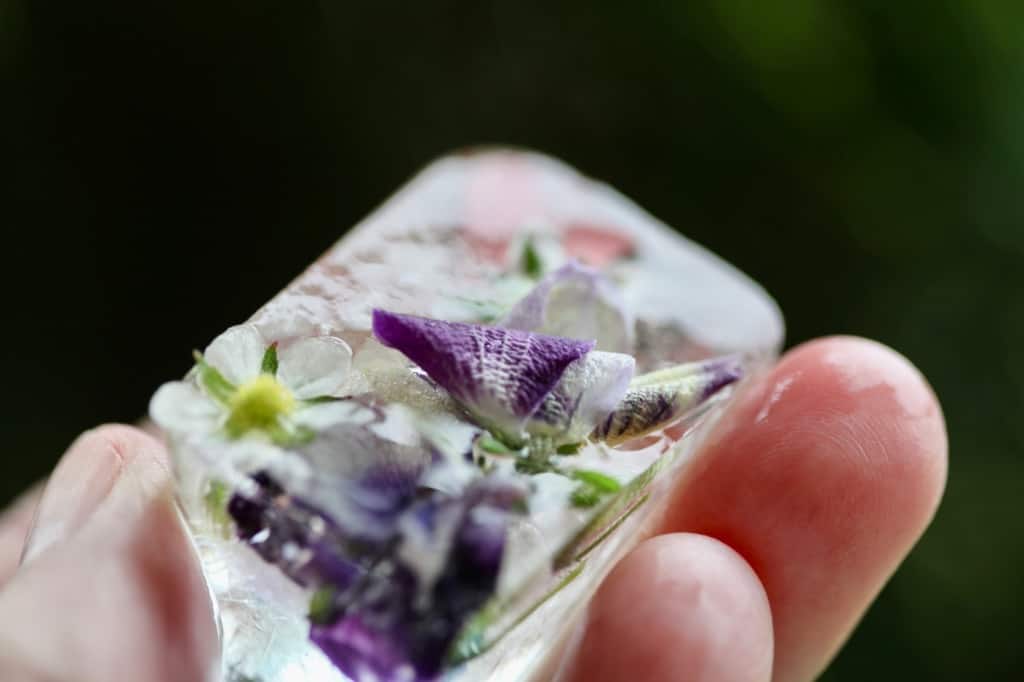 Freezing The Floral Ice Cubes
The freezing time of the ice cubes will be dependent on the size of the ice cube tray and the volume of the water, and as well the size of the layers inside the cubes.
Freezing can occur anywhere from several to six hours, and even overnight.
Removing The Ice Cubes From The Tray
Removing the ice cubes is so much fun.
It's like the big reveal of your floral art.
You never actually know what the edible flower ice cubes will look like until they are released from the tray.
How Long Do Flower Ice Cubes Last?
For best results, and to keep your floral ice cubes fresh, use them up within several weeks of creation.
Where To Buy Edible Flowers For Ice Cubes?
Edible flowers can be purchased at many grocery stores, farmers markets, and whole food markets.
When purchasing edible flowers, always make sure to buy organic edible flowers.
Conclusion
Edible flowers help to make the most beautiful ice cubes. What a charming and colorful way to dress up any cocktail or summer drink.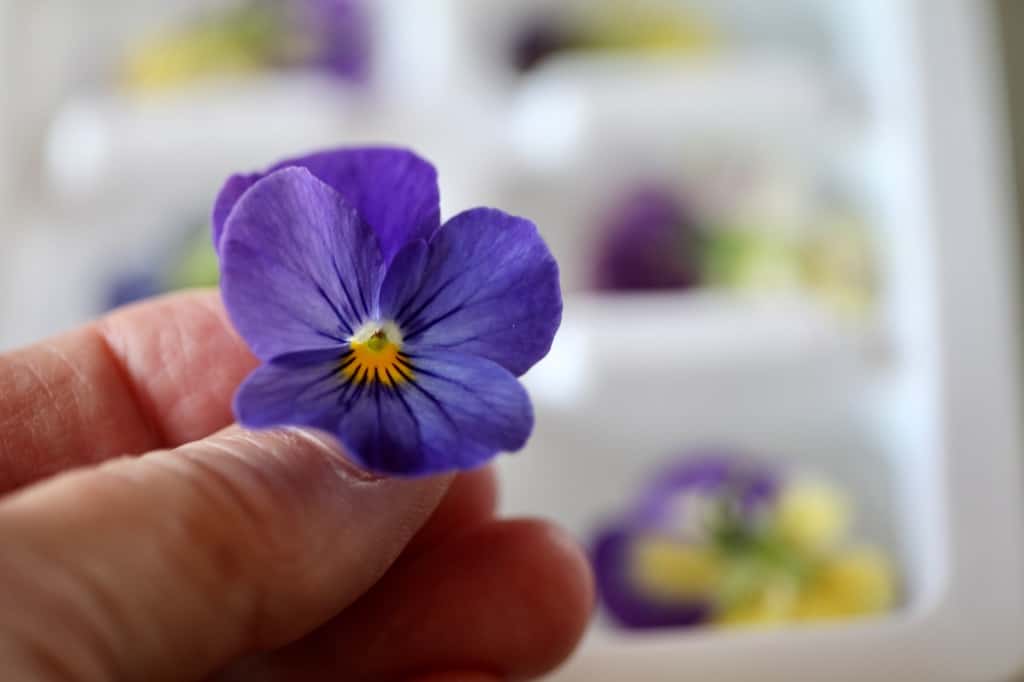 Add them to iced tea on a hot summer day for an elegant touch.
You can also add fresh berries, mint leaves, or fresh lemon zest to your ice cubes, sprinkling these ingredients in with the flowers.
Floral ice cubes are the perfect touch for any special event, such as a wedding shower or a baby shower. They are a great way to make people feel extra special, with beautiful flower pieces in their sparking drinks.
Making edible flower ice cubes is so simple, and yet the end results are absolutely stunning.
Make sure to have fun and be creative. You can use the floral ice cubes in any way you want.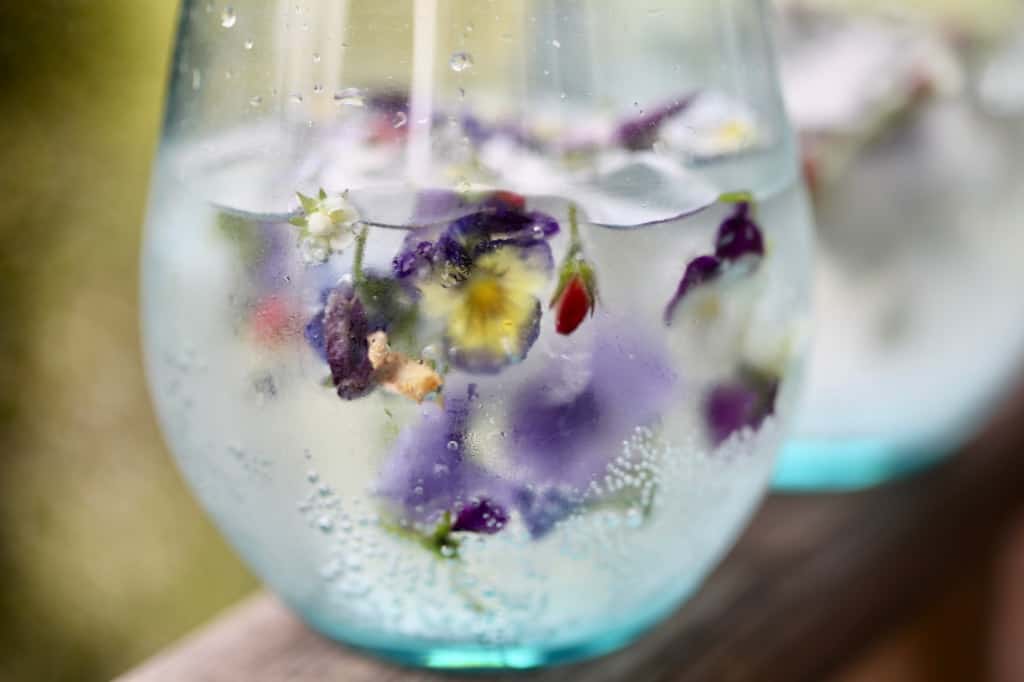 Have you ever made edible flower ice cubes? Be sure to leave a comment below to share your experience!
Other Posts You May Like:
PIN IT FOR LATER!