Last updated on July 19th, 2023 at 10:45 pm
Drying flowers with silica gel is an easy flower project with outstanding results. For those hard to dry flowers using other methods, silica gel is an alternative method that can perfectly preserve them. Learn how to dry flowers with silica gel to preserve your precious blooms.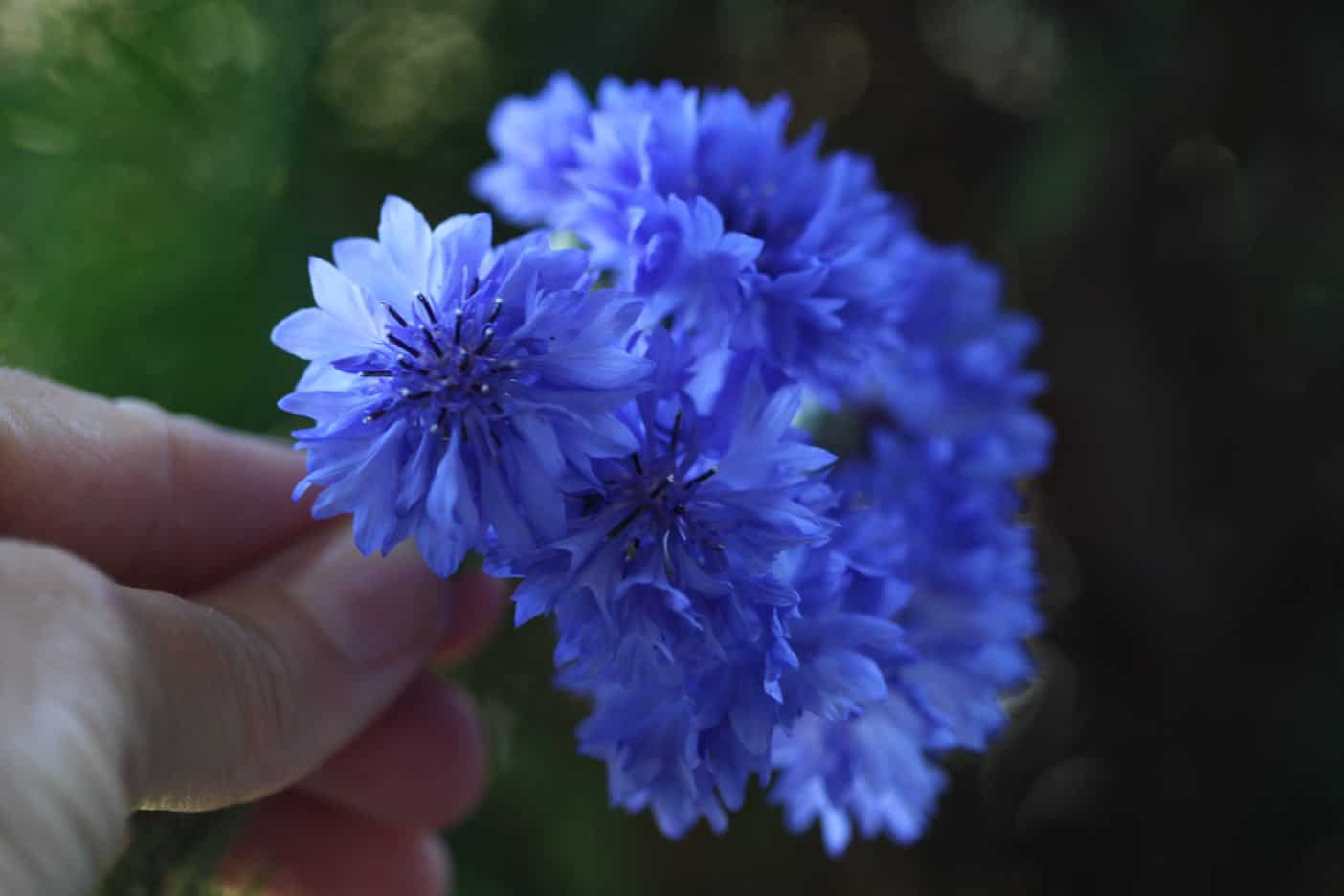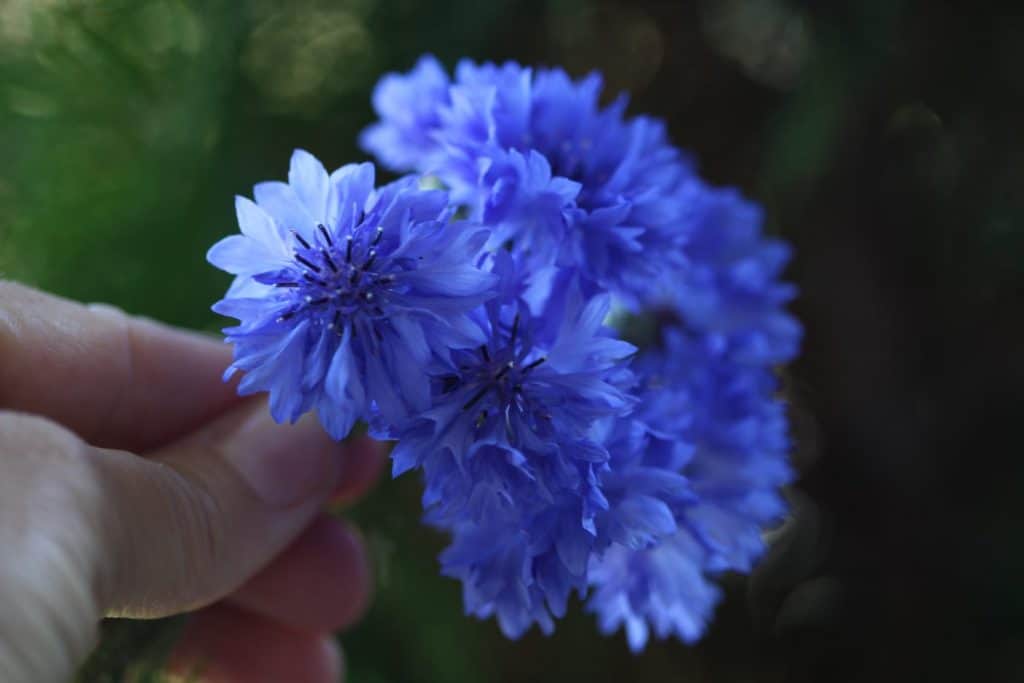 Drying flowers is a creative form of art that has been practiced through the ages.
Sometimes there are a few special flowers that we want to preserve to have with us for a very long time. Whether it's wedding flowers, special bouquets, corsages from proms or wildflowers from a child, preserving them allows us to keep them for much longer.
Dried flowers are beautiful, and sometimes can be even more intriguing in their dried form.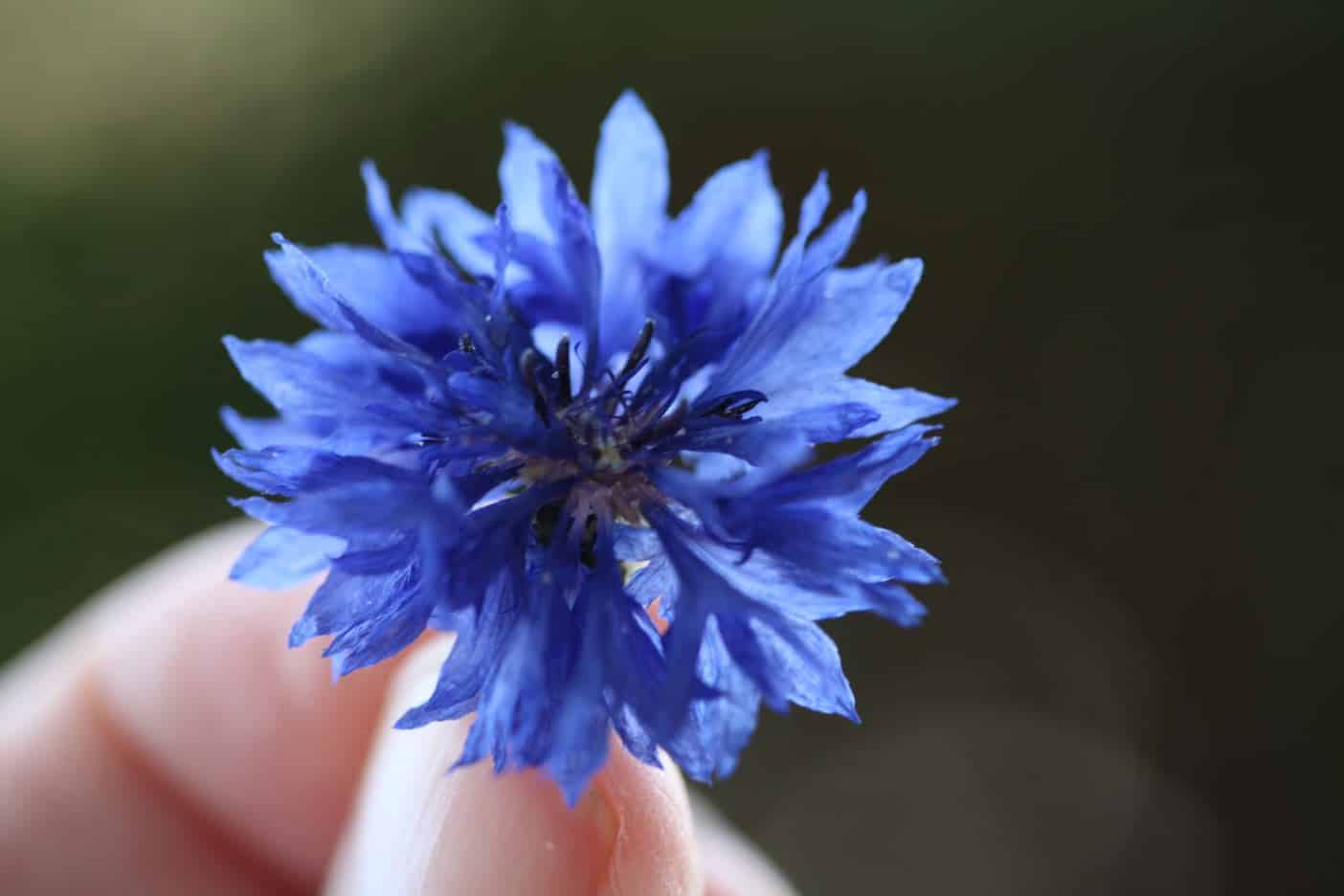 There are many ways to dry flowers, and some are more suitable for certain types of flowers than others.
Here is a post that I did recently on other methods for drying flowers:
HOW TO DRY FLOWERS ( 7 METHODS TO PRESERVE YOUR BLOOMS)
Most methods of preserving flowers however are not the best for drying high moisture content flowers.
Certain flowers like dahlias for instance, are almost impossible to dry well using other methods. However with the silica gel method, they can be preserved to perfection.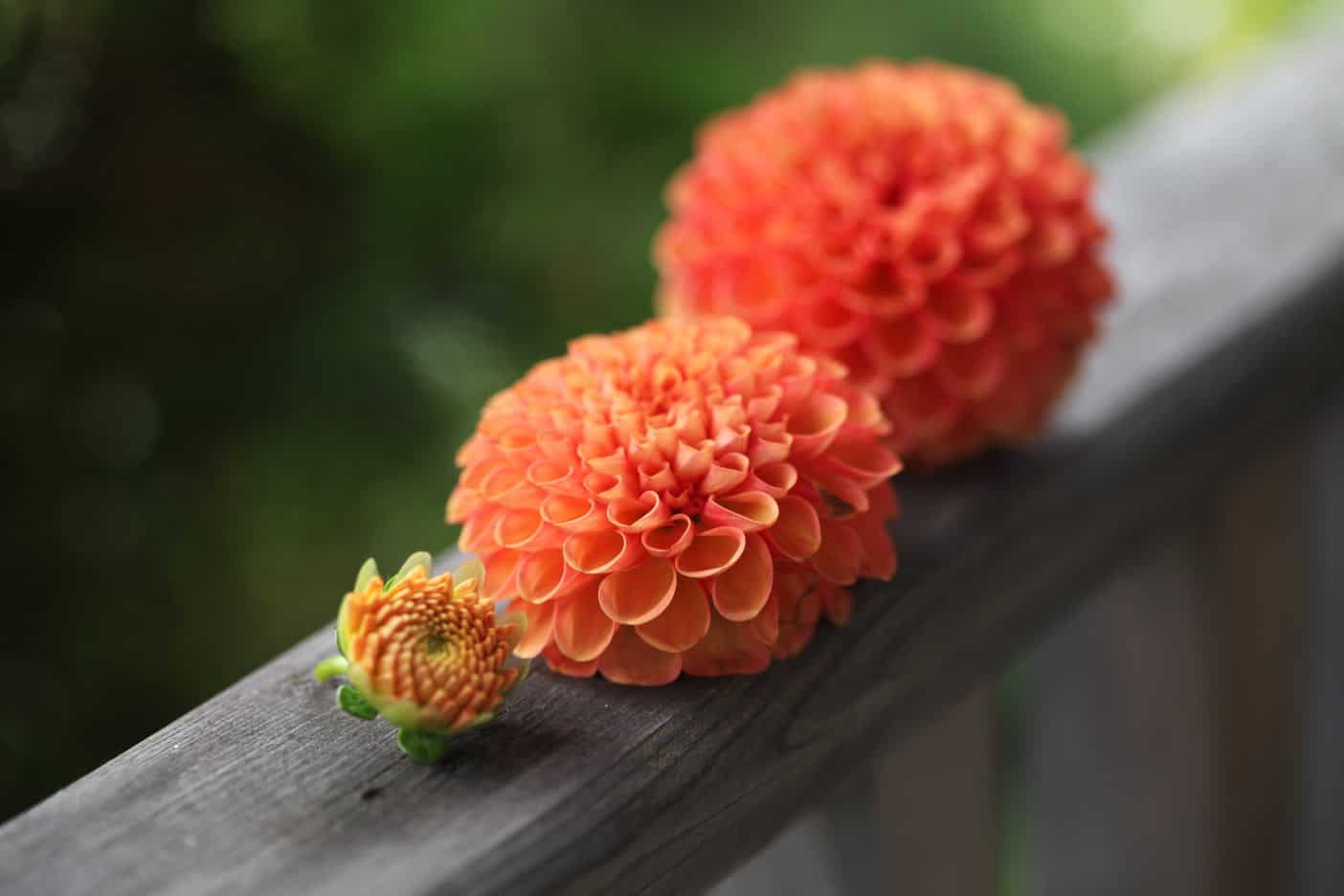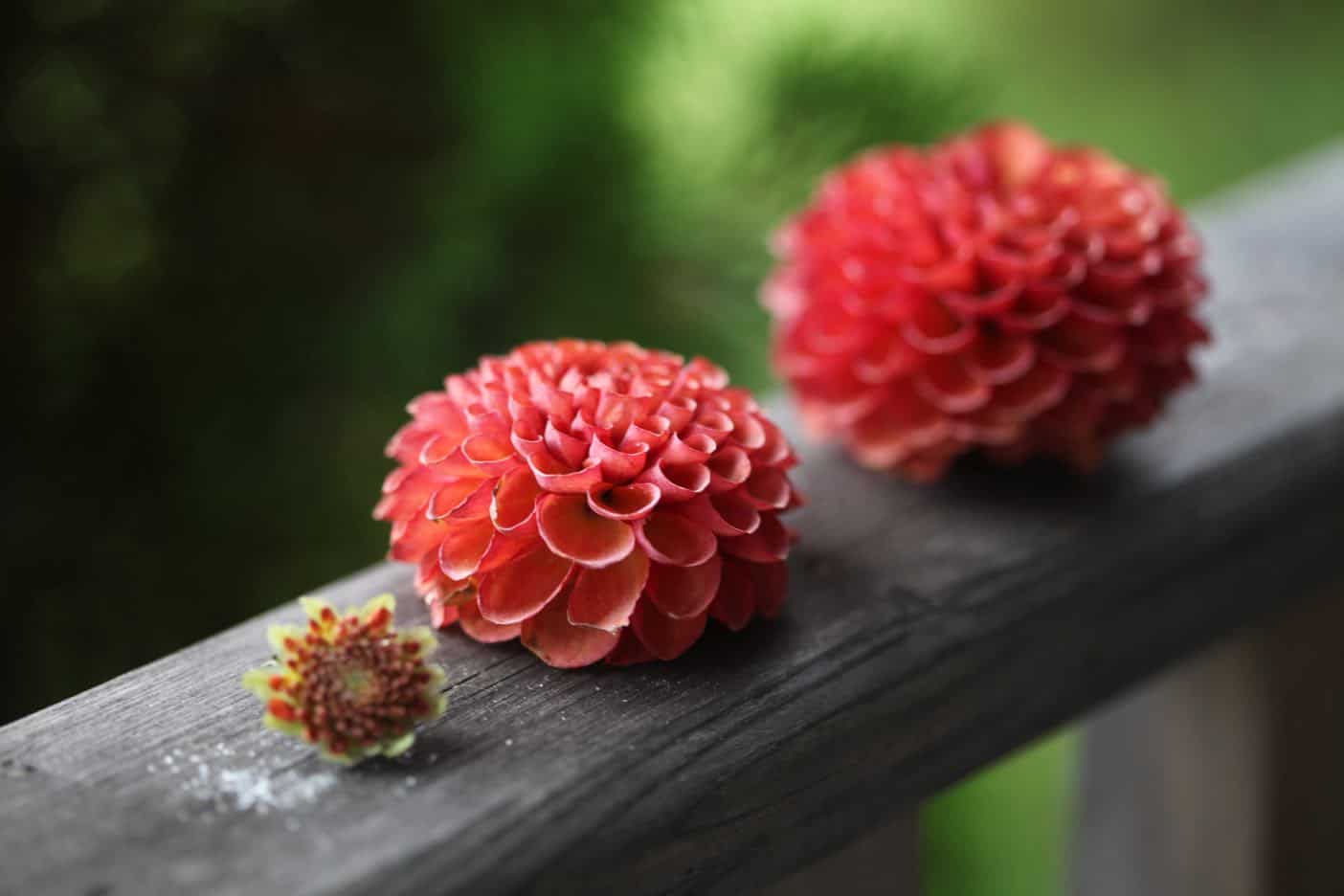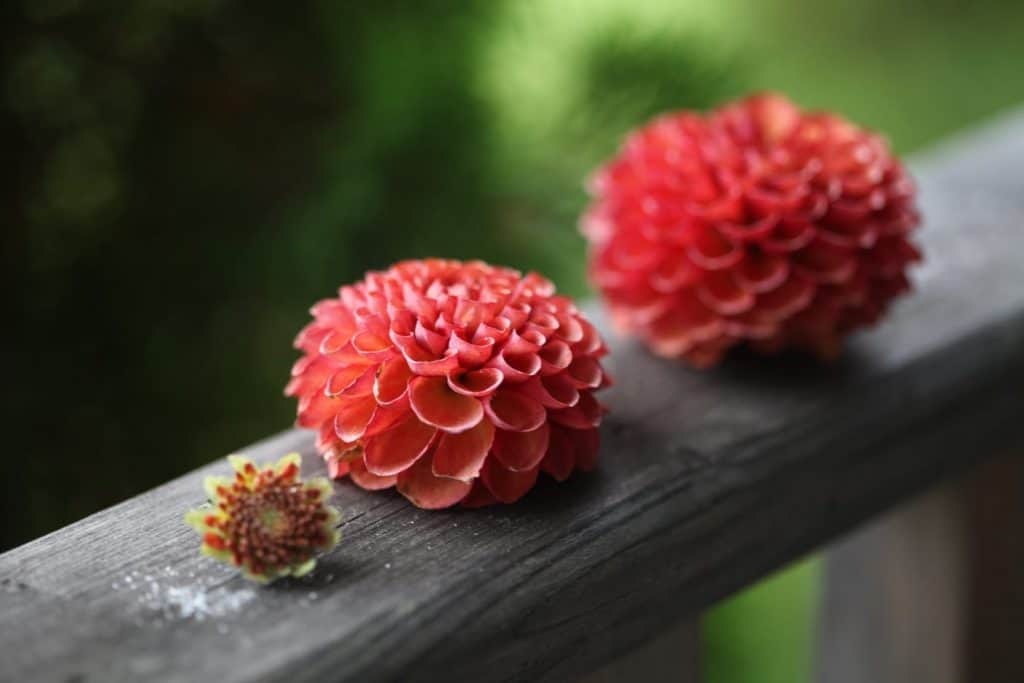 What Is Silica Gel?
Silica gel is a desiccant. This means that it dries by removing moisture.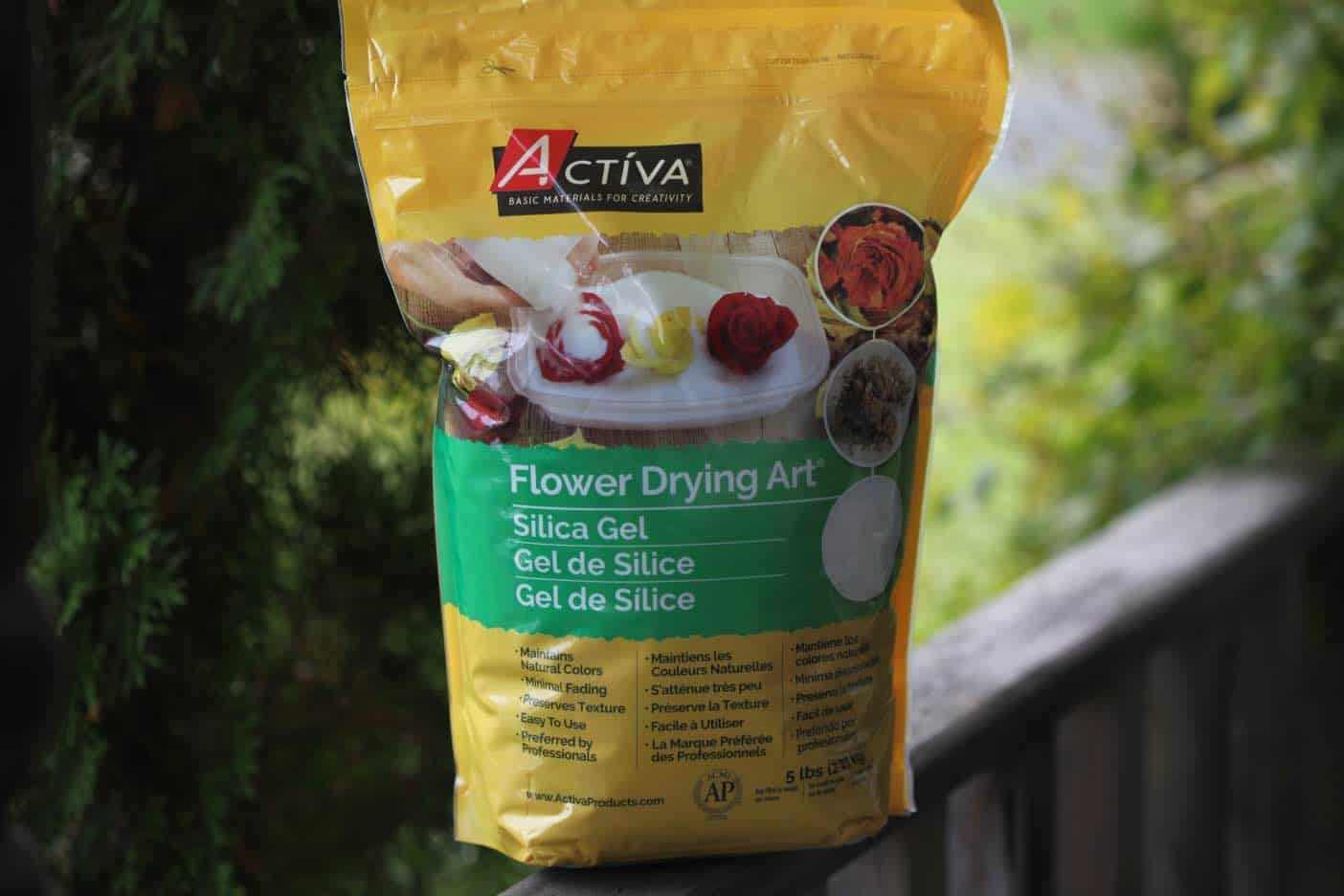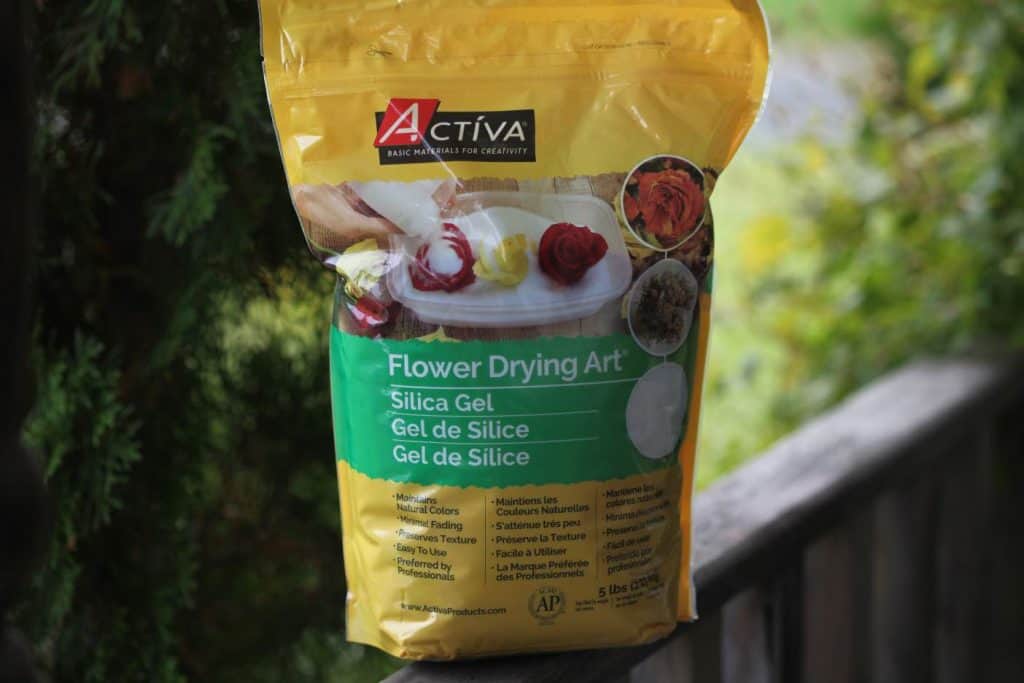 We are all familiar with silica gel, and most of us have had contact with it maybe unknowingly. It's in the tiny packets used for preservation, often found in shoeboxes or containers when there is a need to keep things dry.
Silica gel can be used to dry flowers as well.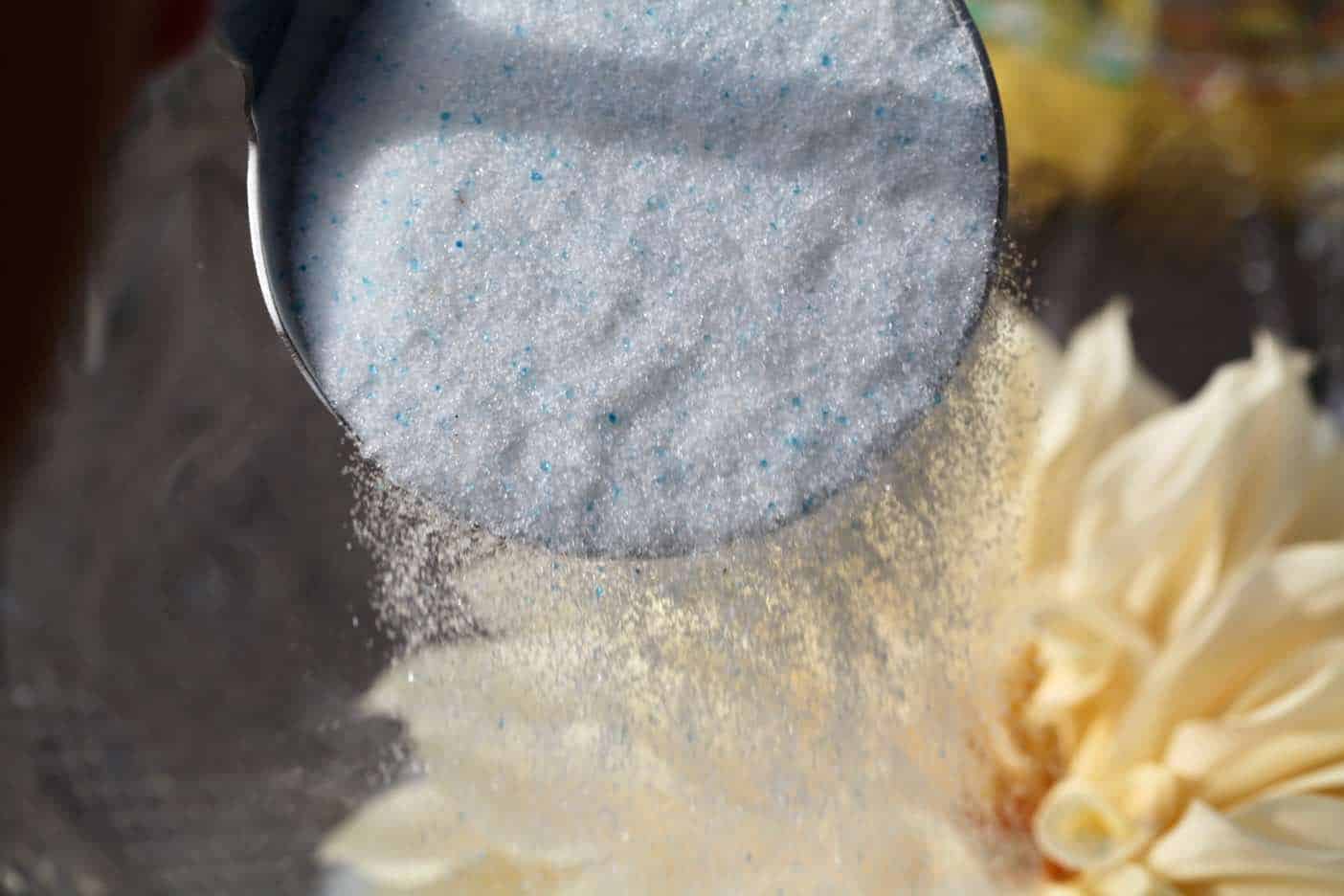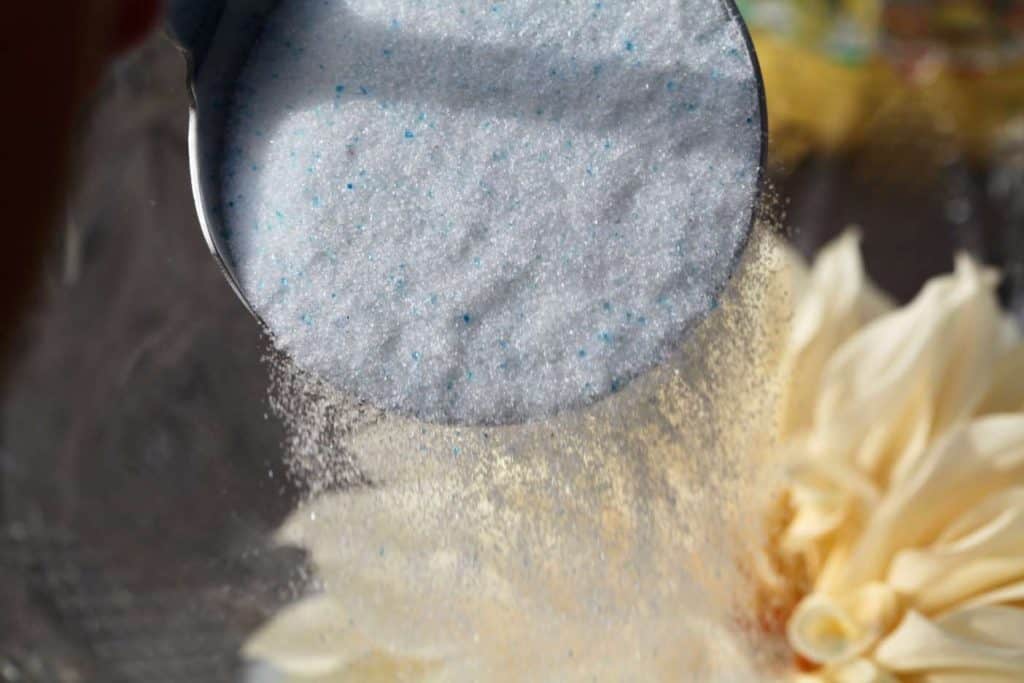 It acts as a desiccant by wicking away the moisture from the petals of the flowers. It truly does perfectly preserve them, both in form and also in colour.
Here is an interesting article from the Current Journal of Applied Science and Technology reviewing the effects of silica gel on the quality of orchids, which were dried using the silica gel drying method.
Silica Gel Comes In Several Forms:
The crystal form works the best for drying flowers, since it can get into tiny crevices. This enhances the drying process for certain flowers.
Silica beads tend to sit on top and can not penetrate certain types of tubular petals like the crystals can. Some beads have also been known to leave little indents on the dried flowers.
Make sure that any form of silica gel that you purchase is designed specifically for drying flowers.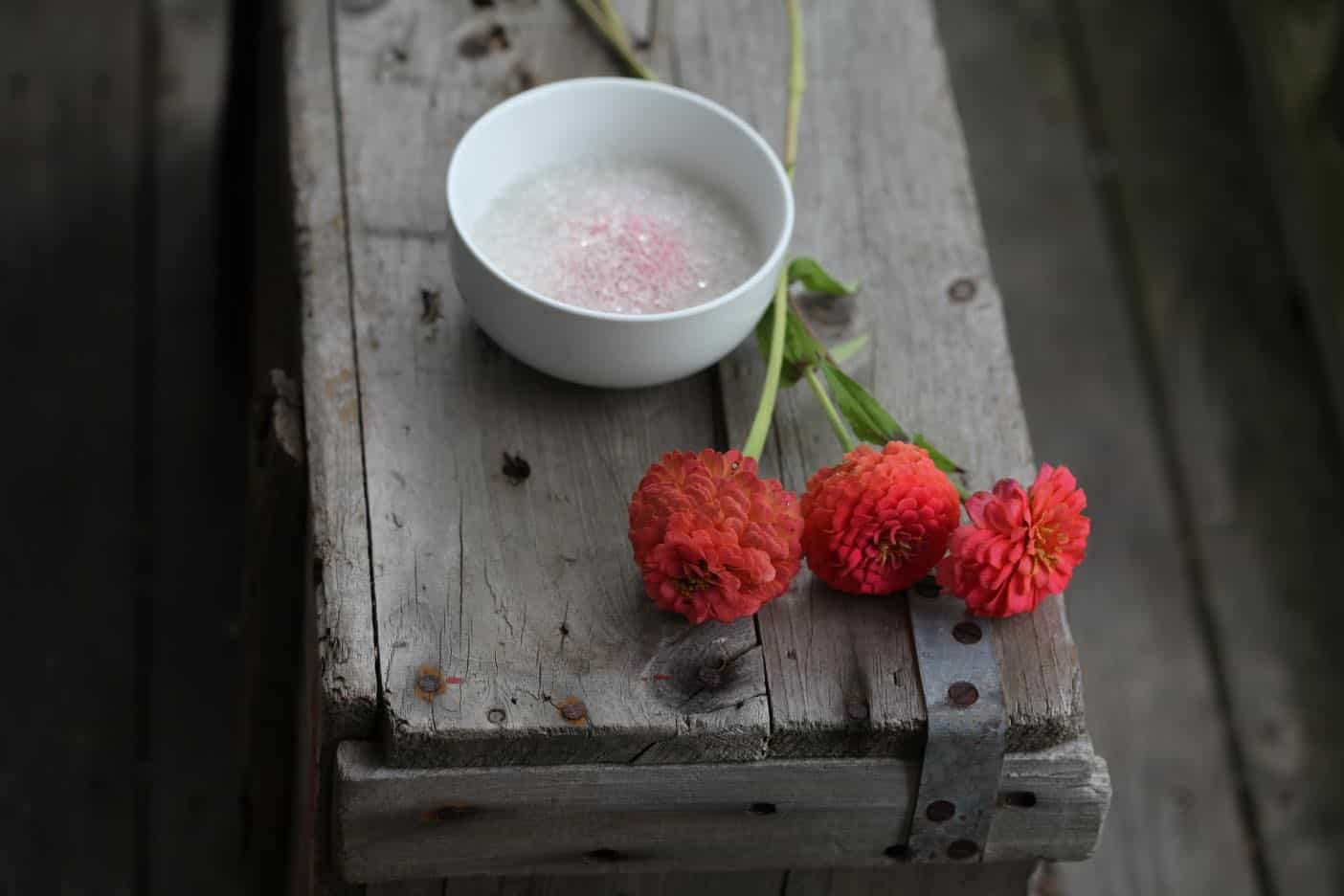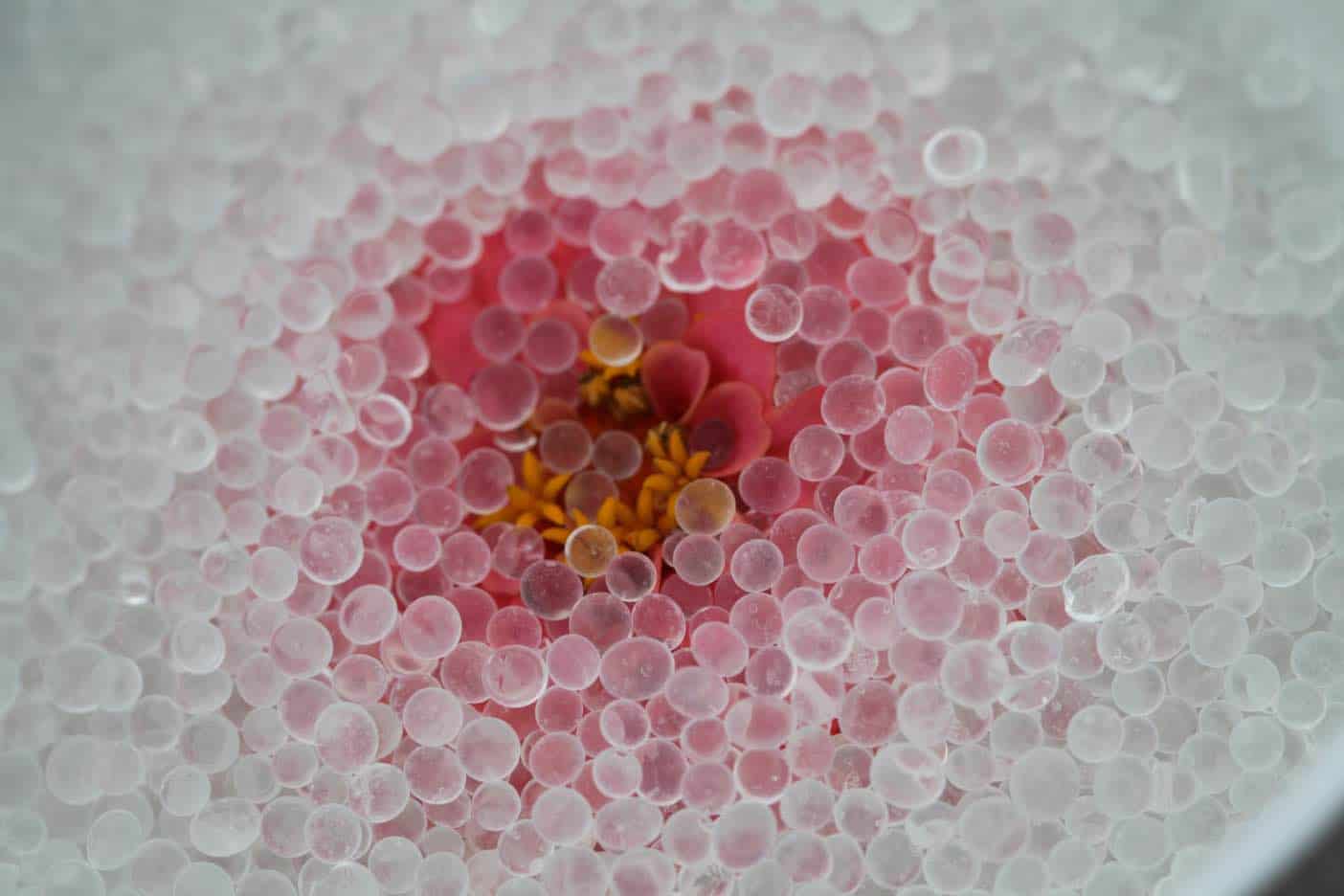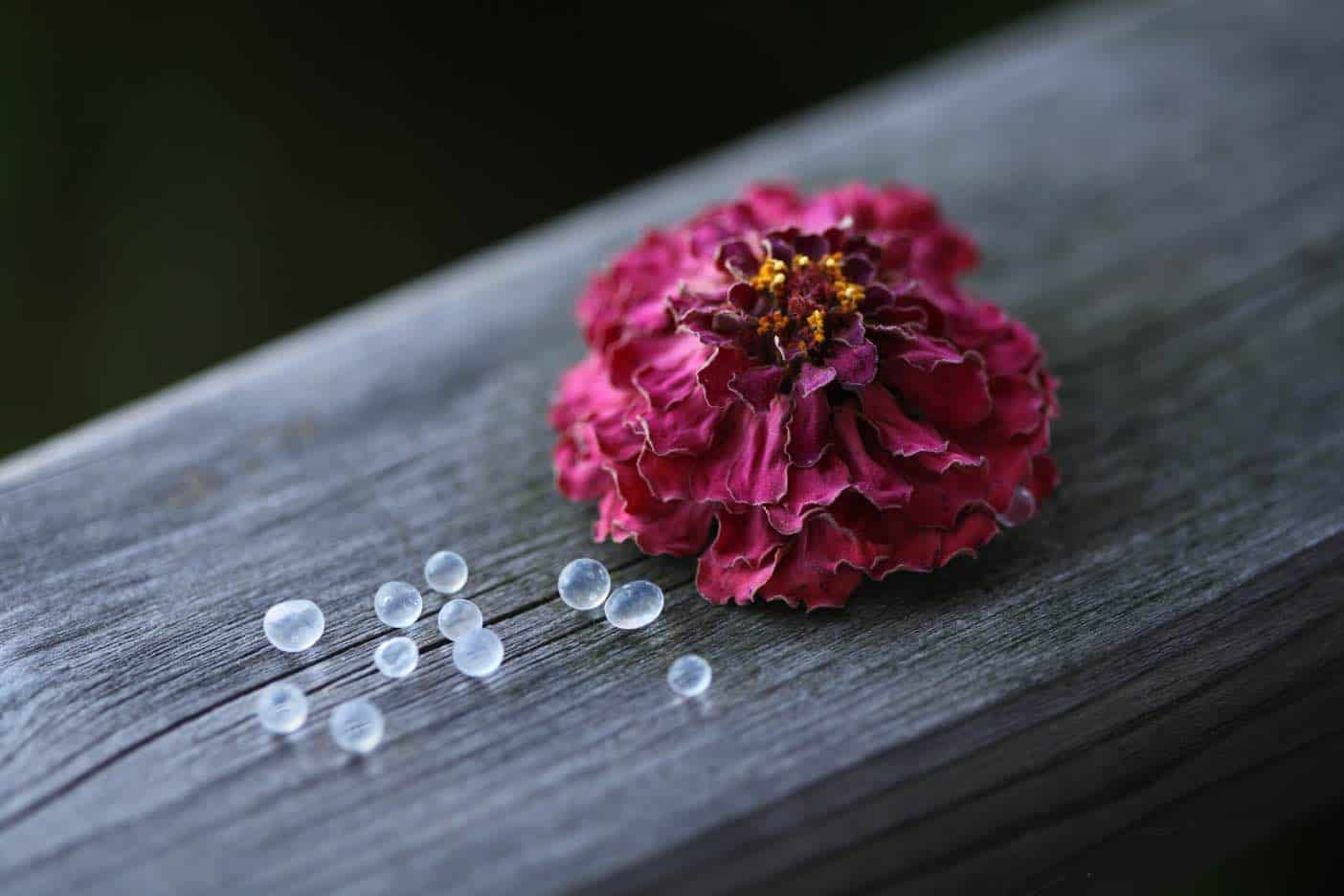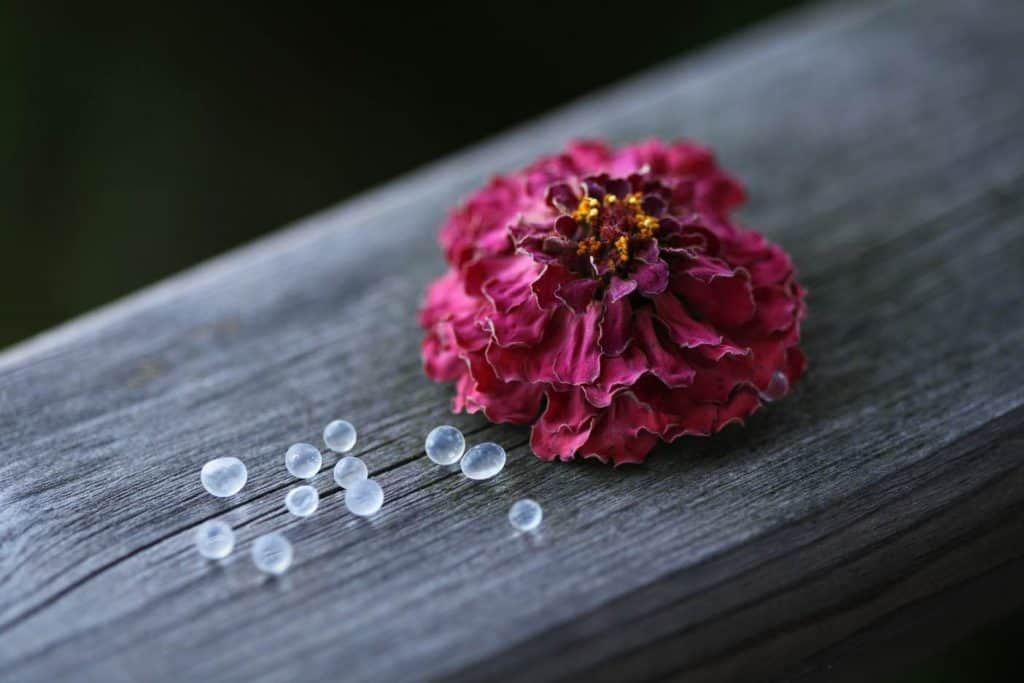 When I first purchased silica gel I got a large container of silica beads. The beads dried my zinnias in a short period of time, and they became unrecognizable as zinnias, or so I thought.
Upon closer investigation, I saw that the beads that I purchased were not recommended for drying flowers. They warned that the beads were too harsh on flowers, and did not recommend their use for this purpose.
I would agree with that.
So I then found the correct form of silica crystals, which made all the difference in the world.
Use Caution When Working With Silica Gel
Silica gel, in particular the crystals, can cause a fine dust of silica to float in the air when in use.
It's important not to breath this dust in, and wearing a mask will help to protect you.
As well, since the substance is a desiccant, it can dry your skin on contact, so wearing gloves is advised.
What Flowers Can Be Dried With Silica Gel?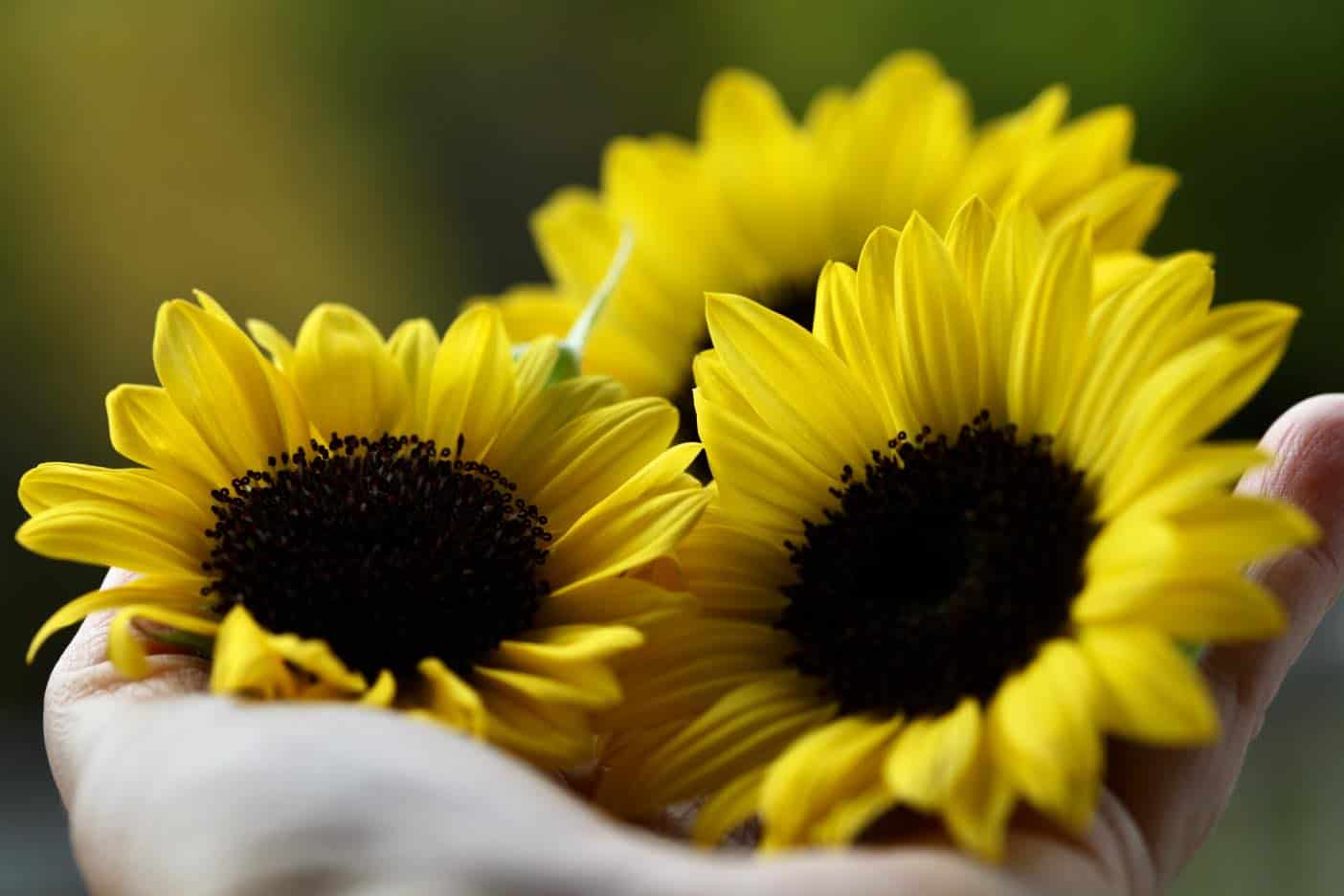 The best flowers to dry for any drying technique are those in their freshest state. Therefore freshly picked and conditioned flowers are choice.
Many of us though don't even consider drying our flowers until they are several days old, and that's okay too. For best drying results though, just remember that the flowers should be in their prime.
Most any flowers can be dried with silica gel, as long as they are fresh.
The great thing about silica gel is that it can dry those hard to dry flowers like dahlias. It can easily dry those high moisture blooms that are difficult to dry using other methods.
I used it on large dinner plate dahlias, and pompom dahlias. The crystals filled the air pockets in the blossoms, drying the flowers from all angles.
Silica gel works well on sunflowers and bachelor buttons. It also works well on zinnias. Almost any flower could be dried with this method.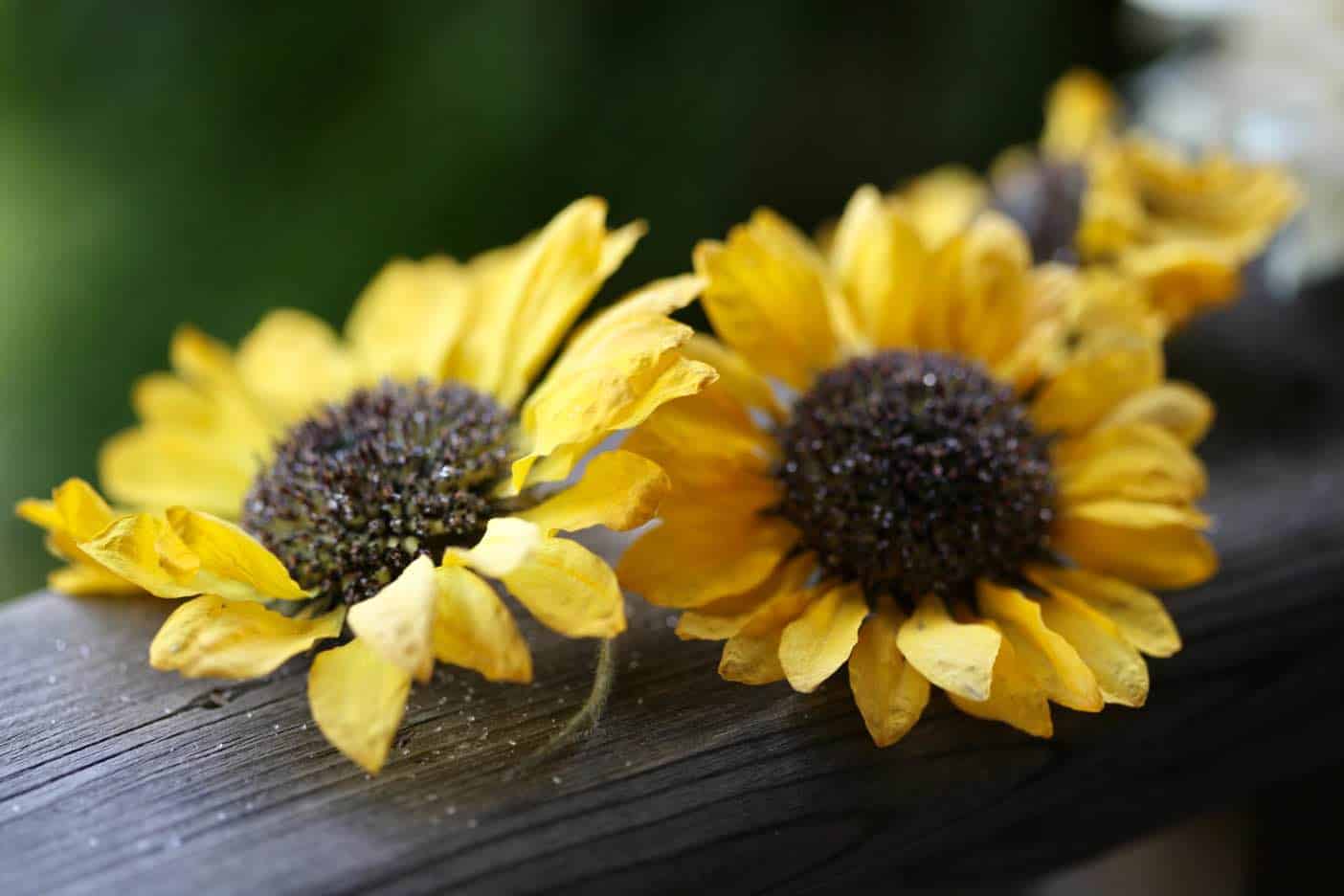 How To Dry Flowers In Silica Gel
First let's look at the supplies you will need.
Supplies Needed:
a collection of fresh flowers to dry
a container in which to hold the gel and drying flowers
a mask and rubber gloves for safety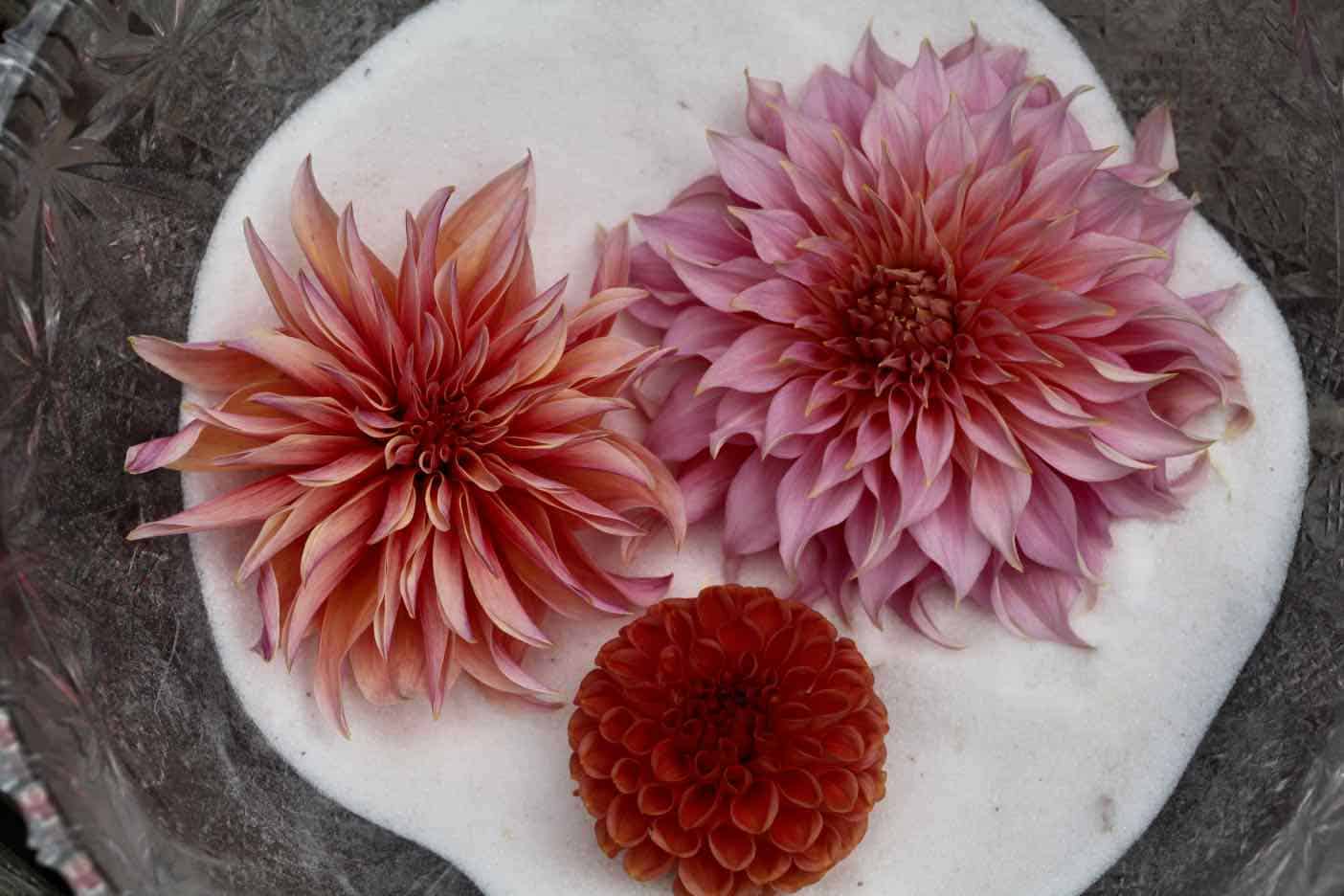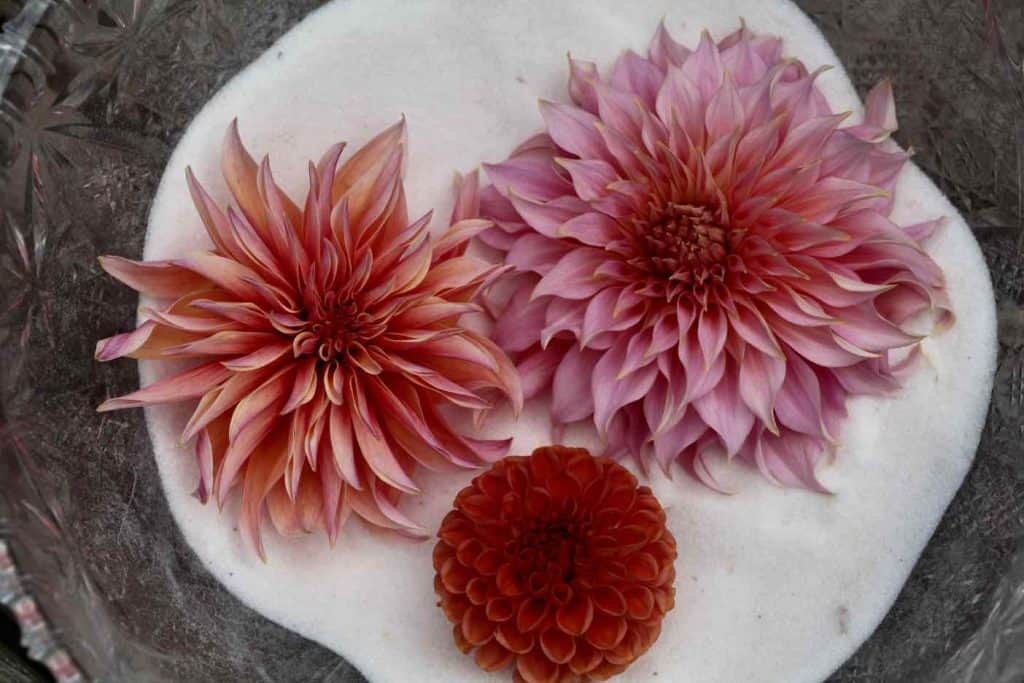 Directions For Drying
Regarding the container, if using plastic, make sure that it will not be used for food after using it for drying flowers. This has to do with the plastic absorbing substances that may not be safe for food.
An airtight system is important when drying with silica gel. A lid is handy if there is a lid on the container. Otherwise you can use some plastic wrap to cover the container to keep humidity out, and it is just as effective as a lid.
The first step is to fill the container with a half inch to an inch of silica gel. This will form the base on which to place the flowers.
Place the flowers in the container ensuring that they are not touching.
Any flat faced flowers can be placed face down. All others should be placed face up.
Flowers with long stems can be set on their sides.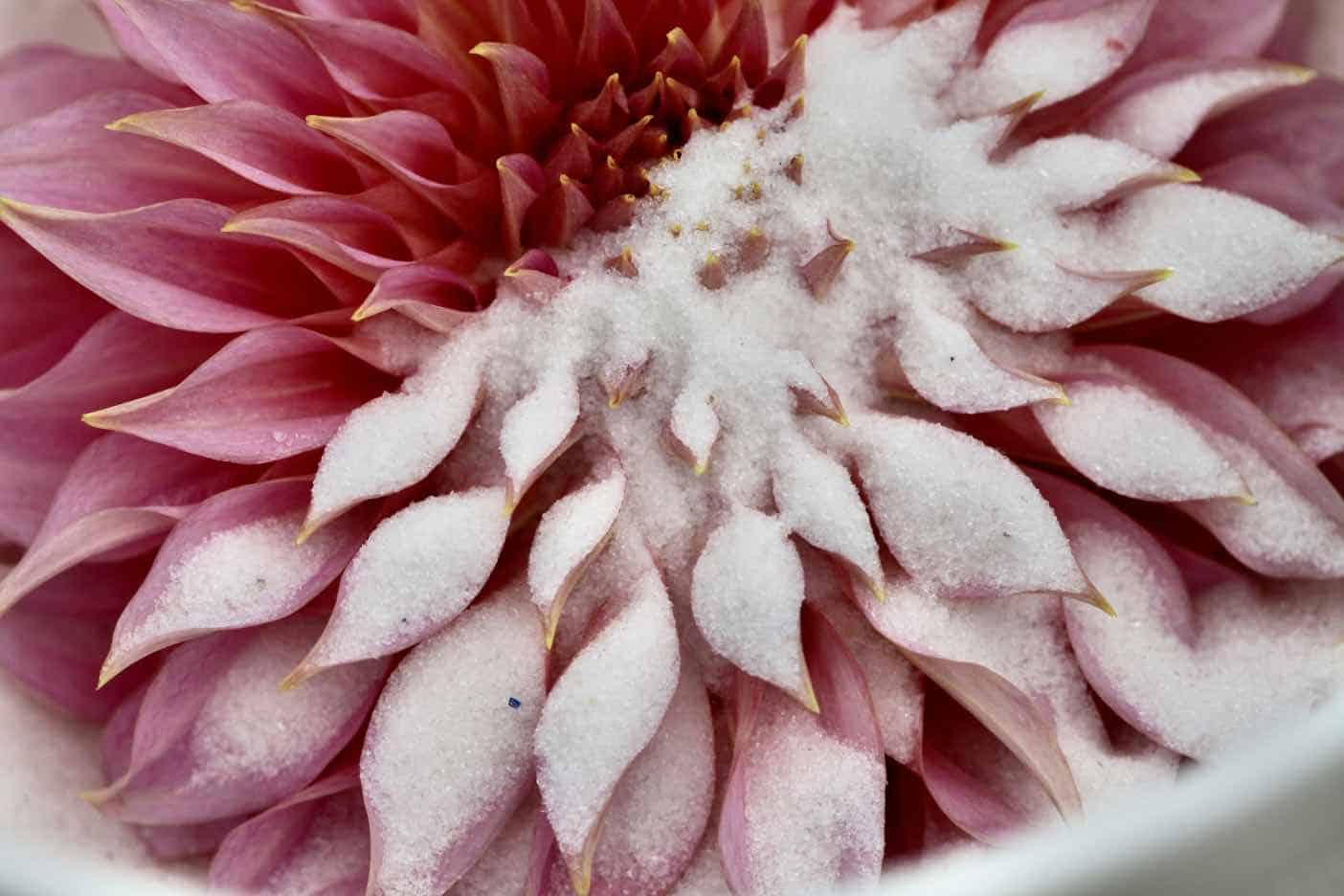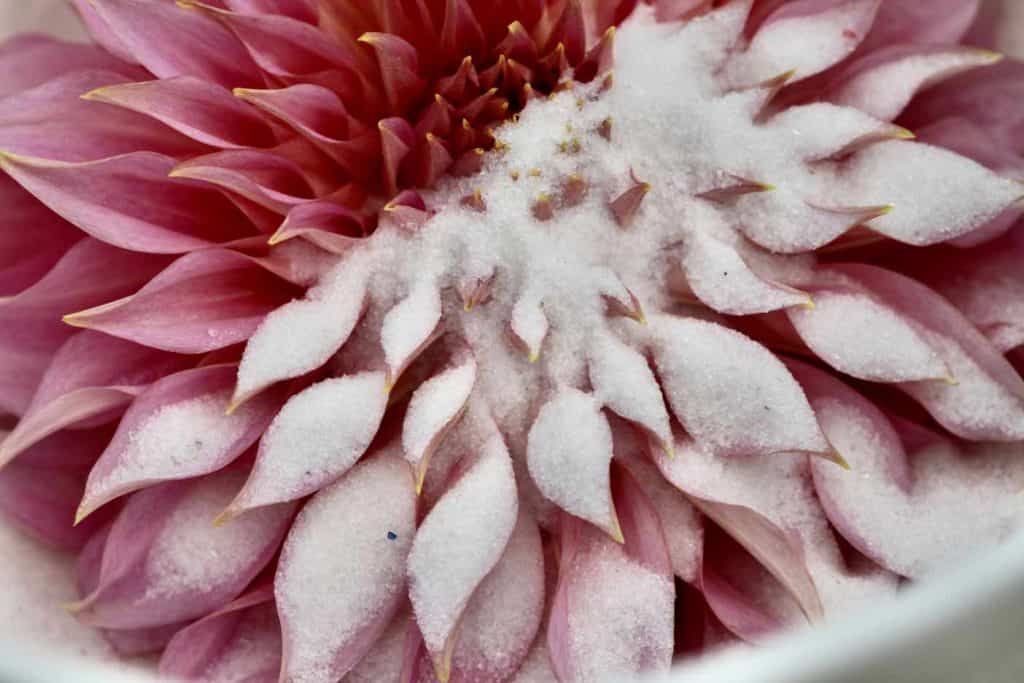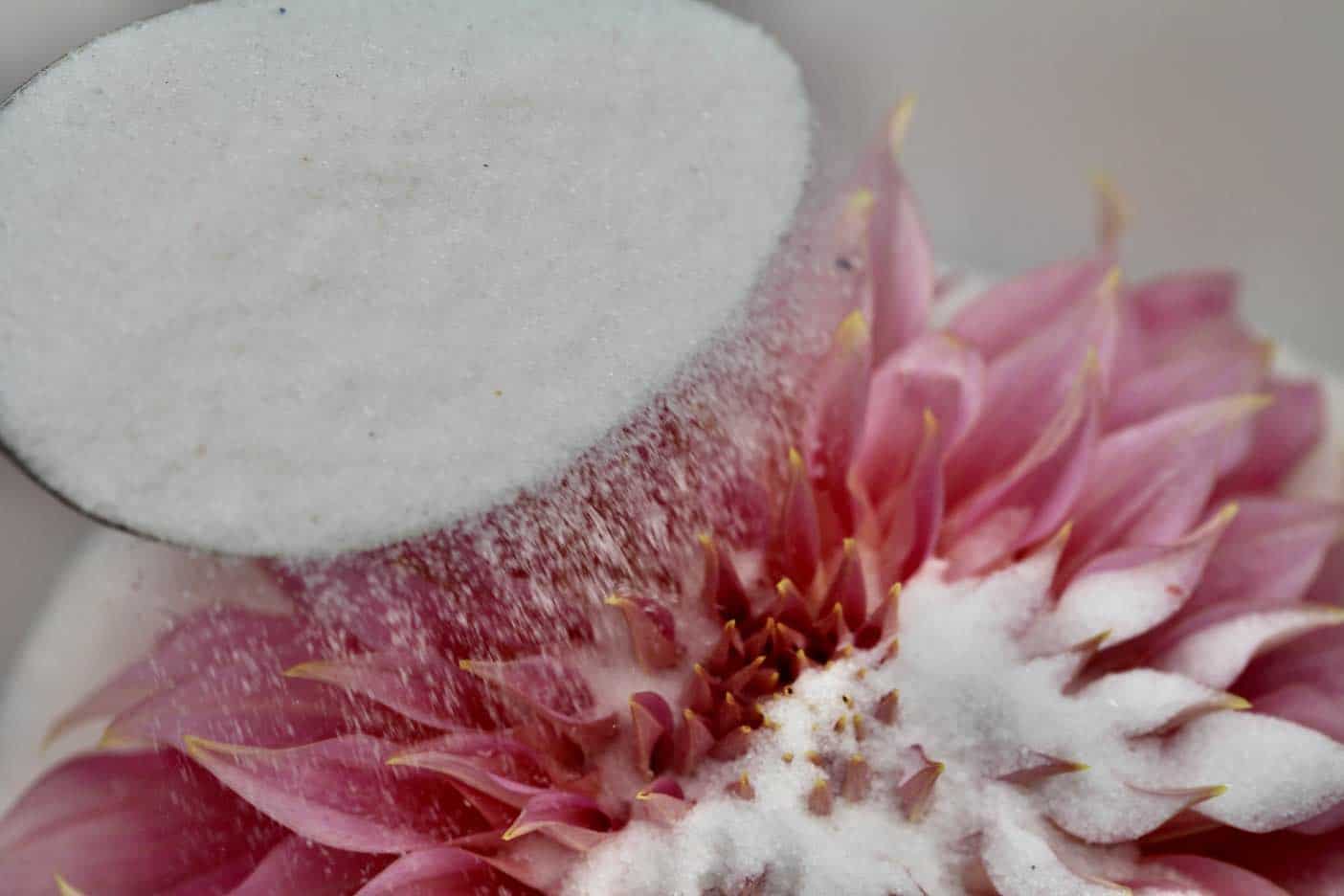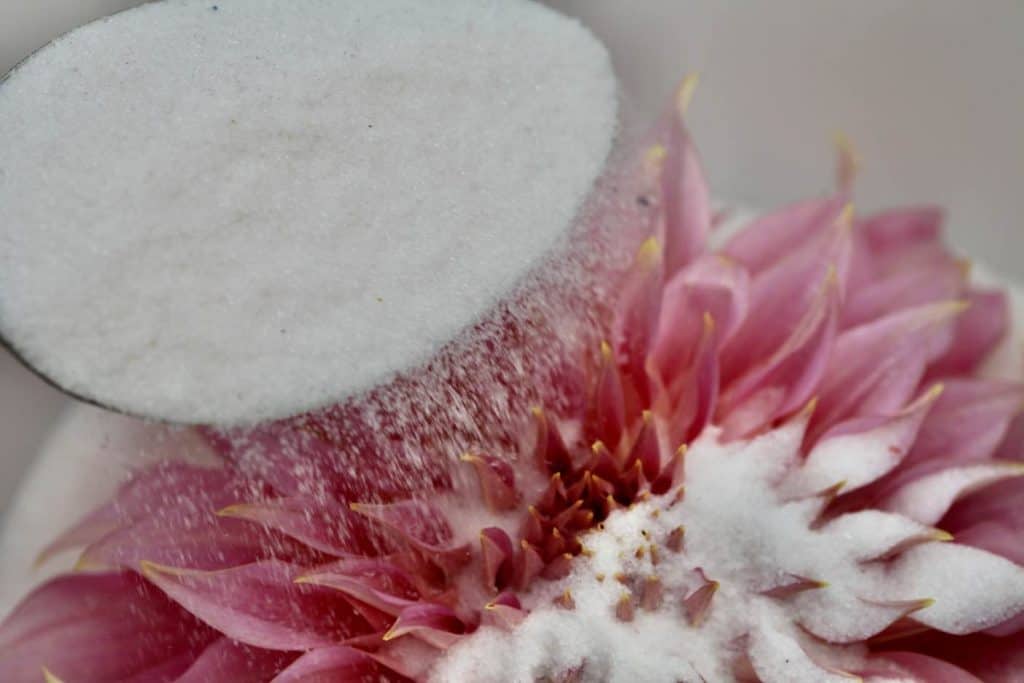 Slowly pour the silica gel onto the flowers. I used a large spoon which allowed me to control the flow easily.
Cover the flowers completely.
Place a lid or plastic wrap over the container.
How Long To Dry Flowers In Silica Gel?
Flowers dry at different rates depending on size and moisture content.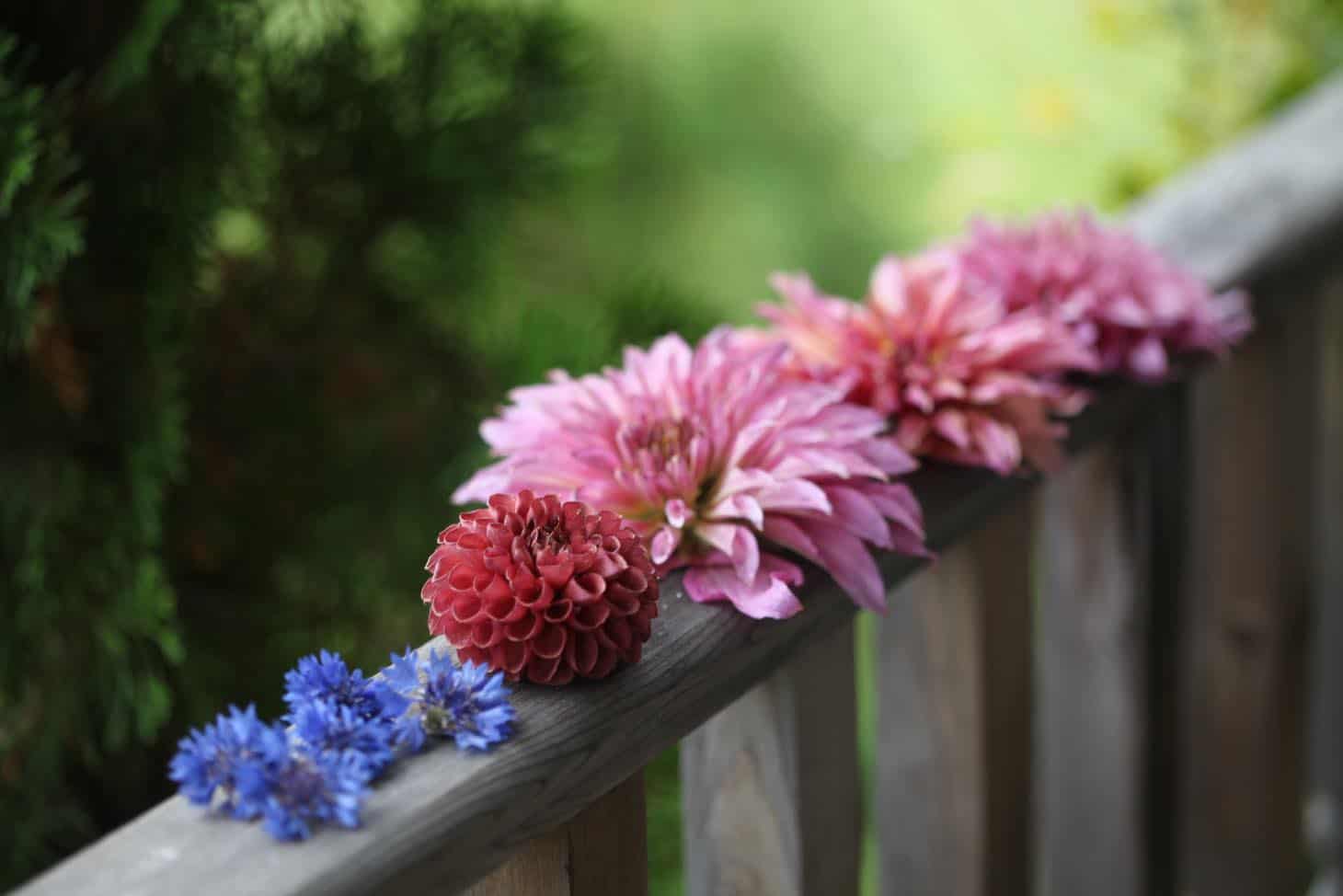 Length of time in the silica gel is determined by the size and type of the flower, so follow the guidelines given on the package inset of the silica purchased.
The package of silica gel crystals that I purchased contained an insert indicating drying times for different types of flowers.
Larger and thicker flowers require a longer time in the gel.
The time spent drying in silica can be anywhere from two to seven days, depending on the flowers.
Here is an article from the University of Florida on Drying and Preserving Plant Materials For Decorative Uses. If you scroll to the bottom of the article you will find a comparison table on flower drying times, for both the conventional and microwave methods using silica gel.
How Do You Know When Flowers Are Done Drying In Silica Gel?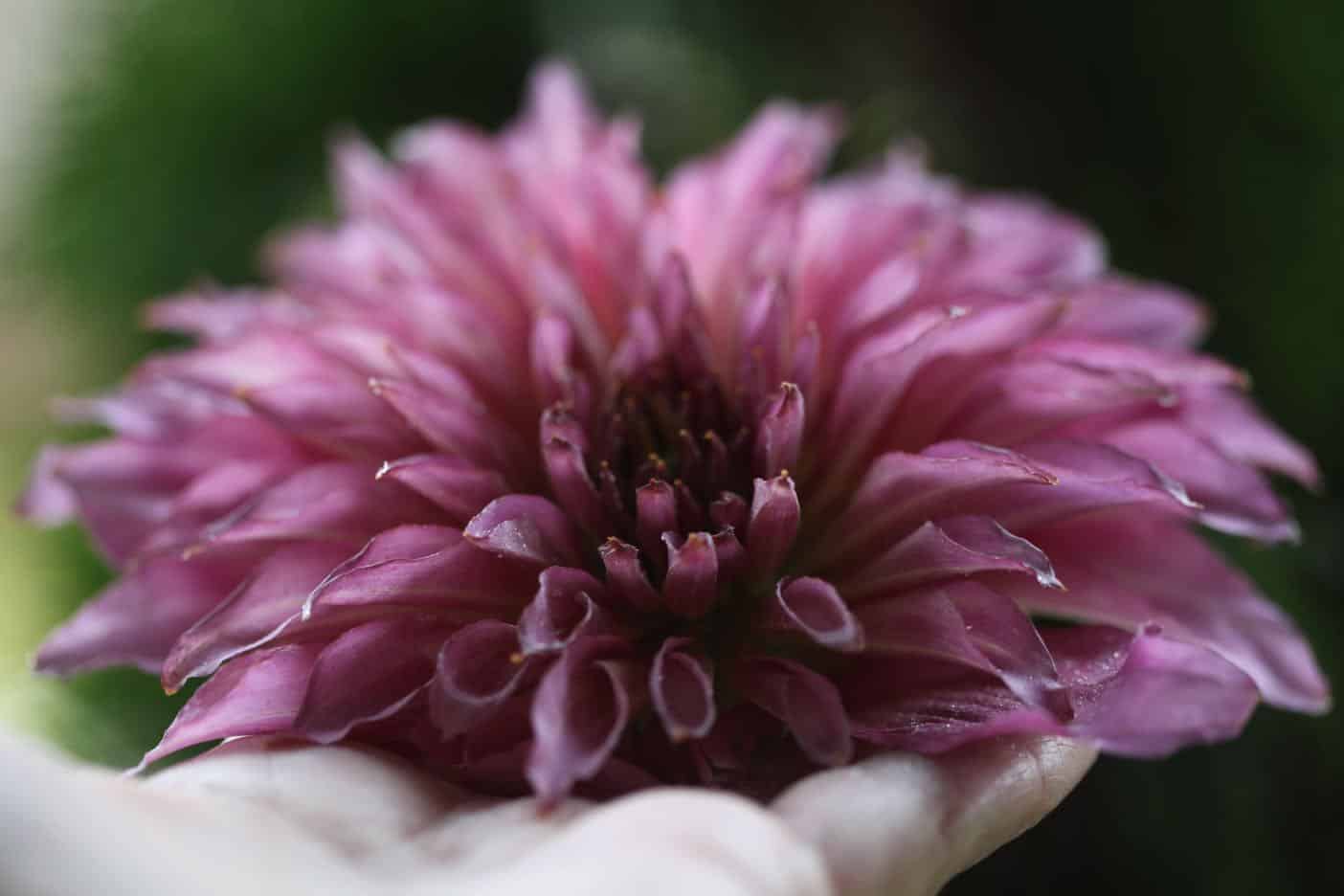 Sometimes flowers will require less or more time in the silica gel than anticipated.
That's why it's a good idea to check on the flowers that are drying to determine if they are dry before the estimated time.
It is easy to overdo it, and if the flowers become too dry the petals become brittle and shatter easily on contact.
The petals can also come apart when over dried, and you will see many left behind in the silica gel as you retrieve your flowers.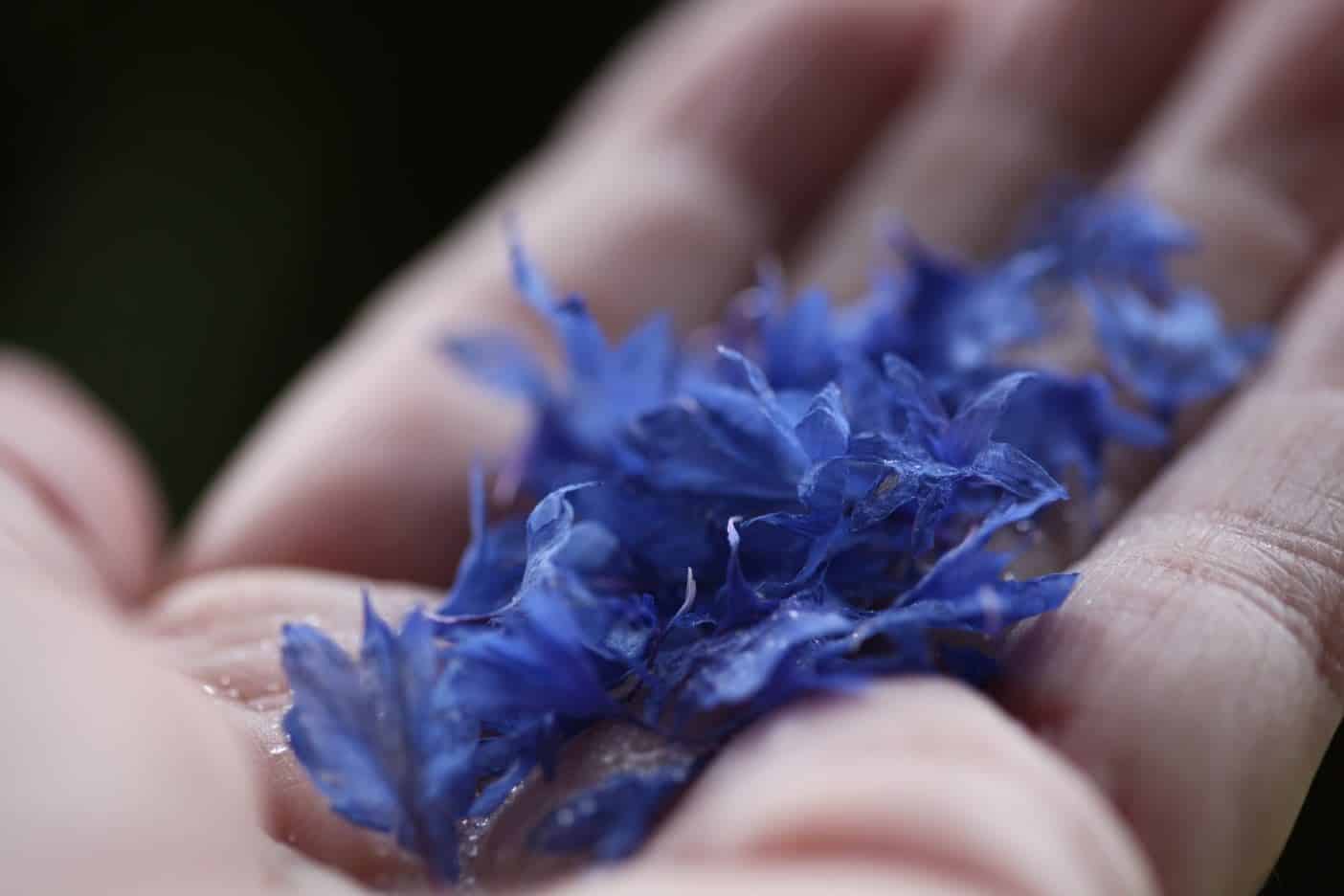 You will know when the flowers are done drying when they have become stiff and dry. You are looking for stiff but not brittle.
Removing Flowers From The Silica Gel
Be aware of the approximate drying time for your flowers.
Smaller flowers will dry more quickly, and larger more dense flowers require more time.
You can check on the drying progress, and remove thick flowers before drying is complete if the petals have dried, allowing the flower to continue to air dry to complete the process.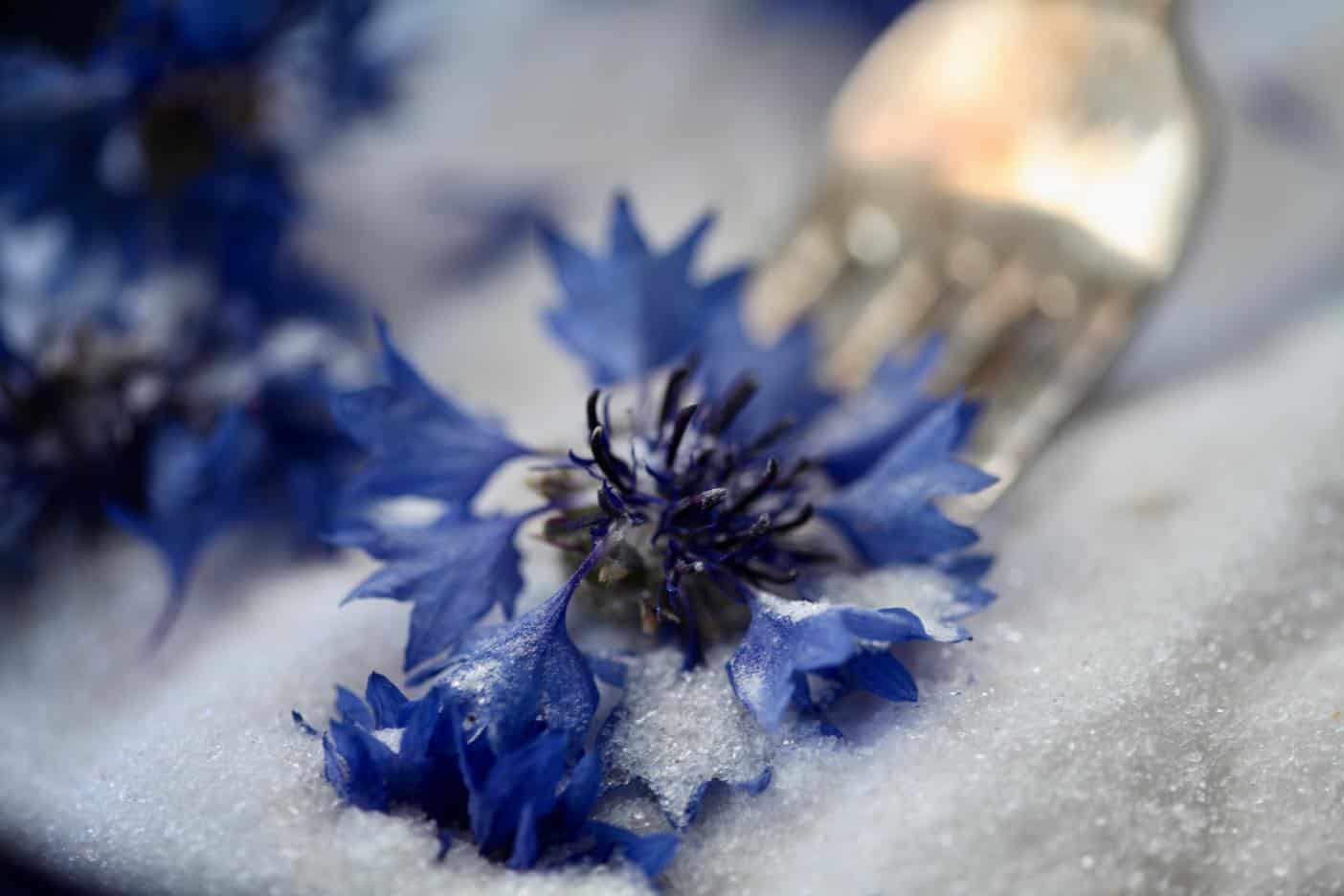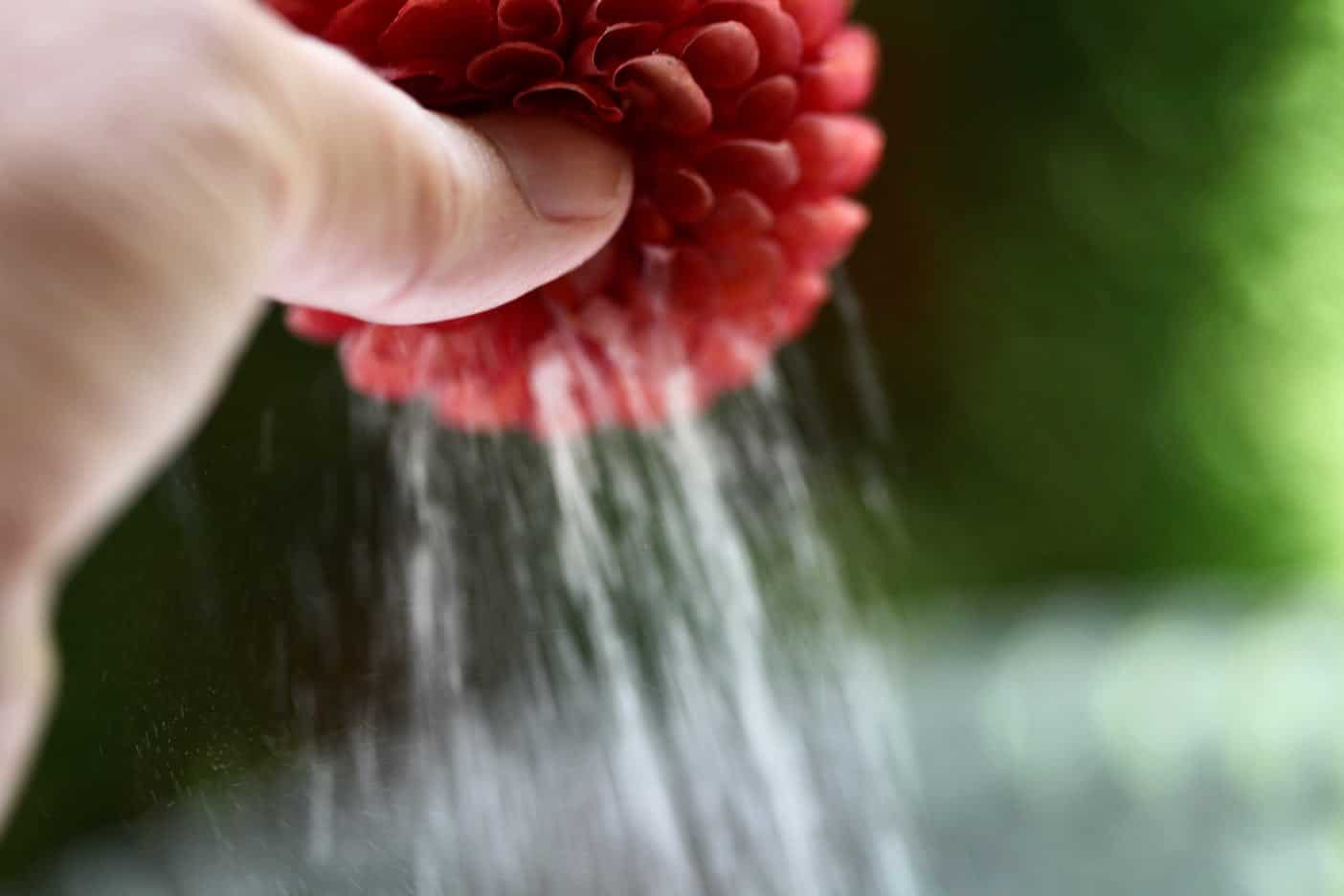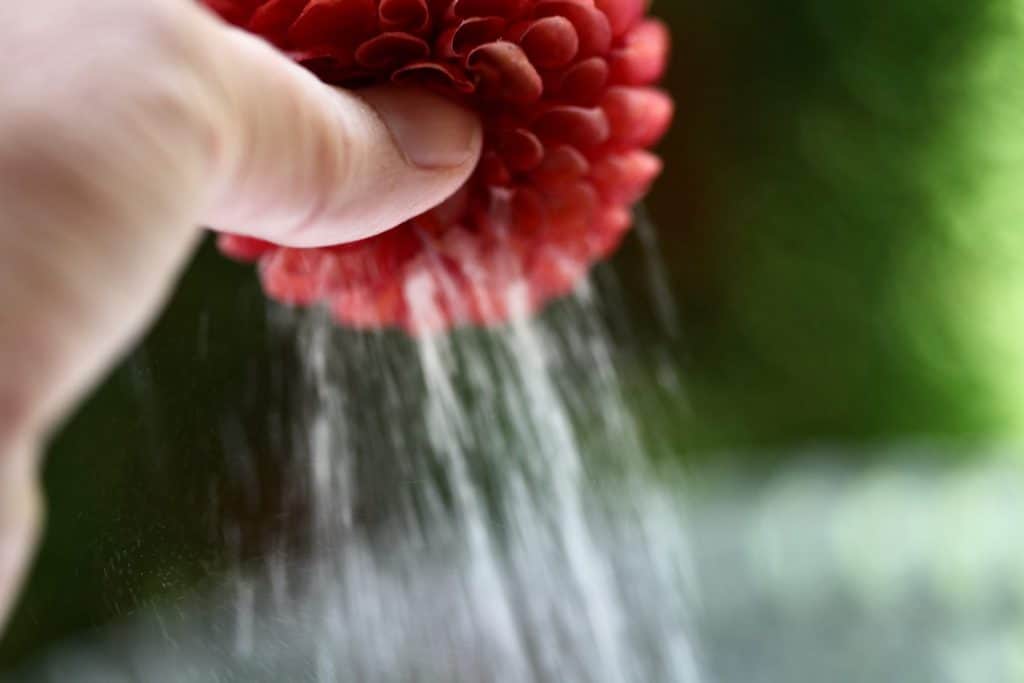 Remove the flowers gently pulling them from the gel. I use a fork to pull them up slowly allowing the crystals to fall away easily.
Allow the silica crystals to pour back into the container.
If the flowers have dried for too long, the petals can become brittle and shatter easily when touched.
If some petals fall off, they can still be salvaged and glued into place with a drop of white or clear glue.
Any crystals that remain on the dried flowers can be gently brushed off with a small soft artist's brush.
Can You Leave Flowers In Silica Gel Too Long?
You can definitely over dry flowers in silica gel, and if this occurs the flowers will not remain intact. The petals will easily fall off and break, and the flower becomes brittle.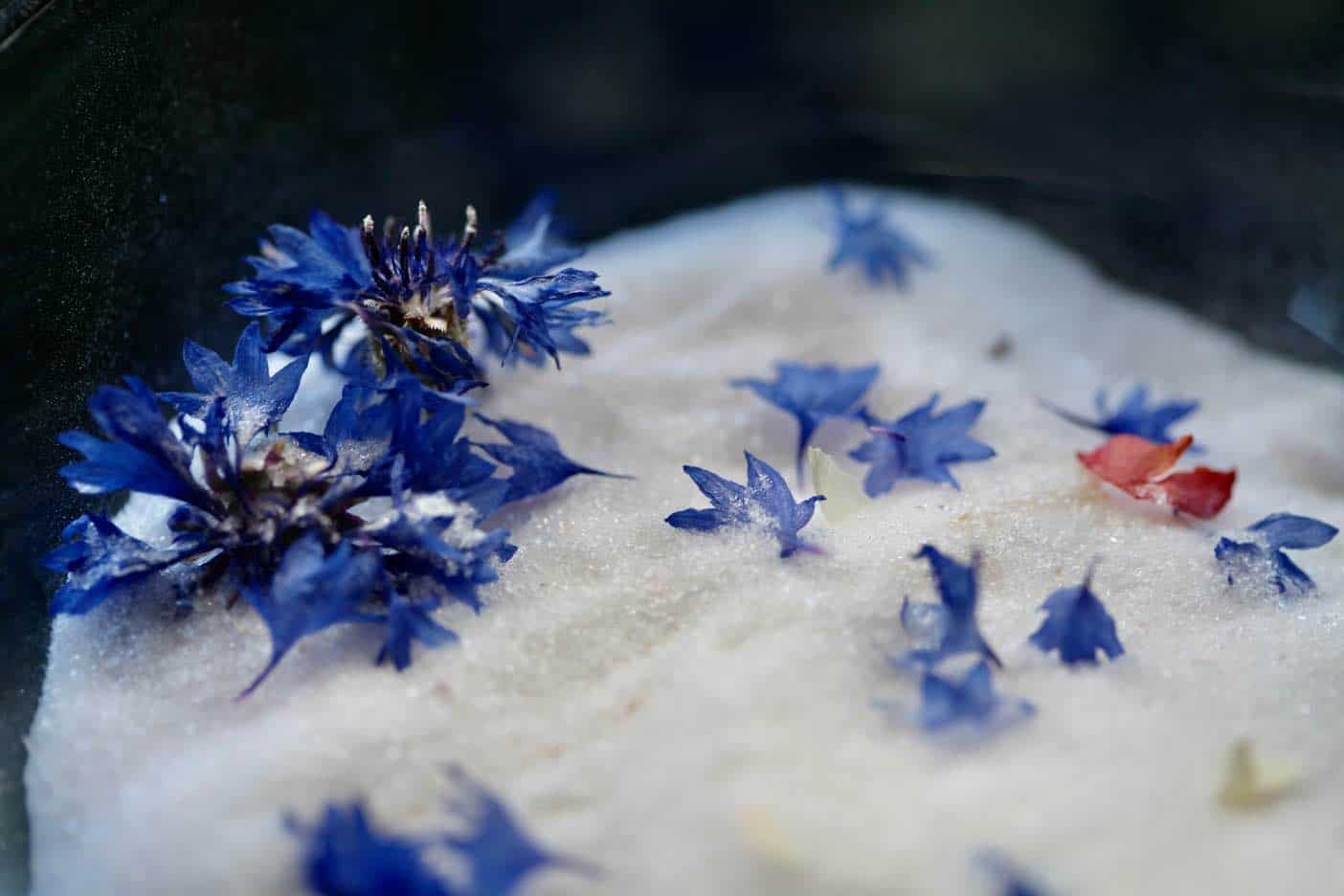 You will learn over time the right time frame for each type of flower, especially if you plan on drying more flowers. You will be able to figure out approximate flower drying time with experience.
The good thing about drying with silica gel is that the crystals are reusable, so you can use it over and over for drying your blooms. It will just require recharging from time to time.
How To Dry Flowers With Silica Gel In The Microwave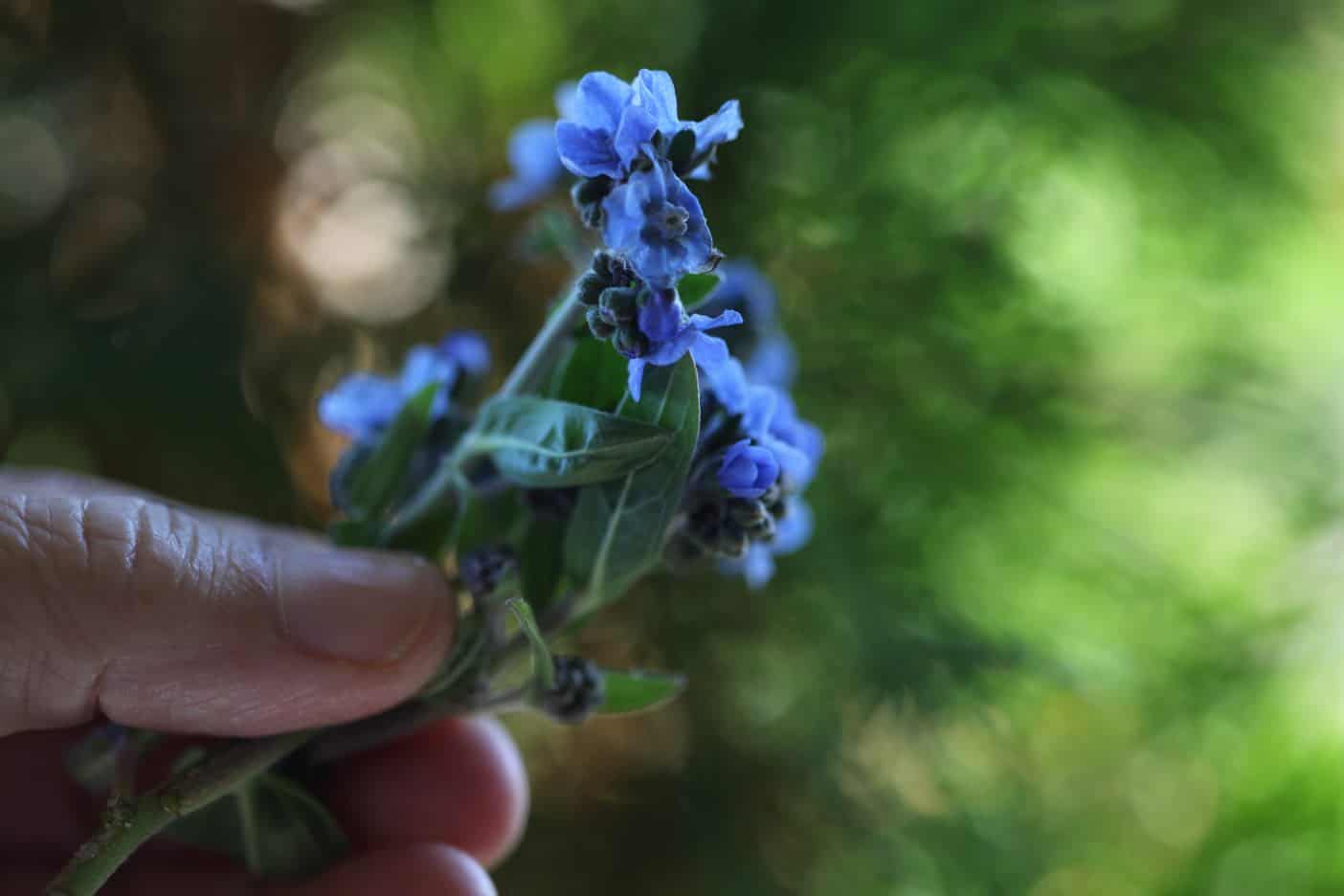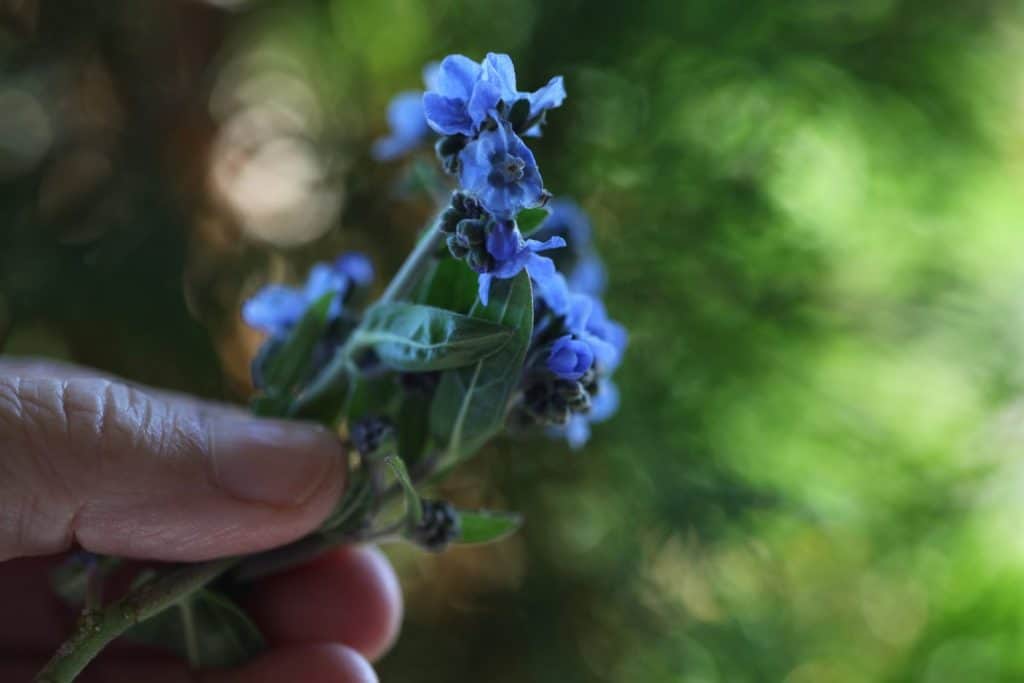 Drying flowers with silica gel in the microwave will speed up the drying process exponentially.
This process involves placing the flowers in silica gel using the conventional method as above. However this method involves using the microwave.
Do not cover the container with a lid or plastic wrap with this method. There will need to be an open container to allow the moisture to escape.
This method also involves placing a glass of water inside the microwave at the same time that the flowers are being heated. The cup of water will help to prevent excessive drying.
Place the container with silica covered flowers in the microwave, along with the glass of water, and heat in one minute increments until dry.
Small flowers will take one to two minutes, medium flowers will take two to three minutes, and large flowers will require three to three and a half minutes.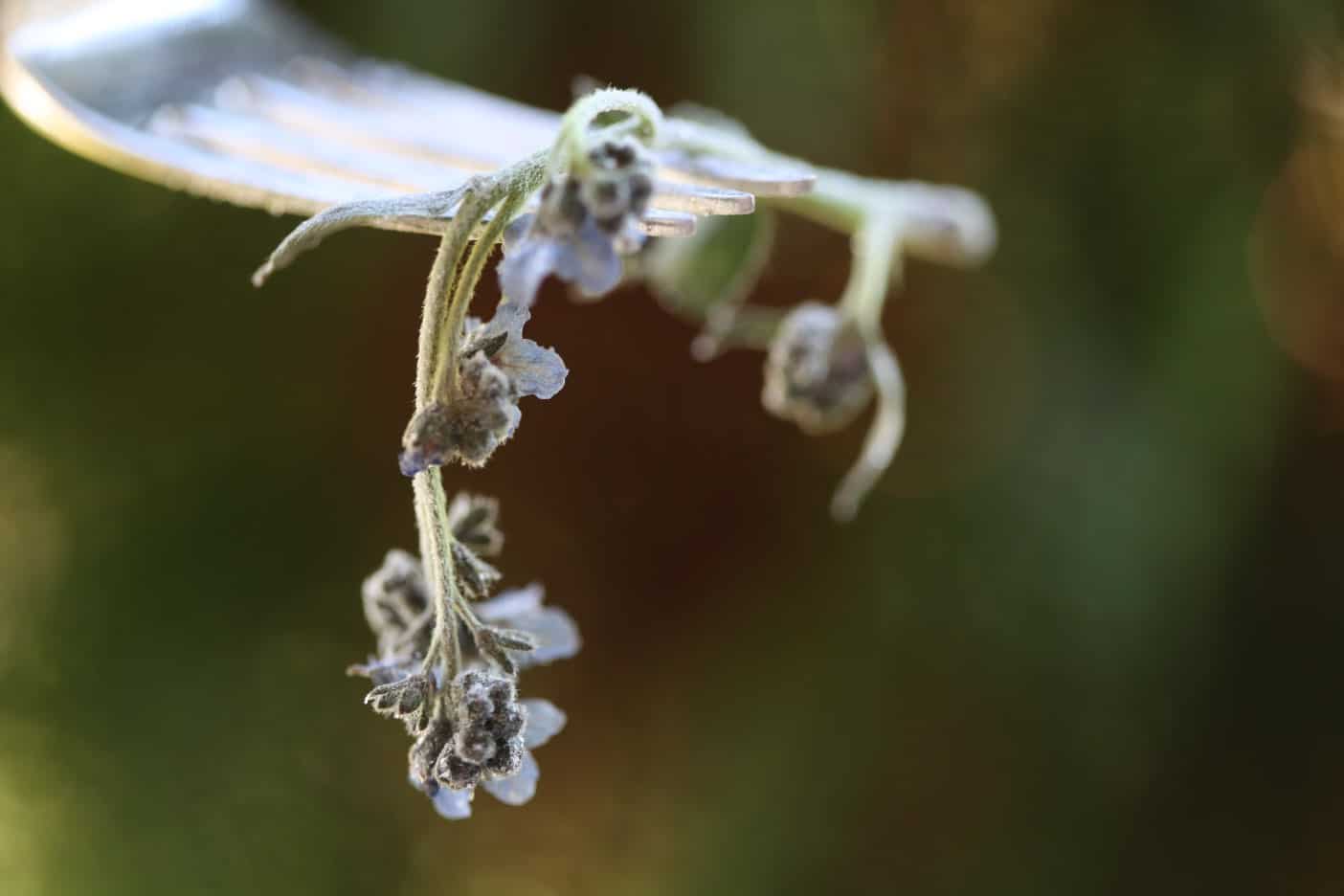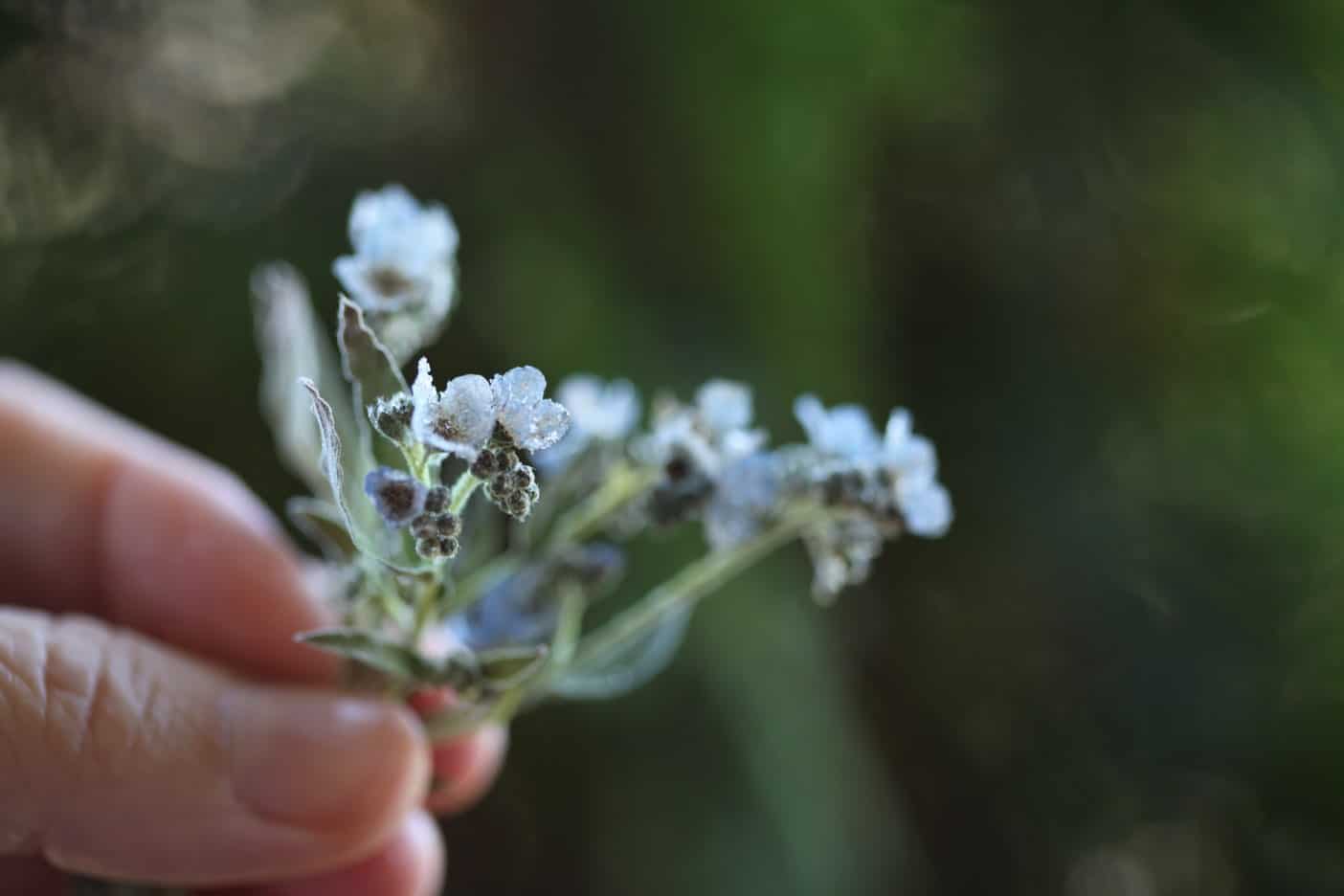 Allow the silica to cool before removing the flowers. Some flowers will benefit for a longer stay in the silica before removing them after using this technique.
Where To Buy Silica Gel For Drying Flowers
Silica gel can be purchased in many places where you would find dried flower projects for sale, such as craft and hobby stores.
I purchased mine on Amazon. Make sure that you purchase silica gel specifically for dried flowers, as other forms are available as well.
Can You Reuse Silica Gel After Drying Flowers?
Silica gel can be a bit expensive, especially if you are purchasing in larger amounts.
However it is reusable indefinitely, and therefore is very cost effective in the end.
Over time it will lose it's effectiveness for removing moisture, and will require recharging to dry it out.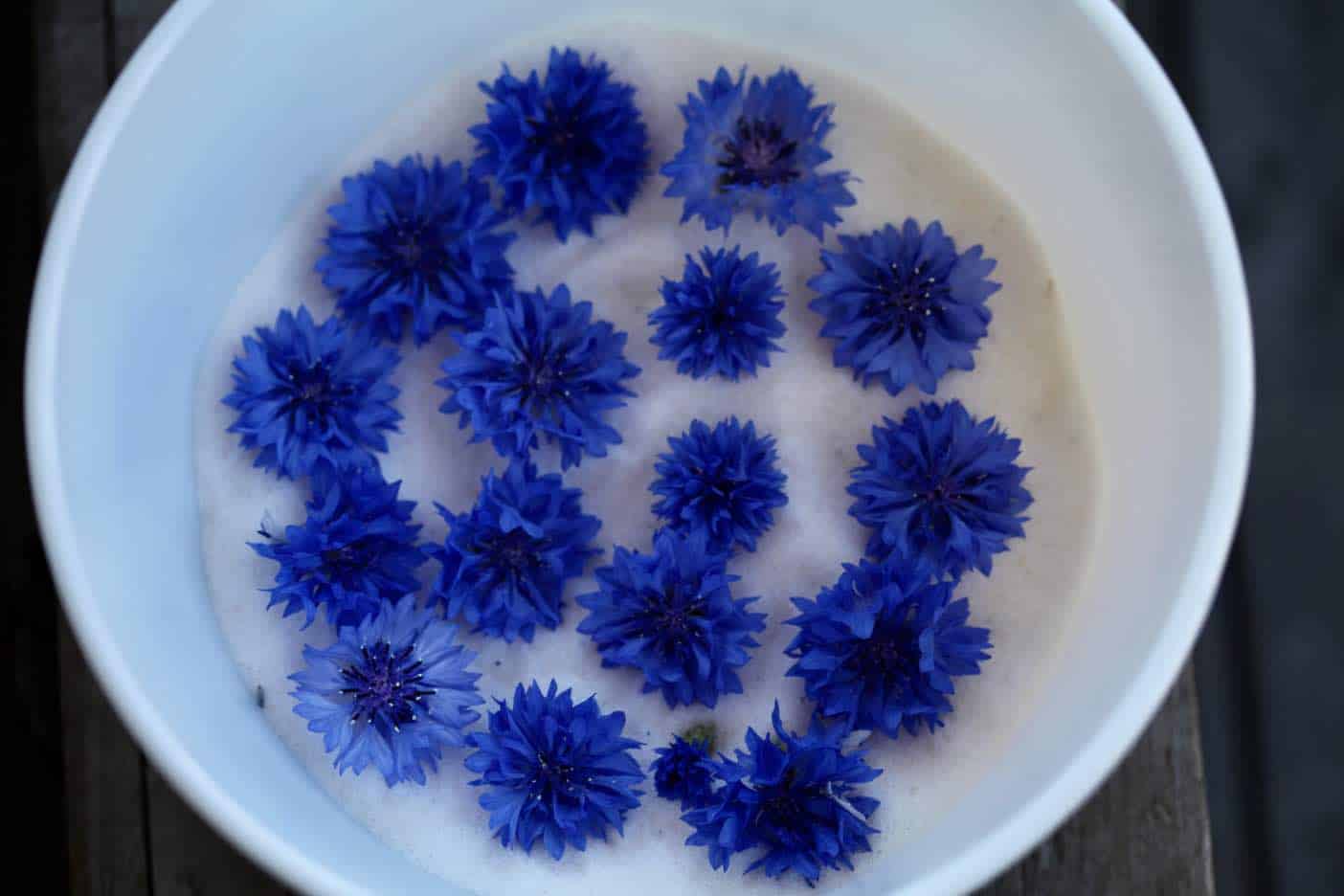 How Do You Recharge Silica Gel?
Recharging silica gel crystals is very easy.
Silica crystals absorb moisture and retain this moisture. Gradually they become less effective, and will require reactivation or recharging.
Recharging helps to release the moisture and dry out the crystals.
Sometimes the crystals are coloured, and will change to a different colour as they become full of moisture.
The crystals that I use are blue and white, and become pink when they are in need of recharging.
To recharge, place on an open pan in the oven at 250°F for approximately five hours, until you see the colour change back to the original colour.
Some crystals however will be all white, and in this case you will not see a colour change.
Does Silica Gel Preserve Flowers Forever?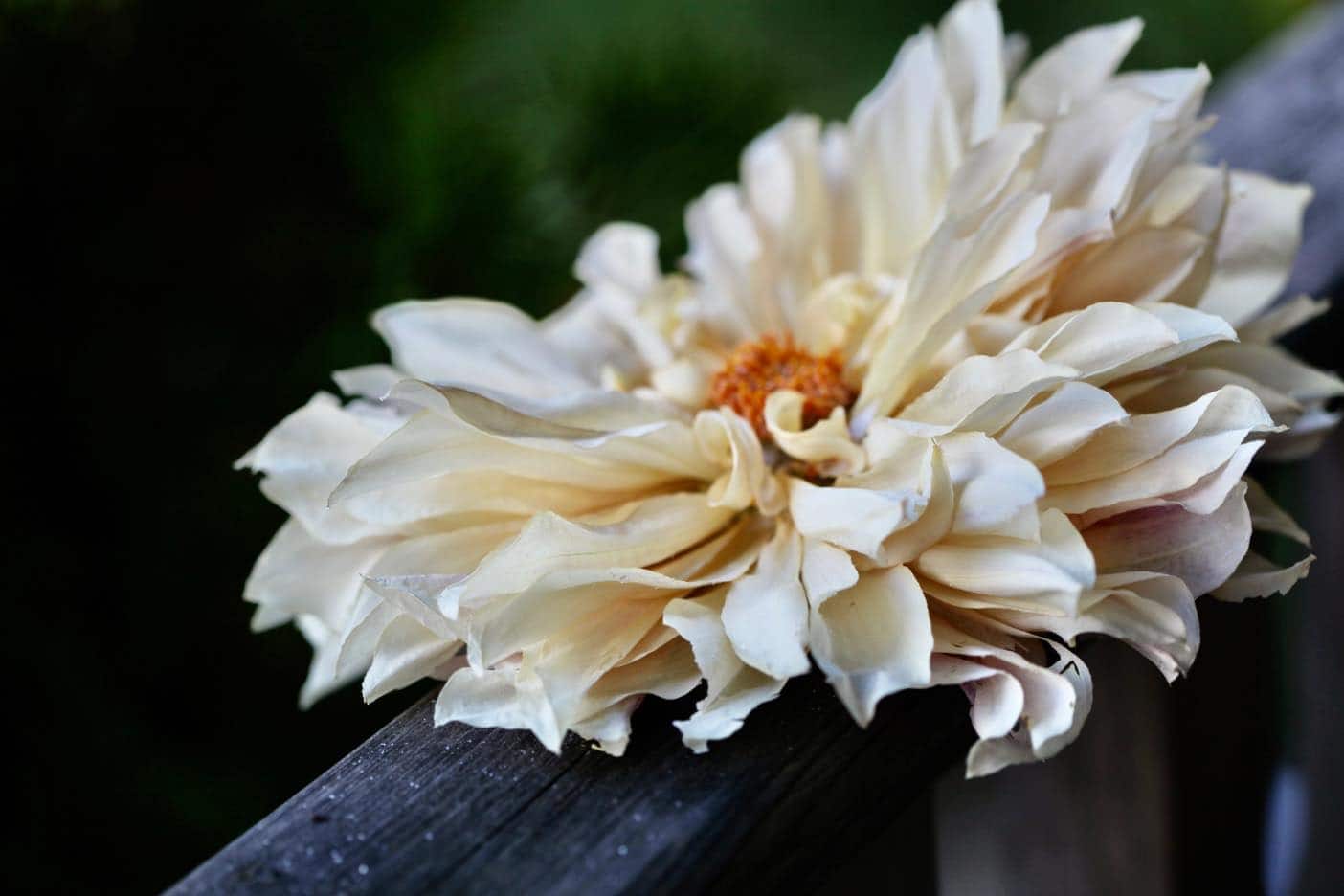 Silica gel will dry flowers well, however dried flowers over time are vulnerable to degradation if not protected.
Exposure to humidity and moisture can damage dried flowers. It can also place them at risk for moulding.
Everlastings are not always forever lasting, however they can last a long time if the are kept dry and protected.
How Long Do Silica Gel Flowers Last?
Drying flowers in silica gel is quite amazing. Especially using the microwave technique, which speeds up the process.
The flowers are breathtaking and preserved well, and often perfectly.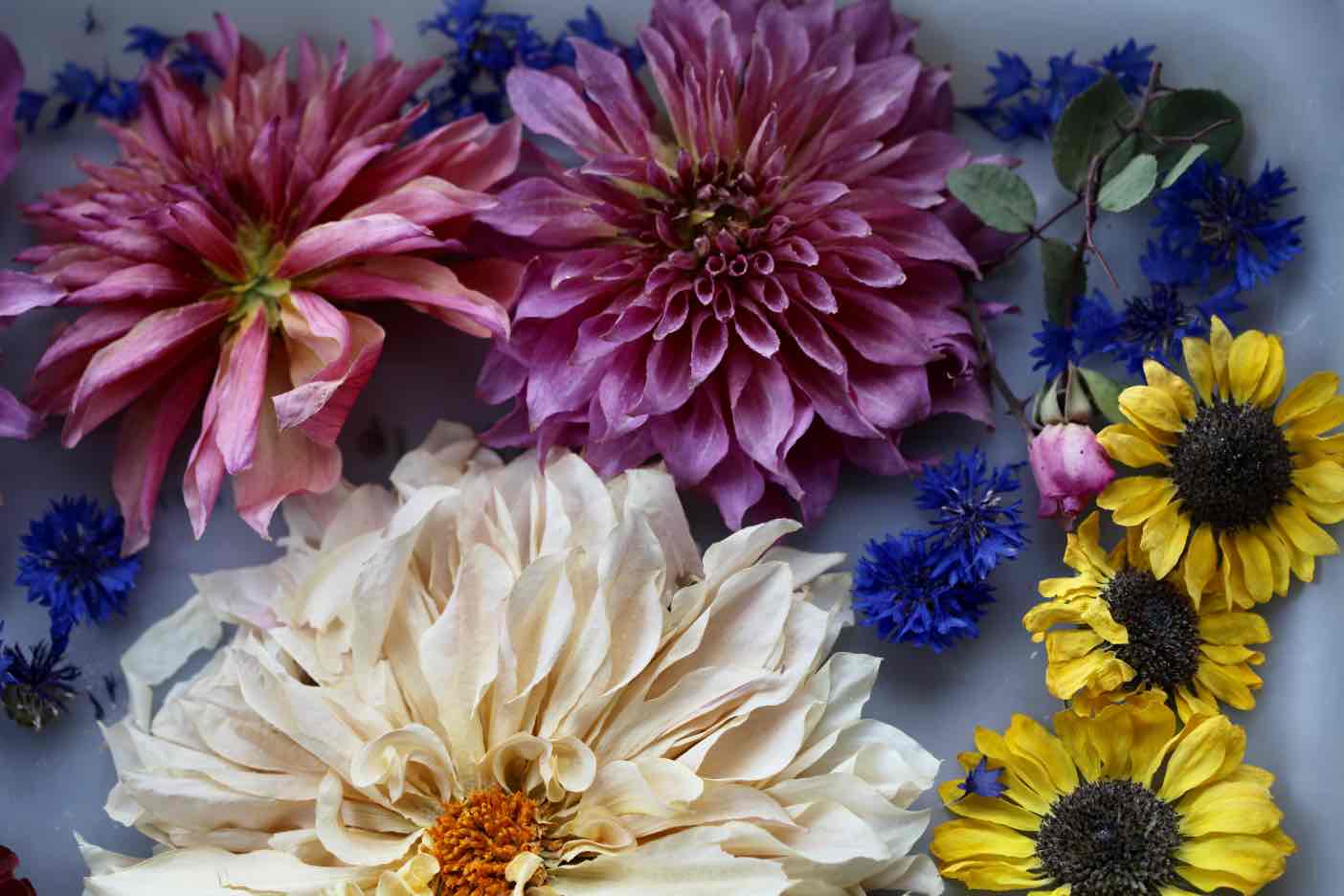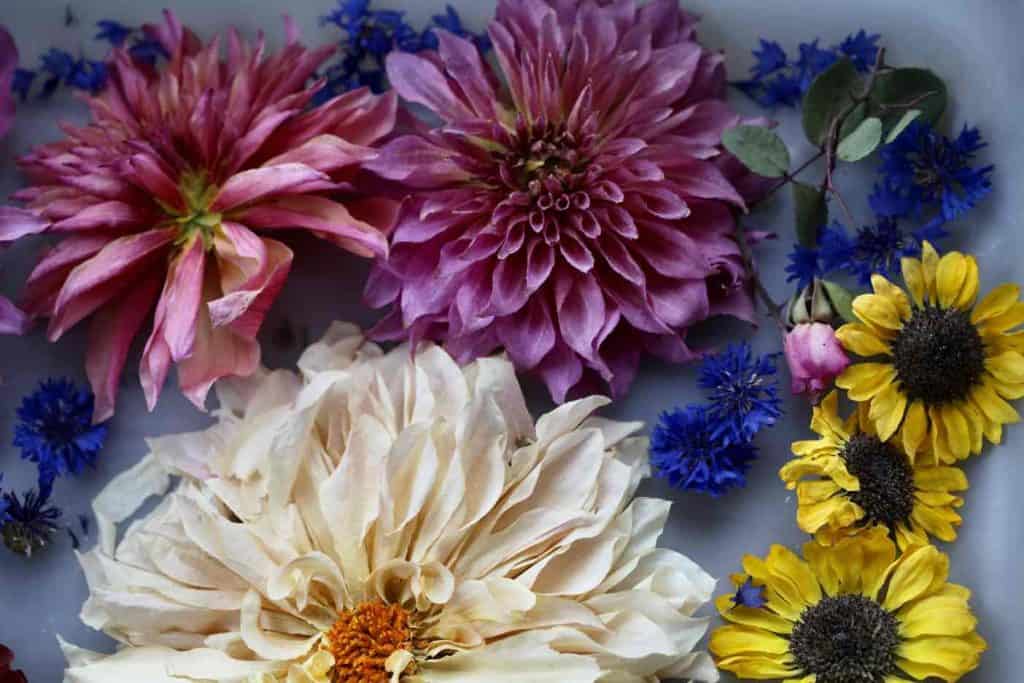 Flowers dried using this method however may not last as long as other methods, as they tend to be more fragile. So it's important to keep this in mind when selecting your method of drying your flowers.
How long they last will depend on many factors, such as how they were dried (ie. if they were over dried and are therefore more brittle), if they are displayed in a protected area, and even the moisture level in the air.
This is one of my favourite methods of drying flowers, as it has been the most successful.
Although the jury is still out on the longterm stability of these dried flowers, I know that there will definitely be many more silica gel dried flowers in my future.
RECOMMENDED PRODUCT FROM THIS POST
This post contains affiliate links, which means I make a small commission at no extra cost to you. See full disclosure on privacy policy here. As an Amazon Associate I earn from qualifying purchases.
Have you tried to dry flowers with silica gel? Be sure to leave a comment below to share your experience.
OTHER POSTS YOU MAY LIKE:
See the Web Story on Drying Flowers With Silica Gel!
PIN IT FOR LATER!