Last updated on May 26th, 2023 at 01:47 am
We grew statice for the first time several years ago. It makes an amazing bouquet filler, and adds a unique touch to farmhouse bouquets. It's easy to grow from seed, and an easy care plant. Learn how to grow statice from seed, and add this whimsical flower to your garden.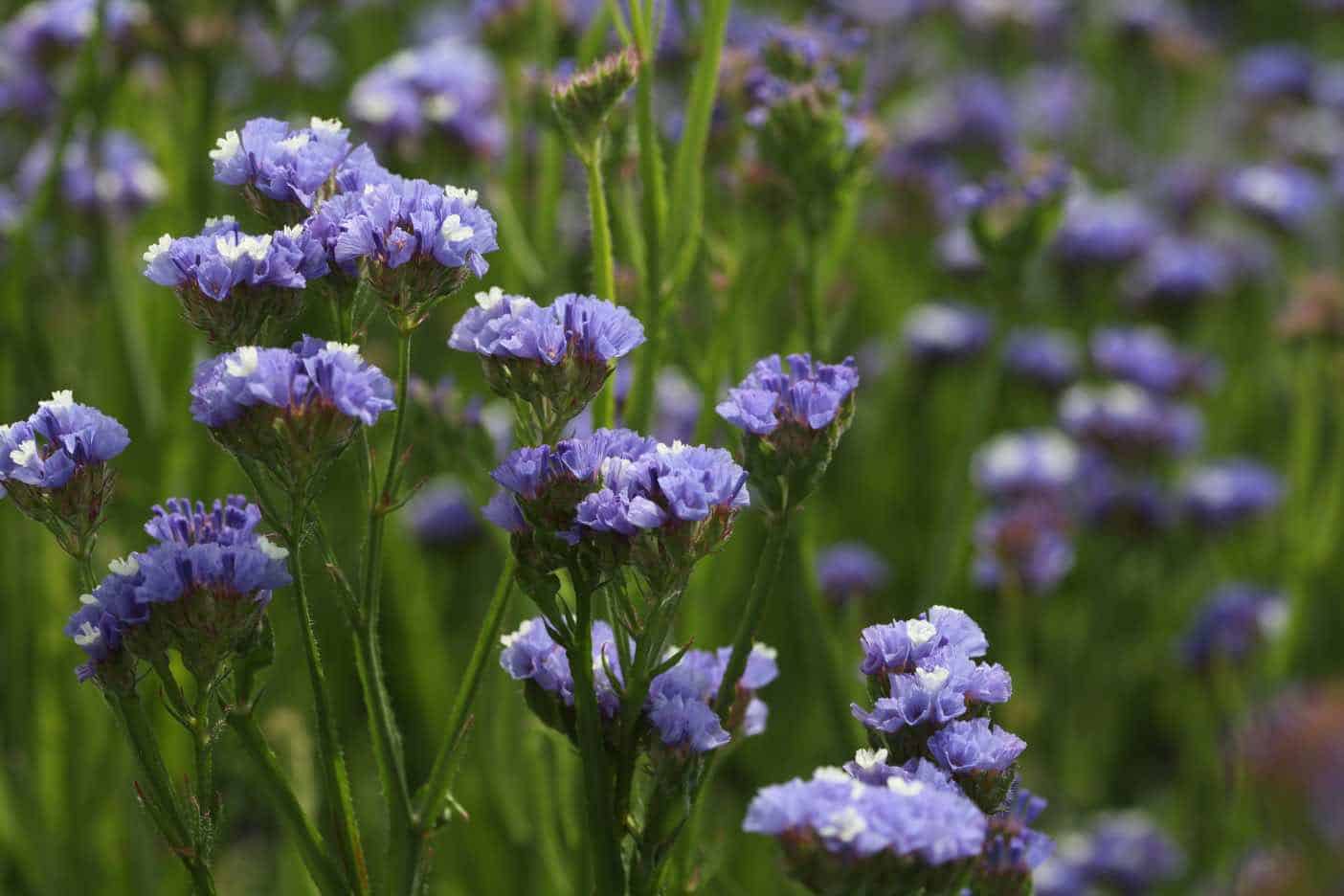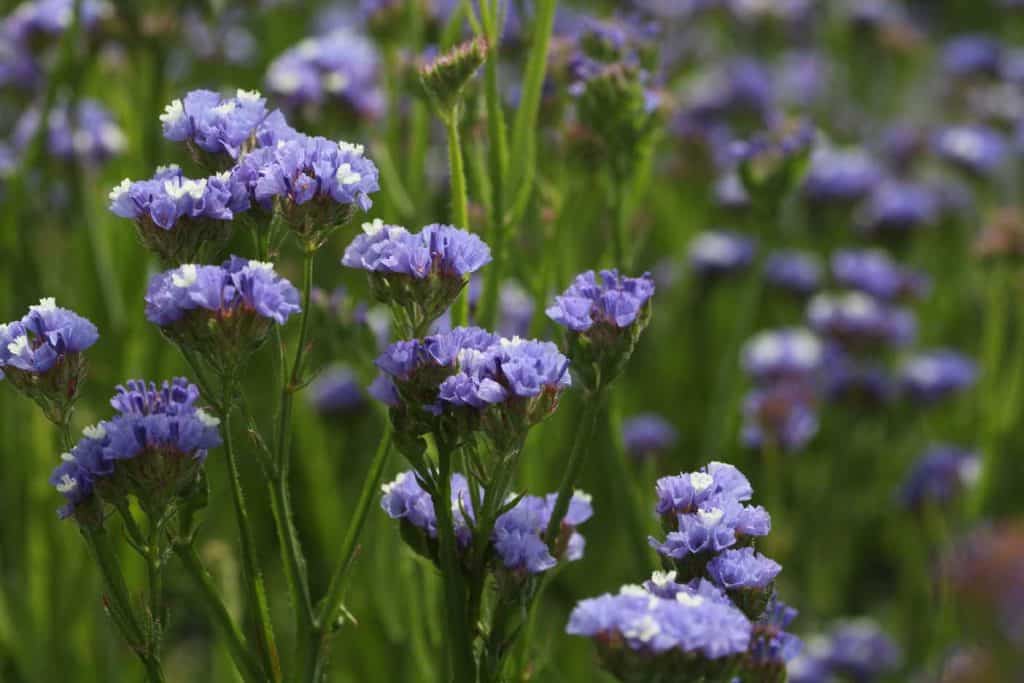 I often add statice to the farmhouse bouquets.
The stems are thick and long, and give the bouquets a good structural base.
Statice flowers are very attractive, and somewhat unusual. They are one of the best annual flowers for cutting.
They come in a variety of colours, and are very long lasting.
I love the tiny white florets at the top of the stems, and the crinkled tissue papery flowers. The white florets are actually the flowers or corolla, and the colourful parts are the calyxes.
Those occasional tiny white blooms, along with the colourful calyxes, makes the whole stem so romantic.
Statice looks great as an accent flower. It also looks great bunched in a bouquet all on it's own.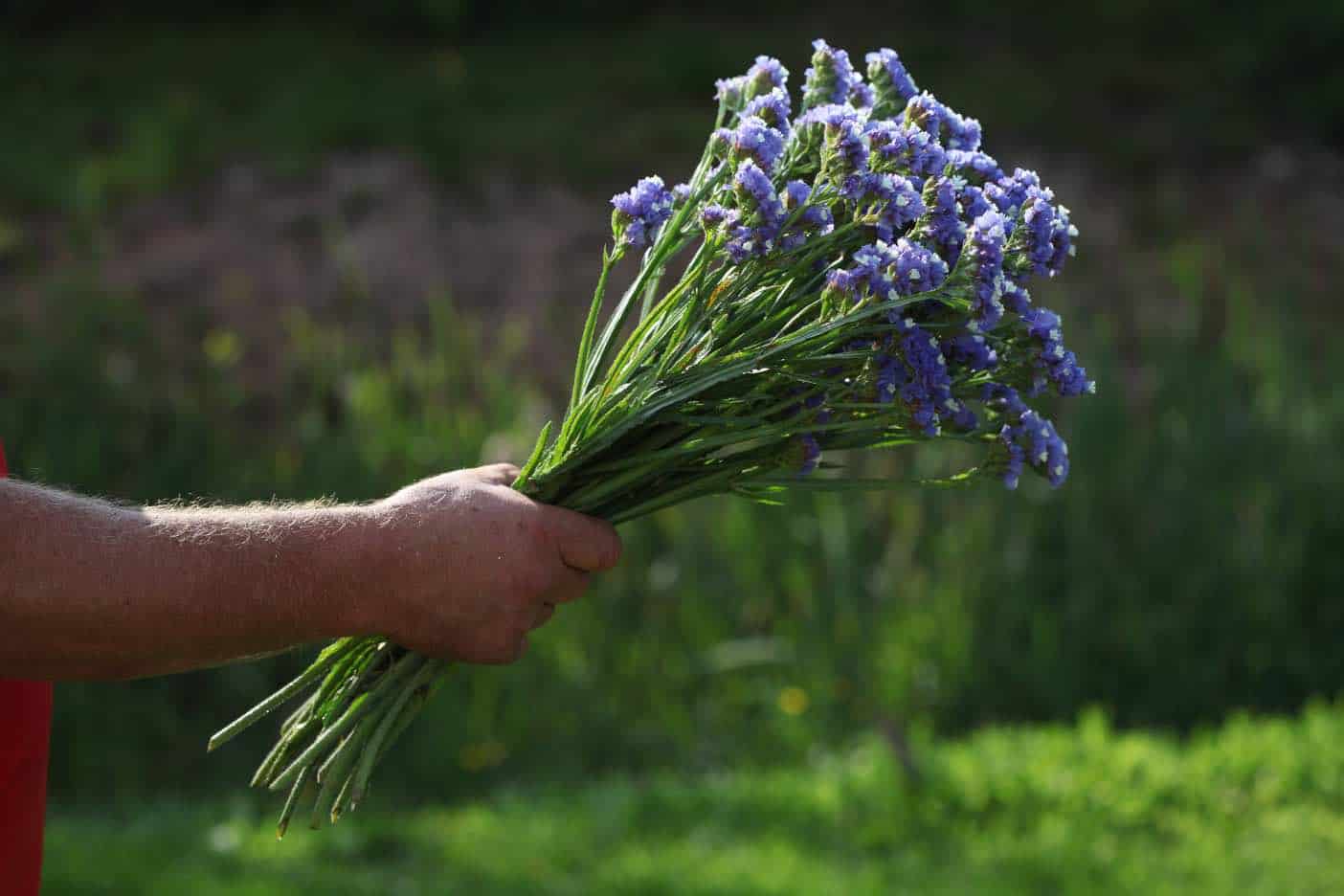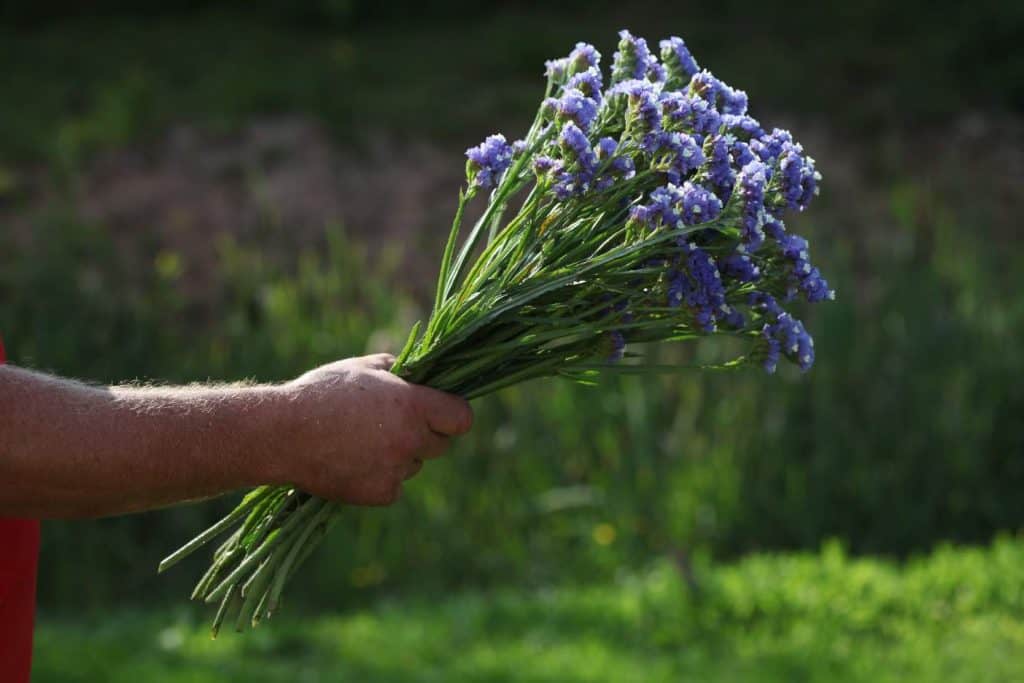 What Is A Statice Flower?
Statice is a member of the family Plumbaginaceae, and belongs to the Limonium genus. There are 120 species in the Limonium genus.
Statice is the common name for the species known as Limonium sinuatum.
Limonium sinuatum, or statice, is also known as wavyleaf sea lavender, sea lavender, and marsh rosemary.
Statice is not a rosemary however.
This species hails from the Mediterranean, and is therefore a heat and sun loving plant.
We grow statice here at the farm for cut flowers, and also use the blooms for everlasting projects and arrangements.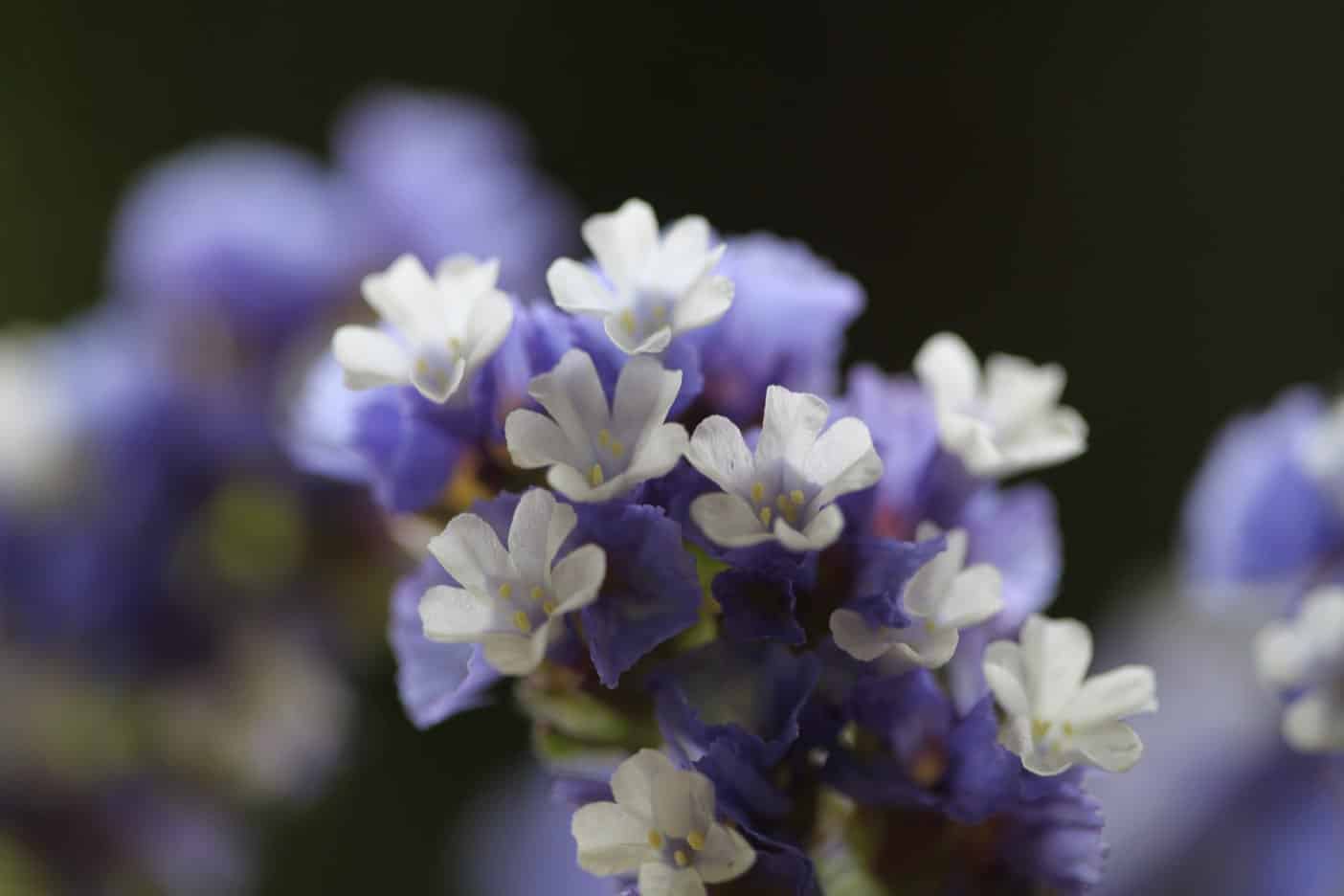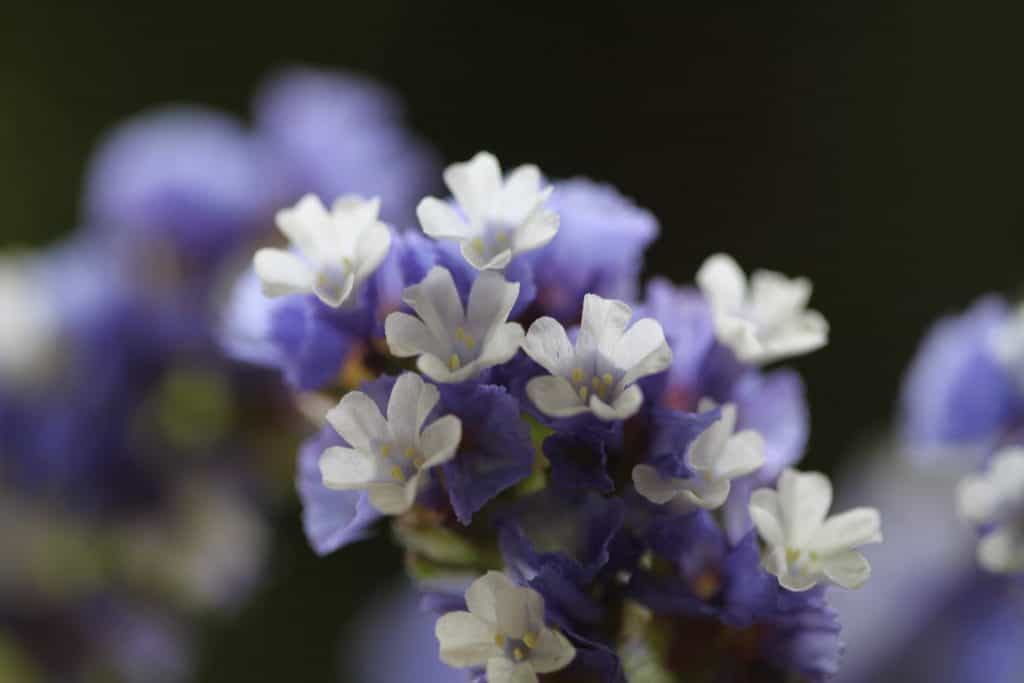 Statice Flowers
The flowers of statice have a papery texture which becomes more pronounced as they dry. This makes them particularly useful as dried flowers.
The large selection of colours makes them a good choice for a wide variety of colour palettes.
Statice blooms can be found in shades of purple, blue, pink, apricot, yellow and white.
The blooms form at the top of the stems, and grow on upward facing branches.
They grow into wedge or wing shaped bunches at the top of each branch, which includes the colourful calyxes, and the occasional white tiny bloom.
It's important to harvest statice when the blooms are fully open. If they are harvested before this time when they are immature, they are more at risk for wilting.
Stems Of The Statice Plant
The stems on statice are very interesting structures. They remind me of something that grows close to the sea, and so they have, coming from the Mediterranean.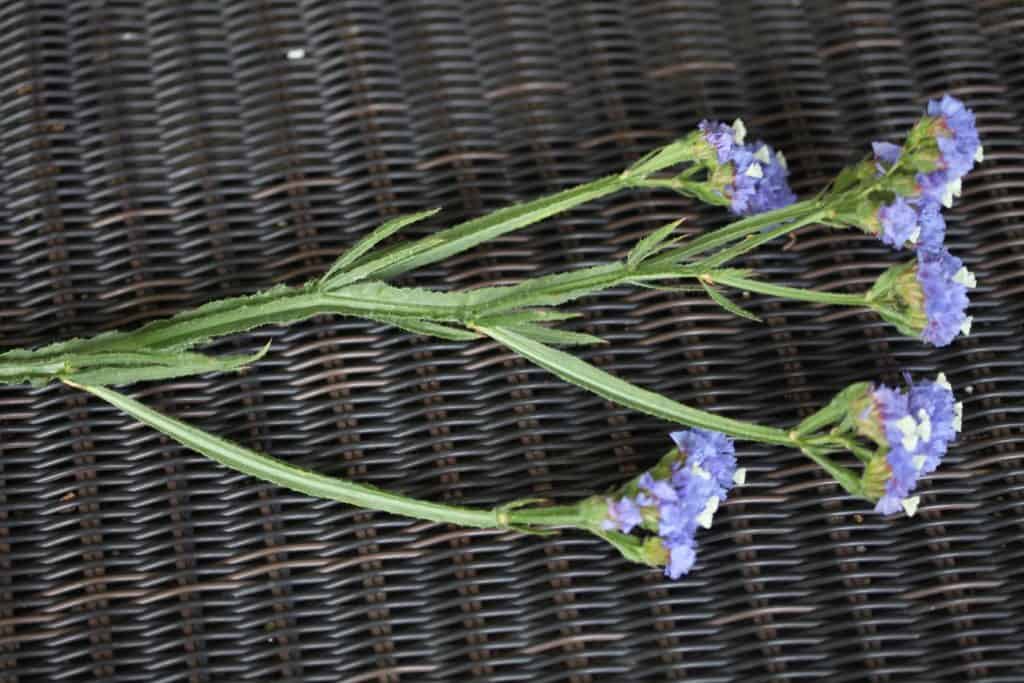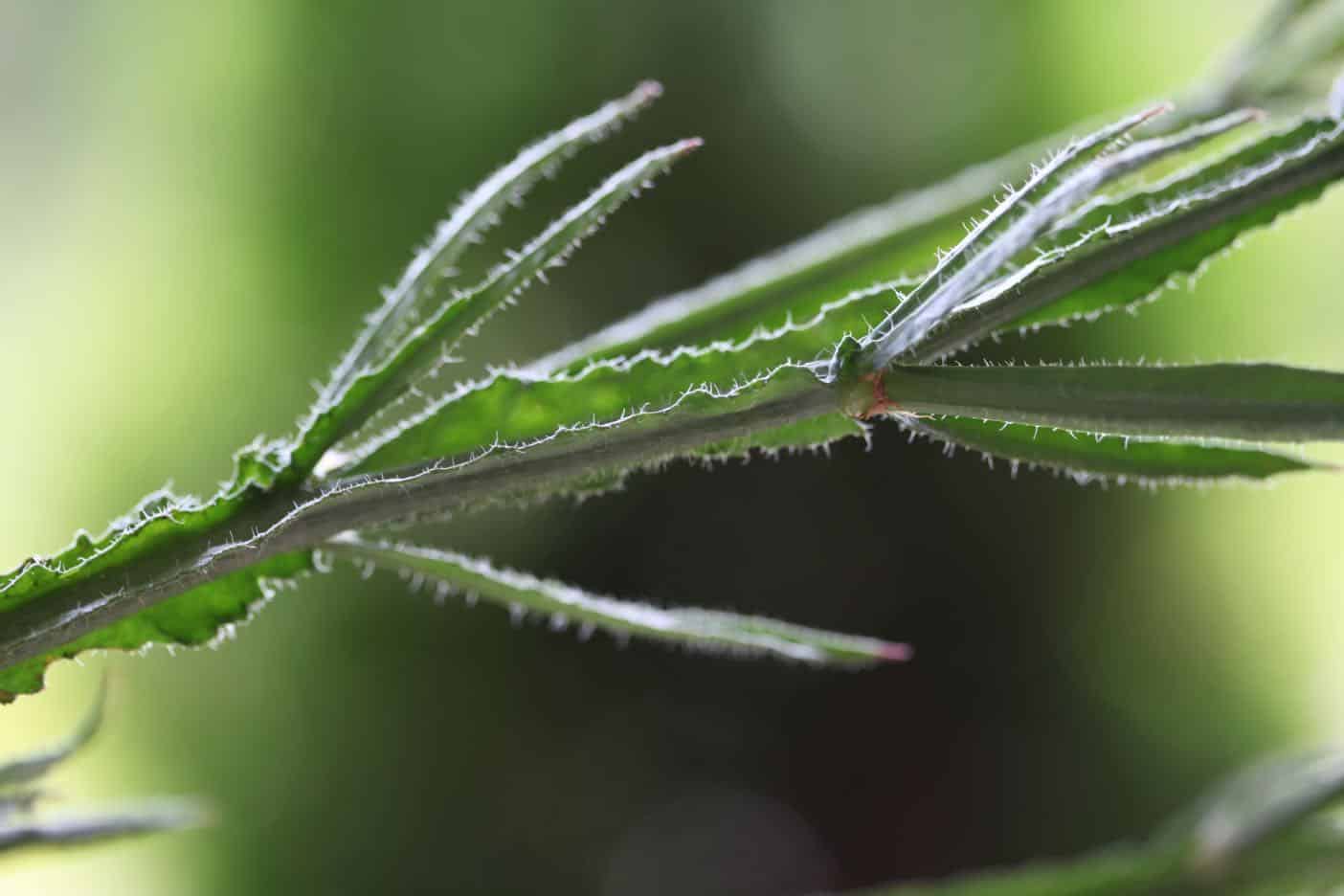 Statice stems are stiff, and ridged or winged along the outer surfaces. Each stem can have three or four pronounced ridges running vertically up the stem surface.
These ridges feel as if they have been folded, like paper.
They also have tiny little hairs.
There will be multiple stems like this produced by one statice plant. Numerous stems will grow up from the rosette base of each statice plant, often in various stages of growth.
Each stem will produce multiple branches with blooms at the top of each branch.
Statice Leaves And Basal Rosette
Statice leaves are also unique.
The leaves on the stems are flat and pointed, growing upwards towards the blooms at the top of the stem.
There is also a basal rosette leaf base at the base of each rosette plant.
The leaves in the rosette are shaped differently than on the stem.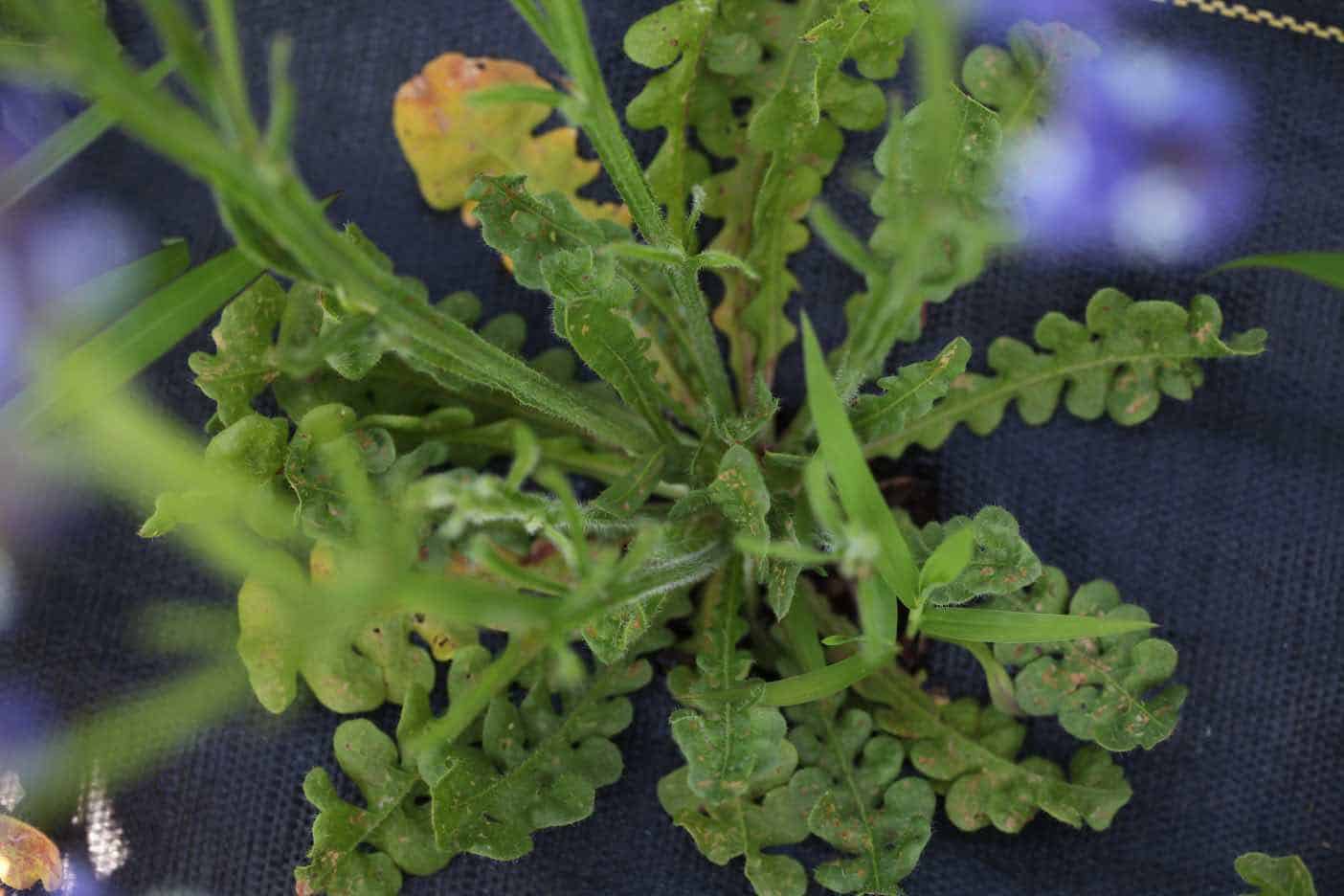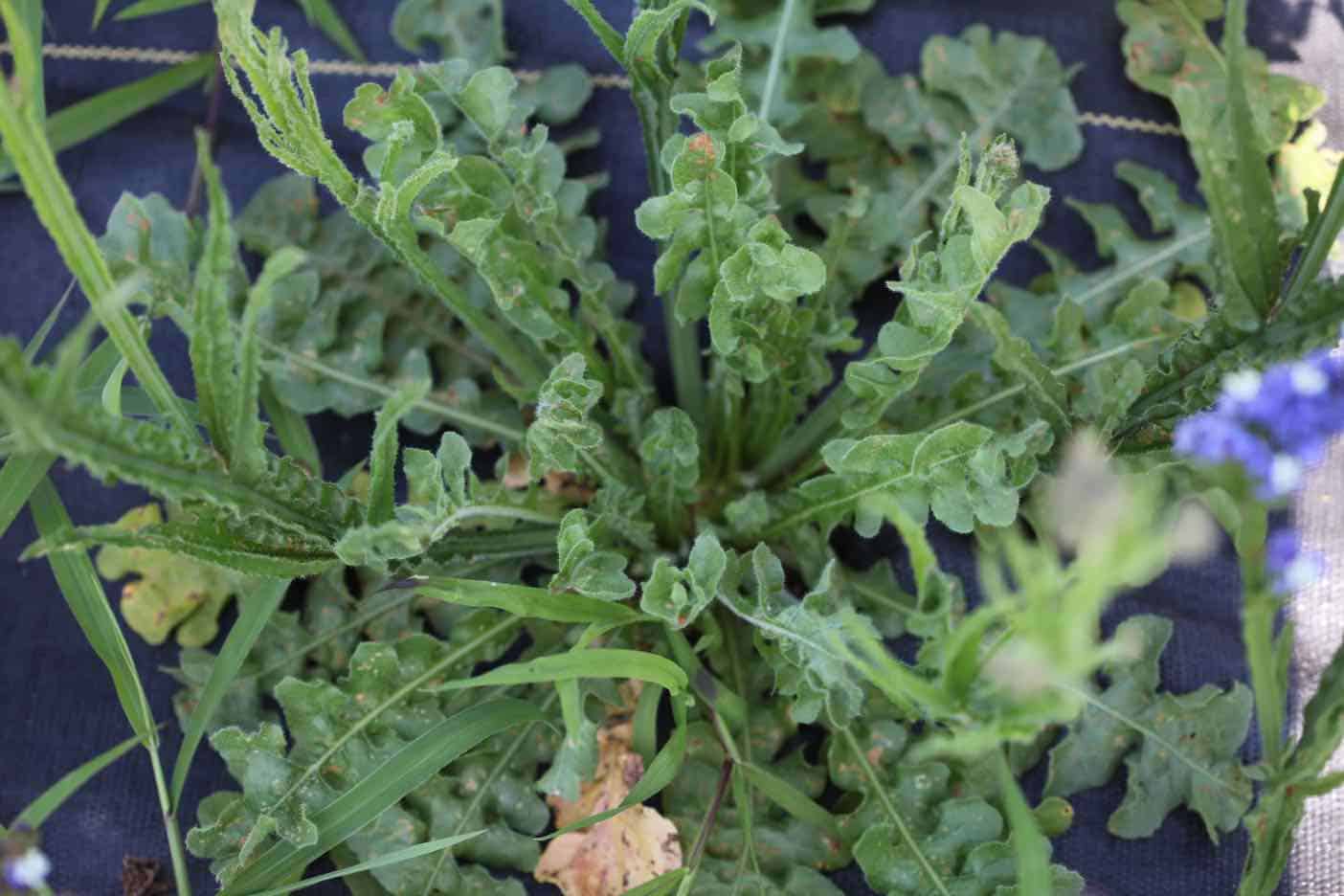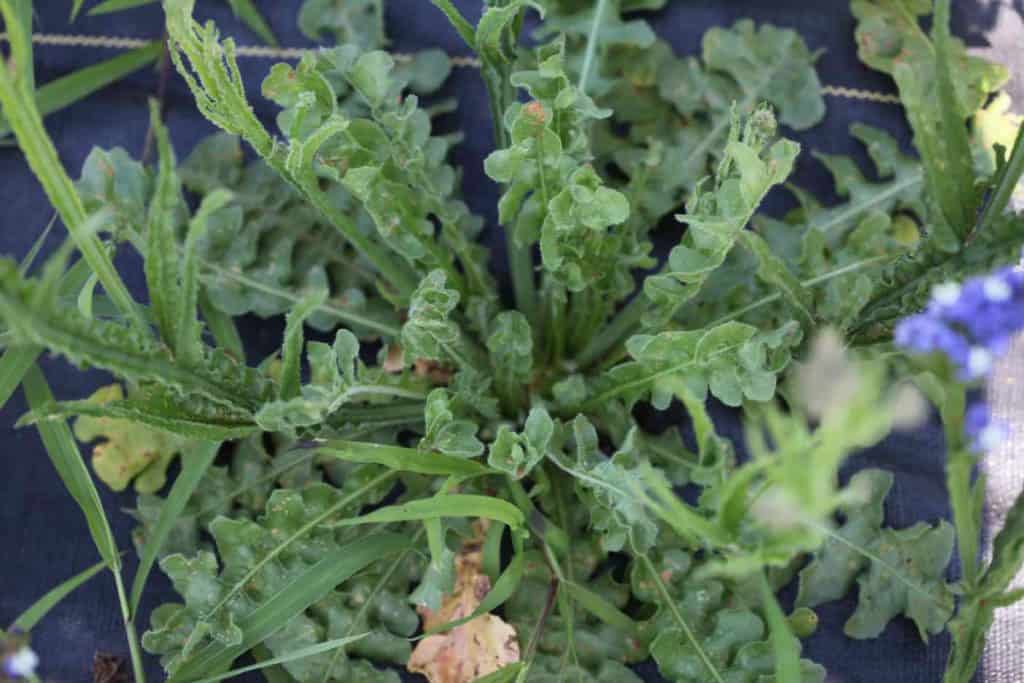 This formation of leaves in the rosette is apparent even in the tiny seedlings, and grows wider as the plants get established in their growing locations.
The leaves protrude out from the centre of the plant like wide spokes on a wheel. These leaves are somewhat wavy along the edges, thus the name "wavy leaf" sea lavender.
What Do Statice Seeds Look Like?
Statice seeds are small oblong and brown.
They look similar to tiny pieces of rice however they are much smaller, at less than a half a centimetre in length.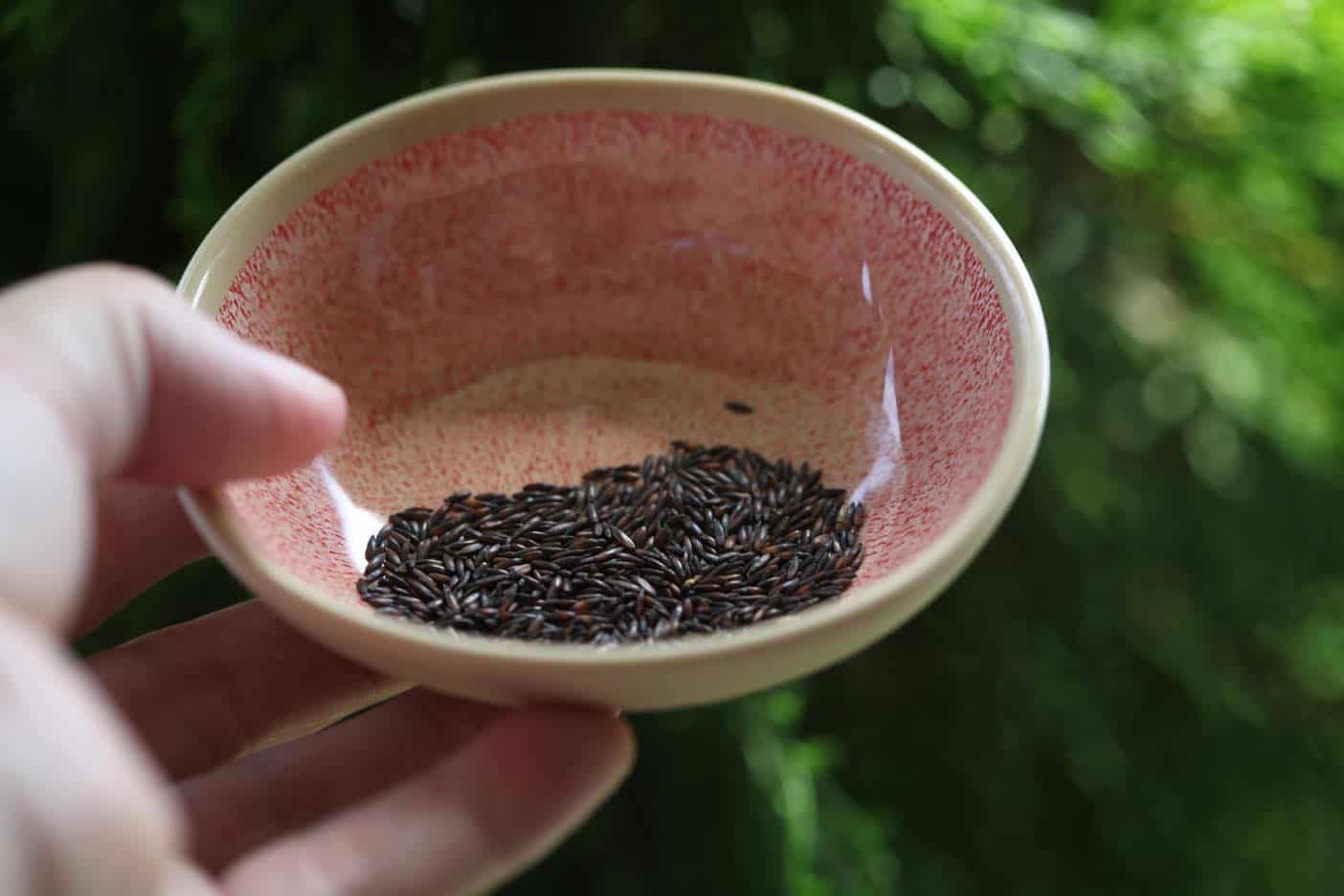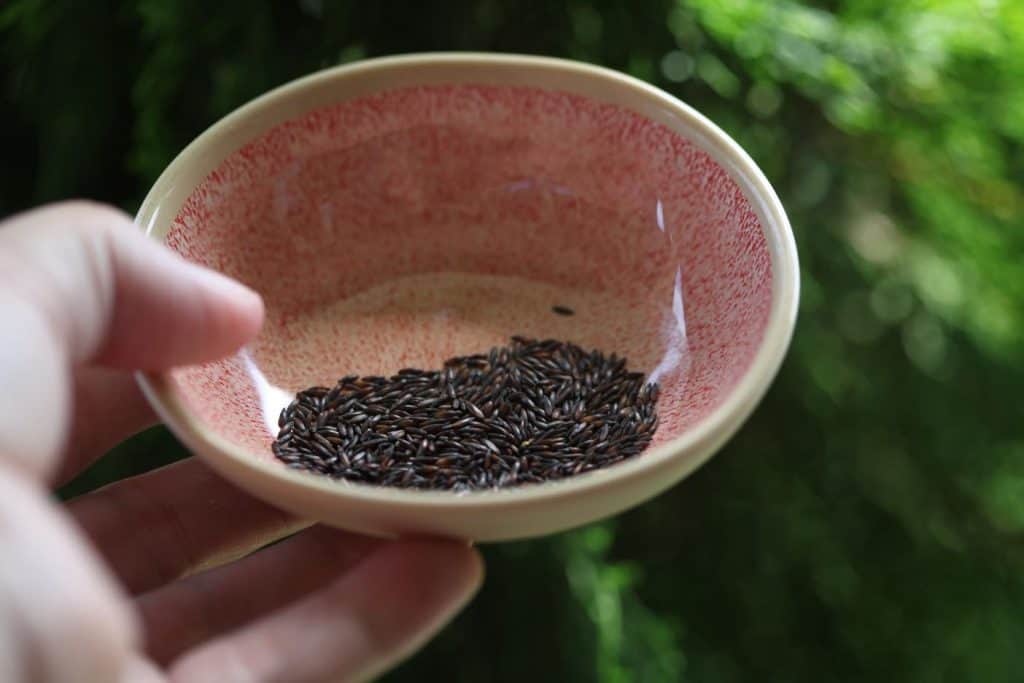 Is Statice Easy To Grow?
Statice is very easy to grow.
We start our flowers from seeds indoors in early spring or late winter. This gives them a head start on the growing season, and most of our flower seeds are started this way.
Is Statice An Annual Or Perennial?
Statice is actually a short lived perennial plant in warmer zones, however it is most often planted as an annual flower.
It blooms in the year it is planted, and finishes it's blooming cycle with the first frosts of fall.
Our statice is planted out into the garden in May, and it is in full bloom now in early August.
How To Grow Statice
Here are some considerations for planting statice.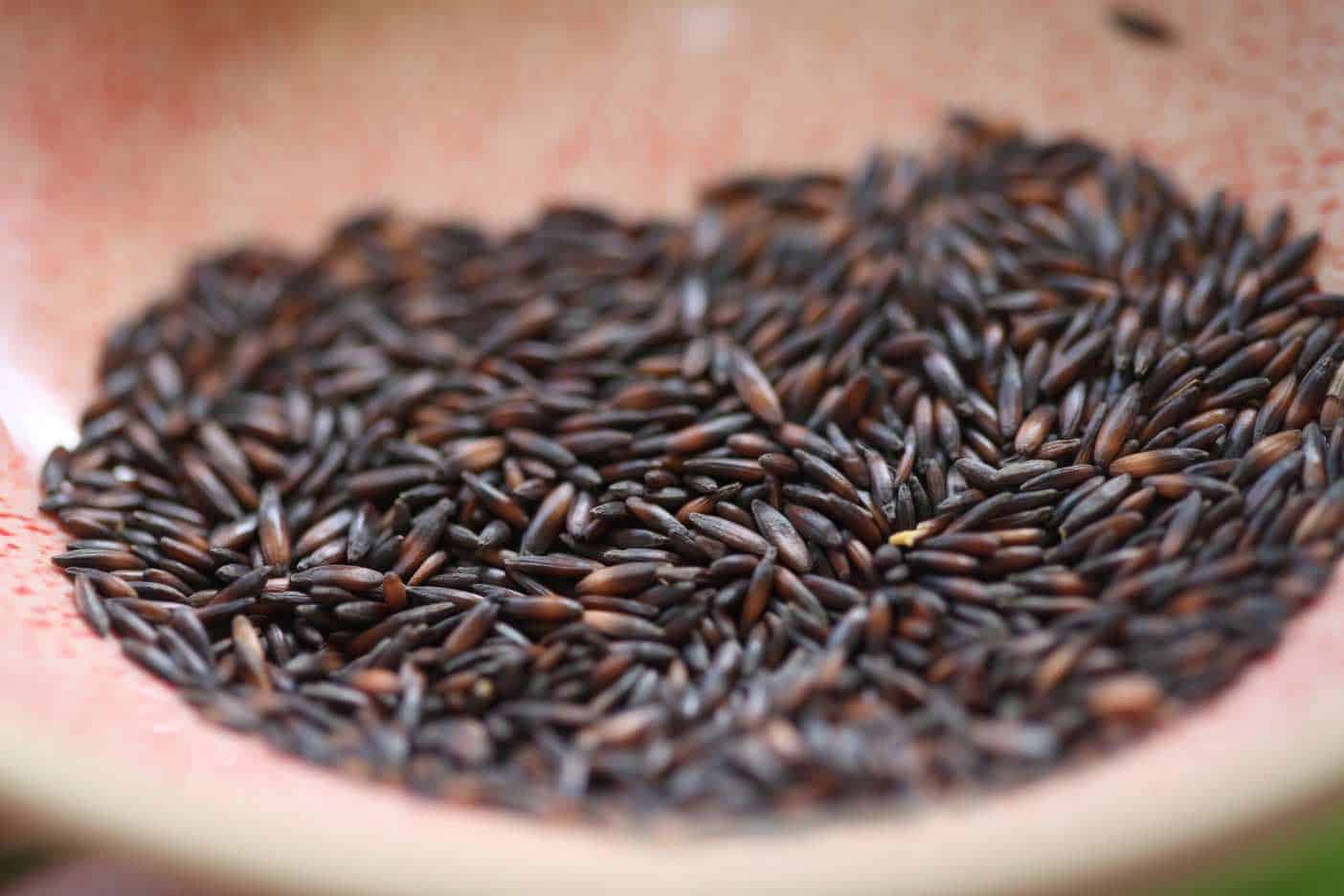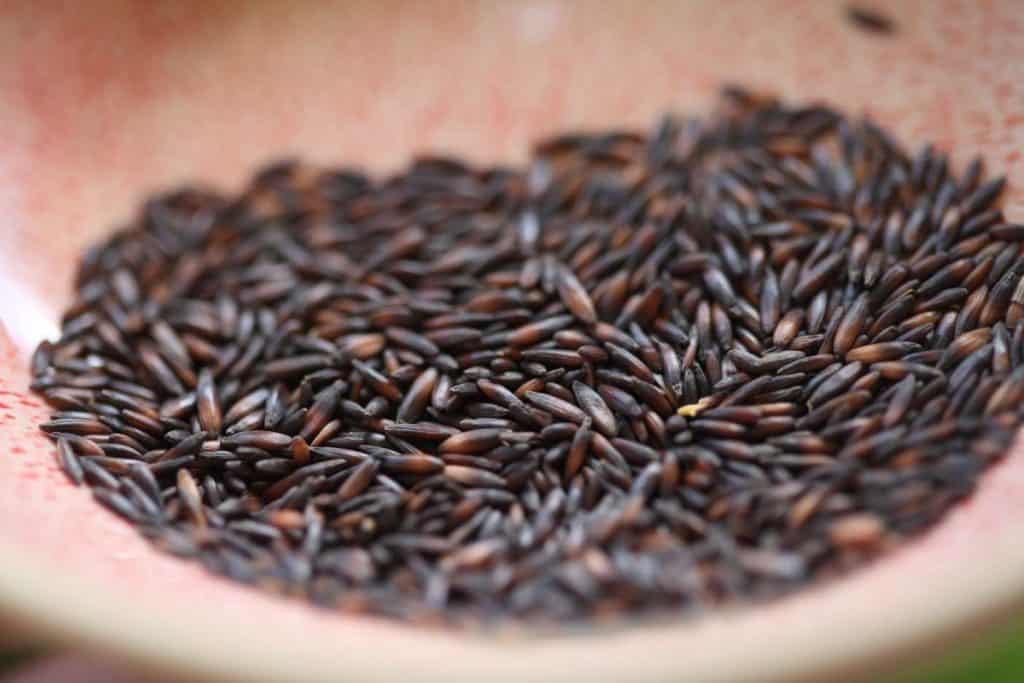 When To Plant Statice Seeds
If growing from seed indoors, plant statice six to eight weeks before the last spring frost in your area. Use this helpful tool to calculate your frost dates.
Some people use the winter sowing method for starting their statice seed. If using this method, the seeds can be started in January, and left outdoors in the winter sown containers.
These seeds will automatically germinate when the timing is right for the growing zone where they have been planted.
Keep an eye out to make sure that the soil doesn't dry out, however the rain and the snow usually provide enough moisture.
Directions For Planting
WINTER SOWING
If planting using the winter sowing method, follow the directions in this post for preparation and planting:
WINTER SOWING IN MILK JUGS: COLD STRATIFICATION
PLANTING INDOORS
If planting indoors in winter, these are the steps to successful seed sowing of your statice plants:
Planting The Statice Seeds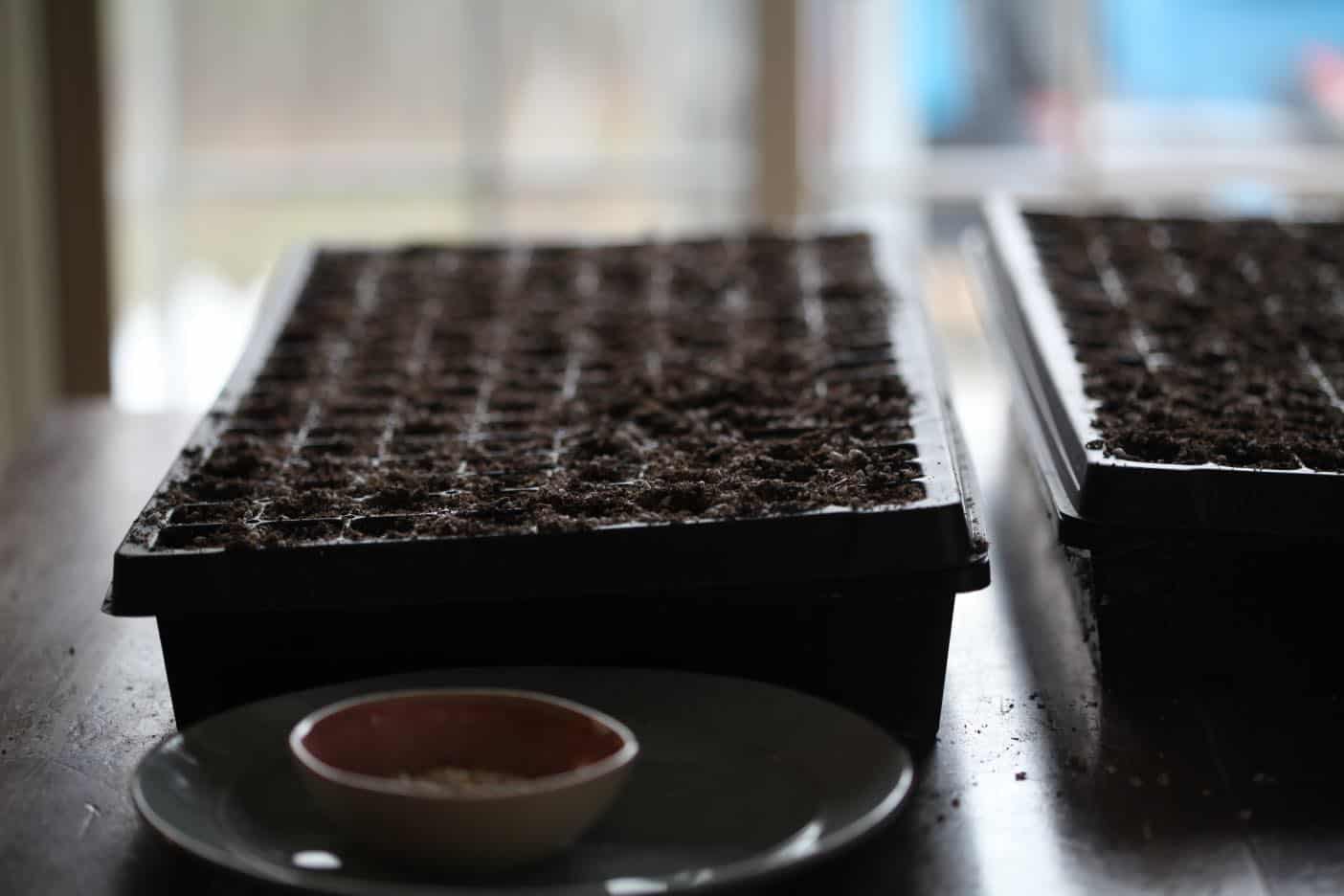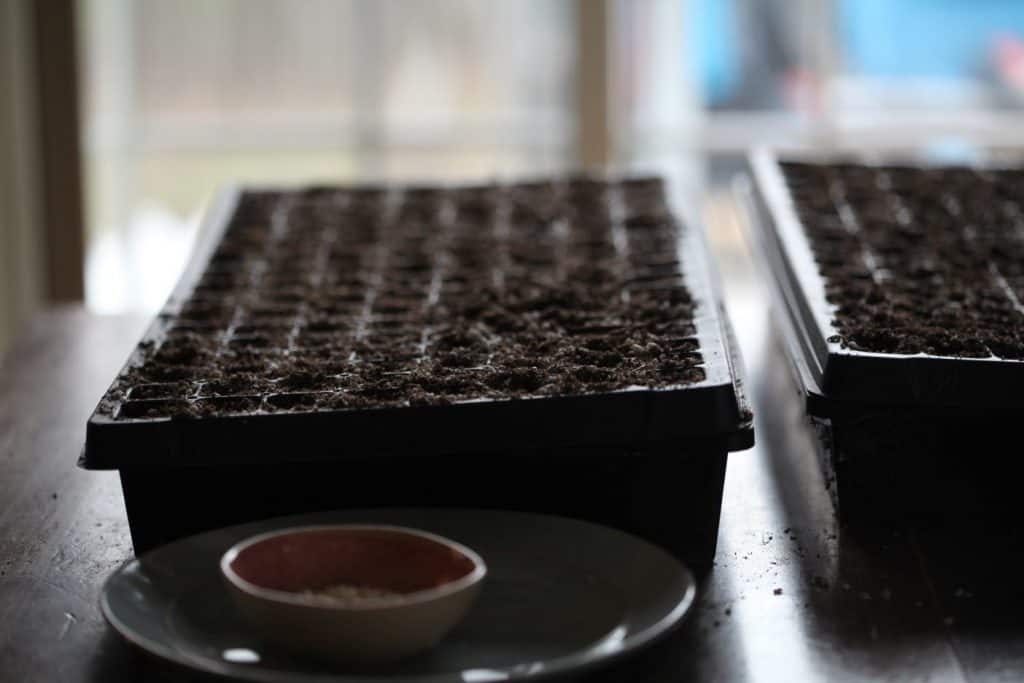 Choose a container in which to plant. We use cell trays, either 128 cells or 72 cells.
Fill the container with a good seed starting medium.
If using cell trays, place a little indent in the centre of each cell on top of the medium, with an object like a pencil eraser, or even just with a finger.
This indent will help to hold the seeds in place. Drop a seed or two into each cell.
Barely cover with either the seed starting medium, or some vermiculite.
We generally use vermiculite to cover all of our seeds.
Vermiculite helps to keep the soil moist, and prevents it from drying out, which is important during germination.
Statice also benefits from some light during the germination process. The light will get through the vermiculite or the thin layer of seed starting medium which has been placed on top of the seeds.
Bottom Watering
After the seeds have been planted we bottom water the tray by immersing in a tray of water.
The soil should remain moist until the seeds have germinated, and regularly monitor your containers to make sure that they don't dry out.
Provide Bottom Heat
Providing bottom heat via the use of heat mats has been a game changer for seed starting.
The seeds are placed on the heat mat until they are at least sixty percent germinated.
The statice seeds germinate quite nicely with the bottom heat.
Germination of the seeds usually occurs within twenty-one to thirty days.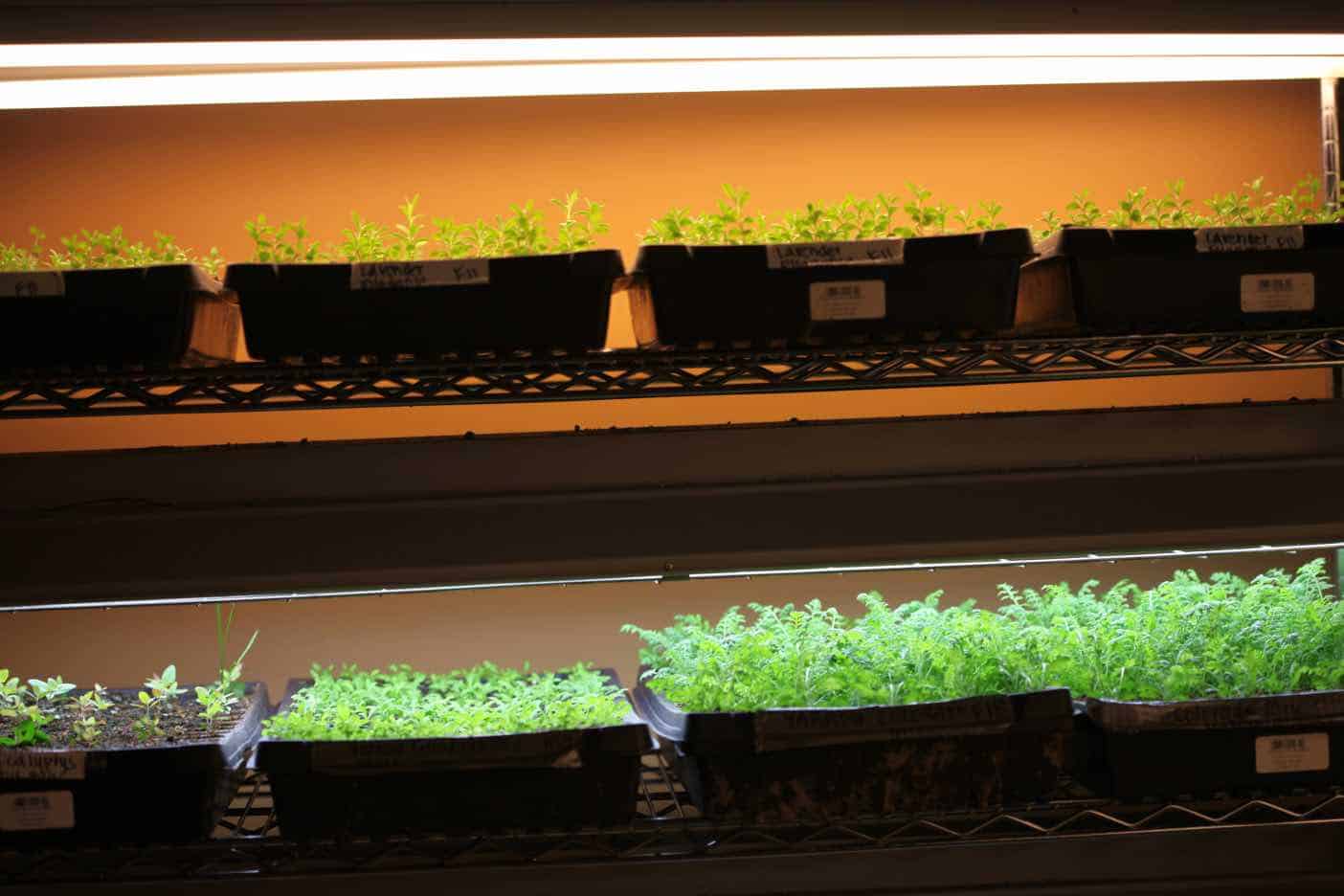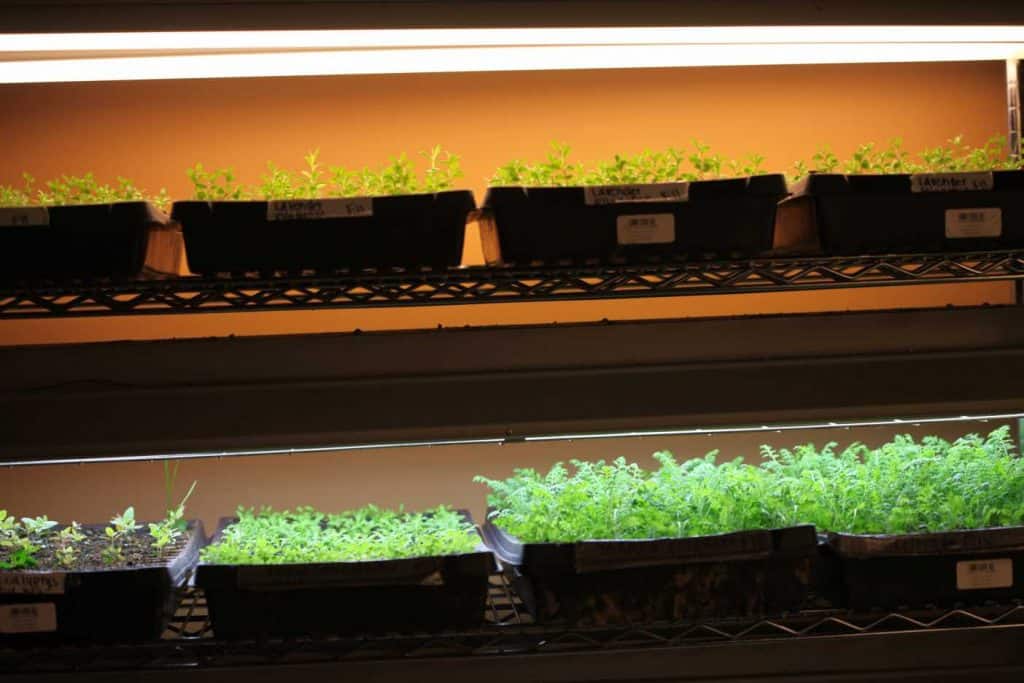 Place Under Grow Lights
The newly germinated seedlings are placed under grow lights when approximately sixty percent of the seeds have germinated.
We use shelving and just regular shop lights for our setup.
The lights help to provide the seedlings with their light requirement until they can be planted outside.
RECOMMENDED PRODUCTS FROM THIS POST
This post contains affiliate links, which means I make a small commission at no extra cost to you. See full disclosure on privacy policy here. As an Amazon Associate I earn from qualifying purchases.
Harden Off Before Transplanting
When you are getting close to your last spring frost date, you can then gradually start to prepare the seedlings for their final destination outside in the garden.
This is done through a process called hardening off. This process allows the statice seedlings to gradually acclimatize to a life outdoors.
Once fully hardened off, the seedlings are ready to be planted into the garden.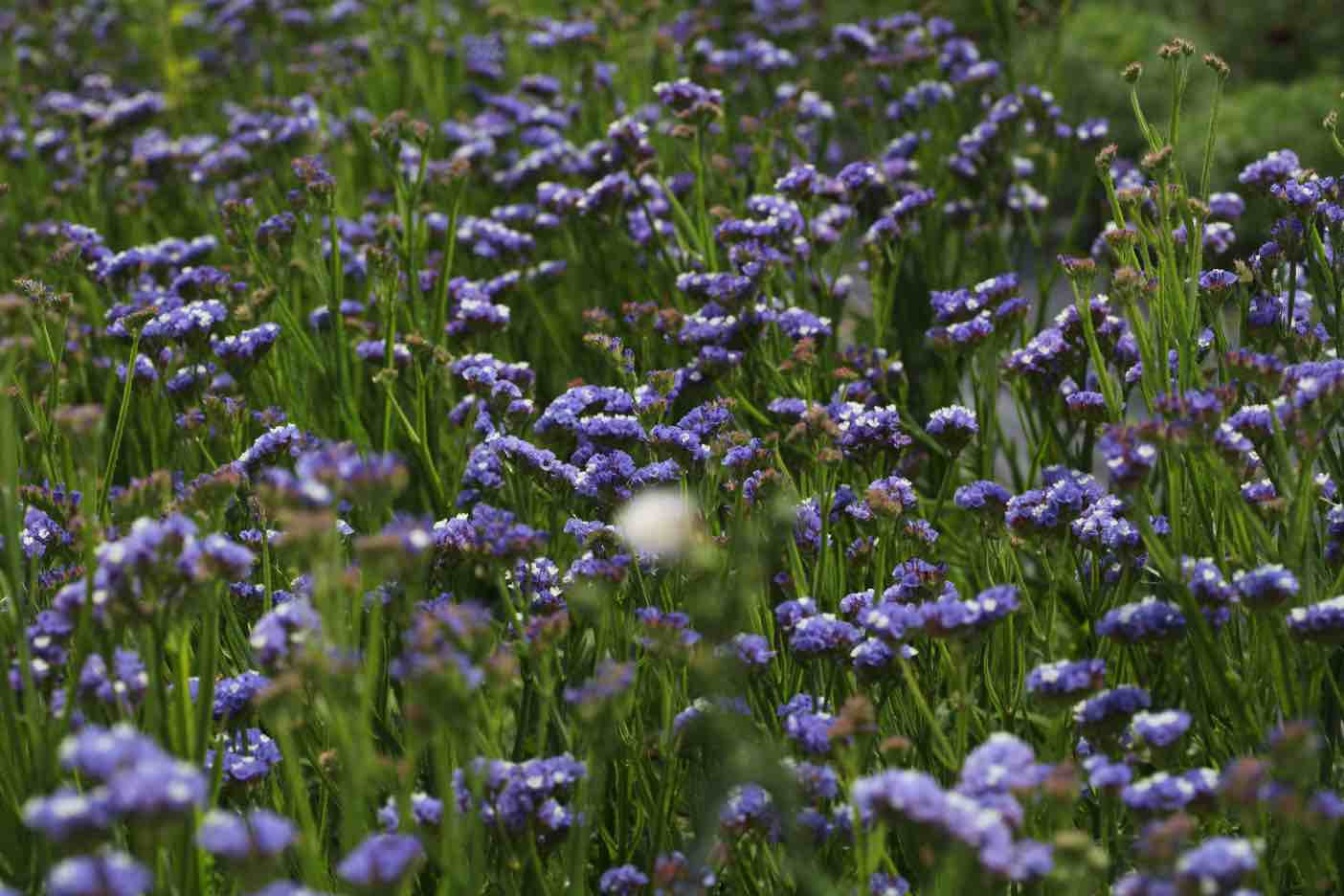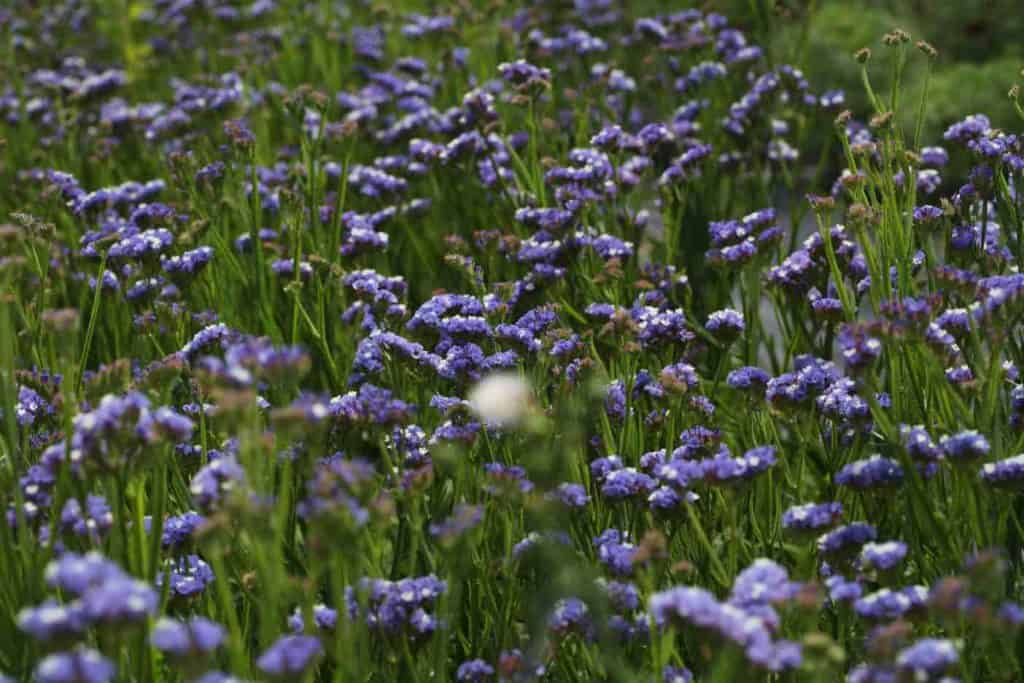 Where To Plant Statice
Here are some considerations for planting statice out into the garden.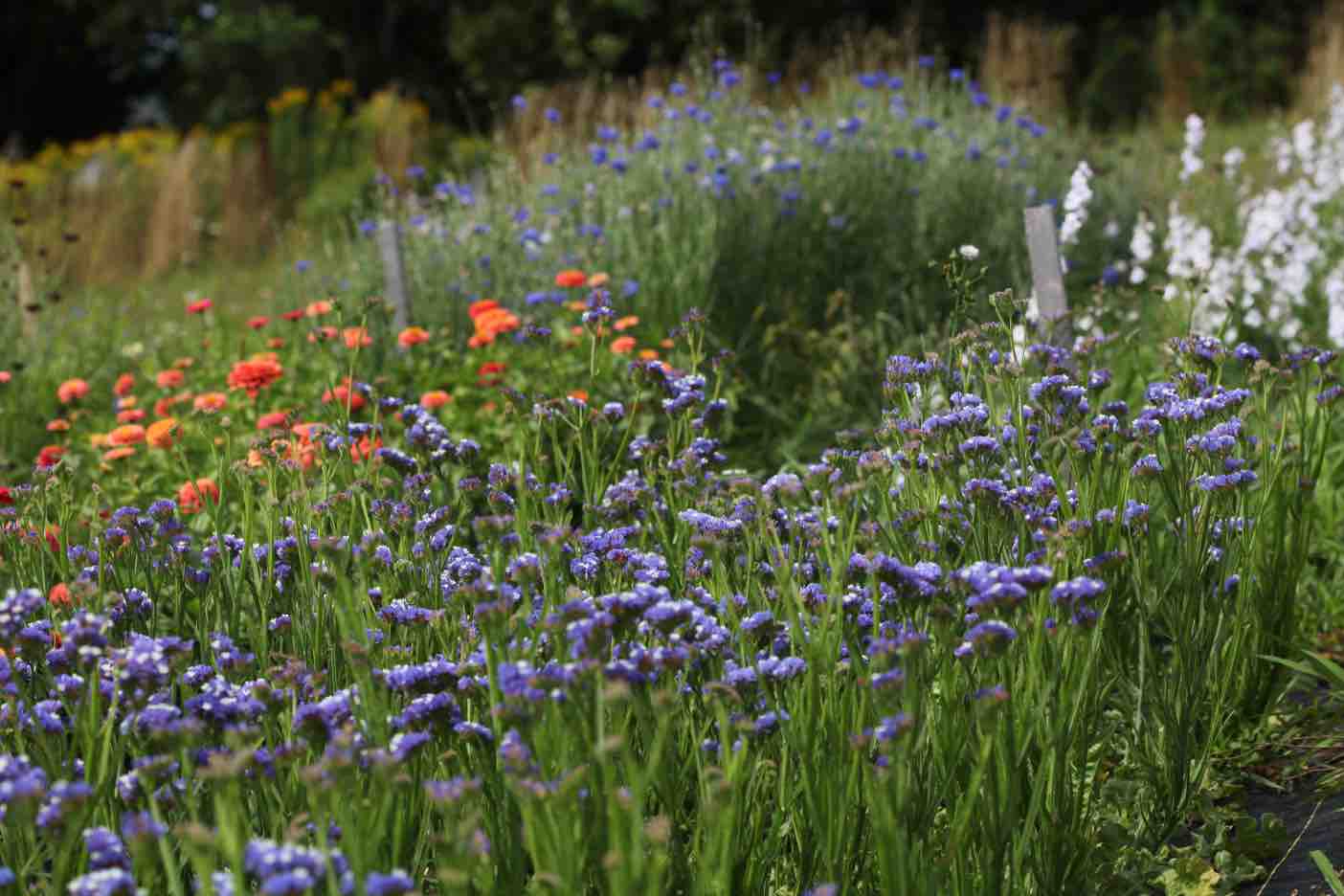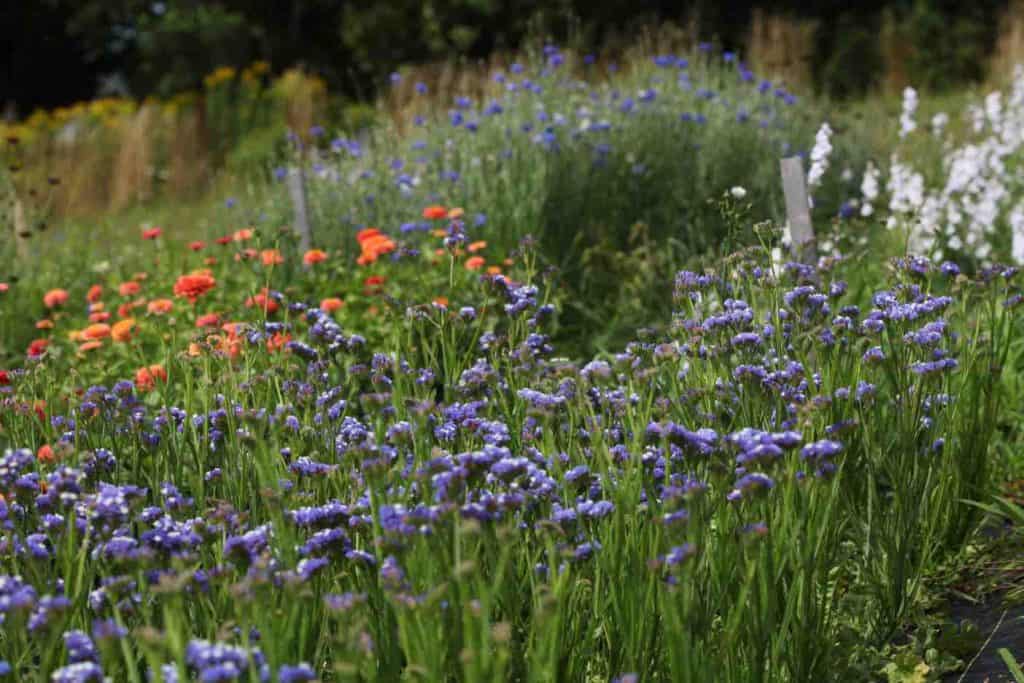 PLANTING CONSIDERATIONS
1. Sun Or Shade
Statice is a heat loving plant from the Mediterranean, so plant in a hot sunny location in full sun for best growth.
2. Statice Growing Zone
Since statice is most often grown as an annual flower, it can be grown in any zone during the summer months.
The key is to start it indoors from seed if you grow in a zone with a shorter growing season.
This will give the plants a head start, and they will be well on their way by the time they are ready to be planted out into the garden.
Statice is hardy to a little below freezing, so will continue to bloom even with some early frosts at the end of the growing season.
3. Soil Type
Plant statice in a well drained fertile soil.
It grows well in our fertile clay soil at the farm.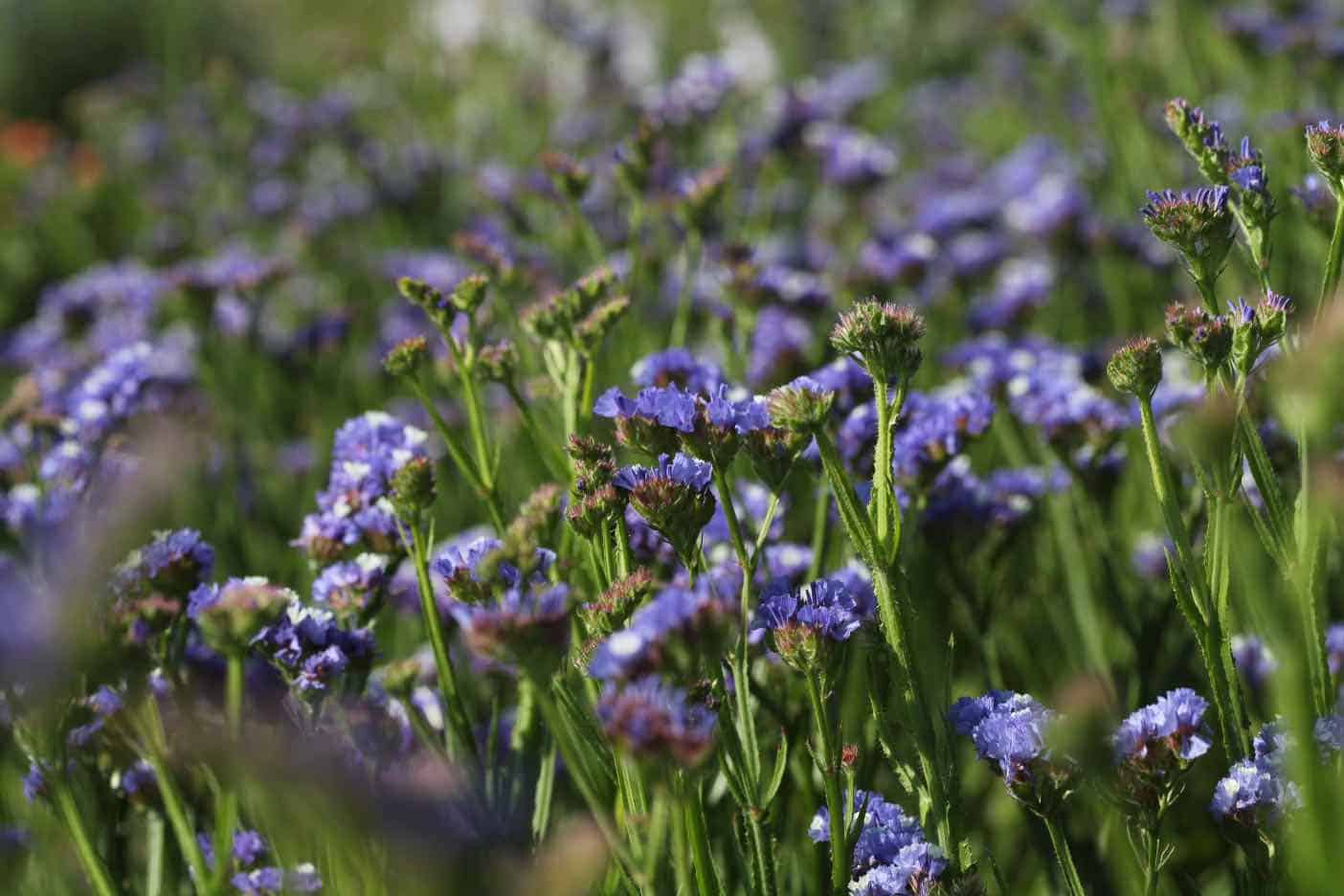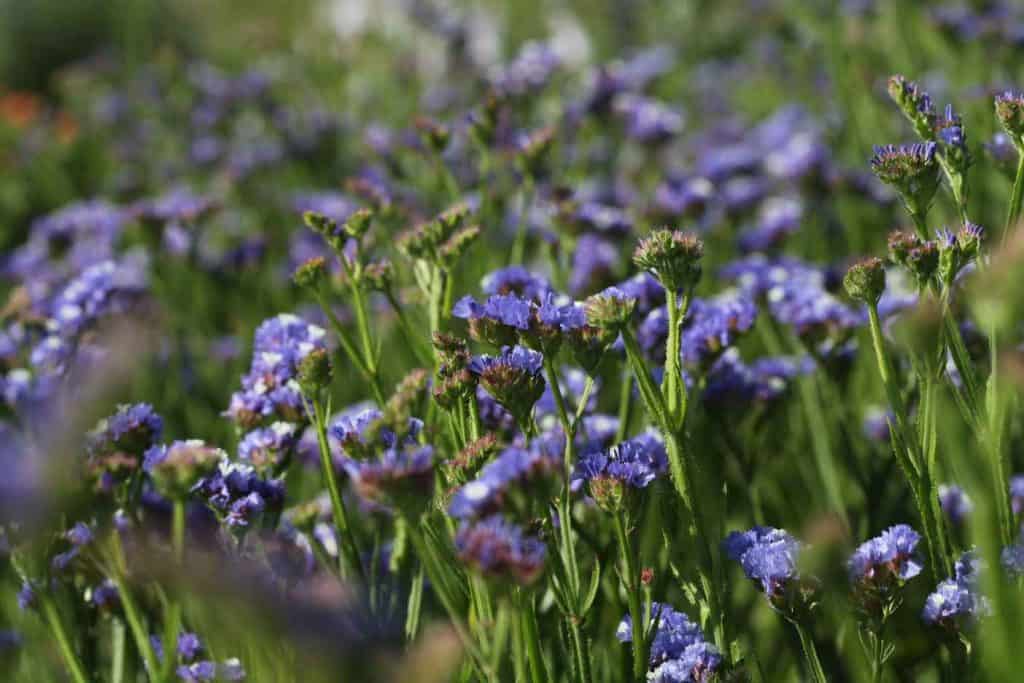 4. Water Requirements
Statice is quite drought tolerant, and after it is established in the garden, does not require any extra water other than what it receives from the elements.
We have had quite a bit of rain this season, and everything is flourishing in the garden (including the weeds).
We also get a lot of early morning dew, since we are located next to a large body of water.
This moisture is all our statice needs to grow well in our garden.
Can Statice Be Grown In Pots?
Statice can be grown in pots.
Make sure to use a good sized pot with lots of growing space.
What I notice about statice growing in the field, is that the mature rosette leaves at the base of each plant grow quite wide on most of the plants.
Just one statice plant can produce a rosette with a twelve inch diameter of leaves, which would fill a pot pretty quickly.
Plants will adapt to their growing spaces, and will grow together quite nicely in a pot.
Should You Pinch Statice?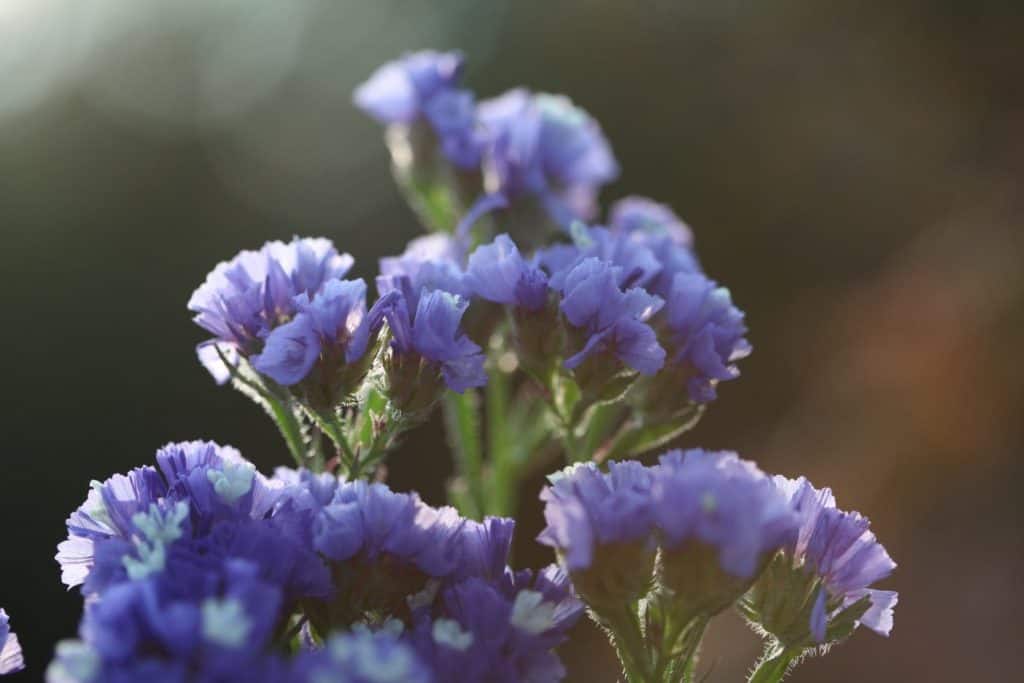 There is no need to pinch statice, as it will not benefit from this process.
Flowers that benefit from pinching produce side shoots along the stem after pinching. Pinching stimulates the growth of these side shoots.
Although statice does have side shoots, pinching does not affect their growth.
Pinching in fact will most likely be detrimental to your statice blooms, and may cause some deformity.
How Tall Do Statice Get?
Stem length varies according to variety.
Some varieties can grow up to sixty centimetres tall. We grow the Seeker varieties which grow quite tall and are about eighteen inches or more.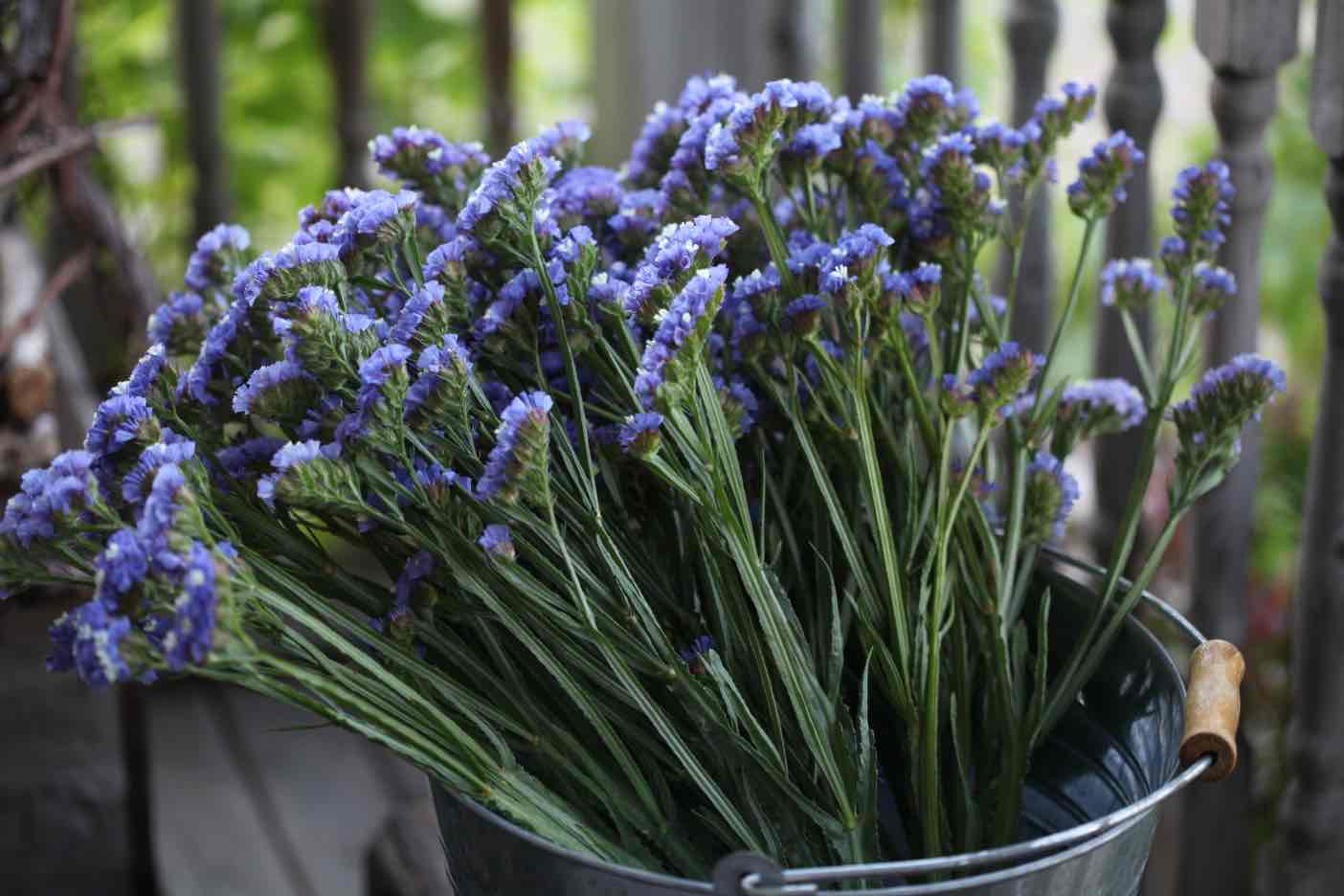 How Long Does Statice Take To Grow?
Statice grows fairly quickly throughout the growing season.
It will produce blooms within eight to ten weeks after planting out into the garden.
Each blooming stem is long lasting, and will last quite a while even while growing in the garden.
Does Statice Bloom All Summer?
Statice will continue to produce stems from it's basal rosette throughout the summer. It regrows from the base.
Each plant produces multiple stems in various stages. Therefore there will be blooms in various stages of maturity on each plant.
Statice is considered to be a cut and come again flower. The more it is cut from the more it will bloom.
How Do You Prune A Statice Plant?
Cut statice stems right down to the base of the rosette leaves.
Here in our zone 5b garden statice is an annual, and it will die back as the fall and winter temperatures get well below freezing.
The following spring there will be little evidence of the statice plant grown the previous year.
Statice Blooms As Cut Flowers
These blooms make wonderful cut flowers, both in the fresh form and dried form.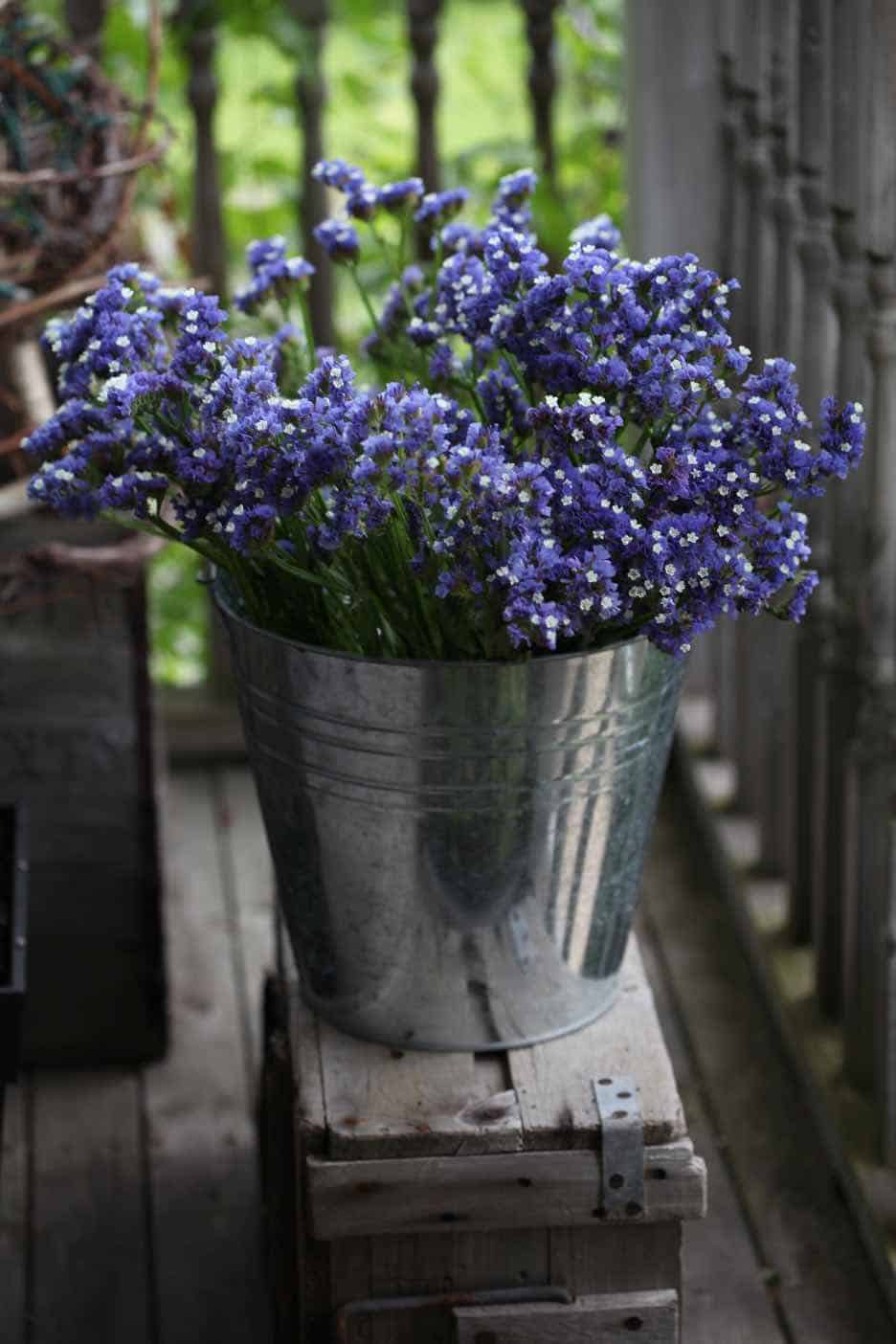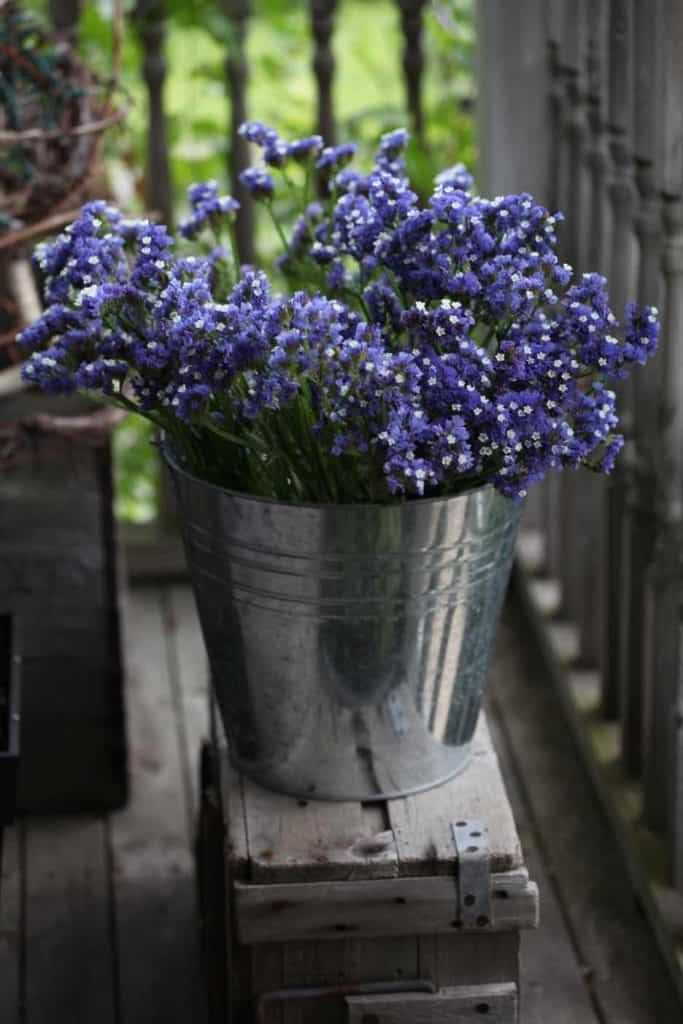 Harvesting Statice Blooms
It is very easy to harvest statice for cut flowers.
TWO IMPORTANT CONSIDERATIONS WHEN HARVESTING STATICE:
Make sure that the blooms are fully open before harvesting to prevent wilting.
Cut deep into the base when harvesting each stem, to promote new growth.
When To Harvest Statice Blooms
Harvest statice blooms when the white petals are visible on the bloom. This is the mature stage, and the blooms will be less at risk for wilting.
If statice is harvested when the blooms are immature they are at risk for wilting.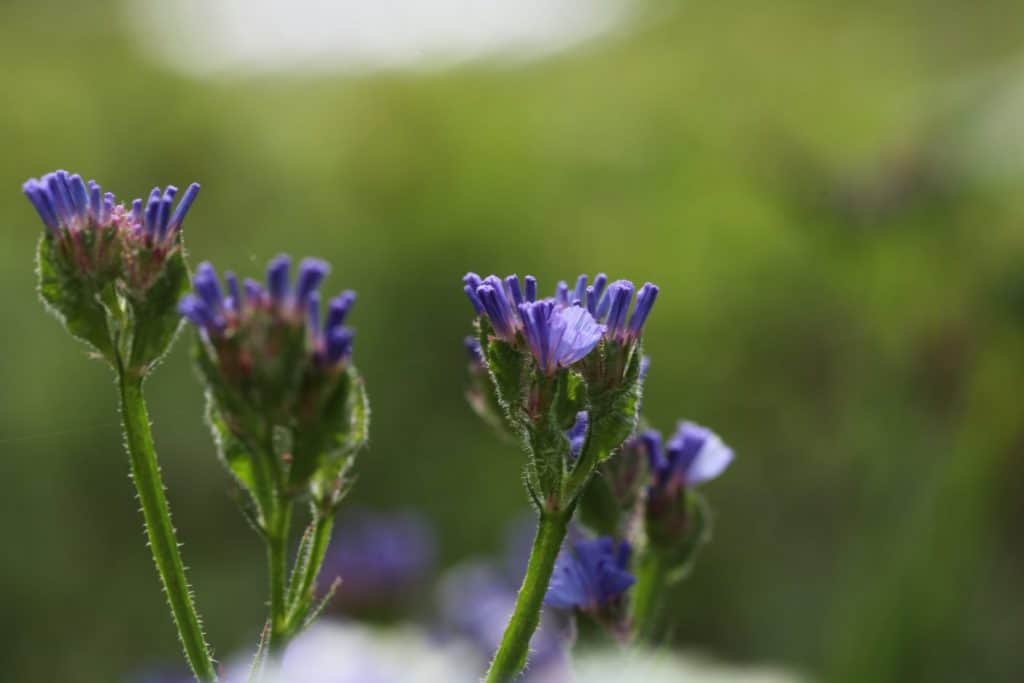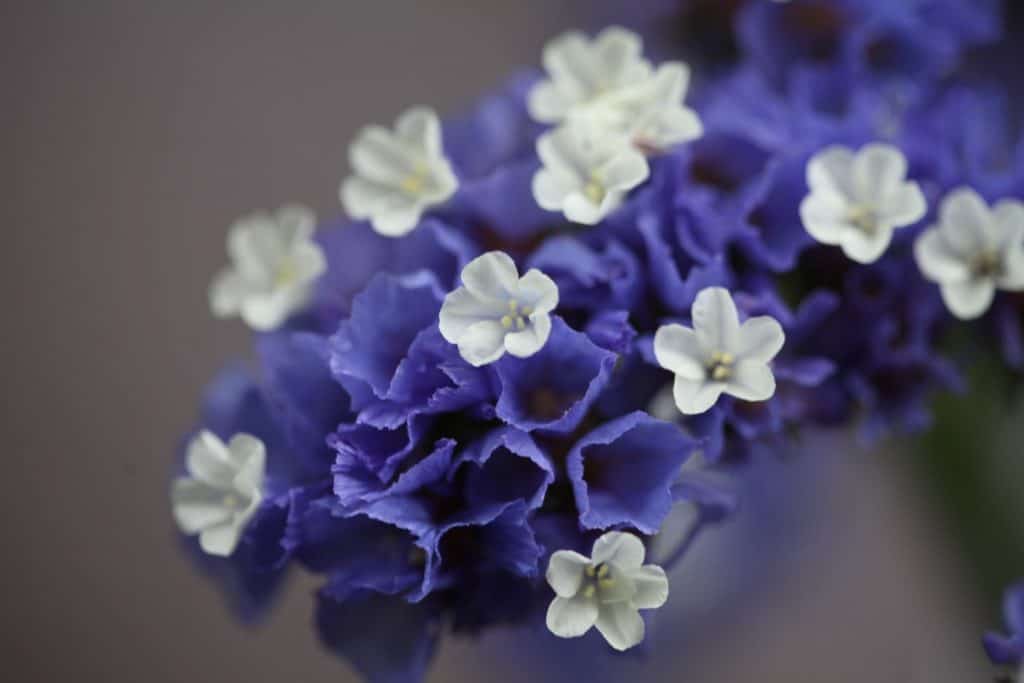 How To Strip The Lower Leaves For Cut Flowers
As with all cut flowers it is important to strip off the lower leaves before placing in water.
Statice does not have many leaves along the stem, however I still strip them off after cutting. The stems are then placed in a bucket of water or holding solution in a shady location for conditioning.
Statice Vase Life
These blooms have a long vase life, generally lasting up to two weeks after cutting. They are often the last blooms remaining from the farmhouse bouquets.
How To Dry Statice
Statice is easy to dry, and looks wonderful in everlasting arrangements.
The best time to dry statice is immediately after cutting when the blooms are at their maximum freshness.
When To Cut Statice For Drying
Cut statice for drying when the blooms are fully opened.
This means when the white petals are open at the top of the blooms.
Method For Drying Statice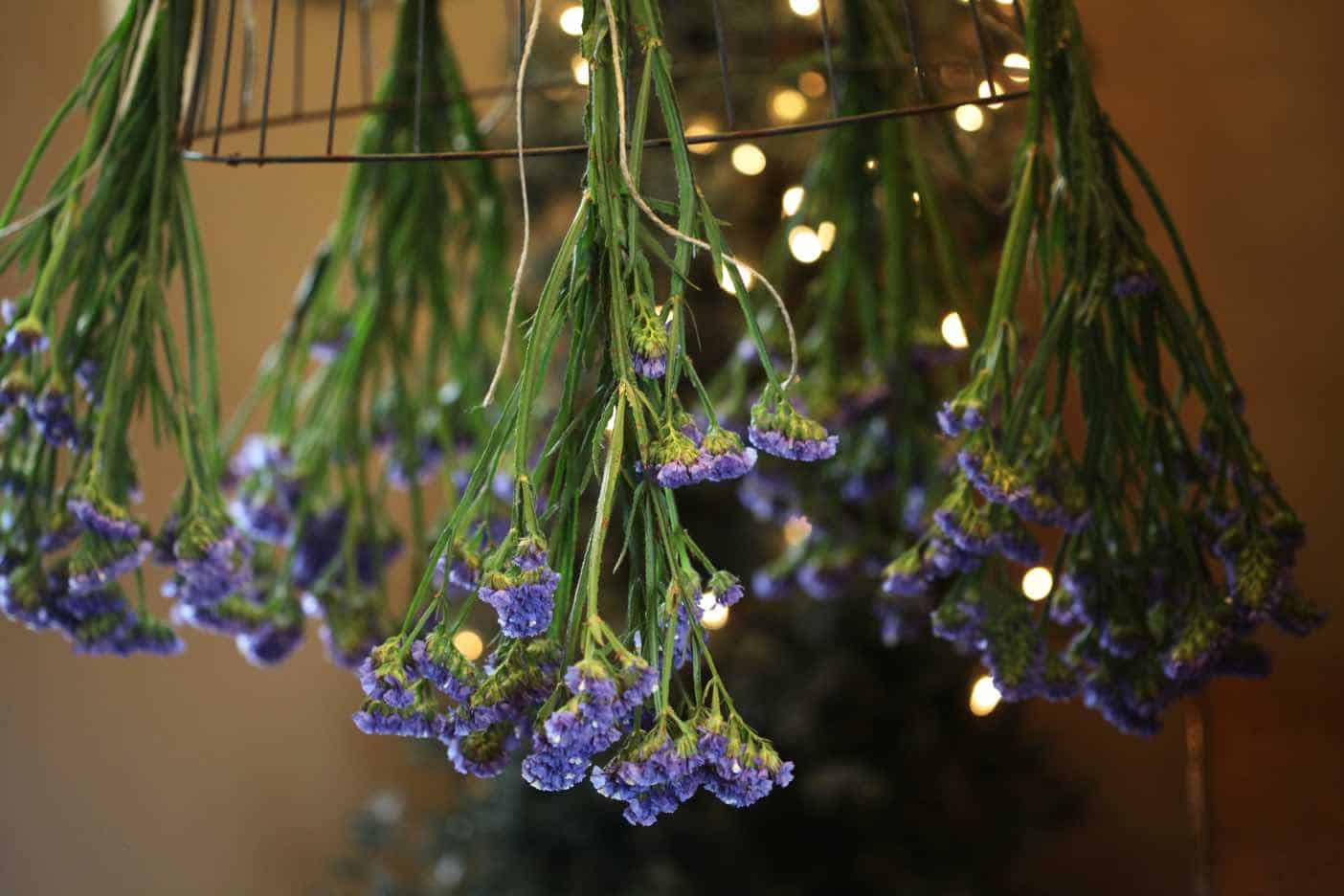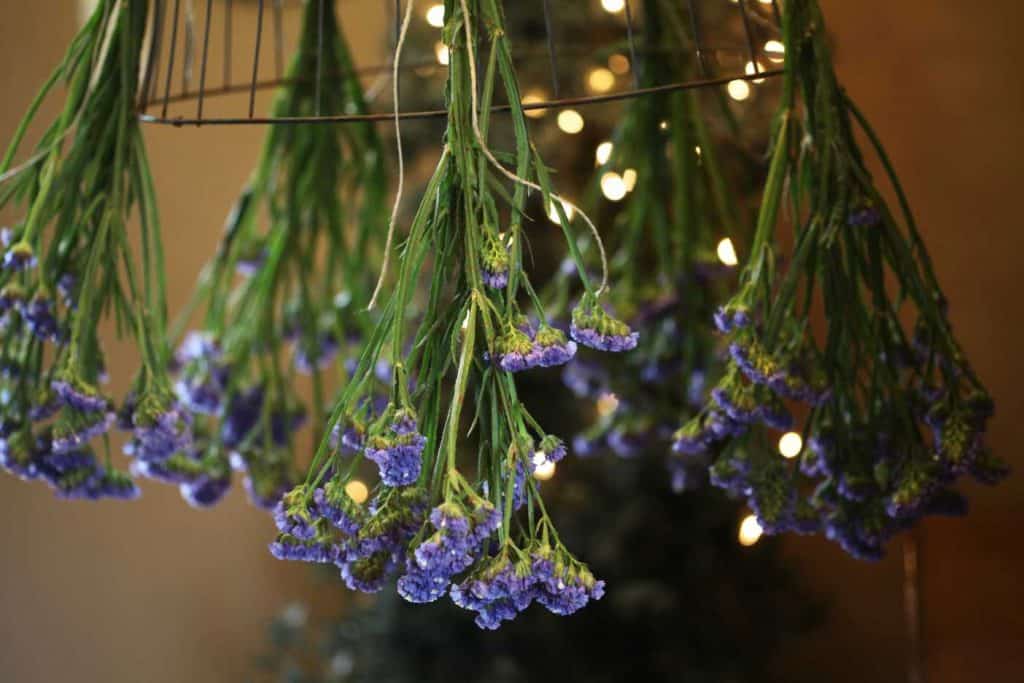 There are several ways you can dry statice:
You can dry by hanging upside down in a warm dark location. Bunch a small handful of stems together with an elastic band, and hang upside down to allow to air dry for several weeks.
Using elastics helps to hold the stems together as they dry and shrink, and helps to prevent any stems from falling out onto the floor.
Hang the stems by securing them to any type of structure that allows good air flow between bouquets.
Hanging along a line or wire is ideal. You can secure the bouquets to the line using clothes pins or twine attached to the elastics on the lower part of the stem.
In the photo above you can see how I dry bouquets by hanging from a wire rack. This is a good method if only drying a few bunches at a time.
Alternatively you can dry in the vase, by putting the stems in several inches of water in a vase. Allow to dry out, and don't add any more water to the vase. This process will take several weeks as well.
Have you tried to grow statice in your garden? Be sure to leave a comment below to share your experience!
OTHER POSTS YOU MAY LIKE:
HOW TO GROW APPLE OF PERU ~THE SHOO FLY PLANT
PERENNIAL BACHELOR BUTTONS IN THE GARDEN
HOW TO COLLECT STATICE SEEDS -HARVEST AND STORAGE
See the Web Story on Growing Statice From Seed!
PIN IT FOR LATER!