If you like to start your seeds indoors while the snow is still on the ground, consider winter sowing in milk jugs. This fun activity is quick and easy, and frees up space on the seedling shelves for your cold sensitive seeds!
What Exactly Is Winter Sowing?
Winter sowing is the process of sowing seeds outside in winter. It involves planting the seeds into a container that will protect the seeds from the elements to some degree, and then placing the container outside.
The container becomes a little miniature greenhouse and a little microclimate that is perfect for germination, when the time is right.
It provides extra warmth and protection from the wind and elements while the tiny seeds are waiting to germinate.
In our zone 5b, winter sowing allows us to plant some of our hardy annuals and perennials, and place them outside in winter. This frees up space inside our home for other seeds which are not tolerant of the cold.
Winter sowing really helps these hardy annual seeds, which often have a thick coat that needs to break down for the seeds to germinate.
By placing the seeds outside in these mini greenhouses , they are exposed to freezing temperatures and thaw cycles, which helps these thick coats split and crack.
The seedlings that grow through this process acclimatize to the outside weather in their milk jug, and become hardy and strong.
They will become naturally hardened off, because they are already outside.
What Are The Benefits Of Winter Sowing Seeds?
Cold stratification is the process required by many perennials, through which the seed coat breaks down before germination. It involves a period of exposure to cold and moisture.
Winter sowing does just that. It helps to breakdown the seed coats so that even the most difficult to germinate seeds seem to perform better.
We sow a lot of seeds inside during the winter, and run out of space early.
This process frees up extra space on our seedling racks, and this makes a big difference for us.
Winter sowing helps the seeds to adapt to outside growing conditions. Therefore the seedlings will be less at risk for stress during the hardening-off process, because essentially they are already hardened off.
As well, sowing seeds with this technique is a great way to recycle your plastic containers!
What Seeds Are Good For Winter Sowing?
The types of seeds that have great success with the winter sowing method include those that withstand cold weather and freezing temperatures.
We sow some of our hardy annual flowers with the winter sowing technique.
Perennial flowers are also great to sow using this technique.
Many people also sow vegetable seeds, and we will be sowing some vegetable seeds this year as well.
Some people sow tender annuals, however in our zone 5b they are at risk with this winter sowing technique.
Tender annual seedlings are easily killed by subzero temperatures and frost, and will require extra protection if winter sown in colder climates.
We only sow seeds that can tolerate the cold, and are able to be frozen and thawed.
The list of hardy annuals that we grow and can be winter sown includes:
Some perennials that we have winter sown include:
Bergamot ( both perennial and annual cultivars)
It's fun to experiment and to see what works for you in your location.
When To Plants Seeds Using The Winter Sowing Technique
You can start planting using the winter sowing technique at any time during the winter months.
I started in mid February, and continued to plant every week as milk jugs became available.
The seeds will be just fine until it starts to warm up and they begin to germinate.
How To Chose A Winter Sowing Container
Many people use recycled milk or water jugs for their winter sowing projects.
Really any recycled container will do as long as it meets these criteria:
It should be light enough to let some light in.
The container should have an opening in the top to allow moisture to enter the container, but not too large so that the seeds are exposed to the elements.
This same opening also allows for some heat to escape, because you don't want the environment to be too hot.
It should be light enough to be able to cut in half so that you can fill the bottom half with soil.
The container should be light enough to be able to puncture some holes in the bottom of the container to allow for good drainage.
It should also have some kind of covering to allow for heat stay inside the container (like the top of the milk jug).
The container should be able to maintain some heat, and maintain some moisture. It's a pretty easy set up.
Preparing Your Milk Jugs For Winter Sowing
Wash and rinse an empty milk jug for your project. Then prepare to make your cut.
I like to cut below the milk jug handle. I start to cut beginning at the label, and continue to cut all around the jug until I get to the other side of the label.
I like to leave a little hinge on the jug, which allows for opening and closing, but also keeps the unit together.
Next make sure to puncture the bottom of the container with a sharp knife or screwdriver to allow for drainage. I usually make about five small drainage holes.
Fill The Jug With Soil
The next step is to fill the bottom half of the milk jug with a good quality potting mix.
Place about three inches of soil in the bottom of your container.
Moisten the soil well with water before planting your seeds.
Winter Sowing Delphiniums
Delphinium seeds can be pretty difficult to germinate. I'm trying a number of techniques with these seeds, including winter sowing.
Next it's time to plant your seeds. Choose seeds that you know will tolerate the winter sowing technique.
Since Delphinium seeds can be difficult to germinate, I'm planting these seeds today in milk jugs!
These seeds are several years old, and they have been hard to germinate on the heat mats. They've already received stratification by spending a month in the fridge.
For these delphinium seeds I have sprinkled the seeds on the surface of the soil. For any seed it's important to follow the sowing instructions on the packet for depth and light requirements.
Some seeds require light to germinate. Others like it dark.
Delphiniums require darkness for germination, and should be sown 1/8 inch deep.
These delphinium seeds were sprinkled on the surface of the soil, so they will be covered with vermiculate to provide darkness.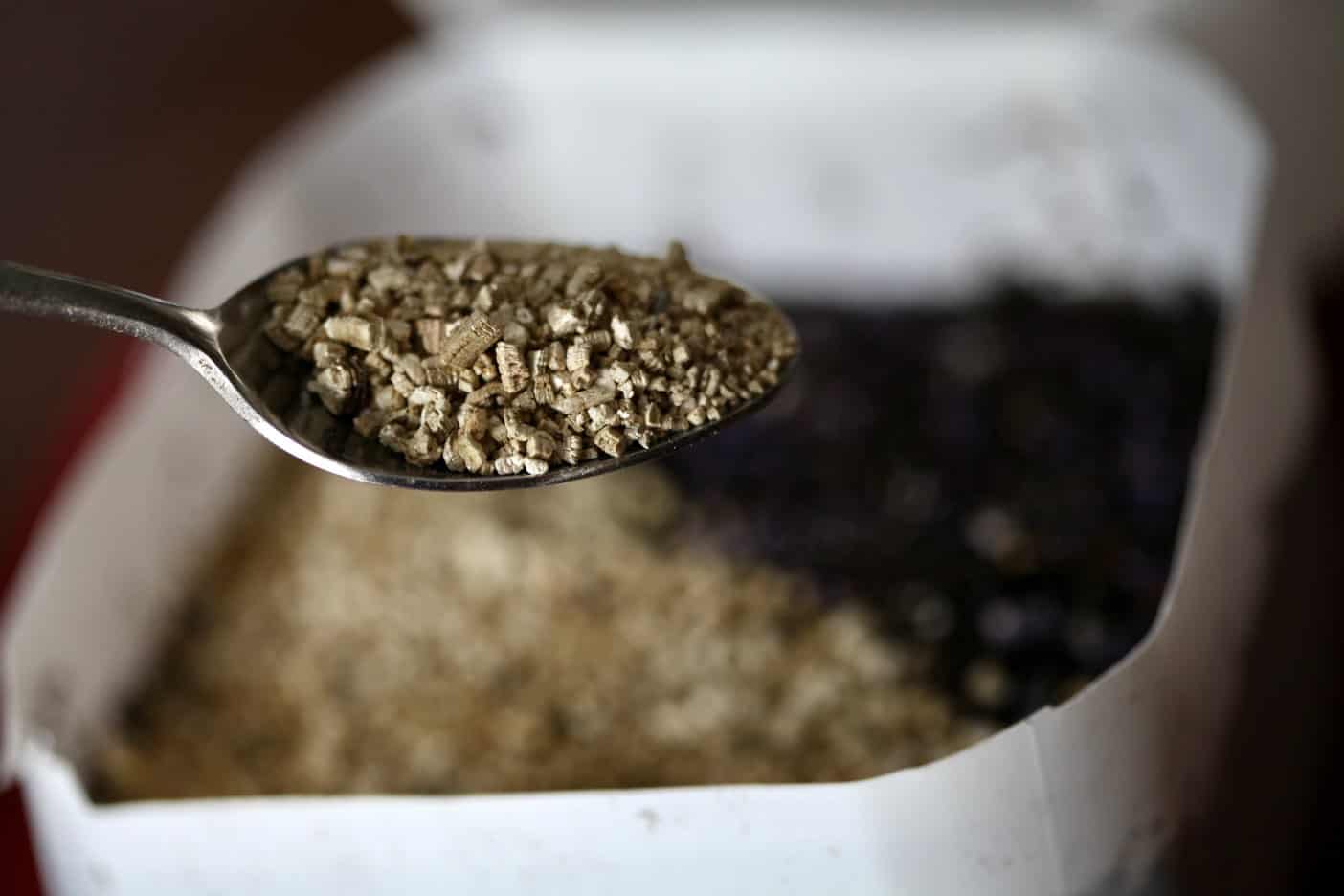 Cover the delphinium seeds with vermiculite, approximately 1/8 inch deep.
Then prepare a plant label for inside the container.
I have had the experience every summer of labels being completely washed off by rain and watering, and now I make sure that there is always a second means of identification for all the seedlings.
For my seedling trays, I use a little baggie with a piece of paper identifying the plant, and place it in the bottom of the seedling trays.
For the milk jug planters, you can use any type of label, and just place inside the jug along the edge.
Tape Up The Milk Jug To Form Your Mini Greenhouse
Next tape up the cut edges of the milk jug making it whole again.
We use duct tape, and I'm quite sure the silver tape came from the Dollar Store.
Now label the milk jug with a permanent marker on the outside, identifying your plants and the date that the seeds were planted.
Here are the milk jugs, just waiting for spring. It looks like a lot, but all those jugs were planted gradually.
Whenever we have a milk jug to recycle, we clean it up and plant it. It all adds up over time!
Winter Sowing Tips
Keep the lids off the milk jugs when you place them outside.
This allows the moisture to get in and the heat to escape when it starts to get warm outside.
Some people also poke small

holes in the

top of the jug to allow heat to escape.
I wedge our milk jugs between two heavy chairs to prevent them from being blown over in the winter winds or storms. This has worked very well to keep them upright in a strong wind.
We have had a lot of things blow around on the deck. The milk jugs didn't move an inch!
Watch your jugs regularly to make sure they stay moist inside. Try not to let the seeds dry out during the germination process, because this will interfere with germination. The jugs keep them pretty moist and they do not require much watering.
In early spring when the outdoor temperatures start to warm up, and at just the right time for your growing zone, the tiny seedlings will begin to germinate and sprout in their milk jug greenhouses.
Keep an eye on the seedlings when they start to sprout to make sure they have enough room to grow in their tiny greenhouse space. You can thin as necessary, or repot as necessary.
Make sure the seedlings are getting enough water. Use a spray bottle to mist the soil in the greenhouses as needed.
If it starts to get warm, you can remove the tape and open up the jugs to allow for better air circulation.
This will also help the seedlings to further adapt to growing in the outside environment.
Conclusion
Winter sowing in milk jugs or other recycled containers which can provide a greenhouse-like environment, is a great low-maintenance way to start hardy flower seeds.
Every year I winter sow seeds, due to the ease of the process.
It's almost a hands off method of growing, letting mother nature take care of the watering and direct sunlight needs of the germinating seedlings.
It's a simple process that gets these seeds off to a great start.
You may be surprised at just how easy winter sowing can be. It offers many advantages, and I hope that you can give it a try!
OTHER POSTS YOU MAY LIKE:
HOW TO GROW HARDY ANNUALS IN THE GARDEN
HOW TO GROW LAVENDER FROM SEEDS INDOORS
PERENNIAL BACHELOR BUTTONS IN THE GARDEN
PIN IT FOR LATER!