Last updated on October 21st, 2023 at 11:06 pm
Larkspur, a cousin to the perennial Delphinium, offers that same English country garden appeal in a more compact flower. The spike-shaped flower is the perfect size to slip into bouquets for that wild flower look that we love so much at the farm. Learn how to grow Larkspur, a hardy annual flower that will bring lots of joy!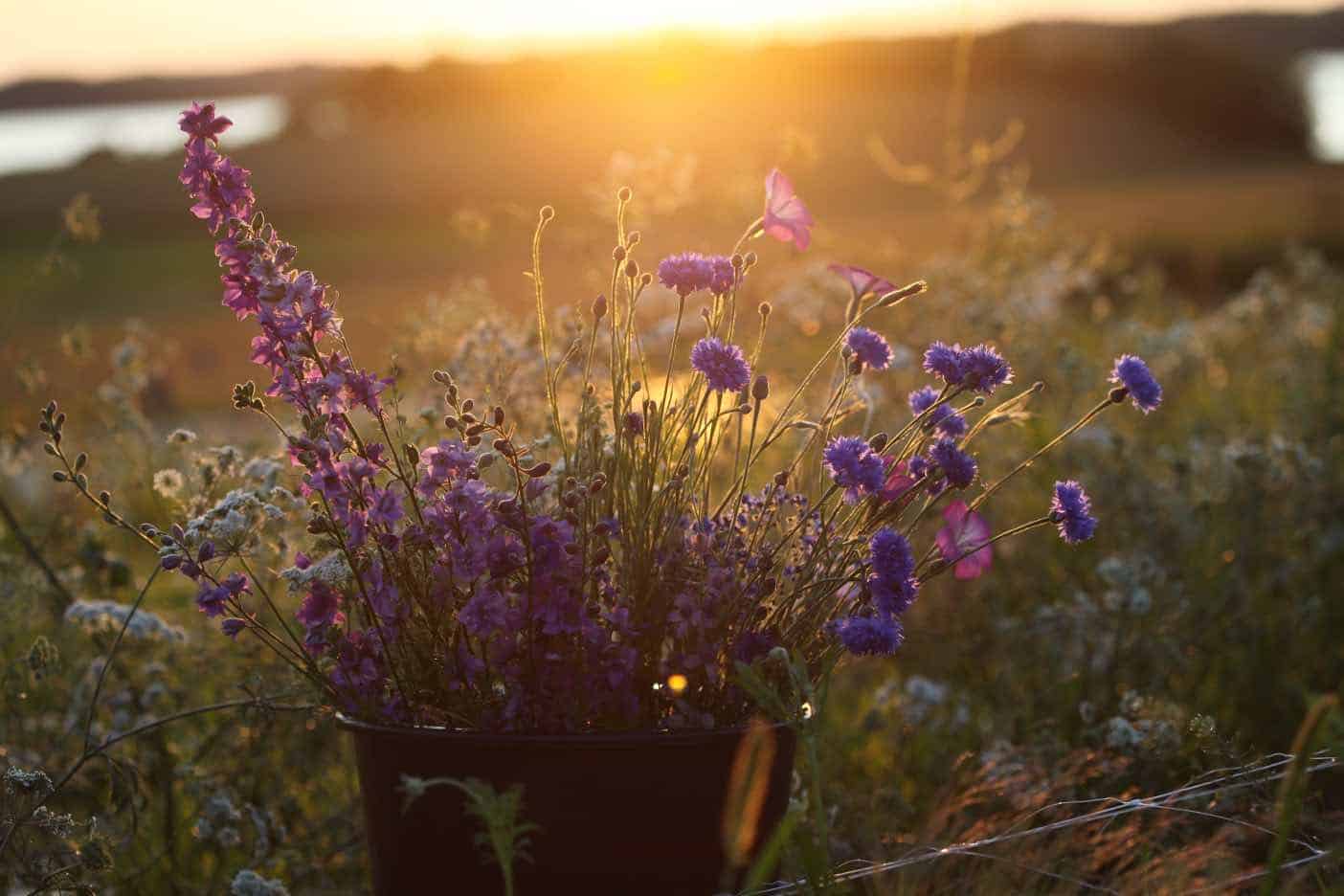 Difference Between Larkspur And Delphinium
Larkspur, also known by its scientific name Consolida ajacis, is related to the perennial Delphinium.
The name Larkspur is a common name that is shared between different species of both the genus Consolida(annual) and the genus Delphinium(perennial).
The annual Larkspur has a similar appearance to the perennial Delphinium, however the blooms are smaller and more refined. It fits nicely in flower arrangements and is a very popular plant for cut flowers.
The foliage of annual Larkspur is also different to the perennial Delphinium, and it is more fine and feathery than the more solid Delphinium leaf.
Is Larkspur Easy To Grow?
Larkspur is very easy to grow once the seeds have been germinated.
The key to successfully growing Larkspur is to germinate the seeds using the right stratification techniques.
As well Larkspur will also require a period of growth in cooler temperatures for good flower production.
There are a number of options, and we will discuss each one.
How To Grow Larkspur From Seed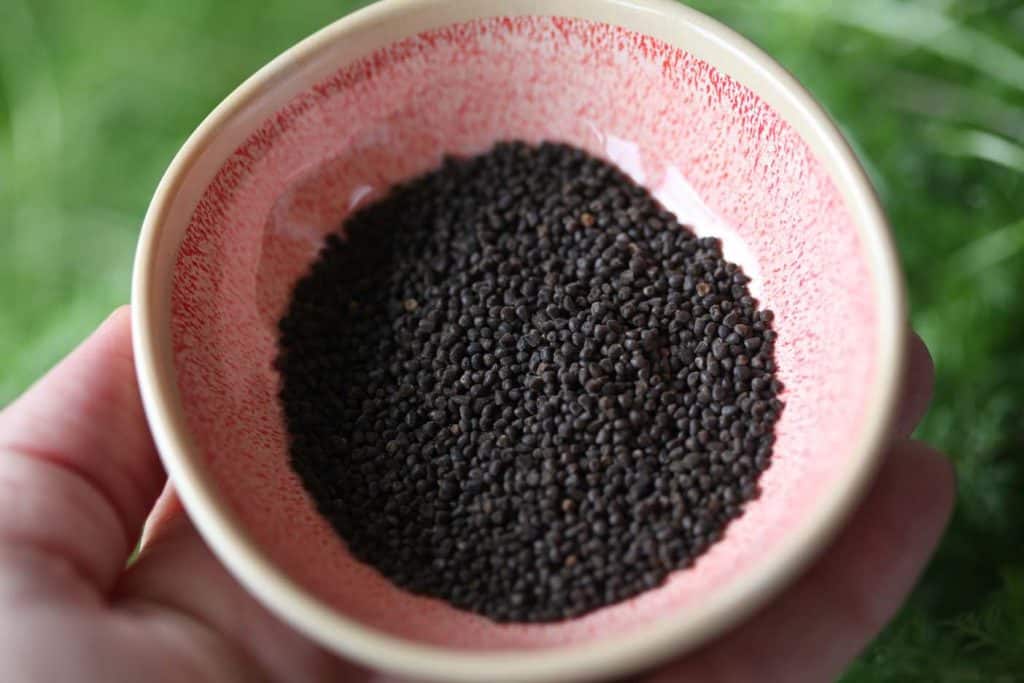 Larkspur Seeds
Larkspur are hardy annuals. The seeds of hardy annuals, just like perennials, often require a special process to breakdown the hard outer seed coats.
These seed coats prevent the plants from germinating during the cold winter months, and are necessary for survival.
If you are attempt to grow Larkspur indoors during the winter, you will likely have difficulty germinating the seeds without using stratification techniques.
Stratification will help to break down the hard seed coat and allow for successful germination.
How Do You Germinate Larkspur Seeds?
There are several ways to successfully germinate Larkspur seeds.
1. Planting Larkspur In The Fall
If Larkspur seeds are planted into the garden in the fall, they undergo a natural stratification process throughout the winter months.
Exposure to the freezes and thaws of winter, as well as the moisture in the outdoor environment, will naturally stratify the seeds. They will germinate at the perfect time in spring, when the temperatures warm up.
Larkspur grown this way will be at peak performance in spring, with strong healthy stems and beautiful blooms.
Fall planting is the preferred method of growing, as Larkspur does not like to be transplanted.
However not everyone can start Larkspur this way, as Larkspur is only winter hardy to zone 6.
2. Winter Sowing Larkspur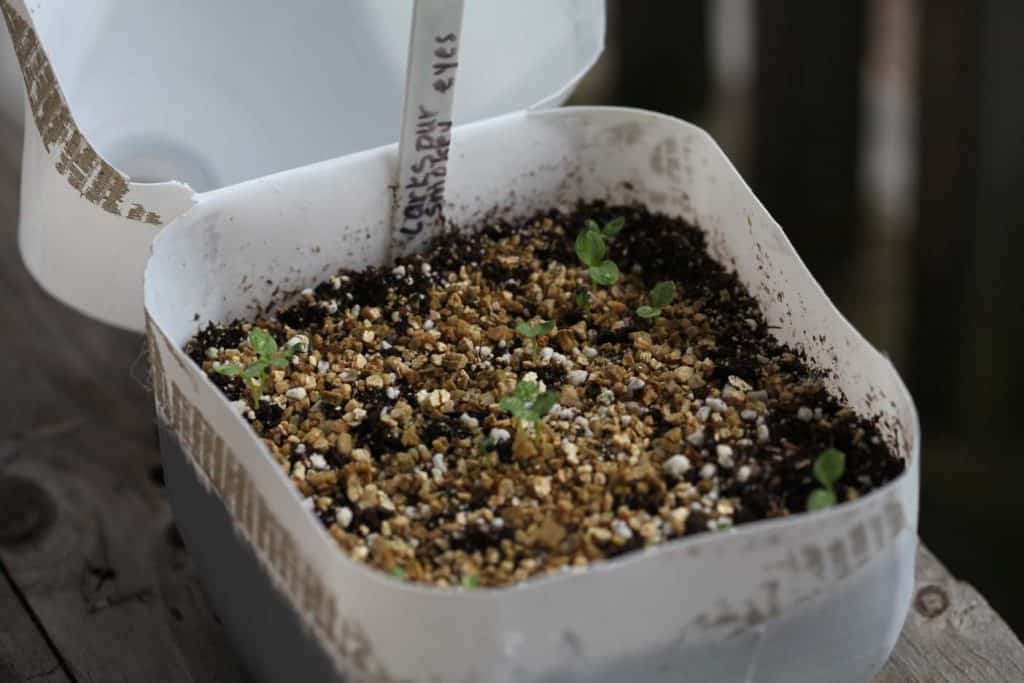 This is one of the methods we chose for germinating Larkspur, since we are in zone 5b.
Winter sowing is another option for naturally stratifying Larkspur seeds outdoors.
This method of starting seeds is done in containers such as milk jugs. You can read more about winter sowing here.
We had great success this year winter sowing our Larkspur seedlings. It will soon be time to pot them up into individual containers.
Transplanting is easier to do when the seedlings are smaller and at this stage they will tolerate the transfer.
3. Growing Larkspur From Seed Indoors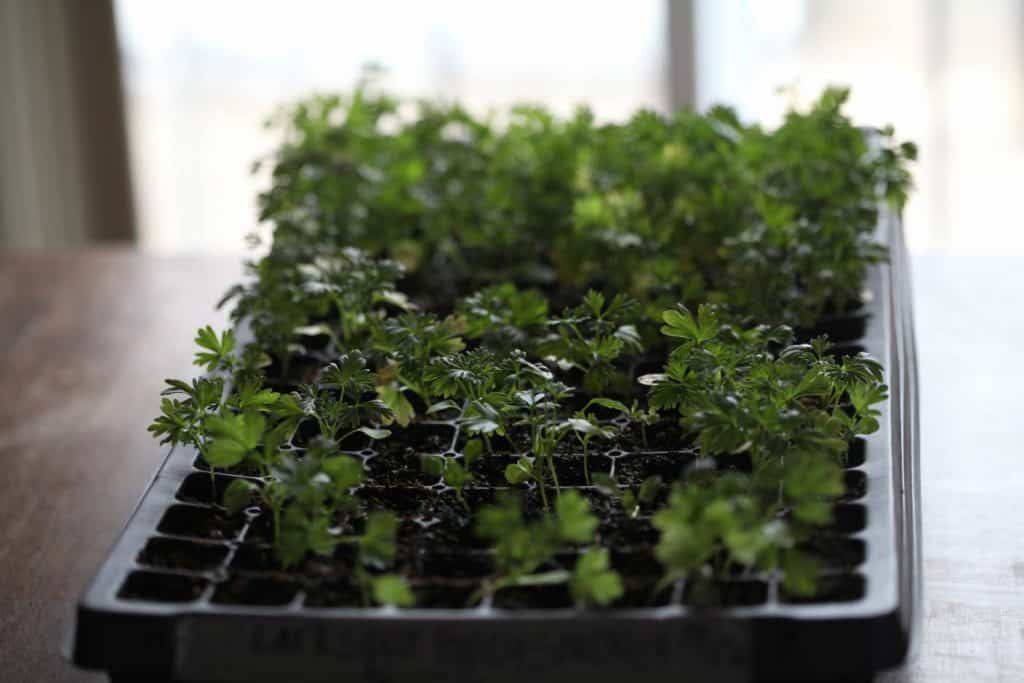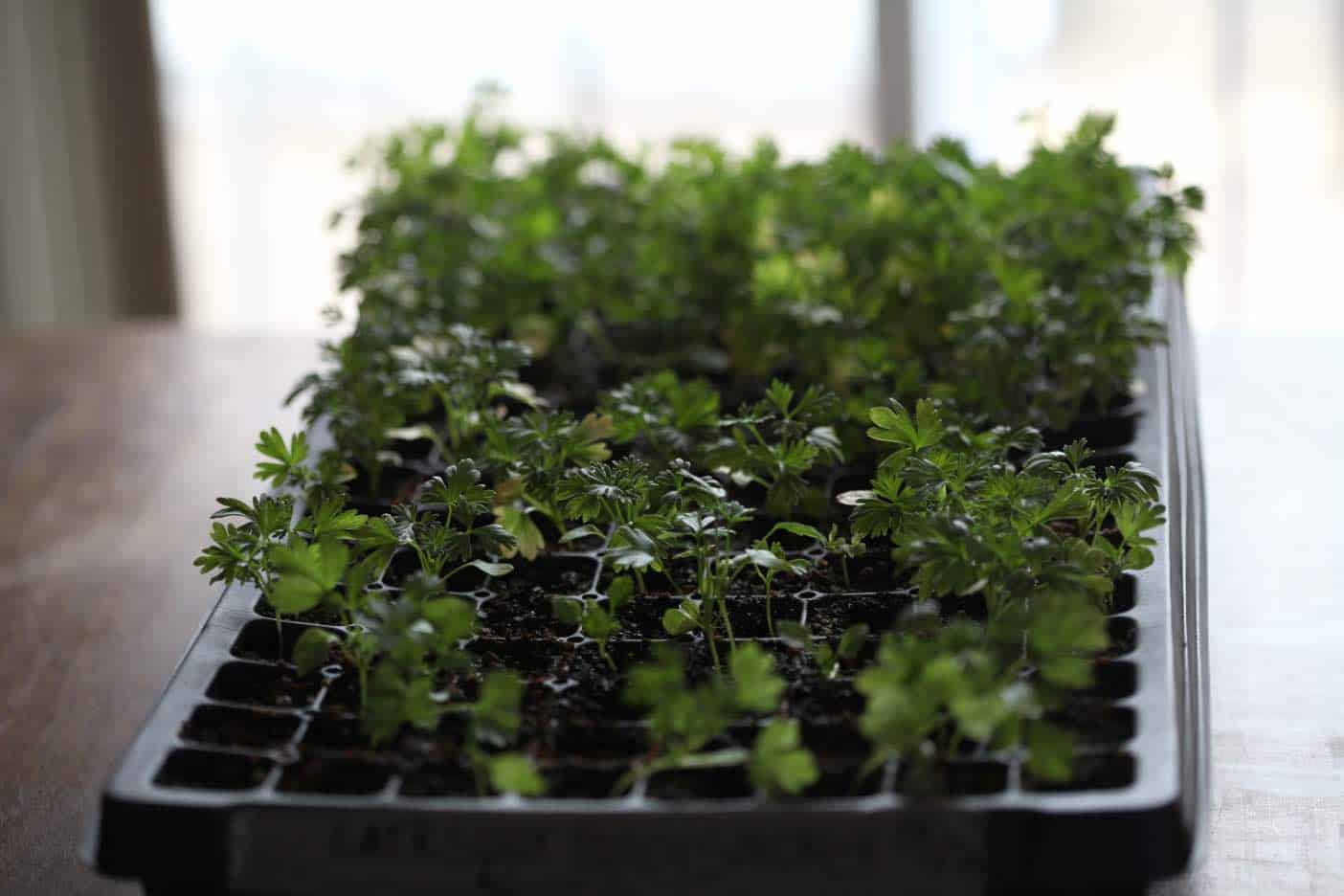 We also grew Larkspur from seeds indoors.
These seedlings are more mature than our winter sown seedlings because they germinated earlier.
To germinate Larkspur seeds indoors, they will require an artificial stratification.
Essentially this involves providing a cool moist chill in your fridge, for approximately 30 days. Read how to do a cool moist chill here.
After this period of stratification, the seeds can be planted in a good seed starting mix, and kept dark and moist. Cover the seeds with some soil or vermiculite, and place in a dark location.
We put the cell tray on a shelf with a seedling pan inverted over the tray to provide darkness for the germinating seeds.
These trays do not need to go on the heat mat, as the seeds germinate better in cool soil.
How Long Does It Take Larkspur To Germinate?
Larkspur seedlings should germinate within 14 to 21 days.
The seedlings do better in a cool space, and the plants will bloom much better if exposed to cooler temperatures for the first six weeks of growth.
We harden off the seedlings whenever we are able, and Larkspur are some of the first seedlings that we put out in the spring. While outside they will continue to be exposed to the cool weather and experience that cool period that they require for flowering.
Planting Distance Between Seedlings
We plant our Larkspur into landscape fabric at a distance of 9 inches apart between seedlings.
If you are direct sowing into a garden bed in the fall, you may find that your seedlings are much more closely spaced.
If this is the case they can be thinned to a distance of 4 to 6 inch spacing.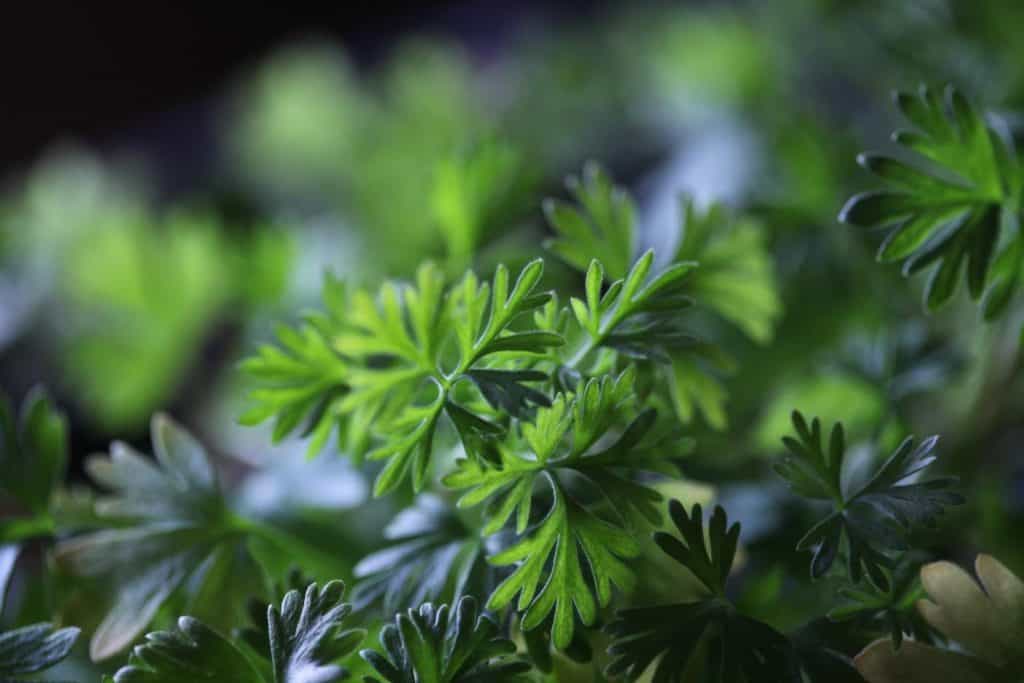 Transplanting Larkspur
The reason that Larkspur does not do as well with transplanting as it does with direct seeding is due to the long tap roots.
Take care therefore when transplanting the seedlings to ensure that these tiny roots are not damaged.
Where To Plant
Plant Larkspur in full sun, in rich well drained soil.
Larkspur Days To Maturity
Larkspur days to maturity is approximately 80 to 90 days if transplanting seedlings.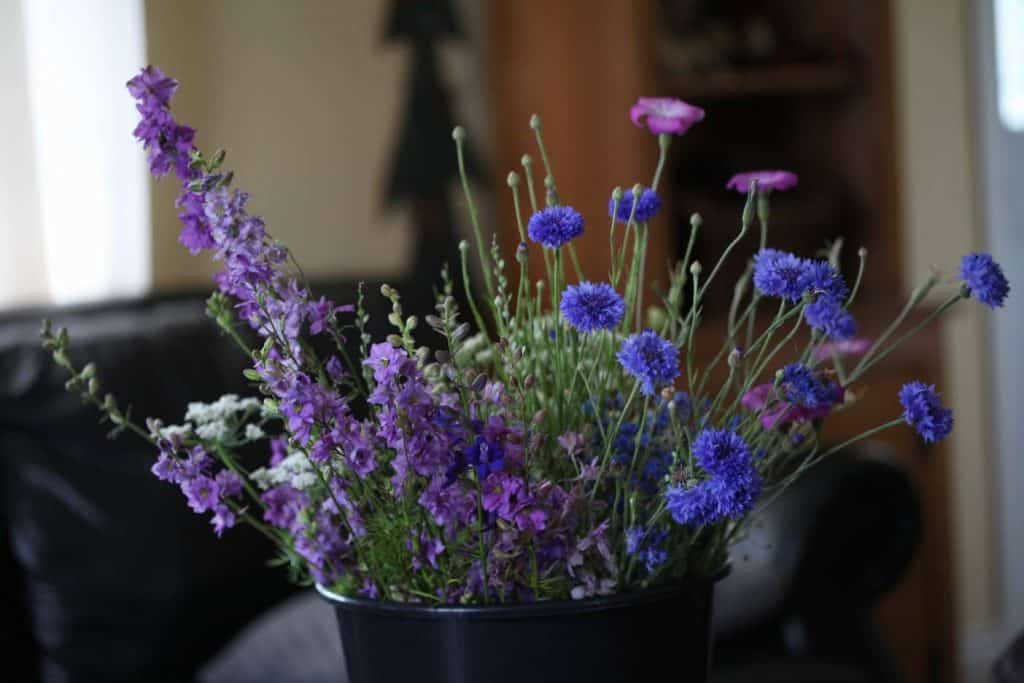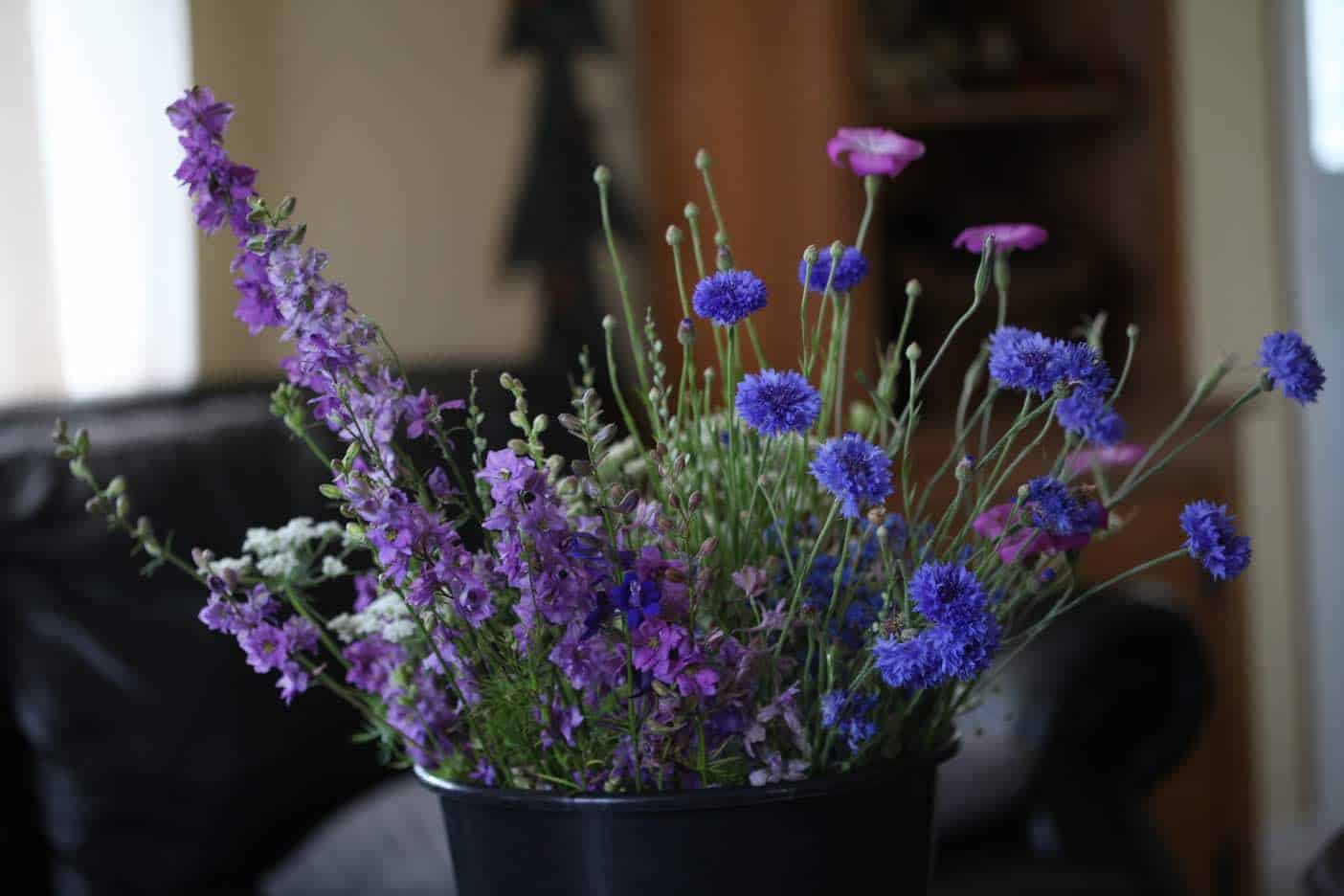 When Do Larkspur Bloom?
Larkspur requires a six week period of cold exposure below 13 °C (55 °F), before it will flower.
This necessary period of cold exposure is called vernalization, and it is essential for good flower production.
The seedlings we grew indoors in winter will be planted out in May, and will be exposed to cool temperatures for at least six weeks.
These plants will be blooming by mid July.
Larkspur Leaves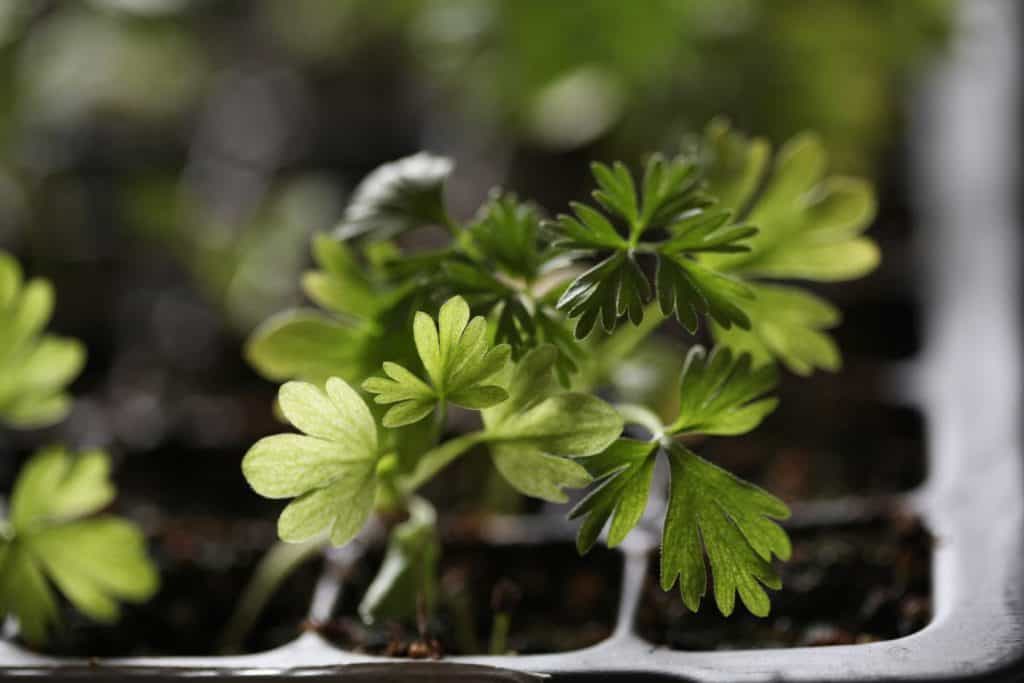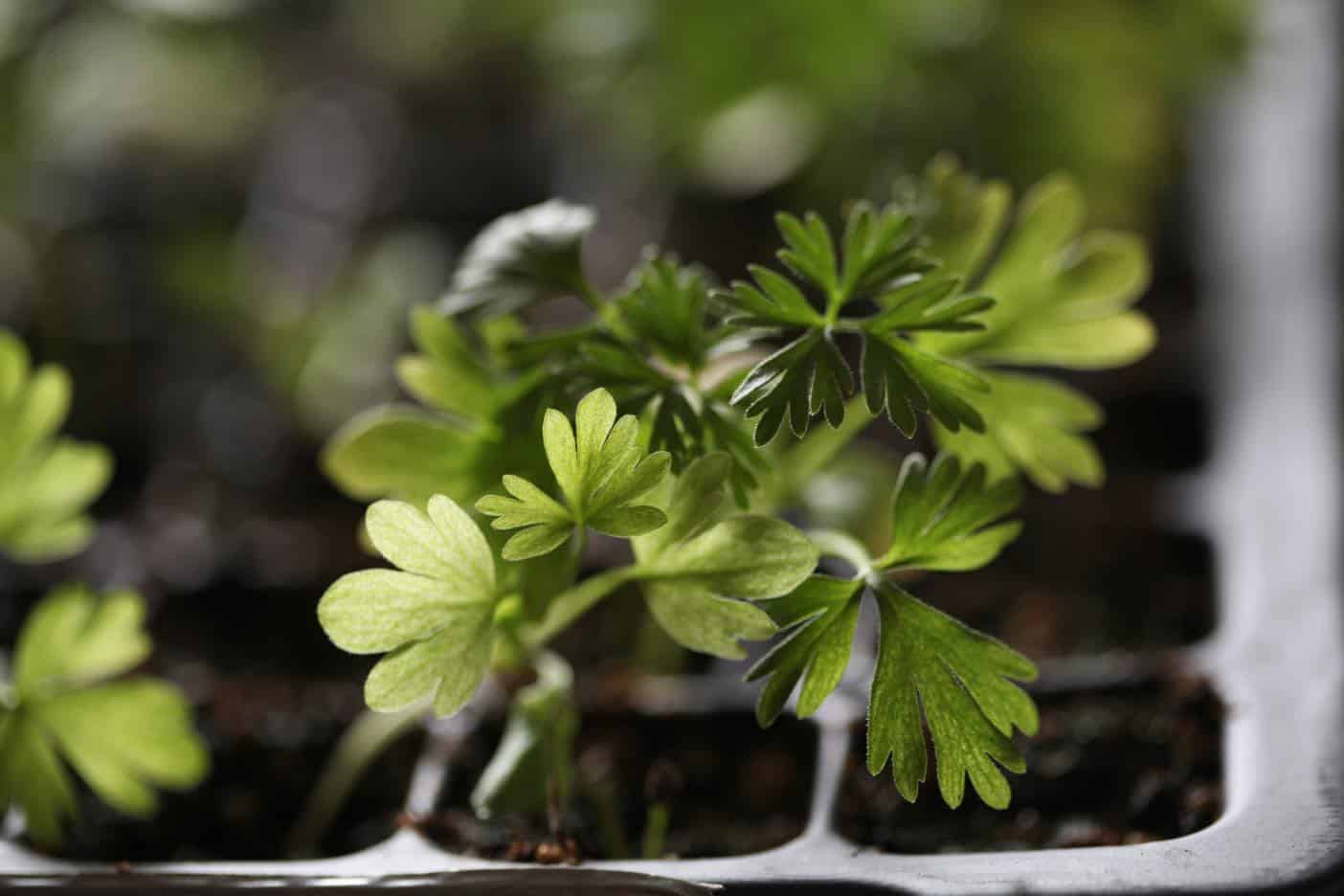 The leaves of Larkspur are fine, feathery and soft.
Larkspur Companion Plants
Companion plants that go well with Larkspur are those grown in similar soil types and during the Larkspur bloom time.
Anything that grows in a cottage garden will compliment Larkspur, both in the garden and in the vase. We love them with mixed perennials, such as Astilbe, Delphinium, Yarrow and Lady's Mantle.
They also grow well with other hardy annuals such as Bachelor Buttons, Agrostemma, and Ammi, which we grow along with the Larkspur.
Is Larkspur Poisonous?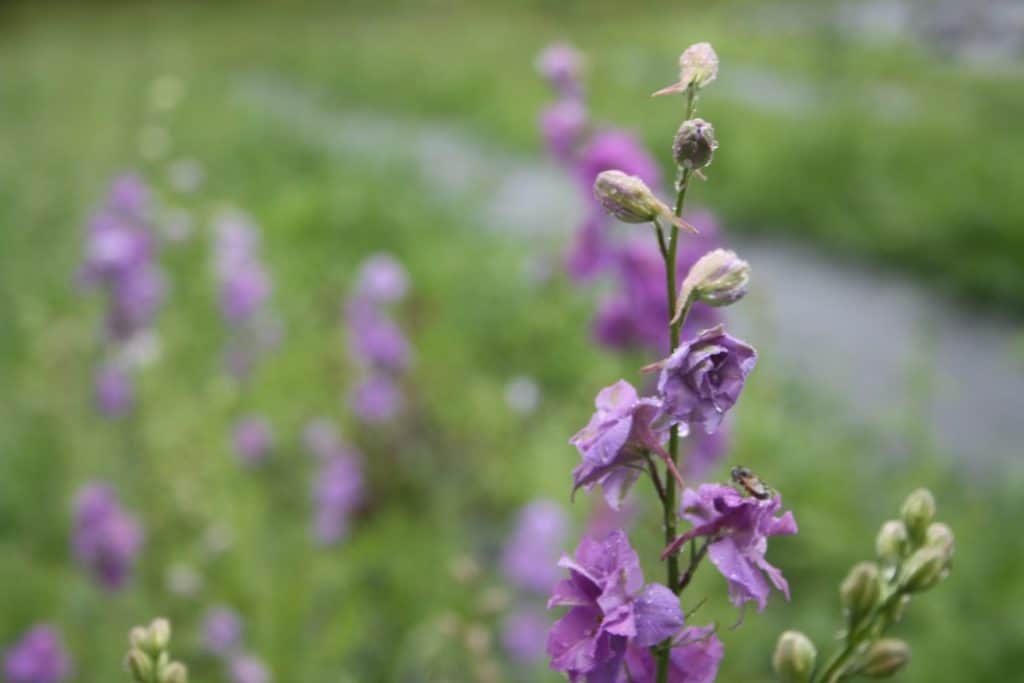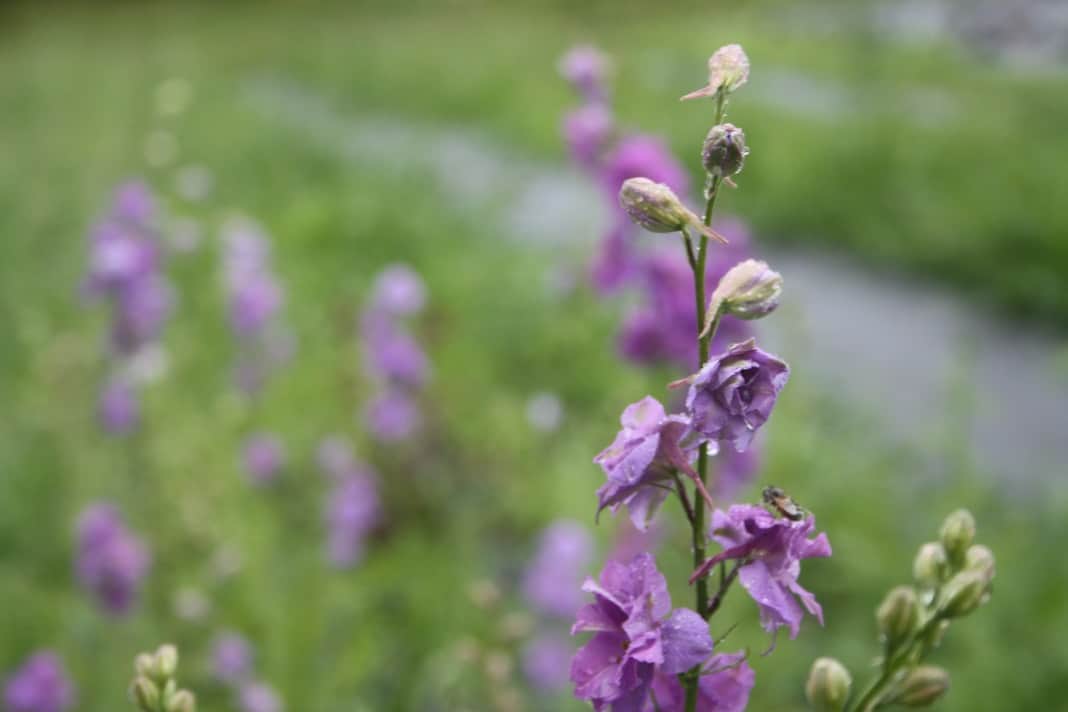 All Larkspurs are poisonous plants, and care should be taken around young children and animals.
All parts of the plants are poisonous, including the flowers and the leaves. Even the seeds are poisonous.
This is true of many flowering plants in the herbaceous border.
Do Bees Like Larkspur?
Bees, butterflies and hummingbirds all love Larkspur!
They are wonderful flowers to attract pollinators of all types.
Is Larkspur Cut And Come Again?
Larkspur is not considered to be a cut and come again type flower.
It is a medium producer and will produce more than one stem per plant.
Should I Deadhead Larkspur?
Deadhead Larkspur once the flowers have finished blooming.
Remove the spent blooms by cutting them off down at the base. This will allow the plant to use the energy for further bloom development rather than for seed production.
Growing Larkspur For Cut Flowers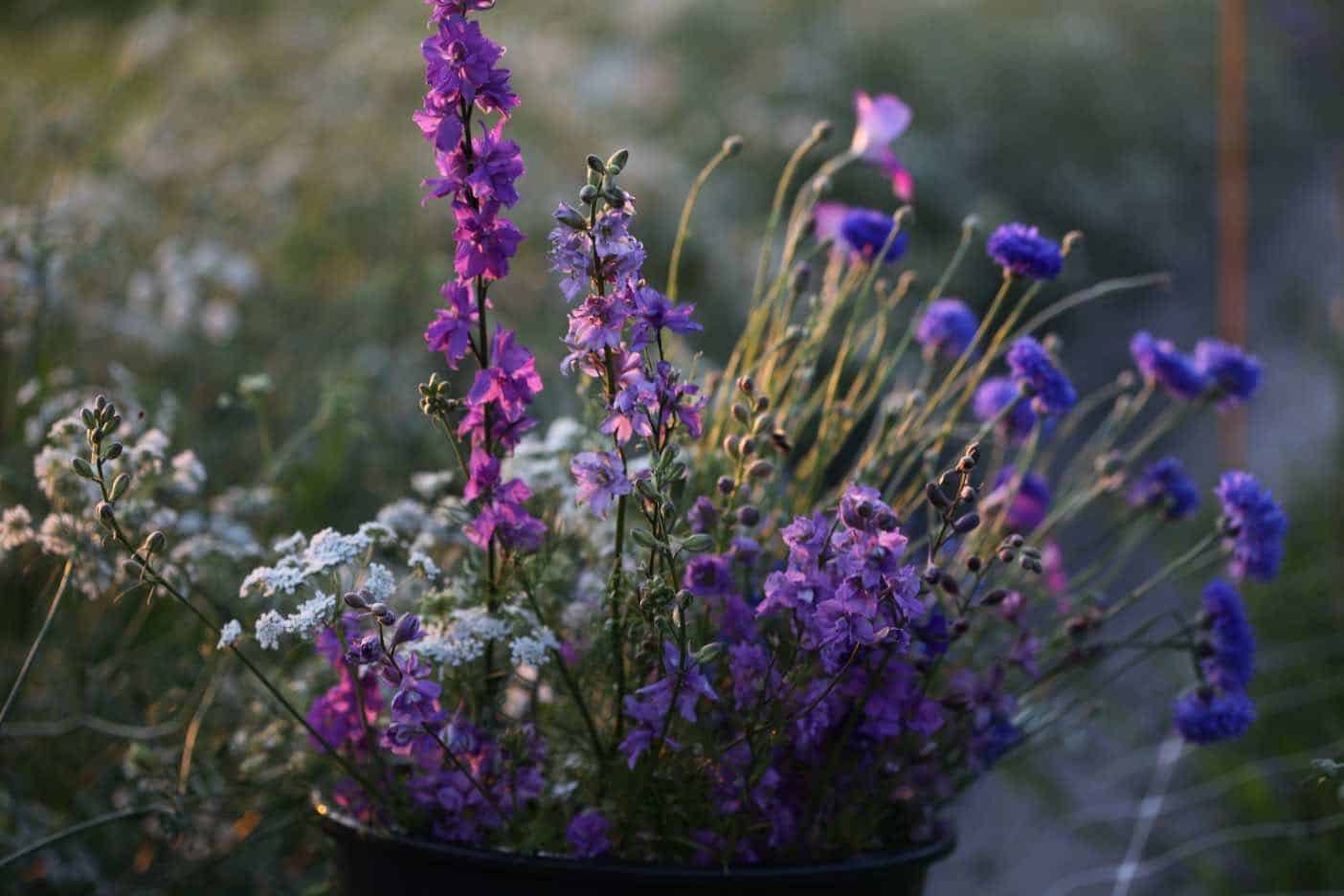 Fresh Flowers
Harvest when 1/3 of the flowers have opened. Place directly into water to prevent wilting.
Larkspur flowers benefit from conditioning after cutting, and this will improve the vase life.
They are very sensitive to ethylene exposure, so keep them away from fruit that is ripening.
Vase life is 5 to 7 days.
Dry Flowers
Larkspur is a wonderful dried flower as well. It looks great in everlasting arrangements.
It retains it's colour during the drying process.
If harvesting to dry, cut when flowers are fully open but before they start to drop petals.
Bunch in groupings of 30 stems, and hang upside down to dry in a warm dark location.
I hope that you found this post on how to grow Larkspur in the garden helpful. Any questions or comments are always welcome!
OTHER POSTS YOU MAY LIKE:
HOW TO GROW HARDY ANNUALS IN THE GARDEN
HOW TO GROW AMMI- AMMI MAJUS AND VISNAGA
WINTER SOWING IN MILK JUGS: COLD STRATIFICATION
PIN IT FOR LATER!