Last updated on October 21st, 2023 at 10:52 pm
Perennial Bachelor Buttons, also known as Centaurea Montana, are wonderful sweetly scented flowers that take me back to childhood, with such fond memories of them growing along the stream beds in the Newfoundland countryside. These whimsical blue flowers are reminiscent of a cottage garden, and are easily grown in any garden to enjoy.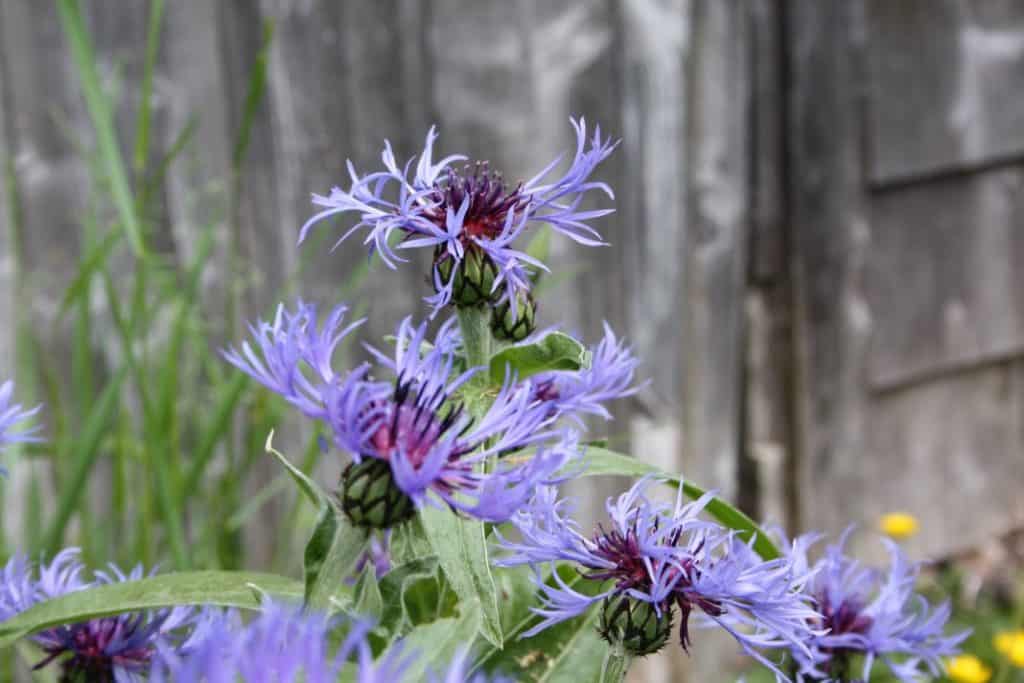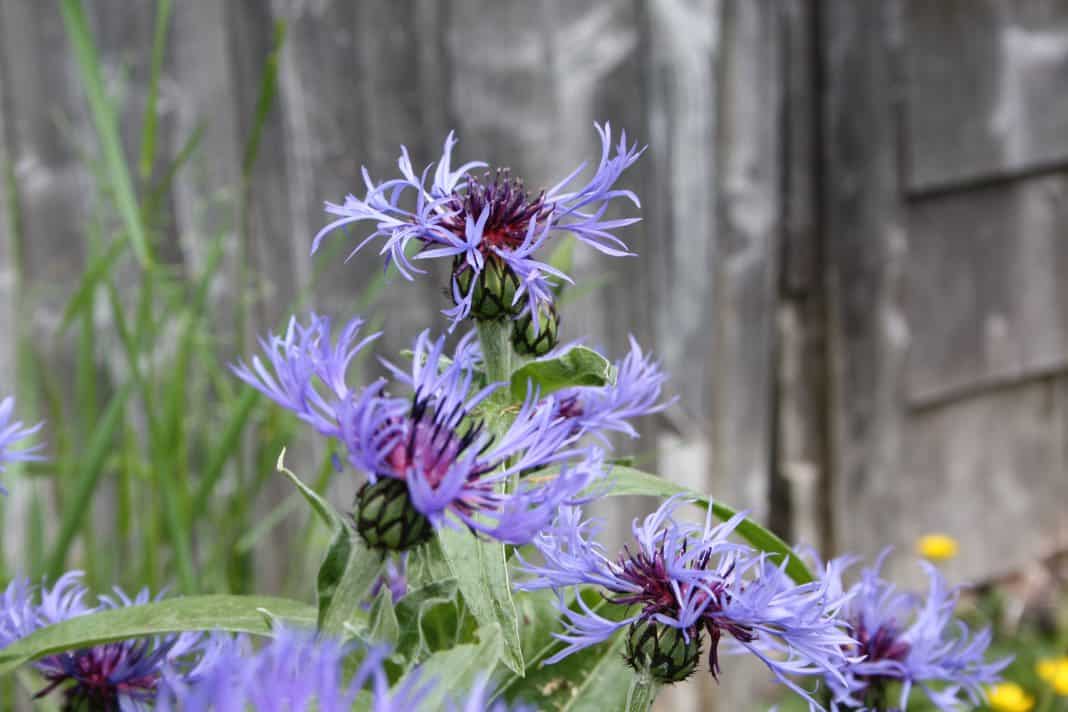 Are all Bachelor Buttons Perennials?
Bachelor buttons come in both annual and perennial varieties. We grow both types, for different purposes.
Also known as Cornflower, Bachelor's Button, Mountain Cornflower, Montane Knapweed, Mountain Bluet, and Centaurea, these Bachelor Buttons have many aliases.
We grow the annual variety (Centaurea Cyanus) in our cut flower garden at the flower farm, where we use them in mixed bouquets. They are a great addition to market bouquets with that little accent punch of bright blue, that they provide to the other flowers.
These annual flowers are great for drying, and we use them in our everlasting dried flower projects as well.
The annual bachelor button has a different appearance than the perennial form.
The annual variety that we grow is "Florist Blue Boy", and as you can see in the photo below, there is a distinct difference in the shape, form and density of the petals compared to the perennial variety in the first photo.
Annual bachelor buttons do not come back every year in our zone 5b garden. These annual varieties can however, be perennials in much warmer zones 8 through 10, although not for us.
They are hardy annuals for us, and the seeds are hardy enough to survive our cold winters, easily reseeding in the garden the next year, in the form of volunteer plants.
What's In A Name?
Have you ever considered how the "Bachelor Button" got such a perfect name?
Historically, these perfect little blue flowers were worn on the lapels of eligible bachelors as they went courting the ones they loved.
If the flower remained fresh and did not wilt, this meant that their love would be reciprocated.
Such pressure for this sweet flower!
The name "Cornflower" is another common name for this flower. This name came from the fact that the cornflower often grew wild in cornfields, and therefore the cornflower was associated with this location.
"Cornflower Blue" is the name of the beautiful blue color of these unique flowers, and is now used to describe this certain color of blue, known as cornflower blue.
The annual variety of Bachelor's Buttons does not have the sweet scent of it's perennial cousin. Oh to capture that amazing smell.
Perennial Bachelor Button Flower
The perennial form of this unique flower, Centaurea Montana, is often grown as a garden plant, and has great potential to be grown as a cut flower.
The perennial flower, Centaurea Montana, is striking in flower arrangements! We are planning to incorporate more into our perennial garden at the farm to experiment with their use as a cut flower.
From experience alone, and without proper conditioning, the flower heads tend to wilt fairly quickly when picked for a posey.
Given the proper conditioning however, and after cut care, should really make a difference in the stamina of the centaurea blooms.
Perennial Centaurea Montana comes back every year, and also self-seeds readily, ensuring new plants for many years to come.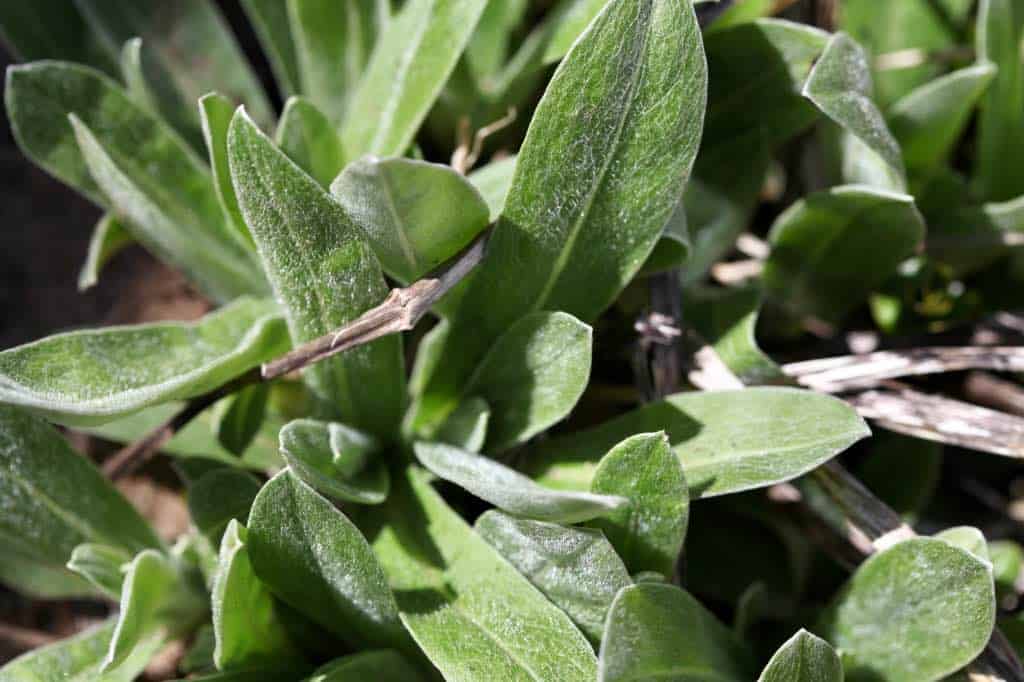 The bright blue-purple blossoms of this perennial attract butterflies and other pollinators. They are a colorful addition to the pollinator garden, as well as the perennial bed.
Centaurea Montana flowers are often found growing wild in Nova Scotia. They are found in meadows, along the edges of woodlands, next to old barns and elsewhere in the countryside.
These flowers are also found in the perennial garden, and this is where you will find them at our flower farm.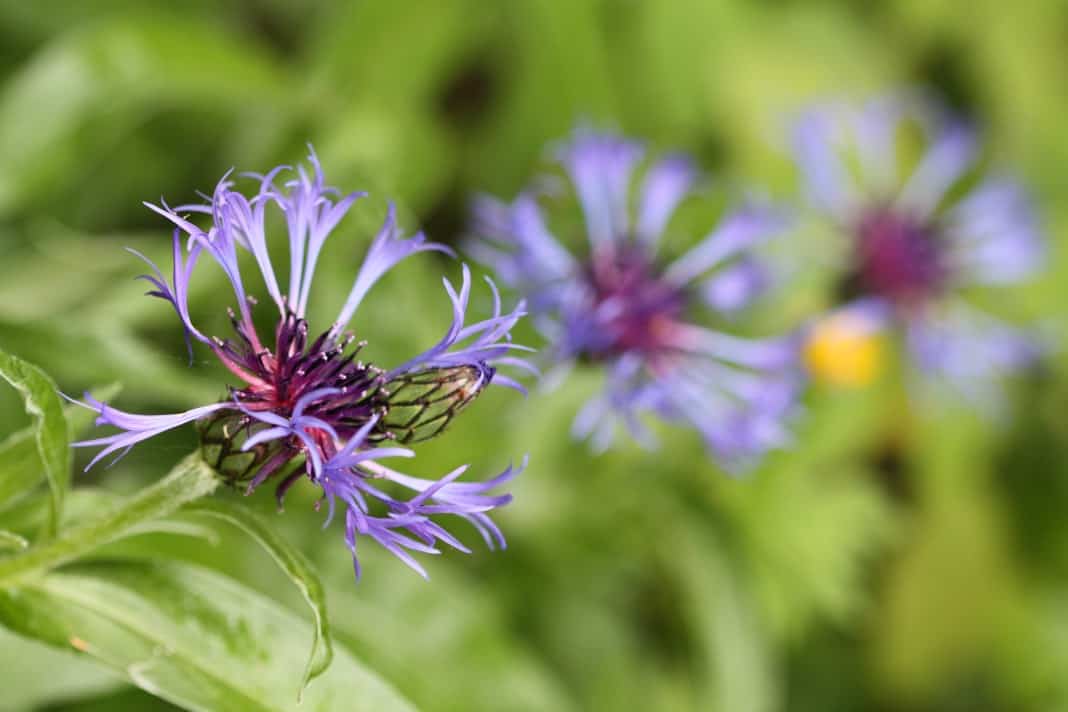 One of the things that I love about this pretty flower, besides the delicate feather-like petals, is the absolutely unique delicate sweet smell. It's unlike any other flower that I've smelled before.
As a child, I always wanted to capture and preserve the smell, to take it home with me. The sweet blue flowers always wilted, and never lasted long.
I will be trying to do just that in the future, and so it will be a topic for a future post!
Tips For Growing Centaurea Montana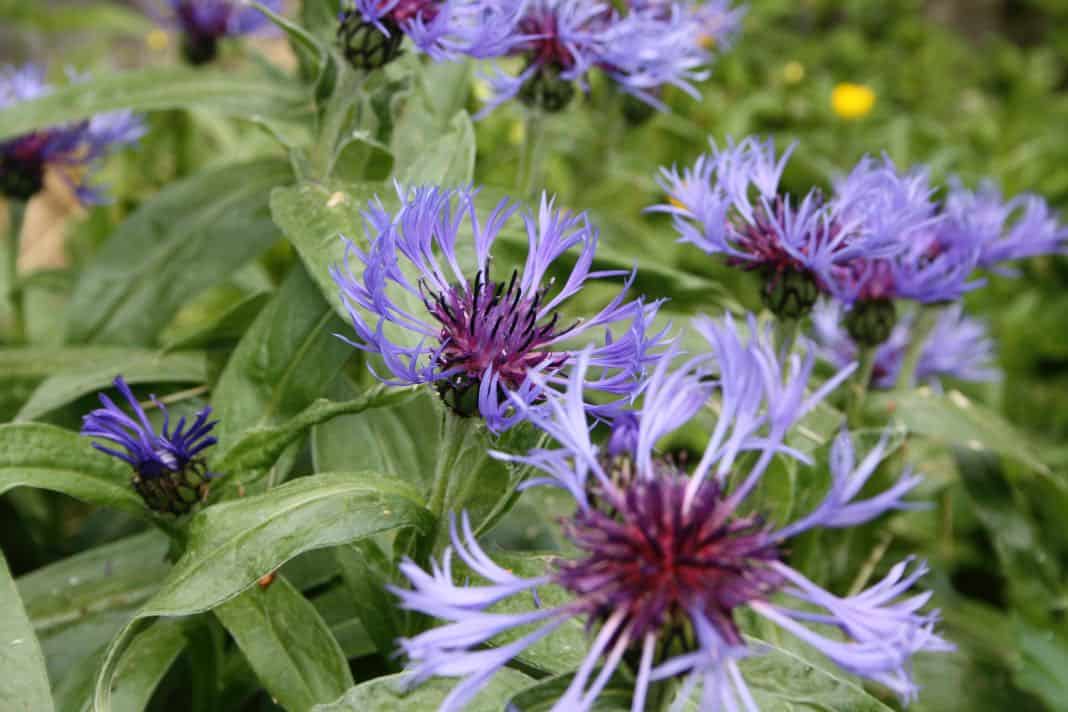 Perennial Bachelor Buttons are easy to grow, and with proper care, are a great choice for any gardener looking to grow these wonderful flowers.
Here are some growing tips and considerations for perennial bachelor button care, to keep these blooms looking good in the garden.
Light requirements
Best if grown in full sun, but will tolerate some shade.
Just like the annual variety, you will have better blooming if grown in full sun.
Soil types
Avoid rich fertile soils if possible.
Prefers a dry to medium well drained soil, and is tolerant of poor soil types.
Thus the propensity for growing in gravel along steams and in wild flower meadows.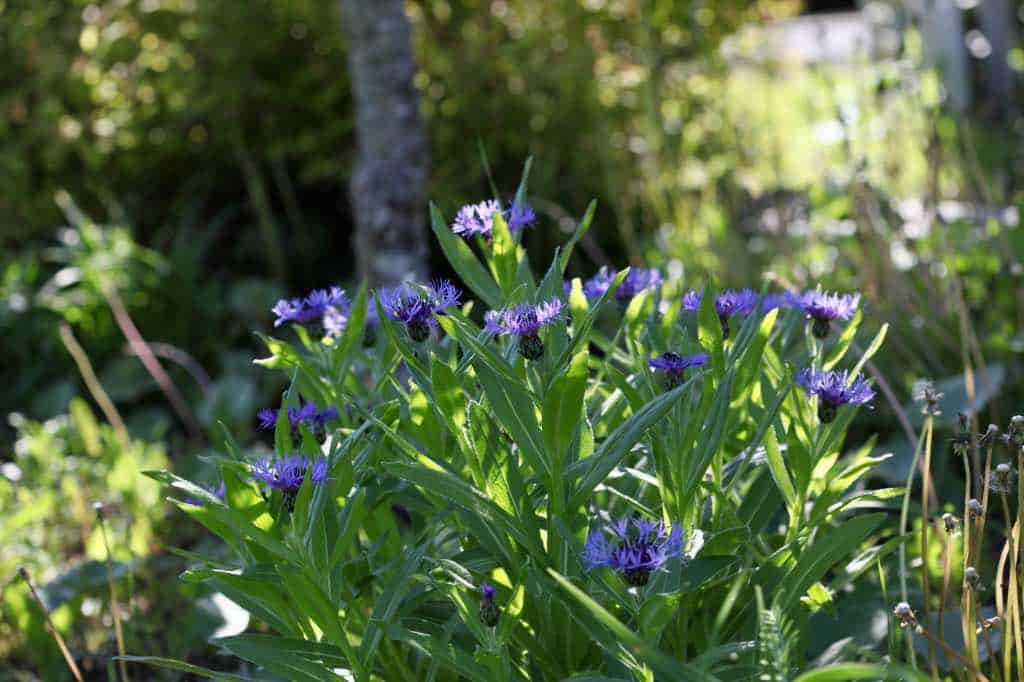 Moisture requirements
This plant is drought tolerant, so moisture requirements are low.
Location
Grows very well in zones 3 to 9.
The perennial bachelor button is a great choice for northern climates.
Deer Tolerant
No need to worry about the deer with these flowers, because they are deer tolerant!
It's always nice to find a flower that's deer resistant.
Deer tend to stay away from plants and flowers that are not palatable or taste bitter, as is the case with these plants.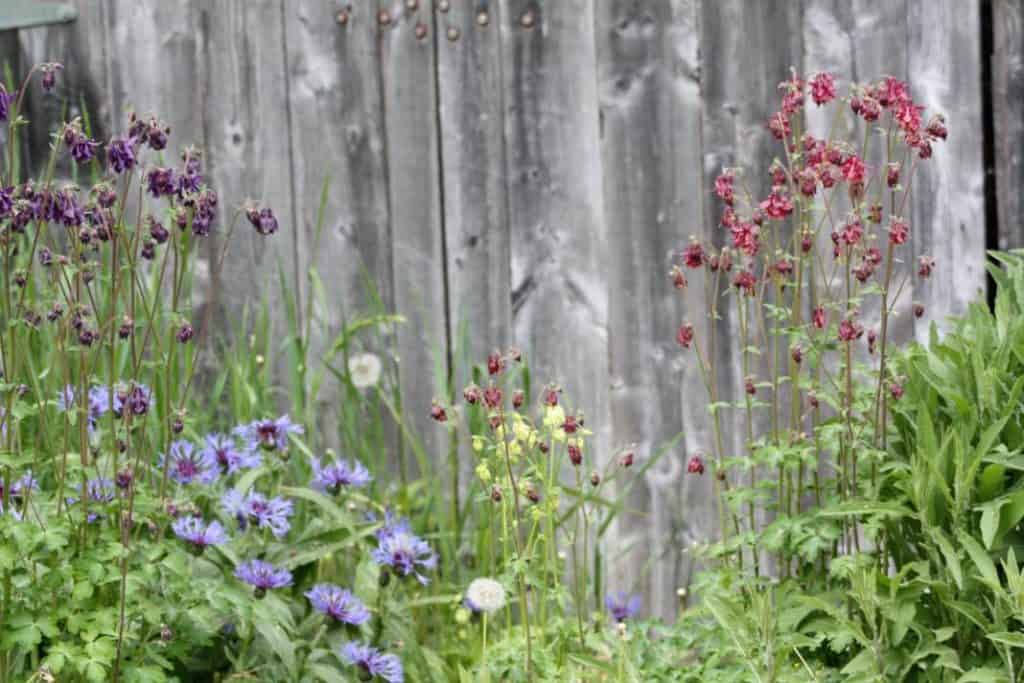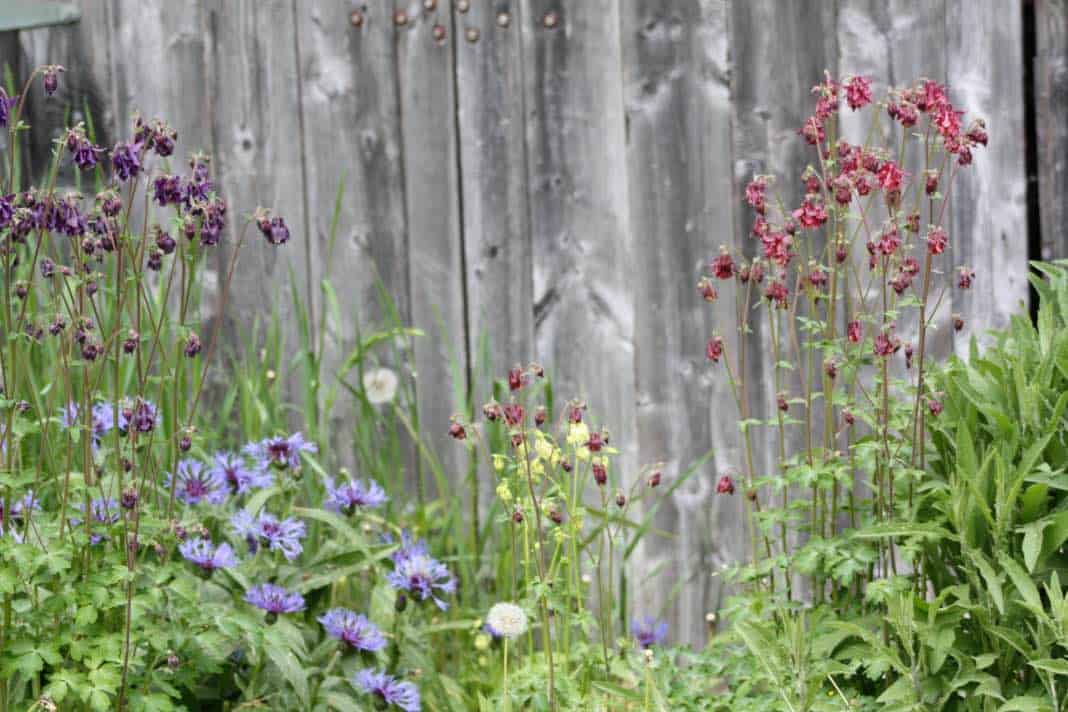 Flowering Time
Flowering time is late spring to early summer in most areas.
Cut back after flowering, so that the plants will rebloom again in the fall with a second flush of blooms.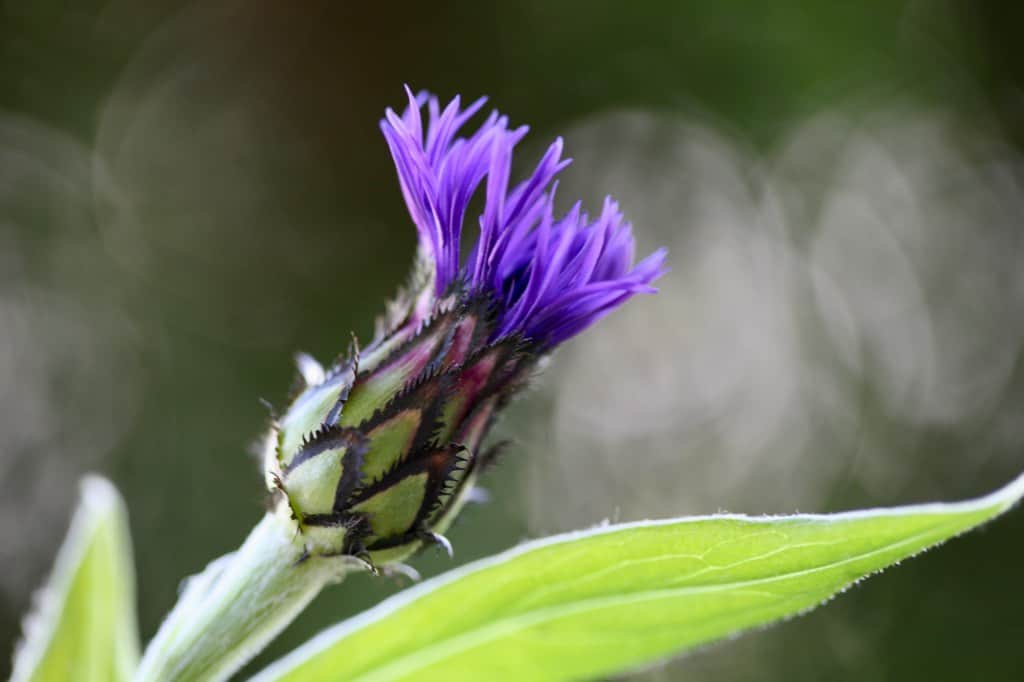 Deadheading
Deadheading faded flowers and spent blooms will make the plant look tidier and promote flowering.
You may also get a second flush of repeat blooms, although there will be less flowering for the second flush.
It will also prevent reseeding, if you are trying to reduce the number of plants in your garden.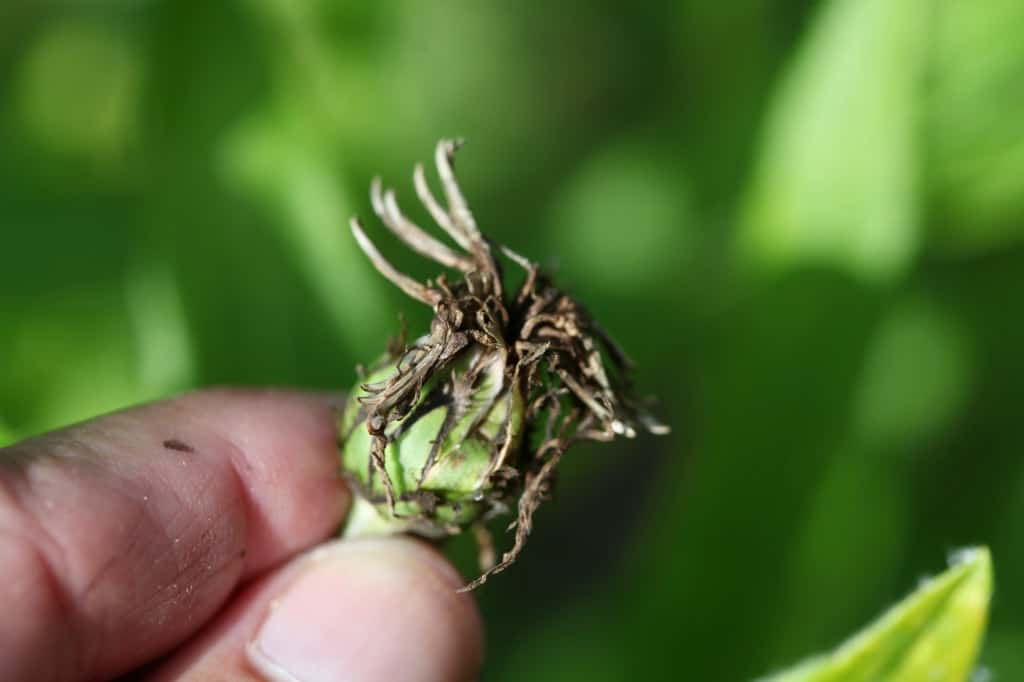 Pruning
You can prune plants back quite severely, and they will rebound by producing new growth.
Propagation
Increase your stock by dividing your plants in spring or in autumn every three years or so.
You can also propagate by growing from seed, just like the annual variety.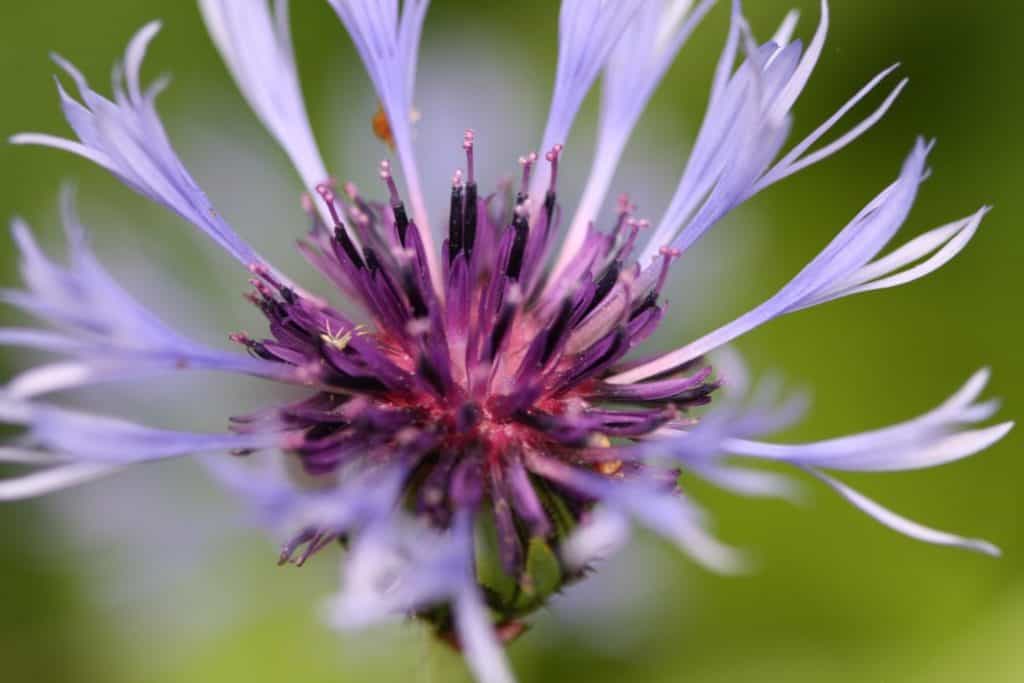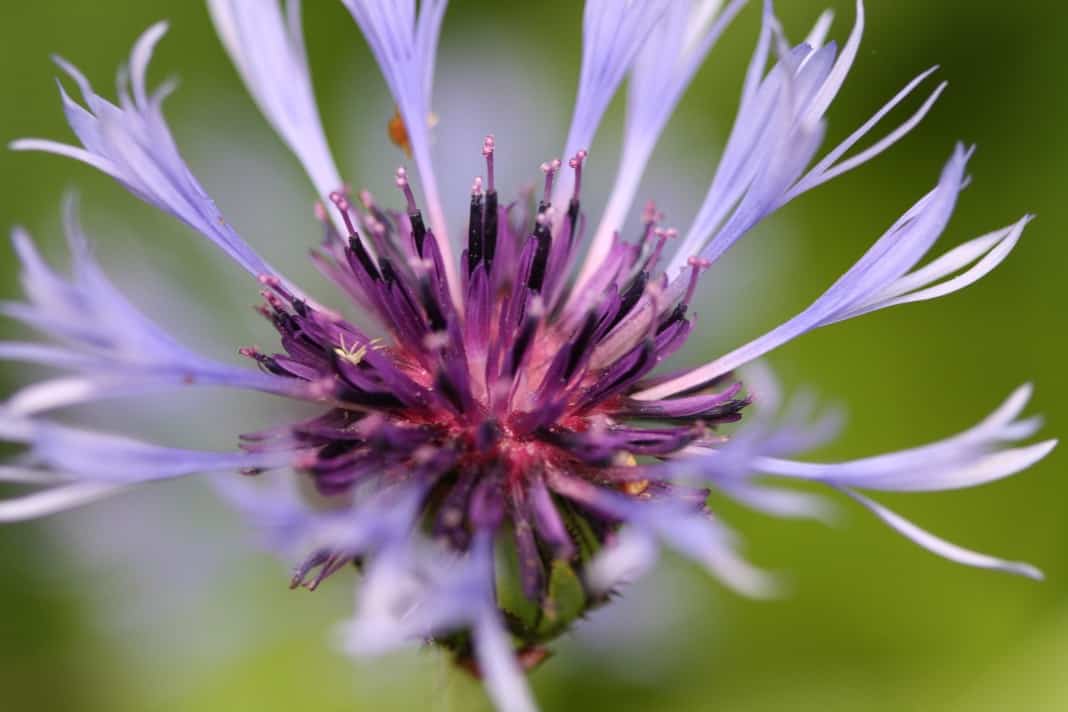 How To Divide Centaurea Montana
This plant grows by rhizome and can easily be divided for propagation purposes.
To propagate by root division, dig up in cooler weather, on a cloudy day if possible because this will reduce stress to the plant. Do not divide in the midday heat.
You can also soak the plant in a bucket with some cool water before division, so that the plant can rehydrate, and to help reduce potential transplant shock.
Divide with a garden fork or sharp clean knife. Divide each clump into two or three divisions.
Cut back the foliage before or after division by approximately two thirds. Once re-established, the plant will start to grow at the base with new shoots, once it takes hold and continues to grow.
Plant the new divisions each in a prepared hole at the same depth that the plant was dug, and firm down the soil to reduce air pockets.
Water in deeply to prevent transplant shock.
The plant may still become a bit floppy after transplanting if slightly stressed. Keep well watered, and the plant should recover within a few days.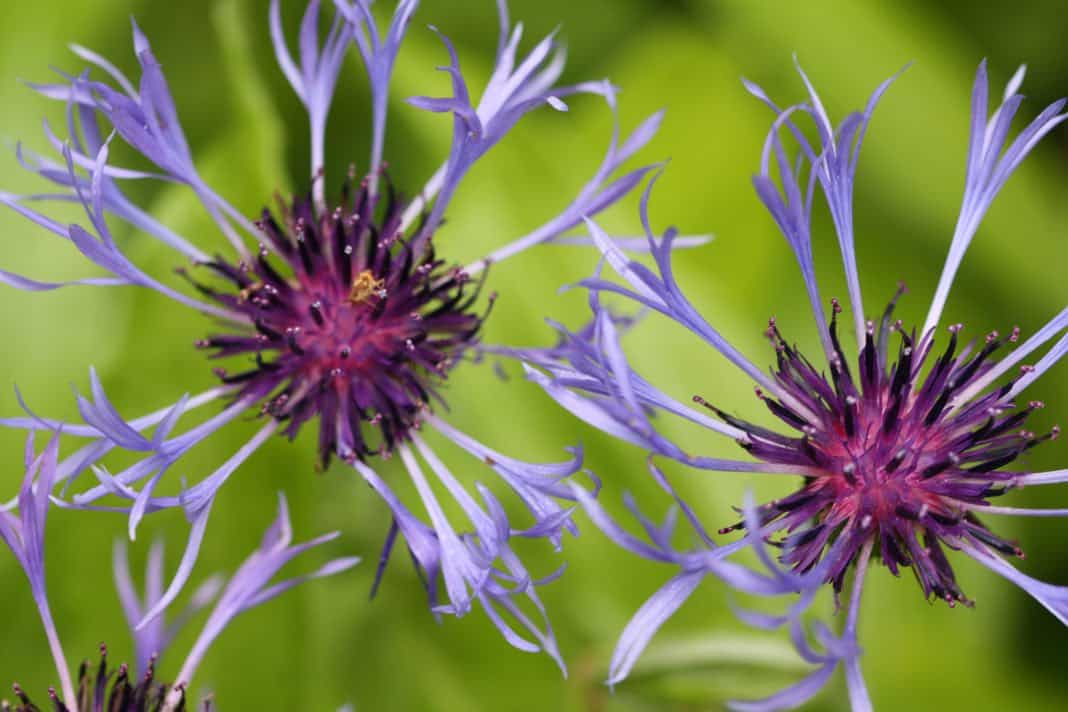 Frequently Asked Questions
Are Perennial Bachelor Buttons Good Cut Flowers?
Perennial bachelor's button makes an excellent cut flower, with it's wispy flower petals, and brilliant violet-blue flowers.
Bachelor button flowers are showy flowers with branching stems, and make attractive cut flowers for an informal display.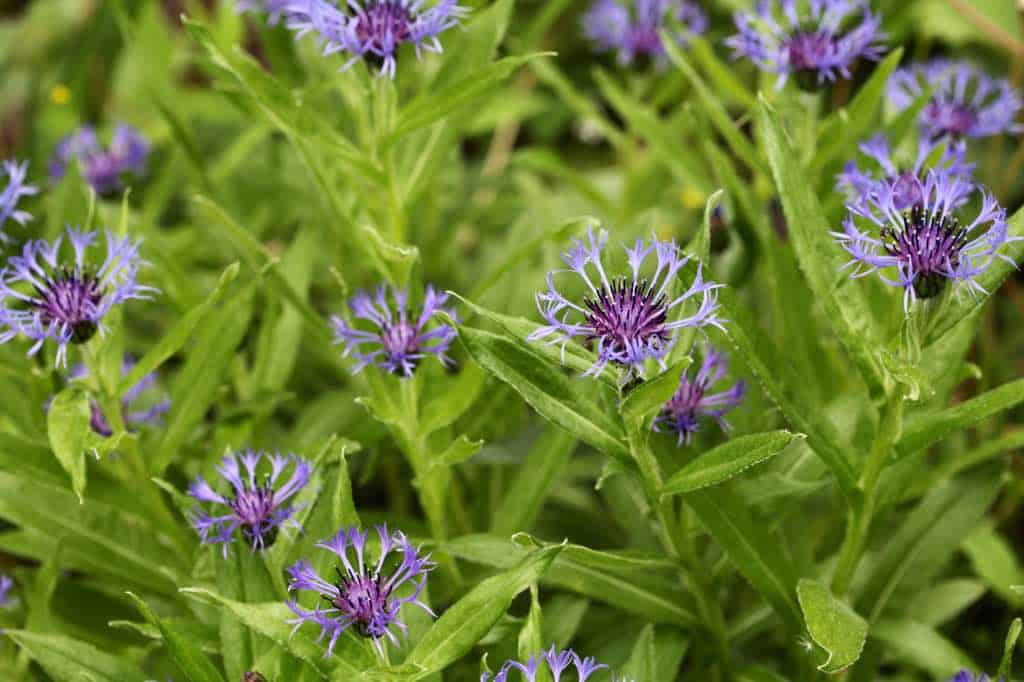 Should I Cut Back Centaurea Montana?
Pruning the plant will help to prevent self seeding, and any unsightly spent blooms. However cutting back the plant is not necessary.
Perennial bachelor buttons are herbaceous perennials, and the plant will die back to the ground naturally, at the end of the season.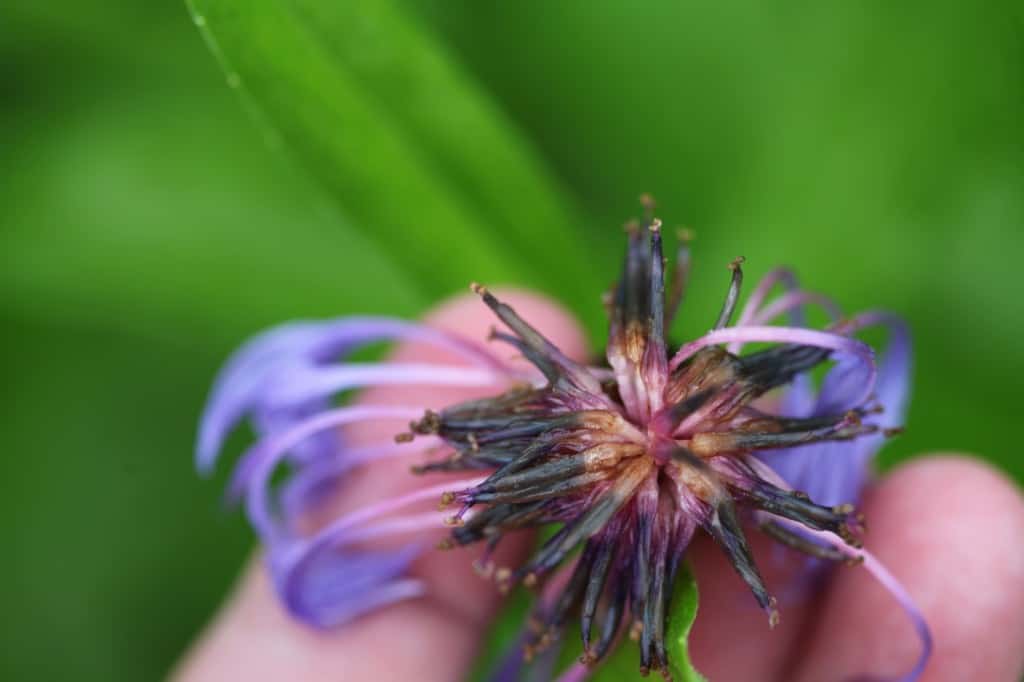 Is Perennial Cornflower Invasive?
Perennial bachelor buttons are known to be invasive in British Columbia, Canada, competing with native plants.
Be sure to be aware if the plant is considered invasive in your area, before planting.
Conclusion
The perennial bachelor button plant is easy to grow, and requires little care.
Consider growing these beautiful and delightful flowers in your garden this year. You won't regret it!
If you get the chance, smell the sweet perfume of these perennial bachelor buttons, and let me know what you think in the comments below!
It is how sweet and unforgettable memories are made!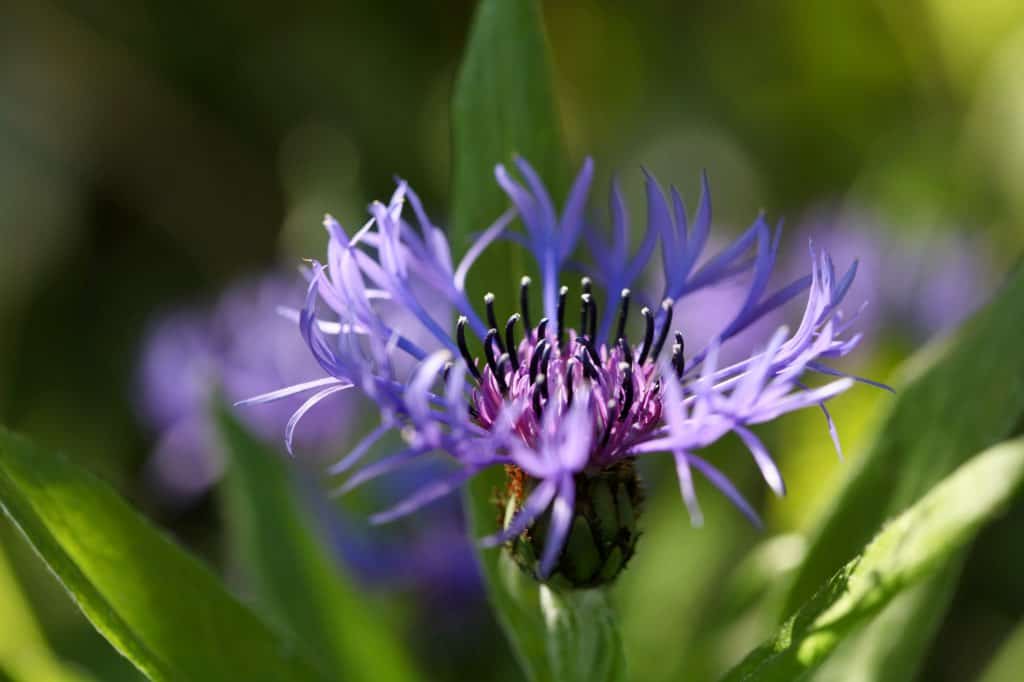 OTHER POSTS YOU MAY LIKE:
See the Web Story on Growing Perennial Bachelor Buttons- Centaurea Montana!
PIN IT FOR LATER