Last updated on October 21st, 2023 at 11:18 pm
Apple Of Peru, also known as the Shoo Fly plant, can be grown for it's interesting lantern-like pods. The pods are quite unique in appearance and similar to Chinese lanterns, although different in colour. They make a great accent in farmhouse bouquets, and we also use them as a filler. Learn how to grow Apple Of Peru ~ The Shoo Fly Plant.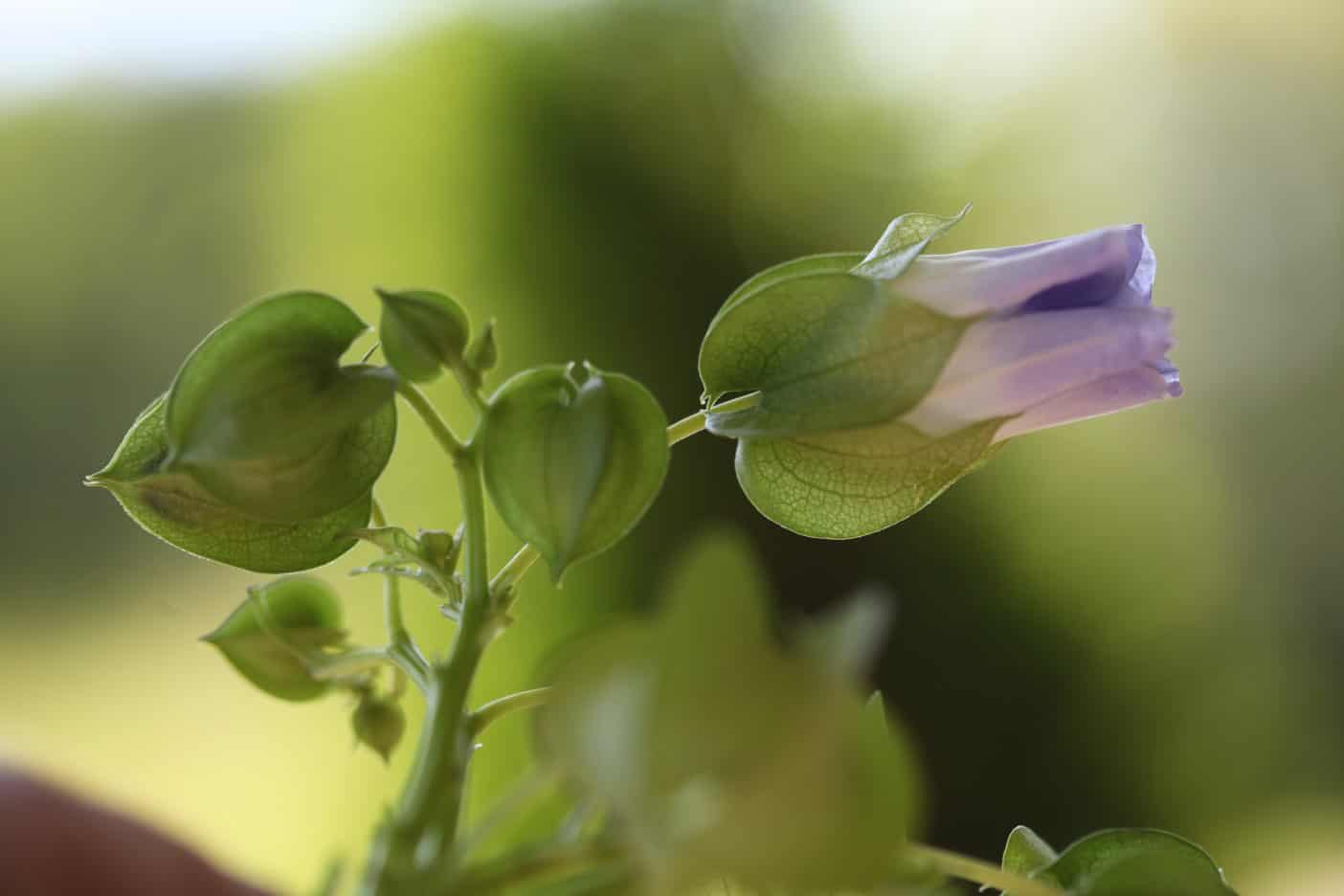 Several years ago when we started our flower farm, we selected a number of plants that we planned to use as fillers for bouquets. One of these plants was Apple Of Peru, or Shoo Fly Plant.
The Latin name for this plant is Nicandra physaloides.
Apple Of Peru has proven to be a wonderful and fantastic filler. The leaves are attractive if used for greenery.
The lantern-like pods are funky and interesting when placed in bouquets.
These plants grow extremely well in our zone 5b garden, although maybe a little too well, I have recently started to believe.
We bought our original seeds from Floret. Now we have saved our own.
However there is much more to know about growing Apple Of Peru than just the filler we started growing it for.
What's In A Name?
The name Apple Of Peru is attributed to the place from which this plant originated.
Native to Peru, this plant was brought to the United States as an ornamental garden plant.
It currently grows in many places in the world.
Why Is It Called Shoo Fly Plant?
Apple Of Peru is called Shoo Fly plant due to it's insecticidal properties.
Using the plant to make insecticidal concoctions has been effective in killing and essentially shooing the flies away.
The concoctions are usually made with milk and Apple of Peru mixed together, and left out for flies to feed on.
This in turn causes their demise.
The plant contains steroidal lactones called nicandrenones, which produce the insecticidal effects.
We have not used the plant for these properties here on our farm, however it is certainly interesting and important to know the history behind every plant that you grow.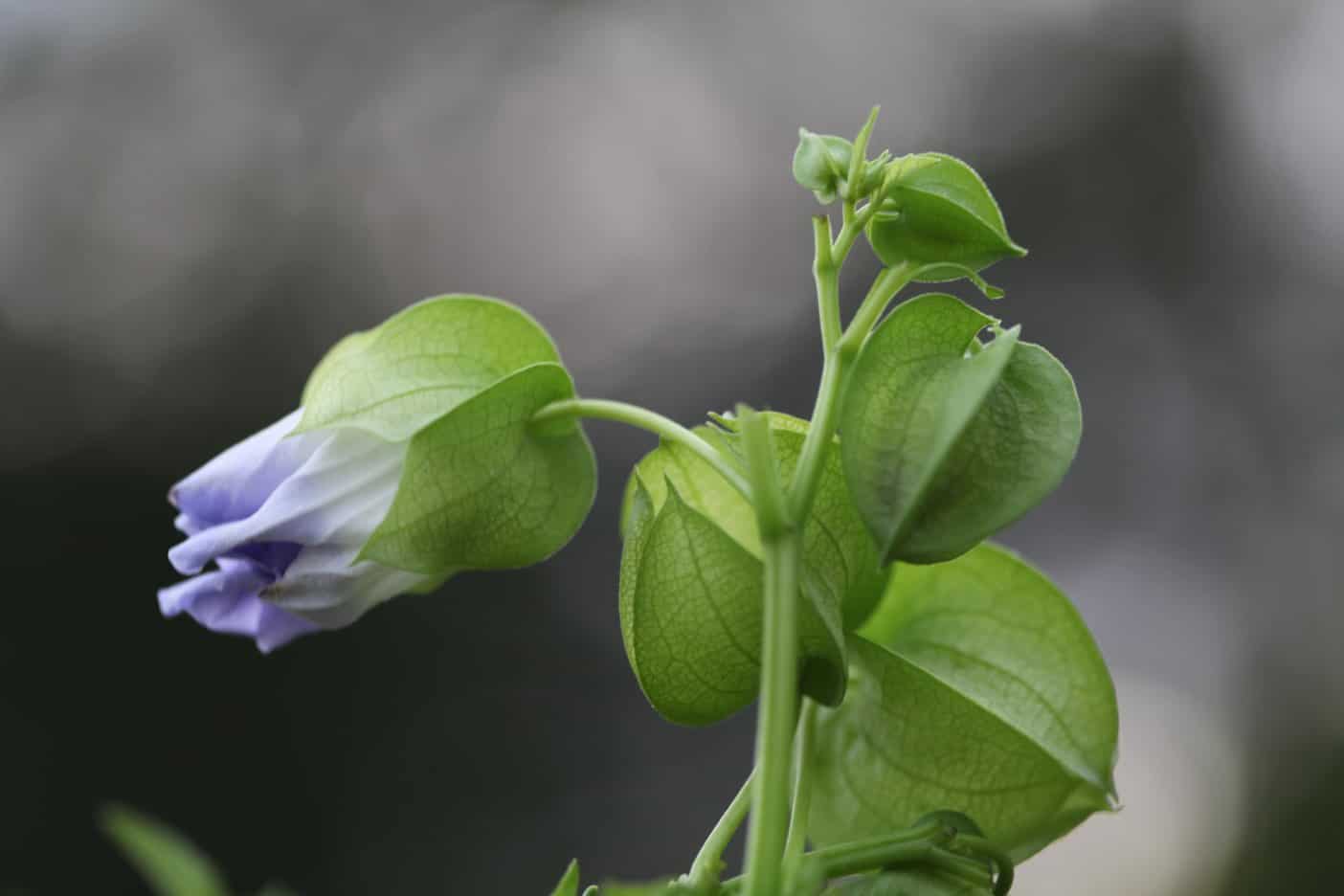 Is Apple Of Peru Poisonous?
Apple Of Peru is a member of the Nightshade Family (Solanaceae), which is known to contain poisonous plants. This plant has been identified as being poisonous to humans, and should not be eaten.
North Carolina State University and N.C. Cooperative Extension have identified this plant as poisonous to humans, with poison severity as low. See article Nicandra physalodes.
Is Apple Of Peru A Perennial?
Apple Of Peru is a fast growing annual flowering plant which grows from seed to maturity within the growing season.
The pace of the growth of this plant is spectacular to see, and in our garden it grows to almost six feet tall by the middle of the growing season.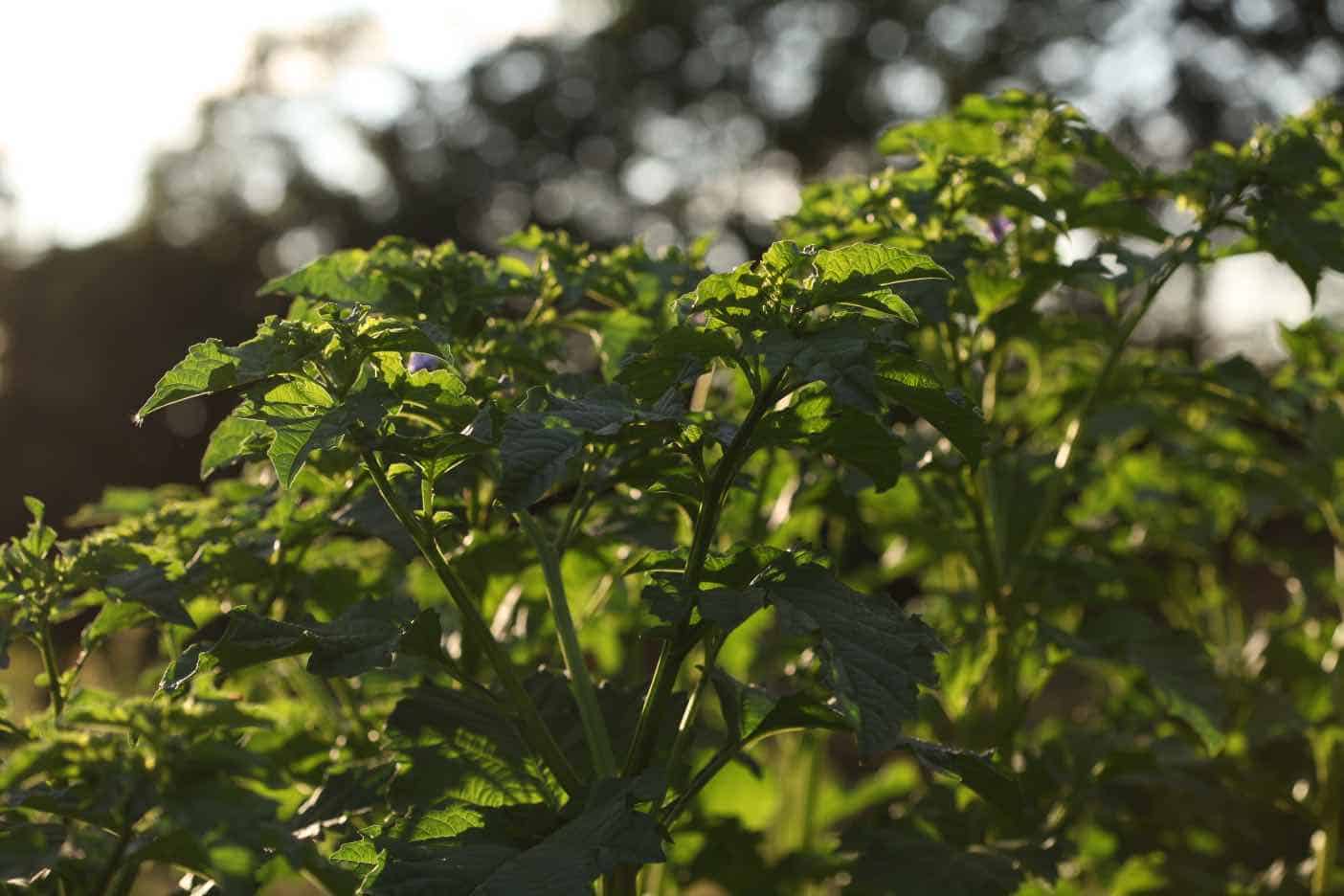 Is Apple Of Peru Cut and Come Again?
Cut and come again is a phrase used for annual flowers that can be cut from all summer long, continuing to produce more flower stems throughout the summer as they are harvested. Apple of Peru does not meet this criteria, although it does produce many side shoots along a thick centre stem, which can be harvested over time throughout the growing season.
How Do You Grow Apple Of Peru?
Apple Of Peru is an annual plant that is grown from seed.
Learning how to grow Apple of Peru is not difficult.
Normally we start our flower seeds indoors in winter, to give them a head start on the growing season here in zone 5b.
This is how we grew Apple Of Peru the first year.
We did not stratify the seeds, and they grew very well.
Growing The Seeds Indoors Year One
We planted the seeds in cell trays in a good seed starting medium, and then covered the seeds with vermiculite.
The cell trays with the planted seeds were then placed on heat mats until the seeds germinated.
The seedlings were then grown under lights until they could be planted out into the garden in spring.
These plants were pretty sturdy even as young seedlings.
They grew tall and strong in their seedling trays.
Once the little plants were settled into their place in the garden their growth really took off.
They grew so fast and so large that they crowded out all the weeds in their growing area.
Apple Of Peru was the largest plant growing in our garden within a matter of months.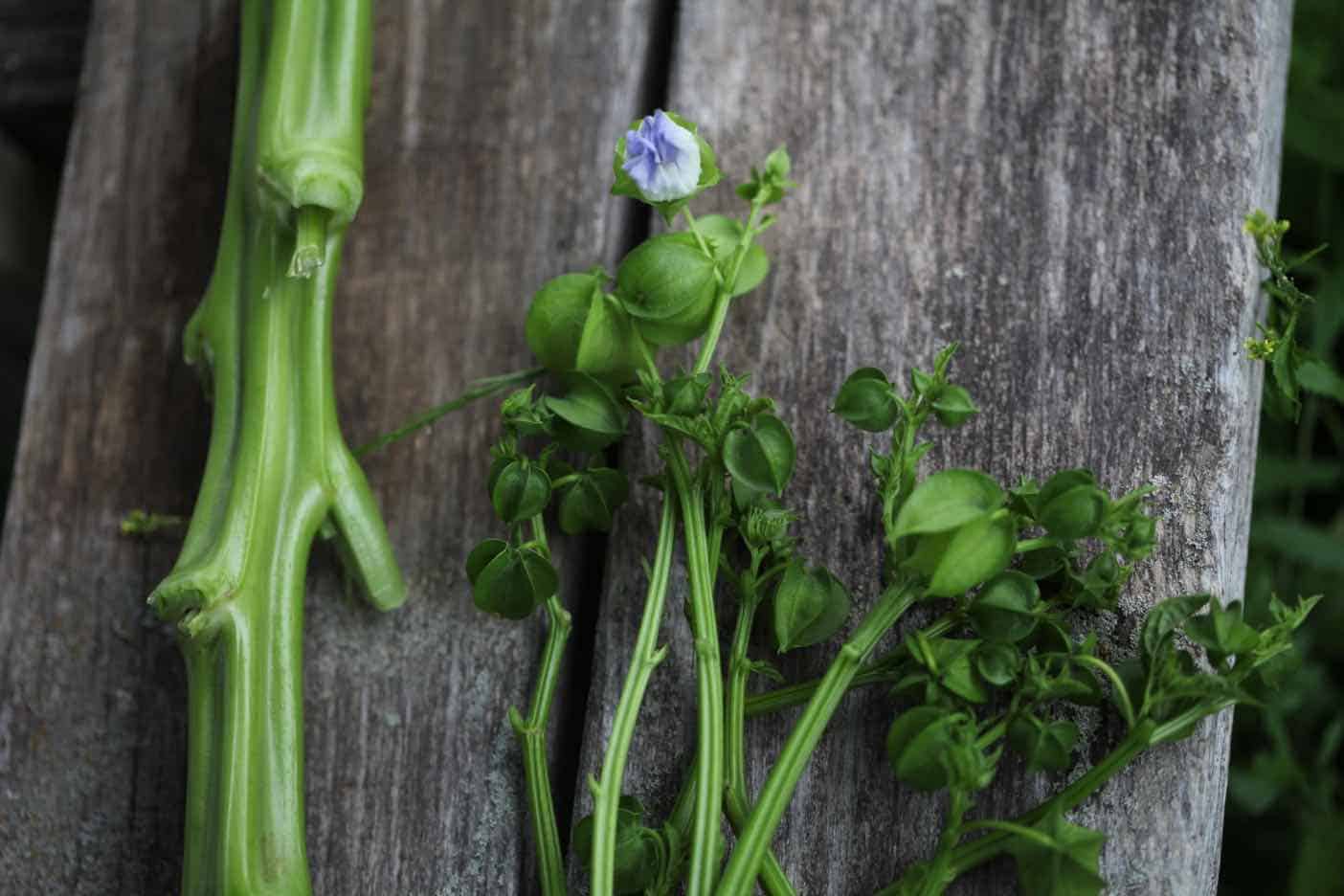 Growing The Seeds Year Two~ Plus Volunteer Plants
The second year we also started a couple of trays of Apple Of Peru indoors, and planted them out in spring.
During this second year I found several volunteer plants that came up in the garden all on their own. I noticed that they grew close to the area that they had been originally planted the year before.
I started to have some concerns about the size of the plants, as they really were the largest plants in the garden.
They crowded out all the weeds growing underneath them which was a bonus.
However where they came up as volunteer plants, they also outgrew the plantings adjacent to their location. I could see that this could become a problem.
Volunteer Plants Year Three
This year we did not plant Apple Of Peru.
However, they returned to visit once more.
This time the Apple Of Peru appeared in a few places more places in the garden. I noticed that they grew best in the cafe au lait dahlia patch, which was amended with lots of organic compost.
Once again,I let them grow on.
They outgrew the cafe au laits, and again towered over all the other plants.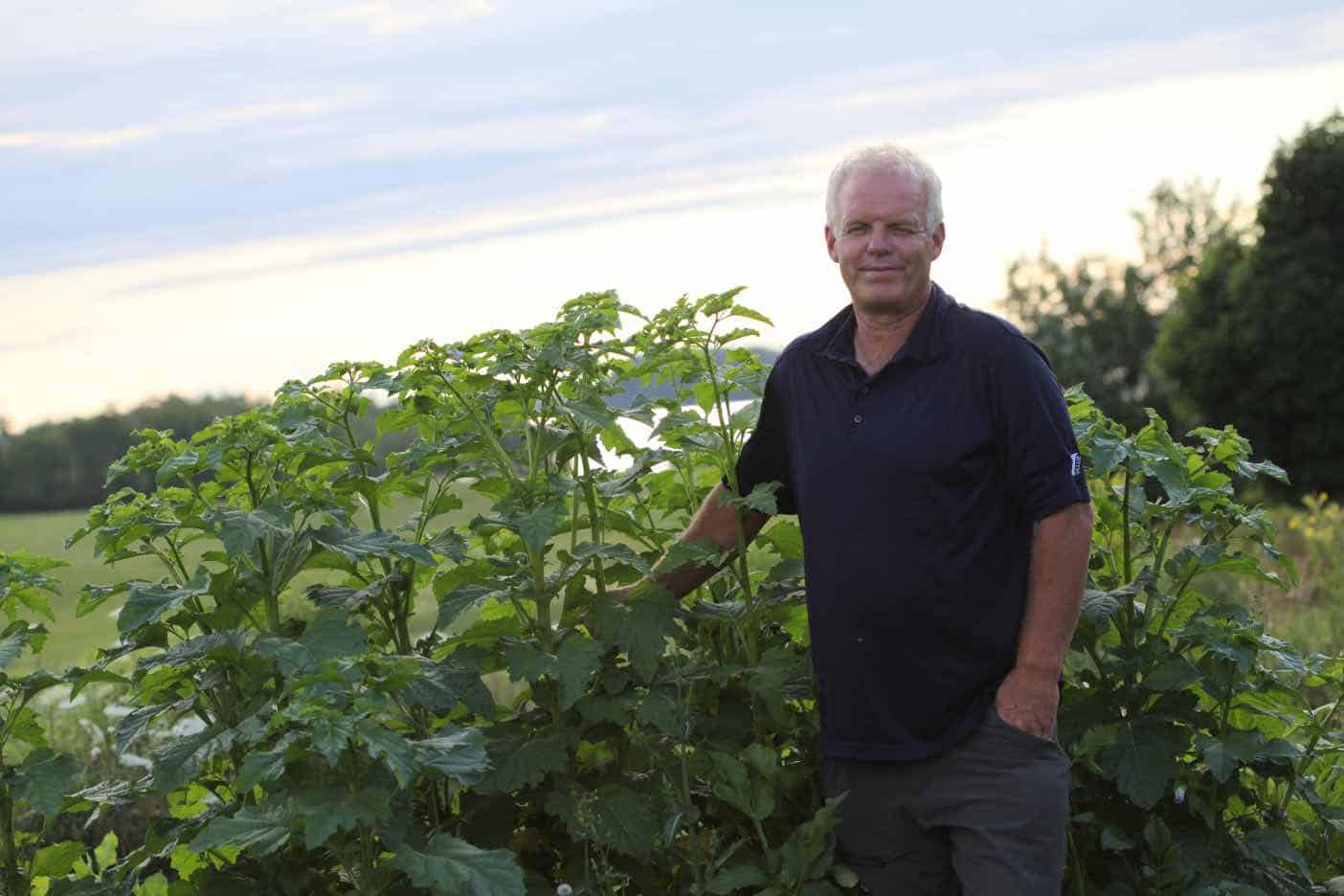 Growing Conditions For Apple Of Peru
Some considerations on growing conditions for Apple Of Peru:
Light Requirements
Apple Of Peru prefers full sun. If growing in a partially shady area, make sure that the plant will get at least six hours of sunlight a day.
Soil Requirements
Apple Of Peru thrives in a high organic fertile soil with good drainage.
It also grows in clay soil.
Here at our farm we grow in heavy clay soil, and need to amend the gardens for some of our heaviest feeders.
The Apple Of Peru that grows in the areas where there is heavy compost amendment are the largest in the garden, at about six feet in height. They absolutely thrive in nutritious soils.
Those plants growing in just clay (volunteers), are half the size at about three feet.
Moisture Requirements
This plant has average moisture requirements.
Water if dry, however generally does not require any extra watering other than what nature provides.
Apple Of Peru Plant Characteristics
The plant itself is very simple and has mostly dark green foliage with large crinkled serrated leaves. I have seen some cultivars in photos with variegated leaves as well.
Apple Of Peru is used for the berry pods which resemble green or dark purple Chinese Lanterns. The colouring is dependent on the cultivar that is grown.
These pods are interesting in a bouquet, and make a nice accent against the other flowers.
To use in a bouquet the leaves are stripped off, leaving just the lanterns and a few small leaves at the top of the stem.
A striking characteristic of this plant is the size and growth rate, at least in fertile soil.
Apple Of Peru grows from a tiny seed to a tall and sturdy plant in a just a few months months.
Last year the plants grew to at least six feet in height by the end of the season. The stalks were at least three to four inches in diameter.
These plants were massive.
What Does A Shoo Fly Plant Look Like?
The characteristics of the Shoo Fly plant or Apple Of Peru include:
Leaves
Large dark green crinkled leaves, which are larger towards the base of the plant, and smaller towards the top.
Leaf colour can vary depending on the cultivar.
Blooms
Small trumpet shaped blooms which protrude through interesting calyxes while they are blooming
The flowers range in colours, mostly shades of white or lavender, depending on the cultivar.
Each flower only blooms for one day, and if you catch them at the end of the day they will be starting to close up ( as in most of my photos).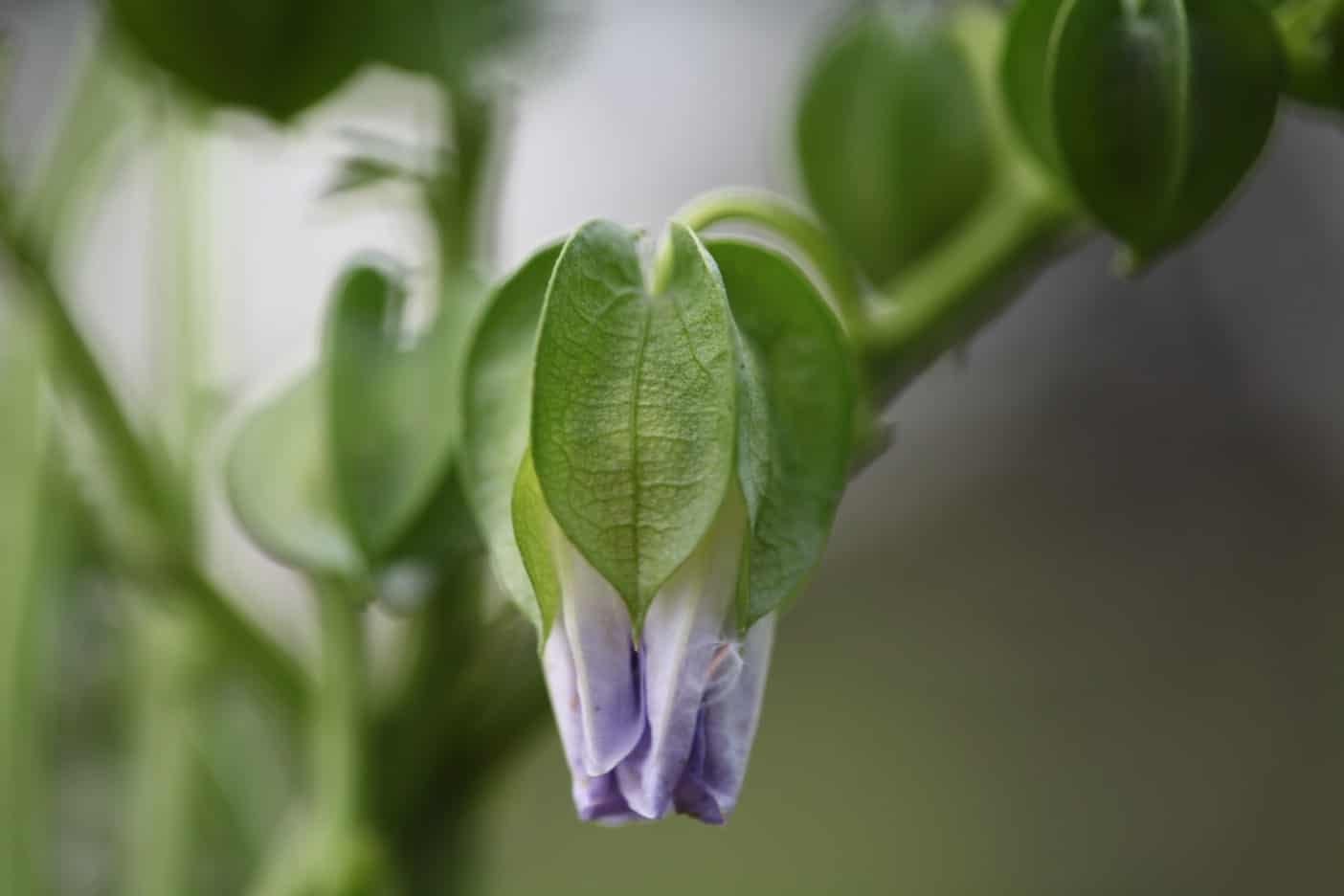 The plant continues to produce flowers throughout the season.
There is a thick centre stalk from which lateral branches grow, producing flowers and calyxes towards the top of the stems.
Calyxes Or Lanterns
The calyxes and blooms grow in different stages on each stem, demonstrating varied sizes and stages of bloom all at the same time on each stem.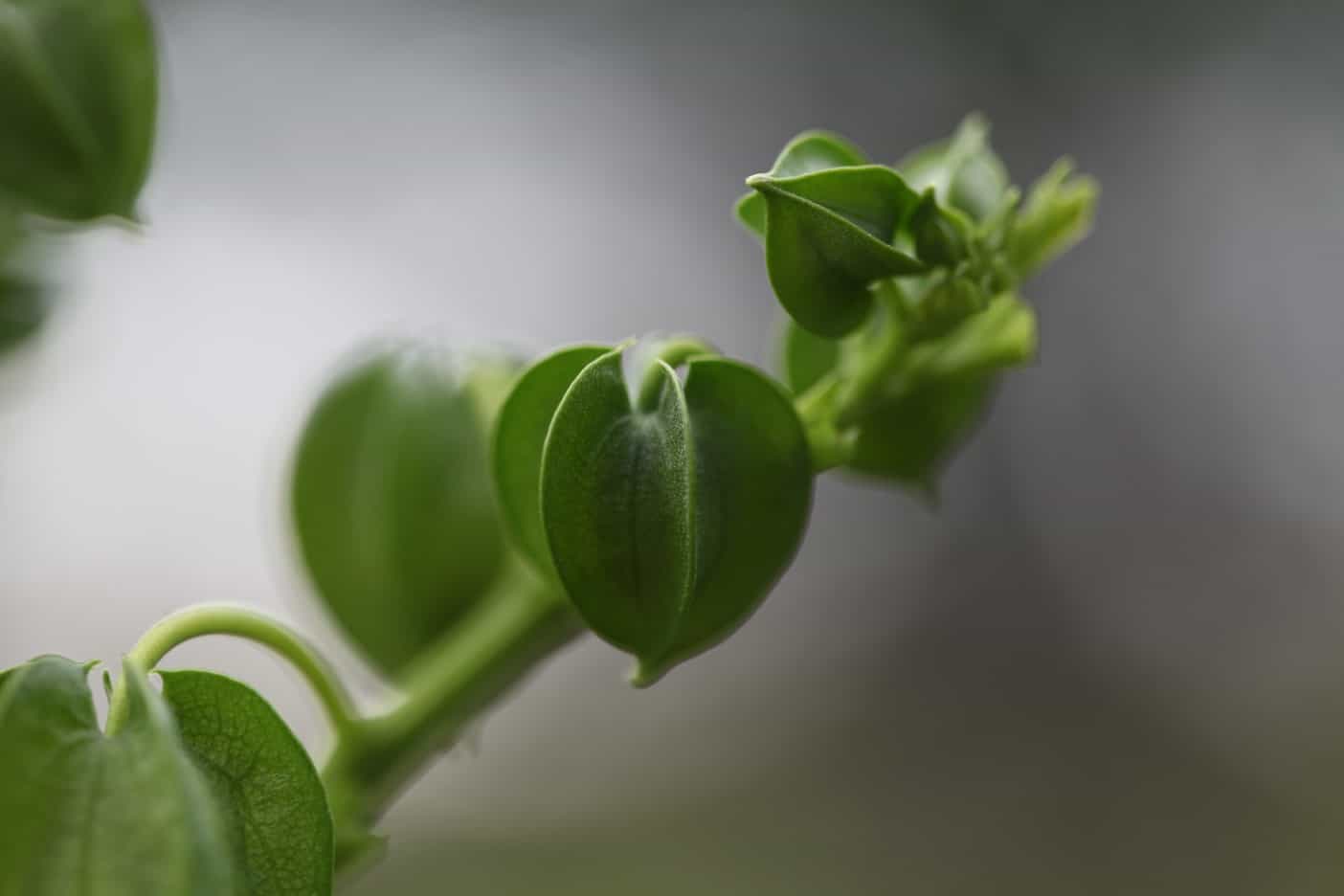 The calyxes can range in colour from all green to shades of deep purple and green, depending on the variety.
Berry
Inside the calyx you may find a large berry if the flower is fertilized.
Seeds
From this large berry there will be many seeds produced at the end of the season.
The seeds are small, medium brown in colour, oval and flat in appearance, with tiny spikes if you look at them up close.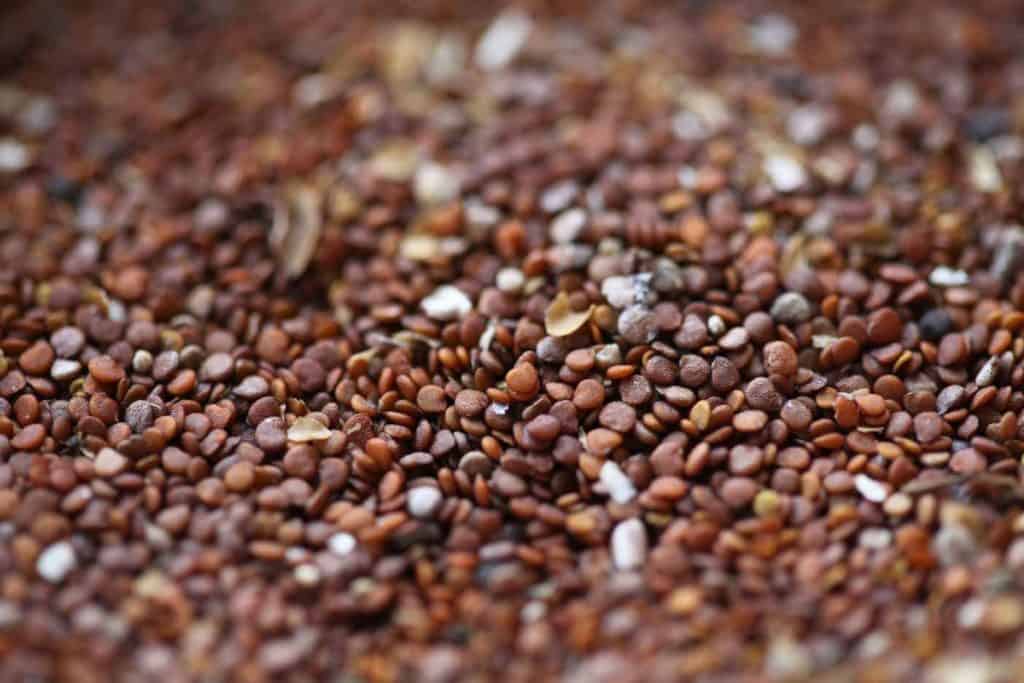 It's not difficult to understand why these plants were cherished for their garden presence.
Just the foliage and size of the plant makes a statement, and many people often ask about this plant mainly due to it's striking size.
The flowers themselves I find to be quite understated, and often when I am spending time with this plant the flowers have already closed for the day.
Apple Of Peru Uses
Traditionally, Apple Of Peru was used as an ornamental plant in the garden.
Although it originated from South America, it can now be found growing in gardens all over the world.
It can be used for it's insect repellent characteristics.
As well, it has also been used medicinally in various parts of the world.
Using Apple Of Peru as A Bouquet Filler
Apple Of Peru is also used in flower design, for the decorative calyxes at the top of the flower stalks.
This is the reason for the introduction of this plant into our own garden.
I have to admit, I do like to use this plant in the farmhouse bouquets at the farm.
To use, just cut a few stalks from the main stem of the Apple Of Peru plant.
Then strip the leaves off the stem, carefully preserving the little green or purple lanterns.
By removing the leaves, the lanterns are more visible.
Place them in a bouquet with other flowers as a nice little accent.
Is Apple Of Peru A Weed?
A weed is a plant or flower growing in an area where it is not wanted.
Apple of Peru has become a weed, since it can grow in areas outside of the garden where it has become an unwanted plant.
In those areas it can compete with other plants which are preferred, and interfere with the growth of those plants.
Weeds can become a real nuisance when they begin to interfere with the growth of other crops.
Apple of Peru has the potential to interfere with this growth.
As a result Apple of Peru has been listed as an invasive plant in many areas.
Is Apple Of Peru Invasive?
Apple Of Peru is listed in the Invasive Plant Atlas of the United States.
Here is another link from the Invasive Species Compendium, which identifies Apple Of Peru, Nicandra physalodes , as an invasive species.
If you are planning to grow Apple Of Peru as an ornamental, or for design purposes, consider the risk of spread.
Although the plant was used as an ornamental, it has escaped the garden, and can interfere with crop production and growth in some areas.
This year we didn't plant any Apple Of Peru. They have reappeared in the form of volunteer plants.
There aren't a lot, however there are enough for me to question if I want to continue to grow them in future years.
I've allowed the volunteer plants to grow on this summer, as I still enjoy the interesting green lanterns in bouquets.
How Is Apple Of Peru Controlled?
First and foremost, the best way to control this plant is to not let it go to seed.
If it does get to this point and the seeds are spilled onto the ground, you may end up with volunteer plants the next year.
This plant can be readily controlled by removal in the early stages.
If growing in a field, it is recommended to do a light tilling rather than deep tilling to avoid burying the seeds deeply.
Apple Of Peru has a taproot, which helps to hold the massive plant in place.
That being said, the plant can easily be removed in the early stages of growth by weeding out.
The Apple Of Peru seedlings are easily recognizable and grow up like little trees on a single stalk.
I have not yet felt the need to weed mine out, however I would have to say that I am certainly keeping my eye on them.
Have you tried to grow Apple Of Peru? Be sure to leave a comment below to share your experience!
Other Posts You May Like:
HOW TO GROW PHACELIA – A BENEFICIAL NATIVE PLANT
PERENNIAL BACHELOR BUTTONS IN THE GARDEN
HOW TO GROW LUPINES -PLANTING TIPS
PIN IT FOR LATER!