Last updated on February 19th, 2023 at 02:28 am
Understanding basic gardening terms is an important part of the learning process for every new gardener. These words and phrases will become second nature with a little gardening experience. By learning these important gardening terms for beginners, you'll be well on your way to knowing what's what in the gardening world.
One of the first things I learned when I first starting to garden was the difference between annual and perennial flowering plants. It was as if someone had turned on a magical switch to some sort of special plant knowledge.
I had been yearning to start gardening, and just knowing these two terms made a difference for me.
I was enthralled to learn about more each type of plant. There was so much to know.
And it was just the beginning.
You don't need to know all the basic terms at the beginning, and if there's something you don't know you can always look it up.
Over time with experience you will know these terms, and many more. You will get to know your plants and know your garden, and another whole world opens up before you.
These are some of the phrases and gardening terms for beginners that I have found helpful to know as a beginning cut flower grower and gardener.
Plant And Flower Gardening Terms For Beginners
Here is a list of gardening terms for beginners specifically related to plants and flowers.
Annual Plant
An annual plant is a plant that completes it's entire life cycle within a twelve month period. An annual flowering plant will grow from seed to bloom, and then will set seed all within the same year of growth. After this cycle of growth this plant will die and not return to the garden the following year.
Bare root
Bare root refers to a plant's state of being bare rooted, without being planted in a pot. For example, daylilies are often shipped with bare roots, with the roots wrapped in moist paper to keep the roots moist during the transport process.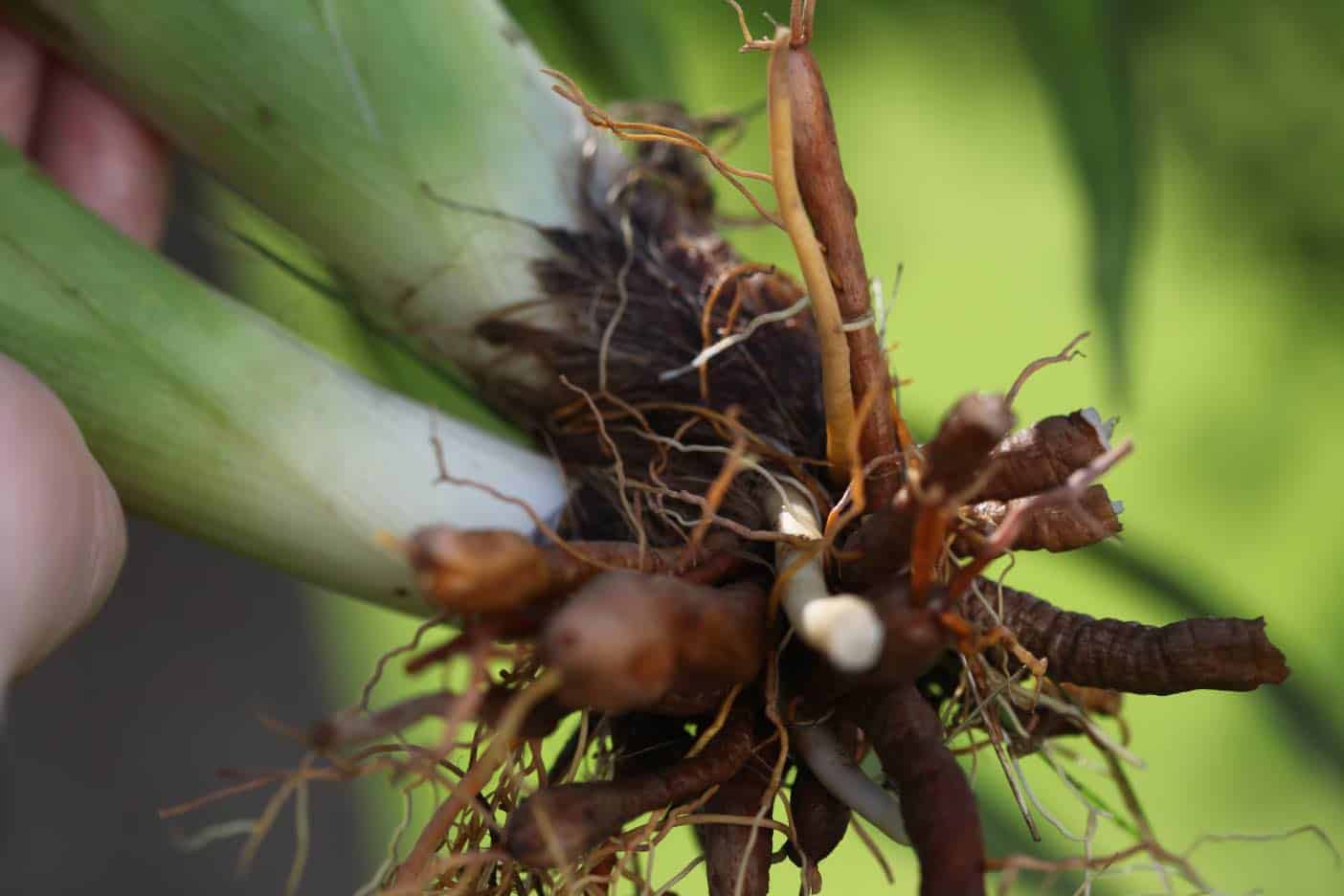 Biennial Plant
A biennial plant is a plant that completes it's life cycle within a twenty four month period. A biennial plant grows from seed and develops a root system within the first year of growth, however will not bloom in the first year. In the second year the plant will bloom and then set seed, completing the two-year life cycle.
Bolt
To bolt means to suddenly go to seed, usually as a result of a plant being exposed to excess heat and sunlight.
Bulblet
Bulblets are tiny immature bulbs, also known as bulbils. Tiny bulblets commonly form on more mature bulbs, and as well on the leaves, flowers or stems of certain plants such a ferns, lilies and alliums. Bulblets can turn into bulbs if they are planted and grown.
Bulbs
Bulbs are short stems in a dormant state encompassed by layers of fleshy scales or leaves which act as an energy reserve during dormancy. The leaves cover the stem in layers and form a globelike shape.
Climbing Plants
Climbing plants are classified as bines and vines, which can grow and climb by attaching to structures using different methods to secure themselves. These plants use their stems, tendrils, thorns, and other methods to support themselves as they grow and climb. Examples include sweet peas, hops, and climbing roses.
Cool Season Crops
Cool season crops are those that prefer cooler temperatures and are grown in the cooler seasons of the year, including both spring and fall. Examples of cool season crops include hardy vegetables, such as kale, spinach, and lettuce, as well as hardy annual flowers and bulbs.
Corm
A corms consists of a swollen plant stem covered by protective skin. The skin is formed from previous leafy growth. Corms are very similar to bulbs, in that they are storage organs which provide energy for the plant during periods of growth or stress. Corms differ from bulbs however, in that they do not have layers of fleshy scales or leaves making up their structure.
Cover Crops
Cover crops are those crops planted to cover bare soil. The crops in turn add organic material and nutrients to the soil , help increase soil fertility, help prevent soil erosion, help with weed management and pest control, and help to promote biodiversity.
Crown
The crown of a plant is the area directly beneath the stem of the plant, where the stem meets the roots. The crown usually sits directly below the ground level of the soil. Be careful not to plant the crown too deeply.
Cultivar
A cultivar is a plant that is a cultivated variety, meaning cultivated and bred for certain characteristics or desired traits.
Cut And Come Again
"Cut and come again" is a phrase that describes a group of flowering plants that are prolific bloomers. When stems are cut from these plants, more stems are stimulated to be produced.
Damping Off
Damping off is a fungal and sometimes bacterial infection that kills young seedlings during early growth, and most often occurs in cold damp soil. The small stems become thin and threadlike, and the seedlings fall over and die. Sometimes you can see the mold on the soil surface and around the infected plants.
Deer Resistant
The term deer resistant refers to a characteristic of plants that makes them less appealing to hungry deer. These plants often have a strong odour or flavour which is a deterrent. Some deer resistant plants however may still be eaten by deer if food is scarce, or if the deer are very hungry.
Dormancy
Dormancy refers to an organism's ability to suspend physical activity and go dormant, as if in a state of deep sleep. This occurs in perennial plants at the end of the growing season when the weather turns cold. It can also occur in periods of drought or intense heat, as a way to preserve the plant's energy.
Drought Tolerance
Drought tolerance is a characteristic of certain plants that are able to survive periods of reduced rainfall and moisture with minimal stress to the plant.
Dynamic Accumulators
The term dynamic accumulator is a term used in permaculture. Yet to be scientifically proven, it refers to plants with very long taproots that are able to bring nutrients from deep within the soil, up to the surface. The nutrients are then stored in the plant leaves and eventually released into the surrounding soil.
Evergreen
Evergreen refers to plants, shrubs and trees that remain evergreen throughout the seasons, maintaining their leaves and foliage. Examples of evergreens include fir trees, cedars, rhododendrons, and holly.
Fillers
Fillers are plants that are included in floral arrangements and bouquets that provide foliage and greenery, depth and structure, fill in empty spaces, and add interest to the design. Although fillers are not the focal flowers, some fillers are actually flowers as well.
Germination
Germination is the process by which the seed begins to sprout and grow into a seedling. It is an important time for a seed, and requires the right temperature, light requirements (either darkness or light), and moisture to occur.
Half Hardy Annuals
Half hardy annuals are annual plants that can tolerate some cool temperatures, however they will be damaged by frost.
Hardy Annuals
Hardy annuals are annual plants that can tolerate and survive very cold temperatures and frost. These plants should be first hardened off before they are exposed to these cold weather elements.
Hybrid
A hybrid plant is one that results from cross pollinating one plant variety with another, resulting in a brand new hybrid.
Perennial Plant
A perennial plant is one which returns to the garden for more than two years, distinguishing it from the annuals and biennials. Perennial plants can be herbaceous perennials, woody perennials, or evergreen.
Rhizome
A rhizome is an underground stem which grows horizontally under the soil. As it grows, the rhizome will also put out adventitious roots and lateral shoots. An example of a plant that spreads by rhizomes is Lily of the valley.
Root
A root is the part of the plant that attaches it to the ground and is located most often under the ground. The root system supports the plant by helping to hold it in place as well as providing water and nourishment.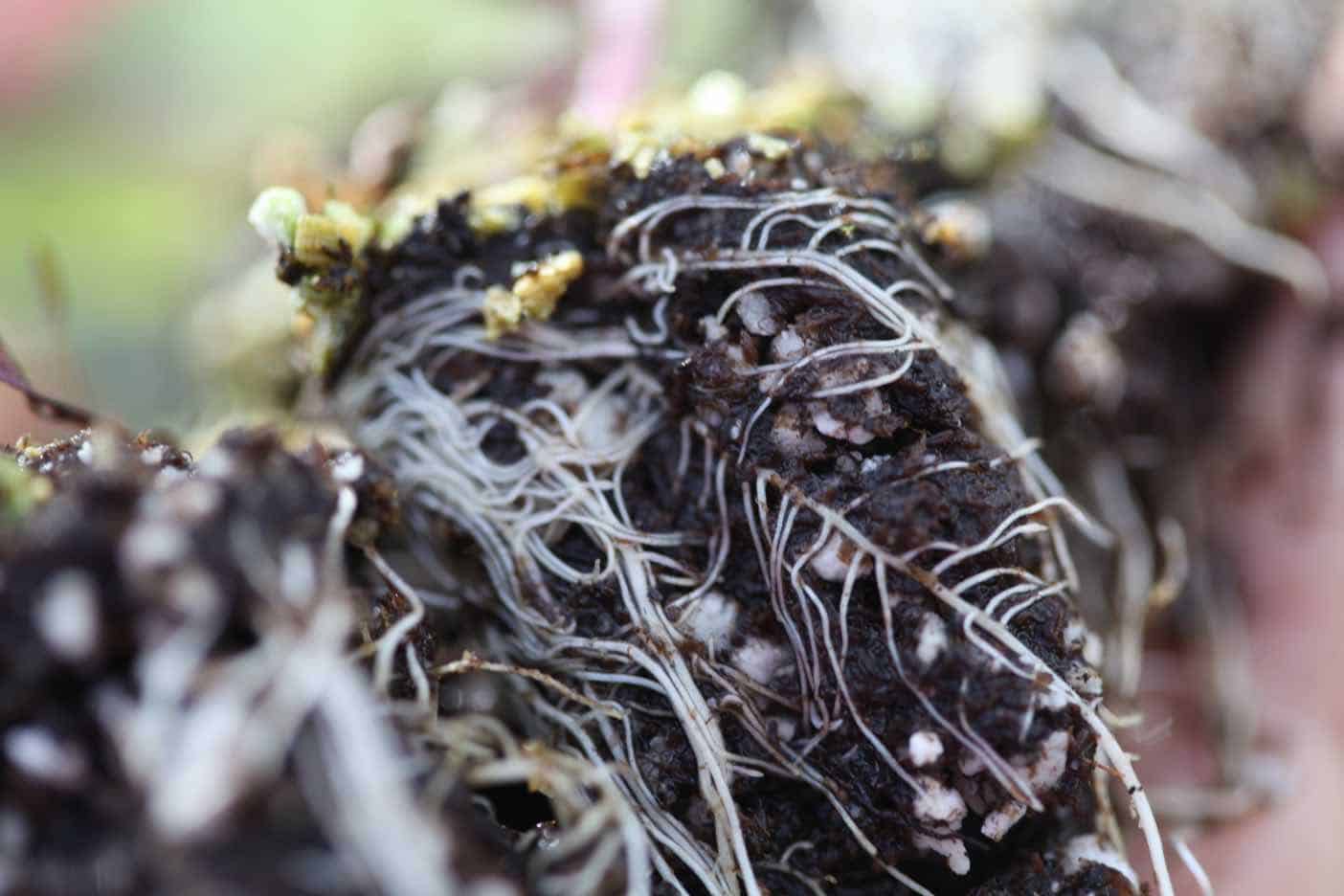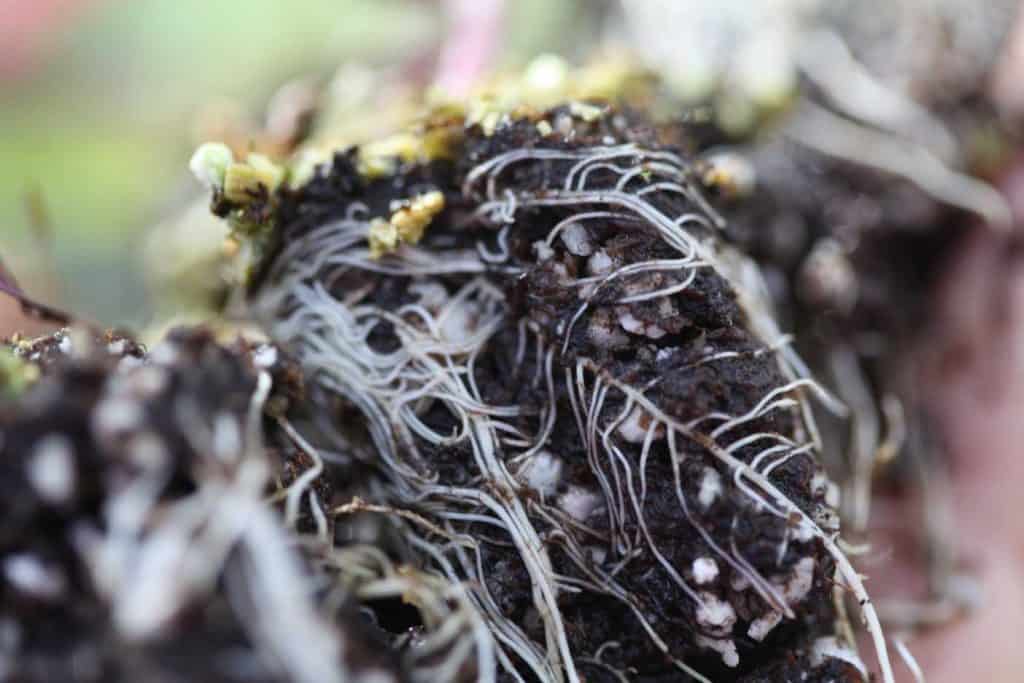 Rootball
A rootball is the mass of roots located underneath a plant, and is easily identified when you either dig up the plant or remove it from a pot.
Root Bound
Most often occurring in potted plants, root bound refers to the state in which a plant's roots have no more space to grow, and begin to wind around the outside of the rootball due to the restriction.
Root Rot
Root rot is a deadly condition involving a plant's roots, and is most often caused by fungus and overwatering. A plant with root rot usually will not survive.
Seedling
A seedling is a baby plant newly germinated from a seed.
Self Seed
Self seeding occurs when a flower releases it's own seed, and the resulting seed germinates into a new plant. This plant is considered to be a self seeded plant.
Shrub
A shrub is a plant with woody stems, and can be deciduous or evergreen. An example of a deciduous shrub is Hydrangea, and an example of an evergreen shrub is Rhododendron.
Species
A species in botany is a class of plants that are related, with similar genetic traits and characteristics. The plants within the species can be interbred.
Stem
The stem is the part of the plant that is attached to the top of the root system. The stem supports the leaves, flowers and fruit of the plant, transports fluid, stores nutrients, and produces new plant tissue.
Succulent
A succulent is a drought resistant plant with fleshy stems and leaves which are engorged and fluid filled. The water retention and stored fluid allows the plant to survive arid climates and drought like conditions.
Sucker
Suckers are offshoots that can develop on the roots of some plants. Suckers can grow into a new plant and are genetically identical to the parent plant.
Tap Root
A tap root is the main root of some types of plants, from which other roots branch off. The taproot which grows straight down into the soil, is thicker at the top and tapers down in size towards the bottom. Plants with taproots can be difficult to transplant due to risk of injury to this root.
Tender Perennials
Tender perennials are perennial plants from warmer growing zones that are more vulnerable to cold temperatures and frost. These perennials are tender plants and will not likely survive a cold winter without protection. Some tender perennials such as Statice, are actually grown as annuals in colder climates.
Tubers
Tubers are storage organs for certain types of plants, providing nutrients and energy during periods of stress or regrowth. There are stem tubers such as potatoes, and root tubers, such as dahlias.
Variegated Foliage
Variegated foliage has more than one colour in the leaves.
Volunteer
In the garden, a volunteer plant is a self seeded plant or flower.
Common Gardening Terms
Here is a list of phrases and common gardening terms for beginners.
Beneficial Insects
Beneficial insects are those that are good for the garden. These include the insects that pollinate, as well as those that eat insect pests. Examples of beneficial insects include ladybugs, hoverflies, spiders, soldier beetles, and praying mantis, to name just a few.
Biological Pest Control
Biological pest control is a natural form of pest eradication of garden pests through the use of other organisms.
Cold Frame
A cold frame is a structure designed to protect plants from the cold weather, while also allowing the sunlight to reach the plants.
Companion Planting
Companion planting is a gardening technique of planting complimentary garden plants and flowers with each other for mutual benefit. Sometimes the planting results in a beautiful placement of complimentary plantings and colours. Other times it involves planting to prevent disease and insect infestation.
Cuttings
Takings cuttings is a method of plant propagation which involves taking a piece of stem or root to propagate the plant. A new plant grown from a cutting will be genetically identical to the parent plant.
Dappled Shade
Dappled shade is a location that has both shade and sunlight, providing a mixture of both. Sometimes the sunlight is filtered through leaves, providing a diffused and less intense light.
Dead Head
To dead head means to remove spent flowers. Dead heading will clean up the appearance of your flowering plant, as well as conserve energy diverted from seed production in the spent blooms.
Direct Seed
To direct seed or direct sow means to plant seeds directly into the garden soil, rather than planting into containers and then transplanting the plants.
Division
Division means to propagate by dividing a plant, splitting it into pieces. This process can be accomplished with plants that produce rhizomes, suckers, stolons, tubers, and bulbs.
Force
Forcing is a process which tricks flowering branches in late winter to think that it is actually spring. It involves bringing cut branches into the warmth and placing in water, stimulating early or forced blooms.
Frost Free Dates
The frost free dates of a gardening zone are those dates after the last spring frost, and before the first frost of fall. Find the first and last frost date for your gardening zone here.
Gardening Zones/ Hardiness Zones
Your gardening or hardiness zone is your geographical location relative to your plants' ability to survive in that location. Things like first and last frost dates, planting dates, and types of plants that will survive and grow in your usda hardiness zone are just some of the considerations.
Grafting
Grafting is a technique that is used to join a portion of one plant onto another for beneficial purposes. Most often one plant is used for it's preferred rootstock, and the other for it's preferred flowers, leaves, stems or fruit.
Hardening Off
Hardening off is the process of slowly acclimatizing young plants to the outdoor elements before transplanting them out into the garden.
Microclimate
Microclimate is the climate of a small area that is different than the surrounding area.
Organic
Organic in terms of gardening refers to growing without exposure to chemicals in the form of fertilizers, pesticides, herbicides, or any other chemical agents.
Pinch
To pinch is to use a technique which removes the top of a plant during an early stage of growth in order to promote branching and stem development within the plant.
Pollinators
Pollinators are animals and insects that pollinate by transferring pollen from one plant to another. Examples of pollinators include bees, moths, butterflies, flies, wasps, birds, and small mammals.
Potting Up
Potting up refers to the process of potting plants into a larger container.
Propagation
Propagation is a term used to describe the process of increasing the numbers of a particular plant. This can be achieved through different methods such as growing from seed, cuttings, suckers, and division.
Prune
To prune means to remove unwanted parts from a plant such as dead or diseased branches, stems and roots. Pruning can tidy the plant and open the plant up to allow for good air circulation. Pruning can also increase a plant's yield of flowers, fruits and berries.
Rooting Hormone
Rooting hormone is a substance used for plant propagation which helps to stimulate root formation in cuttings.
Scarification
Scarification is the process of scarifying seeds, or breaking down hard seed coats in a mechanical way, to aide in germination. Scarifying works well on hardy annual and perennial seeds, and can be done through stratification, soaking, or mechanically altering the seed's outer coat with a sharp object.
Season Extension
Season extension means to grow your plants earlier or later in the season than is normal for your hardiness zone, with the assistance of extra protection such as row covers, poly tunnels, and cold frames, to name a few.
Sow
To sow means to plant seeds.
Stratification
Stratification is a process that cold hardy annual and perennial seeds require in order to germinate. This process involves exposure to cold temperatures and moisture to help break down the hard outer seed coat for successful germination.
Thinning
Thinning is a technique used to remove some plants if there are too many plants that are growing too closely together. This technique will allow room for the remaining plants to grow and flourish.
Transplanting
Transplanting is the process of moving plants from one location to another, and replanting in the new location.
Wet Feet
Wet feet is a commonly used gardening phrase referring to wet roots. If certain plants do not like wet feet, this means that they prefer to be planted in an area with good drainage rather than in a wet area where their roots will remain moist.
Winter kill
Winter kill refers to plants or plant parts that were killed by the harsh weather of winter.
Wiggle Test
The wiggle test is a valuable test that can be performed to determine immaturity of certain flowering plants. If the test determines floppiness of the flower head, the bloom is still too immature to be harvested.
Common Garden Types
This is a list of common garden types that can be helpful for a new gardener.
Botanical Garden
A botanical garden is often much more than a display garden. It is a garden that includes collections of plants which are being studied, and this type of garden is usually associated with a university for educational and research purposes.
Container Garden
A container garden is one in which plants are grown in containers.
Cottage Garden
The cottage garden is an informal garden style similar to the English country garden. There are distinct plantings in this type of garden, and often include a mixture of ornamentals, perennials, roses, and edibles.
Flower Garden
A flower garden is a garden where flowers grow. There are many different types of flower gardens and garden designs.
Formal Garden
The formal garden is a well designed garden with a symmetrical layout, geometric shapes, and green leafy plants instead of flowers.
Cutting Garden
A cutting garden is one in which flowers are grown for cutting throughout the growing season.
Herb Garden
A herb garden is a collection of herbs growing in a garden. Herb gardens can also be grown indoors under lights or on sunny windowsills in containers.
Kitchen Garden
The kitchen garden is one in which fresh herbs and plants for the kitchen and pantry are grown. These types of gardens are commonly located close to the house and kitchen.
No Till Garden
There is no tilling in the no till garden in an effort to reduce weed pressure and improve soil health.
Organic Garden
An organic garden is free of chemicals, including synthetic fertilizers, pesticides, and herbicides.
Pollinator Garden
A pollinator garden is grown with pollinators in mind. It is a garden filled with pollen and nectar rich flowers that attract pollinators, including bees, butterflies, hummingbirds, moths, flies, and wasps just to name a few. Some of the best plants for a pollinator garden are native plants.
Rock Garden
A rock garden is a combination of rocks and plants in the garden, often offering both a low maintenance and beautiful garden design.
Water Garden
A water garden is an aquatic garden grown in a water system such as a pond. The plants grown in water gardens are aquatic plants, adapted to growing in this type of location. An example of an aquatic plant is a water lily.
Soil And Soil Amendment Gardening Terms
Here are some soil and soil amendment gardening terms for beginners.
Acidic Soil
Acidic soil has a ph of less than 7. This type of soil is common in wooded areas and areas with high rainfall. To raise the ph of acid soil, lime can be added. Plants that thrive in acidic soil include rhododendrons and azaleas, and blue spruce.
Alkaline Soil
Alkaline soil has a ph above 7. This type of soil is common in areas with low rainfall. Alkalinity can cause problems with nutrient absorption contributing to stunted growth. To lower the ph of alkaline soil common sulfur, ferrous sulphate, or aluminum sulphate can be added to the soil. Amending with compost and manure over time can also help.
Bone Meal
Bone meal is a soil additive made from ground bone. It adds phosphorous to the soil which is great for flowering plants.
Clay Soil
Clay soil is a type of soil made up of very fine minerals and limited organic content. As a result, clay soil can be very fertile, however often does not drain well.
Compost
Compost is decayed organic matter which is high in nutrients and beneficial microbes, and has a neutral ph. It is valuable organic matter full of living organisms that can be added as an amendment to the garden soil.
Compost Tea
Compost tea is made with compost and water, and involves extracting the nutrients and microorganisms from the compost into the tea. The tea is then applied to the soil and plants to promote healthy growth of the plants as well as soil health.
Green Manure
Green manure is a cover crop that is grown specifically to work into the soil after it has grown, to improve soil fertility.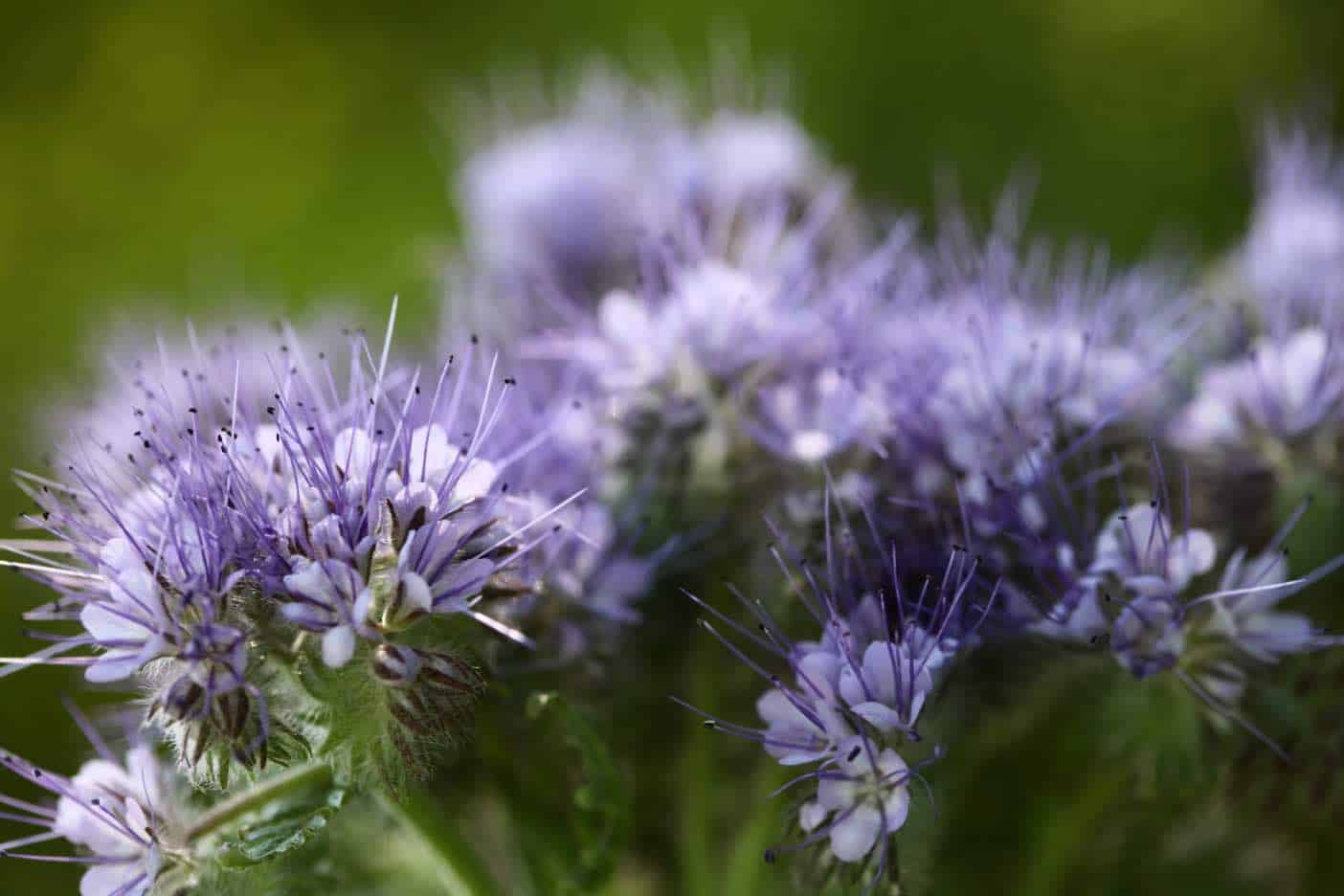 Humous Soil
Humous soil is thick, dark, rich and fertile soil full of decomposed plant and animal matter.
Mulch
Mulch is any type of material that is laid over the garden to form a covering of sorts, such as wood chips, plastic sheeting, straw, grass clippings or even small rocks. A mulch covering helps to retain moisture in the soil and as well helps to reduce weed pressure.
Neutral Soil
Neutral soil has a ph of 7. Most garden plants grow best with a neutral soil ph of 7.
Sandy Soil
Sandy soil is light and dry, with a high sand content resulting in good drainage. This soil type is often alkaline with a low nutrient density and nutrient deficiencies.
Soil Amendments
Soil amendments are additives to the soil to help improve soil health and fertility. One of the best soil amendments to add is organic compost.
Soil Test
A soil test is an analysis of your garden soil to determine soil health, deficiencies, ph and nutrient balance.
Conclusion
By learning basic gardening terms for beginners, you'll begin to learn about your plants, flowers, soil, and the gardening process.
Some of this information will stick with you along your journey. Other information you'll likely need to look up as needed along the way.
There's a lot to learn, although it can be so much fun to find the answers.
Enjoy the learning process, and your gardening journey!
Do you have some other gardening terms for beginners that you have found helpful? Be sure to share in the comments below!
Other Posts You May Like:
PIN IT FOR LATER!