Last updated on November 24th, 2023 at 08:01 pm
We decided to grow phacelia in our garden to attract the bees. What we didn't realize was how interesting the phacelia flower actually is! The flowers slowly unfurl to reveal sweet smelling spiky purple blossoms that reach up towards the sky. Learn how to grow phacelia, and enjoy this special plant in your own garden.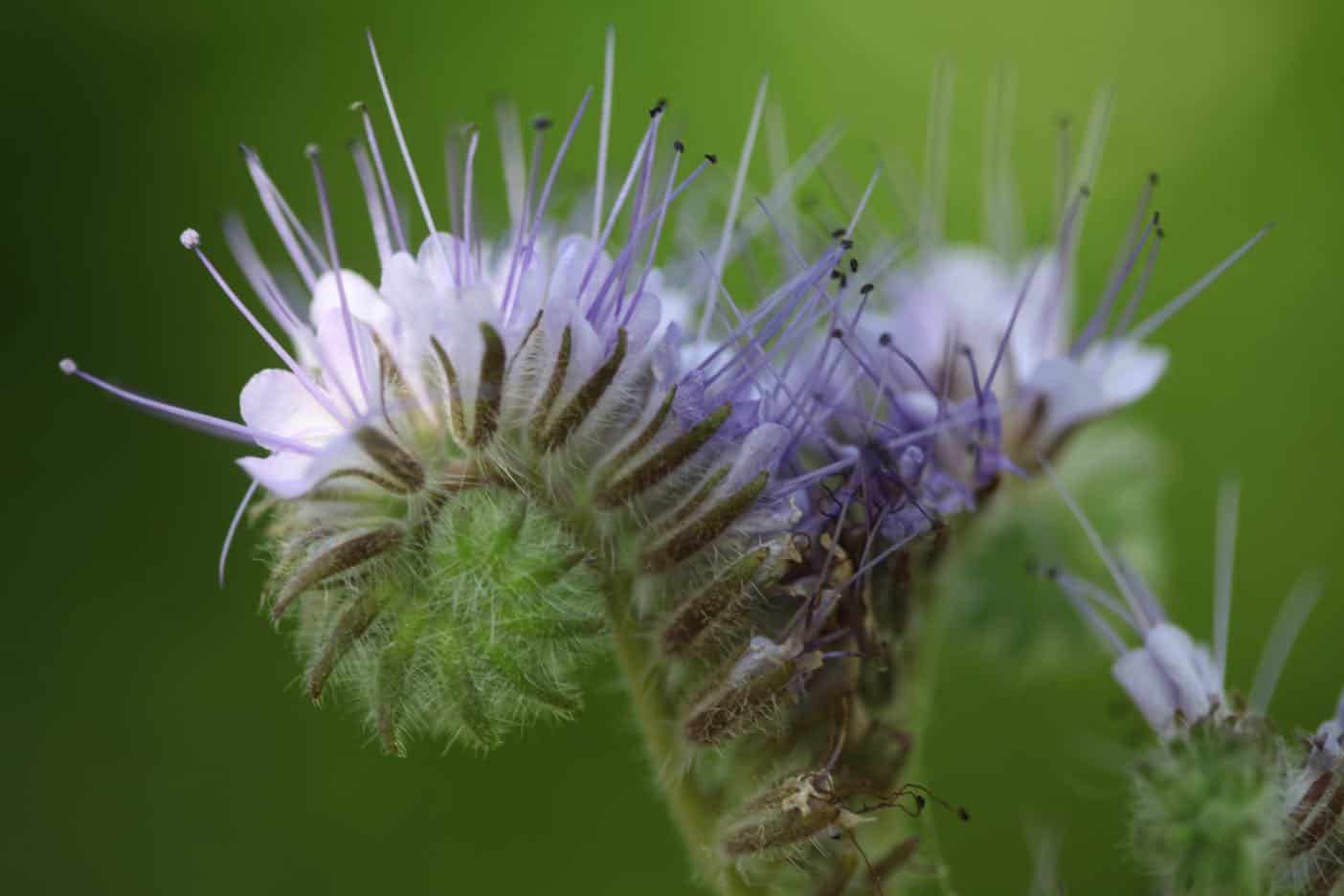 Lacy Phacelia- Phacelia tenacetifolia
We bought Lacy phacelia seeds for the bees and pollinators.
The other name for this flower is "Bee's Friend", and it seemed that this was a pretty important flower to have in the garden, as we absolutely love the bees.
We also had plans to use this flower as a cut flower due to it's interesting form and great vase life.
The stems are tall and straight, which makes for excellent use as a cut flower.
Lacy phacelia is a species of the Genus Phacelia, which also includes about two hundred other species.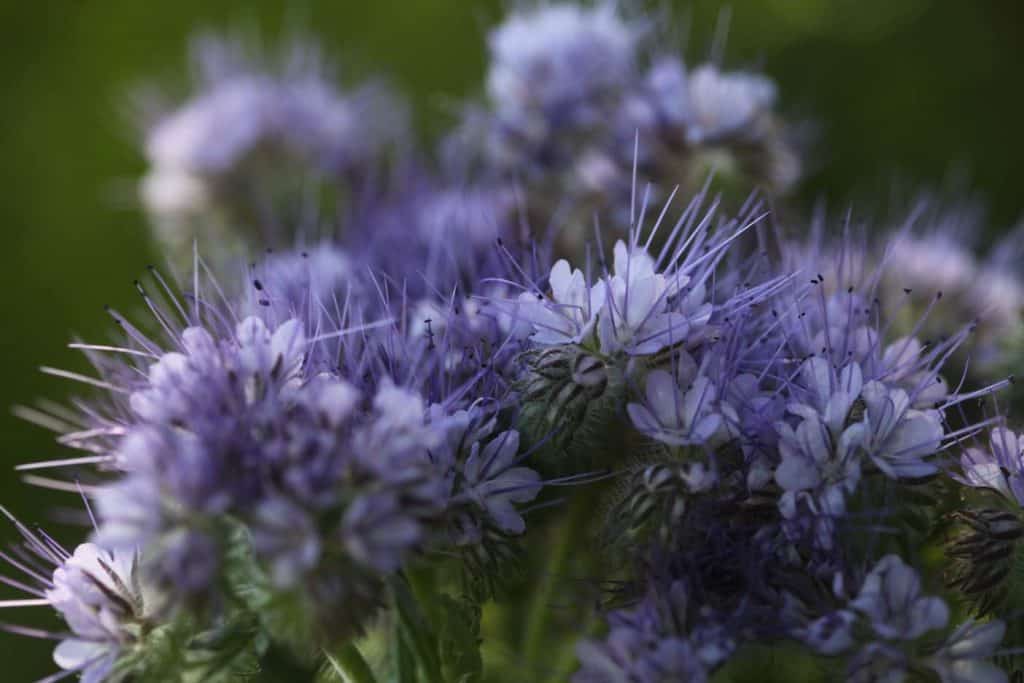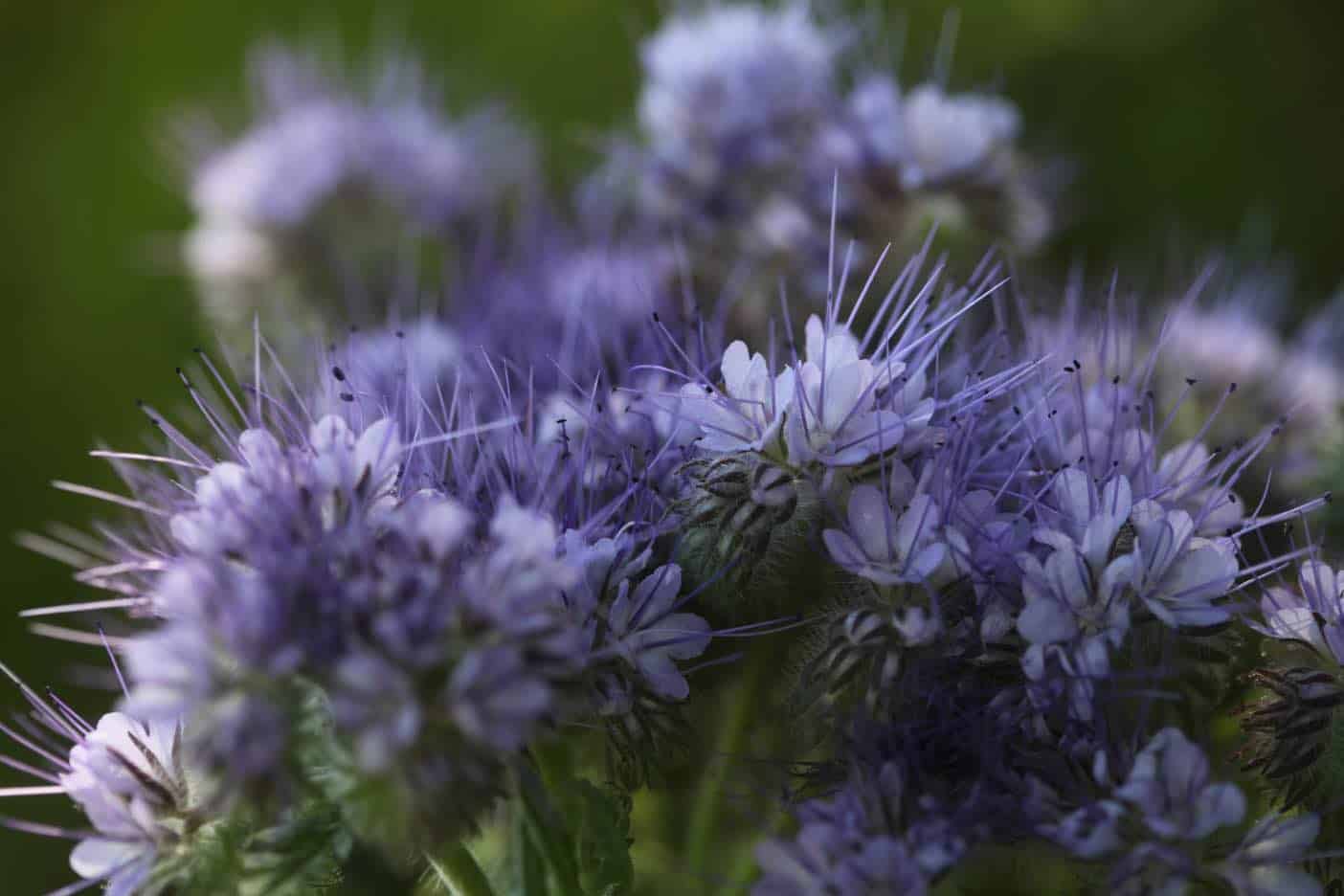 Is Phacelia A Native Plant?
Phacelia is considered to be a native plant. The two hundred species of phacelia are native to North and South America, and include annual, biennial and perennial plants.
Other common names for phacelia include blue tansy, purple tansy and scorpion plant.
Lacy phacelia is considered to be a wildflower. It will naturalize by reseeding, and will adapt to it's environment if grown in the right conditions.
Here is an article from the United States Department Of Agriculture on the species plant Silky Phacelia (Phacelia sericea).
The article notes that most of the known phacelia plant species have originated in the western United States and northern Mexico, and that new species continue to be identified.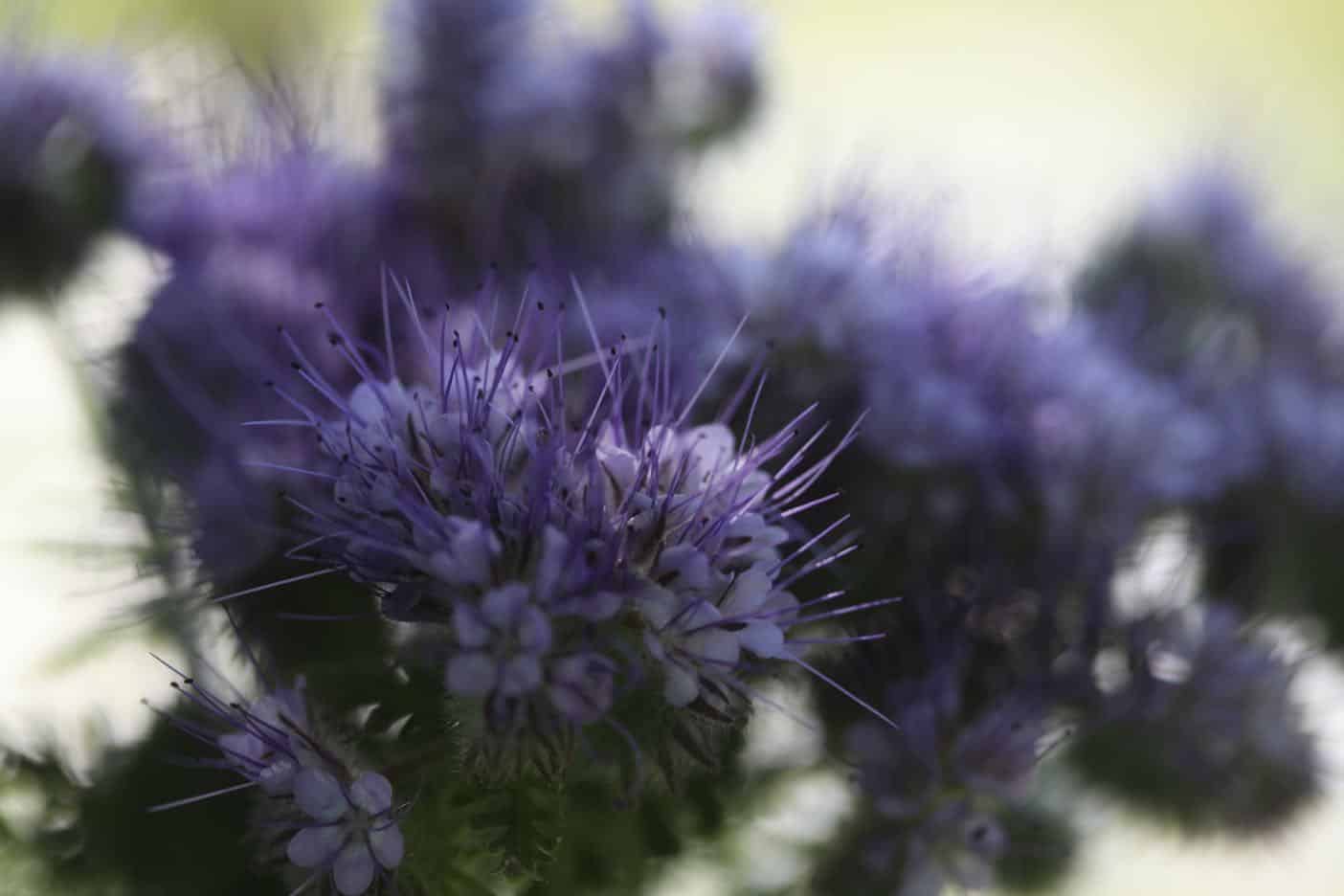 Is Phacelia Annual Or Perennial?
The many species of phacelia include annual, biennial and perennial plants.
Lacy phacelia is an annual flower, however Silky phacelia is a perennial.
Although Lacy phacelia is an annual, due to reseeding it can return for many years in the same garden.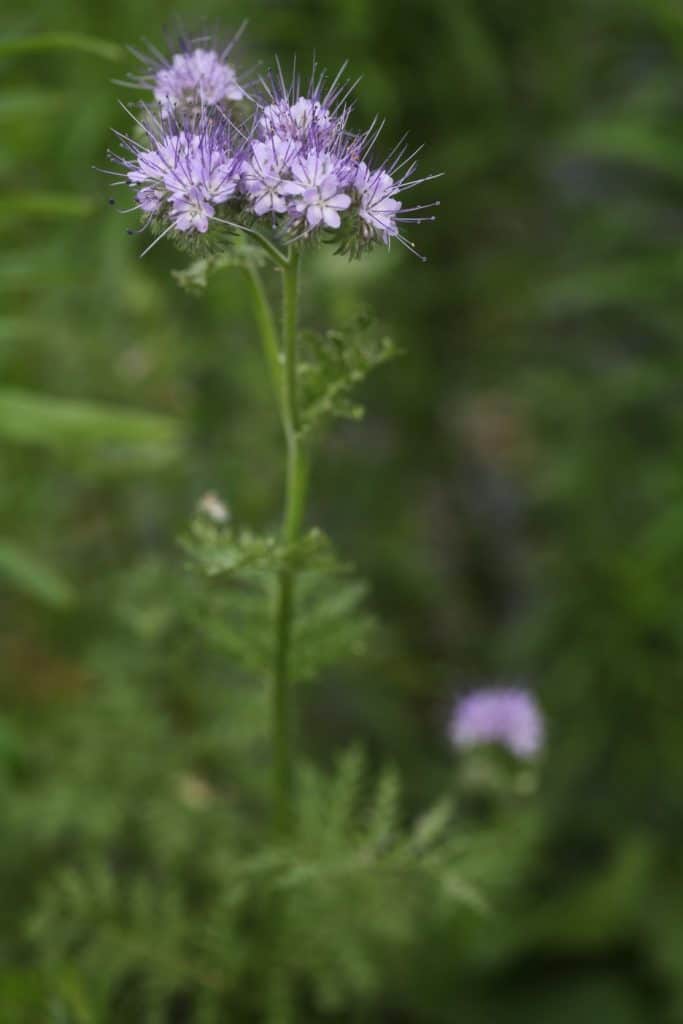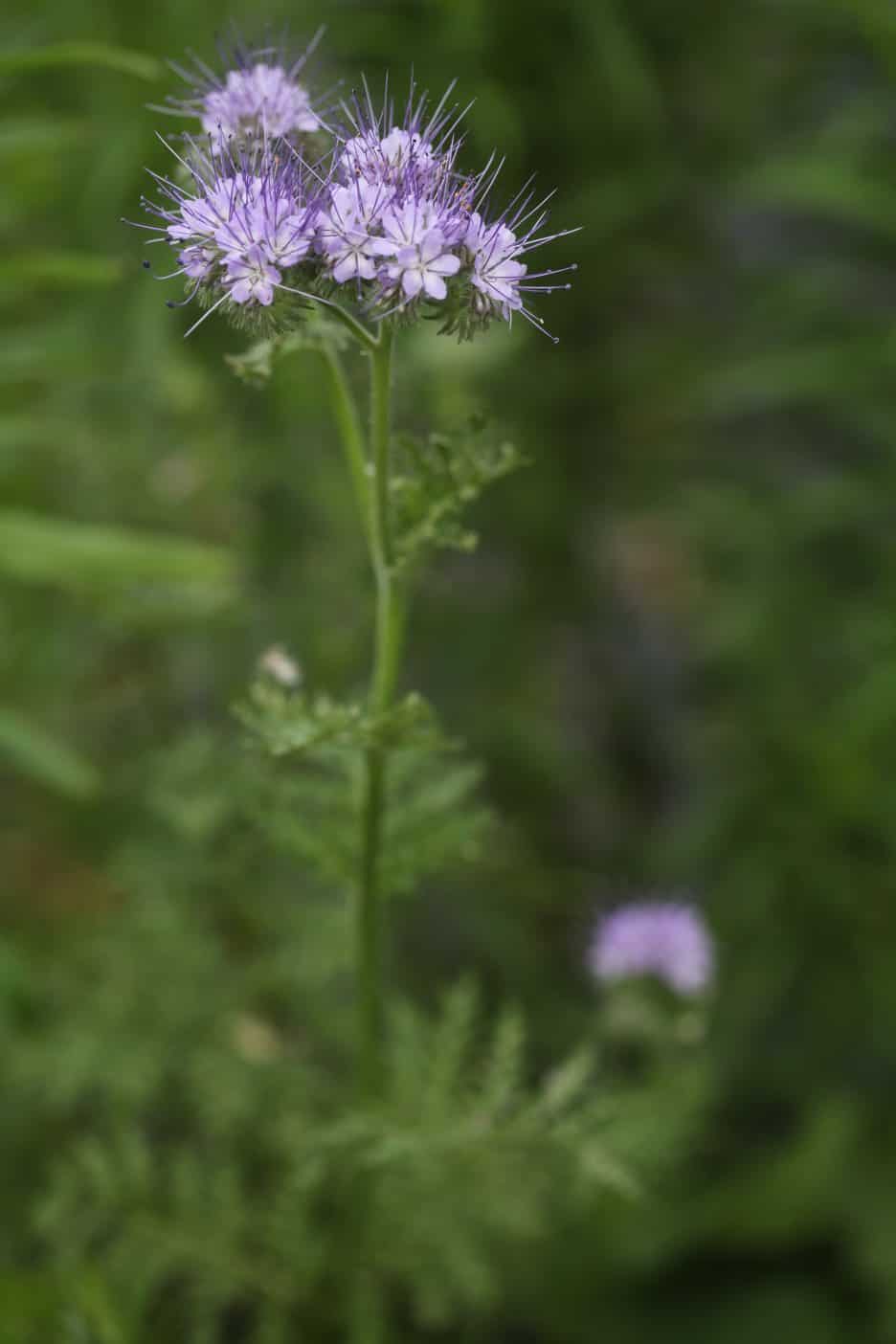 Is Phacelia Good For Bees?
Phacelia is an excellent source of nectar for bees.
If you have a patch of phacelia in your garden, you will have a multitude of bees and the pollinating insects visiting your plants.
Some gardeners plant phacelia just for the bees and also for the other beneficial insects that it attracts..
How To Grow Lacy Phacelia From Seed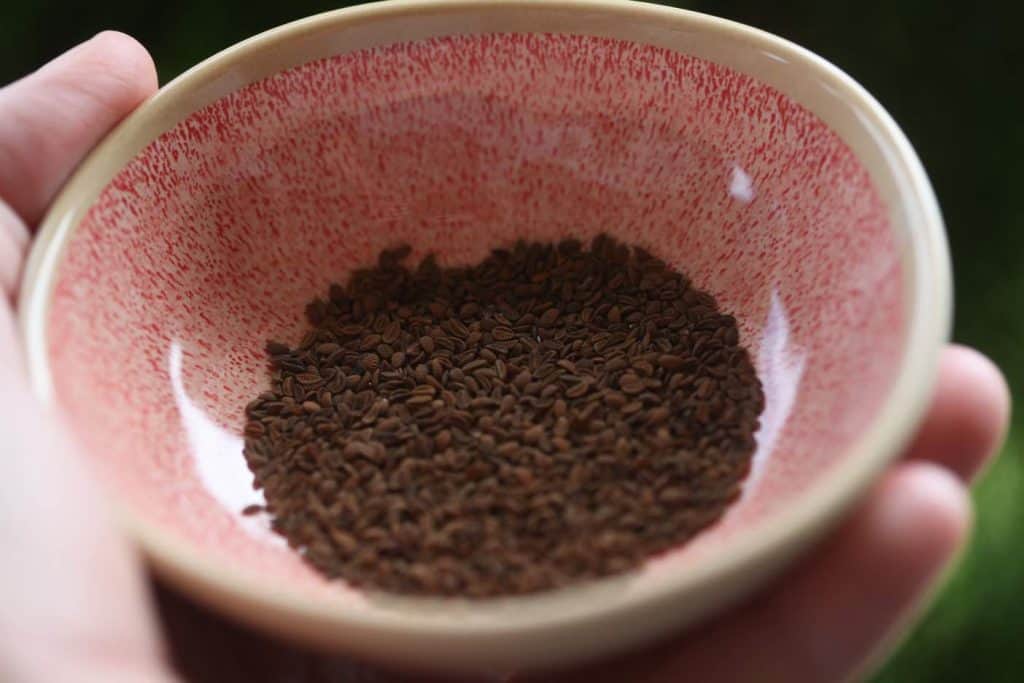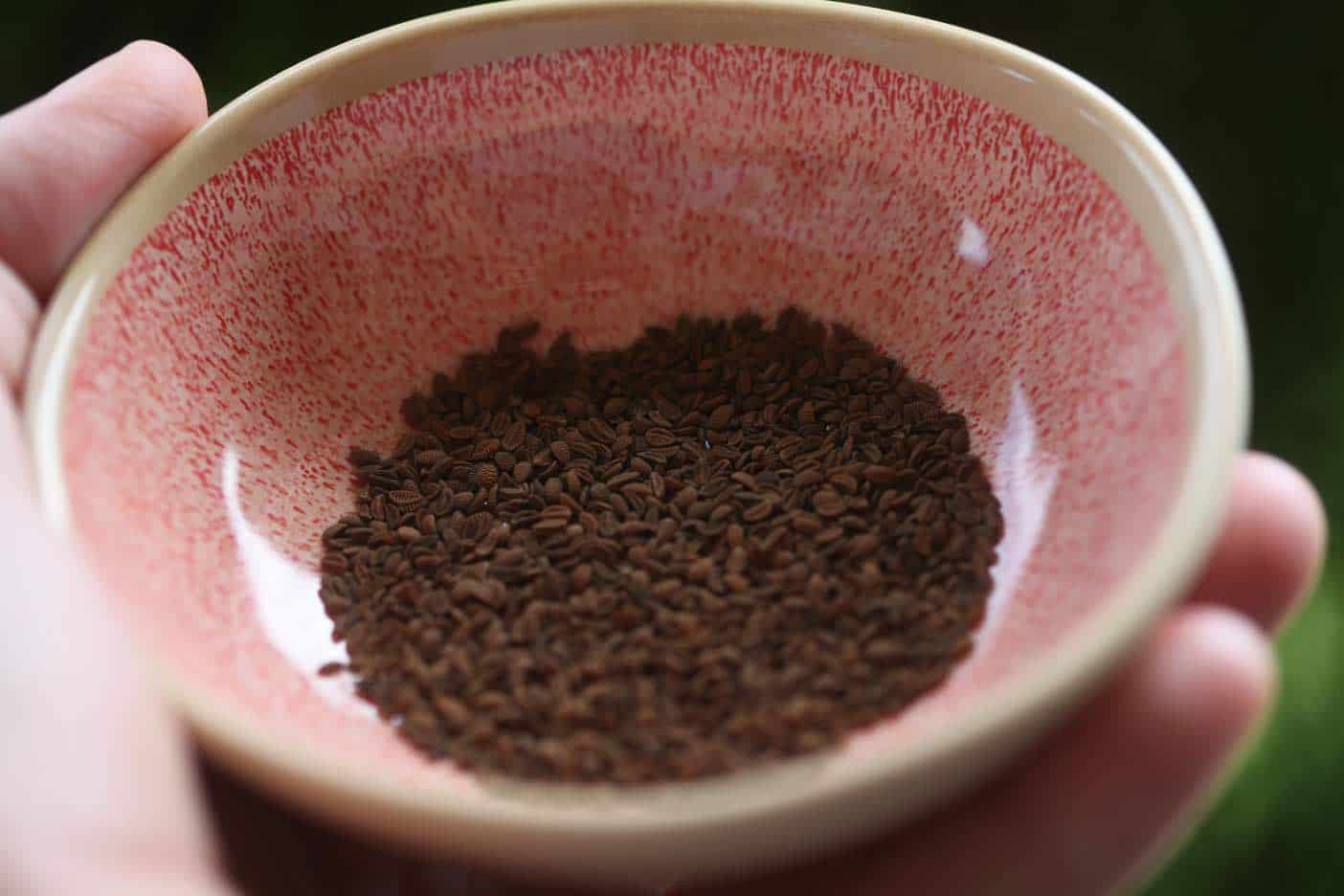 There are several ways to start phacelia from seed.
1. Growing In Cell Trays Indoors
We started our Lacy Phacelia from seed. Seeds are readily available online from multiple sources.
The seeds were easy to plant and to germinate.
We started them in 128 cell trays, in a good seed starting mix.
Phacelia seeds benefit from darkness when germinating, so cover with a small amount of soil or vermiculite.
You can also cover the cell tray with another tray placed upside down over the cell tray- this is a great tip for seeds that prefer darkness to germinate.
Keep the seed starting mix moist while the seeds are germinating. Do not allow it to dry out as this may cause the seeds to perish at this critical stage.
For best success with germination, place on a heat mat until the seeds have germinated.
After sixty percent of the seeds have germinated, we place the seedlings under grow lights where they will remain until they can be planted out in the spring.
Plant your phacelia seedlings into the garden after the risk of all frost has passed. You can check your last frost date here.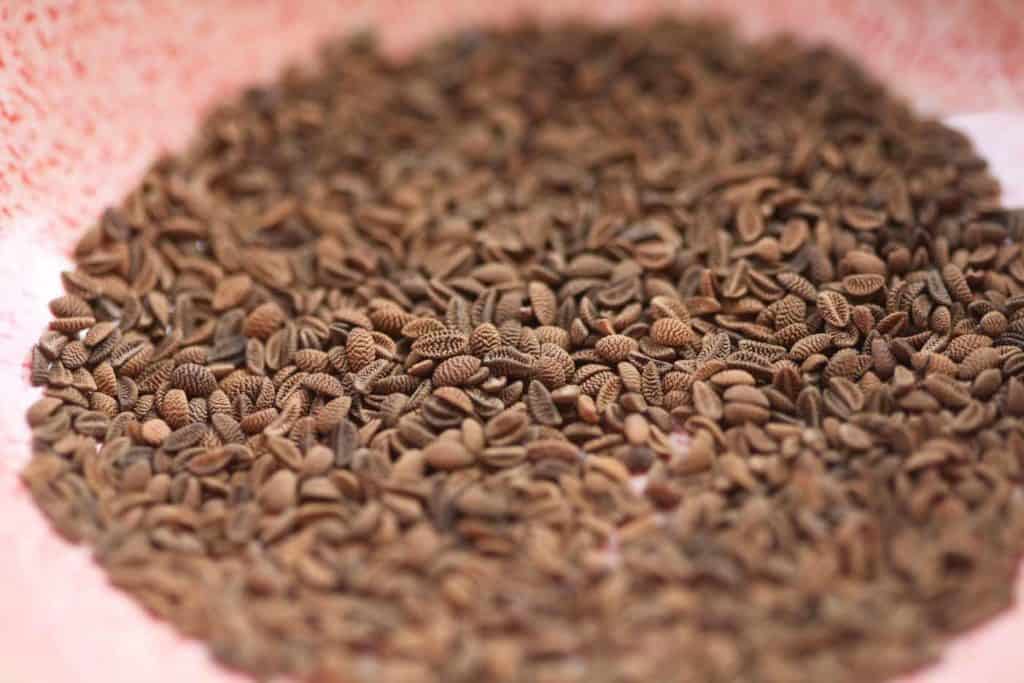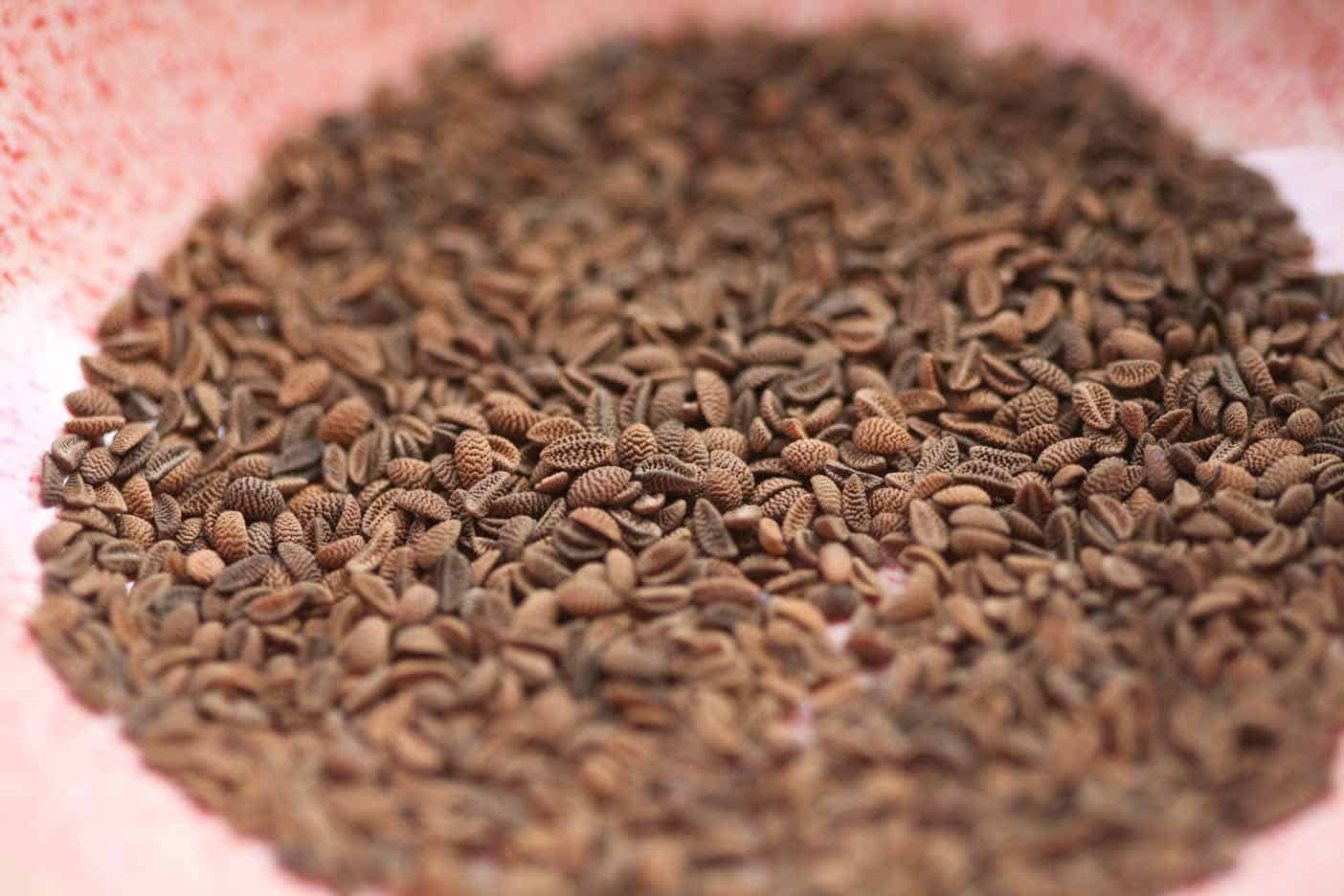 2. Direct Sowing Into The Garden
Phacelia grows well when direct seeded into the garden.
If you decide to sow your seeds directly into the garden, make sure to prepare the planting area. Clear away all vegetation, and prepare the area for the seeds by loosening up the soil.
Sprinkle your seeds onto the surface of the soil, and press into the soil for best success.
It should be noted that farmers usually just broadcast the seeds onto the planting area with great success with large plantings.
Plant in the cooler part of the season after the risk of all frost has passed.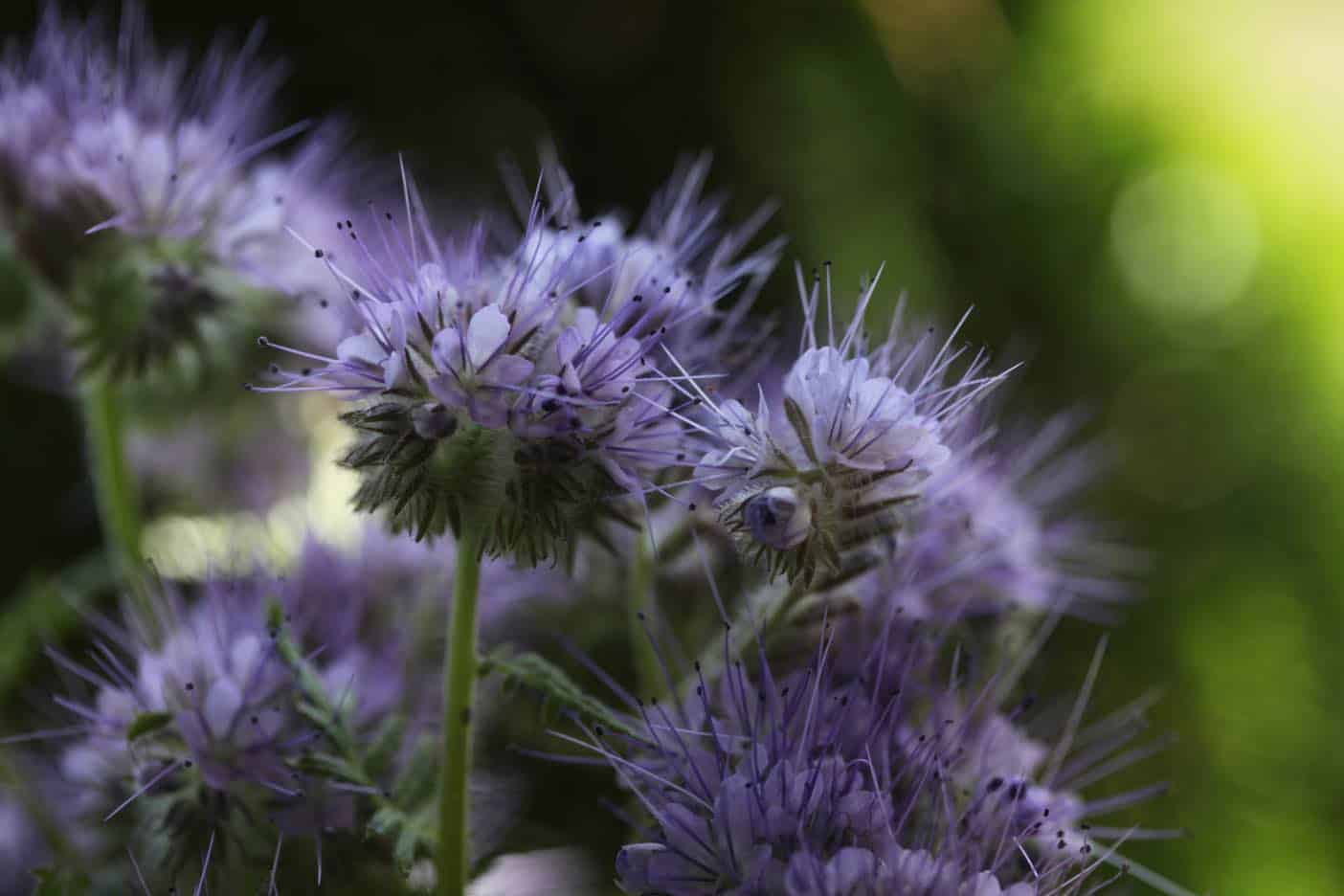 How To Plant Phacelia
These are some considerations for planting and growing phacelia:
Growing Zone
Phacelia grows well from zones 2 to 10.
It will tolerate a light frost.
Light Requirements- Does Phacelia Need Sun?
Phacelia grows well in the sun, but will also tolerate some shade.
We grew ours in full sun.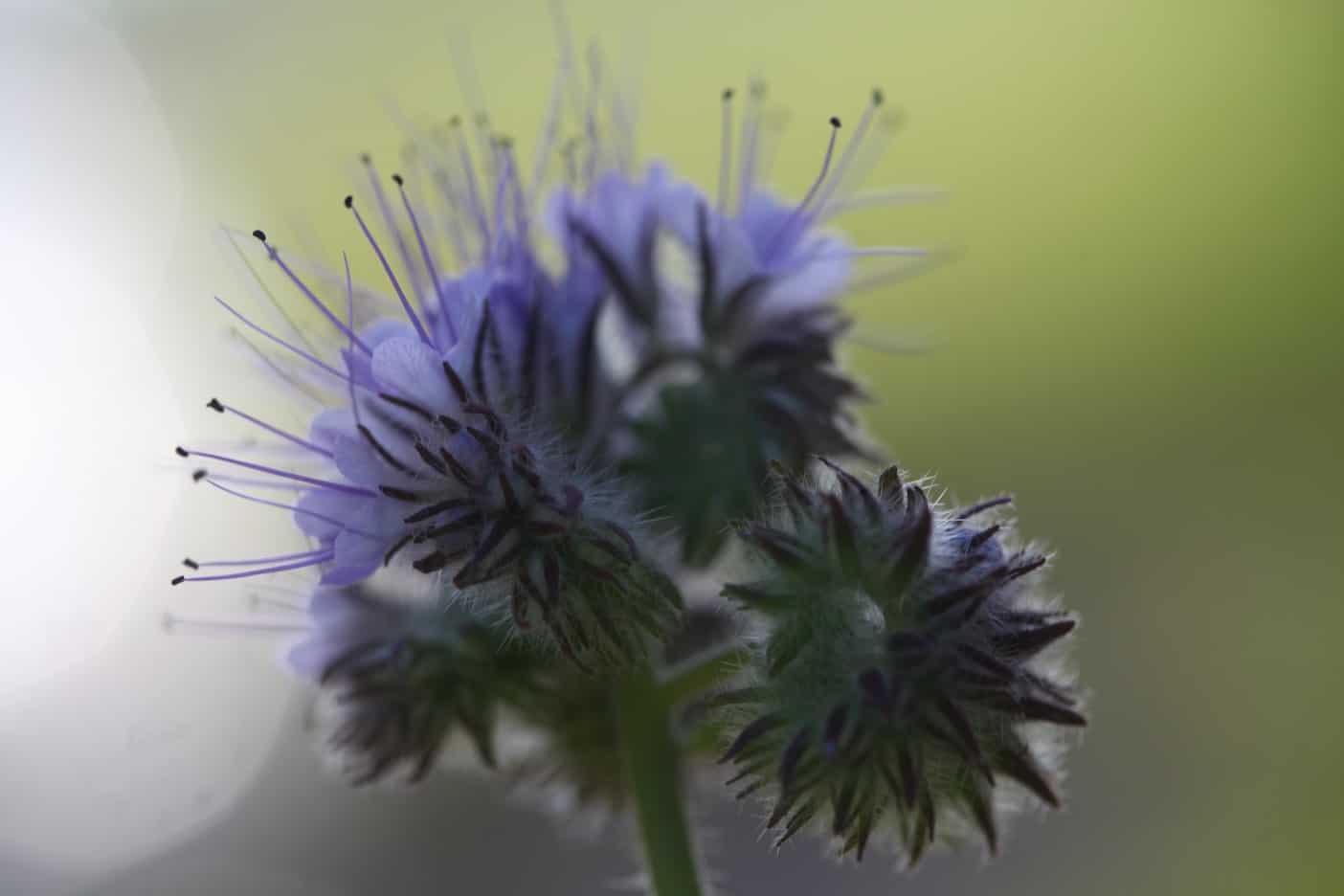 Soil Requirements
Phacelia grows well in an average to low fertility well drained soil.
It will also grow in clay soil.
The long taproot will be able to draw up nutrients from the soil.
Moisture Requirements
Phacelia has low moisture requirements, and whatever it receives from the rain will suffice.
It prefers moist soil, although is quite tolerant of drought-like conditions once it is established.
When it is first planted however it's important to keep the growing area moist while the seeds are geminating.
As well, if you are planting phacelia seedlings that were started inside, it will help to keep these seedlings well watered until they get established in their new planting area.
Once the seedlings are established they will not require extra waterings.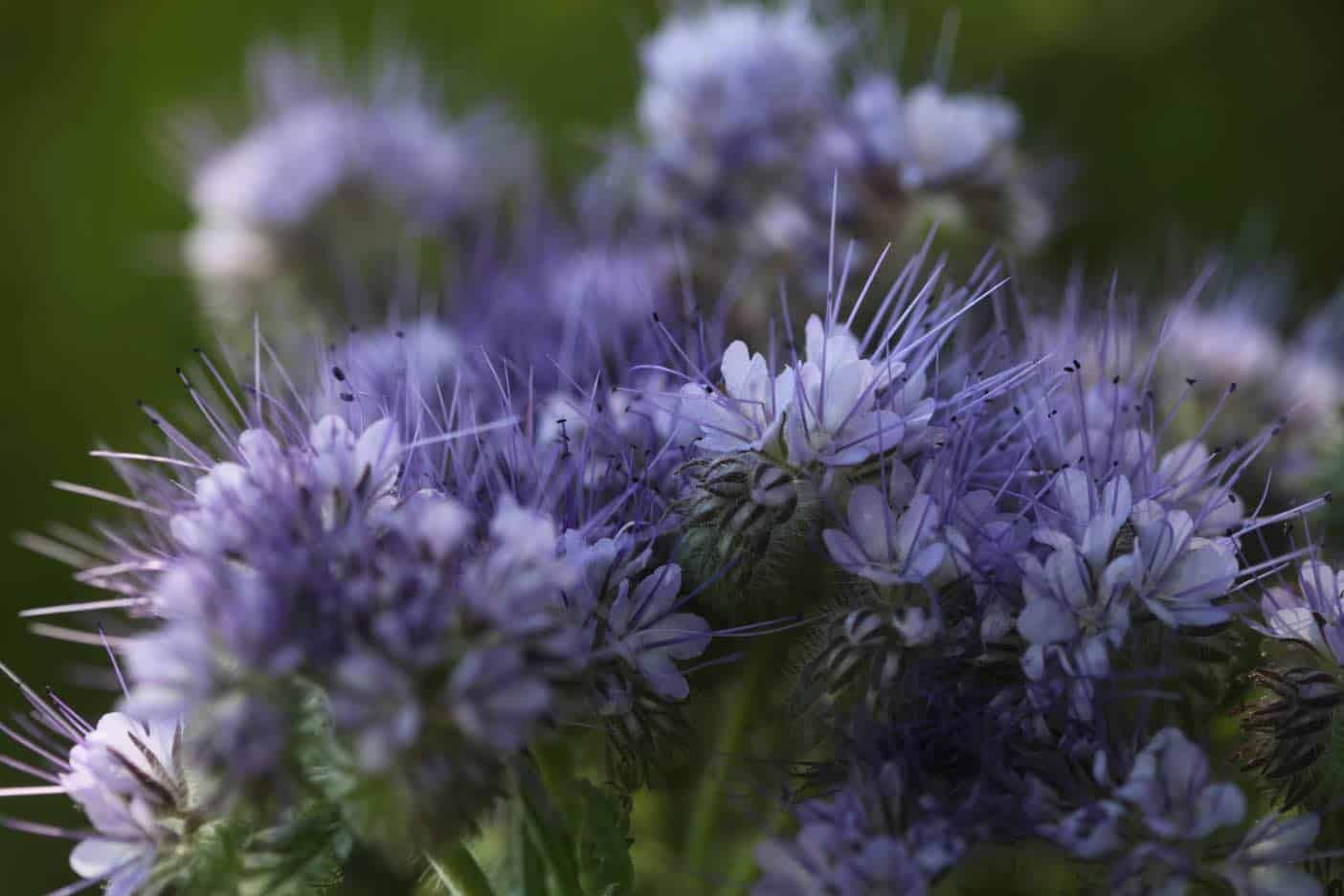 Phacelia Days To Maturity
Days to maturity for phacelia from germination to bloom is approximately sixty days.
How Long Does It Take For Phacelia To Flower?
Phacelia generally starts to bloom approximately sixty days from gemination, and will flower once the days are long.
It requires about thirteen hours of daylight to begin flowering.
Once it starts to bloom it will continue for an extended period of time, often for a four to six week period.
Phacelia blooms in succession as the flowers unfurl.
Once our phacelia started blooming it bloomed for most of the summer.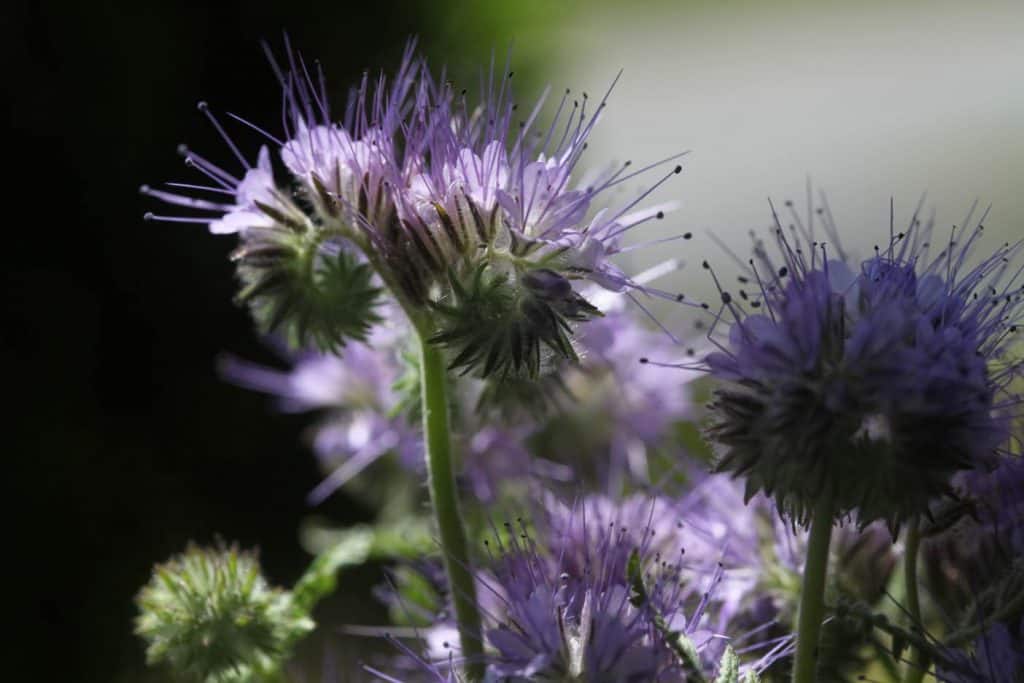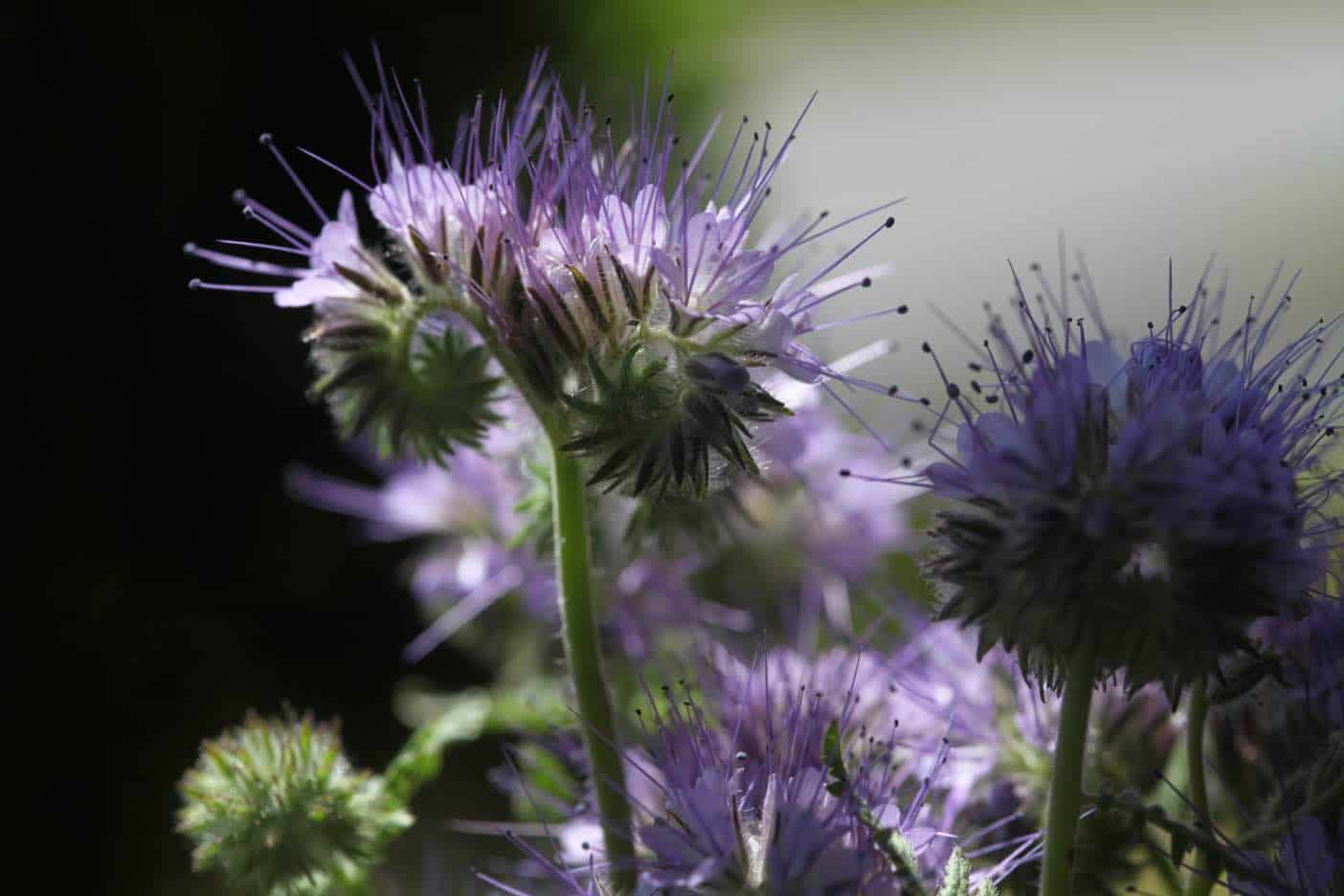 How Tall Does Phacelia Grow?
Phacelia tanacetifolia grows to be eighteen to thirty inches in height.
Last year our plants were probably at the lower end of this range. This year they are looking like they will reach the higher end of the growing range.
Our Experience With Lacy Phacelia
This is our experience growing phacelia: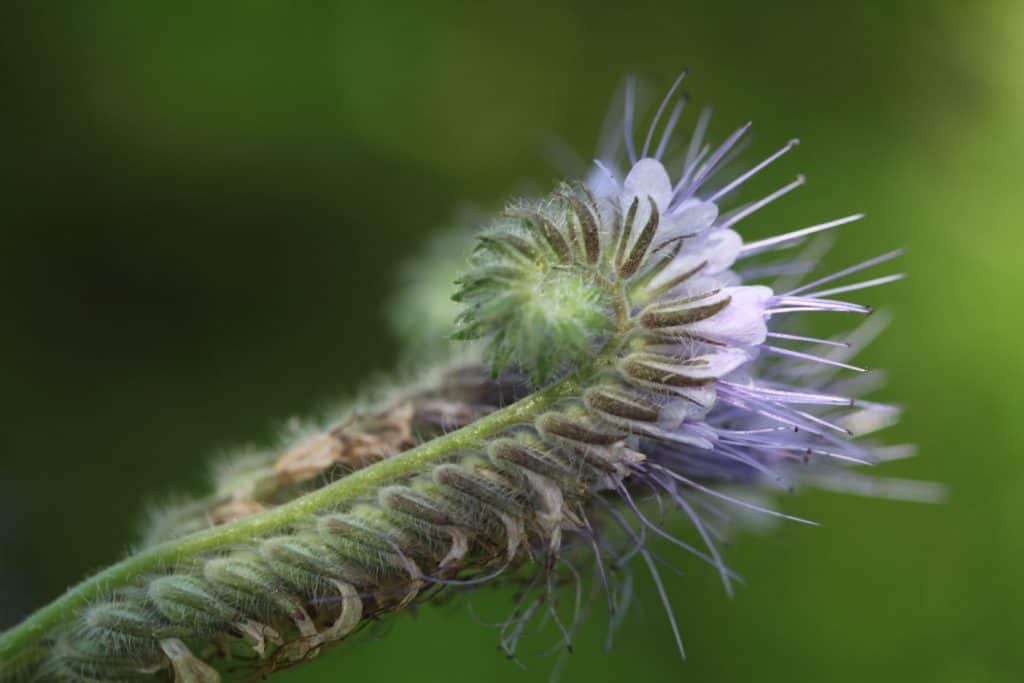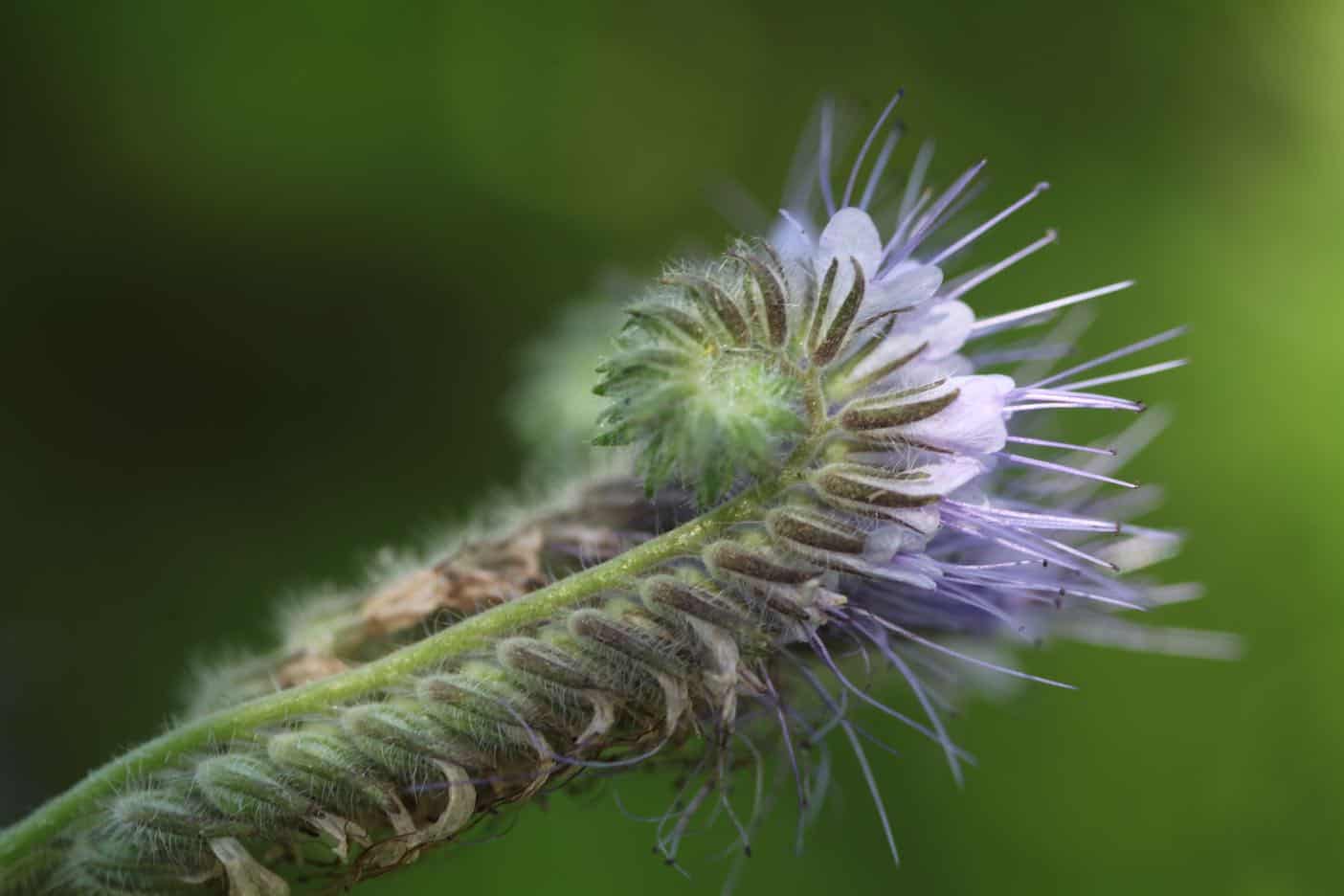 First Year With Phacelia
We started our Phacelia tenacetifolia from seed the first year we grew it. The seeds germinated well, and the seedlings were healthy.
I'm not sure exactly what happened to these seedlings, however they did not survive the planting.
It was possible that the young seedlings were planted during the warmer part of the season. Phacelia is actually a cool season crop.
It is also possible that the seedlings did not get enough water when first getting established.
Also, these flowers actually do best when seeded directly into the garden, which we did not do.
We tend not to direct seed into our zone 5b garden, and mostly sow seeds indoors in winter to give them a head start on the growing season.
This includes even the plants that do best with direct seeding into the garden.
One of the biggest reasons for doing this is that we also have a high weed pressure, and we like to give the seedlings a chance to beat the weeds.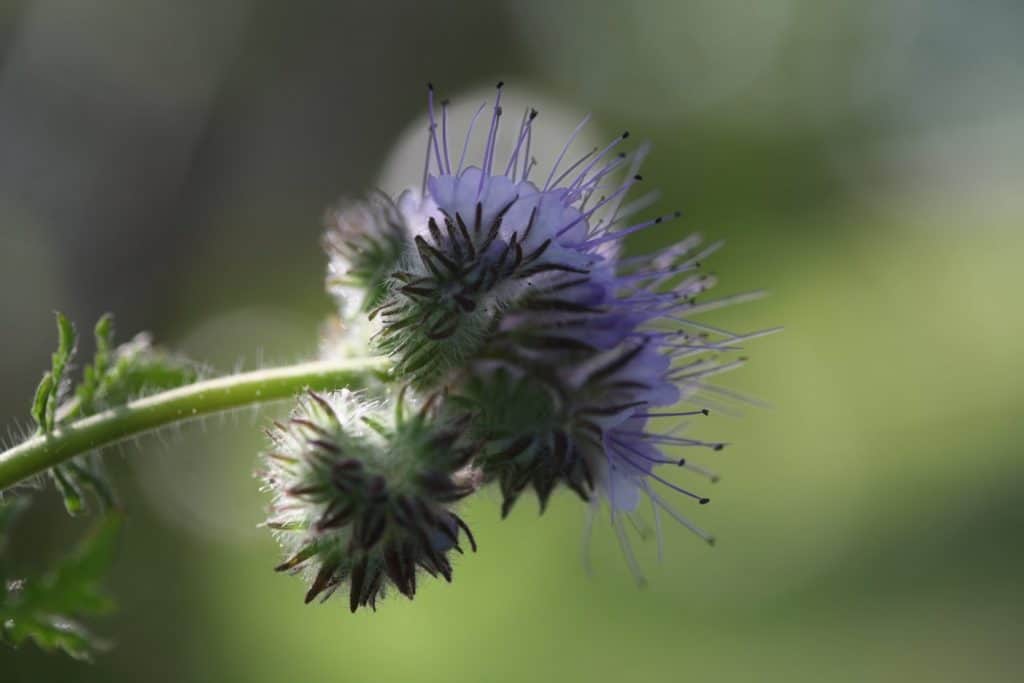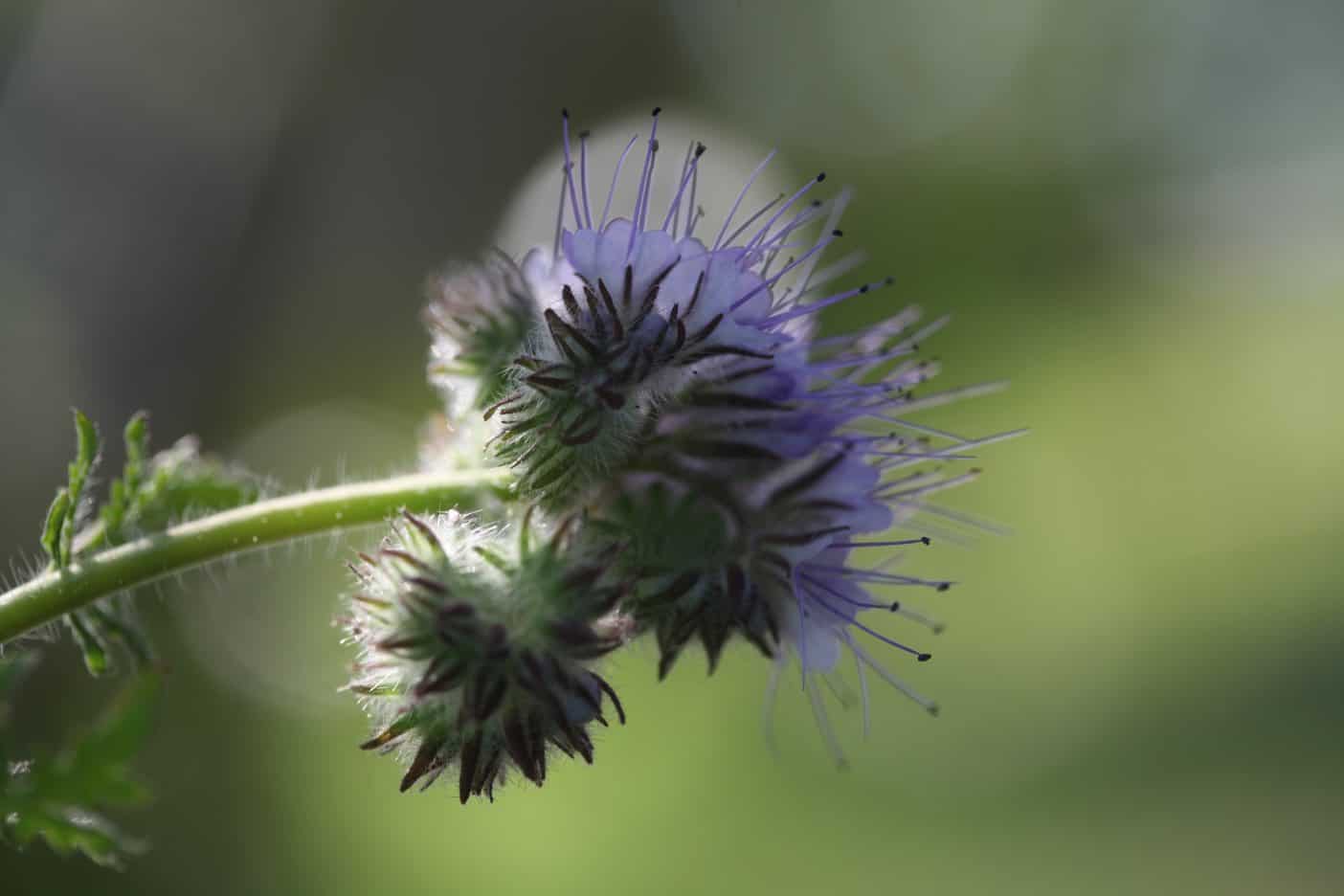 So we learned some lessons in our first year growing phacelia, including:
Plant earlier in the season
Water after transplanting until the plant starts to grow in the garden.
I was really hoping to grow this pretty blue flower, mostly as a pollinator and beneficial insect plant.
So we planted it again the very next year.
Second Year With Phacelia
That second year we grew the Lacy phacelia the tiny seedlings grew well and strong.
We companion planted them next to our sweet peas in the cooler part of the season.
We also kept them well watered while they were getting established.
That year we had great success.
The plants put on a great display and grew all summer long. The bees were busy visiting these sweet flowers throughout the entire season.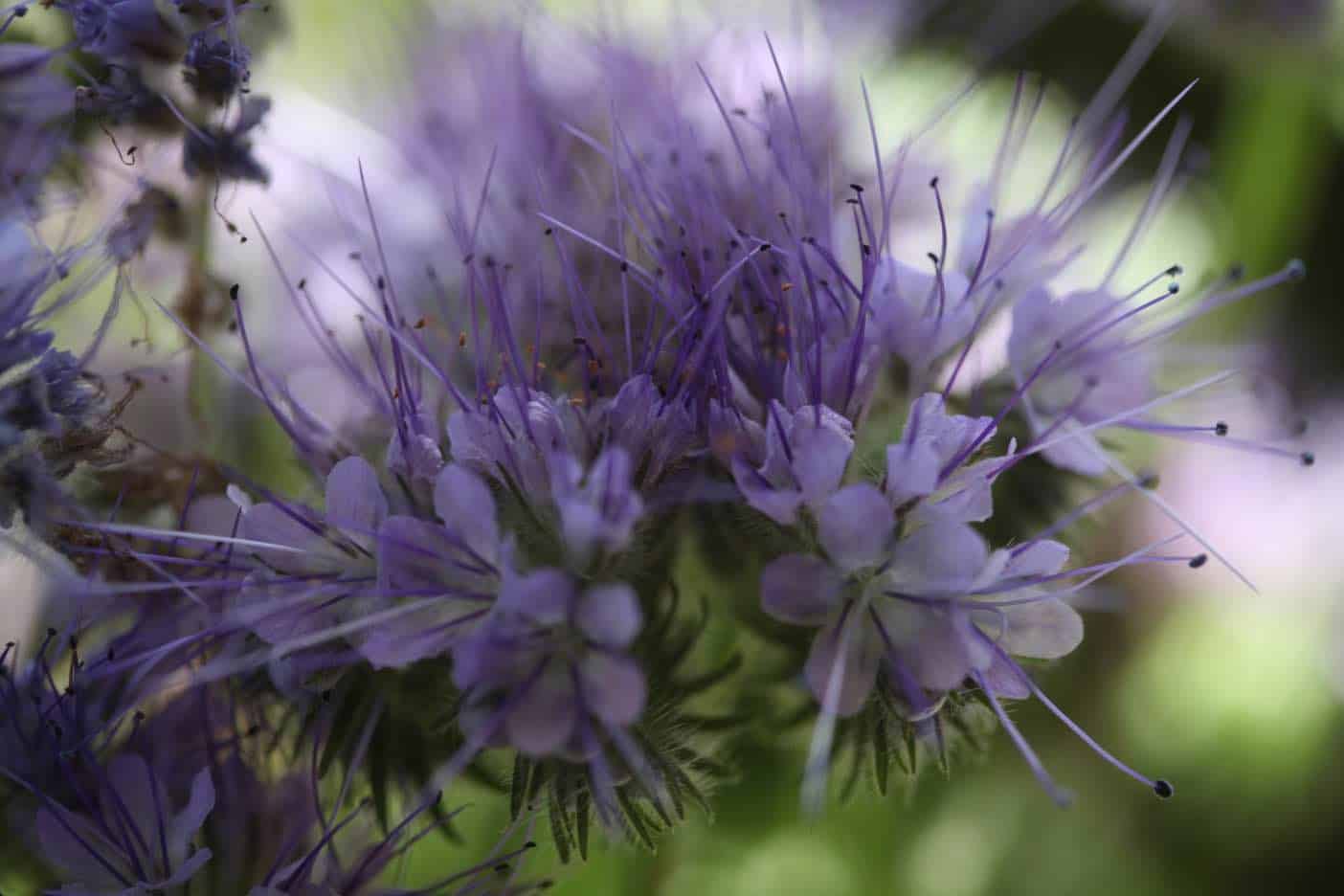 Third Year With Phacelia
Fast forward to this year, and to my surprise, we now have volunteer plants.
In mid June I realized that the phacelia had returned, and were growing even more robustly than those planted the previous year.
I thought for a brief moment that I had misinterpreted the type of plant, and that perhaps it was a perennial rather than an annual.
Often perennials are much more robust after their first and second year.
However this was not the case in this situation.
The phacelia had self seeded and had grown on it's own, at just the right time.
It had germinated in the cooler part of the season.
It was already established in the garden, just at the time when I was planting seedlings outside.
The plant is an annual and had freely self seeded in our zone 5b garden.
What Does Phacelia Grow Well With?
Phacelia grows well with other plants that you would like to attract pollinators to.
Anything that you are hoping to pollinate will be a great companion plant for phacelia.
Phacelia is not a specimen plant in the garden on it's own. It does not stand out as a single plant beckoning to be seen.
Rather, it looks wonderful when planted together in a grouping or clump.
The flowers are soft and attractive, and the foliage is lacy and fernlike.
Why Do Farmers Grow Phacelia?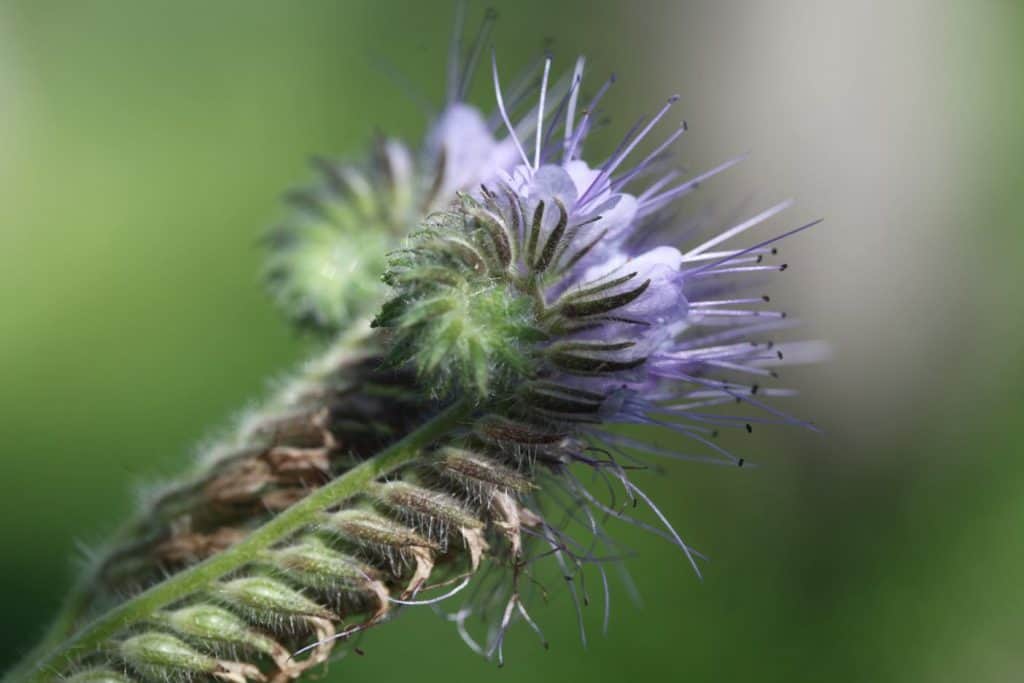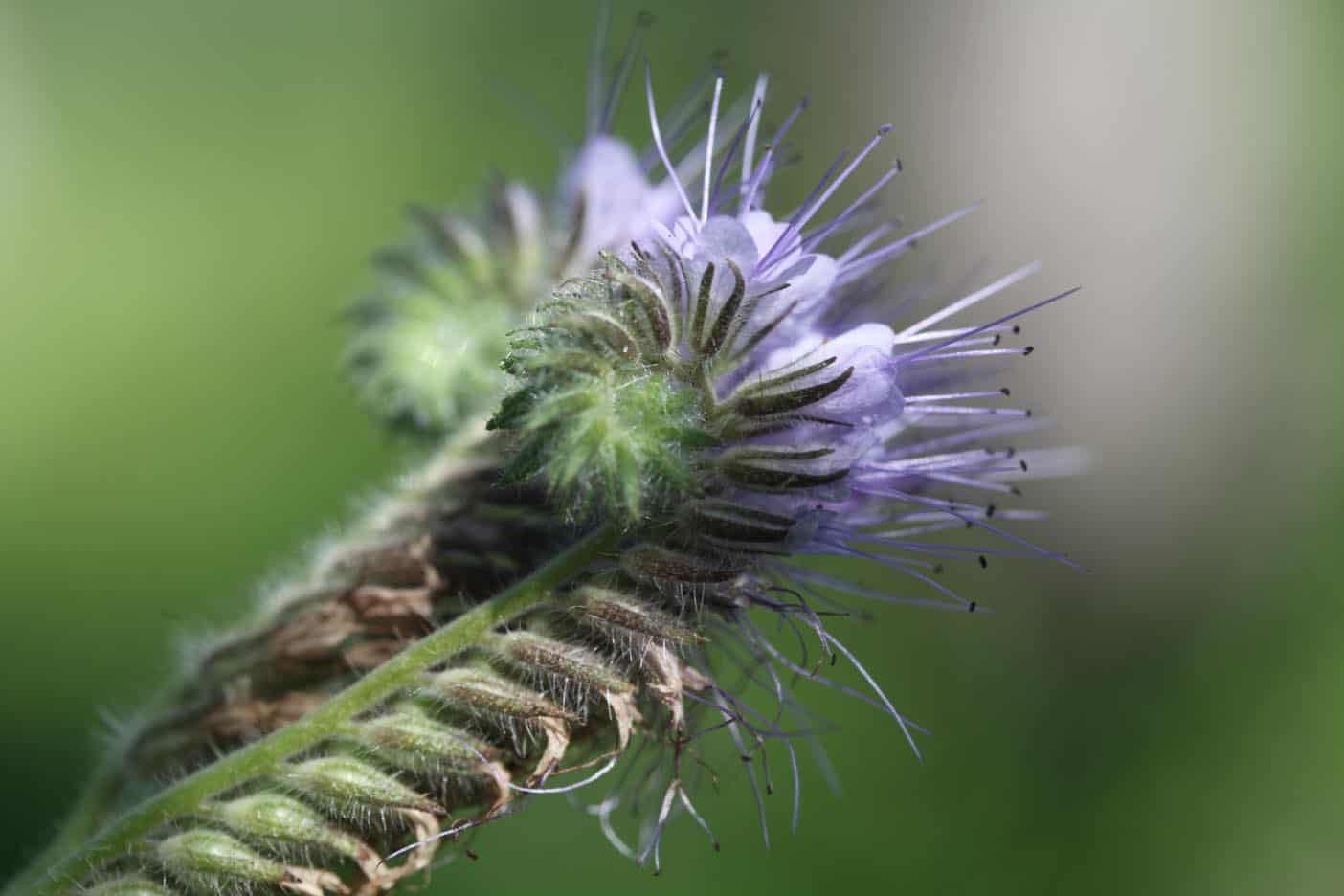 Phacelia is grown by farmers as a green manure or cover crop.
Because of it's tap root it can bring the nutrients from deep in the the ground to the surface.
It is known as a nitrogen scavenger cover crop, and is beneficial to the soil.
Phacelia also provides carbon and lots organic matter to the soil.
The roots of the plant help to break up the top layers of the soil which is beneficial for aeration and good drainage.
Farmers also grow phacelia to draw the bees and beneficial insects, which are essential to farming and pollinating crops.
Phacelia is planted next to vineyards and orchards, and vegetables. Wherever you need the pollinators, the phacelia will draw them to the area.
Anyone with hives will also benefit from a field planted with phacelia, as the bees will feed from these high nectar flowers for weeks.
Can You Grow Phacelia In Pots?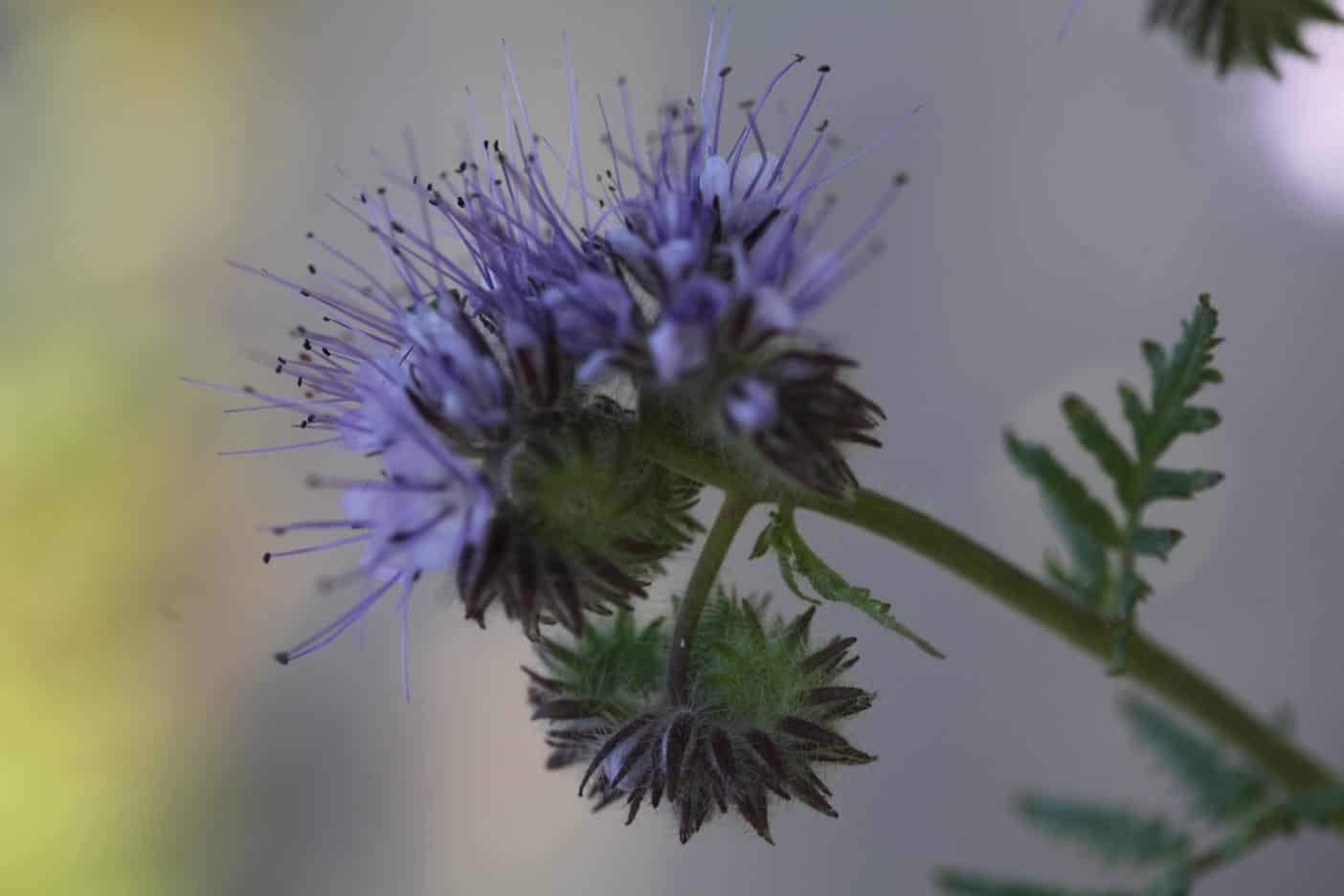 Phacelia can be grown in pots.
These plants have deep tap roots, and it is best to provide a pot with a good depth.
You can sprinkle the seeds on top of the soil in the pot in spring, and cover slightly.
Alternatively you can start the seeds indoors, and plant the seedlings into the pot in spring after all risk of frost has passed.
Phacelia will do well with a mass of plants growing from the pot.
You can then take your pots planted with phacelia and place them anywhere in the garden where you want to entice the pollinators to come and feed.
Is Phacelia Invasive?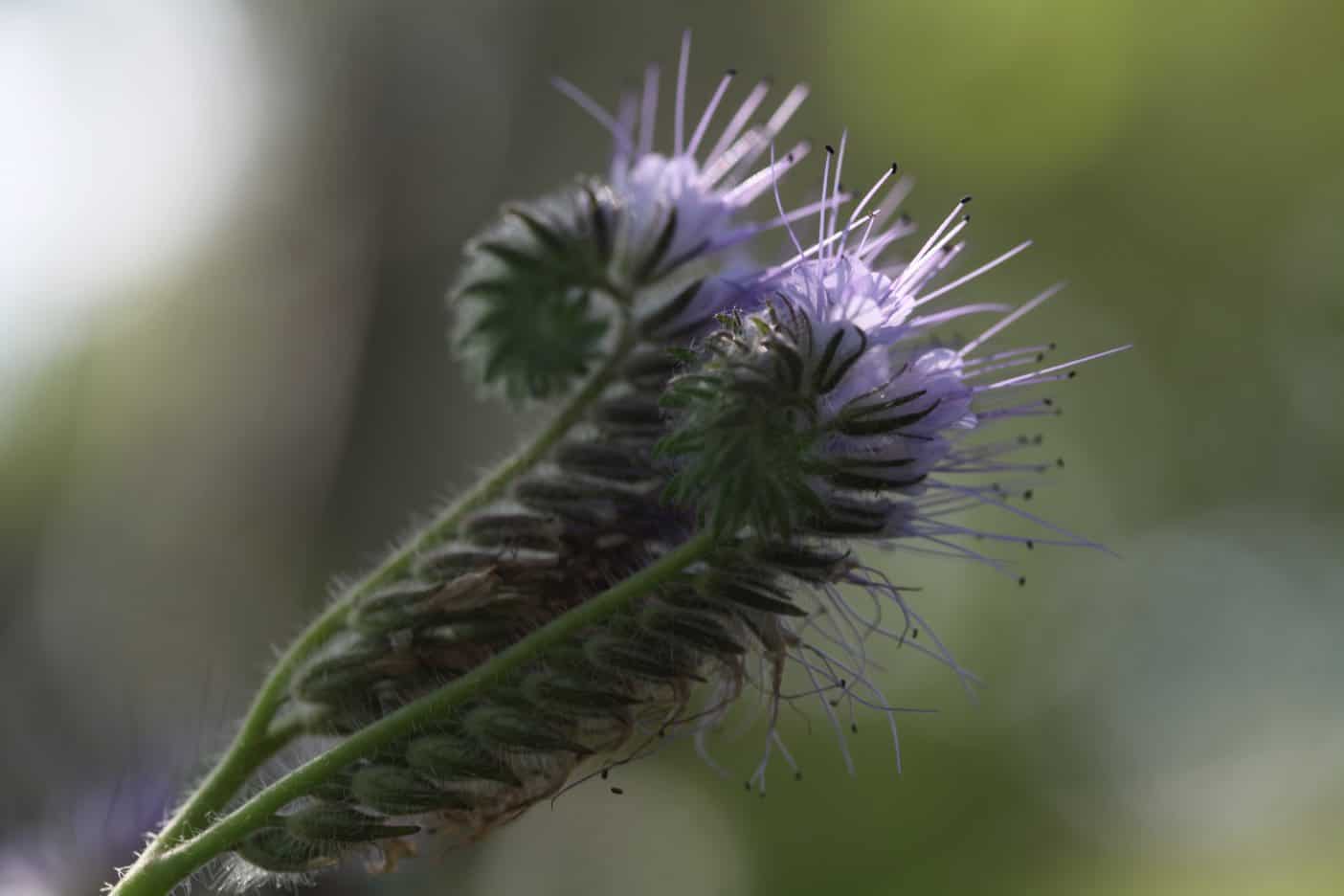 Phacelia has not been identified as an invasive plant with the USDA.
It is a wildflower that forms large grouping of flowers and readily reseeds.
Can You Eat Phacelia?
Phacelia is not an edible plant, although it smells like grape soda!
Should I Deadhead Phacelia?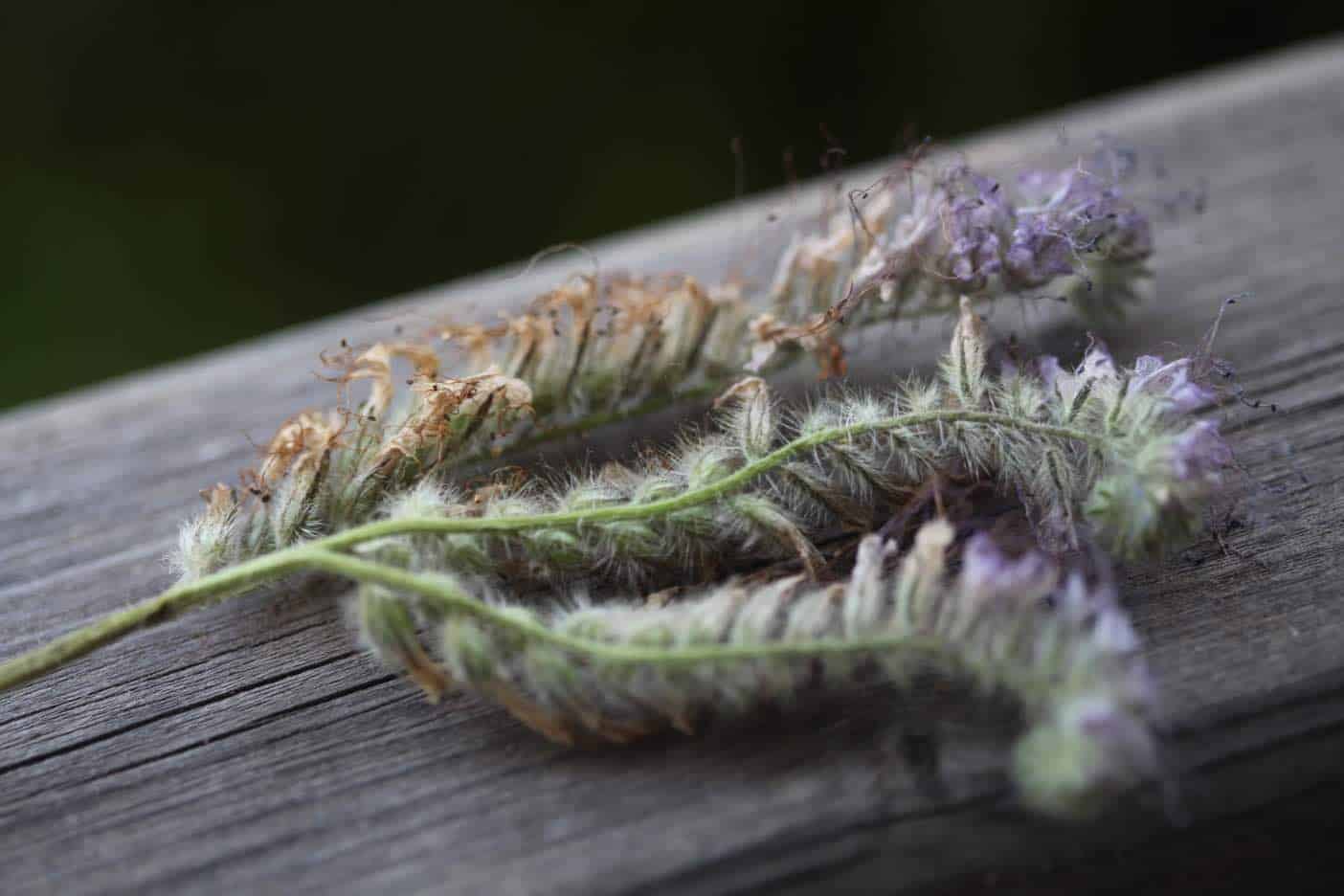 Phacelia readily self seeds, so if you are trying to prevent self seeding, dead heading is certainly an option.
If you are growing a large clump of phacelia however, this may be difficult.
The flowers unfurl slowly over time, and there will most likely be seeds developing at the base of the flower while there are still blooms on top.
This is something to consider if you plan to deadhead to prevent reseeding.
Have you tried to grow phacelia in your garden or used it as a cut flower?
Be sure to leave a comment below to share your experiences!
OTHER POSTS YOU MAY LIKE:
HOW TO GROW COMFREY AND USE IT IN THE GARDEN
PERENNIAL BACHELOR BUTTONS IN THE GARDEN
HOW TO GROW LUPINES -PLANTING TIPS
PIN IT FOR LATER!