Last updated on November 22nd, 2023 at 10:21 pm
A few years ago I purchased a package of allium bulbs from the kids for a school fundraising project. It was so easy to plant these bulbs, and I was so pleased at how stunning the flowers were when they bloomed. Learn how to grow alliums from bulbs, for an interesting and beautiful addition to your perennial garden.
How To Grow Alliums From Bulbs
Alliums are one of the easiest bulbs to grow! Once planted they practically take care of themselves.
Alliums are disease resident and pest resistant.
They are show stoppers in the garden. They provide some depth and height to the garden in spring, while many other plantings are just stating to grow.
Planting allium bulbs is an investment that pays back year after year.
We love to use alliums as cut flowers, although we also love their striking appearance in the garden.
Can Allium Bulbs Be Planted In The Spring?
Allium Bulbs should be planted in the fall, before the ground freezes in October or November.
They are spring flowering bulbs.
The bulbs should be planted after the first frost, but before the ground freezes.
Ideally the bulbs will have a few weeks of growth in the ground before it freezes, during which time they will be able to put down some roots and get established in the ground before the winter.
If you have some allium bulbs to plant in spring, hold onto them until the fall, and plant them at that time.
However, there are several Allium Hybrids that can be planted in the spring.
Examples of these hybrids are Millennium Allium and Serendipity Allium. They grow from perennial plants rather than bulbs, and will bloom later in the summer than the spring alliums. They can bloom into the late summer months.
This is an interesting article from The American Horticultural Society about growing Ornamental Alliums , listing the selected alliums and their blooming periods. Read about it here.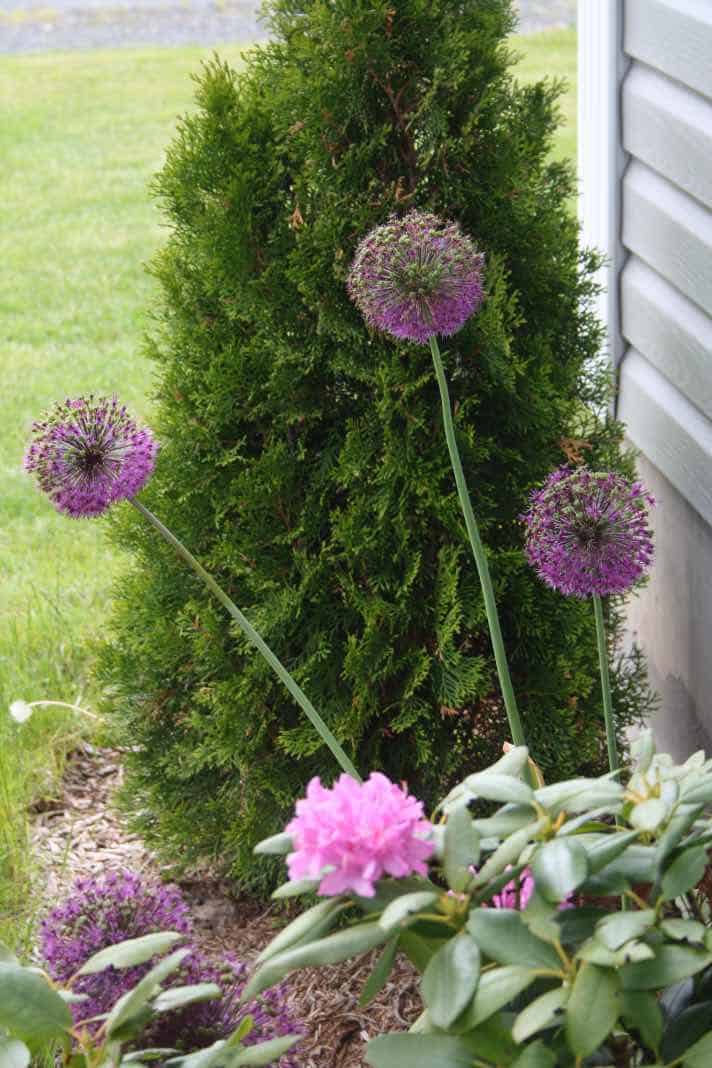 Where To Plant Allium Bulbs
Alliums are very versatile regarding their preference for a planting location.
You can plant alliums in full sun, partial shade, or even full shade. They will grow best however in full sun.
Ours grow on the east side of the house, and get mid afternoon and evening shade. They grow well in this location.
Alliums also grow well in pots. Make sure to water your pot when dry, and not to overcrowd your bulbs.
Plant allium bulbs into soil that is high in organic matter, and that has good drainage. It's important not to plant in water logged soil, as this could cause your bulbs to rot.
Which Way Up To Plant Allium Bulbs
Plant allium bulbs with the pointy end up. You may see some small dried roots on the bottom side- these should be planted pointing downwards.
How Deep To Plant The Allium Bulb
If you have purchased your allium bulbs, the bulb package should have instructions on how deep to plant.
A good rule of thumb is to plant allium bulbs at a depth two to three times the size of the bulb itself.
Depending on the variety, allium bulbs vary in size from small at about an inch in diameter to three times that size for a larger bulb.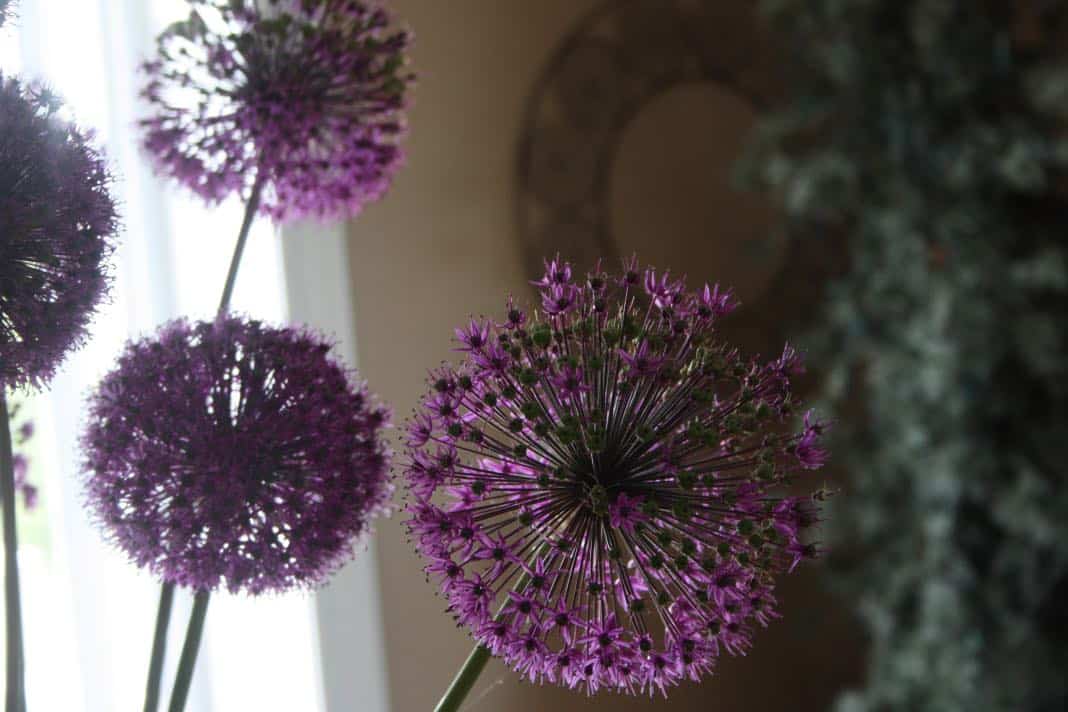 How Far Apart To Plant Allium Bulbs?
Plant allium bulbs with a spacing between each bulb at approximately two to three times the size of the bulbs.
Plant in clumps of three to five, as odd numbered plantings are always visually appealing in the garden.
How Late Can You Plant Allium Bulbs?
Have you ever wondered just how late you can plant allium bulbs in fall?
You may be able to plant them later than you thought.
It is possible to plant the bulbs into late fall, as long as the ground is not frozen.
Try to plant at least a couple of weeks before the ground freezes.This will allow for some growth of the bulbs in the soil, and allow them just enough time to get established before winter.
How To Water Alliums
Alliums require no special watering routine.
Water if dry, just as you would water your other plants in the perennial garden.
When Do Allium Bulbs Bloom?
Alliums will bloom at different times, depending on the bloom time for the particular bulb variety that you have planted. In general, they will all bloom within late spring to early summer.
If you plant a number of different varieties in your garden with different bloom times, you can have these wonderful flowers growing in your garden over a longer period of time.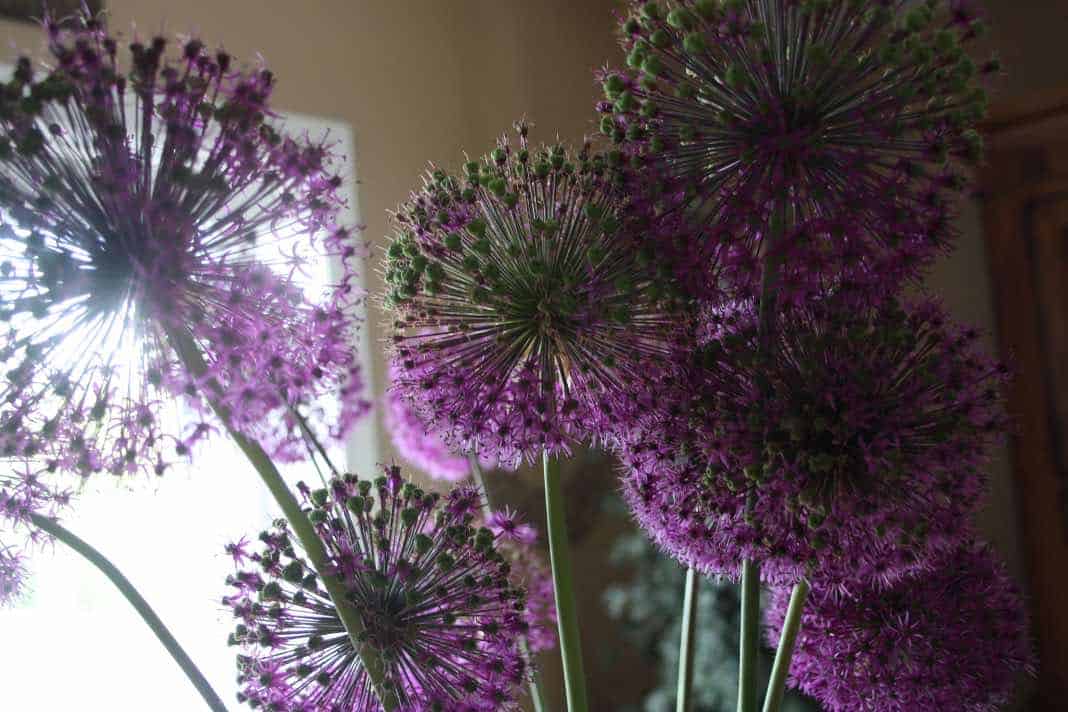 How Many Allium Flowers Will Grow Per Bulb?
Each allium bulb will produce one stem with one flower, and that individual flower is covered with many smaller flowers.
In time, each bulb will multiply to produce more bulbs, and therefore more flower stems.
As well, if allowed to go to seed, the flowers will produce more plants from seed.
Therefore from the one bulb with one flower, you can eventually end up with quite a few more alliums!
What To Do With Alliums After Flowering?
After alliums have finished blooming, there are a number of different things you can do with the spent blooms.
You can leave the bloom in place and enjoy the decorative structure of the developing seed pods in your garden, which we really enjoy.
You can cut off the stems, and bring the pods inside to enjoy in the vase
Or you can cut off the stems and place in the compost.
The foliage of alliums will often start to yellow, even before the flowers have finished blooming, depending on the variety. Allow the foliage to die back naturally.
The foliage of the alliums should be left in place, as it will be contributing energy to the bulb for next years growth.
It's helpful to have other plantings in place around the alliums to disguise the yellowing leaves. Planting the allium bulbs at the back of the border can be a way to hide the yellow leaves after blooming.
Are Alliums Perennials?
Alliums are perennial bulbs. If given the right growing conditions, allium bulbs will return to reward you year after year with their wonderful flowers.
Do Allium Bulbs Multiply?
Alliums do multiply, both by bulb as well as seed!
If multiplying by seed, it is not uncommon to find slightly different coloured alliums than were originally planted, as they will be different plants from the original bulb. Perhaps the new alliums will be just a shade lighter than the original.
Do Alliums Attract Pollinators?
Alliums are pollinator magnets, and will attract pollinators to your garden!
Bees and butterflies will enjoy the allium blooms just as much as we do, along with other beneficial insects.
Are Alliums Deer Resistant?
Alliums are deer resistant!
Alliums are related to the onion family, and are somewhat pungent just like onions when the leaves or stems are cut or crushed. This pungent taste and odour repels the deer, which is a plus in our books!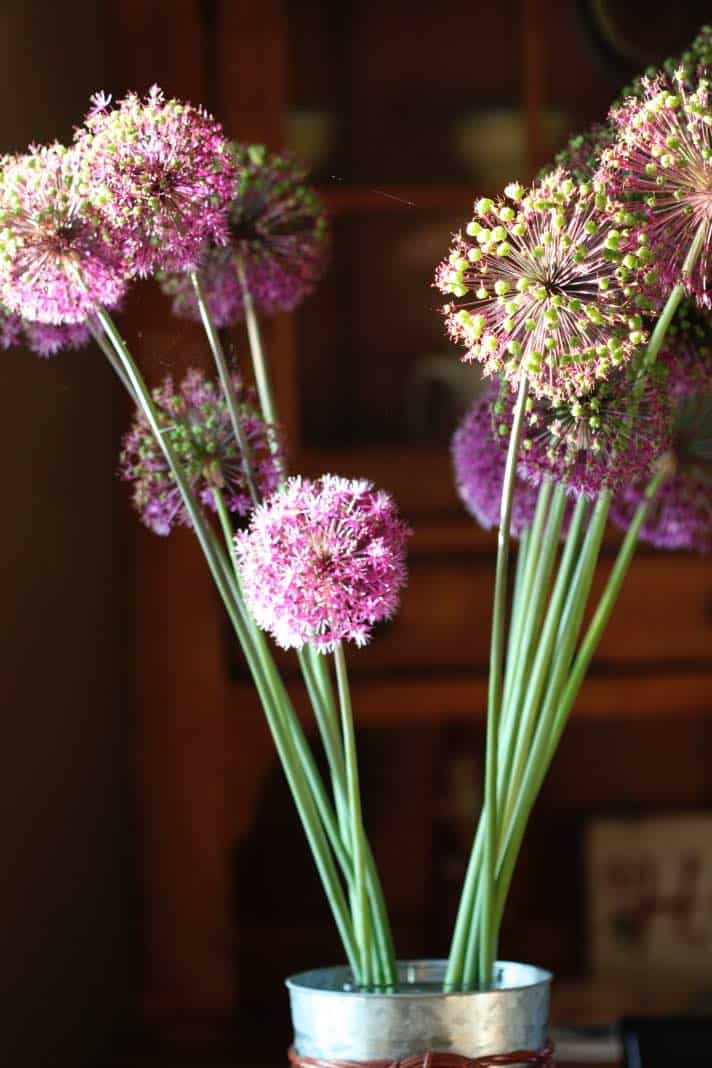 Alliums Used As Cut Flowers
Not only are are alliums beautiful in the garden, they are also stunning in the vase.
They are long lasting as cut flowers, and will last from one to two weeks in the vase, depending on the variety. They will also last up to one month in the cooler.
Not to worry about the onion fragrance, once the stem is inserted into water, the odour will be gone!
I hope that you found this post on how to grow alliums from bulbs helpful. We welcome comments and questions!
If you liked this post you may also like:
HOW LATE CAN YOU PLANT ALLIUM BULBS IN THE FALL?
HOW TO GROW ALLIUM FROM SEED- (ORNAMENTAL ALLIUM)
Perennial Bachelor Buttons In The Garden
How To Plant Calla Lily Bulbs For Beginners
How To Grow Jackmanii Clematis In The Garden
See the Web Story on Growing Alliums From Bulbs!
PIN IT FOR LATER!