Last updated on May 6th, 2021 at 06:46 pm
Russian Sage, with it's graceful arching purple branches, and lacy silver green foliage, has always been a favourite in our garden. While it comes with a few learning curves, once you know how to grow it you may be surprised at just how easy it is to care for. Learn how to grow Russian Sage, and enjoy this heat loving plant in your garden.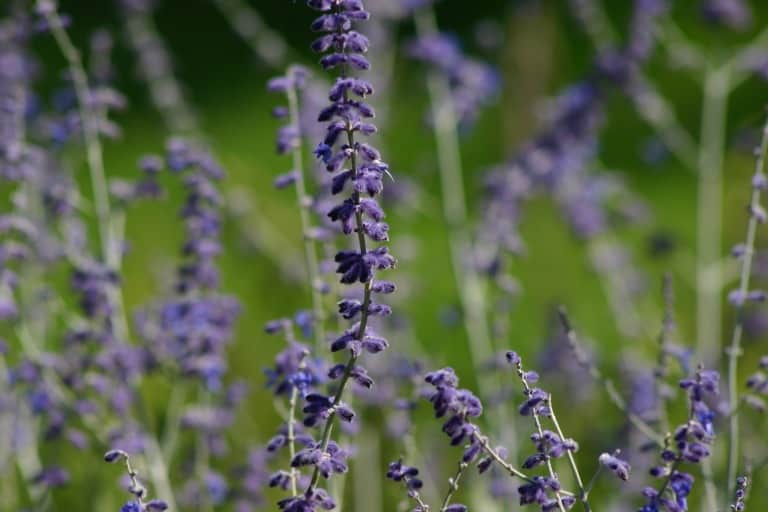 Russian Sage, also known as Perovskia atriplicifolia, is a subshrub, a woody perennial plant with a striking visual display of lavender coloured blooms. One of the most important things to provide for an optimal Russian Sage display is the ideal growing location- a sunny spot where it's dry and hot. That in a nutshell will grow the best Russian Sage.
How To Grow Russian Sage
I grew Russian Sage before I knew the details about how to care for this plant. It was given lots of love and attention, planted in my wonderful fertile garden and given lots of water. It did okay, but didn't thrive.
When it came back the next year it had many dead stems, and the new growth grew up through these stems and was not attractive.
I gave the dead wood a pruning, which helped, however I always felt that this plant needed something more. I thought that the dead wood was a sign that it was not thriving in my garden.
Then I realized that this plant was acting completely normal for the growing conditions that it was in.
As well, those dead branches were actually normal, and needed pruning every year to tidy up the plant.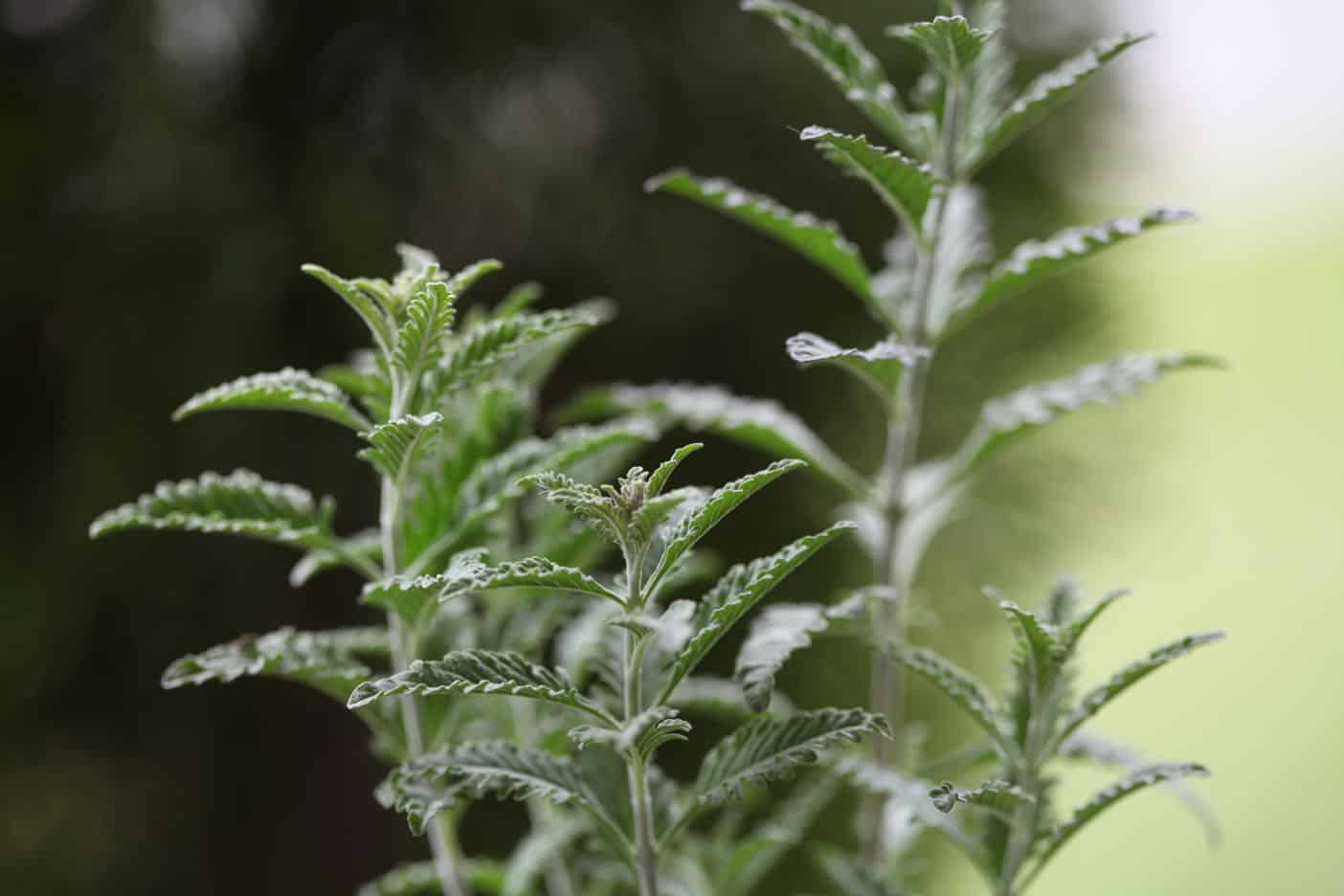 Is Russian Sage Easy To Grow?
Russian Sage is easy to grow when it is given the right growing conditions. When placed in the right location it will grow well. Plant it in a sunny hot area with a medium to low fertility soil that drains well. Russian Sage is a drought tolerant plant that thrives in hot dry conditions, so limit watering.
How To Propagate Russian Sage For Planting
The easiest way to propagate Russian Sage is through cuttings.
Method for propagation:
Take cuttings off the new growth in spring.
Make sure your clippers or scissors are clean. You can sterilize with alcohol.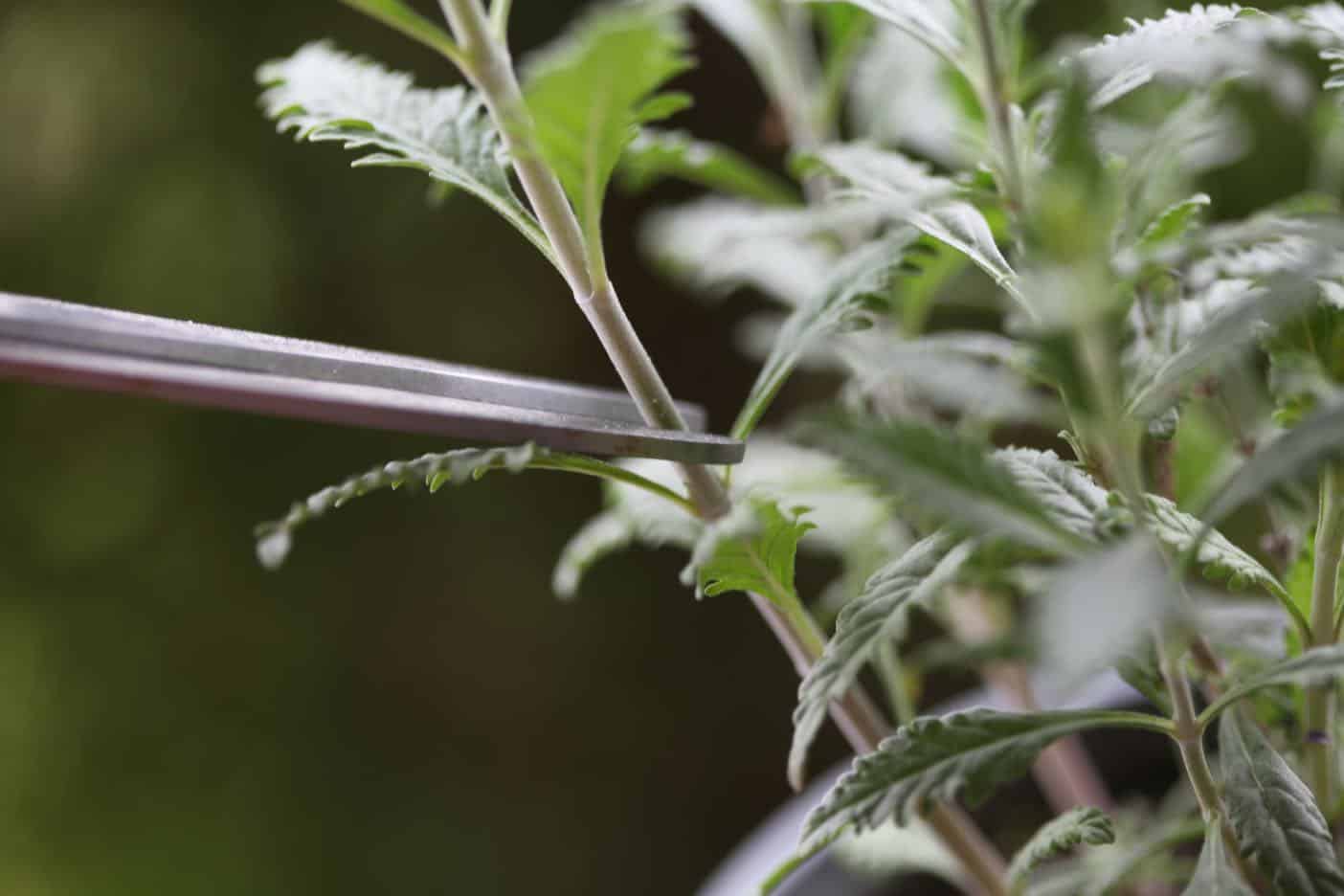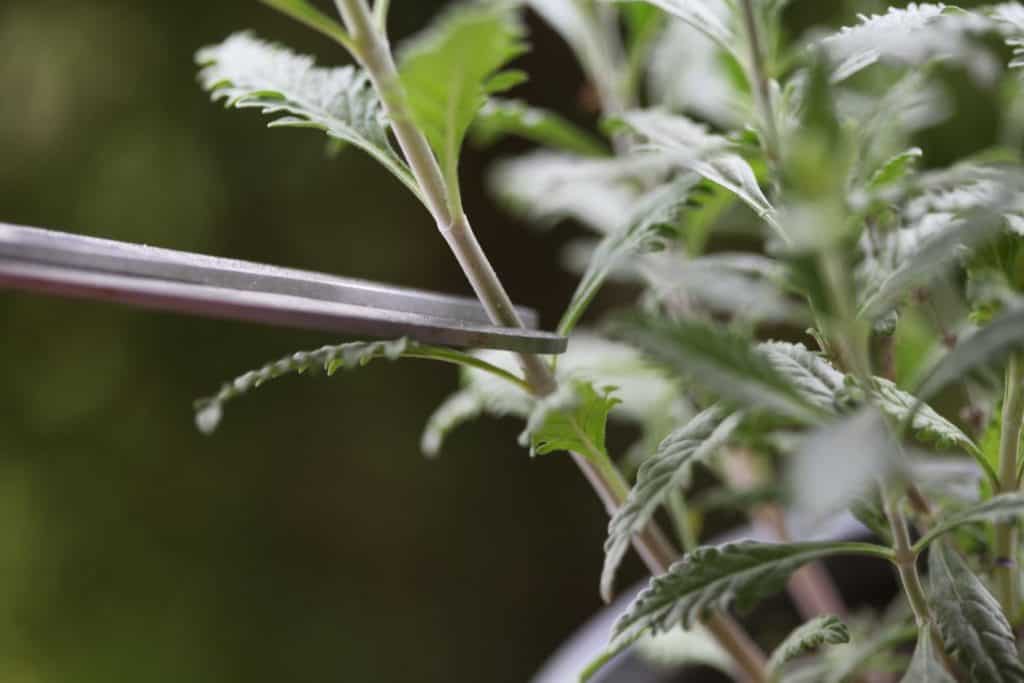 Cut approximately six inches down from the tip of a new stem, cutting just above a set of leaves.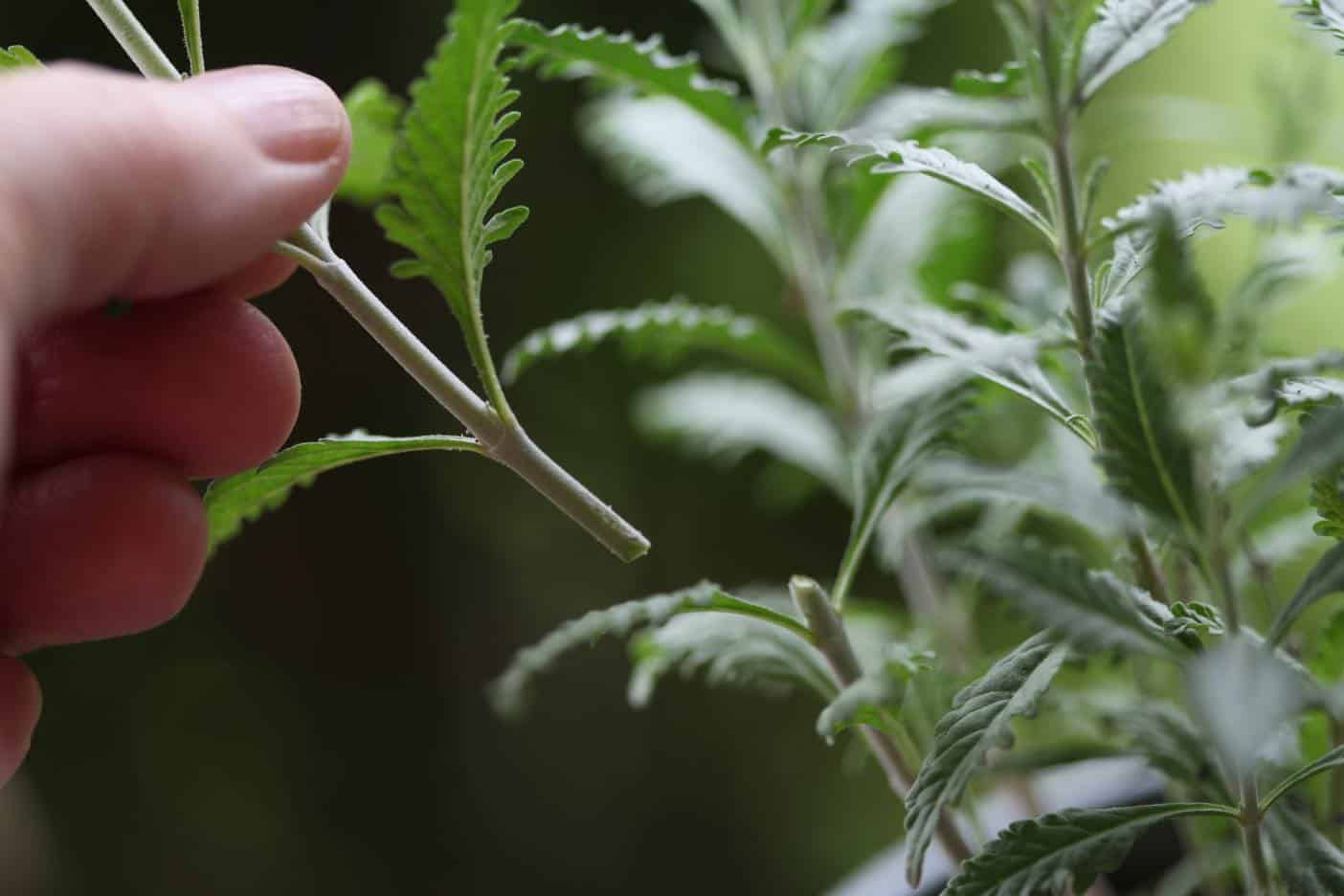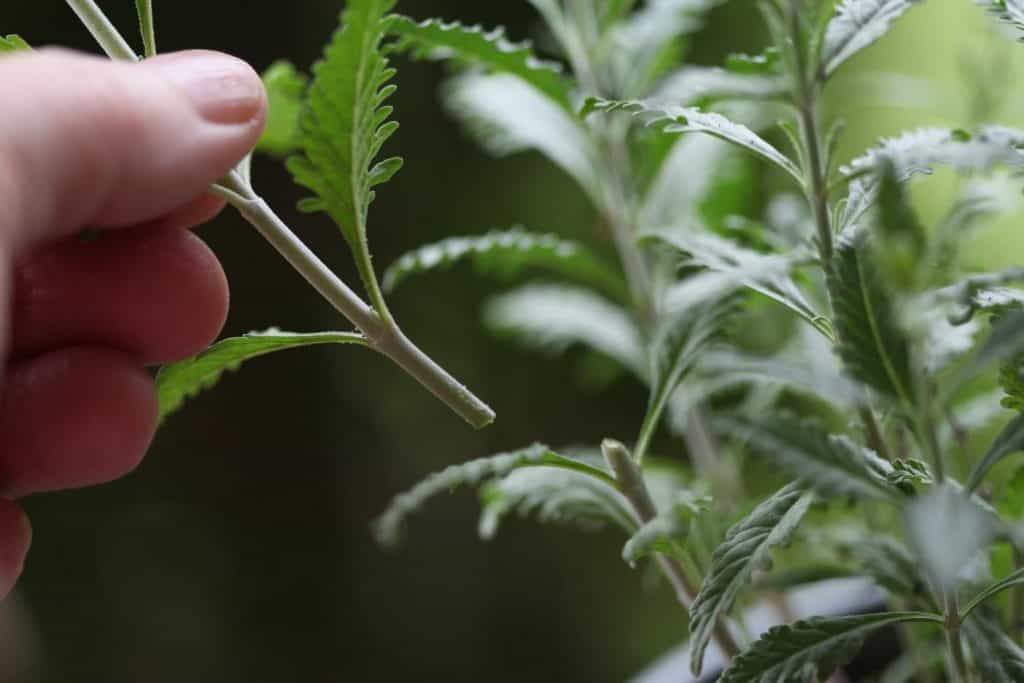 Remove all the leaves along the sides of the stem, keeping the top two sets of leaves on each stem.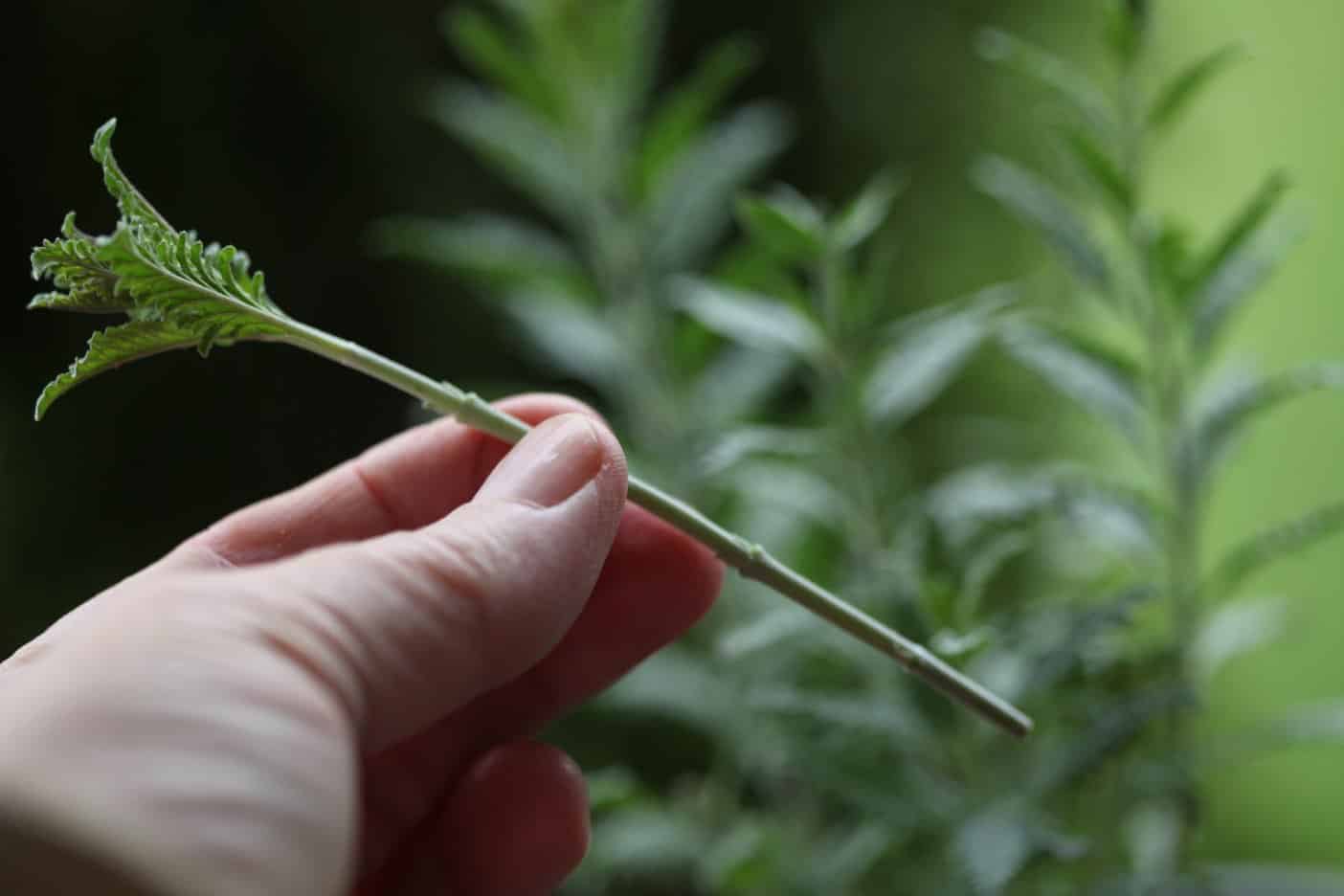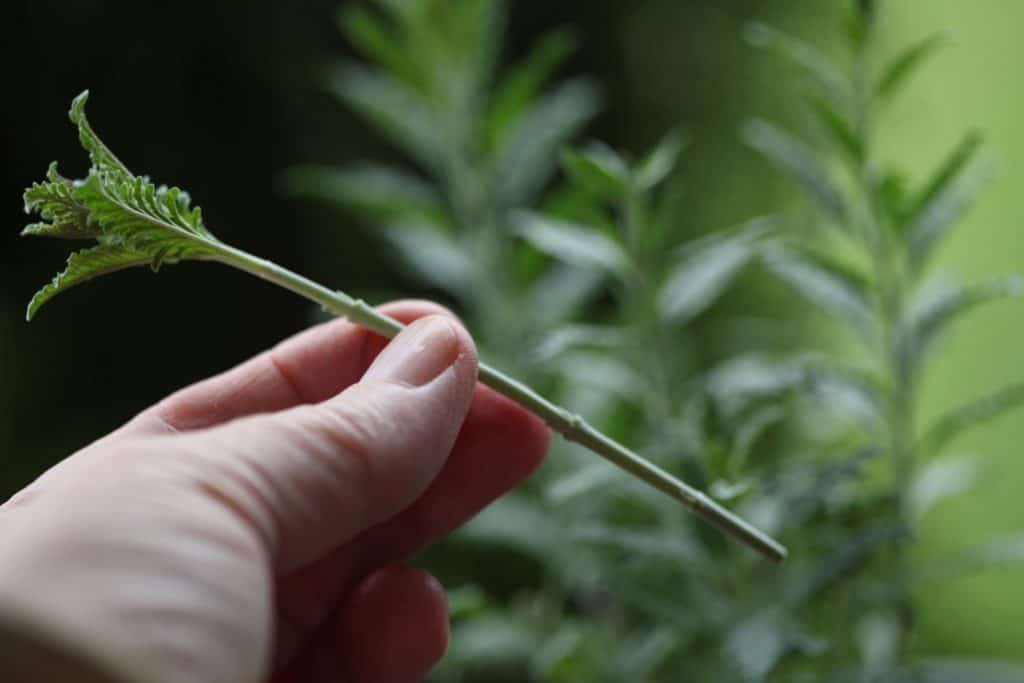 Take multiple cuttings, as many as you plan to plant!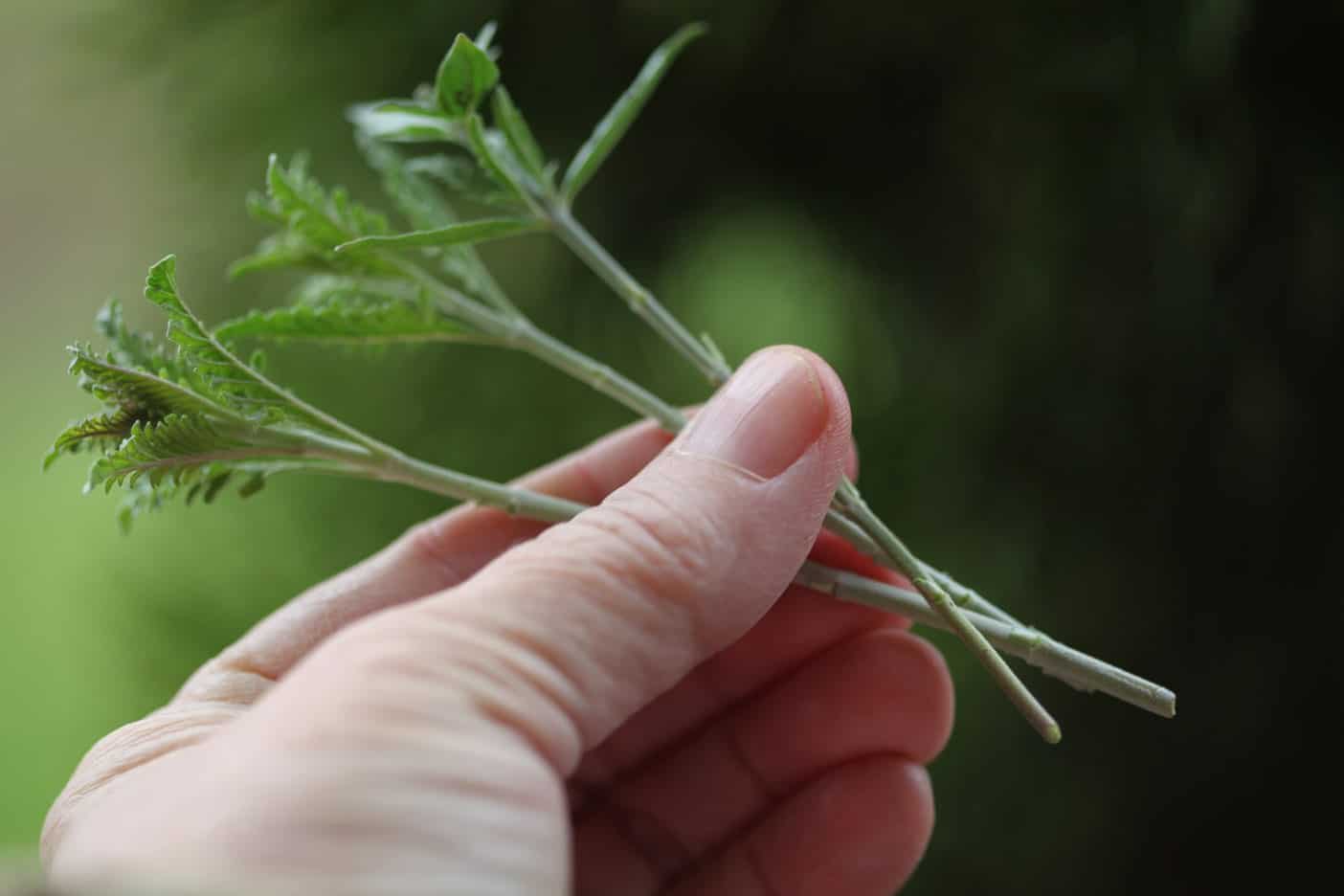 Place the stems in a pot with a sterile mix, such as peat or a seed starting medium. Add some sand to the peat for drainage.
Space the stems an inch apart in the pot. Stick them down into the soil.
Russian Sage will root without rooting hormone. It takes approximately two to four weeks to produce roots.
You can use rooting hormone if you wish, but it is not necessary.
Place the pot in a tray for bottom watering. Keep the soil moist while rooting.
You can put a cloche over the pot to maintain humidity. You can improvise this with a pop bottle cut in half- leave an opening at the top.
When To Plant Russian Sage
Plant Russian Sage into the garden when the risk of all frost has passed.
Harden off your newly propagated plants if you have grown them indoors, or under the protection of a greenhouse covering.
How To Plant Russian Sage
Russian Sage is a large perennial when mature.
Plant your Russian Sage at least 18 inches apart to allow for optimal growth.
Soil
Average fertility soil will do, and ensure that there is good drainage
Grows best in slightly alkaline soil.
Water
Russian Sage Is drought resistant, and does not tolerate a lot of moisture.
Water the first year while the roots are getting established. Thereafter it will not require watering, other than from the natural environment.
If given lots of extra moisture, even from a rainy season, the stems will grow long and tend to flop over.
If your stems have flopped over in a consistent manner symmetrically around the plant, this is most likely due to excess moisture, and more than the plant requires.
It will recover, though not this season. The stems can eventually be trimmed back.
Sun Or Shade?
Russian Sage should be planted in full sun.
Just like the floppy stems from extra moisture, this plant will produce similar floppy stems in shade.
If you find that your Russian Sage is growing long floppy stems that are traveling in one direction, rather than symmetrically around the plant, this is likely due to too much shade.
The stems reach out and grow towards the light, creating this long floppy effect.
Plant them in the sun and they will grow upright and not become weakened and droopy.
Why Does My Russian Sage Flop?
Russian Sage has a fairly common tendency to grow long droopy stems.
There are several reasons for this, and both indicate less than ideal growing conditions.
Too much water. You may have done everything right, but perhaps the plant received too much rain. Or perhaps it got overwatered. Take heart, it will recover next season.
Too much shade. The stems will get long and droopy as they grow towards the light. Consider relocating the plant to a more ideal location in a warm sunny spot.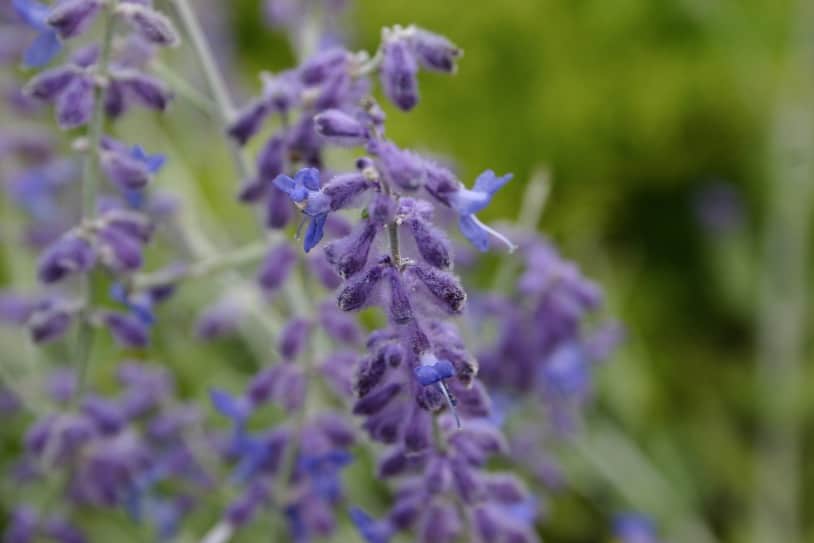 How Quickly Does Russian Sage Grow?
An established Russian Sage plant can grow quite quickly during the course of the season.
The plant can grow from ground level up to four or five feet high in one season.
If the plant is a young seedling and just started from seed, it can take several years before it will become a mature size and large enough to bloom.
Transplanting Russian Sage
Russian Sage can be transplanted if you are wanting to relocate this plant to a different spot.
Dig a hole around the plant, giving a wide circumference all around the plant.
Lift it up out of the hole, and relocate to the new location.
Plant at the same depth as in the previous growing location.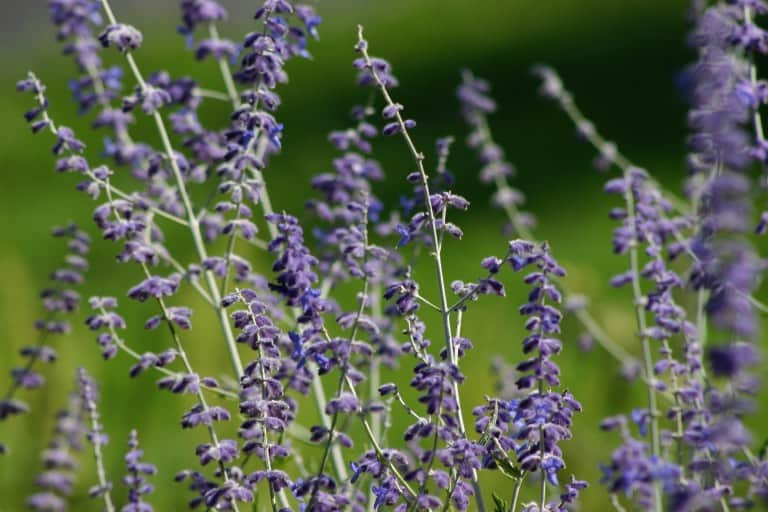 Does Russian Sage Reseed?
Russian Sage freely reseeds. If you are hoping to have a few volunteer plants of your Russian Sage, do not prune your plants back in the fall.
Allow the plants to develop their seed to maturity, and you may find some new volunteer seedlings in your garden the following year.
To prevent reseeding, deadhead the blooms when they have finished flowering.
Caring For Russian Sage
Russian Sage is a fairly easy plant to care for if planted in the right location..
One aspect of Russian Sage care is pruning. This is usually a quick and easy task.
The second aspect is mulching for winter, which can help protect the plant in colder zones.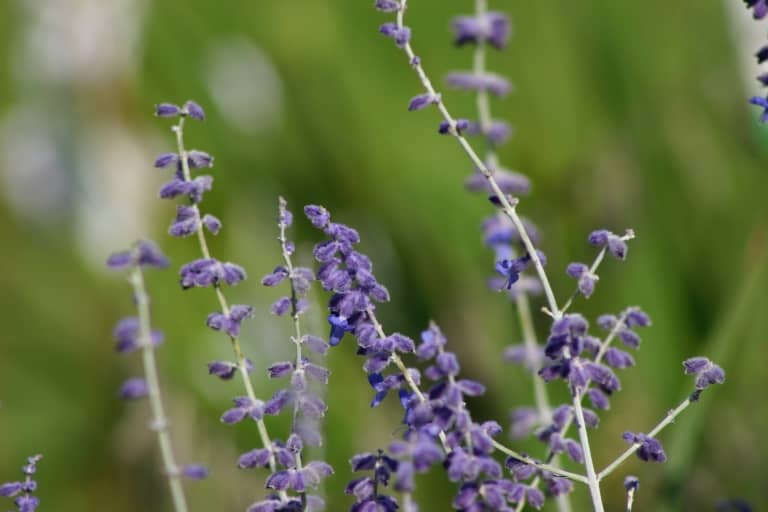 Pruning Russian Sage
When To Prune
Russian Sage will need to be pruned once a year. It is a natural part of this plant's habit to lose the top half to two thirds of it's stems every year over winter.
These stems although dead will remain on the plant unless pruned. There will be no new growth from these parts of the stems.
If you don't prune Russian Sage, the new growth will grow up and mix with the old dead growth, and the plant will look untidy.
Pruning involves removal of this old dead growth from the previous year.
Russian Sage can be pruned either in late fall or early spring.
It is generally easier to do in spring, when you can see the dead branches and cut back to the living parts of the stems. However it can be done in either season.
If pruning in fall, make sure that the plant has gone dormant. The blossoms will be dry to the touch.
If pruning in spring, make sure that this is done before the leaves start to grow.
How To Prune
Russian Sage can be pruned two ways.
It can be pruned down to the lower part of the stems in spring, leaving about a foot of viable branches above ground. The new growth will come from the branches and from the base of the plant.
2. It can be pruned right down to the ground, removing all the old stems.The new growth will come from the ground.
Both ways are acceptable, and one is not better than the other. It is a personal preference.
Deadheading
Deadheading Russian Sage involves removing the flower stems once they have completed blooming.
This can be done easily by cutting just beneath each flower stem.
Do not cut all the way back to the ground.
How Do You Winterize Russian Sage?
Russian Sage can be left in the garden just as it is in the fall.
It can provide some visual interest in winter if the silvery green stems are in good shape.
If you want to prepare your beds for winter by doing a fall cleanup, and trim unruly stems, make sure you wait until your Russian Sage has gone completely dormant before cutting it back.
You can mulch around the base of the plant, particularly in cooler zones, to provide some insulation for winter.
When Does Russian Sage Come Back?
Russian Sage is a perennial which returns every year in spring. It grows from the base of the plant, if completely cut back.
It will also grow from the bottom parts of the stems, usually the bottom third of the plant.
Russian Sage Companion Plants
Considering what you will grow with Russian Sage is an important aspect of growing this beautiful plant.
Russian Sage grows in mid summer, and companion plants are those grown at the same time in the same growing conditions.
Choose plants that compliment the colour and foliage of Russian Sage.
Those plants and flowers that look wonderful growing with Russian Sage include:
1. Yarrow
Yarrow is an ideal companion plant for Russian Sage. It tolerates the same growing conditions, grows at the same time of year, and the flowers look great together.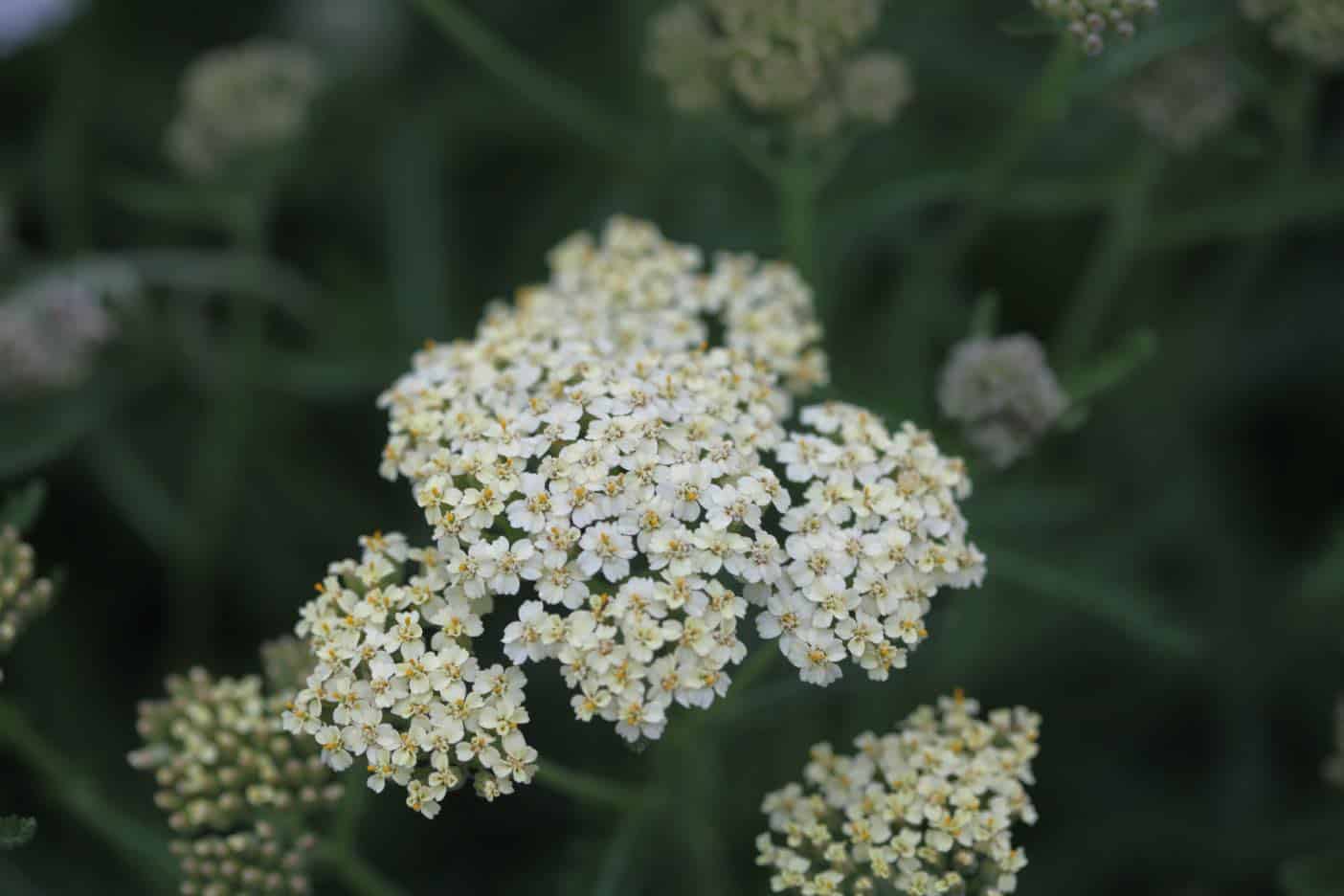 2. Daylilies
Daylilies are great companion plants for Russian Sage. These flowers grow in the same season and enjoy the same growing conditions.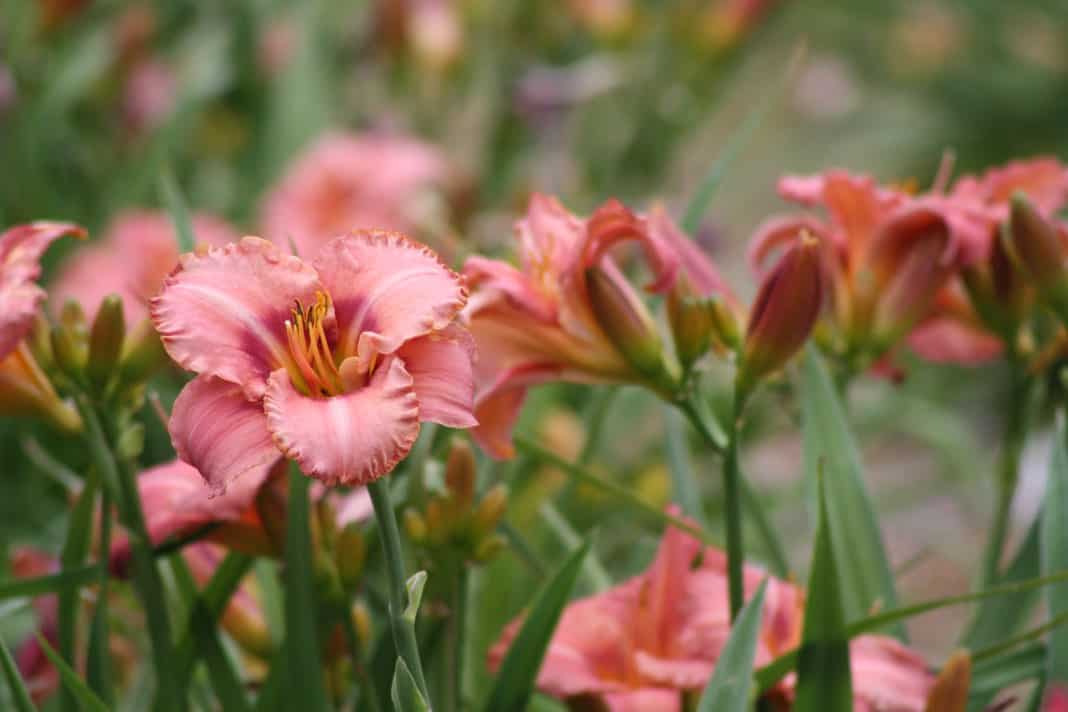 3. Rudbeckias
Rudbeckias grow in the same season as Russian Sage, and were companion plants in our garden. The colours of the blooms complimented each other, and both plants were easy to care for.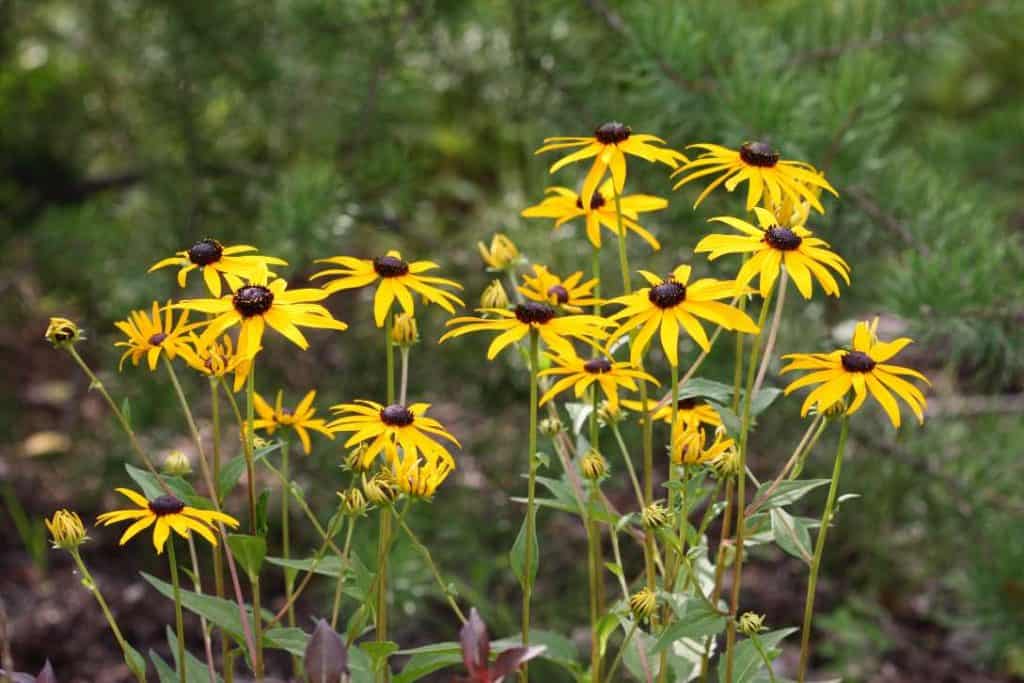 4. Shasta Daisy
Shasta Daisies grow at the same time as Russian Sage and in similar growing conditions. The large white flowers perfectly compliment the softer lavender spikes of the Russian Sage.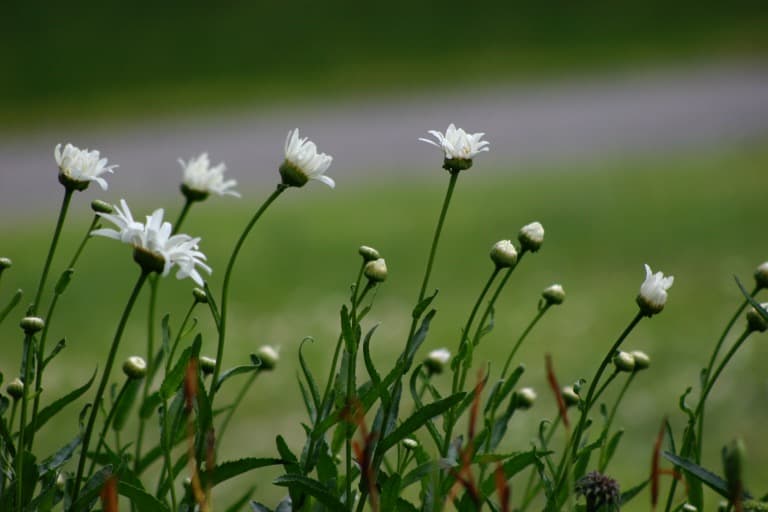 5. Echinacea
Echinacea is another wonderful companion plant for Russian Sage. Grown at the same time, the colours and shapes of each plant are perfect compliments for each other.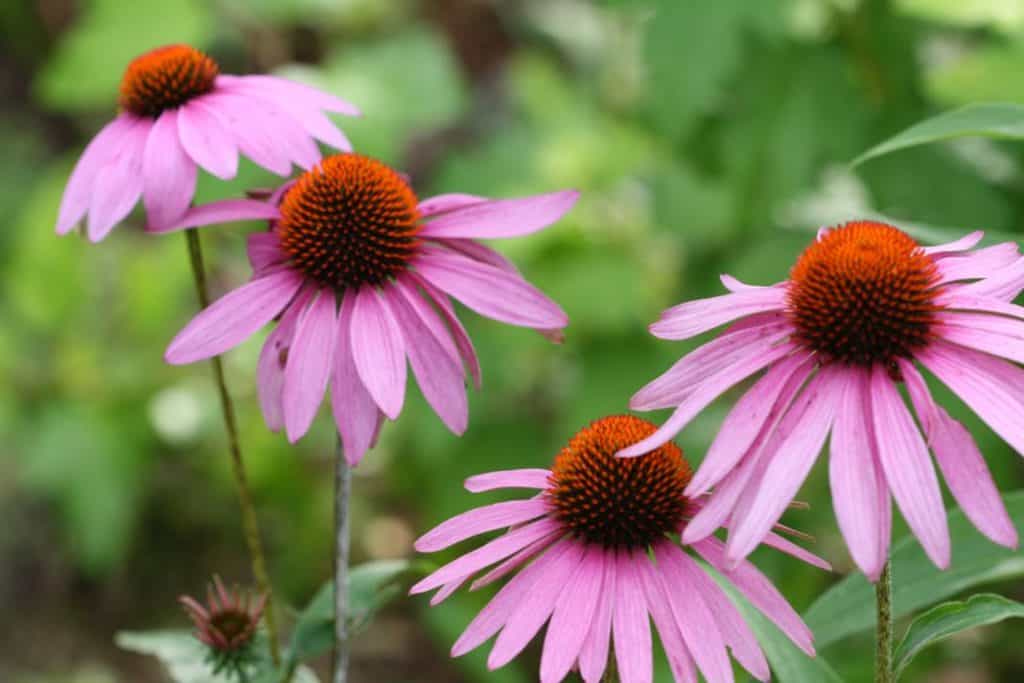 6. Sea Holly
Sea Holly is the same lavender colouring as Russian Sage, and adds a different form of interest. These plants grow at the same time of year and in the same conditions. Sea Holly tolerates hot locations in well drained sandy soils, just like Russian Sage.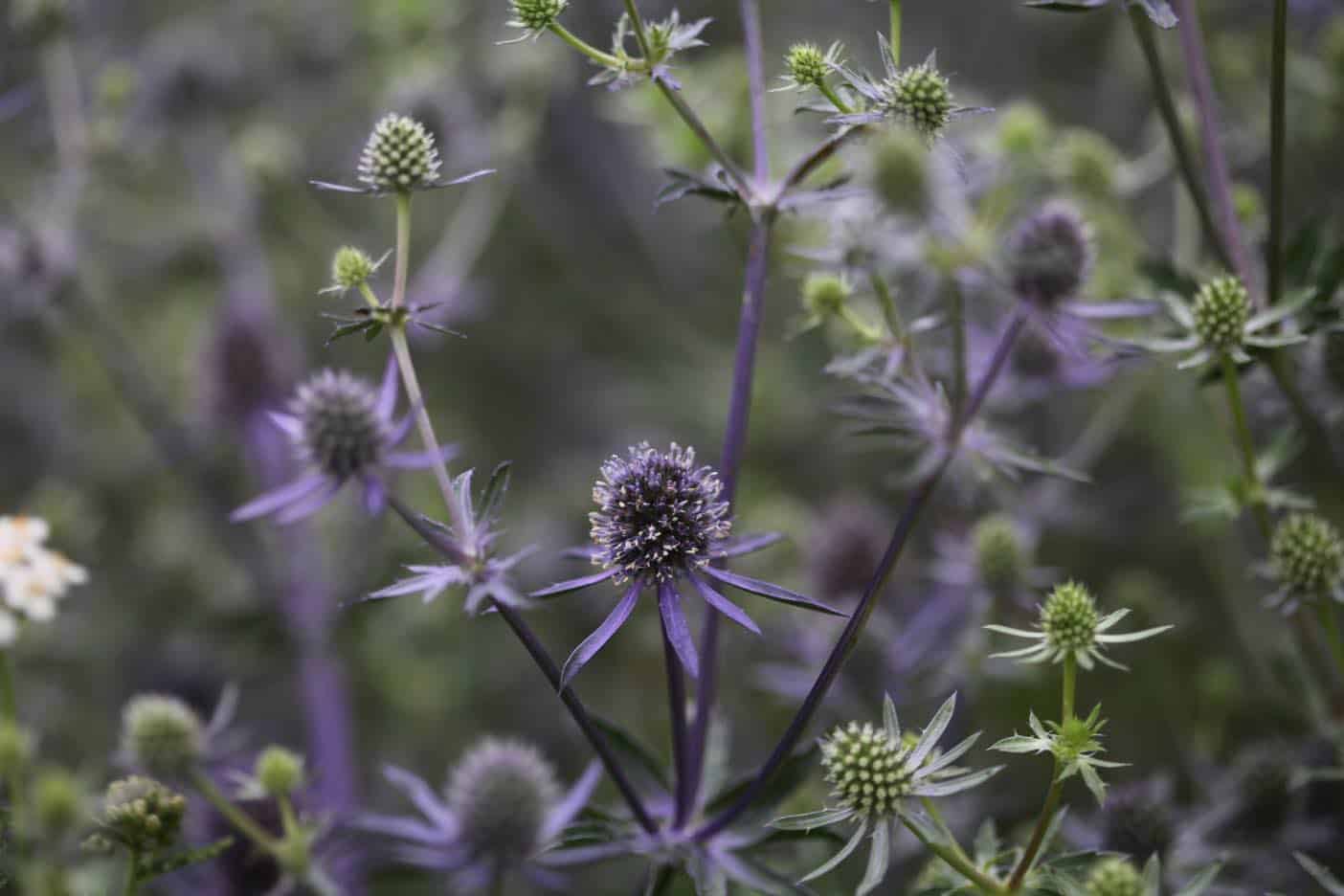 Is Russian Sage Deer Resistant?
Russian Sage is deer resistant. The deer do not touch this plant, most likely due to it's odour.
This is a good plant to use as a border to prevent the deer from entering a space, such as a vegetable garden.
In this case, Russian Sage can act as a deterrent for these areas.
Do Bees Like Russian Sage?
As always, we love to find plants that the bees love, and Russian Sage fits that bill. Russian Sage attracts bees and other pollinators into the garden, and is the perfect pollinator plant.
The blossoms of Russian Sage are a great source of nectar for bees.
Is Russian Sage Invasive?
Russian Sage spreads by rhizomatous roots, as well as by reseeding.
In some locations it can be considered invasive, so know the growing tendencies for your area.
It has not been listed as an invasive species, just anecdotally from gardener's experience. Some have found the Russian Sage in their garden tended to spread in an unwanted manner.
Here is a link from the USDA , National Invasive Species Information Centre. There you can look up any plants of concern, to check if they have been listed as an invasive species.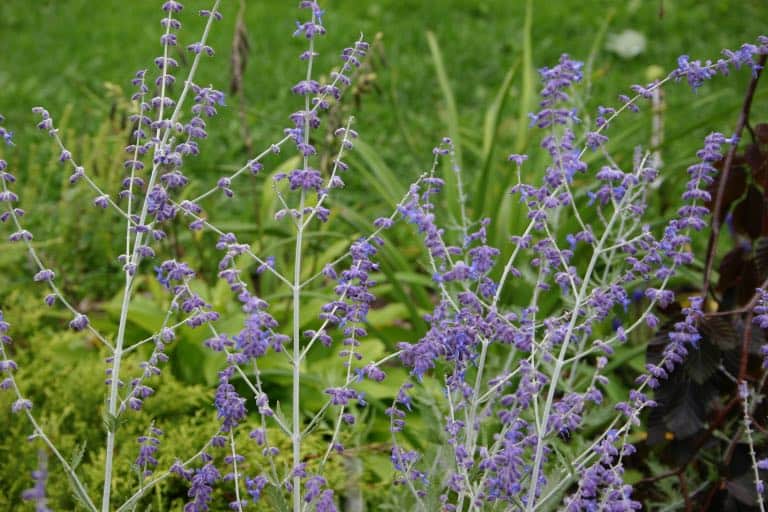 Russian Sage Vs Lavender
The blooms of Russian Sage looks very much like lavender. The plants have similar blooms and appearance.
However Russian Sage and Lavender are two completely different plants.
Both Lavender and Russian Sage are woody shrubs, although Russian Sage is more of a woody perennial.
Lavender will not require the extensive pruning that Russian Sage will need.
Both require good drainage and thrive in sandy soils.
Lavender requires more moisture than Russian Sage, and does not do well in drought like conditions.
Both can be used as cut flowers and have a similar aesthetic.
Lavender of course has that beautiful lavender smell that we have all come to know. Russian Sage on the other hand has a sage like fragrance that some enjoy and some do not.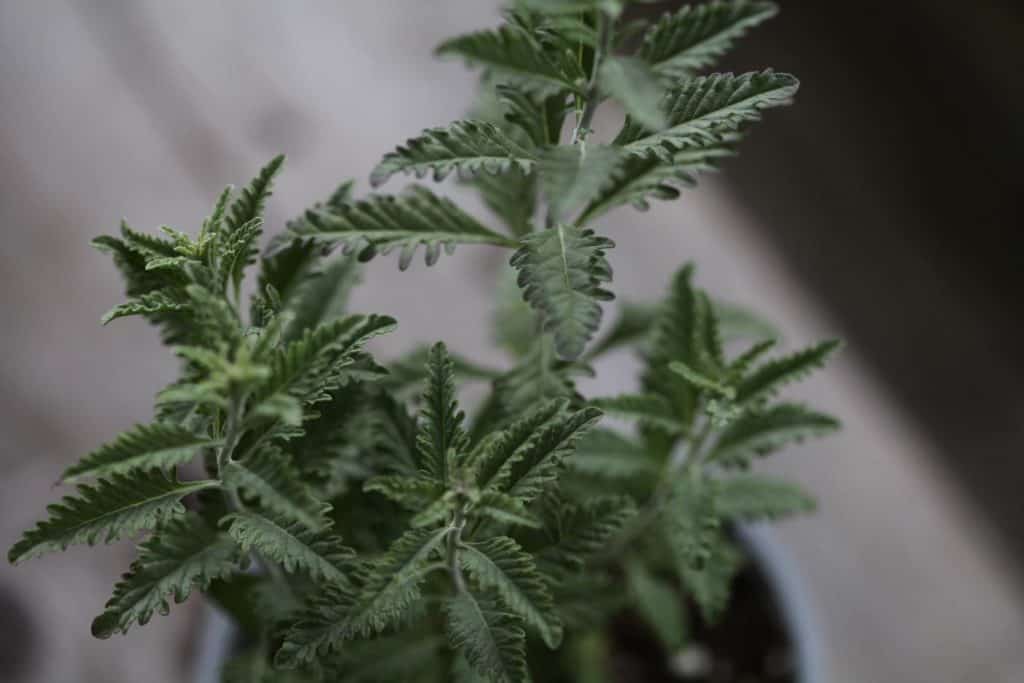 What Does Russian Sage Smell Like?
Russian Sage can have a strong odour for some people, and depending on your personal preference you may or may not enjoy the smell.
Some compare it to the strong smell of Marigold. Others compare it to a subtle sage fragrance.
I personally don't mind the smell, which I interpret as sage-like, although slightly sharp.
The odor itself provides a good deterrent for animals.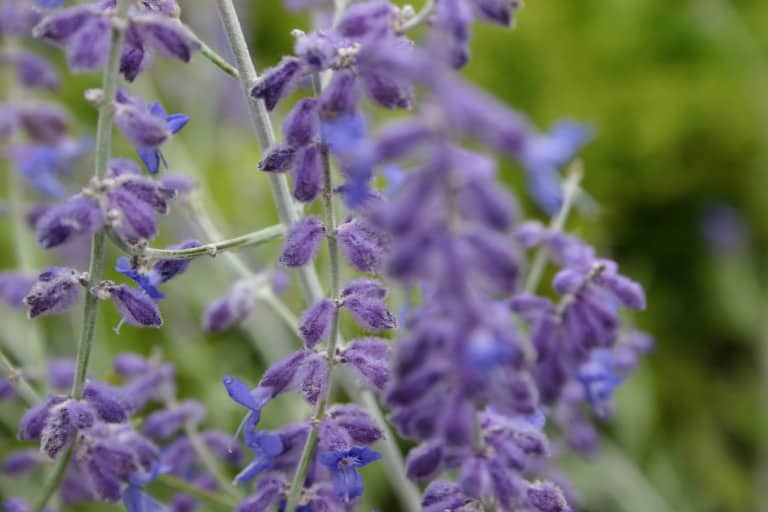 Using As A Cut Flower
Russian Sage can be used both in fresh and dried forms as a cut flower.
Harvest when the flowers are at least three quarters open.
Vase life is seven to ten days.
I hope that you found this post on how to grow Russian Sage helpful!
Any questions or comments are always welcome.
PIN IT FOR LATER!