Last updated on March 27th, 2023 at 09:27 pm
I have always loved the look of Queen Anne's Lace with its soft and lacy blooms. When we started growing cut flowers I was thrilled to find Ammi, a cousin to the wild variety. We grow Ammi Majus, Ammi Visnaga and Dara, all with similar lacy blooms but with different characteristics. Learn how to grow Ammi to enjoy these beautiful blooms in your own cut flower garden.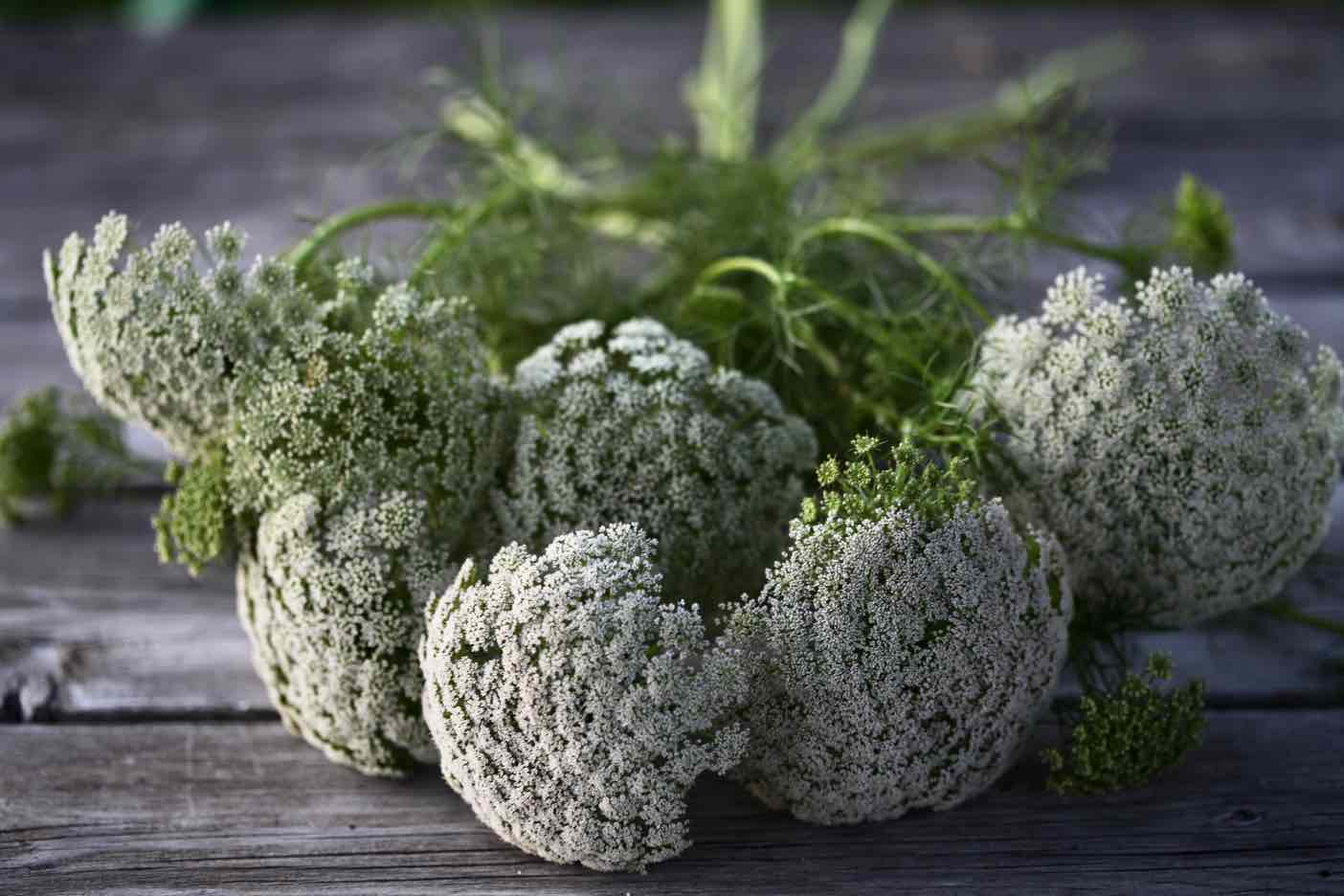 What Is The Difference Between Ammi Majus And Ammi Visnaga?
Ammi Majus and Ammi Visnaga are each a species of the genius Ammi. The plants look similar in some ways yet quite different in other ways. Ammi Majus, has a wispy white lacy flower similar to Queen Annes Lace. Ammi Visnaga has a more solid and larger flower with a rounded top and a green tinge in the blooms, especially when immature.
Both plants are members of the carrot family, Daucus carota. I will describe each one in a bit more detail.
Ammi Majus-"White Dill"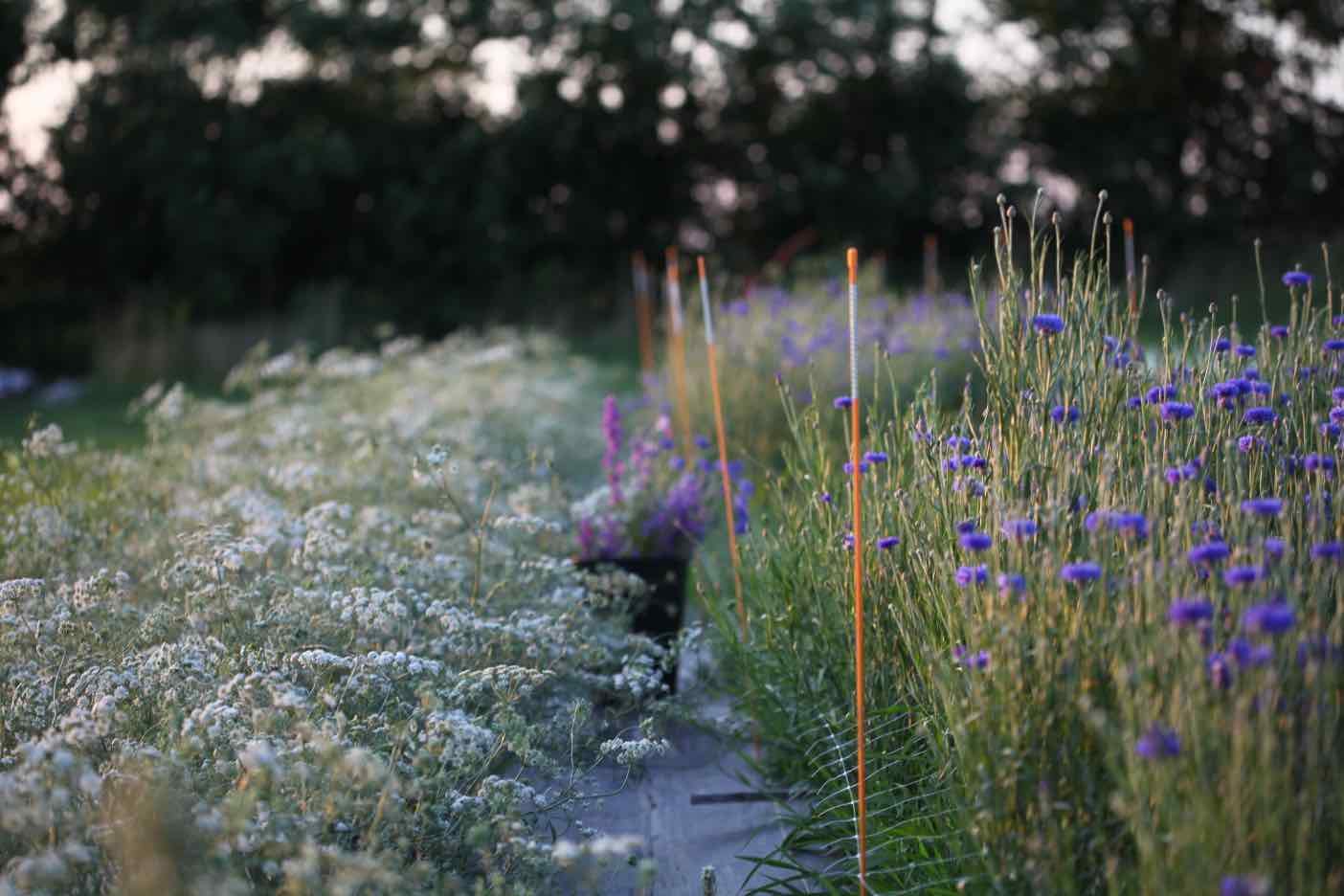 The species Ammi Majus is also known as White Dill. It looks very much like Queen Anne's Lace with the white lacy umbel shaped flower.
Also known as False Queen Anne's Lace, Lace Flower or Bishop's Weed.
The flowers are light and airy, and quite pretty.
The only issue that we have with this flower is that it produces A LOT of pollen! So much so that the pollen covers adjacent flowers and often makes them unusable in flower arrangements.
For this reason I am hesitating to plant a patch of Ammi Majus this summer.
If we do plant it I will give it lots of space away from the other flowers.
Deadheading should also prevent the pollen from shedding.
Ammi Visnaga- "Green Mist"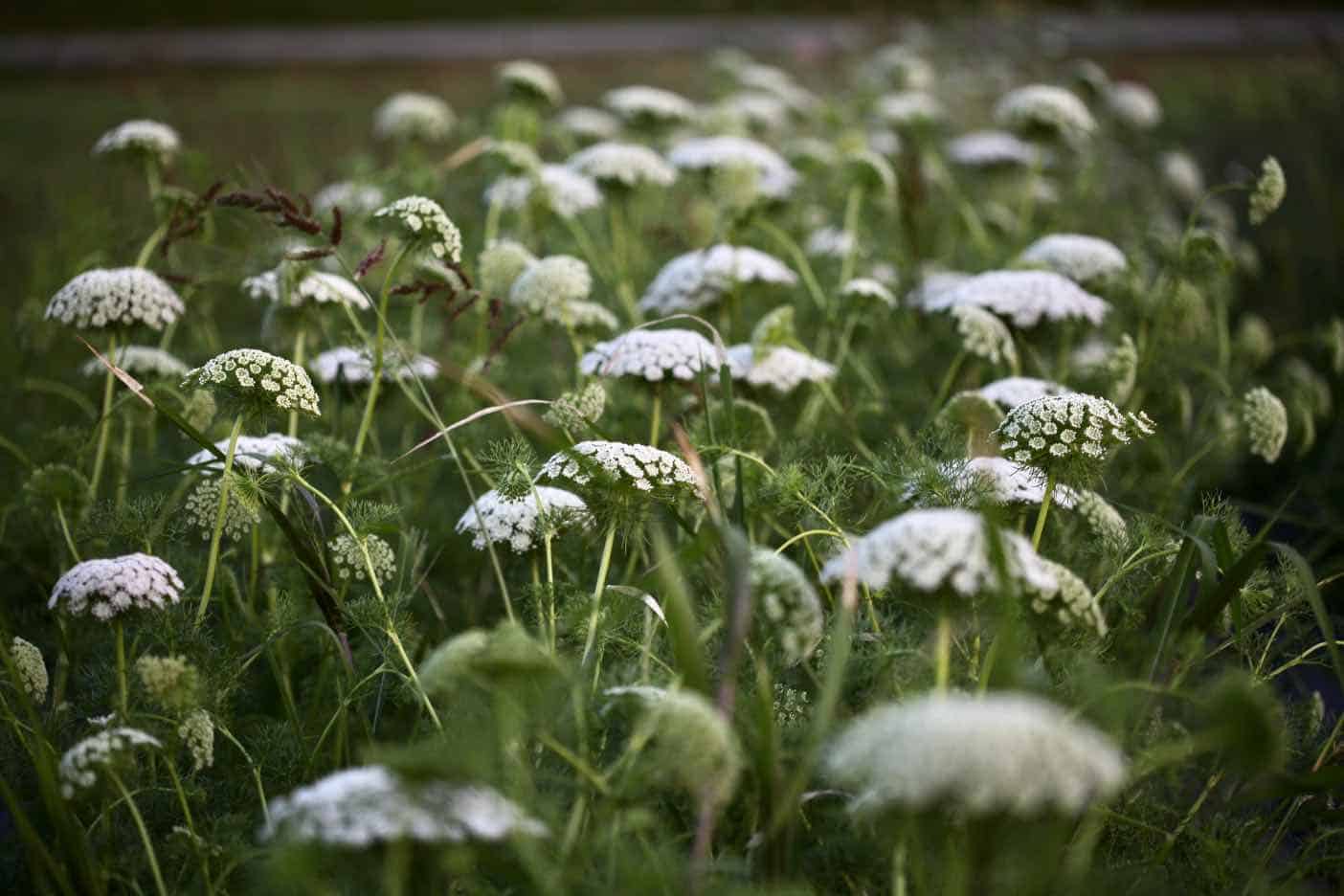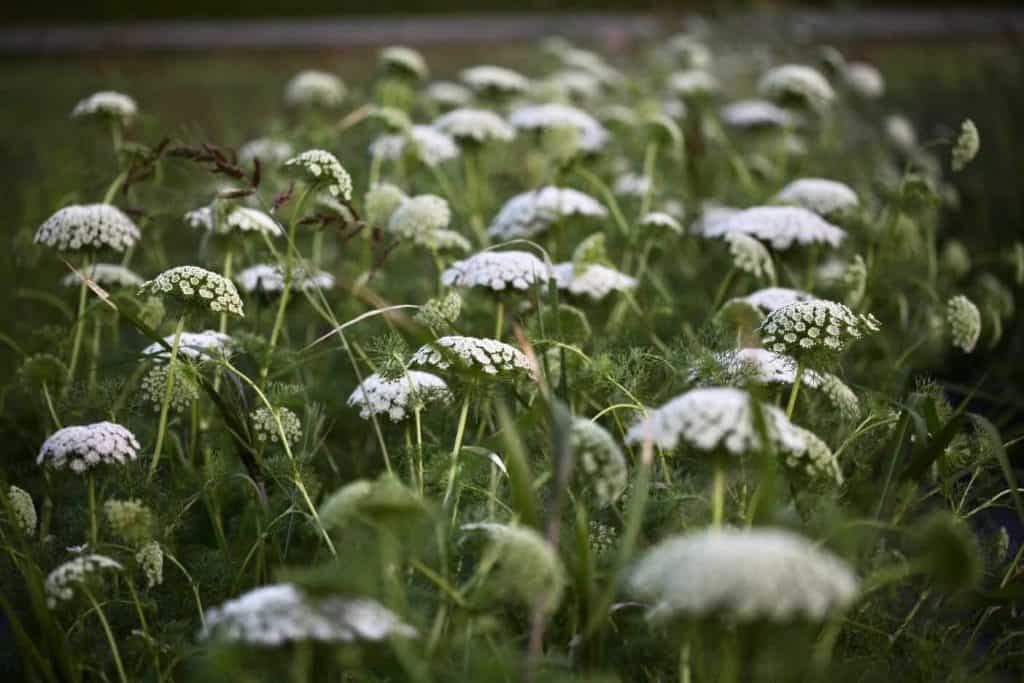 The species Ammi Visnaga is also known as Green Mist. It looks a bit like Queen Anne's Lace on steroids.
Also known as False Queen Anne's Lace, Toothpick Weed or Bishop's Weed.
There is a distinct difference in the size and substance of the blooms between White Dill and Green Mist.
Green Mist Ammi flowers can get very large, up to 6 inches in diameter, and they can be very heavy and solid.
Sometimes they are too large and awkward to put in bouquets at a fully mature size. I will often select the blooms at a less mature size, and these are more likely to have a great greenish tinge as well.
I have not noticed any excess pollen from Ammi Visnaga.
What we love about this plant, aside from the flowers, is the wonderful feathery green foliage! It is so soft and adds a nice touch to bouquets as a filler.
You do have to be careful if cutting the foliage with very immature blooms, as they tend to wilt, but if you condition the stems they are usually just fine.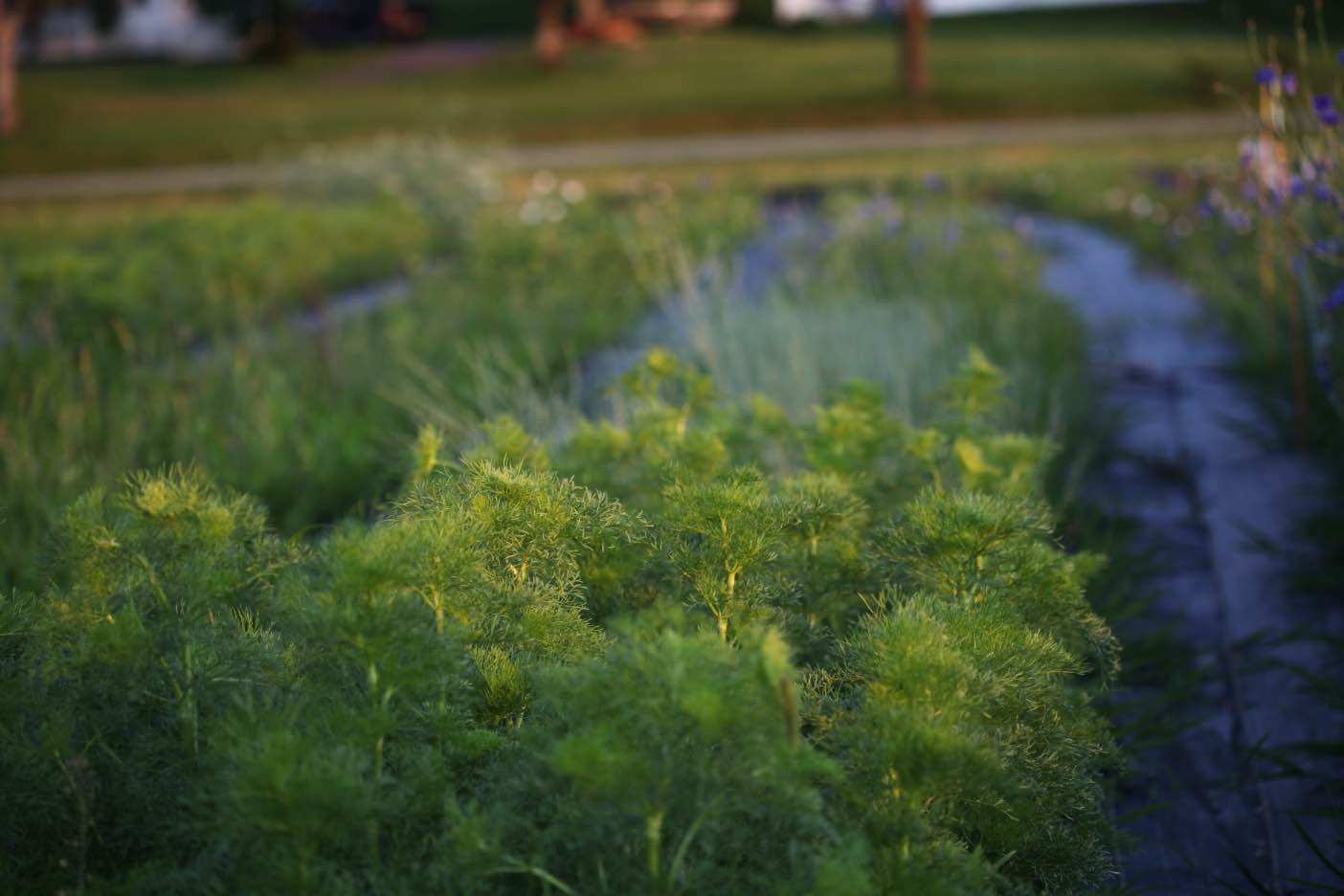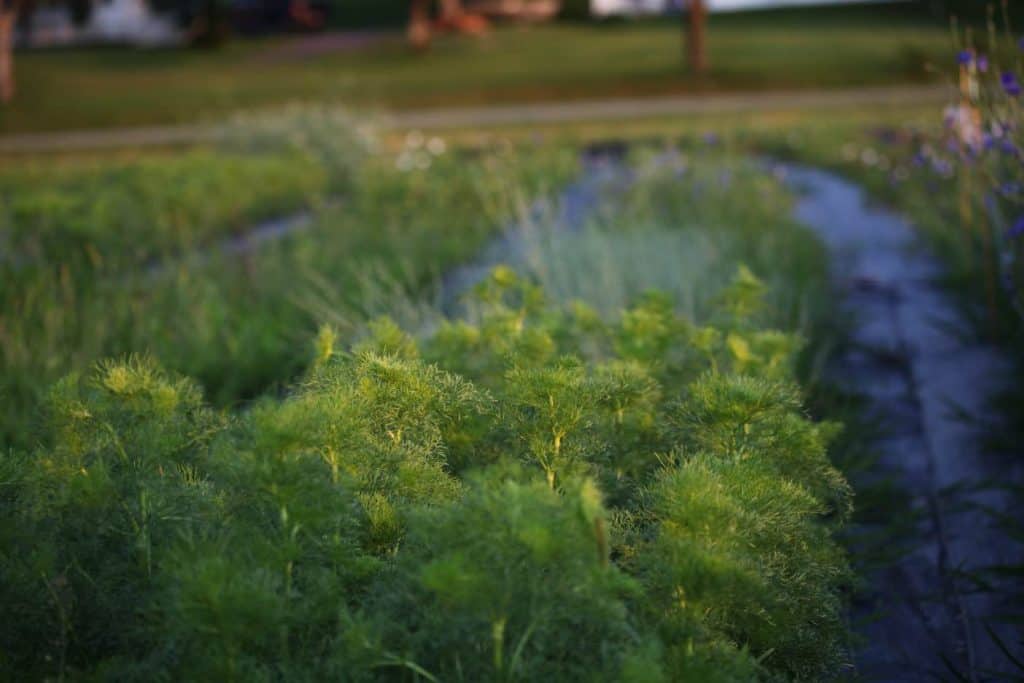 Growing Ammi From Seed
Ammi is a staple in our garden and we grow lots of it!
It is easy to start from seed, so we start it early indoors, and plant it out when the risk of frost has passed.
It is considered a cold hardy annual, so it will survive if there is a dip in temperature, and even a late spring frost.
Ammi actually prefers to be grown when it's a bit cooler, so it is one of the first flowers that we plant out into our zone 5b garden. The spring here can get pretty cool, and it's not uncommon to get a late frost even in June.
Since Ammi is a cold hardy annual, the seeds benefit from a cool treatment in the fridge.
Here is a post that makes reference to starting cold hardy annuals and stratification: How To Start Flower Seeds Indoors.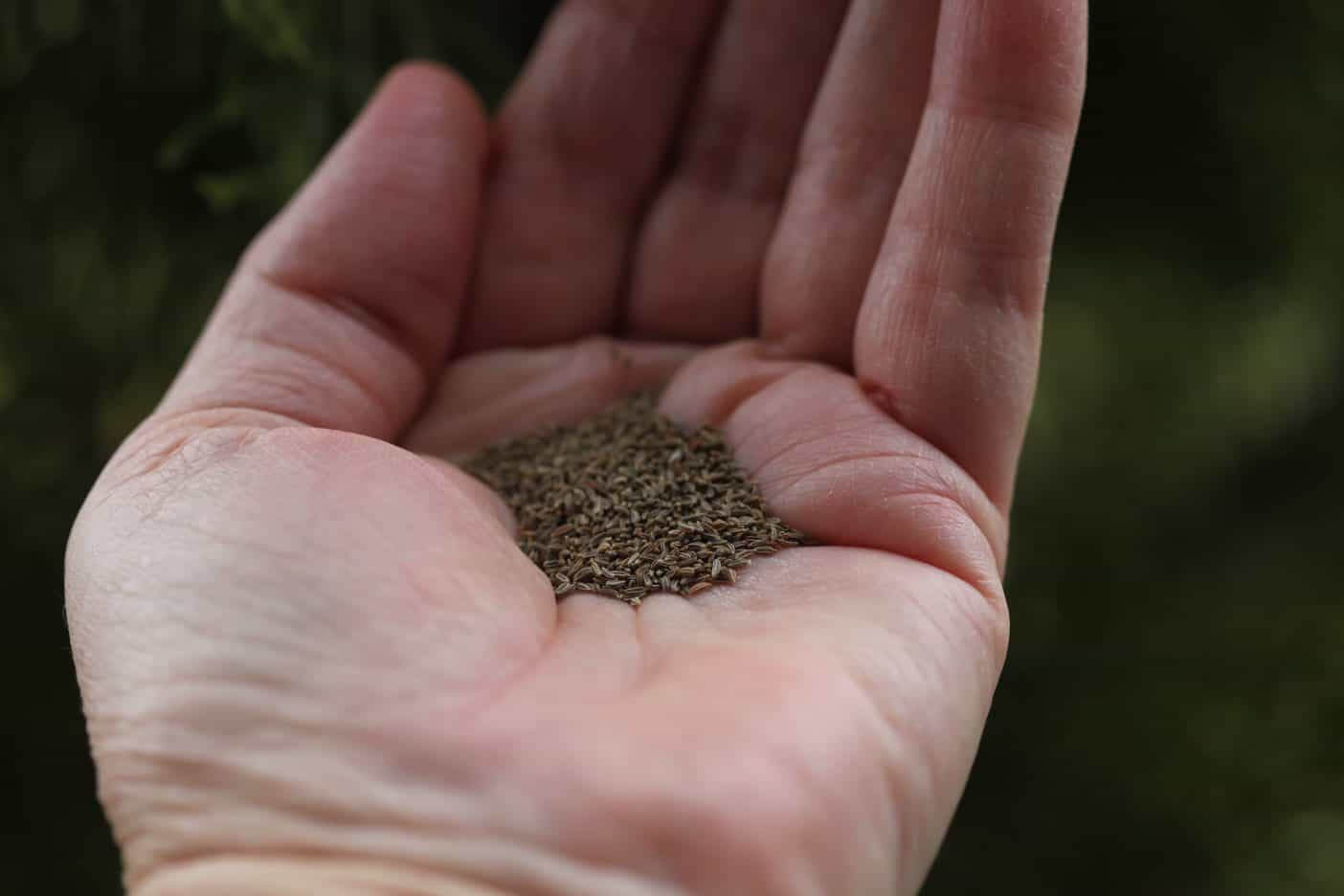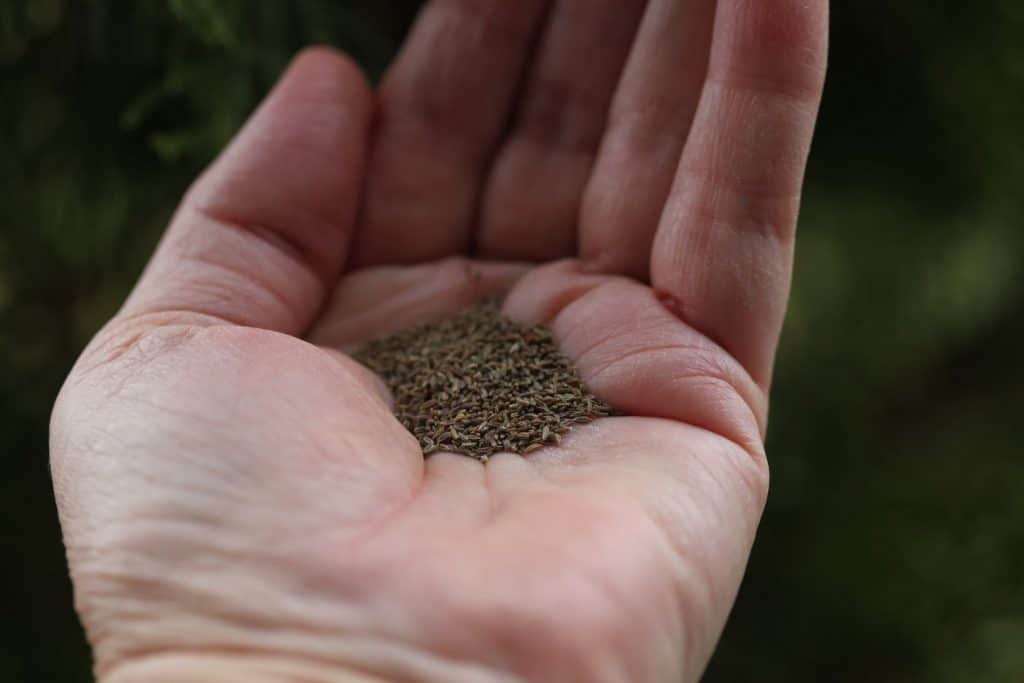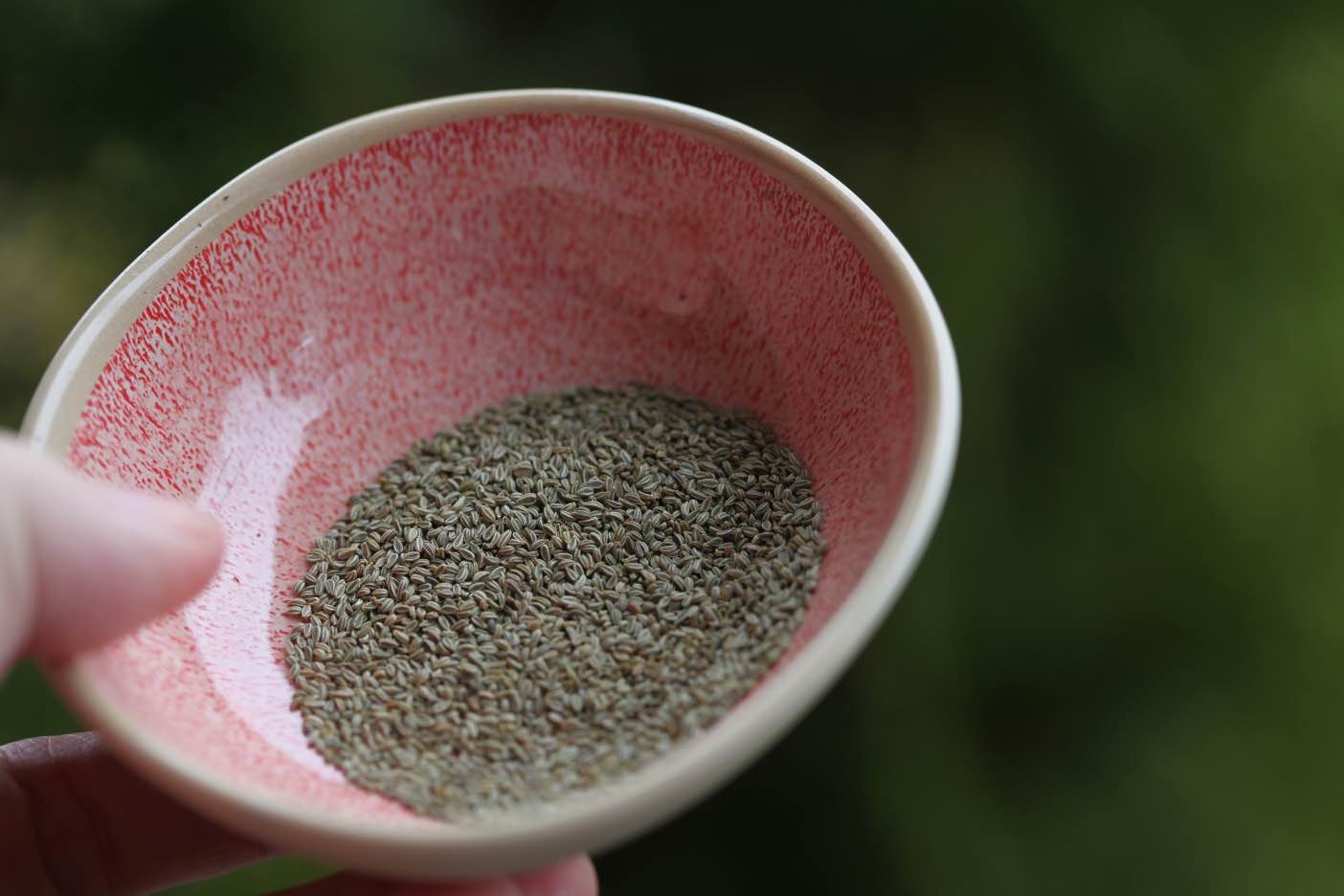 How Do You Plant Ammi Seeds?
You can plant Ammi seeds two ways:
Sow directly into your garden, after the chance of frost has passed (recommended)
Sow inside 4 to 6 weeks before planting out (our method of choice)
It's recommended to direct sow because Ammi generally do not like to have their roots disturbed, which will happen when they get transplanted.
If you are careful with the roots, you can successfully transplant.
The reason that we start our seeds indoors is:
to get ahead start on the season.
we plant in landscape fabric, so it's not as easy to direct sow.
and our flower seeds have high weed competition with a high weed pressure.
We have had great success with transplanting Ammi, although it is a little more work than direct sowing!
Our Process For Planting Ammi Seeds Indoors
We plant our Ammi seeds into cell trays filled with a good seed starting mix.
The seeds are then covered lightly with vermiculite.
We then bottom water the tray.
The tray is placed on a heat mat until we get germination.
When 60 percent of the seeds have germinated the tray is placed under grow lights.
From this point on we bottom water when needed, until it's time move them out into the garden.
Does Ammi Need Light To Germinate?
Light helps Ammi to germinate. The seeds can be lightly covered with soil or vermiculite.
We like to use vermiculite which will help keep the soil moist while also allowing some light to penetrate through to the seeds.
Ammi seeds can germinate anywhere from 12 to 14 days.
Transplanting Out Into The Garden
Prior to transplanting into the garden the seedlings should first be hardened off.
Transplant into the garden when the risk of frost has passed.
Be careful not to damage the Ammi roots when transplanting.
Ammi Days To Maturity
Days to maturity from the date of planting :
Ammi Majus takes 75 to 85 days
Ammi Visnaga takes 85 to 95 days.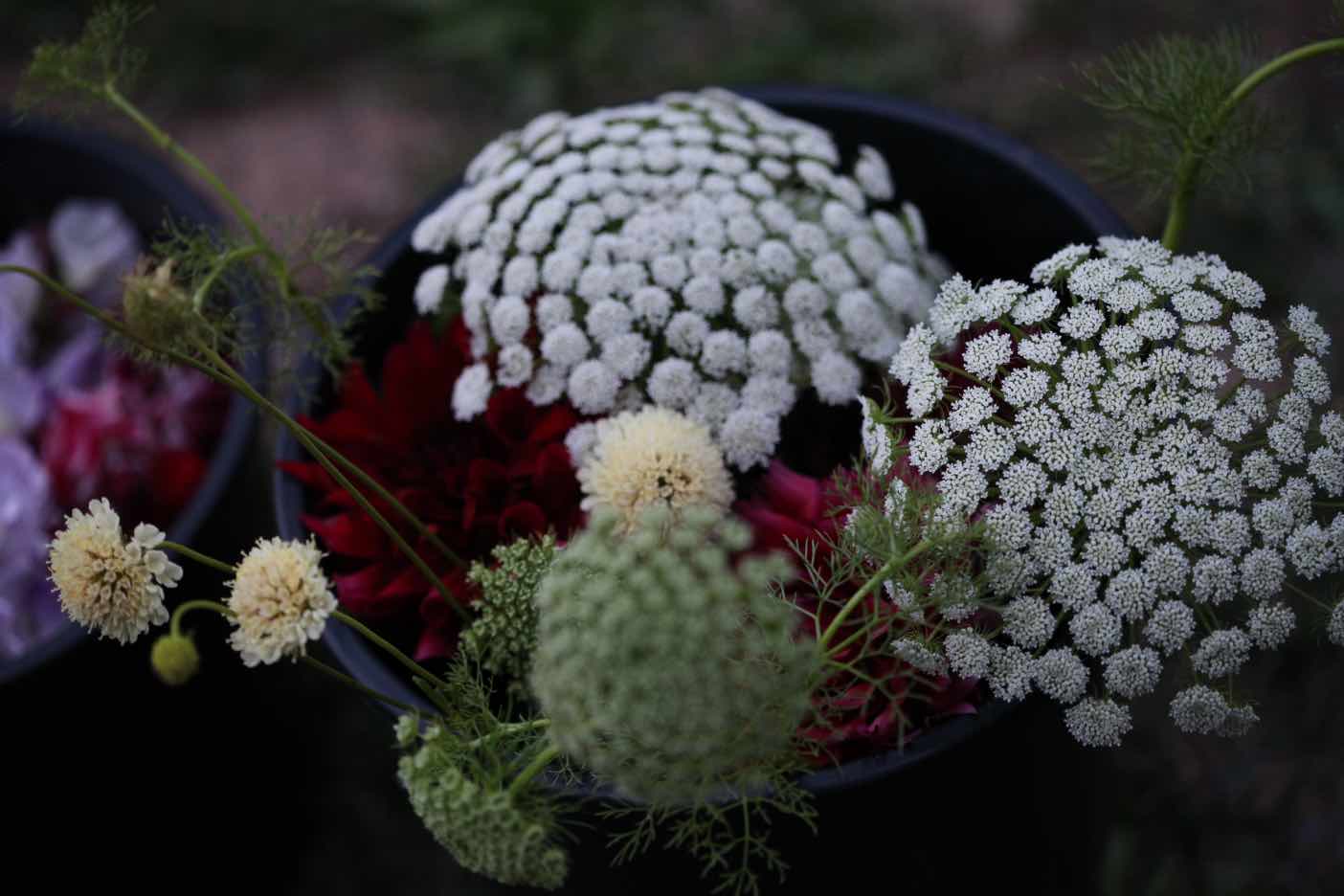 RECOMMENDED PRODUCTS FROM THIS POST
This post contains affiliate links, which means I make a small commission at no extra cost to you. See full disclosure on privacy policy here. As an Amazon Associate I earn from qualifying purchases.
When Does Ammi Flower?
Ammi will bloom within two and a half to three months from planting the seed. Our Ammi starts blooming around mid July.
For continuous harvest Ammi can be succession planted several times throughout the growing season.
Does Ammi Visnaga Self Seed?
Ammi Visnaga does self seed. We generally have multiple volunteers every year that we let grow on.
Does Ammi Majus Self Seed?
Ammi Majus does self seed as well, although we have had fewer volunteers than from the Ammi Visnaga.
When Should I Plant Ammi Visnaga?
Plant all Ammi into the garden when the risk of frost has passed.
This time frame will be dependent on your hardiness zone. Check your last frost date here.
After planting, Ammi will tolerate some frost if it happens to occur. They also prefer cooler temperatures when getting established.
Where Does Ammi Visnaga Grow?
Plant Ammi in average well drained soil in a sunny location.
The plants can get large so space them at least 12 inches apart.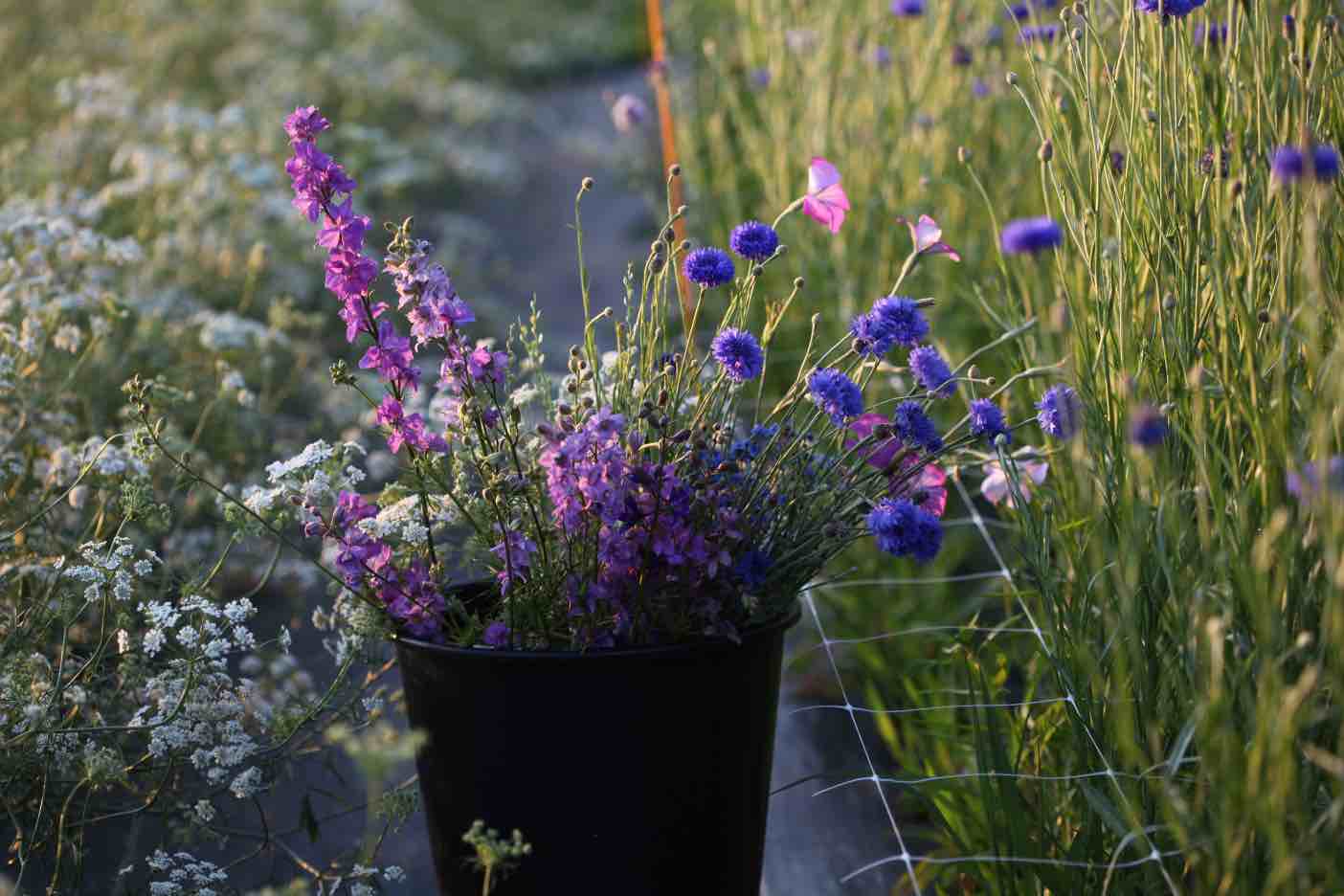 Is Ammi Visnaga Invasive?
Ammi Visnaga is not invasive. It grows essentially where it is planted, although can reseed in that area the following year.
Is Ammi Majus A Perennial?
Ammi Majus as well as Ammi Visnaga are both cold hardy annuals. The fact that they reseed may give the appearance that they are perennial, however they are not.
Using Ammi As A Cut Flower
We use Ammi as a cut flower. Both Ammi Majus and Ammi Visnaga are excellent cut flowers.
The key to cutting them is to cut the flowers before the pollen starts to shed.
The issue we experienced with Ammi Majus occurred on plants that had been left to mature and therefore were producing loads of pollen.
The ideal time to harvest from both of these plants is when eighty percent of the umbels on the flower heads have opened.
Using Ammi As A Dried Flower
Yes, you can also dry Ammi and use it in dried flower arrangements!
It's important to keep the drying blooms in the shade, as light can discolour the blooms and they may turn brown.
To gather flowers for drying, harvest when fully open but before the pollen is shedding.
Hang upside down in bunches of 20 to 30 stems held together with elastic bands.
If you tie them with twine for the drying process, there may be a chance that some of the flowers will slip out of the bunch as the flowers start to dry and shrink.
Growing Ammi Dara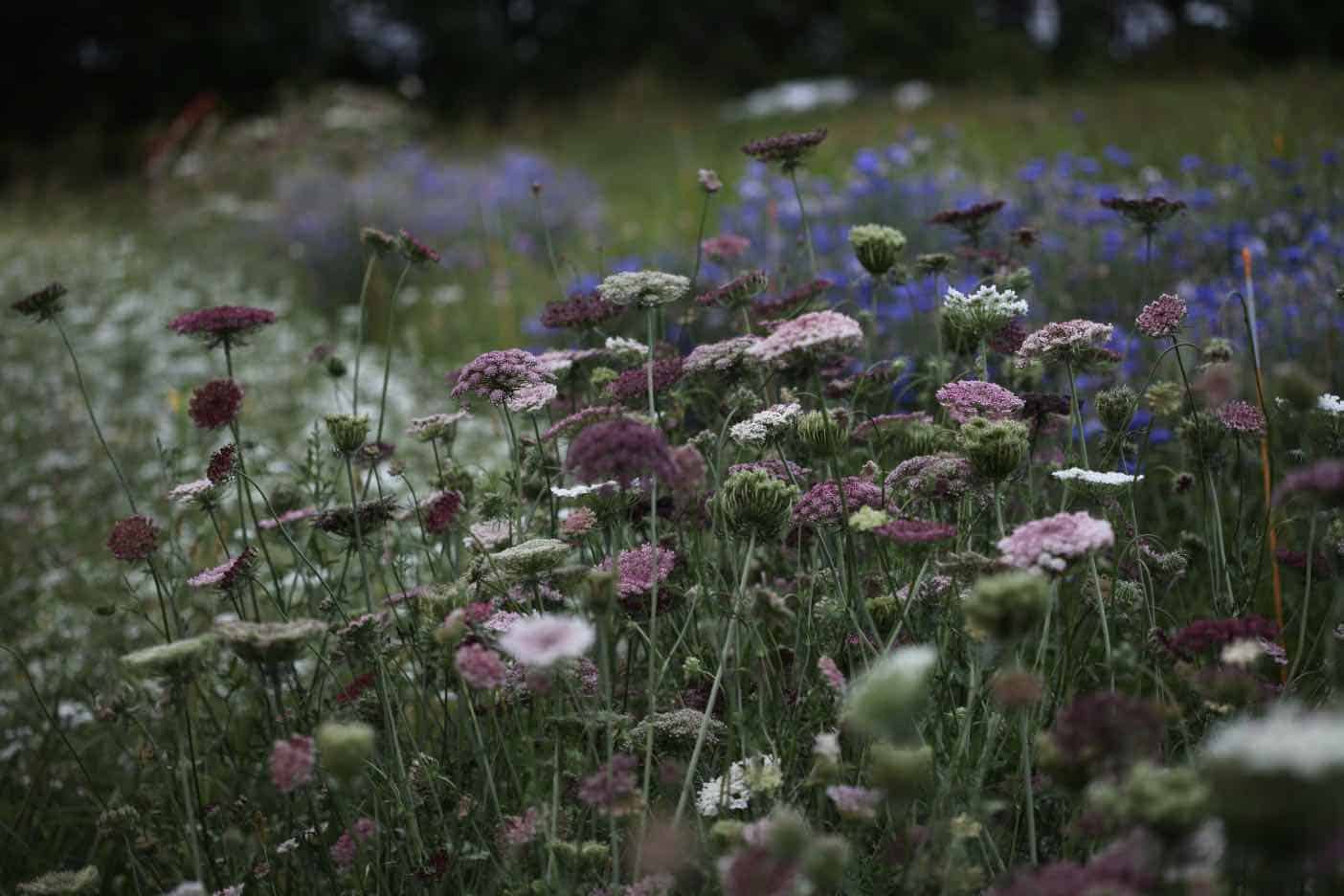 A third type of Ammi that we grow is Ammi Dara.
It is not the subject of this post, however you can read about Ammi Dara here:
How To Grow Chocolate Lace Fower-Dara Flower
Dara has many similarities to both White Dill and Green Mist Ammi, and is also a wonderful cut flower!
Does Ammi Cause Skin Irritation?
Ammi has been known to cause skin irritation in some vulnerable people.
It is a good practice to wear your garden gloves until you can be sure that you will not react.
The irritation occurs as a result of exposure to the sap in the stem and then exposure to the sun, resulting in a burn.
Best to be cautious until you are cleared.
I hope you found this post on how to grow Ammi helpful.
Any comments or questions are always welcome. I would love to hear your experience with growing Ammi!
PIN IT FOR LATER!