Last updated on May 5th, 2021 at 02:12 pm
Delphiniums are such a statuesque flower, and make quite an impression growing in any garden. They are reminiscent of an English country garden and are a must for the perennial border. Learn how to grow delphiniums from seed so that you can enjoy their beauty in your garden as well.
When we had our youngest son, my own baby brother brought me a bouquet of baby blue delphiniums, in December! I'm still not sure how he did it, but the memory is so precious to me.
Delphiniums are not the typical flower you would buy at the florist or grocers, at least not in the middle of winter. Yet here they were, with a backdrop of twinkling white Christmas fairy lights, and they were truly appreciated.
There are many varieties of Delphinium. Some are the annual form, known as Larkspur. Some are tall perennials grown at the back of the border.
In this post we will be discussing the perennial form of delphinium, and how to grow it from seed.
How To Plant Delphiniums From Seed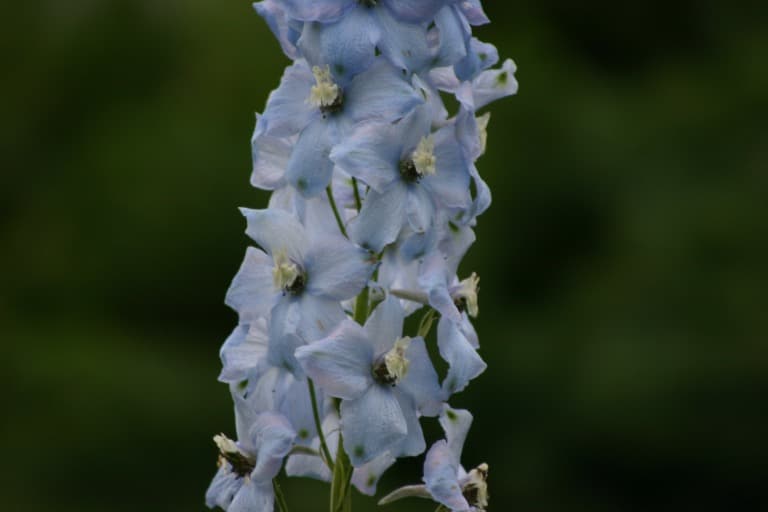 Perennial delphinium is a short lived perennial, and it's well worth the effort to plant from seed, although it's not an easy task.
It is a cooler climate perennial, growing in zones 3 to 7.
Are Delphiniums Easy To Grow From Seed?
From my experience, delphiniums can be quite tricky to grow from seed.
Delphiniums are perennials. As with most perennials, they have improved germination with a process called stratification.
In nature, this would normally occur during the winter as the ground freezes and the seeds are exposed to periods of cold and moisture, as well as freezing and thaws.
Delphinium seeds are tiny, but their coats are quite hard.
With stratification, the seed coats become soft and the embryonic tissue inside becomes triggered to initiate the germination process.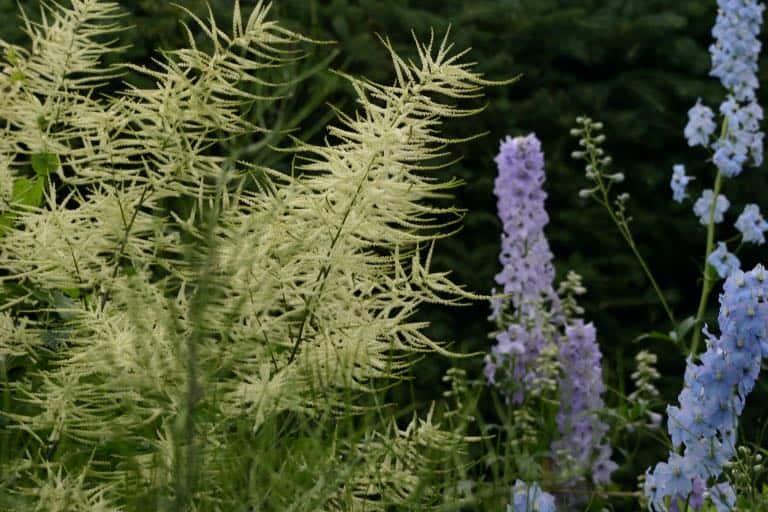 Do Delphinium Seeds Need Stratification?
Delphinium seeds have improved germination with cold moist stratification. If you plant without stratifying, germination may result in lower numbers of seedlings.
A cold moist chill in the fridge will soften the seed coats. You may even have some sprout while in the fridge.
Do I Need To Soak Delphinium Seeds?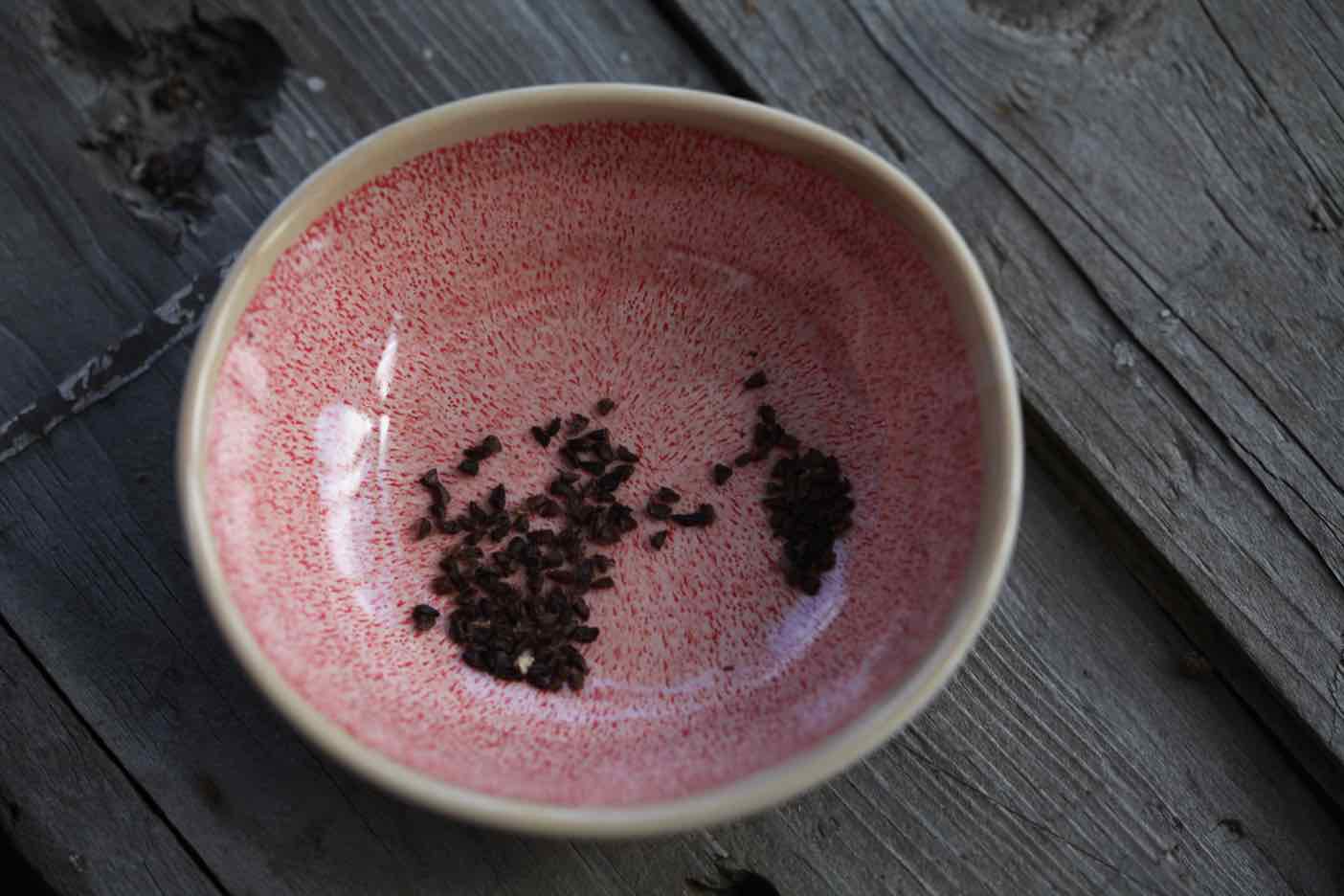 A chill along with moisture in the fridge will soften the coat. There is no need to soak the seeds, however moisture is important.
There Are A Number Of Different Methods For Planting Delphinium Seeds
Cool Moist Chill
Cool Dry Chill
Winter Sow
Plant In A Tray Covered With Vermiculite And Wet Newspaper
1. Cool Chill Method
To cool chill I placed my seeds in a moist paper towel and placed in a sealed container in the fridge for about three weeks.
The seeds coats became soft, and some of the seeds started to sprout, so they were potted up.
2. Dry Chill Method
To dry chill, seeds had been left in the the fridge for one month in an envelope. These seeds were then planted after a period of dry chill.
Some of these seeds germinated, however the percentage was quite low. This leads me to conclude that a moist chill is preferred over a dry chill, with better germination from the former.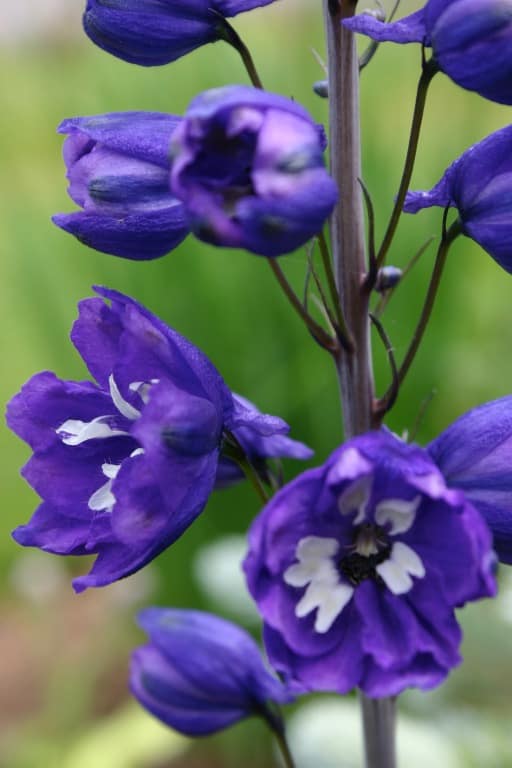 Can You Winter Sow Delphinium?
Yes you can winter sow delphinium.
3. Winter Sow Method
Winter sowing allows all the benefits of the natural stratification process outside.
An important factor in winter sowing is to make sure that your containers have good drainage and that the seeds do not sit in water, as this will lead to mold and seed loss.
We have three milk jugs of delphiniums in our winter sown garden. We are patiently waiting for the weather to warm and for them to germinate.
4. Plant In A Tray Covered With Vermiculite And Wet Paper Method
I learned a new technique for germinating delphinium seeds recently from Dowdeswell's Delphiniums on YouTube.
The technique does not involve stratification, but rather involves keeping the seeds moist and well covered.
Here is the process:
choose a tray with drainage holes, and fill it full of moist seed starting mix.
sprinkle the delphinium seeds over the potting mix.
cover the seeds with 1 cm layer of pumice, similar to perlite. I used vermiculite.
Cover this with layers of wet newspaper.
Place the container in a warm place, and check regularly making sure that the paper cover does not dry out.
Germination should occur within 10 to 20 days.
It is essential that the seeds remain moist, but not too wet, which will cause rot.
Remove the paper once the first seedling has appeared.
I look forward to the results of this planting technique.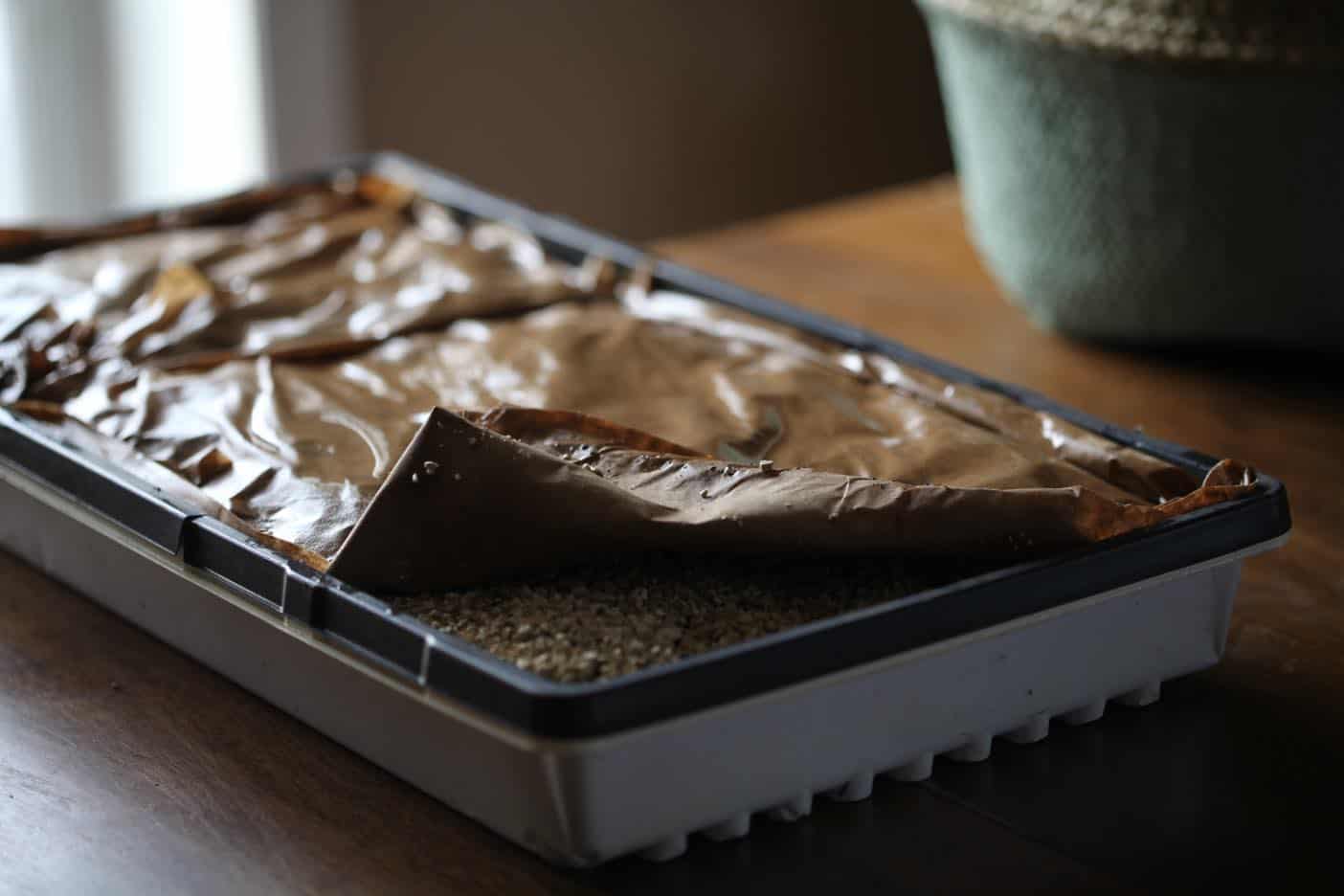 Update:
Method #4 – covering the seeds with 1 cm of vermiculite and wet paper-worked very well!
I also placed an inverted tray on top of the pan to help keep the paper wet.
Seedlings started to germinate within 17 days, and continue to do so.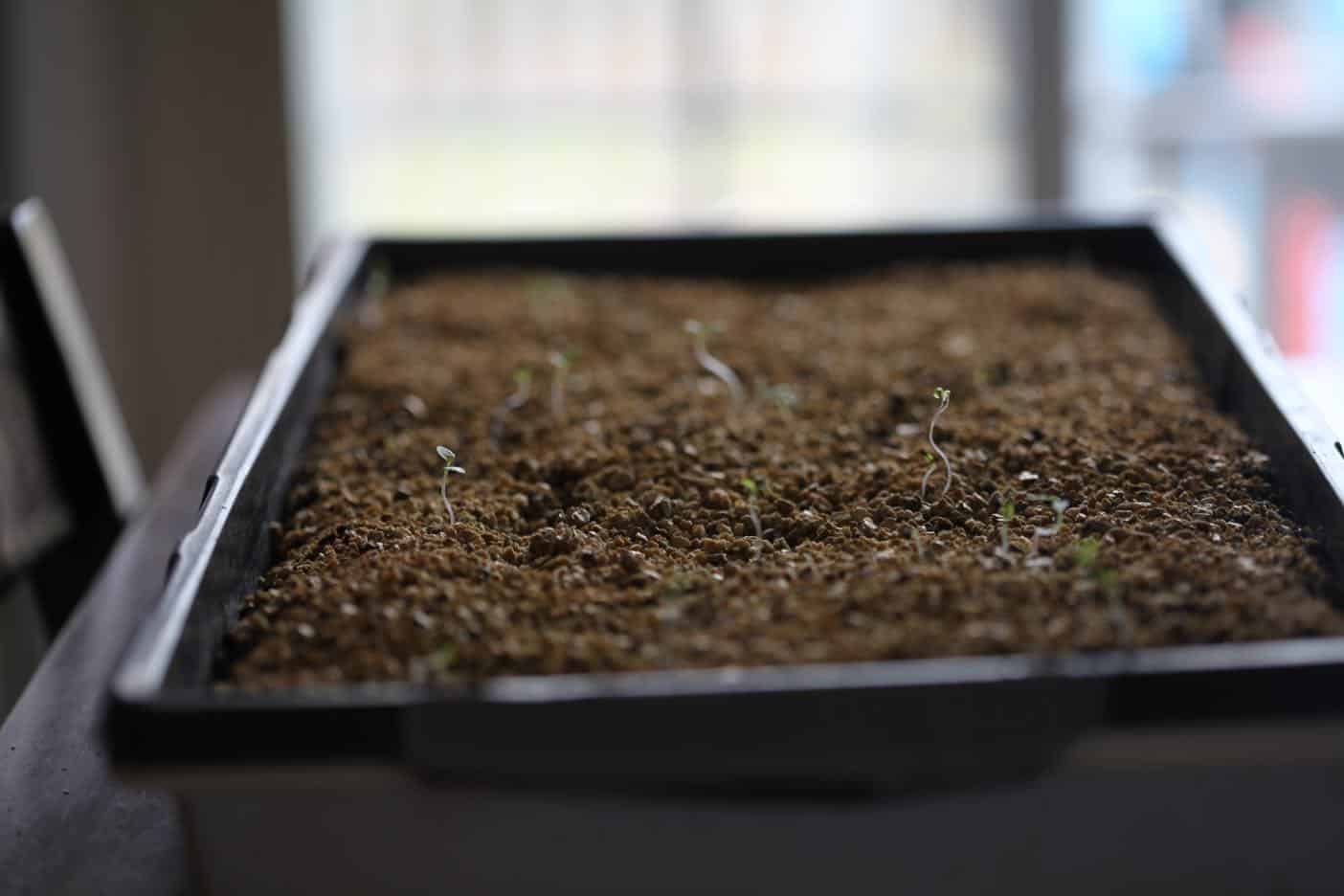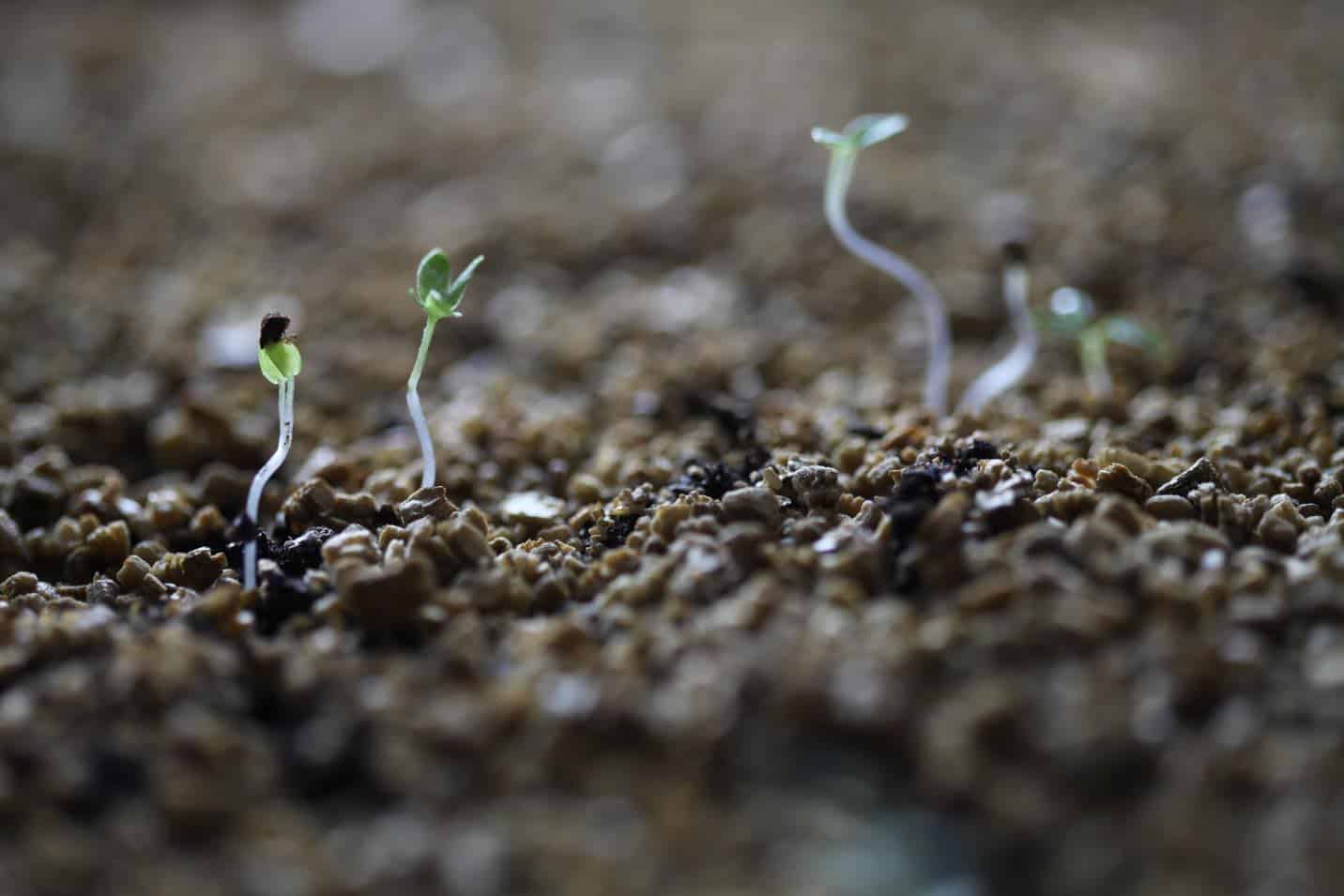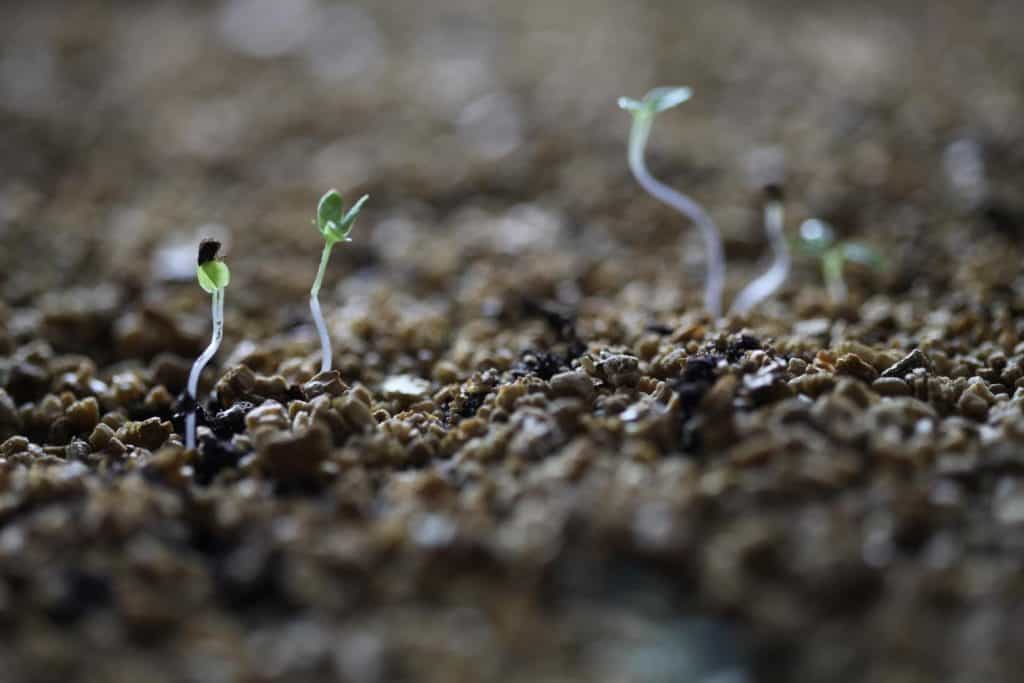 When To Sow Delphinium Seeds
Sow delphinium seeds 6 to 8 weeks before last frost date.
Delphinium seeds take three to four months or more to grow to maturity from planting.
How Fast Do Delphiniums Grow From Seed?
Delphiniums will germinate if all goes well within ten to twenty days.
If they were planted six to eight weeks before your last frost date, the seedlings should be a nice size and ready to be hardened off and planted outside when the weather warms.
When Do Delphiniums Bloom?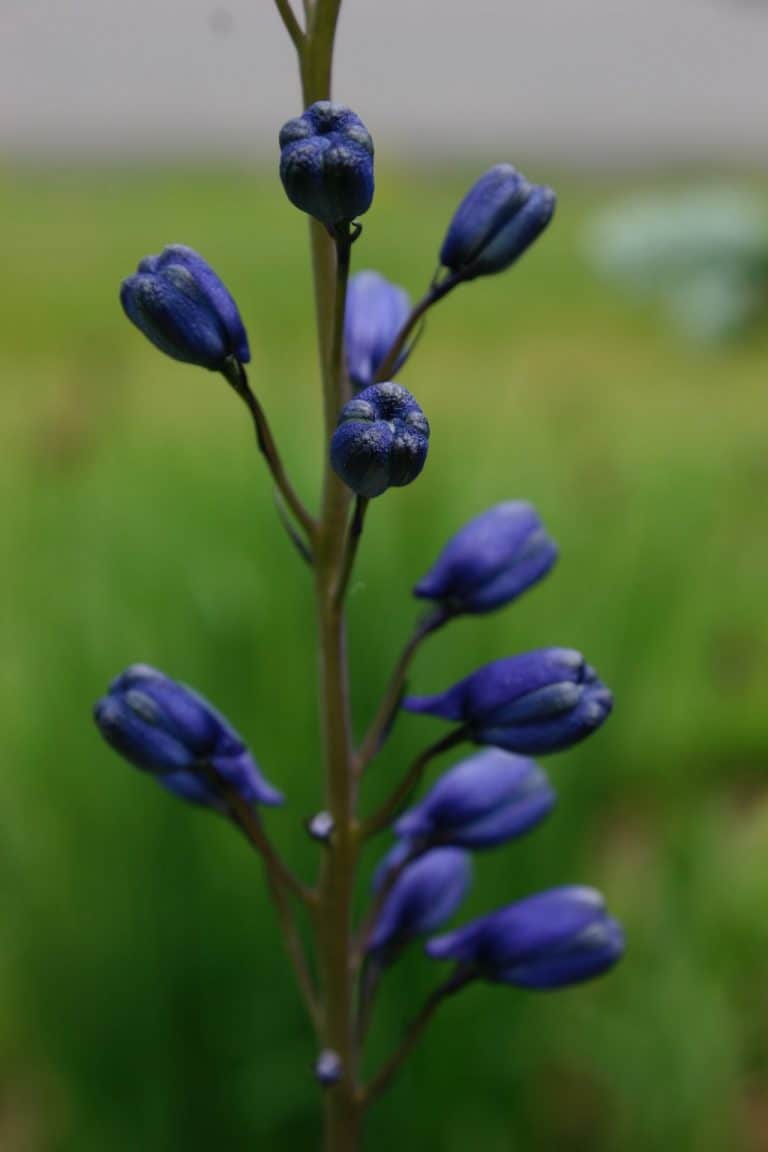 If the delphinium is given enough time to grow to maturity it may bloom the first summer.
Generally delphiniums bloom in July, and if deadheaded will rebloom later in the summer.
Do Delphiniums Come Back Every Year?
Perennial Delphiniums should return for at least a few years in the right growing conditions, however they are typically short lived.
Planting new seedlings every year will result in having these wonderful blooms on an ongoing basis.
Conditions For Planting Delphinium Seedlings
Harden off the seedlings gradually for a week before exposing them fully to outside elements.
Location For Planting
Chose a sunny location with well drained fertile soil for planting. Delphiniums will also tolerate some shade.
My first delphinium grew on the north side of the house, and did very well in that location.
Water Requirements
Water regularly when in active growth, and do not allow to go completely dry.
Plant Spacing
Plant seedlings 12 to 18 inches apart.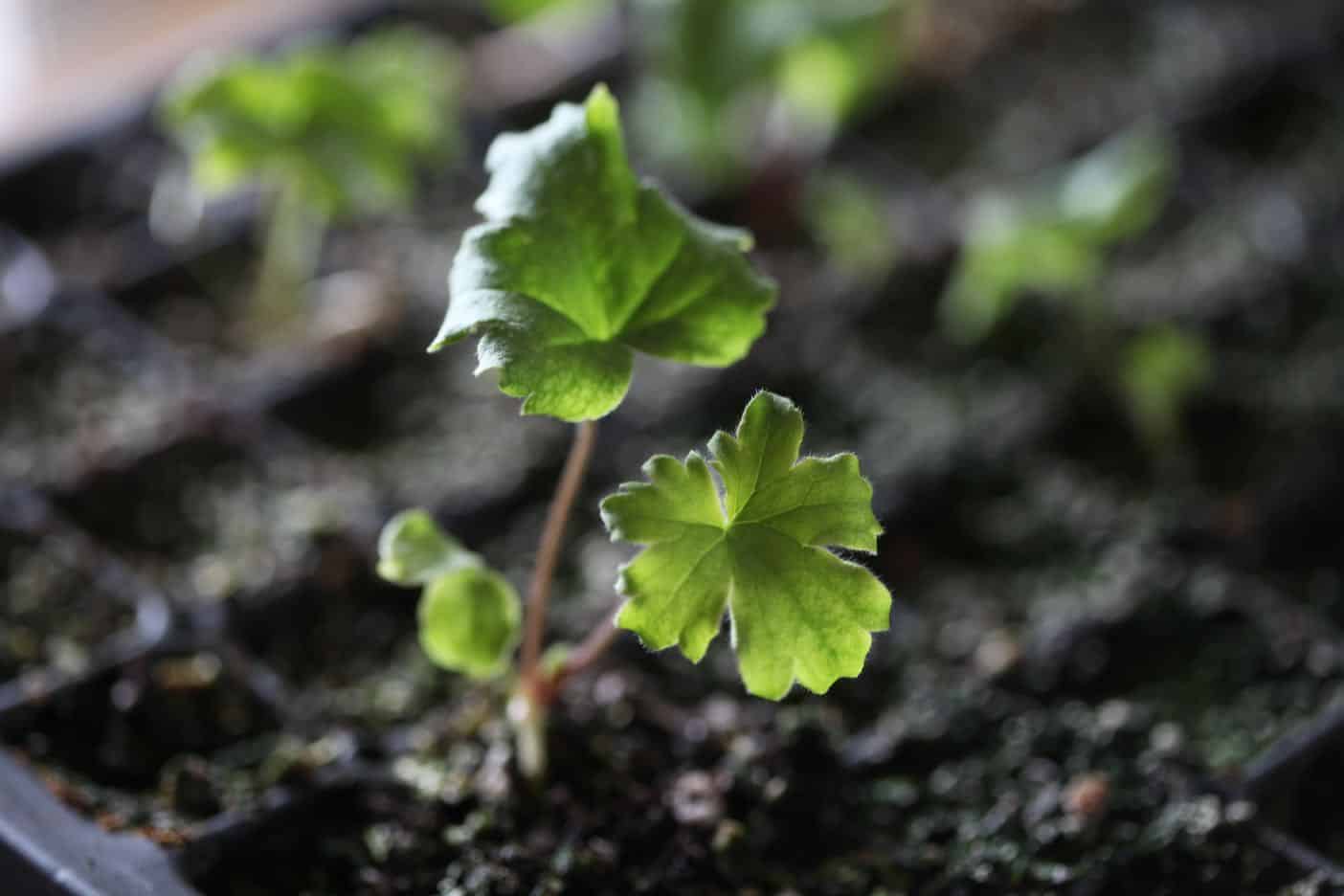 Pinching Delphiniums
Pinching Delphiniums will cause them to produce more shoots at the base and as a result produce more flowers.
Doing so will set them back however, about three weeks in flower production.
When and How To Stake Delphiniums
The tragedy of the broken delphinium stem, yes it will happen if the flowers are not staked.
If growing a row of delphiniums, you can use hortinova netting secured with T-posts or stakes, and the flowers will grow through the netting and be held upright.
If you are growing individual delphiniums in the garden the best way to stake would be individually with a garden stake, such as bamboo, and secure the stem with twine.
Stake before the flower stem gets too tall, as they are very vulnerable to getting blown over in a heavy wind.
If some do break, just cut them and bring them inside to enjoy in the vase!
Using Delphiniums As Cut Flowers
Delphiniums are wonderful cut flowers!
As I started out this post by saying the gift of the delphinium bouquet was such a wonderful experience, I also know that working with them and growing them can give as much pleasure.
If using for cut flowers, cut the blooms when 1/4 of the flowers are open. This will give you the best vase life, which is approximately one week.
I hope this post on how to grow delphiniums from seed was helpful. There are many varieties of delphiniums, and some are more challenging than others to grow from seed.
I encourage you to try the different techniques, and let me know what worked best for you!
PIN IT FOR LATER!