Last updated on November 26th, 2023 at 11:43 pm
Dehydrating fruit in the air fryer is easy, and a great way to preserve your fruit for healthy snacks. It also helps to keep the fruit for much longer, and can be a great way to help prevent food waste. Learn how to dehydrate fruit in the air fryer, and preserve your own fruit snacks with one ingredient recipes.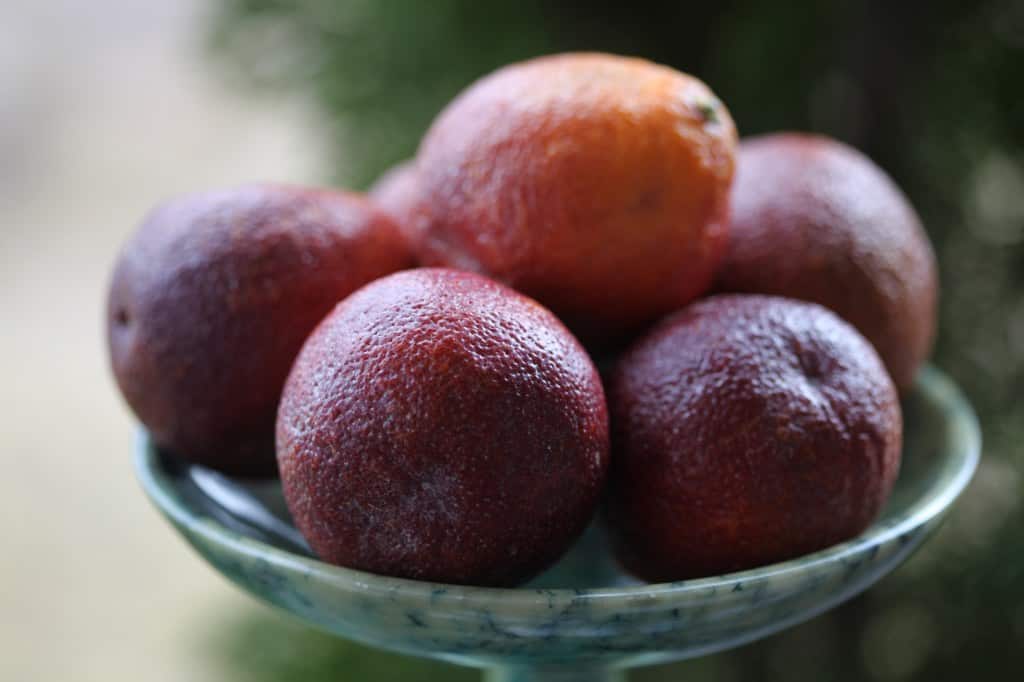 Eating dried and dehydrated fruit is a healthy choice for snacking, and helps to contribute to a healthier diet.
When you dehydrate at home, you can avoid store bought versions of dehydrated fruit which may contain extra ingredients that you do not want.
Some store bought fruit snacks have a high sugar content and preservatives that I would rather not feed to my family.
Dehydrating can be accomplished by using a number of different methods, such as a food dehydrator, an oven and even an air fryer.
In this post I will be focusing on dehydrating in the air fryer.
Some people may not be aware that you can dehydrate in the air fryer. Only use an air fryer for dehydrating though, if it has a dehydration function.
Otherwise you will likely just be cooking your fruit.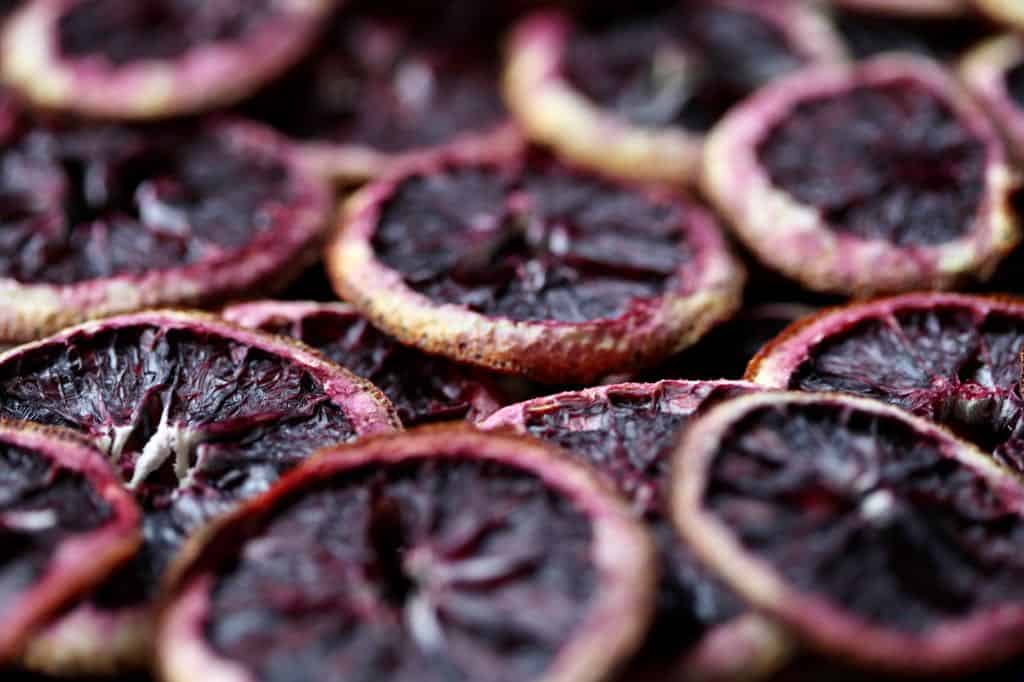 Is An Air Fryer Also A Dehydrator?
If you own an air fryer, you may be pleased to know that the unit may also function as a dehydrator. Many air fryers can be multipurpose kitchen appliances.
This is not the case with all air fryers however, so it's important to look closely at your air fryer unit to see if it has a dehydrate function.
Not all air fryers have the ability to dehydrate, so it's important that you inspect your unit carefully for this option if you want to dehydrate your fruit.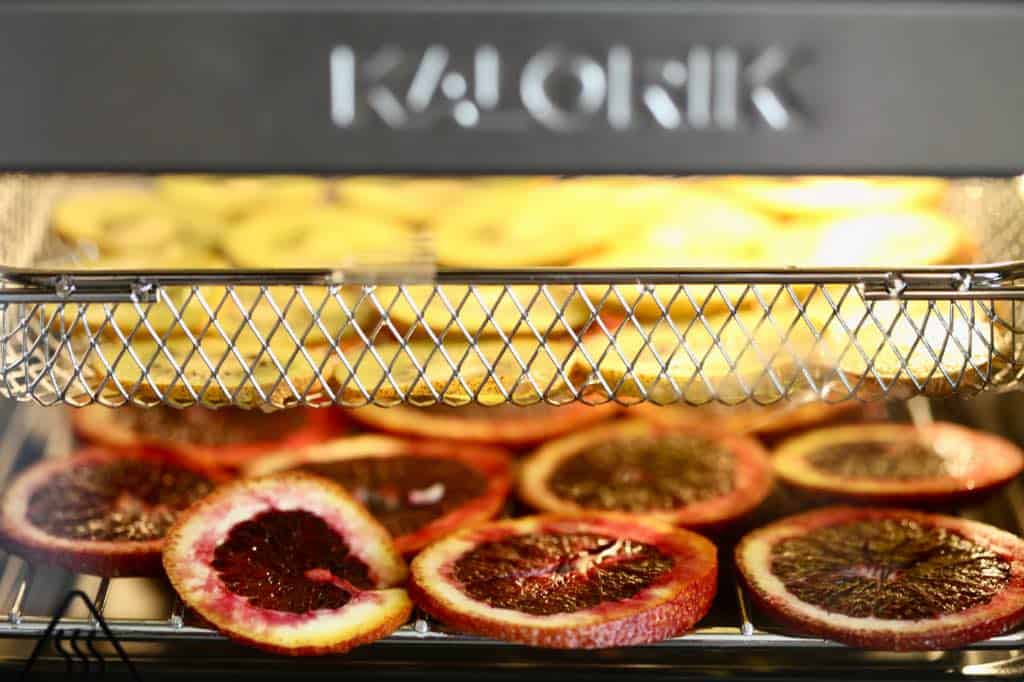 If you can't get the temperature down to 135°F on your air fryer, you will likely just be cooking your fruit, and should use an alternative method to dehydrate.
If the fruit starts to turn brown along the edges, then you are cooking the fruit. This should not happen with the dehydrator function, as this is a low heat setting that dehydrates, but does not cook.
The dehydrating temperature is lower than the standard cooking temperature. This low heat will help to remove the moisture from the fruit and dry it.
When you dehydrate fruit or any other food for that matter you are slowly removing the moisture from the food, rather than cooking it.
The dehydration function on an air fryer allows for a low temperature, along with warm air flow from the fan, which is perfect for the dehydration process.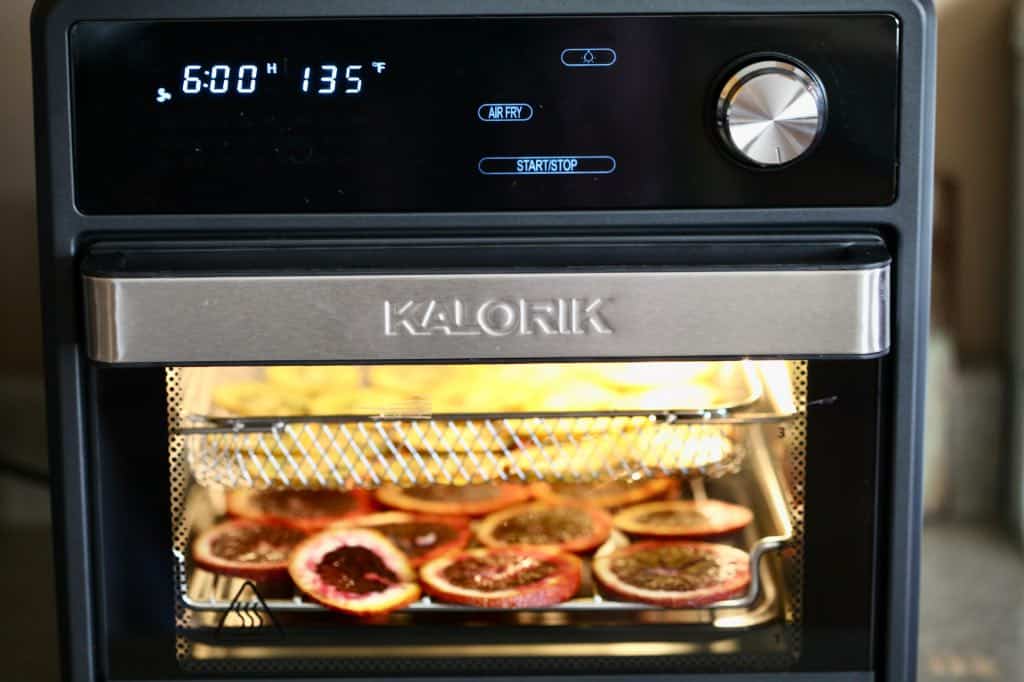 What Is The Dehydrator Button On An Air Fryer?
Look closely at the buttons on your air fryer. There will be a button there if you have the ability to use your air fryer as a dehydrator.
The button location is dependent on the make and model of air fryer that you are using.
The dehydrator option allows you to use a much lower temperature than you would normally use when you use your air fryer for cooking.
The default dehydrate setting on our air fryer is 150°F, however we can turn it down even lower.
Dehydrator temperatures usually range between 125°F to 135°F. A higher temperature will likely cause a more tough texture in your dried fruit, and as well will contribute to some loss of nutritional value.
The best temperature to dehydrate fruit and vegetables is 135 degrees Fahrenheit. This is the veggie and fruit setting for dehydrating on our standard older model dehydrator.
It's important, if you are dehydrating fruit properly, to dehydrate slowly, rather than cook.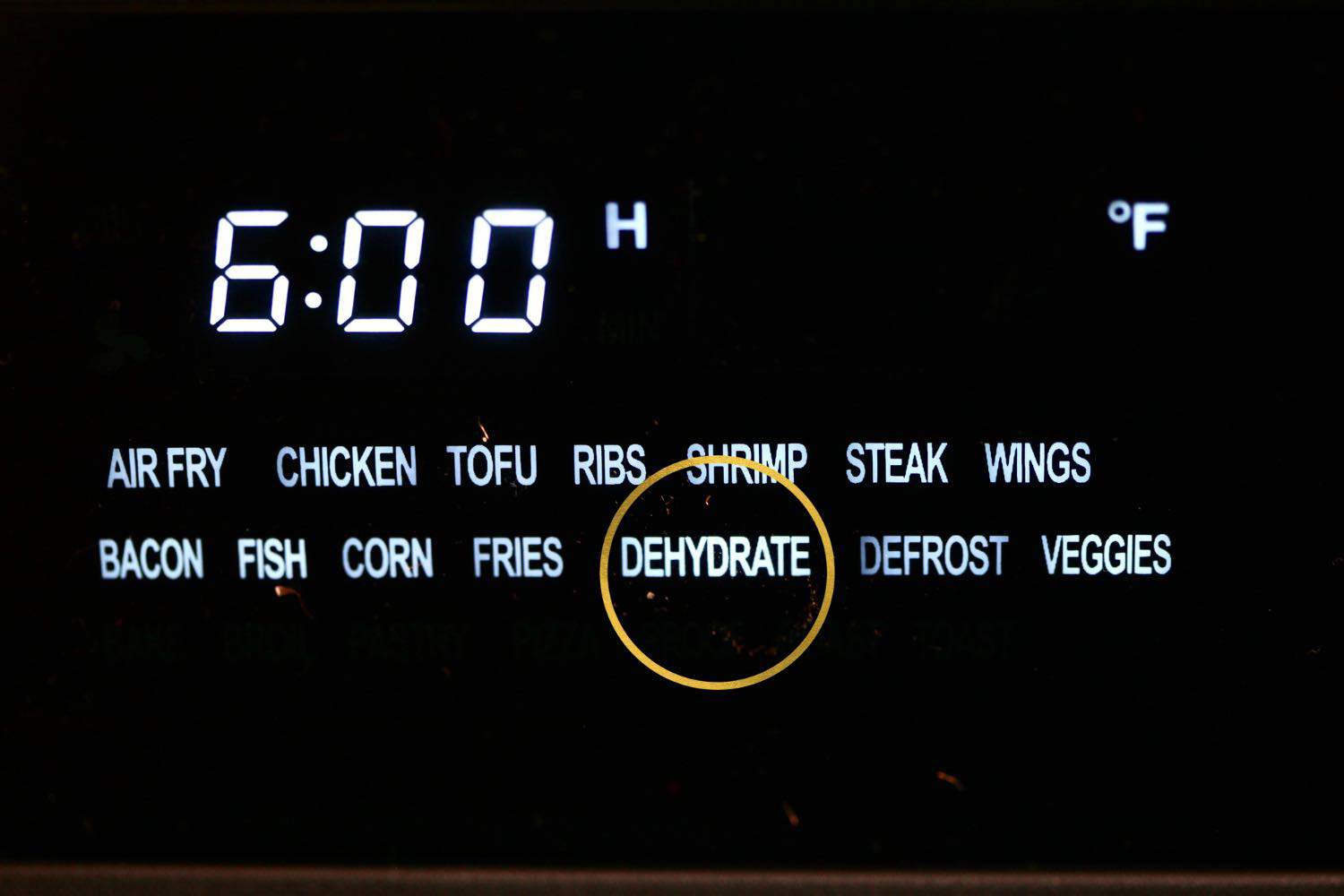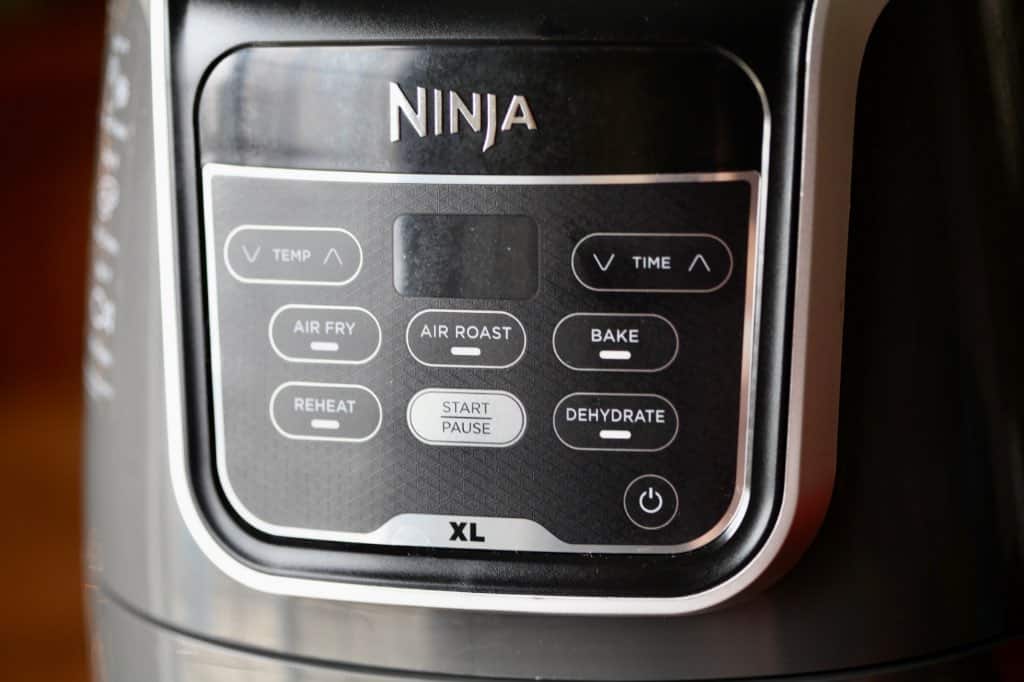 Air Fryer Size For Dehydrating Fruit
Some air fryers are smaller overall units, and therefore have smaller spaces in which to dehydrate fruit.
For the smaller dehydrators it might be easier to dry smaller pieces fo fruit, such as banana coins or strawberry slices. The choice is totally up to you.
You can still dehydrate with smaller air fryers, you will just likely have to do multiple batches.
Some air fryers also have air fryer racks specifically designed for dehydrating, which come with the unit at purchase. Having these racks inside the air fryer increases the overall drying space.
For some air fryers, you can purchase dehydrator racks separately as an accessory, as was the case for our Ninja air fryer.
Some larger units, such as an air fryer oven, have more space to dehydrate in larger volumes. These units often come with dehydrator trays to increase the surface area in your air fryer.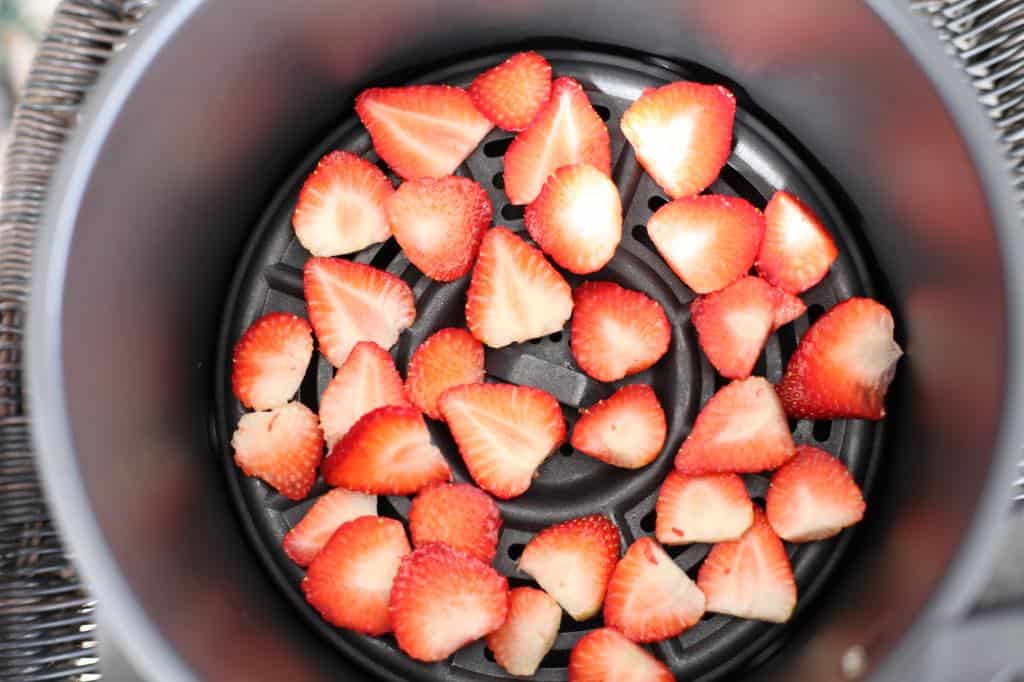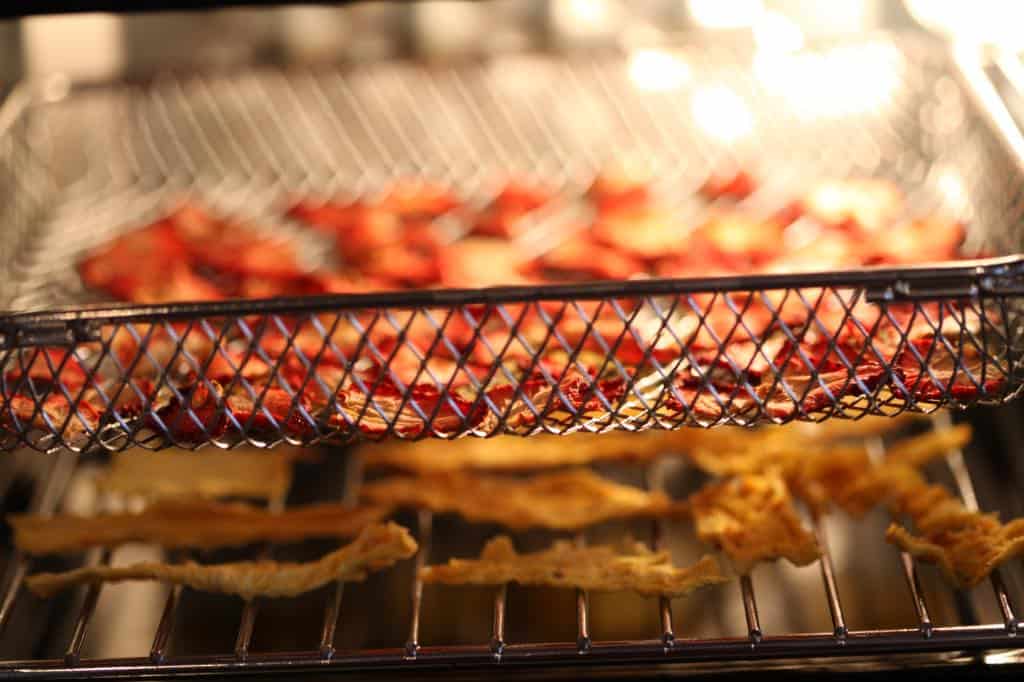 The Benefits Of Dehydrating Fruit
There are many benefits to dehydrating fruit. Lets review some of those benefits:
No Preservatives Added
First of all, you are in control of the dehydration process and what is added to the fruit.
By dehydrating your own fruit you will be able to ensure that there are no preservatives or additional ingredients added, such as sugar, which is often added to store bought dehydrated snacks.
Homemade dehydrated fruit generally consists of only one ingredient.
Preventing Food Waste
Dehydrating fruit can also help to prevent food waste, as dehydrating foods such as extra fruit can help to preserve the fruit that might otherwise not get eaten, and then go bad.
The dehydration process helps to preserve the lifespan of the fruit, which can then be stored and eaten at a later time.
Cost Savings Benefit
There are also cost saving benefits, as you are not wasting money on food spoilage.
As well, homemade dehydrated fruit is usually less expensive to make than the cost of buying it.
Preserves Nutrients For Healthier Snacks
Dehydrating fruit helps to preserve the nutrients in the fruit, including important vitamins, minerals, and antioxidants.
Having dehydrated fruits on hand allows you to have more healthy snacks available, when those cravings come around.
Reaching for banana or pineapple chips is a much healthier alternative to potato chips.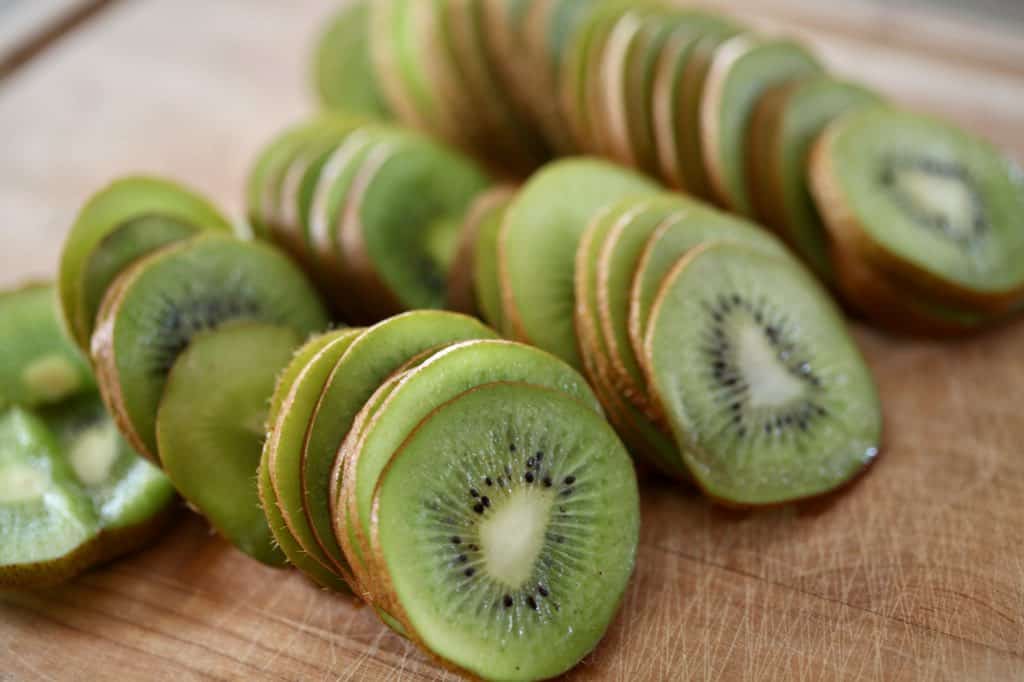 Easy To Store
Fruit that has been dehydrated doesn't take up as much space, and is therefore easier to store.
Since the fruit has been dehydrated, the moisture has been removed, creating smaller pieces of food, and therefore less storage space is required.
Great Portable Snack
Portability is also a benefit of dehydrating fruit.
It's so much easier to take a serving of dehydrated fruit with you on the go, for an easy to store healthy snack, rather than fresh fruit which doesn't necessarily travel so well without lots of protection.
Dehydrated fruit are great snacks to keep in the car, to help prevent cravings for fast food, and those impulsive food splurges.
They will help to tame your cravings while you are out and about.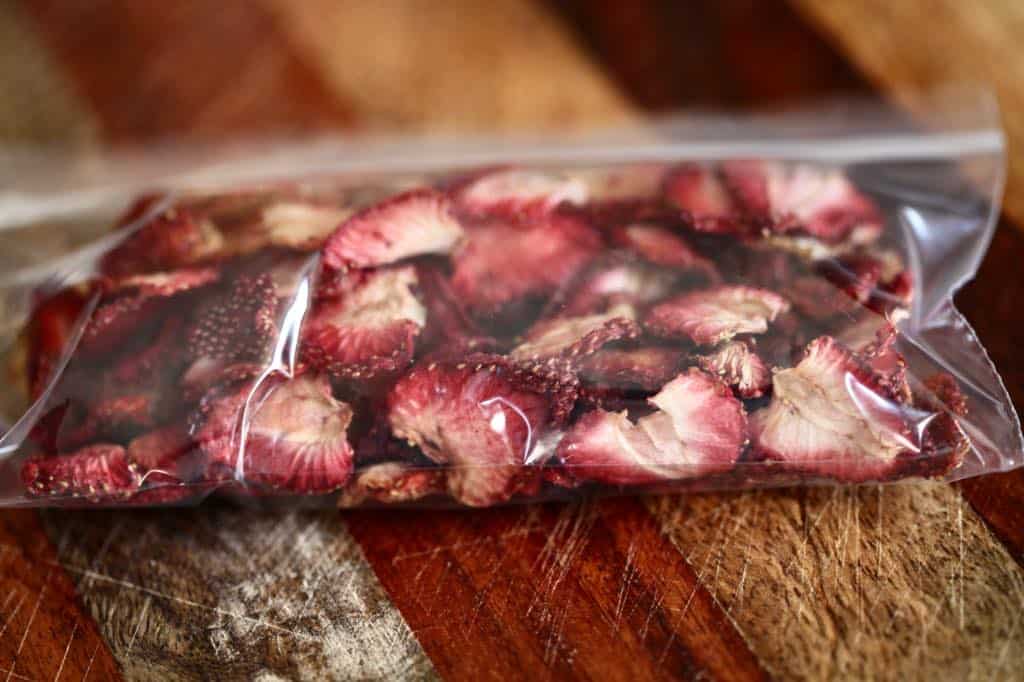 What Fruit Can I Dehydrate In My Air Fryer?
If you have a dehydrator function on your air fryer, this means that you will be able to dehydrate many different types of fruit.
Dehydrated fruit are nutritious healthy options, and the drying process is very simple.
Best Fruit To Dehydrate In Air Fryer
Not all fruit are created equal, as far as dehydration success.
The best fruit to dehydrate are often those with less moisture content, although higher moisture fruit can also be dried this way as well. The dehydrating process just takes a little longer.
Higher moisture fruit will sometimes remain slightly sticky, and maintain some moisture content, even after drying. These fruit will therefore not keep as long as the lower moisture fruit.
For higher moisture fruit however, you can increase the dehydration time, which will dehydrate the fruit further.
As far as the best fruit to dry in the air fryer, that is a personal choice.
This choice can also be dependent on the size of the drying area. Some air fryers have smaller baskets, and will require a lengthier time frame dehydrating in multiple smaller batches.
In this case, fruit with smaller pieces may be the best option.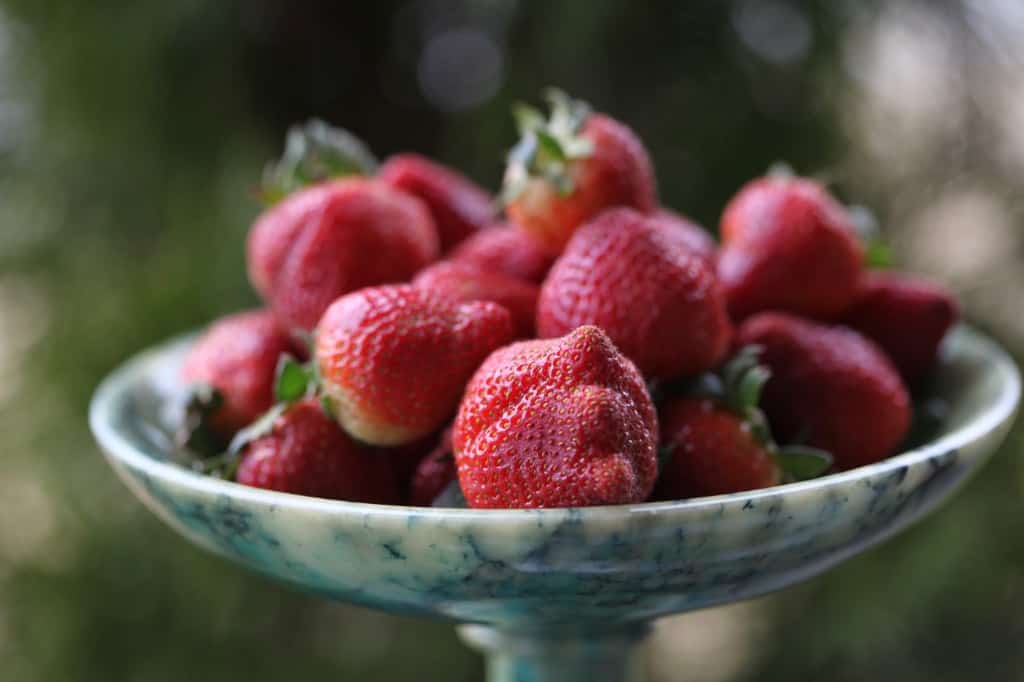 How Long Do You Dehydrate Fruit In An Air Fryer?
The length of time it takes to dehydrate fruit in the air fryer is dependent on the type of fruit that you will be using, as well as the thickness of the slices. Try to get the slices cut into even sized pieces for best results.
Generally drying time for dehydration purposes falls between four to twelve hours, depending on the fruit, the thickness of the slices, and the cooking temperature.
There is usually no need to rotate the fruit pieces when you are dehydrating them in the air fryer.
There is usually good air flow in the unit to reach both sides of the fruit slices during the dehydration process.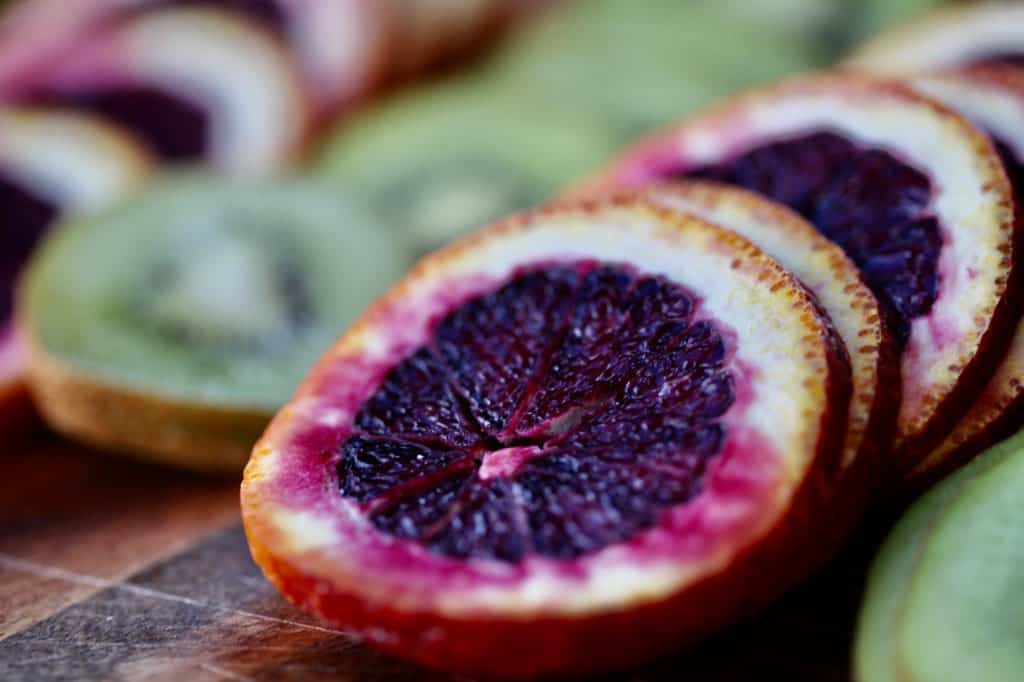 Preventing Oxidation Of Sliced Fruit
Some fruit that is prepared for dehydrating will begin to oxidize shortly after being cut. This is easily observed in apple slices and banana chips for example, when you see the slices and chips begin to turn brown after cutting.
You can help prevent this oxidation from occurring by spraying with lemon juice, or dipping the slices in a bowl of water and lemon juice.
Try this combination for dipping or soaking fruit slices to help prevent oxidation:
Soak fruit slices prone to oxidation in this lemon water for a few minutes.
The lemon water can help to prevent or at least reduce the brown colouration of the final dehydrated fruit product.
Air Fryer Dehydrator Recipes For Fruit
It's generally a good idea to spray the basket or dehydrator racks with a non stick spray before placing the fruit in the baskets or racks of the air fryer, to help prevent sticking of the final product.
Otherwise you may find yourself pulling off pieces of dried fruit with some effort.
For all of these fruit, when you remove them from the basket, allow the pieces to cool. You will find that they longer they are out, the crispier that they will get.
Now let's have a look at some air fryer recipes for dehydrating fruit, and explore the dehydration process using the air fryer.
Dehydrated Strawberries In Air fryer
Wash and hull the strawberries before slicing.
Slice uniformly with a sharp knife.
Place fruit on the dehydrator tray in the air fryer in a single layer.
Dehydrate at 135°F for three to six hours, depending on the thickness of the slices.
I found that many pieces dried well by three hours, however the end pieces were thicker and required more time dehydrating.
The dehydrated strawberries can be used in baking, as toppings on cereal, or eaten by the handful as delicious snacks.
Store in an airtight container.
Dehydrated Pineapple In Air Fryer
Using the air fryer to dehydrate fresh pineapple is simple and easy.
Peel the pineapple with a sharp knife. Slice into thin uniform slices approximately 1.5mm to 2mm in thickness.
I found the easiest way to cut pineapple slices was to use a mandolin slicer, for cutting the slices thin and evenly.
Spray your air fryer basket to prevent sticking.
Load the tray with the pineapple slices.
Dehydrate in the air fryer on the dehydration setting, at 135°F for approximately six to ten hours.
Dehydration time can vary depending on the thickness of the slices.
Slices cut with the mandolin were completely dehydrated by six hours. Thicker slices took several hours longer.
The dehydrated pineapple should be pliable and free of moisture.
Dehydrated pineapple makes for a delicious snack. It reminds me of the fruit leather that the children loved to snack on when they were little.
Store in an airtight container.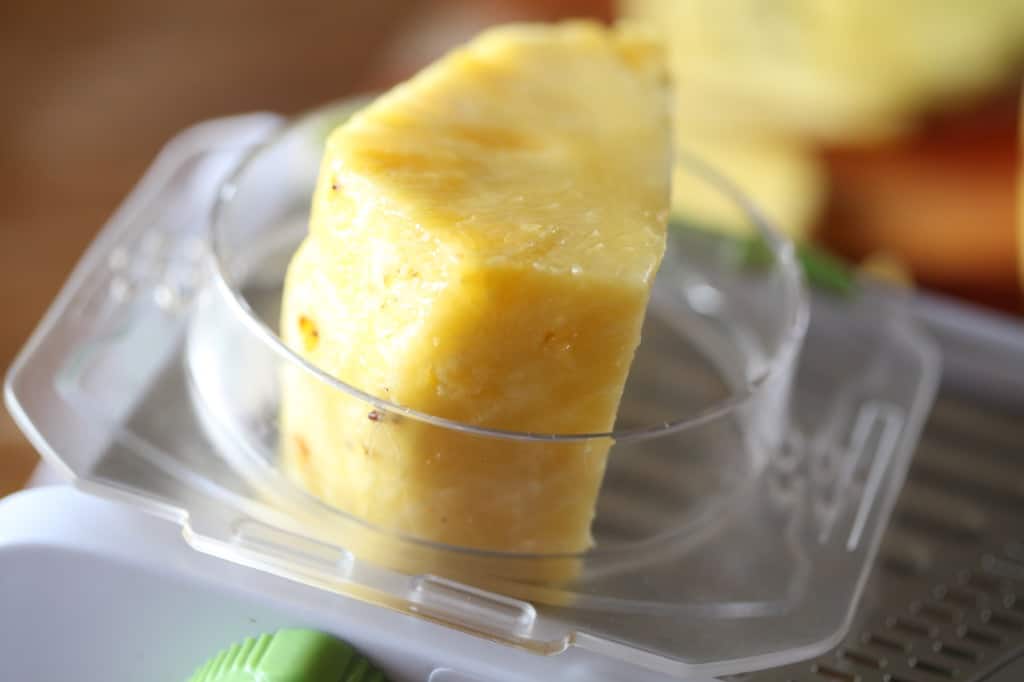 Dehydrated Oranges In Air Fryer
It's so easy to make dehydrated orange slices in the air fryer.
Wash and dry your oranges.
For best results slice the oranges with a sharp knife, into uniform slices for even dehydrating.
I used blood oranges for today's post. I absolutely love the unique colouring of these oranges.
Dehydrate the fruit in the air fryer on the dehydration setting at 135°F for six hours.
Store in an airtight container.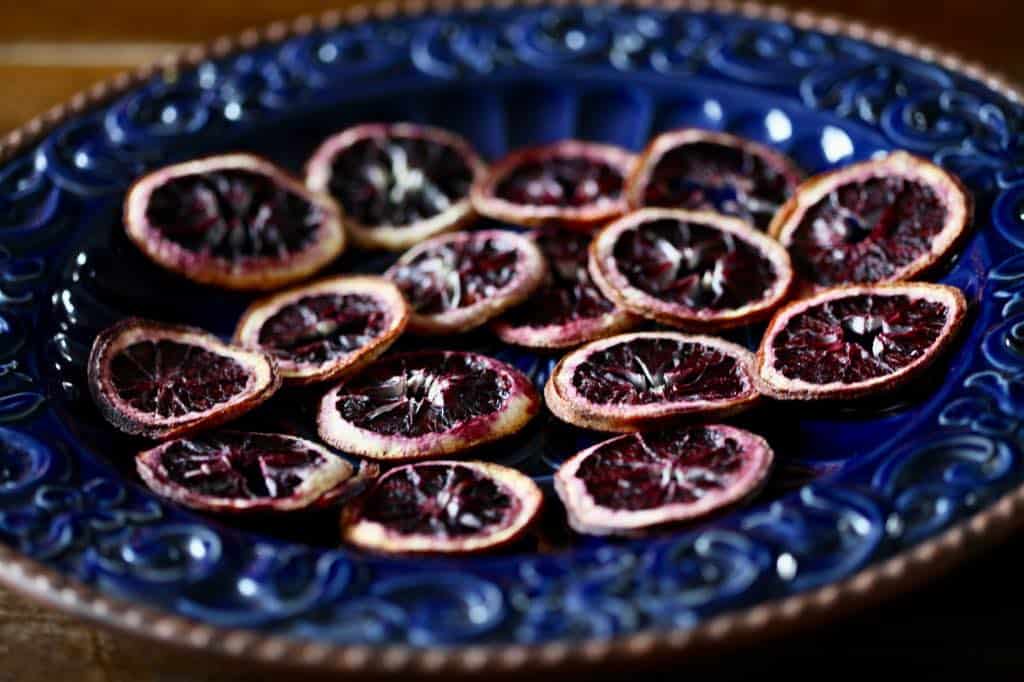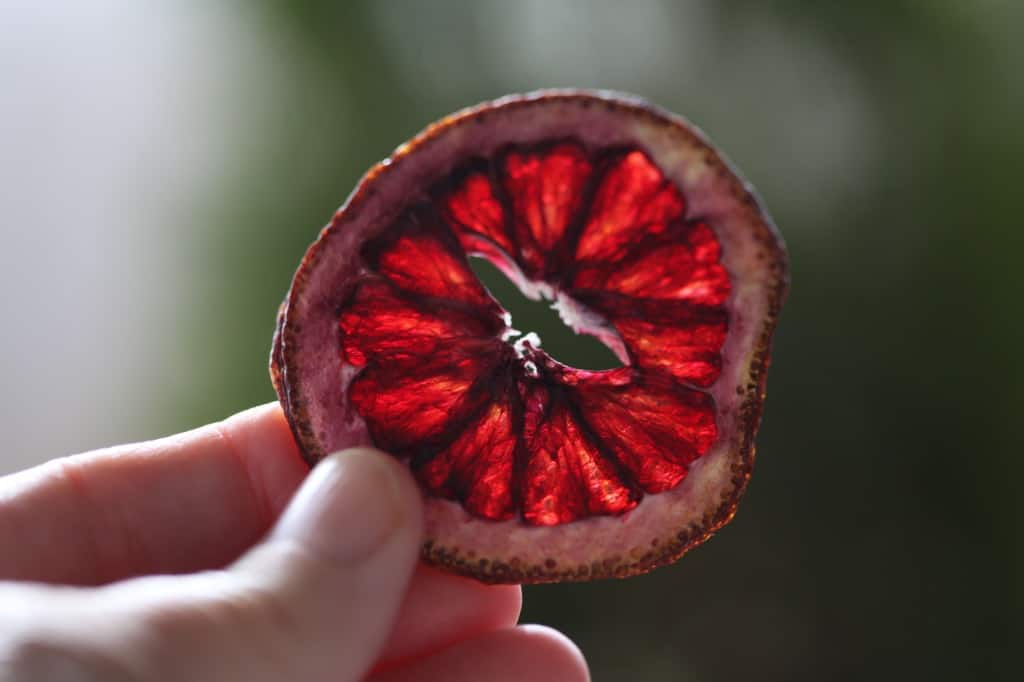 I wrote another post about drying oranges slices for decoration, using a dehydrator as well as the oven method. The process is very similar to using the air fryer. You can read about that post here: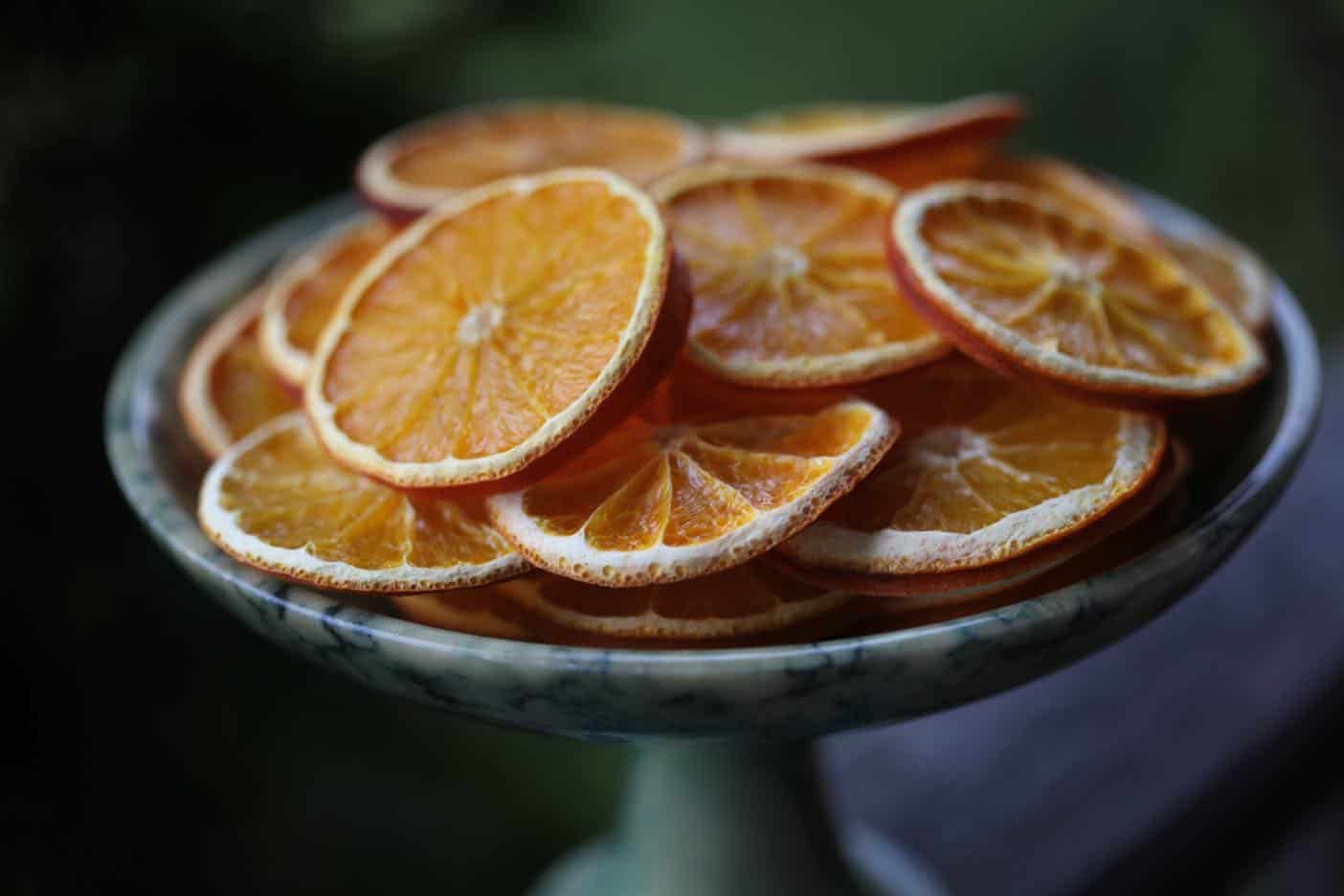 Dehydrated oranges can also be used as natural ornaments to decorate the trees outdoors. Use in combination with strung cranberries and birdseed ornaments, to put on a wonderful natural display, and a feast for the wildlife.
Dehydrated Banana Chips In Air Fryer
The homemade variety is a much less costly, but just as delicious and a great healthy choice.
Banana chips dehydrated in the air fryer are the perfect sweet snack for just about any day of the week.
You can sprinkle them with salt if you like, for a combination of sweet and salty.
Choose bananas that are ripe, but not overly ripe, for slicing and dehydrating.
Peel and cut the bananas into thin slices at approximately 1/8″ thickness.
Dip the banana pieces into lemon water (optional) to help prevent oxidation and keep the chips from turning brown.
Spray the tray with non stick cooking spray for easy removal from the trays. Otherwise you may have to peel them off with a bit of effort.
Dry fruit in the air fryer at 135°F for six hours, and up to twelve hours for crispier chips.
The banana pieces can be slightly chewy and a bit bendable. You can extend the dehydration time for more crunchy chips.
The chips will also get crispy once out of the dehydrator if left on the counter.
Store in an air tight container.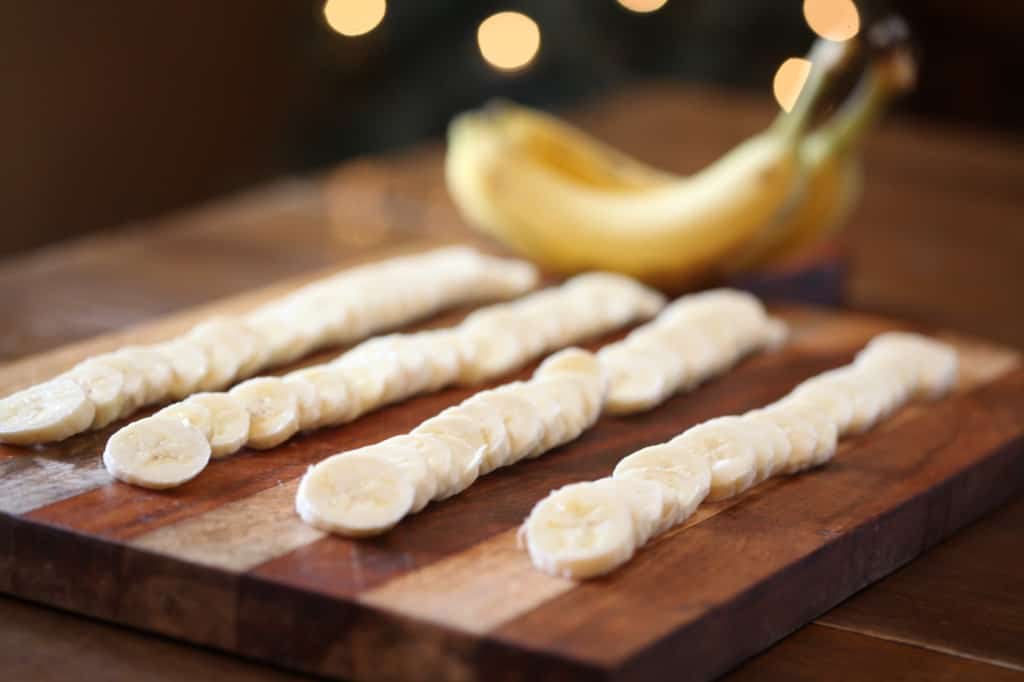 Dehydrated Kiwi In Air Fryer
Dehydrated kiwi done in the air fryer is absolutely delicious, especially if you are a fan of sweet and sour.
These dried fruit are nutritious and high in vitamin C and potassium.
Easily dehydrated in the air fryer, dehydrated kiwi is a delicious treat to have on hand.
Wash and peel the skin if you want, however there is no need to.
For easier to slice kiwis, choose fruit that are a little firmer. Slice evenly.
Dehydrate the fruit in the air fryer at 135°F for four to six hours.
Store in an airtight container for up to six months.
Dehydrated Pears In Air Fryer
Pears from a pear tree often ripen all at once. Dehydrating and preserving those excess pears is a great choice to have for snacks, to enjoy throughout the year.
When dehydrating, choose pears that are ripe, yet still slightly firm. Very ripe and soft pears are often more difficult to cut.
You can keep the peel on, to make the slicing easier.
Slice the pears evenly with a sharp knife, or use a mandolin slicer for uniform slices, approximately 1/8 to 1/4 inches thick. Uniformity helps with consistent drying times of the fruit.
Dip the sliced pears in lemon juice and water, to help prevent oxidation.
Place in a single layer on the air fryer drying racks.
Dehydrate the fruit in the air fryer at 135°F for approximately 3 hours.
Monitor the fruit for dryness to determine the best time for removal from the air fryer.
Store in an airtight container.
Recipe Card
RECIPE: Dehydrate Fruit In An Air Fryer
Total Time:
8 hours
30 minutes
Dehydrating fruit in the air fryer is easy, and a great way to preserve your fruit for healthy snacks.
Ingredients
strawberries
oranges
kiwi
bananas
pineapple
lemon
Instructions
Wash all fruit as required.
Peel fruit that needs peeling. The peel on oranges and kiwis can be left on.
Slice the fruit evenly. This is the key to even dehydrating.
Dip fruit at risk for oxidizing, such as bananas, in lemon water (optional ). This water is made by adding lemon juice to water at approximately 1:3 ratio.
Spray air fryer basket with non stick cooking spray (optional).
Place the fruit flat on the air fryer basket.
Dehydrate at 135°F for 3 to 8 hours. Drying times vary with each fruit and the thickness of the slices.
Check on your fruit throughout the dehydrating process, and remove from the dehydrator once fully dry.
Smaller air fryers may require multiple batches.
Store in air tight containers in a cool location for up to six months.
Notes
An air fryer can be used for dehydrating if it has a dehydrate setting. If there is no dehydrate setting, temperatures may be too high to safely dehydrate your fruit.
Storing Dehydrated Fruit
Dehydrated fruit has essentially been shrunk, and therefore you can store much more fruit in the dehydrated form into a smaller space.
Dried fruit will last for months if properly dried and stored. The best containers for storage are those that prevent oxidation.
I generally keep the fruit for six months, although they are usually long gone before then.
We like to use mason jars, as these glass containers are air tight, and are a good storage option. Mason jars are great to help prevent oxidation, and will help to keep the dried fruit for longer.
Make sure to put an expiry date on the jars to be safe.
Store in a cool dry area for longest shelf life.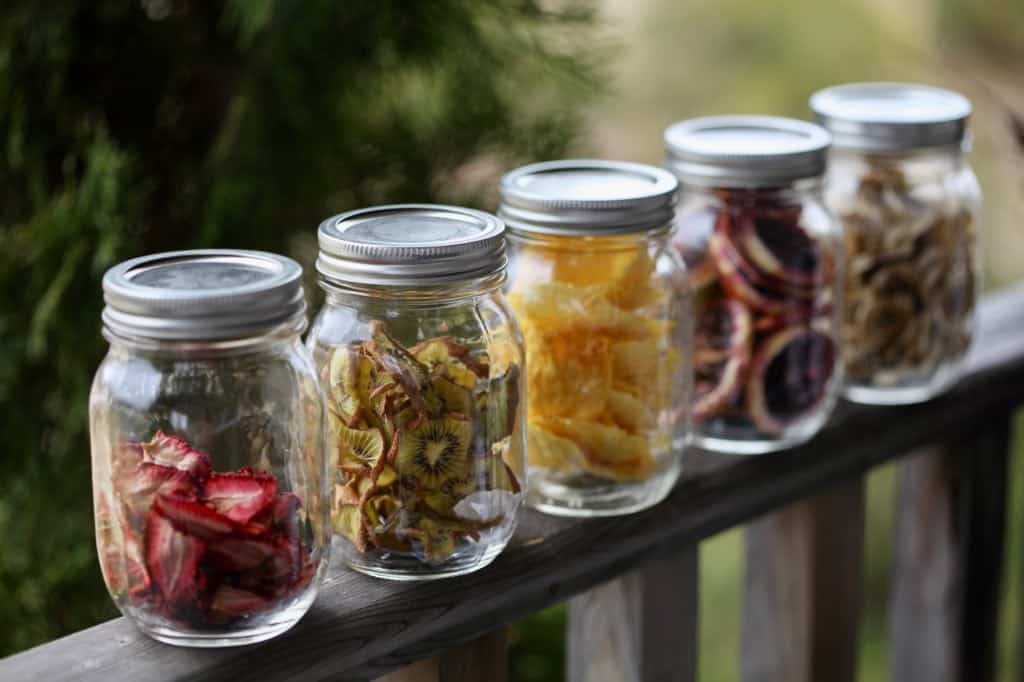 Conclusion
Homemade dehydrated fruit is can be made in the air fryer if you have a dehydration feature on your air fryer unit.
Making your own dehydrated fruit in the air fryer is easy, especially for smaller batches.
Dehydrated fruit is a great snack, and a healthy alternative to eat in place of chips or other high calorie snacks with added sugar and preservatives.
Cooking at lower temperatures over longer periods will dry the fruit and remove moisture, rather than cooking the fruit pieces.
Dehydrated fruits have many benefits, and are healthier choices for snacking.
Other fruit options for dehydrating in the air fryer include dehydrated apples and apricot, as well as dehydrated blueberries. Try the fruits you love, and dehydrate them for all the added benefits.
Have you ever tried to dehydrate fruit in an air fryer? Be sure to leave a comment below to share your experience!
See the Web Story on Dehydrating Fruit In An Air Fryer!
Other Posts You May Like:
PIN IT FOR LATER!