Last updated on October 26th, 2021 at 07:01 pm
Jam packed with nutrient dense sweet potatoes, this sweet potato casserole was served as a side dish for Easter dinner. To me this dish really tastes more like a dessert than a side dish, but I'll certainly take it any way. Learn how to make a sweet potato casserole, as it's sure to be a hit with the family.
This pie has been on the menu at family gatherings for the last ten years, and is always a hit with the crowd. The recipe is a family favourite and gets eaten up pretty quickly!
This recipe was found on all recipes.com over ten years ago, and has been adapted slightly in an effort to reduce the extraordinary sweetness of this tasty side.
I love how foods become a favourite family meal, and then the most special ones become part of family gatherings. Mix in with that some wonderful memories, and it all adds up to becoming part of family traditions.
There are quite a few ingredients in this recipe, however they are all pretty standard, and include things we usually have in the pantry.
Adaptations To The Original Recipe
We reduced the sugar content, because this is a sweet dish.
The sweet potatoes alone contribute to the sweet flavour.
We always add more sweet potatoes than the recipe calls for, so I would say add enough to fill your cooking dish.
Tips For Peeling Sweet Potatoes
I never peel sweet potatoes with a knife.
For this recipe I cut the sweet potatoes in half, washed them off, then boiled them until soft.
After they are removed from the water, let them cool. The skin will peel right off, just like magic :).
Is It Better To Boil Or Bake Sweet Potatoes?
Baking sweet potatoes has a higher chance of reducing the nutritional value, as some vitamins are lost with baking.
Boiling sweet potatoes in their jackets helps to preserve the nutrients in the baked potato.
Health Benefits Of Sweet Potatoes
I've always been aware of the health benefits of sweet potatoes and try to include them in my families meals whenever possible.
They are full of vitamins, in particular vitamins A ,B and K (potassium). They are also great for immune health.
It's hard to feel guilty feeding the family such a sweet dish when you know it's actually very good for them!
How To Make Sweet Potato Casserole
Prepare your sweet potatoes by washing them and then boiling.
Allow the sweet potatoes to cool, then remove the skins.
Add the sweet potatoes to a large mixing bowl, and mash or beat until well mashed.
Preheat the oven to 350 degrees.
Into the bowl with the sweet potatoes add the milk, orange juice, eggs, vanilla, sugar, salt, butter, nutmeg and cinnamon.
I usually beat these Ingredients together until well mixed.
Pour this mixture into a well greased casserole dish.
Now it's time to make the topping.
Mix together the butter, flour, brown sugar, and pecans.
Once these ingredients are well mixed, sprinkle over the sweet potato mixture.
Bake at 350 degrees for 45 minutes. I sometimes bake for a couple more minutes to brown the topping a little more.
Why Are There Eggs In Sweet Potato Casserole?
The eggs in sweet potato casserole help to bind it all together.
Make sure that your sweet potatoes are cooled down before you add the eggs, because this can contribute to a change in the casserole texture if added when hot.
Also make sure that your ingredients are well mixed before placing in the baking dish.
I hope that you enjoy this recipe as much as we do!
PIN IT FOR LATER!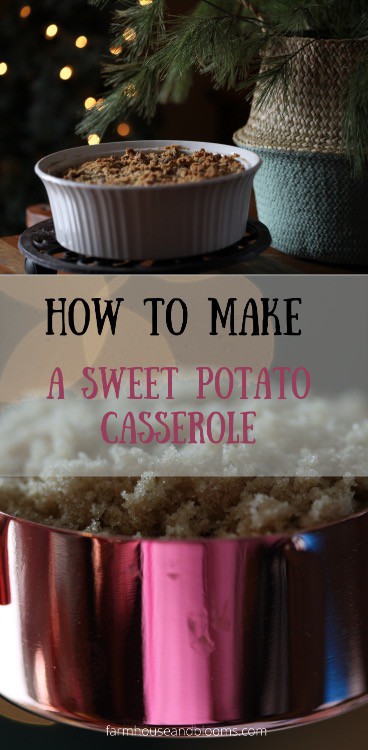 How To Make A Sweet Potato Casserole
Additional Time:
5 minutes
Total Time:
1 hour
5 minutes
Served as a side dish, this recipe tastes more like a dessert! Delicious sweet potato casserole topped with a crunchy pecan topping.
Ingredients
4 cups of cooled cooked and mashed sweet potatoes
1/4 cup of milk
1/4 cup of orange juice
2 eggs
1 tsp vanilla extract
1/4 cup white sugar
1/2 teaspoon of salt
3 Tbsp butter
1/2 tsp nutmeg
1/2 teaspoon cinnamon
TOPPING:
1/4 cup butter
3/4 cup light brown sugar
1/2 cup flour
1 cup chopped pecans
Instructions
Boil sweet potatoes in their skins
Let sweet potatoes cool, then peel off skins
Mash or mix sweet potatoes until soft
Add all ingredients to sweet potatoes ( excluding toppings ) and mix well
Place in casserole dish
Mix topping ingredients, and add to top of casserole
Bake at 350 degrees F for 45 minutes
Notes
May require an extra 5 minutes for browning of topping
Nutrition Information:
Yield:

6 to 8
Serving Size:

1
Amount Per Serving:
Calories:

684
Total Fat:

39g
Saturated Fat:

17g
Trans Fat:

1g
Unsaturated Fat:

20g
Cholesterol:

127mg
Sodium:

441mg
Carbohydrates:

80g
Fiber:

5g
Sugar:

54g
Protein:

8g