Last updated on November 24th, 2023 at 09:31 pm
Apple cider syrup is a delicious boiled down version of apple cider. Also known as apple molasses, this boiled cider is very easy to make, and a wonderful substitute for other syrups such as honey, molasses, and maple syrup. Add the taste of apples to your baking with this easy to make apple cider syrup recipe.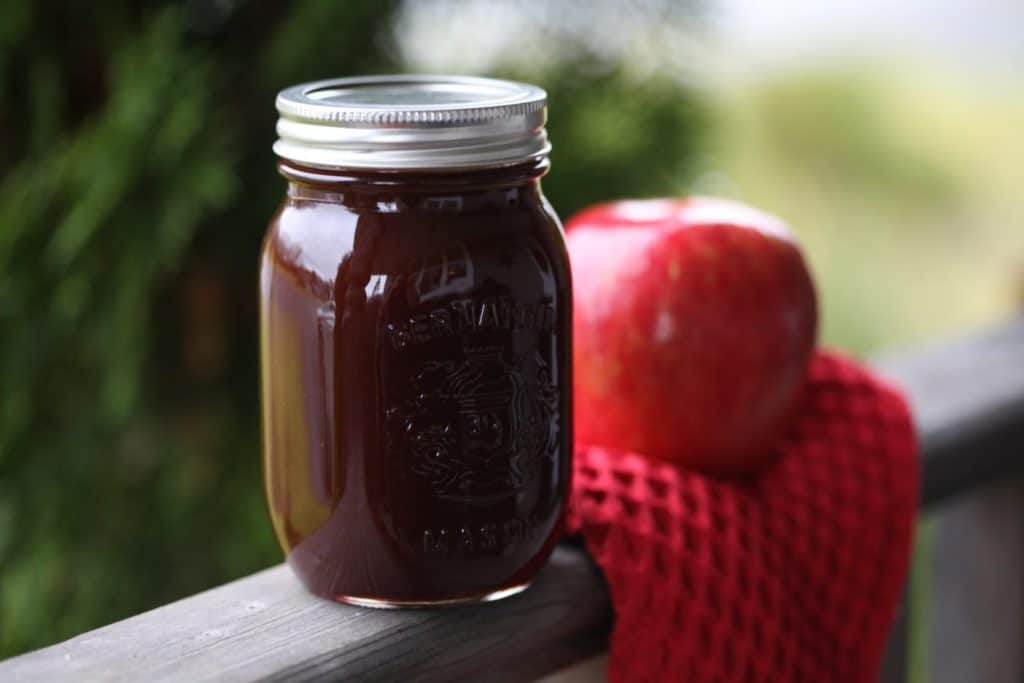 Apple cider syrup is a concentrated version of fresh apple cider, boiled down to an eighth or so of it's original form. Some recipes say an eighth, others say a seventh.
Mine was somewhere in between.
There are many apple cider syrup recipes out there. Some homemade syrup recipes include adding other ingredients, such as sugar and spices, like cloves and cinnamon sticks.
The fructose in the apple cider naturally sweetens the syrup, so there is really no need to add any extra sugar unless you really want to.
This apple cider syrup recipe includes only one ingredient, which is apple cider. It has no added sugar or even spices. This is a simple syrup made with a single ingredient.
It involves boiling down the apple cider slowly, to cause it to thicken into a delicious syrup.
The flavourful syrup is sweet yet tart, and very versatile in it's uses.
If you are pancake lovers like we are at our house, you will also love this syrup as a topping for your pancakes. Drizzled over warm pancakes, with some melted butter, it's the perfect topping on a cool fall day.
We love it on waffles as well. It's quickly becoming a favorite ingredient.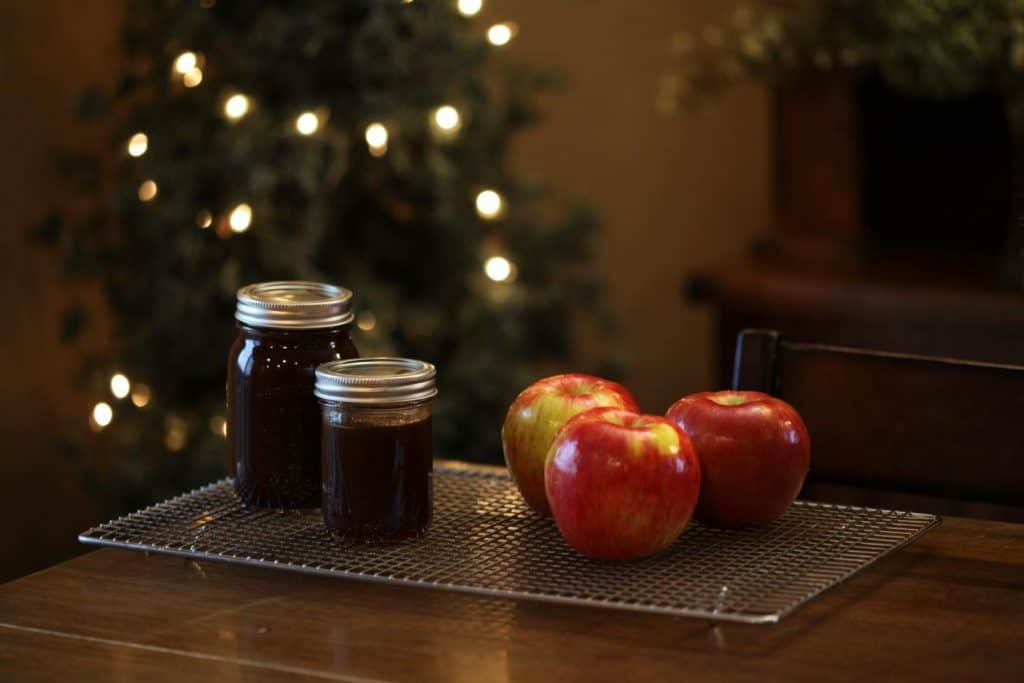 Boiled Apple Cider Syrup
Boiled apple cider syrup should be made with freshly pressed apple cider. You can press your own cider, however you can also purchase fresh cider at the local grocery store.
In fact, we drank all of the cider that we pressed with our antique fruit press, so for this recipe we found some apple cider at the store.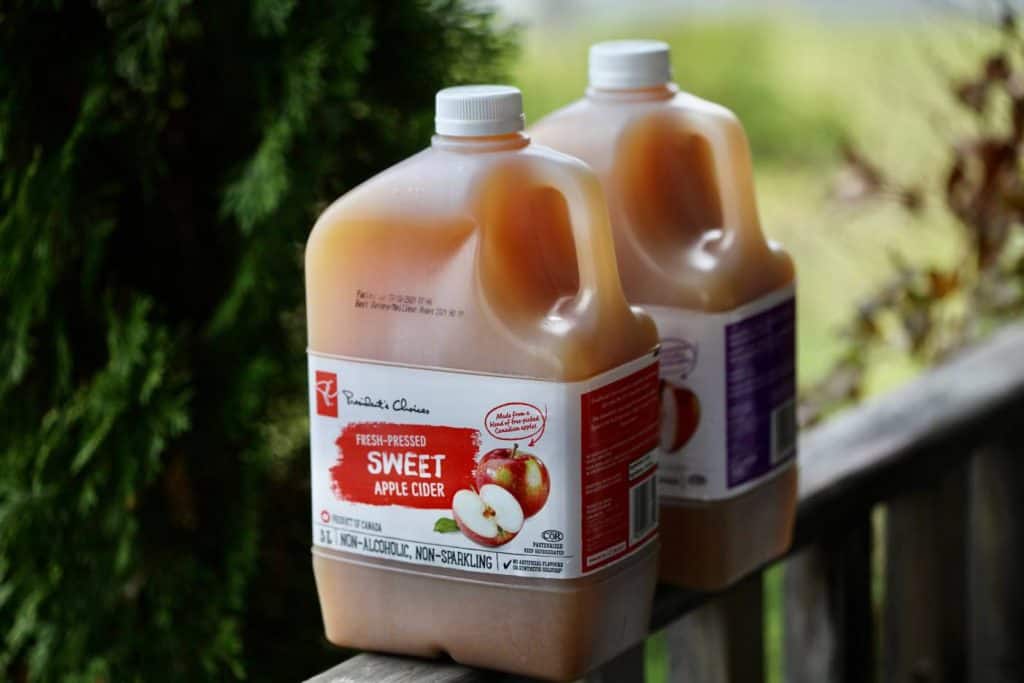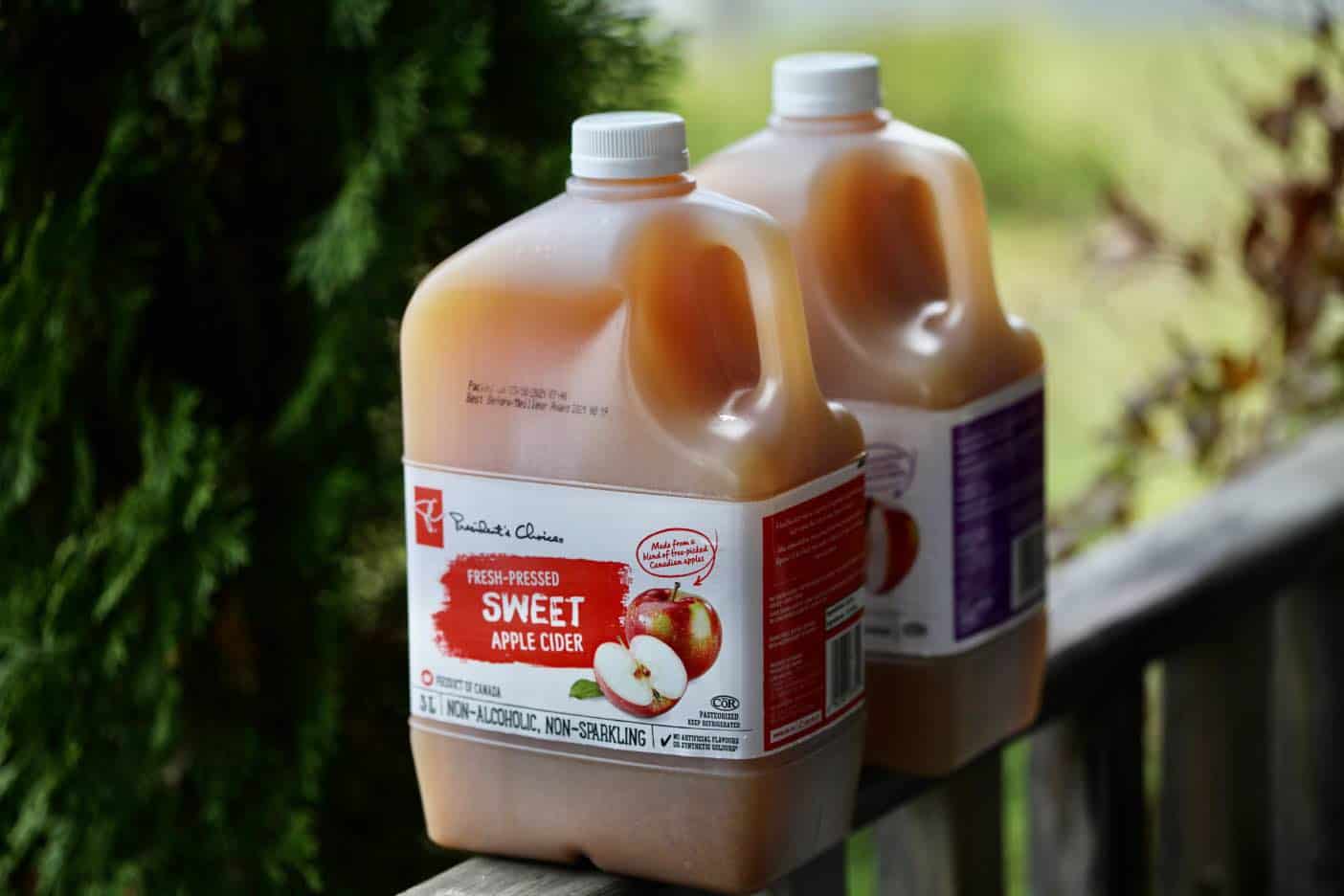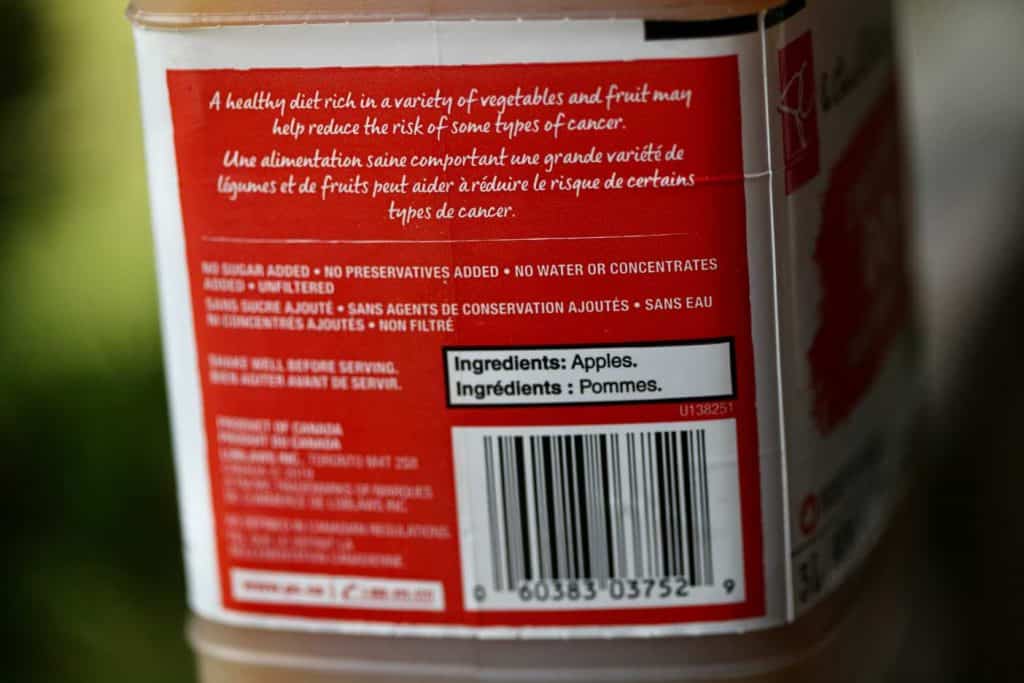 If buying your apple cider, make sure there are no preservatives added. It's important to make your syrup with pure apple cider, so make sure that you read the label to make sure there are minimal ingredients.
And make sure that you are using apple cider, and not the clear apple juice. Apple cider has a brown colouring versus the clear yellow colour of apple juice.
The best apple cider to use is one that is made with freshly pressed apples, and with no other ingredients other than apples. One ingredient apple cider is the best for this recipe.
It's okay if it has been pasteurized, as this basically means that it has been heated for safety reasons, and will not change the recipe at all.
The cider that we bought for this apple cider syrup recipe had been pasteurized, and contained only one ingredient: apples.
What Happens When You Boil Down Apple Cider?
Apple cider syrup is the condensed version of apple cider.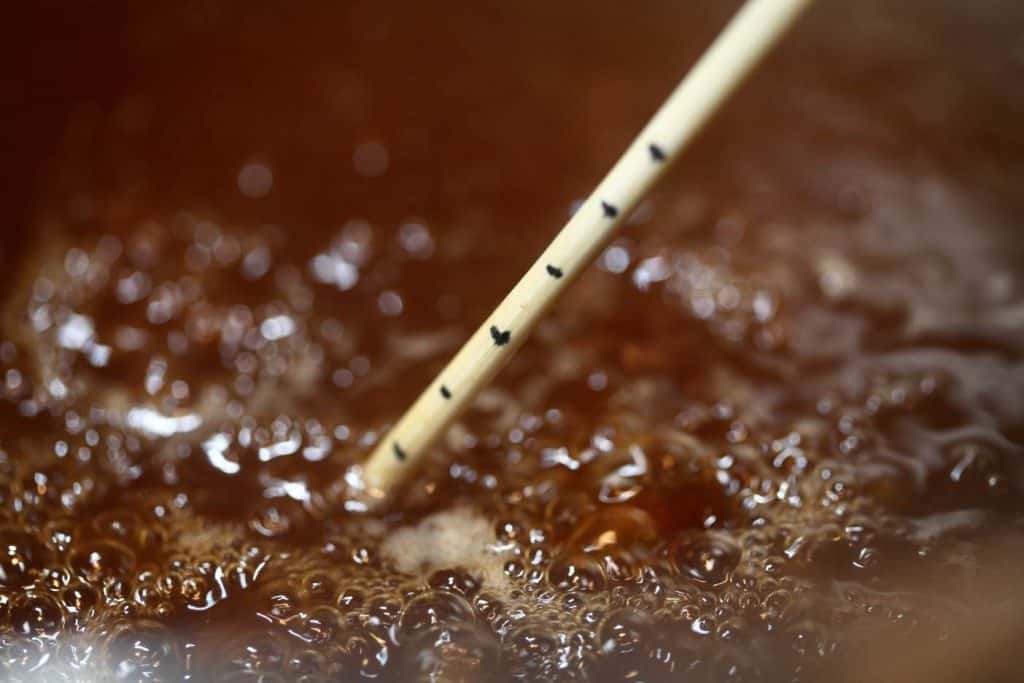 To thicken the syrup, the volume of apple cider should be boiled down to 1/7th or 1/8th of the original volume.
As it is boiled down it will become thicker and sweeter in it's thickened form.
The apple cider will be gently boiled down over a period of four to six hours, depending on the amount of cider that you will be using.
I can't tell you just how delicious this recipe smells as the cider is cooking down. It's a great way to fill your kitchen with the wonderful aroma of apples.
How To Make Boiled Apple Cider Syrup
This is a very simple recipe and it is so easy to make. The hardest part is the waiting and watching as the cider boils down, and even then, it's still enjoyable.
Ingredients:
one gallon of Apple Cider– It's important to use pure apple cider as your ingredient for this delicious recipe.
Tools:
Make sure that you use a good solid non-reactive pot for boiling the apple cider syrup, such as a dutch oven or a stainless steel pot.
Cooking Thermometer- to test the final temperature and ensure readiness.
Directions: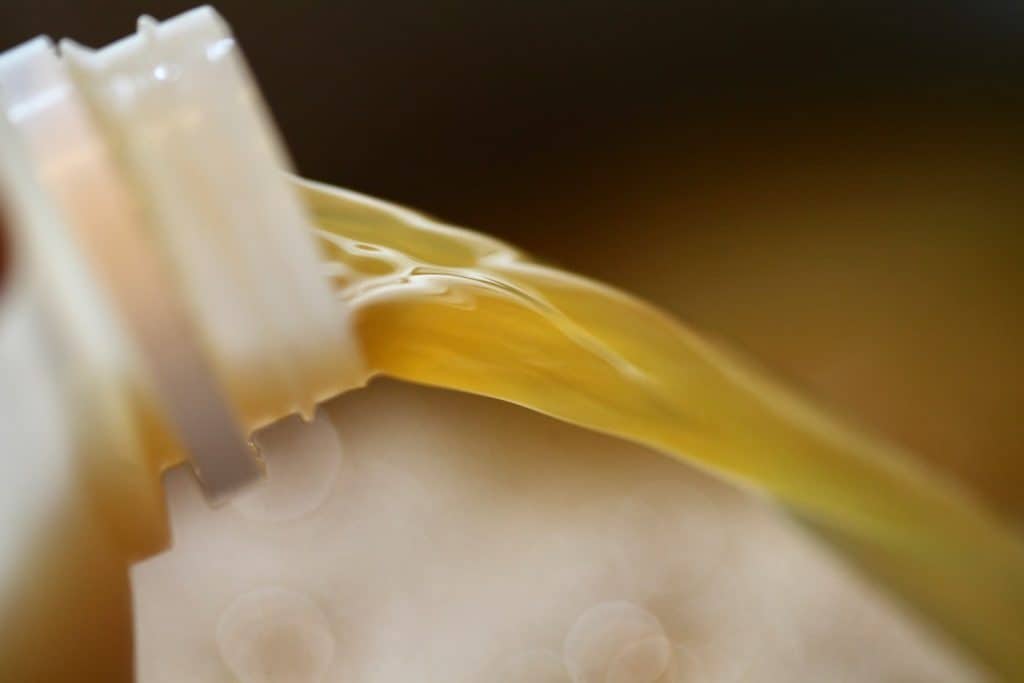 Start by adding a gallon of cider to your pot. Remember you are boiling it down, and will end up with only a fraction of this amount.
One way to determine how much the cider is reducing is to mark the level of the cider on a skewer or measuring stick.
Mark the beginning level of the cider in the pot by marking the depth of the liquid on the wooden skewer.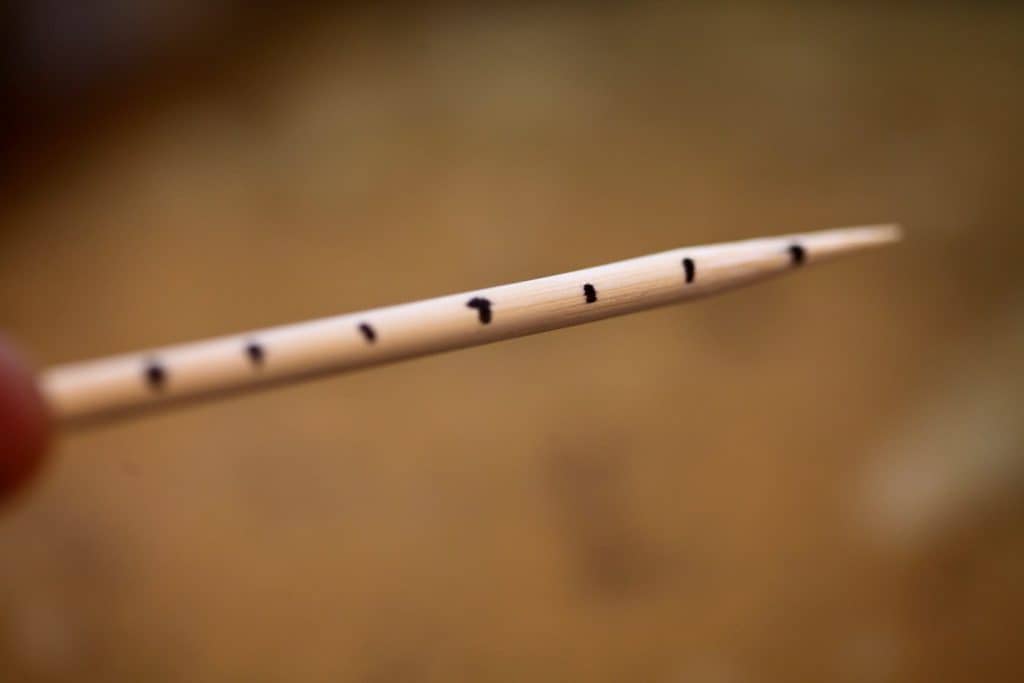 Now place more marks on the skewer, equally dividing into seven or eight sections, starting from the first mark that you made. I divided mine into seven sections, as I intended to reduce the cider to a 1/7th concentration.
If you plan to reduce to 1/8th concentration, then divide your skewer into eight sections, starting from the first mark.
I found having multiple marks on the skewer helpful to gauge how the cider was reducing throughout the cooking process, by comparing it to the original height.
Turn the burner on high heat until the cider starts to boil, and then reduce the temperature to a medium heat so that the cider is maintained at a simmer.
Strain The Foam
Foam will develop on the top of the cider as it boils. You can skim this off, or you can pour through a cheesecloth covered sieve to catch the foam and extract the extra pulp from the cider.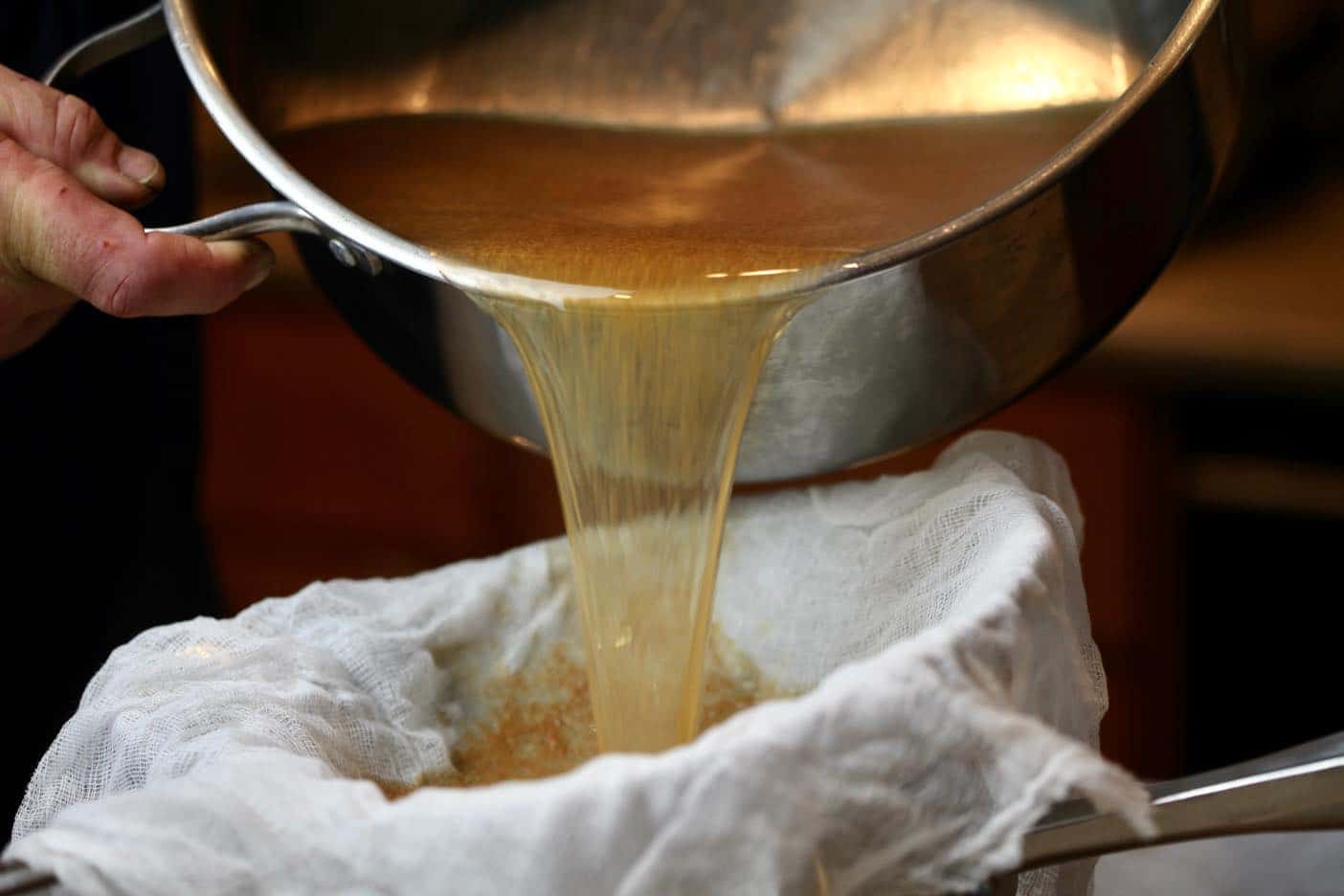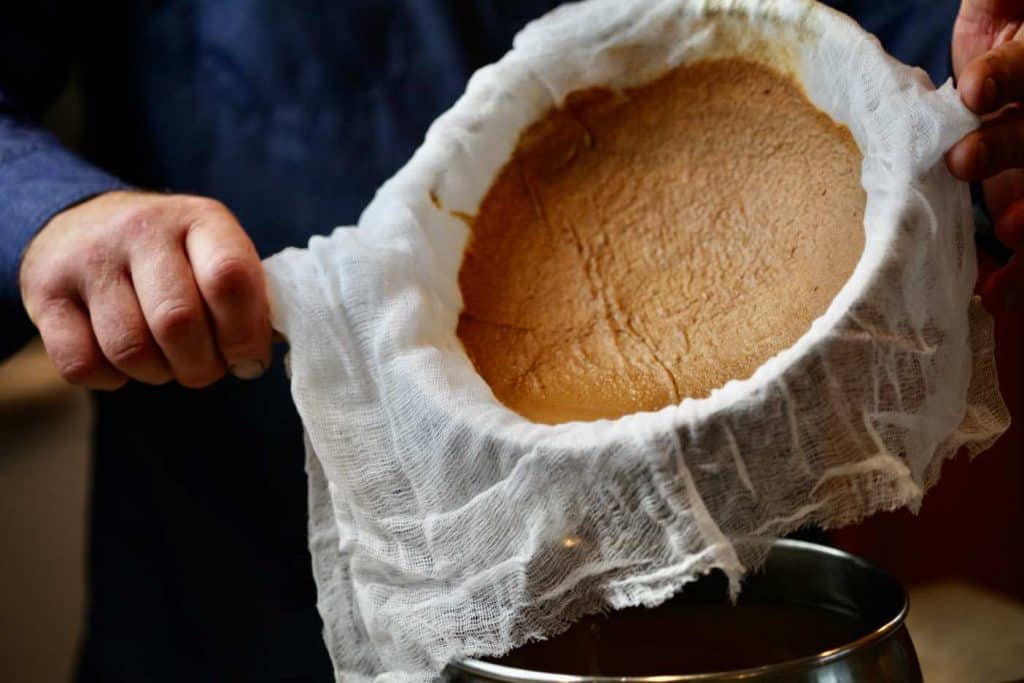 Return the filtered cider directly back to the pot to continue boiling.
Maintain a simmering heat over the next few hours.
Stir the cider at least several times an hour for the first several hours. As the reduction approaches the final amount, stir more frequently to prevent scorching.
Temperature:
As the cider approaches the final reduction stages you will see some changes in consistency as it simmers.
Keep a close eye on the cider at this stage to keep it from burning, which can cause a bitter flavour.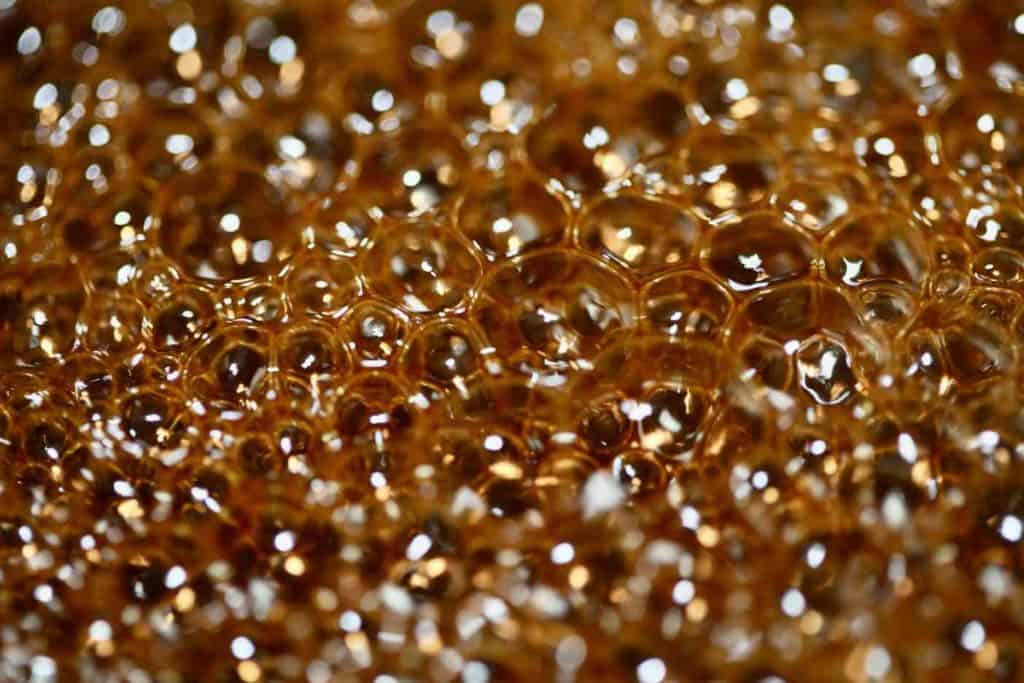 The bubbles turn an amber caramel colour, and the simmering boil turns into a rolling boil.
The temperature of the syrup when ready ,if using a cooking thermometer, will be 225°F at sea level and one degree less for every 500 feet of elevation above sea level. We are at sea level, so 225°F worked for us.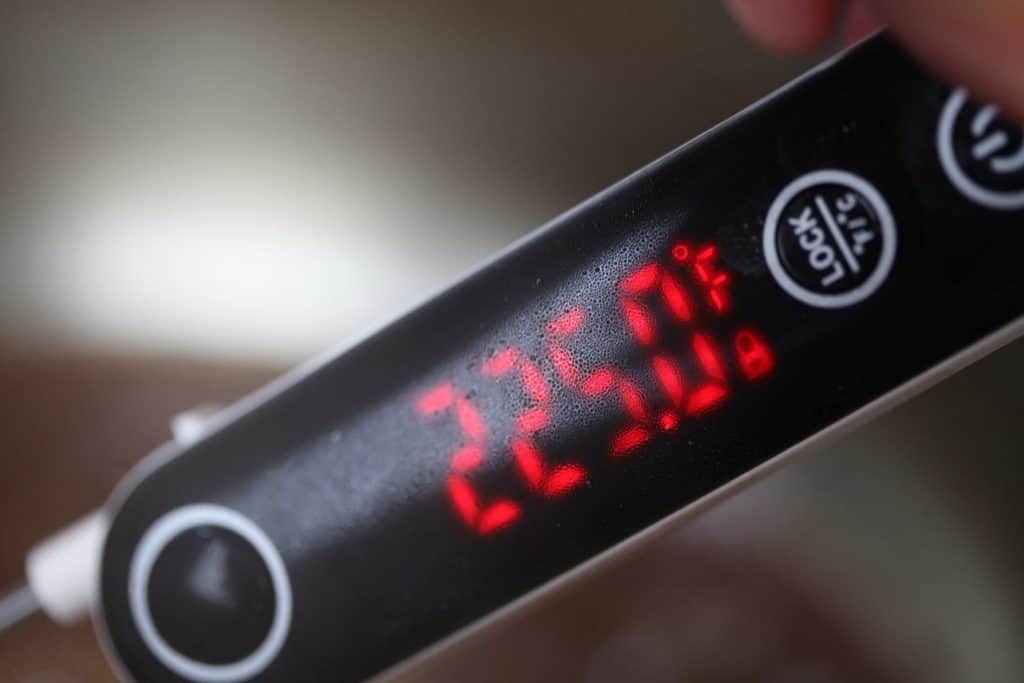 I took the cider down a bit past 1/7th reduction, as I wanted it slightly thicker with a more syrupy consistency, so it was cooked for a few minutes longer.
Be careful not to cook it down too far however, as the flavour can get quite strong.
When it's hot it will still appear to be thin in consistency like runny honey, however as it cools it will thicken up.
Turn the heat off and remove from the burner.
Preserving
Pour into sterilized jars or containers. We used mason jars, and I was able to fill one 500 ml and one 250 ml mason jar from the 1.5 gallons of apple cider.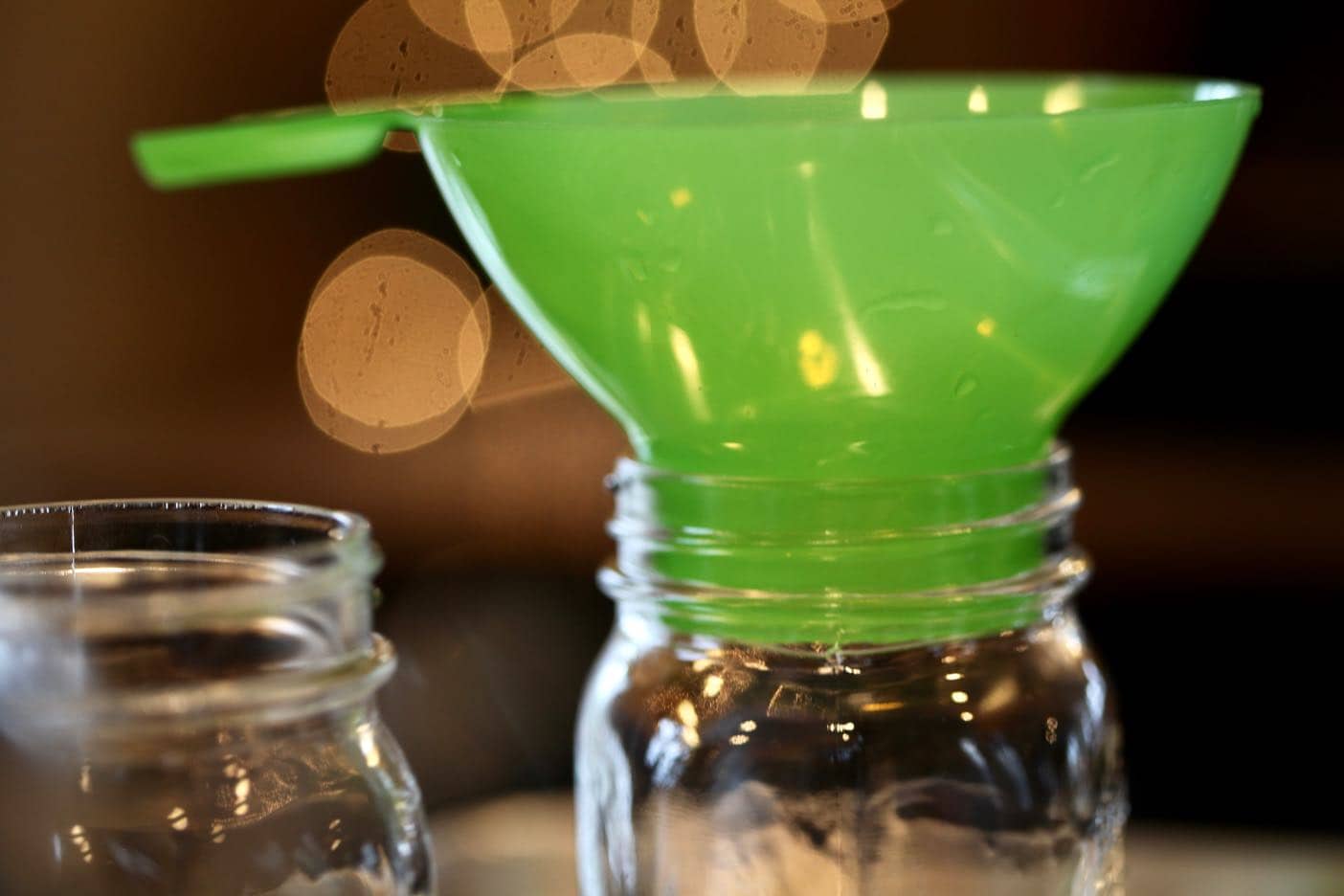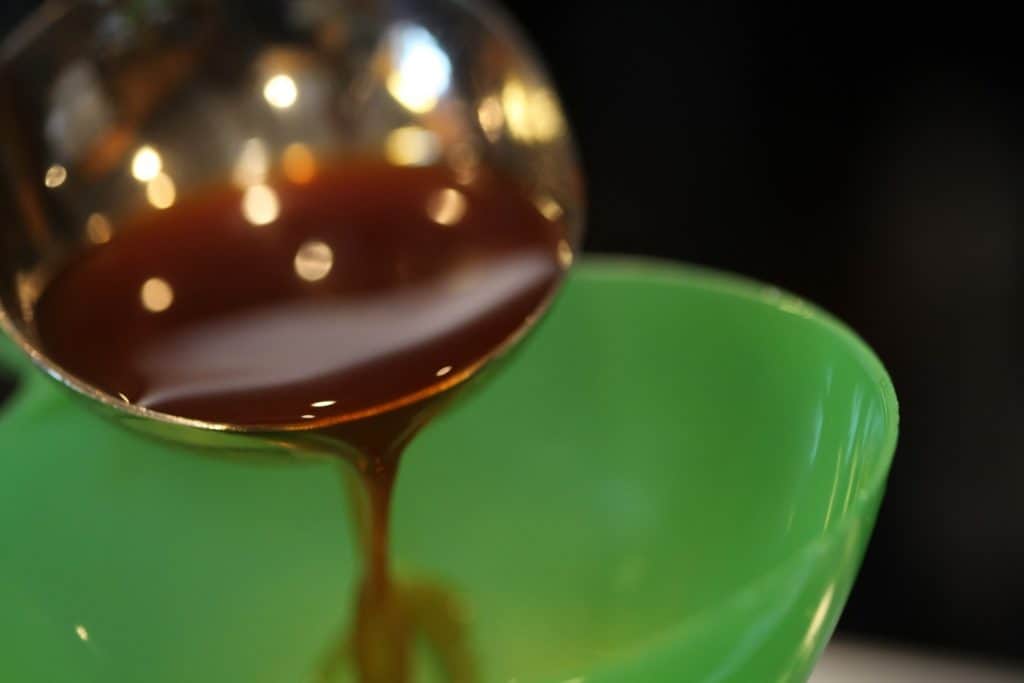 If you are going to keep your apple cider syrup for an extended period of time, further sterilize in a water bath canner for ten minutes.
This will ensure safety and a longer shelf life.
We will be eating ours up pretty quickly, and will keep our syrup stored in the fridge until it's all eaten.
How Long Does It Take To Boil Down Apple Cider?
Most recipes say that the syrup takes five to six hours to boil down. There are variations to this time frame, and don't be surprised if the cook time is a bit shorter than this.
It took four hours for our apple cider syrup to complete the reduction process. We actually used six litres of cider, which is a little over 1.5 gallons.
It still cooked down more quickly than the recipe called for.
There are many factors which can contribute to this, including your cookware, your stove temperature, and even the cider that you are using.
So keep a close eye as your cider boils down, as it may be finished earlier than expected.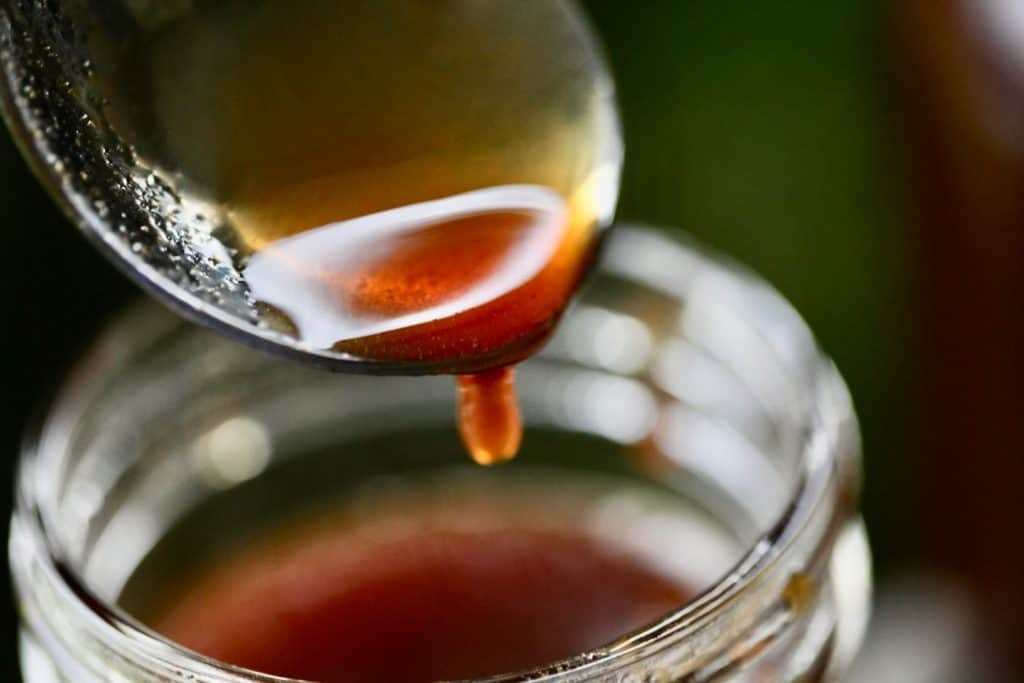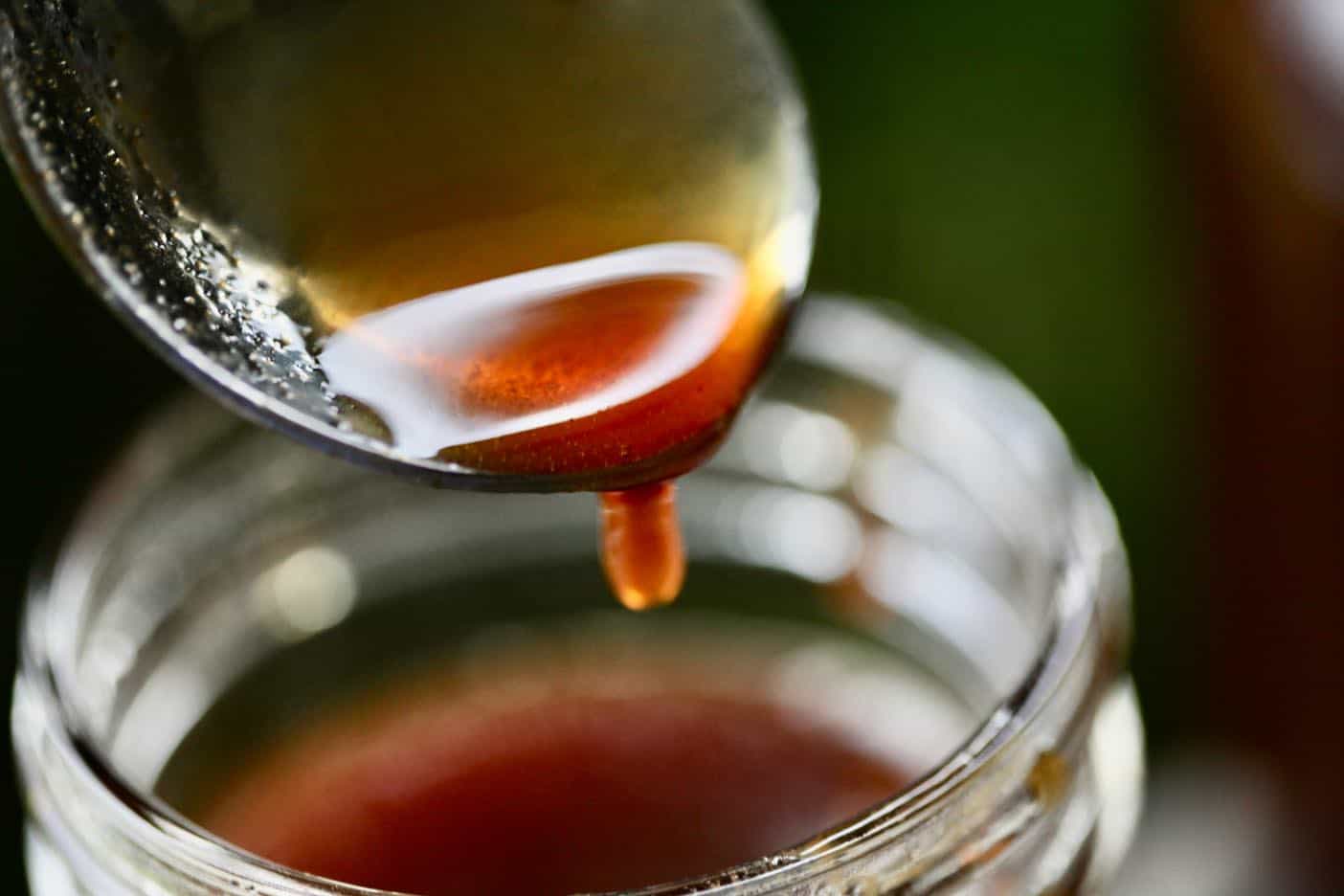 Apple Cider Syrup Uses
Alternative To Syrup
There are many ways to use this scrumptious single ingredient syrup, and you can certainly use it on more than just pancakes and waffles, although it is our new replacement for pancake syrup.
You can use it so many ways, and it's so delicious for fall. This is a great syrup with multiple uses.
It's a great alternative to traditional maple syrup.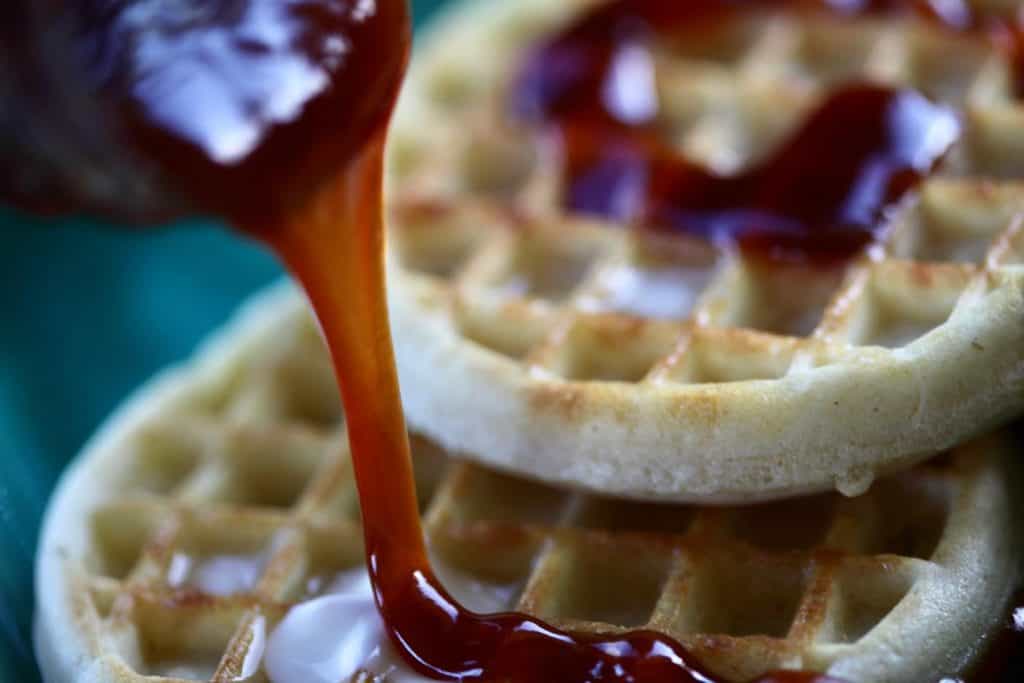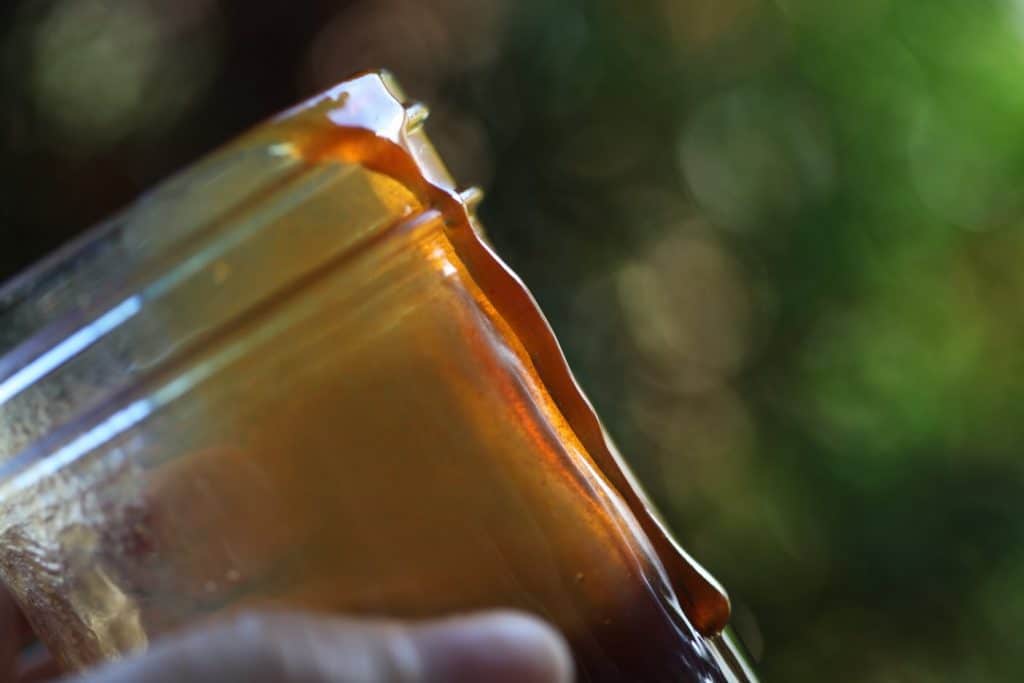 You can drizzle it over french toast or vanilla ice cream.
Add Apple Cider Syrup To Baking
This thick apple syrup is great to add to all of your apple dishes, including apple crisp and apple pie.
Adding homemade apple cider syrup to apple recipes will enhance that delicious apple flavour. It does wonderful things for baking by ramping up the flavour when added to different recipes, and it is an amazing secret ingredient.
Add Apple Cider Syrup To Drinks
Add it to drink recipes for a burst of apple flavour.
You can reconstitute apple cider syrup by adding a tablespoon of syrup to a cup of hot water. The syrup reconstitutes very easily as you mix it with a spoon.
This easy syrup can be used to make a hot tea or a cold spritzer. Just add a tablespoon of the syrup to a hot or cold drink, or add it to some soda water for a sparkling apple drink.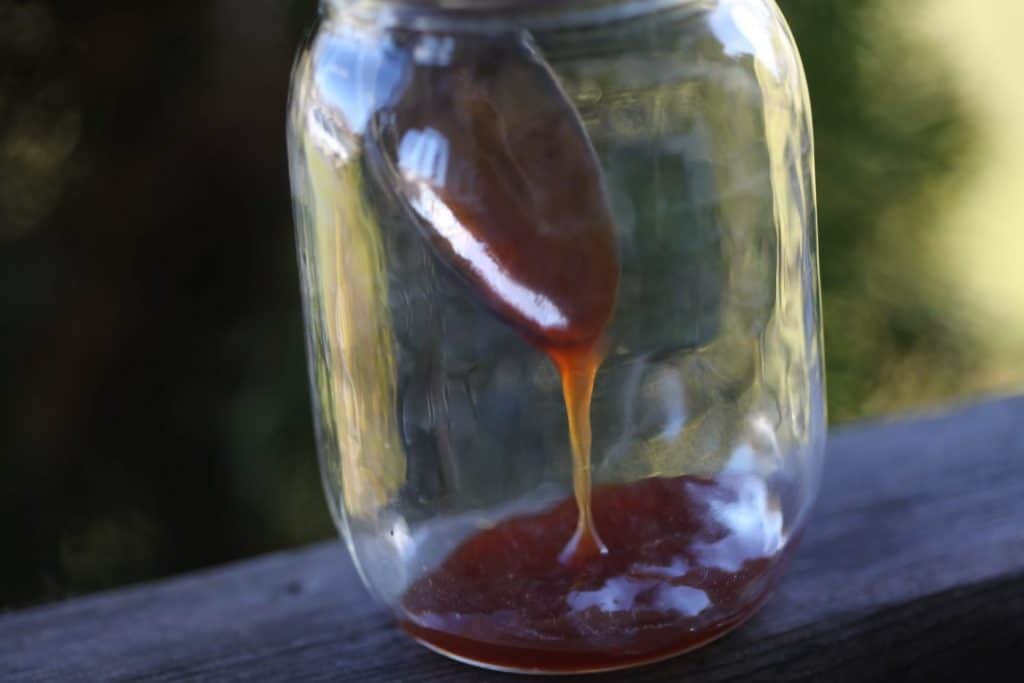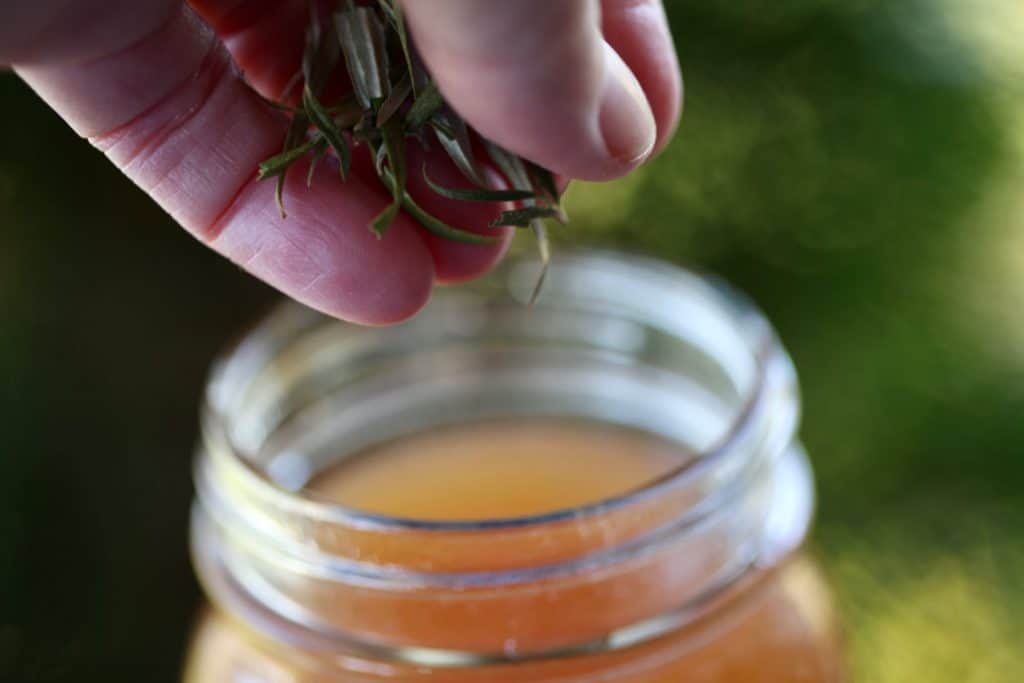 I added three tablespoons of the syrup to two cups of boiling water, along with Sea buckthorn leaves for a delicious sweet cider tea. The drink was very comforting, and the perfect combination of flavours.
Add Apple Cider Syrup To Other Recipes
Add apple cider syrup to other recipes such as chicken recipes, baked beans or barbecue sauce. The list is endless.
Try These Recipes With Apple Cider Syrup:
Cranberry Raison Oatmeal Cookies
Delicious and versatile, apple cider syrup keeps a long time in the fridge. I don't think this will be an issue at our house however, as ours is disappearing pretty fast.
It's a wonderful thick and pourable syrup, and a perfect taste for fall or any holiday season. I can see a new tradition starting in our family, one that involves making apple cider syrup and sharing the joy with family and friends.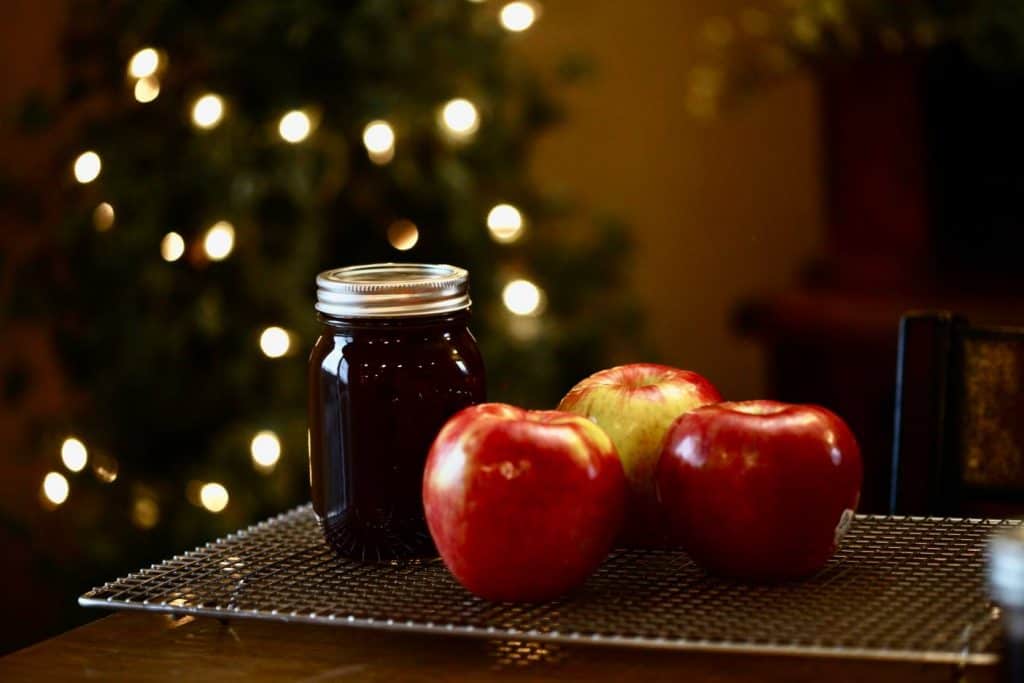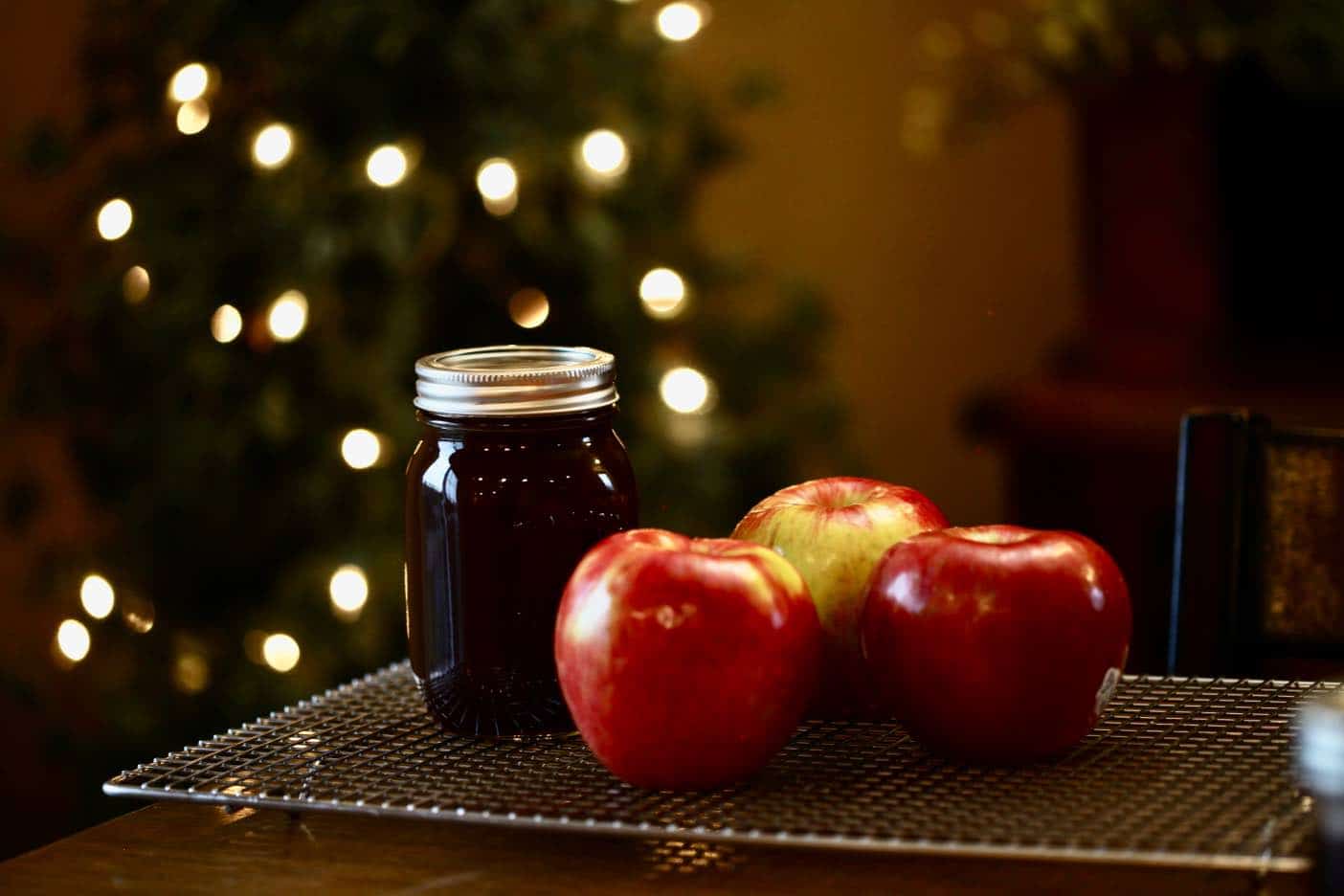 Have you tried this apple cider syrup recipe, or a similar one? Be sure to leave a comment below to share your experience.
OTHER POSTS YOU MAY LIKE:
PIN IT FOR LATER!