Last updated on October 22nd, 2023 at 09:35 pm
The sweet delicious taste of a ripe wild strawberry always brings me back to simpler times. Imagine my surprise when I found them growing right in my garden. Rather than weeding them, I allowed them to grow on with great success resulting in a lovely harvest. Learn how to grow wild strawberries and enjoy this tasty treat right from your own garden.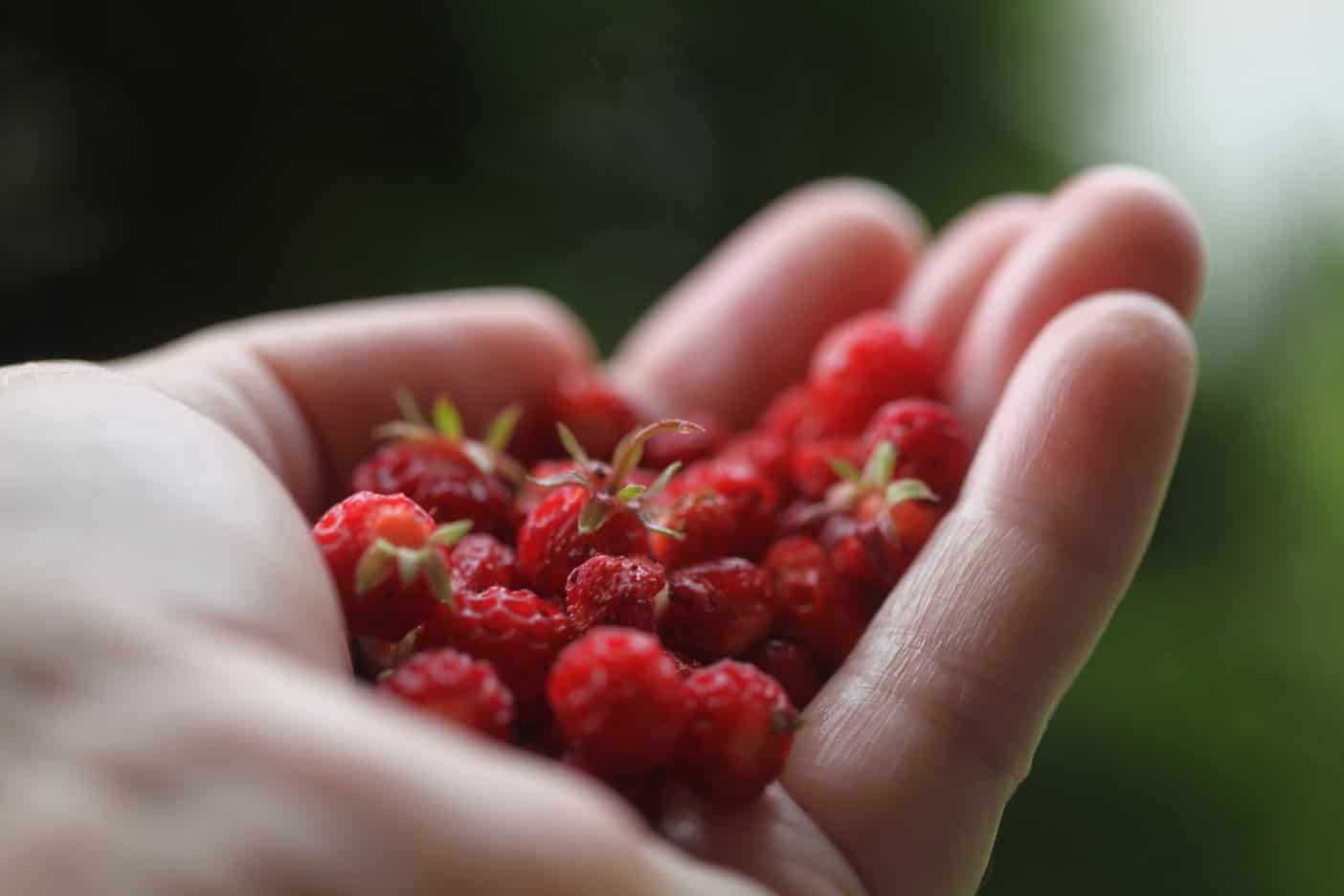 I have been a fan of wild strawberries since my childhood.
We picked wild strawberries when I was a child vacationing with my family. They were growing wild in a large field alongside wildflowers.
Those juicy morsels filled my bowl, and I remember how proud I felt to fill the container.
It certainly took a bit of effort.
Picking wild strawberries can take some time, as the fruit are small and not very prolific. They are however absolutely delicious, and well worth the effort.
What Is A Wild Strawberry?
Wild strawberries are perennial fruit which grow from rhizomatous roots.
These strawberries are much smaller than the domesticated variety that most of us are familiar with.
There are thirty-five species of wild strawberry found throughout the northern hemisphere and South America.
These strawberries are commonly found growing in all provinces in Canada, and throughout the United States.
What Types Of Wild Strawberries Are Commonly Found?
The two most common species are Fragaria Vesca, also known as the alpine strawberry, and Fragaria Virginiana, also known as wild strawberry.
They are both considered to be wild strawberries.
How To Differentiate Between Fragaria Vesca and Fragaria Virginiana
You can easily differentiate between the two species by observing the following characteristics:
1. Difference Between The Leaves
The three lobed leaves of wild strawberries have toothy edges.
If you observe the leaves at the very tip of each lobe, you will find the distinguishing characteristic between these two species.
The toothy tip at the end of Fragaria virginiana will be shorter than the tips on either side.
The toothy tip at the end of Fragaria vesca will be longer than the tips on either side.
2. Difference Between The Fruit
The fruit on wild strawberries are small and most often red, although some species have lighter fruit.
The berries on Fragaria virginiana have seeds that are sunken, and the stems on which the berries are found are shorter than the leaves. The fruit are therefore found under the leaves.
The berries on Fragaria vesca have seeds that are on the surface of the fruit, and the stems on which the berries grow are taller than the leaves. The berries are found protruding through and above the leaves.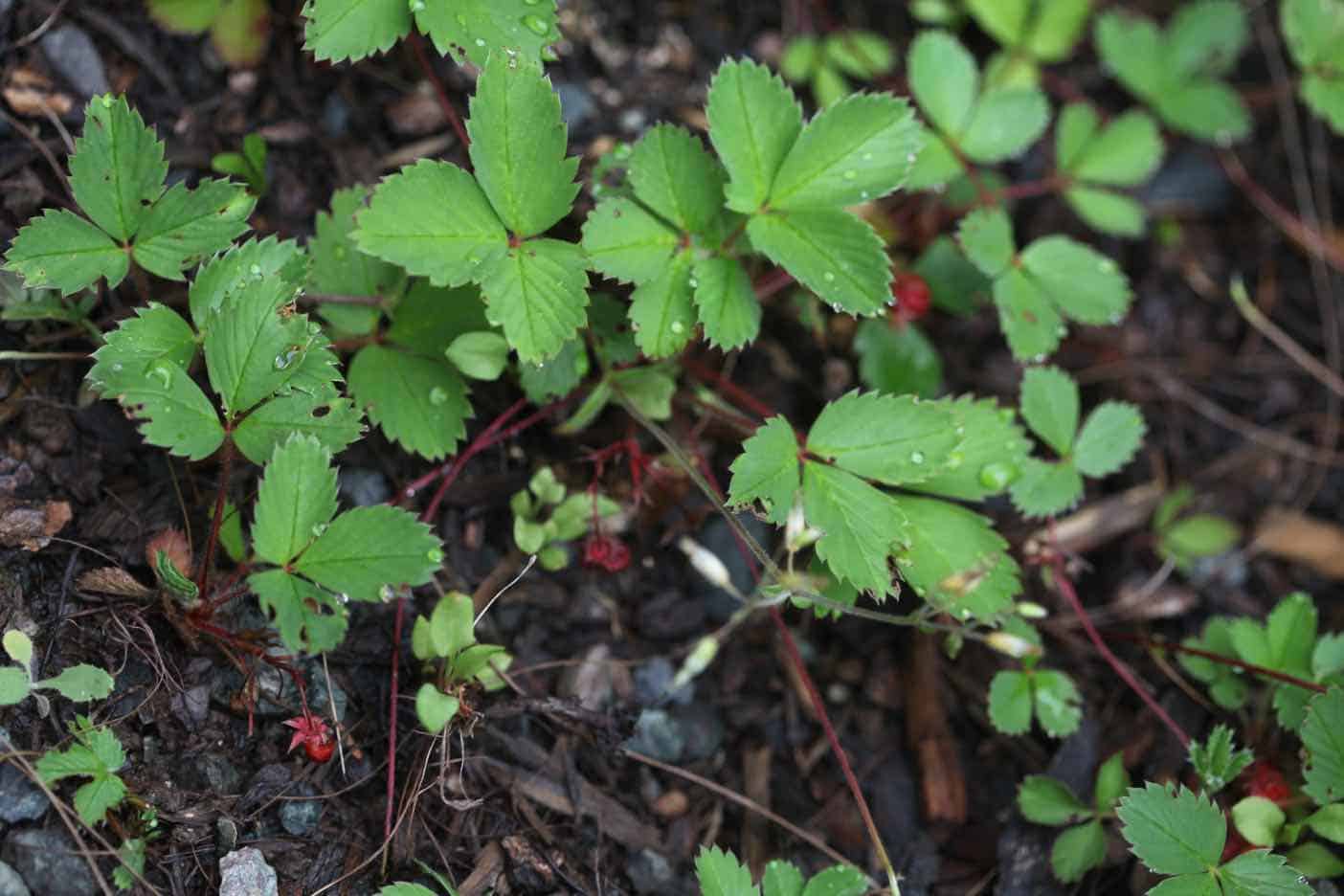 Wild Strawberry Ground Cover
Wild strawberry can be grown as a ground cover, and is an excellent plant for hard to grow areas such as under trees.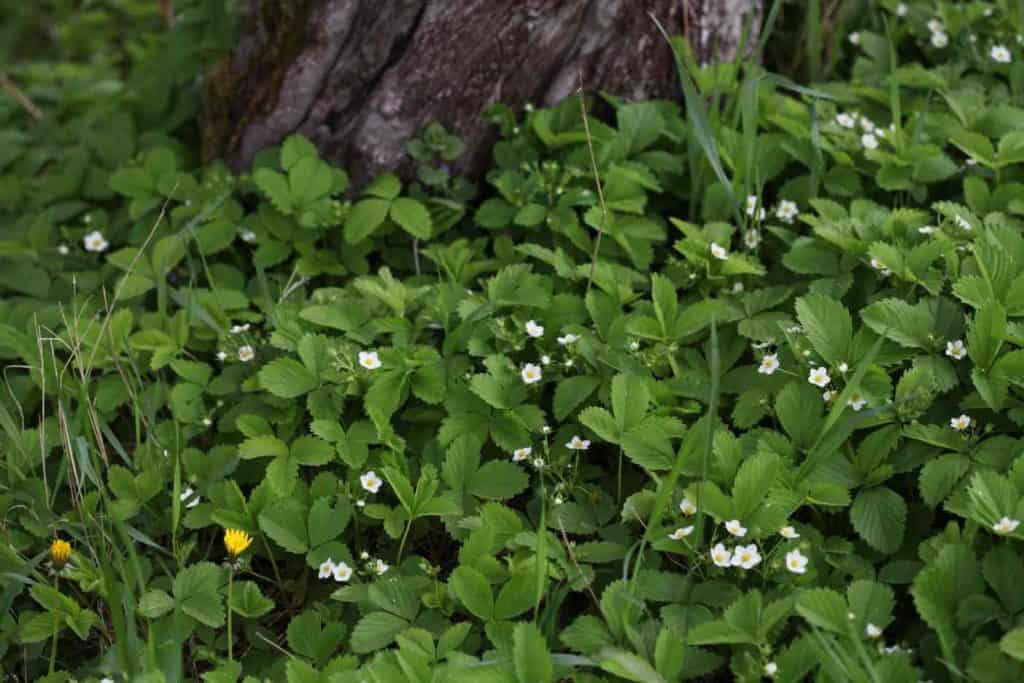 The plants often spread by runners and will fill in the bare spots easily. These plants grow well in shade.
If growing in shade you may not get many strawberry fruit, however the leaves will look lovely and form a nice green patch of plants.
How Do You Grow Wild Strawberries?
Wild strawberries grow wild.
However you can dig up wild strawberry plants and replant them in an area where you would like them to grow.
It is also possible to purchase wild strawberry seeds and propagate them by growing them from seed. If you go this route you will most likely have a greater variety of wild strawberries to choose from.
1. Transplanting
How To Transplant Wild Strawberries
Our wild strawberries were interspersed among the daylilies in a partial shade garden.
These plants were always weeded out of the garden until last year when we decided to let them grow. They grew freely and flourished, and we had a nice little treat of wild strawberries.
This year they have multipled even more.
The type that we have in our garden, Fragaria virginiana, spreads by rhizomes as well as runners.
Transplanting to another area was something that we planned to do with these plants, to give them more space, and even better growing conditions.
Here's the process for transplanting:
Dig up the wild strawberry from the existing location.
Make sure that you get lots of roots at the base of the plant. Ours were growing fairly superficially, and growing on top of a cedar mulch, so were very easy just to pull out.
Alternately and preferably, dig around each plant with a shovel and remove from the soil.
Find a location with good soil and in full sun or partial shade.
The plants will even grow in full shade, however will not produce as many berries, if any at all.
Dig a hole in the new location and plant at the same level that they were previously growing. The plants tend to dislike the base of the rootball covered over, so plant at the same depth.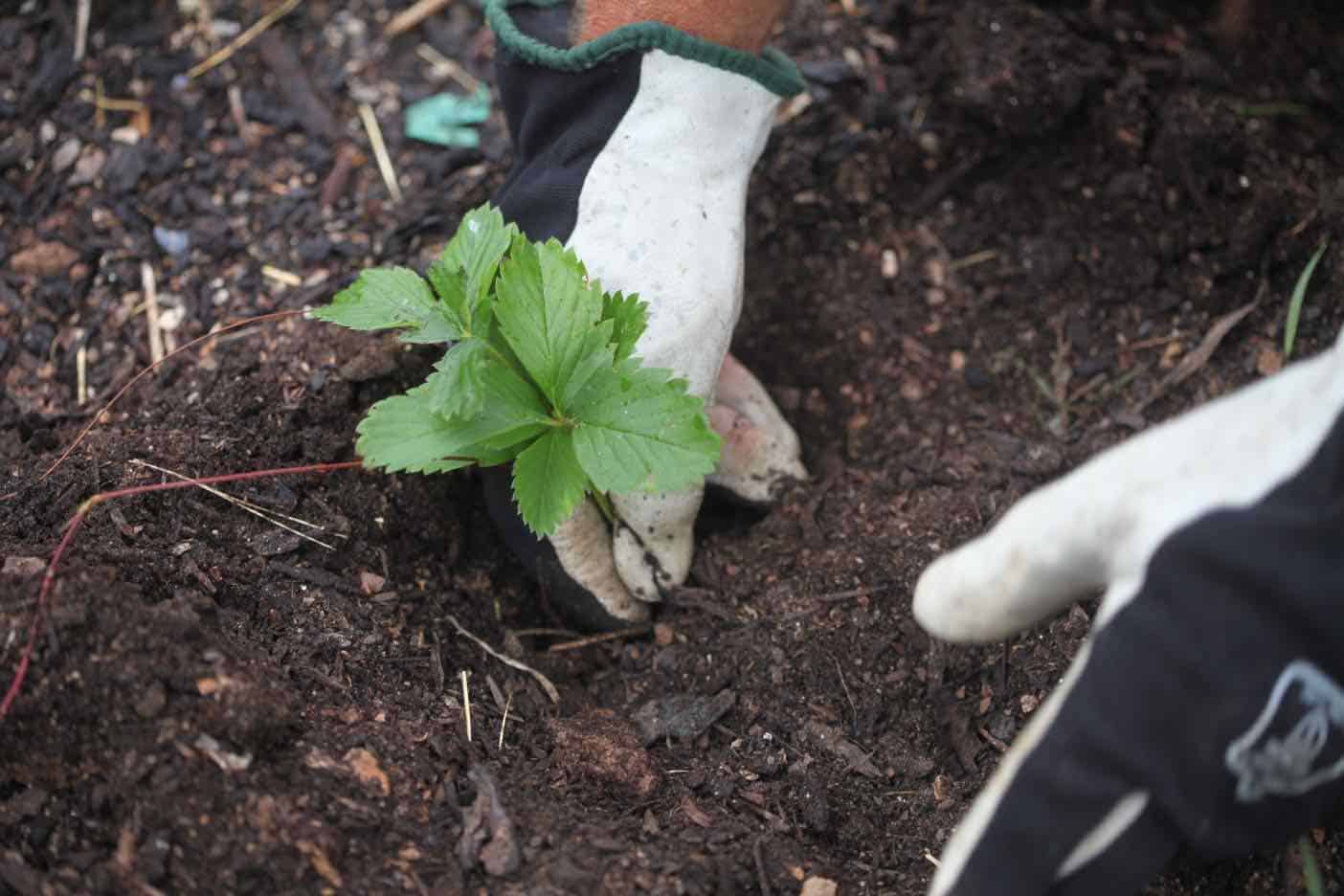 Water in, and you are good to go.
As well, it's a good idea to cut the runners off when first establishing your plants so that the energy will be directed to the roots for growth.
2. Propagating From Runners
Propagating from runners is an easy way to increase your wild strawberry plants.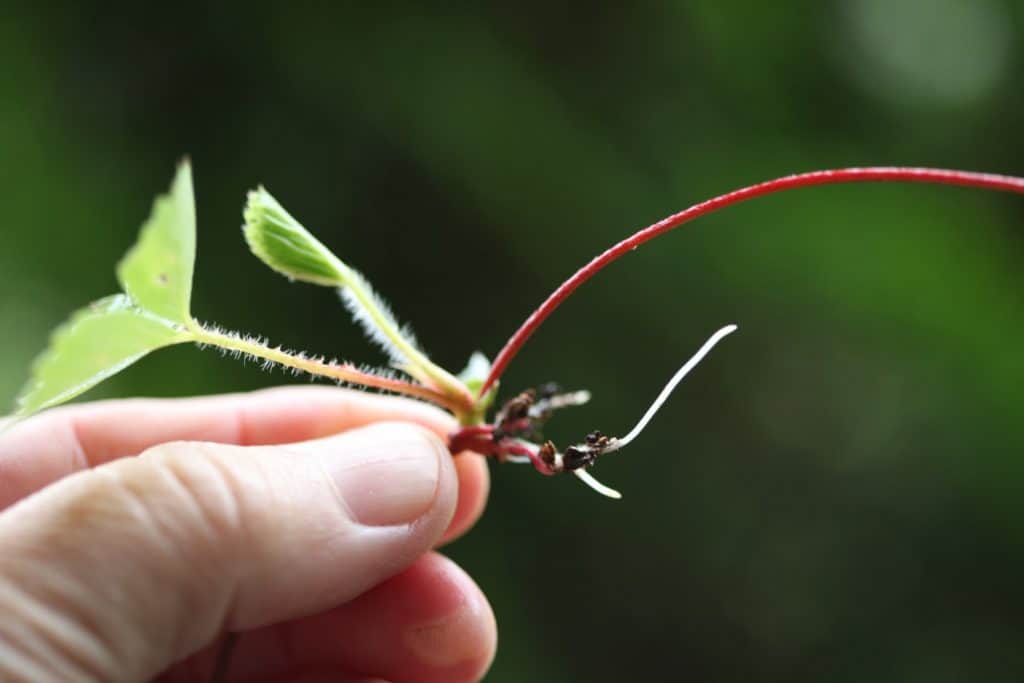 Not all species will have runners. The plants that we have growing in our garden, Fragaria virginiana, have prolific runners.
Wild strawberry runners will develop tiny plants which are clones of the mother plant. These little plants will start to grow roots while still on the runners, and will root right into the soil.
To encourage rooting you can pin down the plantlet on either side of the runner to force contact with the soil.
It will tend to happen naturally anyway and we just let the plants root on their own.
They are easy to pick and replant. Just pull them up, cut off the runner on either side, and replant.
You can plant them right into the garden, transplant them to a new location, or pot them up to grow on until you are ready to plant them.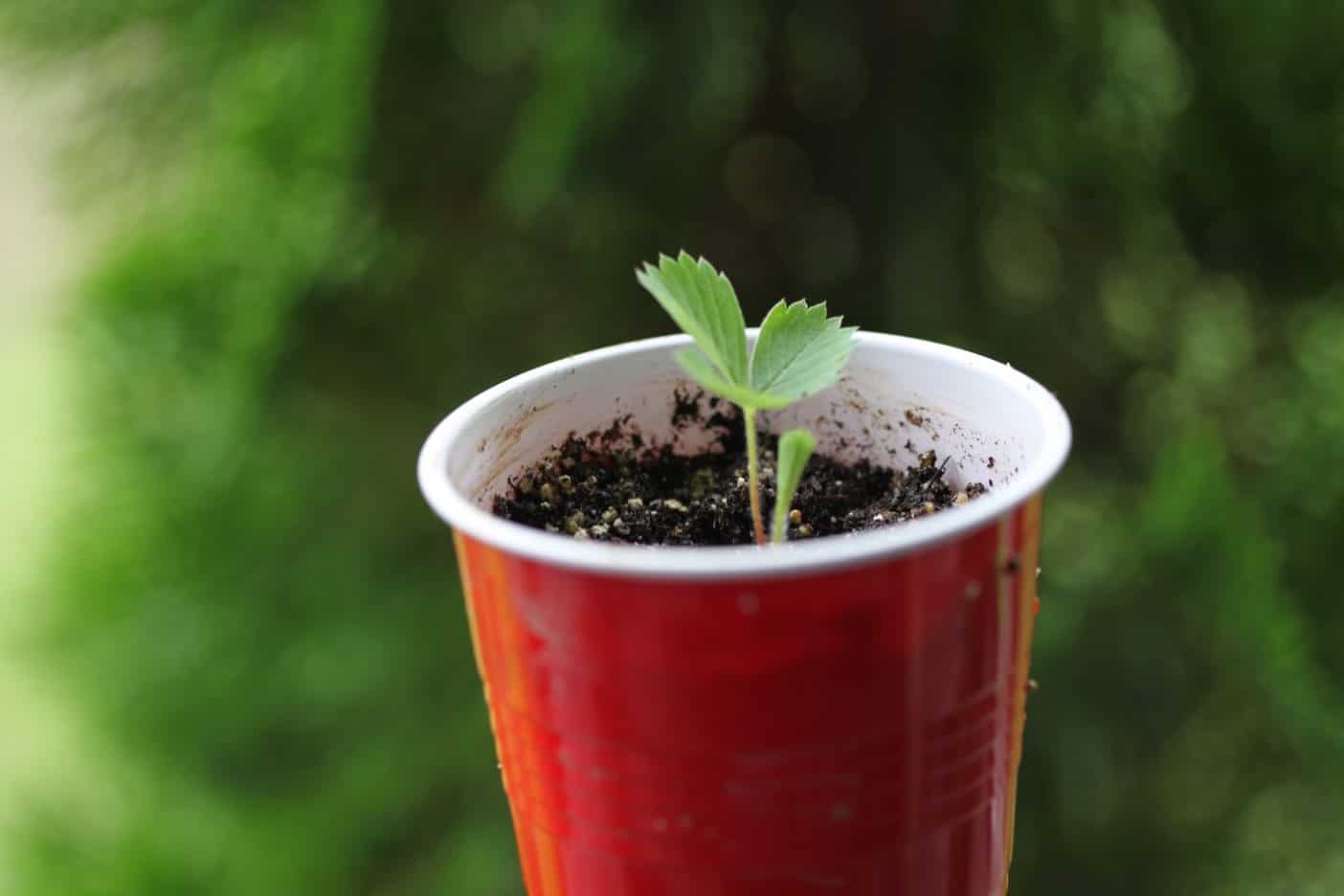 3. Planting From Seed
Wild strawberry plants are often propagated from seed in the wild. The ripe strawberries that are not eaten by birds or other critters will eventually decompose on the plant leaving the seeds behind.
Even if the birds do eat them, their droppings can contain some seed and these seeds can be relocated to other areas as the birds travel.
Sourcing Seed
As a gardener you can save some seed from the wild strawberries that you have picked. You can also purchase seed which is another great option to increase your variety of plants.
If saving your own seed make sure that the fruit has over ripened and is starting to break down.
This way you are more likely to have mature seeds.
I took some overripe strawberries from the garden that I hadn't gotten to on time. They were a bit squishy and falling apart.
I placed them in a bowl of water and broke up the fruit even further. The mature seeds fell to the bottom of the bowl.
The mature seeds were much darker than the seeds on the just ripe fruit.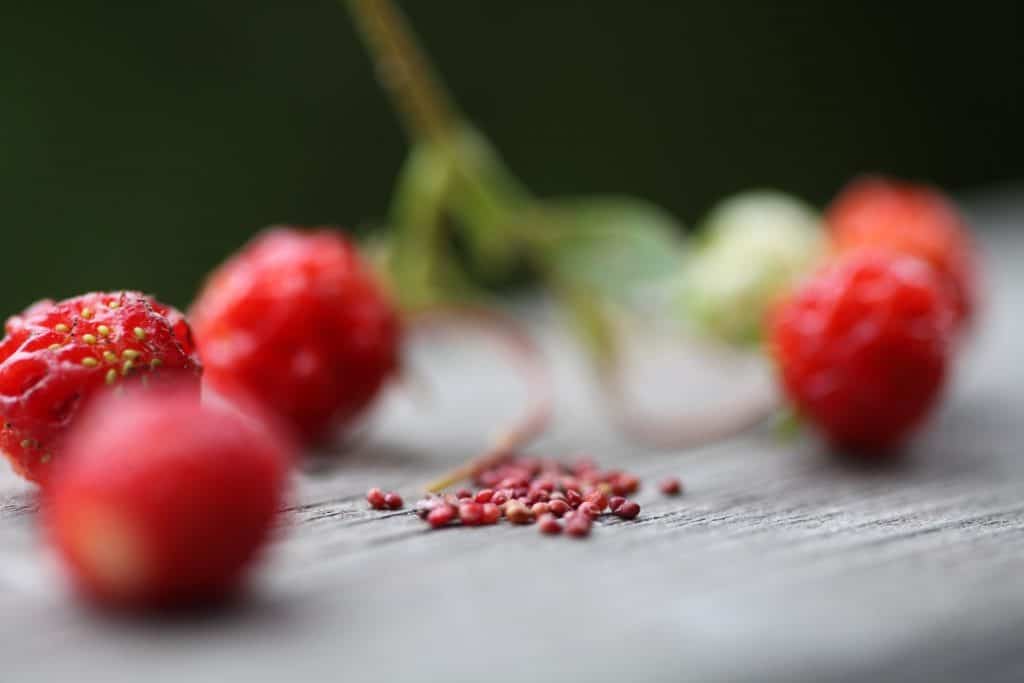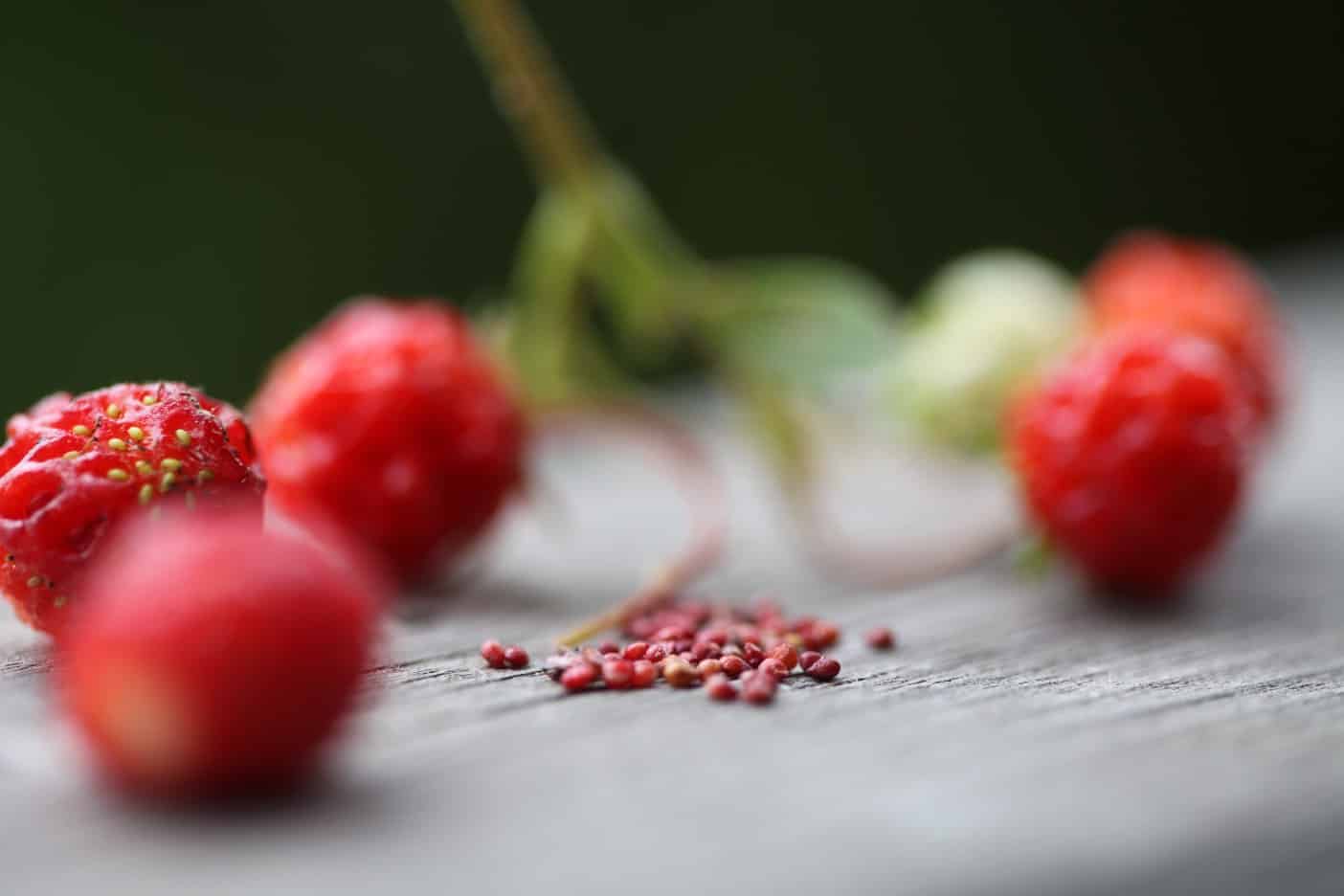 For successful germination of wild strawberry seeds, it is recommended to give them a period of cold stratification for at least one month . You can do this by simply placing them in a baggie and putting them in the fridge for the stratification period.
Adding some moist vermiculite to the bag is also a great option.
After the seeds have been stratified they are ready to plant.
If you plant them indoors in winter, they may be mature enough to produce some fruit by the summer.
When planting the wild strawberry seeds, sprinkle them on top of the soil and press down.
Germination Of Wild Strawberry Seeds
Keep the soil moist during the germination process, and don't let it dry out. You can spray mist or bottom water your trays.
It is handy to have a lid covering the planting tray to keep the moisture in during germination, although this is not necessary.
The seedlings should germinate within several weeks to a month.
Do Wild Strawberries Come Back Every Year?
Wild strawberries are perennial herbs and should return year after year if grown in the right growing conditions.
Where Do Wild Strawberries Grow?
Wild strawberries like to grow on hillsides and under trees. They tend to grow in the shade, although in shadier areas have less fruit production.
They like to grow along edges, and you will find them creeping along edges of gardens or along walkways.
Sometimes you will find them growing in fields, or even in the grass of your lawn.
Wild strawberries are very common, and if you look closely you will most likely find them!
How To Identify Wild Strawberries
Wild strawberries can easily be identified by their three lobed leaves and five petaled white blossoms.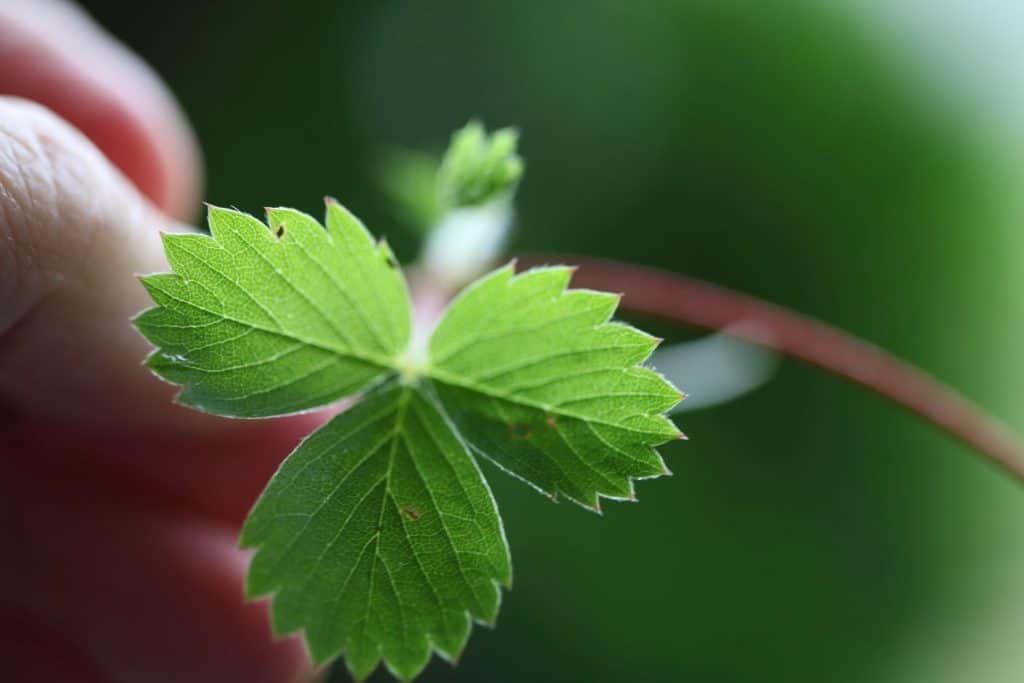 It's best to learn to identify from the leaves and the flowers, as sometimes the strawberries are not even visible.
Sometimes you will not even be able to see the strawberries unless you lift the leaves up. That is the case for the wild strawberries growing in our garden.
This species has fruit that do not extend beyond the leaves, and we have to hold back the leaves to look below to discover what is growing.
How To Find Wild Strawberries
You can forage for wild strawberries when you are anywhere outside in the warmer seasons.
Look for the identifying leaves and flowers of wild strawberries to find these plants.
Wild Strawberry Flower
The wild strawberry flower is a five petalled white blossom with a yellow centre. Each plant produces multiple flowers, which grow in clusters at the top of a stem.
The flowers are approximately an inch in diameter, and poke up through the leaves for fertilization.
Some species of wild strawberry will produce a cluster that will remain above the leaves after fertilization and berry formation.
In other species, such as Fragaria virginiana , the flower cluster will disappear below the leaves with berry formation.
How Big Do Wild Strawberries Get?
Wild strawberries are tiny fruit that grow to be about one half inch in diameter. You have to pick quite a few to be able to use them in baking or preserving. The different varieties may have slightly different sizes and shapes ( some are rounder, some are more oval-shaped), however all are small, and miniature versions of the domestic strawberry.
Are Wild Strawberries Safe To Eat?
Consider the growing area before picking and eating wild strawberries. Wild strawberries are delightful edible fruit, however may be growing in an area that was treated with chemicals, or exposed to animal waste, and therefore should not be eaten from those areas.
For example, if you find wild strawberries growing on your lawn, and you live downhill from a neighbour who treats his lawn with herbicides for weed control, it may not be safe to eat anything growing in this area.
If grown in a safe area, wild strawberries are not only safe to eat, but they are also highly nutritious.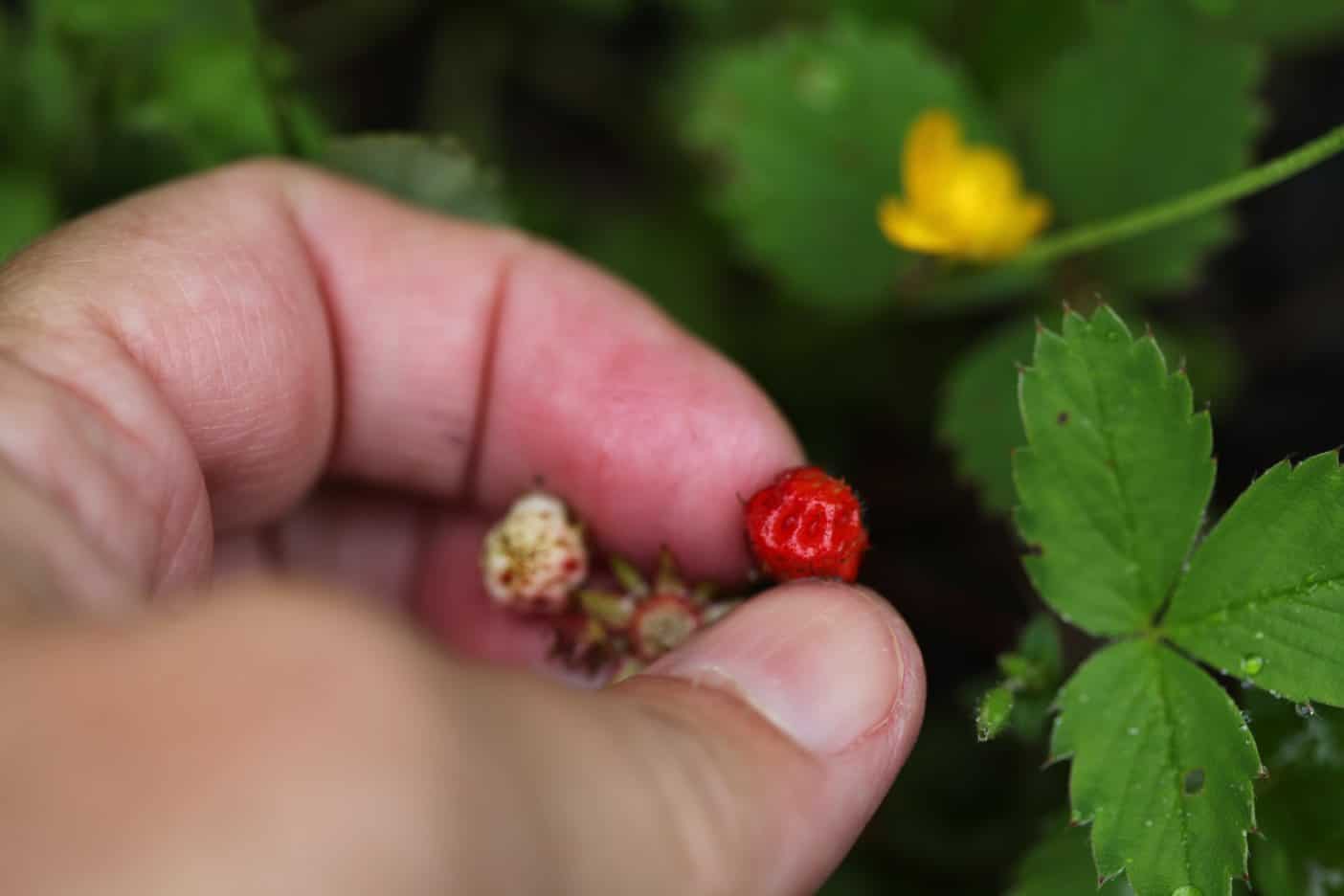 Can You Eat The Wild Strawberries That Grow In Your Yard?
If the wild strawberries that are growing in your yard are free of chemicals, and not growing anywhere there is animal waste, they will be good to eat.
They are delicious little treats to pop into your mouth whenever you find them. I always think of them as unexpected treasures.
What Is The Difference Between Wild Strawberries And Strawberries?
Here are some differences between wild strawberries and domestic strawberries:
Wild strawberries are species plants.
Domestic strawberries are actually hybrids rather than species, bred for size and flavour.
The fruit produced by wild strawberry plants are much smaller than domestic strawberries.
Although they taste very similar I find the flavour of wild strawberries more intense and flavourful.
You will not likely find wild strawberries at your local grocery store, although domestic strawberries will be there when they are in season.
Wild strawberries are not as prolific as domestic strawberries, and it will take a bit of effort just to fill a small bowl.
The shelf life of wild strawberries is not very long, and they are best if used or eaten immediately after picking. Domestic strawberries will last longer due to their size.
Wild strawberries are jam packed with vitamins, as are domestic strawberries. They are both high in vitamins A and C.
When Do Wild Strawberries Ripen?
Some wild strawberries are everbearing, meaning that they will produce some fruit throughout the season, although generally produce the most earlier in the season.
The plants in our garden were producing fruit within one month of flower production.
Are Wild Strawberries Invasive?
Wild strawberries are not listed as invasive.
In fact the USDA has recommended wild strawberries, Fragaria spp., as a plant to include in planning a wildlife habitat in your own backyard.
That being said, you may not want uninvited wild strawberries growing in your garden.
Wild strawberries grow by their rhizomatous root system as well as their runners (if they are a variety that has runners). They also grow by seed drop.
They can spread and multiply fairly easily.
If you are trying to remove them from your garden you can easily pull them out with a good weeding. With persistence you will have success.
Have you grown wild strawberries, or found them growing in your garden?
Be sure to leave a comment below to let us know your experience!
Other Posts You May Like:
HOW TO MAKE CONCRETE STEPPING STONES WITH LEAVES
WHERE DOES RHUBARB GROW BEST IN THE GARDEN?
HOW TO USE FRESH CHIVES FROM THE GARDEN
PIN IT FOR LATER!