Last updated on March 27th, 2023 at 08:20 pm
Birdseed ornaments are easy to make, and a great fall and winter project for feeding your feathered friends. They are also really cute, and make a thoughtful DIY gift for any bird lovers in your life. Learn how to make birdseed ornaments, and fill your trees with delectable treats for the wild birds.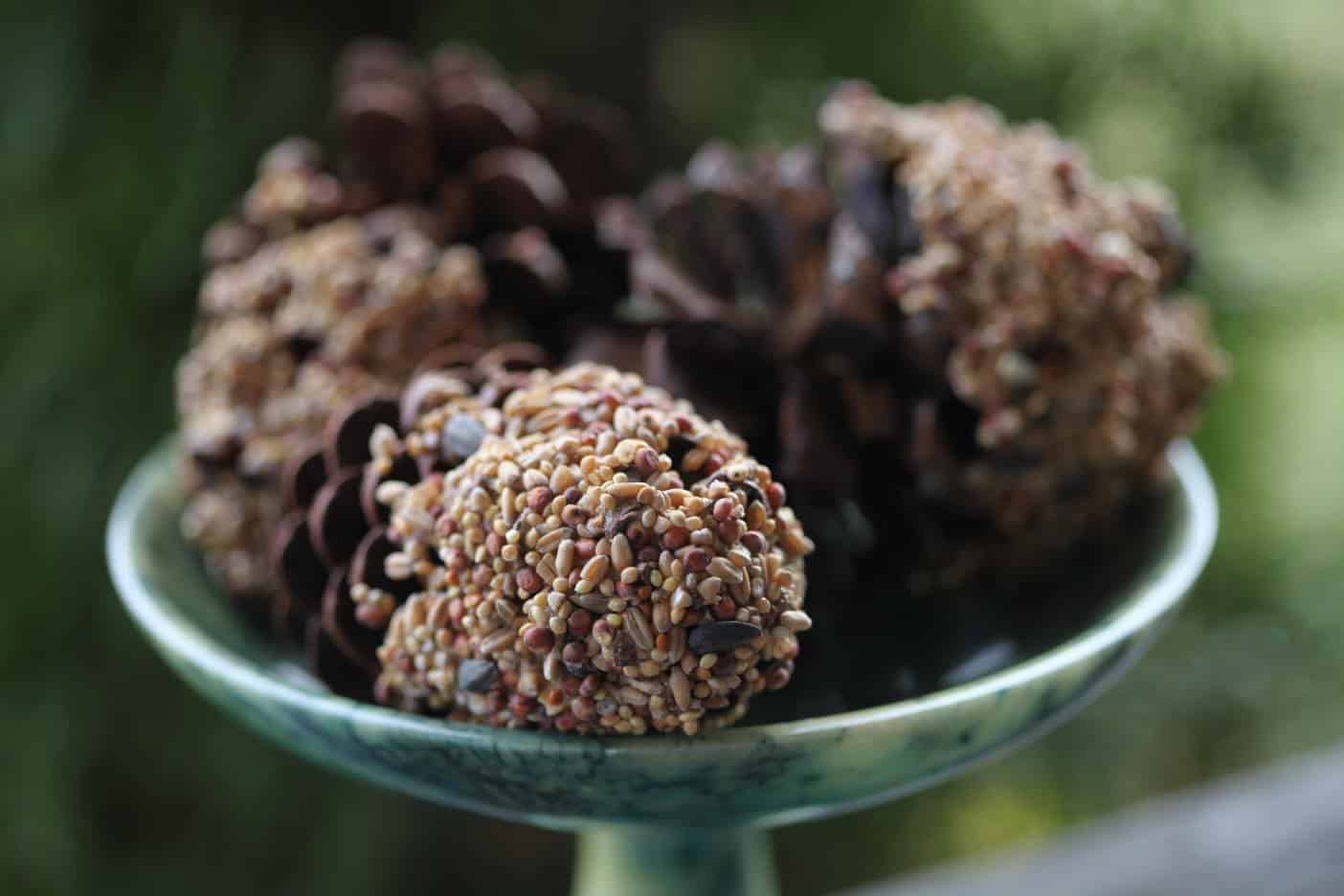 How Do You Make Ornaments To Feed The Birds?
Ornaments to feed the birds are made using different combinations of birdseed, along with other ingredients such as gelatin, flour, corn syrup or honey. These ingredients are used to stick the birdseed together. When combined with water, the mixture can then be pressed into a shape. While still moist, be sure to insert a string or ribbon, to enable the ornament to be hung from a tree branch after it is completely dry.
Making birdseed ornaments is a fun and easy project.
The ornaments have a simple and natural appearance, and I think that they look really festive. They would make a great gift for friends and family members.
There are lots of different variations of ingredients for birdseed ornaments.
I chose to use birdseed, gelatin, corn syrup and flour.
I was inspired by Laura from Garden Answer on YouTube, and her fabulous Chrismas tree turned birdfeeder video. She made the sweetest combination of ornaments for the birds on a repurposed Christmas tree.
Using natural ingredients such as dried orange slices, fresh cranberries and popcorn, you can adorn any tree in your own backyard with your homemade birdseed ornaments for a wonderful display.
Birdseed ornaments are a delectable treat for hungry birds.
During winter, it's harder for birds who overwinter to find food sources. So share some seed with your feathered friends, and decorate your trees in a festive way all at the same time.
How Do You Stick Birdseed Together?
It's easy to stick birdseed together with ingredients like unflavoured gelatin, corn syrup or honey, and flour.
This combination of ingredients is quite sticky, and when mixed together with the birdseed, holds everything nicely intact. Once your birdseed ornament is fully dried it will be fairly solid, although the seeds are still easily accessible by the birds.
Making this recipe reminds me a bit of making Rice Krispie squares, although you don't have to work as quickly, and the birdseed mix stays moist throughout the whole process.
Because the mixture is sticky, you can imagine how it sticks to your hands and utensils.
Quick Tip For Removing Stickiness:
Use Water.
It's a good idea to have a bowl of water next to you while working with this mixture, especially if you are hand forming any of your ornaments.
Just dip your hands or fingers into the water, and you will not have birdseed stuck to them, and it will remain in place rather than attaching to your fingers.
How To Make Birdseed Ornaments
Homemade bird seed ornaments are fun to make, and can be made at any time of year. You do not have to wait for fall and winter to feed the birds.
Birdseed ornaments can provide food for the birds during any season.
For the holidays I wanted to dress the ornaments up a bit and create a birdseed holiday tree.
The tree will be dressed with several different types of ornaments, including:
birdseed Christmas ornaments
pinecone birdseed ornaments, and
natural birdseed ornaments consisting of a natural ingredient garland.
There are many different variations of recipes for bird seed ornaments.
Here is the birdseed ornament recipe that I used:
Birdseed Christmas Ornaments
For the birdseed Christmas ornaments, I used a recipe containing gelatin, flour and corn syrup, although altered the ingredients by adding a little more fluid when the mixture became thick, and then a little more birdseed to get the right consistency.
I also used less flour than the original recipe called for.
Ingredients:
Wild Birdseed- 8 cups, use a mixture of small seeds and sunflower seeds
Unflavoured Gelatin-2 packets of gelatin
Nonstick Cooking Spray- for muffin tin
Tools:
Bowl- for mixing ingredients
Directions:
In a bowl mix two packages of unflavoured gelatin with one cup of hot water.
Next mix in the six tablespoons of corn syrup. ( You can substitute this for honey if you like ).
Add flour and mix with the gelatin mixture until you get a sticky paste.
Next mix in the eight cups of birdseed, and stir well.
Prepare your cookie pans or muffin tins by spraying with nonstick spray. This will make it easier to remove the ornaments when dry.
Add some birdseed mixture to the muffin tins, filling each hole half way full.
Prepare your hanging string or ribbon by tying the two ends with a small knot. This knot should help prevent the string from pulling out easily from the ornament when it is dry.
Place the knotted end of the string on top of the birdseed in the muffin tin.
Now add the rest of the birdseed mixture to the hole filling to the top.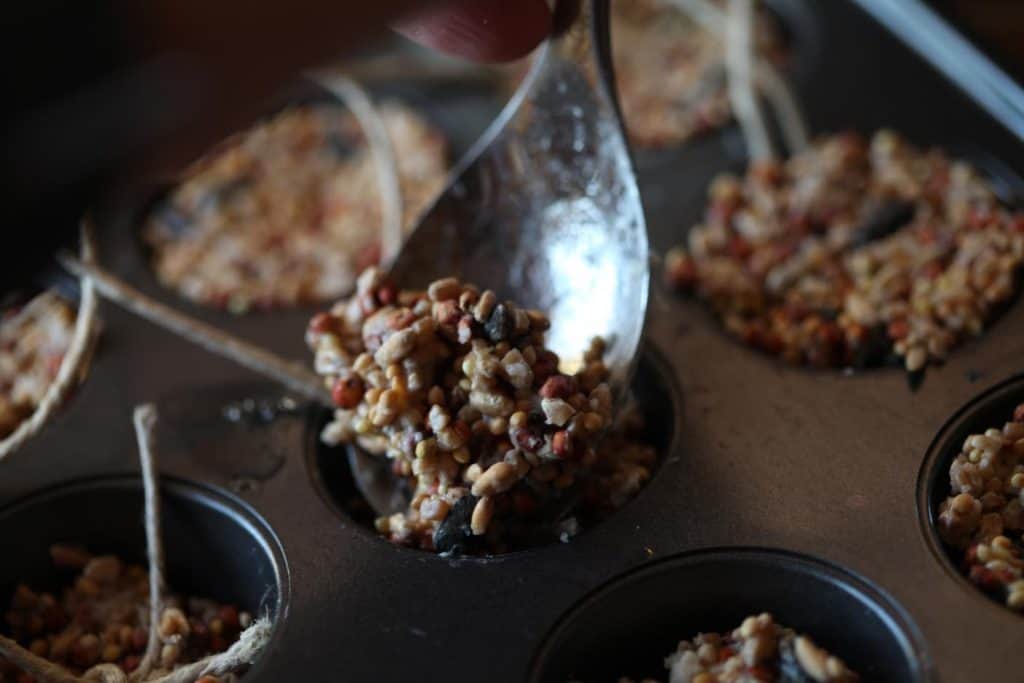 Repeat with each ornament.
Press the seed mixture down firmly in each compartment.
Set aside to dry for up to twenty four hours.
When dry, hang the ornaments outside on the tree branches of your designated tree.
Try Other Ornament Styles
If you have other cookie tins or cookie cutters, try using these as well to make different ornament designs.
Use your favourite cookie cutters. The shape and size of your cookie cutters does not matter.
Spray cookie cutters with nonstick spray, all along the sides, before filling with birdseed.
Press some birdseed mixture firmly into each cookie cutter. Remember to add a piece of twine to allow you to hang the ornament.
I also used a cookie pan with birdhouse cookie molds. Although the fine detail of the molds did not really come out well on the ornaments, the overall shape was still okay.
I also made round ornaments by rolling the birdseed mixture into small balls.
For these I used a skewer to pierce a hole in the top of the ball to insert the string, then squeezed it back up tightly, closing up the hole.
The first time I made birdseed ornaments I did not use cooking spray. This made the ornaments more difficult to remove from the pan, although I did eventually pop them out.
Pinecone Birdseed Ornaments
Pinecone birdseed ornaments are the easiest of this group of ornaments to make. They are a quick and easy ornament, and have minimal mess to clean up.
They also have just a few simple ingredients.
Ingredients:
Materials:
Ribbon, hemp or jute twine
Directions:
Take some peanut butter and add to a bowl.
Add a few tablespoons of rolled oats and stir.
Spread this mixture on the outer surfaces of each pinecone with the back of a spoon, avoiding the top of the pinecone where you will be glueing the twine or ribbon.
Place some birdseed in a bowl.
Roll the peanut butter covered pinecone in the birdseed, coating all surfaces coated with the peanut butter.
Make a hanging loop with your twine or piece of ribbon, and knot the bottom.
Hot glue the ribbon or twine to the top of each ornament.
These ornaments can be hung immediately onto the tree.
Natural Birdseed Ornaments
Make a natural garland out of popcorn, cranberries, and dried orange slices.
Ingredients:
Stale Popcorn ( leave out for several days before stringing )- natural, unsalted and unflavoured
Materials:
Fishing twine for threading
Directions:
String the cranberries, popcorn and dried orange slices on a line of fishing twine.
Make sure to leave enough fishing twine at both ends to tie a loop from which you can affix the garland to the tree.
The style of arrangement of the ingredients is up to the designer (you), but I personally like to layer in sections of odd numbers, such as one, three, five and seven.
For instance you could do five popcorn, three cranberries, one orange, and repeat.
Or try five popcorn, three cranberries, one orange, three cranberries, and repeat.
You can also do all oranges, all cranberries, or all popcorn. Have fun with your design.
Once you are done, drape your tree with the garland for the birds to enjoy.
Is Peanut Butter Safe For Birds?
Peanut butter is a great source of protein for birds, however the stickiness of the peanut butter can be an issue.
The Alaska Department of Fish and Game recommends that if you are using peanut butter for winter feeding birds, consider adding cornmeal, rolled oats or melted animal fat to the peanut butter to make it less sticky.
We used peanut butter on our pinecone birdseed decorations, and mixed in a little rolled oats to the peanut butter before application to the pinecones.
Is Gelatin Okay For Birds?
Unflavoured gelatin is safe for birds to eat.
Gelatin is a natural product.
Read about the birdseed cookies using unflavoured gelatin from Cornel University in their Fun DIY Bird Feeders post.
The Audubon Society also has a recipe containing unflavoured gelatin in their article on Outdoor Holiday Decorations That Double As Delectable Treats For The Birds.
Can Birds Eat Popcorn?
Birds can eat popcorn, however the best popcorn for birds is totally natural, without any butter or salt.
Air popped is best.
If you are making a garland with your popcorn, allow it to age and become stale before stringing it. This will make the threading task so much easier.
How Long Do Homemade Birdseed Ornaments Last?
Birdseed ornaments will last for four to six months if stored correctly.
It's important to keep them dry to prevent moulding.
Always check the condition of your ornaments before hanging out for the birds if they have beed stored for awhile. Discard them if they have become spoiled.
For longevity, the birdseed ornaments should be kept in a fairly dry hanging spot if at all possible.
If they are exposed to the elements, and a lot of rain for instance, the gelatin and corn syrup ornaments will eventually break apart.
We learned this the hard way during a heavy rainfall. Luckily we still have lots more of the ornaments to put out.
Placing out in sub zero temperatures will help them last longer.
Regardless, the birds will still be able to get to the seed if it has fallen to the ground, and will still enjoy the feast.
The pinecone ornaments should hold nicely together regardless of the weather.
How Do You Store Homemade Birdseed Ornaments?
Homemade birdseed should be stored in an airtight container, and can last for months.
The important thing is to keep them dry, or they will be at risk for getting mouldy.
Conclusion
Making homemade birdseed ornaments is easy to do and it's so much fun. It's a great way to feed the wildlife and local birds when food sources are scarce.
DIY birdseed ornaments also make thoughtful and unique homemade gifts for the bird lovers in your life.
This is a great project for kids as well, and a wonderful teaching opportunity.
It can get a bit messy for the kids, as well as for the adults.
Just remember the water tip, and your mess will be significantly reduced.
When all is said and done, and the ornaments are drying, I gather any extra seeds which may have dropped onto the table or come off my hands into the bowl of water.
These will go outdoors as well, sprinkled on our deck railing for some of our feathered friends.
Consider making some birdseed ornaments this holiday season and beyond, and watch the backyard birds enjoy your generous and thoughtful gift of birdseed treats.
RECOMMENDED PRODUCTS FROM THIS POST
This post contains affiliate links, which means I make a small commission at no extra cost to you. See full disclosure on privacy policy here. As an Amazon Associate I earn from qualifying purchases.
Wild Birdseed
Unflavoured Gelatin
Have you ever made birdseed ornaments? Be sure to leave a comment down below to share your experience!
OTHER POSTS YOU MAY LIKE:
PIN IT FOR LATER!