Last updated on November 24th, 2023 at 09:29 pm
Dried orange slices are the perfect simple decorations to add a country touch to your Christmas decor. They can be primitive or elegant, and either way they can make a beautiful addition to your Christmas decorating. Learn how to make dried orange slices for decoration, and add this sweet citrus touch to your holiday decor.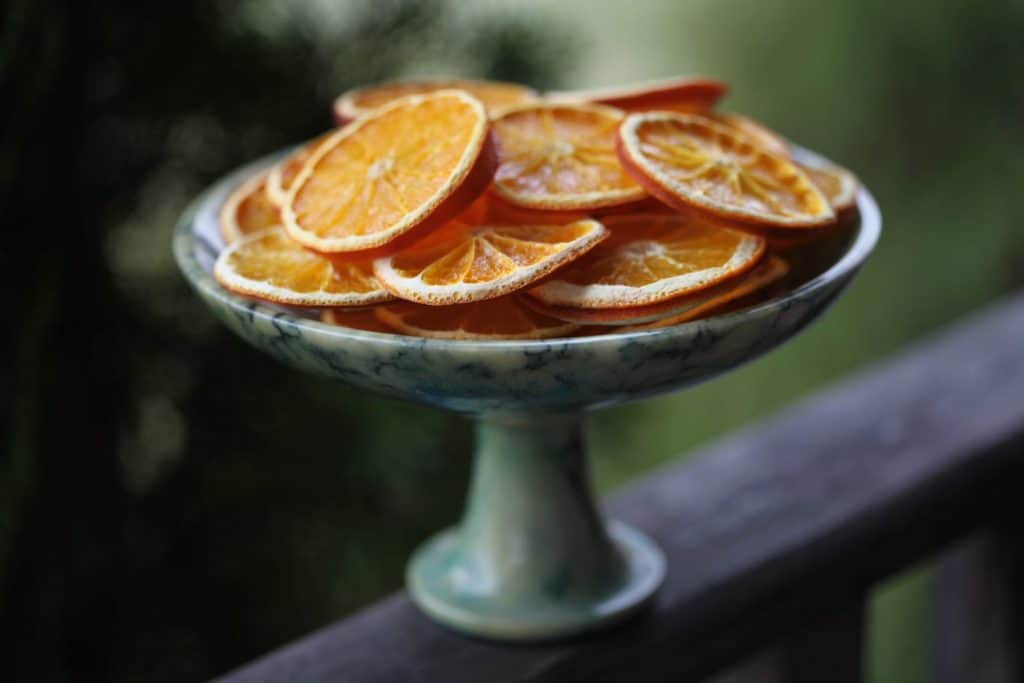 We have been using dried orange slices for a long time in our Christmas decorating.
I love the look of oranges tucked into an evergreen wreath, or as individual pieces hung from the branches of the Christmas tree.
You can string them together to make a beautiful country garland, either all on their own or in combination with other materials, such as wooden beads and evergreen boughs.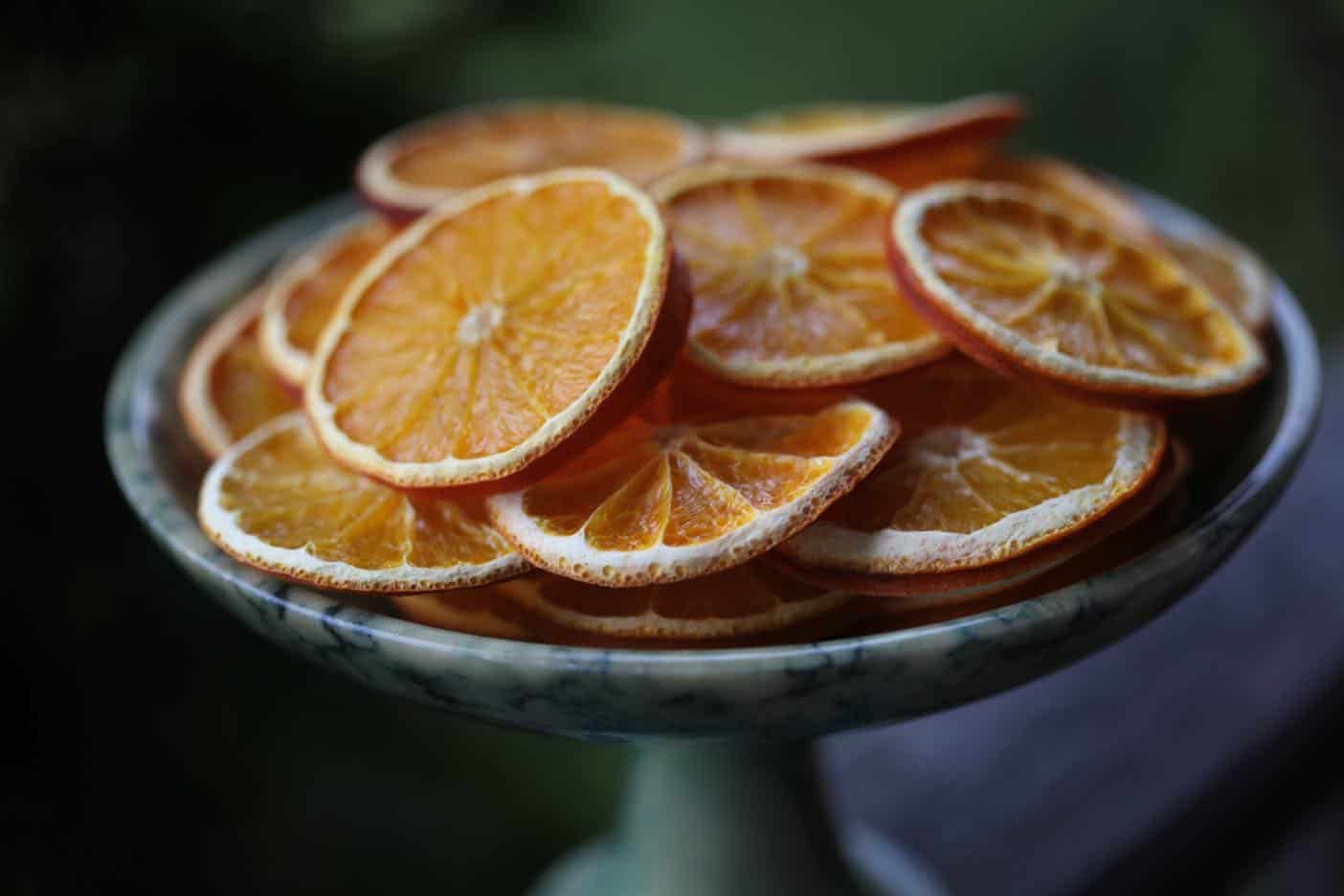 Save Dried Oranges From Year To Year
I often save my orange slices from year to year. They keep very well once dried, and look decorative even once they turn a darker brown with age.
If you are going for a true primitive look, the darker orange slices will fit right in with brown pine cones. They are still pretty on the tree, although the older slices of dehydrated oranges are not as translucent when the light shines through them.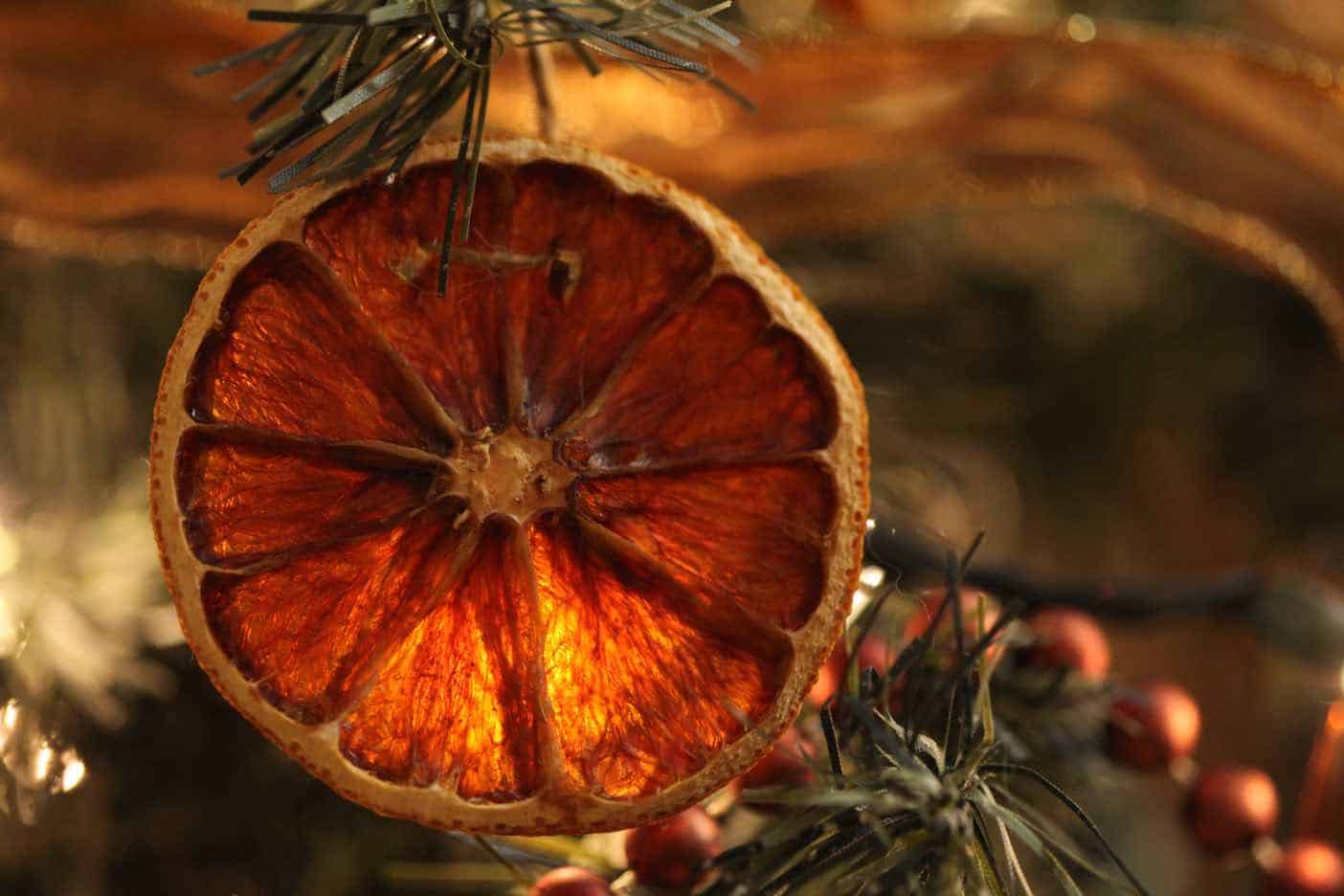 I love the look of freshly dried orange slices, especially on the Christmas tree. When the white lights shine through the orange slices hanging on the tree, they glow like pieces of amber.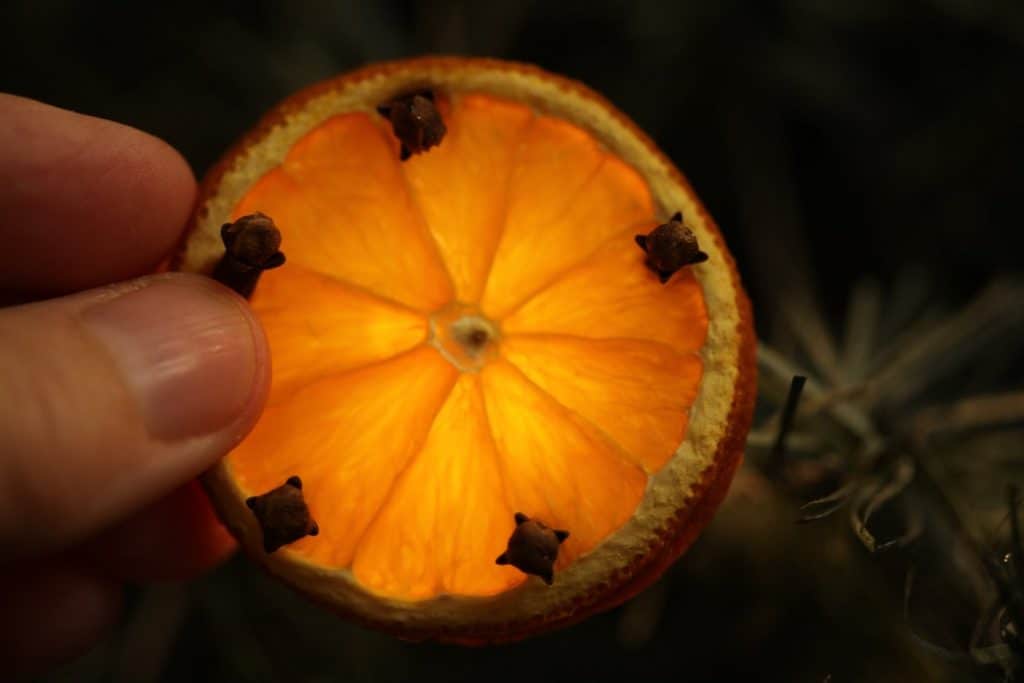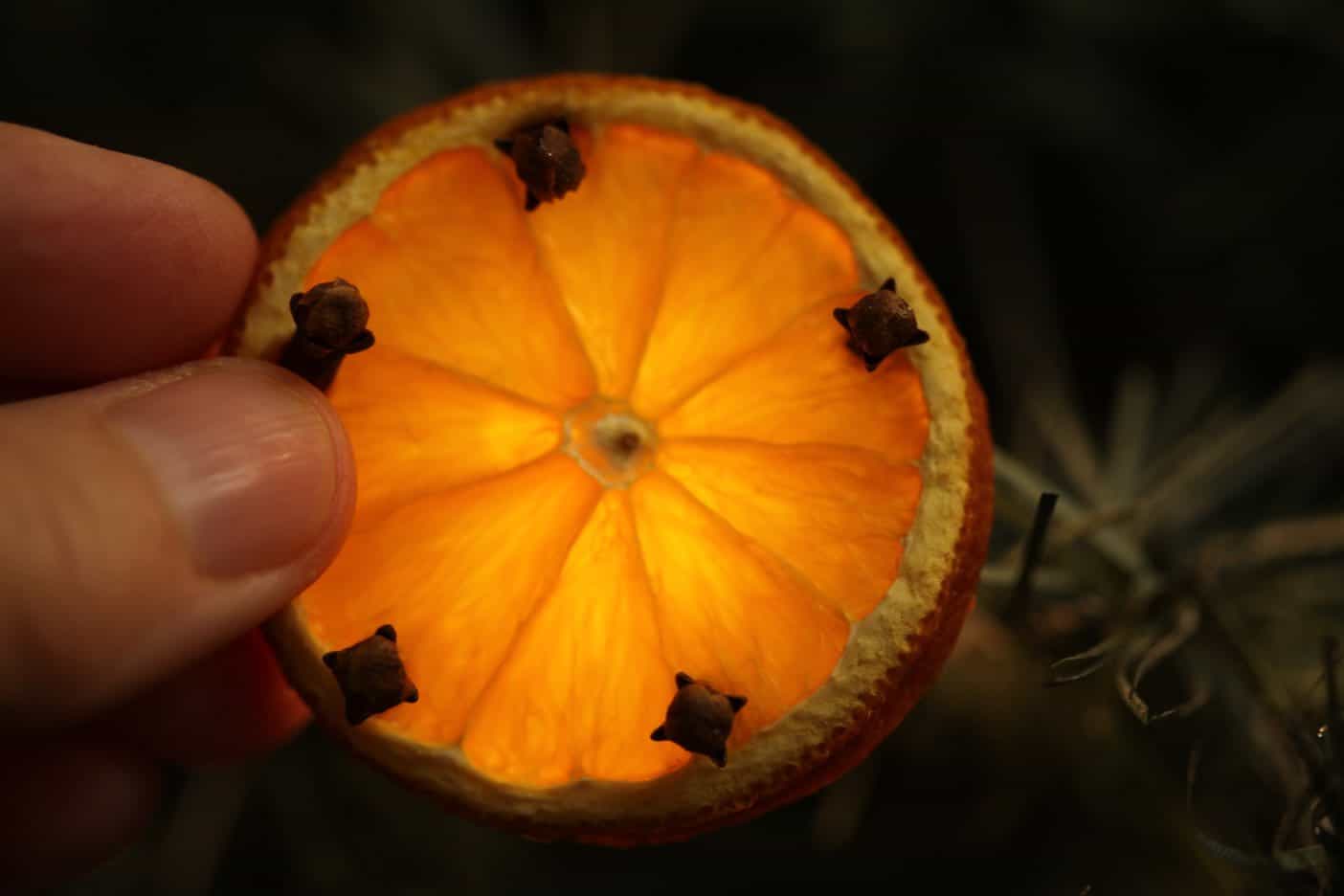 That is why I continue to make them year after year.
Dried orange slices are easy to make. You can use different sizes and different types of oranges.
Blood oranges will give a deep red colouring which is warm and festive. I highly recommend trying your hand at drying these, if you can find some.
Mix With Other Citrus
You can use other types of citrus fruit as well, such as grapefruit, lemons and limes.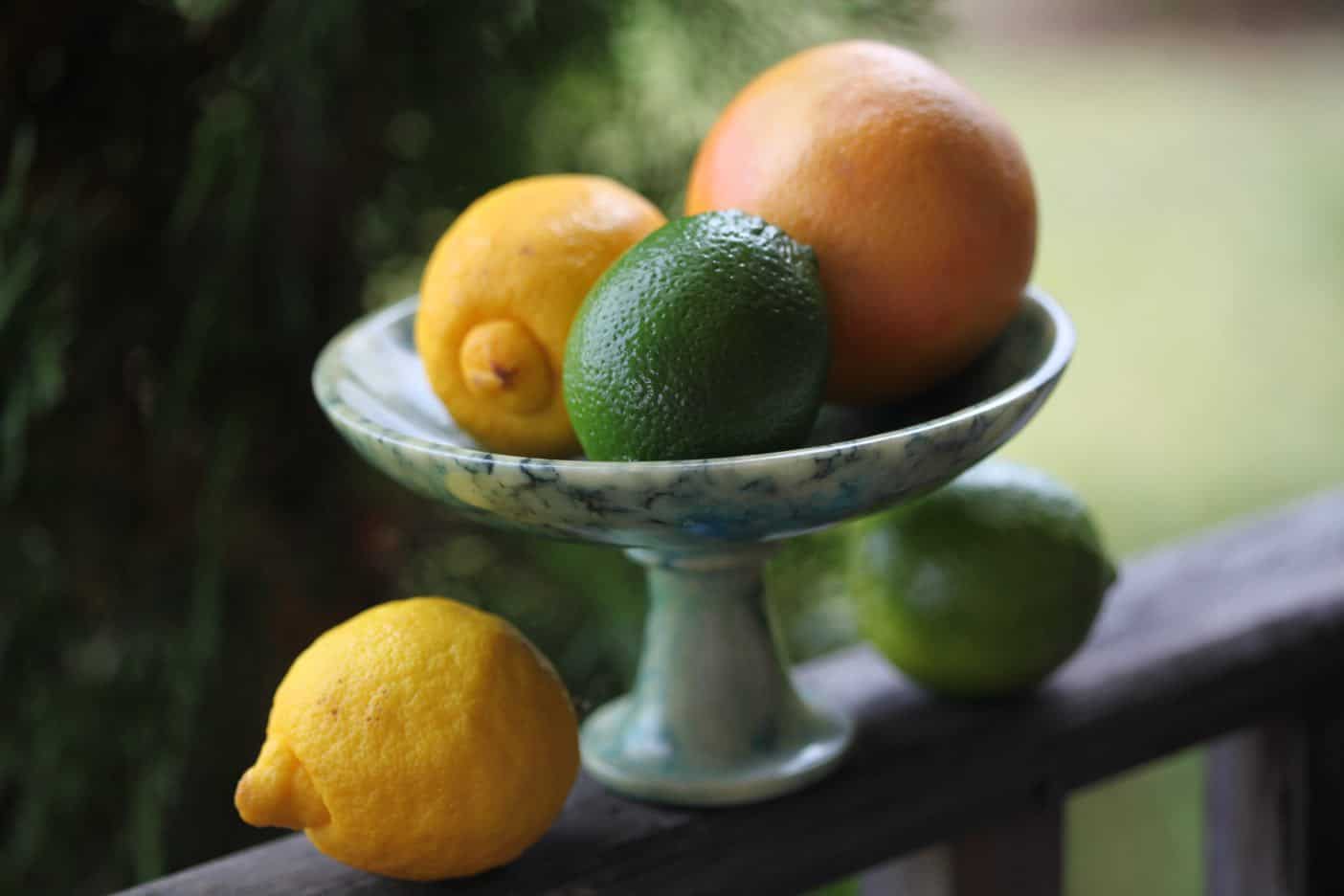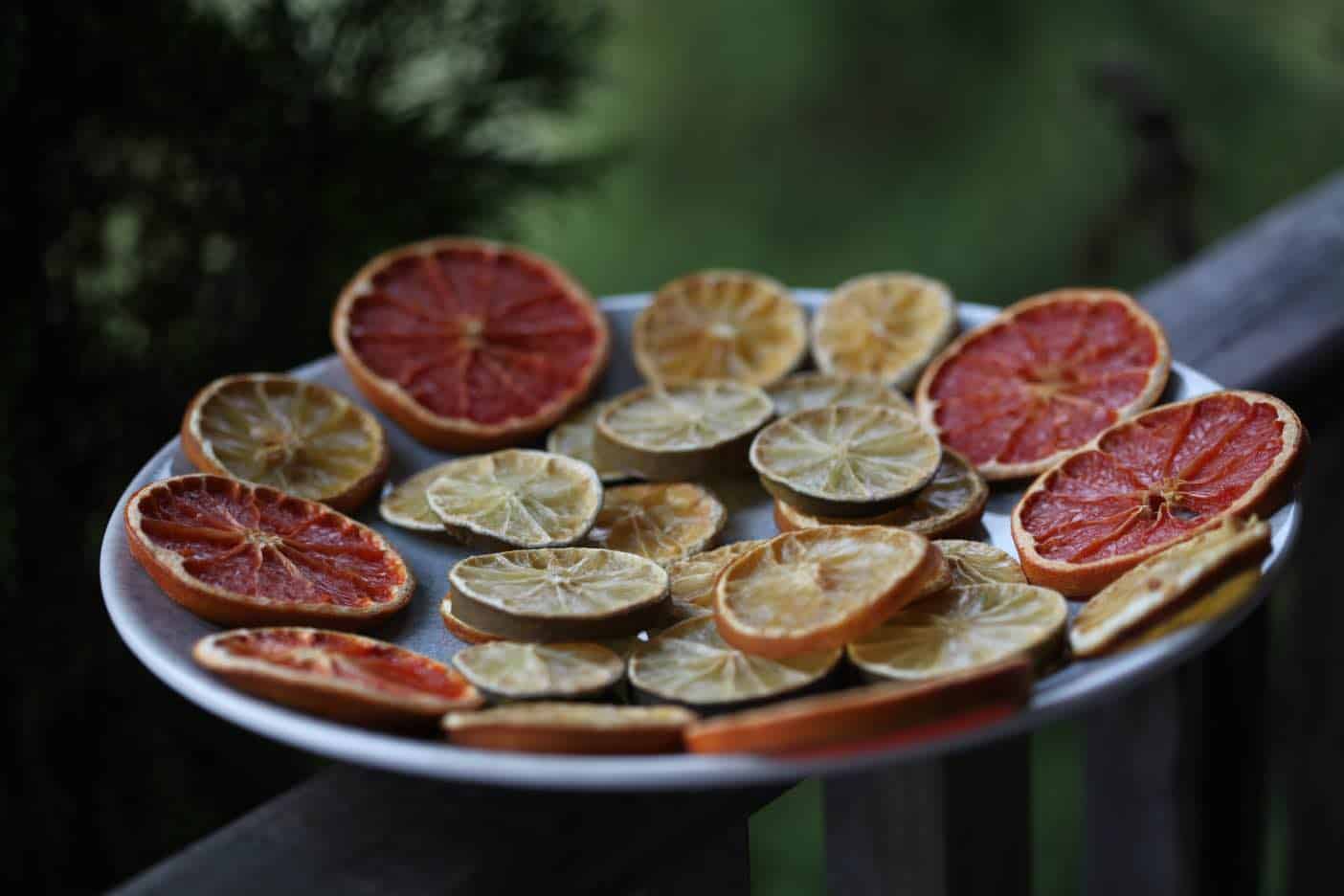 Mix it up and see what you like.
How To Dry Orange Slices For Decoration
Before looking at dried orange slices for decoration, let's first start with the actual drying process of the orange slices.
Let's look at how the drying process is done.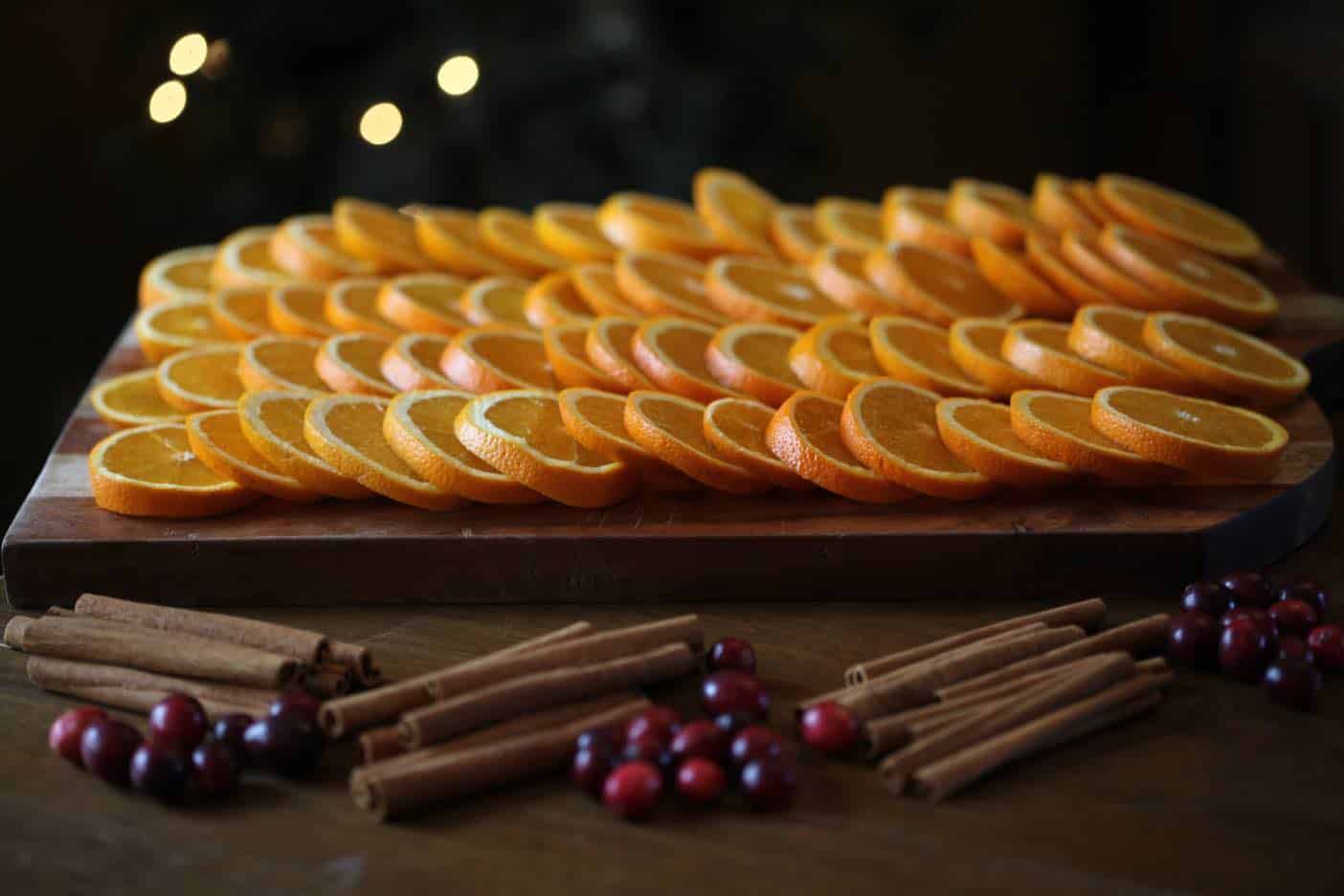 Materials Needed
Bag Of Oranges ( seedless are best )
Methods
The method for making dried orange slices involves two simple steps:
Cutting the slices, and
Drying the slices slowly over a period of hours over a low heat.
Cutting The Orange Slices
How you cut the slices does make a difference in the appearance for decoration purposes.
Slice through the middle of the orange so that you have a nice cross section of all the orange segments in a beautiful even pattern.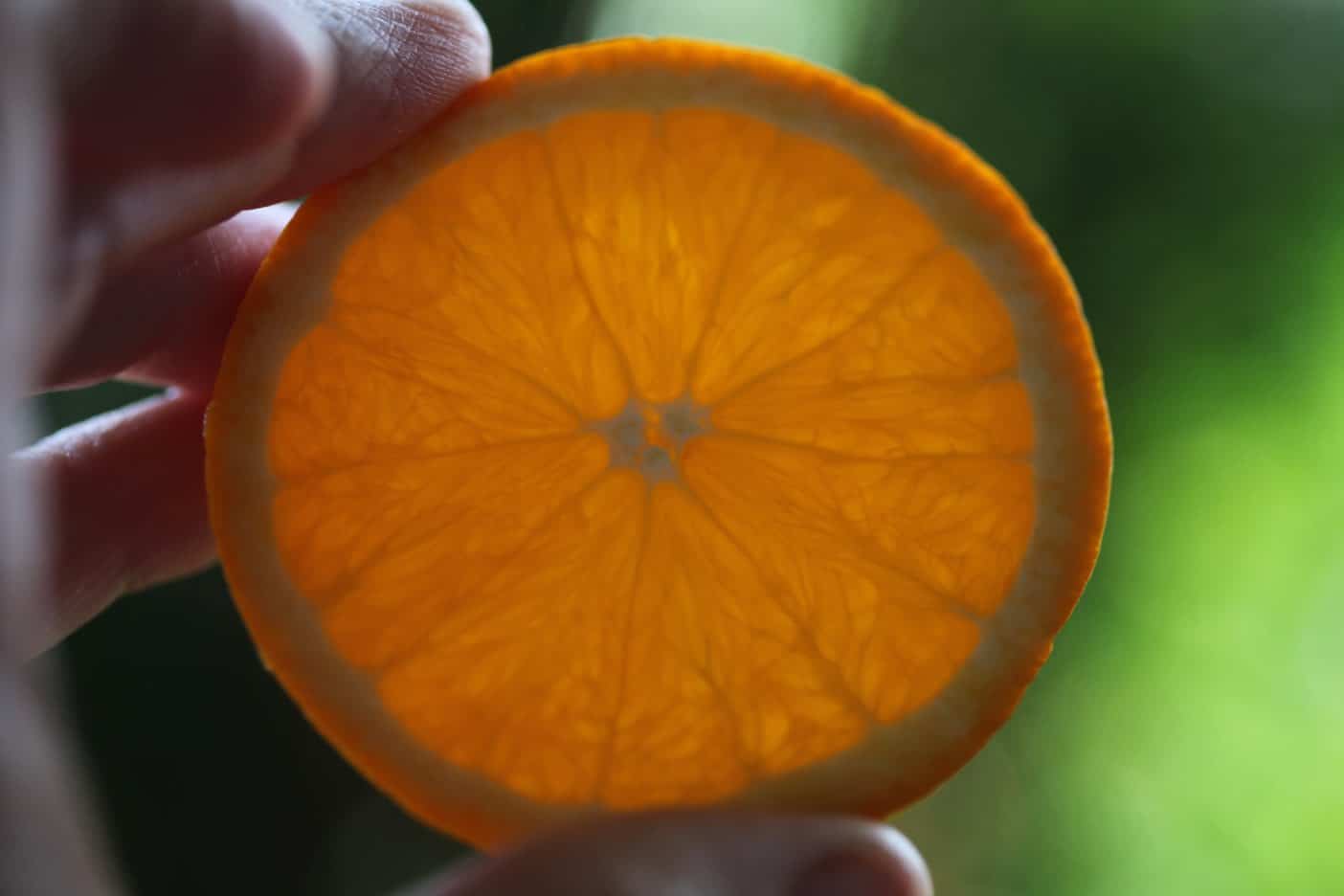 The thickness of the orange slice also makes a difference.
Cutting in thin uniform slices with a sharp knife makes all the difference in the world with the final product. A uniform cut makes a very attractive dried orange slice.
Thinner slices also help with the drying time, as less time is required. However if you cut them too thinly they may not be as attractive.
Thicker slices are more attractive when dried. A good thickness for each slice is about a quarter of an inch or about 0.6 cm thick.You can experiment to see what works best for you.
Cut on a cutting board. Remove the end pieces. Slice each orange into uniform slices.
Dab both sides of each slice with a piece of paper towel to remove excess juice.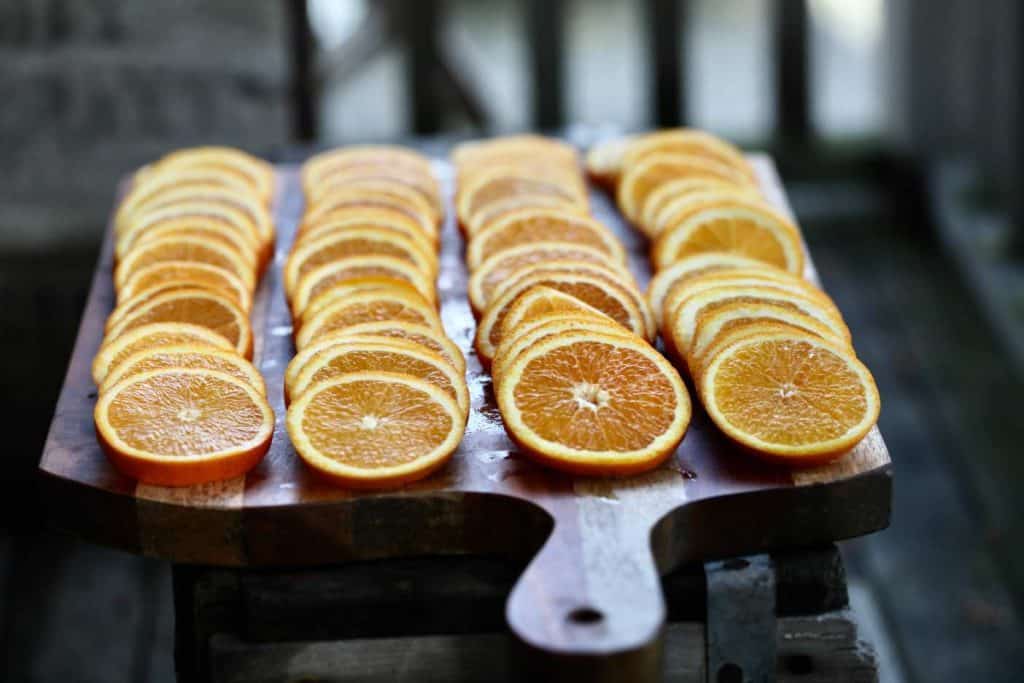 Add Cloves ( Optional )
Insert several cloves into each piece if you wish. Just push the clove through the flesh of the orange, close to the outer edge by the rind. They make your home smell wonderful while they are drying, and they keep their smell for quite some time afterwards.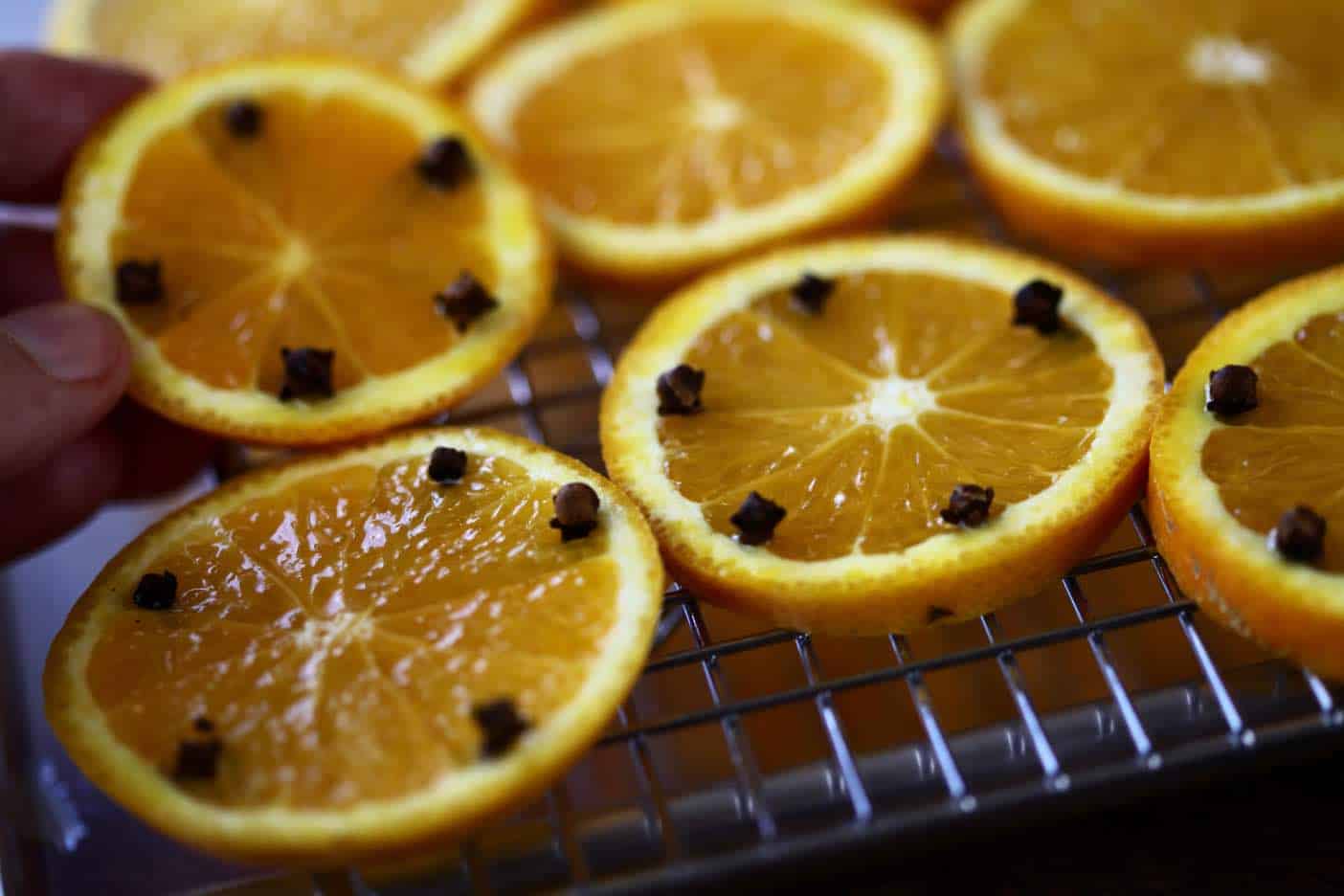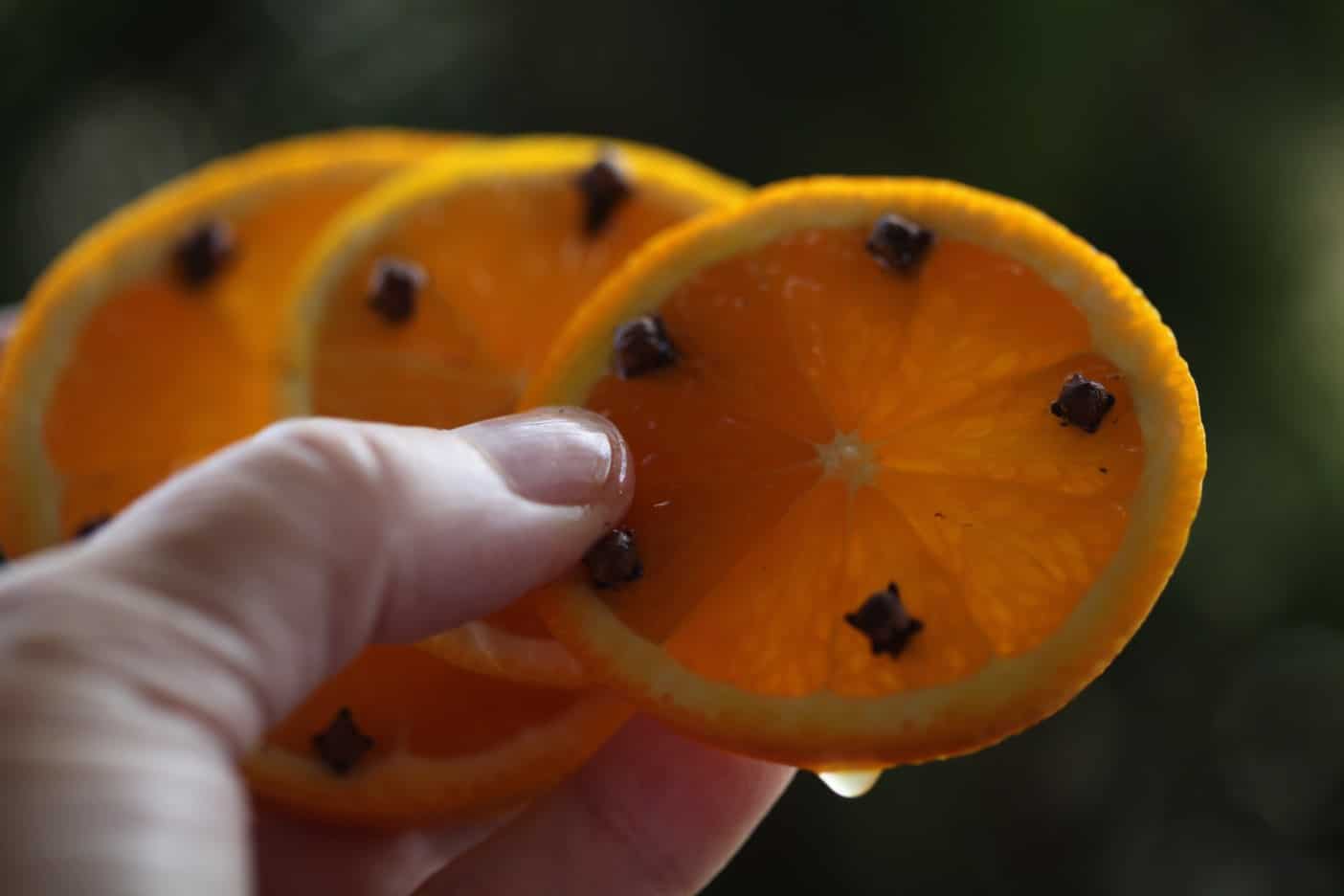 Next it's time to dry the slices.
Drying The Orange Slices
How Do You Dry Orange Slices For Decoration?
There are a number of different ways that you can dry orange slices.
My very first dried orange slices were dried on a pan on top of a wood stove. That was over fifteen years ago.
I would definitely not recommend this method. Although somewhat successful, some of the oranges became burned. There is no real way of controlling the temperature, and it was easy to burn the oranges using this technique.
The two best ways for drying the orange slices that I have found since my first experience are using the oven method, or using a dehydrator.
Drying Orange Slices In The Oven
This is one of my favourite ways to dry orange slices.
Preheat the oven temperature to 215°F or 100°C.
Place the cut orange slices in a single layer on a baking sheet that is covered with either a sheet of parchment paper, or alternatively an oven proof bakers rack.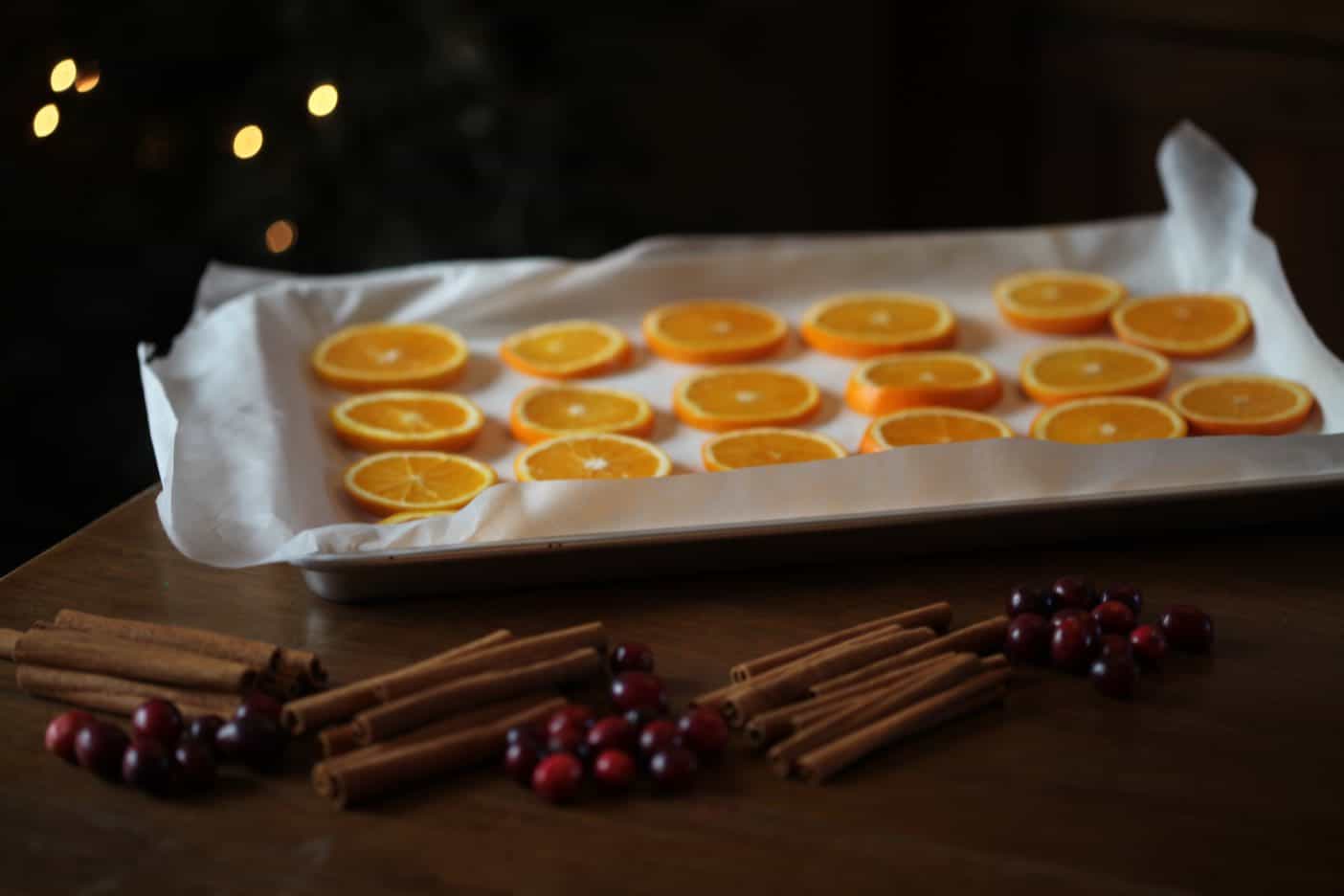 I like to use the wire rack, as it allows the air to circulate around both sides of the slices as they are drying, however parchment paper also does a great job.
Place the cookie sheet on the oven rack.
If using parchment paper, turn the slices every hour until dry, which generally takes about three to four hours. Mine took about 3.5 hours and were dried perfectly without any burning.
Look for a translucent appearance on the flesh of the orange to determine completion.
Sometimes some of the thicker pieces may not be completely dry, while the thinner pieces may be done earlier.
In this case you can remove the pieces that are done, and return the others to the oven until they are finished drying. Or alternatively, you can just set them on your counter to complete the drying process overnight.
This second strategy may save you some burned pieces of orange slices just in case they cook for too long.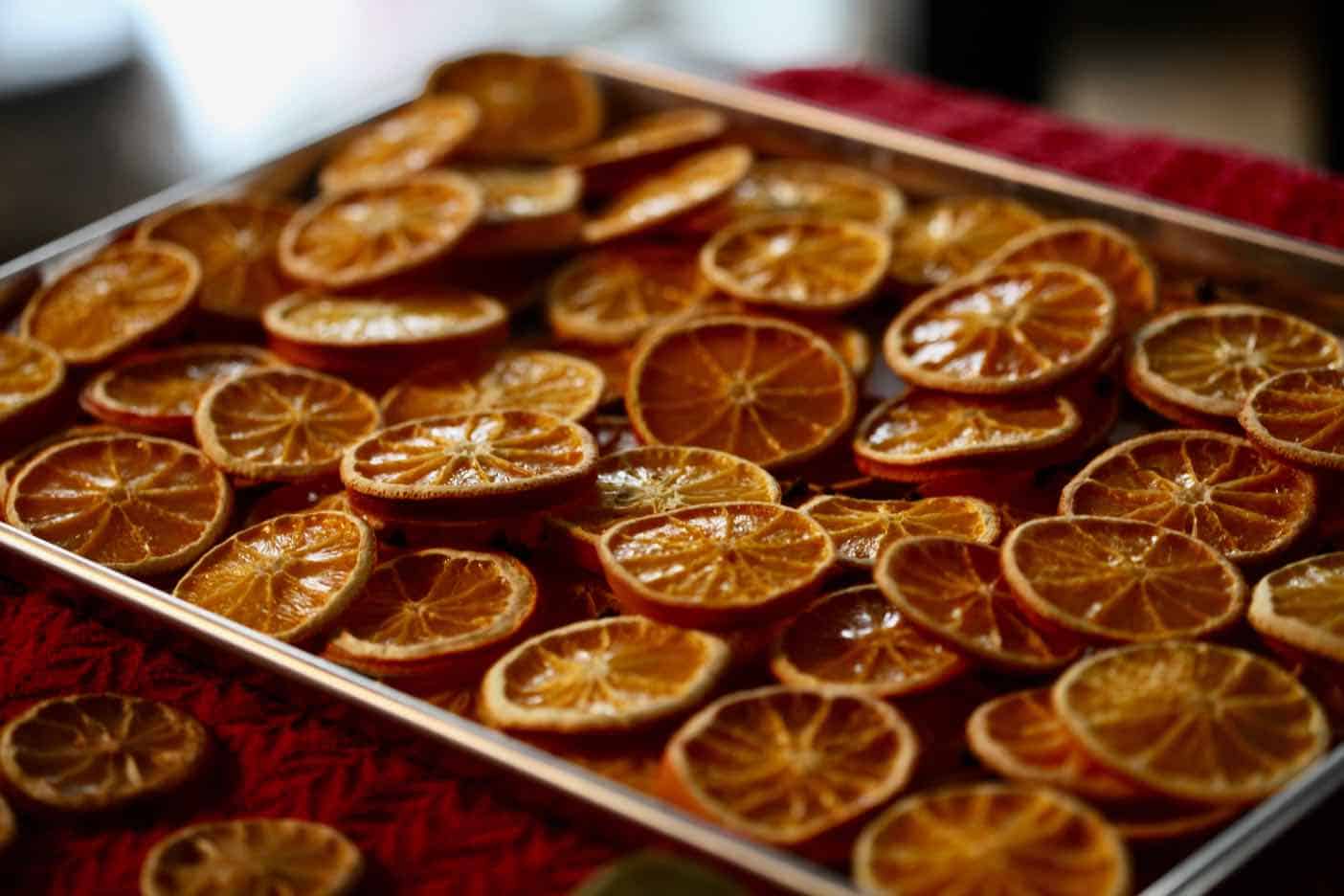 Drying Orange Slices In The Dehydrator
Drying orange slices in the food dehydrator is a simple method, and another excellent way to dry them.
Depending on your dehydrator you may have multiple levels on which to put you orange slices.
Set the temperature to the fruit / vegetable setting, which is 135° C.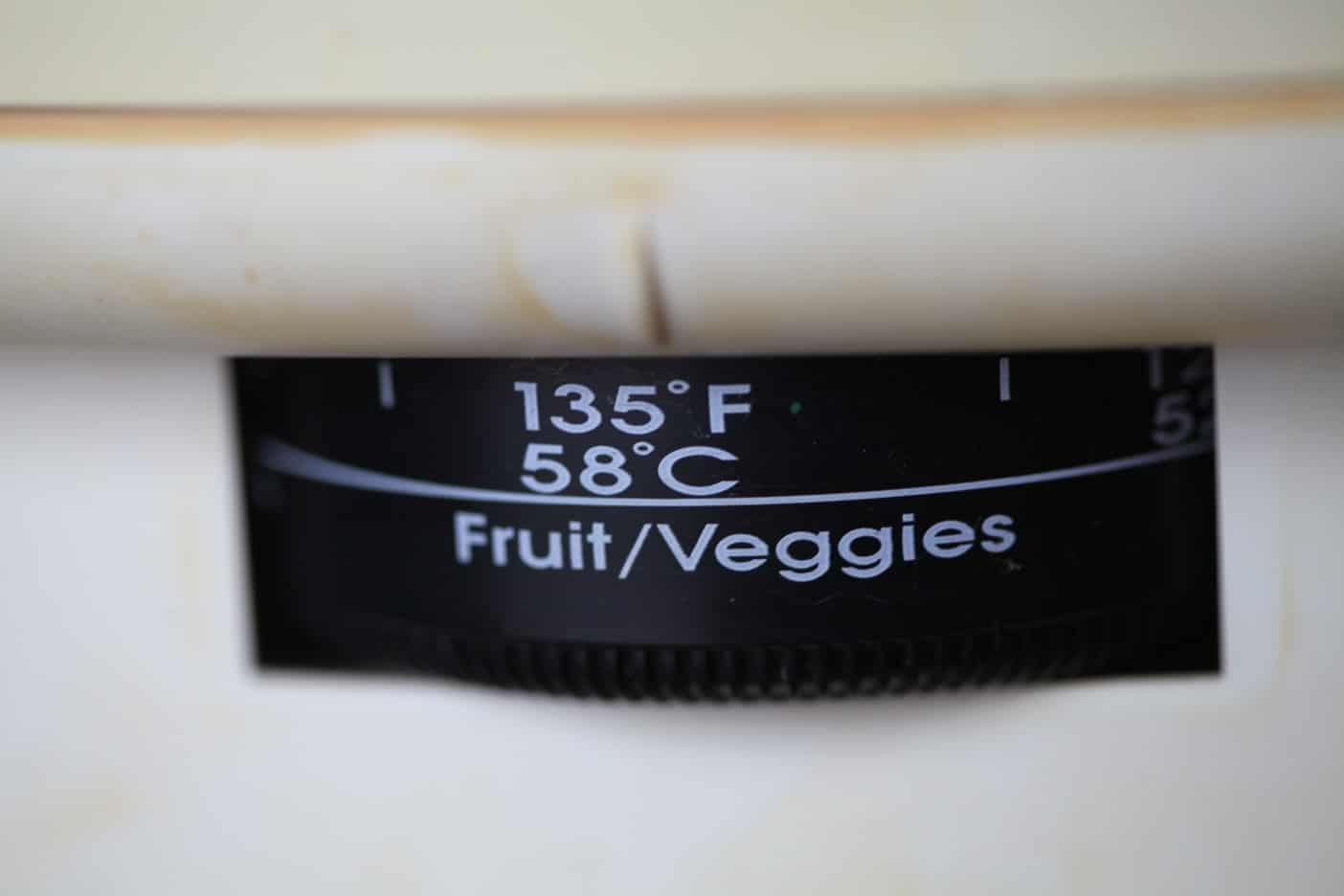 It usually takes about three to seven hours to dry the slices in the dehydrator, depending on the thickness of the pieces. It took 4.5 hours for my oranges to dry in the dehydrator.
You can flip them over when they are halfway done if you want, and allow the drying process to complete. However, you really don't need to, as there is good air circulation. I did not flip mine and they dried well on both sides.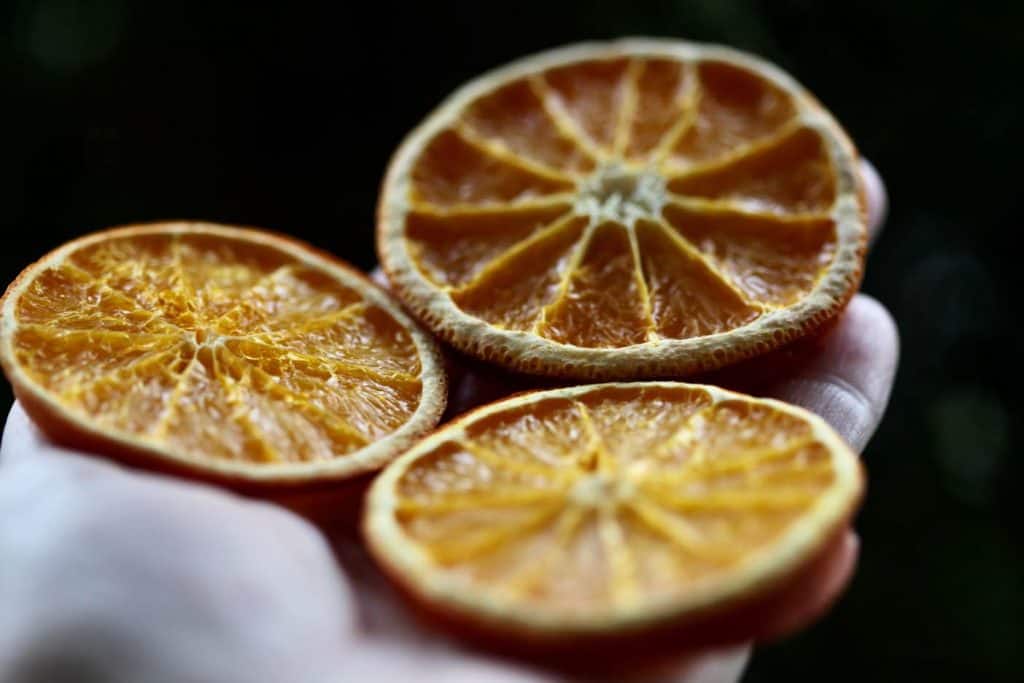 The dehydrator method does an excellent job at evenly drying the slices.
What To Do With Dried Orange Slices
Dried orange slices can be used in many ways, from adding them to recipes in the kitchen, to using them for decoration during the holiday season.
In this post we will focus on using the slices for decoration, with some examples of how we use them in our home.
In order to use your orange pieces, make a hole in the dried flesh of the orange close to the rind so that you can insert your thread, twine, or wire for making your decorations.
You can use a small skewer to do this, or any small sharp object.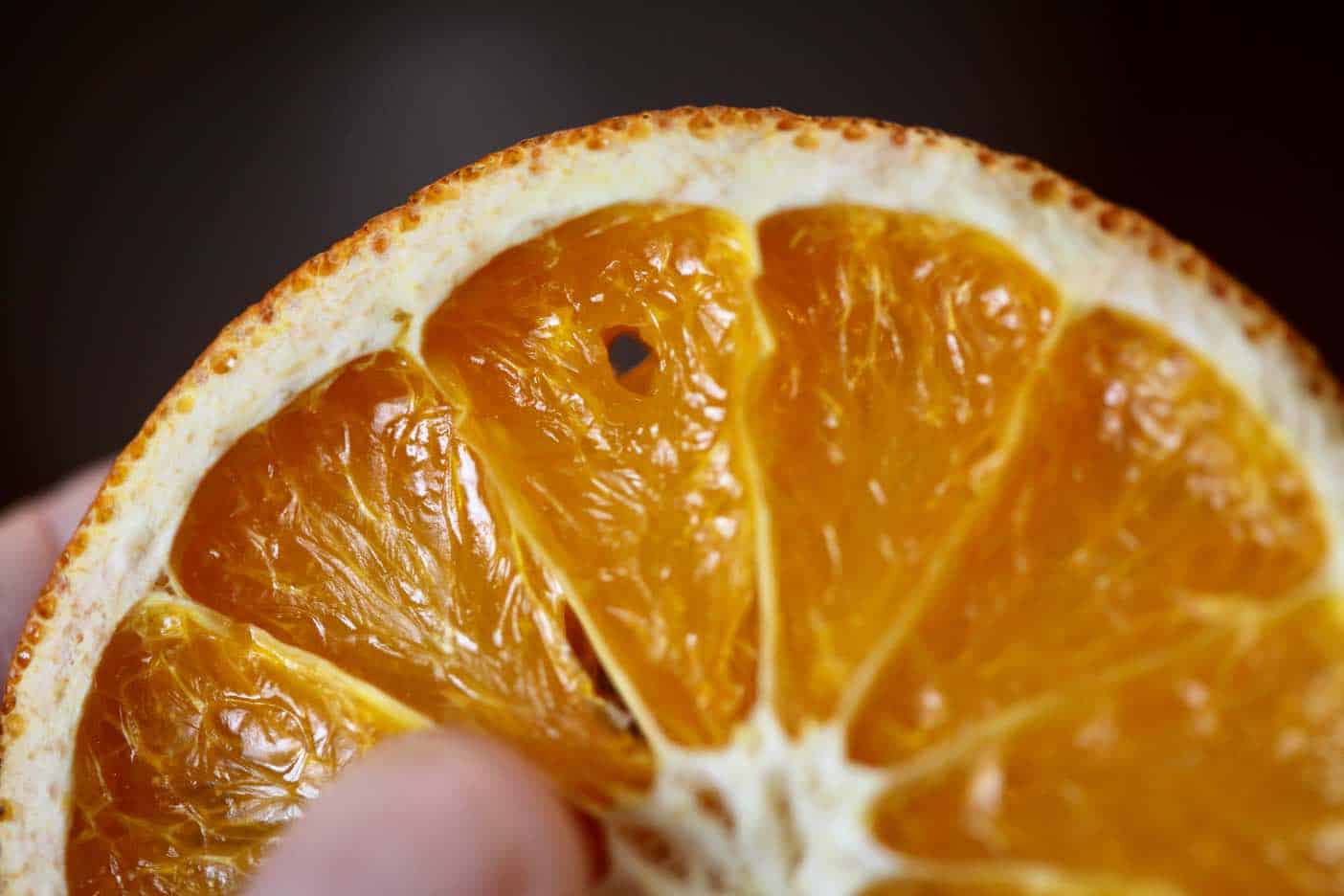 Use this hole to insert your thread or twine or wire to affix to your projects.
Dried Orange Slices Garland
Making a dried orange slice garland is an easy project, and such a simple way to add a splash of festive colour to your home decor.
String your orange slices together to form a dried orange garland.
It's such a simple decoration, yet such a gorgeous garland at the same time.
If you are using the garland on the tree, combine the slices together with other natural elements, such as strung cranberries or wooden beads.
Or just string plain dried orange slices and nothing else, it all works well.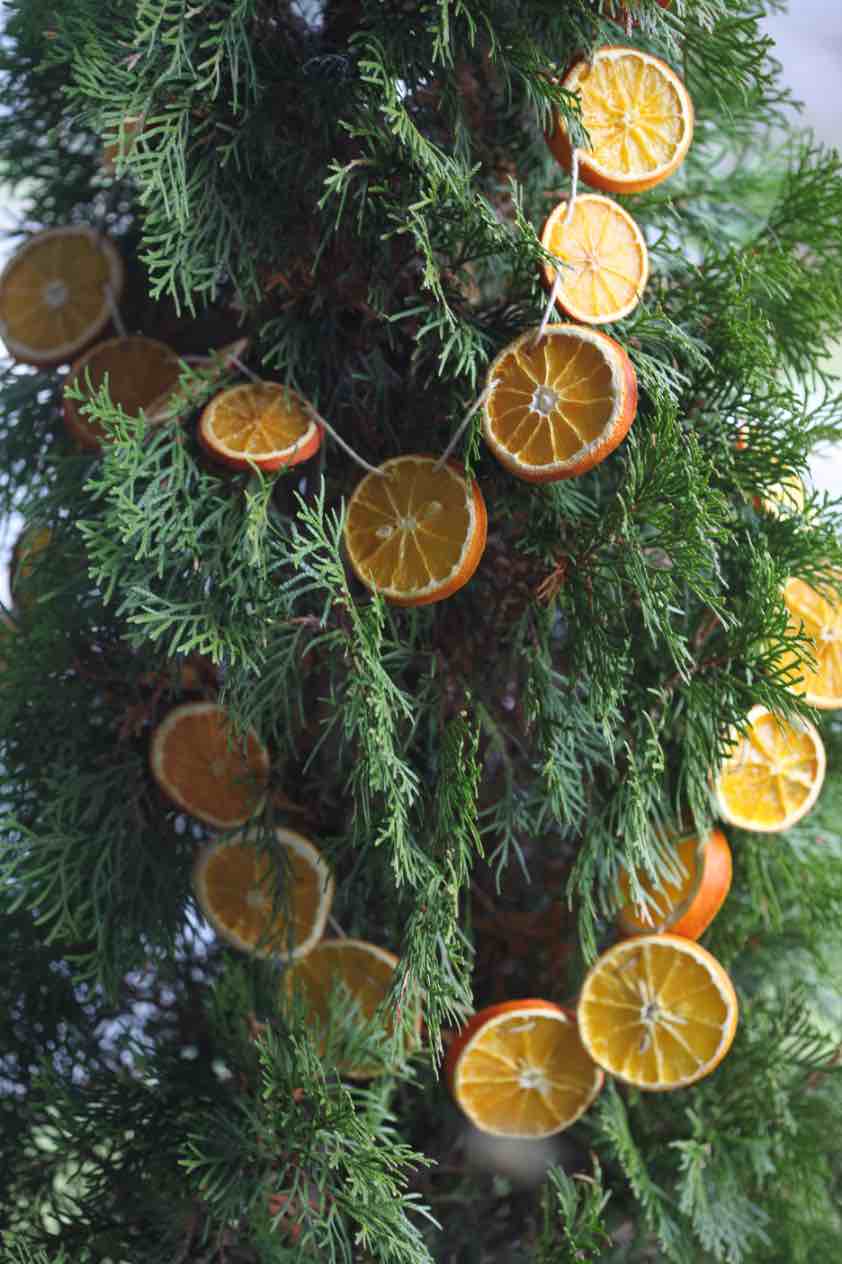 Drape your garland over a doorway or mantel. Or drape over a fresh placement of evergreen boughs. It's a perfect finishing touch to any country decor.
Dried Oranges On Christmas Wreaths
Add your dried orange slices to a festive fir or cedar wreath.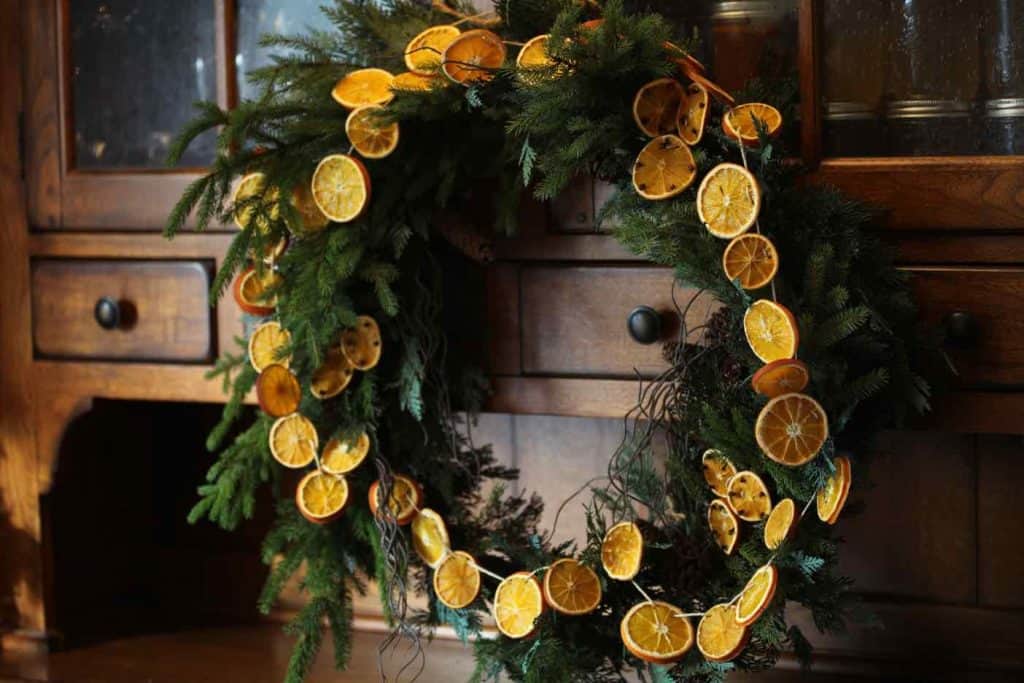 Last year we made wreaths out of grapevines, and decorated them with an assortment of evergreen boughs and dried orange slices.
A few pinecones here and there, and we had beautiful farmhouse wreaths.
The dried orange slices were the perfect decoration to make the wreath complete.
You can also make a dried orange wreath all on it's own, or add a few embellishments and still make the oranges the focal point.
Hang Dried Orange Slices On The Christmas Tree
I have been hanging dried orange Christmas ornaments on my Christmas tree for years. They are simple yet beautiful Christmas decorations.
Add a jute twine string and hang as it is, or add some cinnamon sticks, star anise, and cranberries for an extra splash of country charm.
I love how the oranges glow on the Christmas tree if they are hanging in front of the white mini lights, which shines right through the orange pieces, making them sparkle and glow.
You can also add the dried orange slices to an outdoor tree, as beautiful natural ornaments for the wildlife and birds. Add them in combination with birdseed ornaments and strung cranberries, for a festive outdoor display.
Decorate Gifts With Dried Orange Slices
Decorate your gifts with dried orange slices.
Tie them to the gift tag or bow with a rustic piece of ribbon or twine.
It's a beautiful and thoughtful packaging or wrapping idea, and a perfect way to add a touch of home-made goodness to your wrapping.
Dried Orange Slice Displays
Anywhere you have evergreen displays in your home over the holidays, add some dried orange slices to add a little colour.
Add them to bowls of homemade potpourri, baskets of pinecones, or display them in a bowl all on their own. Combine them with other varieties of citrus slices.
They offer a beautiful, natural and decorative display, and are perfect for decorating during the holidays.
How Long Do Dried Oranges Last As Decorations?
I have kept some of my dried orange slices for years. Mainly because I enjoyed them in their darker form, and they were well dried and preserved.
The key is keeping them dry. If they remain dry they can be kept for many years.
They will however lose their beautiful orange colour over time.
After about two years the dried slices will darken in colour. I keep them until they are no longer decorative.
When you are ready to dispose of them, just put them right into the compost, and make some fresh ones.
Conclusion
Using dried orange slices for decoration is a fun and easy activity.
It's also very festive, and drying orange slices for Christmas decorating is now a family tradition in our home.
I encourage you to give it a try if you have not done so already. I'm pretty sure you will be pleasantly surprised with the outcome, and you will have oranges to decorate throughout your home for the seasons to come.
Have you ever made dried orange slices for decoration? Be sure to leave a comment below to share your experiences!
OTHER POSTS YOU MAY LIKE:
PIN IT FOR LATER!