Last updated on October 21st, 2023 at 11:39 pm
Obedient plant, or Physostegia Virginiana, is a beautiful herbaceous perennial to consider adding to the garden space. This plant can be used for cutting, and will also bring droves of pollinators into the garden. Learn how to grow Obedient plant, and add this cottage garden favourite to the perennial border.
Obedient plant is an easy to grow native herbaceous perennial that grows from mid to late summer. It can be propagated by seed or division, and will grow and spread with abandon if left unchecked. A low maintenance plant with a long blooming period, Obedient plant will also attract loads of pollinators and beneficial insects to the garden.
Obedient plant received it's name from a special characteristic of it's unique flowers when they are in bloom.
The individual flowers on each spiked flower head are normally arranged in a symmetrical pattern.
However they have an ability to be moved out of their original position and into a new position on the flower head itself, with just the touch of a finger.
Each individual flower can be pushed away horizontally from it's place on the flower head, and uncannily it will stay where it has been placed.
The plant is "obedient" in the fact that the blooms are easily moved. Once they are moved they will stay where they are pointed.
They do however eventually make it back to their original position.
The flowers are very obedient and also lots of fun, and we loved growing them when the children were little. They loved to play with the movable blooms, and move them back and forth.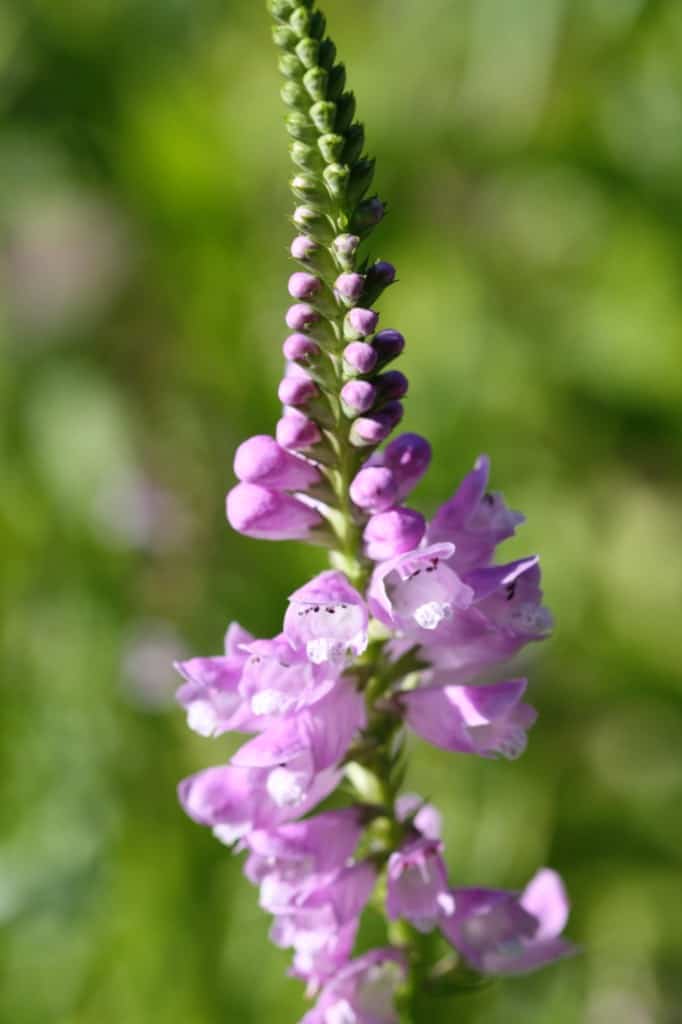 What Is Obedient Plant
Obedient Plant is one of the common names for Physostegia Virginiana, a species plant in the Genus Physostegia.
This plant is a member of the the mint family, or Family Lamiaceae. It has common characteristics notable to this family of plants.
Another common name for this plant is False dragonhead. The face of the flower in full bloom resembles just that, a whimsical dragon's head.
It is also called Virginia Lion's Heart, which is another common name for this interesting plant.
The plant sends up tall flower stalks of showy flowers mid summer. The blooms will then keep on blooming right through until fall.
Obedient plant is a long blooming perennial, which dies back to the ground in late fall. The following year there is new growth again, as the plant grows in size and spreads via rhizomatous underground stems.
It also spreads by reseeding, so every spring there may be some new volunteer plants as well.
The plants are pollinator friendly with beautiful blooms, which symmetrically cover the flower stalks.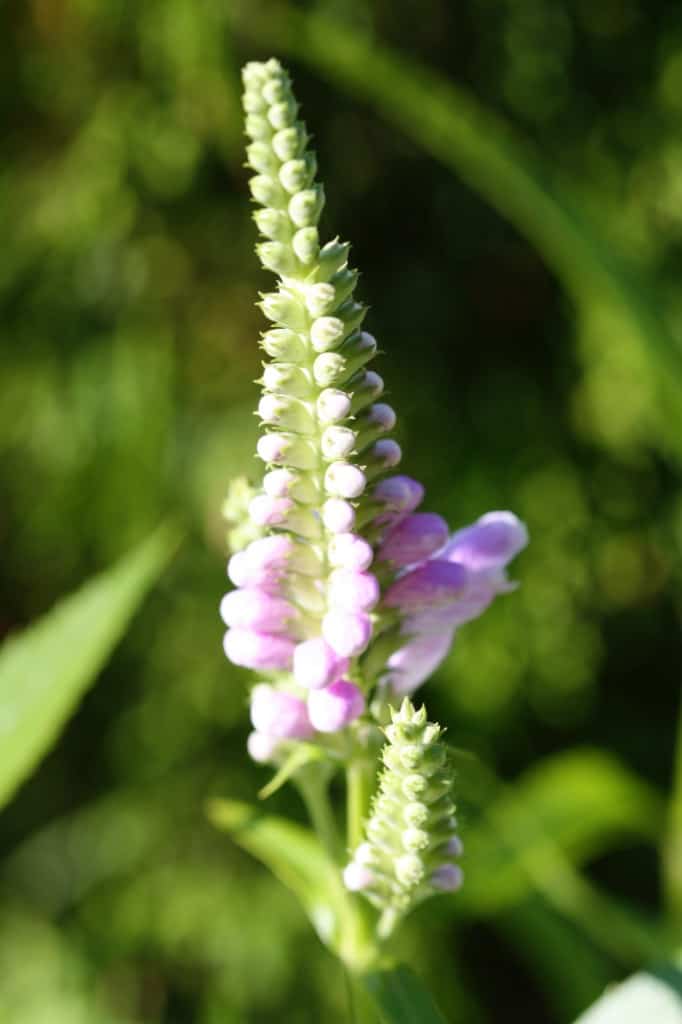 Is Obedient Plant Native?
Obedient plant is a native wildflower with a fairly wide distribution throughout North America.
The wonderful thing about growing native plants is that they are adapted to the climate and native habitat from which they come.
These plants are important to the environments and ecosystems in which they are native.
Obedient plant is therefore a good choice to grow if you are looking for a native plant to support the pollinators in your garden.
Obedient Plant Characteristics
Let's have a look at some of the characteristics of the obedient plant, including flowers, stems and foliage, as well as seeds.
These plants share many characteristics with other species from the mint family, such as Catmint (Nepeta), as well as Bergamot (Monarda).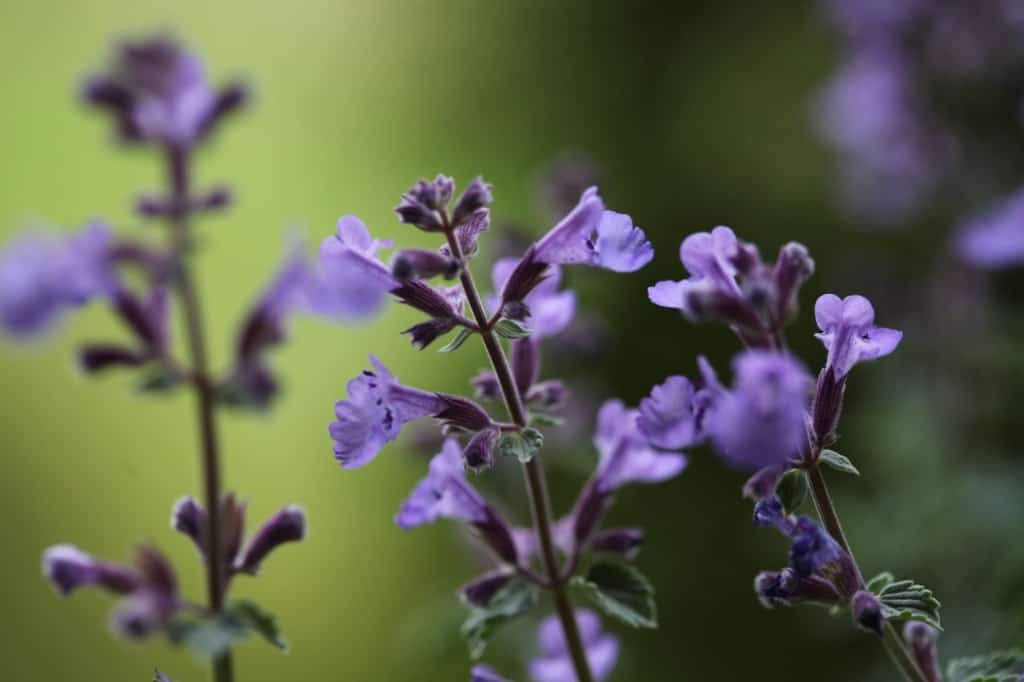 Obedient Plant Flowers
The flowers of the Obedient plant form on tall spiked flower heads. Each flower head consists four rows of flowers, which are arranged in a vertical and linear fashion along the flower head itself.
The flowers are tubular and bell shaped, and are arranged vertically in symmetrical columns.
The flowers are produced on single stalks which branch towards the top of the stem. There is a main flower spike in the centre which is usually larger, and smaller offshoots below, with smaller flower spikes.
I've always thought that these blooms were similar to foxglove flower heads.
They are however even more similar to snapdragons, with their little snapping dragon faced blooms.
Obedient plant flowers are very attractive, and cottage-like in their appearance. They range in pastel shades of pink , lavender and white.
There is no fragrance or scent to the blooms.
Push the flowers horizontally to the side, and they will stay where they have been placed.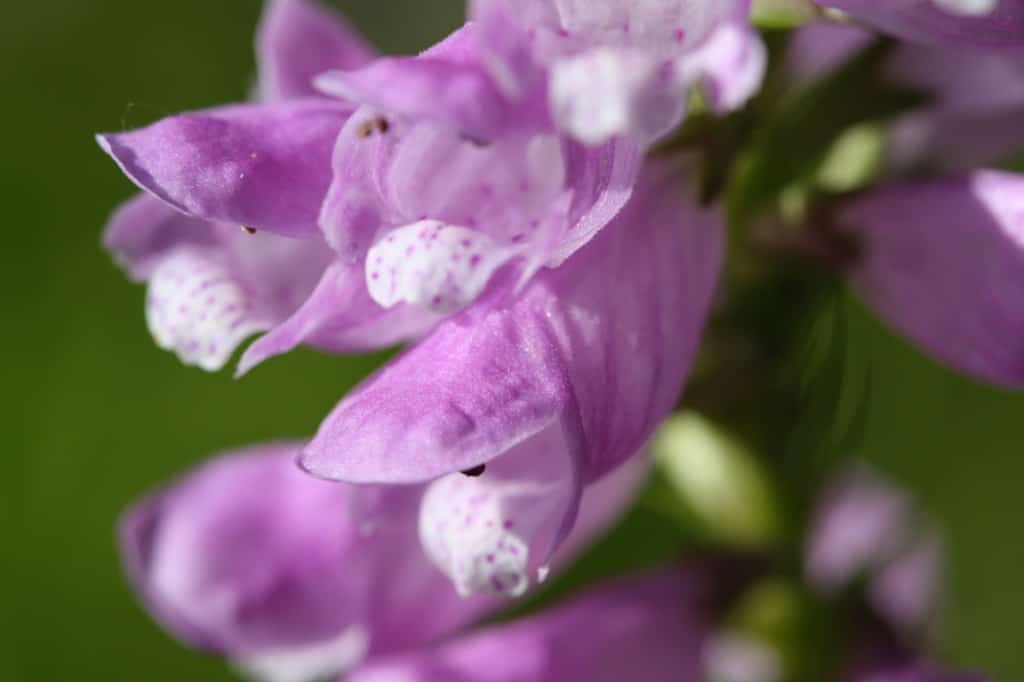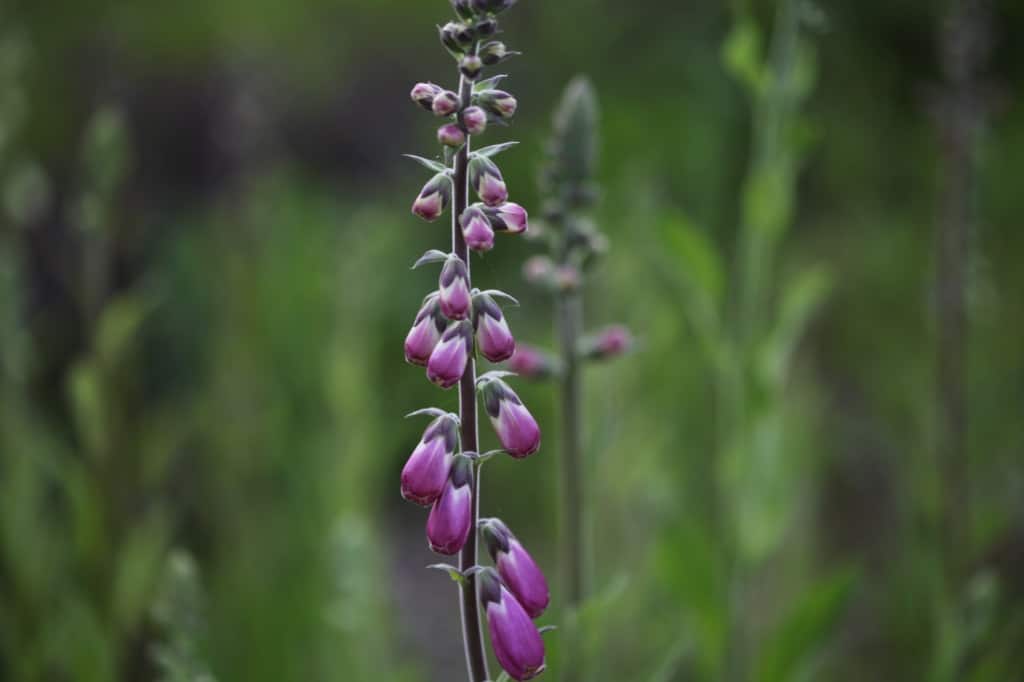 Blooming Period
The flowers have a long blooming period, and bloom over a period of four to six weeks from mid to late summer into early fall.
Blooms do not open all at once, but rather begin to bloom at the base of the flower head at first.
Gradually over the course of the blooming period the flowers will open up, from the bottom to the top of the flower head.
This long blooming time is due to the individual flowers opening up in sequence, starting with the flowers along the bottom of the flower head first.
Obedient Plant Stems And Foliage
The stems and foliage of obedient plant are similar to other plants in the mint family.
Obedient plant stems are square, sturdy and straight. Even with heavy flower heads there is no need to support the tall stems, as they are very strong.
The square stems are similar to other plants in the mint family, and this is a common characteristic of these plants.
The leaves are green and serrated, and grow opposite each other, as is seen in other mint family plants.
Obedient Plant Seeds
If fertilized, the flowers on the Obedient plant will form small seed pods containing seeds along the sides of the flower head.
These seeds can be collected from the pods at the end of the season, and used to propagate new plants.
The seeds of Obedient plant are small, brown and somewhat oval in shape.
The seeds each measure approximately 3mm in length.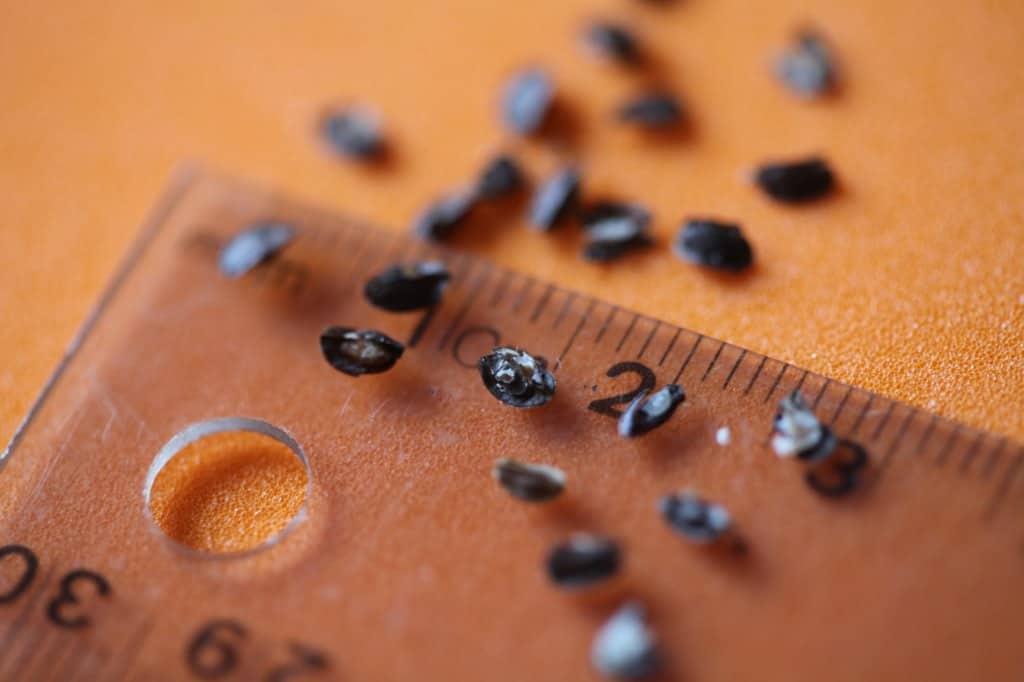 Seed Stratification
As with most perennial seeds, for the best germination results, the seeds should be stratified.
Stratification helps to break down the outer seed coat, and helps to awaken the dormant seed.
The best way to stratify the seeds is by providing them with a period of moist chilling.
This can be accomplished by:
placing the seeds in a plastic bag in the fridge with a moist medium
or direct seeding into the garden in fall or early spring
Plant Height
Obedient plant is a tall plant which can grow from 36 to 48 inches tall, with lots of tall stems bearing spires of blooms.
The flowers can make quite a presence in the garden, especially when the clump enlarges.
How To Grow Obedient Plant
Obedient plant is easy to grow and can be propagated by seed or division.
If growing by seed indoors, be sure to stratify the seeds for at least three weeks before planting.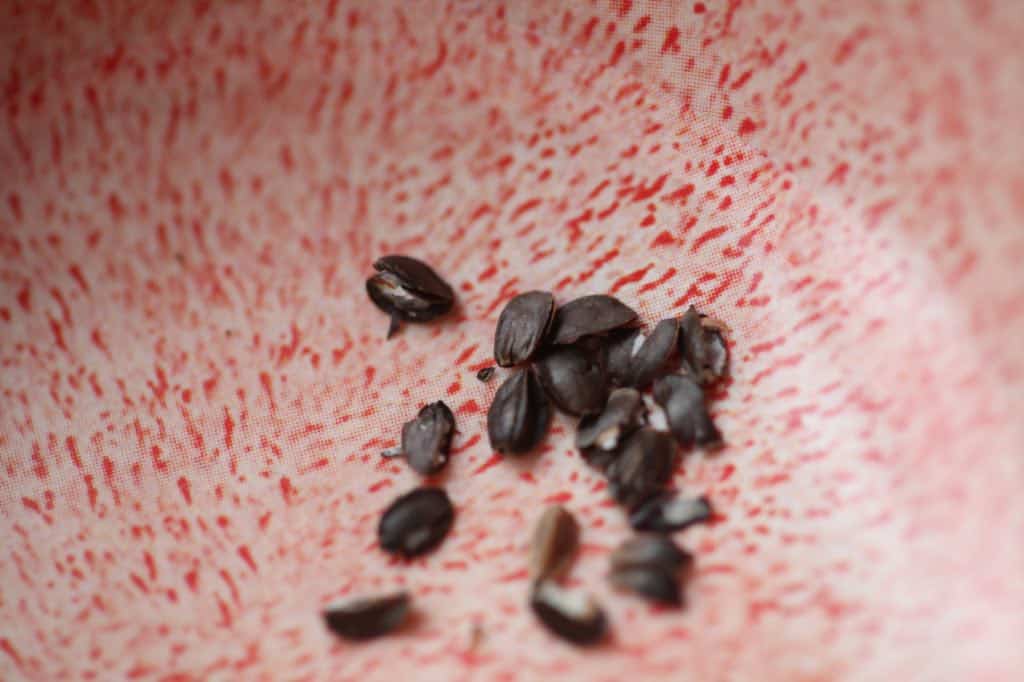 Propagation By Seed
Propagation by seed can be done by:
sowing directly into the garden
planting seeds inside in winter
Sowing Directly Into The Garden
Sowing seeds directly into the garden is one of the easiest ways to plant them, especially for perennials.
The seeds can be sown in fall or very early spring ( before the frosts have passed ).
It's essentially a set and forget sort of method, at the beginning at least.
Using this method the seeds are naturally stratified as they are exposed to all of the elements in the garden, especially the moisture and cold, and freezes and thaws.
Another benefit is that the seedlings are naturally hardened off as they grow outside.
Once they germinate and start to grow, they are already growing in the space that you provided for them. They will not need transplanting, so it's less stressful on the new seedlings.
To Direct Sow:
Prepare a garden bed, or a patch in a bed where you plan to sow the seeds.
If starting in the fall, wait until there have been some heavy frosts before sowing. This will help prevent germination of the seeds, as you want them to germinate in the spring.
Scatter the seeds on the surface of the soil, and press firmly onto the surface.
Do not bury, as the seeds require light for germination.
Winter Sowing
I winter sow many perennial seeds, including those of Obedient plant.
This method of sowing is the perfect way to naturally stratify these hard coated seeds, and yet still be able to protect the seedlings until they are planted.
If at all possible, I lean towards winter sowing versus planting indoors.
I love how the seeds are not taking up space and valuable energy inside, and how I can use that space for other more tender seeds.
These perennial seeds will germinate at just the right time for your growing zone. So don't be worried if they are a little late if you live in a colder zone.
The resulting seedlings are naturally hardened off, which is another bonus.
Although not quite set and forget, as the seedlings will still need to be transplanted, winter sowing these seeds certainly gets them off to a great start.
To Winter Sow:
Take a jug such as a recycled milk or juice jug, and wash it out well.
Cut the jug in half, leaving just a hinge of plastic, to keep the top part of the jug attached to the bottom.
Make drainage holes in the bottom of the jug.
Fill the bottom half of the jug with a soilless mix, and pat down.
Sprinkle the Obedient plant seeds on the surface of the soilless mix.
Label the jug both inside and out with a permanent marker, as the labels will sometimes wash off.
Place both halves of the jug back into place and secure with duct tape.
Make sure to leave the cap off the jug, as this will allow moisture to enter the jug when placed outside.
Put the whole unit outside in winter, exposing the seeds to the freezing temperatures.
In spring when the weather warms up, the seeds should germinate and begin to grow. Open up the jug when the risk of frost has passed.
Transplant into the garden when ready. These seedlings are already hardened off, since they have been growing outside.
Planting Seeds Indoors In Winter
When starting flower seeds indoors, especially hardy annual and perennial seeds, it's important to remember that they have not been naturally stratified by the outdoor elements.
These seeds will need to undergo this special process in the fridge.
To stratify Obedient plant seeds, place the seeds in a plastic bag with a moist medium, such as vermiculite or a moist paper towel. Then place the bag in the fridge for approximately two to three weeks.
Remove from the fridge and plant in a soilless medium. We generally plant our indoor seeds in cell trays for ease of use.
Place on a heat mat until sixty percent of seeds have germinated.
After this germination has occurred, transfer the tray to a shelf with grow lights, and grow on until spring.
Plant outside after the risk of frost has passed. Make sure that the seedlings are hardened off before planting into the garden.
Although these are hardy plants, when they are planted from seeds indoors, they are still very tender to all outdoor elements until hardened off.
Propagation By Division
Most herbaceous perennials can be propagated by division, and Obedient plant is no exception.
To divide, dig a clump of the plant from the garden, and divide with a sharp knife or shovel.
Replant the divisions back into the garden, allowing space for growth for each division that is replanted.
Planting Obedient Plant Into The Garden
If obedient plant has been started from seed indoors, wait until the risk of all frost has passed before planting the seedlings out into the garden.
You can check your last frost dates here.
As well, make sure to harden off the seedlings to acclimatize them to the outdoor environment. After hardening off, the seedlings are ready to be planted out into the garden.
Spacing The Plants
When planting, make sure to space the plants at least twelve to twenty four inches apart to allow for spreading of the plant as it grows to maturity.
These plants will spread, and grow readily over time, so it's important not to overcrowd them at the beginning.
If you have direct sown the seeds and they are growing too close together, you can allow them to grow for a while, and then transplant them when they are bigger.
Alternatively, you can thin the seedlings right from the beginning, and either transplant or discard depending on the size.
Plant Growth
If growing from seed, as with most perennials, it will take a few years to have blooming plants.
In the first year the tiny seedlings begin to grow and establish in the garden. The plant energy goes into growth and root production, rather than flower and seed making.
In year two you may have some bloom, and the plant continues to grow in size.
In year three the plant will be a mature size, and mature plants will readily produce blooming stems and seed.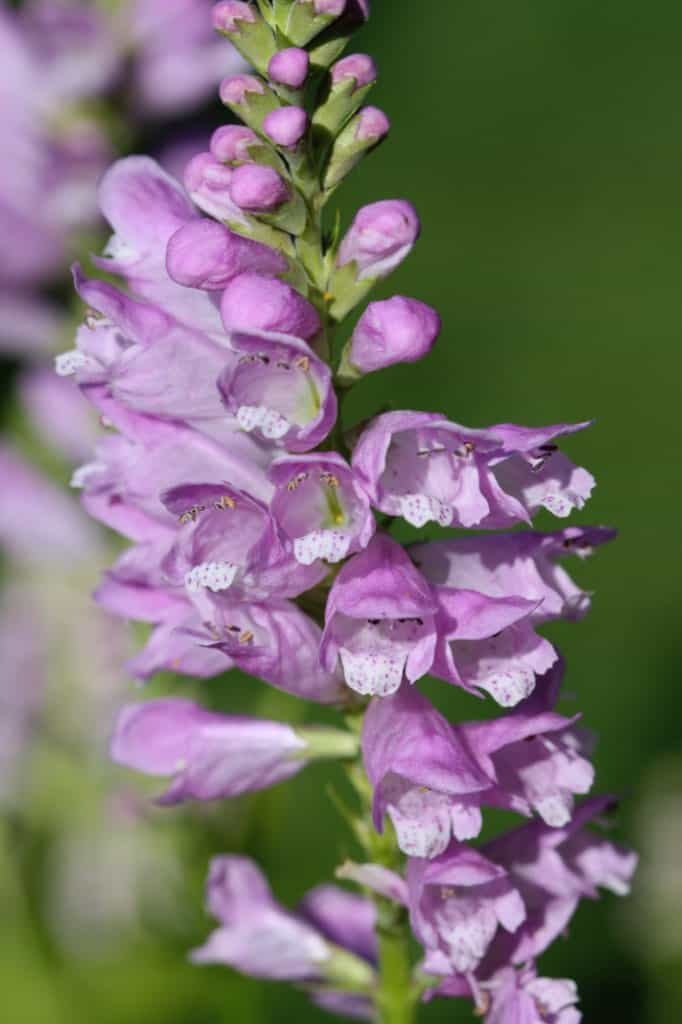 Obedient Plant Care
Obedient plant is a low maintenance perennial.
It can tolerate poor soil and some drought, even though it prefers to grow in rich and moist soil conditions.
Let's have a look at some of the preferred growing considerations:
Hardiness Zone
Soil Requirements
Obedient plant prefers a rich, well drained, and fertile soil that is high in humous content.
Although it prefers a moist rich soil, it will also grow in less forgiving environments.
It will tolerate a range of soil types, and will grow in less nutrient rich soils.
It will even tolerate and grow in clay soil and rocky soil.
Light Requirements
The plant grow best in full sun, however can also be planted in partial sun or shade.
If planted in part shade, be sure to provide at least six to eight hours of sunlight daily for best flowering results.
Moisture Requirements
Obedient plant prefers to grow in a moderately moist soil. It does not generally tolerate drought like conditions for very long, so be sure to water when dry.
It is an ideal plant for rain gardens, or for low areas in the garden.
Mulching will help to keep moisture in the soil for longer, and as well will increase the organic content in the soil over time.
Deadheading Obedient Plants
Seed pods will form on fertilized flower heads, which can then release seeds back into the garden once they are mature.
If you don't want this plant to spread by seed, it's easy to prevent this from happening by deadheading spent blooms.
Make sure to deadhead the flower stalks when the flowers are spent, and before the formation of seed heads.
To do this simply take a pair of snippers or scissors and cut off the blooms, right underneath the spent flowers.
Does Obedient Plant Spread?
Some gardeners say with a twinkle in their eye, that this is definitely not an obedient plant, due to it's tendency to spread.
So yes, Obedient Plant will readily spread and grow, both in situ via rhizomatous roots, as well as by reseeding.
It is important to be vigilant therefore if you do not want your plant to spread.
That being said, there are definitely ways to prevent the spread. This involves digging and removing the plant along the edges, and deadheading to prevent reseeding.
You can also dig a sharp trench around the plant, which will help to control the roots and contain the plant to one area.
Obedient plant also has fairly shallow roots, and is easy to pull up as needed.
If however, you are looking for a plant to fill in a space, this one will do just that and more. These are great plants that can fill in an area quite quickly.
"Miss Manners" is a variety of Obedient plant which is less apt to spread as freely.
Benefits Of Growing Obedient Plant
Obedient Plants Make Great Cut Flowers
Obedient plant blooms are good cut flowers. Harvest the long stems when the bottom flowers on the spikes are just beginning to open.
Because the flowers are movable and pliable, they are great to work with in arranging.
Make sure to condition the flowers after they are harvested. The blooms can last up to a week in flower arrangements with proper conditioning.
Uncut flowers in the garden will form flower pods, which can also be attractive in fall arrangements.
Deer Resistance
Like other members of the mint family, obedient plant is for the most part not touched by deer.
Obedient plant is known to be rabbit and deer resistant. That is certainly a positive, as hungry deer can decimate a garden full of beautiful blooms.
That being said, deer resistance only goes so far if the deer and wildlife are very hungry.
Attractive To Pollinators And Beneficial Insects
This is another plant to add to the list for pollinators and beneficial insects.
Obedient plant will draw the pollinators to the garden, especially many different types of bees.
The tubular blooms are attractive to butterflies, moths and hummingbirds.
Obedient Plant Companion Plants
Obedient plant companion plants are those which grow at the same time and in the same location as the plant itself.
This plant has a wildflower look, and grows well with other cottage garden perennials growing from mid summer through to fall.
Great companion plants for Obedient plant include Liatris, Echinacea, Russian Sage, Rudbeckia, Astilbe, Campanula and Eryngium.
Conclusion
Obedient plant, or physotegia virginiana, is a beautiful perennial wildflower that is a great choice to grow in cottage gardens.
It is an easy plant to grow if given the right growing conditions.
The tall spikes of white or pink flowers will bring droves of pollinators to the garden, and the bees and pollinators love this native plant.
Obedient plant blooms make excellent cut flowers with a long vase life. They look wonderful in flower arrangements and have that wildflower vibe.
The flowers also have a long bloom time, which is much longer than many other popular garden perennials.
An added and unsuspecting benefit of having this fun plant in your garden is that you also get to play with the flowers, for the child in all of us.
Have you ever grown Obedient plant in your garden? Have you ever played with and repositioned the flowers? Be sure to leave a comment below to share your experience.
Other Posts You May Like:
PIN IT FOR LATER!