Last updated on June 10th, 2021 at 11:49 pm
Liatris has a wonderful spiked and feathery bloom which always makes me smile. Make no wonder the common name is Gayfeather, which suits it to a tee. The most common colour of liatris is in shades of iridescent purple, however it also comes in shades of pink and white as well. Learn how to grow and care for Liatris in the garden, to lift your spirits this gardening season!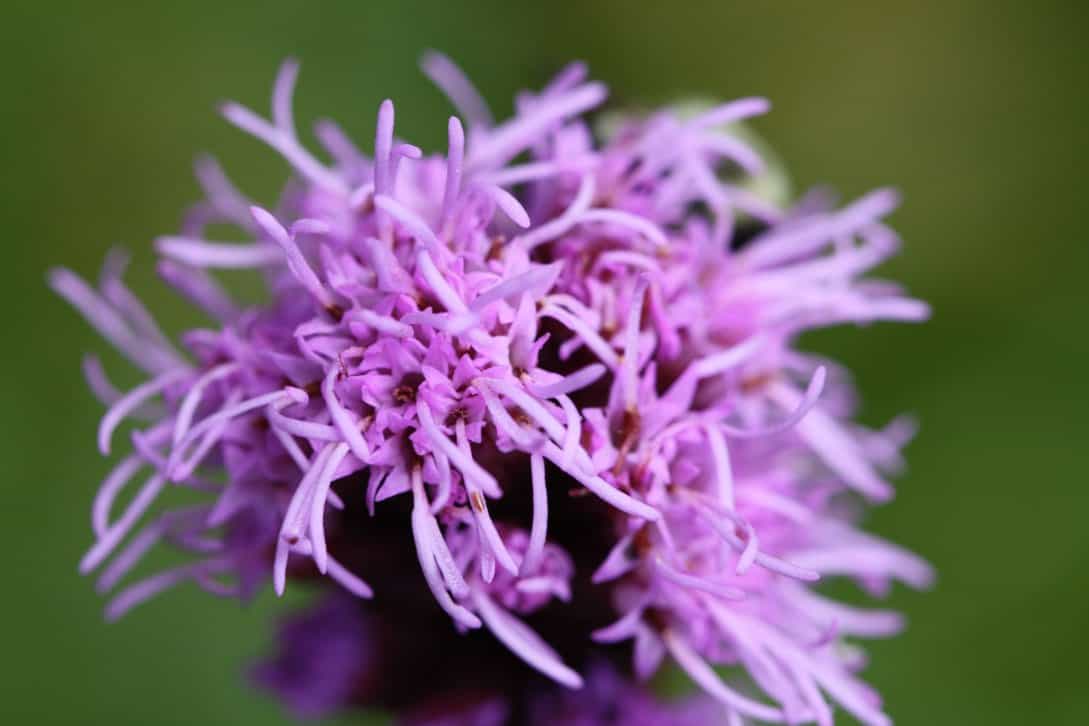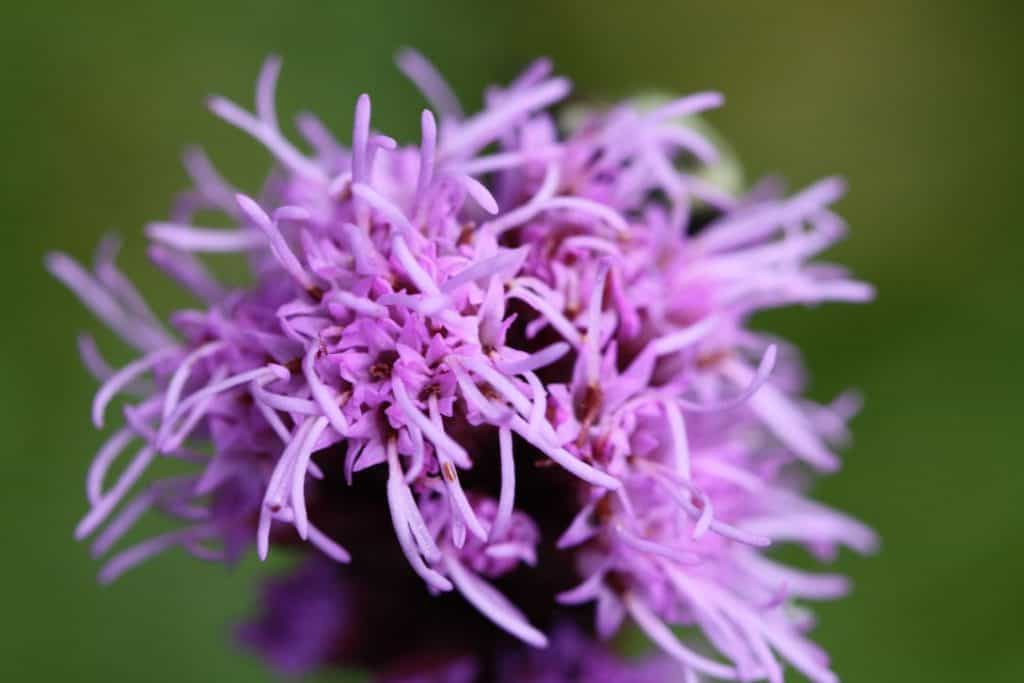 Liatris are summer blooming flowers from many different species that are native to North America. There are over forty eight different species of Liatris growing in the United States.
These plants are members of the aster family, and are known by a number of different common names, including Gayfeather, Blazing Star, Dense Blazing Star, and Marsh Blazing Star just to name a few.
Liatris makes a fabulous cut flower, as well as a great architectural contribution to any gardening space. We like to grow it with contrasting colours and forms, and find that it really makes a statement in the garden.
How Do You Grow Liatris?
Liatris is very easy to grow. It can be grown from seed, plant division, and from corms. People often refer to the liatris corms as bulbs, when in fact they are actually corms or bulb-like structures.
Liatris seeds that are planted will develop into the corms.
These corms are bulb-like structures that store the energy for the plant.
Liatris can be grown in mass plantings where the plant looks absolutely stunning with it's vibrant feathery blooms.
Alternatively it can be planted as a single specimen which will also produce multiple blooms on one plant.
In this post we will discuss how to grow, plant and care for Liatris in the garden.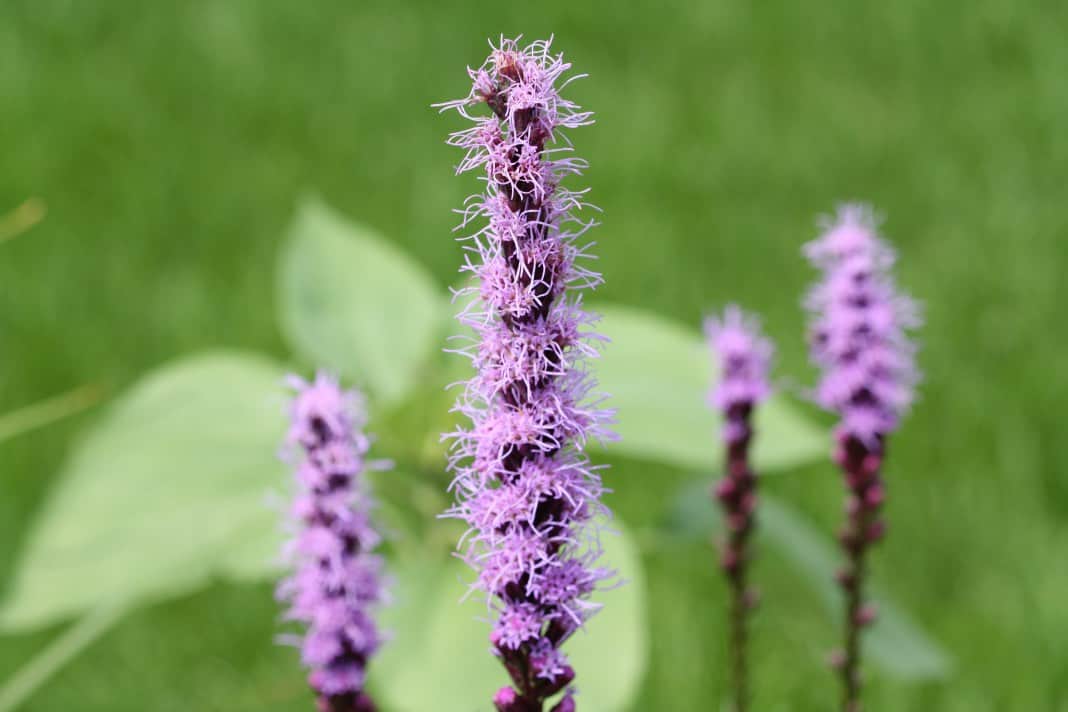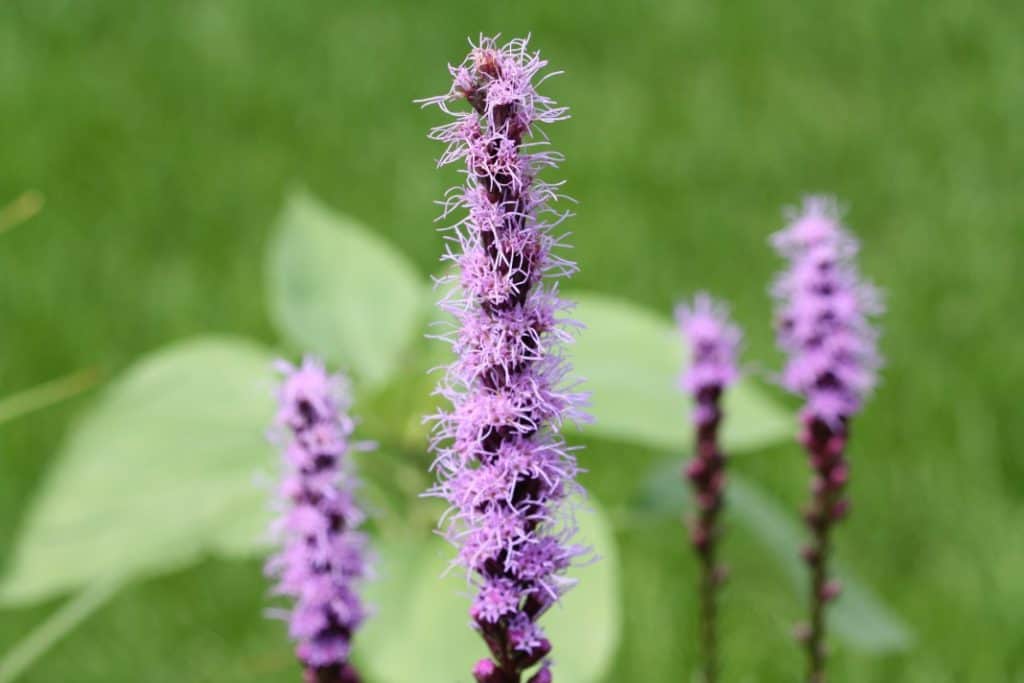 Does Liatris Bloom All Summer?
Liatris is a summer blooming flower, which blooms from mid July through August. This blooming period can be extended by succession planting the liatris corms every two weeks for a summer long display of beautiful blooms.
Even prior to the blooming period you will likely also enjoy the soft attractive foliage of this plant.
The foliage of liatris is soft and grass-like, with attractive thin leaves covering the spikelike stems.
The blooms are showy and vibrant, and first open from the top of the plant and then gradually extend down the stem.
Does Liatris Come Back Every Year?
Liatris are herbaceous perennial plants, and will return to the garden year after year. They will die back at the end of the gardening season when the weather gets colder, and return the next season with new and fresh growth.
Once the flowers are established in the garden they will bloom at the same time every year.
Liatris plants are cold hardy and can be grown from zone 3 to zone 10.
The corms do not have to be lifted in the fall, and will establish themselves in the garden, naturalizing with ease.
As the flowers grow they will form solid large clumps with lots of stems. If happy in their location, the clumps of Liatris will grow larger with every gardening season.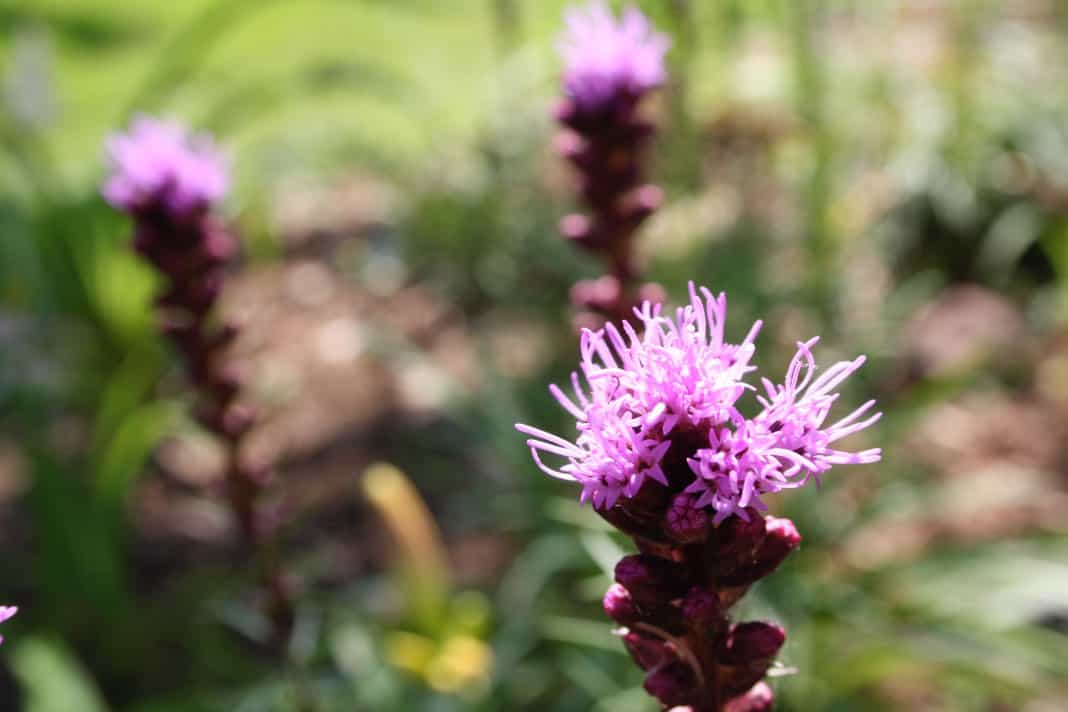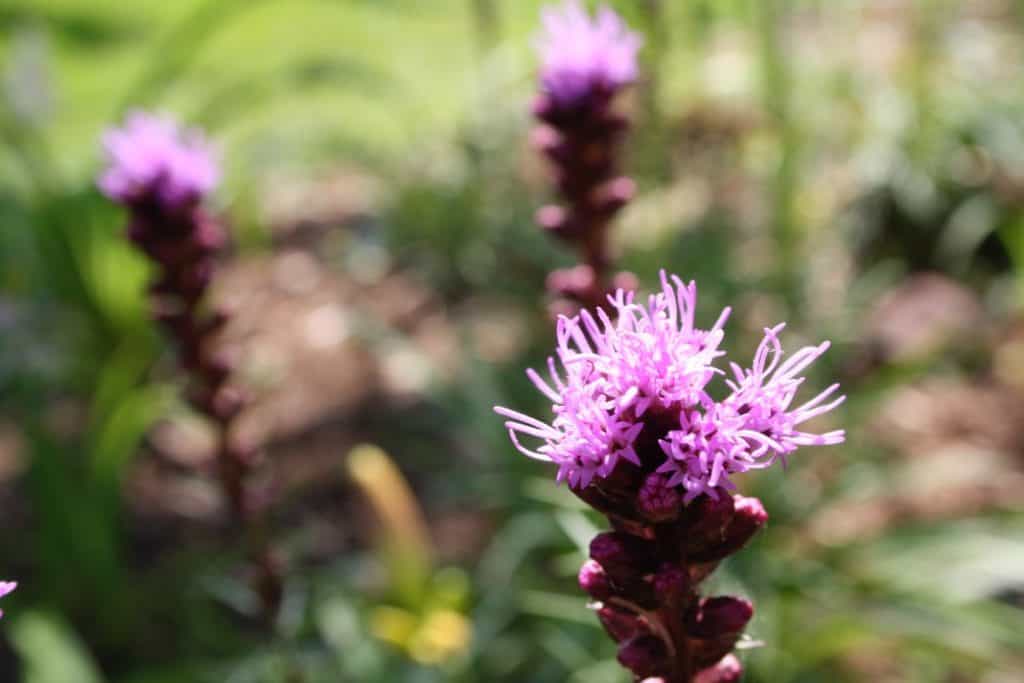 How To Grow Liatris Spicata From Seed
Liatris Spicata is one of the most popular forms of liatris. It can grow to be 2 to 4 feet tall, depending on the location where it is grown.
This plant can easily be grown from seed, and if you already have it growing in your garden, you may see an occasional volunteer Liatris seedling in the spring from reseeding.
If planting Liatris from seed, you will have the best success with fresh seed.
If planting seeds indoors, the seeds will benefit from a cool moist chill, or stratification period mimicking the natural process they would undergo if left outside in the garden over winter.
This process will help break down the seed coat and help the seed with the germination process.
Here is a post on the benefits of stratification:
How To Stratify Seeds-Seed Stratification and Scarification
Stratify liatris seeds using the cool moist chill method in the article. We generally do all of our cool moist chills in vermiculite, however you can also use moist paper towel or peat moss.
Chill in the fridge for 60 days to replicate the natural process in nature. After this time frame the seeds will be ready for planting.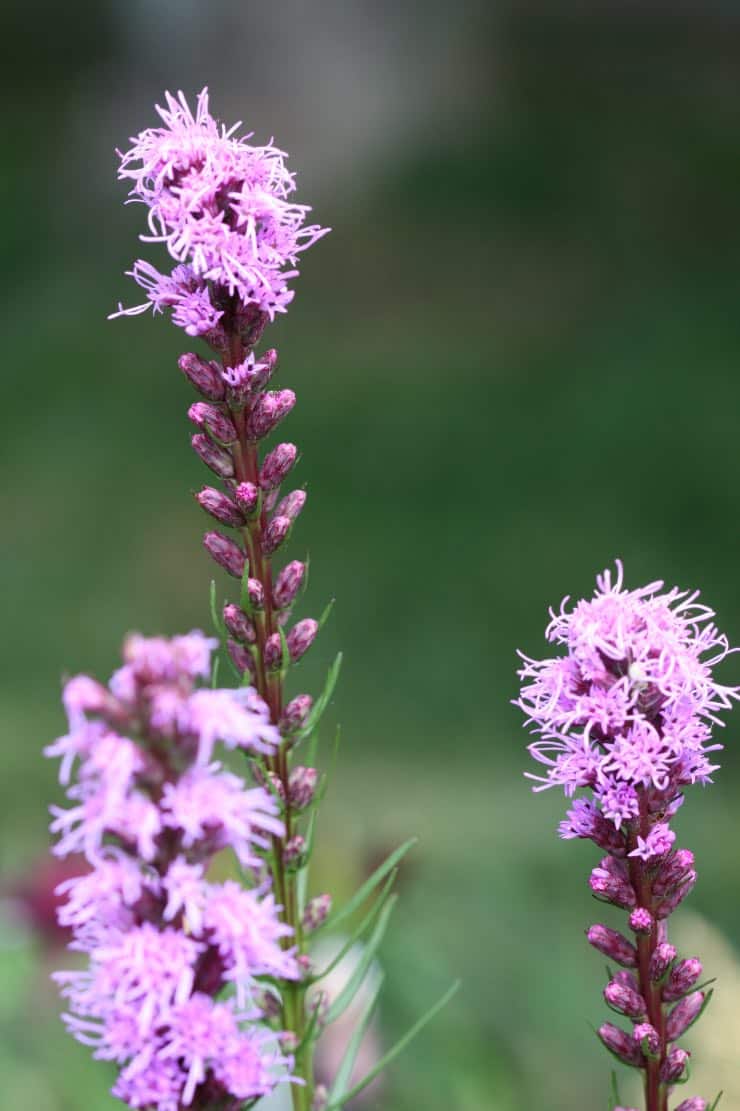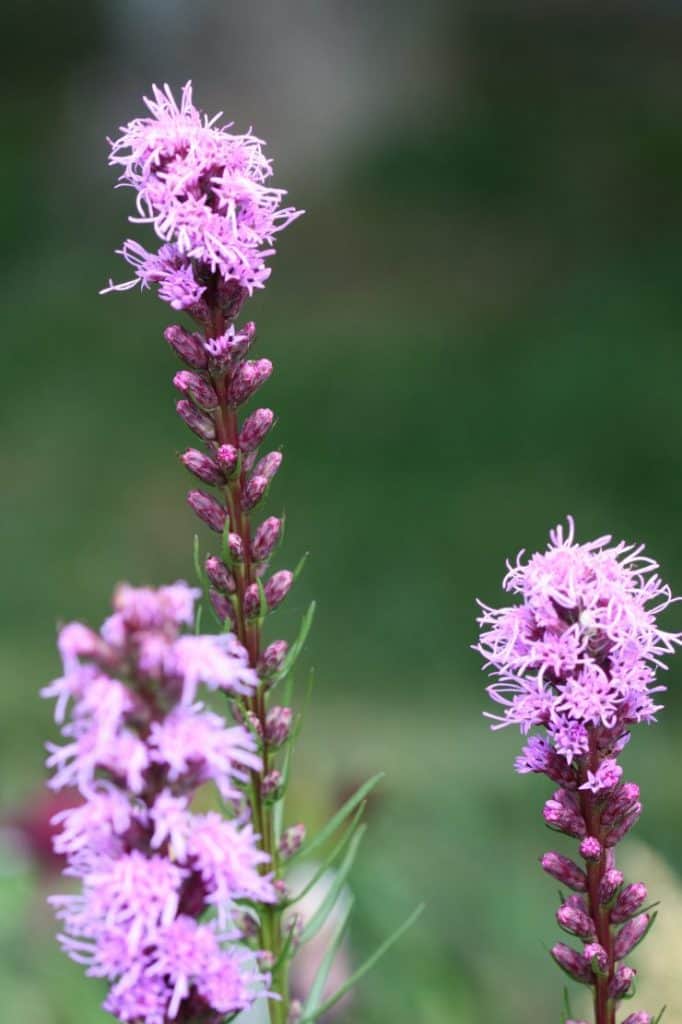 1. Planting Liatris Seeds
If starting your liatris seeds indoors, start them 7 to 8 weeks before your last frost date.
It should be noted that seeds can also be sown directly into the garden in the fall. These seeds will not have to be stratified because this will happen naturally over the winter.
Germination time for seeds grown indoors can be anywhere from 3 to 4 weeks.
Planting indoors in late winter will ensure good growth and enough time so that the seedlings will be a good size by the time they are ready to be planted out in spring.
2. Things You Will Need For Planting Seeds:
Heat mat for warmth during germination
Grow light for adequate light while growing indoors
For more information about starting seeds indoors visit this post:
How To Start Flower Seeds Indoors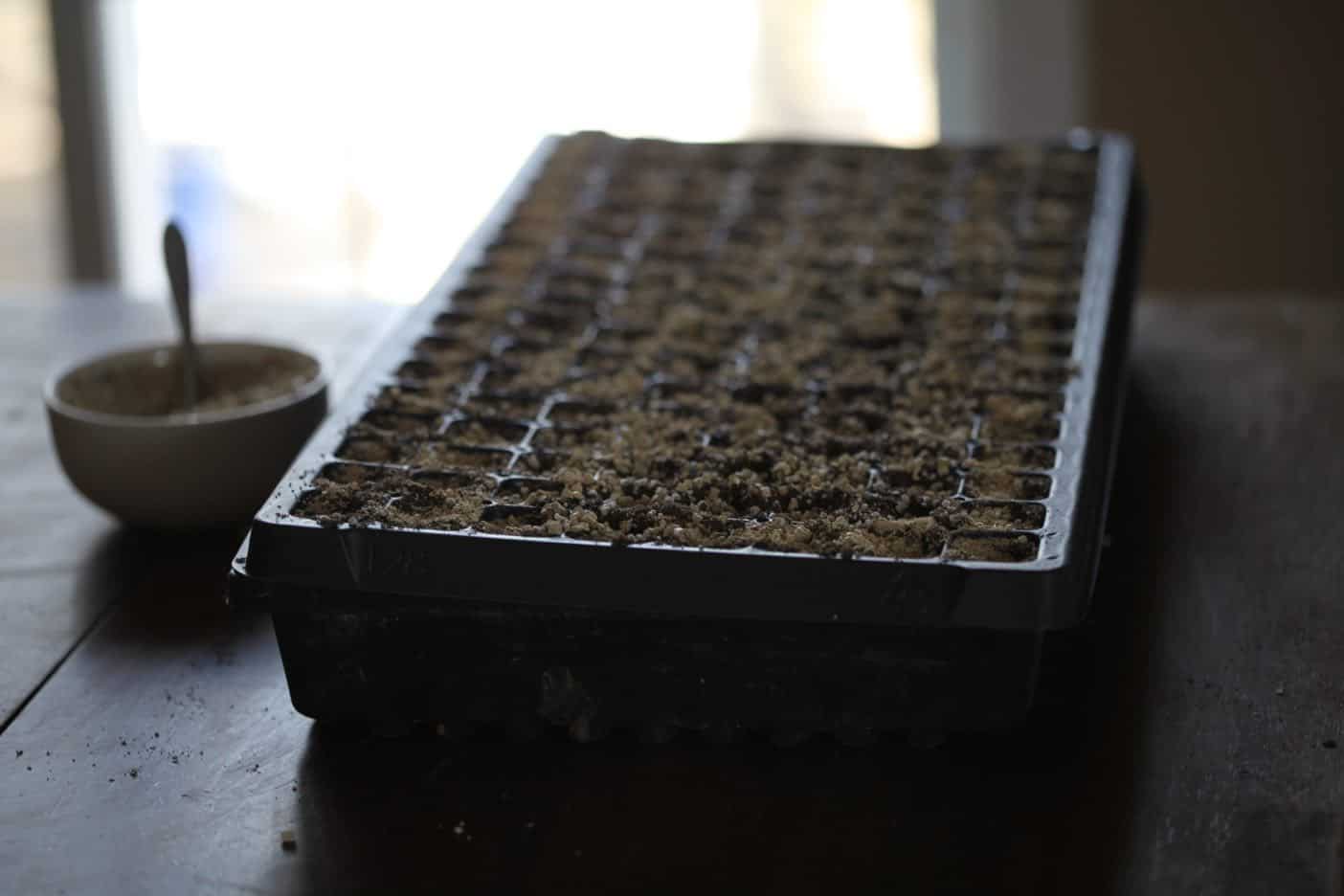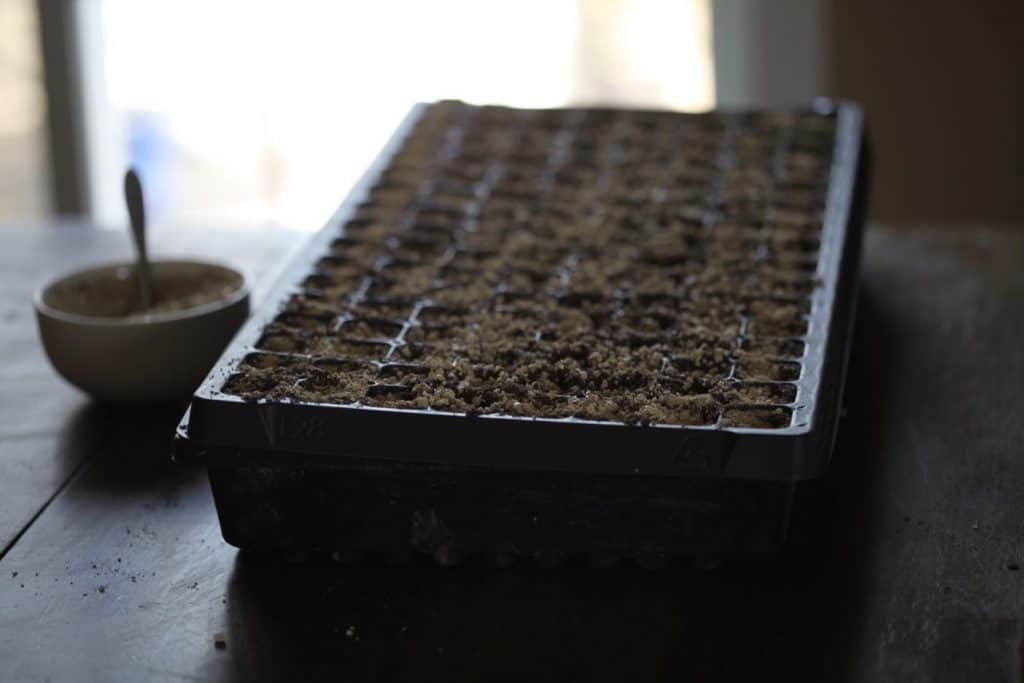 3. Method For Planting:
Plant the stratified Liatris seeds into a tray filled with a good seed starting medium.
We use cell trays, however any growing container will do.
Cover the seeds lightly with soil or vermiculite.
Bottom water the tray if using a cell tray, and place on a heat mat to await germination.
Once 60 percent of the seedlings have germinated, transfer to a location that will provide light for 14 to 16 hours a day. We use a grow light with great results.
Grow on under the grow light until the seedlings are ready to be transplanted outside. This should occur after all risk of frost has passed, and after a period of hardening off.
4. Planting Liatris Seedlings Into The Garden
Although Liatris are perennial and hardy, when they are tender seedlings they will still be vulnerable to frost.
It is important to make sure that the seedlings are hardened off before planting them into the garden. As well, plant only after the risk of all frost has passed.
Liatris seedlings will generally not bloom in the first year and will take a couple of years to reach blooming size. They will grow into little corms which will eventually reach blooming size in year two.
Planting from corms versus seeds will provide blooms within the first season.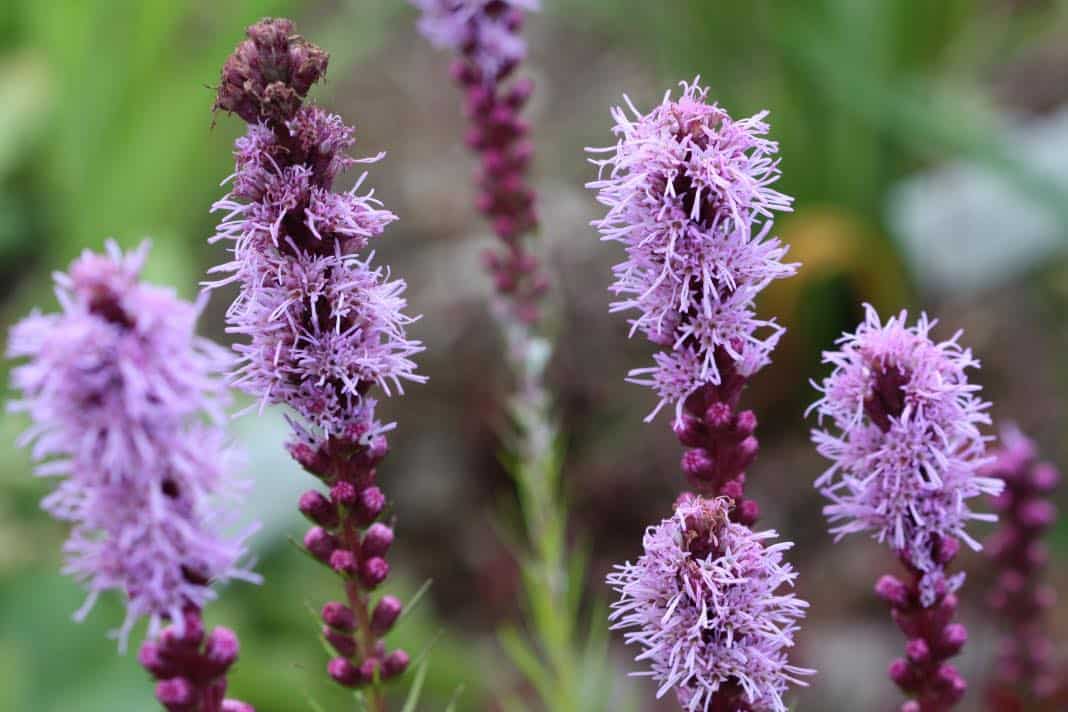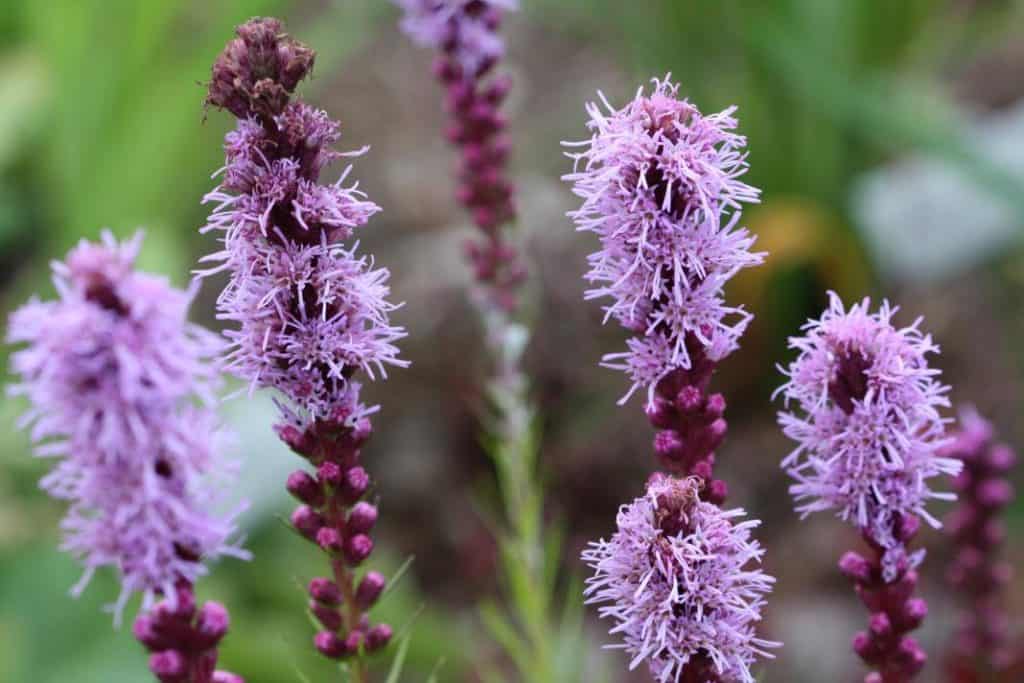 When To Plant Blazing Star Bulbs-Corms
Blazing Star Liatris is one of the most common Liatris species in the garden, and often the most available to purchase as corms to plant out into the garden.
Planting Liatris corms is another way to plant Liatris into the garden. Planting from corms will result in blooms in the first year of planting.
Plant Liatris corms, which are bulb-like structures, starting in spring.
Bloom time for spring planted corms will be in mid summer.
You can succession plant the corms in the first year of planting for a succession of blooms throughout the gardening season in that first year.
In the years following they will bloom at their predetermined blooming time for your growing zone.
How To Plant Liatris Bulbs-Corms
Liatris corms are very easy to plant. It is important to plant with the roots facing downwards and the plant stem facing upwards.
1. Liatris Bulbs- Which Way Up?
On liatris corms, look closely at the structures on each corm. Any small hairlike parts are the roots, and these should be placed into the ground facing downwards.
If you have purchased and received your corms mixed in peat moss, the roots will likely be white and starting to grow in spring, and easily differentiated.
On the opposite end of the corm is the area where the growing stem will protrude from the corm. Make sure that this end is facing upwards.
2. How Deep And How Far Apart Do You Plant Liatris?
Plant the corms in a 2 inch deep hole approximately 12 to 16 inches apart.
Cover with soil and mulch, and water in well after planting to remove any air pockets in the planting hole.
Spacing your liatris bulbs is very important. This will give them lots of room as they continue to grow into larger clumps, and they will appreciate the spacing.
3. How Long Does It Take For Liatris Bulbs To Grow?
Liatris bulbs can bloom in their first year, however will multiply each year continuing to increase the size of the clumps, and as well the numbers of blooms.
4. Do Liatris Bulbs Multiply?
Liatris bulbs will multiply and will continue to grow into larger clumps depending on their location.
They may need to be lifted and divided every 4 to 5 years if they have outgrown their space in the garden.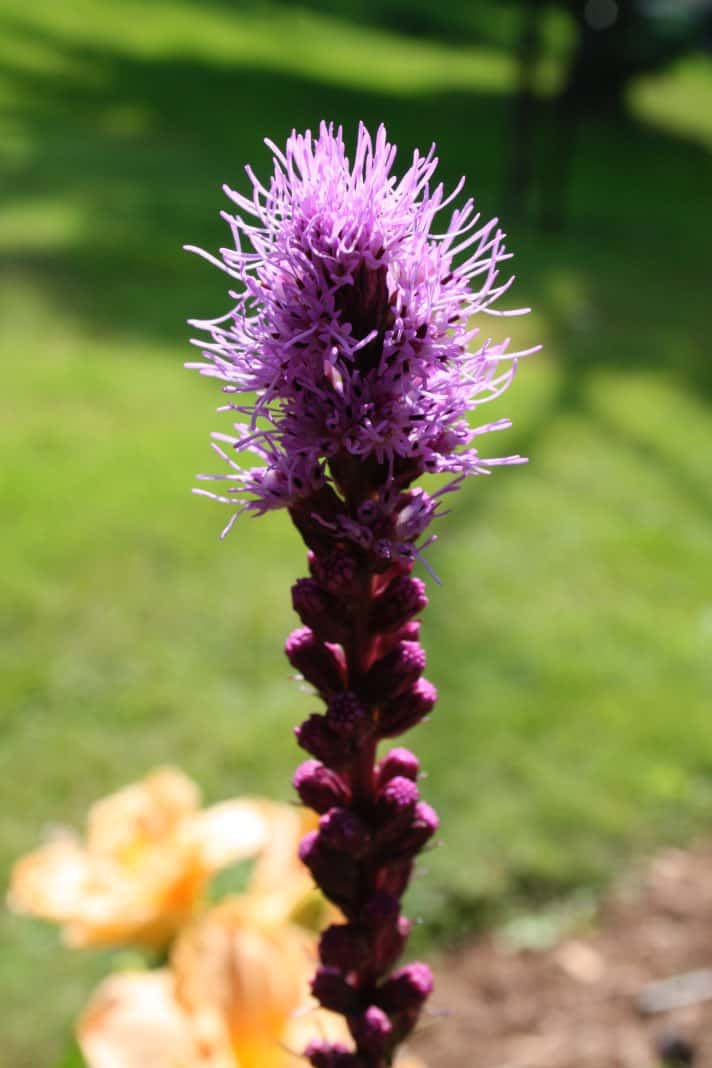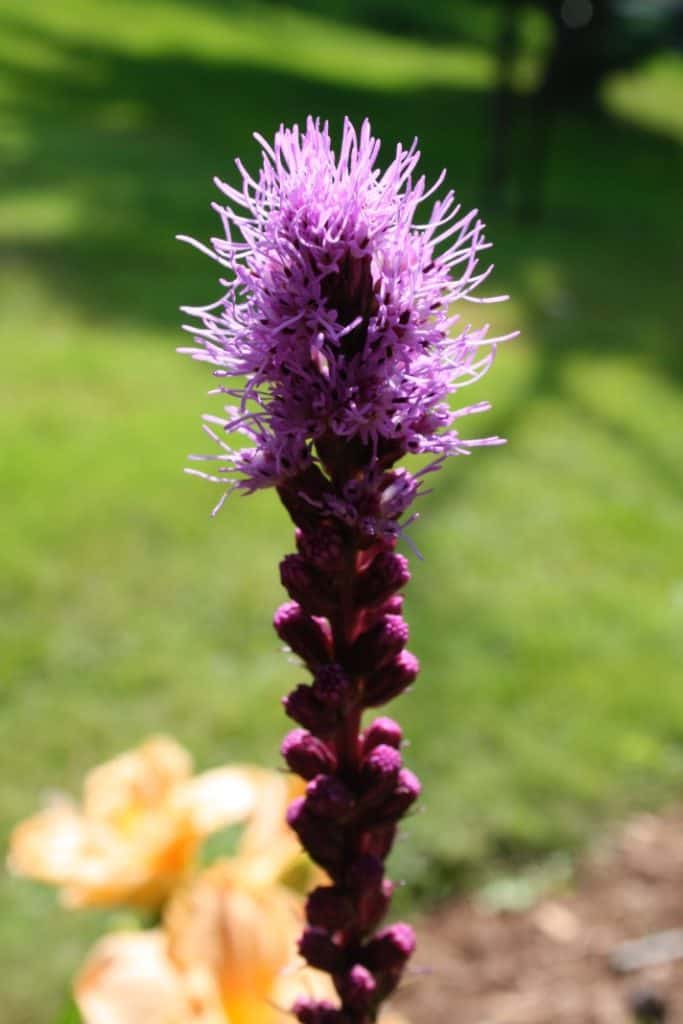 Transplanting Liatris
Liatris is easily transplanted, and the best time to do this is in early spring when the plant is still dormant and has not started to set roots for the season.
Dig around the perimeter of the plant with a shovel. Dig into the soil and lift the plant up.
If any corms break off you can replant those as well.
Transplant to the new location, replant at the same depth, and water in well.
Can You Divide Liatris?
Liatris can be divided every three to five years as needed. The plant is easy to divide and tolerates division well.
Division is one of the easiest and quickest ways to propagate liatris.
Dividing Liatris
After lifting the clump of liatris out of the planting hole, gently brush off the soil.
Take a sharp clean knife or cutting tool and cut the plant into two or three divisions. Replant at the same planting depth as was previously grown.
This is a great way to increase your liatris plants and spread them around the garden.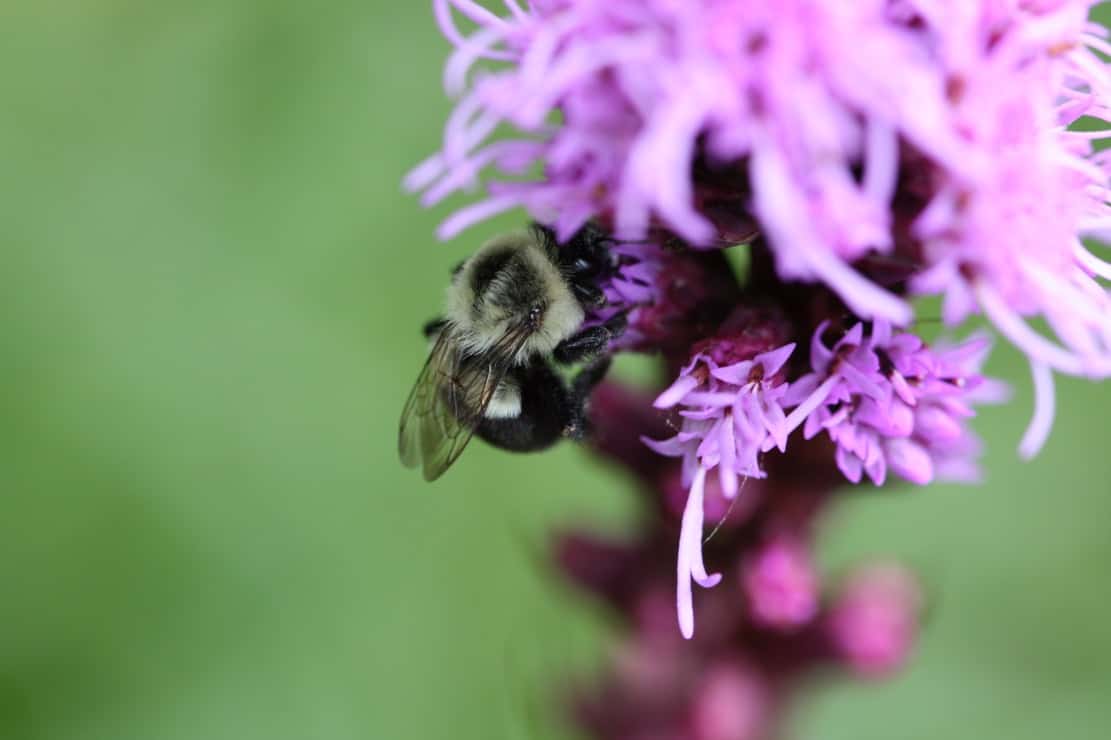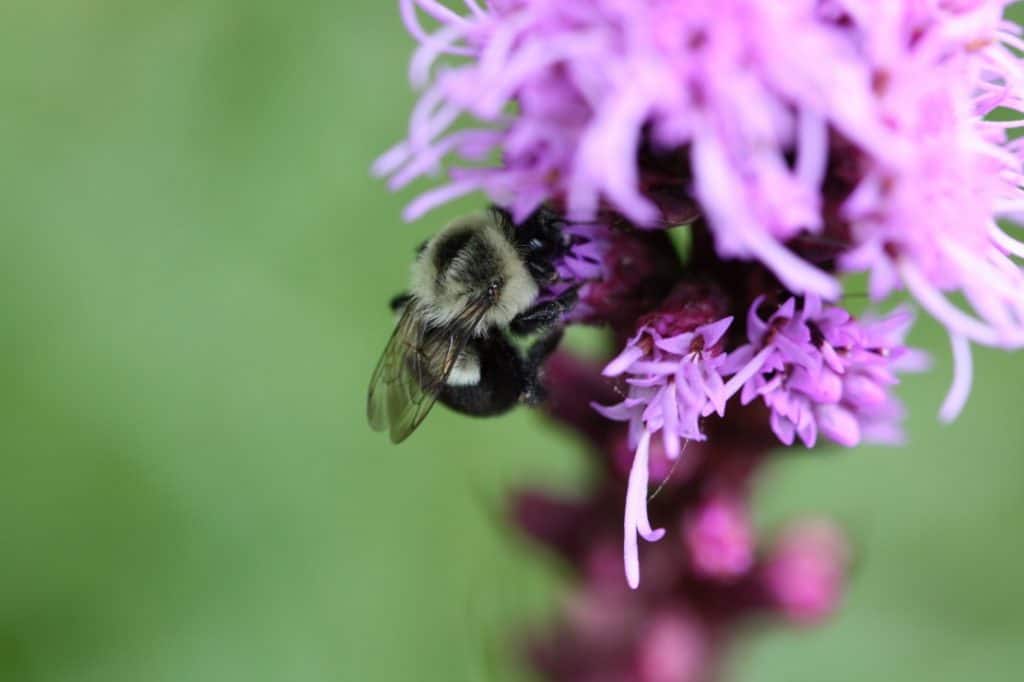 Liatris Care and Growing Conditions
1. Does Liatris Need Full Sun?
Although Liatris prefers full sun, it will also grow in some shade. If you have a sunny location in your garden, this is the best location for this plant.
2. Soil Requirements
Liatris will easily grow in many different types of soil, and with many different moisture levels. It is very adaptable to many areas.
3. Moisture Requirements
Liatris is drought tolerant, although loves moisture as well. It is known to grow in marshland environments.
Make sure that the plant is well watered while first getting established in your garden. Once established, it will be very tolerant of drought like conditions.
4. Drainage Requirements
Well drained soil is very important for liatris, and is one criteria for successfully growing this plant.
If planted in an area that does not drain well, the corms are at risk for rotting.
5. How Do You Winterize Liatris?
Liatris is one of the most low maintenance plants that one can have in the garden. There is really no special winter preparation for this plant.
If anything, just make sure that the plants are not sitting in a wet poorly drained area for the winter. Liatris will not overwinter well sitting in soil that is poorly drained and water logged.
6. Is Liatris Hardy?
Liatris is a hardy flowering plant that is very adaptable to most growing conditions. It is hardy in zones 3 to 10.
It is pretty well the perfect garden plant, and is especially a good plant for beginner gardeners due to it's ease of care.
7. Does Liatris Spicata Spread?
Liatris has not been identified as an invasive plant. It can spread a bit in the garden by reseeding, however is not known to escape the garden and be a problem.
There is a plant with a similar appearance to liatris called purple loosestrife. This plant should never be planted in the garden and has been identified as an invasive species.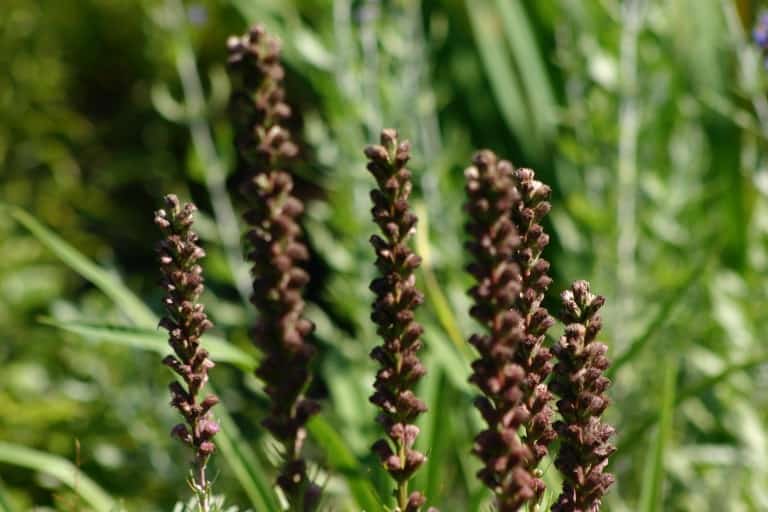 8. Should I Deadhead Liatris?
When the Liatris blooms are spent they will become dry and brown with the formation of seeds.
You can deadhead these seed heads to tidy the plant, or you can leave them in place for the birds to feed on.
The seeds tend to reseed although not profusely. If you want to prevent reseeding it's a good idea to deadhead.
9. When Should Liatris Be Pruned?
The best time to deadhead or prune Liatris is anytime after the plant is finished blooming.
Cut the stems back to the base of the plant.
Otherwise, if you plan to leave them in place, they can be tidied up in the spring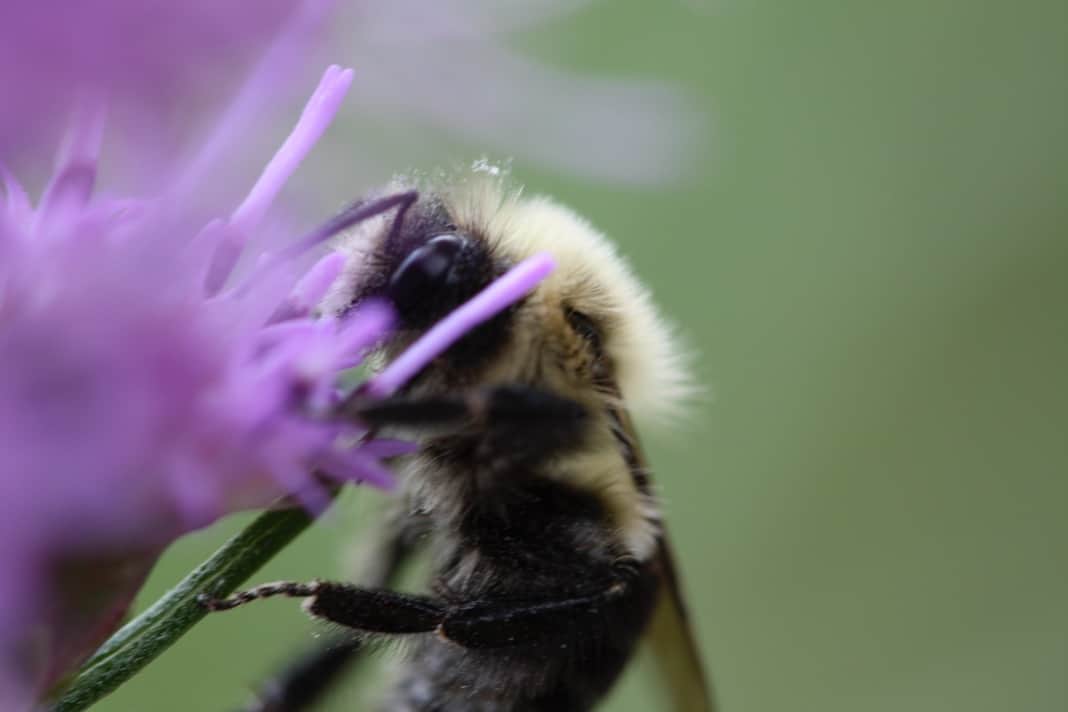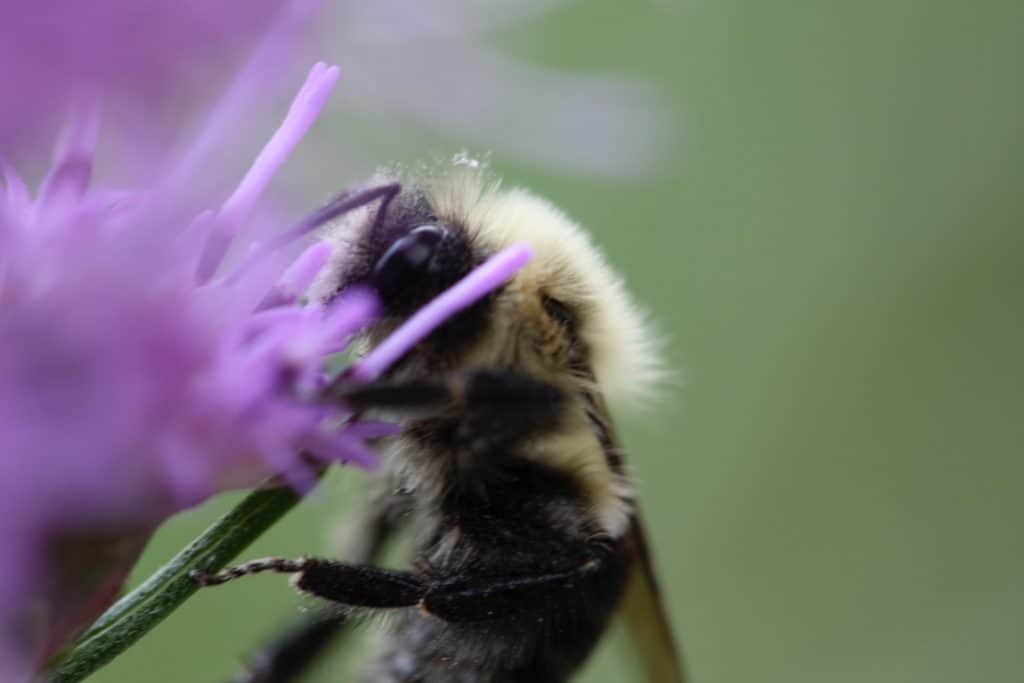 Liatris Varieties
There are forty eight different species of liatris in the United States. Many are wildflowers growing in grasslands and marshlands.
Liatris are pollinator magnets and beneficial plants. The different species have different blooming times, which offers a great pollinator value which is extended throughout the blooming season.
The most commonly grown garden variety is Liatris Spicata. Here are just a few species of Liatris:
This species of Liatris is also known as Gayfeather and Dense Blazing Star. It grows 2 to 4 feet tall and 1.5 to 2 feet wide. It is a fabulous herbaceous perennial which will establish well in any garden.
This species of Liatris is also known as Rough Gayfeather, and grows as a wild flower in many different locations.
This species is also known as Dotted Gayfeather, and is one of the latest blooming liatris plants. It offers late pollinator value after other flowers have finished blooming.
Also known as Prairie Gayfeather, this liatris is a symbol of the tall grass prairies.
Also known as Scaly Blazing Star, Liatris Squarrosa offers pollinator benefits in early July.
This species of Liatris is also known as Meadow Blazing Star. It is a preferred nectar source for Monarch butterflies, and it's peak bloom period usually coincides with the Monarch migration.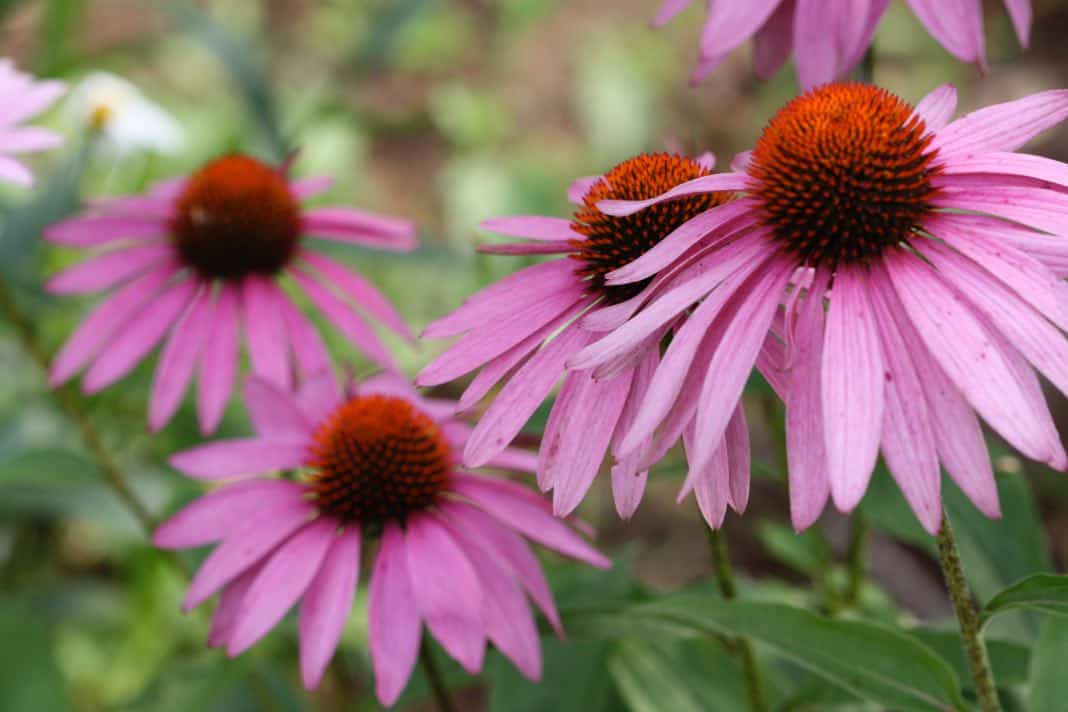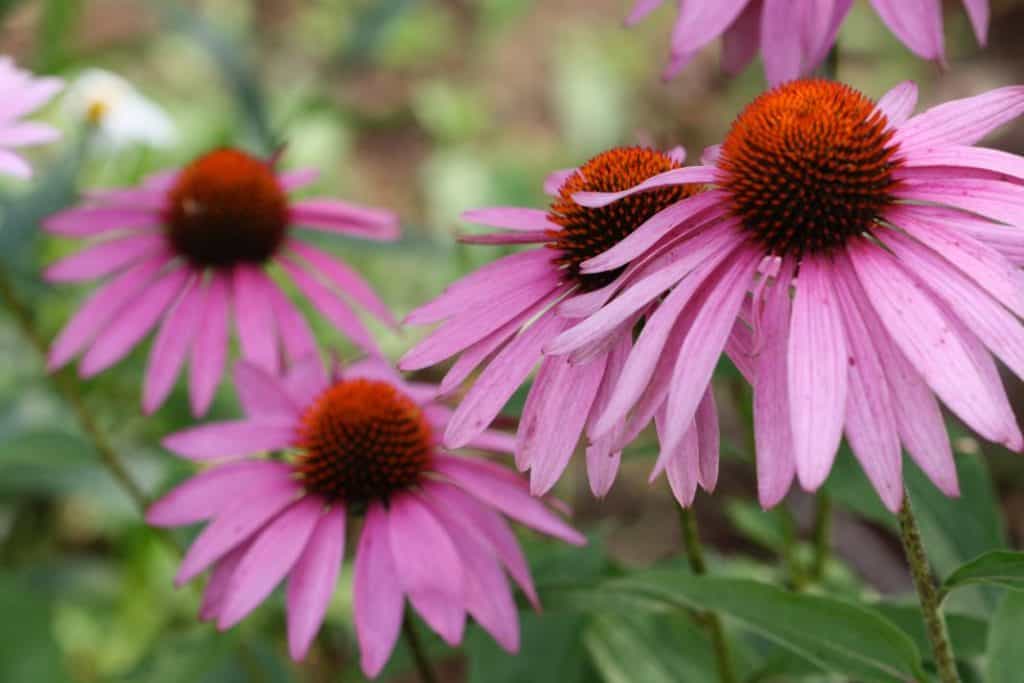 Liatris Companion Plants- What To Plant With Liatris
Liatris is a wonderful plant to grow with other herbaceous perennials in the garden.
Complimenting it's spikelike structure, it's good to add flowers with different elements, such as those with different foliage and shapes of blooms.
Making different combinations of shapes and colours draws the eye into the garden
We love to grow Liatris with orange daylilies and Echinacea. Shasta Daisies also compliment the flowers of liatris.
Essentially anything that grows at the same time in the same growing conditions should grow well with Liatris. Experiment with different combinations in your own garden to find a grouping that you will love!
Related Questions:
1. Do Hummingbirds And Bees Like Liatris?
Birds and pollinators love liatris! If you happen to have a patch of liatris it will most likely be buzzing with bees.
In the fall if you leave the seed heads on the plants, this will attract birds to the garden for feeding on the seeds.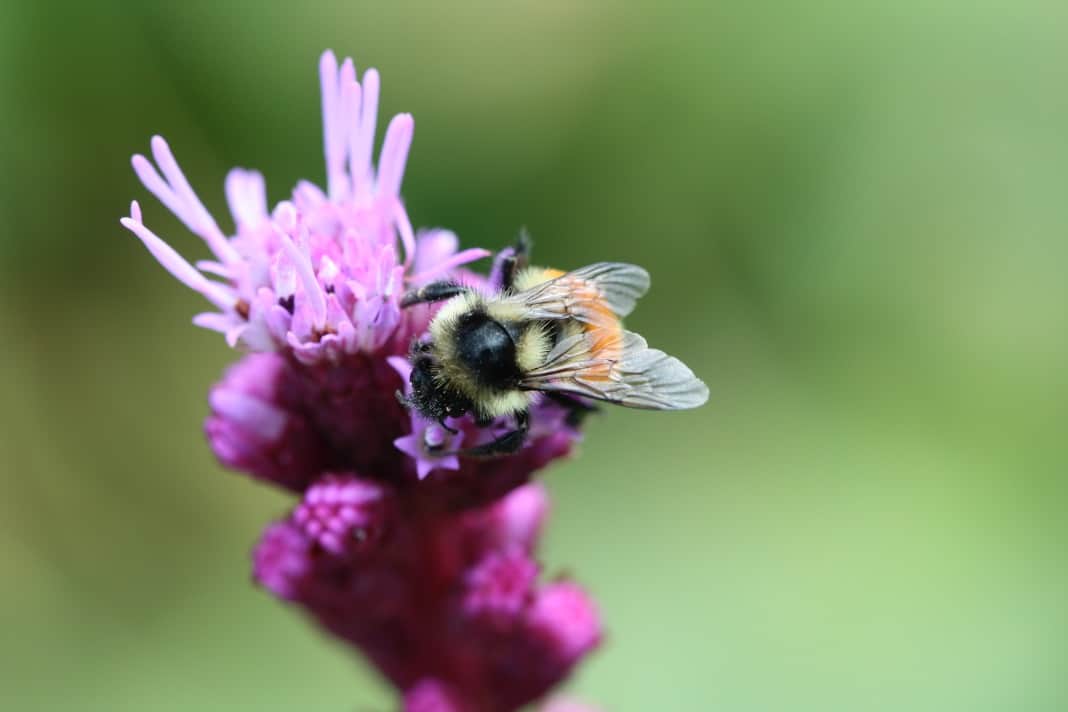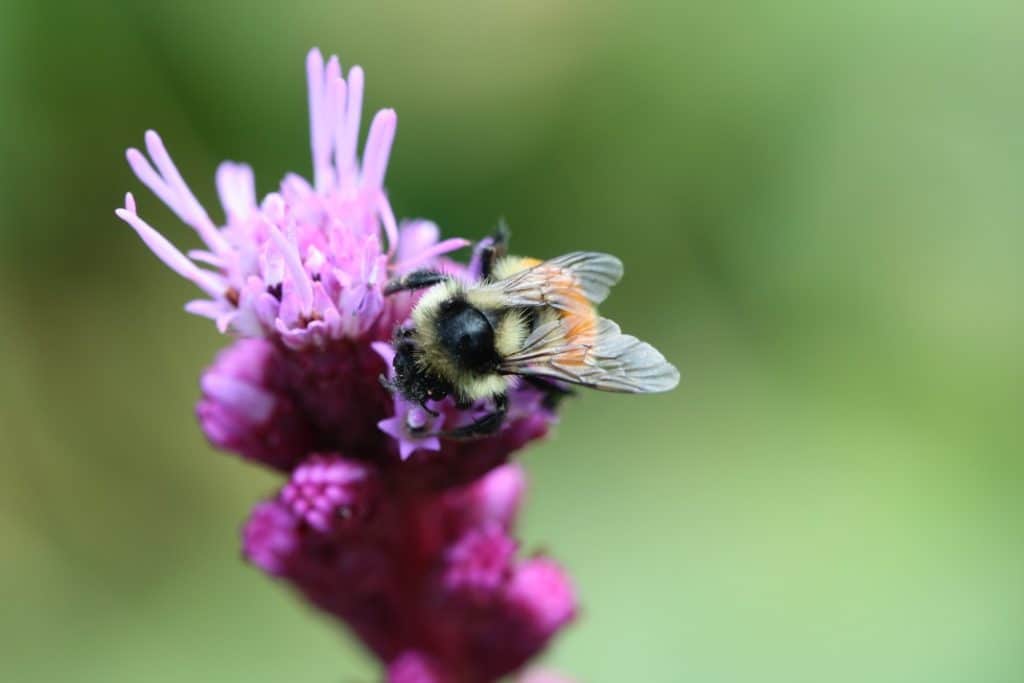 2. Is Liatris Deer Resistant?
Liatris is absolutely deer resistant! It is always nice to have flowers that the deer do not touch!
3. Is Liatris Invasive?
Liatris will reseed however is not considered to be invasive.
If ever concerned about the potential for invasiveness a good resource is the USDA National Invasive Species Information Center where you can look up the plant in question.
4. Is Liatris Poisonous To Dogs?
While liatris is not known to be poisonous, many plants can have untoward effects if eaten in large amounts.
One concern that one might have if a pet has ingested liatris is that it contains coumarins, which can have an anti-clotting or blood thinning effects.
Always take care with pets in the garden.
5. How To Store Liatris Bulbs
Liatris bulbs or corms do not require lifting and storage for the winter.
If you have some corms and are waiting until spring to plant them, make sure that they have been dried.
Place them in a bag with some dry peat moss until they are able to be planted into the garden.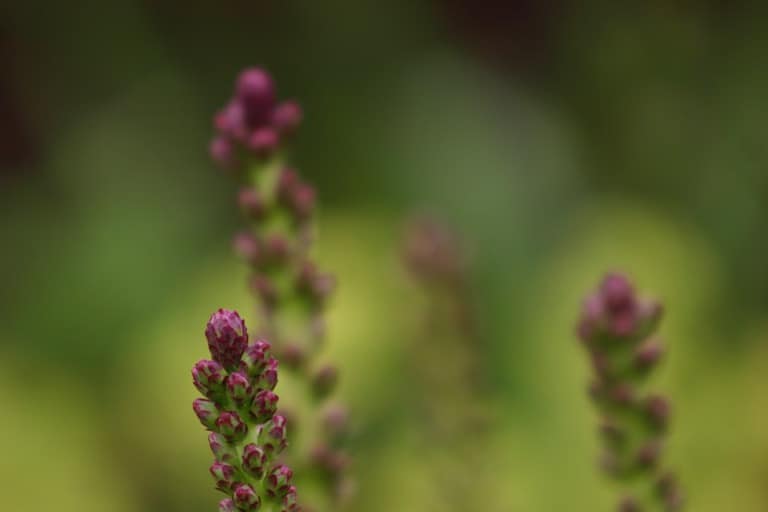 6. Do Liatris Make Good Cut Flowers?
Liatris make excellent cut flowers, for both fresh and dried arrangements. These flowers make a striking contrast in the vase, and we love them in arrangements.
For Fresh Flowers In The Vase:
Harvest when half of the flowers on the stem are blooming.
Vase life is 7 to 12 days.
For Dried Flower Arrangements:
Harvest when three quarters of the blooms have opened.
Bunch together in small bunches, and hang upside down to dry.
Have you tried to grow Liatris? Be sure to leave a comment below to share your experience with this wonderful flower!
PIN IT FOR LATER!