Last updated on October 7th, 2022 at 03:32 pm
Catmint is a low maintenance herbaceous perennial that attracts droves of pollinators to the garden. It has clusters of sweet lavender-blue flowers that are similar to those of lavender. Learn how to grow Catmint, also known as Nepeta, and fill your garden with this long blooming perennial.
There's a reason that catmint and Lavender are similar in appearance. The plants are closely related, belonging to the same family, which is the Family Lamiaceae.
Catmint is a cottage garden perennial, growing well with other cottage garden flowers. It is often grown as a companion plant for roses , grown as an underplanting due to it's low growing nature.
The wonderful thing about perennial plants is that they usually return to the garden year after year, and catmint plants are no exception.
Generally perennials don't bloom as profusely as some of the annual flowering plants in the garden.
Perennials usually bloom for two to four weeks every year, and a few sometimes have a second although less abundant flowering period at the end of the season.
In this case, Catmint is one of the exceptions to the rule.
This perennial can bloom from early spring into early fall, with just a bit of care mid season to stimulate the second flush of blooms. It is a long blooming perennial, with many garden benefits.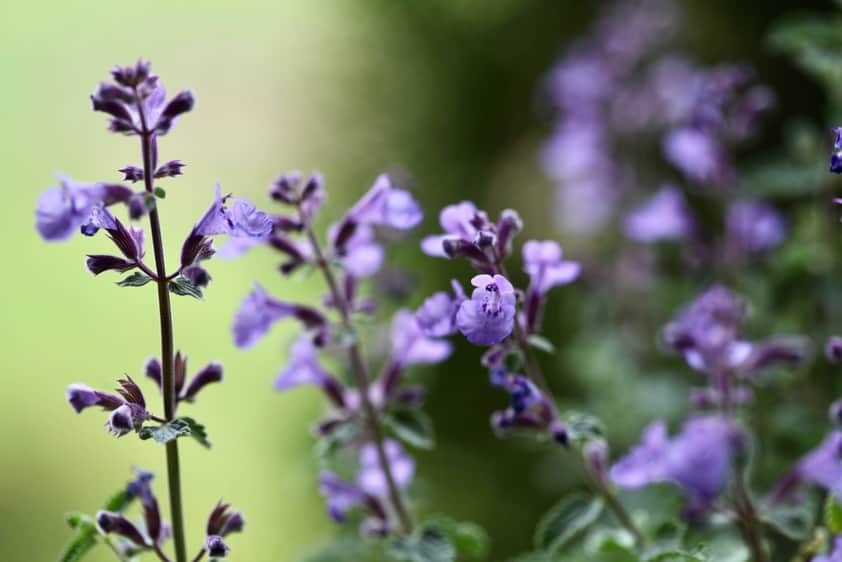 What Is Catmint
Catmint, or Nepeta, is a member of the family Lamiaceae, and belongs to the Genus Nepeta.
This plant is a perennial herb and is a member of the mint family.
There are approximately 250 species within the Genus Nepeta, most of which are perennials, although there are also some annuals.
Some species, such as the hybrid Nepeta × faassenii, have been cultivated for their beauty and presence in the garden. N. × faassenii is the result of breeding two other nepeta species together, it's parents being Nepeta racemosa and Nepeta nepetella.
Many catmint plants are low growing, and are popular as a ground cover and edging plants planted along walkways.
Catmint species share common characteristics, such as square stems, two lipped flowers, and opposite leaves.
Catmint has a silvery gray-green foliage that is offset by 5 inch purple blue spikes of catmint blooms. Some varieties have a darker coloured calyx, which adds to the beautiful colour of the flower even after the blooms fade.
This hardy perennial is long blooming and can bloom from May straight through to September, with a pruning and haircut in mid summer after the first set of blooms. This pruning will help to stimulate a second flush of growth.
Catmint is an aromatic herb that has a minty odour and taste, which makes it a deterrent to wildlife such as deer and rabbits.
It is attractive to pollinators however, and is a great source of nectar in the garden.
Due to it's long bloom period, especially into the fall, it is considered to be a valuable food source for the bees heading into winter.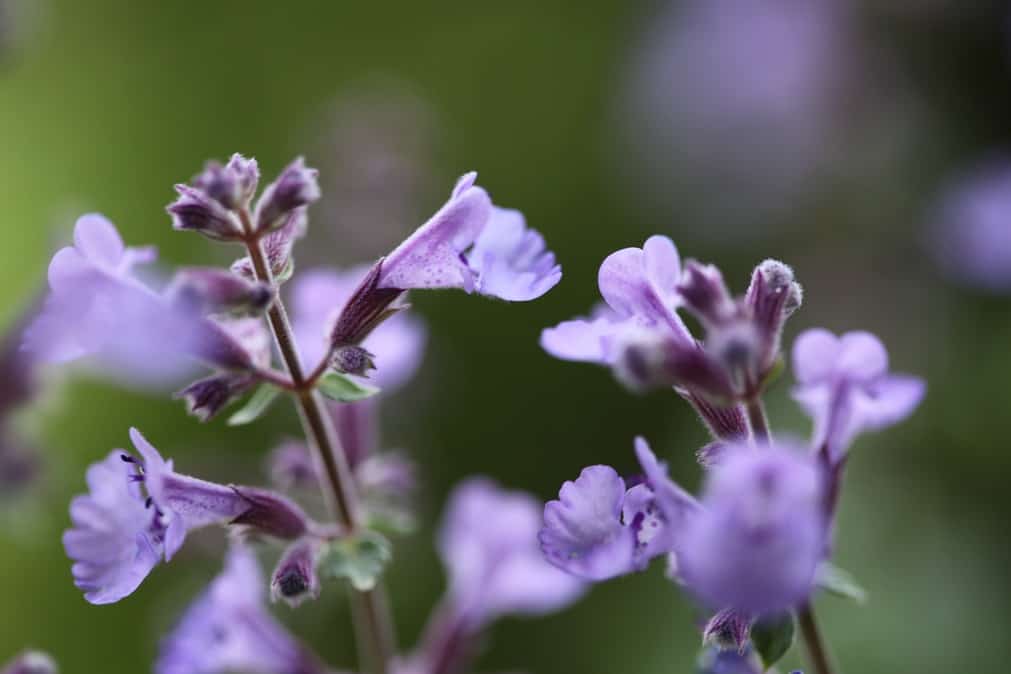 Varieties Of Catmint
There are a number of varieties of nepeta or catmint that are perfect for the perennial border.
Walker's Low is a popular variety that grows about two feet high and spreads to about three feet wide. It tends to flop over in the middle when it grows to it's full width.
A similar variety is Cat's Meow, which does not spread as wide and remains intact without opening up in the middle.
An early blooming and even more compact variety is Cat's Pyjamas, which blooms two to three weeks earlier than most other catmint cultivars.
Nepeta × faassenii is a sterile hybrid, which grows one to two feet high and up to three feet wide, and is perfect for rock gardens, perennial borders, and herb gardens.
Does Catmint Come Back Every Year?
Catmint is a hardy herbaceous perennial that returns to the garden year after year.
Make sure that it is planted in well drained soil for best longevity.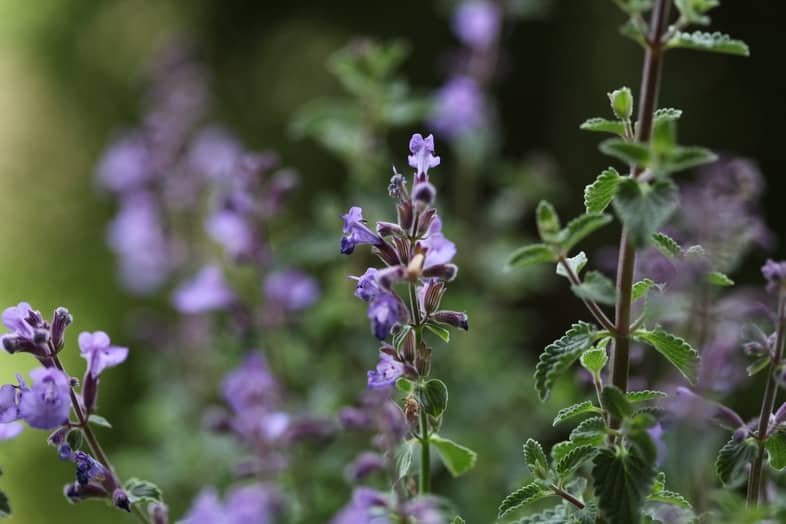 Catmint Vs Catnip
Both catmint and catnip belong to the Nepeta Genus. Catnip is less of an ornamental garden plant than catmint.
Catmint is sometimes referred to as catnip ( ie. Catmint nepeta x faassenii is sometimes referred to as Faassenii's catnip), and catnip itself is sometimes called catmint, which can make differentiation confusing.
Both catmint and catnip attract pollinators to the garden. They are also both deer and rabbit resistant.
Both plants can also be attractive to cats, however catnip is definitely more so.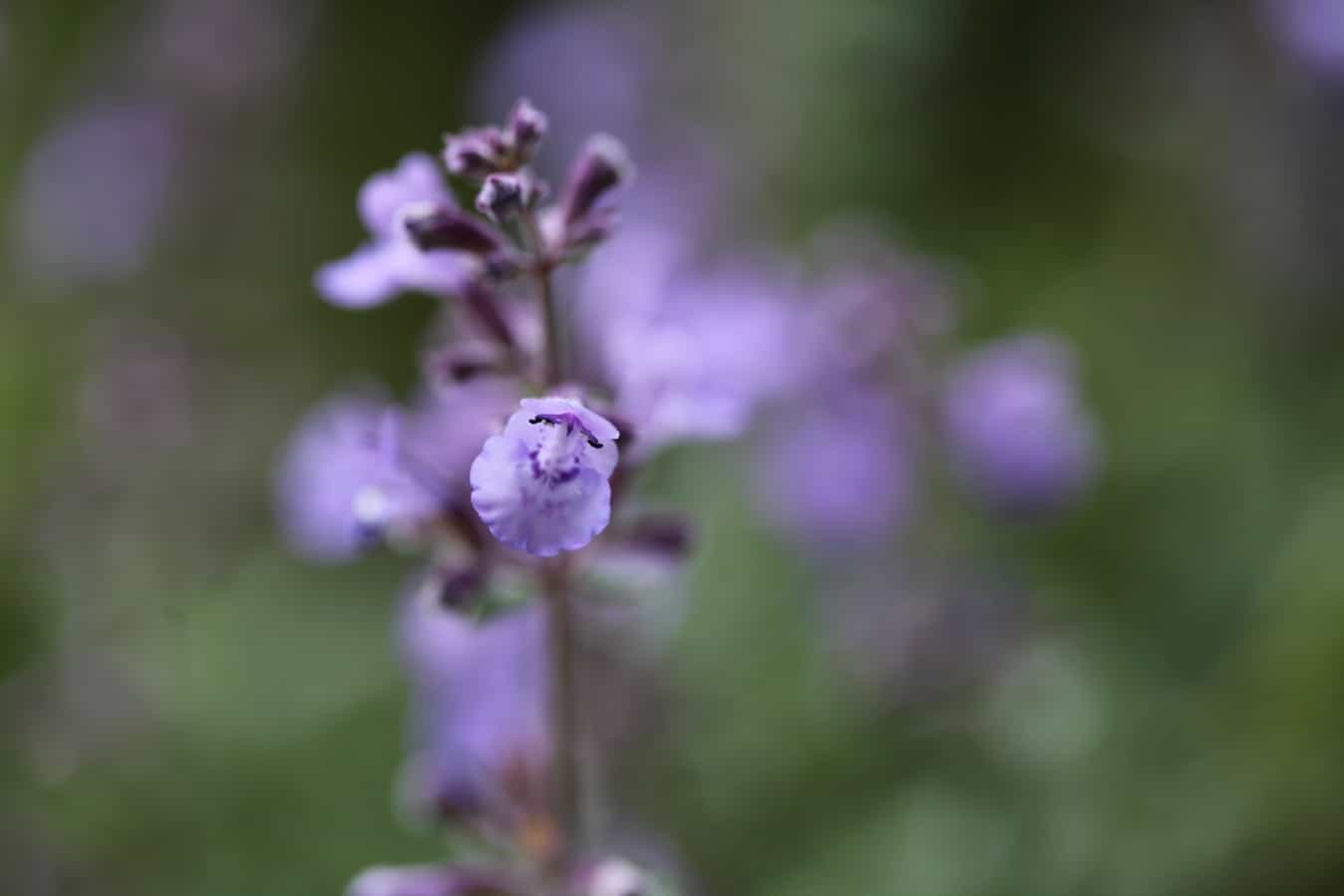 There is a difference however. So lets have a look at the differences between them:
Catnip
The catnip species is known as Nepeta cataria.
Catnip plants can have an intoxicating effect on some cats, although not all. A substance in catnip called nepetalactone binds to olfactory receptors in cats causing a state of temporary euphoria.
This phenomena occurs in approximately 2/3rds of all cats.
In the garden, catnip has a more weedy and informal growth habit than catmint, and is best grown in the herb garden rather than in the perennial garden bed. It is a short-lived herbaceous perennial.
The flowers of catnip tend to be lighter in colour than catmint, and this plant often displays light lavender or white flowers.
The leaves are heart shaped, dark green, and more serrated in appearance than the leaves of catmint.
Catnip leaves are often dried and used as the stimulant for cats.
Interestingly catnip has also been studied for it's insecticidal properties, including in the garden against garden pests, as well as an insect repellent on the felines themselves.
Catmint
The catmint species, one of which is Nepeta x faassenii, does not have the same effect on our feline friends.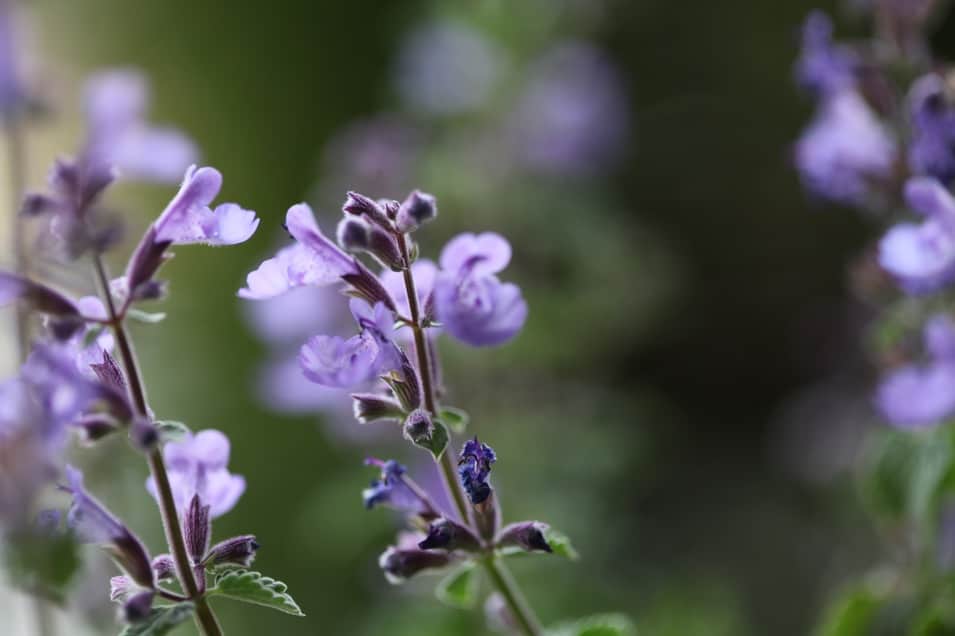 Cats may be attracted to catmint plants in the garden, however they do not have the same intoxicating effect.
You may find cats lounging near your catmint, or even laying in it. They will not likely be acting silly however, like they often do with catnip.
These plants are grown for their blooms and exceptional presence in the perennial garden.
Catmint has a minty smell when you brush against the foliage in the garden. Catnip does not have this same minty smell.
Is Catmint Easy To Grow?
Catmint is very easy to grow. It is a plant which requires little to no maintenance, and one that just keeps giving.
These plants demand little attention, and produce blooms prolifically throughout the growing season.
Catmints are drought-tolerant plants and they do not require much water once they have become established in the garden.
They will spread in the garden by rhizomatous growth, growing until they reach their maximum size.
These plants are also very easy to propagate, so you can make more to spread around the garden.
How To Propagate Catmint
Is Catmint Easy To Grow From Seed?
Catmint is easy to grow from seed. Nepeta mussinii is a good variety to start with if growing from seed.
Plant in cell trays in a soilless medium. A light covering of vermiculite over the seeds is ideal.
Ensure that the soils stays moist until the seeds germinate, usually within seven to fourteen days.
Seeds can also be direct seeded in warmer locations. Sprinkle onto a prepared garden bed and press into the soil. Barely cover the seeds, as they require light for germination.
Again, make sure the soil stays moist until germinated.
If started early enough, you may get some blooms the very first season.
Pinch seedings to encourage branching and stem growth.
How To Grow Catmint From Cuttings
Take softwood cuttings approximately six inches in length.
Cut from stems that are not in flower if possible.
Remove all the lower leaves, leaving just a few top leaves in place.
Remove any flower buds if present.
Dip the stem in rooting hormone.
Place the cutting in a pot with soilless medium. Ensure that there is a leaf node beneath the soil surface, as this is where the roots will form.
There should be root formation within several weeks.
Plant out when a good sized root ball has formed.
Division Of Catmint
Catmint is easy to propagate by division.
Lift and divide catmint clumps every three years in the spring to increase your plant stock.
Dig around the plant clump with a shovel or spade.
Remove the rootball from the soil, and divide the clump with a shovel or sharp knife into portions containing roots.
Replant the portions into the garden.
How To Care For Catmint
Growing Zone
Catmint is hardy in usda zones 3 or 4 to 8, depending on the specific cultivar.
Soil Requirements
Catmint is not picky about soil and can grow in a wide range of soil types as long as there is well drained soil.
Good drainage is important for plant health and survival.
Light Requirements
Light preference is full sun for best results.
Catmint can also be grown in partial shade, however larger plants may flop over in shady locations.
Moisture Requirements
Catmint is drought tolerant once it is established in the garden.
When first planted however, make sure that the plant is watered regularly, at least once per week, until established.
Pruning
Pruning catmint will help with blooming. It helps to stimulate new bloom formation.
Spring Time Pruning
Do not cut down these plants in autumn. Rather, wait until spring to clean up the plants and remove old growth.
Tidy up the plants in spring when the new growth appears, by removing old woody stems to freshen up the plant.
Deadheading In Summer
Dead head plants in early summer, after the first flush of flowers begins to fade.
Cut the stems back to the mound of leaves just below the stems. Within several weeks you will notice new stem production and bloom formation.
The second flush of blooms will bloom straight on into fall.
Is Catmint Invasive?
Although not known to be invasive, some catmints can self seed in the garden space.
Other hybrids such as Nepeta x faassenii are sterile, and can not propagate or spread by seed.
Conclusion
Catmint is a wonderful perennial flower with aromatic foliage, and a good choice for the cottage garden.
It is a tough plant with ornamental value, and a prolonged blooming period for a perennial.
This plant is also a pollinator and hummingbird magnet, and an important plant for this reason.
It requires almost no care or maintenance, with the exception of a quick trim in mid summer for a second flush of blooms.
This plant thrives in the heat, and can tolerate drought like conditions and dry soil. It can thrive in a variety of different soil types.
Due to it's low growing nature it is considered to be a great ground cover. It also looks wonderful along the edge of a path planted enmasse.
There are a number of catmint varieties from which to select, which offer different size options depending upon your garden needs.
Try growing some catmint in your garden next gardening season and enjoy the benefits of these sweet purple blooms. The pollinators will love you for it!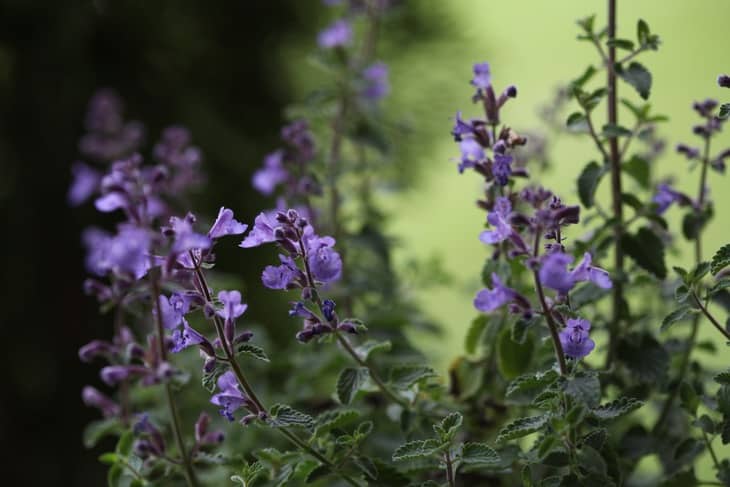 Have you grown catmint in your garden? Be sure to leave a comment below to share your experience!
Other Posts You May Like:
PIN IT FOR LATER!