Last updated on January 25th, 2022 at 12:18 am
Echinacea is such a pretty garden flower, with it's colourful daisy-like petals and prominent centre cone. Not only is it a flowering plant, echinacea is also a powerful herb. Learn how to grow Echinacea, also known as purple coneflower, so that you can enjoy it in your perennial garden.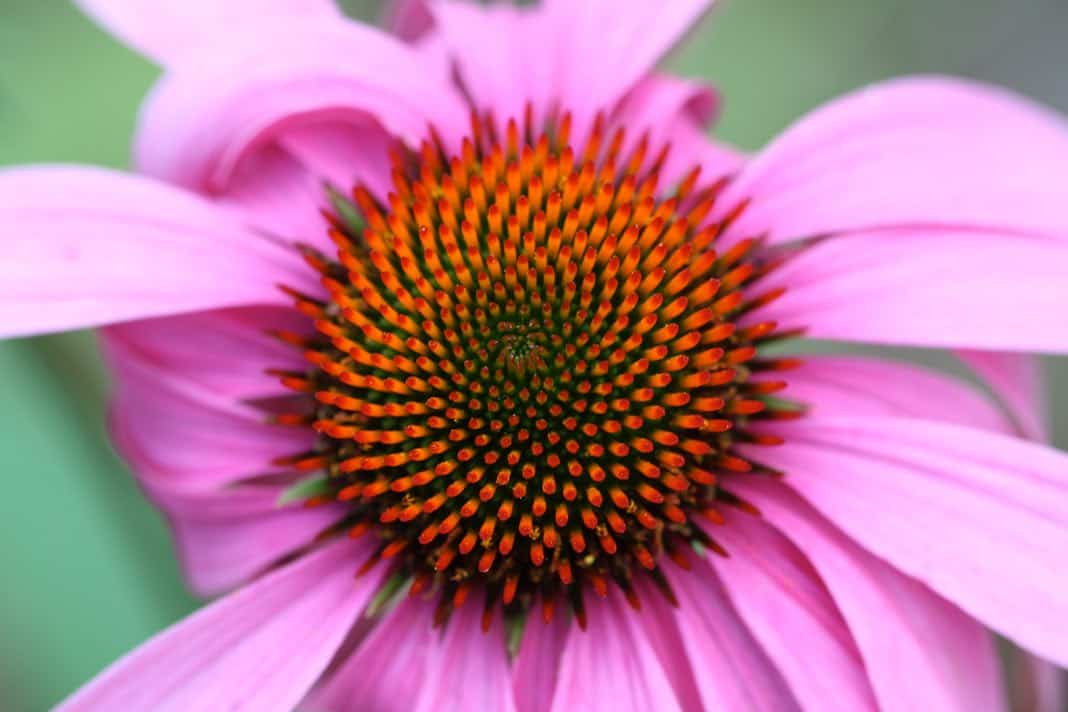 My first plant of echinacea purpurea was purchased at a garden centre many year ago, and I fell in love with it in the garden.
I was quite intrigued by the symmetrical designs in the cone, and took many closeup photos of the flowers.
It fit in very well with my garden theme at the time, which was a cottage garden, or English country garden look. This plant looks great with cottage garden companion plants, like foxgloves, delphiniums, Russian sage, lamb's ear, and liatris.
It is also very easy to grow, and does really well in our zone 5b garden.
What's In A Name- Echinacea Purpurea
Interestingly, the name echinacea is related to the Greek word for hedgehog –echinos, due to it's spiny central cone.
Can you see the resemblance?
Purpurea means purple in latin, and refers to the purplish petals of echinacea, although I find them to be mostly pink.
Is Echinacea Hard To Grow?
Echinacea is very easy to grow.
It's a hardy herbaceous perennial, and does not really require a lot of extra care if you plant it in the right location and in the right growing conditions.
How To Grow Echinacea From Seed
Echinacea is fairly easy to grow from seed.
Two years ago I purchased Cheyenne Spirit echinacea seed, and germinated them indoors in the winter.
These seedlings were planted out that first summer, and grew very well. They did not bloom that year.
The following year we transplanted them to a new location, and they did bloom that second summer.
It was from these plants that I was able to obtain these seeds (see photo below):
How Do You Germinate Echinacea Seeds
Here are some considerations for successful germination of echinacea seeds.
Do Echinacea Seeds Need Stratification?
Echinacea is a perennial, and it will benefit from stratification to aide in the germination process.
Stratification involves a period of cold moist chill which simulates what the seed would experience if left outside in winter.
This chill helps to breakdown and soften the coating on hard perennial seeds so that they can germinate.
Since the seeds have not undergone natural stratification outside, they will need this process provided for them artificially, with a moist chilling period in the fridge.
Place the seeds in a baggie with some moisture, and place in the fridge for about a month.
Normally I place my seeds in moist vermiculite in a baggie, however echinacea seeds look very similar to vermiculite.
So I just added a few drops of water to the seeds in the bag, and poured out the excess. A damp paper towel would work as well.
The seed coats of echinacea are not as hard as some other perennials, such as lupines.
Unfortunately, I did not do a moist chill with my first plantings of echinacea seeds this year, just a cool dry chill. I did get some germination, though not as good as I had hoped.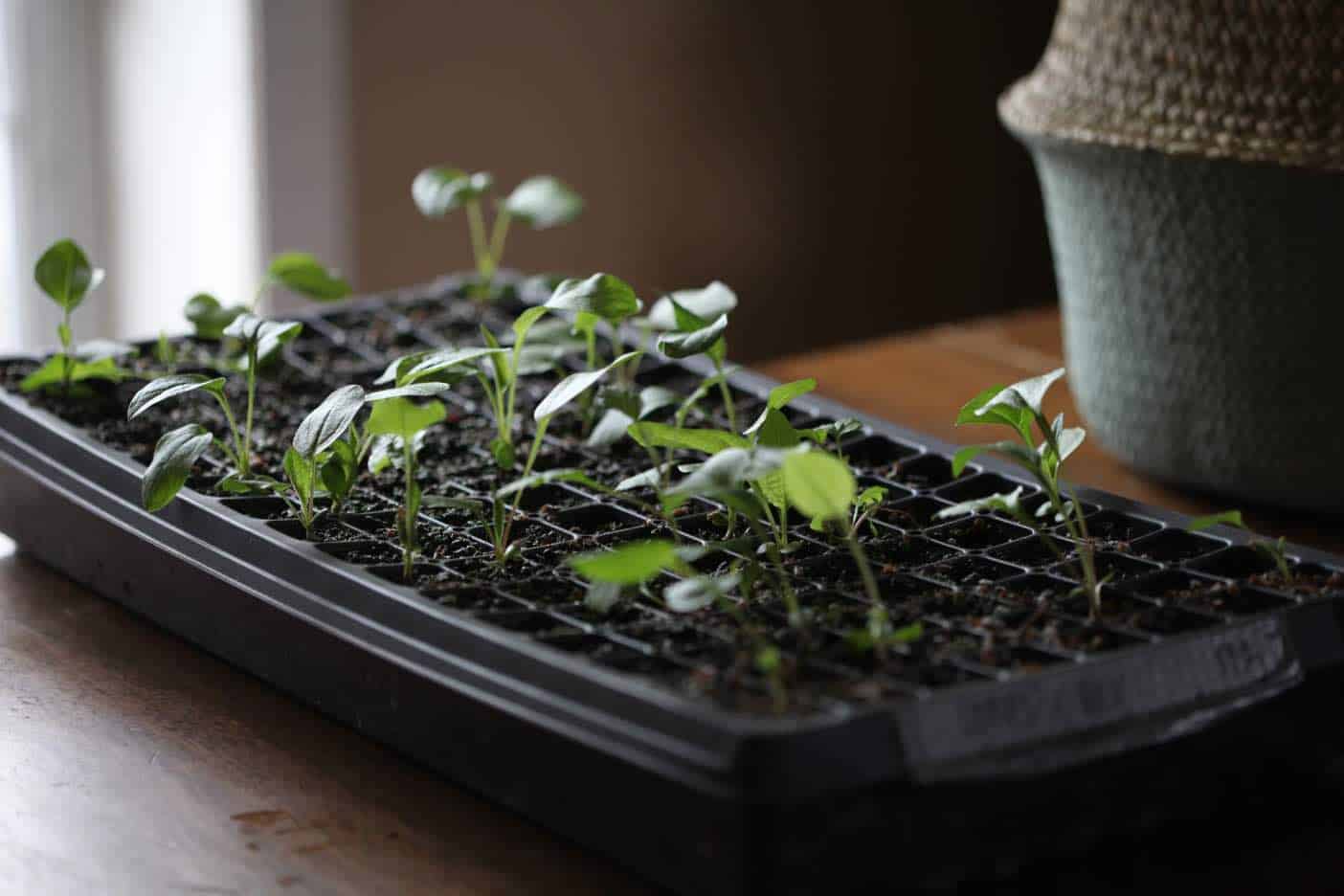 Currently the last of my echinacea seeds are in a baggie in the fridge getting a moist chill. I'll be able to compare germination results for you!
Planting Supplies:
We generally use cell trays, either 72 or 128- other methods of planting are discussed here.
Use a good seed starting mix
Seeds
Container to bottom water
Heat Mat
A shelf on which to place your tray
Grow lights
Planting Depth
Fill the tray with seed starting medium.
Make little indentations on top of the soil in each cell , into which you can drop a seed. I usually just do this with my finger, and it goes pretty quickly.
Plant the echinacea seeds at a depth of 1/4 inch. If you made the indentation, that should be enough.
Do Echinacea seeds Need Light To Germinate?
Cover the seeds with soil or vermiculite, as they require darkness to germinate.
Another handy trick is to place a cell tray base, or bottom tray upside down over the planted tray. We have had great success doing this with other seeds that need darkness to germinate, such as bupleurum.
Place On Heat Mat
We use a heat mat to help with the germination process, and find it very helpful.
Provide Light Once Germination Has Taken Place
Once the seedlings have germinated, transfer your tray to a shelf with good light.
We use grow lights on our shelving unit. They are just basic T8 shop lights, which work very well.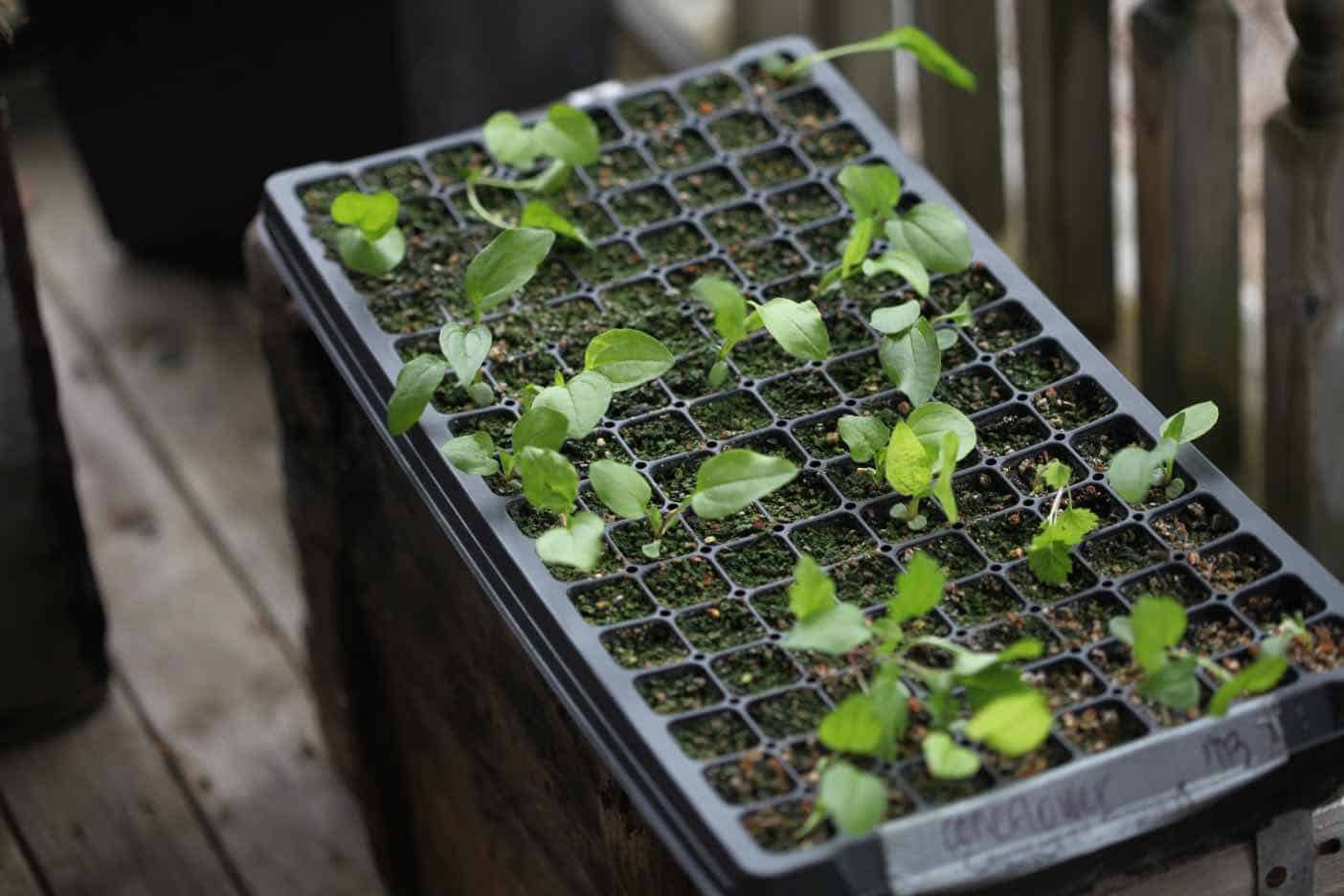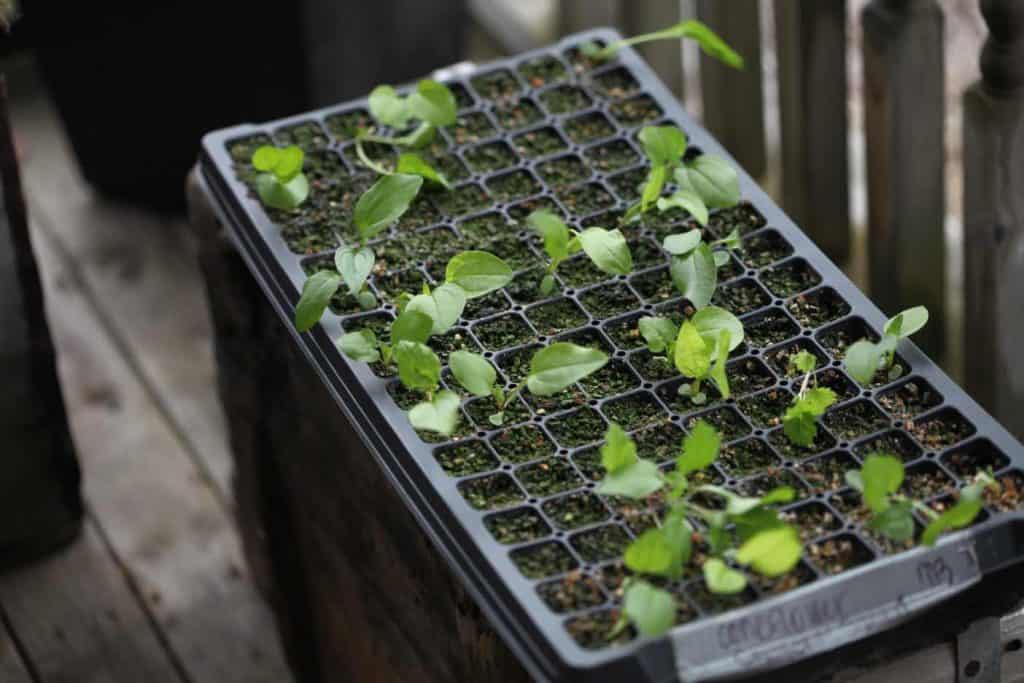 How Long Does It Take To Grow Echinacea From Seed?
Once echinacea seed is planted it should germinate within two weeks.
In the picture above you can see the tiny seedlings at almost six weeks post planting. They can be planted outside once the weather warms up and after they have been hardened off.
Even though they are perennial seedlings, they have been growing in a warm and protected environment up until now, and they are still tender. They will need hardening off before they are exposed to the harsher elements of the outside environment.
Echinacea Seedlings Year 1
The seedlings are planted in the garden and begin to get established. They will not bloom this first year.
Immature Echinacea Plants In Year 2
The seedlings will bloom this year, however the plant is still not fully grown and blooms will be sparse.
Mature Echinacea Plants Year 3
Plants have become mature. Expect great blooms this year from your echinacea, if they have been planted in the right location and in the right conditions.
Planting Echinacea
Echinacea is a cold tolerant hardy perennial , and will grow in zones 3 to 8.
Planting Location
Plant in a sunny location. Will tolerate some shade, but prefers full sun.
Soil Requirements
Plant in well drained soil. Will tolerate low fertility soil, however grows best in gardens with lots of organic matter.
Distance Between Plants
Space plants from one to three feet apart when planting. Remember they will mature over a period of three years and grow in width up to two feet.
Water Requirements
These perennials are drought tolerant, and once established will not require any special watering routine.
Does Echinacea Come Back Every Year?
Echinacea is a perennial, and will come back every year.
Some of the newer varieties are more tender, and although still perennial, may not last as long.
Does Echinacea Reseed Itself?
Yes echinacea can reseed itself, given the right conditions.
Mature seeds will be dropped from the cones in the fall. If they land in the garden and receive a cold moist chill over winter, they will be primed to germinate.
If they are covered by organic debris in the garden, then this will provide the darkness that they require.
Warm spring sunshine and warmer soil will stimulate germination.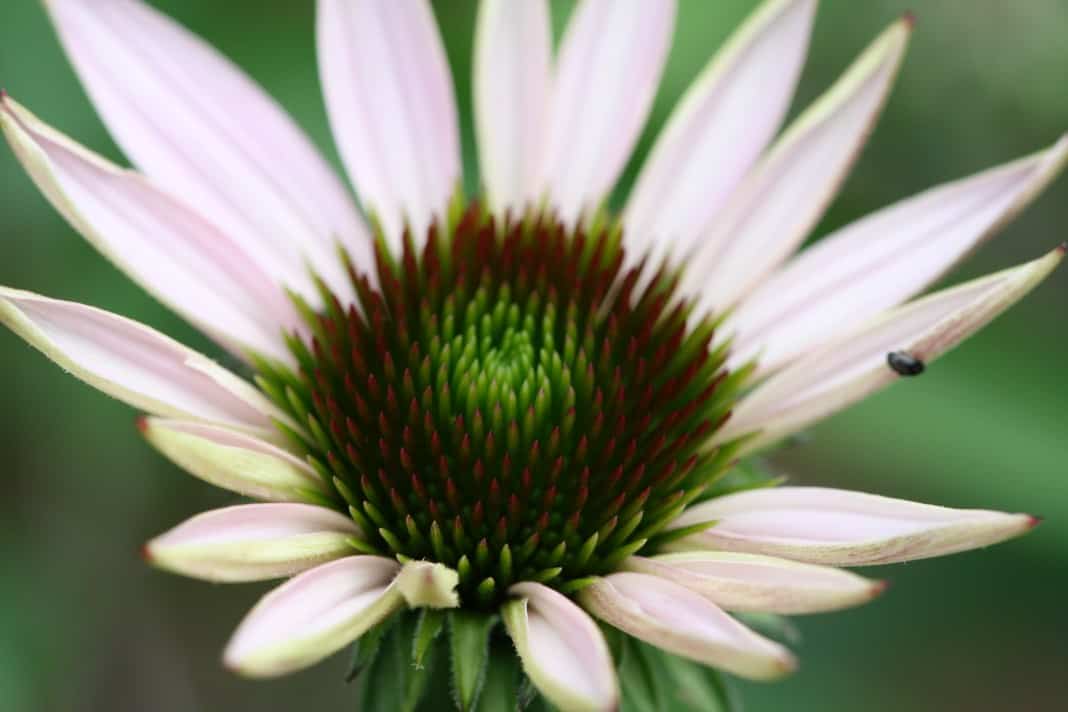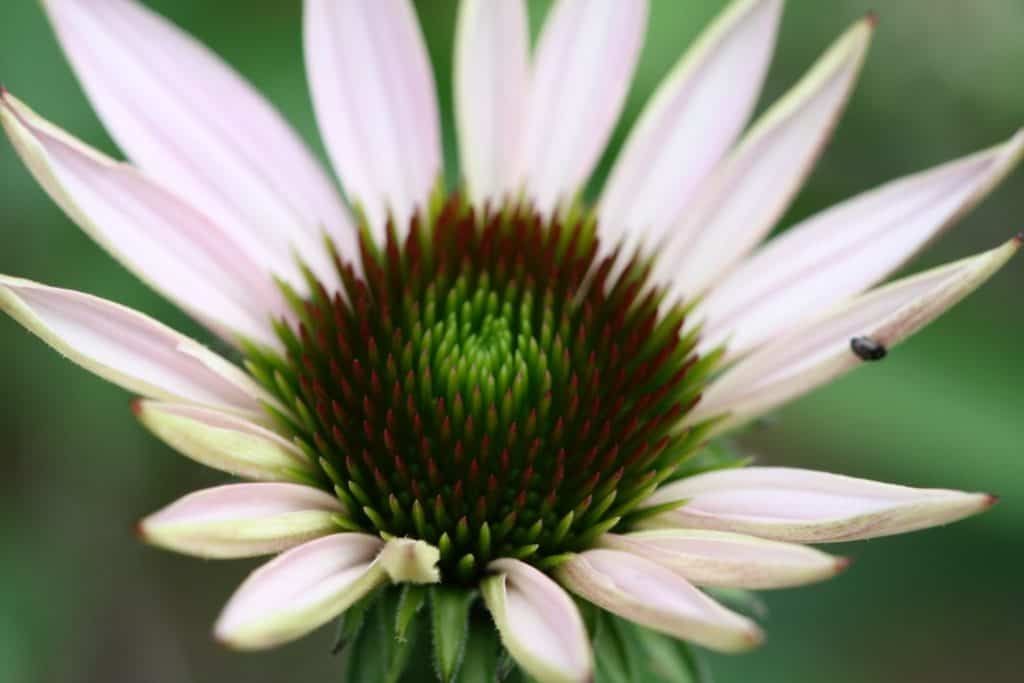 Echinacea Varieties
There are a number of different varieties of echinacea, and the new hybrids and cultivars are often available at the garden centres.
I have tried a couple of the new hybrids, however they did not return the following year.
I may try growing some of the newer varieties from seed, so that they can adapt to our location.
For now I will be sticking with the purple coneflower, the classic echinacea with the pink petals, and of course the Cheyenne Spirit.
Do Bees Like Echinacea?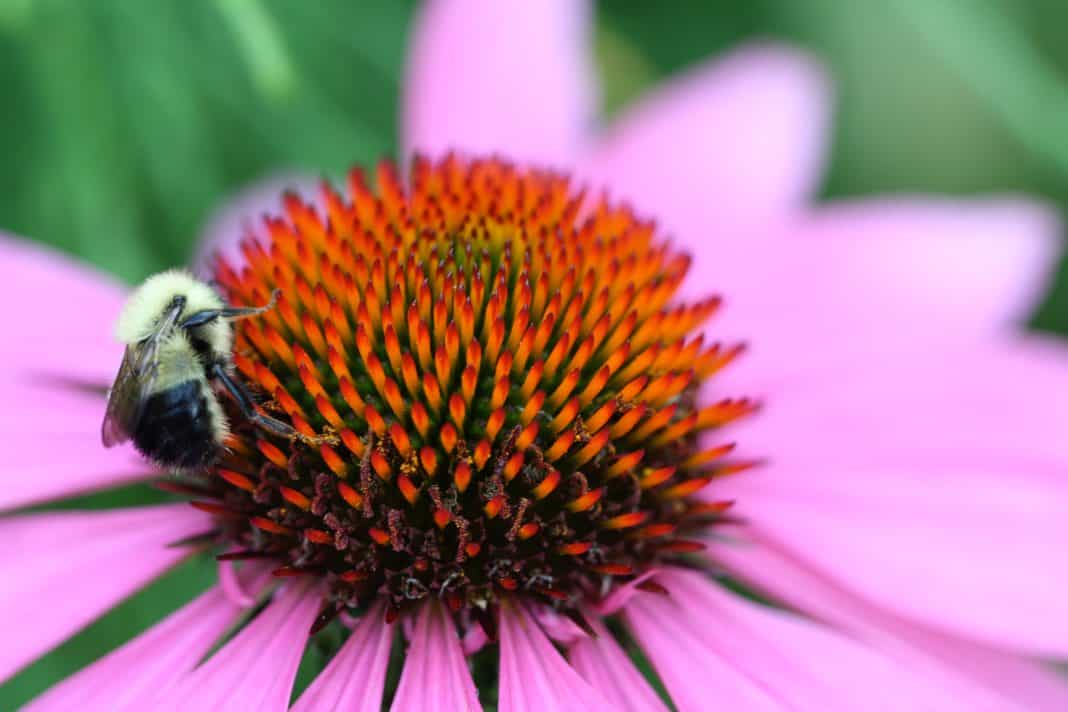 Bees love echinacea, and we love bees!
Echinacea attract bees and other pollinators to the garden. It has wonderful nectar and loads of pollen, and is a perfect plant for the pollinator garden.
Echinacea As A Medicinal Herb
We grow echinacea in our garden as a flower in the landscape.
There are others who use echinacea for it's anti-inflammatory and immune system benefits.
Herbalists use echinacea to help boost immune health and help the body to fight infections.
Here is an article published on NCBI Echinacea purpurea: Pharmacology, phytochemistry and analysis methods detailing studies on echinacea and it's medicinal benefits.
Coneflower Height
Echinacea can grow in height from 24 inches to 48 inches, depending on the cultivar.
The height of the stems makes it stand out in the garden.
Echinacea Companion Plants
Echinacea looks great in any perennial garden.
Companion plants that I have combined with echinacea include lamb's ear, liatris, Russian sage, daylilies, delphiniums, foxglove, hostas, and rudbeckia just to name a few.
Have fun with your plantings, the garden is your palette!
I hope that you have found this post on how to grow echinacea helpful, and that you will be able to plant some of these wonderful plants in your garden this year!
PIN IT FOR LATER!