Last updated on May 5th, 2023 at 02:07 am
Have you ever wondered if you can dry the delicate blossoms of lilac flowers? The process is certainly not straight forward, due to the high moisture content of the flowers, however it is possible. Learn how to dry lilacs, to preserve these romantic blooms.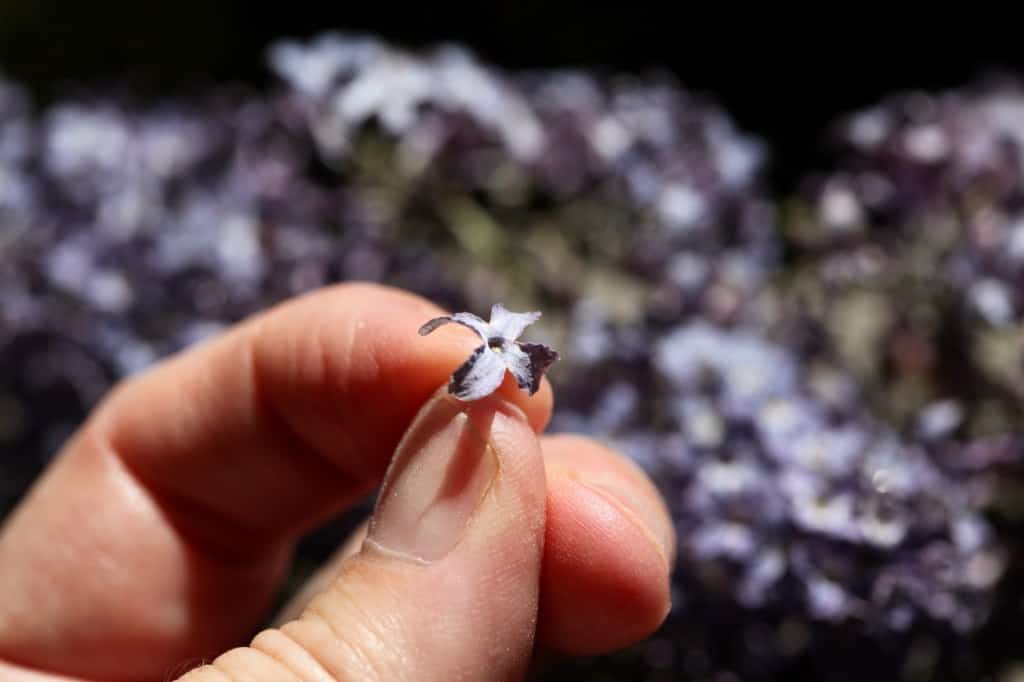 Lilacs are amazing fragrant spring flowers, with an intoxicating scent. These scented flowers return to the garden every year.
If you know how to prepare these delicate flowers for the vase to keep them from wilting, you can have amazing lilac flower arrangements throughout the lilac season, using the fresh flowers.
These blooms are some of my favorites, and I wait all year for the lilac bushes to come into bloom.
However, once they are finally back again, all you have to do is blink, and they are gone again, for another season.
The truth is, the lilac season is just not long enough. The lilac flowers bloom for probably three weeks at the most.
If you have different lilac cultivars, they may bloom at different times, which can prolong the season. This is a great way to extend the blooming season for lilac lovers.
But wouldn't it be wonderful to preserve those lilac blooms as well, for just a little longer?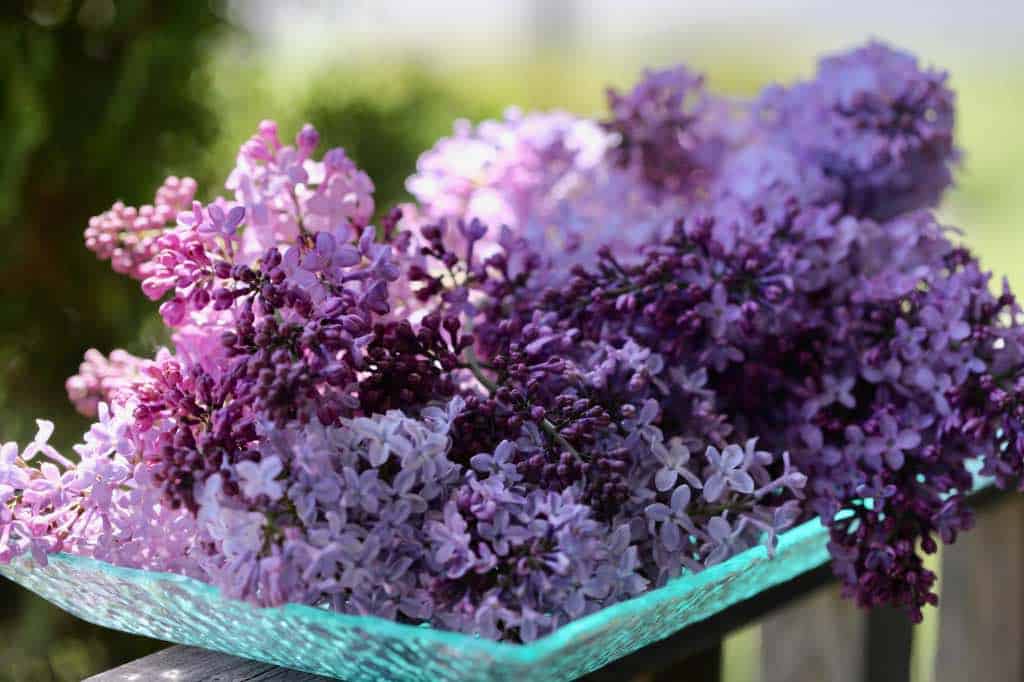 Can You Dry Lilacs?
Yes you can dry lilacs, and preserve them for use, long after they have disappeared from the bush.
The flowers do tend to turn brown over time, depending on the drying method.
Although the flowers do not dry as easily as some other types of dried flowers, it's worth an attempt to dry the blooms, and to preserve them for just a little longer.
The reason that lilacs tend not to dry as well as some other flowers is due to the excess moisture within the flowers themselves.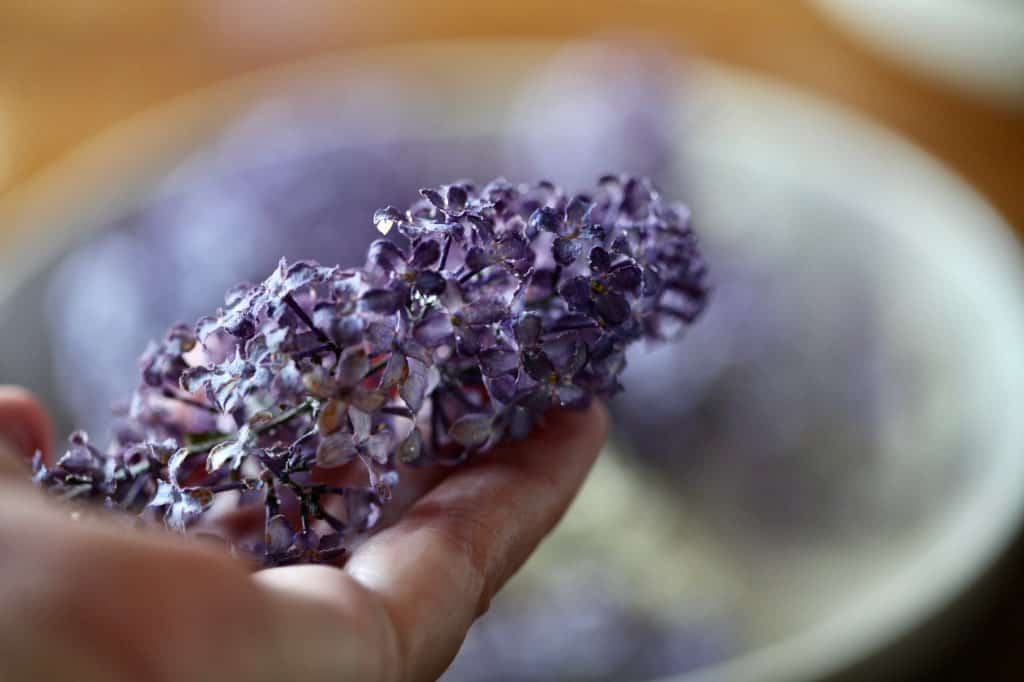 Last season I decided to dry some of the flowers, to preserve them to enjoy for a little longer. It was my hope that I could enjoy the blooms long after lilac season was done.
As it turned out, the blossoms are not the easiest to dry. The flowers tended to turn brown over time, and it was difficult to preserve their beautiful pastel purple color for a long period of time.
There were several drying methods which were better than others. The best drying method for color preservation was drying in silica gel.
Faster drying techniques had better results, for preserving the beautiful pale purple blooms for a longer duration. Slower drying techniques tended to brown more quickly.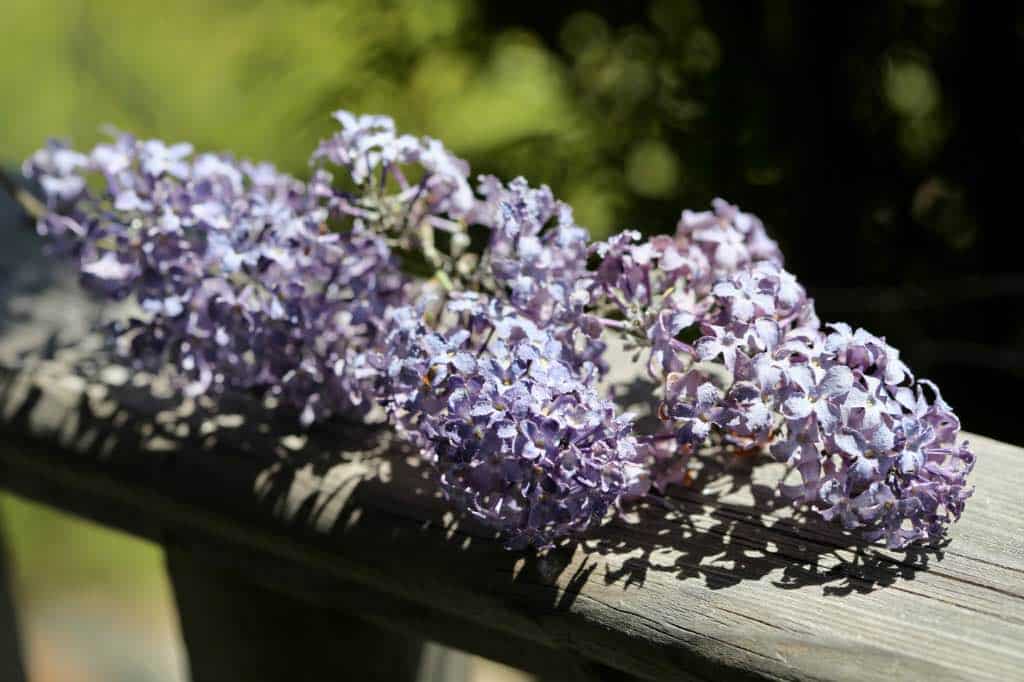 Do Lilacs Make Good Dried Flowers?
Dried lilac flowers do not last as long as many other types of dried flowers, which are known to hold their shape and color. However, lilacs can still make good dried flowers.
Dried lilac blossoms will tend to turn brown over time, making them a bit less attractive in appearance.
So in the long term, the preserved lilac blooms will not be as attractive as some other, more durable dried flowers. However, in the short term, the dried lilac flowers can be enjoyed for their beauty and romantic form.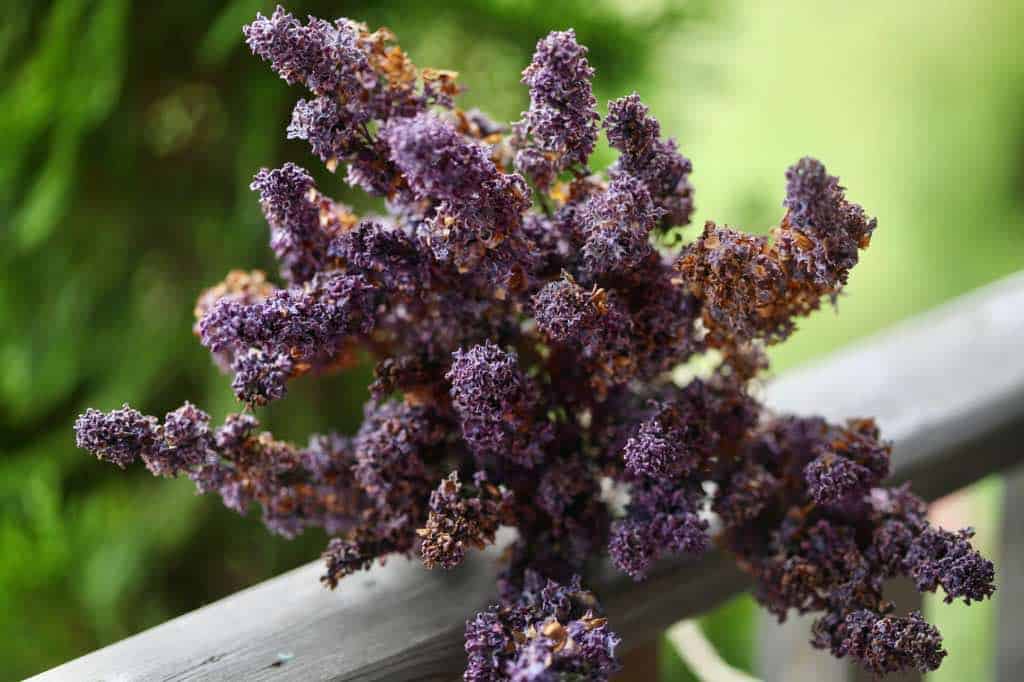 Dried lilacs will also lose their fragrance over time, and with some drying methods even more quickly. However the flowers will always maintain their delicate beauty, regardless of color, adding a natural touch to any decor.
Storing in a dark and dry location, away from sunlight, will also help the blooms to last longer.
I love the look of the dried lilac flowers, with the soft muted purple brown color that they eventually turn.
I will continue to dry them, knowing that they may not be long lasting, and depending on how they are to be displayed.
So let's have a look at the processes, and which drying methods turned out best, and preserved the flowers most effectively.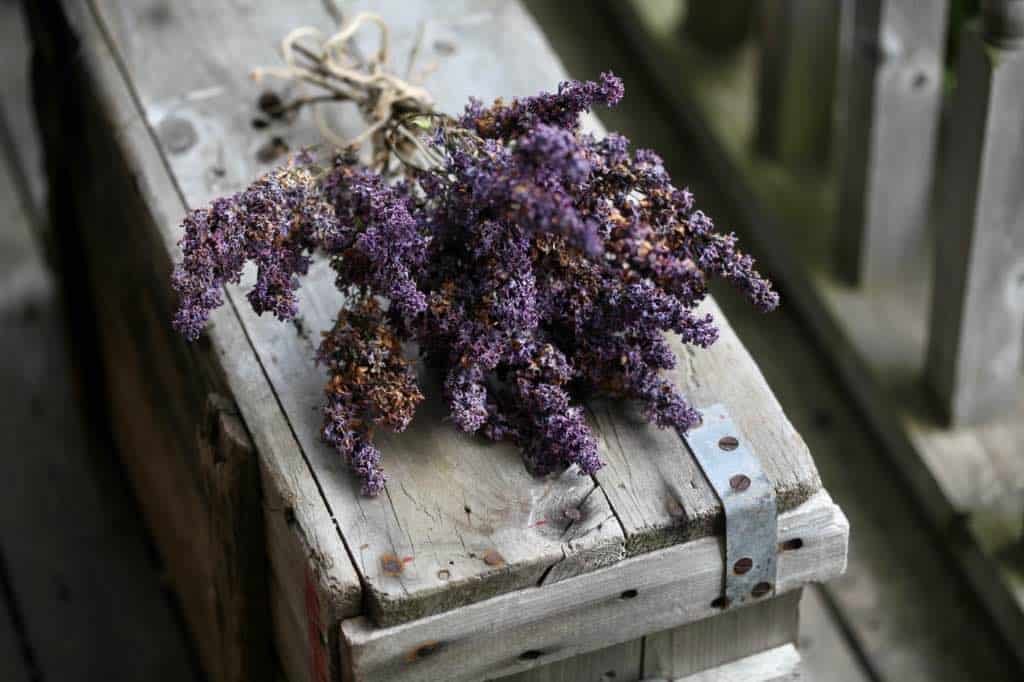 How To Dry Lilacs
Before drying your lilacs, it's important to consider best stage for harvesting the flowers, as well as conditioning the flowers before drying.
It's always best to dry healthy and fresh flowers, for best drying results.
This will help to increase your success in drying the lilac blooms.
So let's have a look at some considerations for drying lilacs for best results.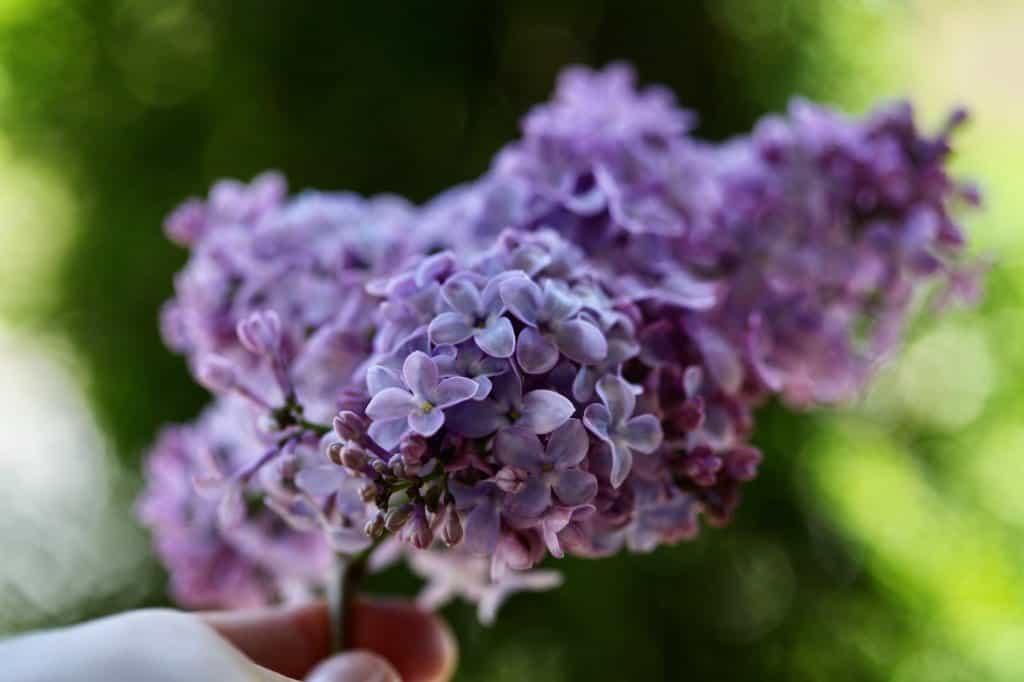 Harvesting The Flowers
Pick the fresh lilac flowers either in the morning or later on in the day.
In the morning the stems and the flowers are in their most hydrated state, which makes for healthier and hydrated blooms.
Picking at the end of the day is okay as well, because you are avoiding picking in the heat of the day, which can make lilac flowers wilt.
Pick the flowers when there are still some buds left to open on the flower, but when there are about two thirds of the blossoms already open. This way you know that the flowers are in their freshest state, and almost in full bloom.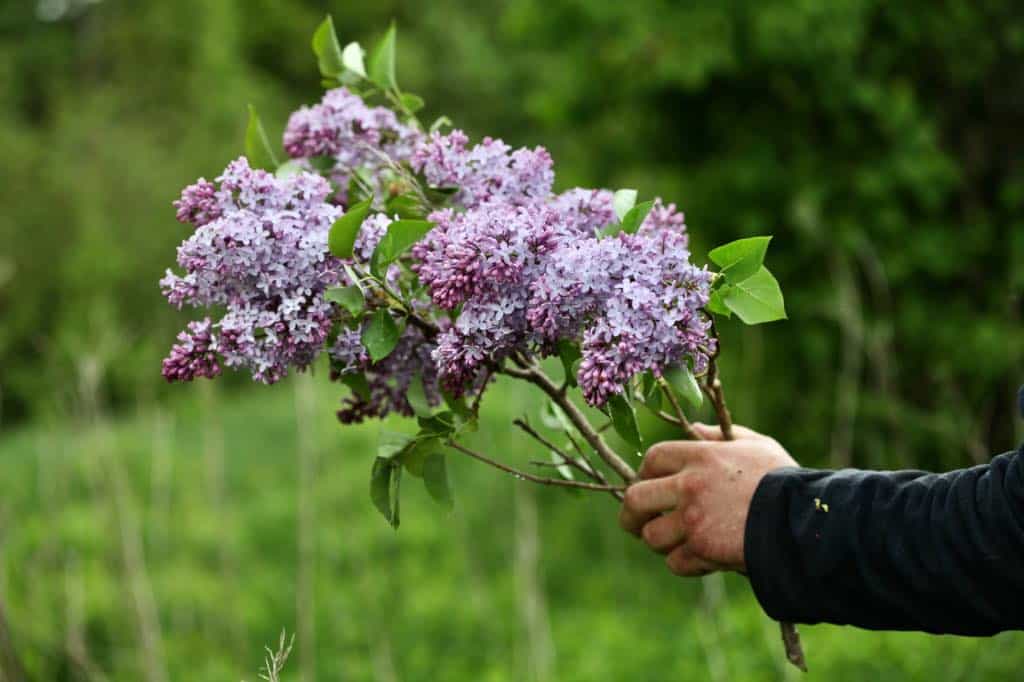 Cut each lilac stem off from the bush at a 45 ° angle, for conditioning purposes. This helps to prevent the cut stems from sitting against the bottom of the container, blocking the uptake of fresh water.
Remove almost all of the leaves from the lilac stems, which will compete with the flowers for moisture if left on the stem.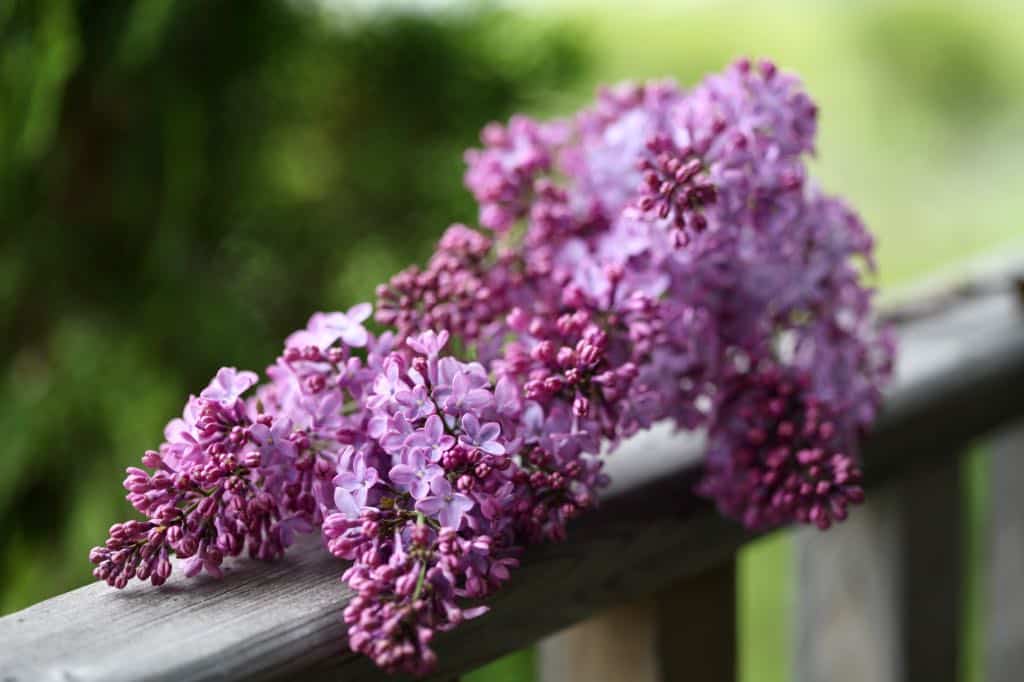 Conditioning The Flowers
Condition the flowers well after cutting. This essentially means rehydrating the blooms.
To do this, place the lilac stems with flowers immediately into a bucket of cool water, right after cutting.
The stems can also be smashed at the bottoms with a hammer, which will increase the surface area for fluid take.
Another technique is to cut through the bottom of the stems vertically, up about an inch, increasing the surface area for uptake of water.
Place the bucket of lilacs in a cool and shaded location, for a few hours, to allow the stems to draw up the water.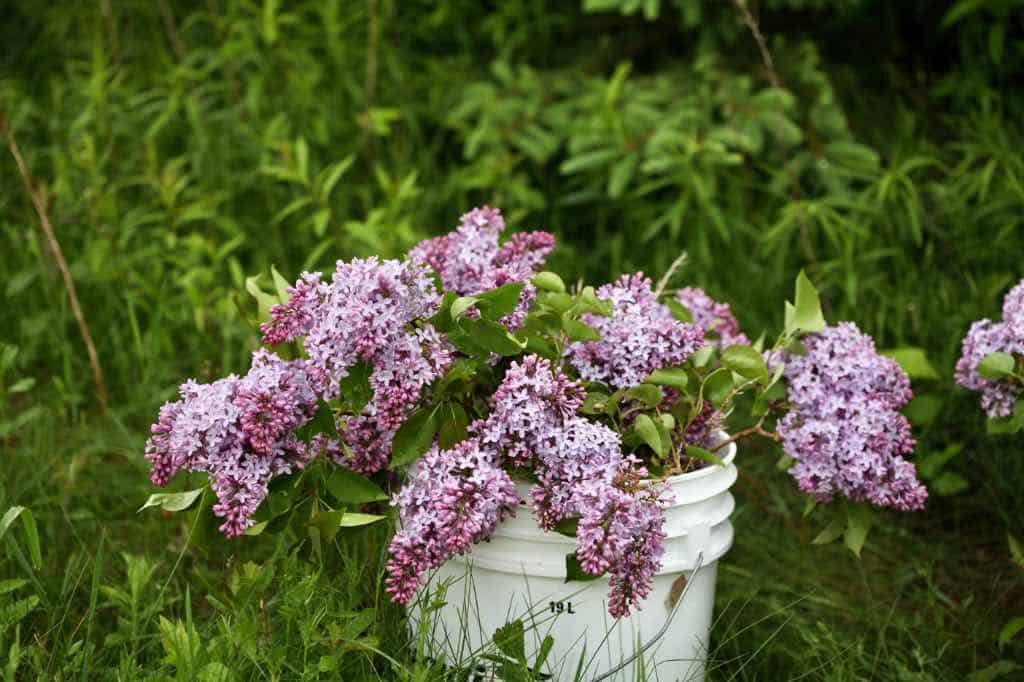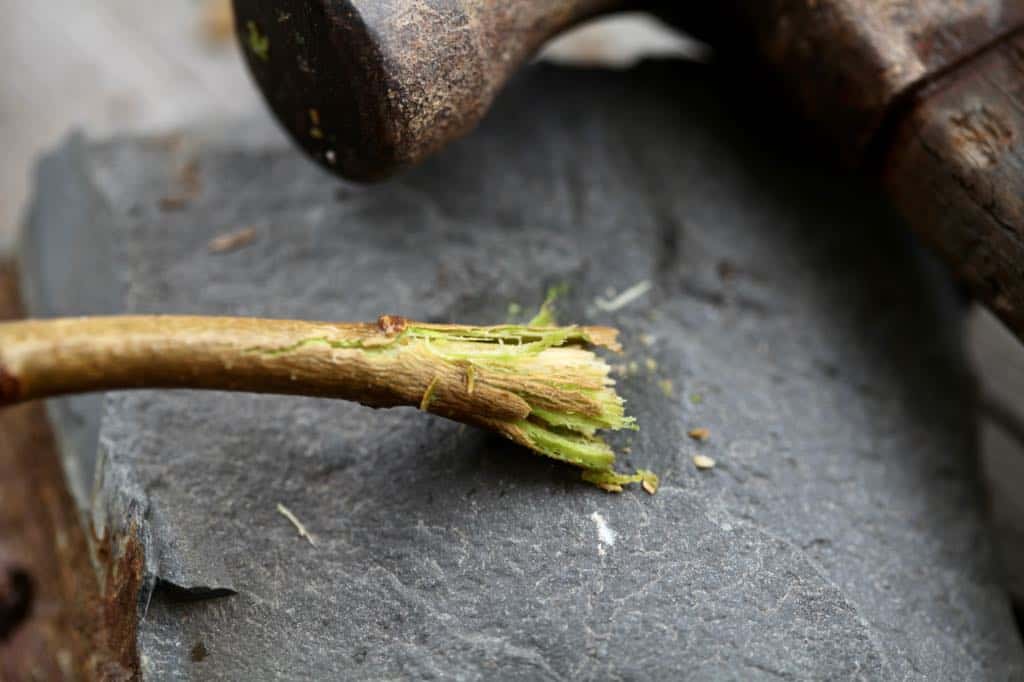 Methods For Drying Lilac Flowers
There are a number of different methods for drying flowers, which you can use to dry the lilac flowers. Some are faster than others, and some are more organic than others.
If you plan to dry the lilacs to use in culinary applications, avoid the silica gel method.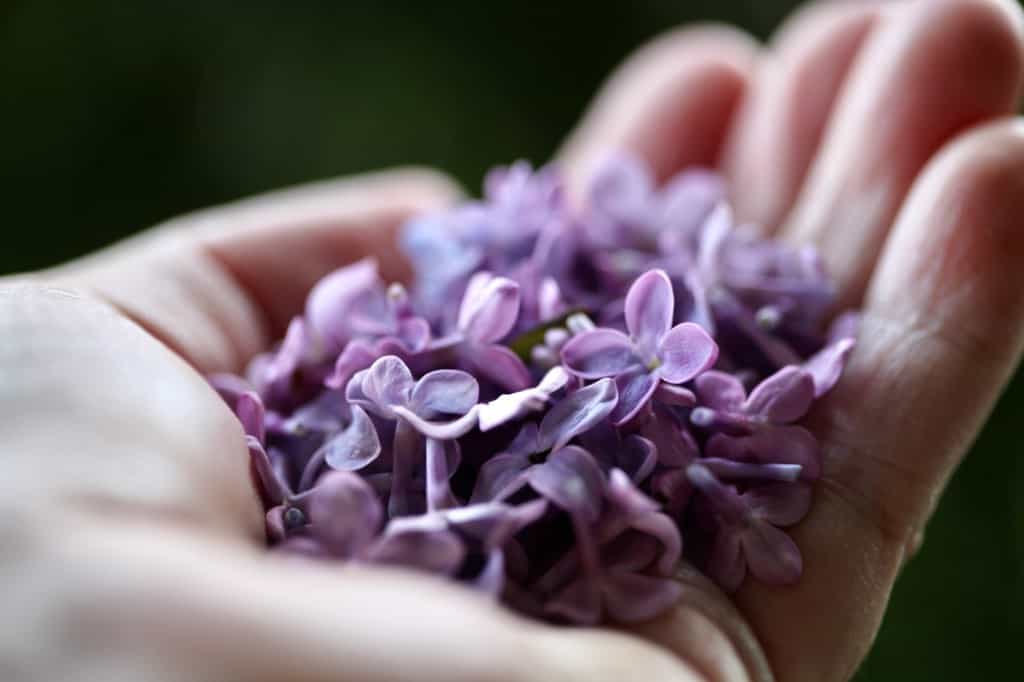 Air Drying Lilacs
Gather together some lilac stems into a bunch. Ensure that there will be good air circulation between the flowers, as they are hanging to dry.
Pull the stems together with an elastic or rubber band. This will help to keep the bunches together as they dry.
Find a dry area and dark place to hang the lilac bunches. The area should be out of the sunlight, and also allow for good air circulation.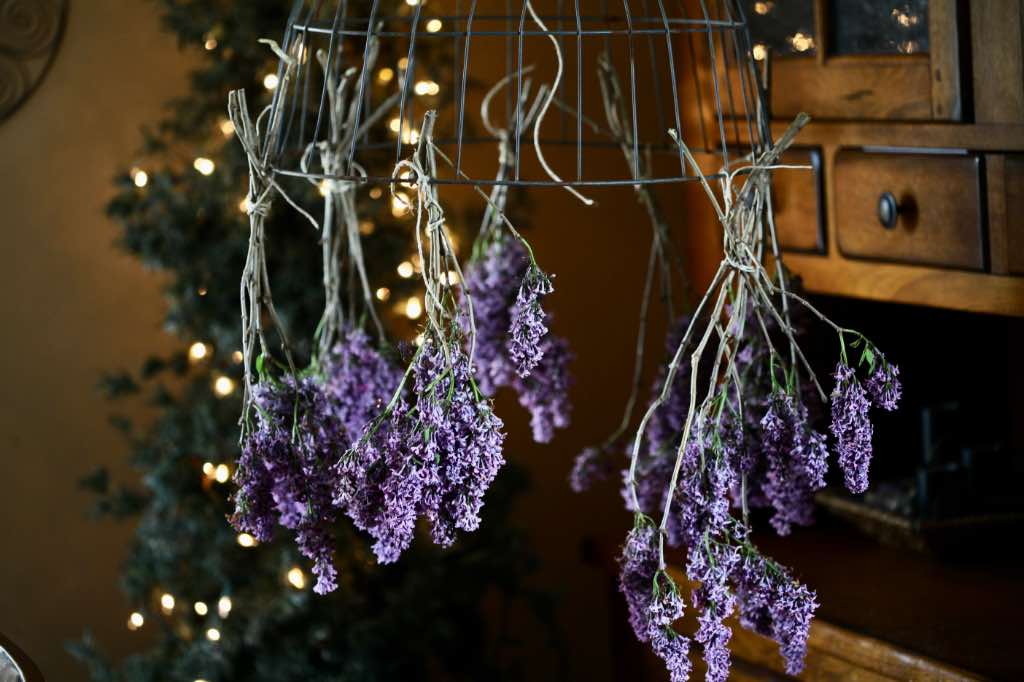 You can hang from a drying line, or on drying racks, and even just hang from hooks or knobs if the location is right.
I hung my air drying lilacs from a metal basket, which was suspended for drying purposes.
I also hung some flowers from the knobs on my kitchen hutch, which are often used for this purpose.
Air dry the lilac flowers for approximately 2 to 3 weeks, until the flowers are completely dry and crispy.
The flowers can then be taken down and displayed, or stored away for future use.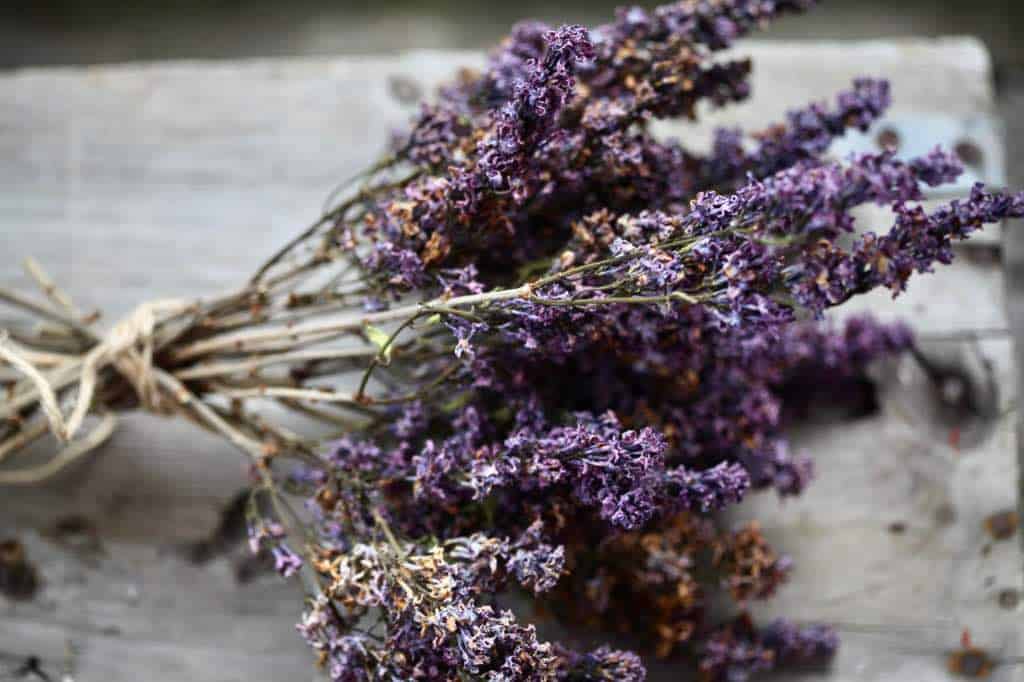 Pressing Lilac Blossoms
The easiest way to press lilac flowers, is to remove the individual flower blossoms, and to press the blossoms, or lilac petals, instead of the whole flower.
Lilac flowers can be pressed with a wooden flower press, or pressed into an old book. They can also be pressed with a microwave press.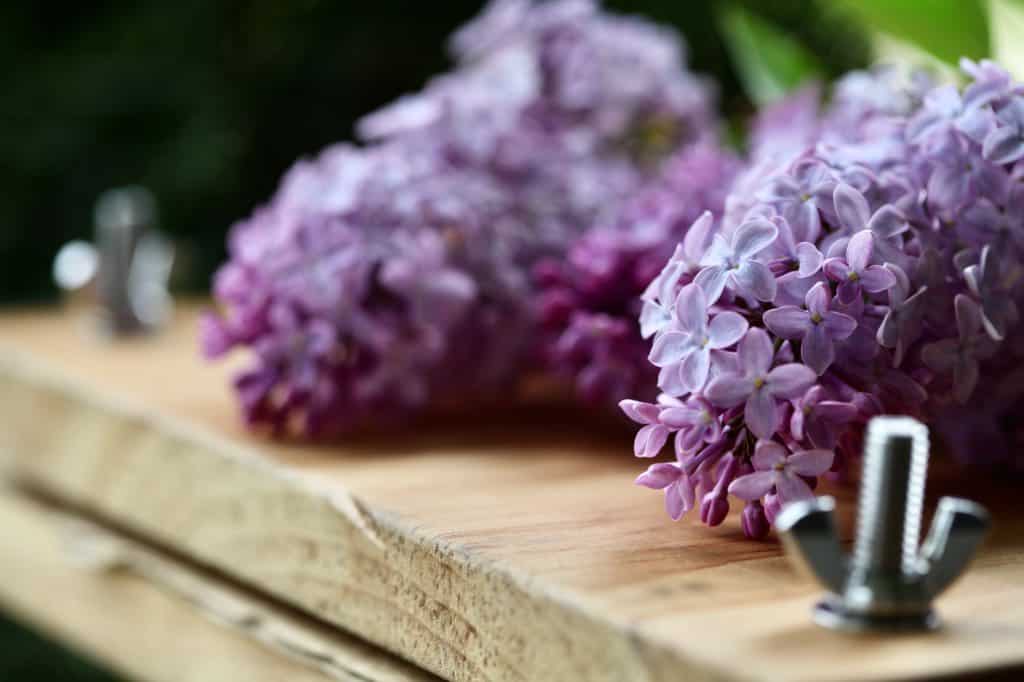 My favorite way to press most of my flowers is with a diy wooden flower press, because it was made with large dimensions, and can accommodate lots of layers of flowers at the same time.
To press the flowers, it's often a good idea to place them between two pieces of paper towel, or plain paper, before placing into your chosen pressing apparatus.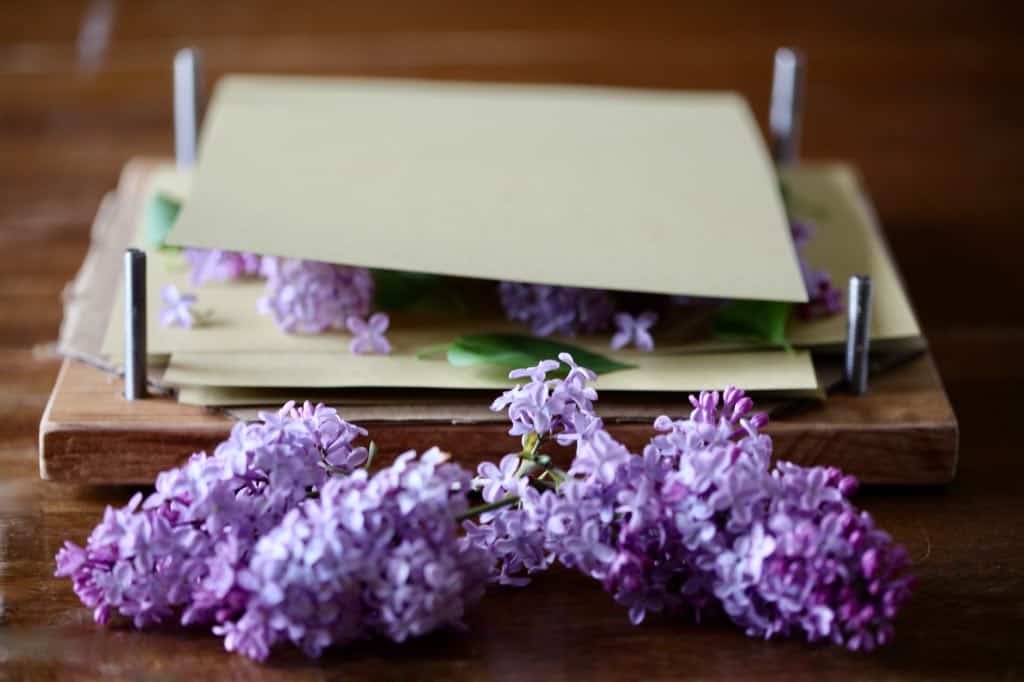 The lilac flowers can stain, so keep that in mind if using a book. Old telephone books or catalogs often make great choices, because it doesn't usually matter if the dye is released from the flower.
Press the flowers for approximately 2 to 3 weeks, until the flowers are dry.
The microwave pressing method will be of a much shorter duration. However there is a learning curve with this device.
With the microwave press, the flowers will usually benefit from further pressing in another device, for a few more days to a week, until completely dried and pressed.
Once dried, store the pressed flowers away in a dark and dry location, until ready to use.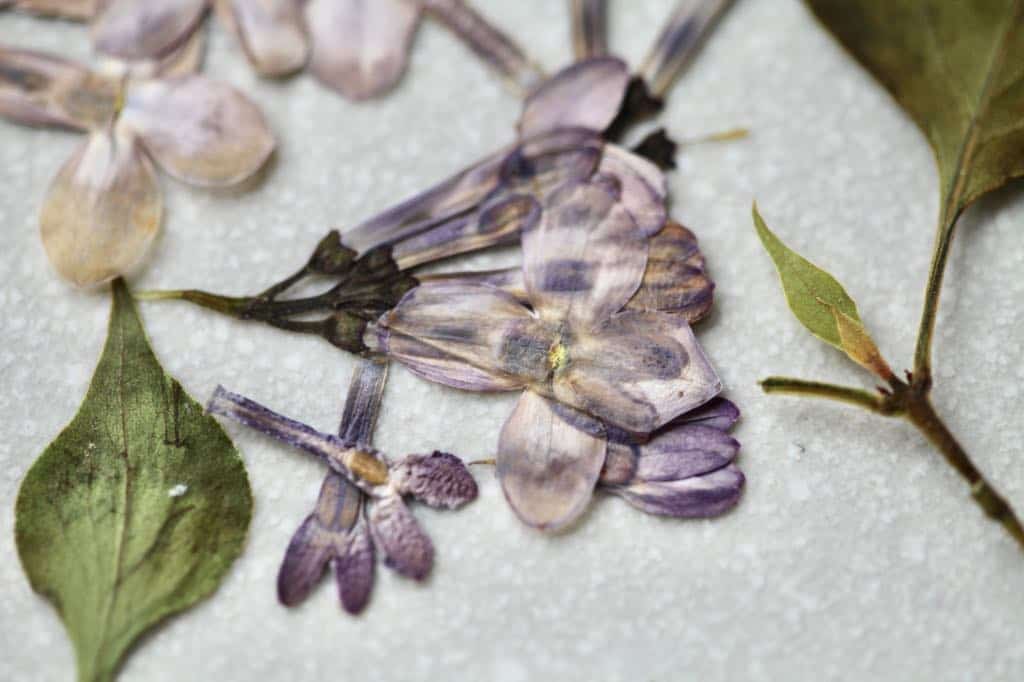 Drying Lilacs In Silica Gel
Drying lilacs in silica gel is an easy way to dry fresh lilacs, and the fastest method to use.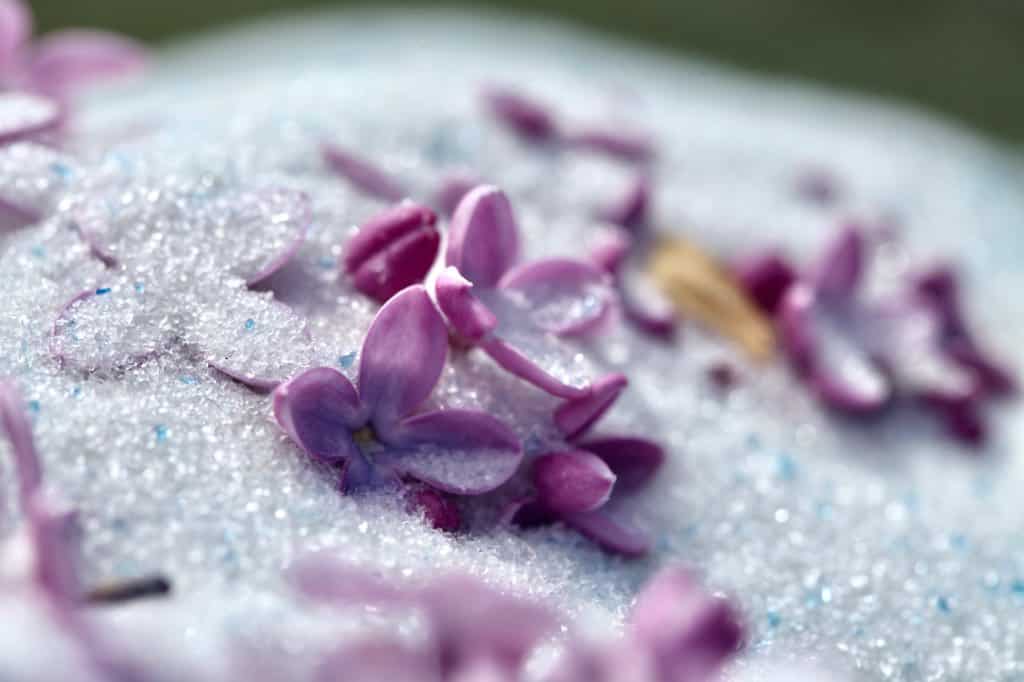 It took a couple of days for the flowers to dry in the gel, however you will have to experiment to see what works best for you. If the flowers remain in the gel for too long, they can burn and turn brown.
Keep an eye on the drying process by checking on the flowers occasionally. Your own silica gel should have instructions that will suggest drying times, for specific blooms.
The silica gel makes it's way inside each lilac flower covered in blossoms, and works it's magic in an amazing way.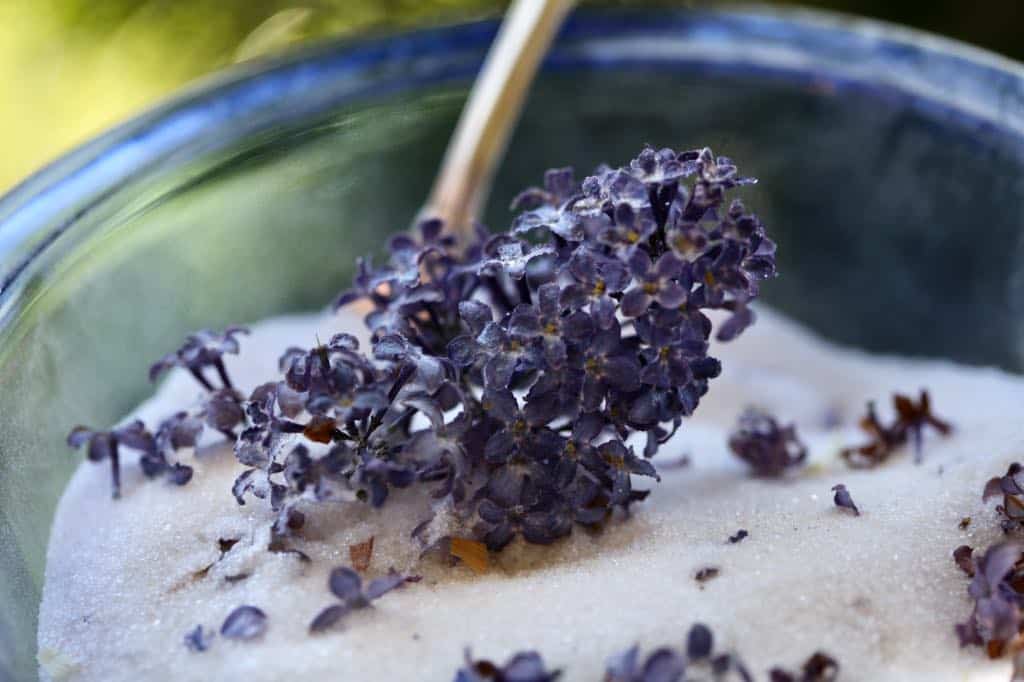 The individual flowers covered with blossoms were preserved intact.
Initially the flowers were pristine, and maintained color for quite some time. Eventually however, and over time, silica gel dried lilac flowers also faded and lost some color.
Silica dried lilacs are great to use in floral projects for a short term duration.
These dried flowers lasted for approximately 6 months, before they began to fade and turn brown.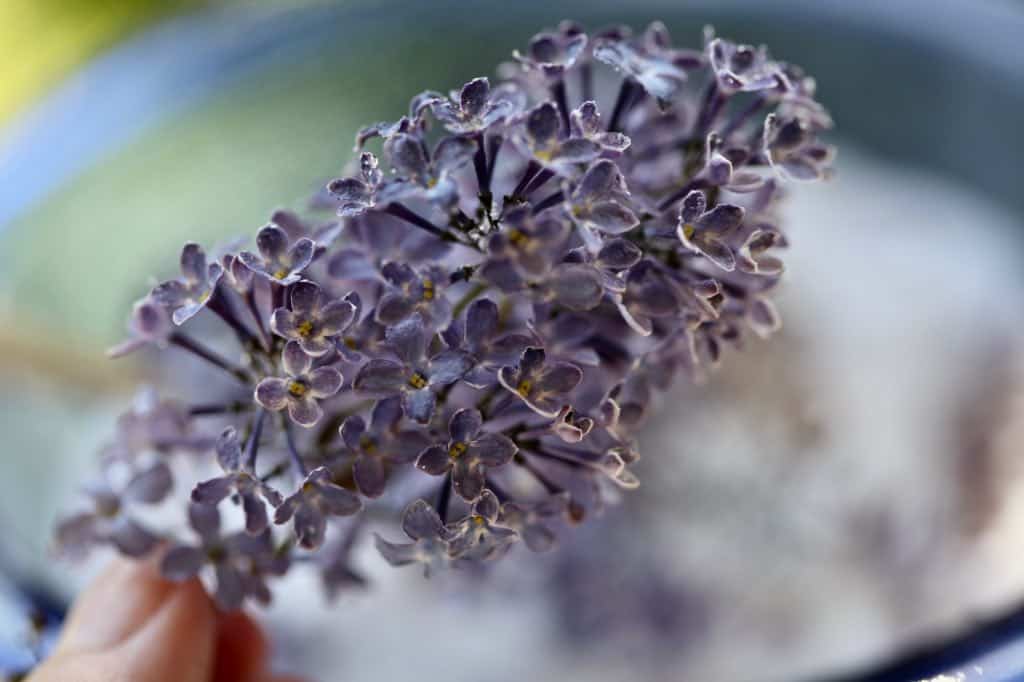 RECOMMENDED PRODUCTS FROM THIS POST
This post contains affiliate links, which means I make a small commission at no extra cost to you. See full disclosure on privacy policy here. As an Amazon Associate I earn from qualifying purchases.
Storing Dried Lilacs
Once the lilacs have been completed dried, they can either be displayed, or stored away for future use.
To store dried lilacs, the flowers should be kept in a cool and dry place, out of direct sunlight. Store in an airtight container with a lid if possible.
With proper use and storage, dried lilacs can last from several months to a year, depending on how they are displayed and stored.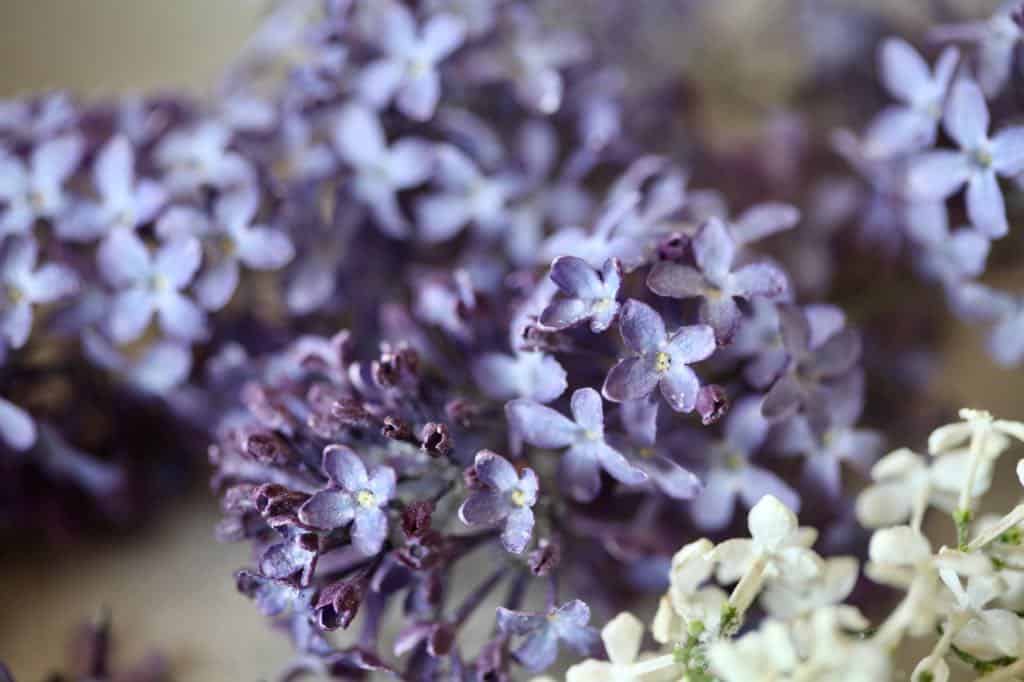 Do Dried Lilacs Smell?
Lilacs that are air dried do continue to have a light fragrance for some time. The flowers however are not as attractive, as they tend to turn brown, and are sometimes not suitable for display.
Lilac flowers dried in silica gel were preserved beautifully, with the individual delicate blossoms drying completely and quickly without browning. The dried blooms from the silica gel however, did not continue to have their delicate scent of lilacs.
Pressed lilacs are beautiful, especially right after pressing. However the pressed lilac blossoms also do not hold their fragrance. As well, lilacs which are dried and pressed as individual blossoms, eventually turn a brown color, over time.
It is possible to add lilac fragrance to the dried or drying flowers, by adding a few drops of lilac oil. By doing so it can freshen up the dried lilac flowers, and contribute to their charm.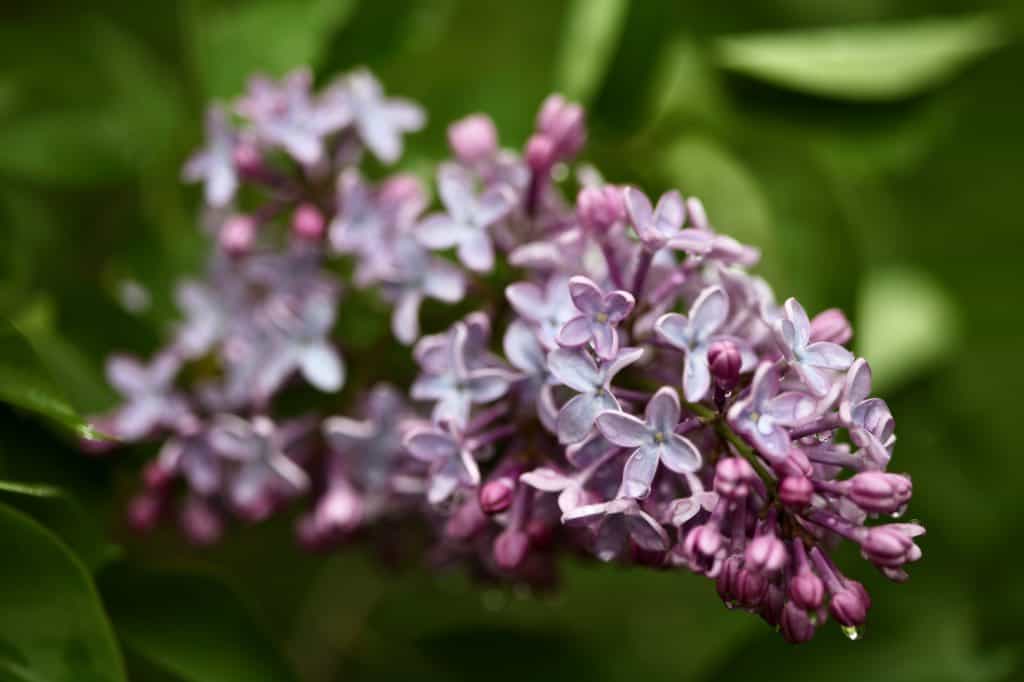 How To Use Dried Lilacs
There are lots of ways to use dried lilac flowers. The dried lilac flowers can be used in craft projects, floral arrangements, as well as in culinary applications.
You are only limited by your own imagination.
Keep in mind that the dried lilac flowers and blossoms are not great for long term projects, unless the color of the flowers can be somehow preserved.
That being said, many dried flowers eventually do turn darker, or fade, and some also turn brown. Often the faded color gives a vintage, and more natural look. Keep this in mind when using your dried lilac flowers.
Appreciate them for their dried beauty, in their preserved state.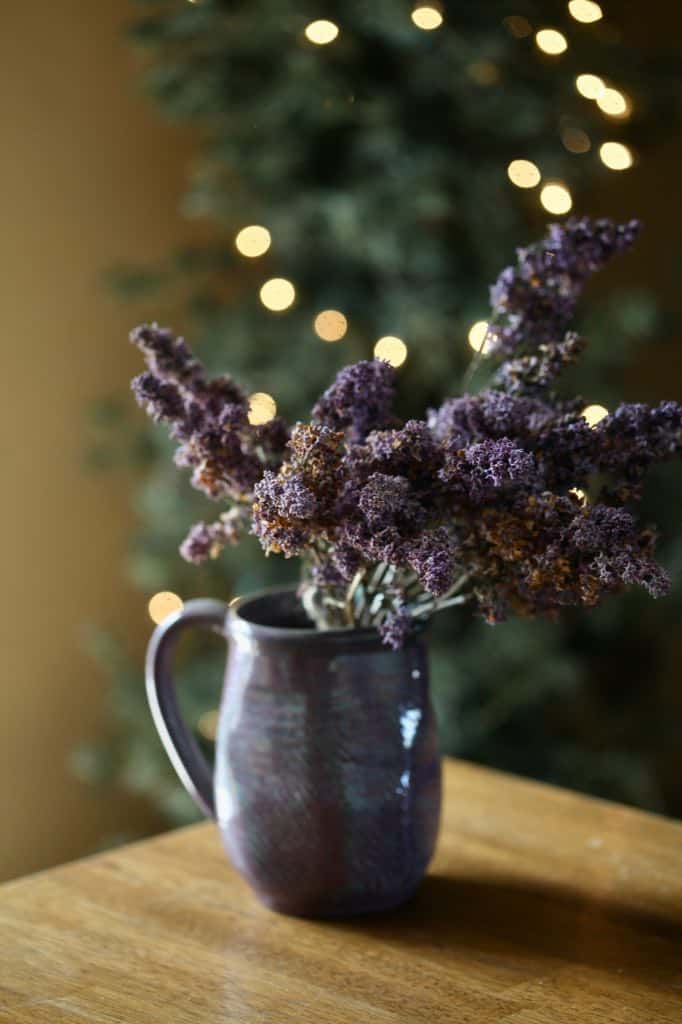 Make Dried Flower Potpourri
Dried flower potpourri is a great way to display dried flowers in the living space, and dried lilacs can make a great ingredient in dried flower potpourri.
Dried lilacs can make a lovely addition to a number of different potpourri blends.
Consider adding dried sprigs of lilac to dried lavender, for a calming and soothing blend.
Rose and lilac is another wonderful blend, with the feminine flowers of dried rose petals added to the romantic dried flowers of lilacs.
Add the lilac blossoms to other dried flower petals, and other potpourri ingredients, such as cinnamon sticks, dried orange slices, and star anise.
Use essential oil to add fragrance to your potpourri for a delightful and fragrant organic display.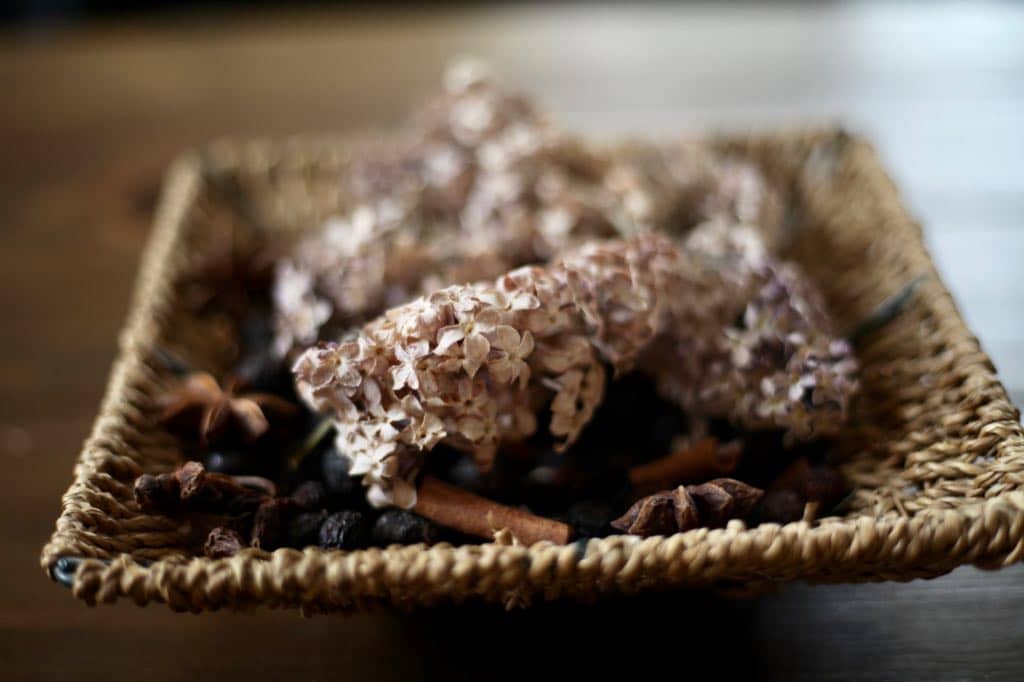 Make Lilac Sachets
Consider making lilac sachets with your organically dried lilac flowers. I would avoid using the silica gel dried lilac flowers, if using the sachets under a pillow for a floral fragrance at bedtime.
Lilac sachets are made with sachet bags filled with dried lilac blossoms, 10 drops of lilac essential oil, and dried rice to give weight to the bag.
Place the sachets anywhere where you want to experience the beautiful smell of lilacs in spring.
Lilac sachets will also make great gifts for anyone who also loves lilacs.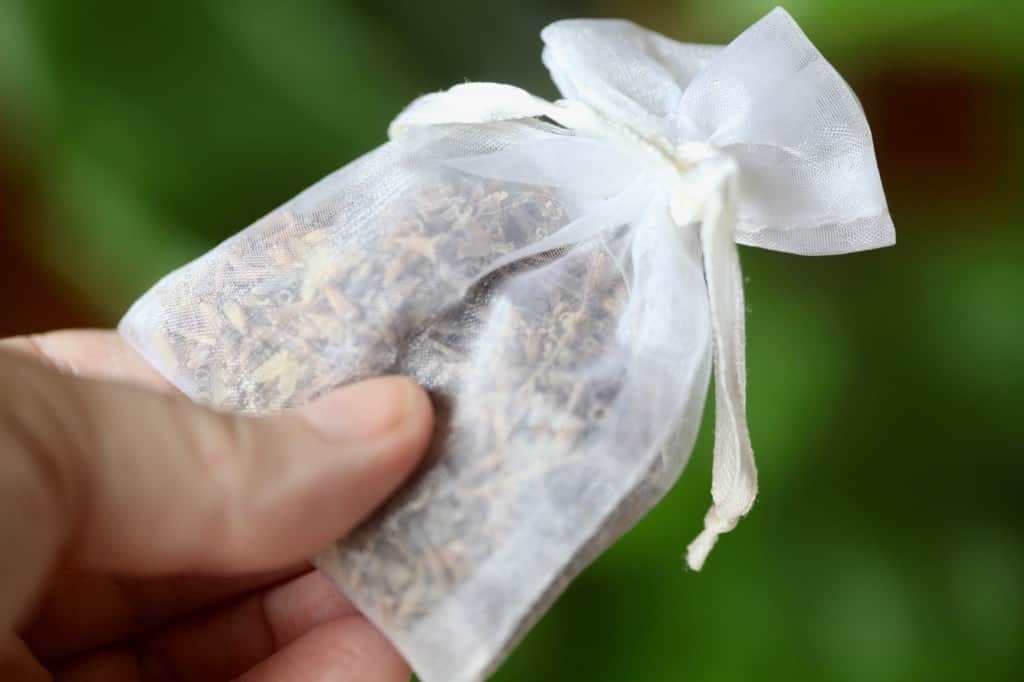 Make Cards With Pressed Blossoms
Making cards with pressed blooms is a fun and creative project.
All you need is some card stock or blank cards, glue, your pressed lilac blossoms, and a pen.
Arrange the flowers on the card prior to gluing, choosing the perfect layout for your card.
After deciding on the placement, glue the pressed flowers in place, taking care when handling the delicate dried blooms.
Allow the glue to completely dry before you handle the card, and finish up by writing your special message.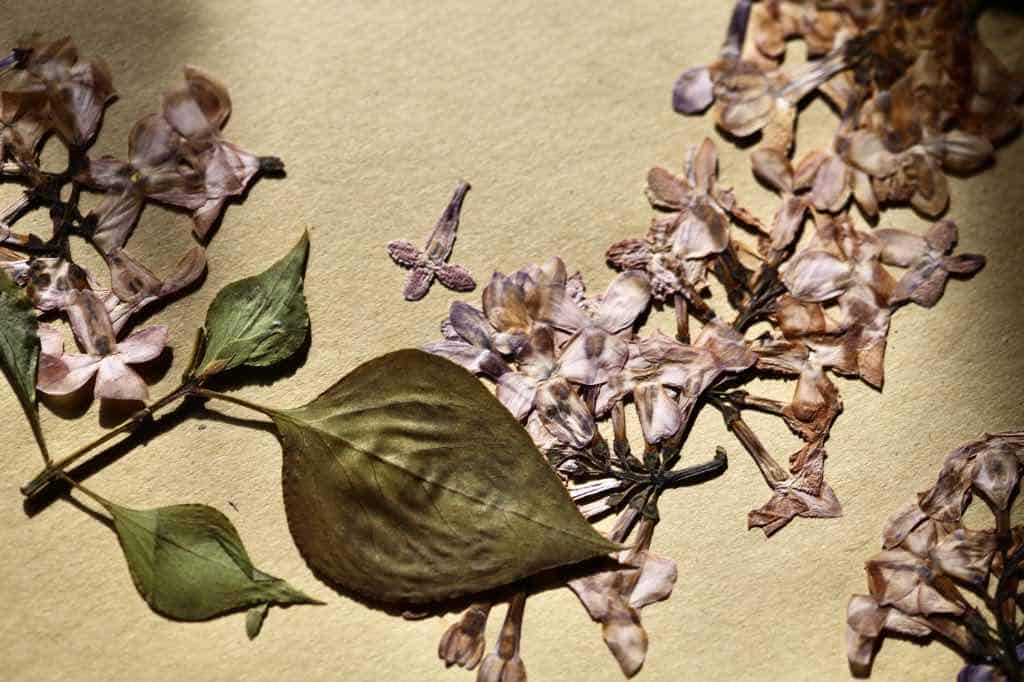 Decorate Your Baking
Lilacs are edible flowers, and are great to add to your baking projects.
Just make sure not to use flowers dried in silica gel for culinary applications.
Using dried lilacs is an elegant and natural way to add beauty to your desserts.
Use dried lilac blossoms, or even whole flowers, to decorate your baking. Dried flowers add a delicate and organic touch to culinary creations.
Attach the dried blossoms with a small paintbrush, and some icing or lilac simple syrup, to the back of each lilac piece.
Gently press the dried flower pieces into place, and add more, creating a pattern or design on your dessert.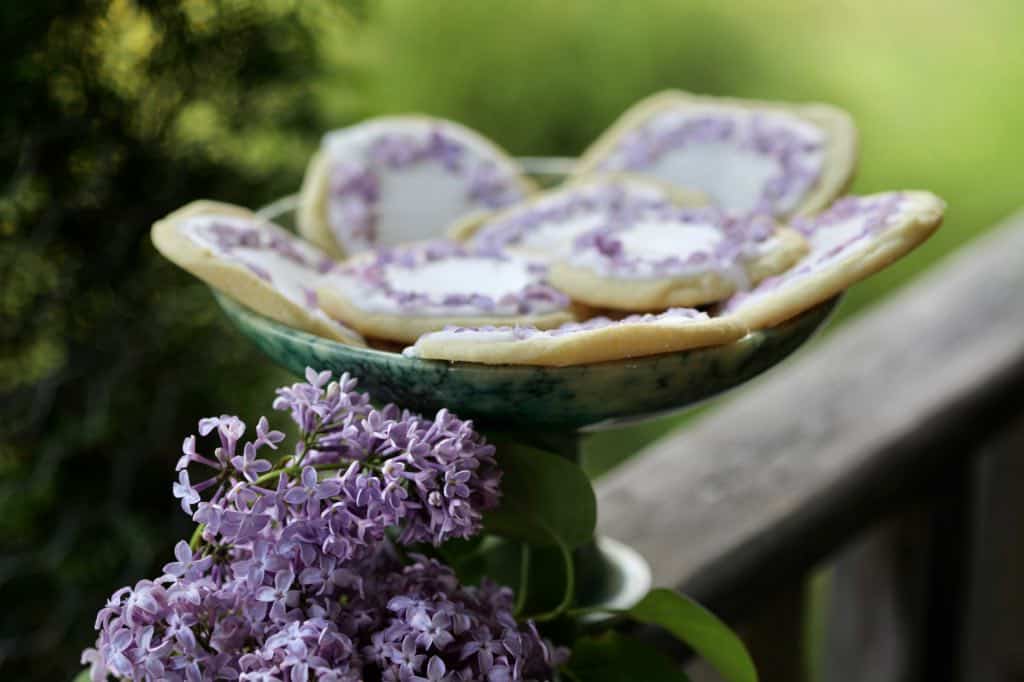 Conclusion
Drying and preserving lilac flowers from your favorite lilac shrubs is a fun activity which will help to preserve them for future use.
There are a few different drying methods which will work. Some methods are more effective than others.
Make sure not to use silica gel dried blooms in your culinary art. Other methods of drying however, will do just fine.
Lilacs don't last long in the garden. By preserving them through the drying process, they will last just a little bit longer, to be cherished and enjoyed.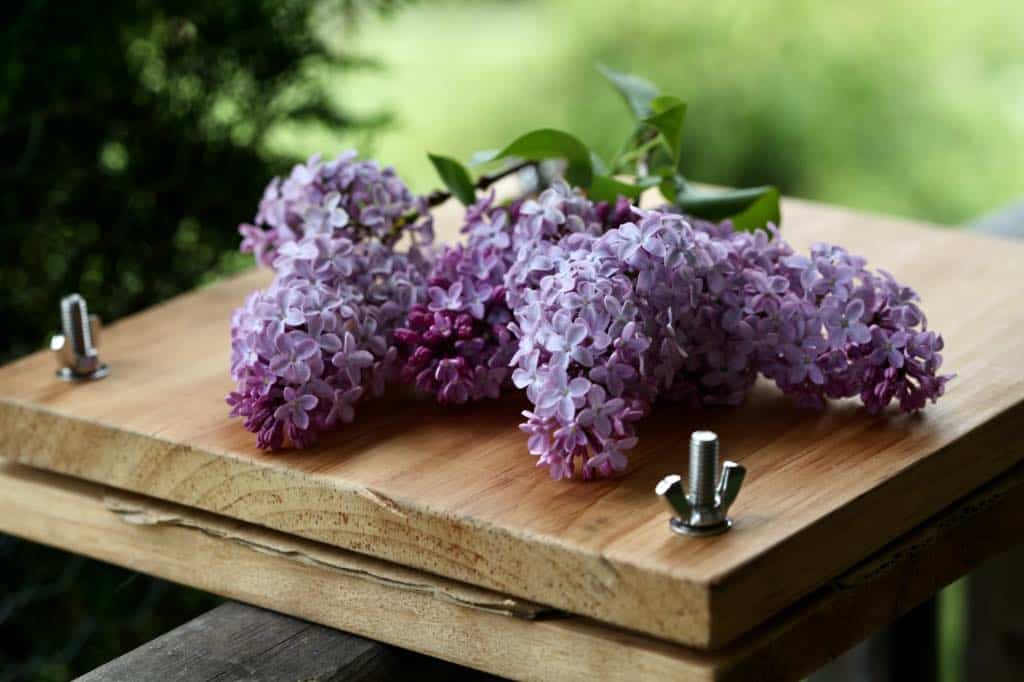 Have you ever tried to dry lilacs? Be sure to leave a comment below to share your experience!
Other Posts You May Like:
See the Web Story tutorial on Drying Lilacs To Preserve Your Blooms!
PIN IT FOR LATER!