Last updated on May 20th, 2023 at 06:25 pm
Anyone who has cut lilac blooms usually discovers that they tend to wilt very easily in the vase. Fortunately you do not have to accept this droopy behaviour, as there are some great strategies for keeping lilacs perfectly plump and hydrated. Learn how to keep lilacs from wilting, to increase their vase life.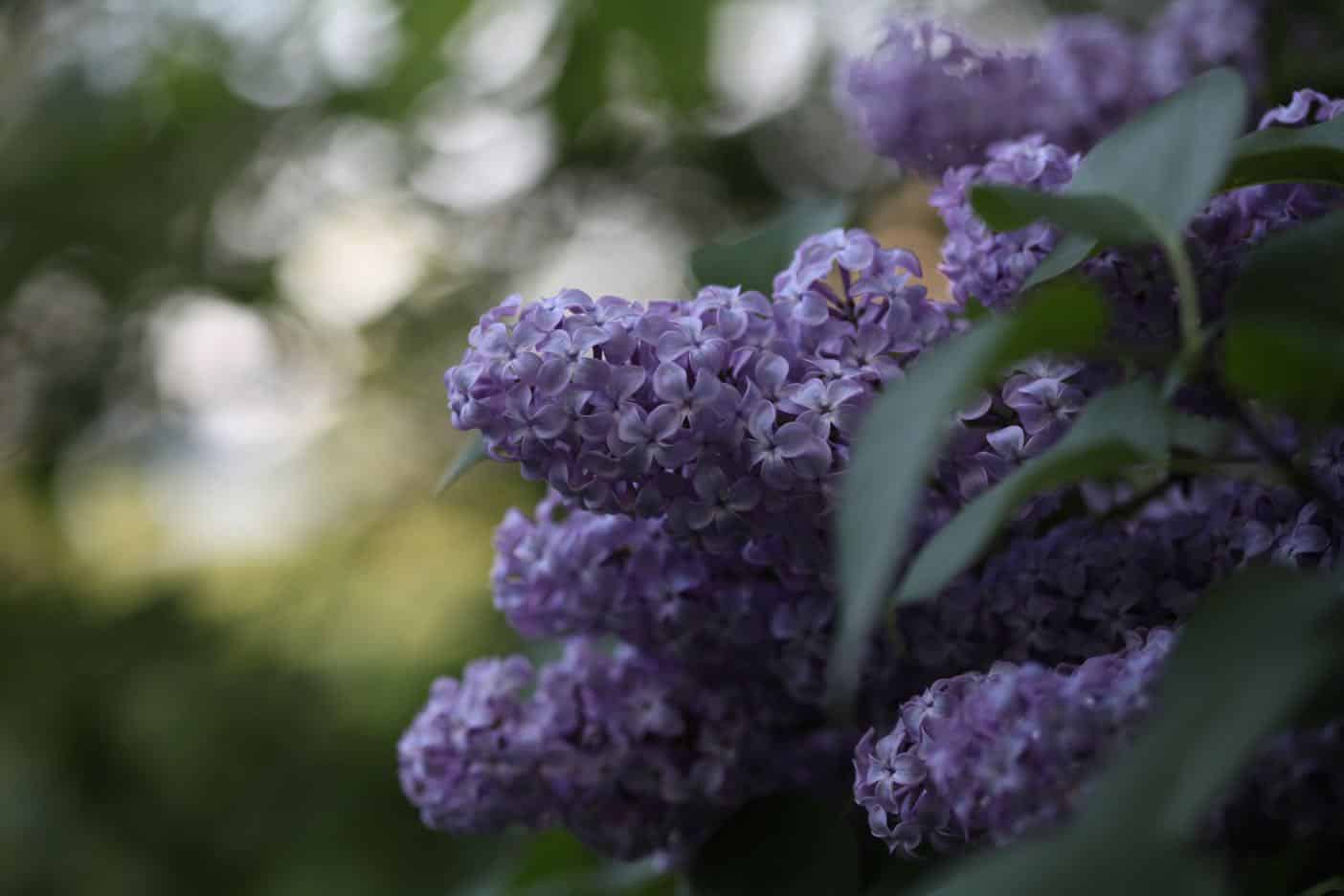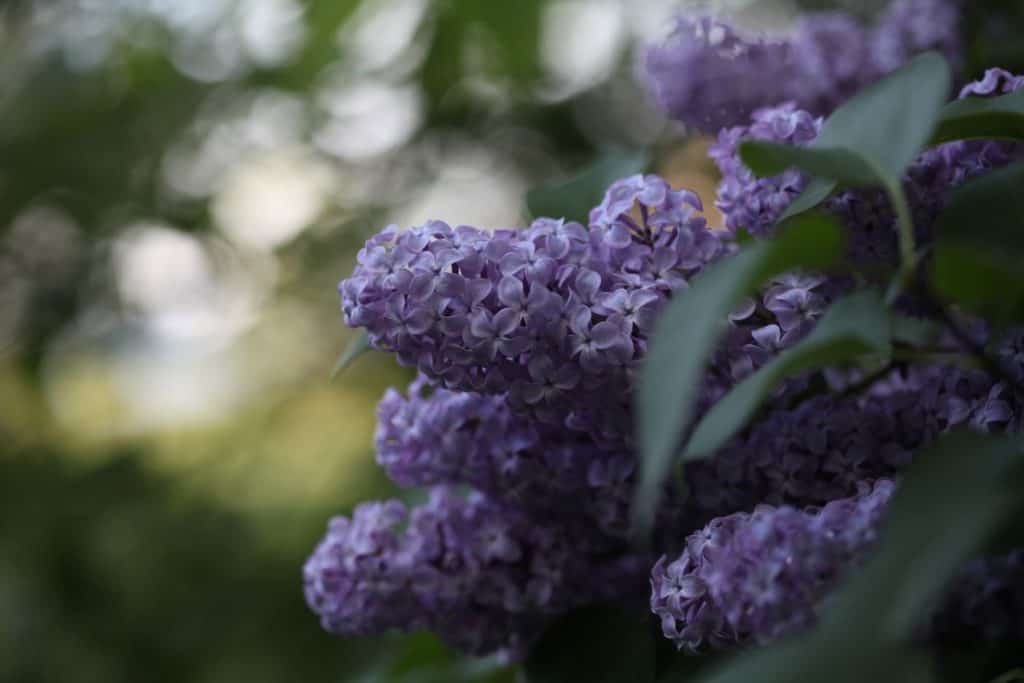 Why Do Lilacs Wilt When Cut?
As an Amazon Associate and member of other affiliate programs, I earn from qualifying purchases.
We are surrounded by lilacs here on the east coast. Every spring for about two weeks, the lilacs bloom in wonderful perfusion. Every year I am drawn to them, and want to bring them inside.
For many years I have tried to cut lilacs only to have them wilt by the very next day. It was just one of those things that I learned to accept about lilacs, not really being aware that there was a better way.
It is true, lilacs do have a predisposition to wilt in the vase after cutting. The main issue for wilting is lack of hydration of the blooms and leaves due to insufficient uptake of water and nutrients inside the stem.
Lilac blooms are large, and that's a lot of flower to keep plump and healthy, even just for a few days in the vase.
What I have since discovered however is that there are a number of techniques that you can use to help keep the flowers looking fresh for much longer. Learning how to keep lilacs from wilting was a game changer.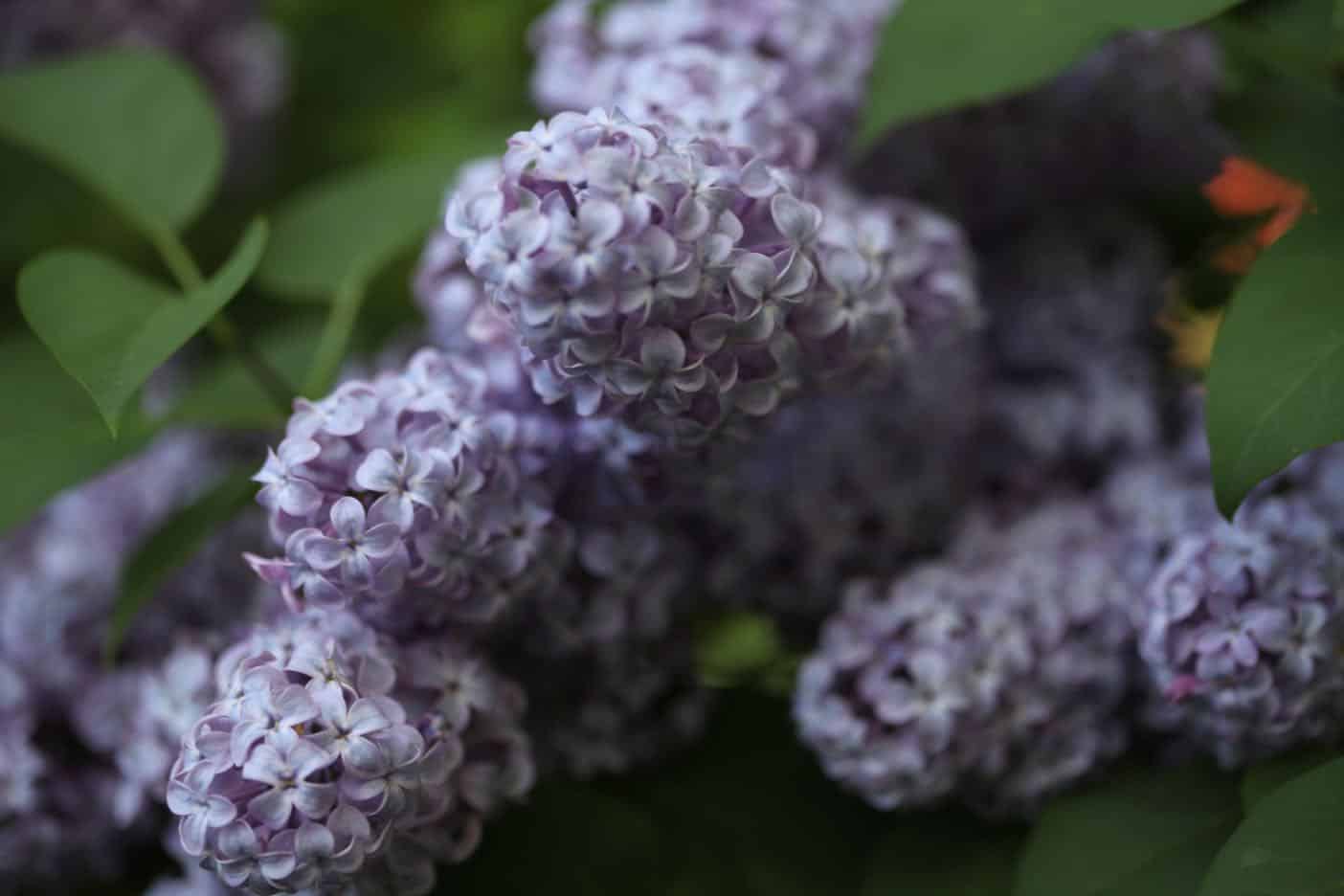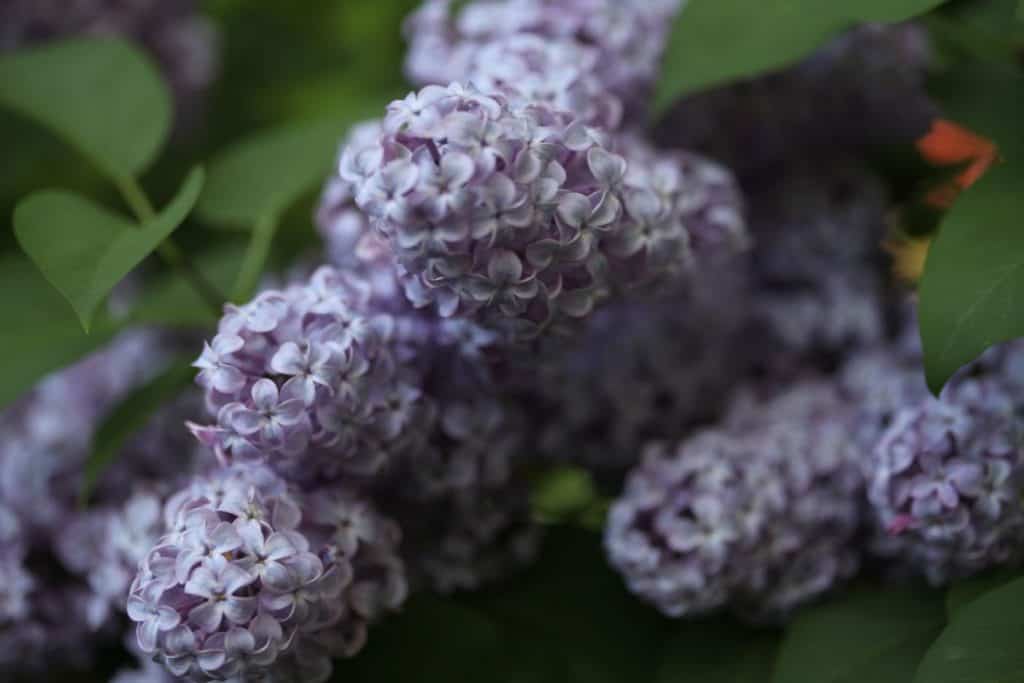 These techniques absolutely work, and are well worth the effort.
You Can Prevent Lilac Blooms From Wilting
Many of us have had trouble with keeping lilacs fresh after cutting.
Looking back now, I can see many of the things that I did which contributed to this, right from the first stage of harvest.
I sometimes cut the stems and didn't get them into water right away.
For the most part, I never removed the foliage.
I sometimes used buckets or containers that I had on hand without giving them a good cleaning prior to cutting the blooms.
This year I followed these techniques to keep my lilacs fresh, and have to admit I even surprised myself. They lasted about 5 days in the vase, and I was able to use them in several recipes, and also dry some for sachets.
We had lilacs for days and our house smelled absolutely amazing!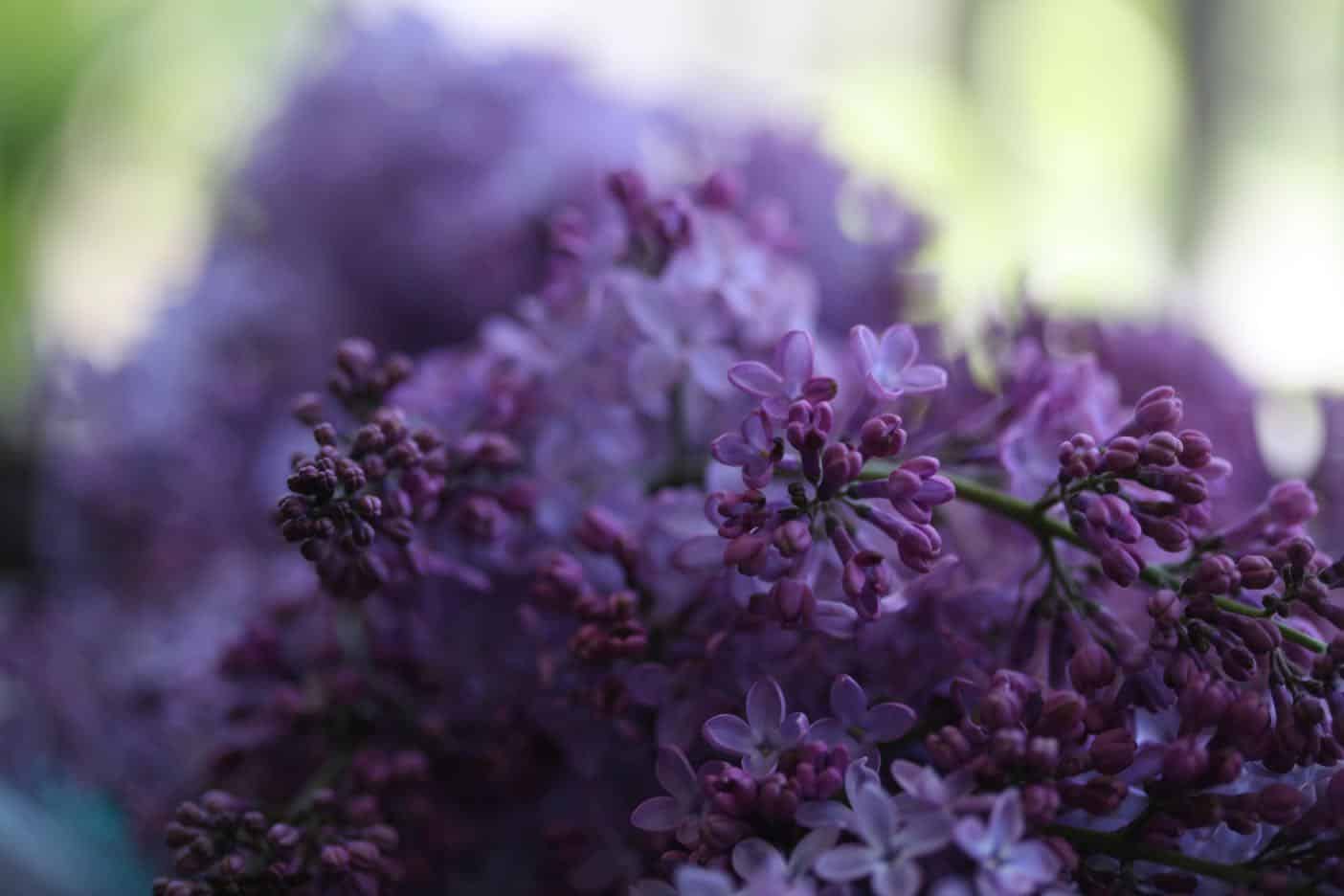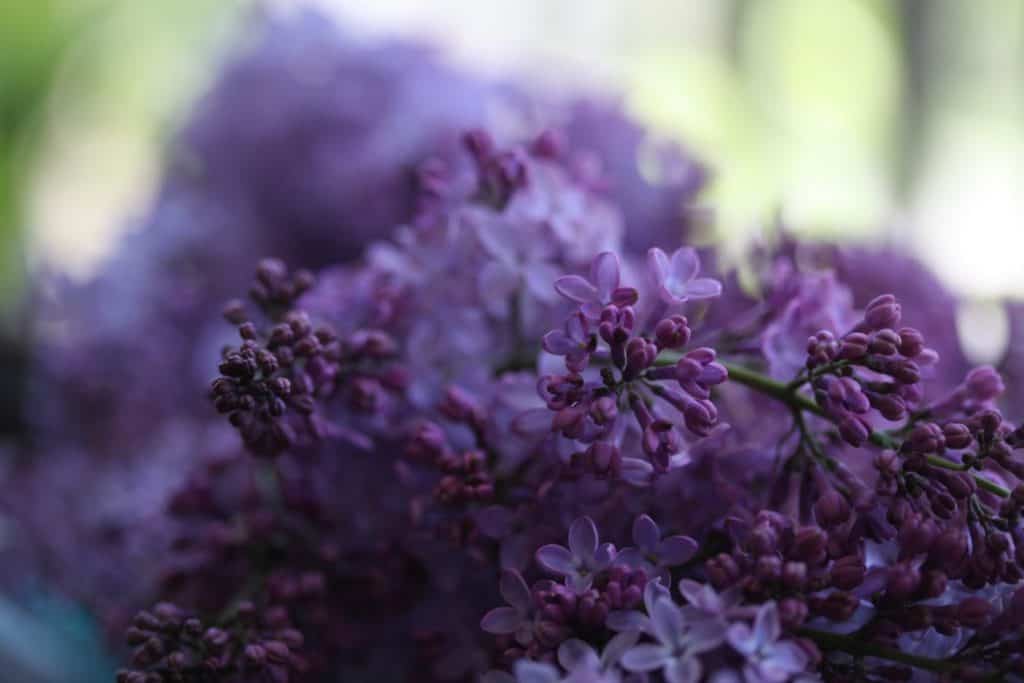 How To Keep Lilacs Fresh Longer
These are the strategies and techniques that can help keep your lilacs fresher longer:
1. Consider When To Pick Lilacs
Time Of Day To Harvest Lilacs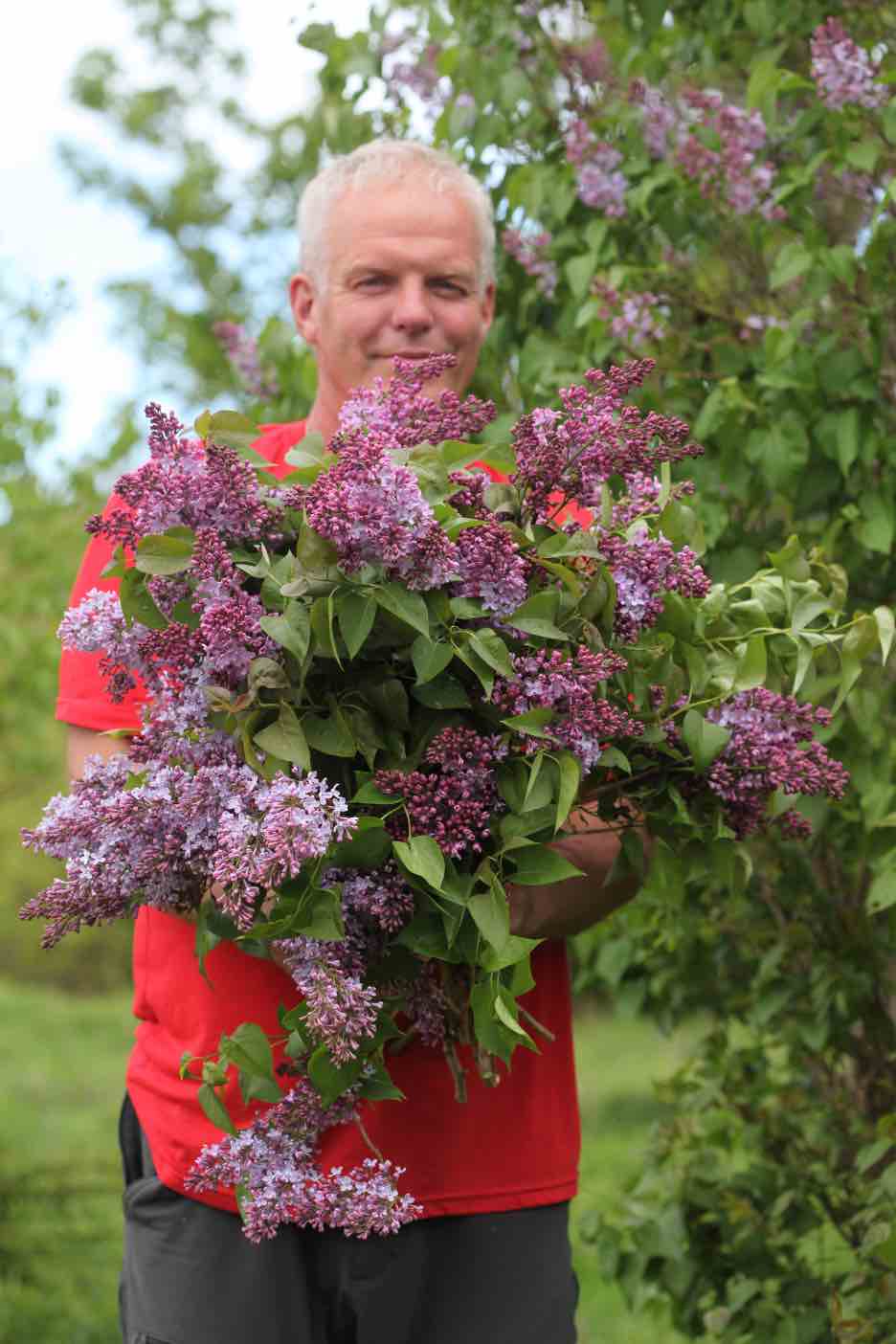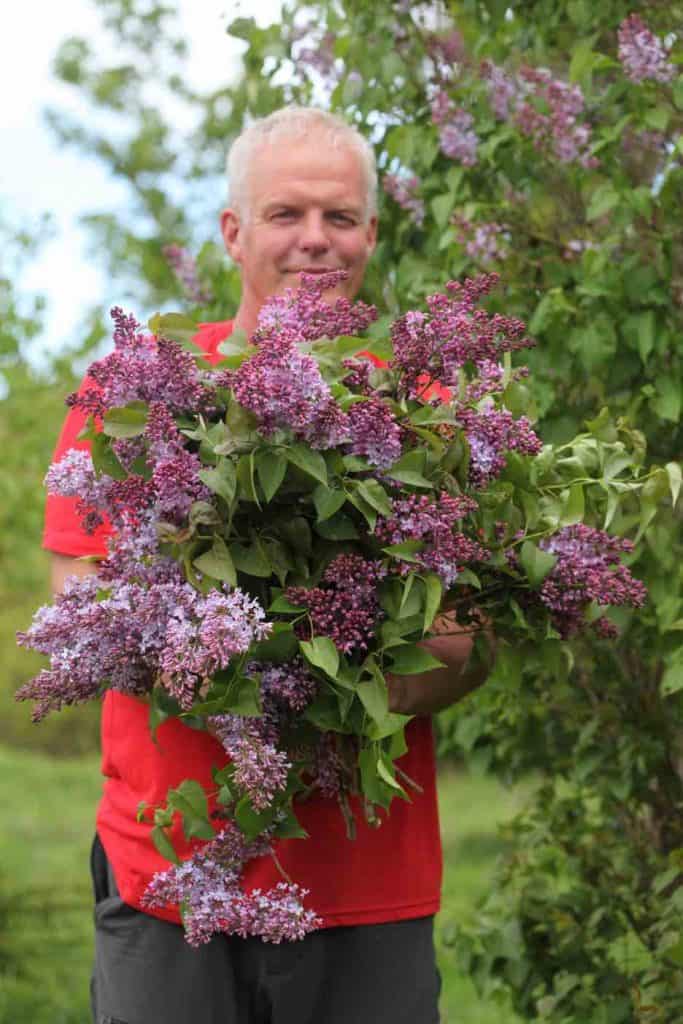 The best time of day to pick lilacs is in the morning when they are most hydrated. This harvest time works well for most flowers.
You can also pick later in the day when it is cooler.
Try to avoid picking midday if possible, as this time of day is generally much warmer and the plants do better with a cooler harvest.
Stage Of Bloom To Harvest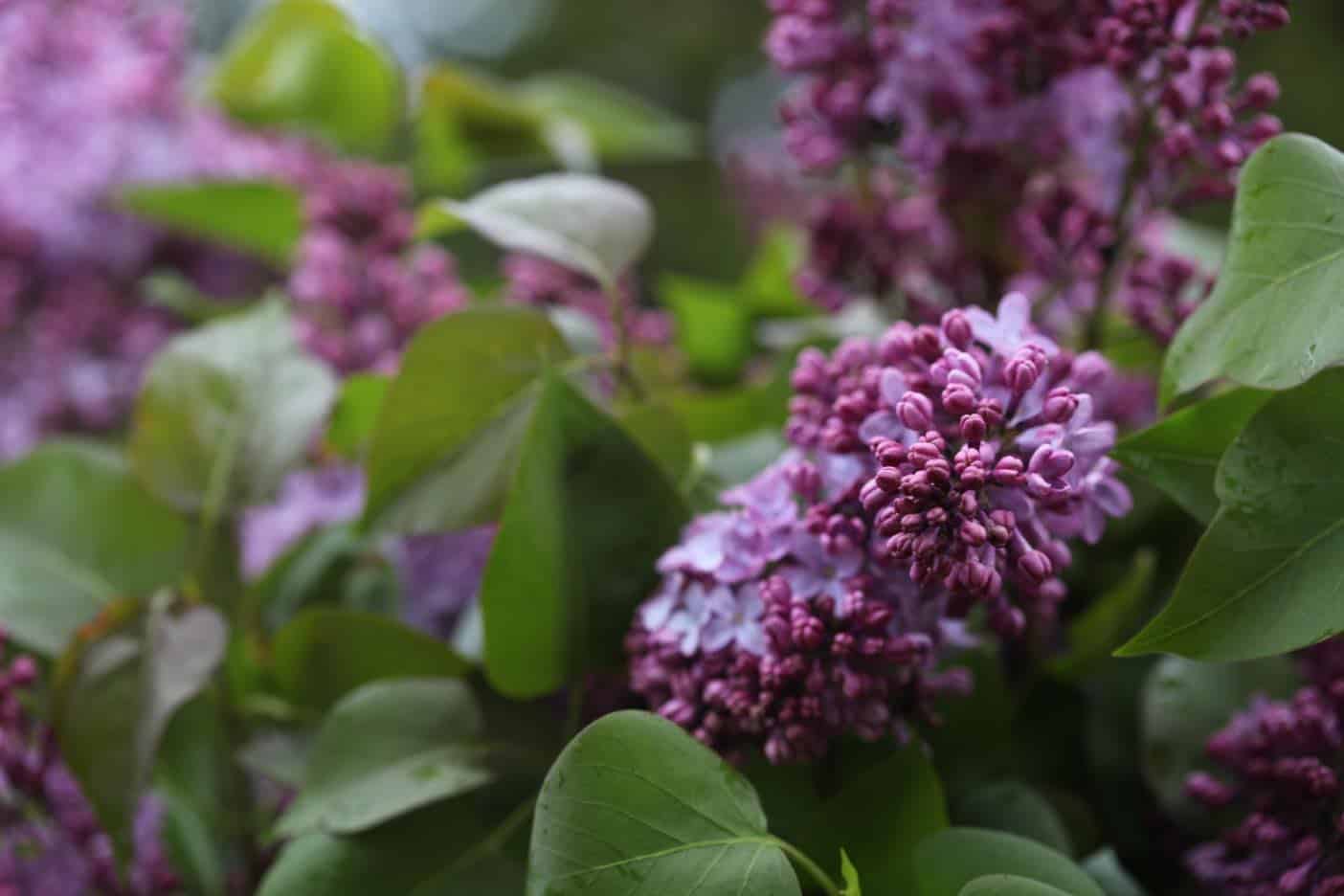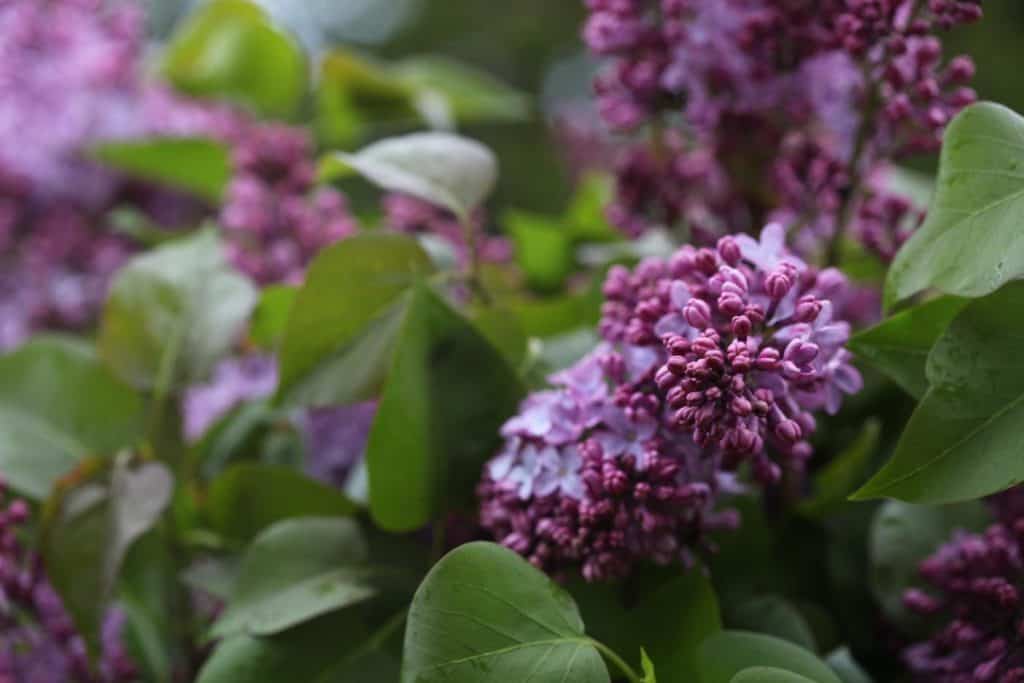 The first thing that helps to keep lilacs fresh is to pick when they are not quite in full bloom. Pick when one half to two thirds of the blooms are open, and when there are also some buds at the top.
You'll have to keep a watchful eye on your lilacs to determine the right time. Remember that every year can be different for the date of full bloom, so watch the blooms carefully to determine best time to harvest.
2. How To Cut Lilacs From The Bush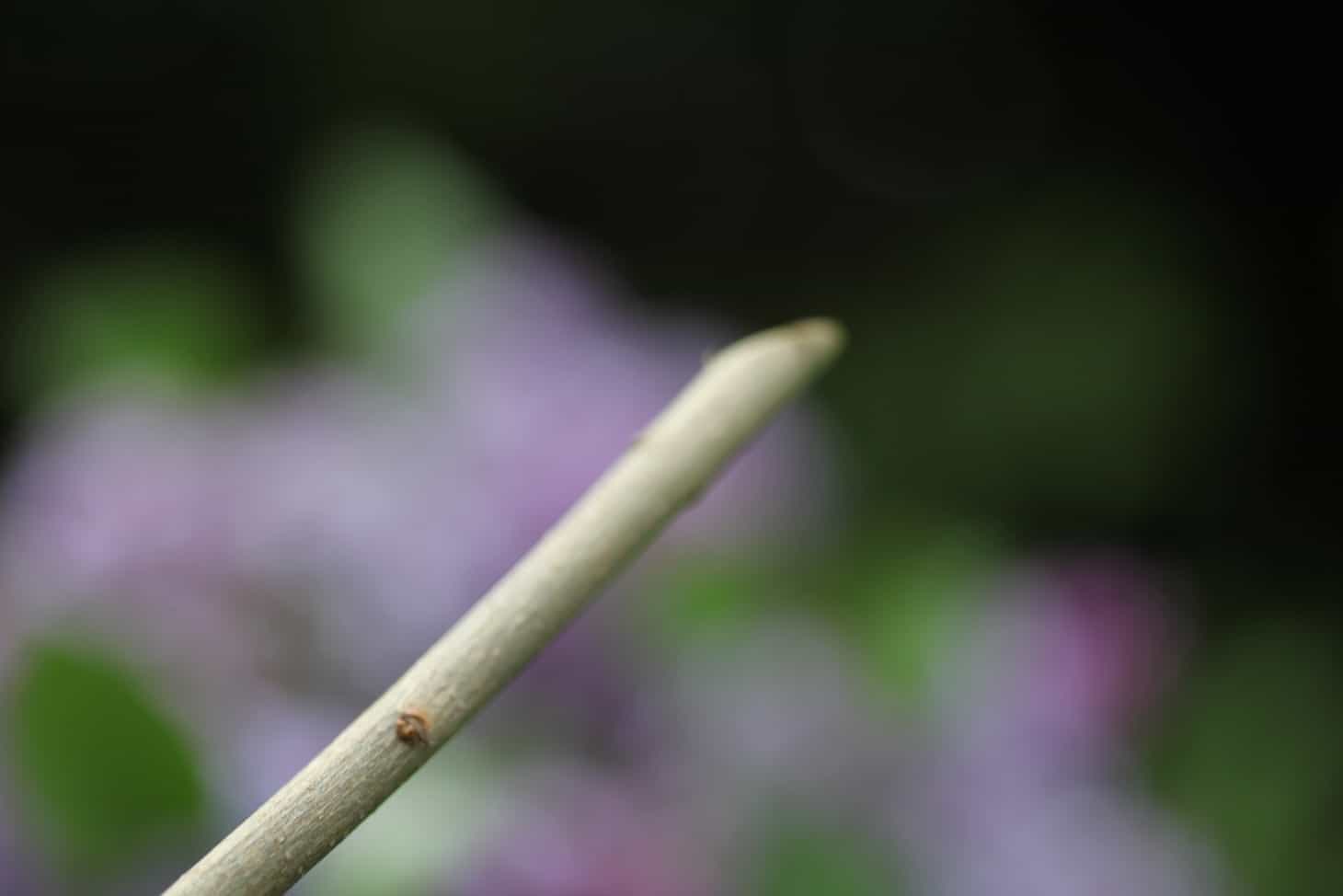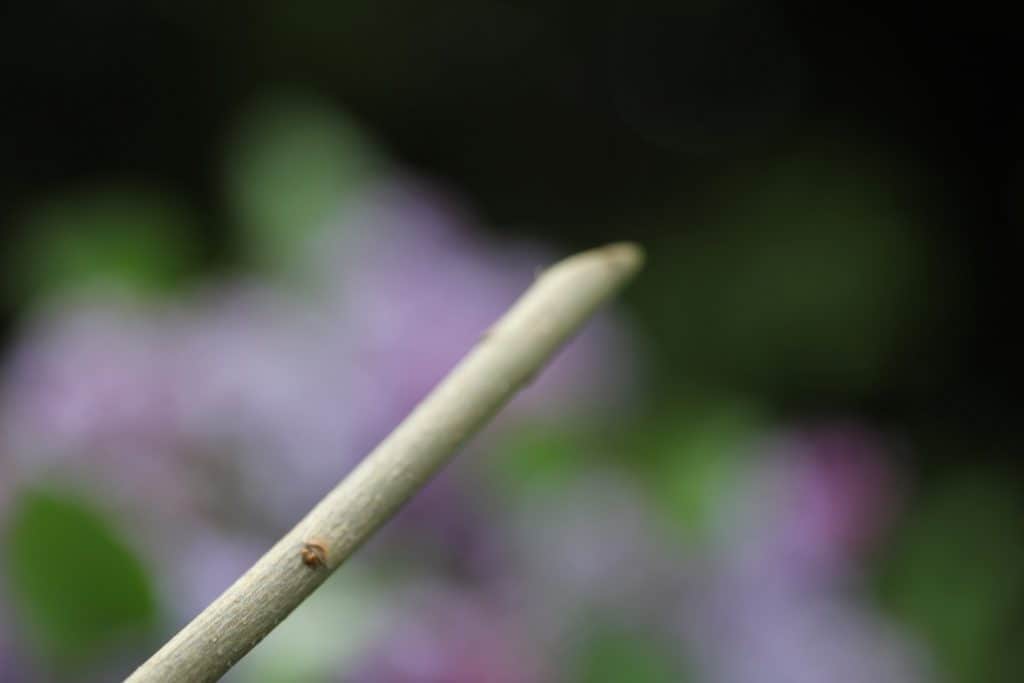 Cut long stems from the lilac bush, and cut these stems at an angle of about 45 degrees.
I generally cut all of our flower stems at an angle, so that when they are in the vase they are not blocked by the bottom of the container.
An angled stem allows for continued uptake of water.
3. Remove Most Of The Leaves
Right after cutting the stem, I trim off almost all of the leaves.
Extra leaves means more structures that will need to be hydrated on the stem. By removing the leaves, the flowers will more easily hydrate and not have competition from the foliage.
Although, I do love the look of lilac foliage in a bouquet to offset the flowers. They look great in the vase with the lilacs, and stand up quite well.
One way to achieve this look is to pick some stems with foliage along with the lilac stems, as a filler for your bouquets.
Make sure that the flowers and foliage are on different stems and not competing for the water uptake.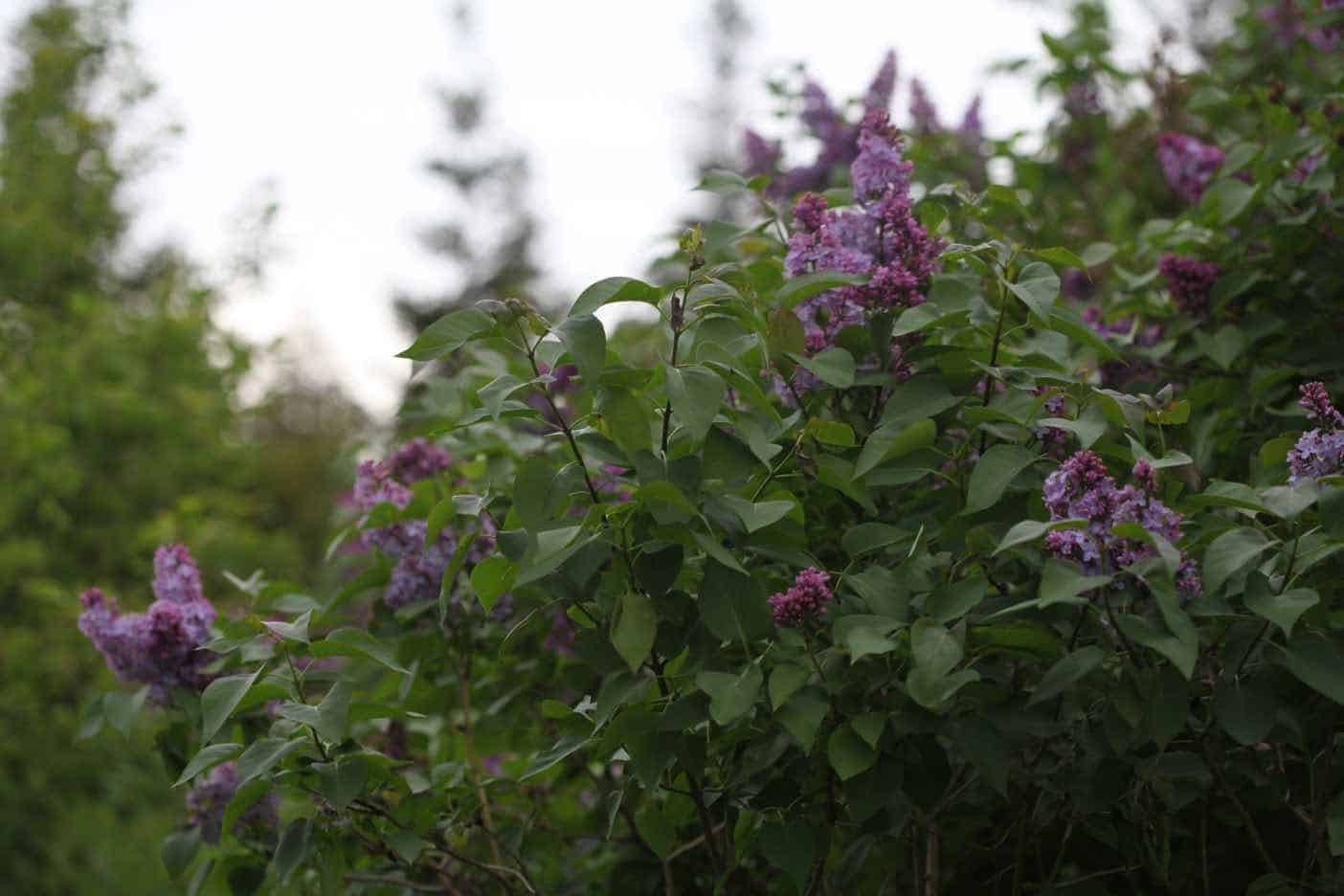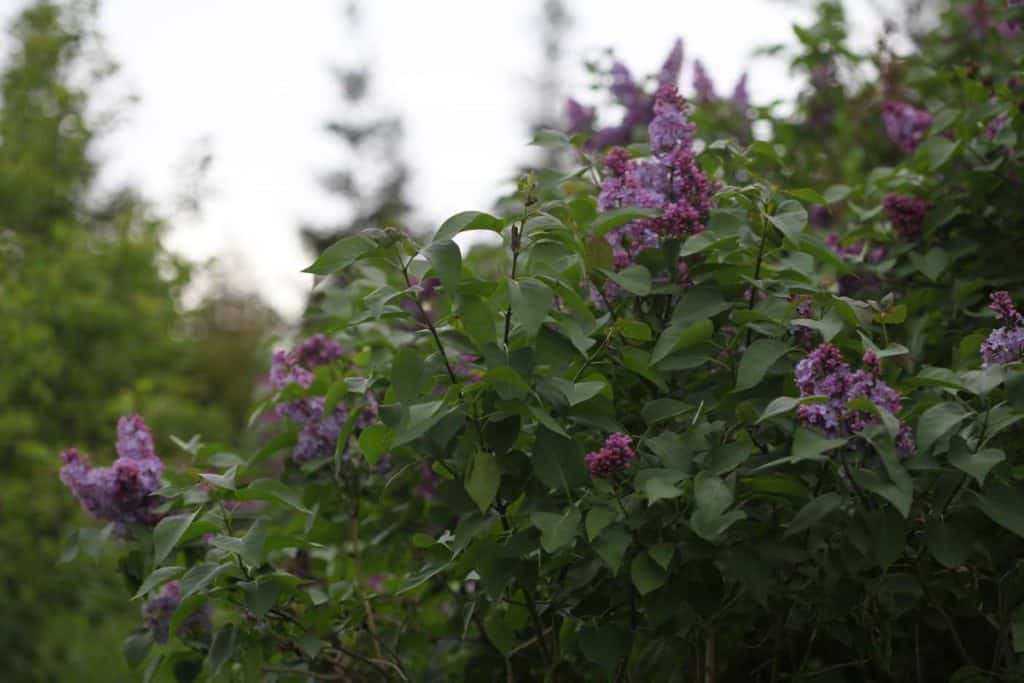 4. Place Cut Lilac Stems Immediately Into Water
Immediately after cutting each lilac stem and trimming off the leaves, place the stems into a container of clean water.
If you are cutting foliage stems for filler, make sure that the bottom half of the stem is also free from foliage, so the foliage does not go into the water to prevent bacteria buildup in the water.
Set the container aside for two to three hours in a cool shady area, allowing the stems to condition and hydrate.
5. Cutting Or Smashing Lilac Stems
After the period of conditioning, the lilac stems can be further prepared by either smashing or making extra cuts in the bottom of the stems.
You can do this right at the beginning before placing in water initially, or after they have been conditioned.
Smashing Lilac Stems
Smashing lilac stems is something I did not try until this year. It is actually quite easy, and sort of fun.
The technique involves placing the bottom of the lilac stem on a hard surface, such as a rock or cement.
Then take a hammer and smash the bottom inch or so of the stem.
The stems crush fairly easily, and this technique opens up a bigger surface area which the lilacs can use to draw up the water.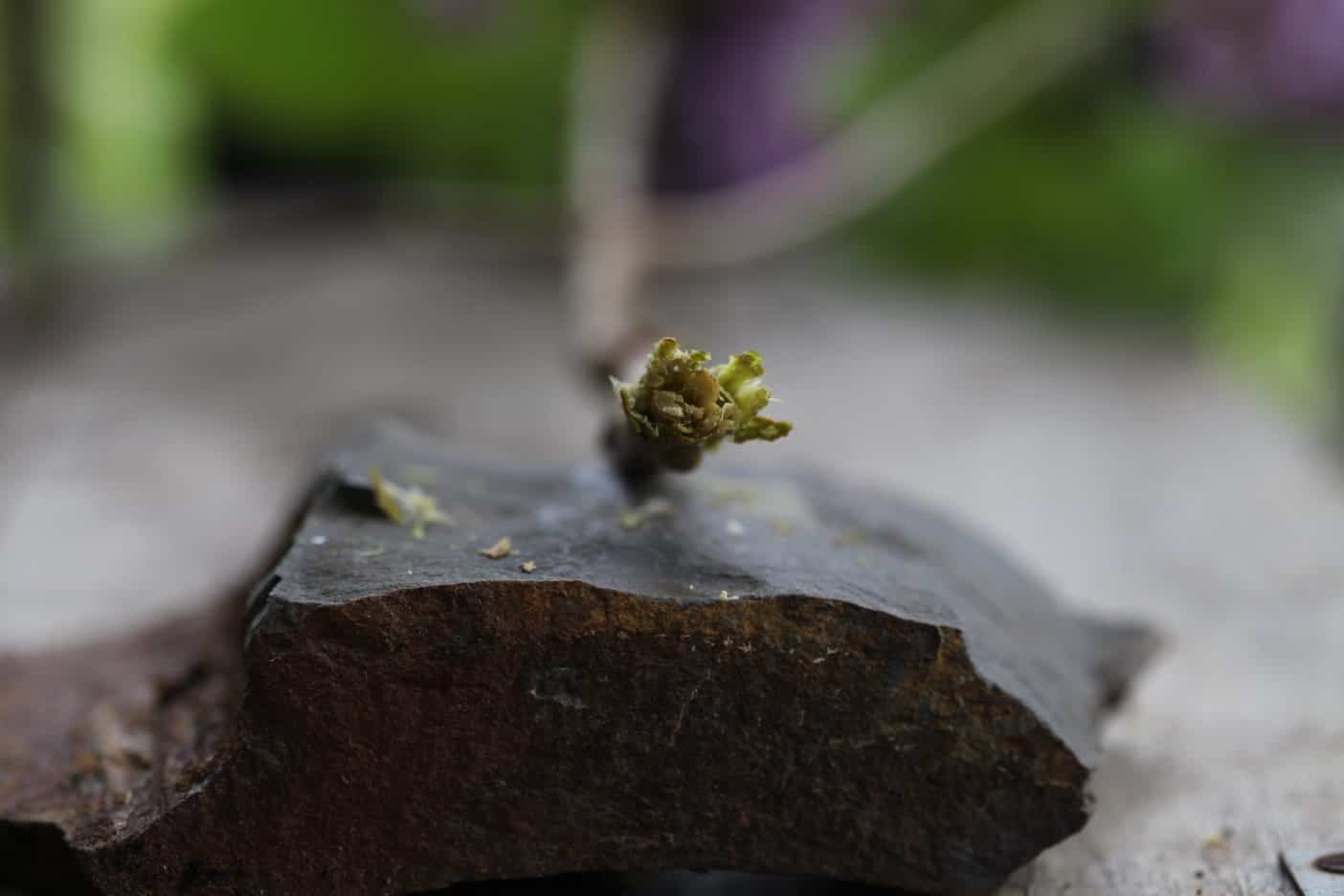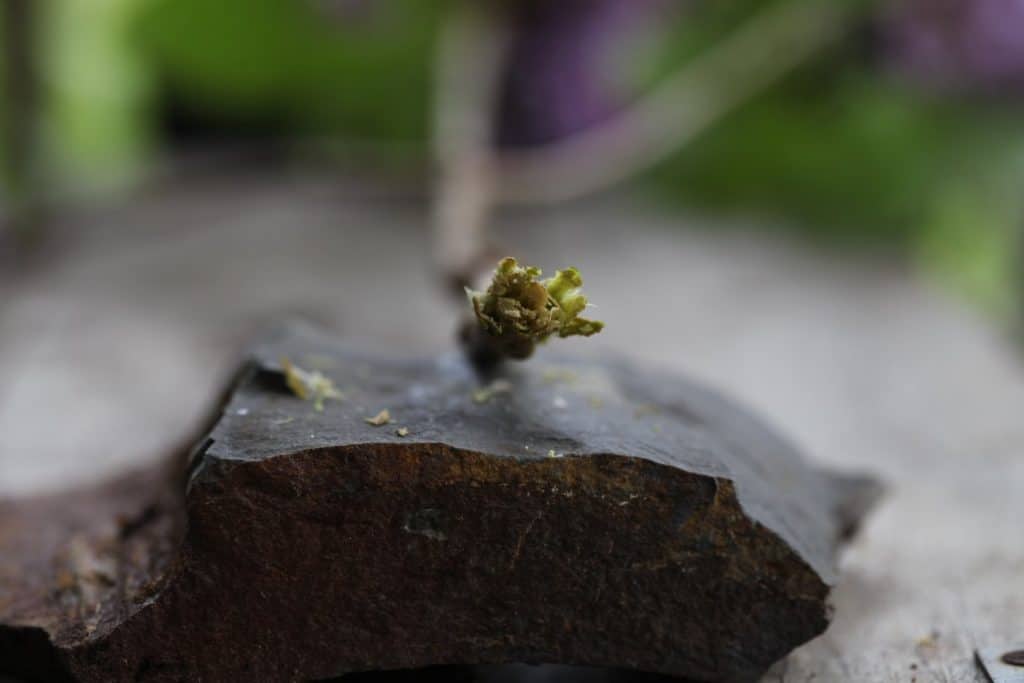 Cutting Lilac Stems
This technique involves making two vertical cuts through the lilacs stems on the bottom inch or so of stem.
I make one cut with a pair of sharp shears, then twist the stem 180 degrees to make the second cut.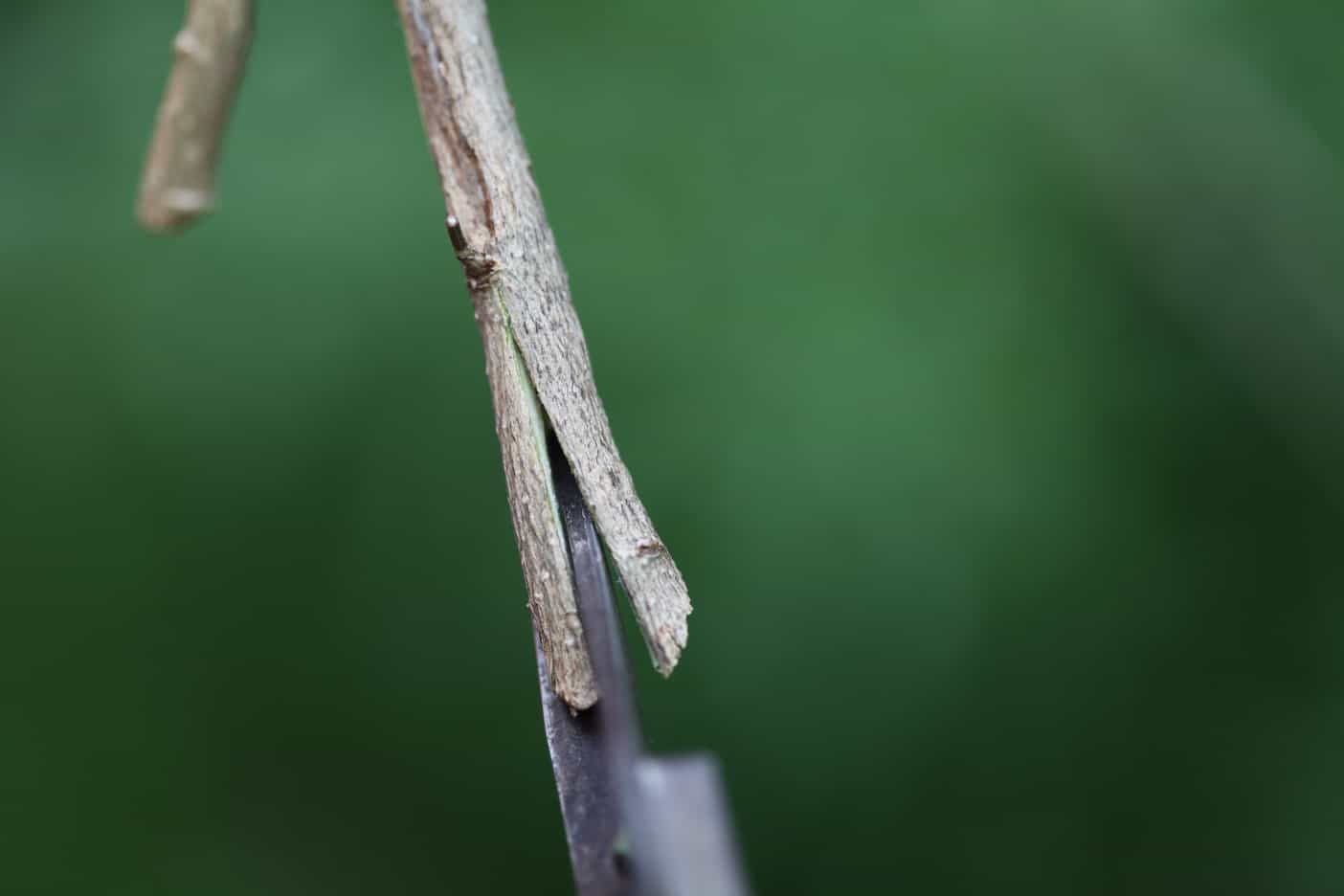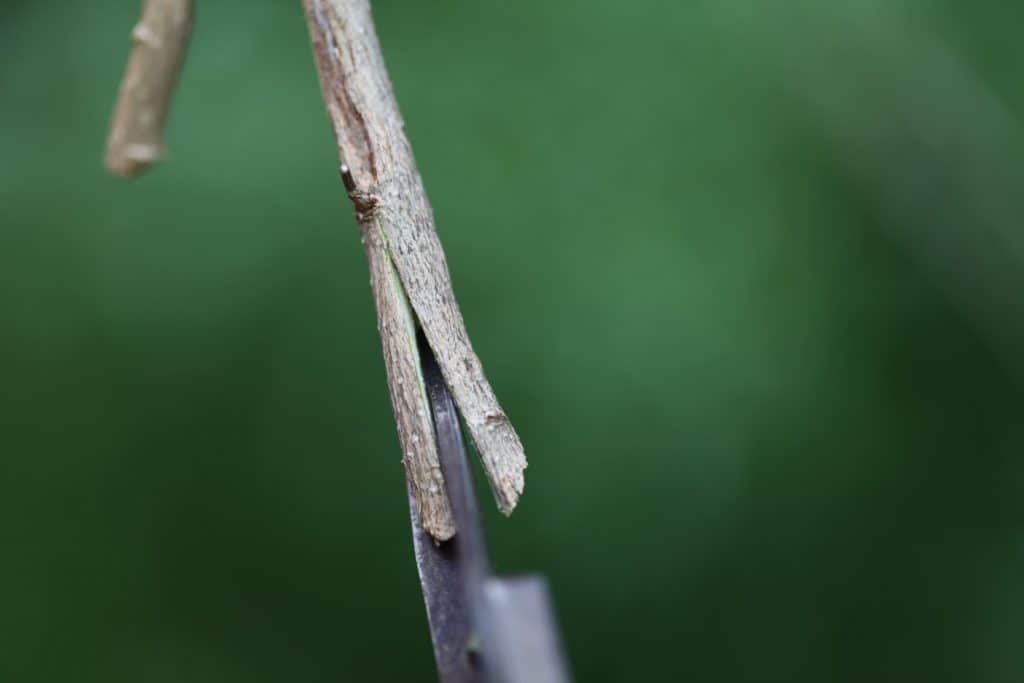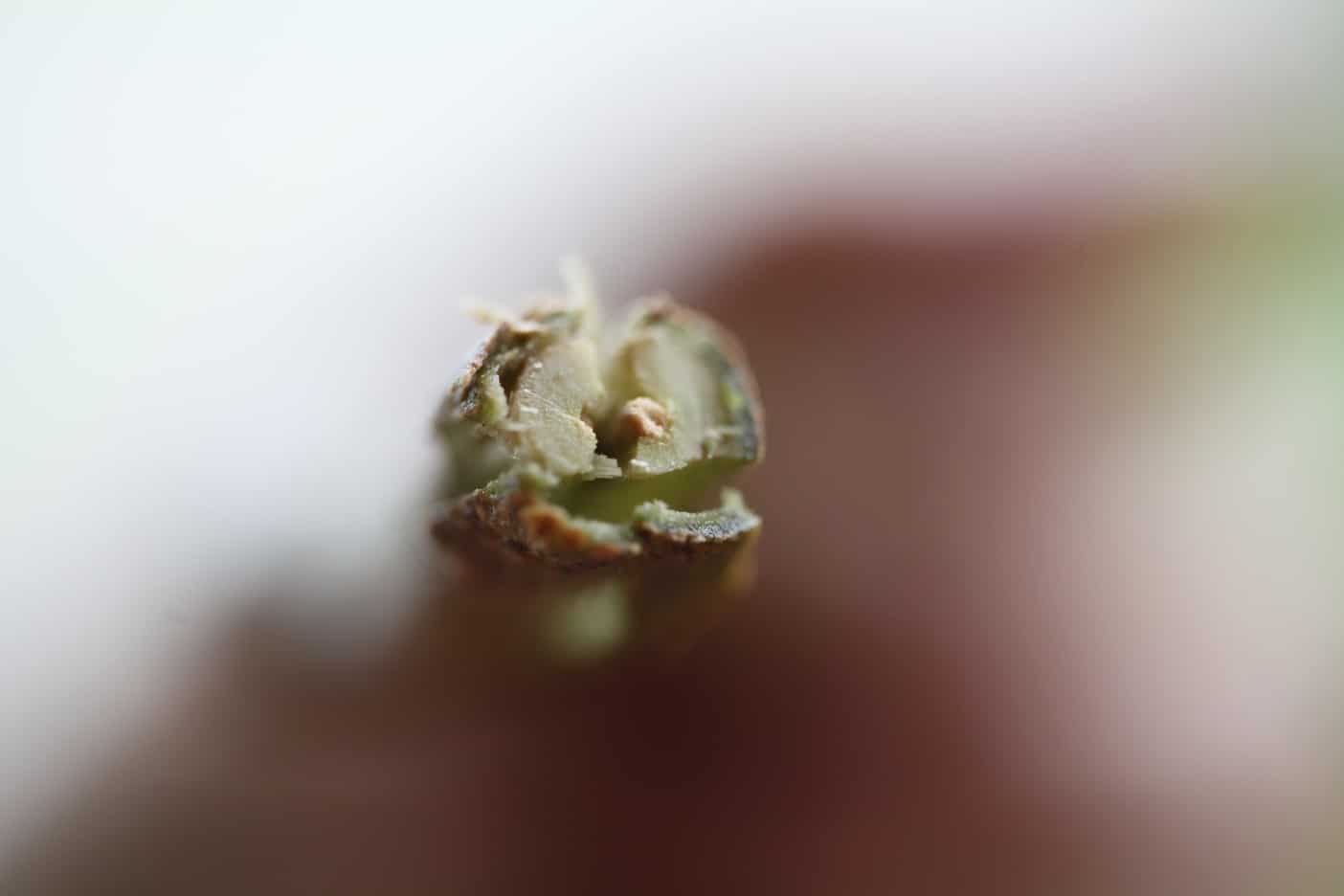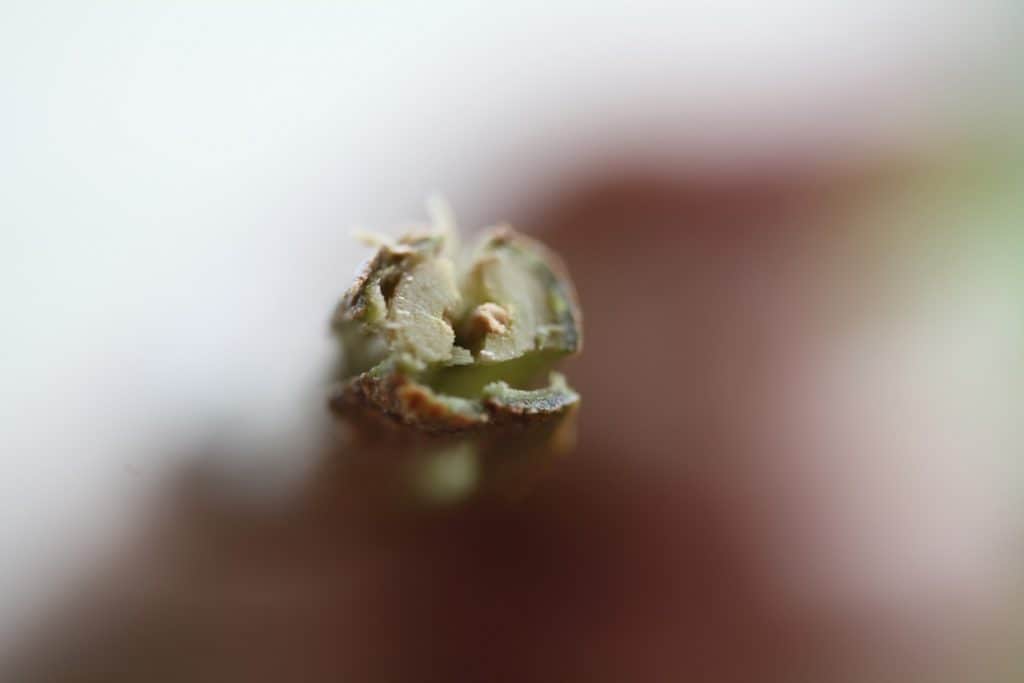 Some stems will be too small to make two cuts, and you may only be able to make one, but that's still okay.
By doing this you are again allowing more surface area from which the lilac stems can rehydrate.
Both techniques work equally well.
How To Make Lilacs Last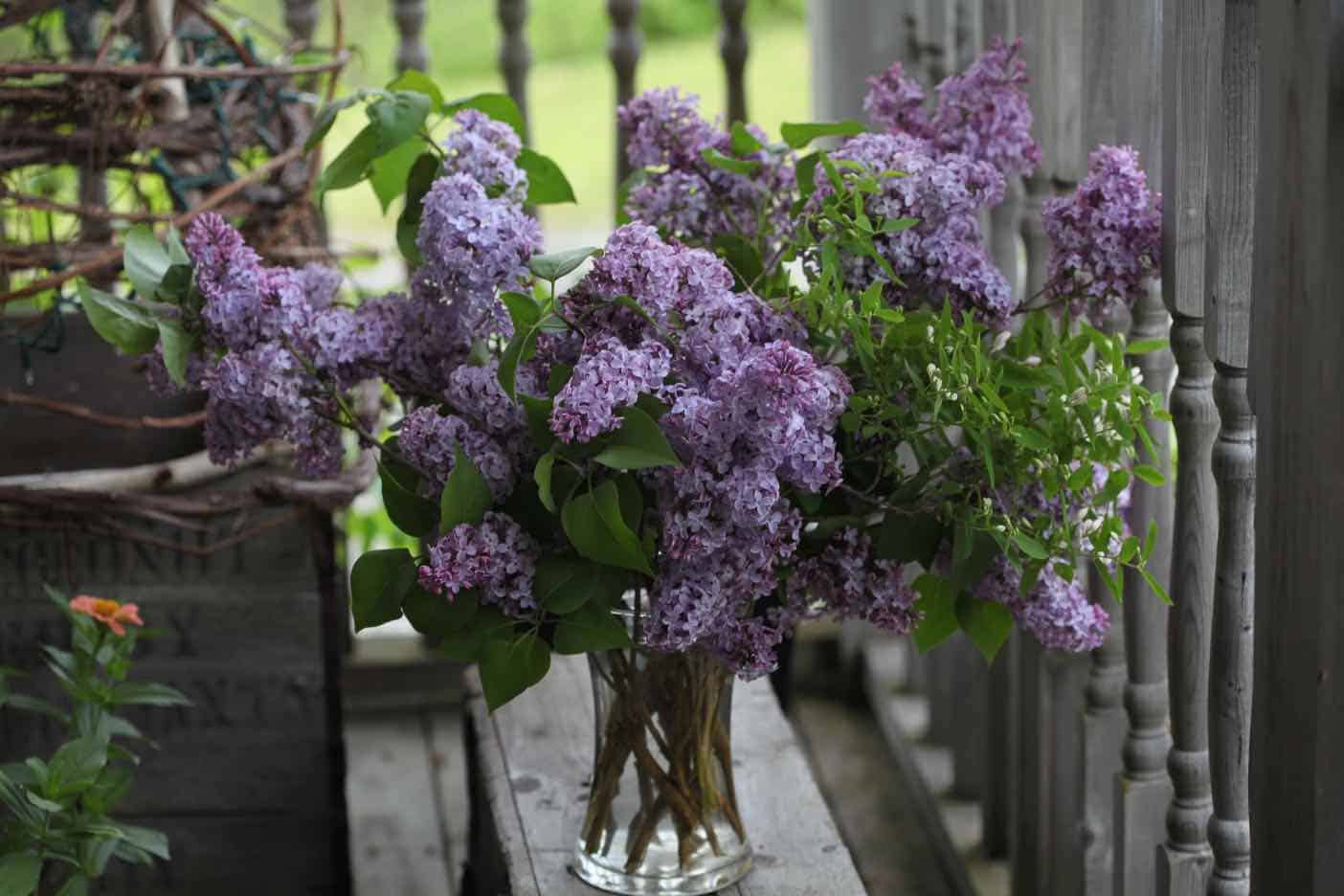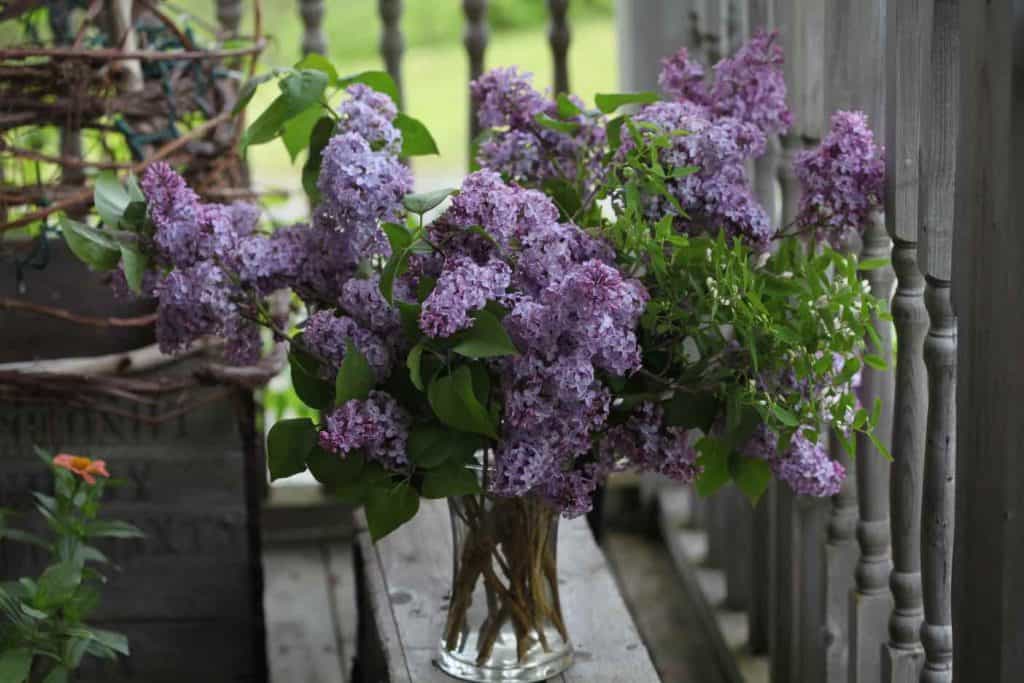 So you've done everything you can to keep your lilacs from wilting.
Here are just a couple more ideas to keep them fresh:
Keep All Foliage Above The Water Line
As with all cut flowers, we strip the foliage from the bottom parts of the stems to prevent them from getting into the water.
Any petals or leaves in the vase water will contribute to bacteria buildup.
Trim Regularly
How Do You Trim A Lilac Stem?
Ideally, as with any flowers that you want to keep well in the vase, trimming daily can help keep the stem open for water uptake.
Remember to trim on an angle, and to use the cutting or smashing techniques mentioned above after you trim.
Change The Water Daily
This is a good strategy for all cut flowers. Bacteria can start to build up in the water, and clogs the ends of the stems, preventing water uptake.
Changing water can help, and as well making sure that the container or vase is sparkling clean to prevent bacteria from growing.
Plant Food
Lilacs respond well to a bit of extra plant food in the water.
I used a teaspoonful of sugar for one bouquet which seemed to work quite well.
There are also products that flower growers use to keep their flowers hydrated that would work equally as well. If you have any on hand you could give these a try.
There are products such as Quickdip, which opens up the stems on flowers and allows them to drink up the water.
There are also holding solutions for conditioning and preserving flowers as well, that work great to condition and hydrate lilacs and other flowers.
The hydrating solution is expensive, and I would only suggest getting it if you will be cutting lots of flowers. It works exceptionally well at perking up and brightening the blooms of most cut flowers.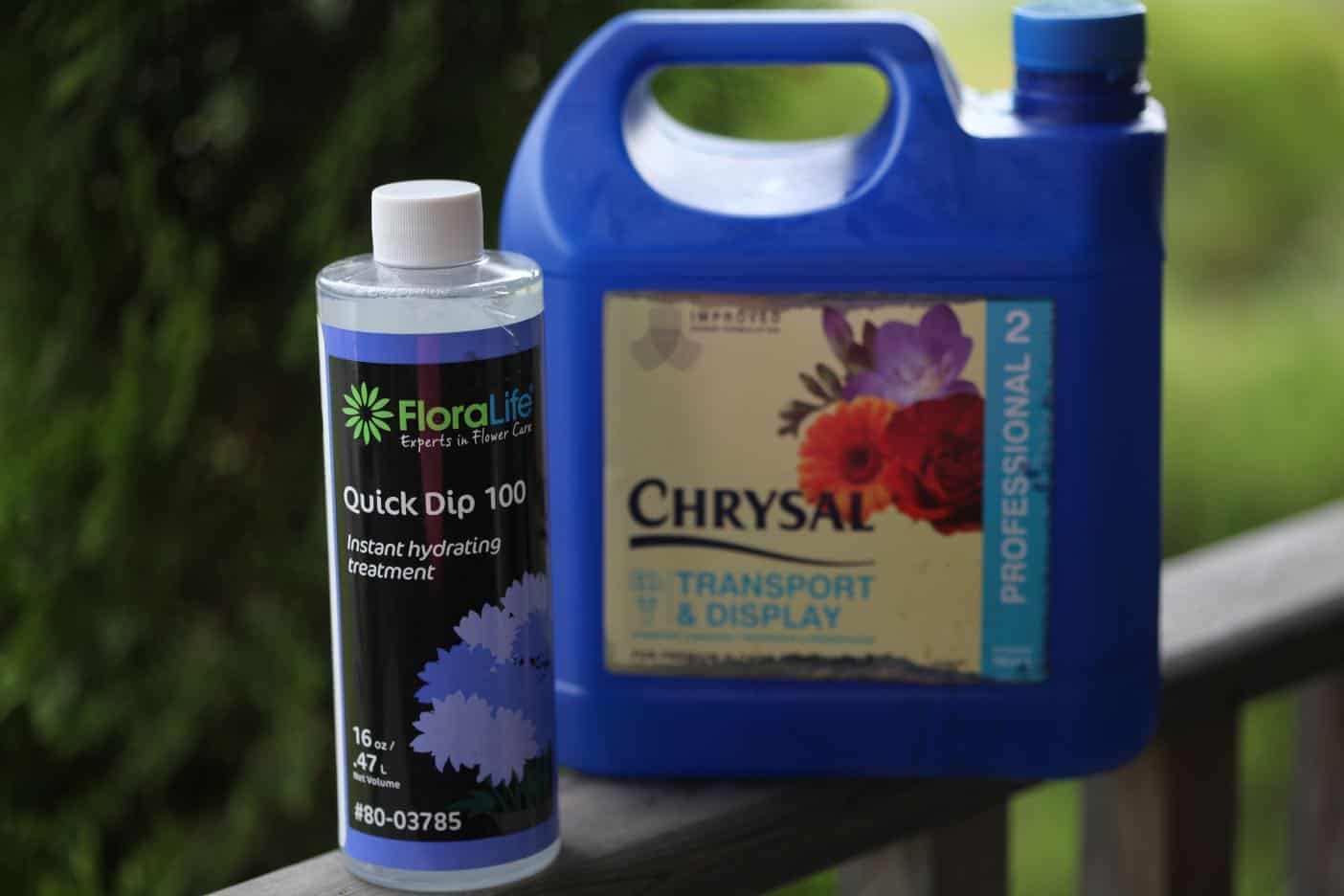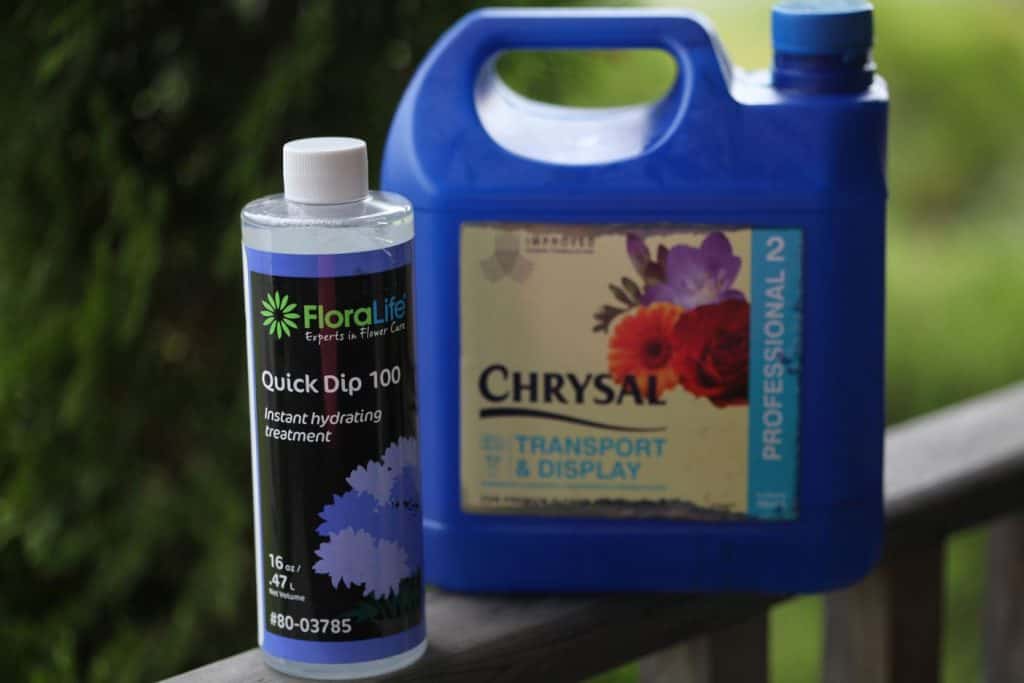 This post contains affiliate links, which means I make a small commission at no extra cost to you. See full disclosure on privacy policy here. As an Amazon Associate I earn from qualifying purchases.
Products that work well to hydrate and condition:
How Do You Revive Wilted Lilacs?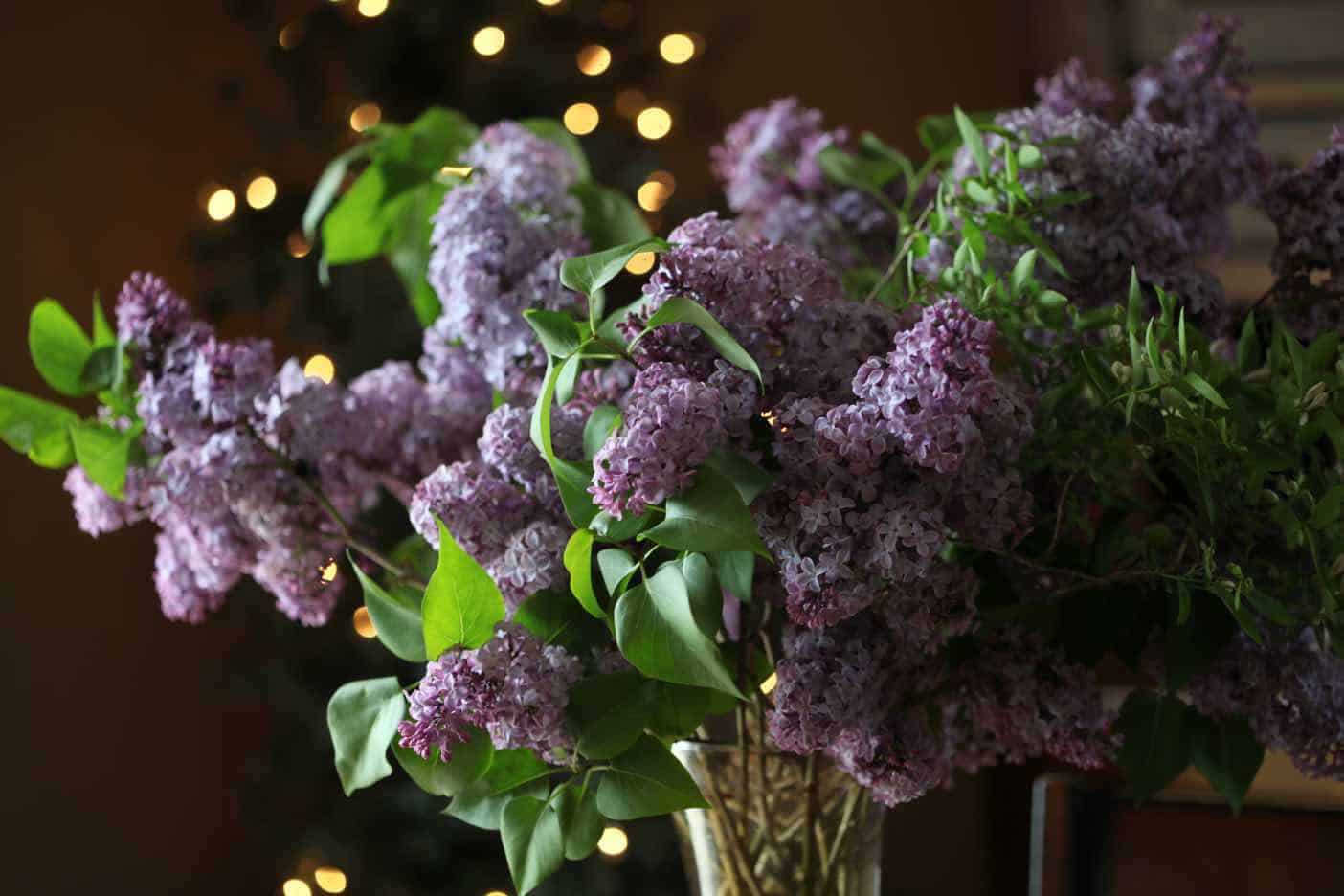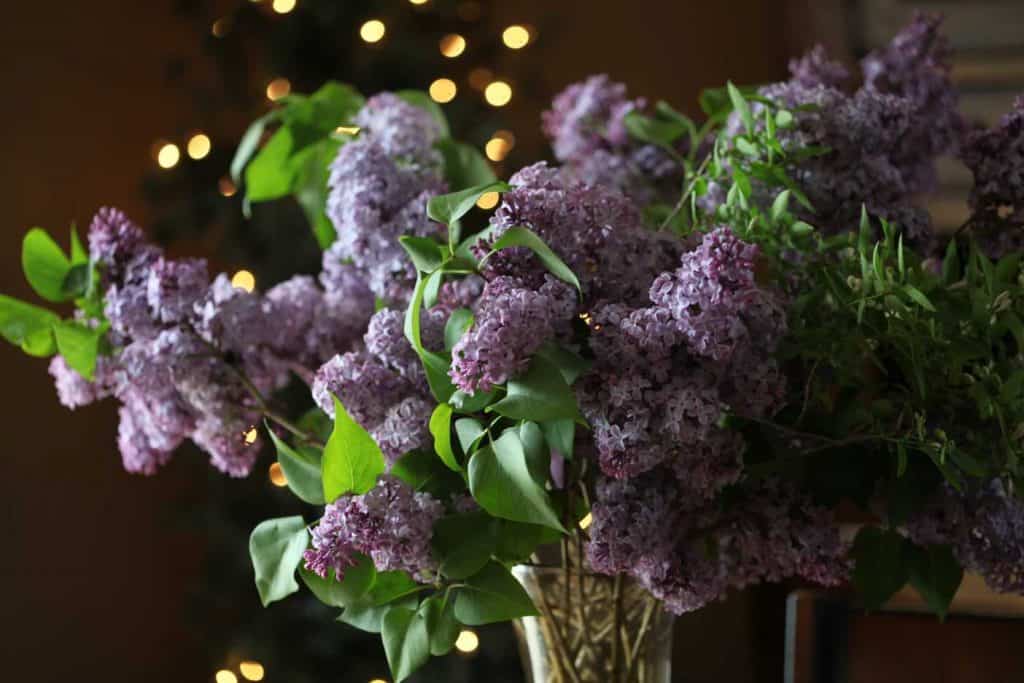 If your lilacs have started to wilt, you may be able to revive them.
Give them a good cut, place them in fresh water, and set them aside in a shady spot.
They may perk right up in several hours. It is always worth a try.
I had some lilacs in a larger vase that became droopy when the stems had quickly absorbed the water in the vase and left some stems above the water line.
The stems with droopy flowers were trimmed and placed in a fresh container of water. I am happy to say they perked up quite nicely in a couple of hours.
The most wonderful scented flowers of spring, lilacs have always had a place in our vase, even if just for a short period of time.
After our success this year at keeping them fresh longer, I can see many more lilacs in our future!
Lilacs make wonderful gifts, and you want to ensure that your gift will last in the vase. Consider using these techniques to confidently gift your beautiful flowers!
I hope that you found this post on how to keep lilacs from wilting a helpful one.
Have you had trouble with lilacs wilting in the vase?
Be sure to leave a comment below to share your experience!
Other Posts You May Like:
HOW TO MAKE LILAC JELLY ~ PRESERVE THE TASTE OF SPRING
PERENNIAL BACHELOR BUTTONS IN THE GARDEN
HOW TO MAKE LILAC SUGAR ~ A SPARKLING TASTE OF SPRING
See the Web Story on Keeping Lilacs From Wilting In The Vase!
Pin It For Later!