Last updated on September 17th, 2023 at 03:27 pm
Harvesting and saving zinnia seeds at seasons end is fun and easy to do. These precious seeds create such beautiful flowers every growing season, it just makes sense to save a few for next year. Learn how save zinnia seeds, to grow them year after year in the garden.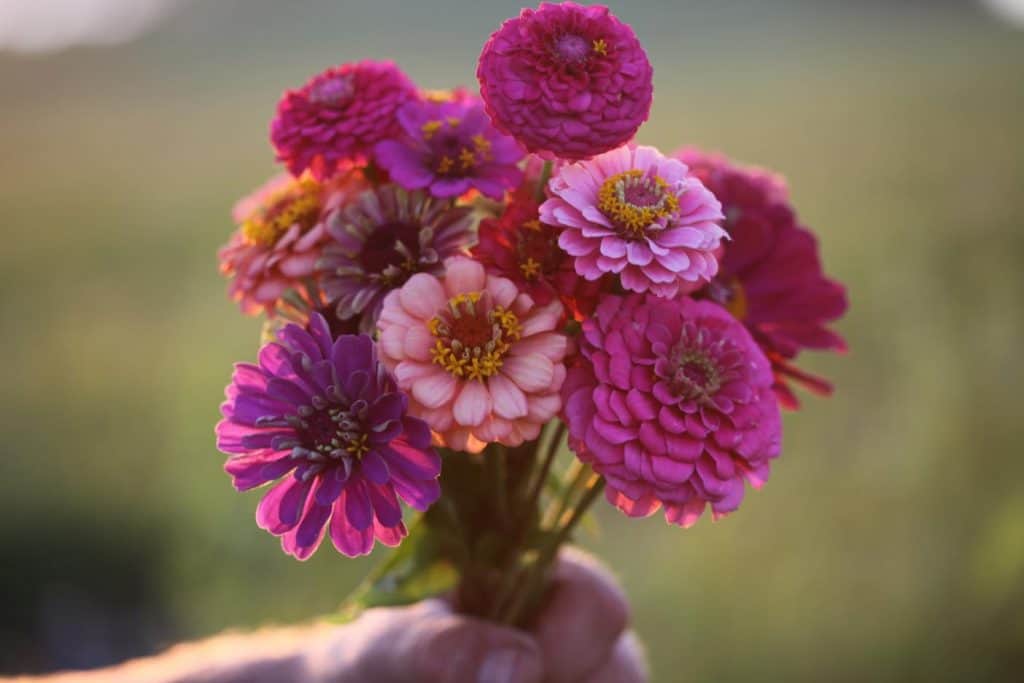 Zinnias are one of my favorite flowers. They are great cut flowers and come in a variety of colors.
The first year that we grew zinnias I was amazed by their rustic beauty.
That was the year that we started the flower farm, and zinnias were the first flowers on my list of easiest flowers to grow for flower gardens. I had no idea at how true this really was.
I found it interesting that I had not discovered them before now, because they really made such an impression.
The zinnias grew in a beautiful wide colour palette from jewel toned blooms to soft rich pastels.
They bloomed all season right up until frost.
And the flowers were unique, and almost whimsical. Both the single and double blooms were equally impressive, and the sizes varied from tiny to giant sized blooms.
At the end of that first season I was hooked. I was also determined to save some zinnia seeds, and I collected many.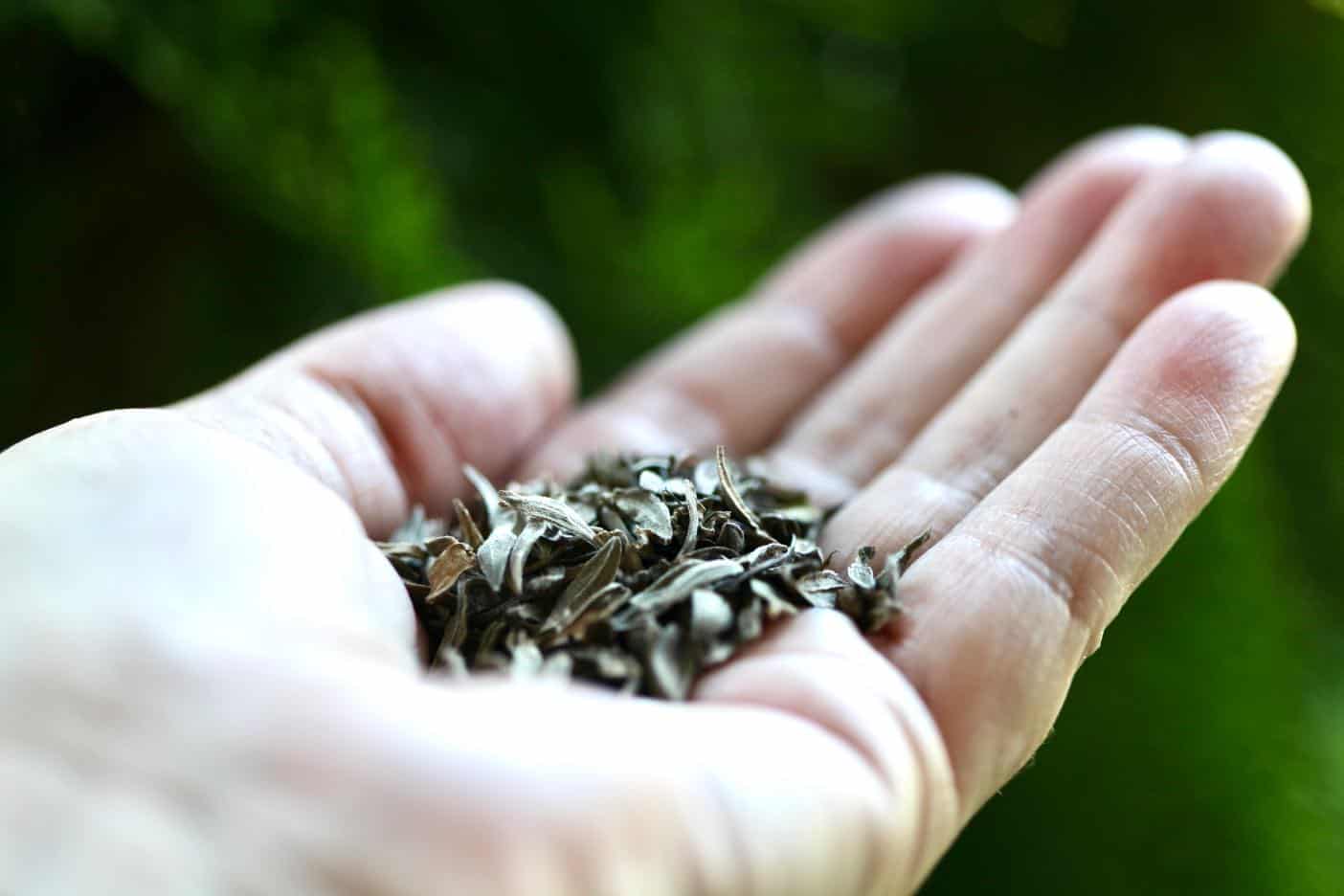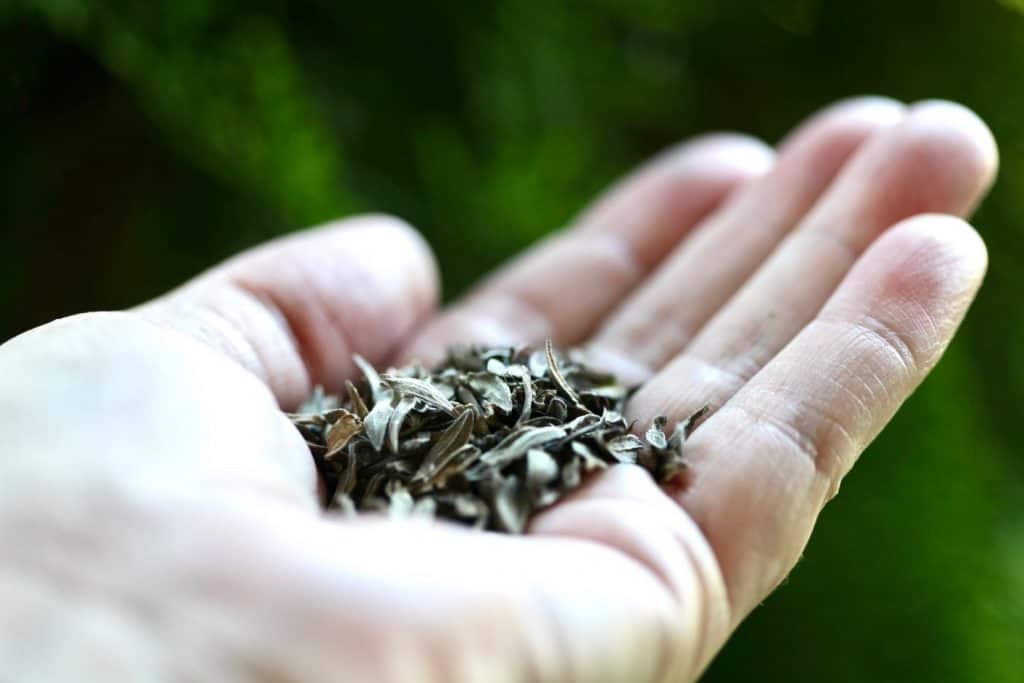 That was several years ago, and was just the beginning.
Saving Zinnia Seeds
I didn't realize that zinnia blooms would produce so much seed. But those incredible zinnia flowers certainly did.
This year we only grew zinnias from our own seed, and I absolutely loved them.
Granted, the colours were different than those of the original plants. Many were the same or similar. And many were even more spectacular in my opinion!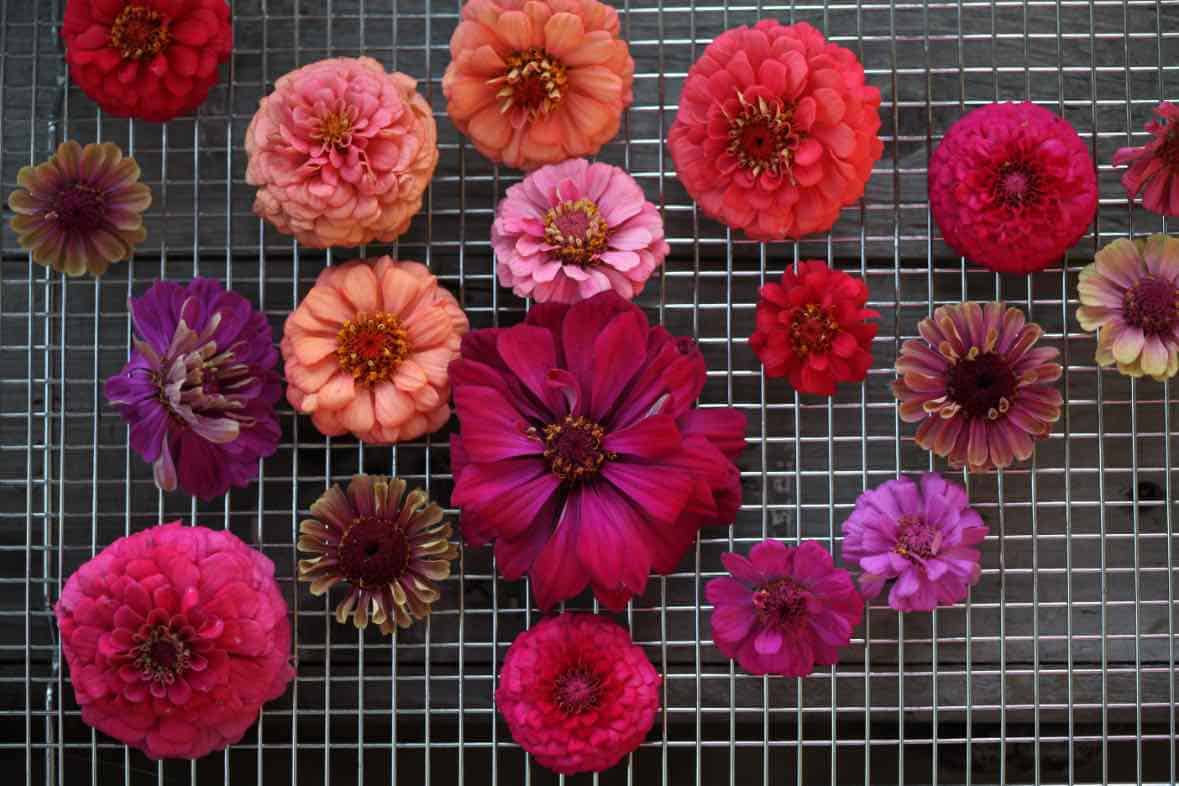 Saving zinnia seeds can be a cost effective way of continuing to grow these sweet and colourful blooms. Zinnias are annual flowers and will need to be replanted every year.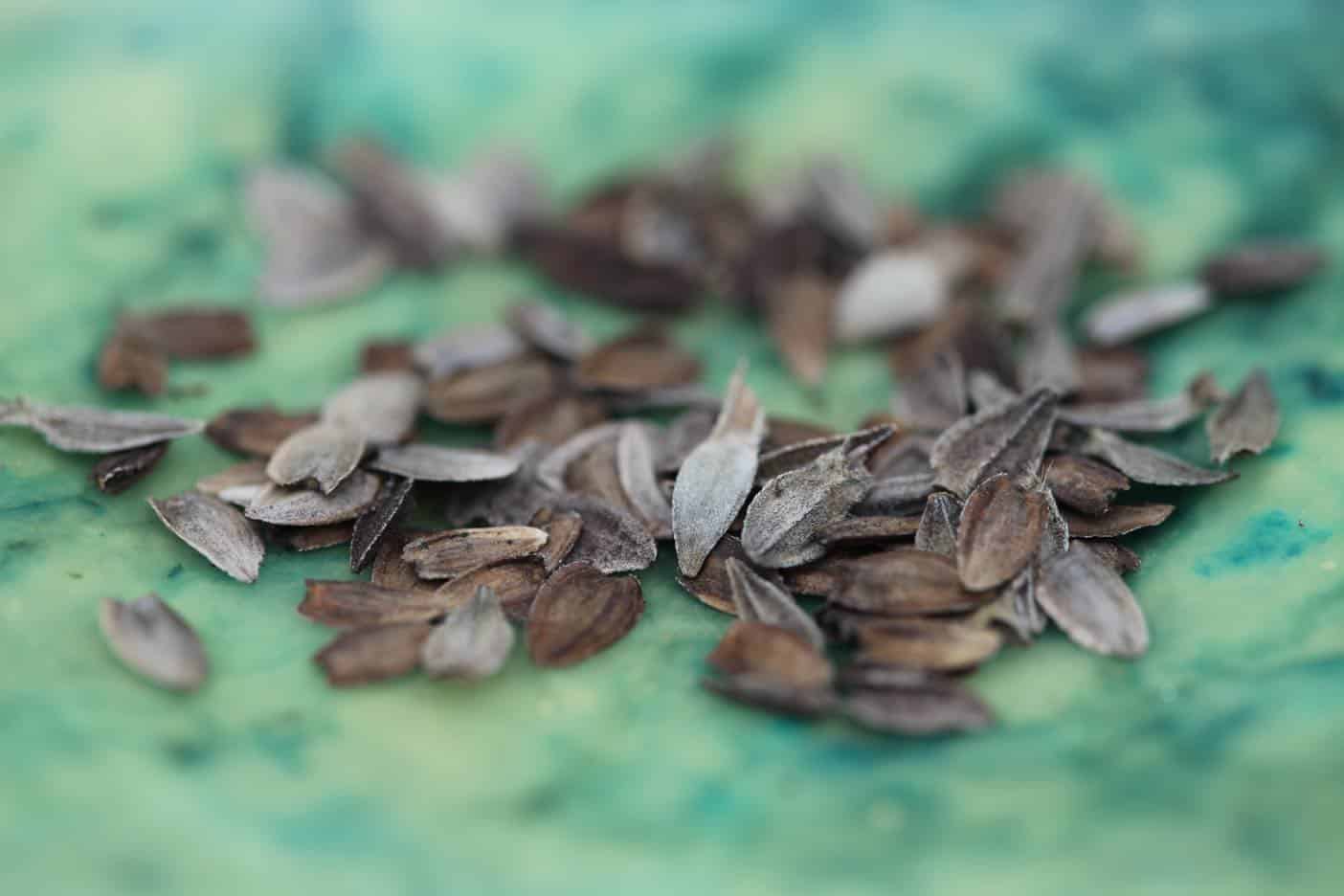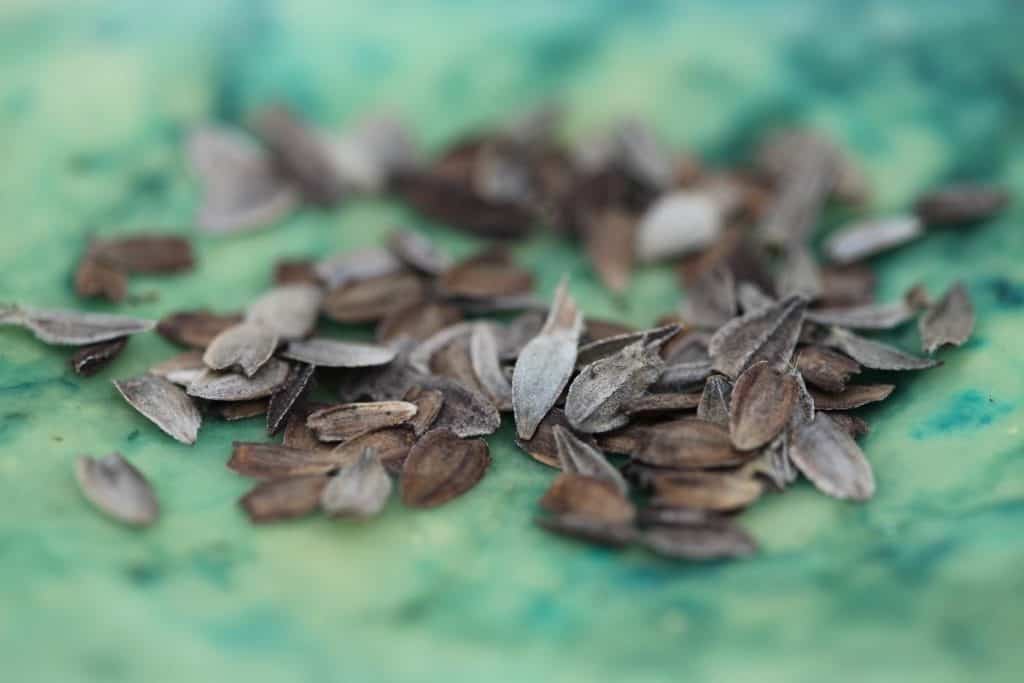 You should be able to collect enough seeds to plant next spring from your zinnia seed harvest.
One thing to keep in mind when saving zinnia seeds is that they may not come true to bloom if they are being produced by hybrid flowers. There will be many variations in colour and form, especially if you are growing a wide variety of cultivars in the garden.
Therefore the seedlings that are grown from the zinnia seeds that you save will not be the same as the parent plant.
Because the flower gardens are full of pollinators, the bees will make their way around the garden transferring pollen from one location to another.
It really is interesting to see the variations in colour that you can get from saved seeds.
My absolute favourite zinnia is the Oklahoma salmon. The seed saved from last year's crop produced many variations of salmon colour, including an intense and deeply saturated dark salmon coloured bloom.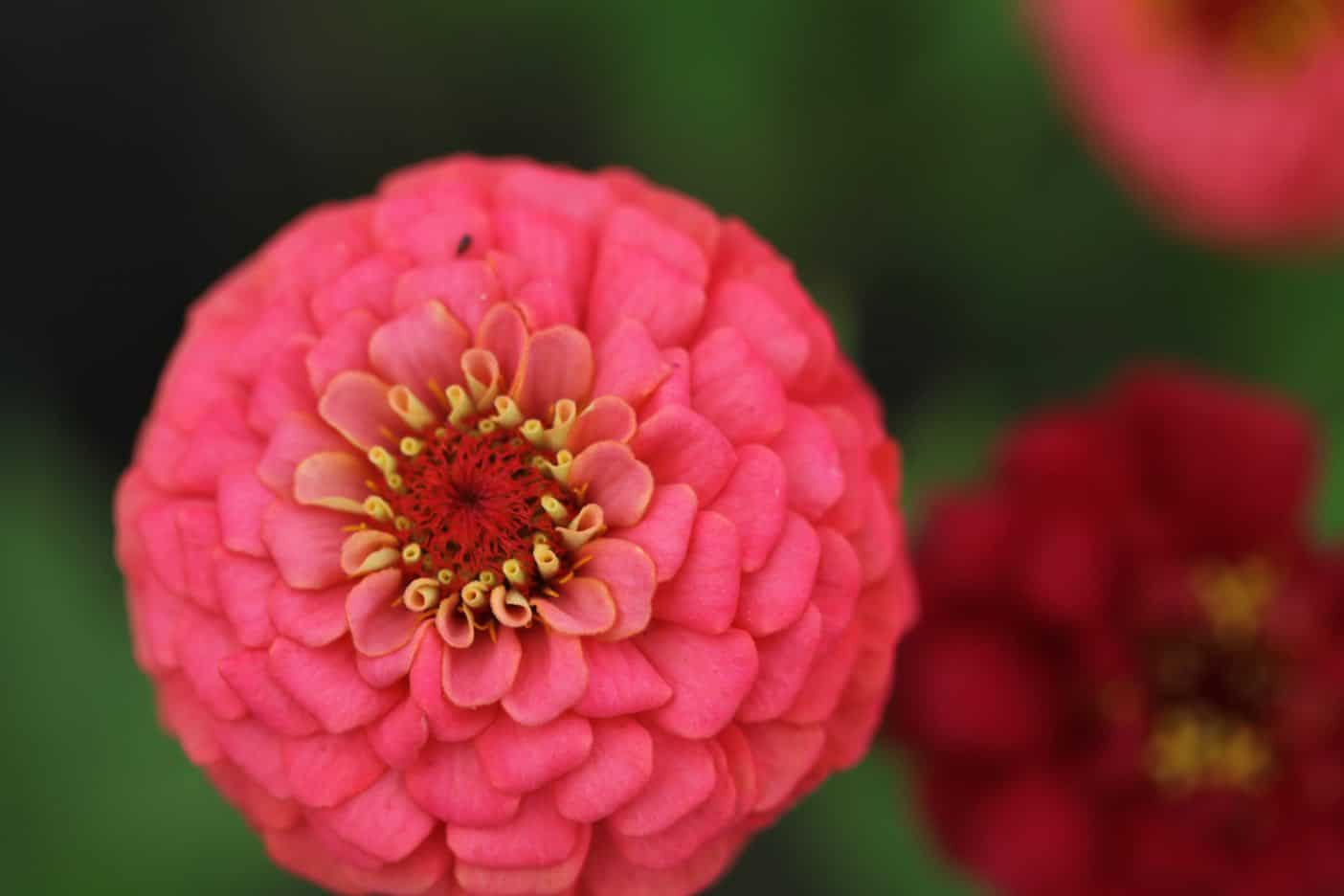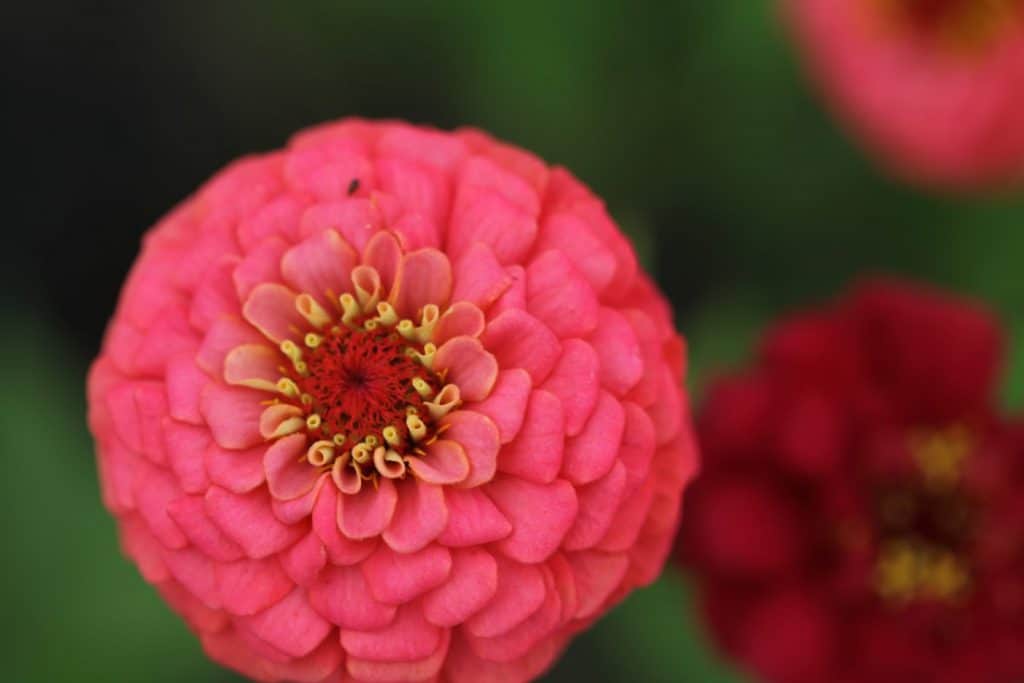 It was mesmerizing, and had a double bloom. And this was one of many different yet beautiful colours produced by the saved seed.
Open Pollinated Versus Hybrids
Zinnia plants may be either open pollinated or hybrids.
Open pollinated plants are those that have been grown for some time to become stable in their plant characteristics. They adapt to their growing location, and although there can be some slight differences in offspring, the resulting seedlings are mostly similar to the parents.
Cross pollination with other varieties however can occur even in open pollinated plants. This can add to differences in offspring, so to be true to the variety, often some sort of isolation needs to occur. This can be as simple as growing a distance away from other varieties.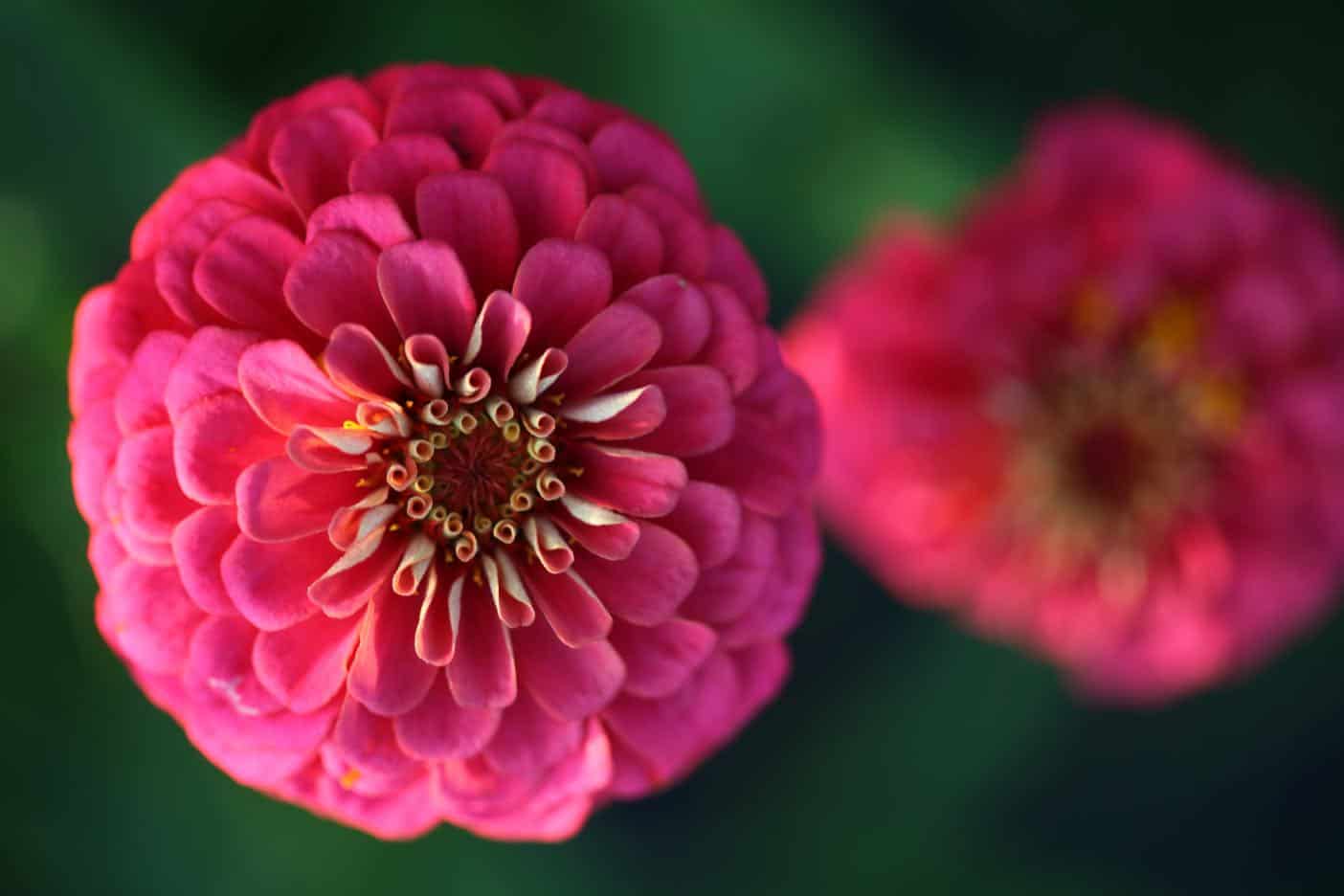 Hybrids plants are the result of crossing two different varieties, resulting in a new variety, or hybrid. The offspring may demonstrate a combination of the characteristics of the parents, or unique characteristics, and are less likely to be true to type.
Saving zinnia seeds from your garden will likely result in a variety of different zinnia flowers the following year. The seedlings will be new hybrid plants. It is lots of fun just seeing what will grow and what colours and forms will occur in the new hybrid zinnias.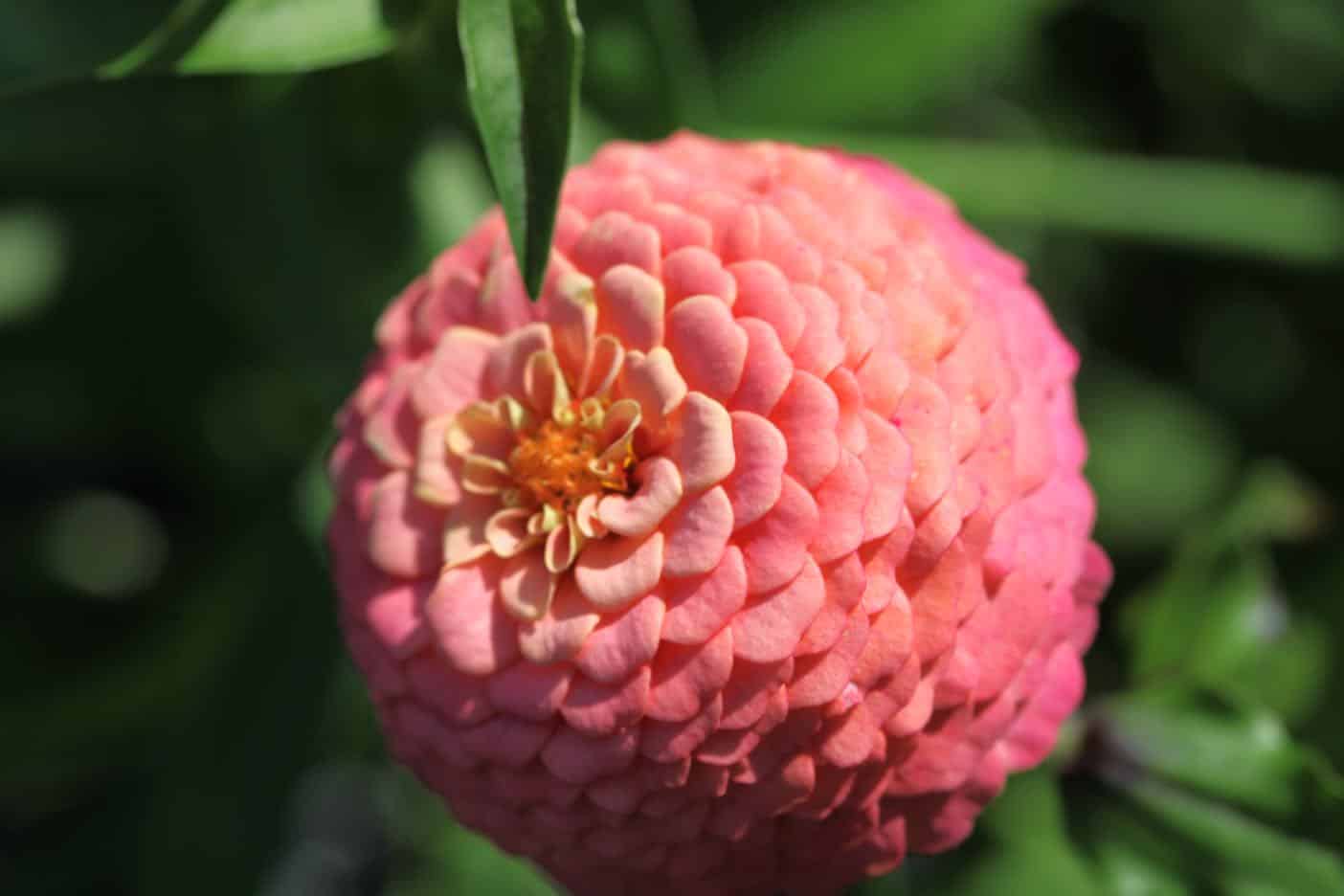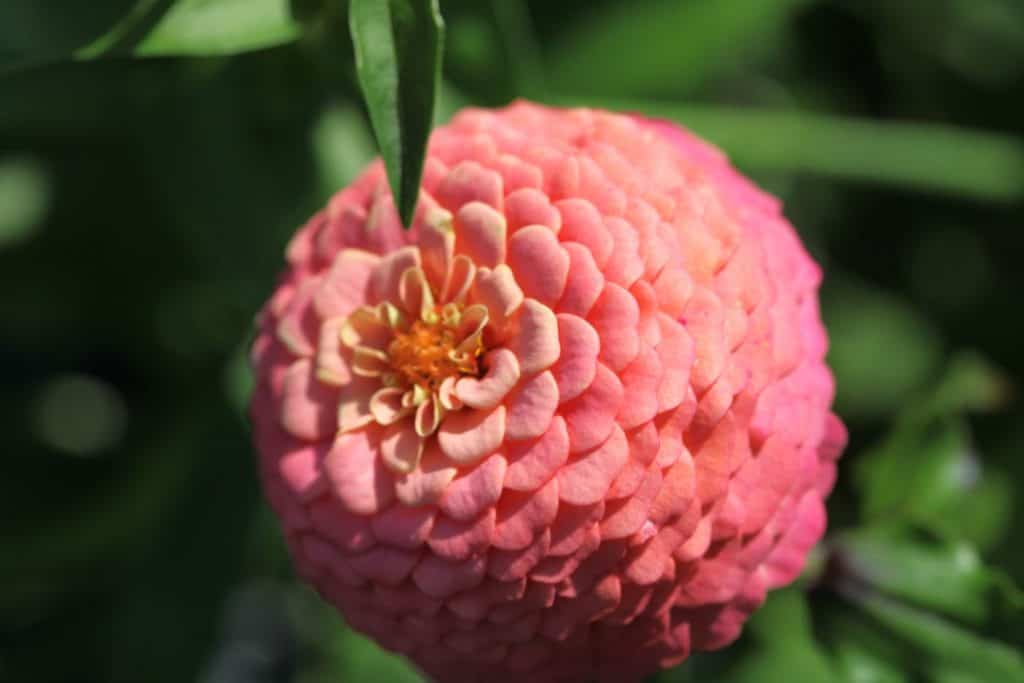 Who knows, you could even develop your own special strain of zinnias.
When To Harvest Zinnia Seeds
Whenever you harvest flower seeds, it is always best to harvest from mature spent blooms. This applies to zinnias as well as most other flowers. Allow the blooms to mature on the plant before removing the seeds.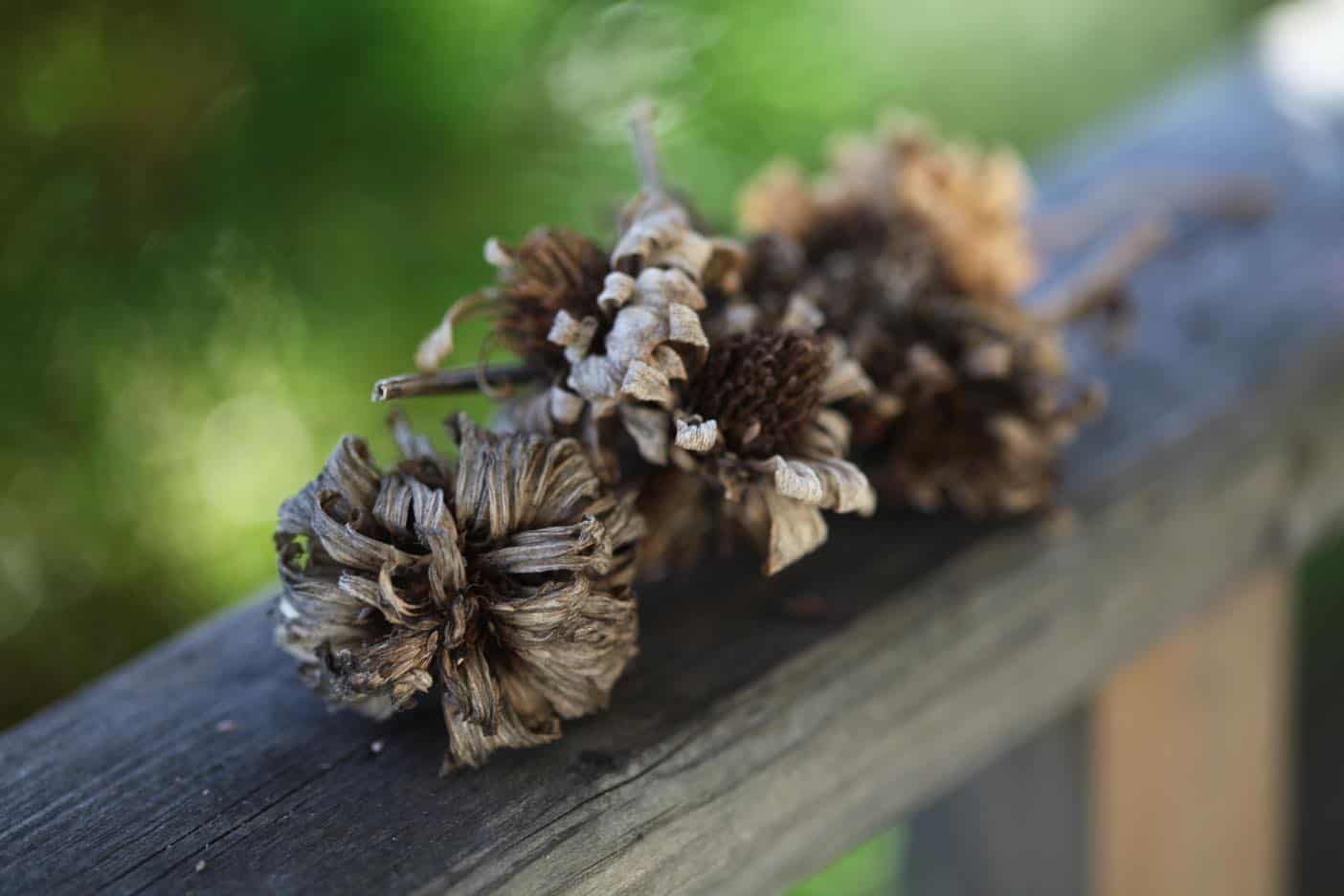 This will increase the chances of viability and successful germination of the seed.
With zinnias, the mature spent blooms begin to dry, and often will turn brown, or even grey in some instances. Sometimes there can be a bit of colour still in the petals, however if the flower is very dry I will harvest at this stage as well.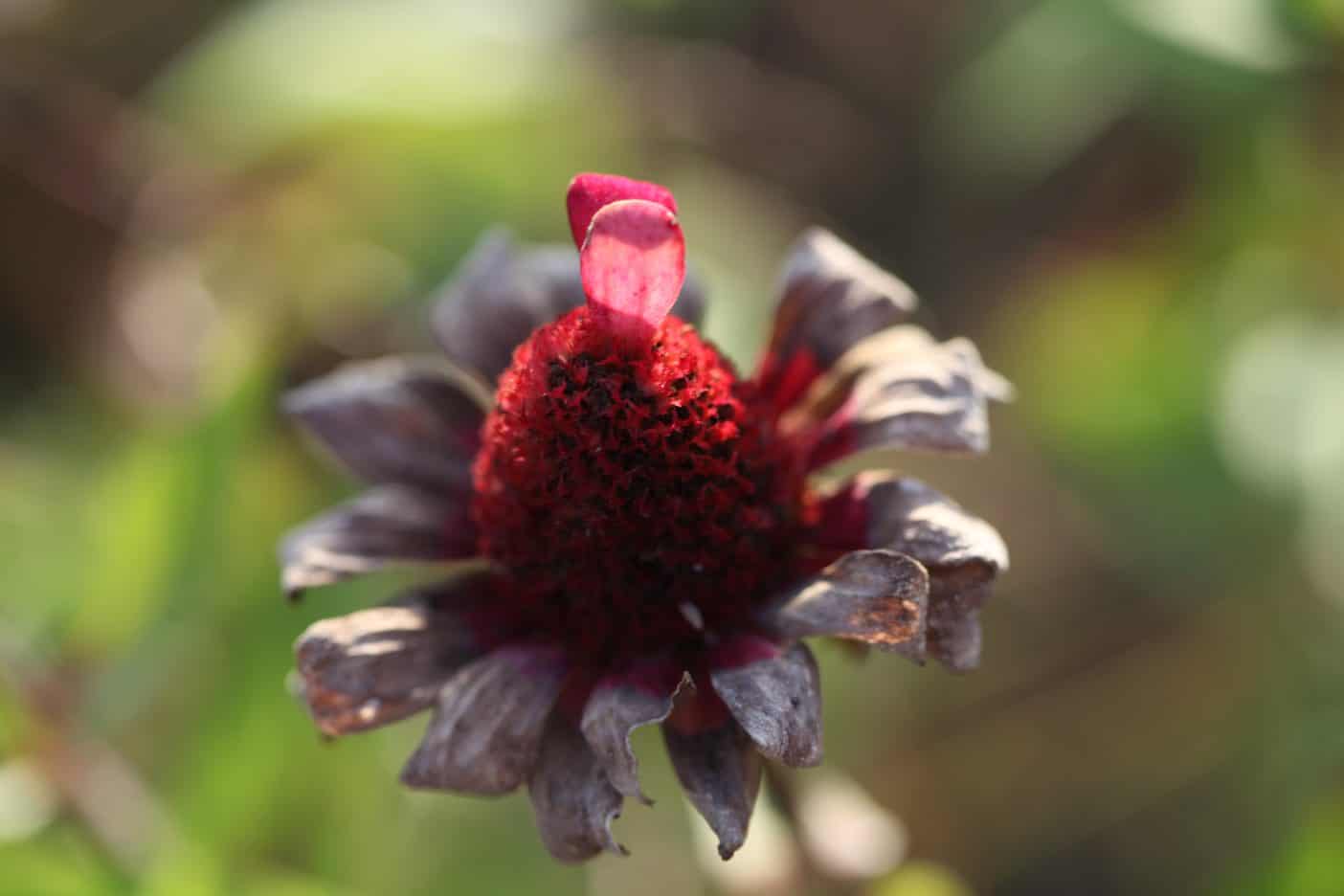 Zinnias are the type of plant that we call a "cut and come again" flowering plant. These plants will bloom from the initial blooms early in the season and continue to produce new stems and blooms until frost.
Therefore you can have many stages of spent blooms on one plant if you have not been harvesting regularly.
Look closely for the zinnia seed heads that are dry and have lost their colour. These are the perfect blooms for seed collection.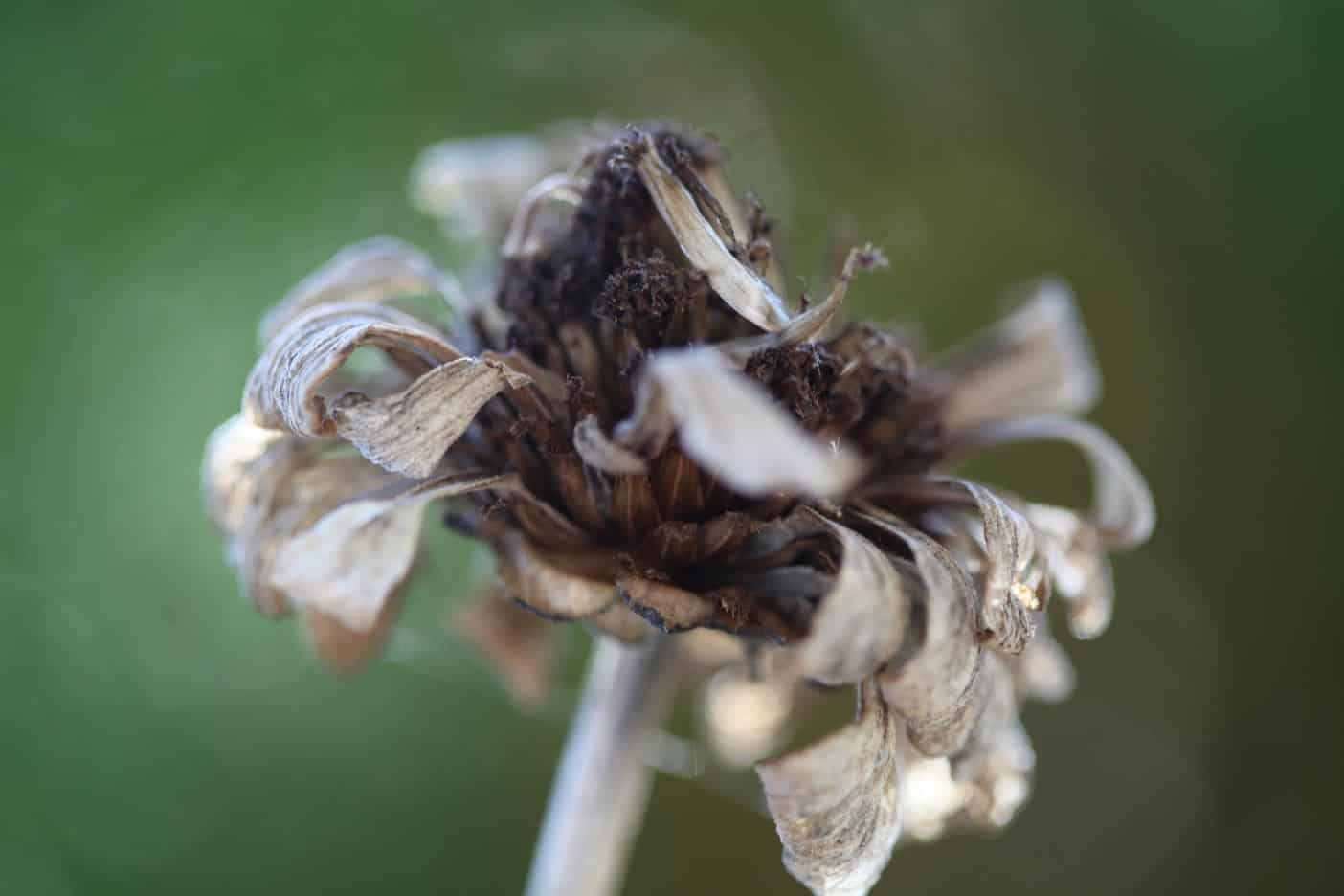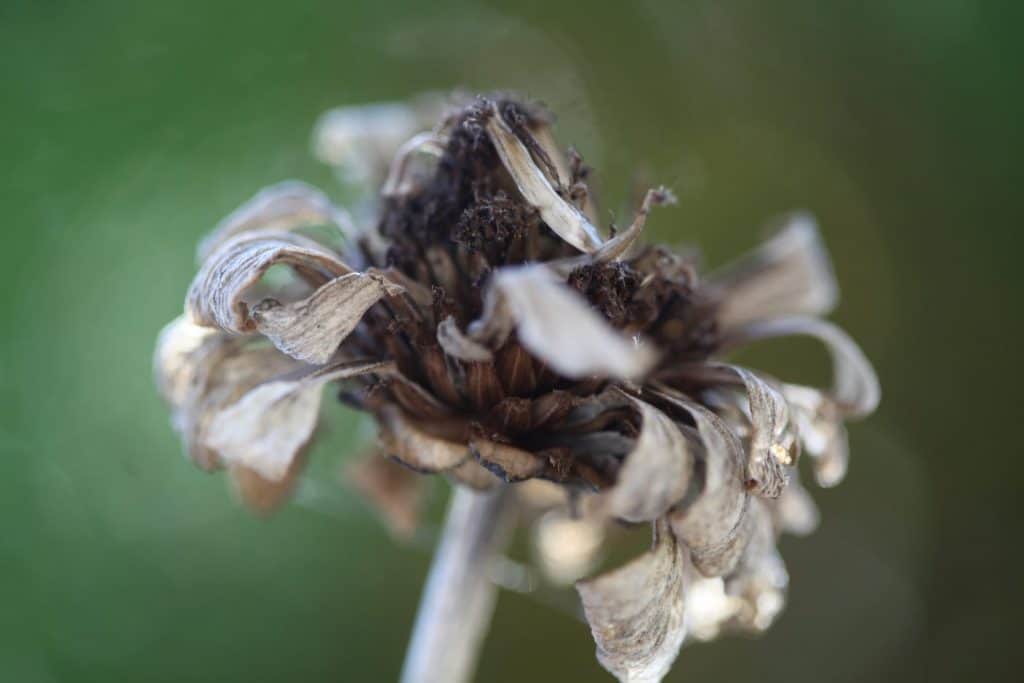 Harvest time for zinnia seeds is when the zinnia flowers have been allowed to age on the stem and dry in place for at least a month or longer after blooming. Harvest time therefore generally starts in late summer.
Sometimes you may also find mature zinnia flowers that have lost their petals as they dried in the field or garden. These are still good to harvest, as they may contain seeds within their centre disc.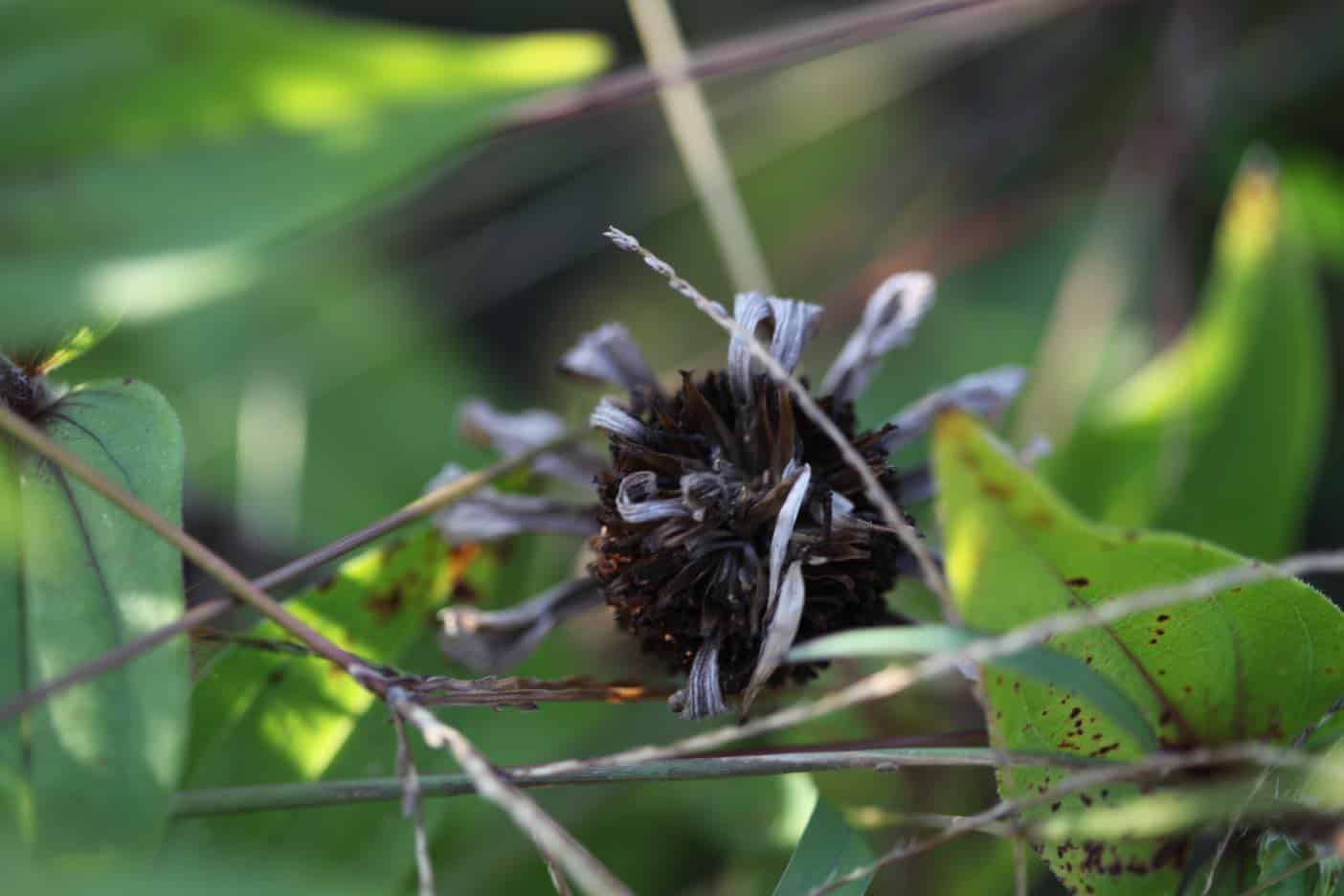 Harvest on a dry day, as wet blooms can lead to moulding.
Collecting Zinnia Seeds
To collect the zinnia seeds you will need to gather the spent and dry zinnia blooms.
Collecting spent zinnia blooms for seed is a simple process.
Equipment Needed:
a container (or several depending on how many types of zinnias you will be collecting)
labels -to identify the types of zinnias you have collected ( a sticky notepad and pen will do just fine)
Use only one container for each type of zinnia, and label each.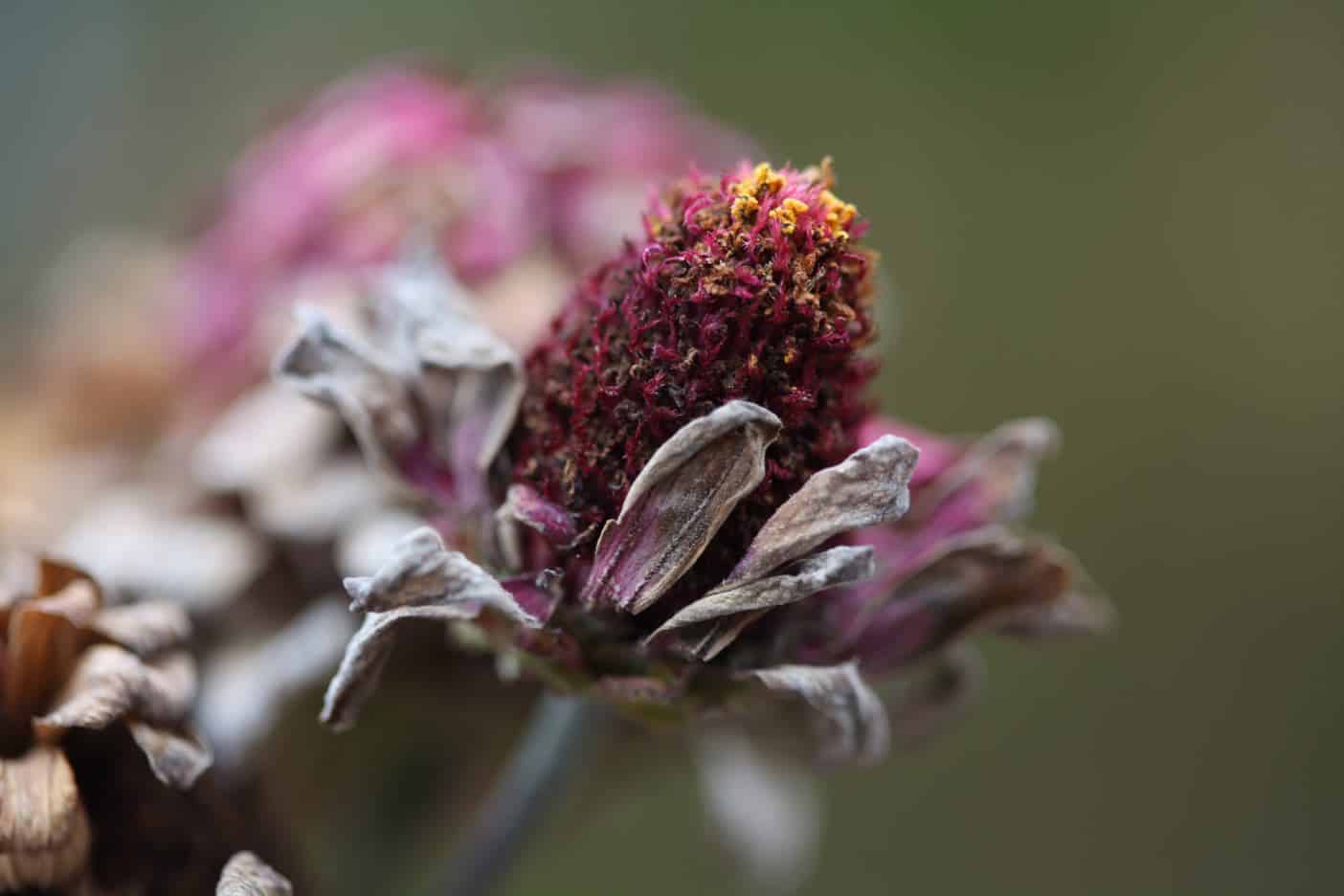 You can also mix them all together if you so chose and don't mind mixing them up.
We only know the pod parents, unless you are growing open pollinated and have isolated the plants from cross pollination.
We don't know which are the pollen parents, as the bees have travelled the entire garden and have most likely visited a variety of zinnias if you happen to grow more than one type, which we absolutely do.
How To Harvest And Save Zinnia Seeds:
At the end of the growing season, go to the garden and look for the dry spent zinnia blooms. Look for dried flower heads.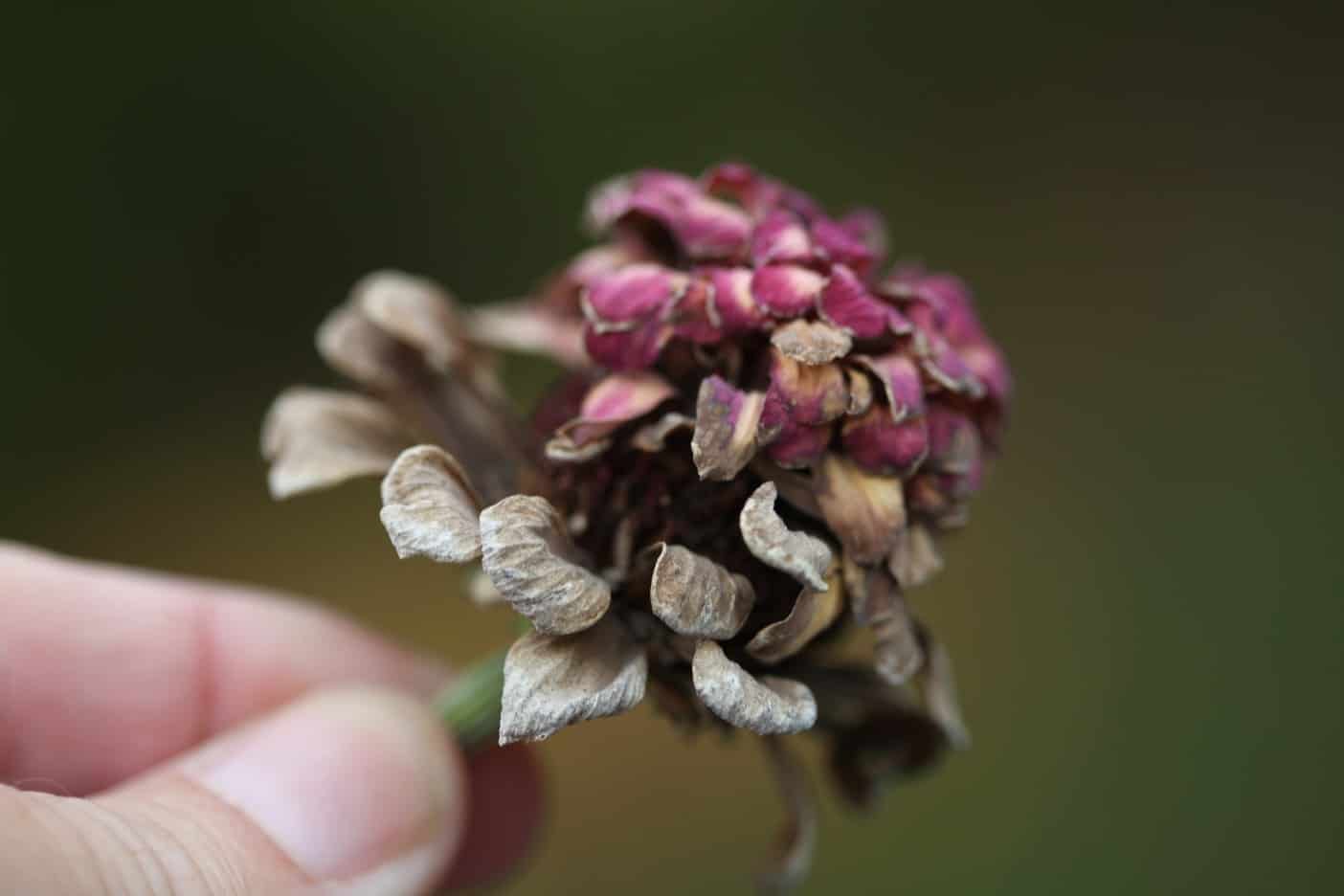 Do not harvest any dry zinnia buds, as they will not have had a chance to produce any seed. A flower bud is an immature flower.
Choose dried brown flower heads that have matured on the stem of the plant. You are looking for old flowers.
Harvest only from healthy plants. If there is any evidence of moulding such as powdery mildew, avoid those blooms. This is important for healthy seed collection.
Cut the dried blooms off the stems and place the dried flowers in the container.
I like to keep track of which blooms have come from which plants, so I stick a sticky note in each container recording the variety of the zinnia.
Harvest from each variety before going onto the next.
Use a separate container for each variety.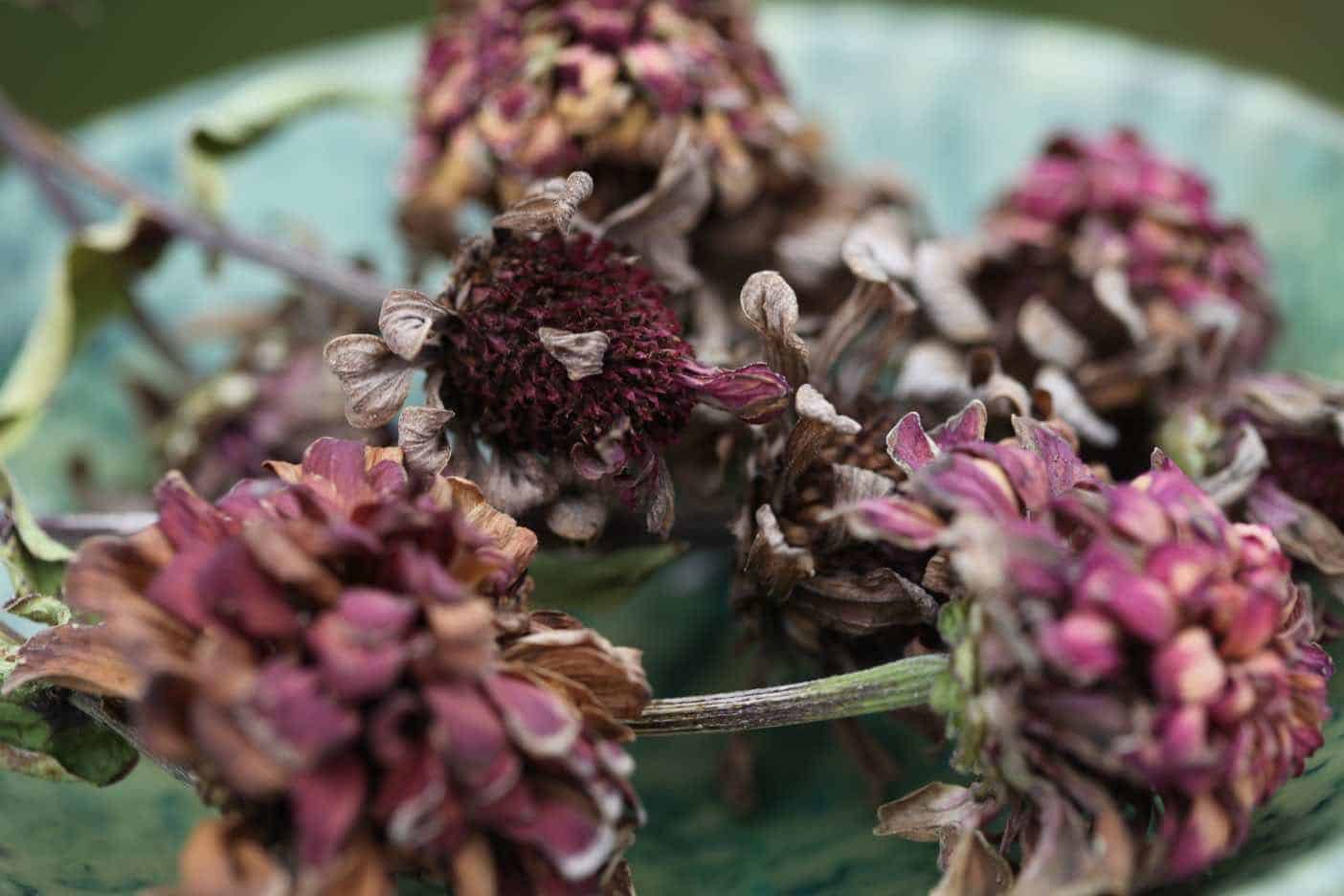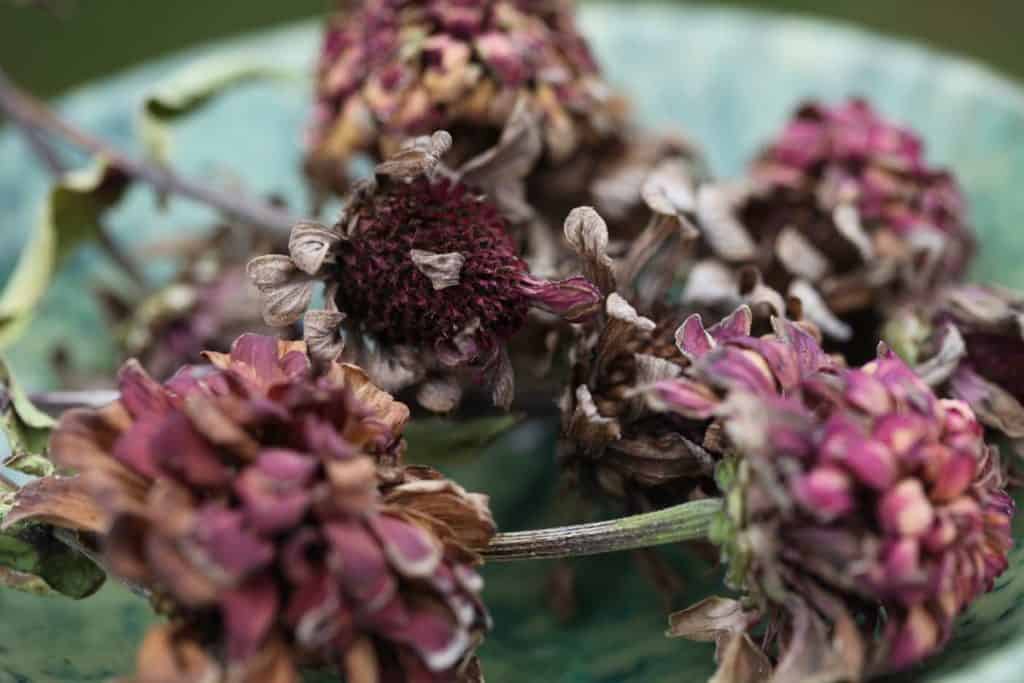 Take the dried harvested blooms to a sheltered area. I usually just bring them into the house. Keep in mind you will probably be bringing in a few little hitchhikers (bugs) as well.
There is no rush to remove the seeds at this point, now that the blooms have been safely collected. You can set them aside to dry out further if needed.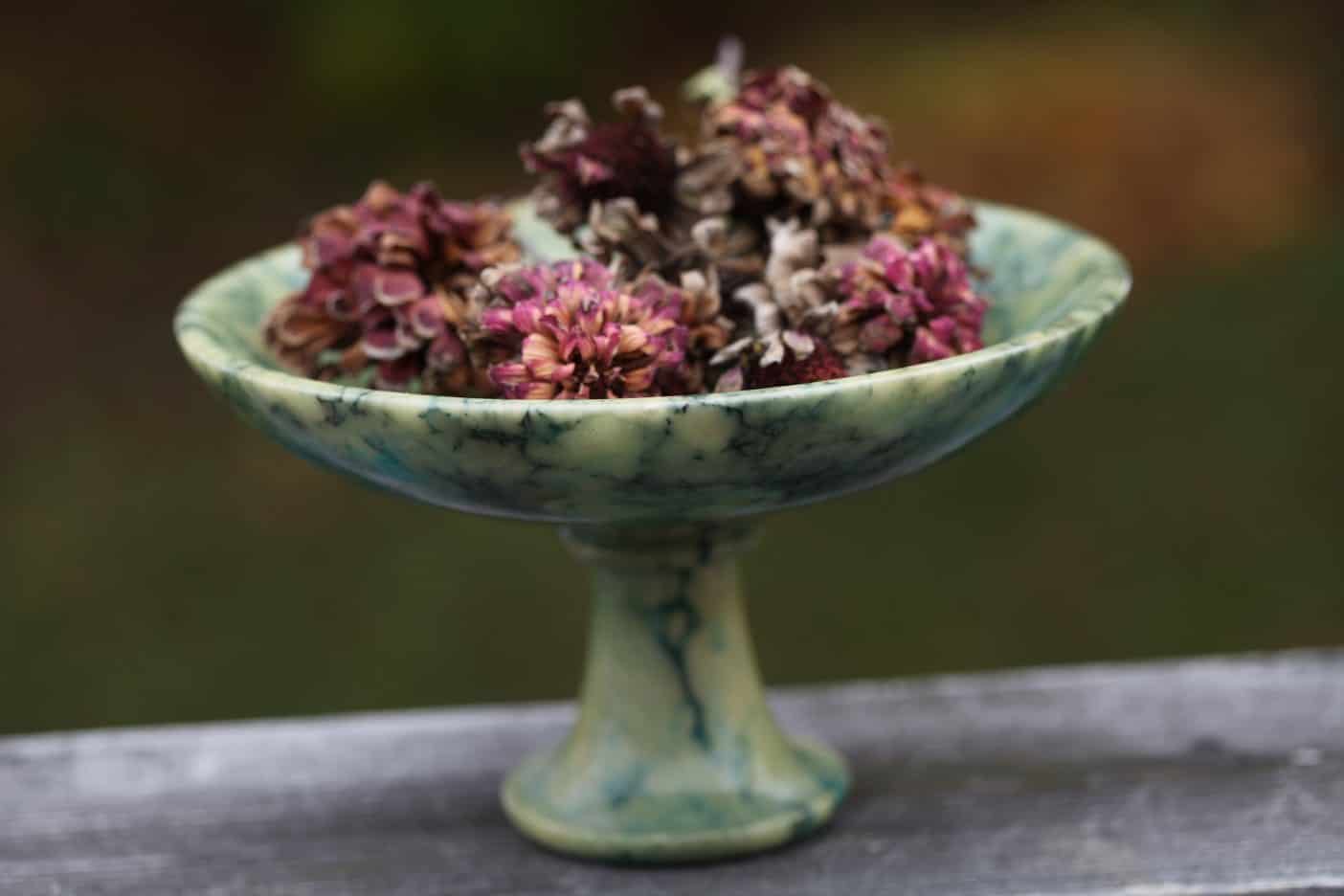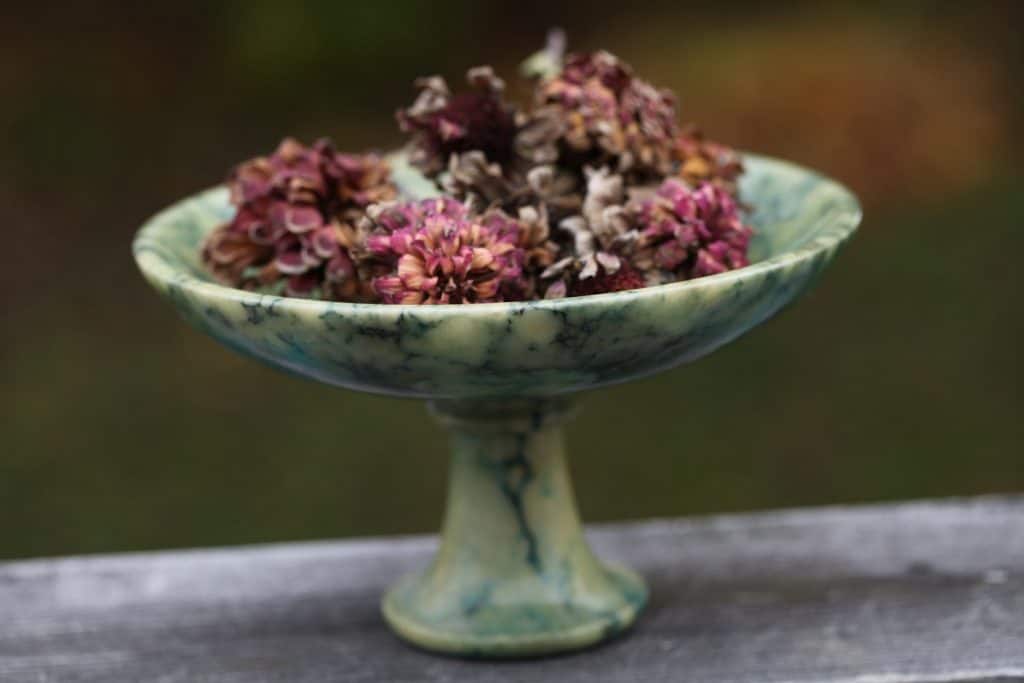 How To Separate Zinnia Seeds From Chaff
Removing the zinnia seeds from the flowers is the next step.
Where Are Zinnia Seeds Located?
There are two places where you will find the seeds:
at the end of the petals (which are the ray florets) where they are attached inside the flower
and inside the centre disc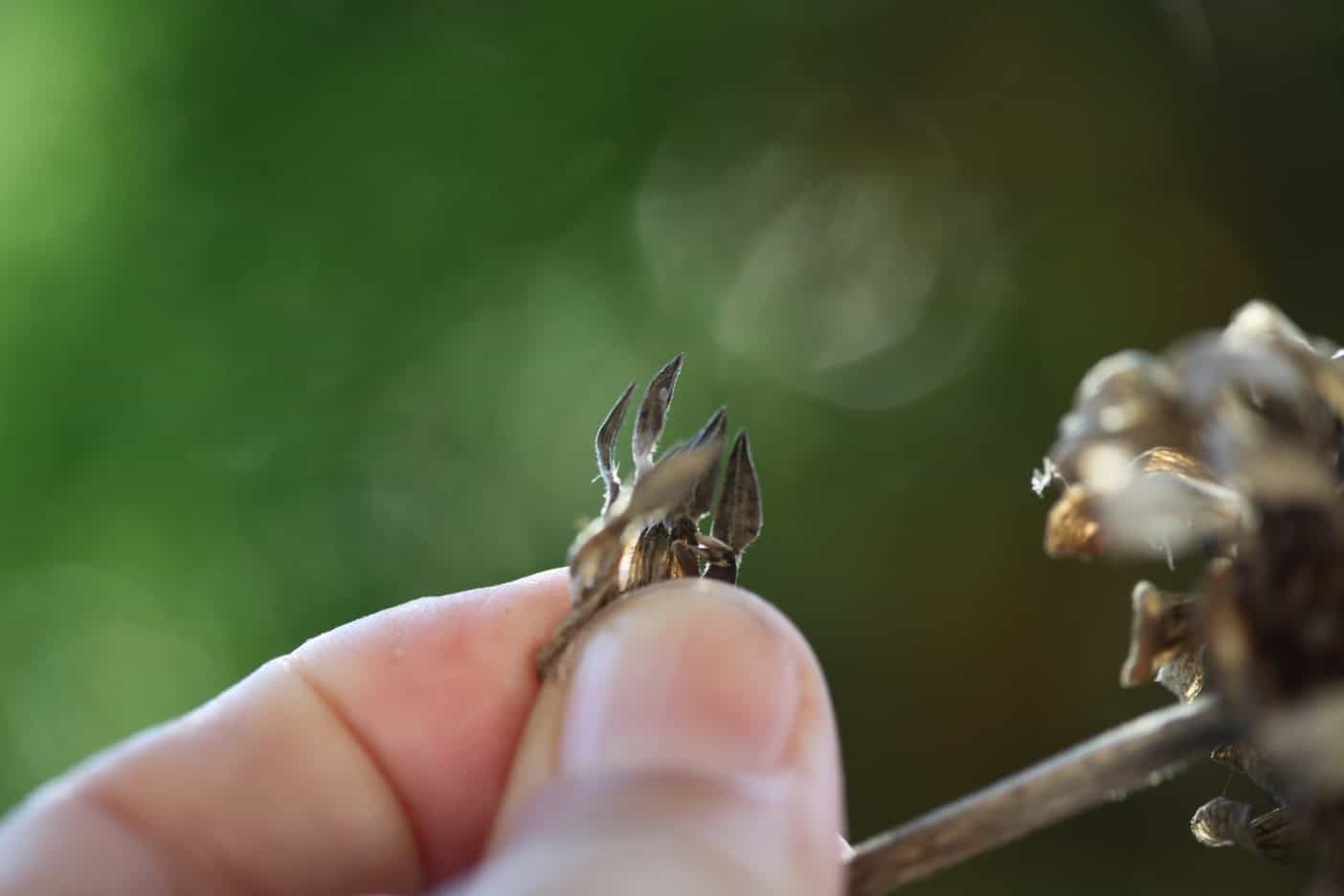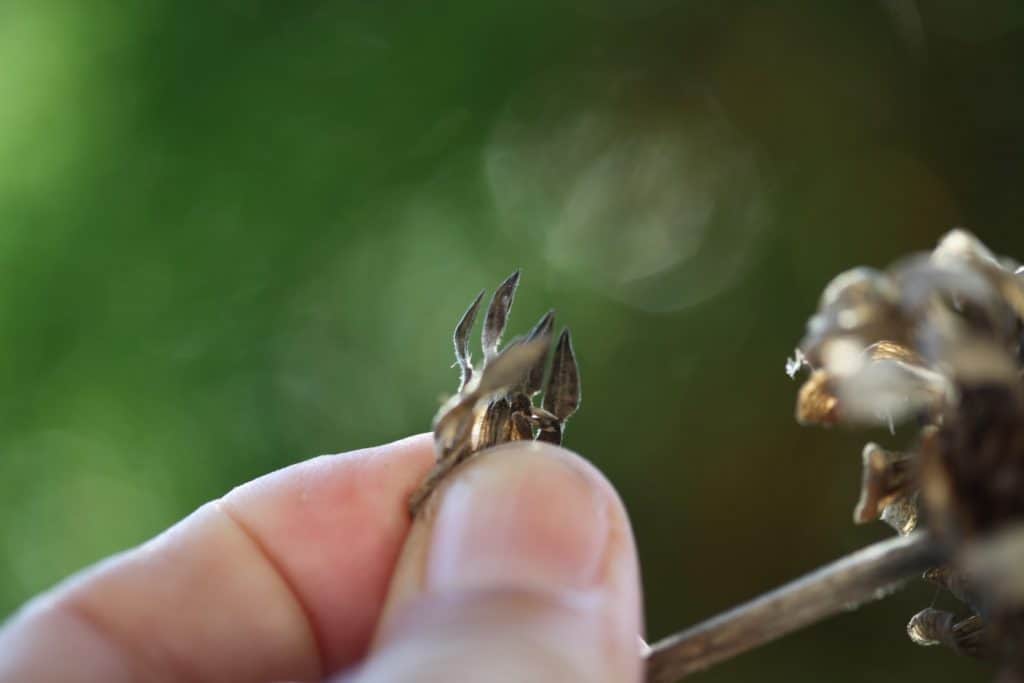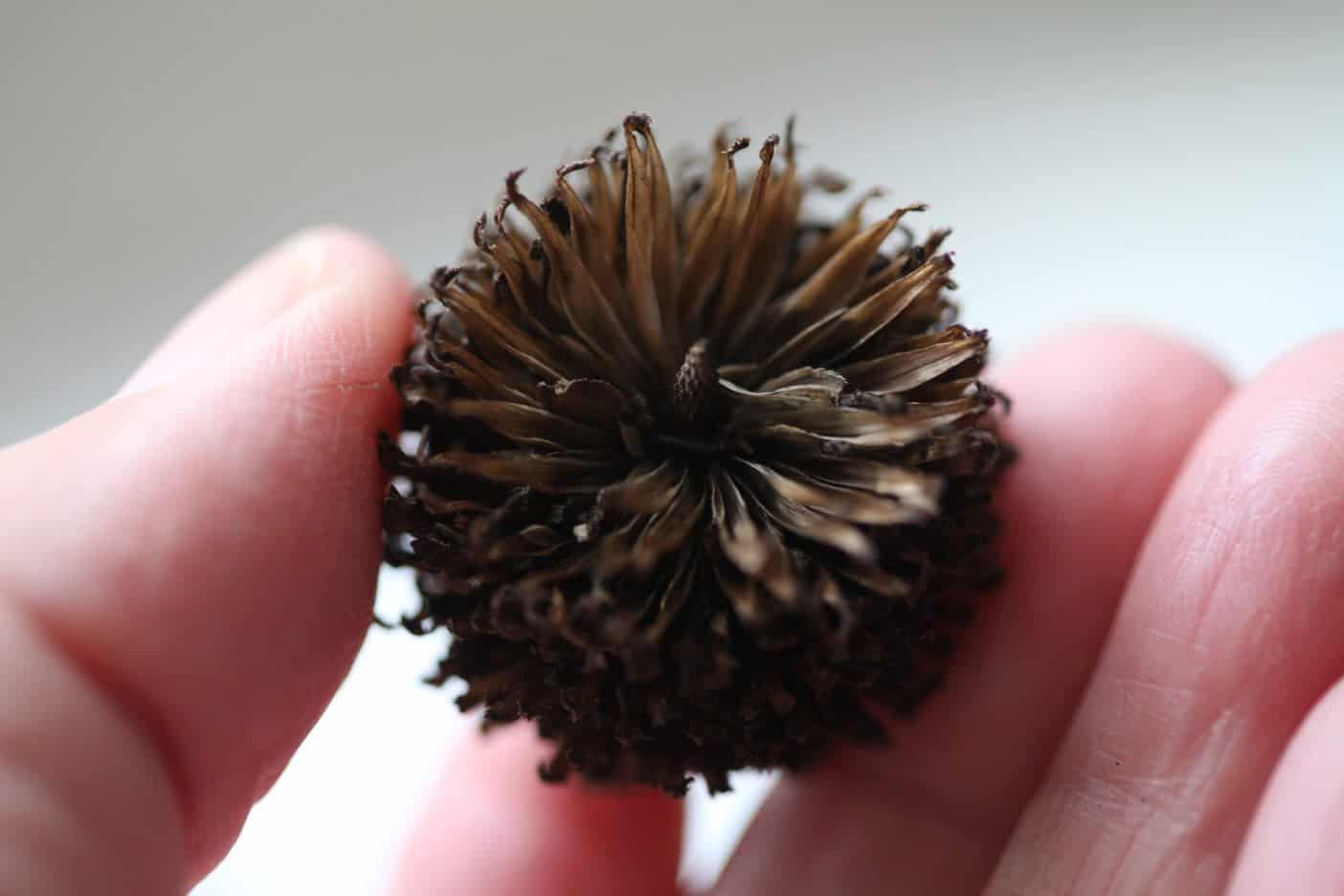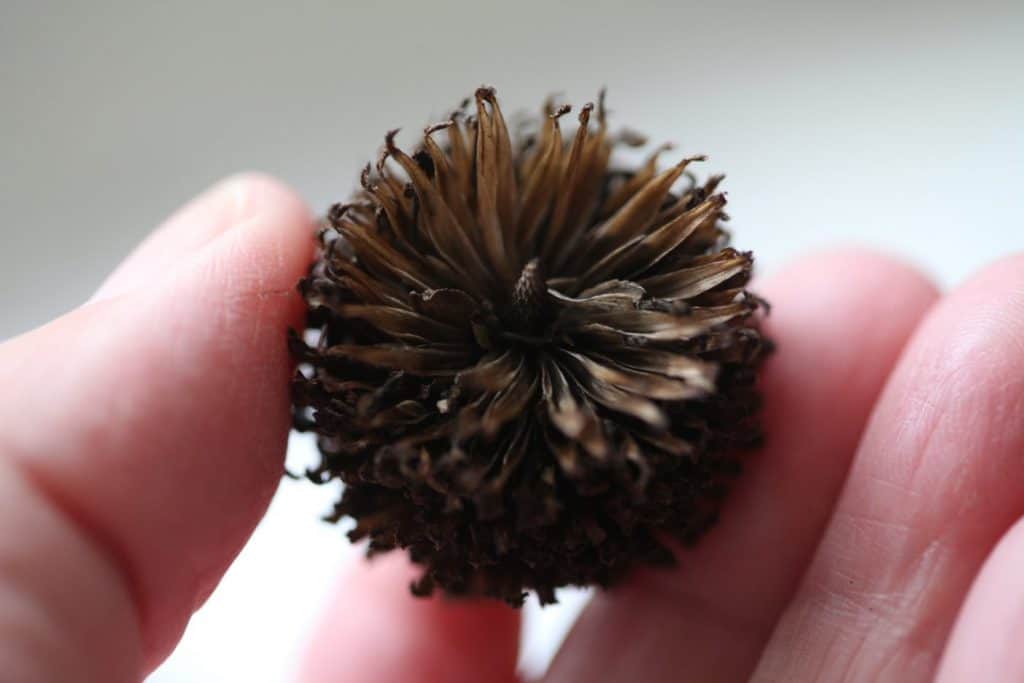 Zinnias are frequently full of seeds, and if harvested at the right time the seeds will be mature and viable.
Are Zinnia Seeds Attached To The Petals?
Some of the zinnia seeds are attached to the flower petals. The petals are the ray florets and the seed forms at the base of each one. Pull each petal out of the dried zinnia flower to uncover these uniquely shaped seeds. They are shaped like tiny arrowheads, and each seed pulls easily away from the petal itself.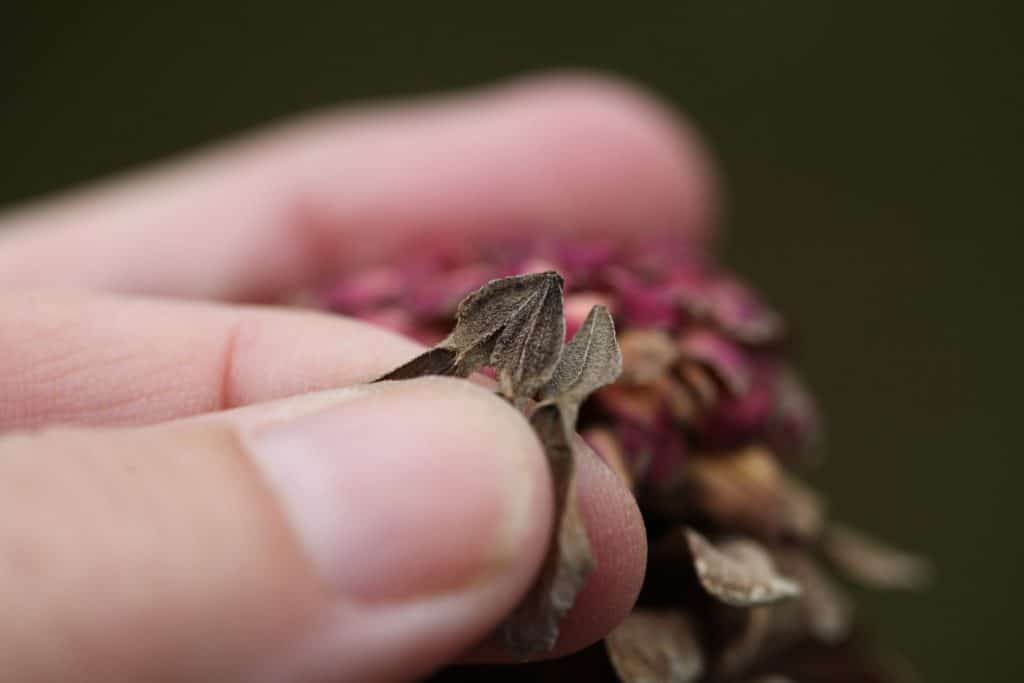 Occasionally in the garden if the zinnia flower has become very dry, the petals may break off, leaving the seeds inside the flower. If you find zinnia flowers without petals don't disregard them, you may still be rewarded with many seeds inside.
I start the seed collection by first pulling out the petals, revealing the attached seeds. Break these seeds from the petals by snapping them off. They separate very easily.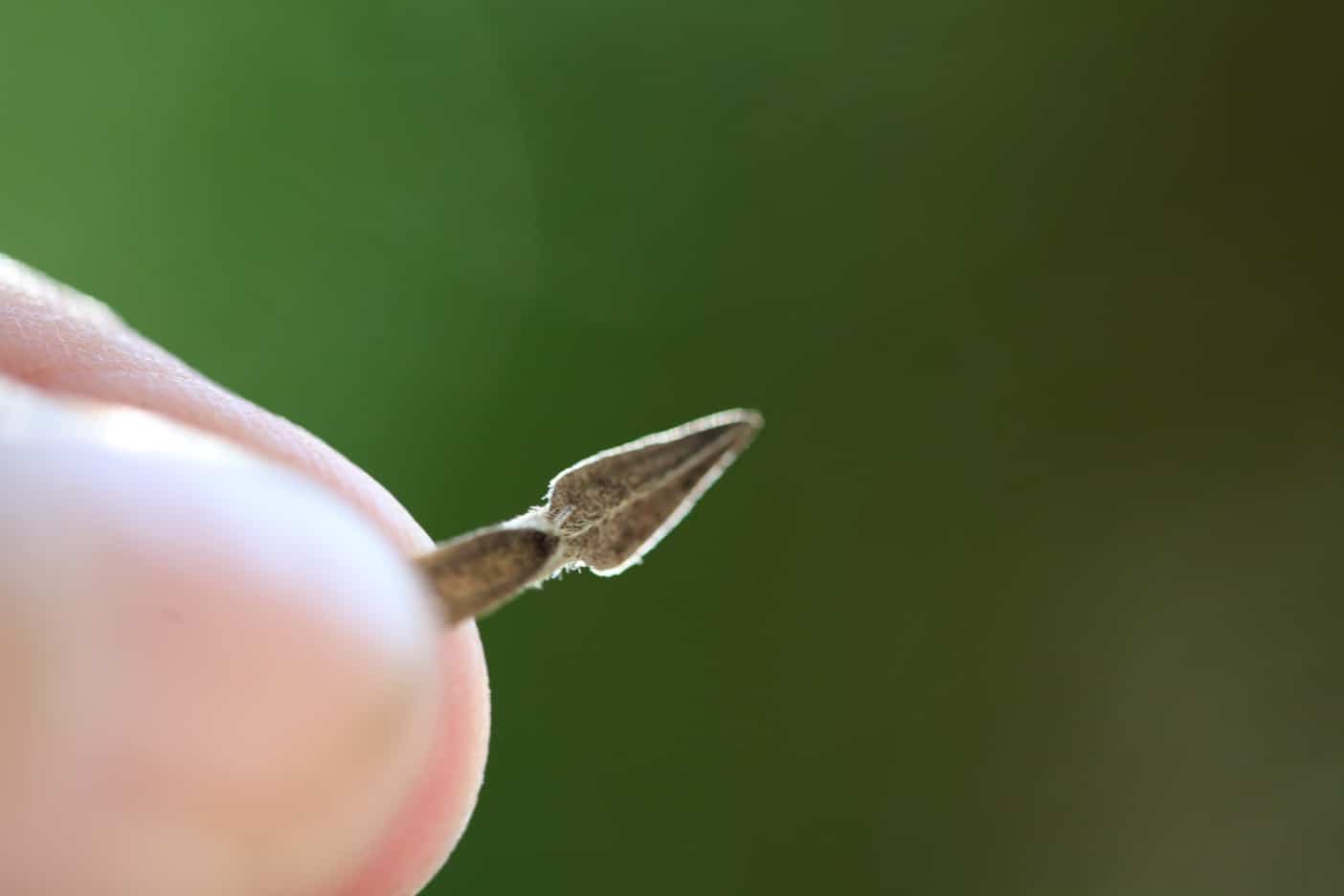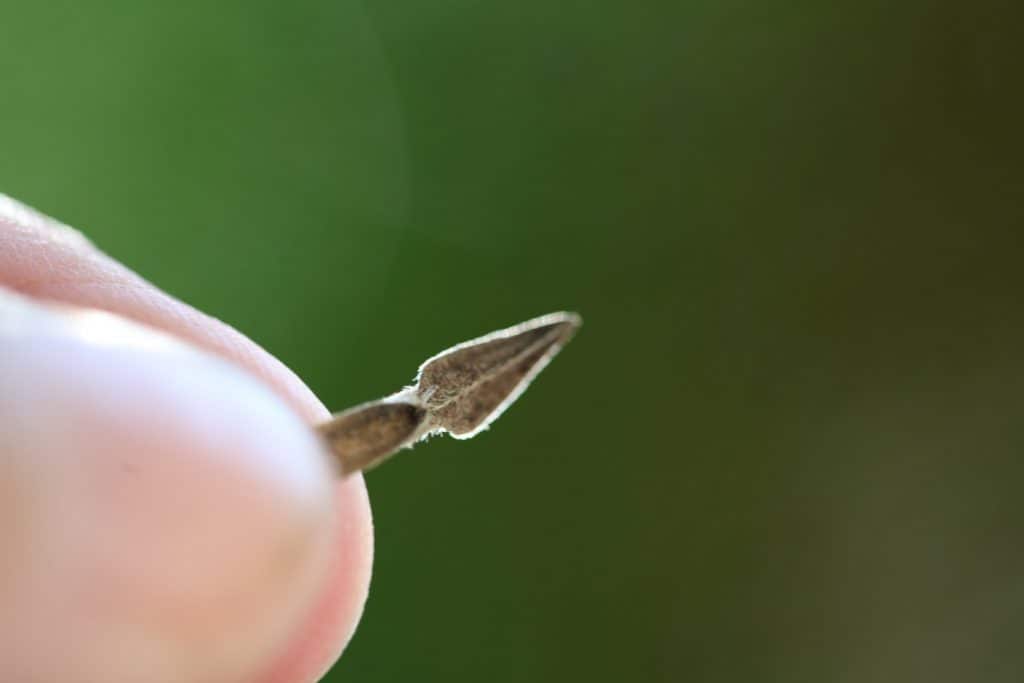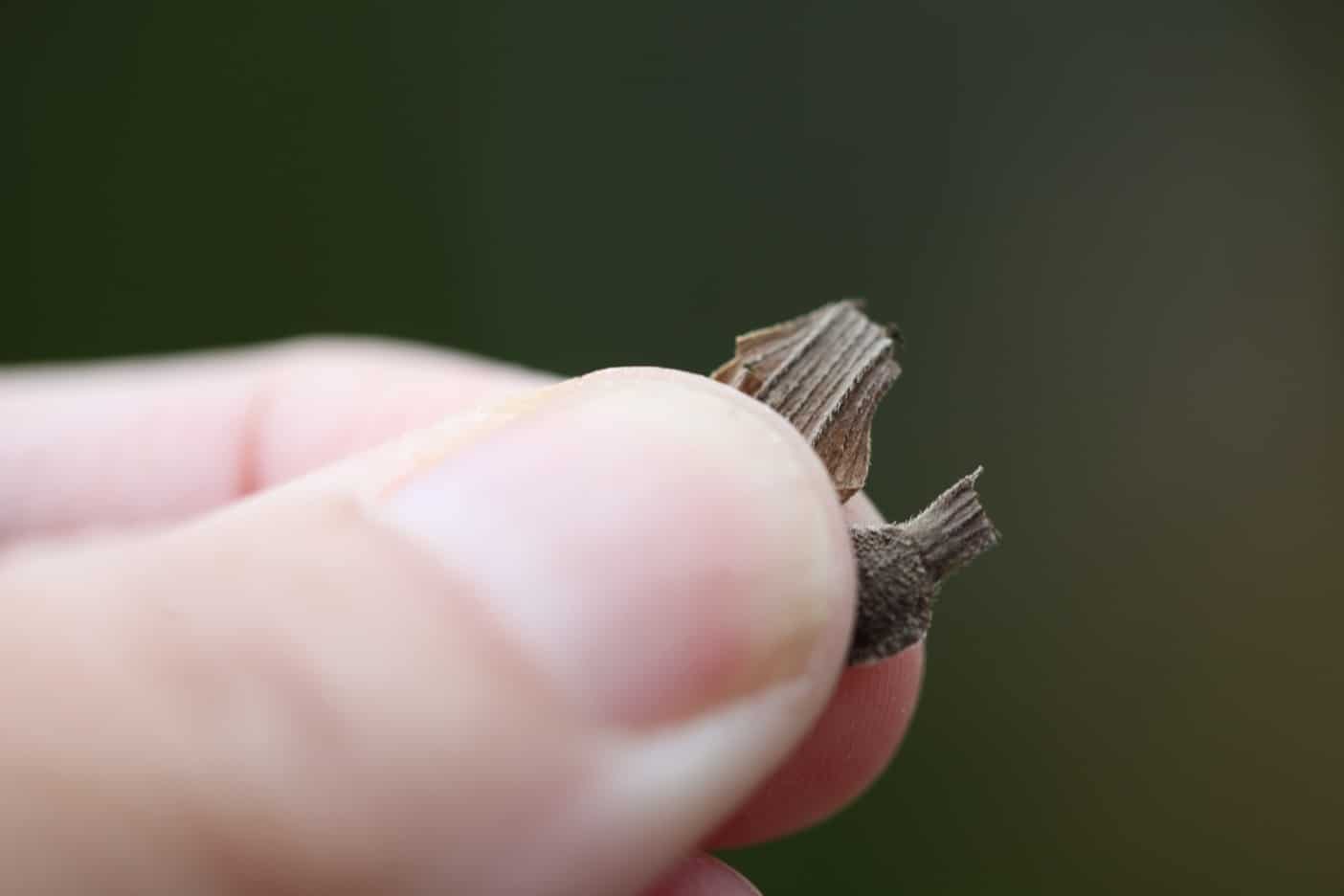 Once all the petals are removed from the flower and the seeds have been separated, it's time to remove the seeds from the centre disc.
Remove The Seeds From The Disc Flower
Take the centre disc and hold it over a container to catch the seeds and chaff.
There are a number of ways to remove the seed from the disc.
I find the best way is to just pull the inner contents from the disc with your fingers. It should fall easily away from the flower if completely dry. Allow the contents to fall into a container such as a bowl or a paper plate.
These contents will contain chaff and seed.
Alternatively, you can rub the disc with your fingers and the contents will drop out of the flower into the container if it is well dried.
Repeat this process with all the flowers, remembering to keep the varieties separate if possible.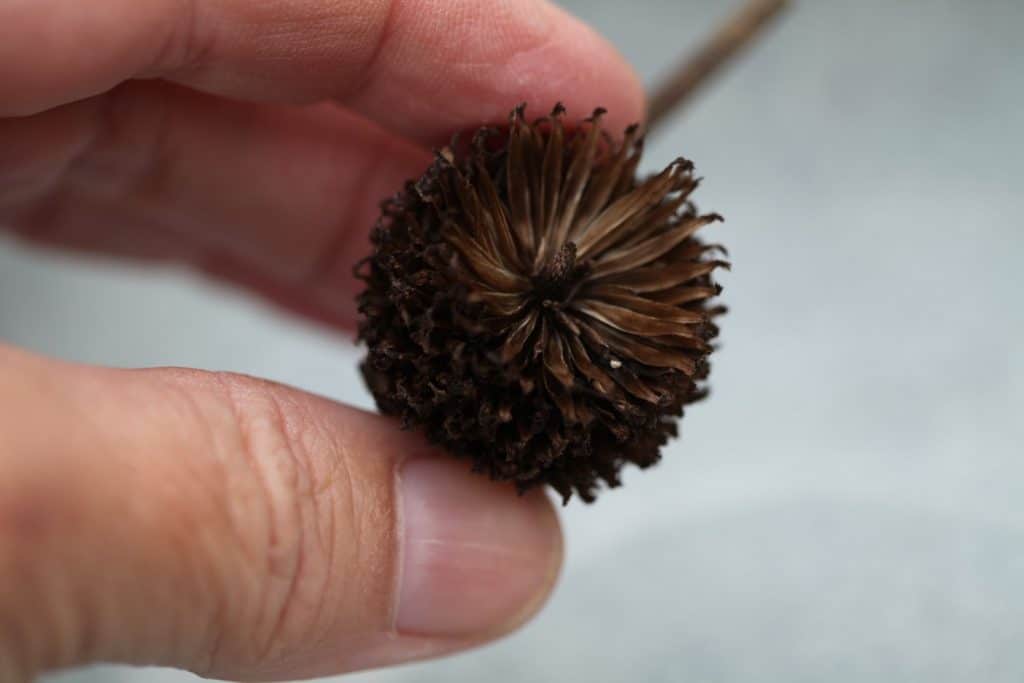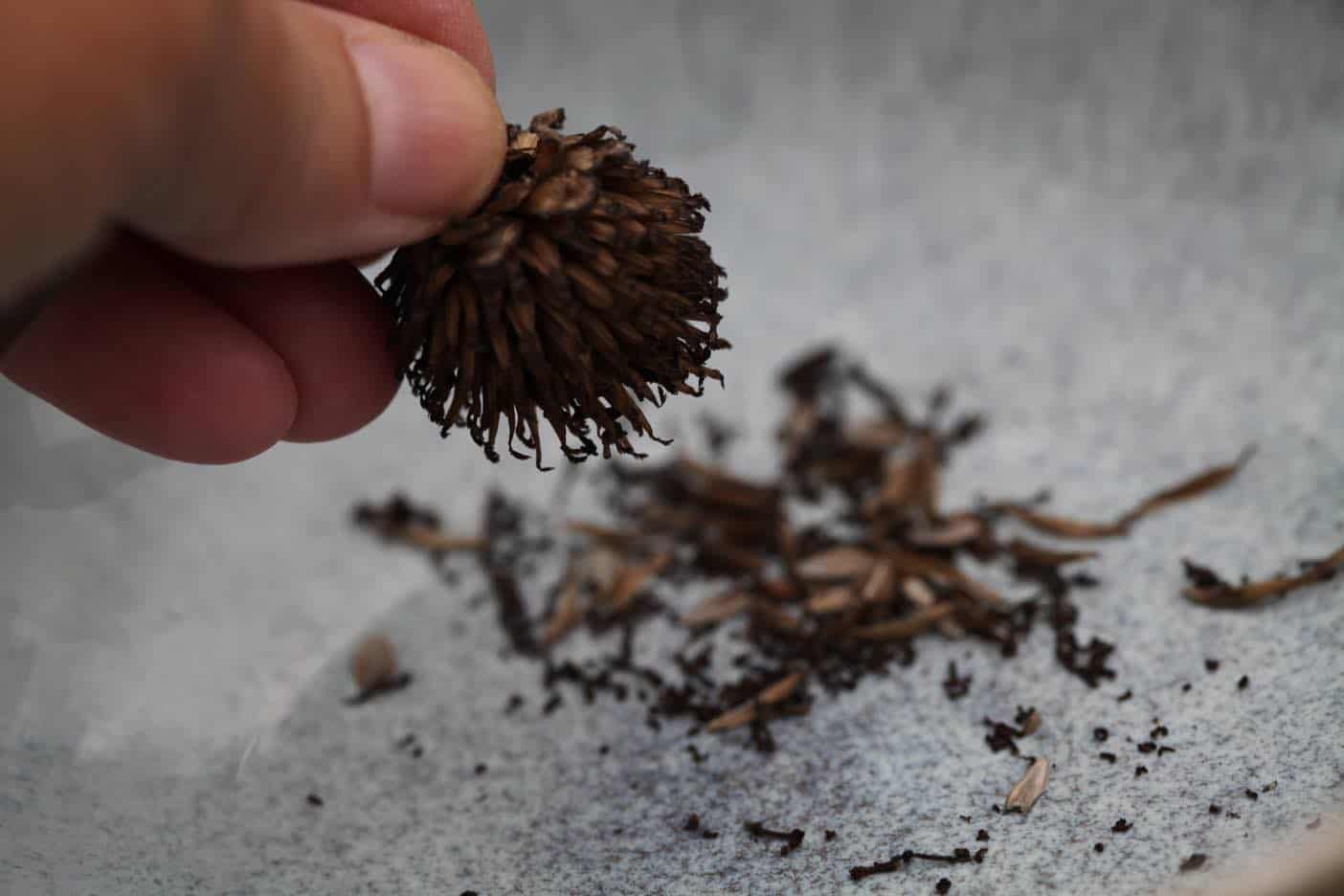 How To Separate The Chaff from The Seed
Once the flowers are apart and the container is full, it is time to separate the seeds from the chaff.
The seeds are easily distinguished from the chaff.
Most will be arrow shaped, although some will be oblong and slim as well. There can also be variations in size and colour of seed coming from each bloom.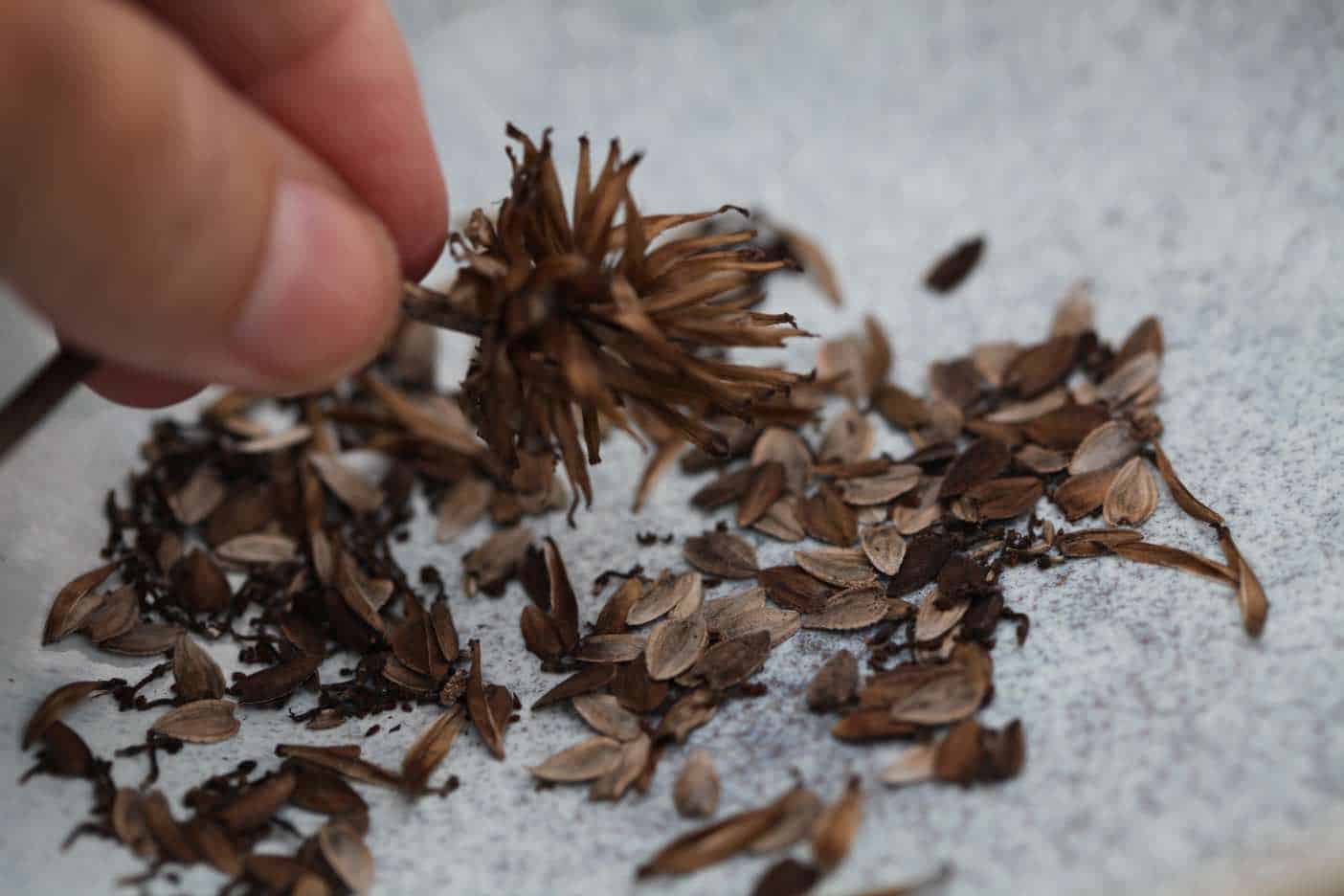 The process of separation is easy, although somewhat time consuming if you have a lot of seeds:
For best results I sometimes pour everything out onto a large tray, and move the seeds and chaff around to clearly see what I'm working with.
You can set out some paper towels, and set the chaff on that as you remove it from the mix, in preparation to discard.
The seeds are large enough to separate and pull out by hand. I sometimes use a pair of tweezers to help separate the seeds as well.
The easiest way to separate the seeds from the chaff is to just pull them out of the chaff and place them into a clean dry container.
Discard the chaff when the seeds have all been removed.
What Do Zinnia Seeds Look Like?
Zinnia seeds are interesting specimens.
Many truly look like little arrowheads.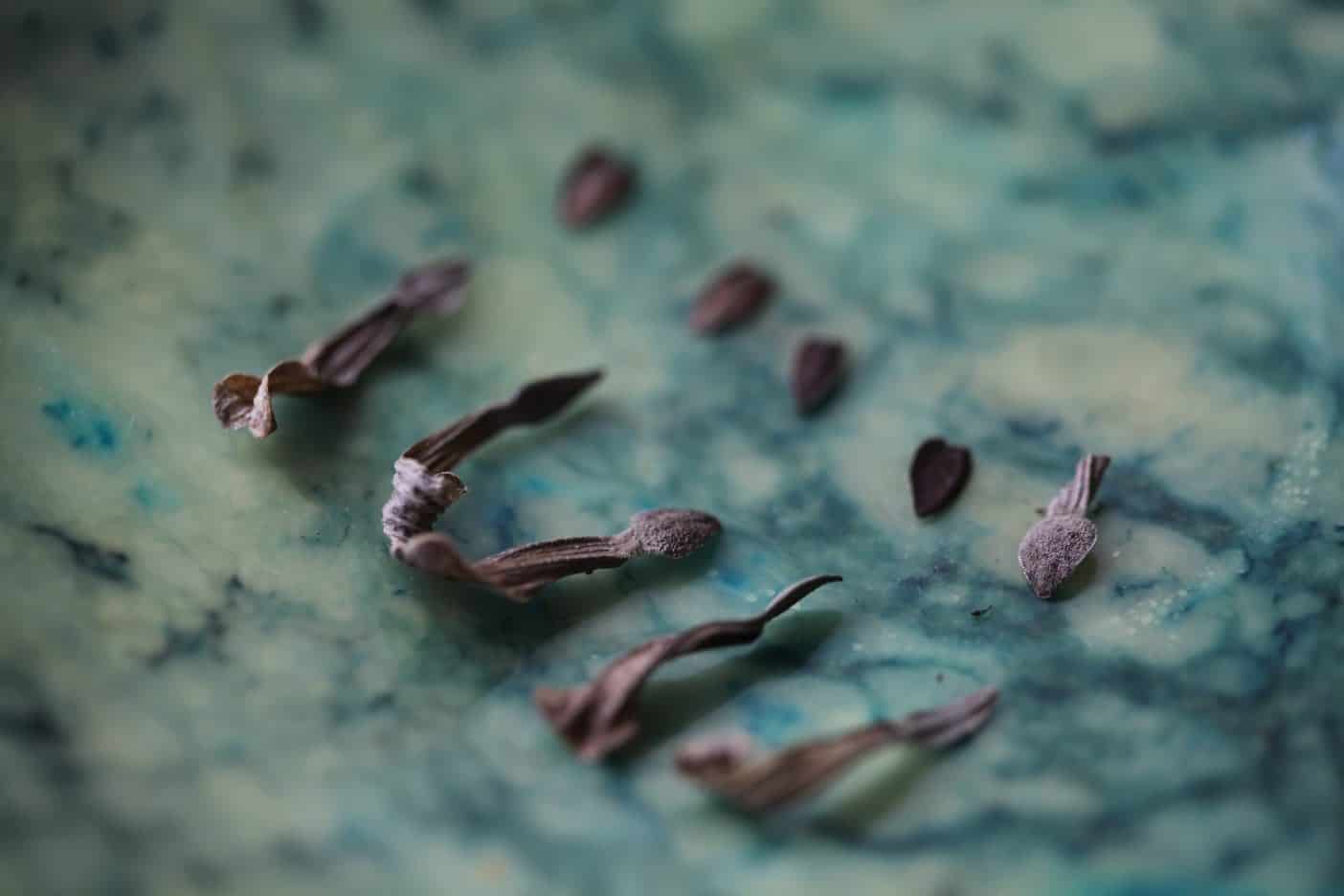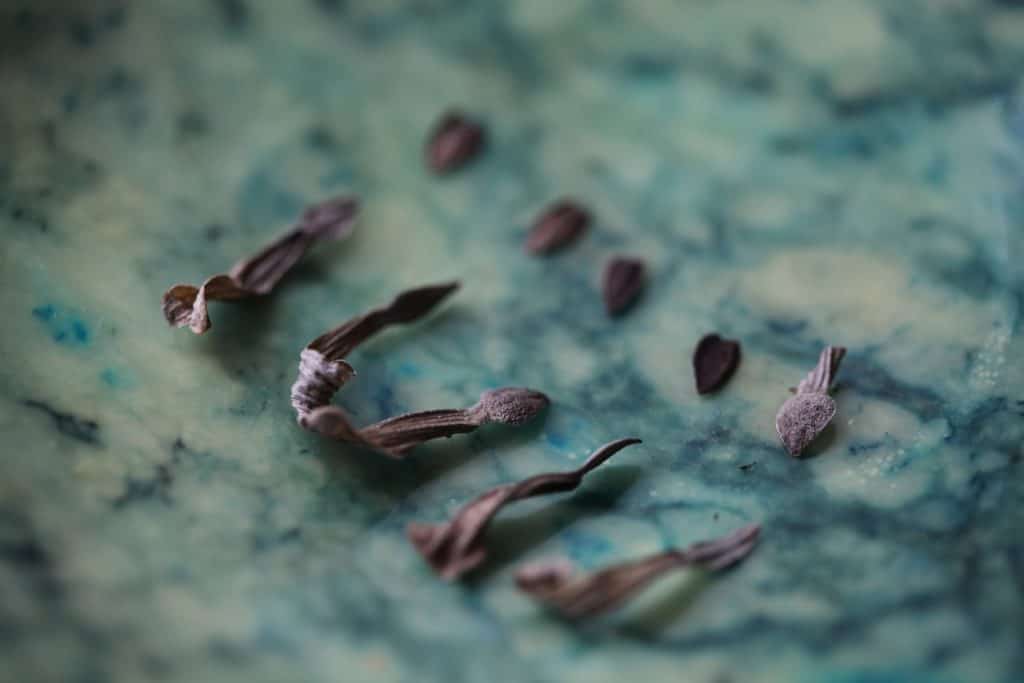 From just one bloom you can collect multiple seeds in various shades of brown and beige.
The seeds vary in size, even from within the same bloom. A typical arrow shaped seed could be approximately one centimetre in length.
The seeds also vary in shape. Although many are shaped like arrowheads, many are long and thin, especially those that come out of the centre disc.
I usually find that the zinnia ray flower seed is arrowhead shaped, and the disc or disk flower seed is either arrowhead shaped or elongated and thin.
The key to identifying a potentially viable seed is that it will feel firm and solid.
Can You Harvest Zinnia Seeds From Cut Flowers?
Zinnia seeds should be left to mature on the stem to obtain viable seed. Zinnias harvested for cut flowers are cut in an early stage, at the time when they would become pollinated, but before they develop their seed. If removed from their stem before they develop seed, they will not develop viable seeds after being cut.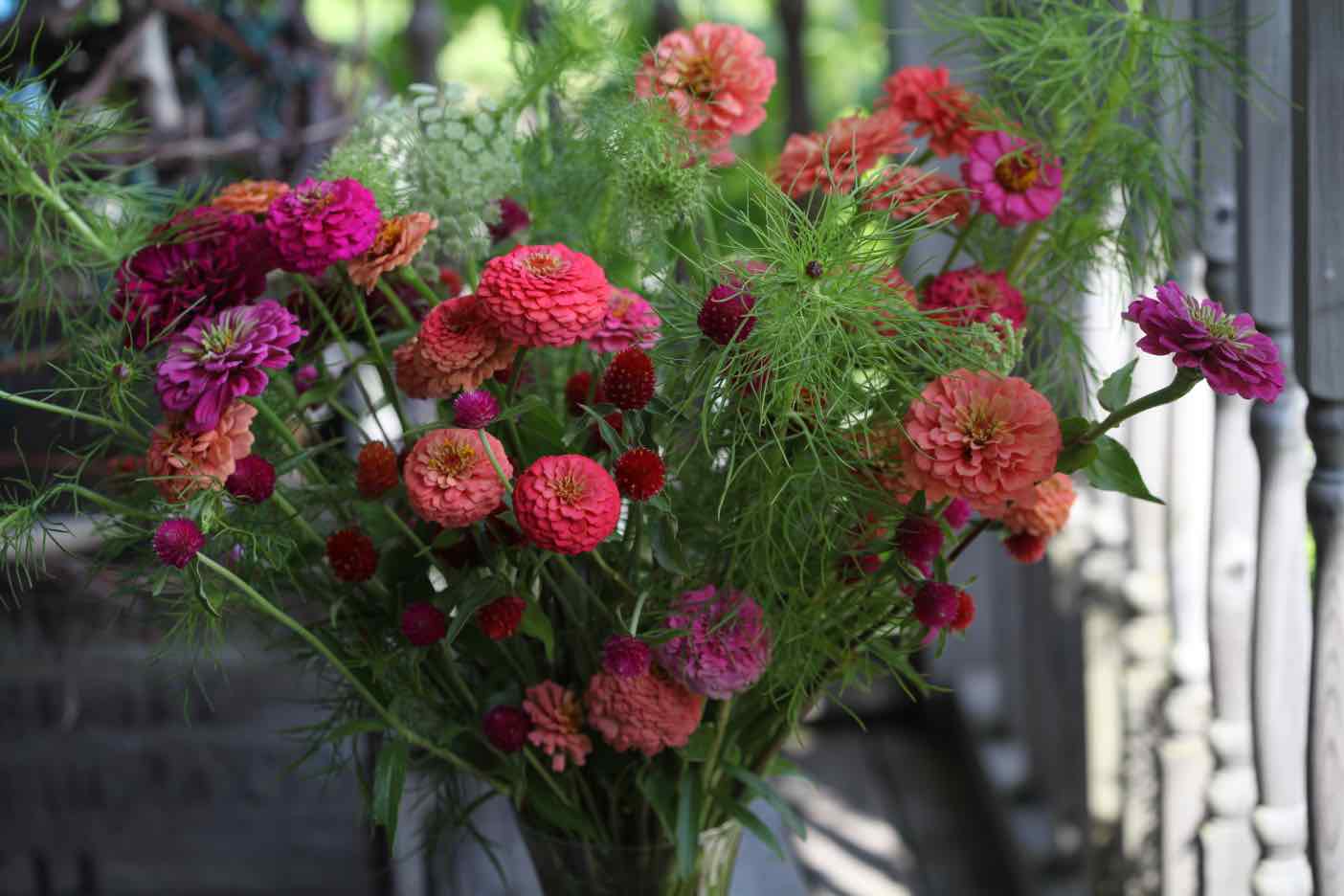 How To Differentiate Between Mature Viable Seeds And Immature Seeds
Not all seeds on the zinnia may be mature, however you will have better luck with finding mature seeds to save if you harvest the flower at the right time.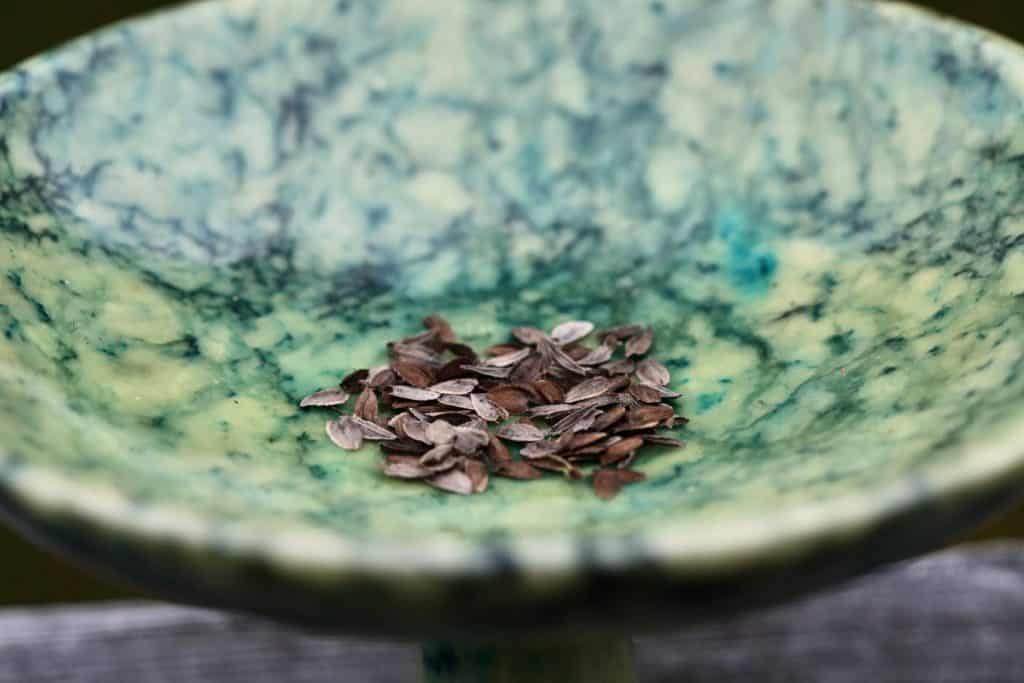 Mature zinnia seeds are firm and full. They are hard and will not bend.
Immature zinnia seeds may be obvious, such as the pale and opaque seeds which are empty or partially empty of contents.
However sometimes it is not as obvious.
So I'll do a little bend test. If the seed is straight and will not bend, it will be saved. If it bends easily it is tossed.
Last year I harvested lots of zinnias after our first fall frost in October. All of those blooms were dark and dry.
However many blooms were not really mature, as they had been recently blooming and fresh. The only reason they were darkened was that they were killed by the frost.
Many of these blooms contained immature seeds, as they had not had the time to mature on the plant before their demise.
Luckily, I was also able to collect many mature blooms as well, and the harvest was full of viable seeds.
Dry The Zinnia Seeds
It's always important to dry your seeds after harvesting before storing them away.
If you have lots of seeds you can spread them out on a large tray or plate in a single layer, or use multiple containers to allow the seeds to be exposed to the air to dry.
It does not take much time to dry zinnia seeds. From experience, they are usually already quite dry by the time that they are removed from the dry blooms.
Air dry the seeds for several days before storing in a dry place. The storing technique will also help to keep them dry if you use paper containers to place them into.
How To Store Zinnia Seeds
Zinnia seeds are easy to store:
Place in a brown paper bag or a small paper envelope. I would avoid plastic bags, as they tend to retain moisture.
Label the envelope or bag with the seed variety and the collection date. The labeled envelope is important to identify variety, viability and age of the seed for future use.
Store the seeds in a dry location and a dark place for best storage options.
The seeds will stay good for a few years if stored properly.
Seeds can be planted out the following year.
What To Do With Extra Zinnia Seeds
Saving your own seeds can be such a rewarding experience. Zinnias are one of the best flowers and easiest flowers to grow.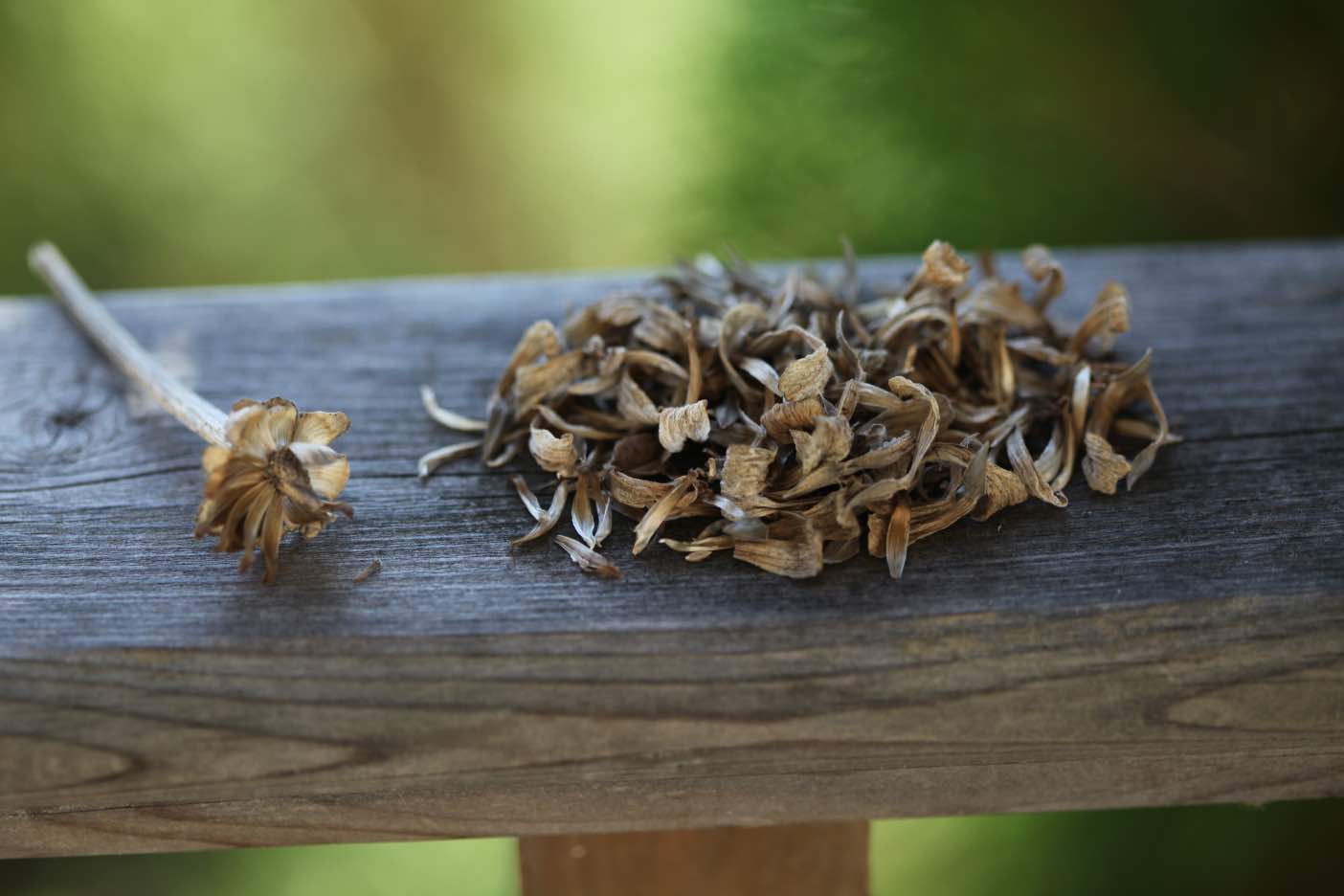 Depending on the number of seeds collected, there is a chance that you will have an abundance of zinnia seeds for next season, as well as for future gardens.
It all depends on the number of seedlings that you intend to plant.
Consider giving some seed packets away as gifts. Zinnias are the most wonderful gift of flower seed. They are so easy to grow from seed, and such beautiful flowers for any gardener to grow.
We had so many zinnia seeds last season, that when we made seed balls, we used up lots of our extra zinnia seeds by putting them in the seeds balls.
We threw the seed balls onto the edge of a clearing not far from our property to beautify the space. Sure enough the zinnias grew amongst the wildflowers, and the colours were amazing.
We will be making the same seed balls again next year. Check out the post to see how we made seed balls with zinnia seeds: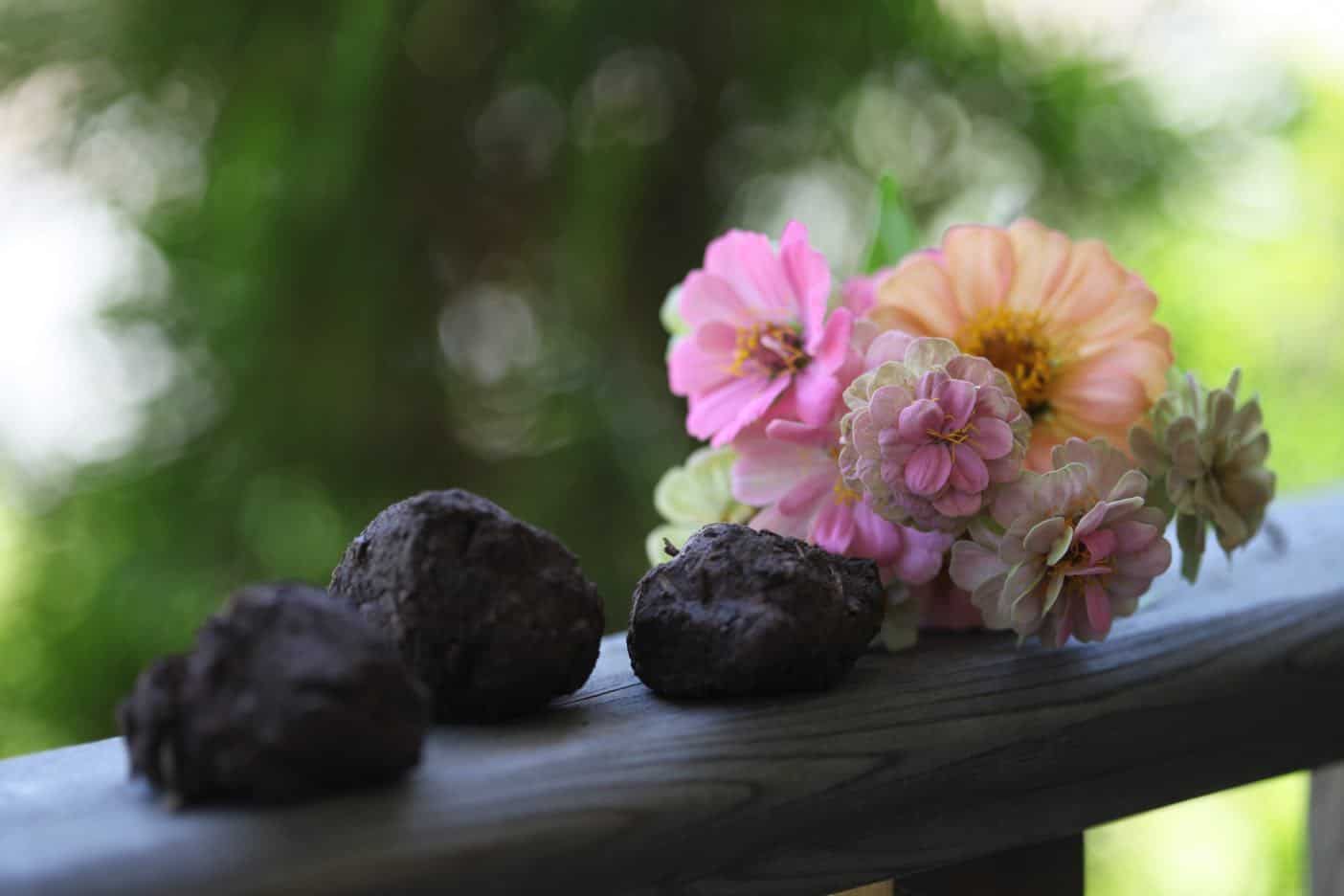 If you have extra seeds, consider planting some in your vegetable garden as well, to bring in some pollinators and add a splash of colour.
You could also share them at a seed swap. Be creative!
Make sure to plant your zinnia seeds after the danger of frost has passed, as they are a warm weather plant and do not tolerate any frost. Plant in a full sun location. And be prepared for much joy from your blooms.
Have you tried to save zinnia seeds from your garden, or are you planning to save seeds this year? Have you grown this beautiful flower from your own harvested seeds? We would love to hear how you made out, both with the seed collection and resulting blooms! Be sure to leave a comment below to share your experience.
OTHER POSTS YOU MAY LIKE:
See the Web Story on Saving Zinnia Seeds!
See the Web Story on Collecting Zinnia Seeds!
PIN IT FOR LATER!