As a flower farmer, we grow pollenless sunflowers in the field and cutting garden. Pollenless sunflowers are beautiful, come in a wide array of colours, and make spectacular cut flowers. The stems are strong, the flowers are large and sturdy, and they seem to last forever in the vase. People absolutely love them, and keep coming back for more.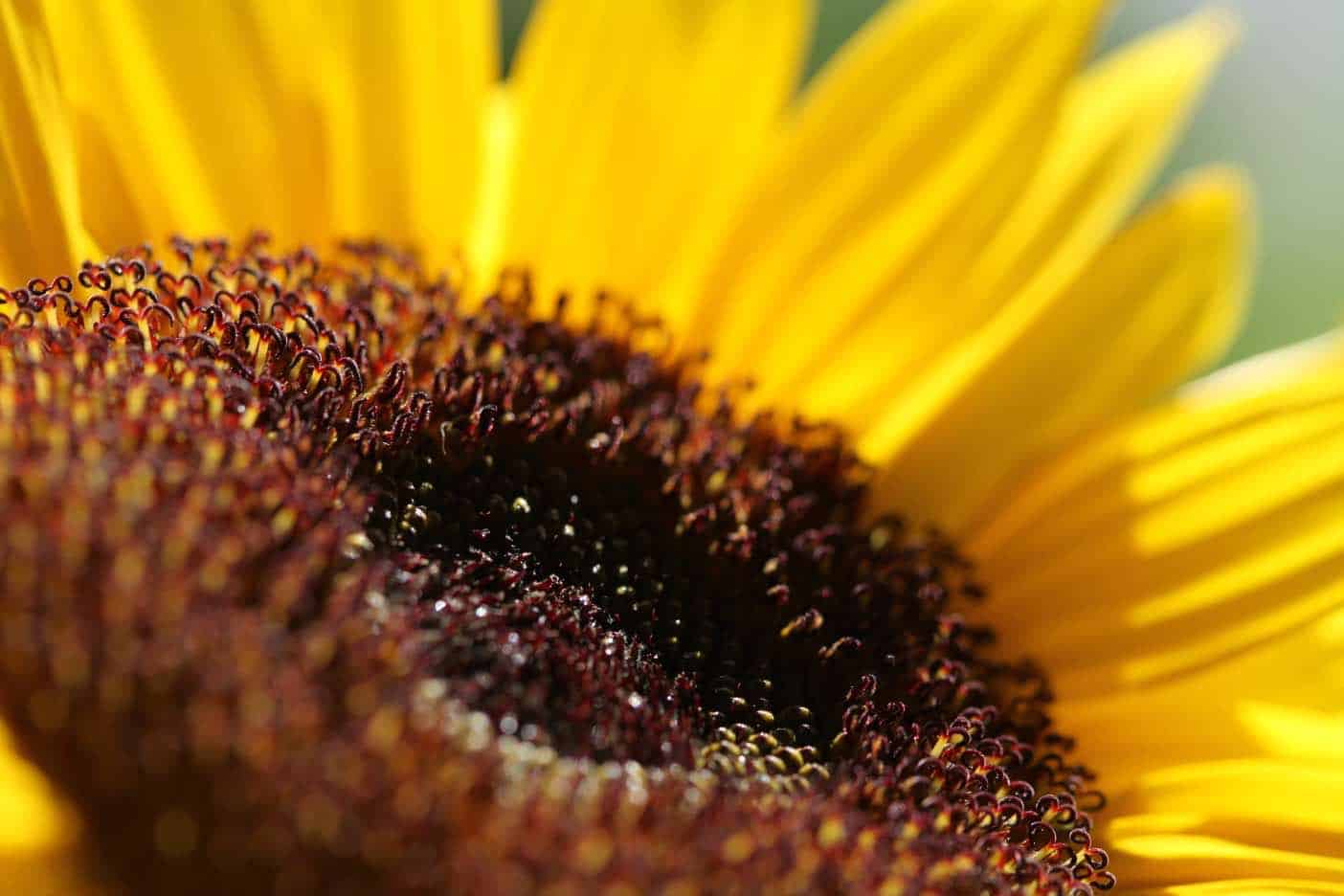 Pollenless sunflowers can bring joy to those that grow them and to those that receive them.
What Are Pollenless Sunflowers?
Pollenless sunflowers are hybrid ornamental sunflowers bred for their pollen free blooms. The flowers are valued as cut flowers for their long vase life, and absence of pollen dropping from the vase. Used by florists and cut flower growers alike, these blooms are increasing in popularity.
Pollenless sunflowers are also called pollen free sunflowers.
Most pollenless sunflowers grow on single stems, and you get one sunflower per every seed planted, as opposed to branching sunflowers which produce multiple stems. The single stems grow strong and sturdy and are fantastic in bouquets.
There are some branching varieties as well which are pollenless. We grow only the single stemmed sunflowers in our garden, as these work best for us and our market.
The blooms are mostly pollen free, however not all blooms are completely free of pollen. Some blooms will have a small ring of pollen, which is just barely noticeable.
Compared to the traditional pollen producing sunflower, these pollenless blooms have almost no pollen.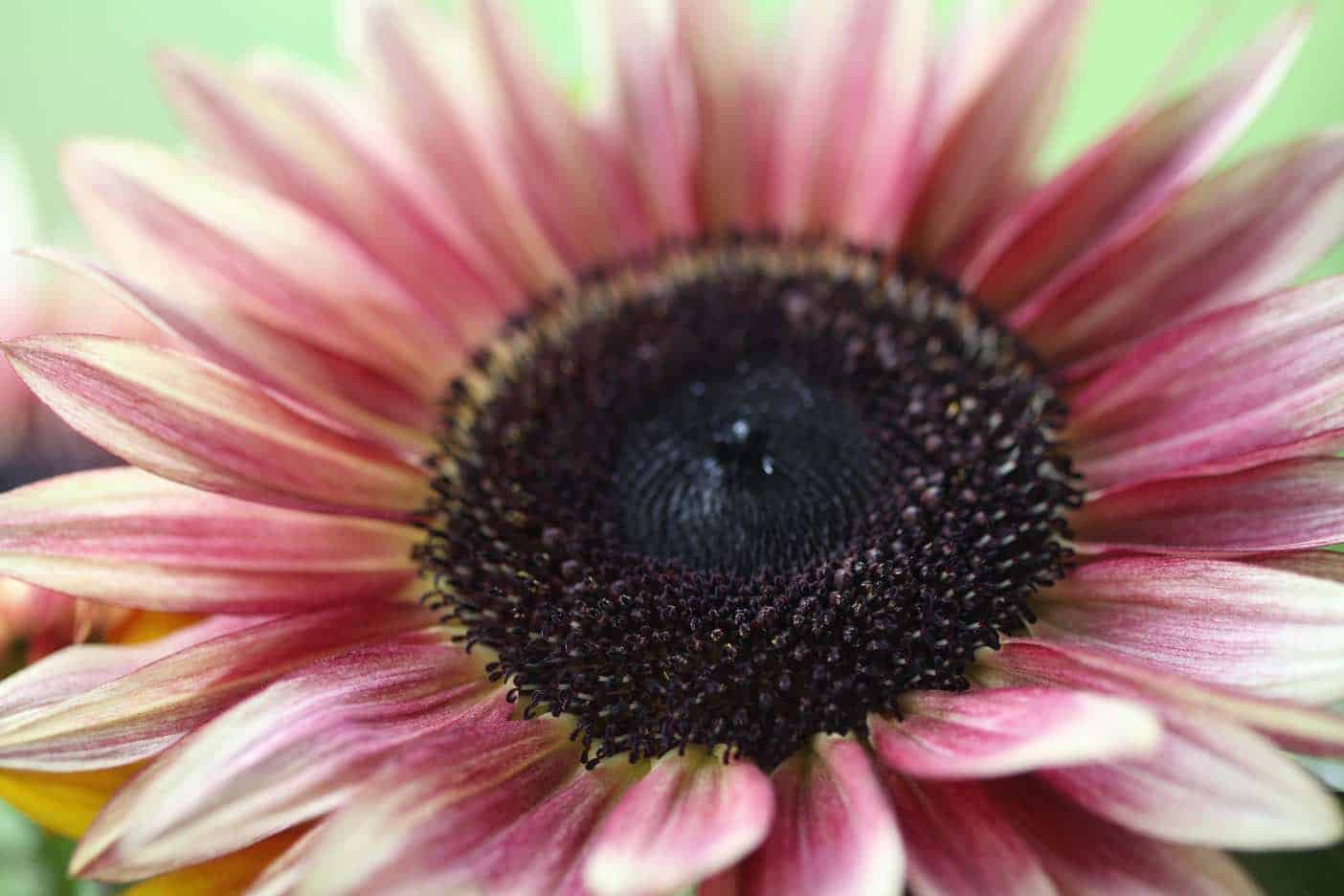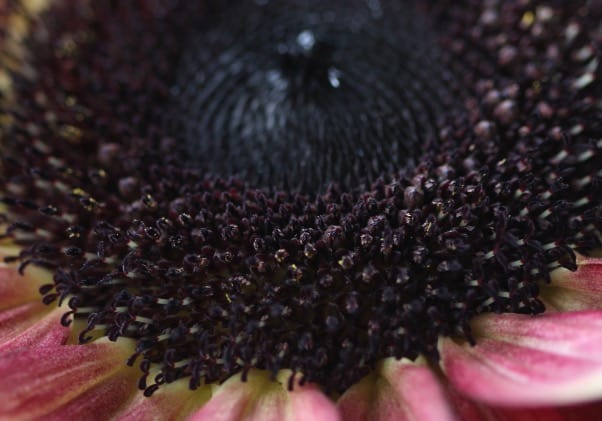 What Does Pollenless Mean?
Pollenless means pollen free. Some pollenless sunflowers may not be completely pollen free, and can have very small amounts of pollen.
We grow thousands of pollenless sunflowers every gardening season, and have observed just this, tiny amounts of pollen on some flowers.
Most pollenless sunflowers have no pollen visible. And some, although very few, have a little more than tiny amounts.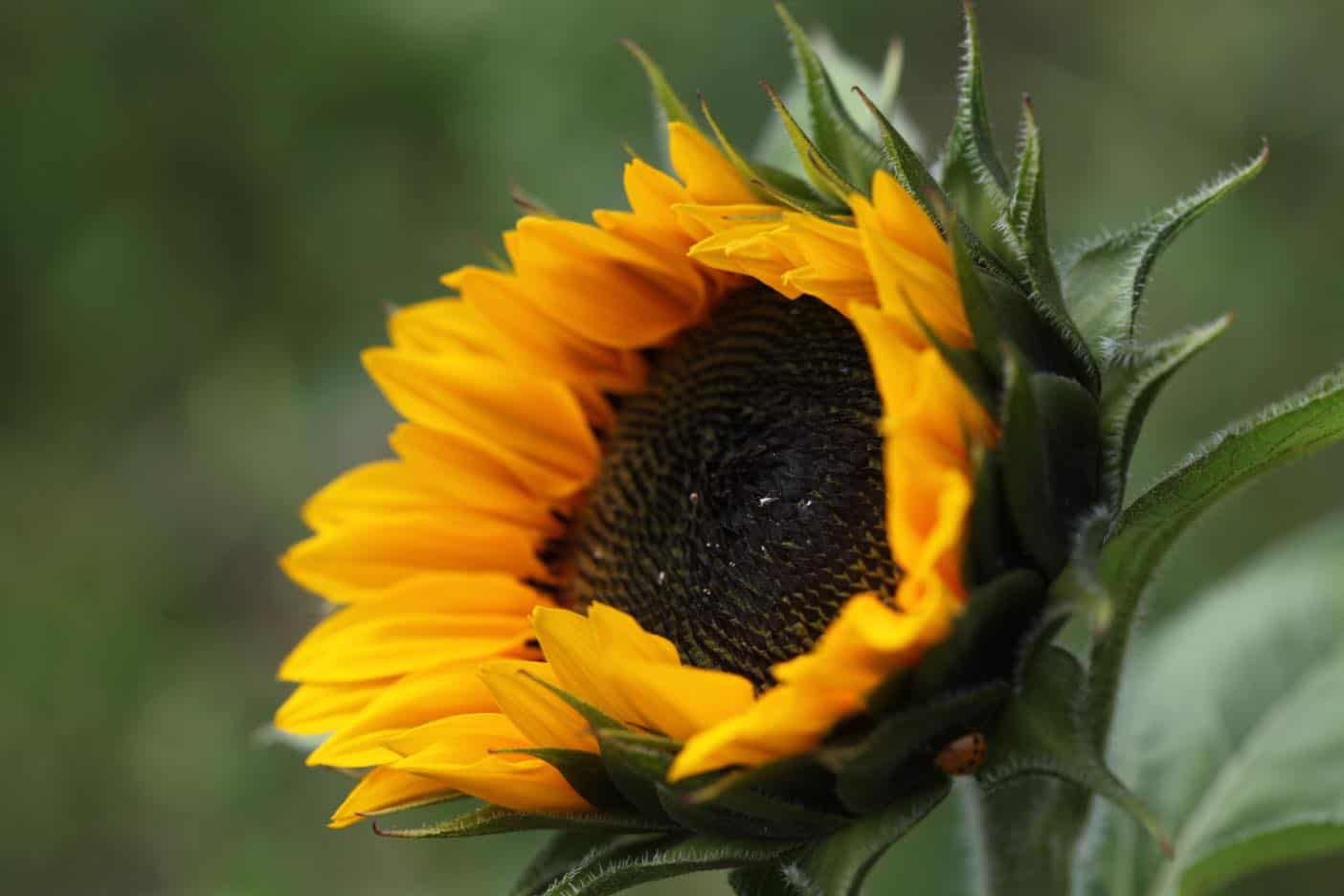 How Are Pollenless Sunflower Seeds Created?
Pollenless sunflowers are hybrids, produced by sunflower growers using specific parentage for each variety produced. The flowers are produced under controlled conditions, and the seeds of the hybrids are pure to the variety produced.
When you purchase the seeds of the pollenless varieties the resulting plants will generally be uniform in colour, size, height and qualities.
Hybridizing efforts for each variety of pollenless sunflower results in seeds which produce offspring with sterile male pollenless flowers.
You can purchase pollenless varieties from seed sellers.These varieties are stable in their appearance and form.
Since they are hybrids however, any seeds which may be produced from these sunflowers in your own garden or sunflower patch will not be true to the parent.
Benefits Of Growing Pollenless Sunflowers
There are benefits to growing pollen free sunflowers as cut flowers.
These sunflowers make choice blooms for the vase for many reasons, including:
A long vase life, lasting almost two weeks in the vase with ideal conditions ( clean vase, water changes, keeping out of sunlight).
Pollen free blooms, which do not drop little bits of pollen from the vase onto the table.
Reduced sensitivity reactions for those that are sensitive to pollen.
Beautiful blooms with clean pollen free faces.
Fast growing time, with some pollenless varieties producing blooms within sixty-five days.
Drawbacks Of Growing Pollenless Sunflowers
There are very few drawbacks of growing pollenless sunflowers if you are a cut flower grower, and the benefits far outweigh the drawbacks.
However a few issues to consider when growing these sunflowers are:
There is minimal to no pollen for the bees from these plants. Pollenless sunflowers are not the types to grow if you are growing the flowers for the bees.
Seed collection from these plants will not be true to the parent, and seed production will be low.
Bees require both nectar and pollen. They will get nectar from the sunflowers, but minimal pollen, so be sure to have other flowering plants available for pollen collection by bees.
If you are a seed collector like I am, you will probably save some seeds from your pollenless sunflowers, unless you have cut them to enjoy in the vase.
The offspring from these seeds will be new hybrids. Since the pollen parent will be unknown, the resulting offspring will be a complete surprise.
Different Varieties Of Pollenless Sunflowers
There are many different varieties of pollenless sunflowers.
Some of our very favourites are the Procut series, as well as the Sunrich series.
We have grown Procut Plum, Procut Orange, Procut Red, Procut Lemon, Procut Horizon, Sunrich Gold, Sunrich Lime and Sunrich Lemon.
What we are finding for our market is that the current favourite varieties tend to be the orange or yellows with the darker centres. Of course that can always change over time.
Do Pollenless Sunflowers Attract Bees?
Pollenless sunflowers can attract many bees. During the end of the season there are bees attached to almost every sunflower in the field and cutting garden.
The bees absolutely love these flowers, and certainly show it from their behaviour.
Although pollenless sunflowers produce minimal pollen, they glisten with nectar, which is the attraction for the bees.
The sunflowers also attract a whole array of other beneficial insects to the plants.
Pollenless Sunflowers And Bees
Bees require pollen as a source of protein, and a food source for their developing larvae. Pollen is very important for bee reproduction.
As well, sunflower pollen can be a medicinal source for bees to help reduce disease and help fight against bee pathogens.
Pollenless sunflowers will not be a source of this pollen for bees. Pollenless sunflowers are generally grown for cutting, and are picked as they are just beginning to open.
If you are considering growing sunflowers for bees, make sure to grow some pollen rich varieties, such as Black Russian and Lemon Queen. Learn more about sunflowers for bees, and consider joining the Great Sunflower Project.
Bees also forage for nectar, which is taken back to the hive for honey production and used as a food source for the adult bees.
The bees will have a great supply of nectar from the pollen free sunflower blooms.
The bees can also collect pollen from other plants in the garden, so be sure to plant lots of other flowering plants for your pollinators.
Do All Sunflowers Have Pollen?
Not all sunflowers have pollen, although not all pollenless sunflowers are pollen free.
Do Pollenless Sunflowers Produce Viable Seeds?
Normally pollenless sunflowers are grown as cut flowers and harvested early in their blooming cycle before fertilization can occur.
Once cut, these cut sunflowers will not produce viable seed.
One might expect that pollenless sunflowers are not easily fertilized to produce seeds since there may be minimal to no pollen on the blooms.
However, if there are pollen producing sunflowers elsewhere in the garden, or even on a neighbouring property within a two mile radius, the bees can transfer pollen to the pollenless sunflowers.
When this happens, the pollenless sunflower can then produce viable seeds.
If these sunflowers are left to develop mature seed heads, the seeds will grow to maturity.
This happened in our own garden on pollenless flowers that we did not cut in time, and which we left to produce some seed.
Can You Save Seeds From Pollenless Sunflowers?
This summer we planted a row of pollenless sunflowers every week starting in mid May.
We planted the sunflowers in weekly succession plantings so that we would be able to harvest sunflowers for cutting every week.
The key to harvesting sunflowers for the vase is to catch them when they first start to open, and before there is risk of fertilization. When you harvest sunflowers at this stage they open up naturally after they are cut, and tend to last much longer in the vase.
The goal is to harvest every bloom that you plant.
It's a good idea to plant only the number of sunflowers that you are able to cut and process on any given week. That way you will be able to use all of the stems that you have planted.
Every week we were able to stay on top of our sunflower harvest.
Except for the very last planting.
Our very last planting was done mid July, and consisted of many more rows of sunflowers that we could ever imagine processing. It was a planting error of sorts, although with no regrets.
The silver lining of our accidental overplanting was that we were able to share the joy of these beautiful blooms with the community, and they were such a sight to behold growing in the field.
This planting was fairly large, and consisted of many rows of Procut plum sunflowers with a few other varieties mixed in as well. There were at least fifty rows of sunflowers, which drew quite a lot of attention once they were in full bloom.
Pollenless Sunflowers Gone To Seed
We harvested the blooms for a couple of weeks and did our best to harvest at just the right stage. We then had to let the rest go to seed, as they matured much more quickly than we were able to pick them.
The seed heads are currently developing in the field. I've checked several seed heads already, and one only had three viable seeds, while others were full of seeds.
I will save any viable seeds and will plant them out next season to see what sunflowers will be produced. The resulting flowers are expected to be a combination of both the parents, one known and one unknown.
Planting these seeds will be an interesting project that I look forward to with anticipation.
Consider planting pollenless sunflower seeds for the cutting garden. They are amazing flowers to grow and an absolute favourite of many.
Have you grown pollenless sunflowers in your garden? Be sure to leave a comment down below to share your experience!
OTHER POSTS YOU MAY ENJOY:
PIN IT FOR LATER!