Last updated on March 20th, 2023 at 09:23 pm
The bright mauve blue blossoms of wild chicory grace the roadsides and open spaces in mid summer. An unlikely garden plant, it draws the observer to come a little closer to appreciate the unique blooms. Learn how to grow chicory, to enjoy this wild herb in your garden space.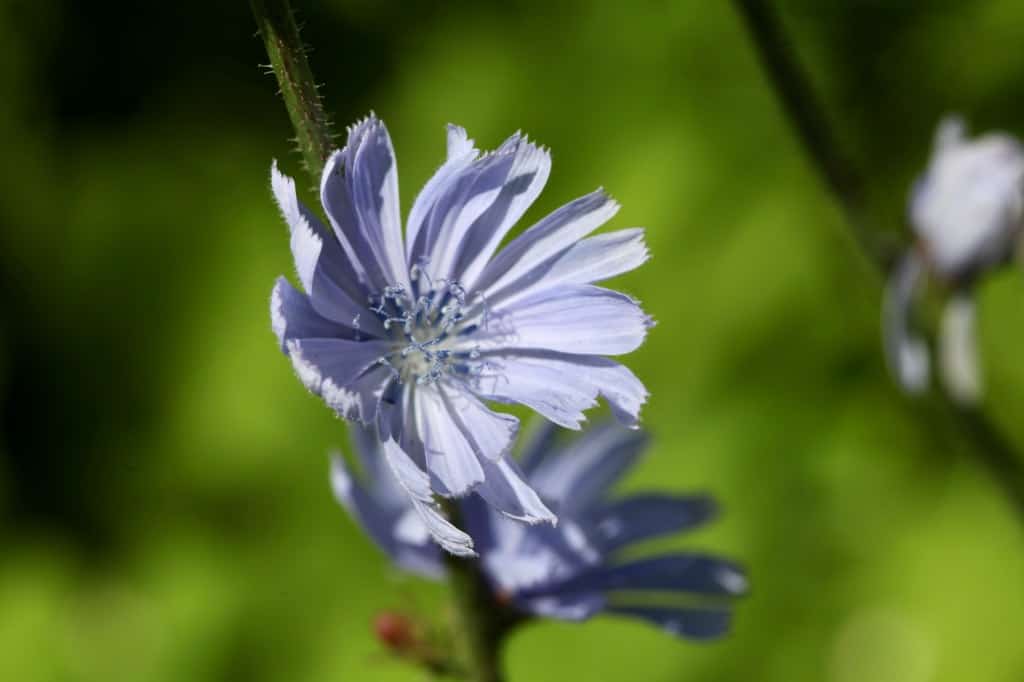 Wild chicory, also known by it's scientific name of Cichorium Intybus, commonly grows wild in many areas across the globe.
A native the Europe, Western Asia and Africa, wild chicory is now found growing in many locations in the United States and Canada, as well as South America, Australia, and New Zealand.
Here in Nova Scotia the plant graces us with it's presence around mid summer, adding a touch of the palest purple-blue toned flowers, wherever it sets root.
Wild chicory is often found along roadsides, growing well in gravel and poor soil locations. The plant also tends to grow in abandoned areas and disrupted soil, often found growing in large empty areas such as open fields and meadows.
I had not grown this wild herb in my garden until this year, yet have always appreciated it's presence. The plant is generally not grown as an ornamental plant, or for use as a cut flower.
This year I grew wild chicory for the garden. I intend to use the edible flowers, leaves, and roots for culinary purposes, as well to have the plants in the garden for my own appreciation of their wild beauty.
There are a number of different varieties of chicory. For the sake of this post however, the focus will be on the wild form of chicory, which is the original species plant.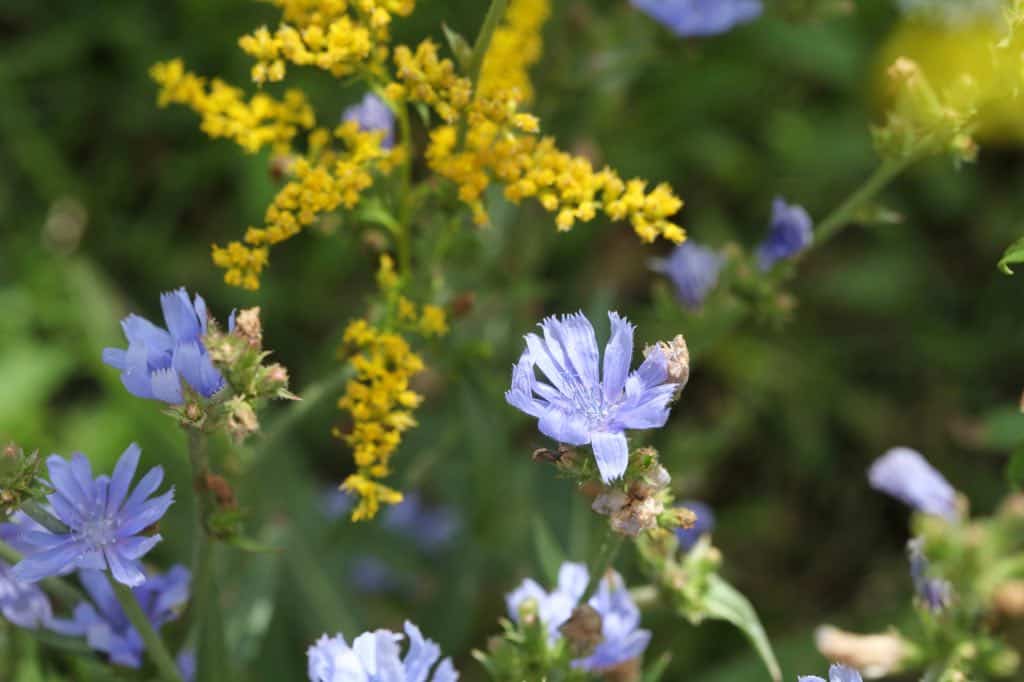 What Is Chicory?
Chicory is a versatile plant with a variety of uses and beneficial properties.
The chicory plant is a member of the dandelion family, or Family Asteraceae, and Genus Cichorium. The species name, or scientific name for chicory is Cichorium Intybus.
Cichorium Intybus is also known as wild chicory, and has been cultivated throughout the ages. Wild chicory is the original form of the chicory plant, and is the source of many different cultivars of chicory, which are grown and used today.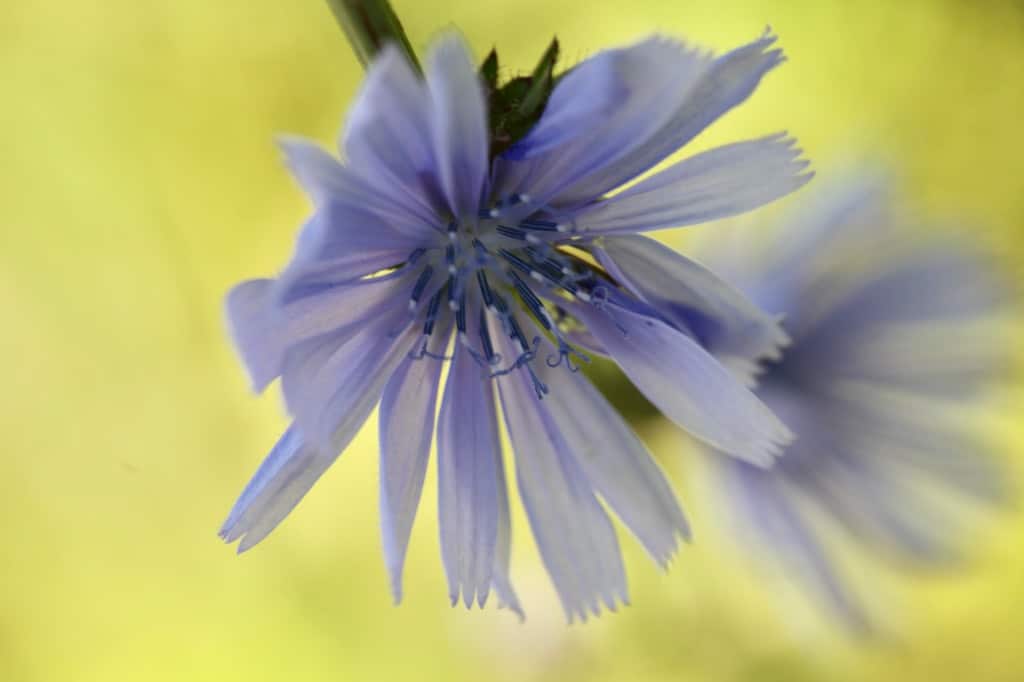 Some other chicory varieties, to name just a few, which have been cultivated from the wild form, and grown for culinary use include:
These varieties have been selectively bred over time for their own special characteristics, and all have originated from the wild form of chicory.
Many of the cultivated forms of chicory are annual or biennial plants, unlike the wild form of chicory, which is perennial.
The wild form is also known as common chicory.
Other common names for wild chicory include blue daisy, blue dandelion, blue weed, coffeeweed, blue sailors, ragged sailors, wild endive, and more.
C. Intybus is a herbaceous perennial herb, known for it's distinctive blue flowers, and also for it's bitter taste. All parts of the plants can be used for culinary purposes, however it is most often the leaves and roots that are used.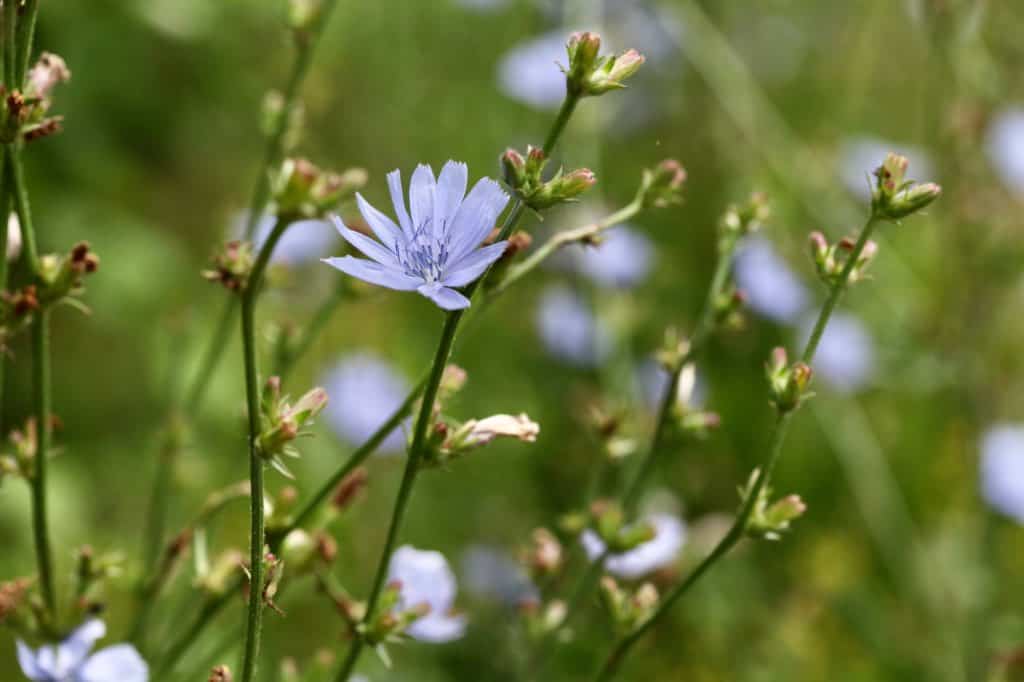 Chicory Uses
Chicory has been grown for thousands of years, reaching as far back as ancient Egypt and Ancient Rome, cultivated for edible use, as well as for use in traditional medicine.
Traditional Medicine Use
The chicory plant has a long history of use in traditional medicine.
Chicory contains beneficial compounds which have been studied, and have been shown to have antioxidant, ant-inflammatory, anti-microbial, as well as other metabolic effects.
For a more scientific and inclusive summary of the beneficial compounds in the chicory plant, you can refer to this article from the National Library of Medicine and PubMed Central: Chicory: Understanding The Effects And Effectors Of This Functional Food.
Traditionally, chicory has been used as a dietary supplement with various health benefits, including promotion of a healthy gastrointestinal tract, promotion of healthy digestion, and improving blood sugar regulation. Read more about the benefits of chicory in this article from Healthline: 5 Emerging Benefits and Uses Of Chicory Root Fibre.
It is always recommended to consult with your healthcare provider before using herbal supplements to treat individual health needs.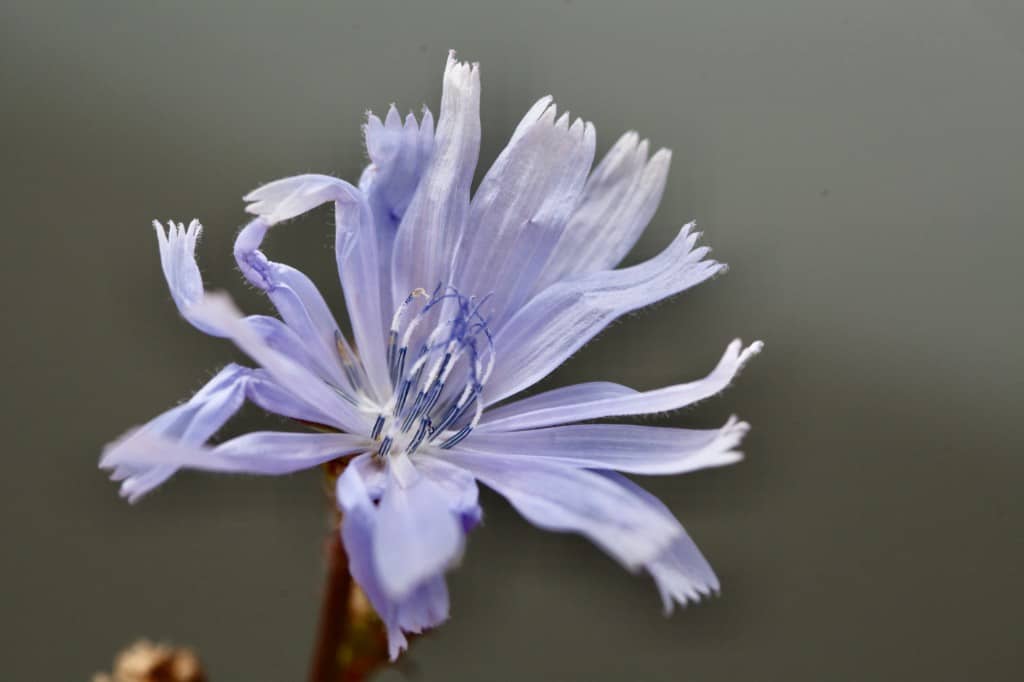 Culinary Use
The chicory plant is an edible herb, and is long valued for it's culinary use. All parts of the plant can be consumed, as the entire plant is edible.
There are multiple ways to include this versatile herb, to add both flavor and nutrition to your diet.
Chicory leaves can be eaten in fresh or cooked forms, have a strong flavor, and are often an acquired taste.
The leaves can be added to salads, and the most tender young leaves are best used for this purpose. Older and larger leaves will have a more bitter taste.
Chicory leaves can also be used as a flavoring ingredient, adding an earthy taste to special soups, stews, and sauces.
Leaves can be sautéed as well, and used in many hot dishes.
A herbal tea can be made from chicory leaves, along with the fresh flowers.
The edible flowers of the chicory plant are often used in the fresh form.
The colorful blooms can be used as beautiful decorations for edible baking projects. They can also be used to garnish salads for an added pop of unusual and beautiful color.
Chicory roots are often roasted and used as a tea or coffee substitute. The ground roasted chicory roots can also be used as a caffeine free coffee supplement or additive.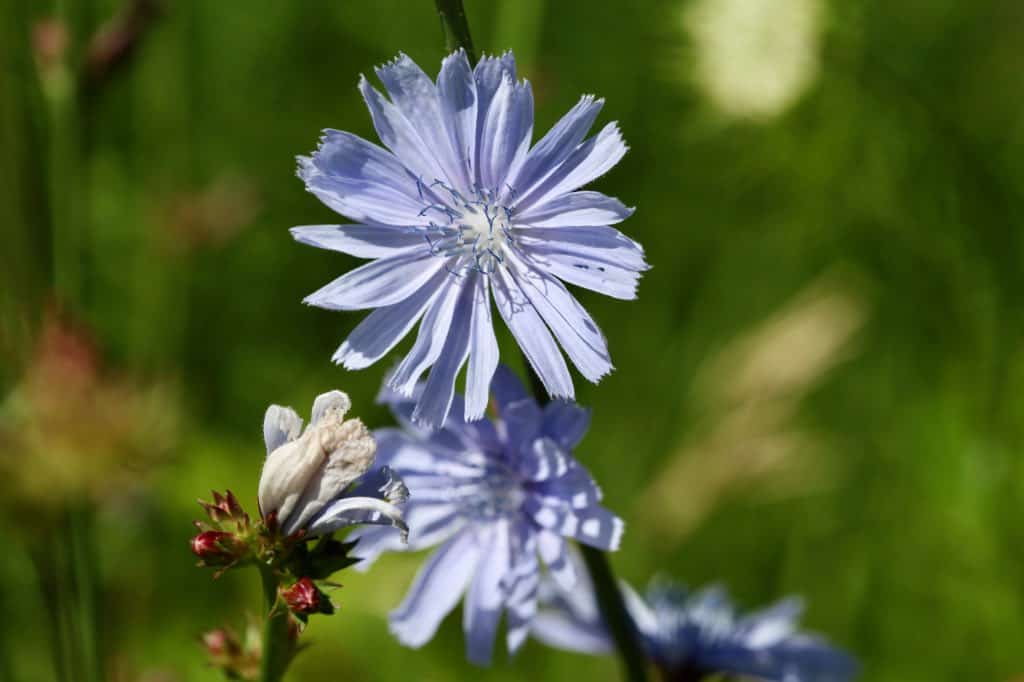 Dietary Supplement And Food Additive
Parts of the chicory plant can also be used as a dietary supplement, due to the fact that the plant is a good source of inulin.
Inulin is a natural storage carbohydrate, which also has functional properties and prebiotic effects.
Chicory root is one of the richest sources of inulin, which can also be found in many other plants.
Inulin is extracted from the chicory root, and used as an additive or as an ingredient in a number of different food products.
This substance has been used as a dietary fibre, as well as a natural sweetener. Inulin used as a prebiotic fibre can promote digestive health.
As a food additive, inulin can increase dietary fibre content when added to processed foods.
The substance is also used in the supplement industry, as a natural prebiotic supplement supporting gastrointestinal health.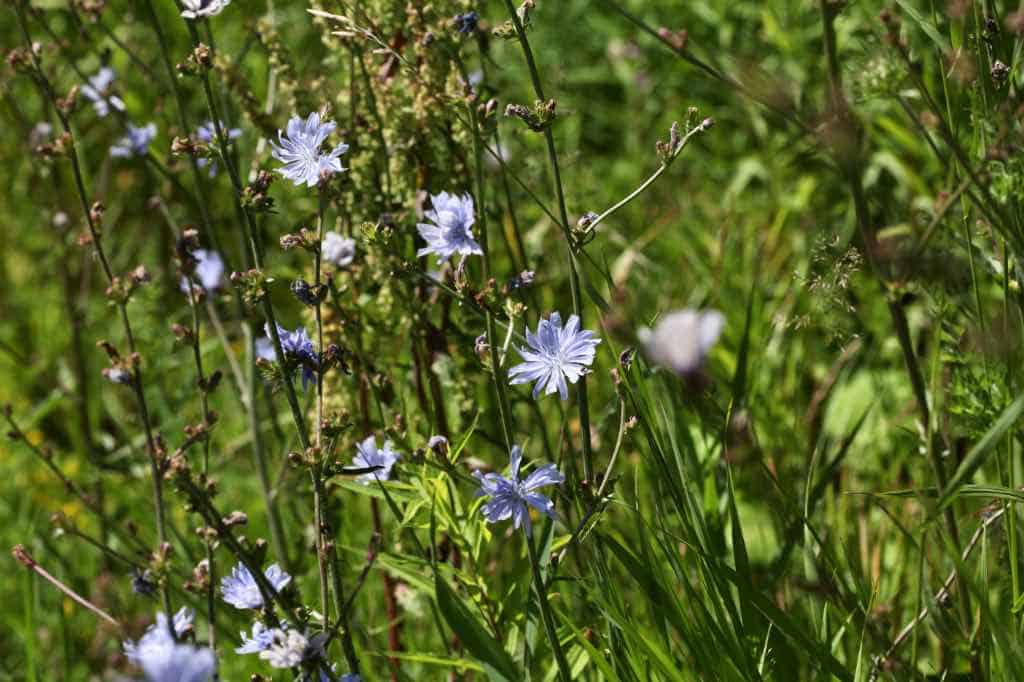 Beneficial Garden Plant
Wild chicory is a magnet for beneficial insects, and can help to attract these insects to your garden during the summer months. The flowers are especially attractive to pollinators, such as bees and butterflies.
Chicory can also attract other beneficial insects, such as ladybugs, lacewings, and hoverflies. These insects can help to deter and control insect pests in the garden.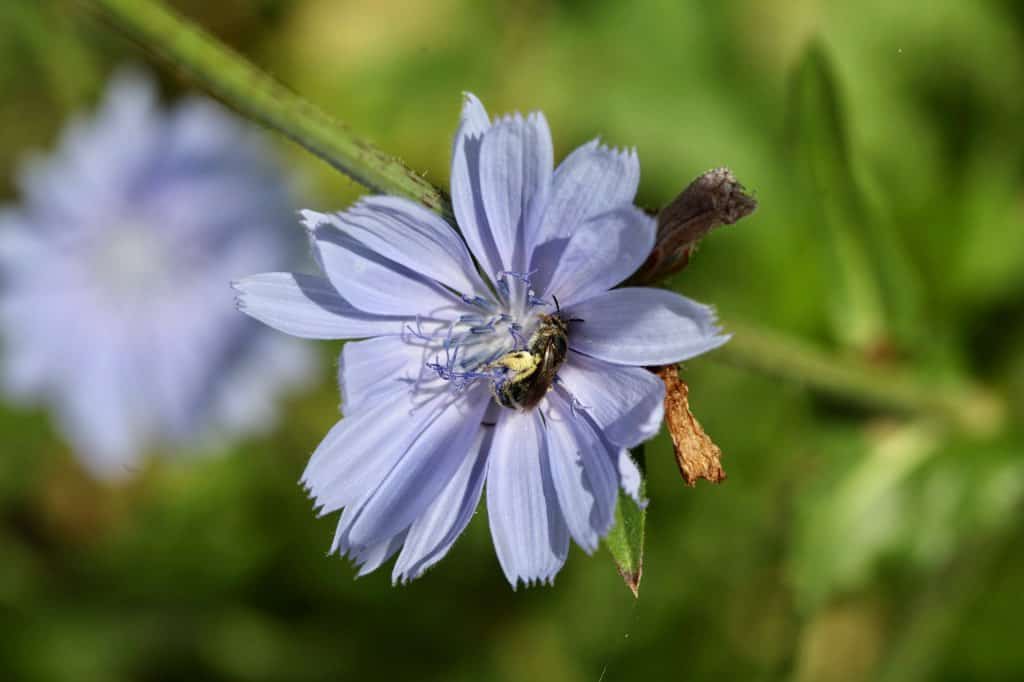 Chicory Flowers
Wild chicory flowers are daisy-like in nature. The bright mauve petals have serrated tips, and tend to overlap upon each other.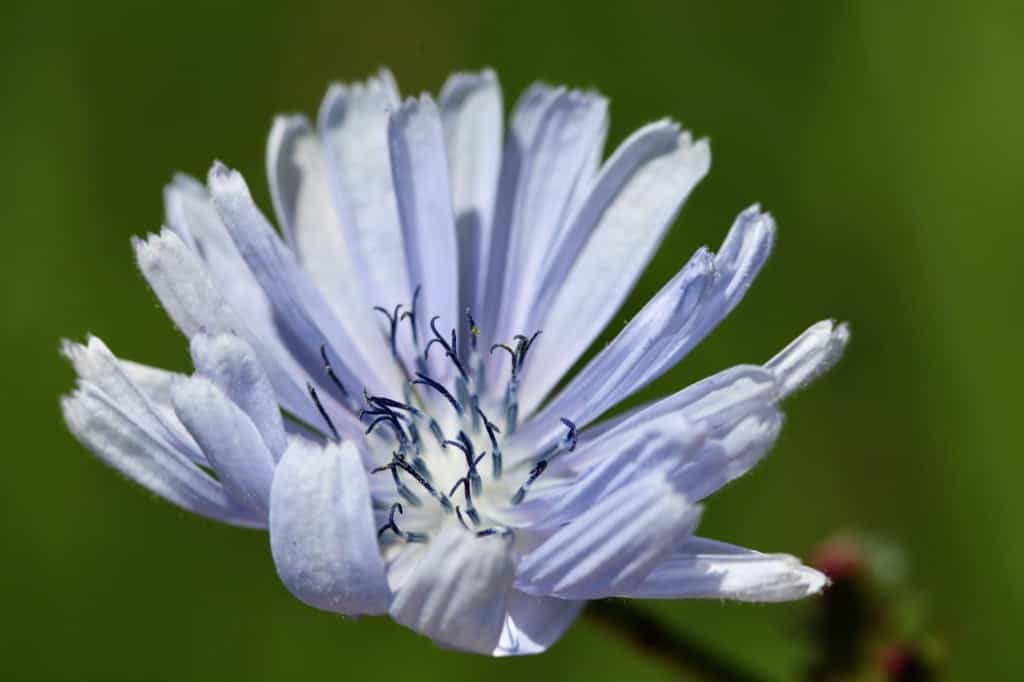 The flower heads measure approximately 1.5 to 2 inches in diameter when fully opened.
Each wild chicory flower is actually a cluster of flowers. The flower head is an inflorescence, which is made up of smaller individual flowers known as florets.
The chicory petals are ray florets, and consist of sterile flowers.
The disc florets make up the centre portion of the flower, and consist of fertile flowers with both male and female reproductive structures.
Each chicory flower only lasts a day, however many buds are produced, resulting in a succession of blooms throughout the blooming period. The brilliant flowers open in the morning and close up at night, having finished their blooming period.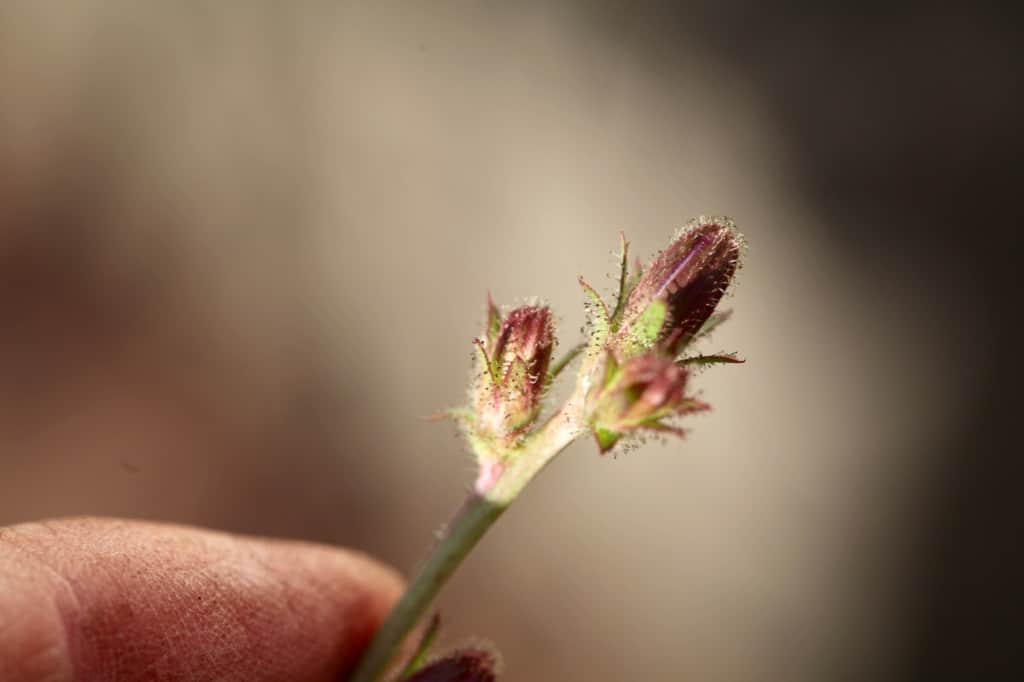 As each flower becomes spent, seeds will begin to form in the seed head if the flower has been fertilized when it was blooming.
Wild chicory has a fairly long growing season, blooming for a period of up to 4 to 6 weeks.
Bloom time is dependent on location, however most often occurs from mid summer through to the end of August or late summer.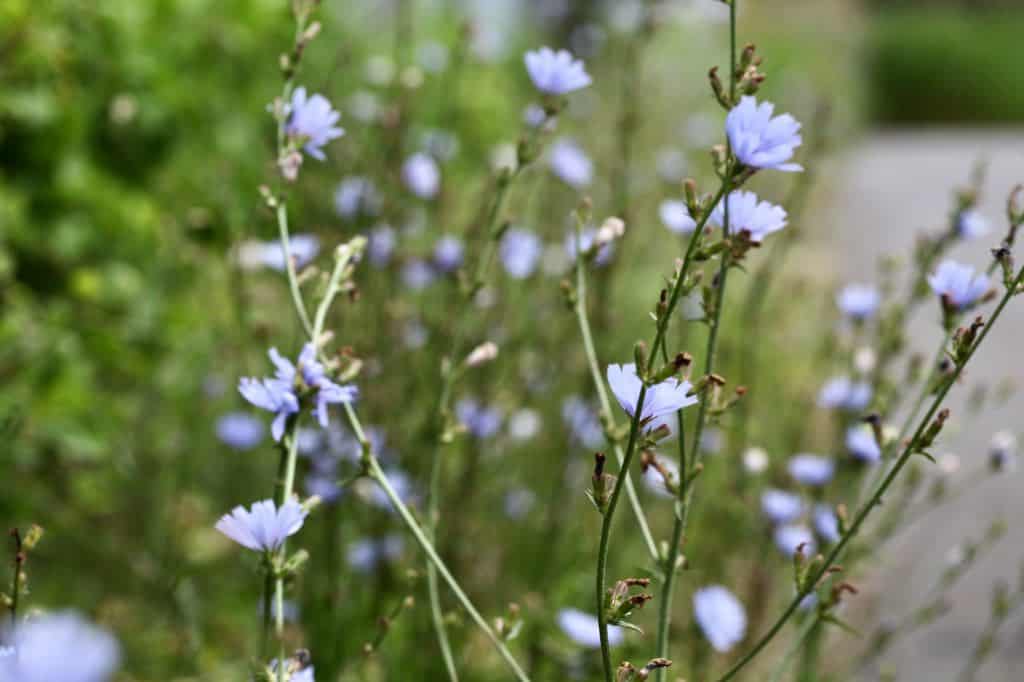 Use As A Cut Flower
Chicory flowers are generally not considered to be a good cut flower, due to their brief blooming period. Each bright violet-blue bloom only lasts a day.
However, each stem will have multiple buds, and will continue to produce blooms over a period of time.
If harvested for the vase, as each bud matures, the flowering chicory stem will add another pop of color to the arrangement. Be sure to deadhead the spent blooms regularly however, if using in arrangements.
The use of wild chicory as a cut flower can make for a beautiful and interesting display. The long thin stems and bright mauve daisy-like flowers will add a rustic touch and natural look to any floral arrangement.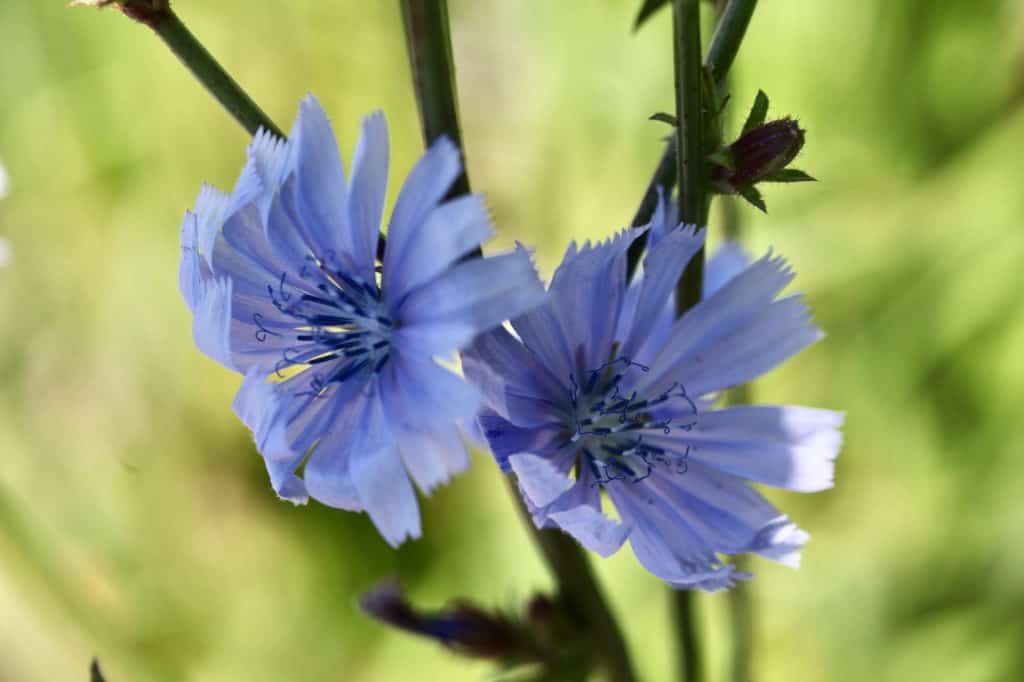 Chicory Leaves
Chicory leaves are lance shaped, with serrated edges. The leaves are very similar in appearance to those of dandelion, especially in the first year of growth when forming a mounding clump of basal leaves.
The leaves are a medium green color, and have a somewhat glossy texture. Leaf size can vary, from several inches to over a foot in length.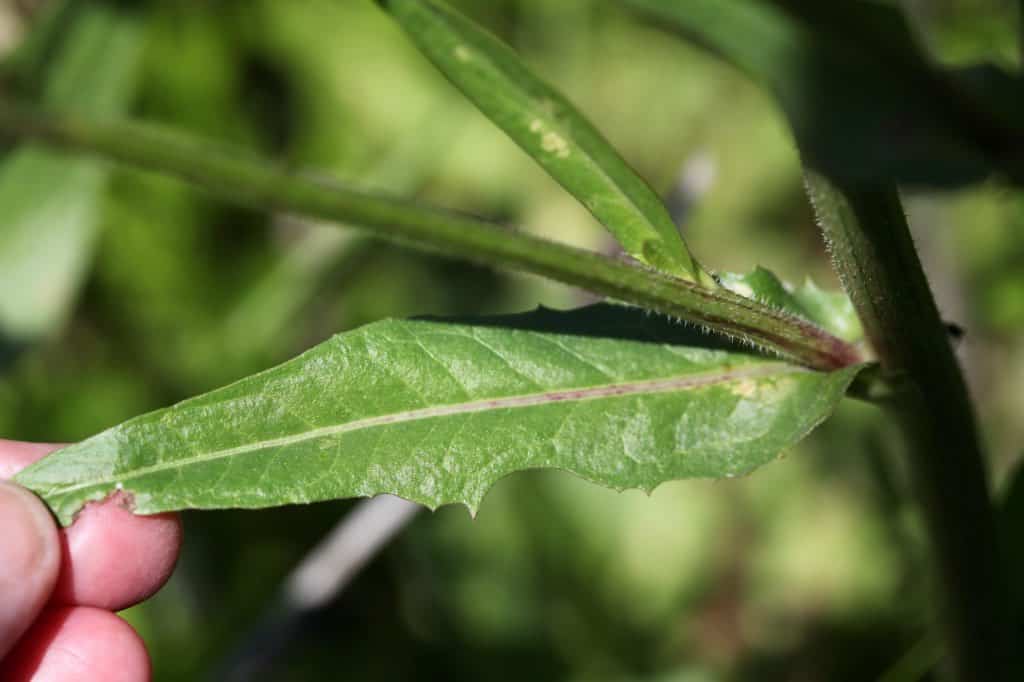 Chicory leaves grow in a mounding clump, from which multiple stems emerge after the first year of growth.
Leaves of wild chicory are coarser in form, and have deeper serrations along the leaf edges, as compared to the newer cultivated varieties.
The leaves of chicory have a bitter taste, and are commonly used in salads. Tender young leaves are often less bitter than the larger more mature leaves.
Blanching can also help to reduce the bitter flavor of the leaves.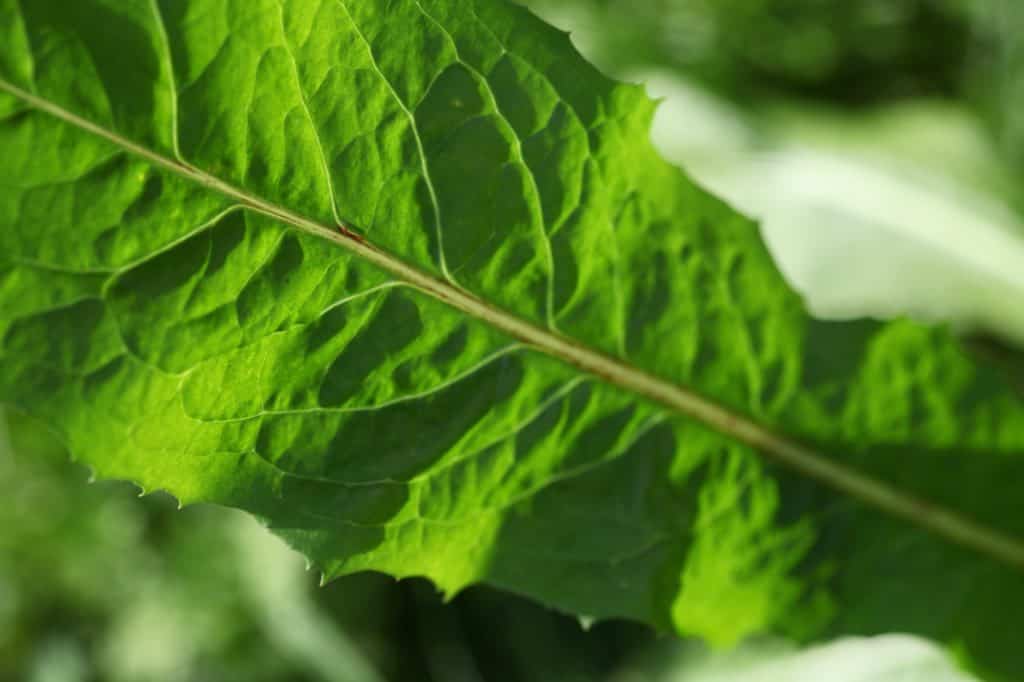 Chicory Stems
Chicory stems are long and wiry in appearance, although they are still quite sturdy. Multiple individual stems grow from a mounding clump of leaves at the base of the plant.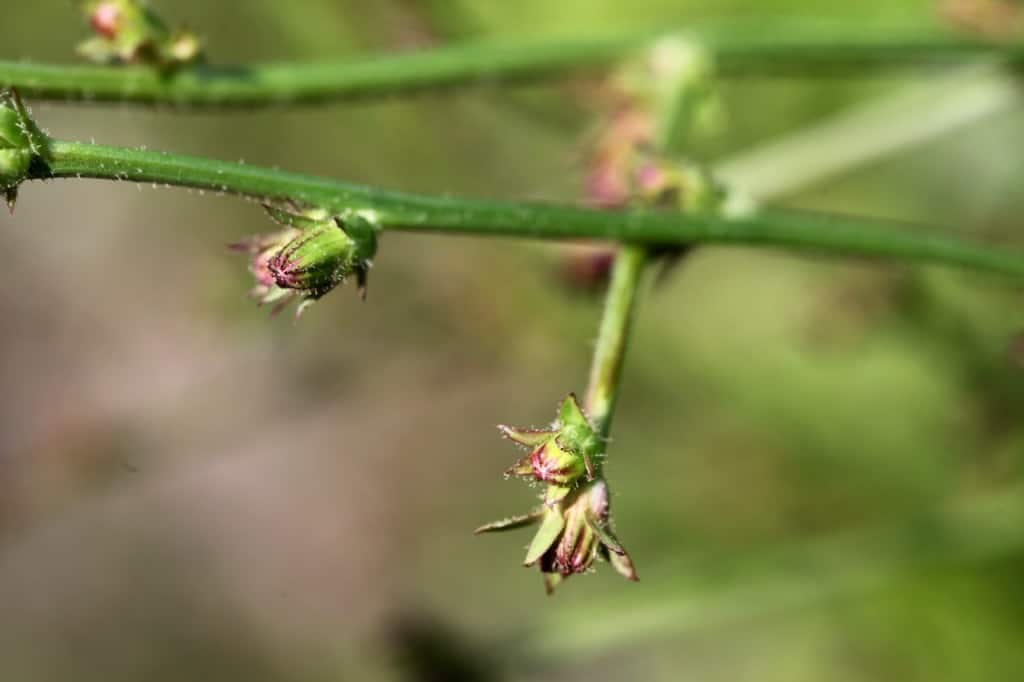 The stems are medium green in color, with vertical grooves along each stem. Stem height can reach 3 to 4 feet or more, depending on growing conditions.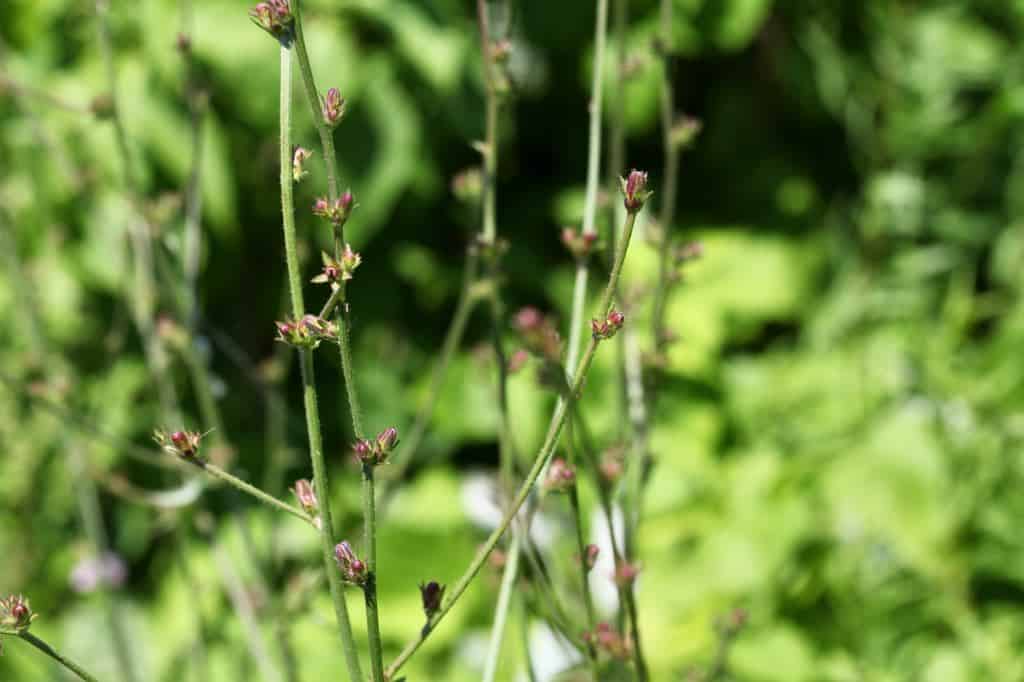 There is occasional branching from each main stem, however branching is often sparse on the wild growing plant.
Clusters of flowers grow along each stem, and bloom at various times. Each stem will have multiple flowers in various stages of development throughout the growing season.
Leaves grow sparsely along the stem, with the largest leaves towards the bottom of the plant.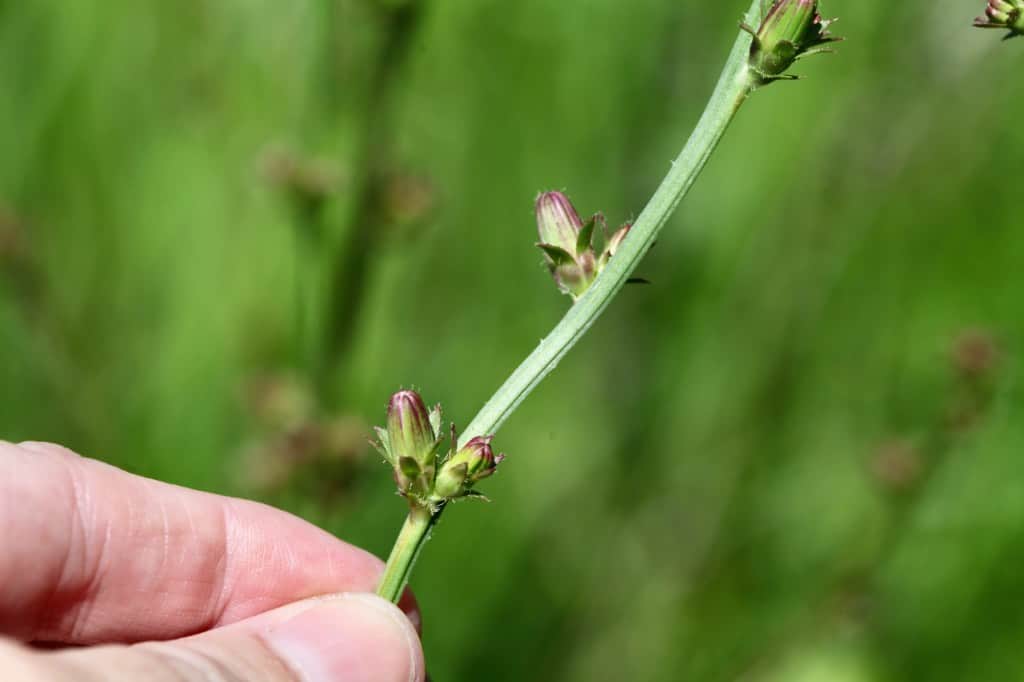 Chicory Seeds
Wild chicory seeds are small and cylindrical, and are pointed at one end. The seeds are medium brown to tan in color.
Chicory seeds measure approximately 3.0 mm in length.
The seeds are found inside the dried seed heads, which are found in clusters along the stems of the plant.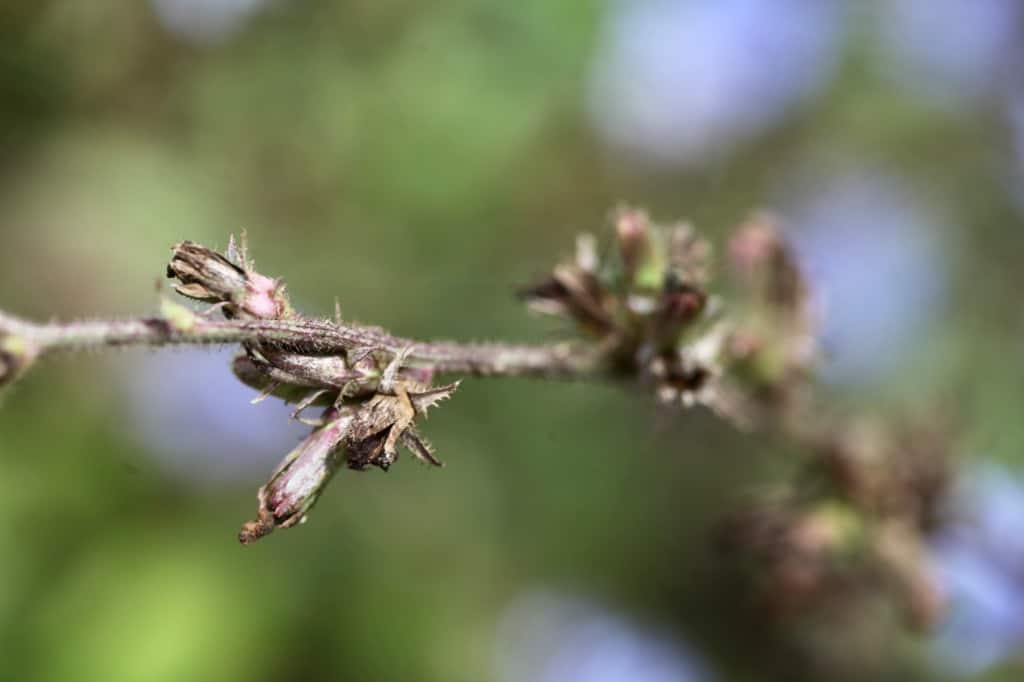 To harvest viable seeds, ensure that the seed heads remain on the plant until they become dried and mature.
The wild chicory plant readily self seeds, increasing the odds of self perpetuation of the plant.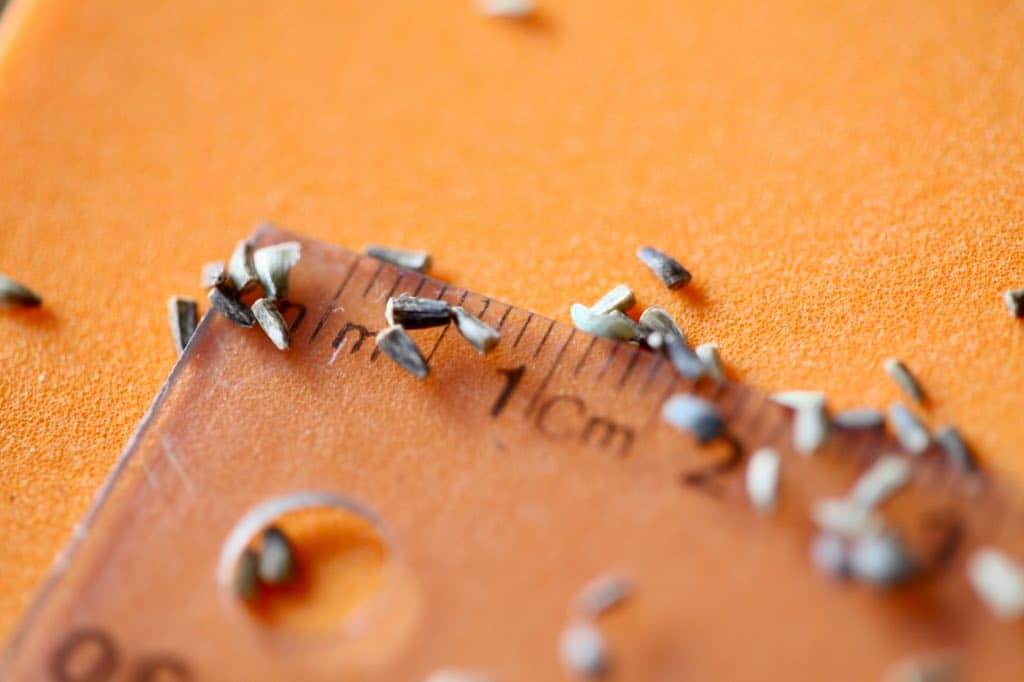 Chicory Roots
Wild chicory has a large root system. The long taproot grows deep into the ground, allowing it to grow in dry and poor quality soils.
Chicory roots have long been harvested and used as a coffee and tea substitute.
The roots are roasted prior to use, and ground into a powder.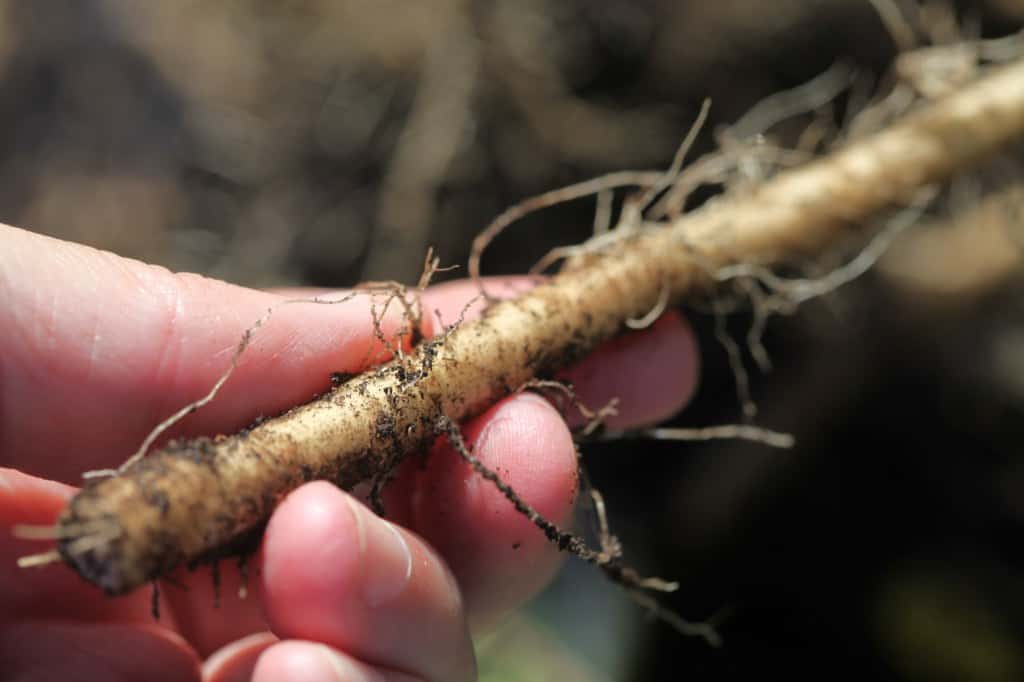 Is Chicory Hard To Grow?
Chicory is considered to be an easy plant to grow, with the right sowing techniques, and when given the right growing conditions.
The seeds from wild chicory do not necessarily require stratification for successful germination, however you can certainly stratify the seeds if you wish.
Stratification is the process of subjecting hardy seeds to a cold and moist period, to assist in breaking the dormancy of the seeds, and to help with the germination process.
A cold and moist stratification period may increase germination success of chicory seeds.
I tend to stratify most of my perennial and hardy annual seeds, with good results.
Some planting methods will automatically and naturally stratify seeds. These include direct sowing and winter sowing.
Other methods, such as planting indoors, or direct sowing in warm weather, will benefit from stratification prior to planting.
To stratify chicory seeds, place the seeds into a plastic bag with some moist paper towel or vermiculite, and place into the fridge for several weeks.
This process may help with breaking dormancy in the seeds, and help with a more even germination rate between seeds.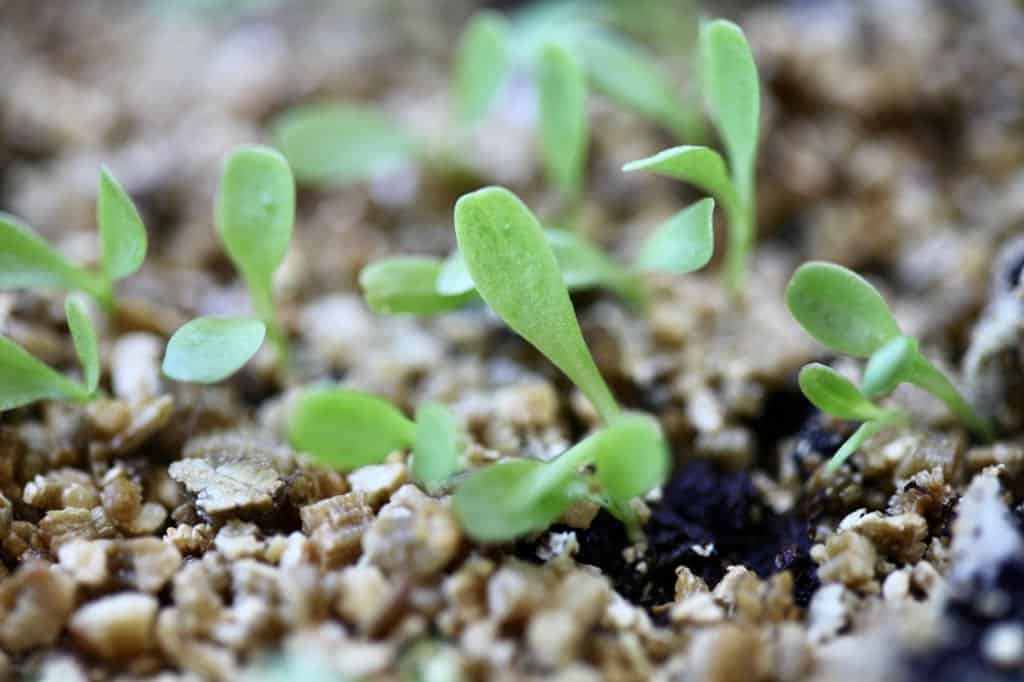 How To Grow Chicory
Growing Chicory From Seed
Chicory is most often grown from seed, either directly sown outdoors in the spring or the fall, or started indoors in growing containers, and then transplanted out into the garden in spring.
These hardy perennials can also be winter sown, which is an almost hands off technique for propagating the plants.
Direct Sowing Chicory
Chicory seeds can be directly sown into a prepared garden bed in the spring or the fall.
Ensure that the planting area is weed free, and that there is loose soil in the planting space.
Sow seeds approximately 1/4 inch deep, and 12 inches apart.
If planted in late fall, seeds will germinate the following spring. If planted in early spring seeds will germinate when the soil warms up.
Chicory seeds require a soil temperature of at least 15°C or 60°F for germination.
For a spring planting, keep the soil moist until germination occurs, in about 1 to 2 weeks under optimal conditions.
After germination, plants can take approximately 80 to 90 days to reach maturity for root harvest.
Perennial chicory will generally not produce flowers until the second year.
The leaves can be still harvested from however, even during the first year of growth, and the roots as well, in the fall after the first season of growth.
Growing From Seeds Indoors
Starting chicory from seeds indoors is a great way to get a head start on the growing season, especially in colder climates.
Choose a container for planting, such as a seed starting cell tray.
Fill the container with a sterile soilless seed starting mix.
Place one to two seeds per each cell, approximately 1/4 inch deep, and cover with more of the soilless medium, or with some vermiculite.
Bottom water the cell tray, and then place the tray on a heat mat. Keep the soil moist by bottom watering as needed, until the seeds germinate.
When 60% of the seeds have germinated, remove the tray from the heat mat, and place under grow lights.
Grow the chicory seedlings on, providing light and moisture until they can be transplanted out in spring, after the risk of frost has passed.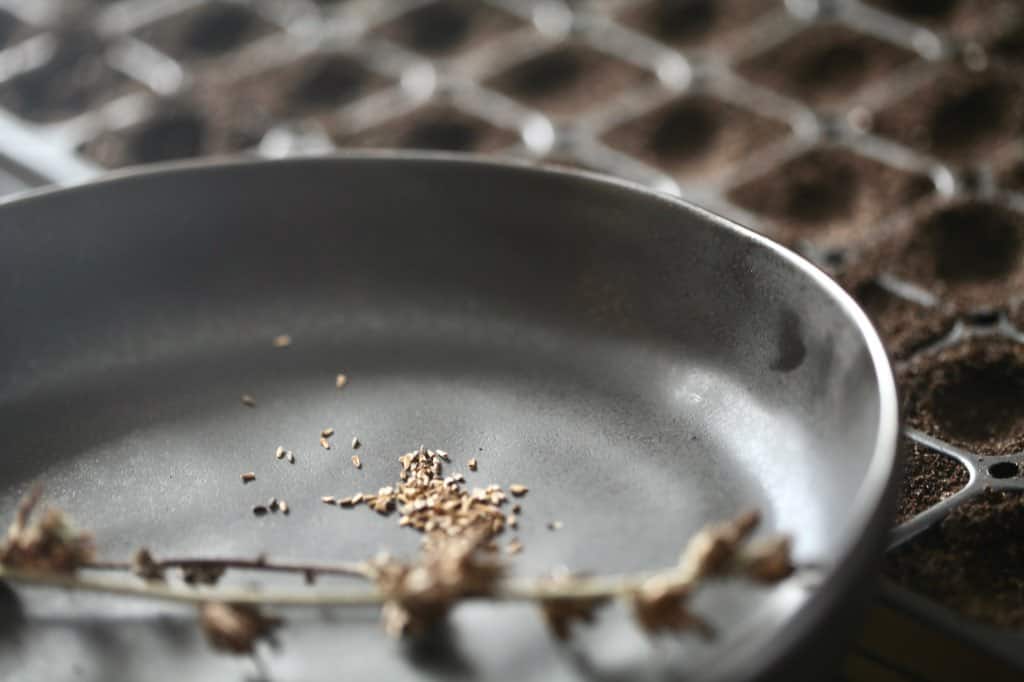 Winter Sowing Chicory
Winter sowing is a great option for propagating chicory seeds. The winter sowing method provides natural stratification for hardy seeds, such as those of this hardy perennial plant.
The winter sown seeds are planted in containers in early winter, and then placed outside in a secure location in the outdoor elements during the winter months.
Try winter sowing in milk jugs, or any other type of container which will provide some winter protection for the container sown seeds.
If using a milk jug, cut the container in half, make lots of drainage holes in the bottom, and leave the cap off for ventilation.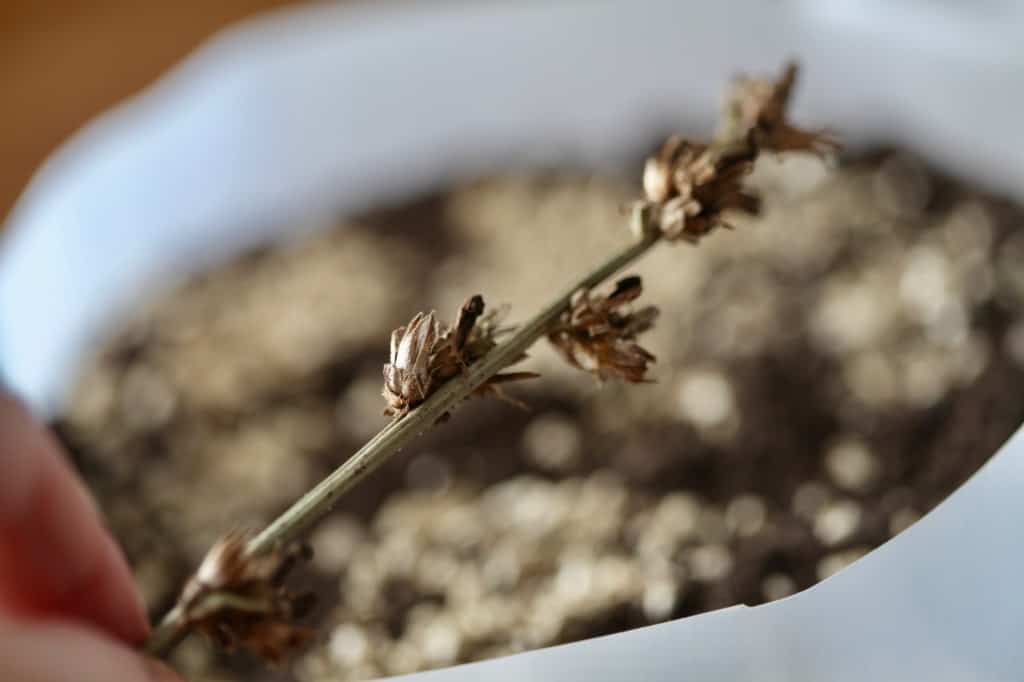 Fill the lower part of the container with the seed starting mix.
Plant the seeds about 1/4 inch deep, and make sure to cover the seeds with planting medium or vermiculite.
Tape up the container with duct tape.
Label the container with the name of the plant and date of planting.
Place outside in winter, and wait until spring. The seeds will germinate at just the right time for your growing area.
Thin seedlings as necessary.
Plant into the garden after the last frost date has passed.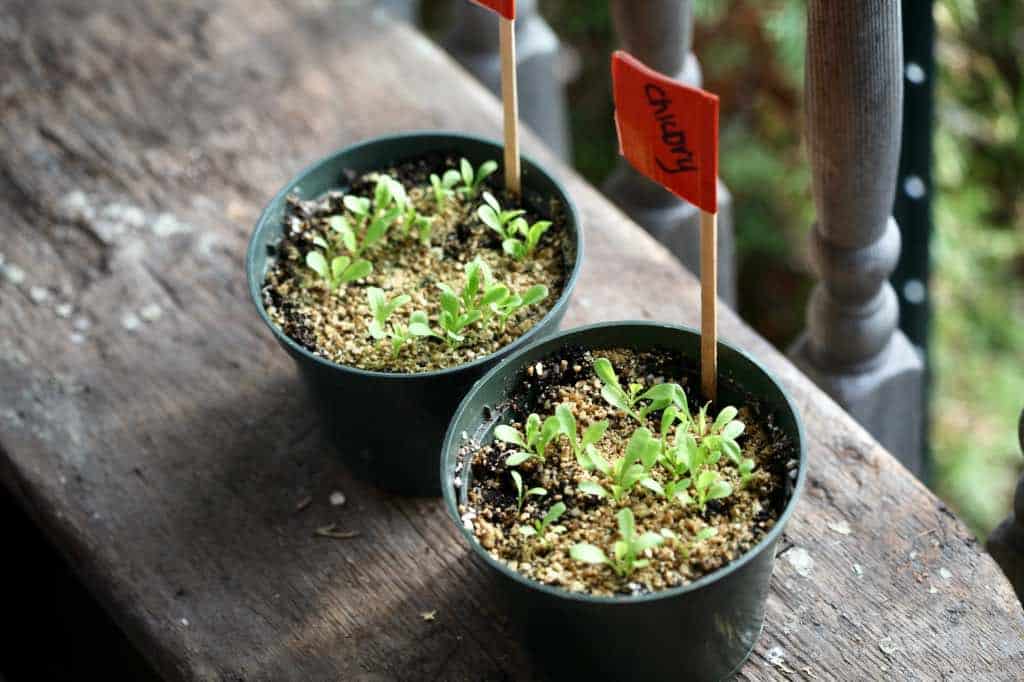 How Long Does It Take Chicory To Grow?
The time that it takes for chicory to grow from seed will depend on a number of factors. These include planting method, as well as other factors such as planting location, soil, and moisture provision.
Annual chicory plants generally take about 3 months to reach maturity in ideal growing conditions. The perennial wild chicory however will take several years to reach a mature plant stage.
First year growth is limited to plant establishment and root development. The mounding plants will develop a good sized rosette of leaves by early fall, however will generally not produce flowers in the first year.
You can still harvest some salad leaves off these first year plants.
Second year plants will be mature plants. These plants can produce flowers, and will have a larger root system.
Chicory is a cool weather crop, and will grow best in cool temperatures during the cooler part of the growing season.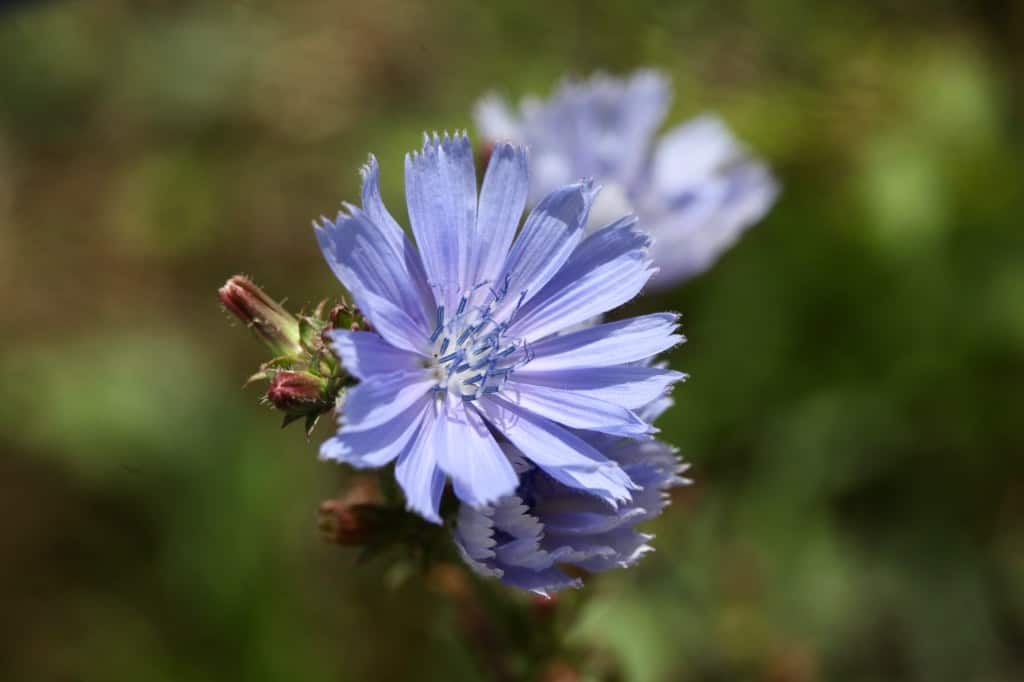 Chicory Care
Once chicory establishes in the garden, it requires little to no maintenance, although a bit of extra care will produce larger and healthier plants.
It should be noted that those wild chicory plants, growing in gravel at the roadsides, will appear as much larger versions, when grown in the garden in fertile organic soil.
In fact, after I planted my chicory seedlings, I didn't revisit them for quite some time. Upon revisiting the site of my plantings, I was met with large mounding leaves that resembled large dandelion plants.
Since these healthy plants were much larger than roadside wild chicory, I assumed they were extra large dandelion plants.
I began to weed the dandelions, only to discover that they were the mature chicory plantings. The plants had taken off and grown quickly in the fertile soil which was provided.
It was surprising at just how similar the young plants were to the dandelion.
Quickly replanted, the chicory plants continued to grow throughout the rest of the season.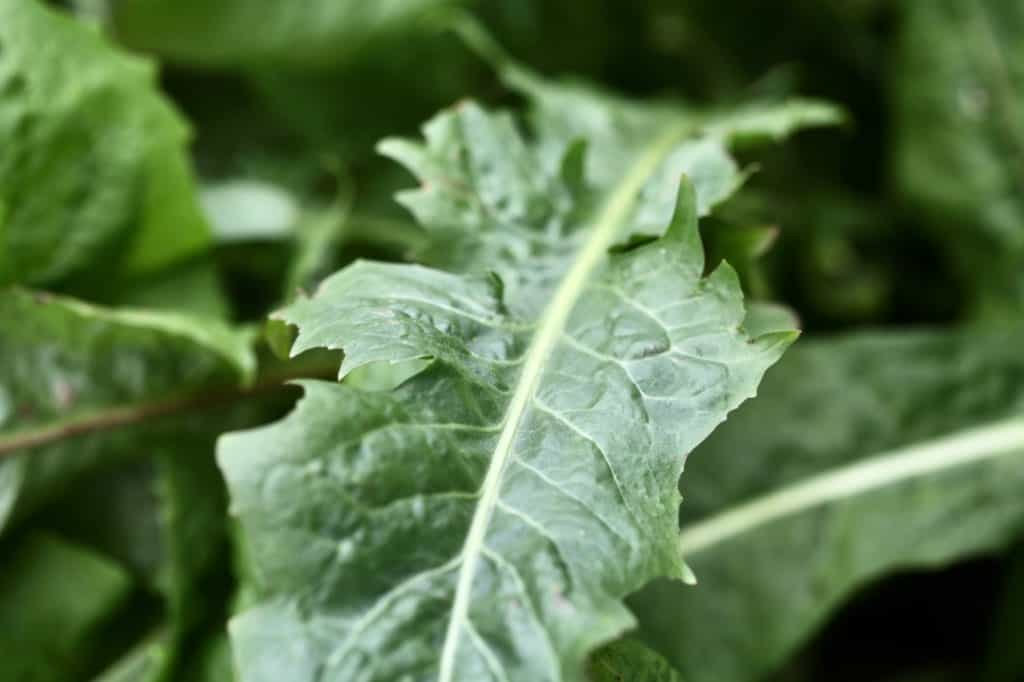 Growing Zone
Wild chicory is a hardy perennial, and will grow in a range of different climates. The plant can be found in temperate regions throughout the world.
In some colder locations the plant is considered to be more of a biennial, not living past the second season. It is likely to reseed however, continuing growth of new plants through this process.
Chicory is considered a cool season crop, and prefers cooler growing temperatures of 60°F to 65 °F, or 15°C to 18°C. Wild chicory will tolerate frosts and cooler temperatures.
Light Requirements
Wild chicory grows well if planted in a full sun location. The plant will also tolerate partial shade, however if grown in a light shade location, may have reduced flowering and smaller root formation.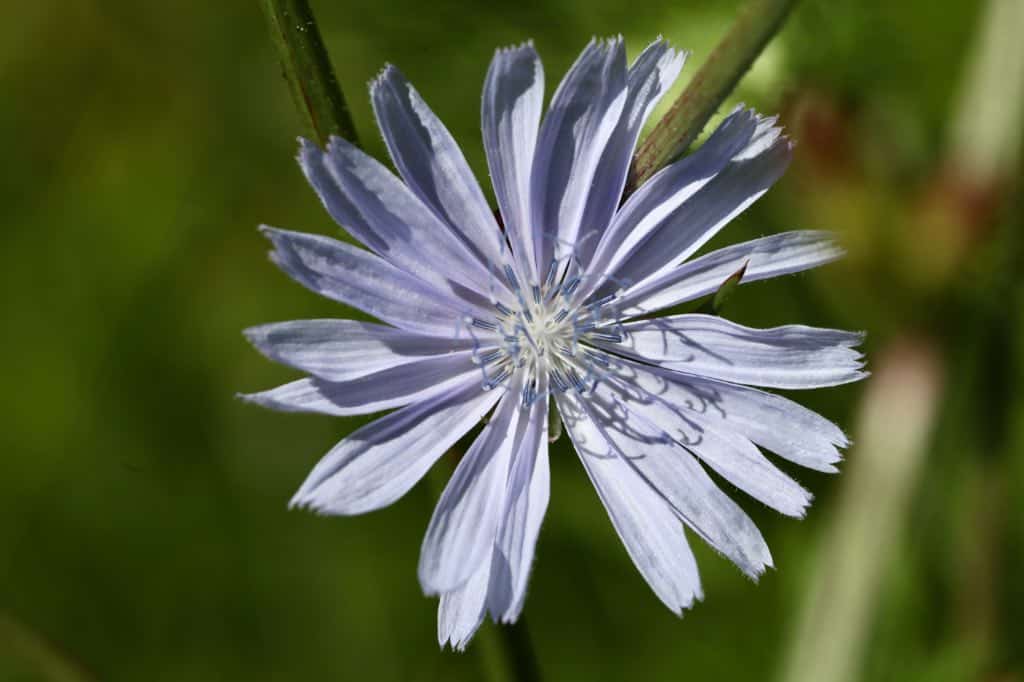 Moisture Requirements
Wild chicory benefits from a moderate amount of moisture.
The plants however should be planted in a well drained soil, to prevent the tuberous roots from sitting in water logged soil.
Chicory is drought tolerant once established in it's growing location. It is a good choice for regions with dry summers, and occasional drought.
The chicory plant does however benefit from additional moisture, especially during dry spells. Extra watering will contribute to more optimal growth and plant health.
Soil Requirements
Cichorium intybus is a very hardy and adaptable plant, which can grow in a variety of soil types, including very poor soils, as long as there is good drainage.
The plant will grow well in sandy and clay soils, as well as in rich moist soils, high in organic matter.
Wild chicory can grow in dry and rocky locations, such as the conditions along edges of roadways, to more moist locations, such as those in fields and meadows.
Chicory prefers a slightly acidic soil type, and a well drained soil.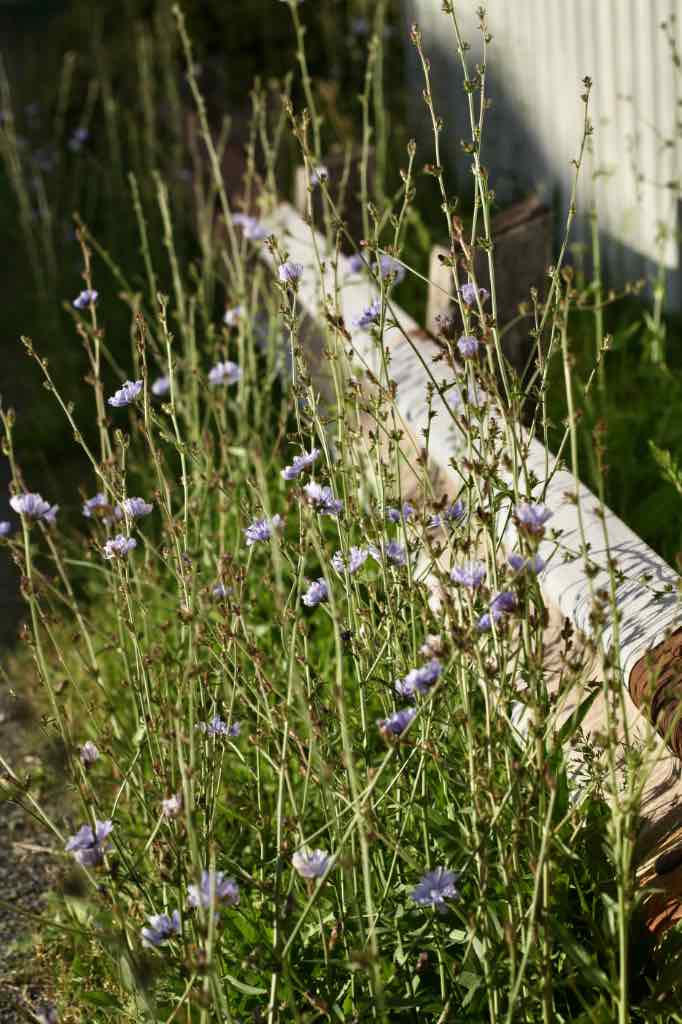 Mulching
Consider mulching chicory plants in dry locations, to help to maintain some moisture in the soil.
Mulching will also contribute to the organic content within the soil.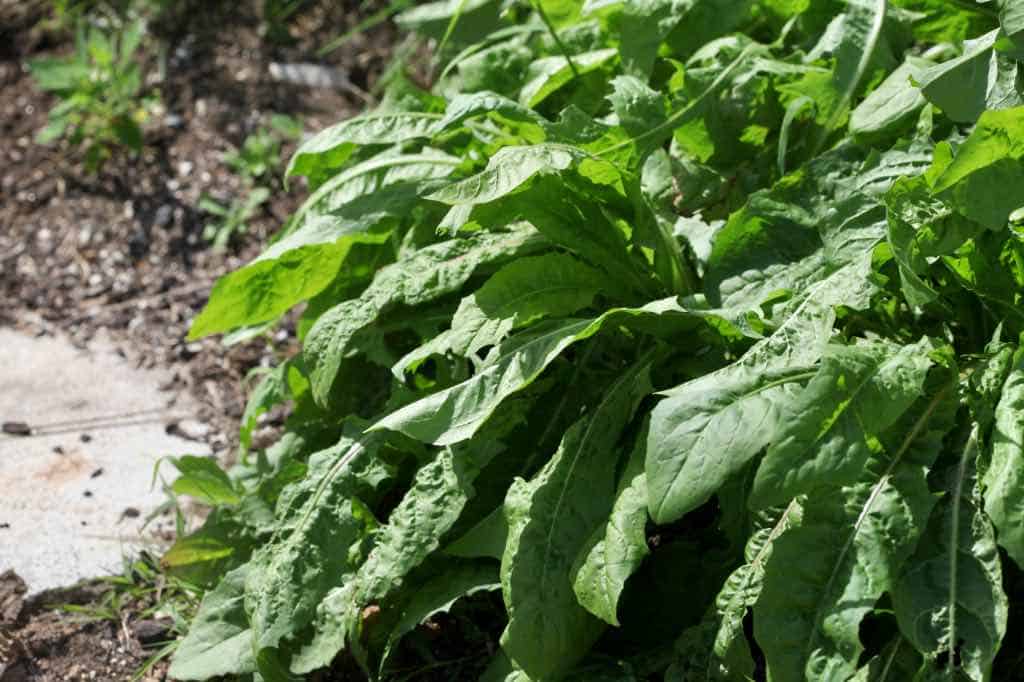 Protection From Pests And Diseases
Wild chicory plants are relatively hardy and pest-resistant, although sometimes can be vulnerable to certain pests and diseases.
Although chicory is generally an easy care plant, it will benefit from some protection.
Common pests and diseases which can become a problem for wild chicory include aphids, snails and slugs, cutworms, leaf minors, flea and cucumber beetles, and fungal infections.
Control insects and provide early protection for young seedlings to prevent cutworm damage.
All pests can be treated organically, with insecticidal soap, neem oil, egg shell barriers, beer traps, copper tape, and other organic control measures.
Prevention of pest problems can often be accomplished by good garden hygiene, and growing healthy and hardy plants.
Allow for good air circulation between the plants. Remove garden debris and pest hiding places, and keep the plants well watered and healthy.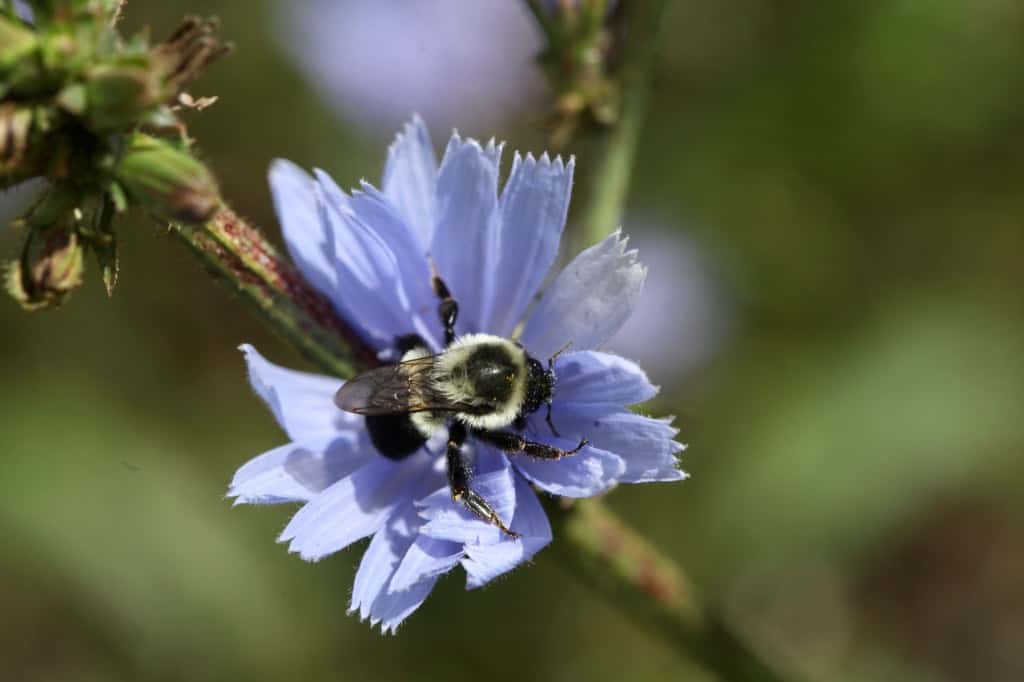 Deadheading
If you are growing wild chicory in the garden, deadheading the plant will make it more attractive, and help to keep the plant from producing seeds.
This in turn will divert energy from the seed making process back into the plant for flowering and growth.
Deadheading will also help to prevent self seeding of the plant into the garden.
To deadhead, trim off the dead seed heads with a sharp pair of scissors. This can also be accomplished by pinching off the spent blooms where they meet the stem of the plant.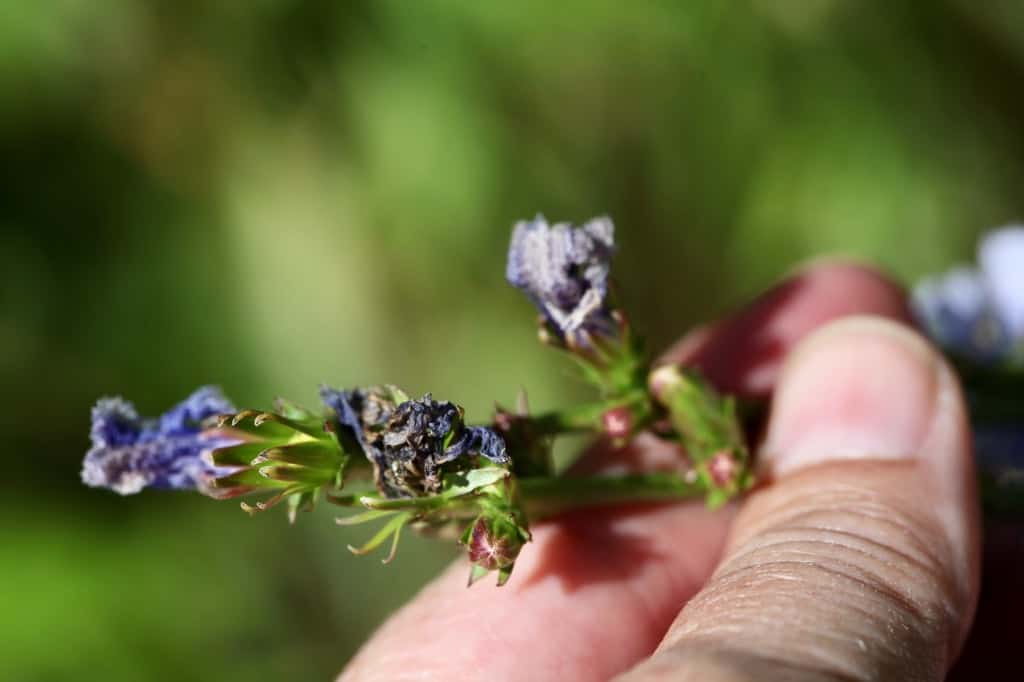 Frequently Asked Questions
Does Chicory Grow Back Every Year?
Perennial chicory will return to the garden year after year.
In cooler climates the plants may act as more of a biennial, with a shorter lifespan, however the plants will also reseed, perpetuating their presence in the garden space.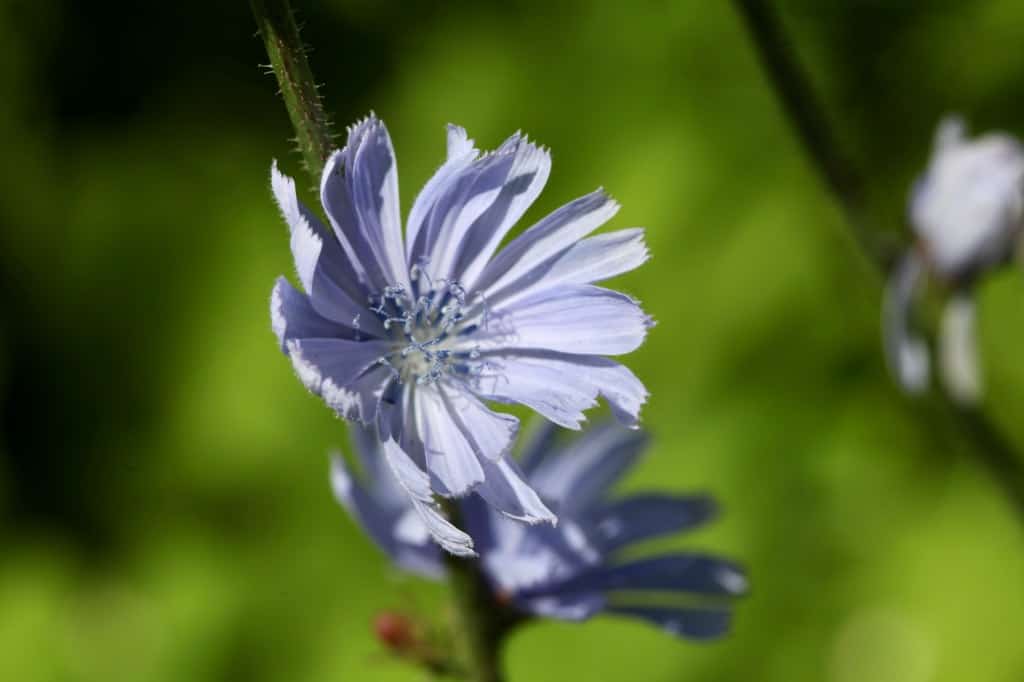 Can You Grow Chicory In A Container?
Wild chicory can be grown in a container, as long as the size is large enough to accommodate the large roots of the plant.
Choose a container that is at least 12 inches deep or more. Make sure that the container is well draining, to prevent the roots from sitting in water logged soil, which can lead to root rot and disease.
Choose a good quality potting soil in which to plant.
Seeds can either be direct sown, or started indoors with the resulting seedings transplanted into the container or pot in spring.
Generally when grown in containers, the chicory plant will be grown as an annual or biennial, depending on the climate, and risk to damage by frost.
In colder climates it is often challenging to overwinter perennial plants growing in containers. This also includes perennial plants growing in raised beds.
Container-grown chicory plants require protection from freezing temperatures. Harsh freezing temperatures can damage the roots in the container, and ultimately cause the plants to perish.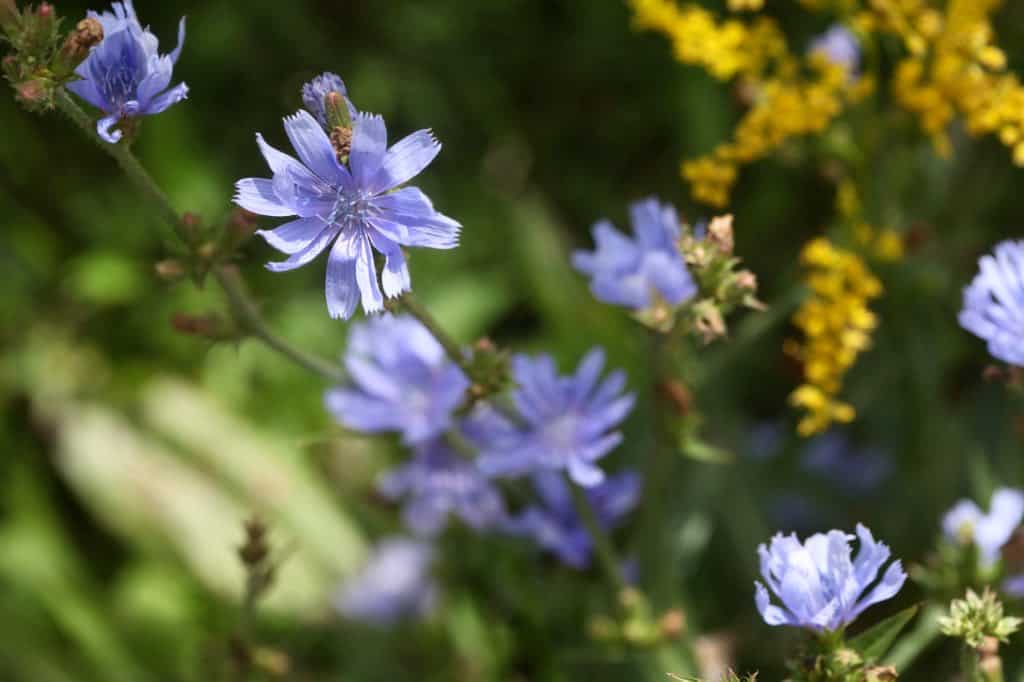 Overwintering In A Container
To overwinter container grown wild chicory, there are a number of strategies that can be used to help protect the plants through the winter. These include:
Moving the container to a more protected location. Consider spaces such as an unheated garage, barn, or even the basement of your home. Reduce watering frequency once brought inside.
If the container remains outside, insulate the container, or surround it with a material such as straw or leaf mulch, which will help to protect it from strong winter winds and extreme freezing temperatures.
Application of a thick layer of mulch on the soil surface around the base of the plant will also help to protect the roots from freezing.
In spring, after the danger of frost has passed, return any containers brought inside back to their outdoor location. Place in a sunny spot and water, then wait for new growth to occur.
Remove insulation from outdoor containers, and wait for the reemergence of the overwintered plants.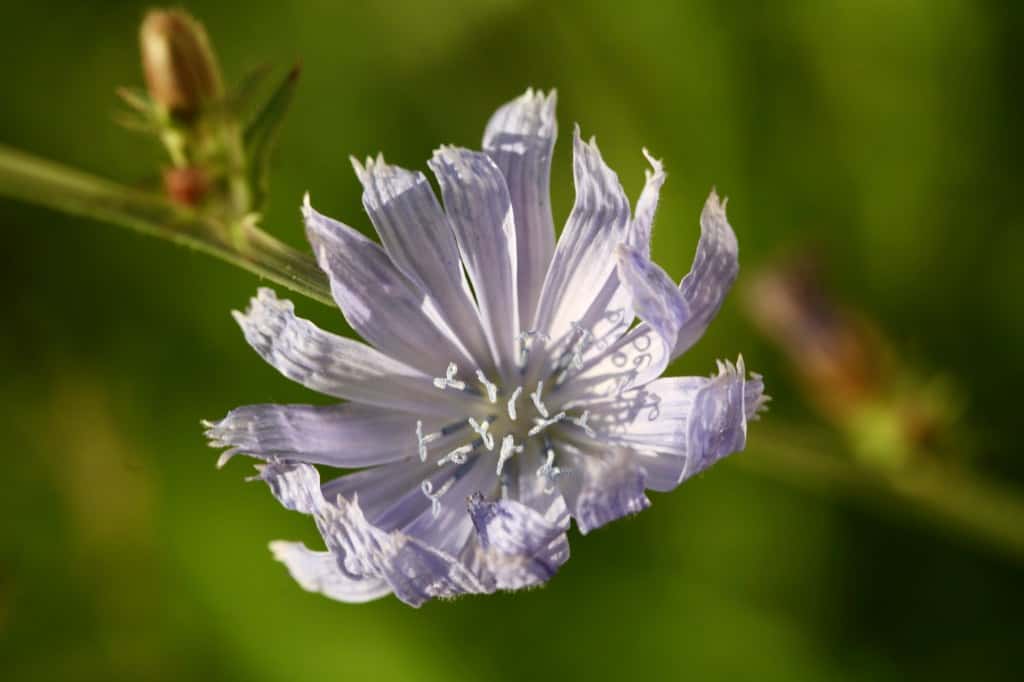 Is Chicory An Invasive plant?
Wild chicory is a native plant to Europe. In Europe the plant is not considered to be an invasive species.
The plant does however tend to have aggressive tendencies and growth habits in some climates. It is known to freely self seed and spread, and can compete with native plants.
Classification of invasiveness is determined by the risk to the area in which it is grown. Any plant deemed to be invasive in a certain location is determined to pose a risk to disrupt native plant species and possibly alter native ecosystems.
Wild chicory is considered to be an invasive plant in some locations in North America. This includes locations both in Canada and in the United States.
To check US locations identified as invasive, see the Invasive Plant Atlas.
In Canada, the Nature Conservancy Canada, has not identified wild chicory on its Invasive Species List. As well, wild chicory is not listed on the Canadian Counsel on Invasive Species' list of Canada's Unwanted Invasive Plants.
The plant however is still considered invasive in some individual Canadian provinces, including British Columbia, Alberta, Saskatchewan, Manitoba, Ontario, and Quebec.
Always be sure to check for potential invasive status in your area, before growing wild chicory.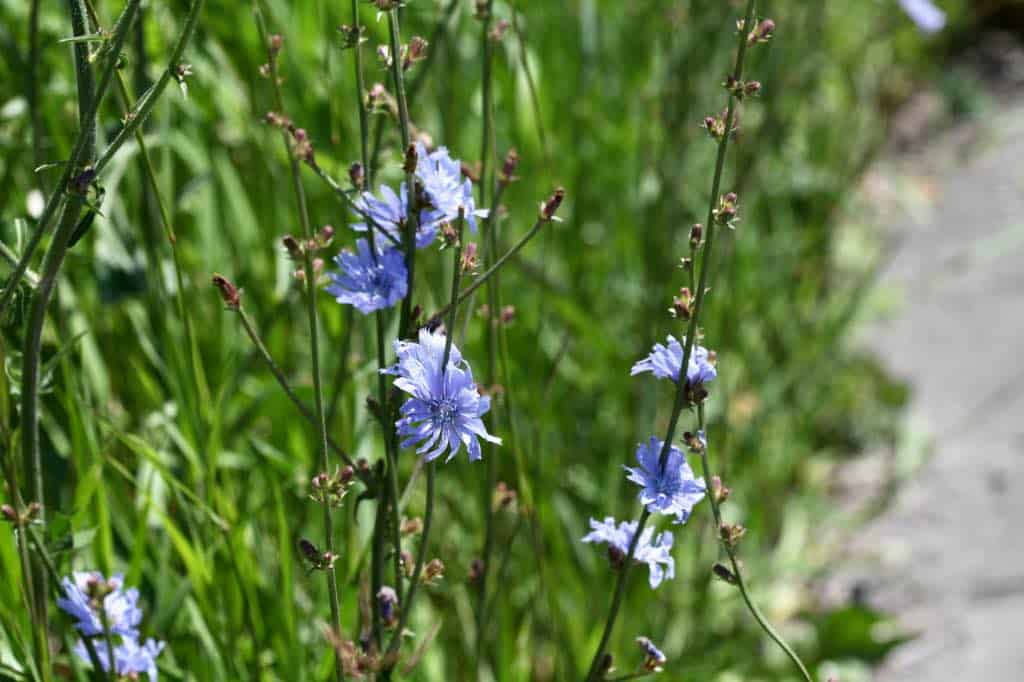 Conclusion
Wild chicory is easy to grow and care for, although extra attention will help to ensure a healthy plant and a successful harvest.
The stems of the plant are tall and wiry, and the flowers, while only lasting for a day, are beautiful in their own right.
Although not generally grown as a cut flower, wild chicory can be a beautiful addition to rustic floral arrangements. The flowers and stems provide a wild and rustic look in the vase.
Chicory can also be container grown, and with extra care and attention, the plants can be successfully grown to last several seasons or more.
Wild chicory has multiple uses, and will provide the gardener with a bountiful harvest of fresh salad greens and chicory coffee from the chicory roots.
A magnet for beneficial insects, having chicory plants in your garden helps to attract and support the needs of these important insects. It also contributes to garden health, and supports a healthy garden ecosystem.
Consider growing this edible herb. However make sure that these plants are not considered invasive in your growing area, before planting.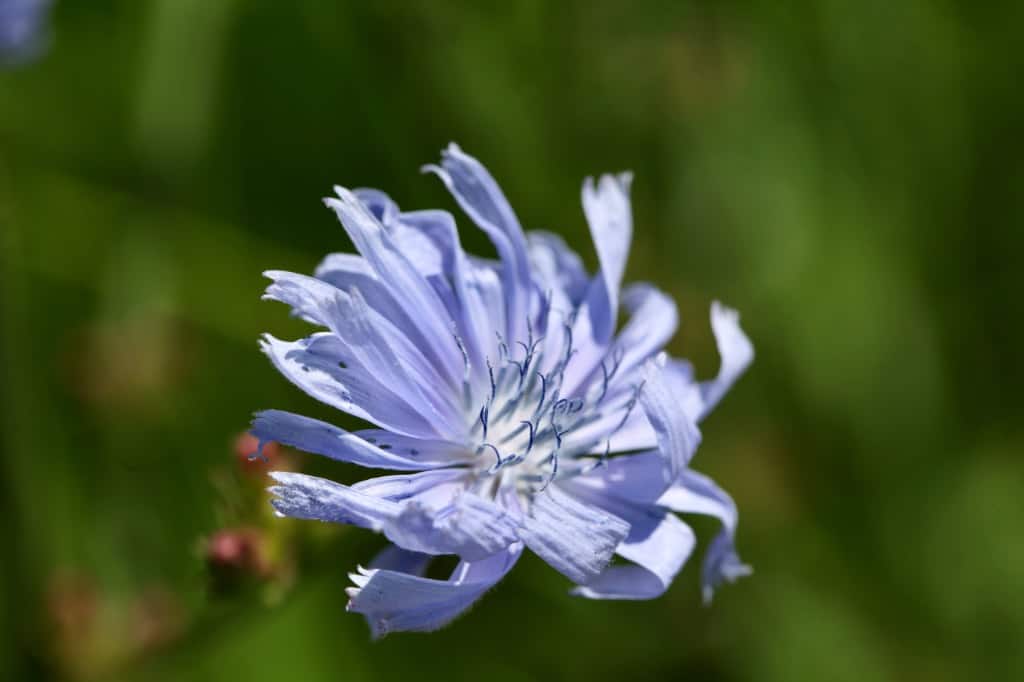 Have you ever tried to grow chicory? Be sure to share your experience by leaving a comment below!
Other Posts You May Like:
PIN IT FOR LATER!