Chicory grows wild in our neck of the woods, so it's easy to forage and collect the seeds for planting. The brilliant mauve flowers bloom throughout the summer months, and the seeds are available to harvest in the fall. Learn how to harvest chicory seeds, and introduce these wildflowers into your garden space.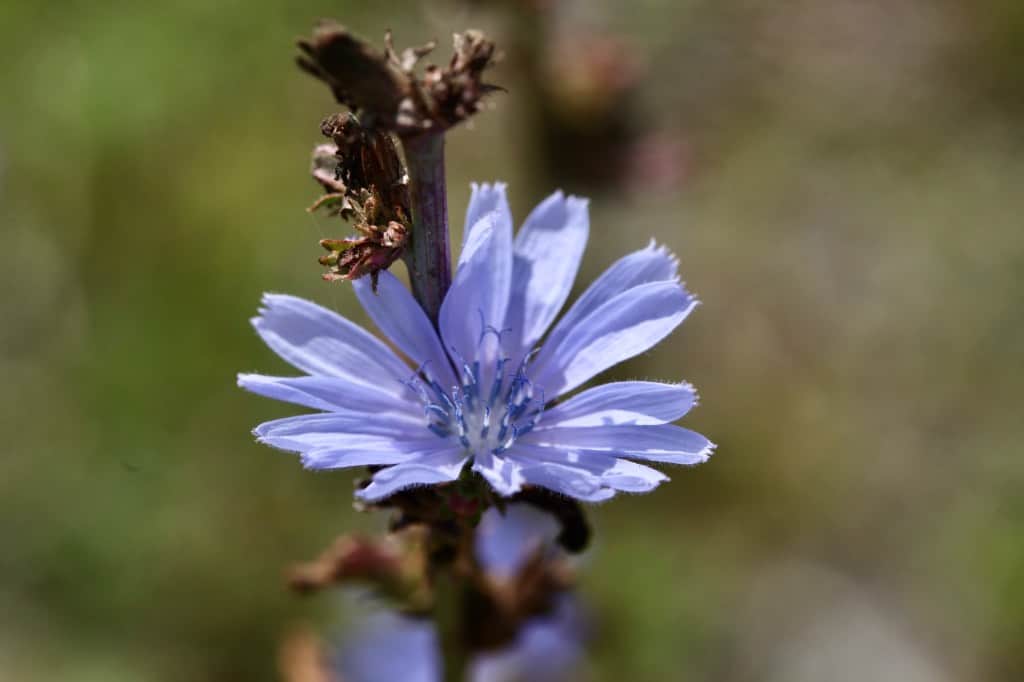 Be aware that wild chicory is considered to be an invasive species in some locations, and therefore should not be harvested or planted in these locations.
About Wild Chicory
Origin
Wild chicory, or Cichorium intybus, is a well known plant, often grown and used as a coffee substitute. The roots can be dug and ground to make coffee, and can also be used to make a chicory root tea.
Chicory leaves are also consumed as leafy greens, along with other leafy vegetables, in a variety of different dishes.
Native to Europe, Western Asia and Africa, wild chicory plants are now found commonly in many areas across the world, including North America, South America, Australia and New Zealand.
A member of the aster family, chicory is closely related to the dandelion, whose leaves are very similar in appearance.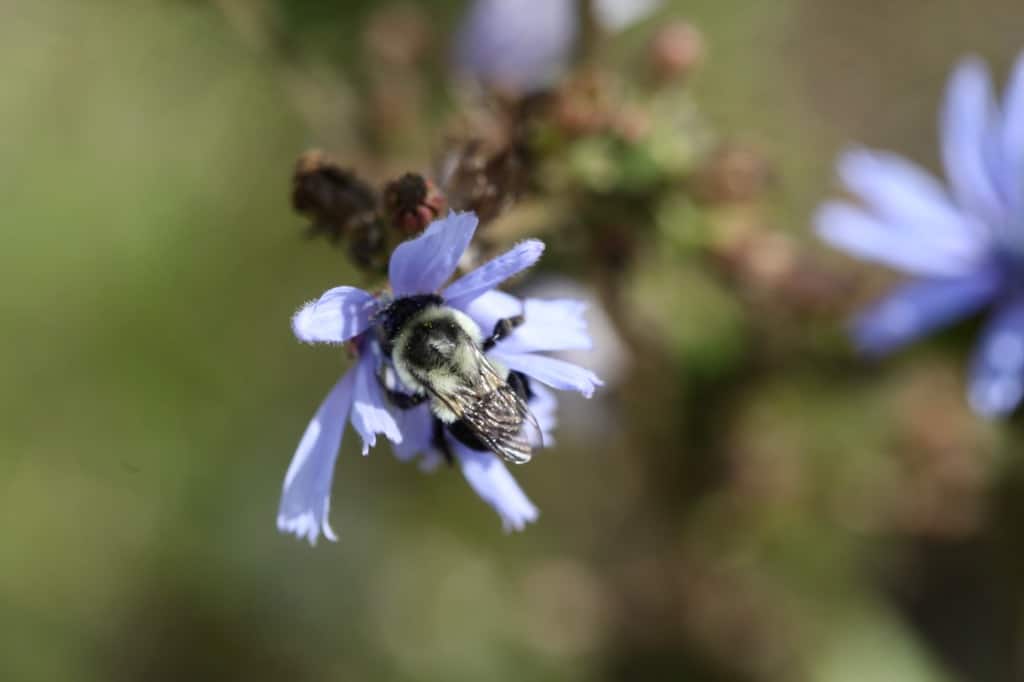 Chicory Uses
This cool-weather plant has a long history of medicinal and culinary use, which dates back thousands of years.
These medicinal plants have been studied and reviewed for their medicinal value and health benefits.
Wild chicory has been used as a medicinal herb.
Some of the traditional uses include using the plant as a digestive aide, a liver tonic, for aide in blood sugar control, and as an anti-inflammatory for varied conditions.
The entire plant can be used, and the whole plant is edible, including the flowers, seeds, stems and roots.
The plant can also be used as a forage crop.
Wild chicory is the original species of chicory, from which the many present day varieties of chicory have been cultivated.
The wild chicory plant is known as common chicory, and goes by many alternate common names as well. Some of these names include Blue Sailors, Succory, Coffeeweed, Wild Endive, Ragged Sailors, and Garden Chicory, to name a few.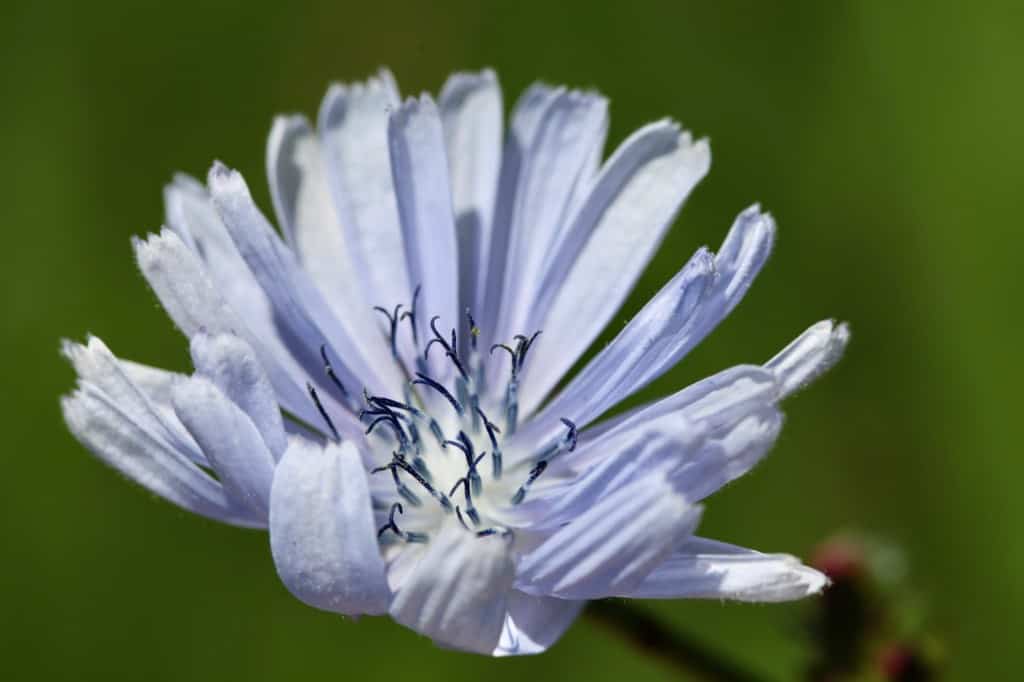 Plant Appearance
Every summer our Nova Scotian town is peppered with beautiful wild chicory flowers, glowing in the sunlight. The plants grow helter skelter, in the dry gravel along roadways, and in undisturbed open areas.
The bright mauve blue flowers of this wildflower however are stunning, and I was determined to harvest some seed to grow them in the garden.
The plants themselves are not attractive, and are quite weedy in appearance. This is how they look at least when growing in their gravel locations.
The long taproot of this perennial plant allows it to grow in difficult to grow areas. These roots can be dug, roasted and used as a coffee additive or substitute.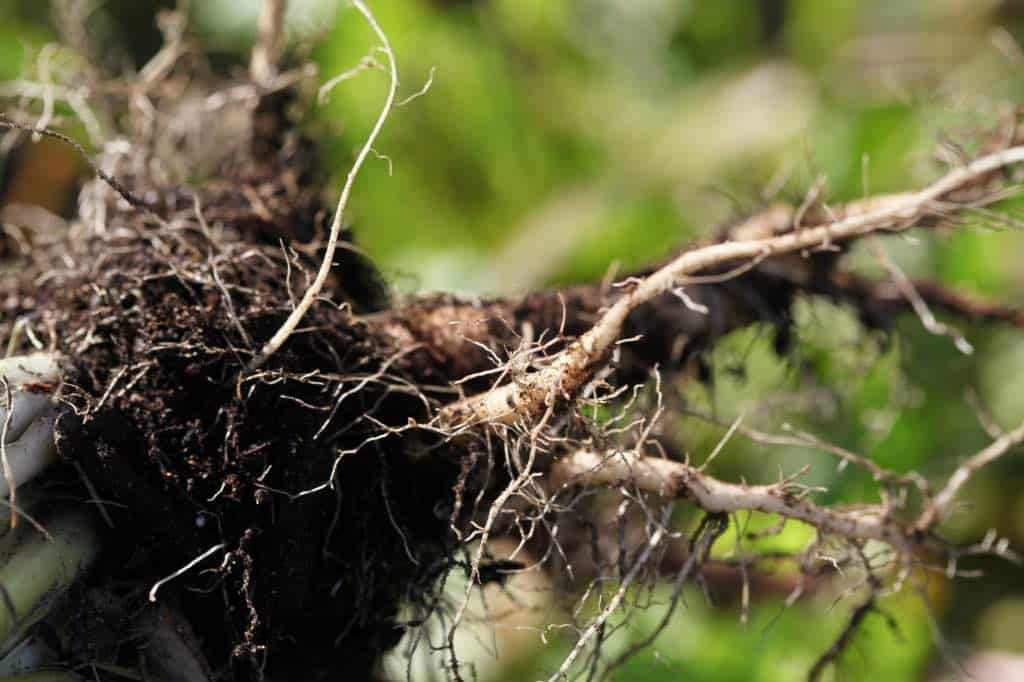 Chicory leaves are serrated, and similar in appearance to dandelion leaves. Young leaves are tender, and are often used as a salad green, with a distinct bitter flavor.
The flowers however have a beautiful and unique blue color, and are worth bringing home, in my opinion. They are bee magnets, and generally are buzzing with pollinators when in full bloom.
The flower heads of common chicory are daisy-like in appearance, with an uncommon light mauve blue coloration.
Each blooms lasts for only a day. Then once spent, the seed head will begin to form where the flower once was. At the end of the season, when the seed heads are mature, they will be ready for harvesting.
The chicory seeds are easy to harvest and store until you are ready to plant them.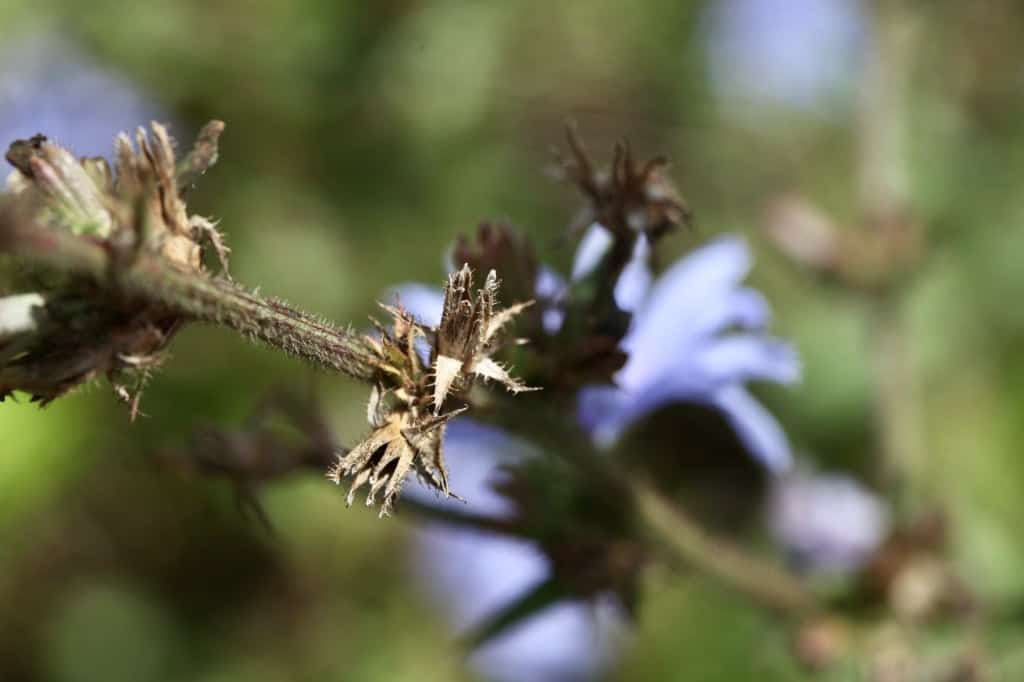 How To Harvest Chicory Seeds
Harvesting wild chicory seeds is fairly straight forward. There are however some special considerations before harvesting wild chicory seeds.
Where To Harvest
Is The Plant Deemed Invasive?
One consideration before harvesting wild chicory seeds is to know if wild chicory is considered invasive in your particular location. If the plant has been identified as invasive in your area, refrain from harvesting seeds to replant.
The wild chicory plant is considered invasive in some locations. It is important to know if it can be grown in your area, before harvesting and growing the seeds.
If you live in the United States, one way to check the invasive classification of wild chicory in your area is to check the Invasive Plant Atlas.
In Canada, each province should be checked individually.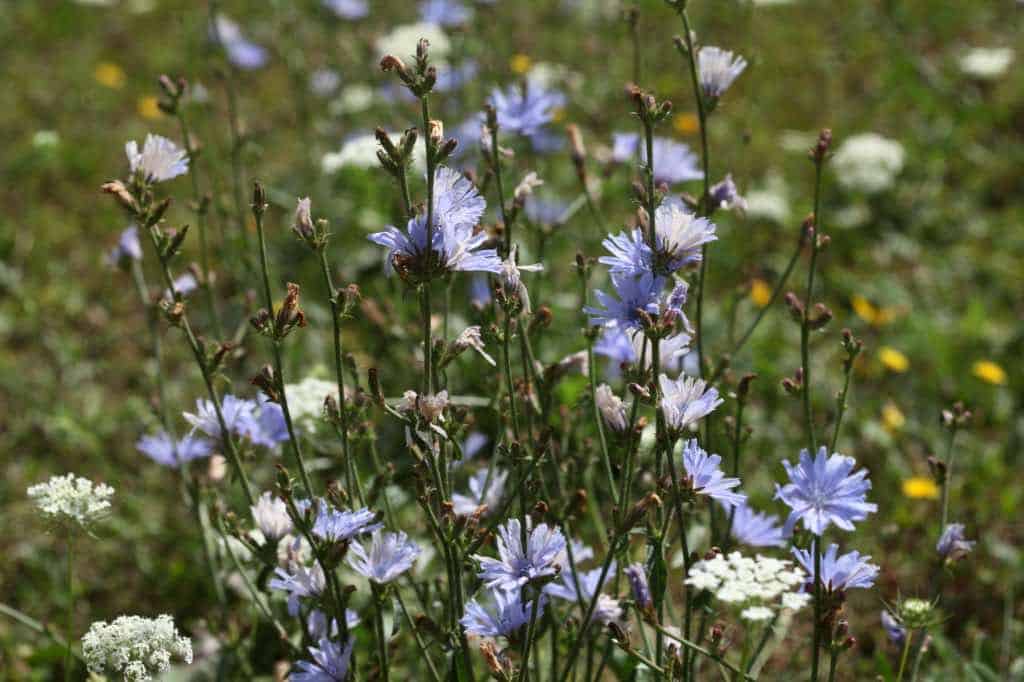 Safe Location
Another important consideration is assessing where the seeds will be harvested from.
Harvesting wild chicory seeds is generally safe, however it's important to consider the location of the seeds, and the nature of the harvest.
It is important to obtain seeds only from plants located in a safe location.
Make sure to avoid contaminated areas, with known pollutants or toxins, which can be transferred to the seeds. Examples of polluted areas include roadsides with runoff, industrial areas, or other locations which may have known pollutants in the ground.
When you harvest chicory seeds from a polluted site, the pollutants can be transferred to the seeds. Once planted, the seeds can then transfer the toxins to the unpolluted site.
Be sure to harvest only from organic and safe locations.
One area in our town where wild chicory grows is a known location of a previous gas station and accidental gas leak. Although the area is now a field in which wild flowers grow, I will definitely avoid harvesting any seeds from this location, since the seeds that I intend to grow will be used as edible plants.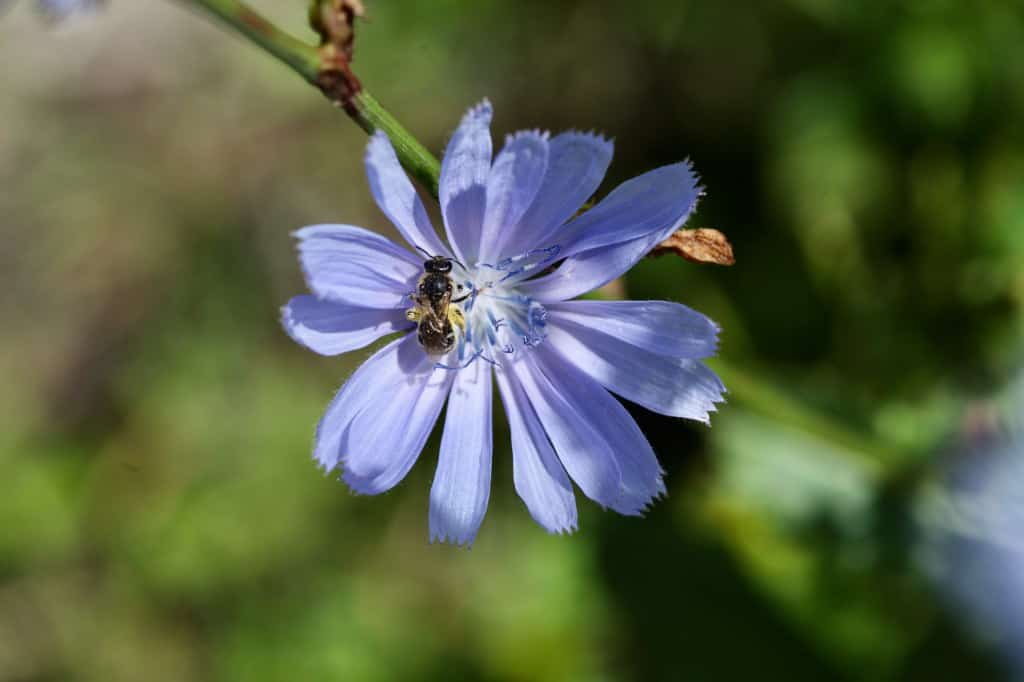 Ethical Harvesting
If you are in the clear and able to harvest, make sure to practice ethical harvesting.
Whenever harvesting wild plants or seeds, it's important to harvest from healthy and mature plants. As well practice ethical foraging practices, and take no more from the plant than you will actually need.
In the case of wild chicory, there are usually many seed heads which develop on each stem. Within each seed head there will likely be many mature seeds.
To harvest the plant for seed purposes you will likely only need one or two stems for a good seed harvest.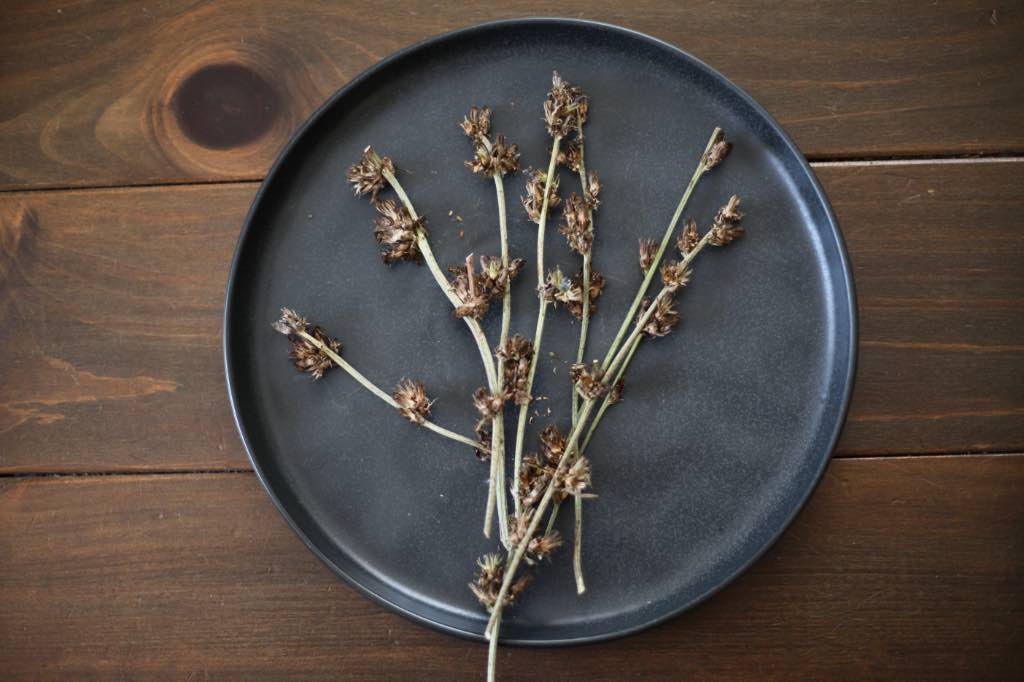 What To Harvest
Sometimes chicory plants can be confused with other species of plants, which can be poisonous.
If you have identified the chicory plant when it is blooming, it is usually very easy to identify the plant and recognize it as chicory.
Make sure that you have correctly identified the wild chicory plant before harvesting the seeds.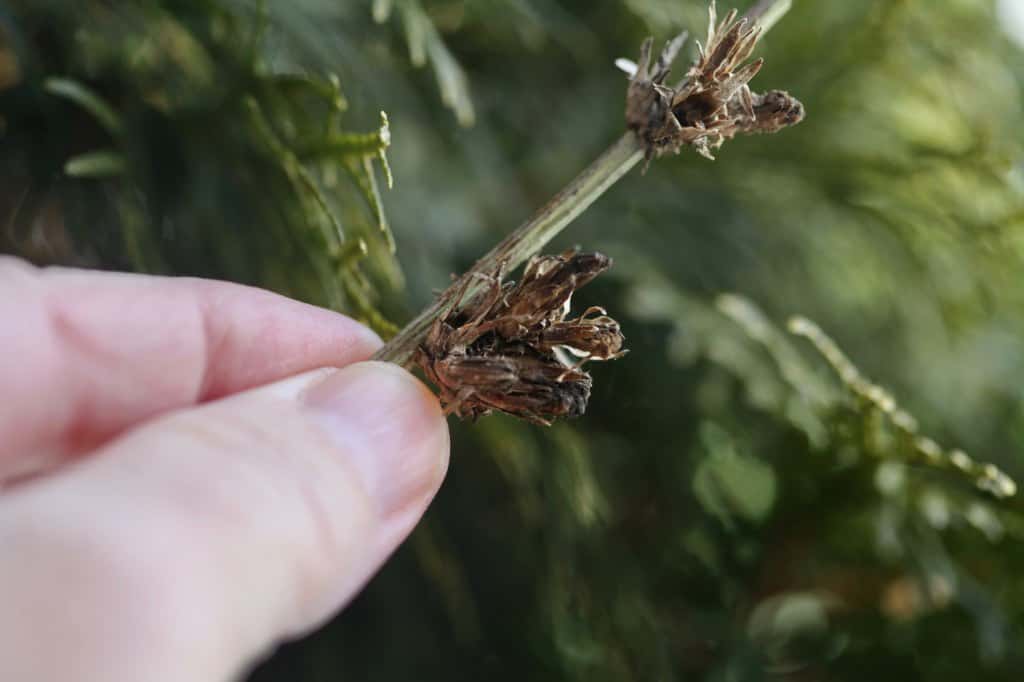 When To Harvest
Wild chicory will flower and produce seed at the end of the second year of growth.
During the first year the plant is becoming established, and generally does not produce flowers or seed in that first growing season.
Harvest wild chicory seeds at the end of the season after blooming, in late summer or early fall, depending on your growing location. Wait until the seed heads have turned dry, crispy and brown.
It's important to leave the seed heads on the plants until they are completely mature, for best seed viability, before removing from the plant.
You can check on the maturity of the seed heads by breaking one off from the stem and gently shaking it close to your ear. If you hear the small seeds quietly rattle inside the pod, then you know that the seeds are mature.
Once the seed heads are completely brown and dry, it's time to harvest.
Harvest on a dry day, to prevent moisture on the plant. Moisture can lead to mold formation, which is detrimental to the seeds.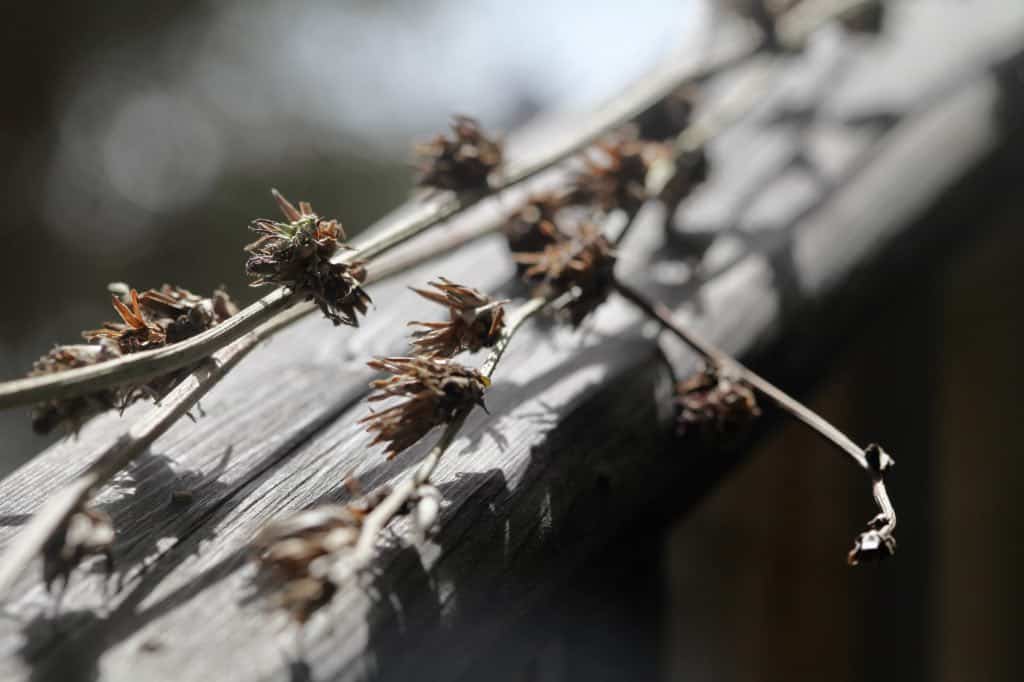 How To Harvest
Harvest the wild chicory by removing the seed heads from the plant.
You can do this by either cutting the seed heads directly from the stem, or cutting the whole stem with multiple seed heads in place.
I find that it is much easier to cut several stems with multiple seed heads, which I put into a tray until I am ready to process them.
Cut the seed heads or stems using a sharp pair of scissors. The seed heads can also be easily snapped from the stems, however do this carefully, as it my result in seeds falling from the mature seed head, onto the ground.
These stems or seed heads should then be brought inside, and allowed to dry out even further.
Make sure to label the container in which you have placed the seed heads, and identifying the plant as well as the date of harvest. This will help you to identify them later, in case you have multiple plant types which may get mixed up.
I generally label with a piece of masking tape and a permanent marker. Stick the label onto the container holding the seeds.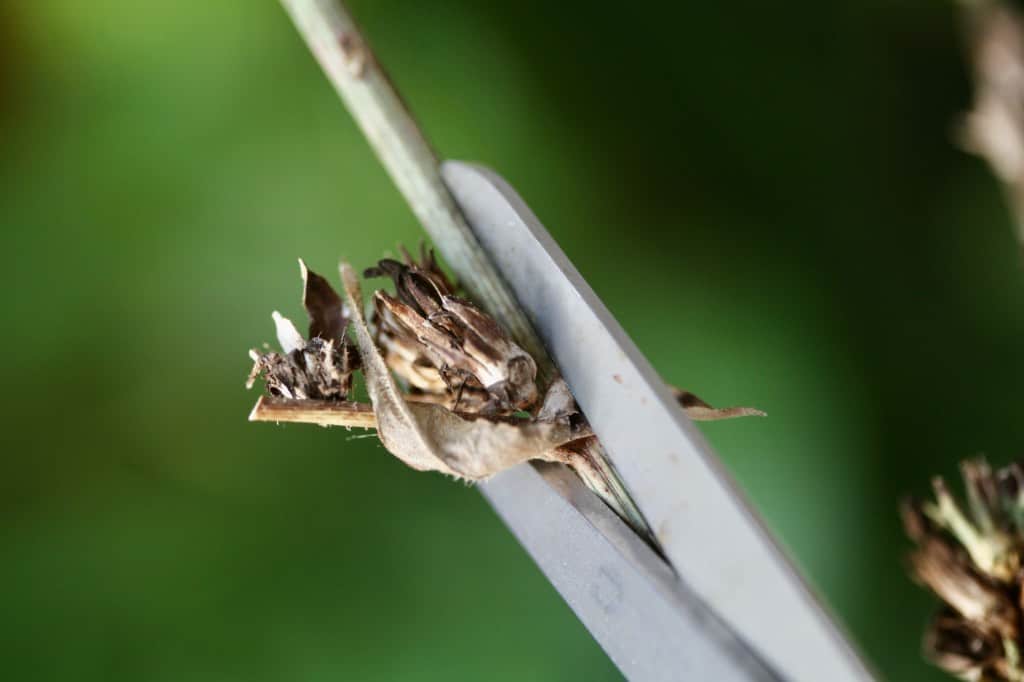 Extracting Seeds From The Seed Heads
To get the wild chicory seeds out of the seed heads, there are a number of different methods that you can use.
Make sure that the seed heads are completely dry and crispy before extracting the seeds. You can set them aside in a sunny warm windowsill, or in a warm, dry well ventilated room, to help them dry out completely.
This process can take a few days, or even a few weeks. I sometimes will also leave them for months, until I'm ready to process them.
One of the easiest ways to extract the seeds from the seed heads is to remove them from the stem, and place them into a paper bag. Give the bag a good shake, which will easily dislodge the seeds.
Another way is to tap the stems with the dried seed heads over a pan or tray. The seeds will fall into the tray for easy collection.
A third method which is also quite easy, although a little messier, is to crush the seed heads between your fingers, over a container.
This will result in lots of chaff and seeds mixed together. The seeds will then require separation from the chaff.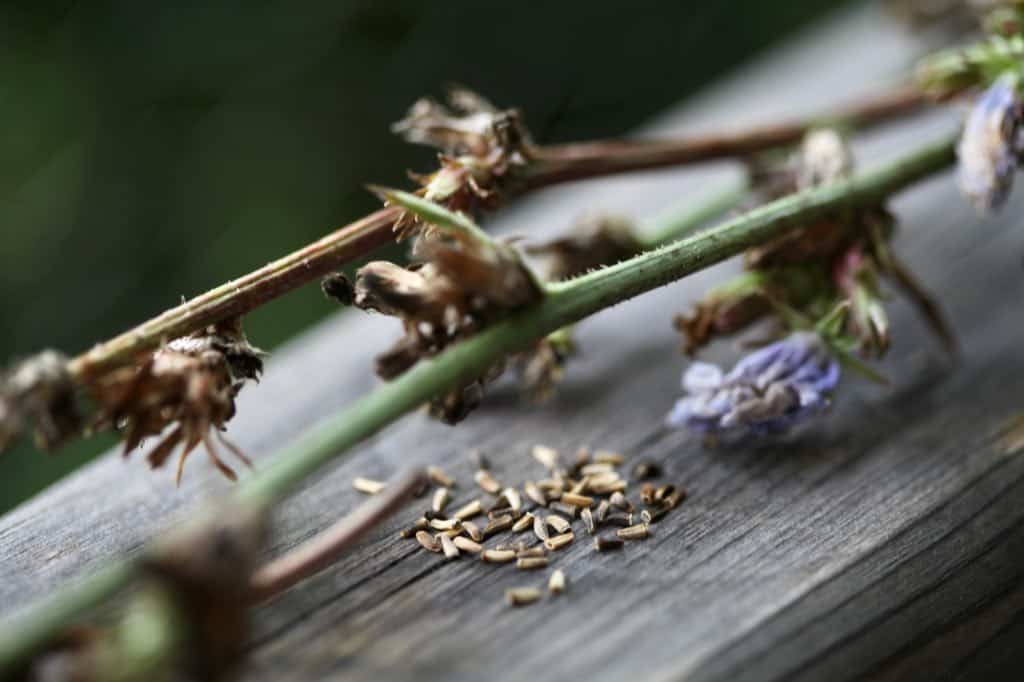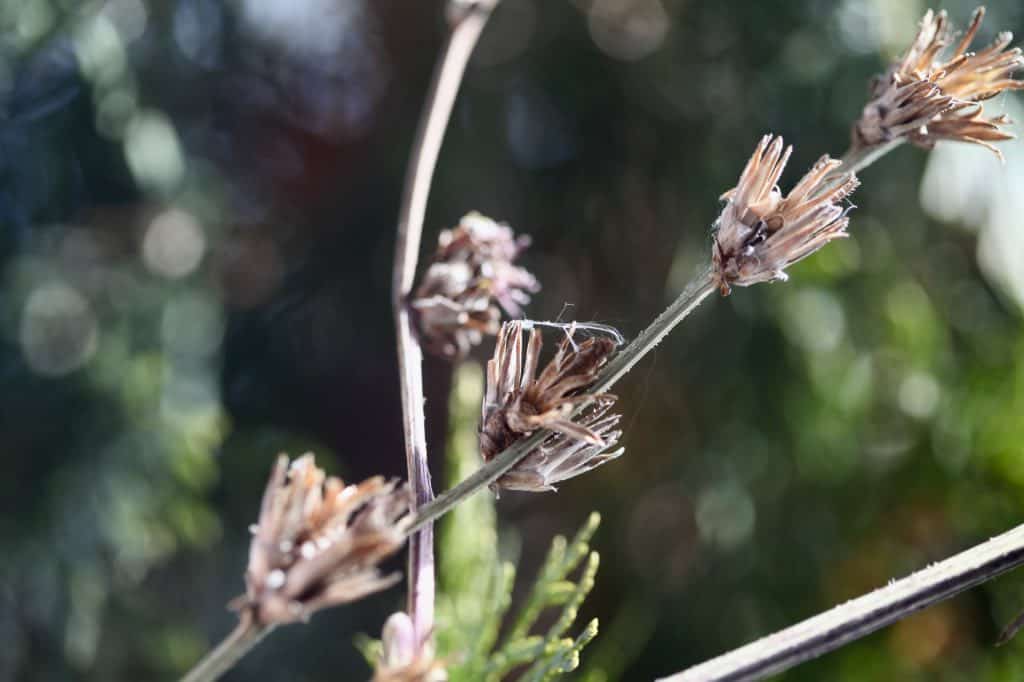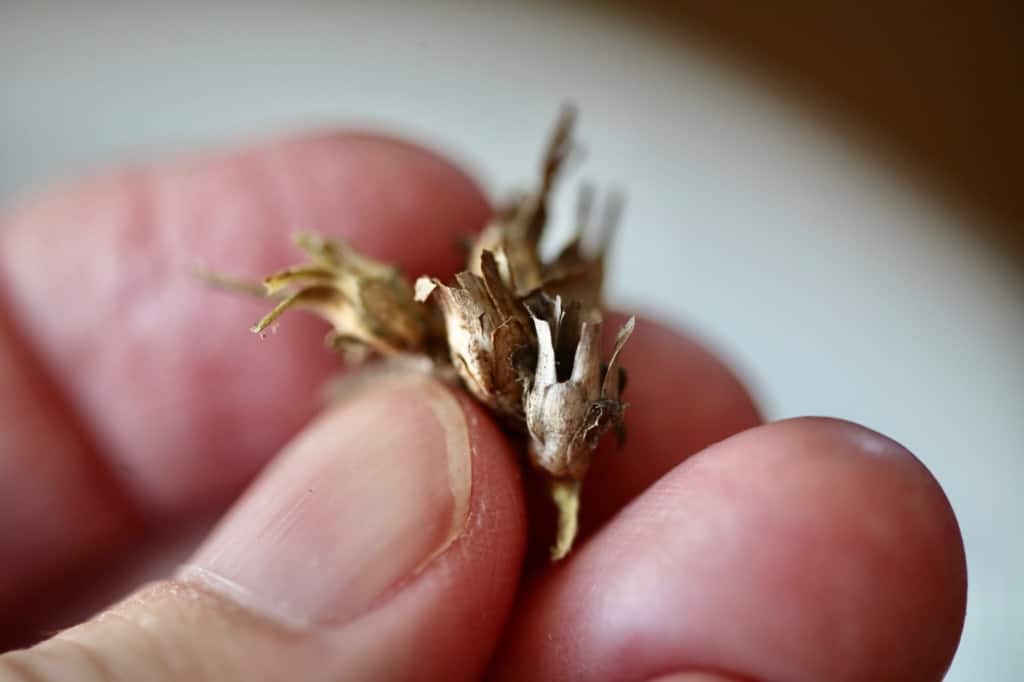 What Do Chicory Seeds Look Like?
Wild chicory seeds are very tiny, at approximately 2.0 mm to 3.0 mm in length.
The seeds are cylindrical in shape, with a more pointed closed end on one side of the seed, and a wider round open end on the other.
The seeds have a slightly ribbed surface, and present in various shades of tan and brown.
On the wider end encircling the open space you will often see a row of short bristle like structures.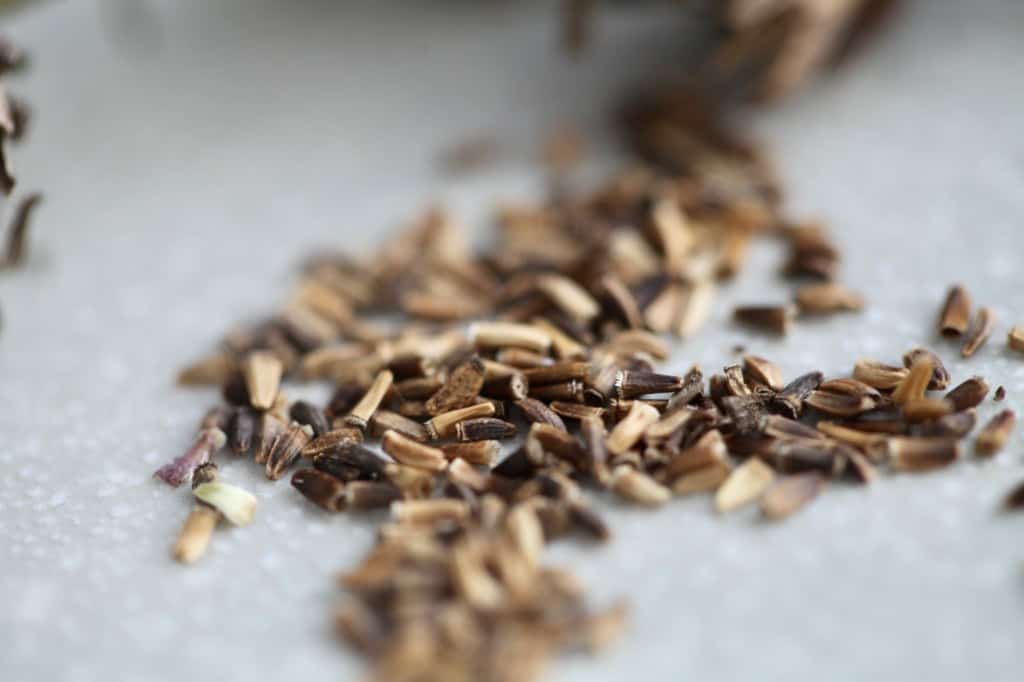 How To Separate Chaff From The Seed
There are a number of different ways to separate the wild chicory seeds from the chaff.
You can use a fine mesh strainer, to separate the seeds from the remaining debris. I find that this method however is also likely to sift small pieces of chaff amongst the seeds as well, although it removes the larger bits.
You can also winnow the seeds, by gently blowing the lighter chaff away from the seeds.
For a cleaner separation, I usually pick the seeds out from the chaff with a pair of tweezers, either reverse action or regular tweezers. This produces a nice clean pile of seeds for storage.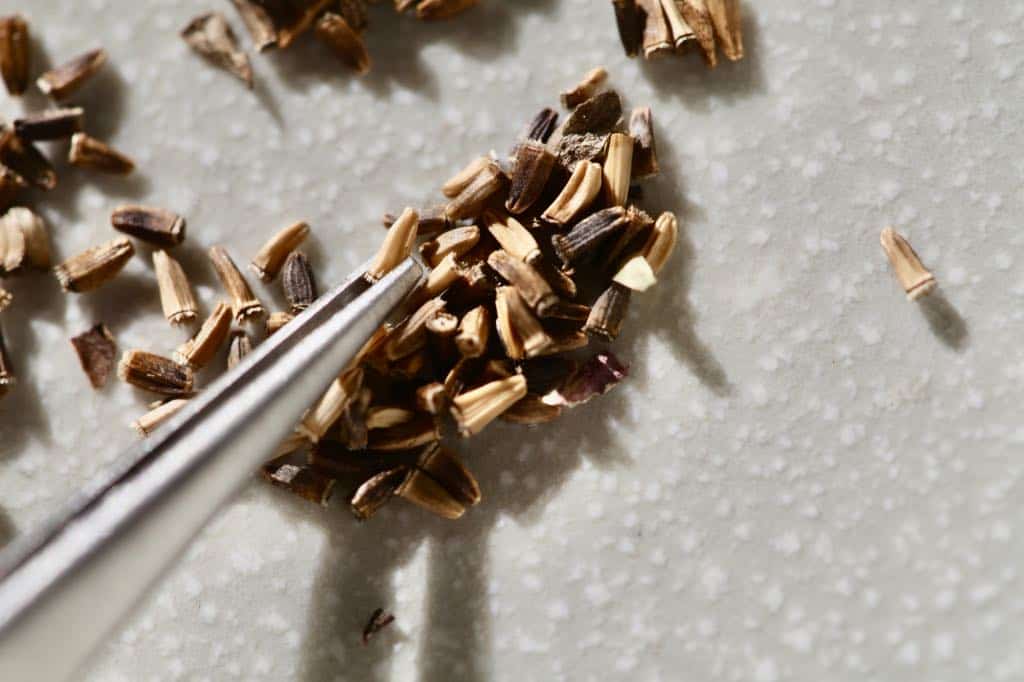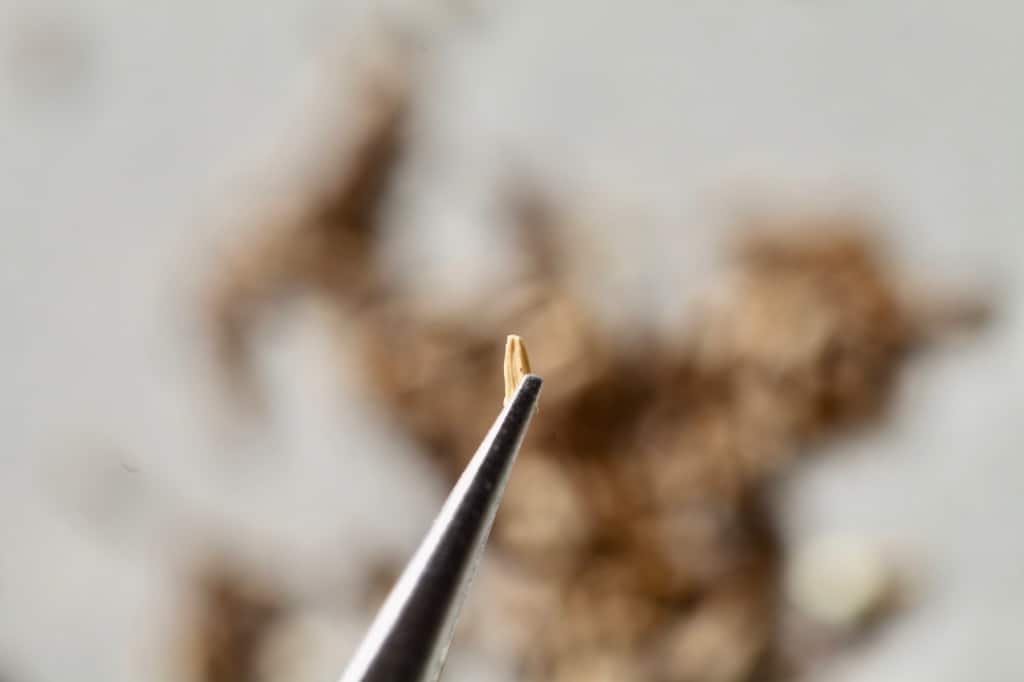 Drying The Seeds
If the seed heads are well dried and crispy before harvest, the seeds are also probably very dry.
It's important that the seeds are dried well before storage, to keep them from molding.
Dry the seeds for a day or two longer in a warm dry place, just to make sure.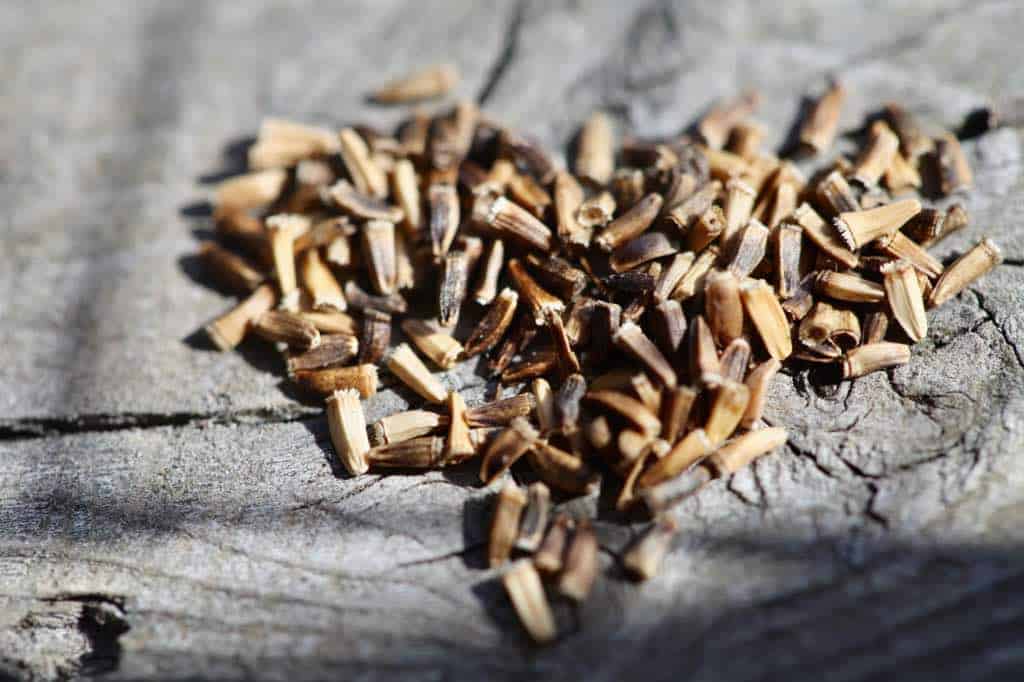 How To Store Chicory Seeds
After the seeds are completely dry, store the seeds in an airtight container, or alternatively in a paper envelope.
I like to use envelopes to store most seeds, as I find that it tends to wick away moisture.
Wild chicory seeds should then be stored in a dry, dark, and cool place.
The seeds can also be stored in the fridge or freezer until ready to use.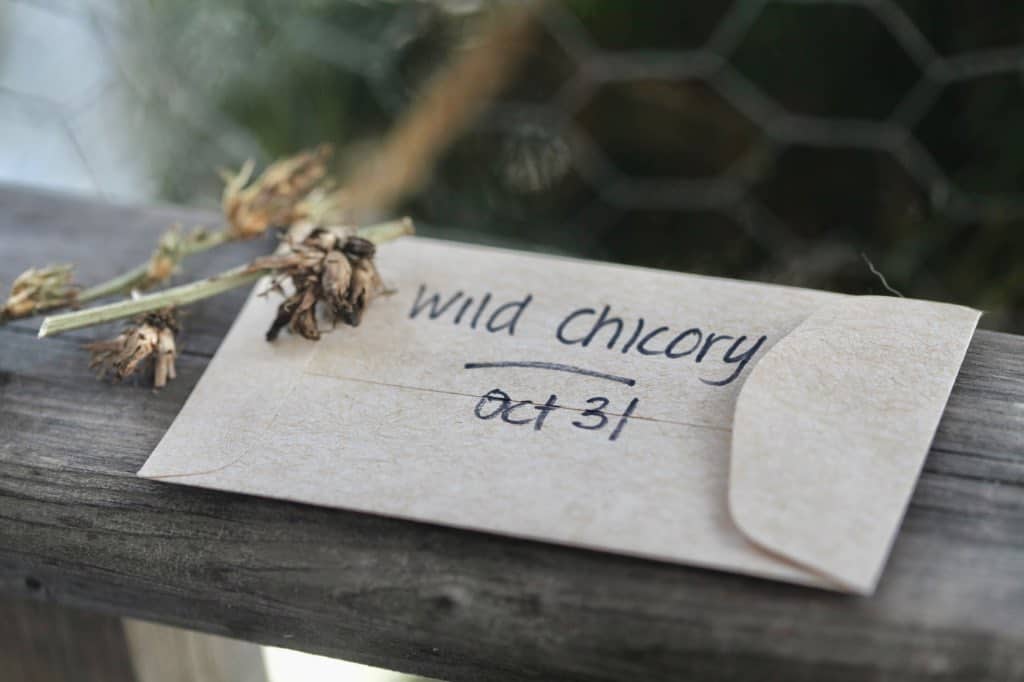 Planting The Seeds
I did another blog post on growing wild chicory which covers growing chicory from seed in detail.
Seeds can be direct sown in late fall or early spring, planted from seeds indoors, as well as winter sown. All of these planting methods work well.
Plant in a full sun to partial shade location, and into a well-drained soil.
Thin seedlings as necessary to a 12 inch spacing between plants.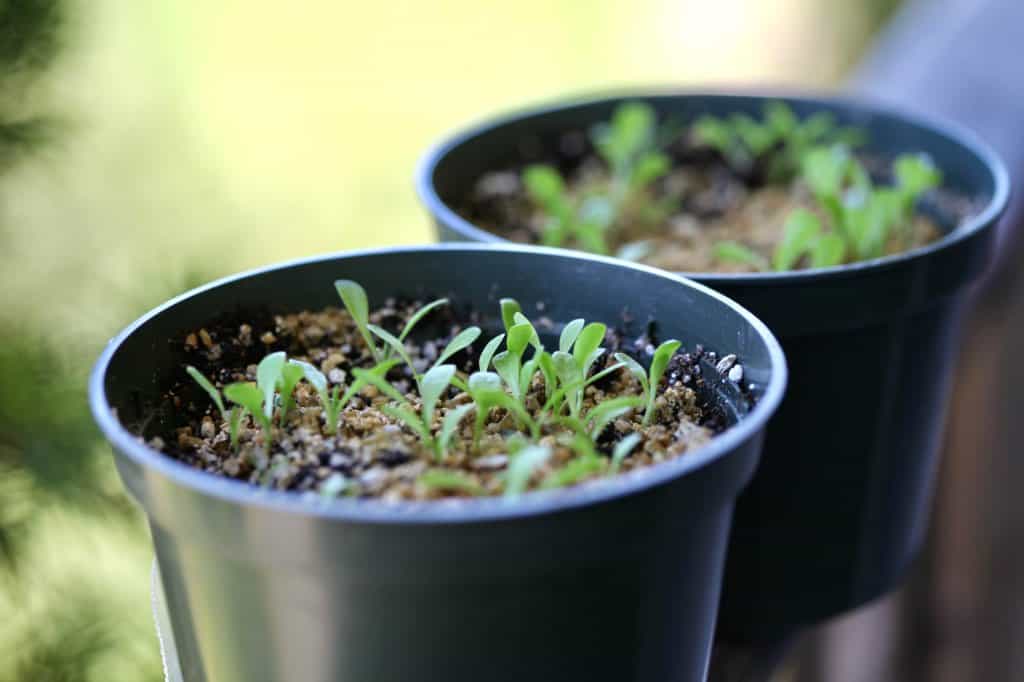 Frequently Asked Questions
Does Chicory Reseed Itself?
Wild chicory readily reseeds, and this is one way that the plant successfully propagates itself. The plant will produce flowers in it's second year, which will form seed heads containing seeds.
The seeds will be dispersed at the end of the growing season, some of which will grow into new plants the following year in the right location.
The plant can perpetuate itself in this manner.
Wild chicory also spreads by rhizomes, forming clumps of plants.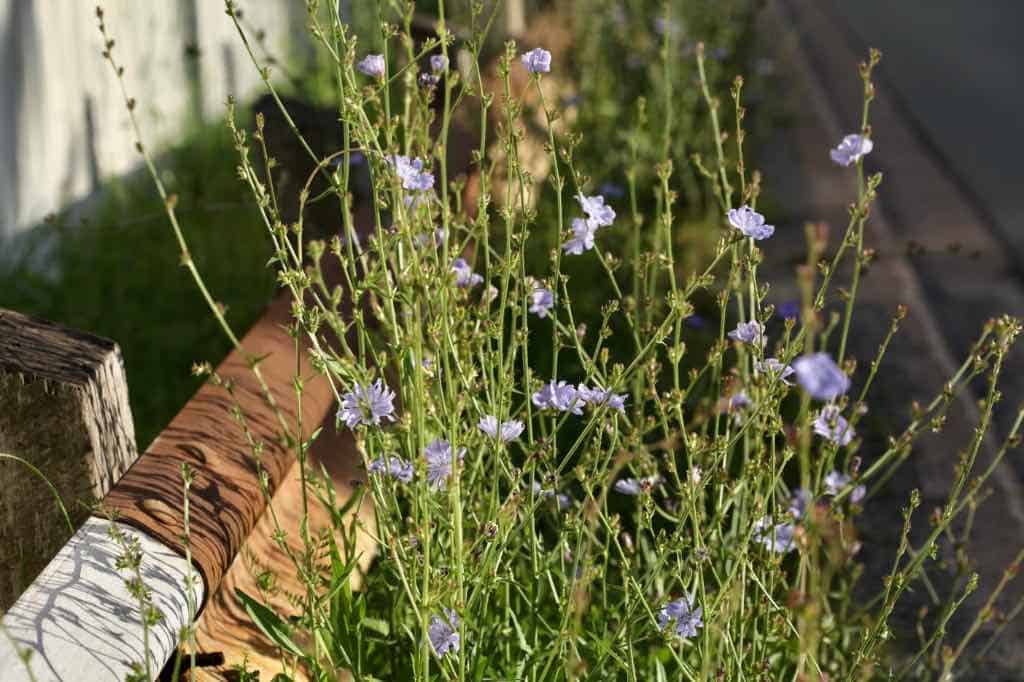 How Long Will Chicory Seeds Last?
Wild chicory seeds can last for several years with the correct storage techniques.
Factors which affect chicory seed longevity include the storage location and conditions, variety of the seeds, as well as the health and condition of the seeds at storage.
It's important that the seeds remain dry, and stored in a cool location for best storage life.
As most seeds age, there will be a reduction in germination rates. Even so, some seeds may in fact live longer than the two year window.
If uncertain about viability, the seeds can be tested before planting. To do this germinate a few seeds in a damp piece of paper towel placed in a warm location.
The percentage of seeds which germinate will be a good indication of percentage of viable seeds in the lot.
Chicory seeds can last for several years with the right storage methods, and saved to be planted out during future growing seasons.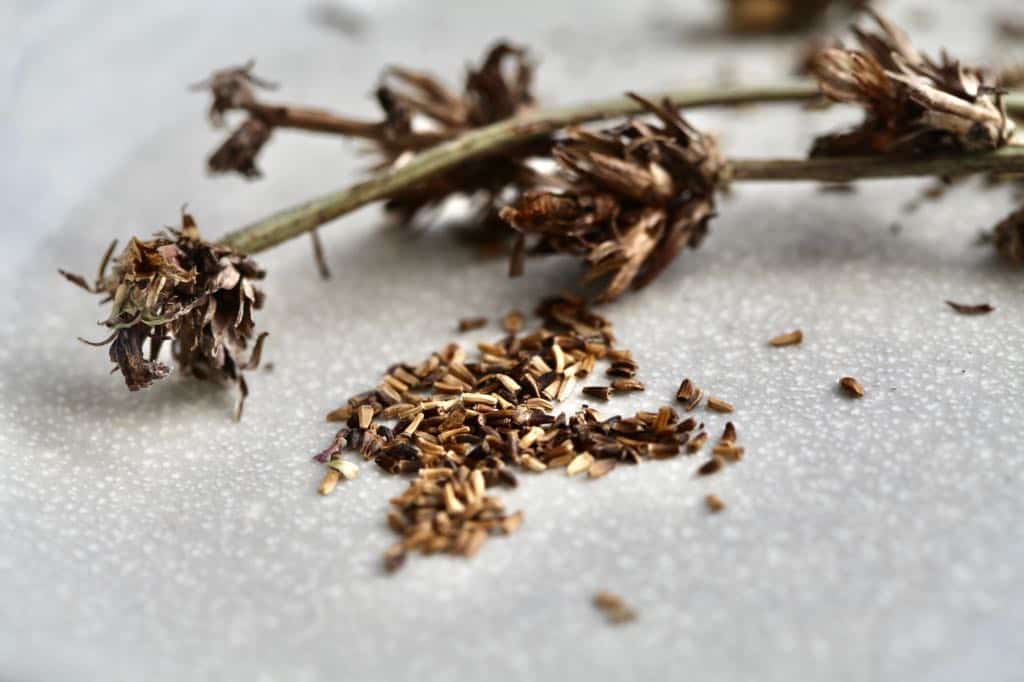 Conclusion
Wild chicory is the original plant species of many chicory varieties within the chicory family. This cool season crop has both culinary and traditional use.
If harvesting these chicory seeds for planting purposes, ensure that the plant can be safely grown in your area, as it has been deemed invasive in some locations.
Harvest time for wild chicory seeds is at the end of the growing season, when the seed heads are mature.
Store the seeds with proper storage techniques until ready to plant.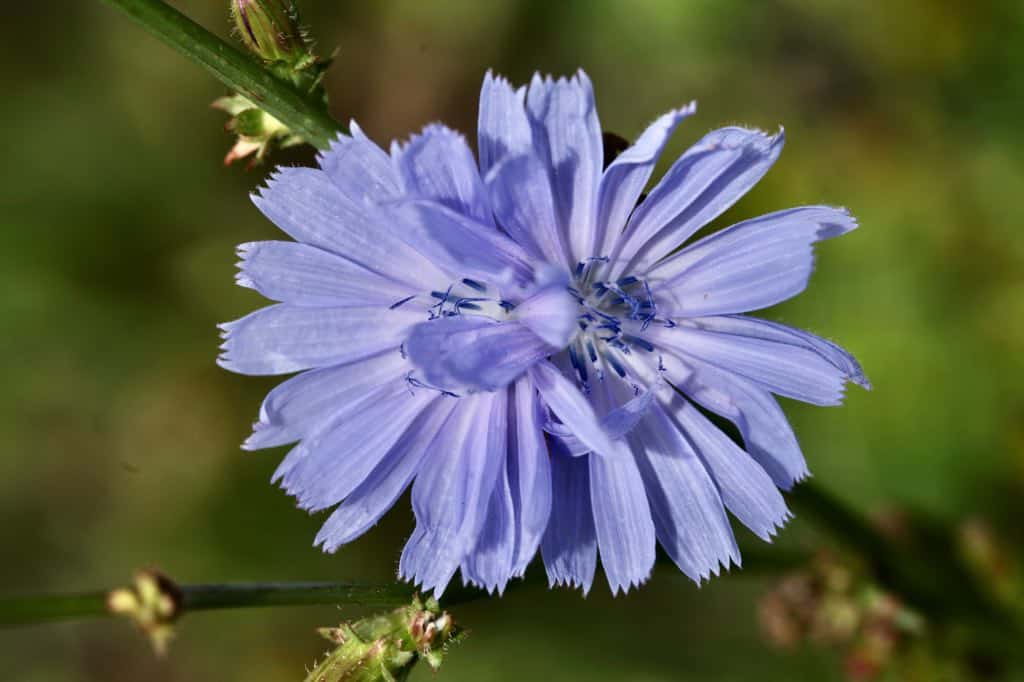 Have you ever tried to harvest chicory seeds? Be sure to leave a comment below to share your experience!
Other Posts You May Like:
PIN IT FOR LATER!