Saving the seeds of Bachelor Buttons or Cornflowers in fall is easy, and it's a great way to gather seeds for next year's garden. Learn how to harvest Bachelor Button seeds to perpetually grow these beautiful flowers.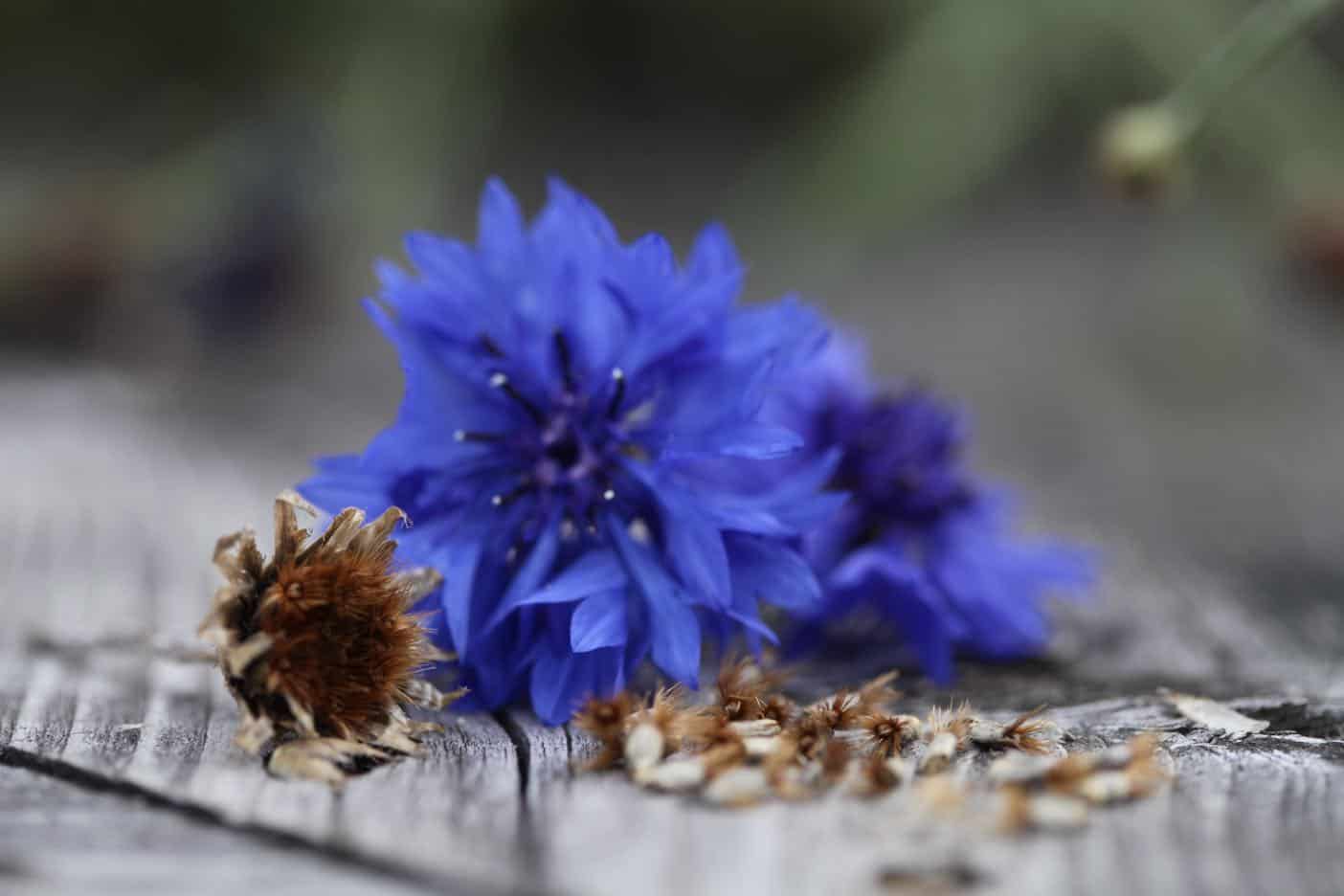 At the flower farm we love to save some of the flower seeds from year to year, getting the most from every seed that we plant.
Bachelor buttons flowers are just so easy to grow, and the seeds are also easy seeds to harvest. The flowers are reminiscent of wildflower gardens and fields of blue cornflowers.
Bachelor buttons are also great cut flowers, and that is why we grow them here on the flower farm.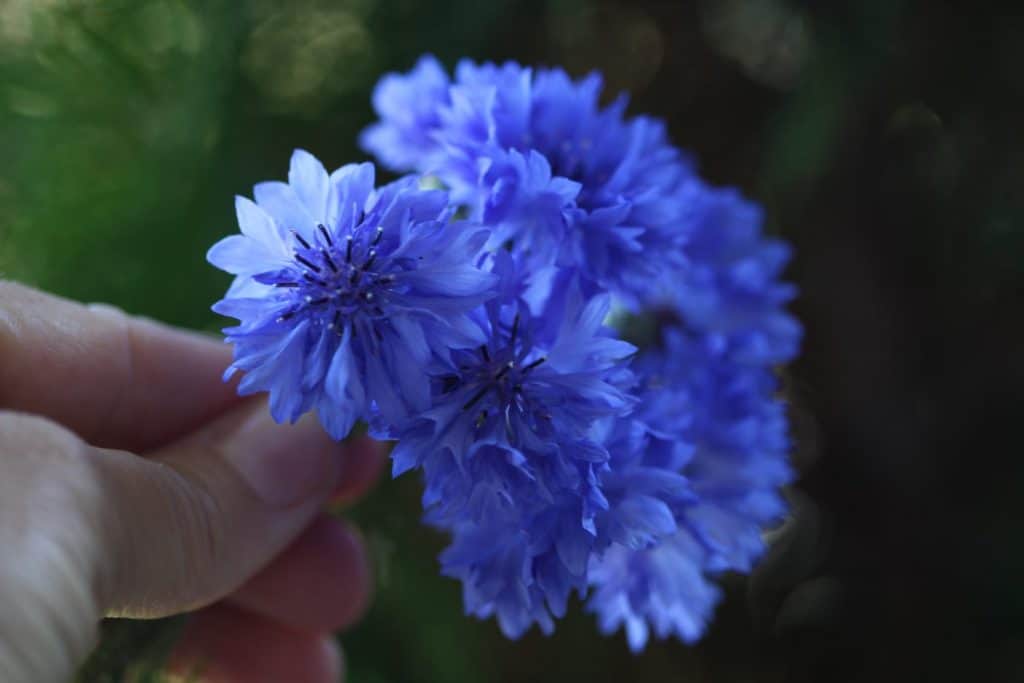 We grow Bachelor Buttons Blue Boy for it's bright blue flowers, and it is a favorite flower for casual farmhouse flower arrangements. I always love a touch of blue in farmhouse bouquets.
As well we grow a dark purple plant called Black Button, and it's also a beautiful flower in arrangements.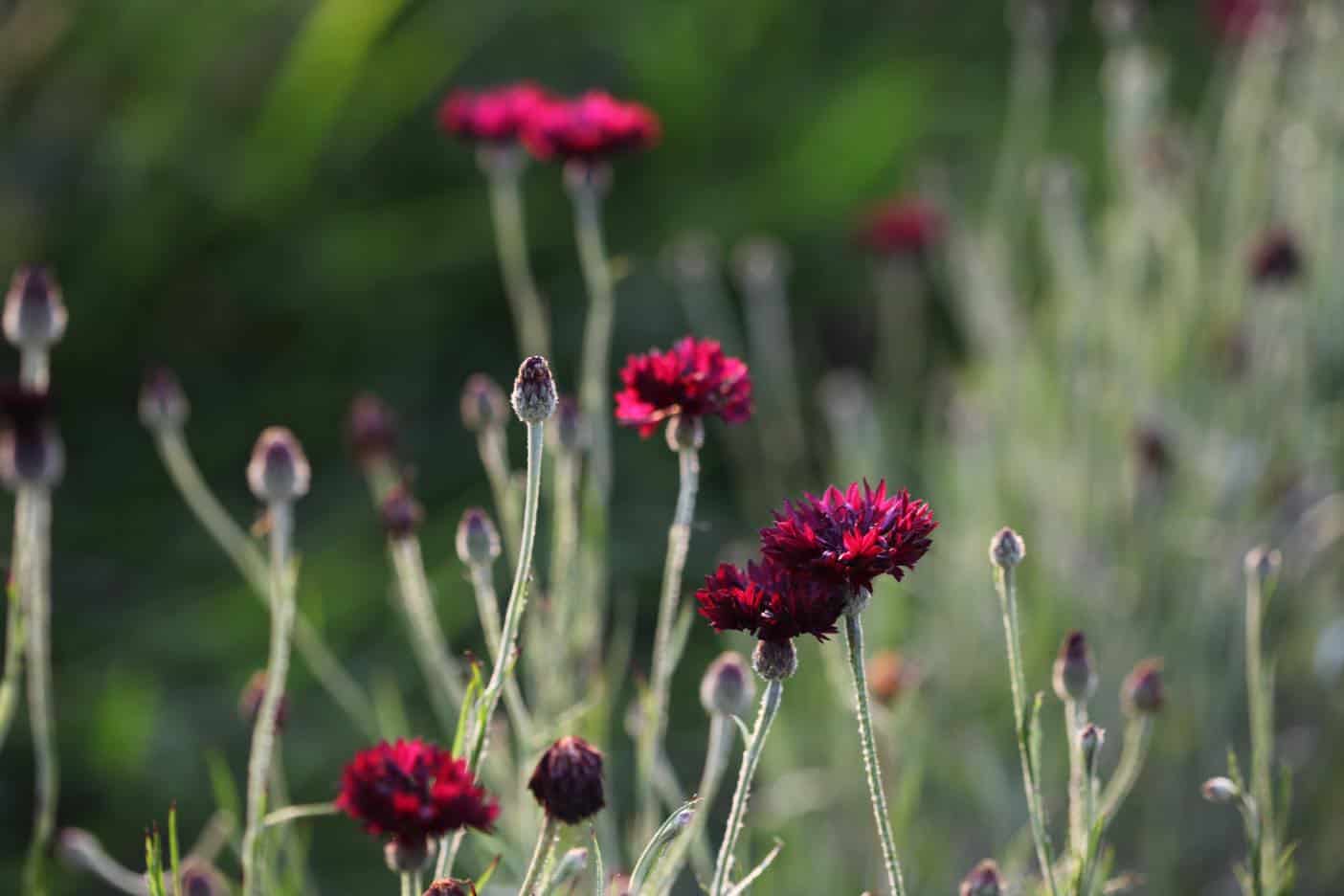 Since Bachelor Buttons, or Centaurea Cyanus are annual plants, those plants growing this season will not be returning to the garden the next season. They have completed their life cycle and have finished growing.
So it's always nice to harvest some cornflower seeds to have them again for the following year.
Annual Versus Perennial Bachelor Buttons
These plants are different than the perennial Bachelor Button, or Centaurea Montana, which will go dormant during the winter, and return to bloom again next year in the late spring.
The annual Bachelor Buttons only last one season and will need to be replanted again for the following season.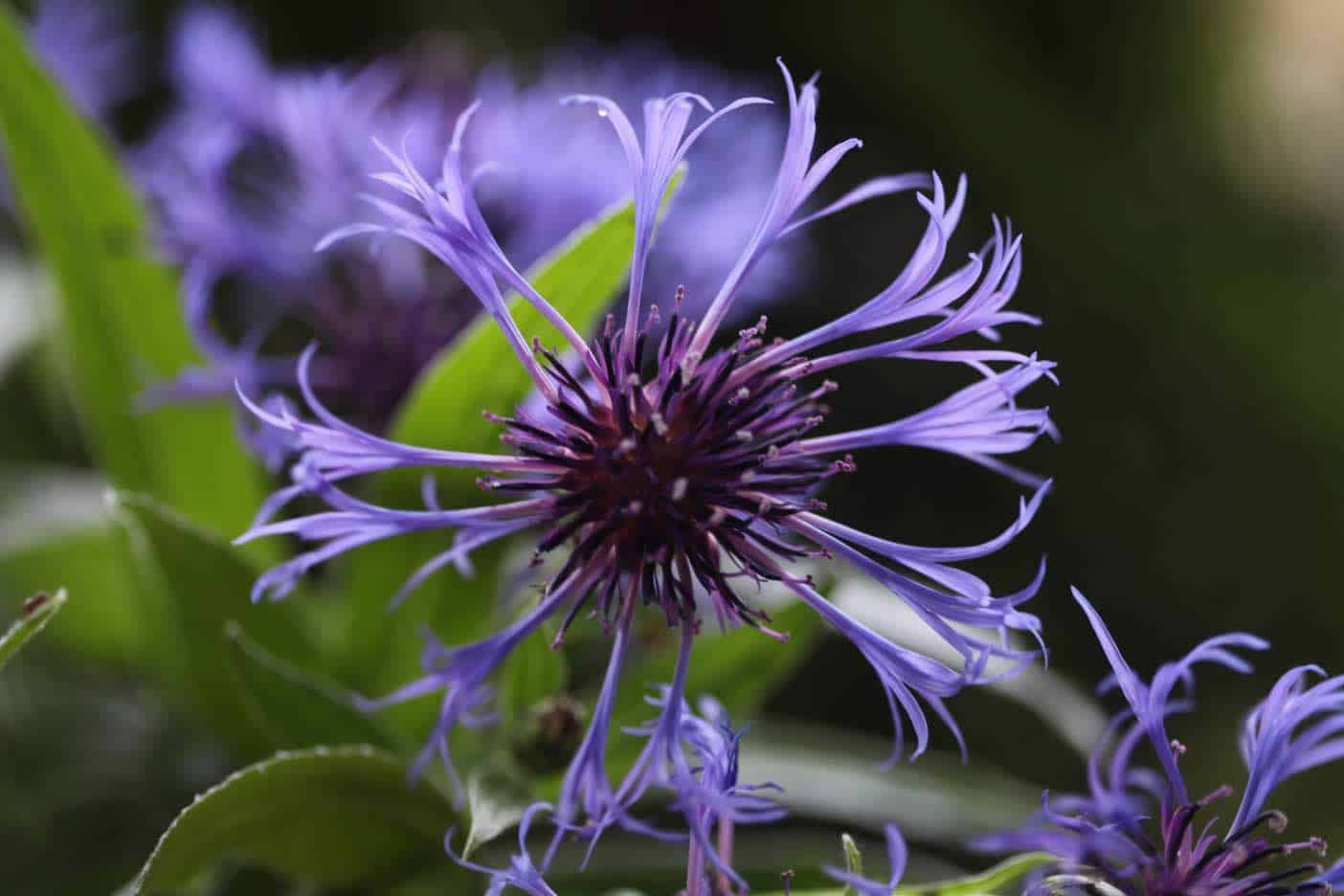 I wrote another post which specifically goes into the process of harvesting flower seeds from the garden. This article includes Bachelor Buttons plus other seeds which we harvest from the garden, and I would encourage you to read it if you are interested:
Can You Harvest Bachelor Button Seeds?
You can easily harvest Bachelor Button seeds. Each Bachelor Button plant produces a multitude of flowers, which if fertilized, will produce many seeds. The seeds can grow into new flowering plants which closely resemble the parent plant. Allow the seeds to mature on the plant, and harvest when the seed pods are brown and the seeds readily fall away from the pod.
As a general rule, it's very important to allow the seeds to mature on each spent flower to develop into viable seeds. If harvested too early the seeds may not be viable.
Mature plants at the end of the growing season will contain many mature seed heads to harvest from. Allow the seed head to remain on the plant until completely mature.
What Do Bachelor Button Seeds Look Like?
Mature Bachelor Button seed pods will be brown and dry with almost a furry centre at the top. This is where the seeds are located. When you rub this area on a mature Bachelor Button seed pod, the seeds will roll out. Bachelor Button seeds have a tan coloured columnar and somewhat barrelled shaped outer coating with tiny amber coloured spikes protruding from one end.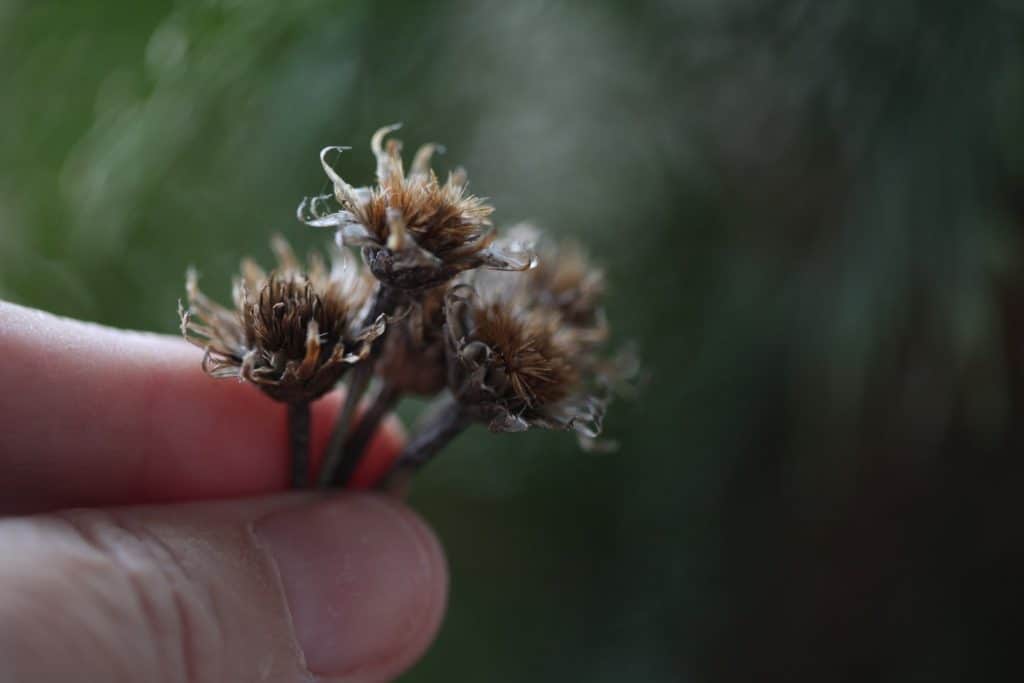 These annual seeds are approximately 0.5 cm in length.
I love the look of Bachelor Button seeds.
I've always thought that they looked like tiny little paint brushes, with their cylindrical shape and burst of tiny bristle like structures at the tip.
The key to harvesting the mature pods is to know how to identify them, and it is very easy.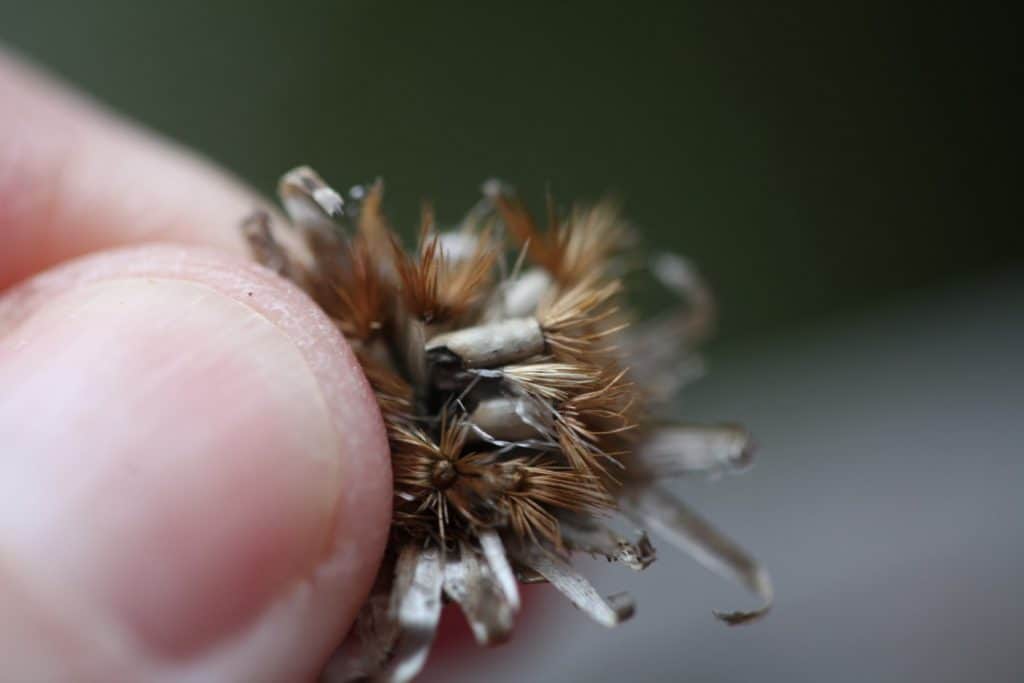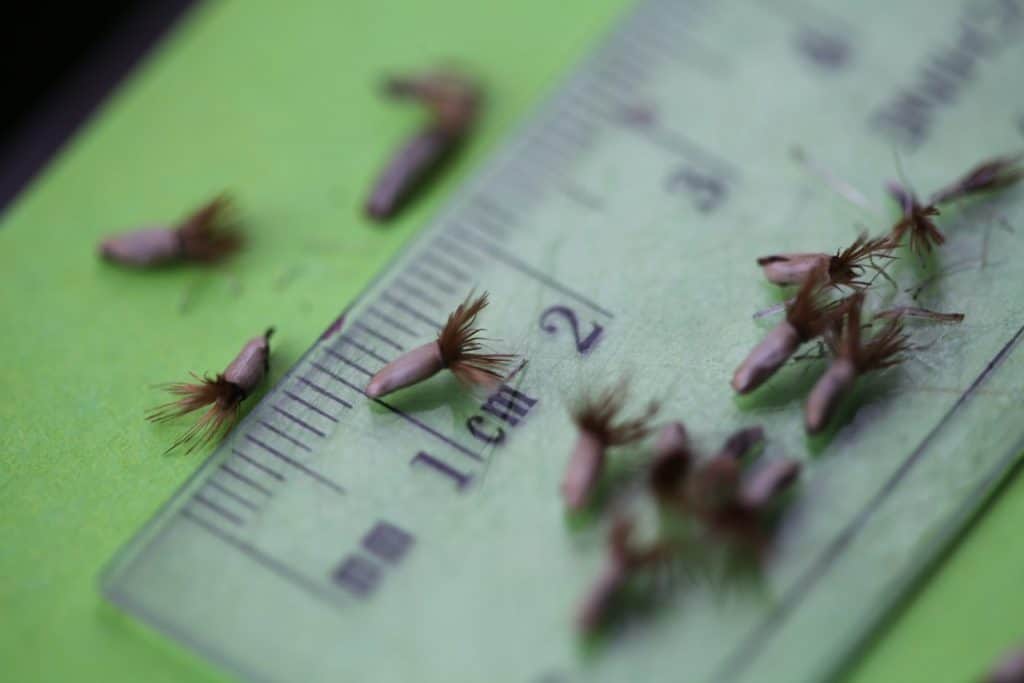 Will Bachelor Buttons Reseed Themselves?
Bachelor's buttons readily reseed themselves in the right growing environment.
In our zone 5 garden these plants will self seed, and we often find some volunteers growing in other areas of the garden. They are able to withstand our cold winters because they are a hardy annual, and the seeds can tolerate the cold and frost.
If the plants produce seeds early in the season, they may fall from the plant and begin to germinate in that same season.
In this case these plants may not have time to bloom, and as well will not grow back the following season as they will be killed by the winter frosts and cold temperature.
The blooms that set seed later on in the season however will drop seeds that will not have time to germinate. These seeds may survive the winter and germinate the following spring when the weather warms up.
Bachelor Buttons do not overly reseed in our zone 5b garden, however every year I will find a few new volunteer plants growing fairly close to the original planting.
I do not remove them from their new location, as I always appreciate these sweet plants, and leave them to grow on where they have happily set root.
Reasons To Harvest Seeds
If you really want to have some control over where the Bachelor Button plants will grow, it's so easy and such a good idea just to harvest and save some of the flower seeds.
That way you can have the numbers of plants that you want for the following season, which may be more than just a few if you are flower farming.
If you are just looking for a few plants for the garden, all you will need are seeds from just one or two seed heads.
Harvesting seeds is a cost effective way of starting your garden.
It gets you out into the garden at seasons end, and promotes a sense of anticipation of the seasons to come.
Another unexpected benefit is just getting to know the plants a little better, to see their tiny odd shaped seeds, and to feel the sense of awe with the total picture of how they came to be.
How To Harvest Bachelor Buttons Seeds
Bachelor Buttons grow throughout the gardening season, and are long-blooming plants. As a result, they have spent blooms in various stages on one plant.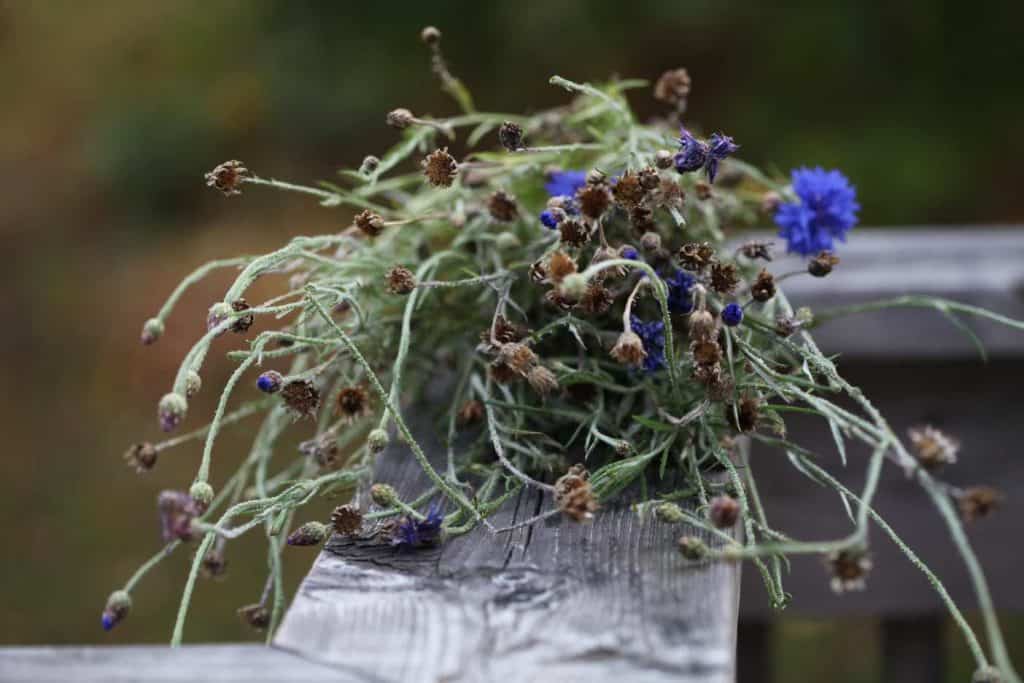 This includes spent blooms, seed pods in various stages of maturity, along with new blooms of varying growth stages from buds to fresh blooms.
Therefore when harvesting the seeds from a Bachelor button plant, it's important to harvest the most mature pods, and not those that have just started to set seed.
From what I have found, it is extremely easy to harvest the mature seeds, as they essentially just fall away from the pods as they become mature.
Tools Needed For The Harvest:
a container into which you can place the harvested stems or seed pods
a pair of scissors or clippers
a label to identify the pods in the bowl, just in case you are harvesting more than one Bachelor Button variety, or even other plant types
Harvesting Bachelor Button Seeds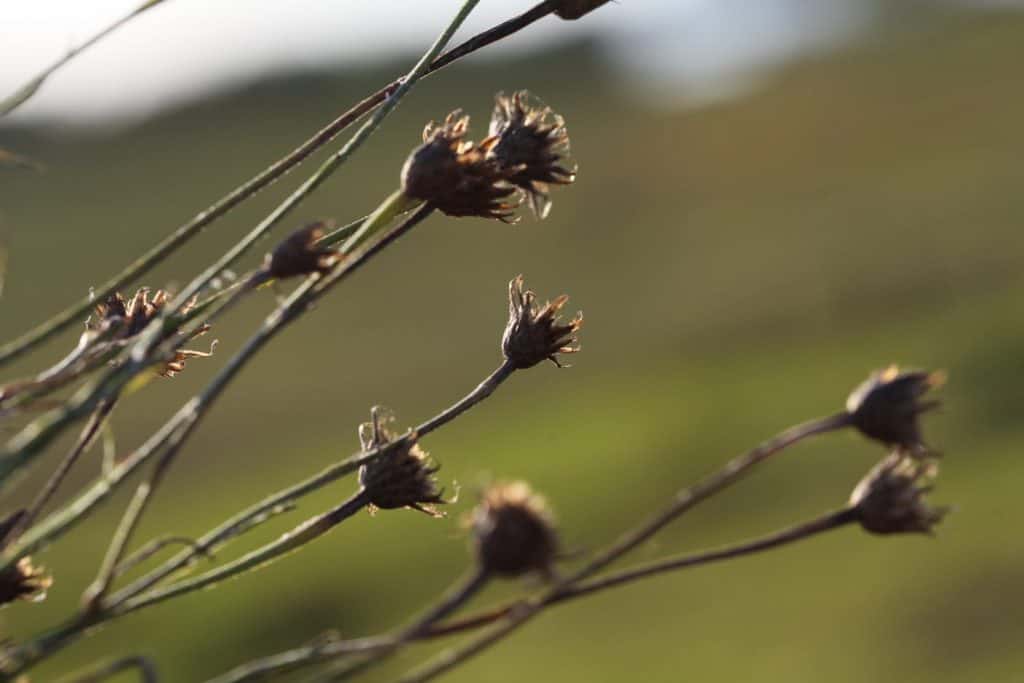 Harvest in early fall, and on a dry day to prevent moulding of the seeds.
Gather your supplies for the seed harvest, including your container, scissors or clippers, and labels.
Assess the plants to determine if there are mature seeds present.
Mature seed pods will be brown and dry with almost a furry centre at the top. This is where the seeds are located.
If you brush the top of a mature pod, you will see the seeds fall away as they fall off the pod itself. These seeds are ready to be harvested.
The furry centre at the top of the pod is actually the spiky parts or bristles of each individual Bachelor Button seed. It consists of multiple seeds all gathered together in a group.
If the seeds fall out of the pod, they are mature and ready to be collected.
You can harvest the pods right there in the garden, cutting just under each pod and severing the pod from the stem.
Alternatively, you can harvest by cutting some stems with multiple pods. Just bring the stems inside for later sorting.
This is what I tend to do if harvesting multiple types of seed at the same time.
Removing Bachelor Button Seeds From The Seed Pods
I like to remove the seeds from the seed pods inside the house, safely into a container out of the wind.
Once you have identified your mature seed pods, it's time to now remove the seeds from the pods.
The mature pod should be open at the top with the tiny bristles as discussed.
Hold the pod over your container and gently rub the top of the pod.
The seeds and chaff should immediately release from the pod and fall into the container.
It's easy to remove the seeds from the chaff, as they are quite large and easy to pick out.
Separate the seeds from the chaff and other debris. Keep only the healthy looking seeds.
Now it's time to dry the seeds.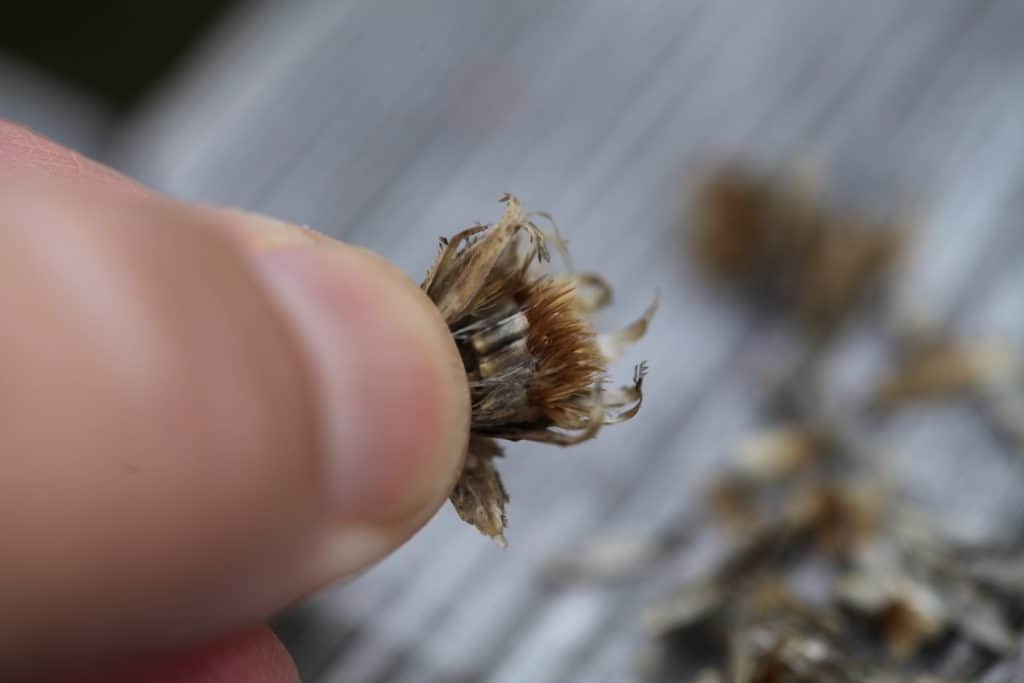 Drying Bachelor Button Seeds
If the seed pod is dry, the seeds should be generally dry as well.
I tend to let any flower seeds dry a little longer after removing from the seed pod.
Spread them out on a surface such as a plate or a baking sheet.
Dry for a couple of days before storing away.
Storing Bachelor Button Seeds
Store the Bachelor button seeds in a container which does not retain moisture, such as paper envelopes or bags.
I tend to avoid storing most seeds in plastic bags due to the moisture retention. The exception to this is daylily seeds, which tend to dry out too much if stored in paper envelopes, so they are stored in plastic baggies.
Label the bag with the seed type and variety, along with the date and year of harvest.
Keep the seeds in a cool dry place and in a dark location until ready to be planted out the following season.
Some gardeners will store their seeds in the refrigerator. In this case, place the envelopes containing the seeds inside a plastic freezer bag before placing in the fridge.
The refrigerator will provide a chill period which can aide in germination for hardy annuals.
Although Bachelor Button seeds do not require a moist chill or stratification period for germination, they can still benefit from being stored in this manner, and may more easily germinate after planting.
If kept stored in ideal conditions the seeds will remain viable for a few years.
How Long Are Bachelor Buttons Seeds Viable?
Bachelor button seeds can last for several years if not longer, as long as they are kept cool and dry and free from moulding and pests.
Over time they will lose their vitality with reduction in percentage of germinated seeds.
I planted Bachelor Button seeds last year which I had stored for at least three years before planting.
They were likely even older than that, as these were purchased seed from at least one season before I obtained them.
When To Plant Bachelor Button Seeds
Bachelor's button seeds can be planted indoors in cell trays in late winter, and then transplanted outdoors after the last frost in early spring.
Alternatively you can use the direct sowing method and sow seeds directly into a prepared bed with a good garden soil, in late fall or early spring.
Direct seed by sprinkling the seeds on top of the garden bed. Then let Mother Nature take care of the rest.
The seeds will find their way into the soil and will germinate when the time is right.
The plants begin to flower in early summer and continue to bloom all season long.
At the end of the season it will be time to harvest for next year's crop.
Conclusion
Bachelor Buttons are wonderful garden flowers as well as good cut flowers.
The seeds are simple to harvest and to save from year to year.
Harvesting the seeds is a a cost saving method for growing beautiful flowers in our own gardens. We can then replenish those seeds year after year, for as long as we garden.
Have you harvested Bachelor Button seeds from your garden? If so, be sure to leave a comment below to share your experience.
Other Posts You May Like:
PIN IT FOR LATER!