Last updated on March 27th, 2023 at 08:48 pm
Love Lies Bleeding is a striking flowering plant that adds colour and texture to any flower arrangement or bouquet. The flowers grow in long thick tendrils, and are a fabulous contrast to other blooms. Learn how to grow Love Lies Bleeding for an interesting addition to your cutting garden.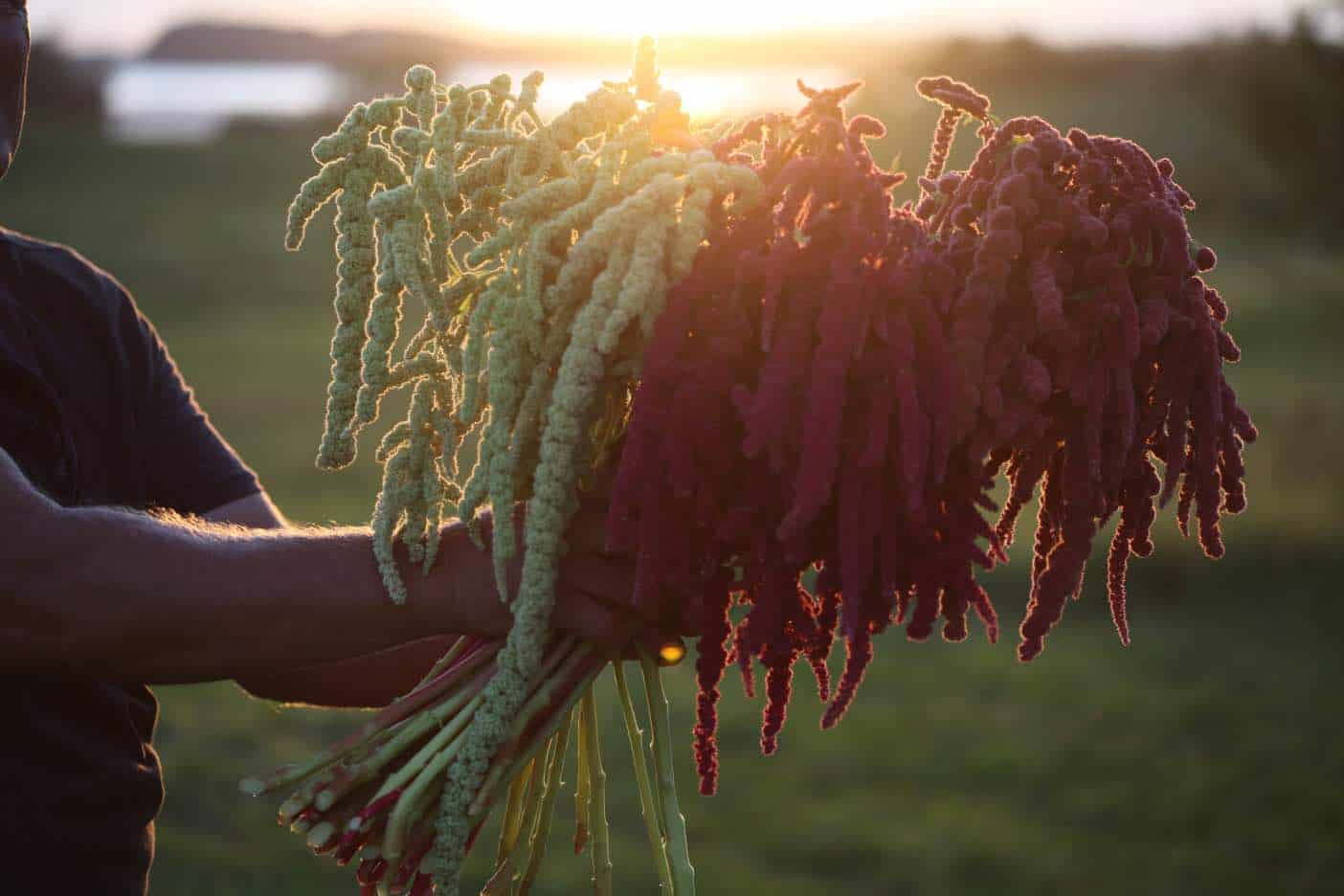 Love lies Bleeding comes in a variety of colours, including a vibrant rosy fuchsia red that is striking to the eye.
The flowers grow in mats of tendril like blooms. They remind me of dreadlocks, and I love how they grow and curl in a ropelike fashion. They are unique and interesting in appearance.
My mom gets a fresh farmhouse bouquet from the farm every week during the summer months. I love when the Amaranth are blooming, and love to see her reaction when a Love Lies Bleeding bloom or two are tucked into her bouquet.
She always wants to touch the tendril blooms, and asks if the flowers are actually real. We have a good laugh when she discovers that they are in fact very real.
I love how she shakes her head in amazement, and continues to reach out and touch the blooms.
I find myself doing the same thing on occasion.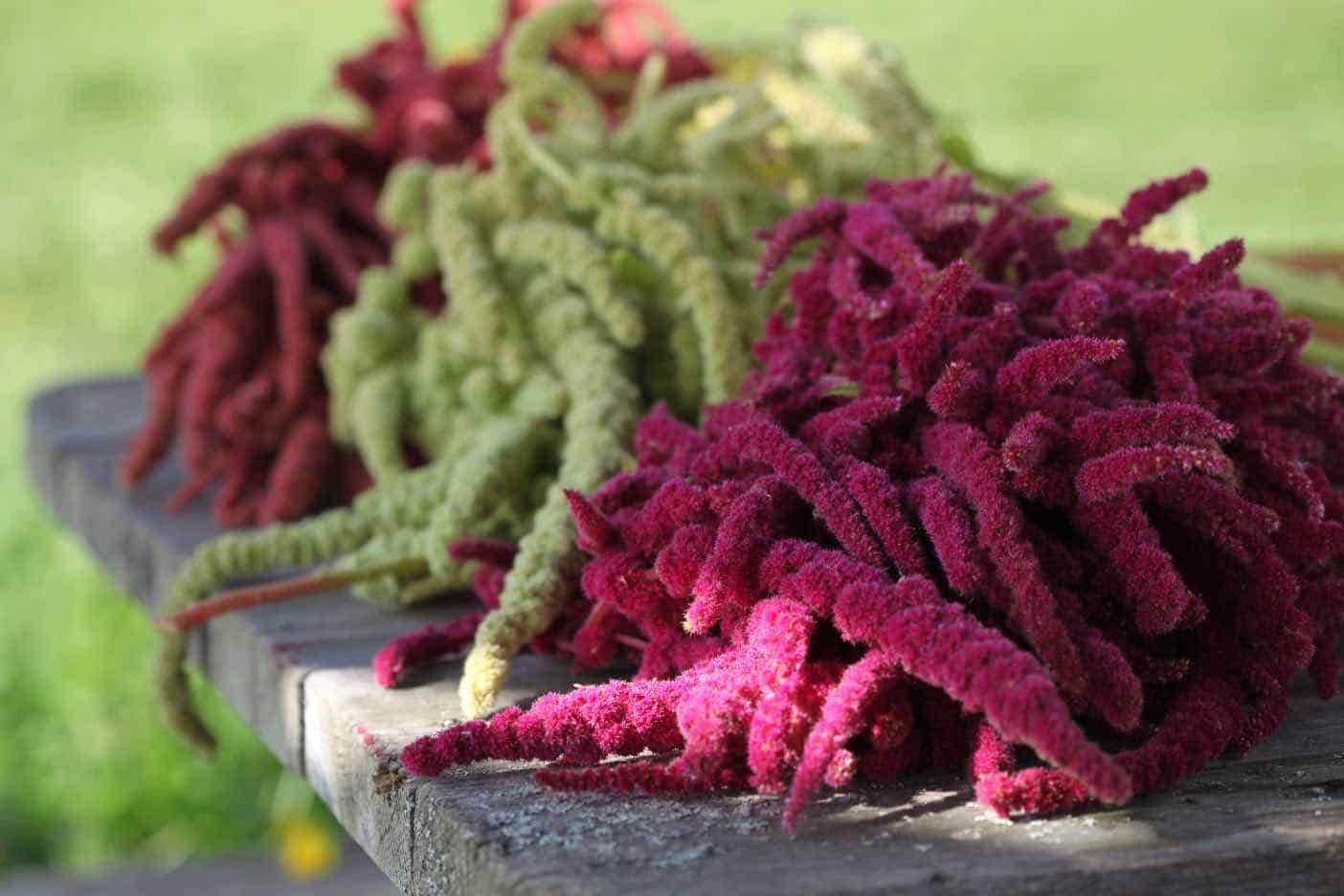 What Is A Love Lies Bleeding Plant?
Love Lies Bleeding is the common name for the species Amaranthus Caudatus. Other common names include tassel flower, pendant amaranth, foxtail amaranth, and more.
This wonderful flowering plant originates from South America, where it is mostly grown as a grain.
It is now grown in many other parts of the world, most often cultivated as an ornamental plant. It can still be used as a vegetable however, by using the leaves or the seeds in cooking.
We grow three varieties of this flower in our garden.
We grow the deep fuchsia red, which we got from Johnny's seed and which was identified as "Love Lies Bleeding- Amaranthus caudatus".
As well we grow two other varieties, a lighter coral red version called Coral Fountain, and a yellow green variety called Emerald Tassels. These are both Amaranthus caudatus.
All three varieties are very easy to grow and are fun to use in flower arrangements. They all have the tassel-like flowers which are pendulous and trailing.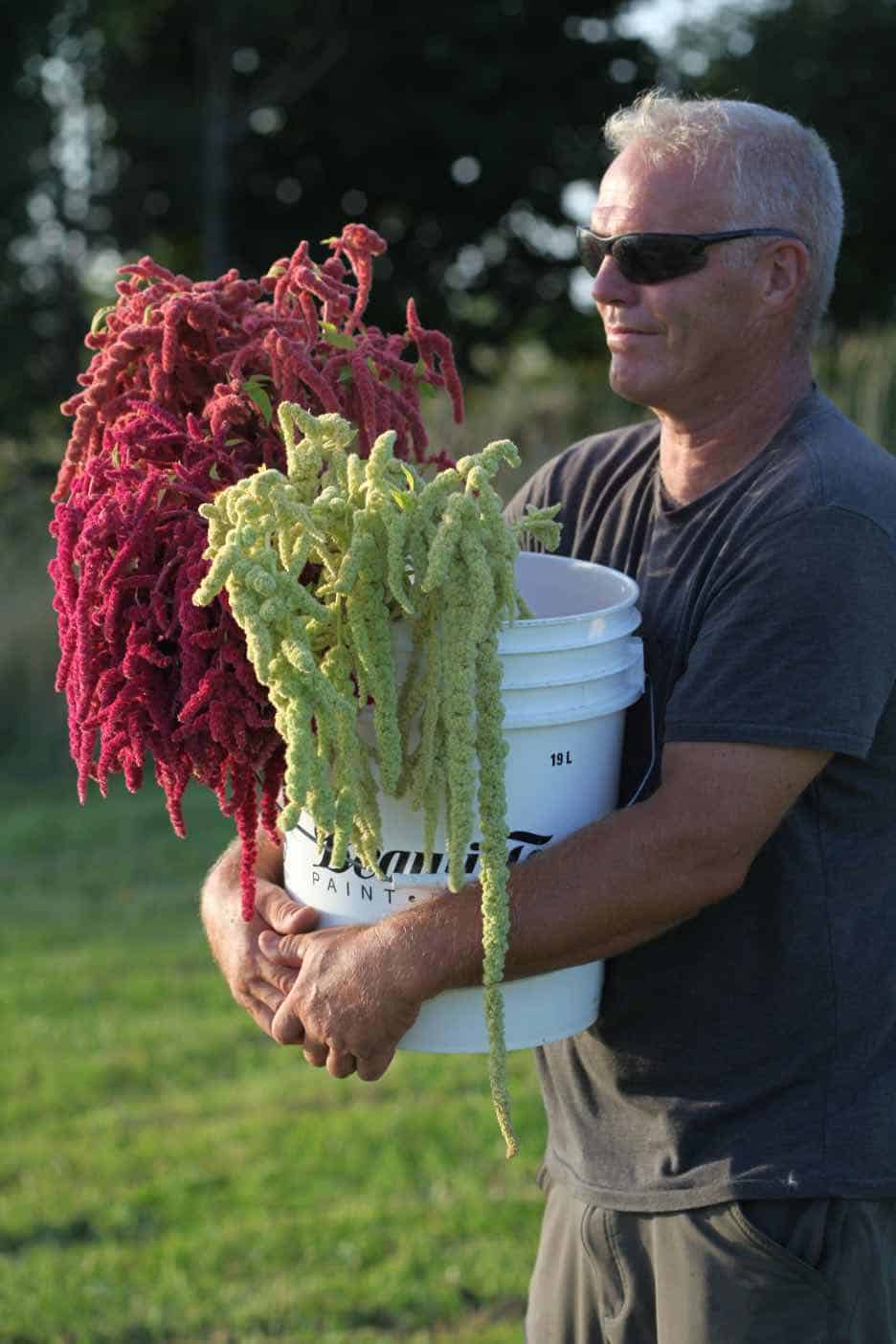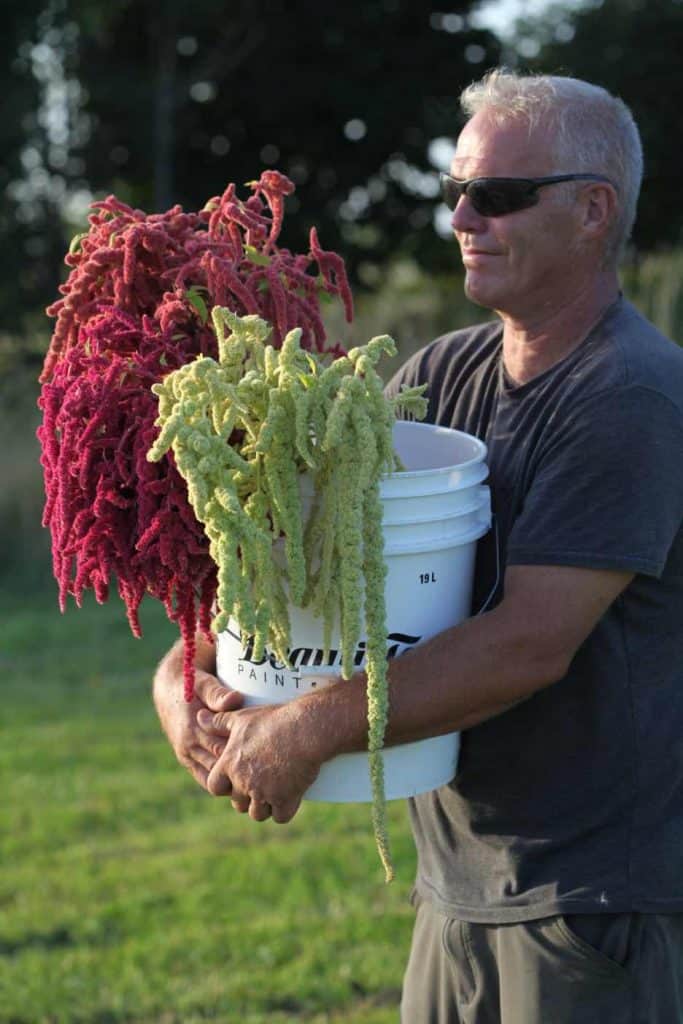 Love Lies Bleeding Annual Or Perennial?
Love Lies Bleeding is an annual flowering plant.
It does however reseed easily, and may confuse some gardeners if they see it growing again the next year.
These second year plants are actually volunteers, which have reseeded, and which can be left to grow and use in flower arrangements.
I love volunteer plants, and I love Love Lies Bleeding volunteers.
What I have noticed in our garden however is that these volunteer plants don't germinate until later in the growing season. This is exactly what you would want in zone 5b, because if they germinated earlier in the season they could be lost to the spring frosts.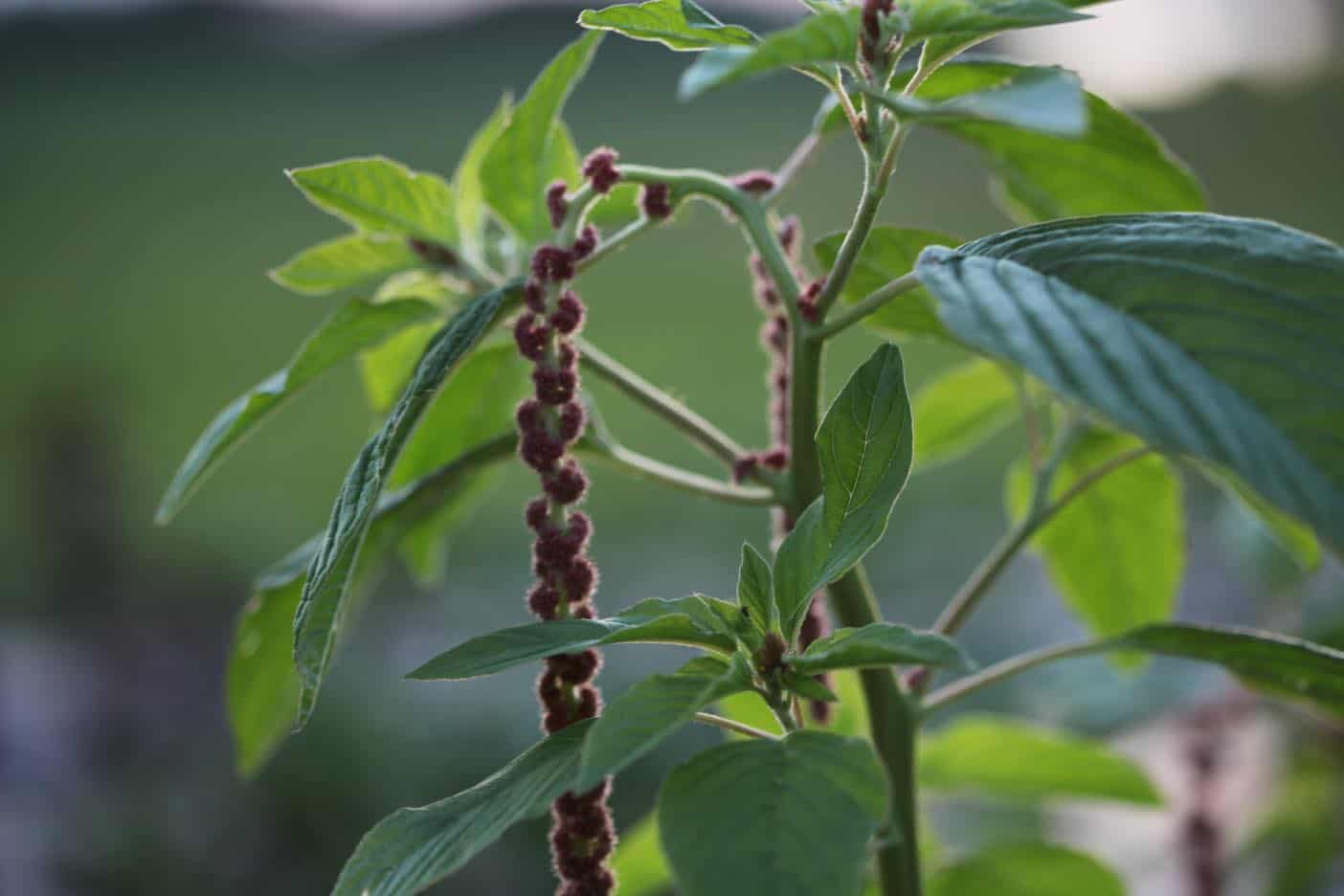 The Amaranth seeds in our garden seem to know when to germinate at just the right time, which is much later than when we start them indoors.
These volunteer seedlings in our zone 5b garden are therefore much smaller at the end of the season than those that we transplanted out. The reason for this is that they germinated later and have not had the same growing time as those seeds started indoors.
These flowers are still usable though, with smaller and finer trailing blooms. Sometimes they are just what I need in a certain bouquet.
How Do You Grow Love Lies Bleeding?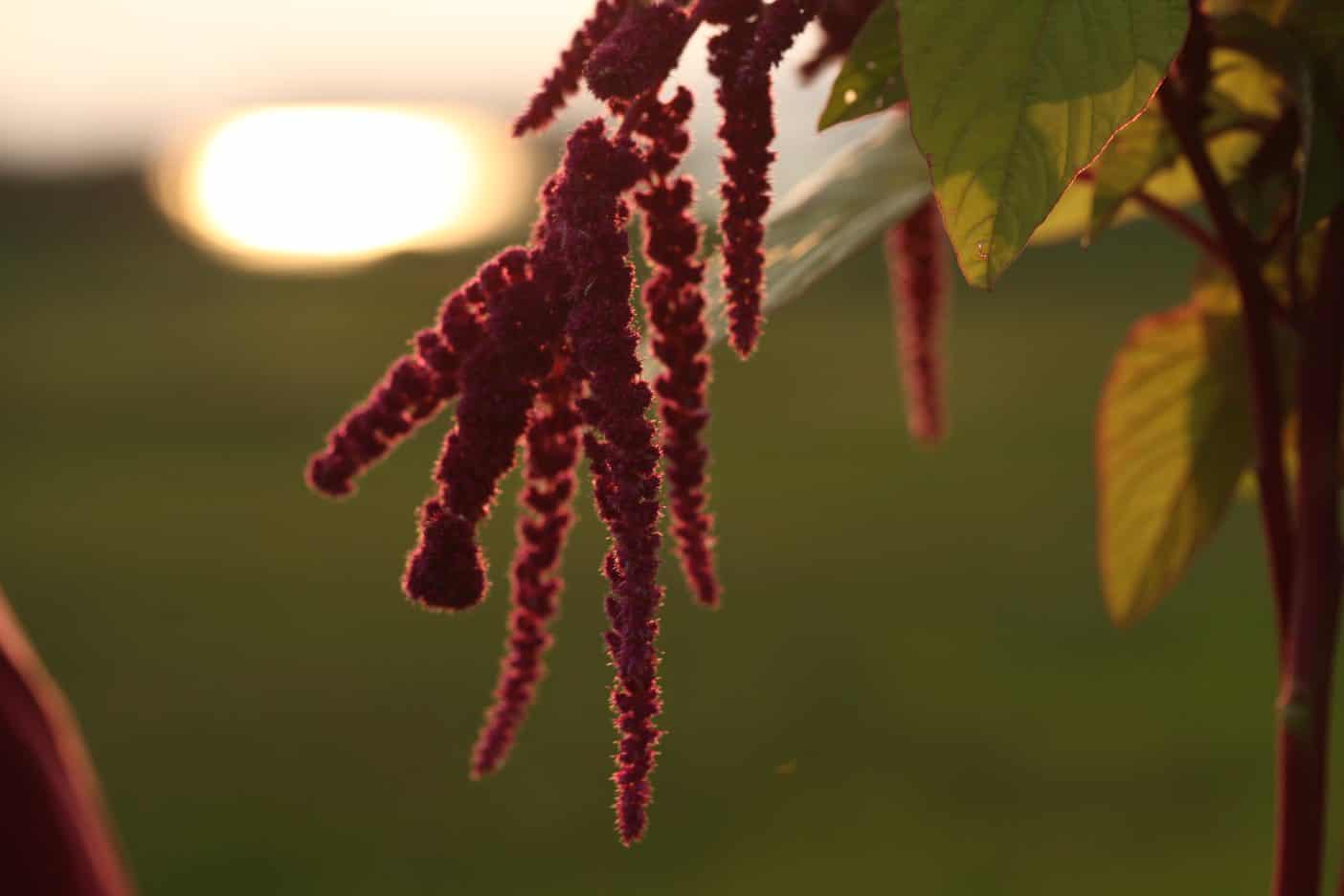 We grow Love Lies Bleeding from seed indoors. These flowering plants are very easy to start from seed, and to transplant out into the garden.
We start the seeds indoors in late winter or early spring. This process gives us a great head start on the season, which is important when growing in a colder zone.
Growing Amaranth from seed indoors allows us to get to harvest at a reasonable time, usually about the end of July. If we were to direct seed into our garden, most of our plants would not bloom until the very end of the growing season.
How To Plant Love Lies Bleeding From Seed
For a more in depth explanation on how we start our flower seeds indoors, check out this article:
HOW TO START FLOWER SEEDS INDOORS
Love Lies Bleeding Seeds
First of all let's have a look at the tiny seeds of Amaranthus caudatus.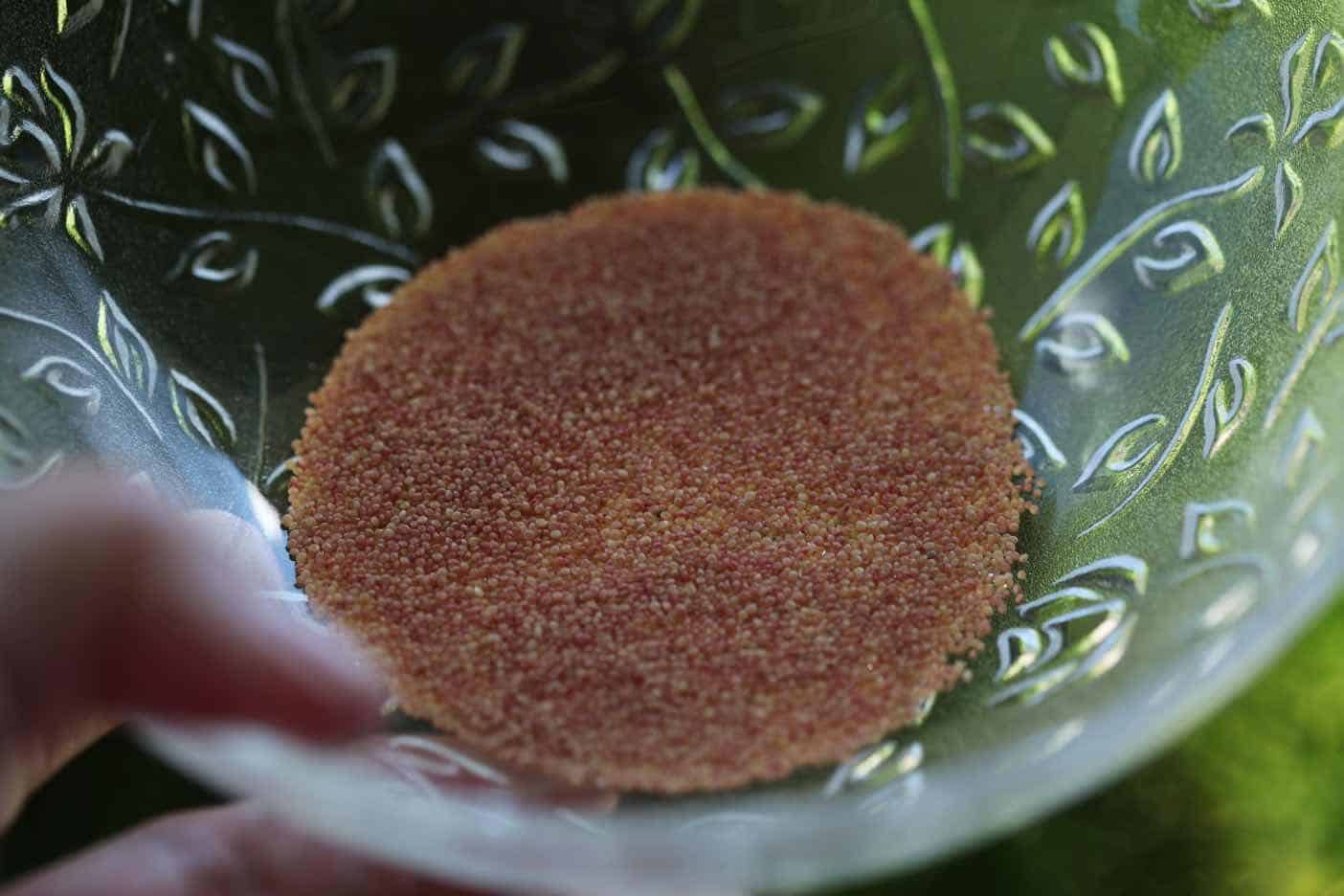 The seeds of Love Lies bleeding are very small and round, and the varieties that we grew had seeds which ranged in colour from beige to pink.
Although the seeds were tiny, I did not find them difficult to handle once I figured out a way that worked well.
It also allowed me to plant them fairly quickly without really wasting many seeds.
1. Planting The Seed
Seeds are started about six to eight weeks before the last frost date.
We plant all of our seeds in cell trays.
The reason for this is that they are easy to manage and we can get four trays of seedlings on one shelf of our shelving racks.
Fill the cells with a good seed starting medium. We like to use Sunshine Mix 4 Aggregate Plus.
Tap the cell tray on a hard surface to help settle the planting medium, and refill any cells that require filling.
Make a little indent on the top of each cell with your finger. This can help to catch the seeds in the middle of the cell.
Amaranth seeds are VERY tiny. I've found that the easiest way to pick up these seeds is to press them on a finger tip and transfer to the tray this way.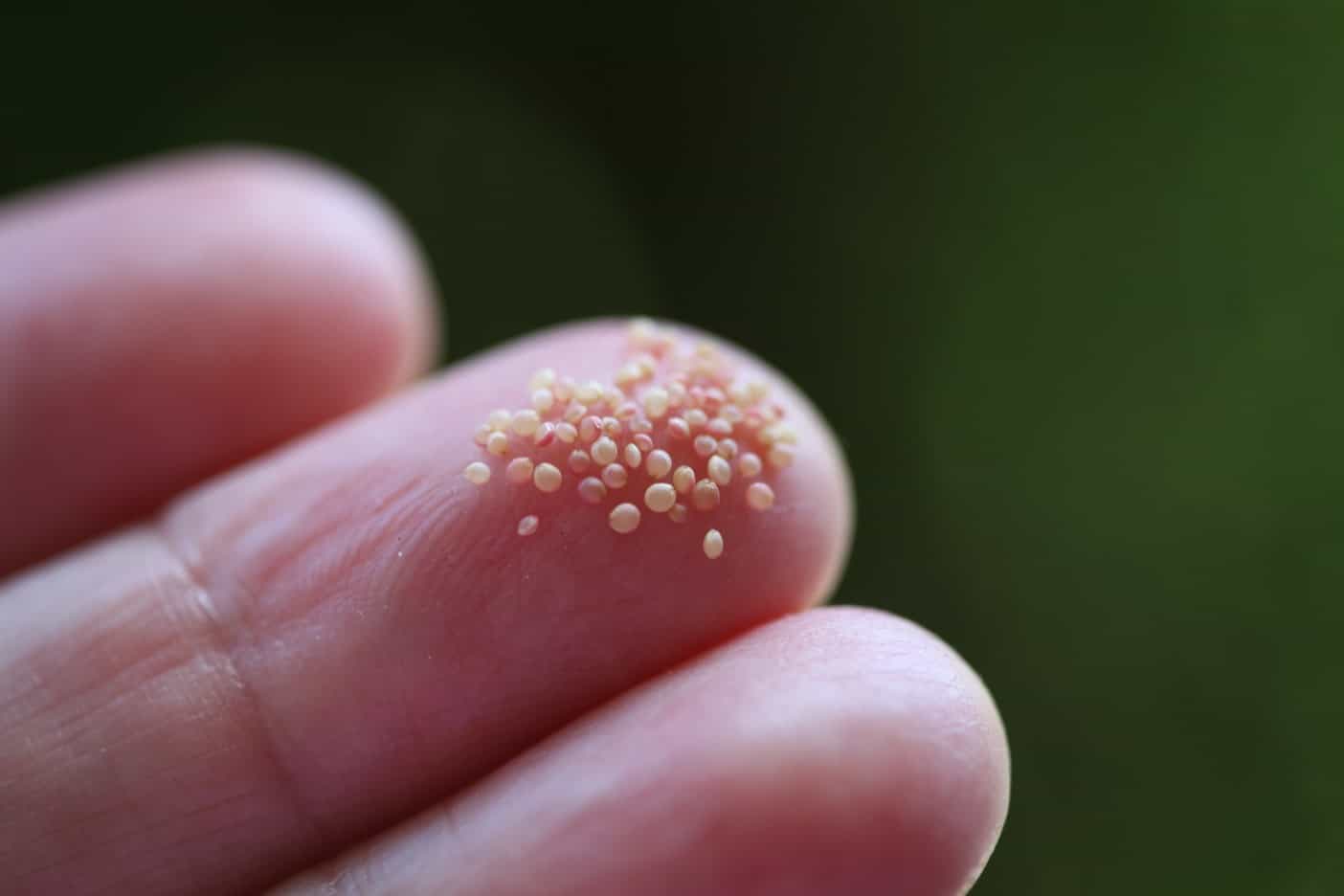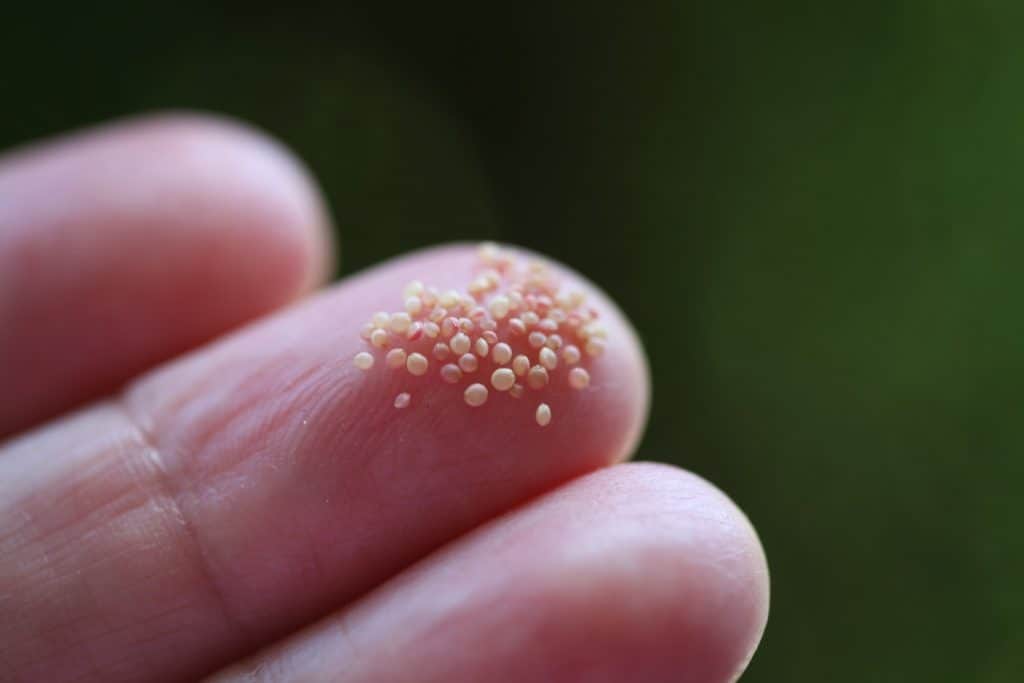 I just roll the seeds from my finger tip, and generally place several into each cell.
The seeds are then covered with a thin layer of vermiculite.
2. Bottom Water The Trays
After planting, the trays are soaked in a container of water until the cells are saturated.
They are then placed on heat mats until they germinate.
Remember to keep the cells moist during this process, and bottom water as necessary. Do not allow the seed starting medium to dry out, as this may destroy the germinating seeds.
3. Using Bottom Heat
Heat mats provide bottom heat, and aid in seed germination.
The use of heat mats was a game changer for me in growing seeds indoors, and I have had great success using this method.
Germination takes place generally within seven to ten days.
After sixty percent of seedlings have germinated, the cell trays are removed from the heat mats and are placed under grow lights.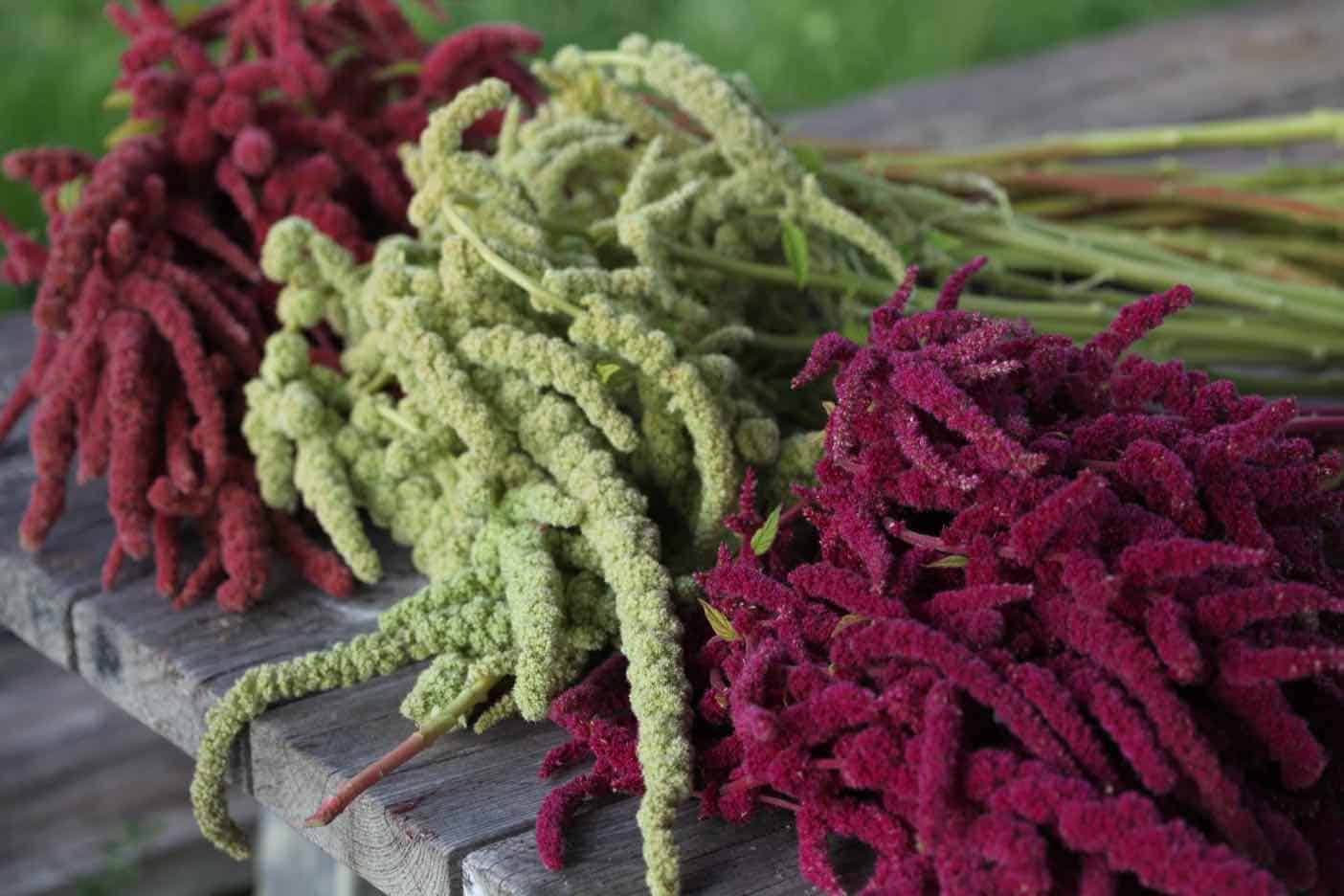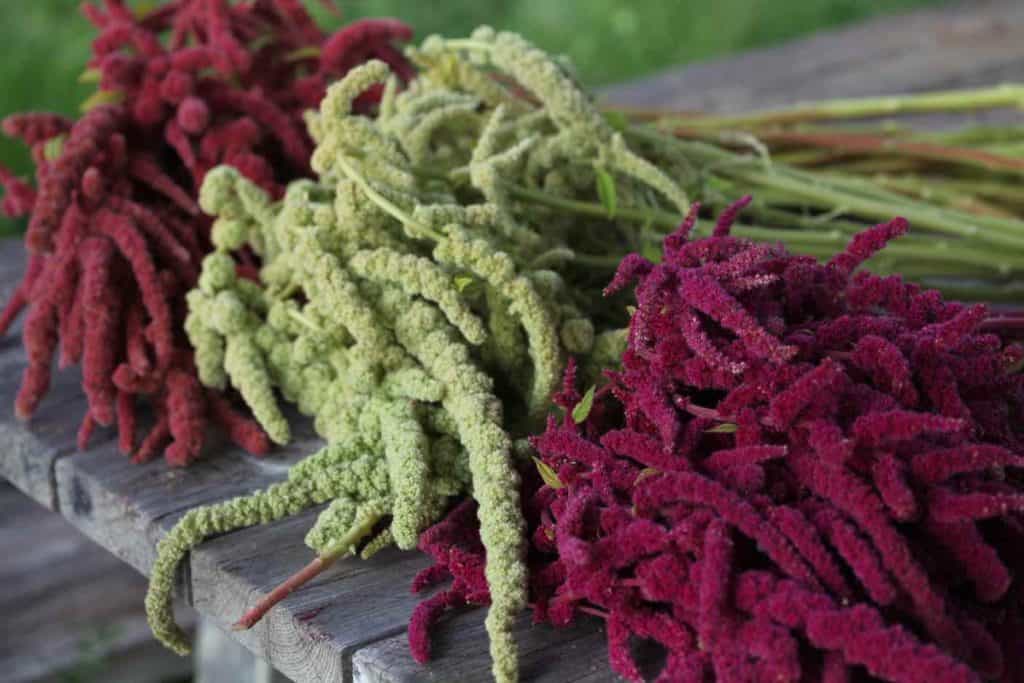 4. Grow Under Grow Lights
Grow the seedlings on, under grow lights, until they are able to be planted outside into the garden.
Love Lies Bleeding seedlings should be transplanted out when the danger of all frost has passed.
5. Harden Off The Seedlings
Make sure to harden off the amaranth seedlings before transplanting out.
This process helps to acclimatize the seedlings to the outdoor environment, and is a step which should not be skipped.
Once they are hardened off, the seedlings are ready to be planted out into the garden.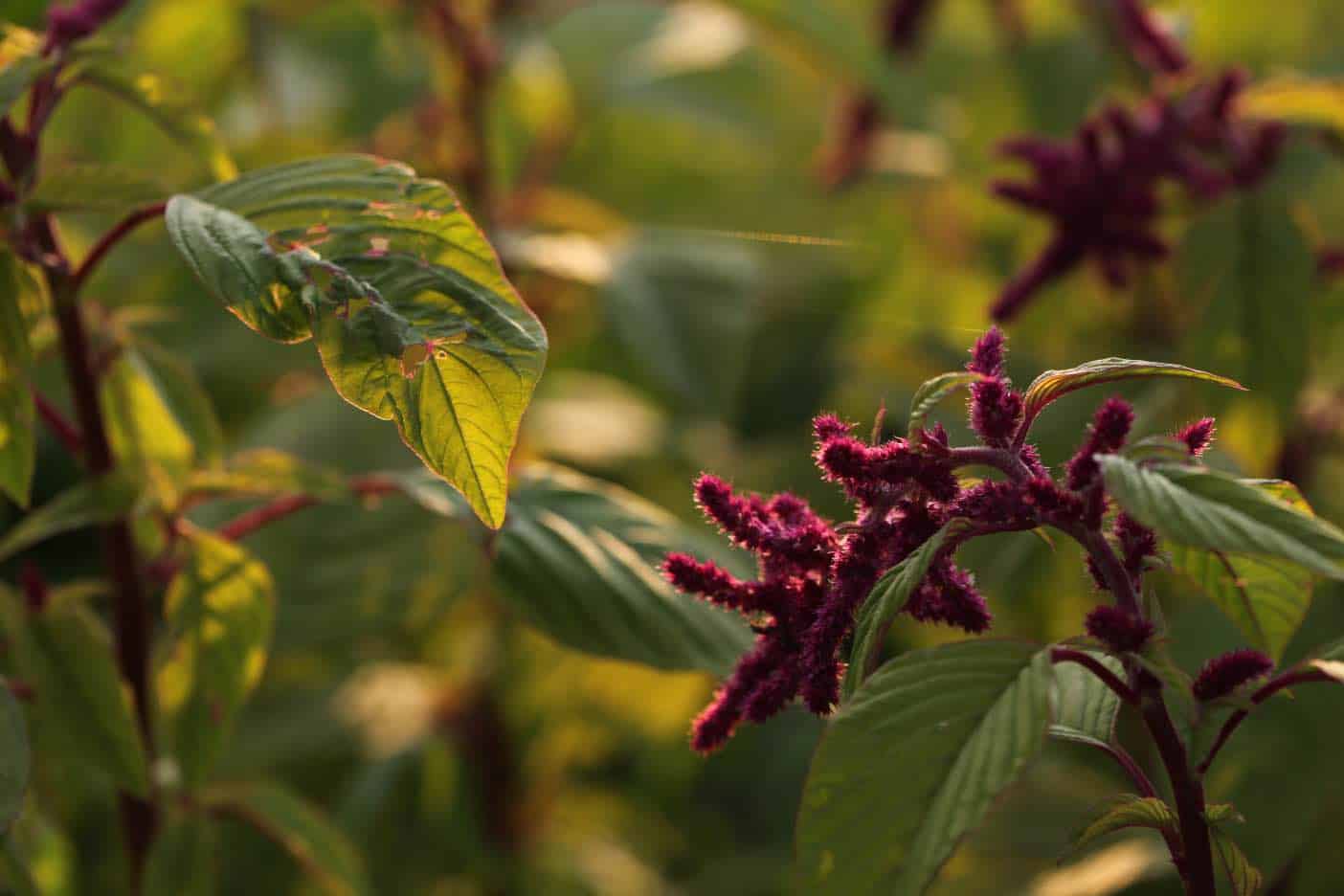 Planting Considerations
To grow this wonderful plant, here are some planting considerations for Love Lies Bleeding:
1. Planting Location
Because Amaranth is a heat loving annual flowering plant, it can essentially be grown in any growing zone during the summer months.
It is best grown in full sun.
We planted our seedlings into landscape fabric with burned holes at a 9″ to 12″ distance apart. We used the fabric to help minimize weed pressure.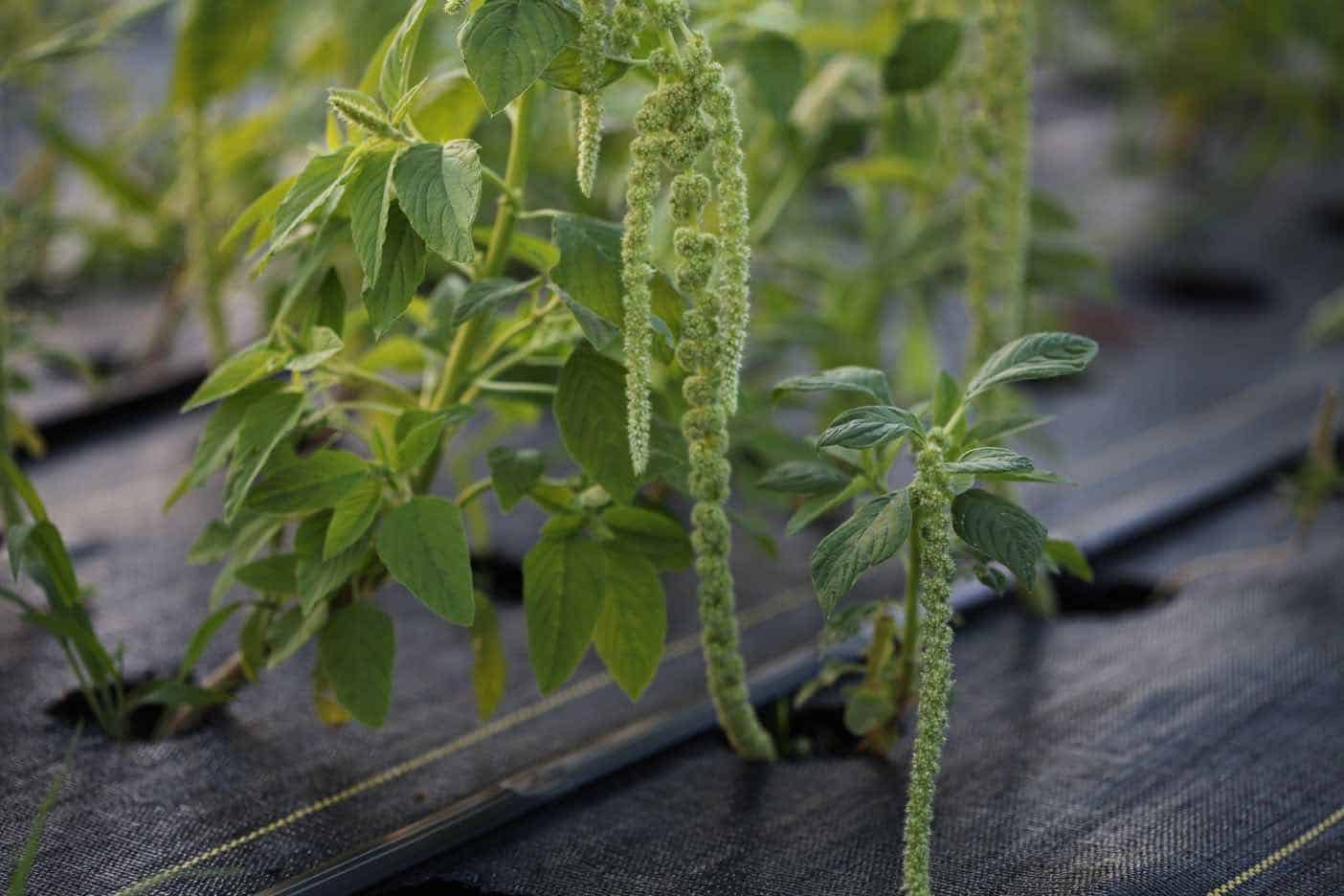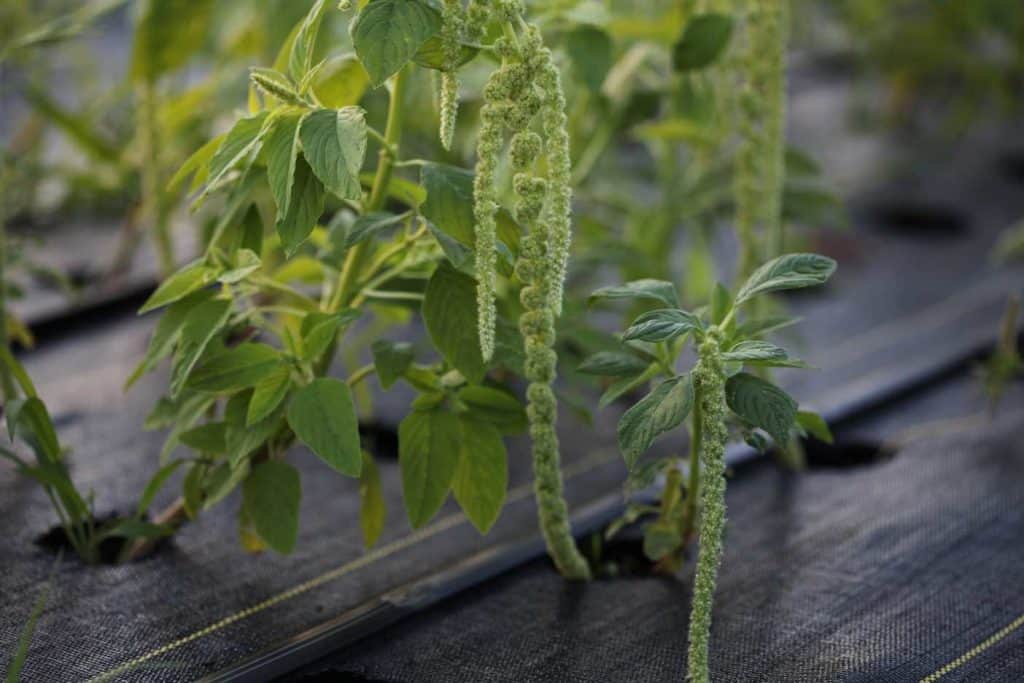 It did help to some degree, however our weed pressure is very intense. and weeding around the seedlings was still required.
2. Soil Requirements
Plant in rich well drained soil.
If planted in a medium soil, the plants will be shorter. We had this experience when growing them in our clay soil the first year. The plants were only about eighteen inches tall, and the pendulous blooms were touching the ground.
The following year the garden beds were amended, and the amaranth grew much taller with even better blooms. They were about three feet tall.
In some gardens with fertile conditions and longer growing seasons, the amaranth can grow up to six feet tall in optimal conditions.
3. Moisture requirements
Amaranth does well in moist soil, however we did not do any extra waterings and it grew well.
We did irrigation the first year, however after that did not use irrigation with no noticeable difference in the plants.
After the first year of growing we didn't really give these plants any extra moisture other than what they received from the normal elements.
Our growing location however is right on the coast, and the garden receives a heavy dew every morning which certainly provides lots of moisture to the garden plants.
4. Pinching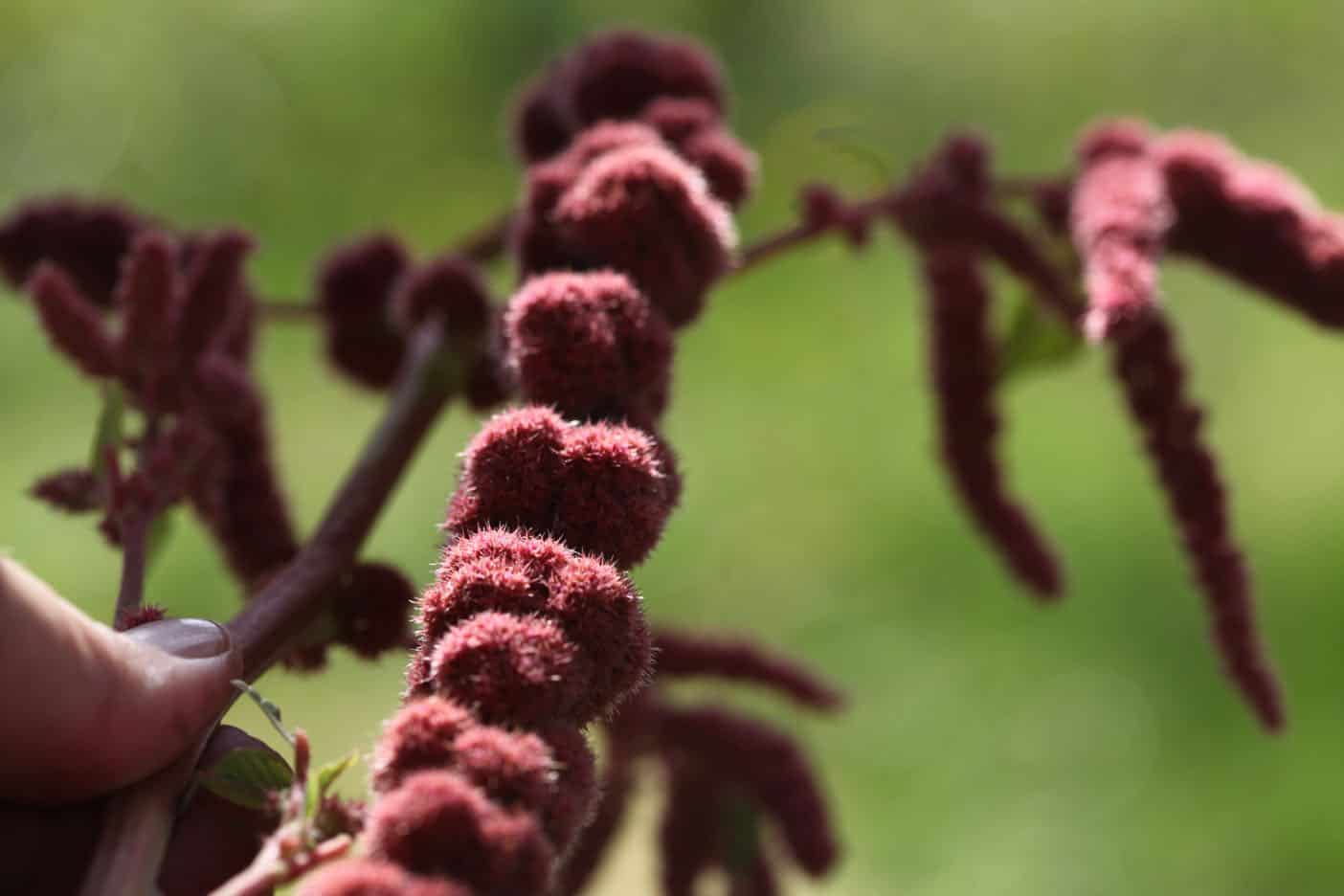 Pinch the amaranth seedlings at eight to ten inches, for better development and growth of the side stems on each plant.
This can help reduce a massive sized centre stem if grown in warmer climates with longer growing seasons.
I don't always pinch because of our shorter growing season, as it will set the plants back several weeks. Our stems on the Love Lies Bleeding do not tend to get too large.
Other species of Amaranths grown in our garden have gotten very large, such as Amaranthus cruentus "Hot Biscuits." These probably should have been pinched, and I made a note to myself to please pinch next year.
Love Lies Bleeding Days To Maturity
Days to maturity for Love Lies Bleeding is 65 to 75 days if direct seeded, and the same time frame if transplanted out.
We plant our seedlings out into the garden here in Nova Scotia generally in mid to late May, depending on the weather and predicted spring frosts.
Our Love Lies Bleeding were mature and ready to harvest in August.
Love Lies Bleeding Flower
The Love Lies Bleeding Flower is long and pendulous, and comes in a variety of different colours.
The classic deep maroon red is a wonderful flower.
I am drawn as well to the more muted Coral Fountain variety, which seems to grow a little larger in our garden. Emerald Tassels is also a great choice for light green blooms, and some of these flowers grow very long for us.
Does Love Lies Bleeding Self Seed?
Love Lies Bleeding does self seed, however not much in our cooler growing zone.
We find the occasional volunteer plant popping up here and there towards the end of the season. This is always a nice little gift, which I will use if the flowers are able to grow big enough.
This plant has not been identified as invasive according to the Invasive Species Compendium.
How To Harvest Love Lies Bleeding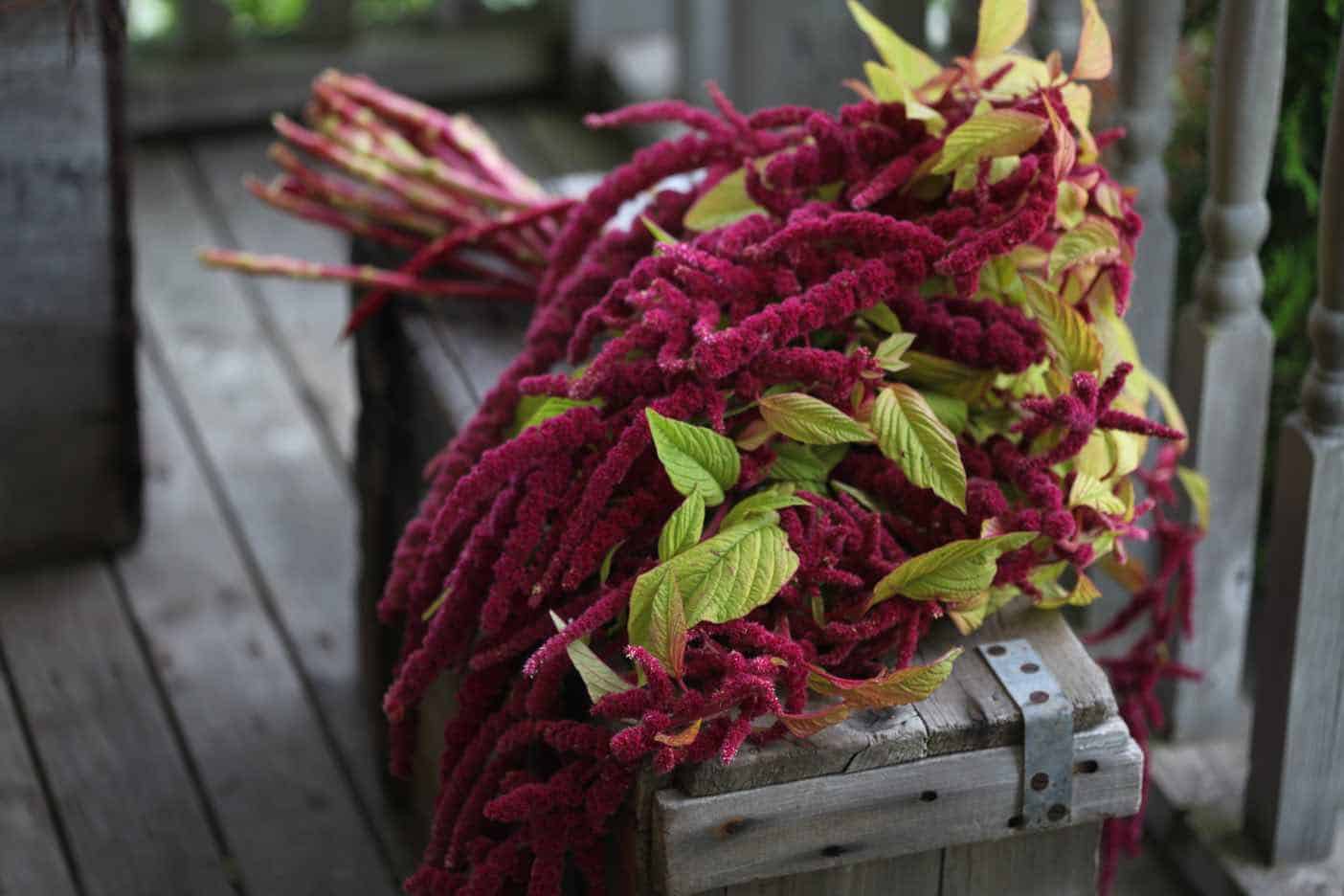 Harvest Amaranthus caudatus for cut flowers when three quarters of the flowers are open on the individual blooms.
If harvesting for drying and use for everlastings, allow the bloom to develop further and let some of the seed begin to set. The blooms should be firm to the touch.
If harvested in an earlier stage for drying, the blooms will not hold up as well.
The blooms are easy to harvest. The plant grows from a centre stem which is cut off at ground level.
Cut at an angle, which is always best practice for harvesting cut flowers.
This will prevent full contact with the bottom of your container and possible interference with uptake of water for hydration.
Along the centre stem will be a bunch of side branches. I cut these off so that there are no stems or leaves in the water of the container. Generally I remove most of these side branches, which are usually pretty small.
Most often I will also remove most of the leaves at the top of the stem, to allow for visibility of the pendulous blooms. I thinks some leaves look good, but it really depends on the size of both the leaves and the blooms.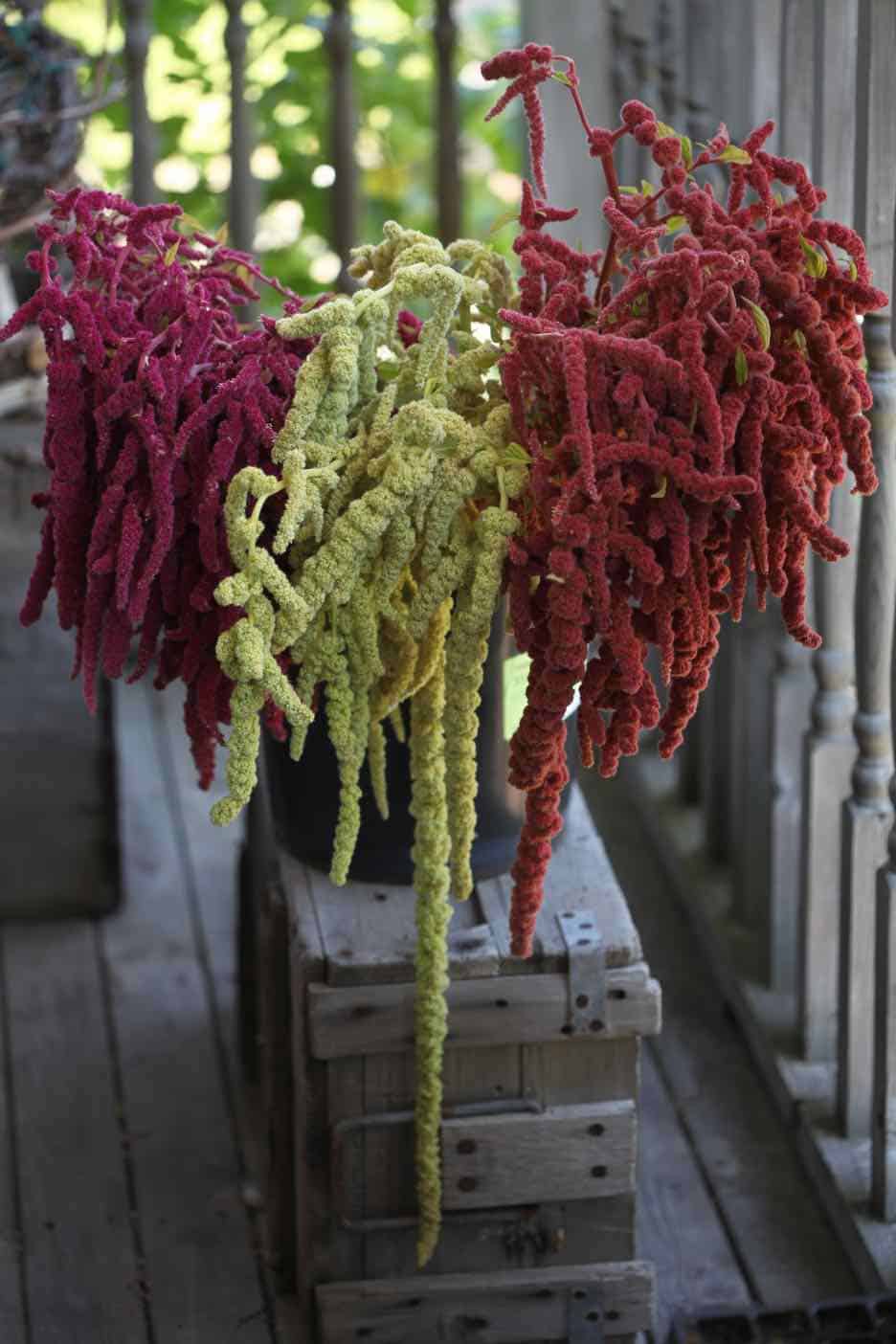 It is also dependent on individual taste. If you are not sure which way you would prefer, you can certainly try each way to see what works best for you.
Love Lies Bleeding Bouquet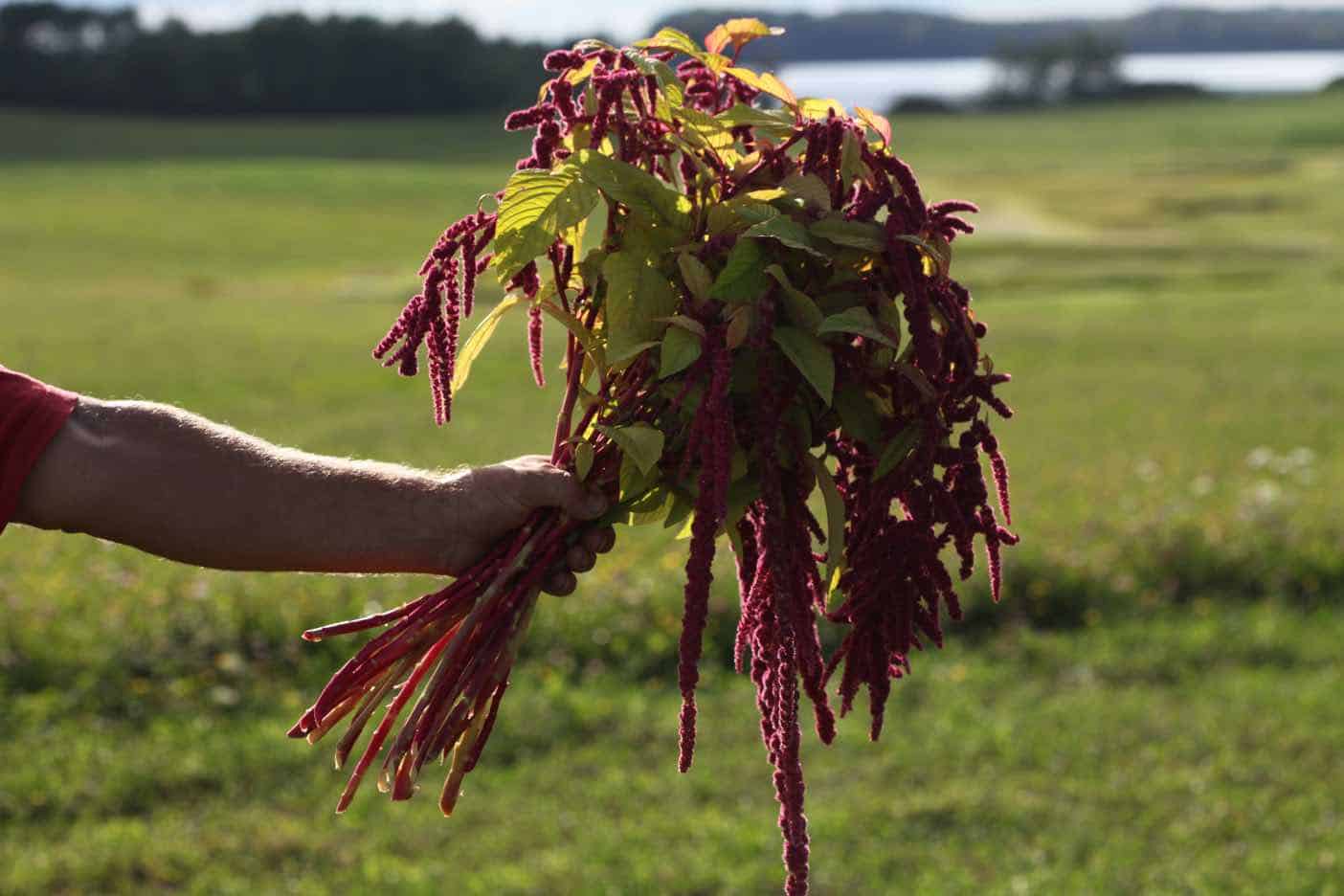 Love Lies Bleeding can be put into a bouquet or vase all on it's own for an impressive display.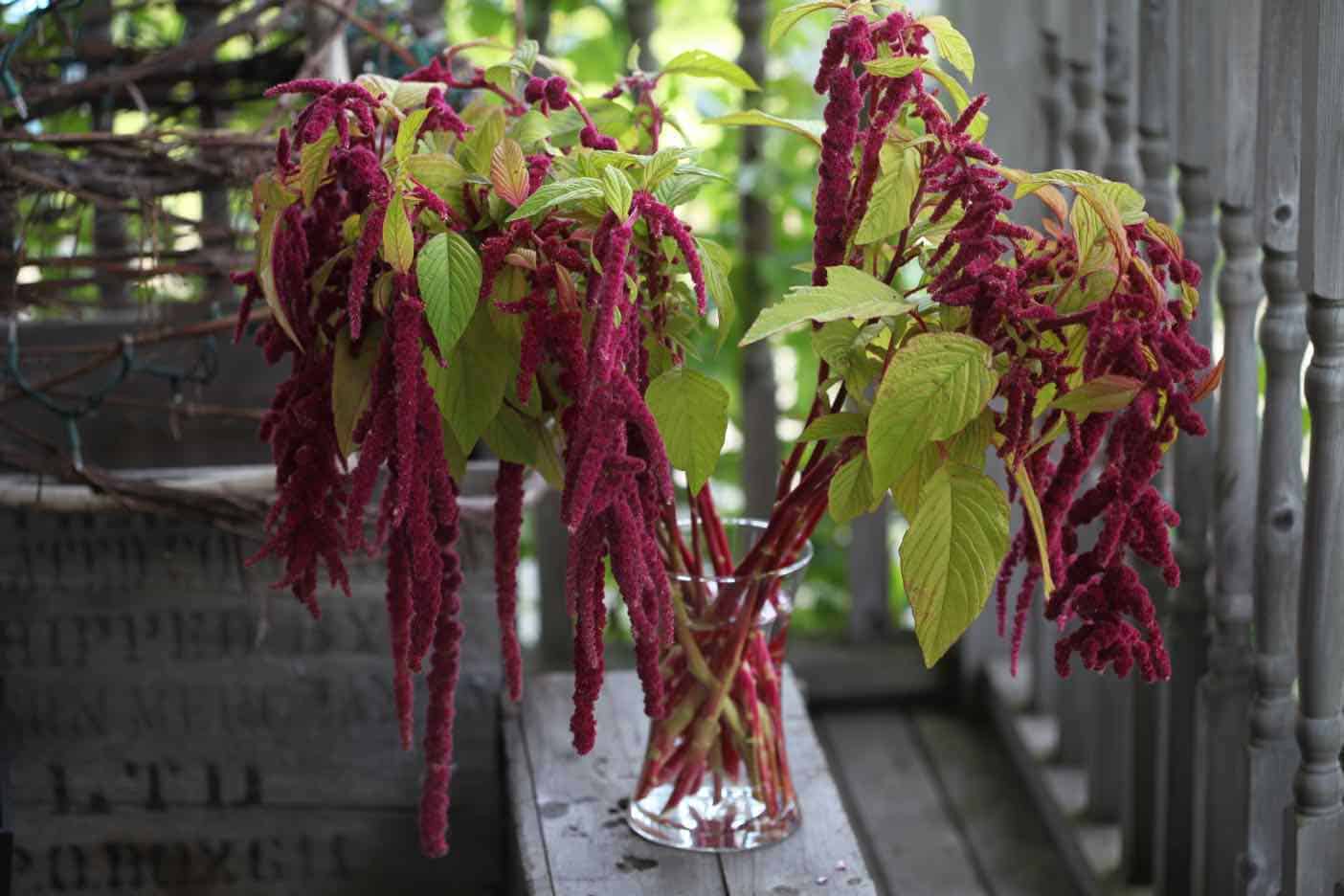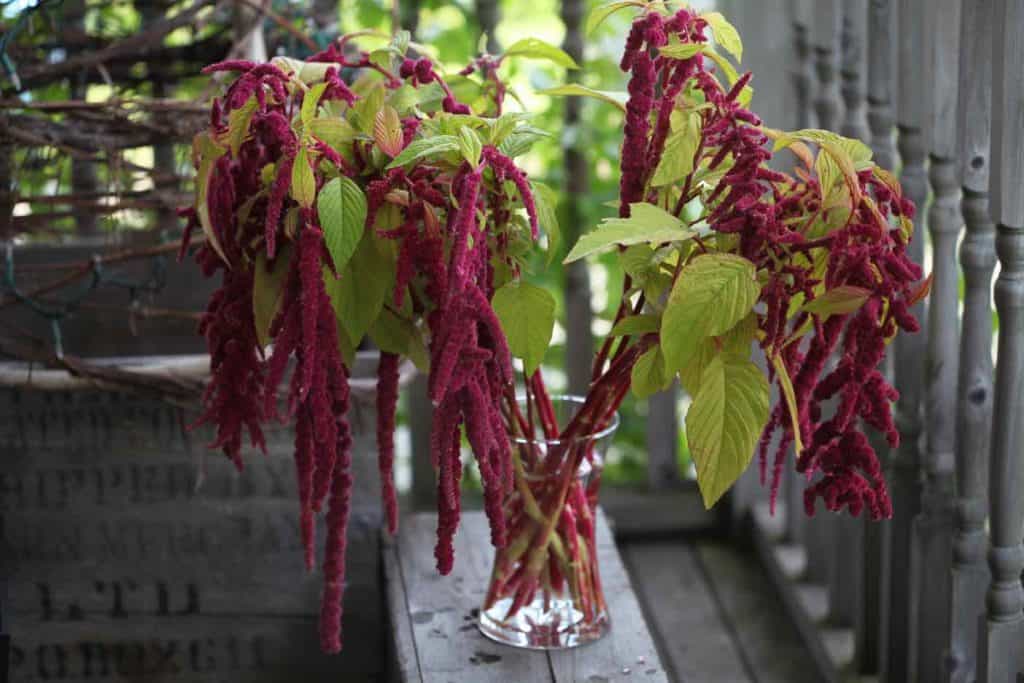 It is also wonderful mixed in with other flowers as a dramatic accent.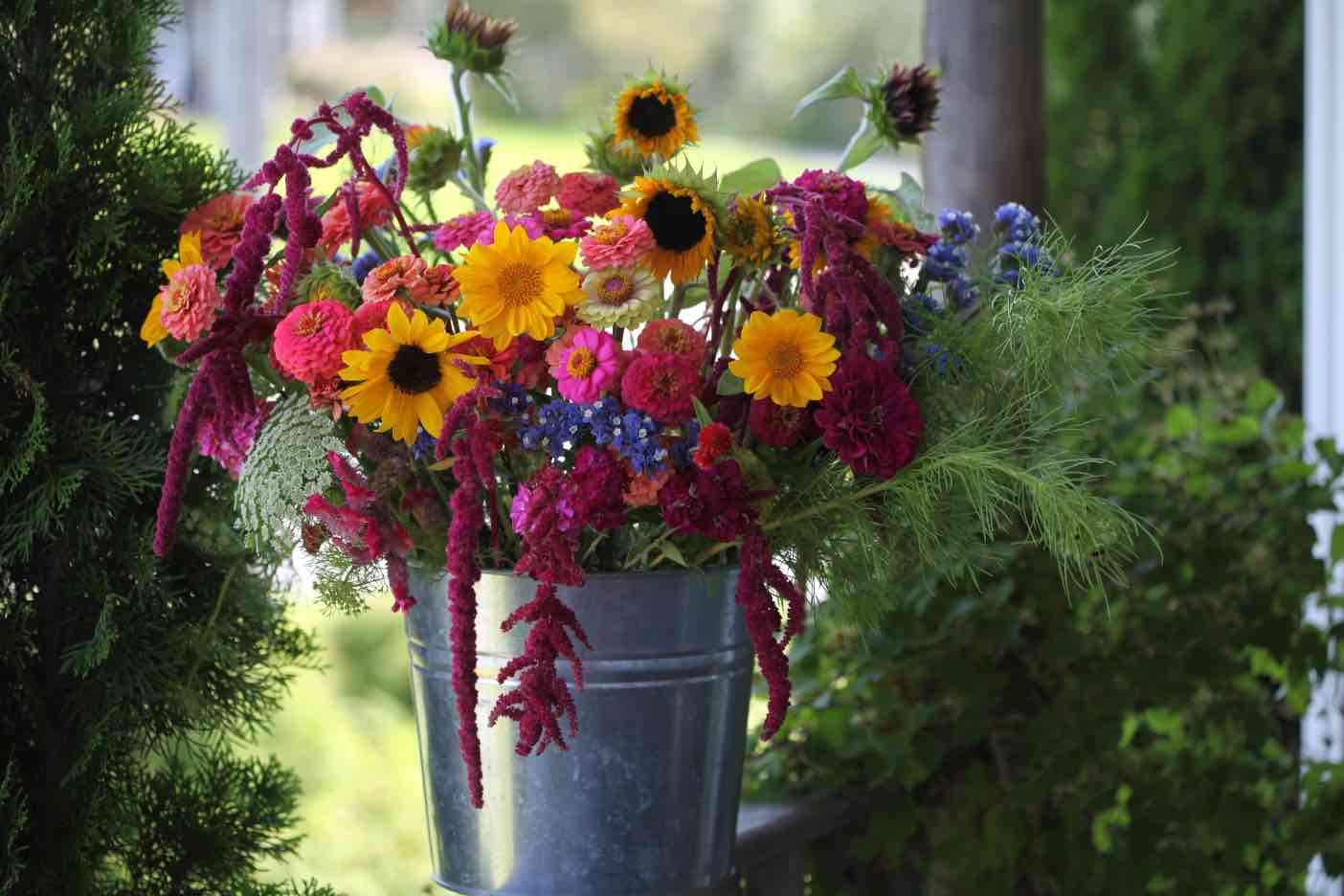 Love Lies Bleeding is one of the best annual plants for cutting.
The flowers will last approximately seven to ten days in the vase.
Love Lies Bleeding Companion Plants
Planted in the garden it makes an interesting specimen, especially if grown to it's full height.
We grow Love Lies Bleeding mainly to use as cut flowers. For us, companion plants to grow with these flowers are those which would look wonderful in the vase with these blooms.
We love to grow Cafe Au Lait Dahlias in the garden with these Amaranth, as they look fabulous together as cut flowers.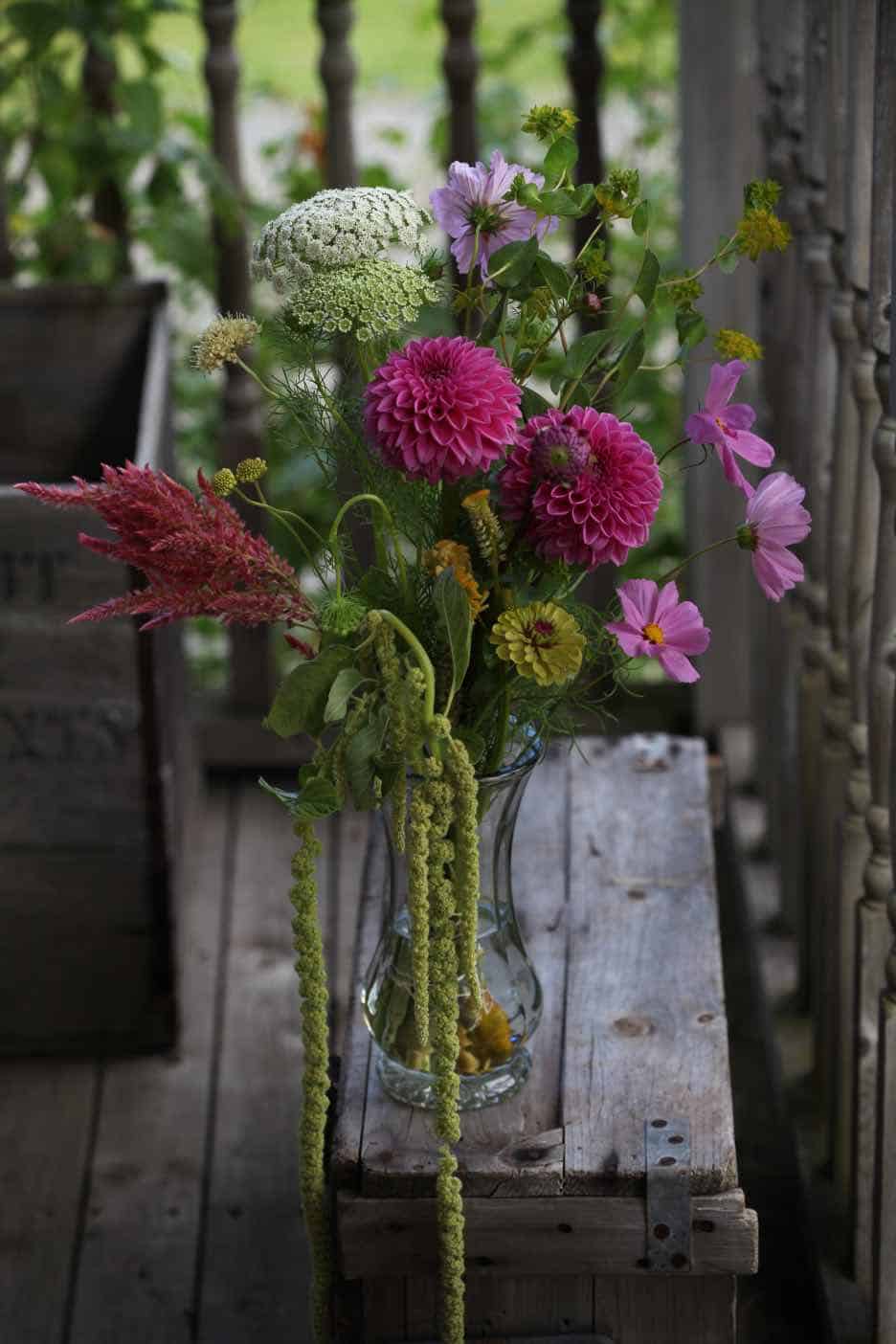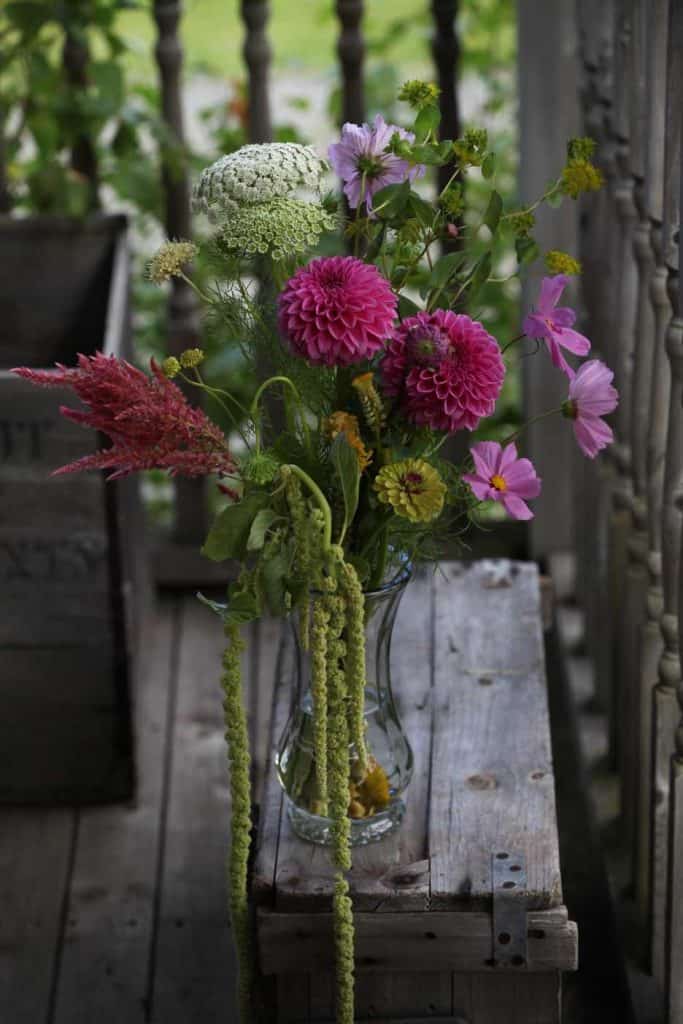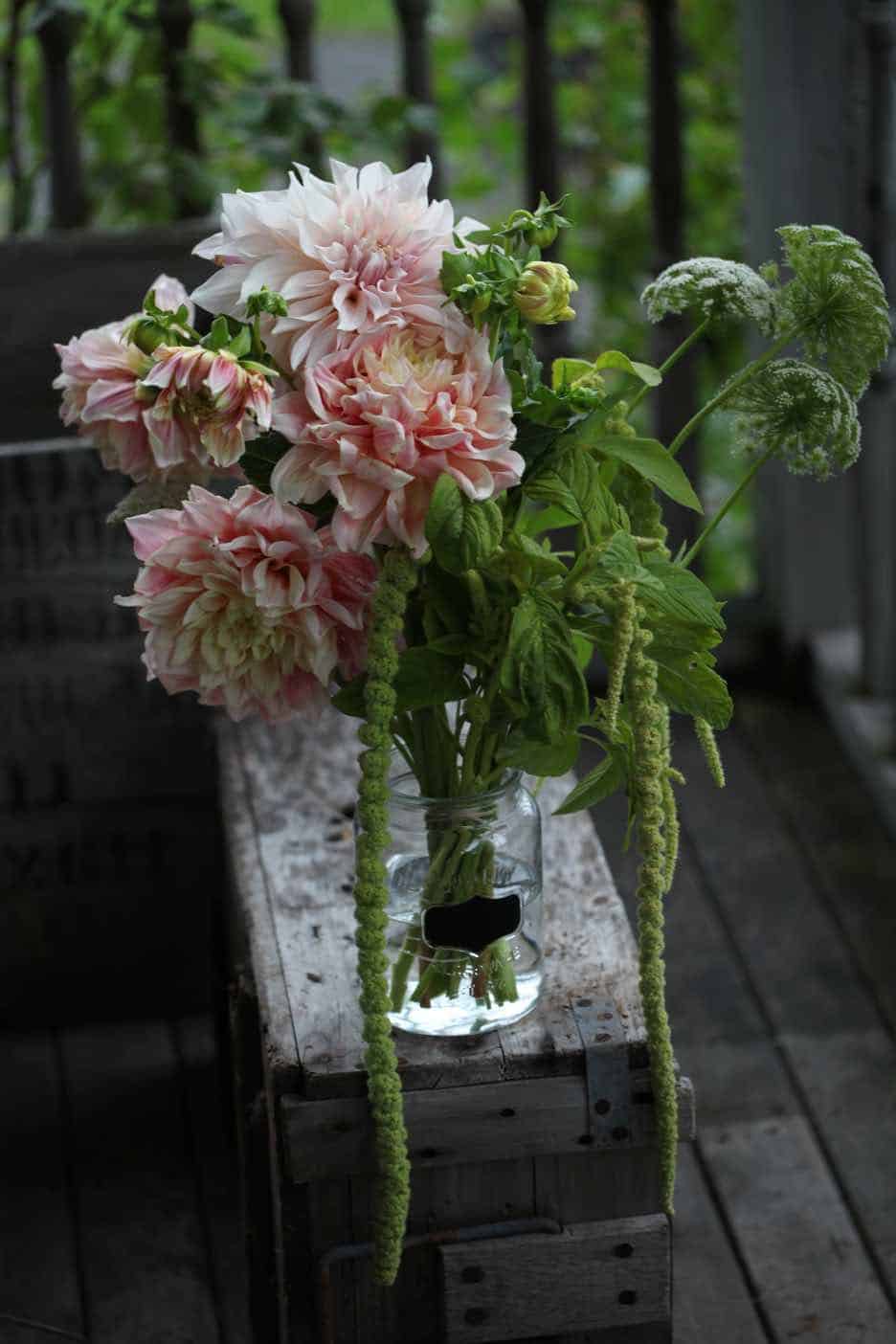 Zinnias and sunflowers are also grown at the same time as the Amaranth, and look wonderful together in a bouquet. Celosia, Cosmos and Statice are also wonderful choices, and all look great together.
How To Dry Love Lies Bleeding
Love Lies Bleeding blooms are considered to be everlasting, meaning that they can be preserved to maintain their colour and texture in the dried form.
These are fabulous plants for drying and using in dried flower arrangements.
To Dry:
Wherever you dry your flowers, make sure there is limited light to help preserve the colours of the blooms, so a darkened room is preferable.
To dry, the flowers can be left in a vase with some water, allowing the tassels to dangle. When the water evaporates do not refill.
Pendulous blooms should be dried by placing the stems in an upright position.
Dried Love Lies Bleeding looks wonderful in everlasting flower arrangements. The tasseled rope-like blooms add character and charm to any dried flower design.
RECOMMENDED PRODUCTS FROM THIS POST
This post contains affiliate links, which means I make a small commission at no extra cost to you. See full disclosure on privacy policy here. As an Amazon Associate I earn from qualifying purchases.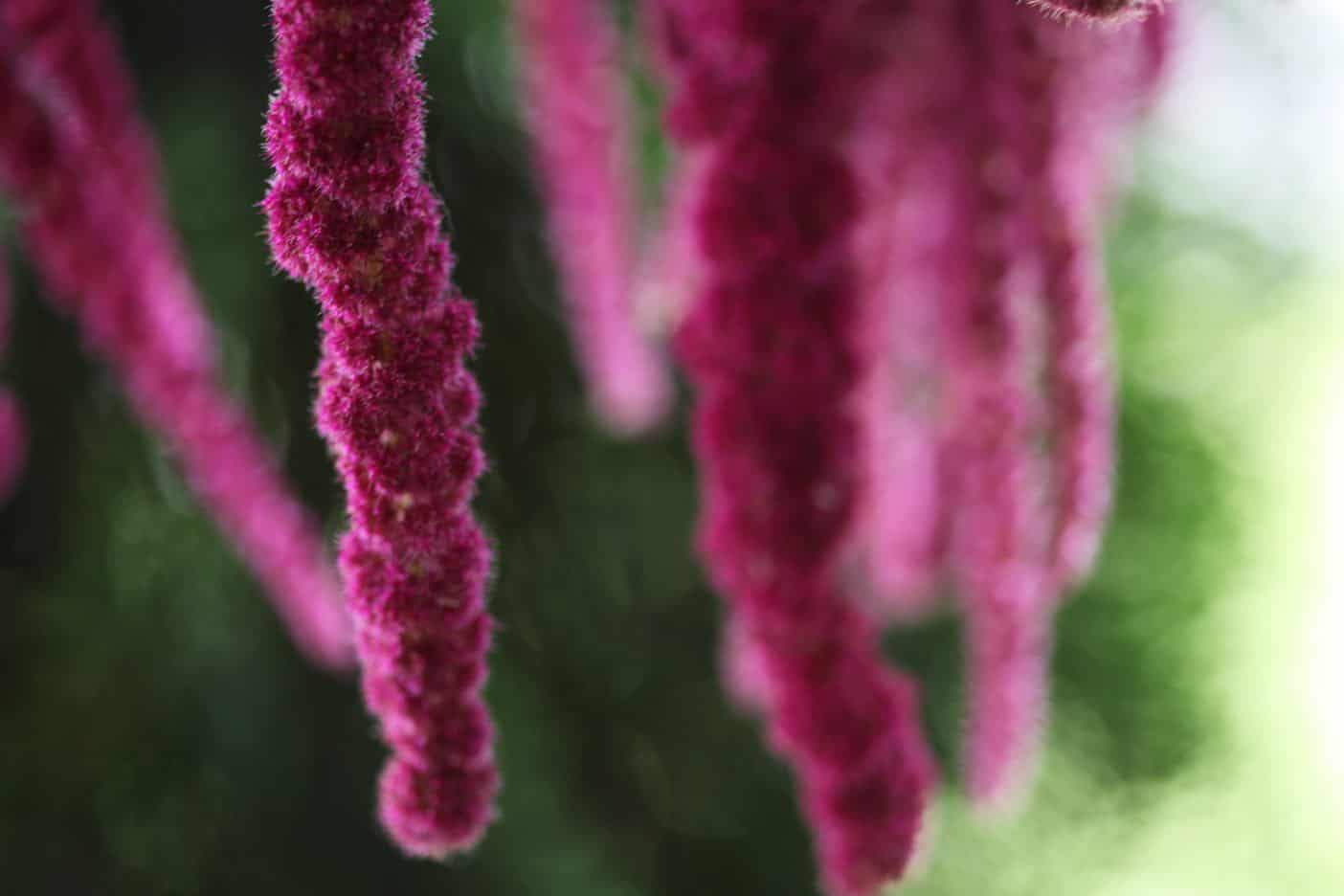 Have you tried to grow Love Lies Bleeding in your garden? Be sure to leave a comment down below to share your experience.
MORE POSTS YOU MAY LIKE:
HOW TO GROW AMARANTH IN THE GARDEN
HOW TO GROW CELOSIA FOR THE CUTTING GARDEN
PERENNIAL BACHELOR BUTTONS IN THE GARDEN
PIN IT FOR LATER!