Last updated on November 6th, 2023 at 02:37 am
Calla Lily plants have beautiful tubular flowers that are absolutely stunning when in full bloom. Sometimes however, when they are bought already potted from a big box store, they seem to fade all too quickly. Have you ever wondered just how long potted calla lilies are supposed to last?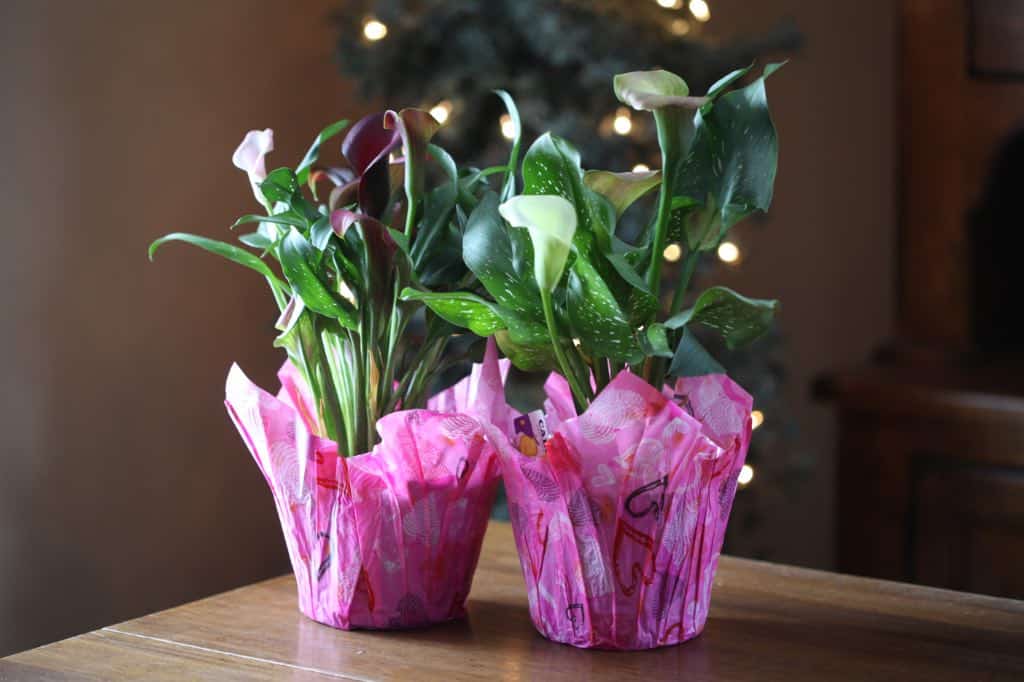 Potted Calla Lilies can last for approximately four months in an active state of growth. This includes a period of foliage growth in the first six weeks, followed by six to eight weeks of blooming. After blooming the foliage will begin to yellow and fade, until the plant becomes dormant. The Calla Lily rhizome will rebloom again, after a period of dormancy.
Calla Lilies are elegant, yet so easy to grow. They are generally available to grow all year round, so we can grow them indoors in winter, and as an outdoor plant in summer.
I always try to keep something growing indoors, especially during the winter months to brighten up the indoor space. Calla lilies are the perfect plant to grow inside. They don't need a lot of sun or care in general, and are a low maintenance plant.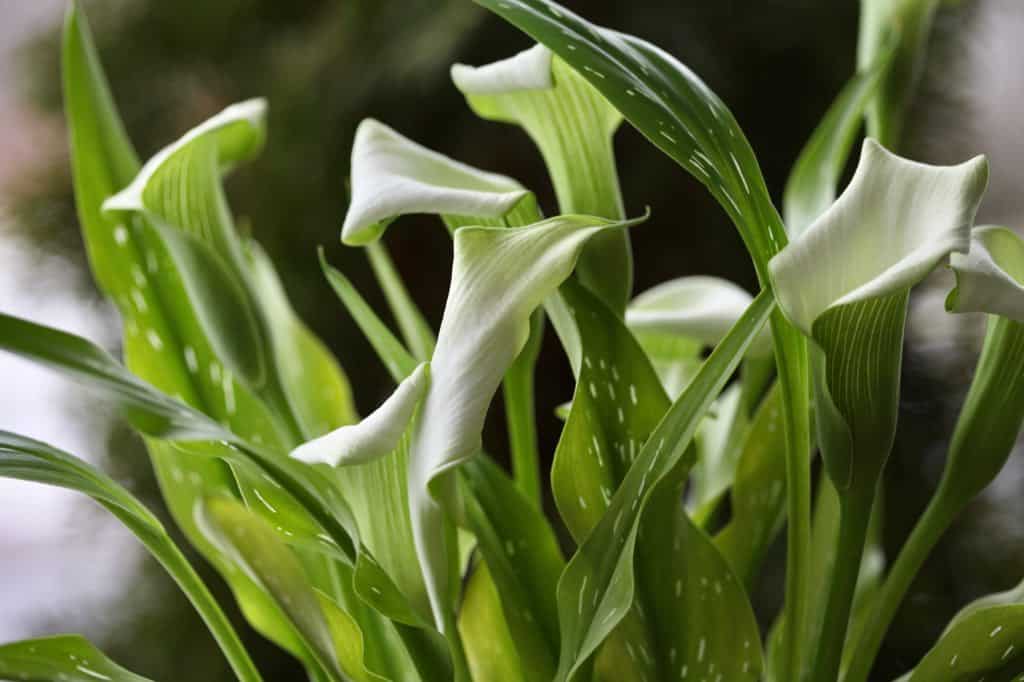 Calla Lilies Are Tropical Perennial Plants
Calla Lilies, or zantedeschia aethiopica, are perennial plants that can remain in the garden in warm tropical climates, such as in usda plant hardiness zones 8 or 9 and above. In colder zones the Calla Lily rhizomes will need to be dug up and brought inside if they are to survive the winter.
These are perfect plants for the cutting garden, with their straight flower stems and long lasting blooms. Many however are grown in pots, and do exceptionally well as a container plant.
In late spring, I plant Calla Lilies in pots outside. At the end of the season in early fall, when the foliage goes dormant, the rhizomes are dug and placed in a cool spot until spring.
The next year in spring, they are again replanted outside, and the cycle continues.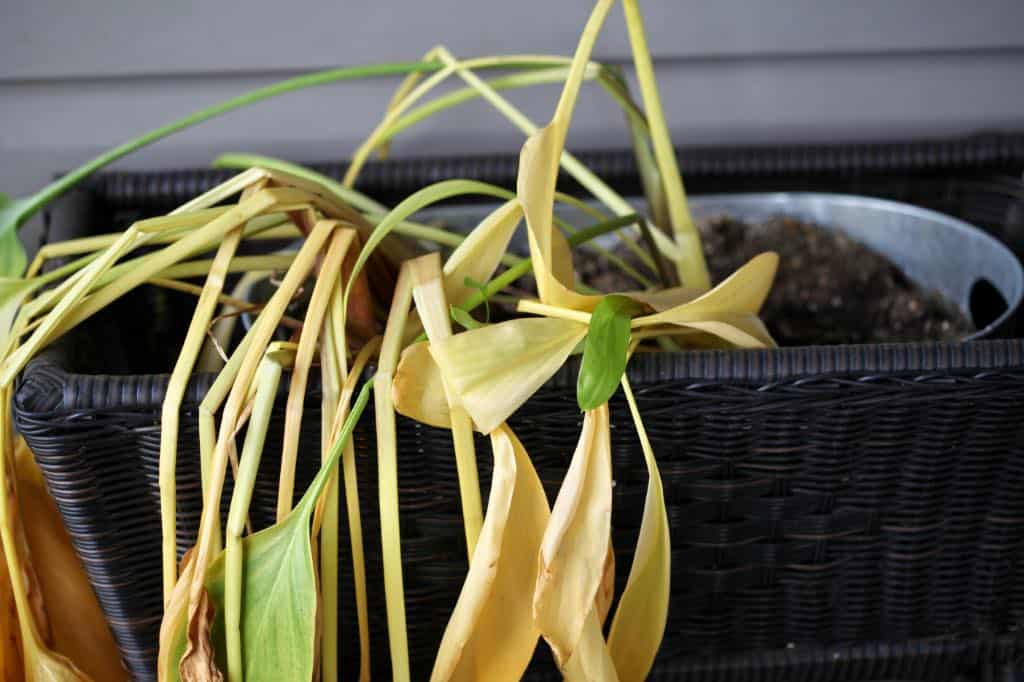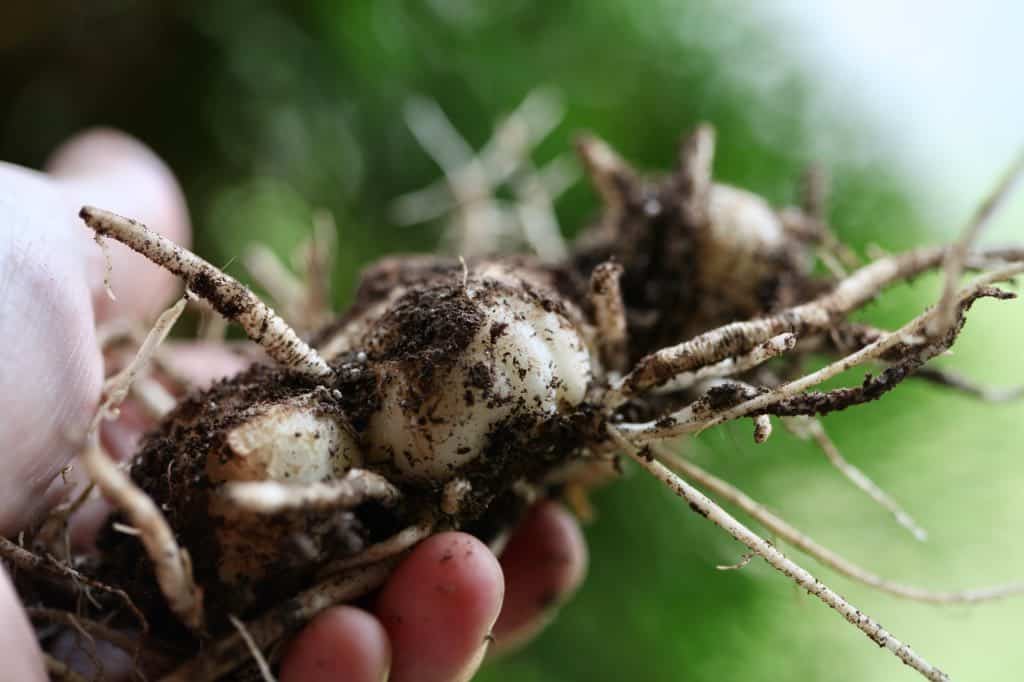 Will Potted Calla Lilies Come Back Every Year?
Calla Lilies should come back every year if given the proper calla lily care.
This is because Calla Lilies are perennial plants.
At the end of their growing cycle they go dormant. Then after a period of dormancy, they once again start to sprout and regrow.
So what of those indoor calla lilies that we bought at big box stores in the floral department? Those flowers have been blooming in the winter months, in the opposite season as those we grow in summer.
These are the same Calla lilies that we grow in summer, with forced blooms to grow indoors in winter.
These plants will have their bloom time, and then will become dormant, just as the summer blooming Callas.
With the right care, these plants as well can last a long time, and may survive for many years to come.
Give them a period of dormancy to rest, and in the springtime when these rhizomes begin to sprout, they can be planted outside as well.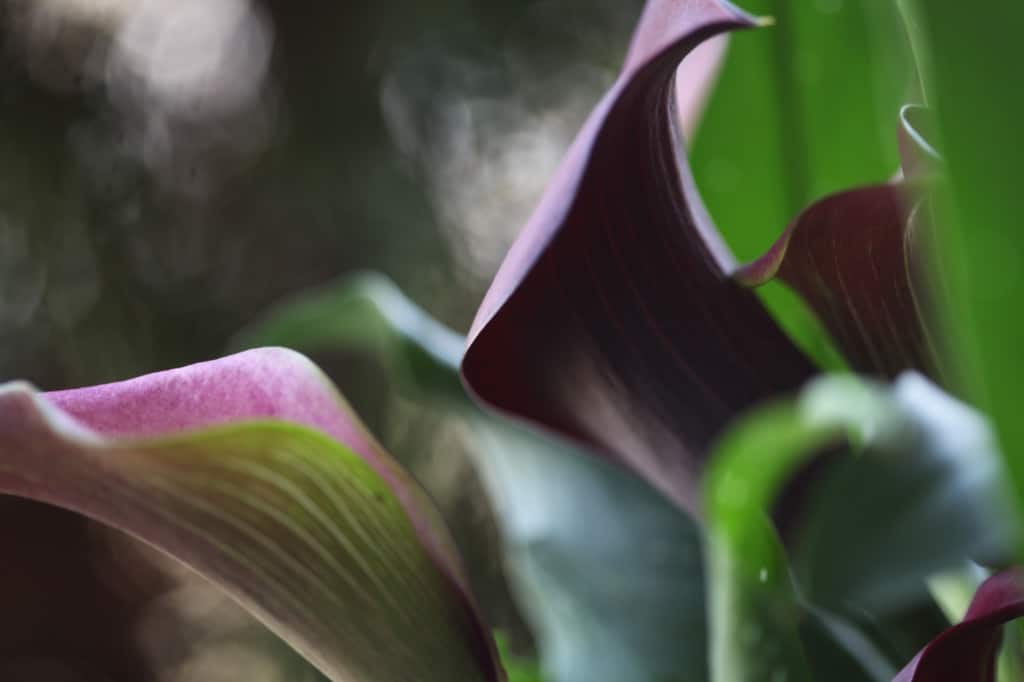 Do Calla Lilies Grow Well In Pots?
Calla Lilies grow very well in pots, whether grown as an indoor plant, or outdoors in summer.
The plants do not seem to mind the restriction within the pots, and will often grow very well and multiply within the potted space.
The pots also tend to warm up faster than the garden soil, creating a lovely warm environment for the Calla Lily rhizome growth.
Some gardeners prefer to grow their Calla lilies in pots. In fact some growers will actually bury their potted callas right into the garden soil, pot and all.
The calla lily bulbs, which are actually rhizomes, do best when planted shallowly in the pot with the eyes or shoots just barely visible poking up through the soil.
You can starting your callas early in spring by potting them up in a good potting soil mixture, in a pot with good drainage.
Keep the pot in a sunny, warm and frost free location, and then place outside once the risk of all frost has passed and the warm weather has arrived.
Place the potted flower in part shade in hot summer areas, and in a sunny spot in cool summer areas. Calla Lilies do not like intense summer heat, and the foliage may scorch if sunlight is too intense.
How Long Do Potted Calla Lilies Last?
Calla lilies have a period of active growth for approximately four months and then slowly fall back into dormancy.
Potted callas therefore will also go through this period, from foliage, to bloom, to dormant state.
There is a chance if you have purchased a potted Calla Lily, that it may be almost at the end of it's blooming period. Perhaps it will only have several weeks left to bloom, and then starts to become dormant.
It's hard to know how long it has already been in bloom.
Some unknowing potted calla lily owners may choose to toss their precious callas, unaware that the plant is heading into dormancy. When the foliage turns yellow and starts to recede, it gives the appearance that the plant may be dead.
But this is far from the case.
The yellow leaves and fading plant are just part of the natural process of the plant going into dormancy.
So let's have a look at the growing cycle of Calla Lilies in brief, and different parts of the plant.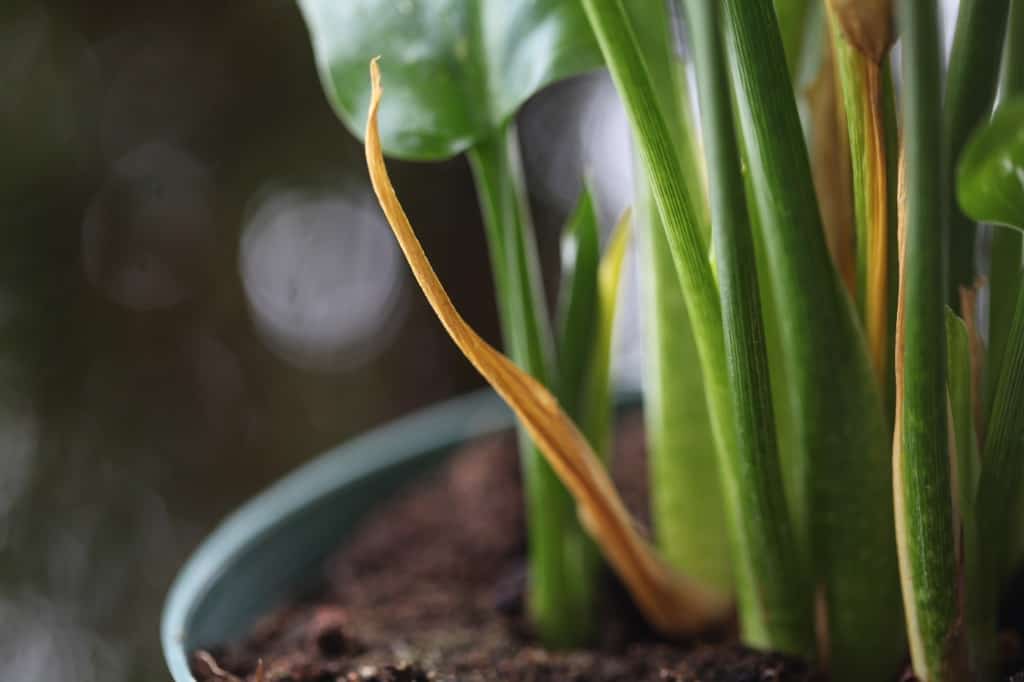 Calla Lily Growth Cycle
If a Calla lily is in the right spot and given everything it needs to grow well, it can flower for up to two months.
The growth period however is much longer than the two month flowering period, and lasts about six months.
Calla Lily Bloom Period
Sprouting Rhizome
The bulb-like structure of calla lilies is actually a rhizome.
The rhizome starts to sprout in early spring, when it comes out of dormancy.
It can be planted at this stage, when it develops shoots.
It's very important to provide enough light, moisture, and nutrition for the calla lily plant to grow.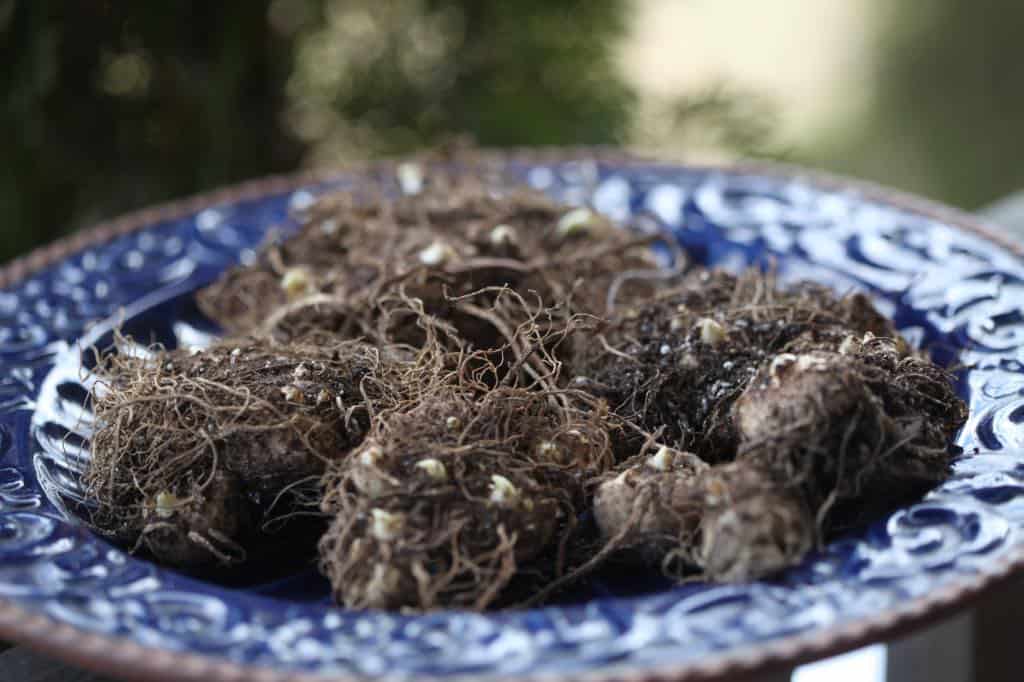 Foliage Development
The foliage develops for four to six weeks, and grows before the blooms emerge.
Calla Lily foliage is smooth and green and sometimes speckled or variegated.
The foliage is swordlike in shape, and very attractive all on it's own.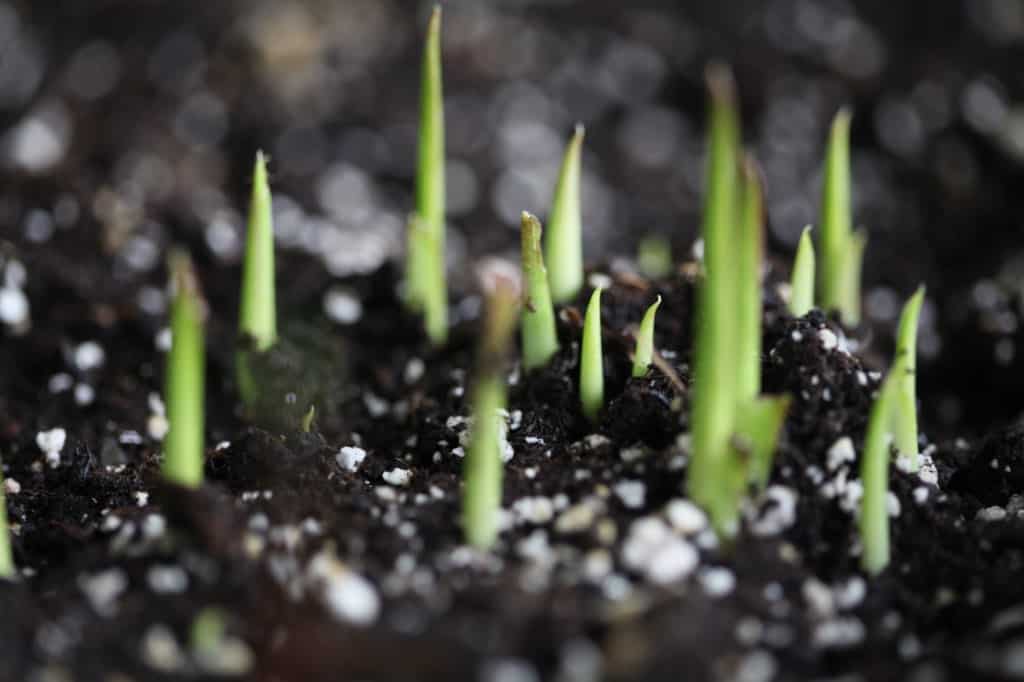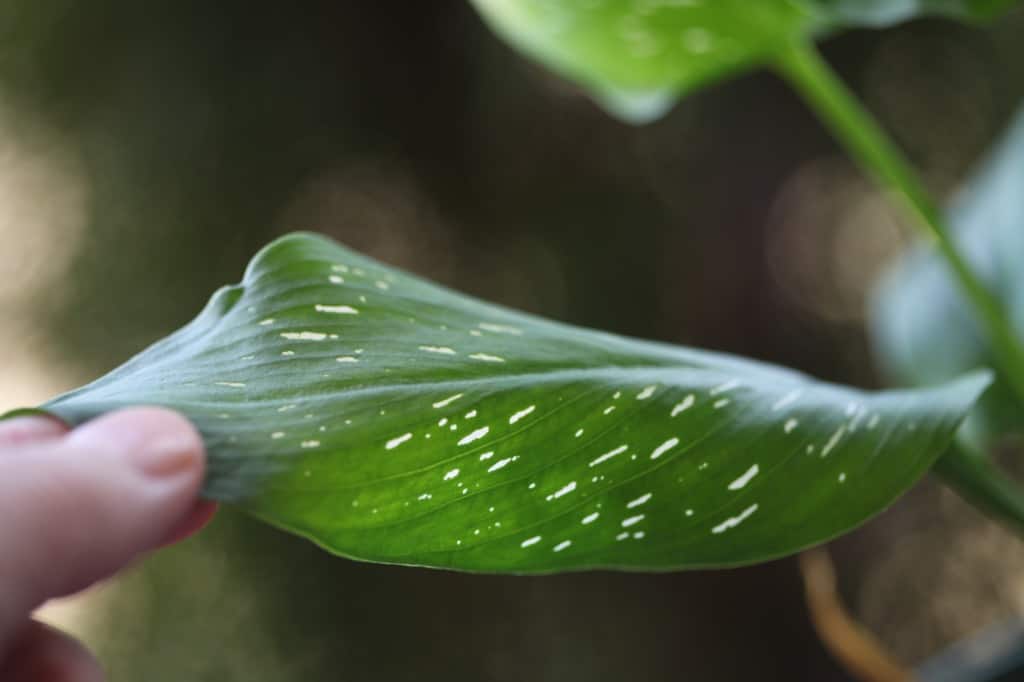 Flower Development
After six weeks, the flower buds begin to show.
After seven to eight weeks the flower buds begin to bloom, and the flowering window at this stage can last for one and a half to two months.
Each vaselike calla lily flower can last for several weeks. For this reason, Calla Lily blooms also make excellent cut flowers, and look wonderful in floral arrangements.
Calla Lily flowers are available in many different colours, making them a wonderful choice as a flowering plant.
When the Calla Lily flowers have finished blooming, the plant will die back naturally.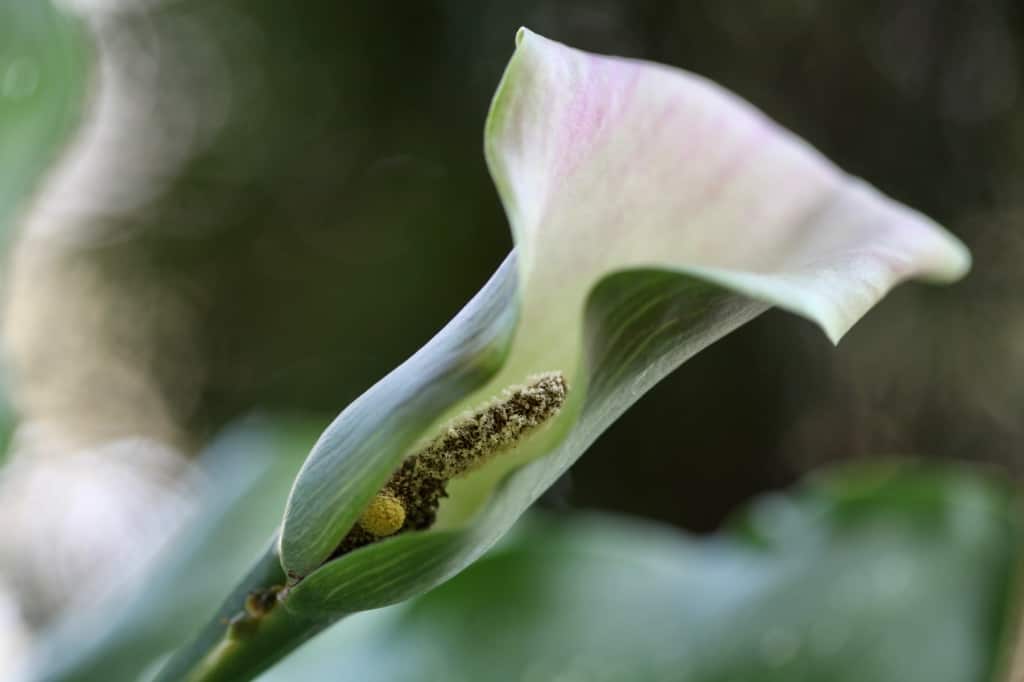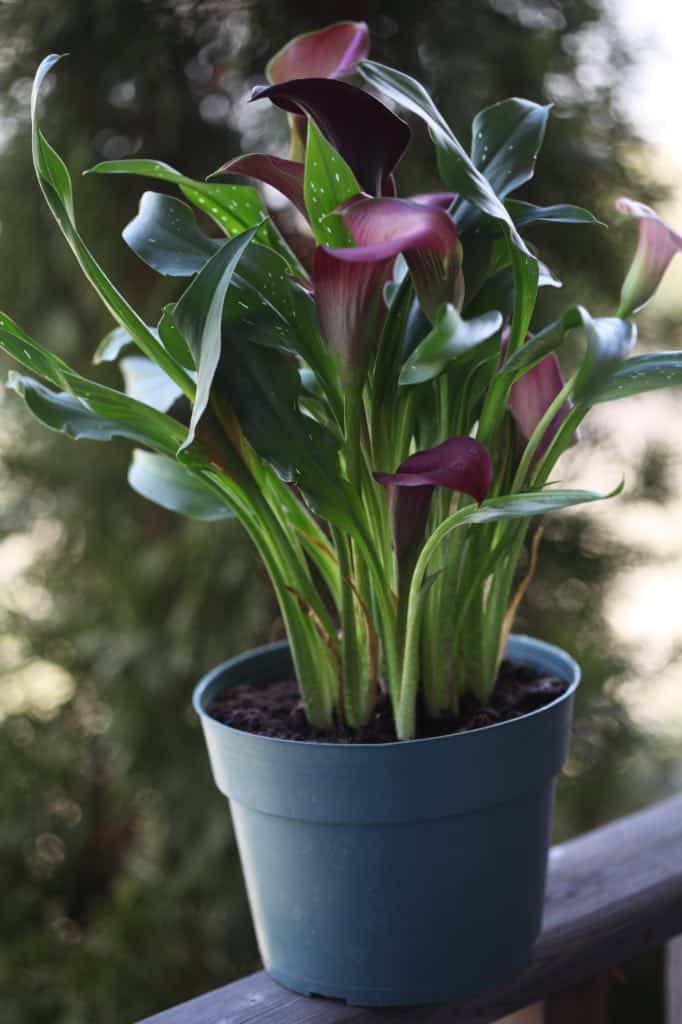 Rhizome Development
Once the calla has finished flowering, the plant begins to age.
At this point the bulb or rhizome begins to grow and reproduce.
What was once a single bulb with shoots will develop into a larger structure with multiple bulb-like pieces with eyes.
The Calla Lily will follow it's natural process and then go into a period of dormancy. If the plant is dying back, it is becoming dormant.
Allow the plant to enter this state by allowing it to go dry, and water much less frequently.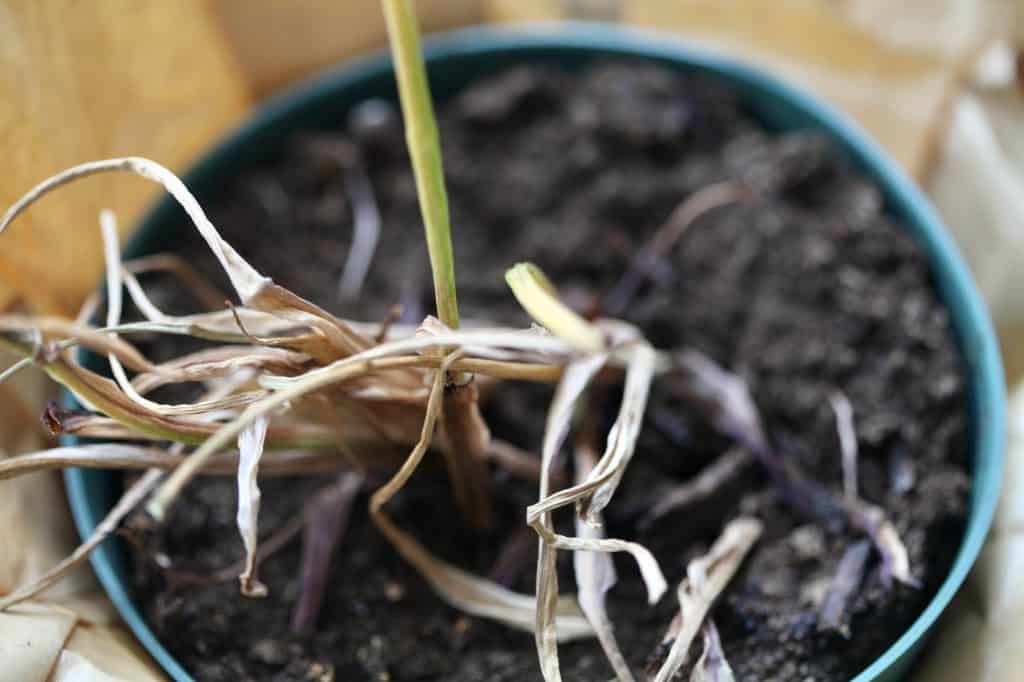 Calla Lily Dormancy Period
When the leaves have died back, and the plant has become dormant, the rhizome can be harvested, or essentially removed from the pot.
Dry out the rhizome by placing in a clean container, and place in a cool location for two to three months.
I usually place in a tray and cover with a loose covering such as a sheet of Kraft paper. The tray is then stored in a cool room until spring.
After this dormant period the rhizome will again start to sprout for another flowering cycle next growing season.
It can be replanted, and will regrow again, and will rebloom if given the right growing conditions.
This process repeats again year after year.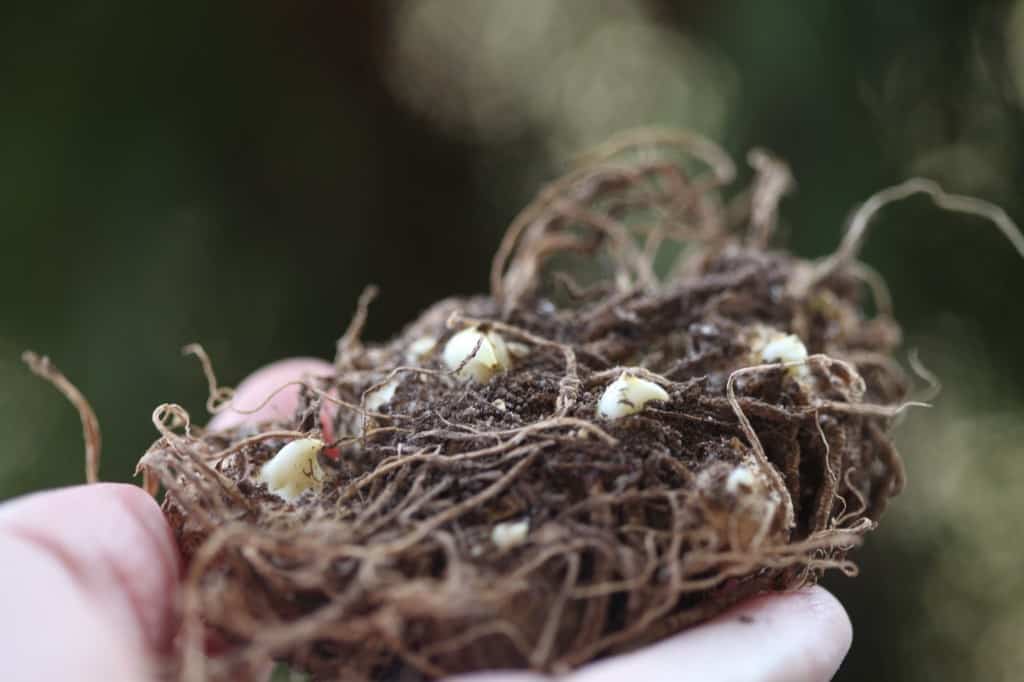 Can You Leave Calla Lilies In Pots Over Winter?
After the potted Calla Lilies have become dormant, another option is to just leave the dormant rhizomes in the pots over winter.
This is a good option if the rhizomes are not over crowded in the pots, and you plan to grow them on in the spring just as they are.
I prefer to dig up my calla lily rhizomes, and just store the rhizomes without the pot, for ease of storage. I have a few too many calla lily rhizomes to store them all away in pots.
However this is certainly a good choice if you only have a few, or also if you have lots of storage space.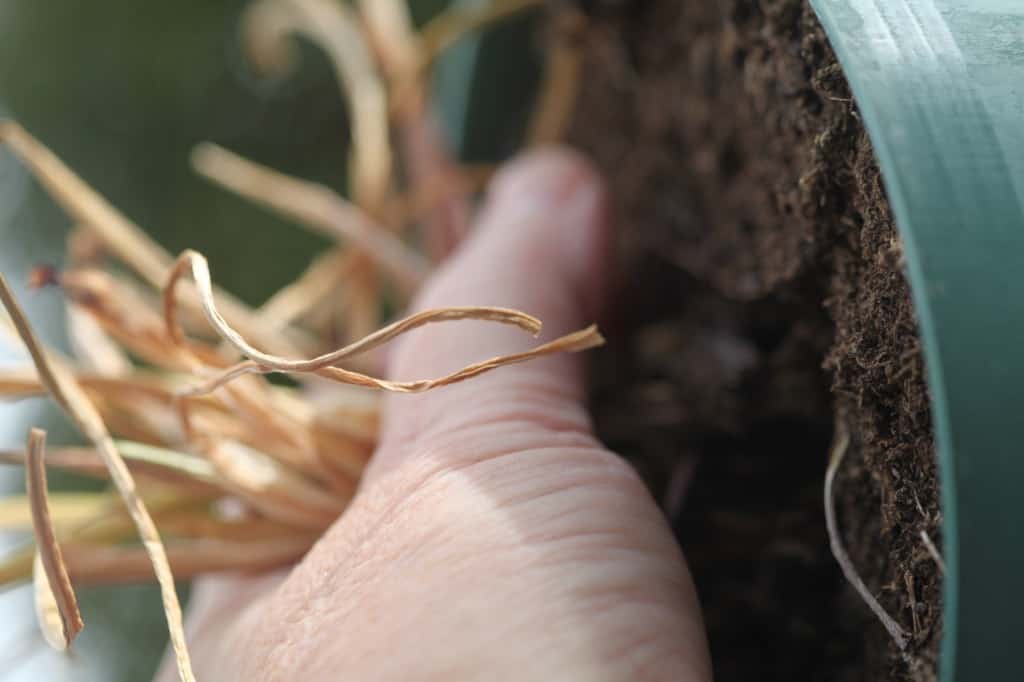 How To Overwinter Calla Lilies In Pots
To overwinter Calla Lilies in pots:
Store the pots away in a cool and dark place, and do not water.
There is no need to water the pots, as the rhizomes are not growing and are in the dormant stage.
Even the roots of the plant have shrivelled, yet the rhizome remains very much alive.
Come spring, the rhizomes will begin to sprout. You will be able to observe the sprouts poke through the soil.
At this point, you can begin to water, and the plant will begin to grow again.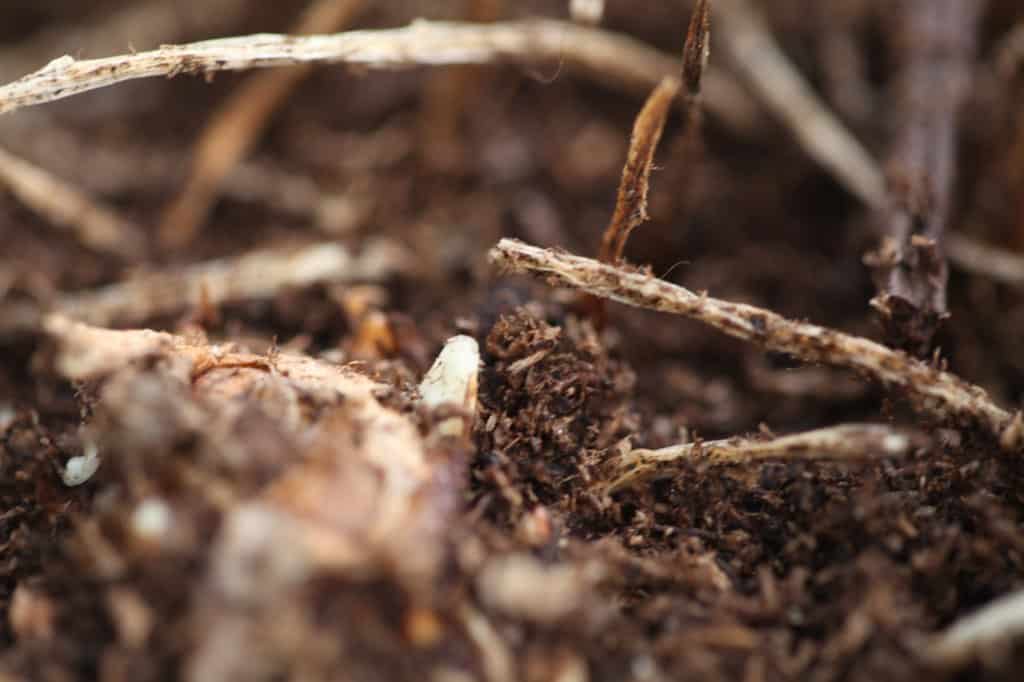 How To Keep Potted Calla Lilies Alive
Callas are low maintenance plants, and do not require much care.
That being said, there are certain things that can be done to keep your potted calla lily happy, and to ensure optimal growth and flowering during the growth and bloom period.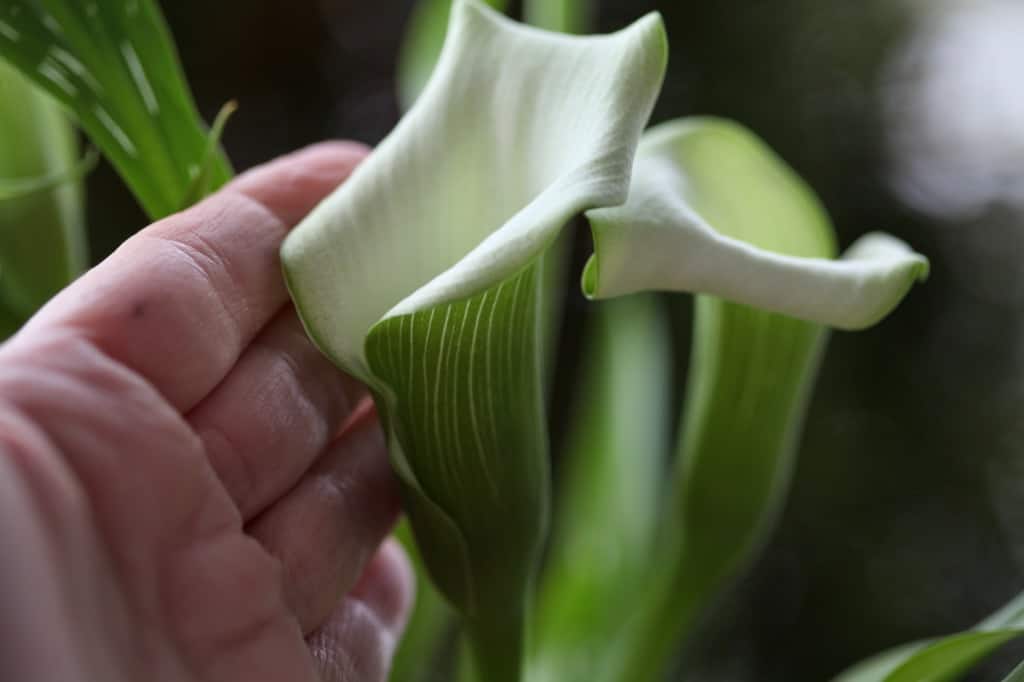 Calla Lily Care During Blooming
Callas like bright light and full sun, however not intense light. Morning sun is preferred.
If growing outside, Calla Lilies prefer full sun in cooler climates, and partial shade in warm climates.
Water approximately twice per week. Allow the surface of the soil to dry out somewhat between waterings.
Calla lilies will have better blooms if fertilized with a balanced plant food.
Deadhead flowers that are spent or have died back to reserve plant energy for further blooming.
Regular pruning of spent foliage is also helpful. Cut off any leaves that are turning yellow and dying back.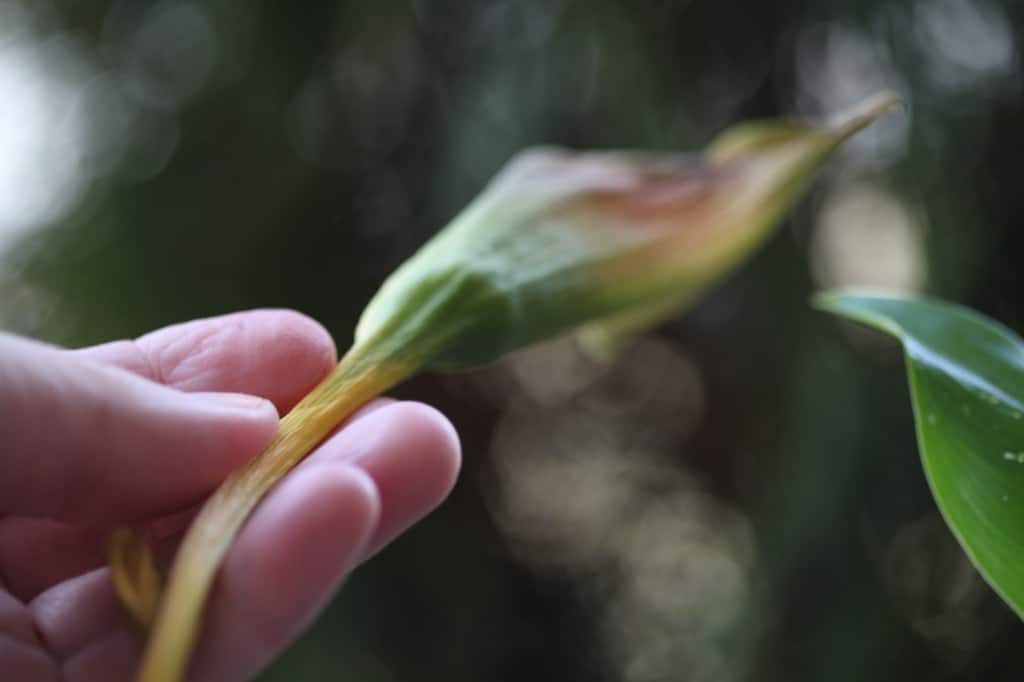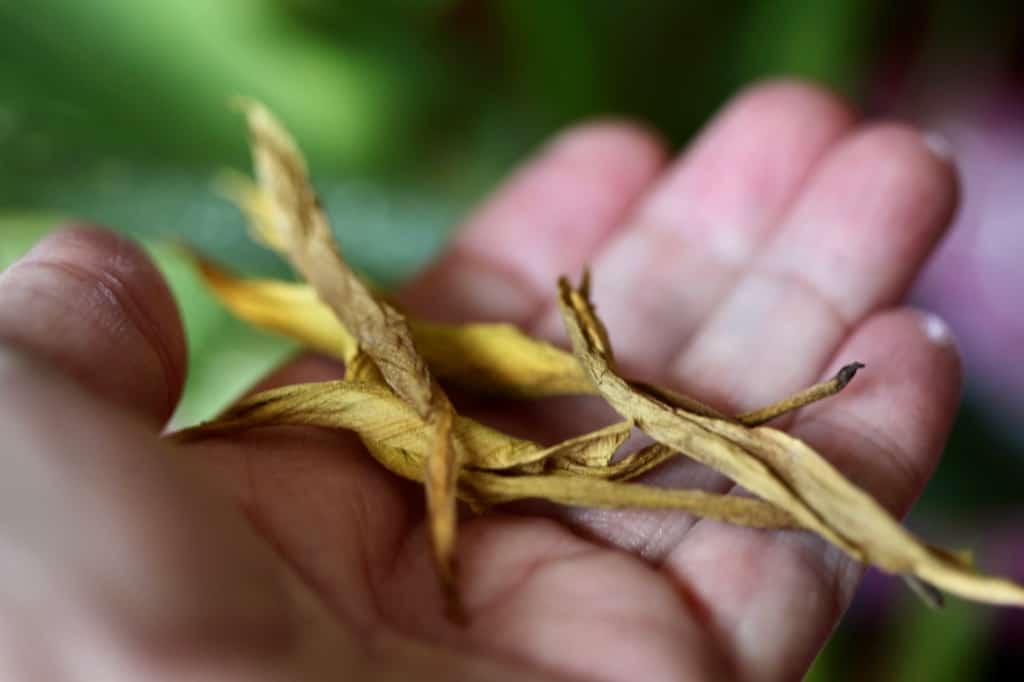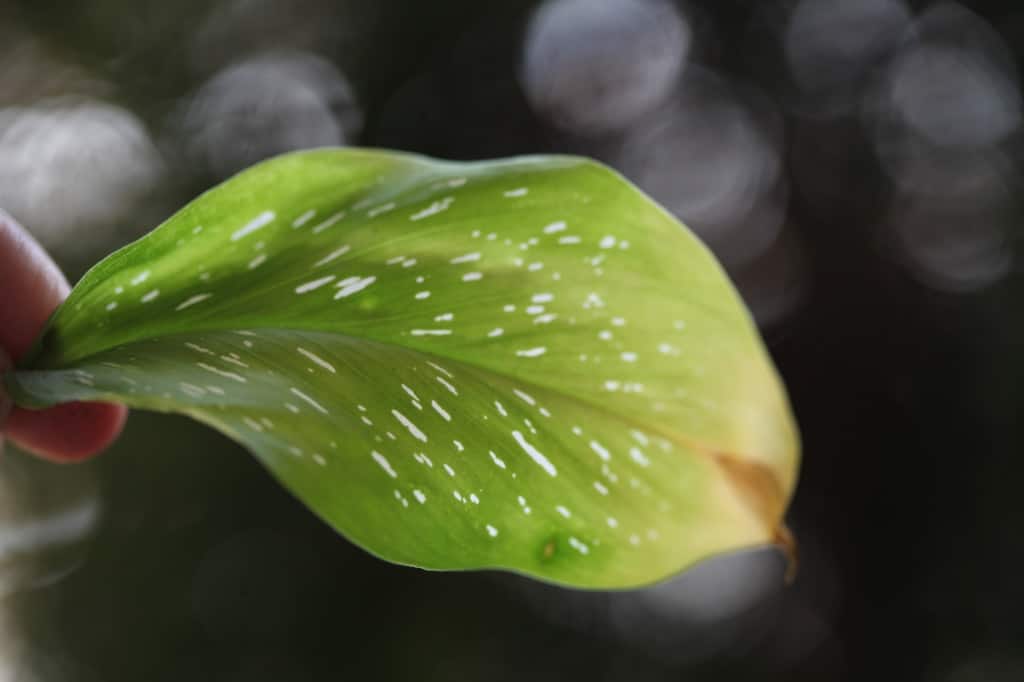 Calla Lily Care After Blooming
If the plant has finished blooming, and the leaves are yellowing and drooping, this usually means that the plant is going into a dormant period.
As the leaves start to fade, water less frequently.
Allow the rhizome to become dormant.
When all the leaves have died off, you can harvest the rhizome and store until spring, or alternatively put the pot away as is, with the rhizome in the soil, and store until spring.
Follow the guidelines described above on rhizome care during dormancy, and how to overwinter Calla Lilies in pots.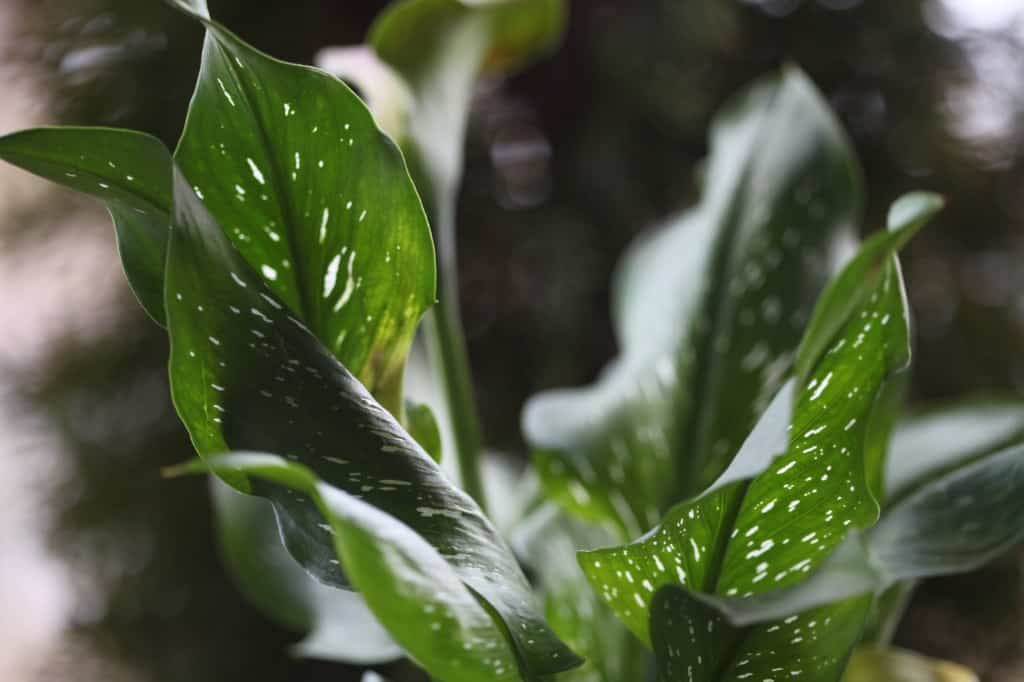 Conclusion
Calla lilies are beautiful plants with funnel shaped flowers that grow very well in pots both inside in winter and outside in summer.
A tropical plant and perennial in warmer climates, these plants can easily be grown as annuals in colder areas.
Many who purchase or gift Calla lilies in pots may not be aware of the plant's dormant period following blooming. The plant may appear to be struggling, when in fact it is just going dormant.
Allow the plant to go dormant, and save the rhizome for planting next spring.
Saving the rhizome can help to perpetuate the plant, and it can be grown again when it comes out of dormancy.
You can grow Calla Lilies for many years, just being aware of their growth cycles. The beautiful trumpet like blooms are well with the effort.
Calla Lilies also make wonderful cut flowers, and are exceptionally beautiful in flower arrangements with a long post harvest life.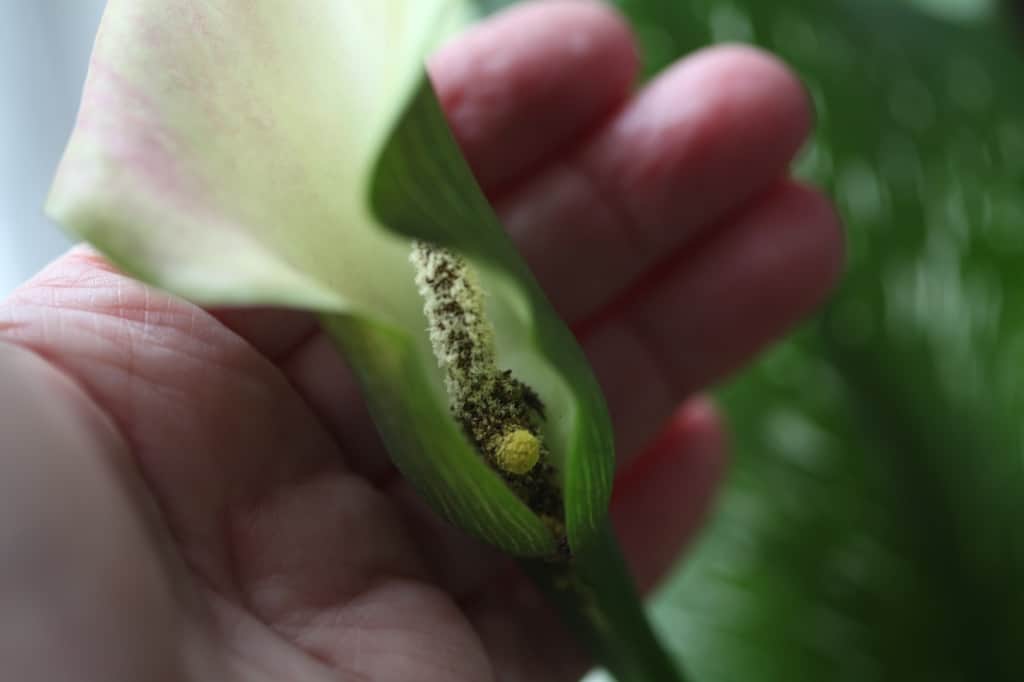 Have you ever brought home a Calla lily that started to fade away? Have you ever wondered just how long potted calla lilies are supposed to last? Be sure to share your experience by leaving a comment below.
See the Web Story on Potted Calla Lilies- How Long Do They Last?
Other Posts You May Like:
PIN IT FOR LATER!