Storing bottle brush trees away after Christmas is fairly easy. With the right storage techniques you will be able to safely store away your trees and prevent entanglement. Learn how to store bottle brush trees, and preserve your trees for many seasons to come.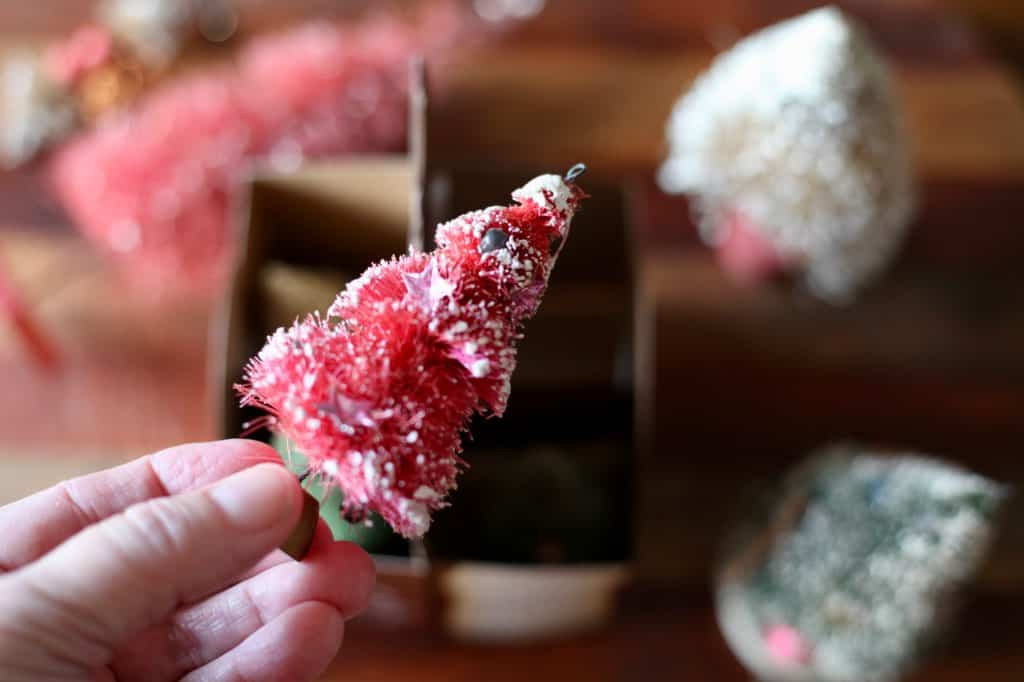 What was old has become new again. Bottle brush Christmas trees, once a popular holiday ornament in the 1950's, have become a beloved part of Christmas decor once again.
Bottle brush trees are all the rage these days. These cute little trees come in many different colors and sizes, and are great holiday decorations for home decor.
Perhaps you have some special vintage bottle brush trees, from Christmas past. Or maybe you have some newer and more glamorous versions. There are even DIY bottle brush trees, for the smart crafter.
You can easily find these artificial trees at your local thrift store, the Hobby Lobby, the Dollar Store, Michaels stores and Amazon. Look for vintage bottle brush trees on eBay.
Regardless of the type of tree, they are all special in their own way. Taking care of your trees is part of having them around for a lot longer.
Storage is an important part of bottle brush tree care.
If you have bottle brush trees as Christmas ornaments, you may be wondering how to put them safely away for the season. This is definitely an important consideration, as there are right and wrong ways to store the trees.
How To Store Bottle Brush Trees
If you have vintage trees, storing safely is important, as these trees tend to become quite fragile over time. However storing any type of bottle brush tree with care will make a difference in how long they last.
There are a few simple ways to preserve your sweet trees for a much longer duration.
Packing bottle brush trees in a box or container with all the bristles touching will most likely lead to entanglement of many bristles.
Then, when you take them out of storage next season, you will have to pull the trees apart, often leading to some bristle loss.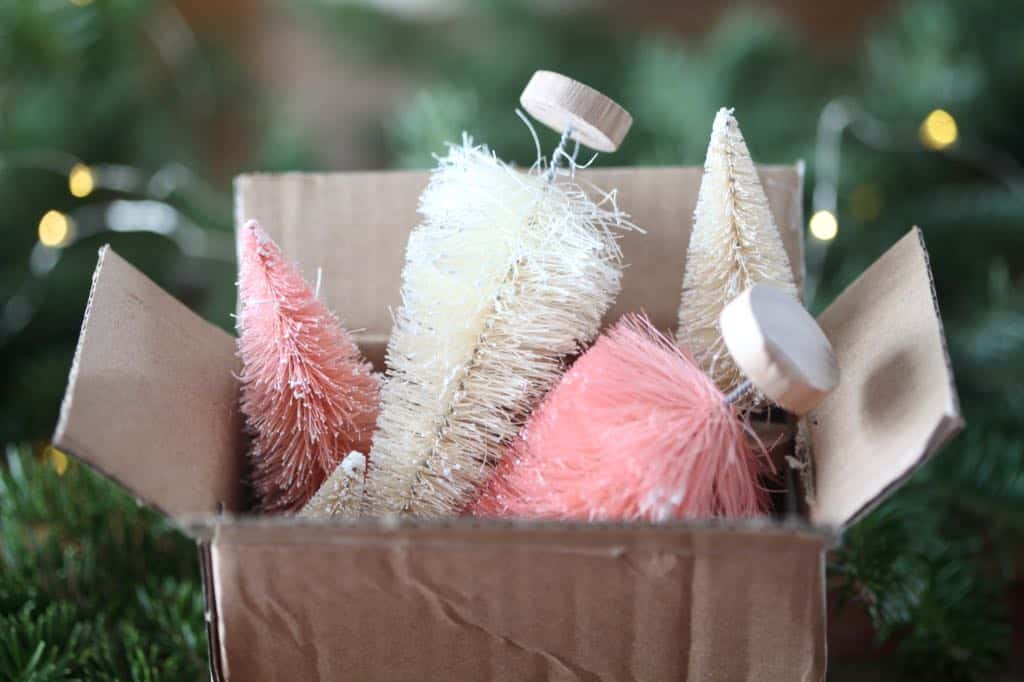 Many trees also have faux snow and glitter, so it's important to help prevent these decorations from getting knocked off.
You can easily store bottle brush trees away using a number of different storage methods. The key is to keep the bristles apart, no matter what storage method you use.
Bottle brush trees come in many different sizes, from very tiny mini bottle brush trees, to much larger versions. Not all storage methods will work for all trees.
There are many creative ways to store your trees, so let's have a look at some storage methods.
1. Wrap The Trees With Tissue Paper
One of the easiest ways to prepare bottle brush trees for storage is to wrap each tree individually in a piece of tissue paper. The tissue paper helps to keep the tree bristles apart from the other trees in storage.
Wrapping the trees in paper is a method which works for bottle brush trees of all sizes.
This is a great way to recycle all your old tissue paper from Christmas.
This storage method is no extra cost if you are using recycled paper. There's no need to use new paper for wrapping the trees if you have lots of old paper that you will be tossing.
Moreover, it's a great way to repurpose the old paper, giving it an important new job.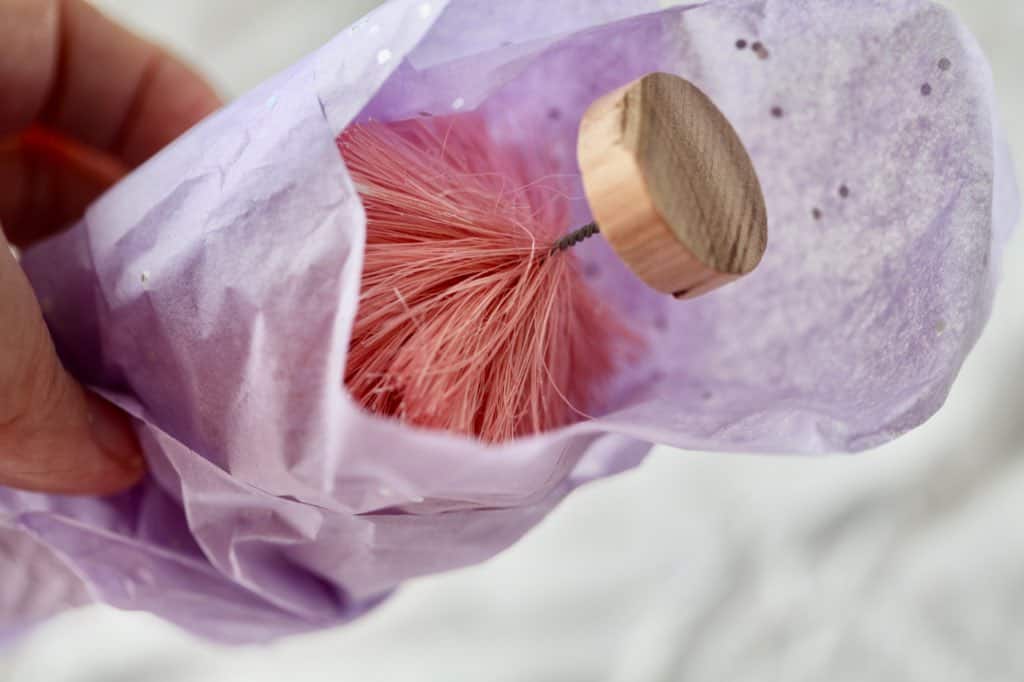 The paper can be cut down into smaller pieces to wrap each individual tree. However you can also wrap a number of trees together.
Do this by first enclosing one tree completely in tissue paper Then add a second to the roll, rolling this tree completely. Then add a third, and so on.
For very tiny trees, lay them out in a line on the paper, and then fold the paper over the line of trees, keeping them apart.
Tissue paper wrapped trees can be stored in a box or container, until ready to be used again next season.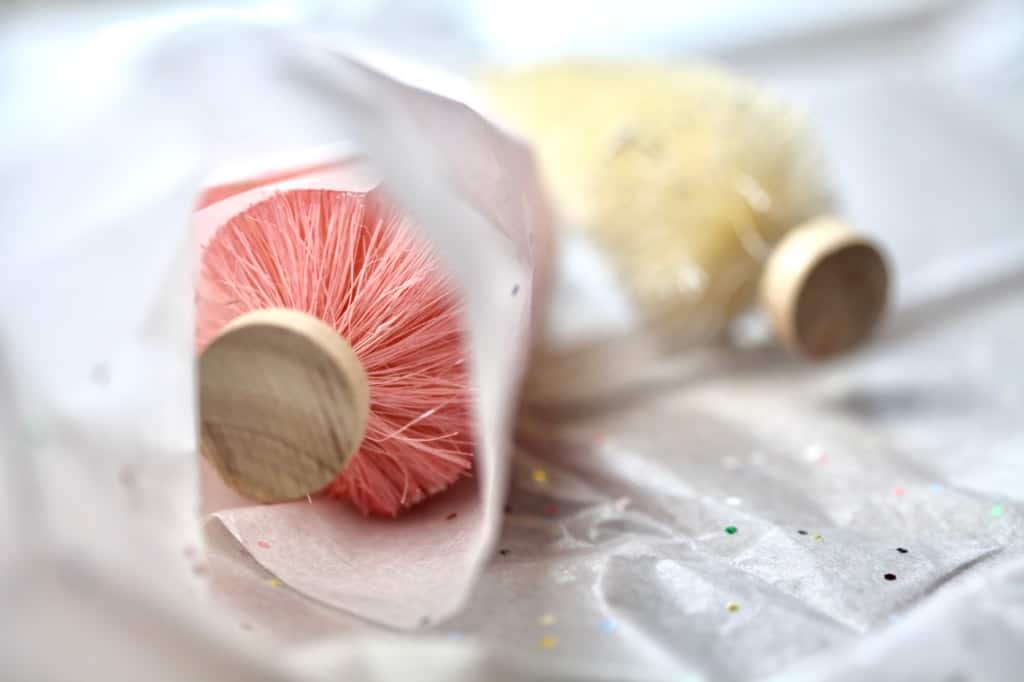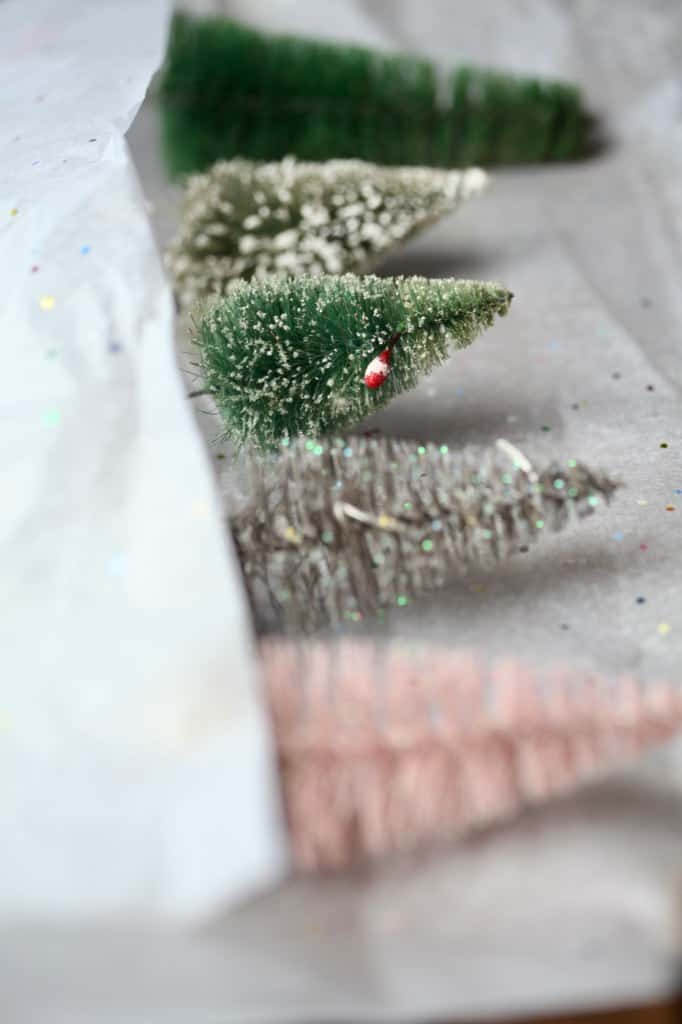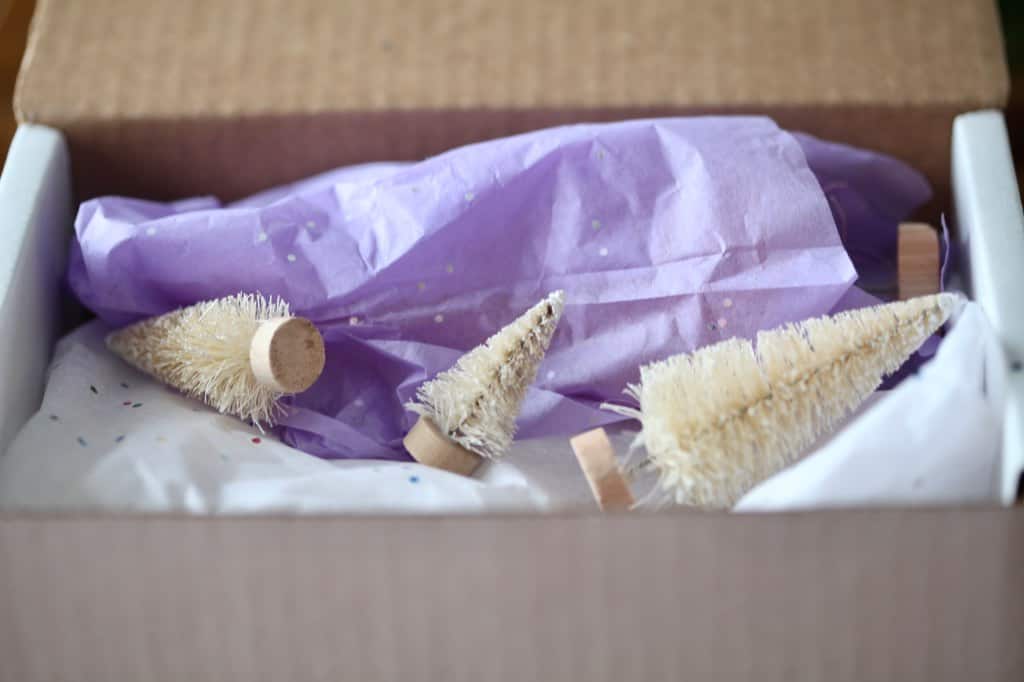 2. Store In A Partitioned Box
Small boxes with partitions, such as pop bottle or water bottle carrying cases, make great storage containers for smaller trees. This method helps to keep the trees upright.
It's a good storage method if you only have a few trees to store.
Usually I place one tree per unit, unless the trees are also individually wrapped, which helps to keep them separated. If the trees are also wrapped, you may be able to store more than one tree per unit.
These small partitioned boxes can be stored as is, or placed into a larger storage container.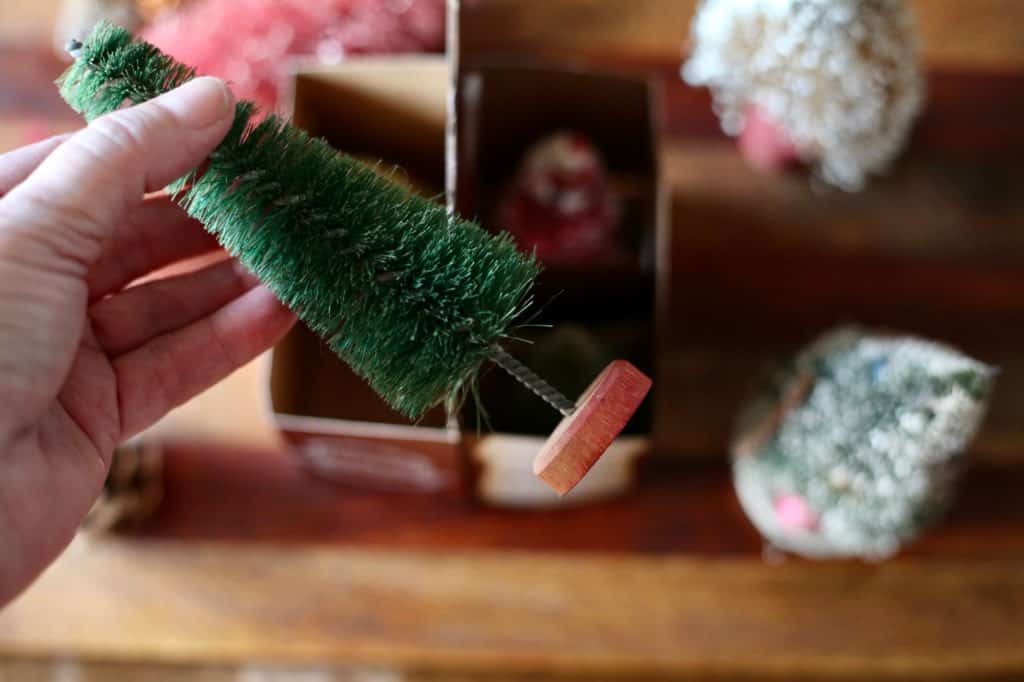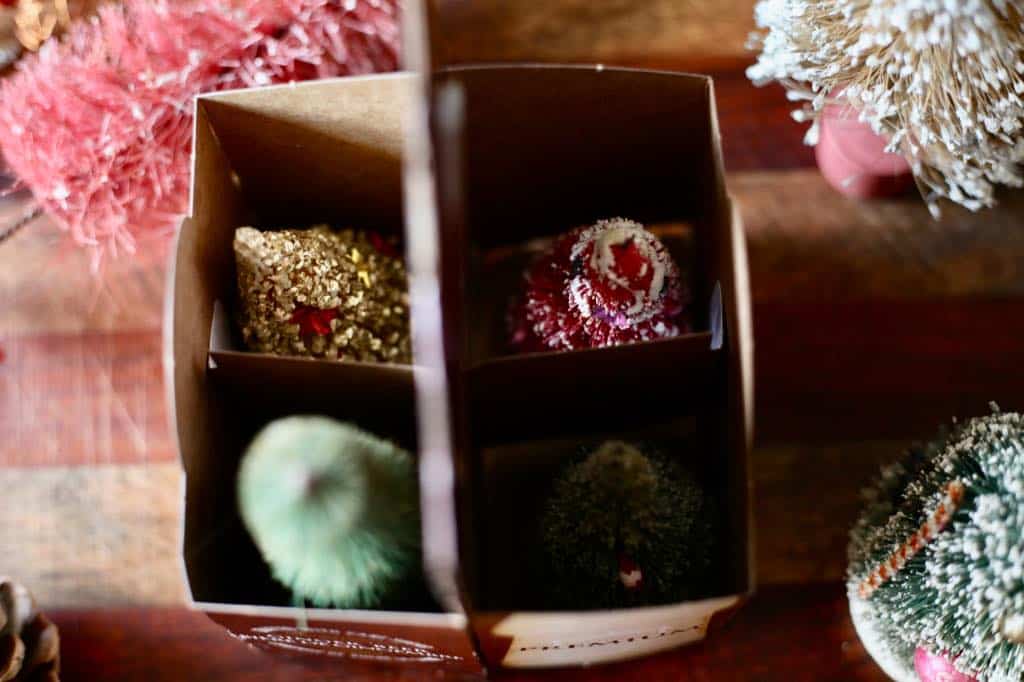 3. Store In Cardboard Tubing
Storing bottlebrush trees in cardboard tubing will help to keep the trees stored safely. The trees will be end to end inside the tubing, so there will be no chance for the bristles from one tree to get tangled with another.
The cardboard tube will also help to keep the trees from becoming flattened or misshapen, by providing a firm outer wall and protection during storage.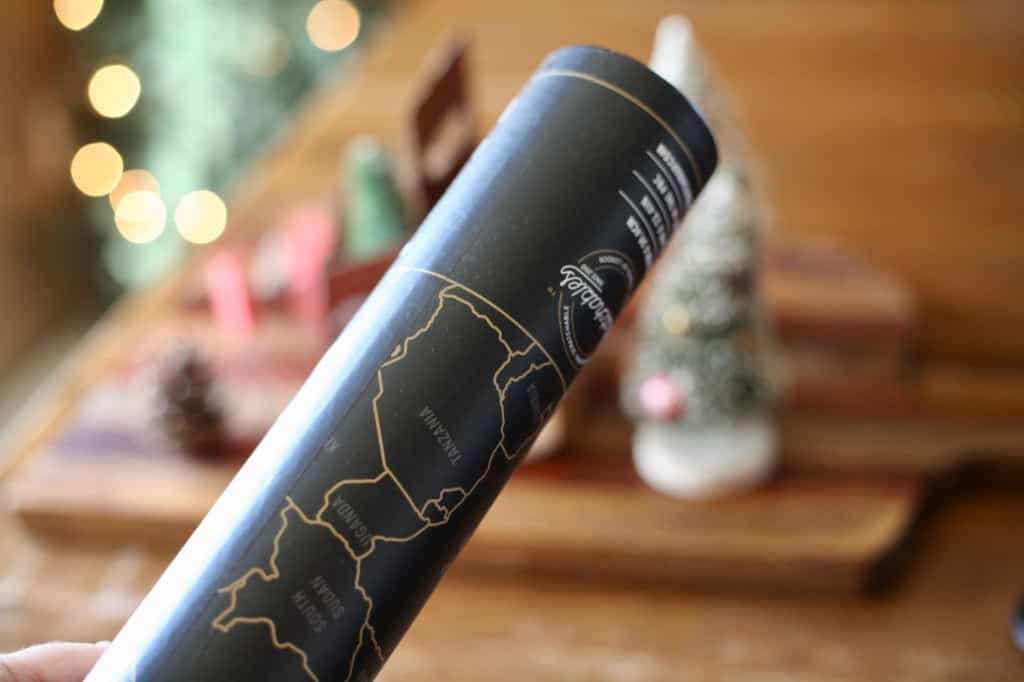 Store In A Bucket Or High Sided Bag
Large trees will likely not fit into a partitioned box or cardboard tubing, although they can be wrapped in tissue paper and boxed.
If you have a larger bottle brush tree, consider a larger container to hold the tree.
An option for larger bottle brush trees is to place them in tall buckets.
For example, you can use black florist buckets or even flower pots, with the trees safely secured or wedged inside with tissue paper.
In addition, this storage method will help prevent the trees from becoming misshapen, which is always a possibility in storage. It will also help to keep the trees stored in an upright position.
You can also store them in high sided bags, such as large gift bags, with tissue paper wedged into the open spaces between the trees.
It's always best to store upright if at all possible, to help prevent flattening of the tree.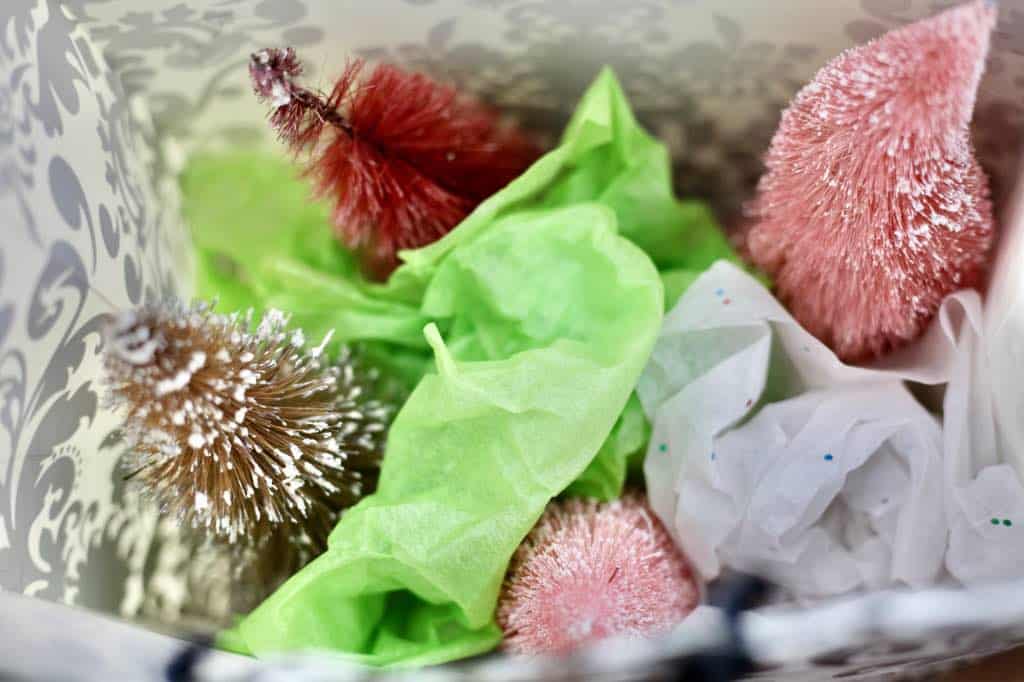 Removal From Storage
Regardless of the chosen storage method, your bottle brush trees may require some plumping and straightening when they finally come out of storage.
Even if the trees have become smooshed, it's easy to get them back to looking full again with a little bit of effort. Gently pull and fluff the branches back into shape.
Vintage trees are often more brittle, and are apt to lose some bristles when they are fluffed up. This is one of the reasons for protecting them in storage, to reduce the wear and tear.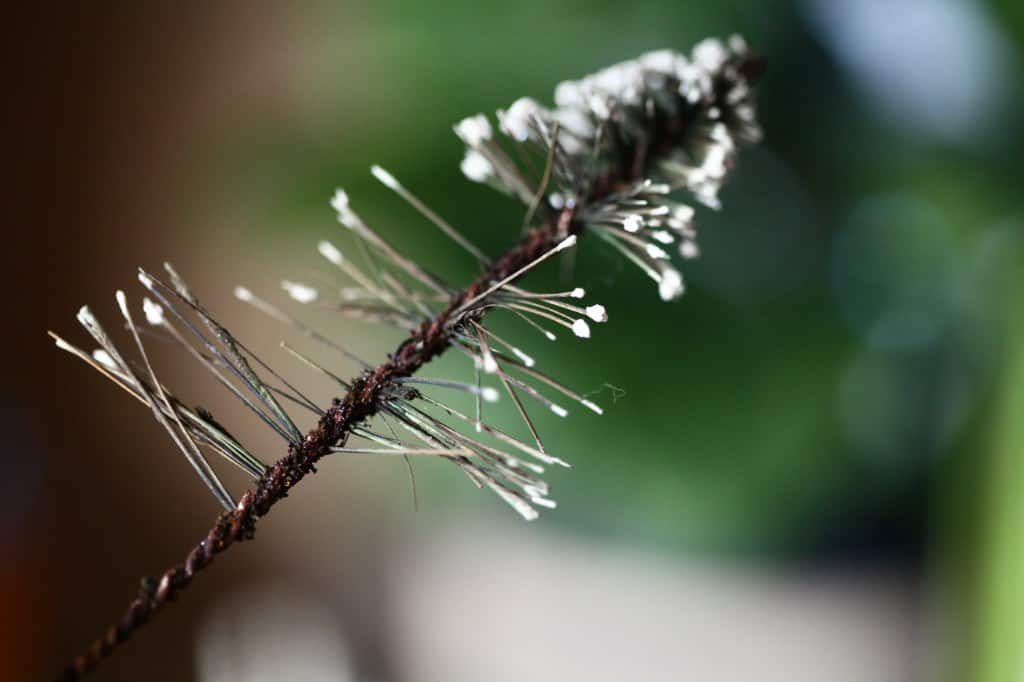 Adding a bit of steam during the plumping process can help, however be sure to take care not to get burned from the steam.
The slightly worn bottle brush tree look is just part of the vintage charm appearance, even for newer trees.
Conclusion
Sweet bottle brush trees have been popular holiday and Christmas decorations for decades, and will most likely maintain that popularity for many more decades to come.
Take good care of your trees, to help them last longer. Part of this care involves storage of the trees.
Storing your bottle brush trees with care will help to keep them in their best shape.
Bottle brush trees inevitably become more brittle over time, and therefore become more at risk for damage from storage.
Store the tree in a manner in which the bristles will not become tangled with other trees in the same container, ensuring easy removal from the storage container.
There are many great ideas for storage, and you may find a perfect method that works for you.
If the trees do happen to accidentally get stuck to gather, gently pull them apart, and lightly fluff them up, to enjoy them for another holiday season.
Other Posts You May Like:
PIN IT FOR LATER!