Last updated on August 1st, 2023 at 01:47 am
I love the pompom heads of chives growing in the garden. They always make me smile, knowing that they are more than just a pretty face. The mild onion flavour of chives can add a wonderful savoury flavour to so many dishes. Learn how to use fresh chives from the garden, and enjoy this wonderful home grown herb.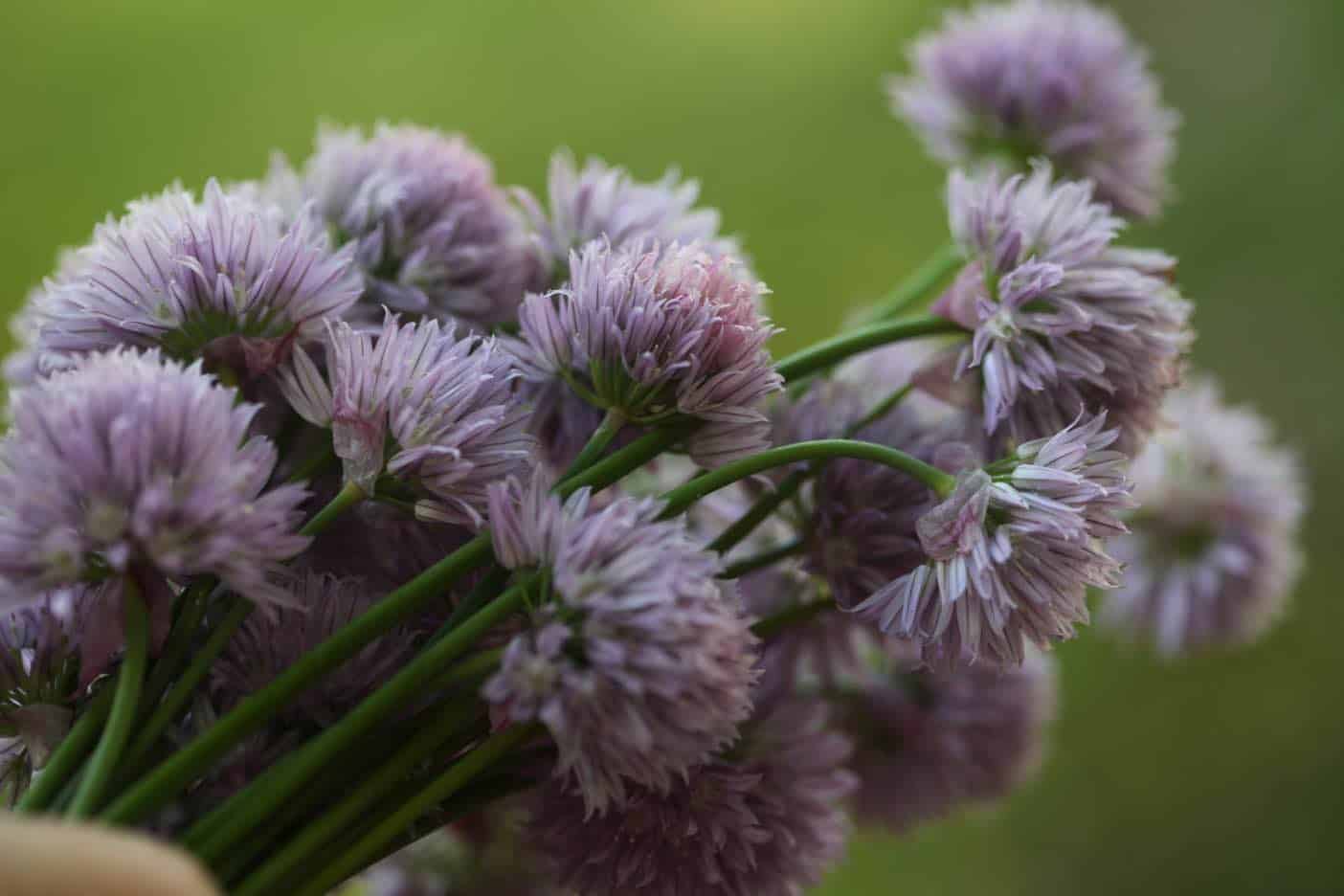 Chives are edible perennial plants from the allium genus. Both the leaves and the blossoms can be eaten.
They are closely related to onions, garlic and leeks, as well as shallots.
These are commonly used herbs, and are found growing in many gardens, alongside other vegetables and flowers.
We have been using chives in our food and cooking for a long time. We always have a patch growing in the garden.
I have very fond memories of eating fresh chives mixed with creamy cottage cheese as a child.
My parents were progressive, and liked to introduce to us certain foods which were probably more acceptable to the adult palette.
So when the adults made cottage cheese with chives and shared with the kids, we felt that we were eating something pretty special. It was also very tasty!
Now I always smile when I think about those memories, and the acquired tastes for certain foods.
Fresh chives from the garden are always a good choice, no matter what your age!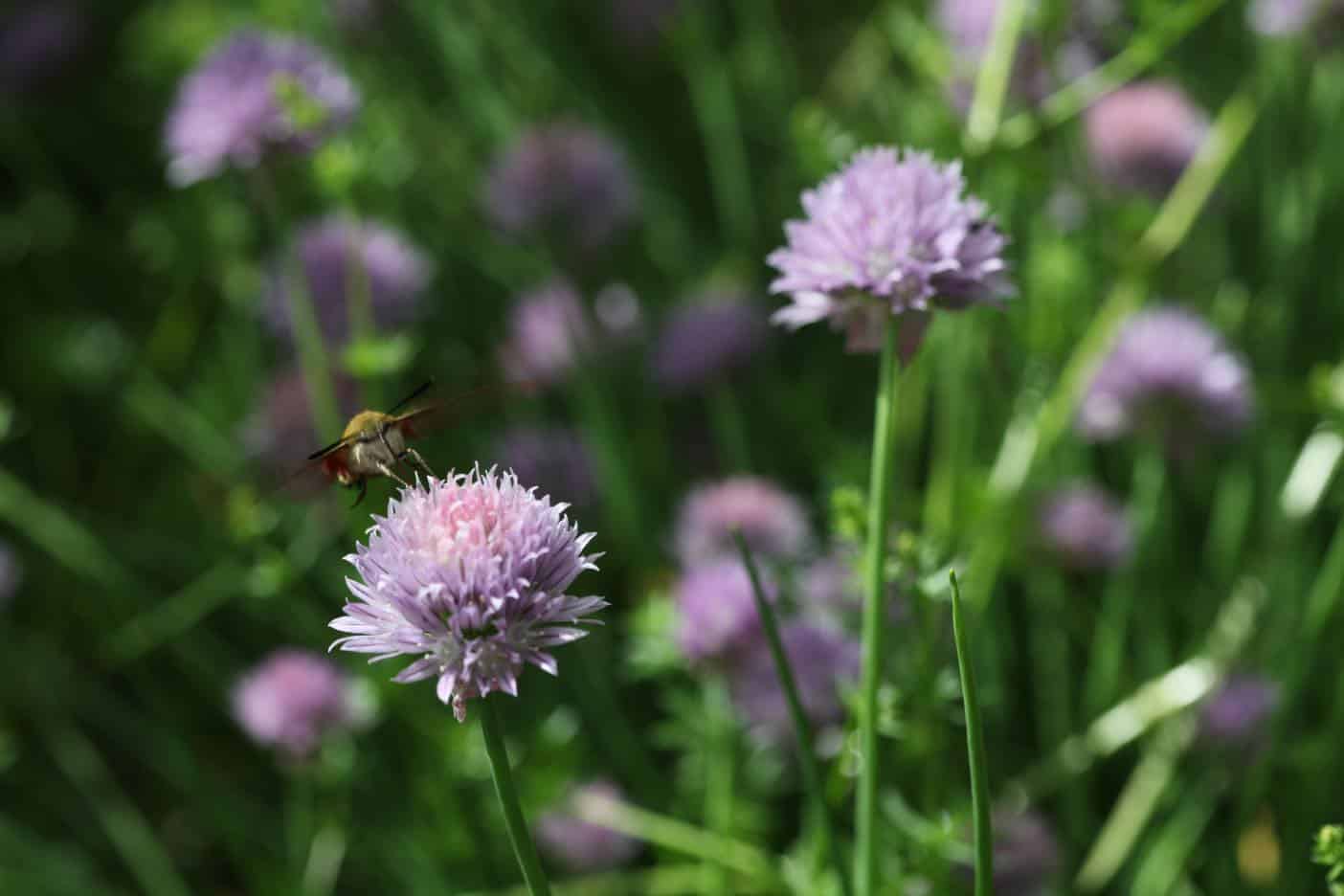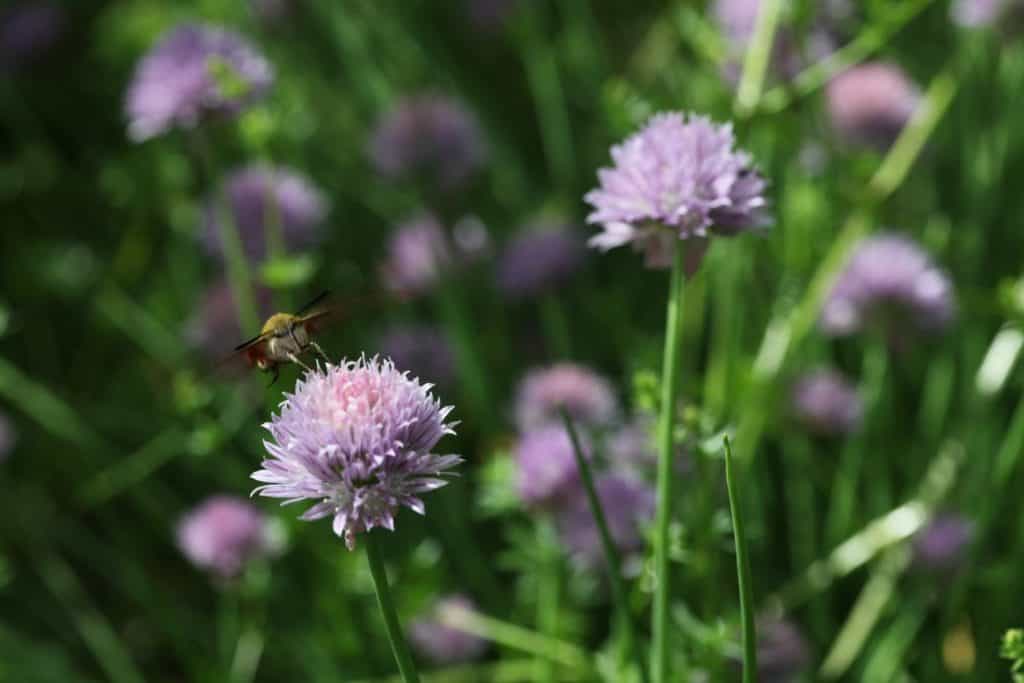 What Do Chives Look Like?
Chives do look like alliums, and have that round ball-like bloom similar to the alliums growing in our perennial garden, only they are much smaller.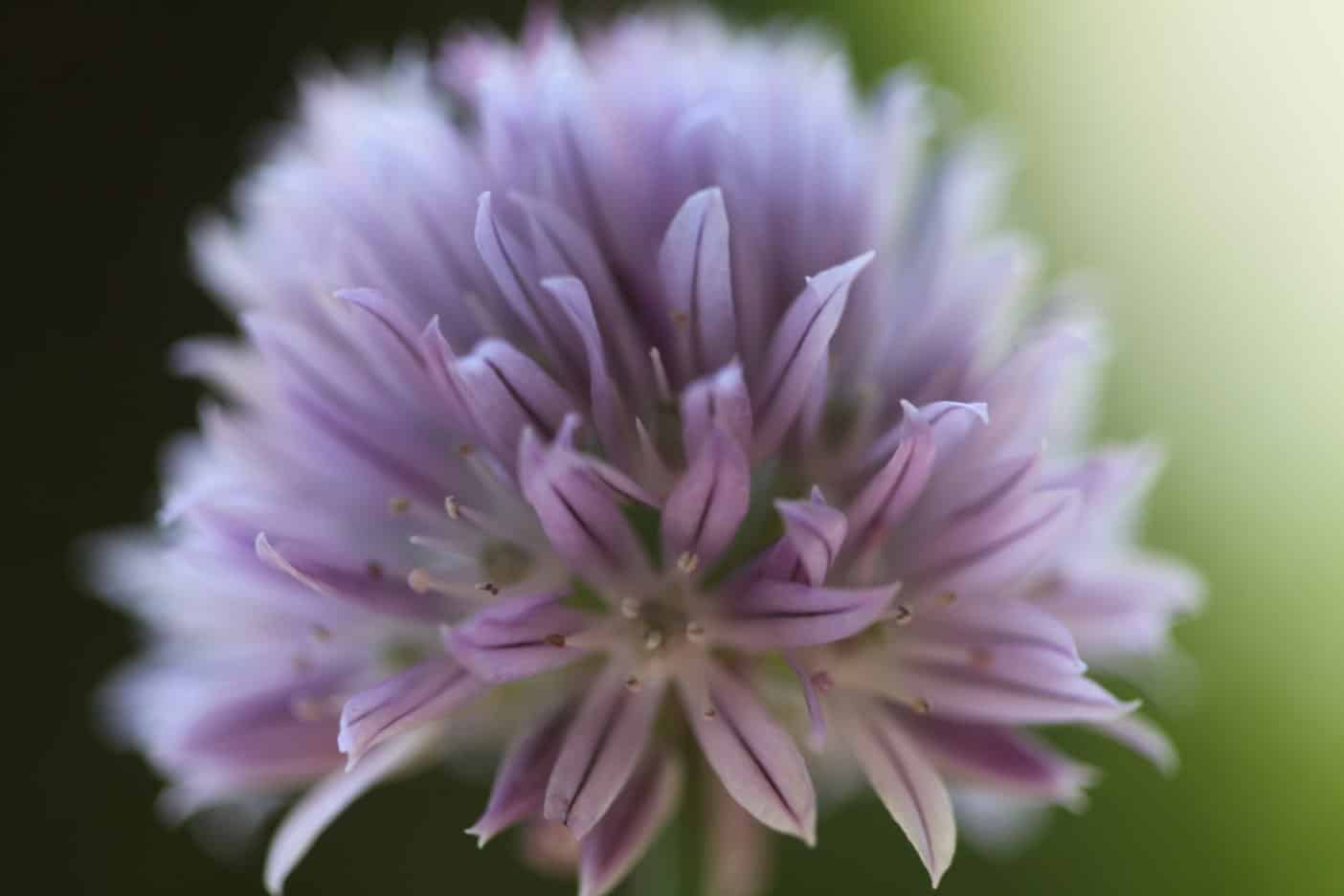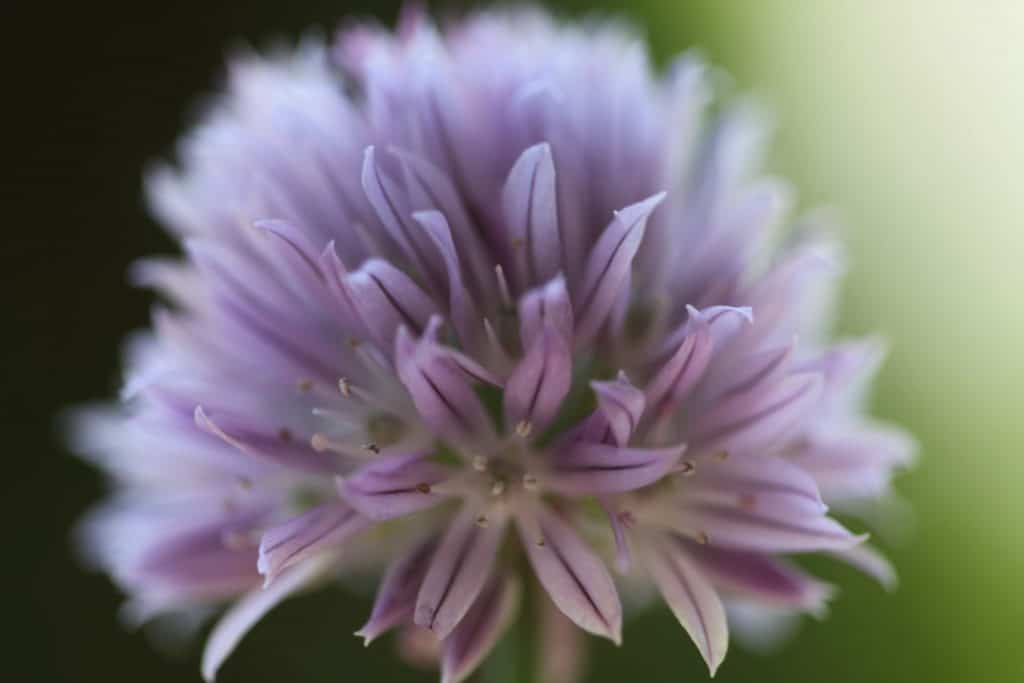 The blossoms of chives also look much like clover from a distance.
In fact, sometimes they fool me as well, until I get up close to see the stems.
The rounded flower heads are approximately an inch in diameter. Each flower head produces a mass of florets, which when opened form that pom pom appearance.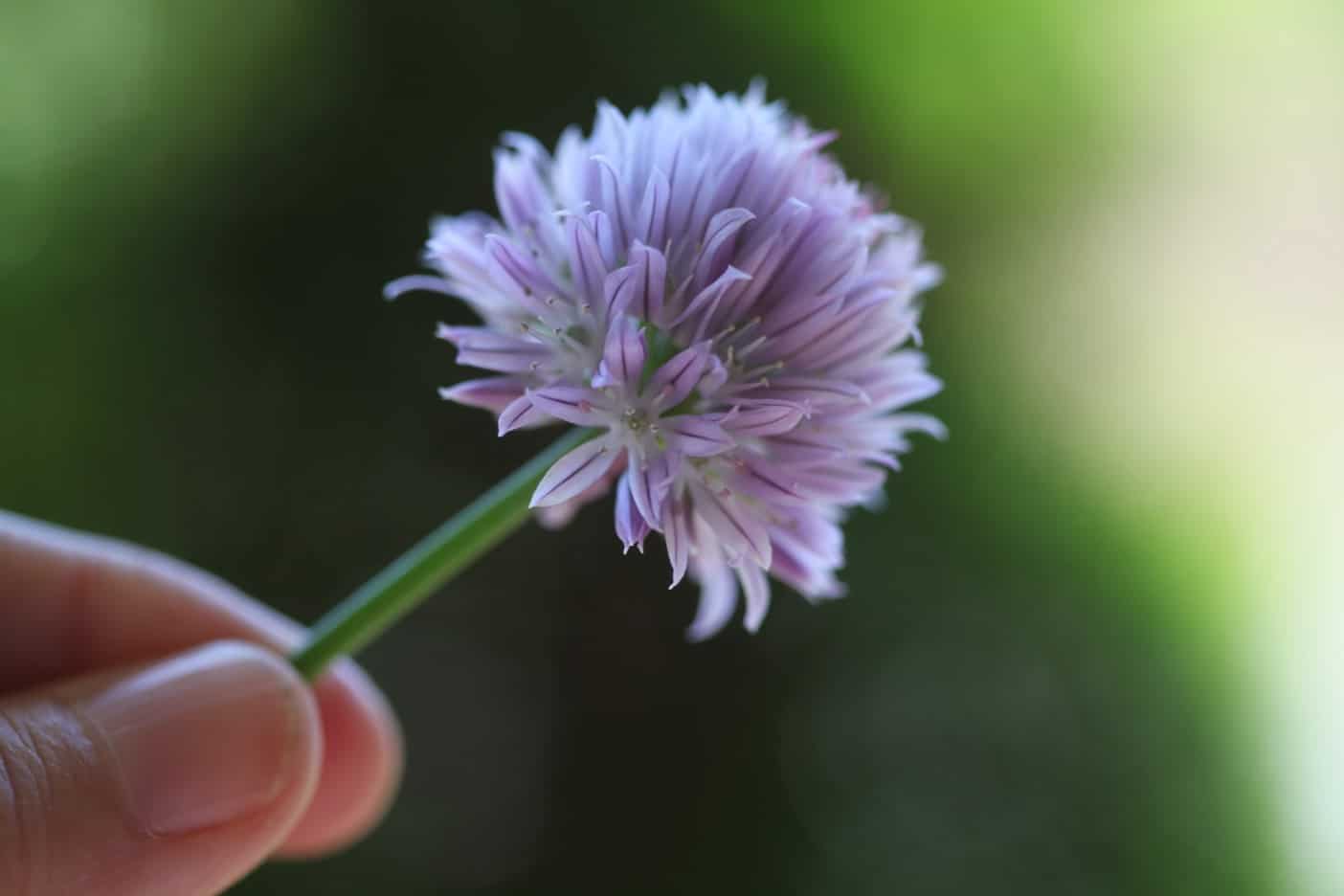 The stems of the chive are dark green and smooth. The leaves are dark green as well and are plump and full of juice when freshly cut.
Chives grow to be about eighteen inches in height in good growing conditions. Our chives get pretty tall.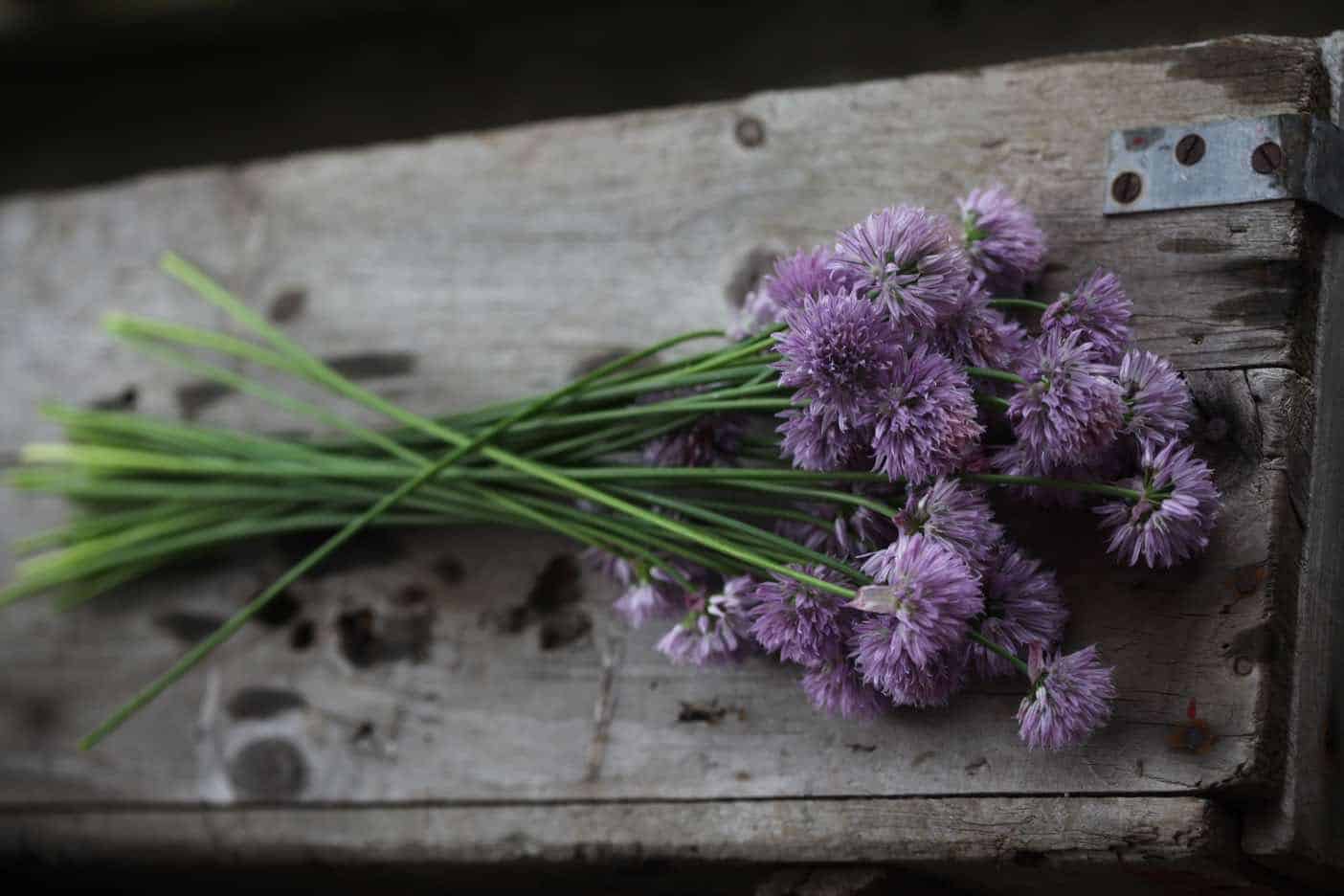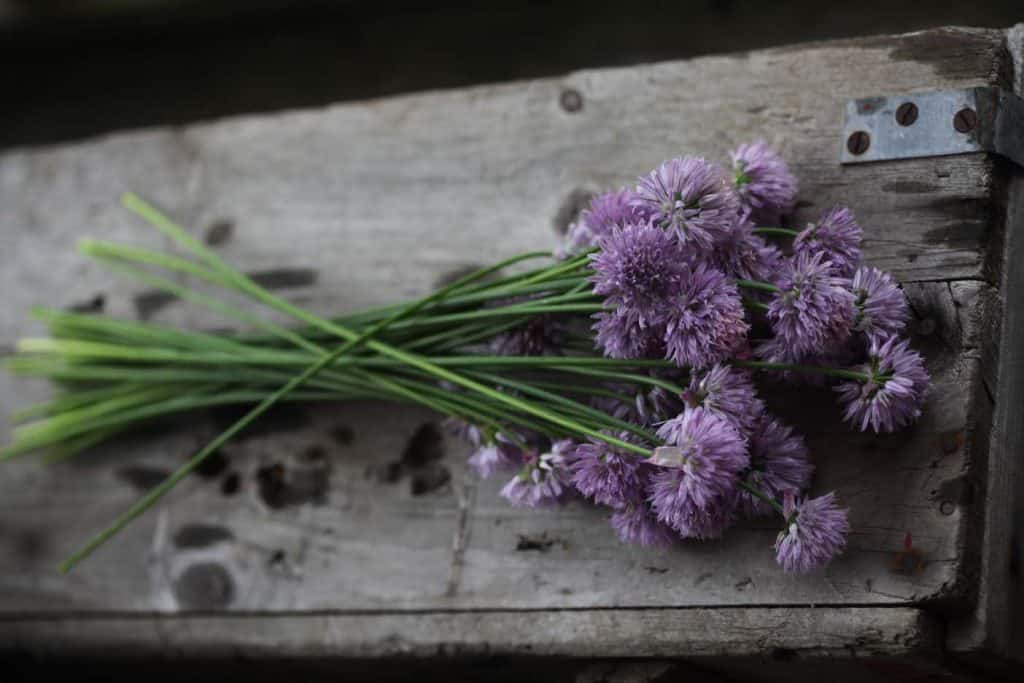 The colour of chive blossoms is a beautiful muted mauve, with splashes of pink. The blooms are edible and decorative and using them is a great way to add creativity to any food display!
You can add the whole blossom, or separate into individual florets or tiny buds.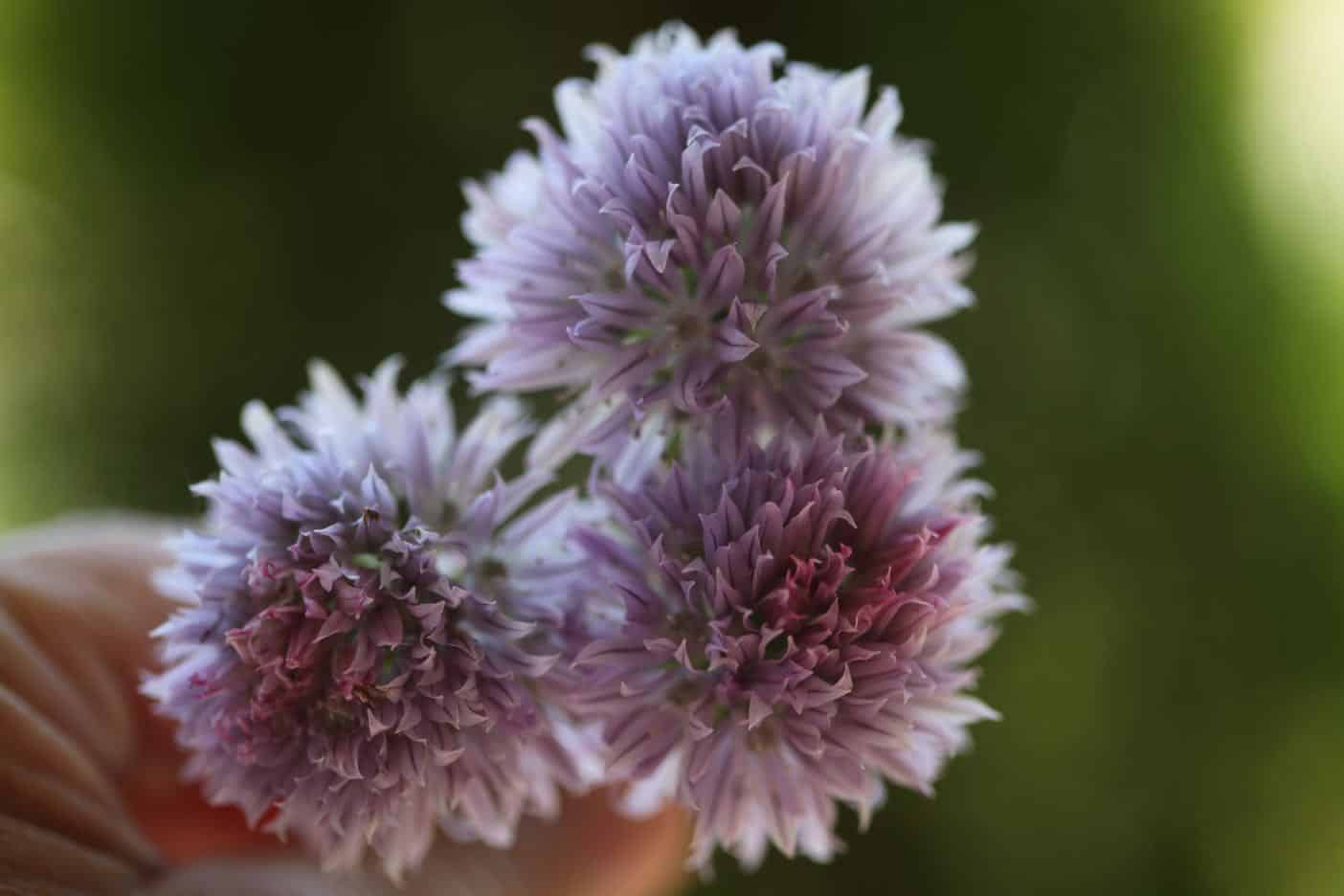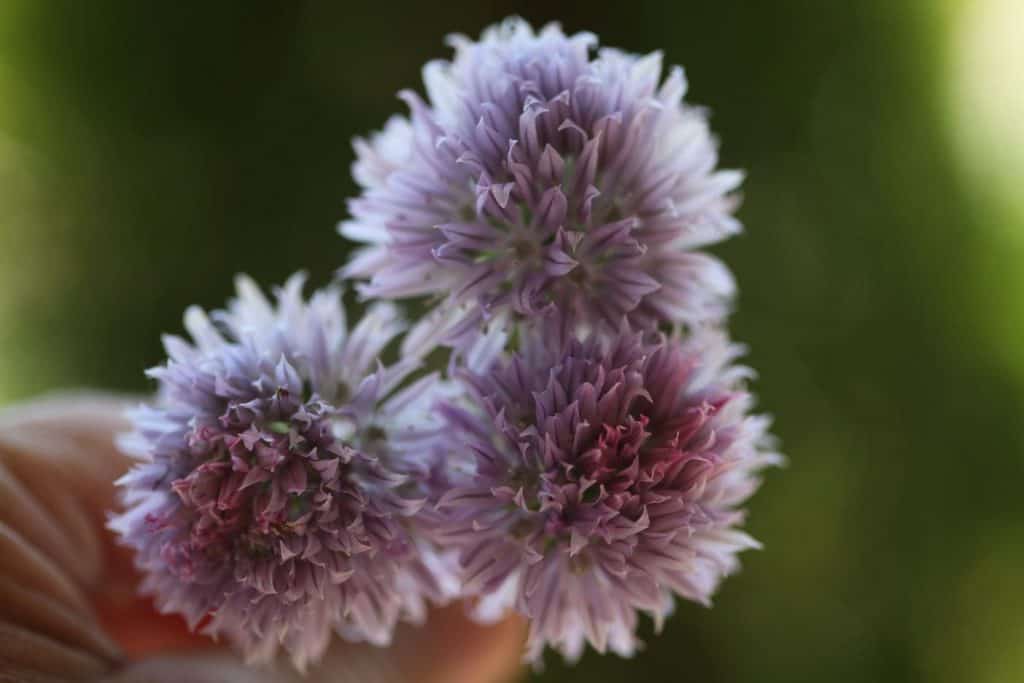 How Do You Cut Fresh Chives?
Harvesting chives fresh from the garden is simple. All you need is a clean sharp pair of scissors and a container to put your harvest in.
Harvesting ~Cutting From The Plant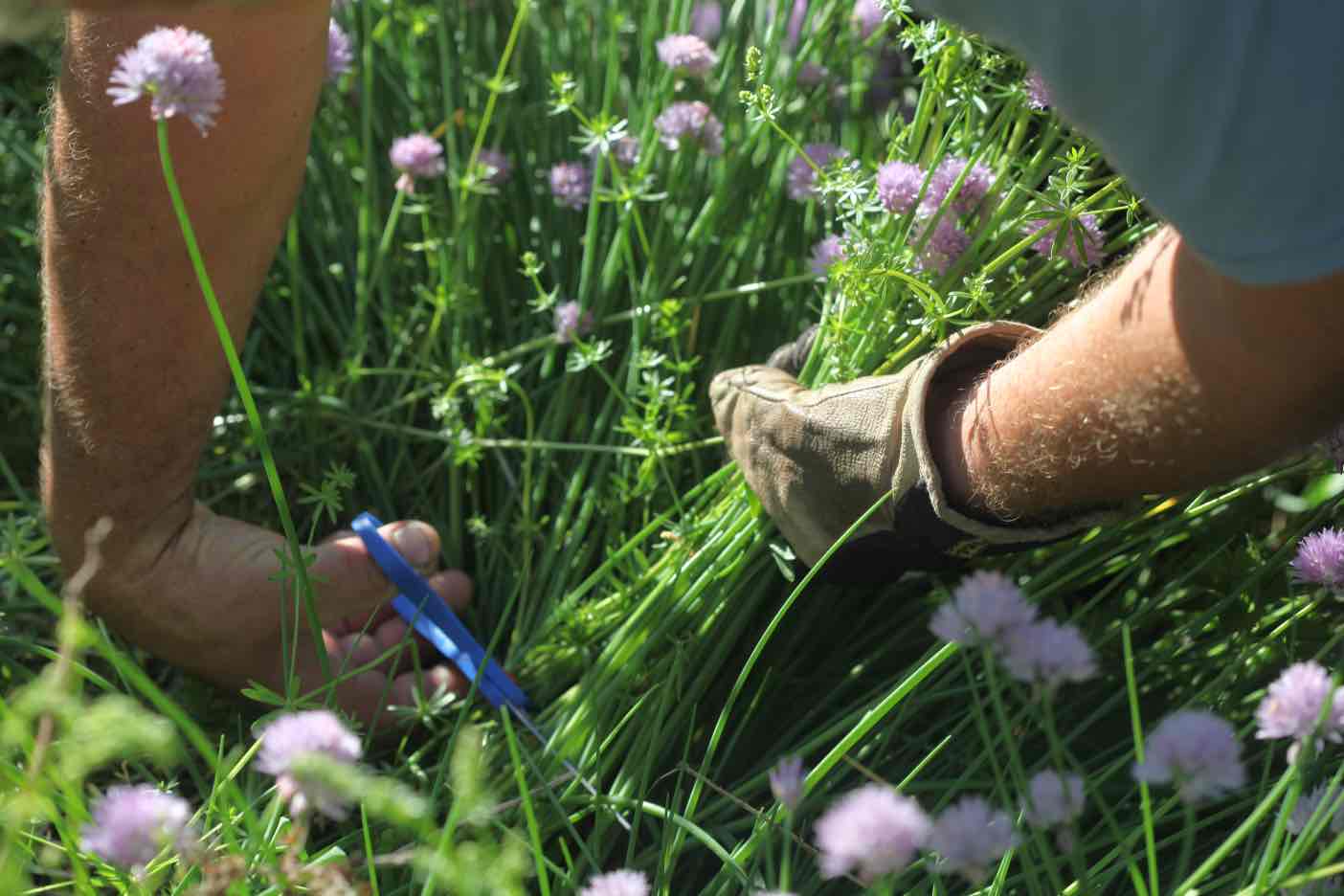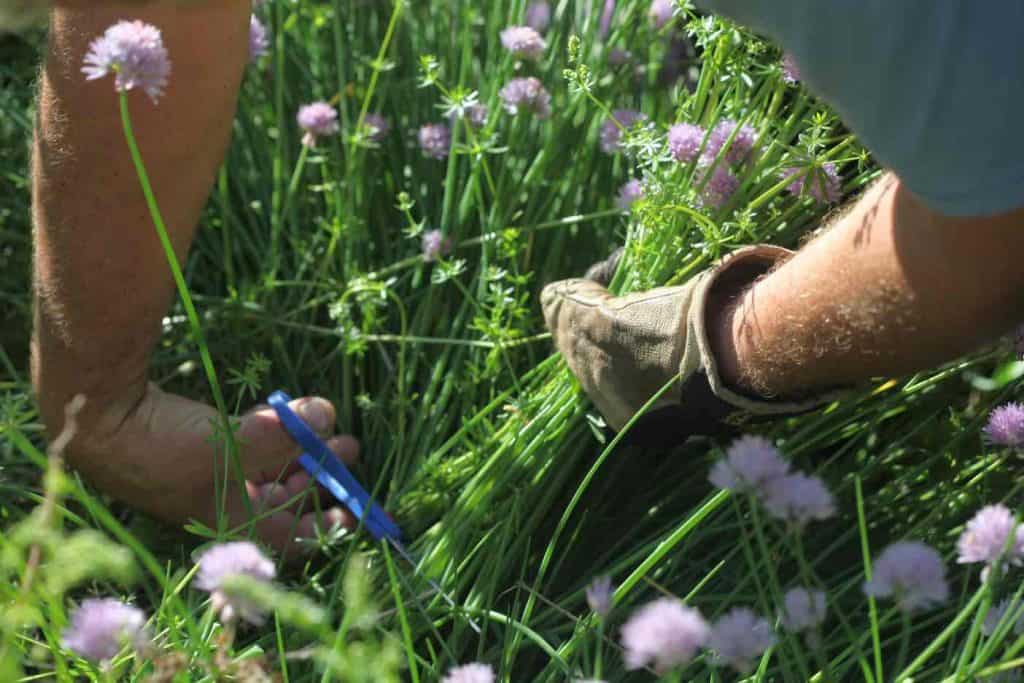 Use a pair of clean sharp scissors to harvest the chives.
When cutting from the plant cut deep to the base.
You can cut all of the chives, with and without flowers.
The chives will grow back, and you will be able to get several harvests or more from each patch every season.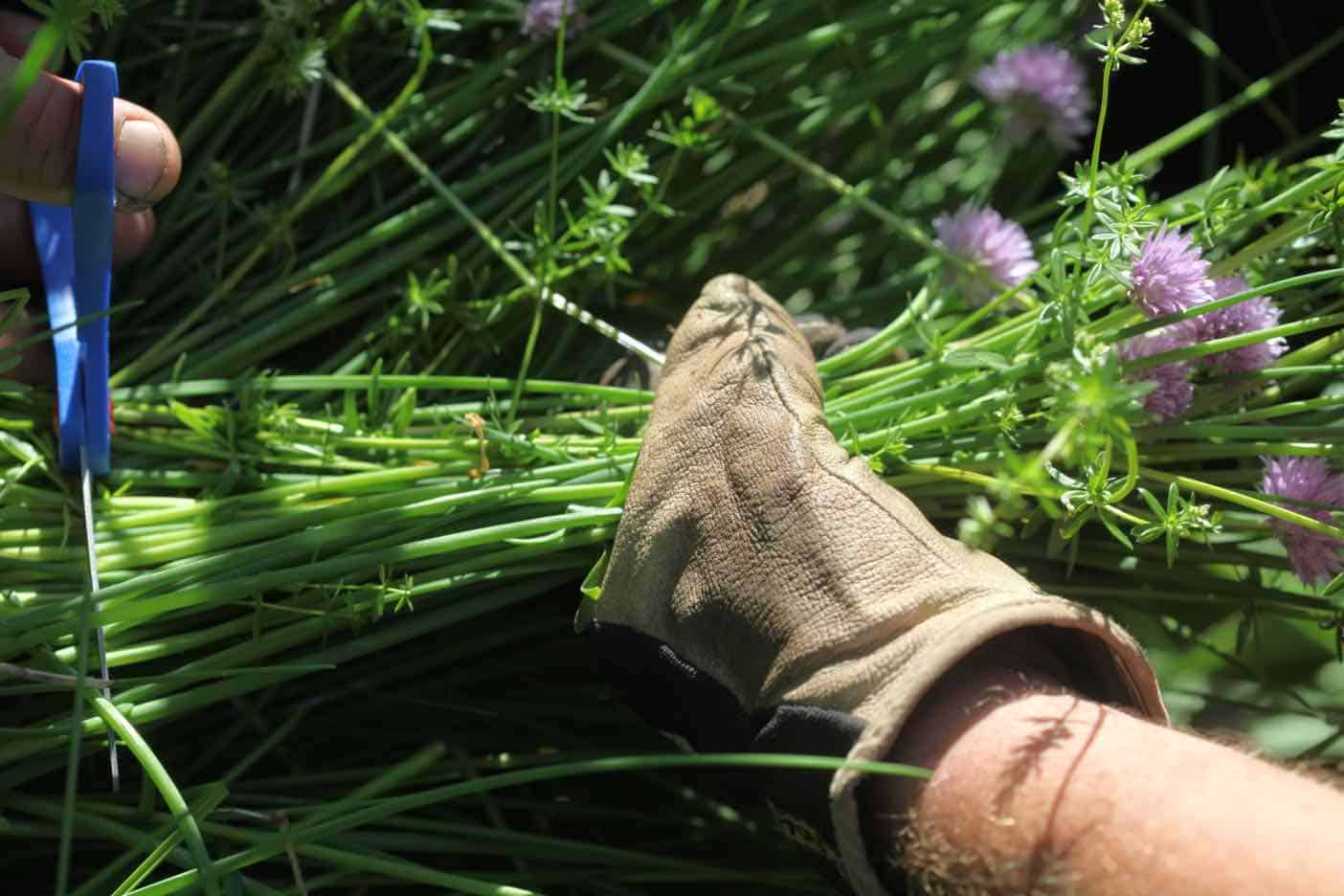 You can cut from the chives throughout the growing season.
Earlier in the season they will be smaller but more tender.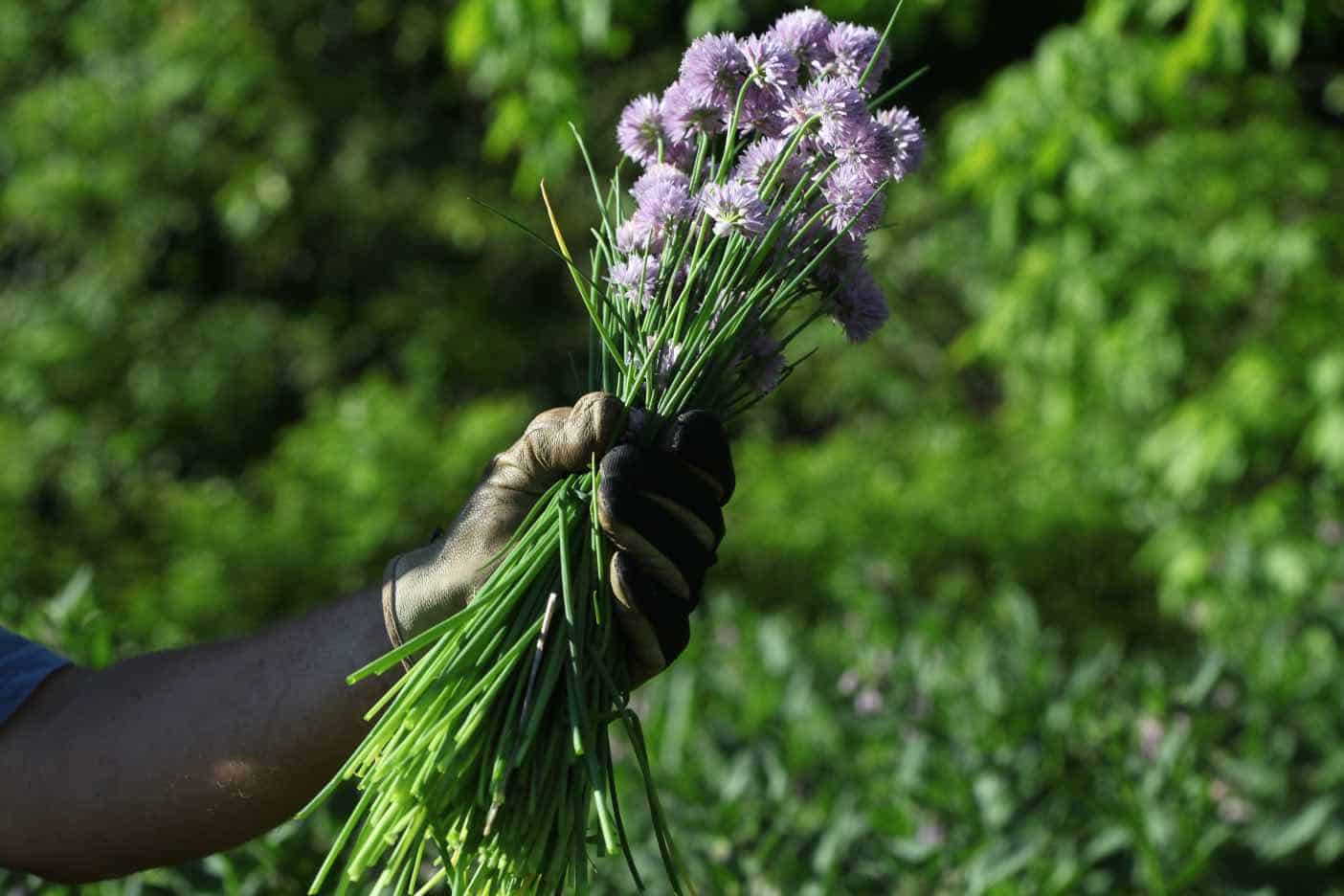 The stems which hold the flowers tend to be tougher and have less flavour than the chive leaves, which are similar in appearance, but have no flower on top.
You can use these stems if you wish, or just remove the flowers and toss the stems.
In The Kitchen ~How To Cut Fresh Chives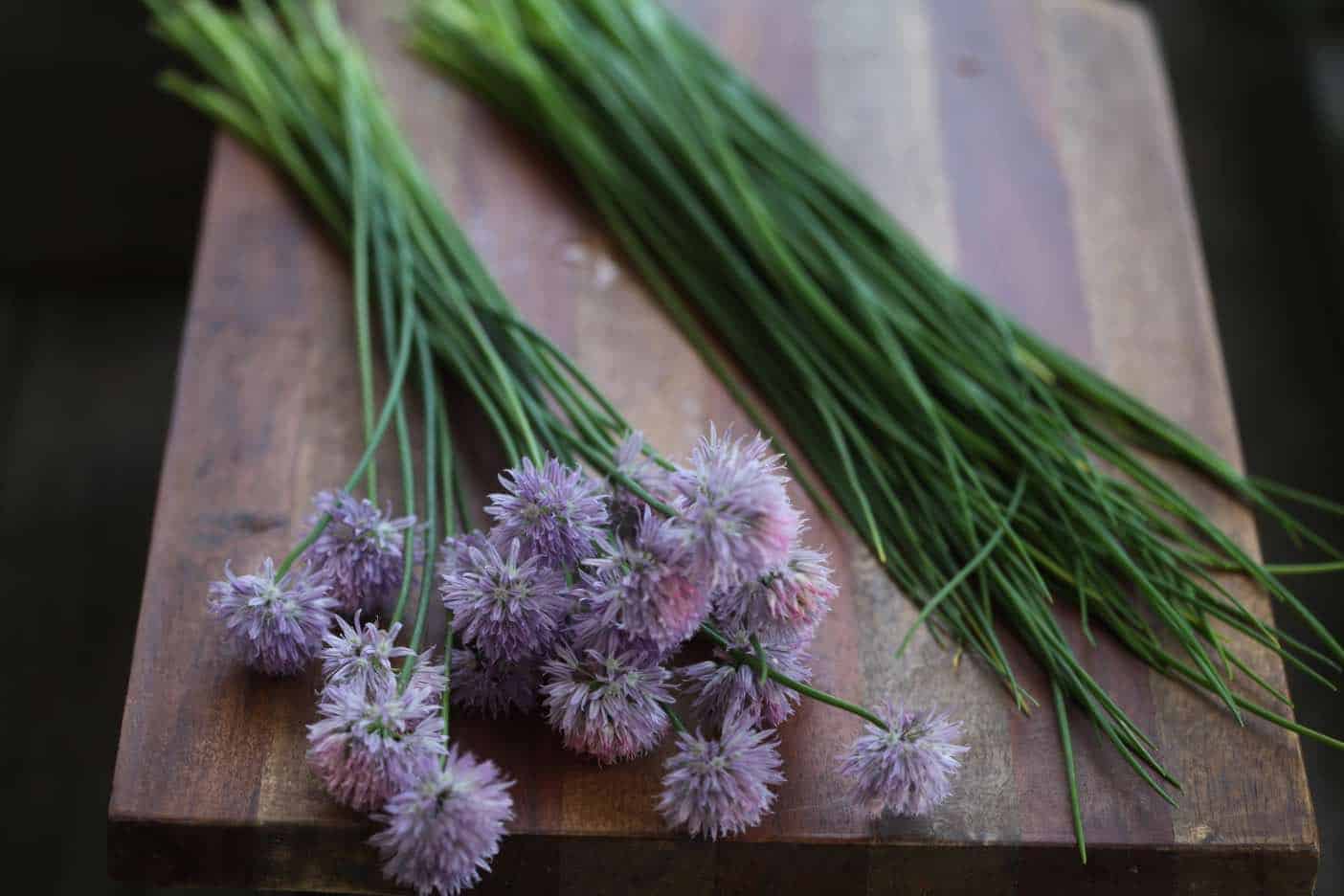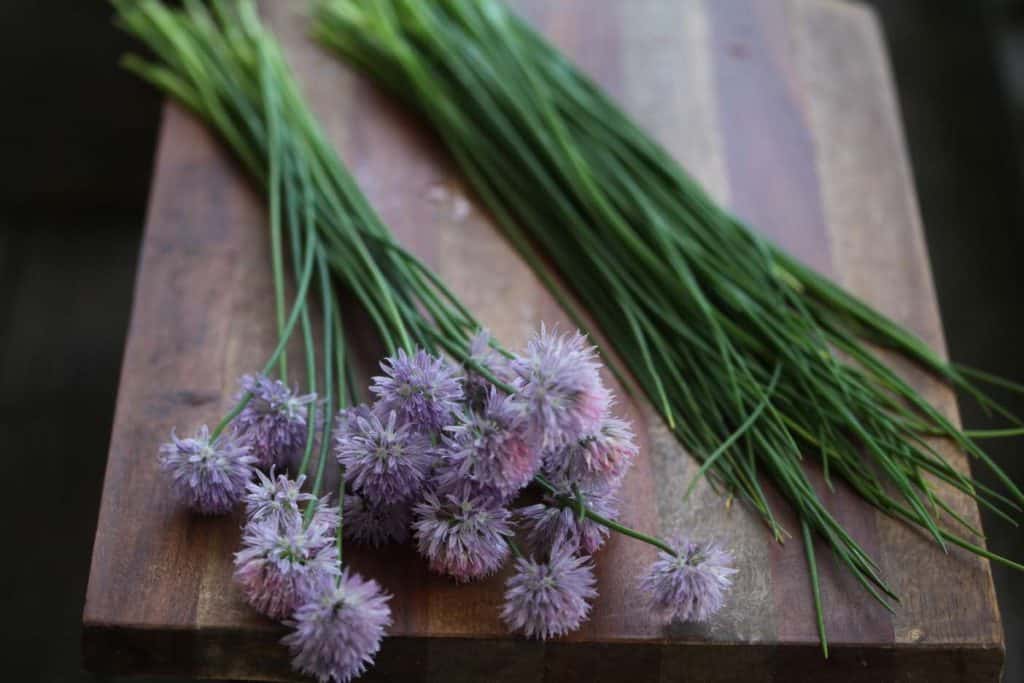 Separate the stems with the flowers from the leaves.
Set the stems with flowers in some water until you are ready to use them.
Place the chive leaves on a cutting board and chop into small pieces, approximately a quarter to an eighth of an inch long.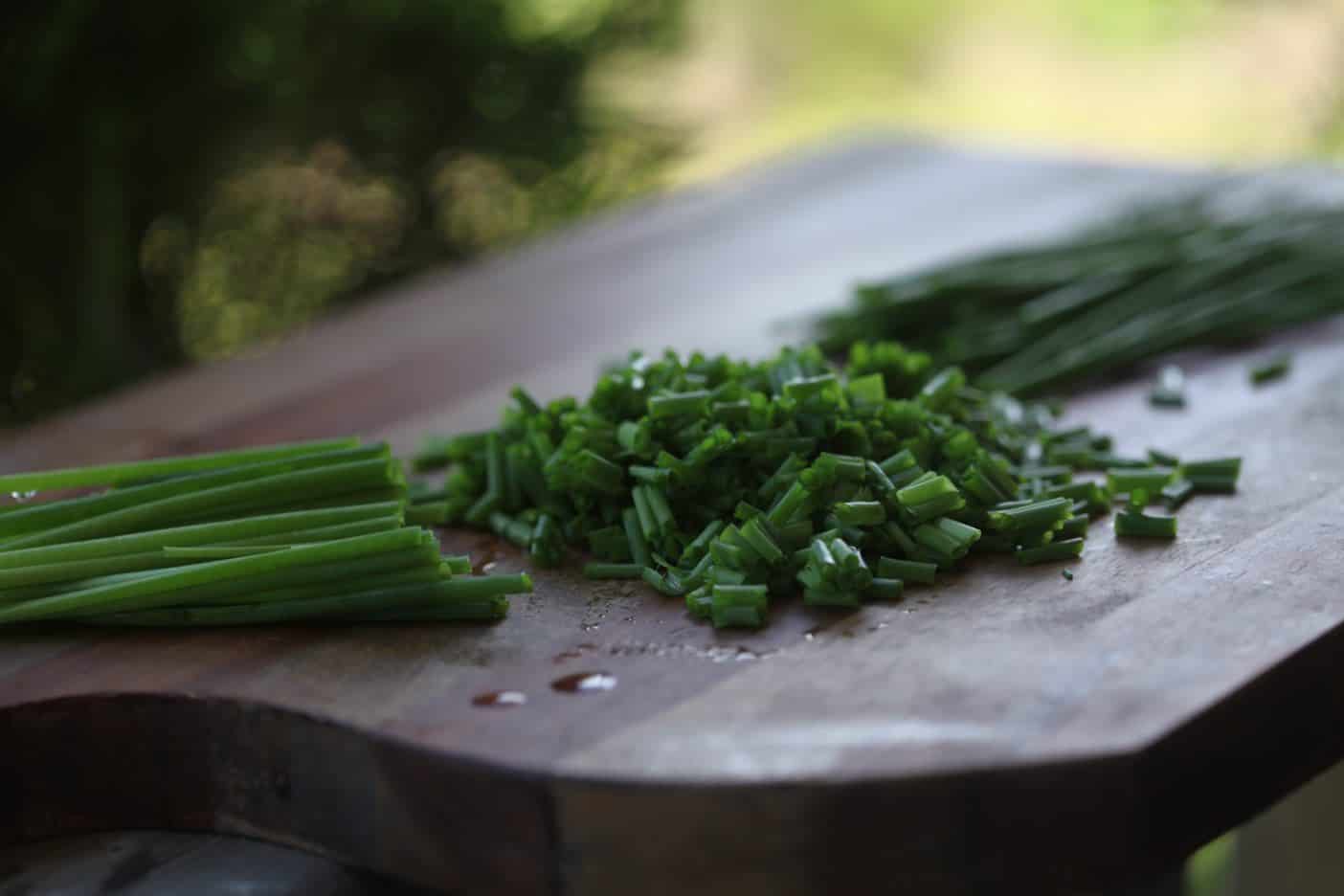 Alternatively you can cut them with some sharp clean scissors, which is my preference.
Use these tiny pieces to add a fresh and savoury flavour to your dishes.
Any left over chives can be frozen or dried to use later, for times when there are no more fresh chives growing in the garden.
Use the flowers while they are fresh, to decorate your salads.
What Part Of Chives Do You Use?
You can use all parts of the chives in your recipes.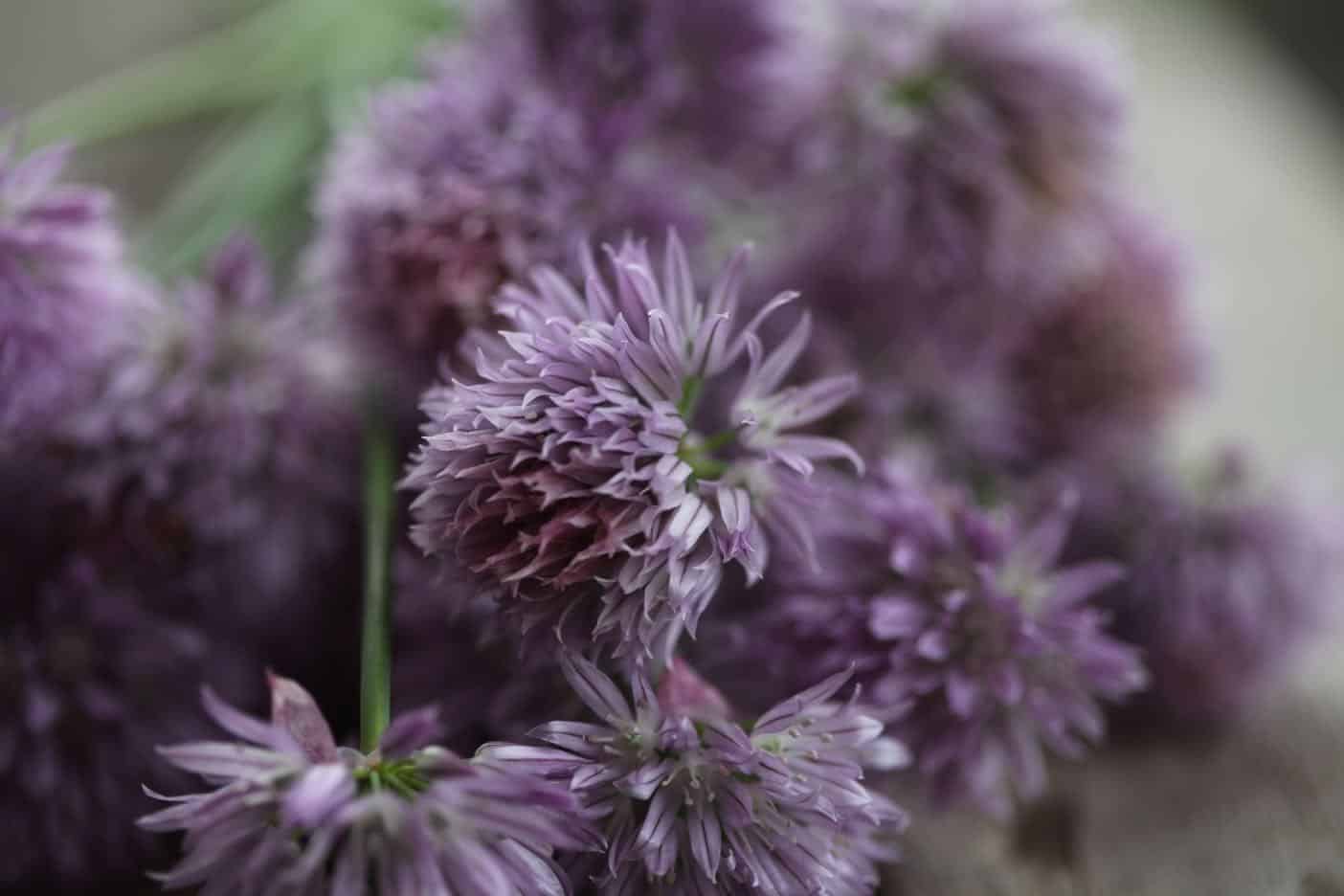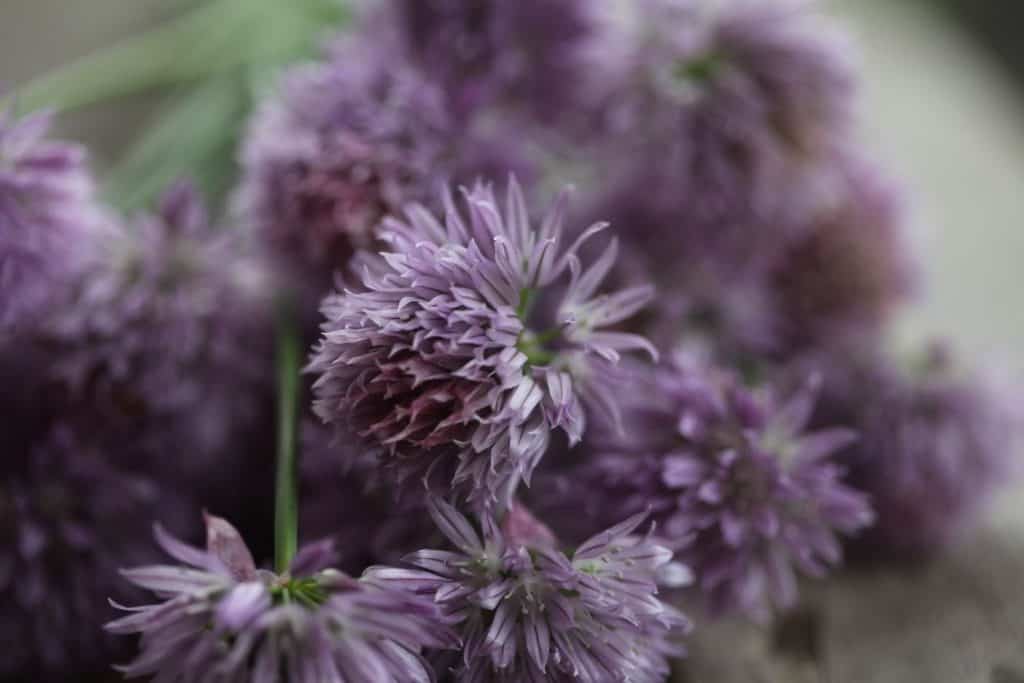 The flowers are edible, and so are the leaves. We love to use the blooms to decorate and add finishing touches to foods made with chives.
You can also eat the blooms in salads, and other vegetable dishes. They have a lovely, slightly sweet flavour, and of course are visually appealing.
Just one tiny floret packs a punch, so we tend to pull the blooms apart and add a handful of florets or buds.
The flower scapes are also edible, although not as tender as the leaves.
Fresh leaves and flowers are great in all types of salads.
The chive leaves cook well, and retain their dark green colouring when cooked.
Fresh Chives Benefits
When using fresh chives from your garden, it's great to know that you are also adding some good nutrition to your table.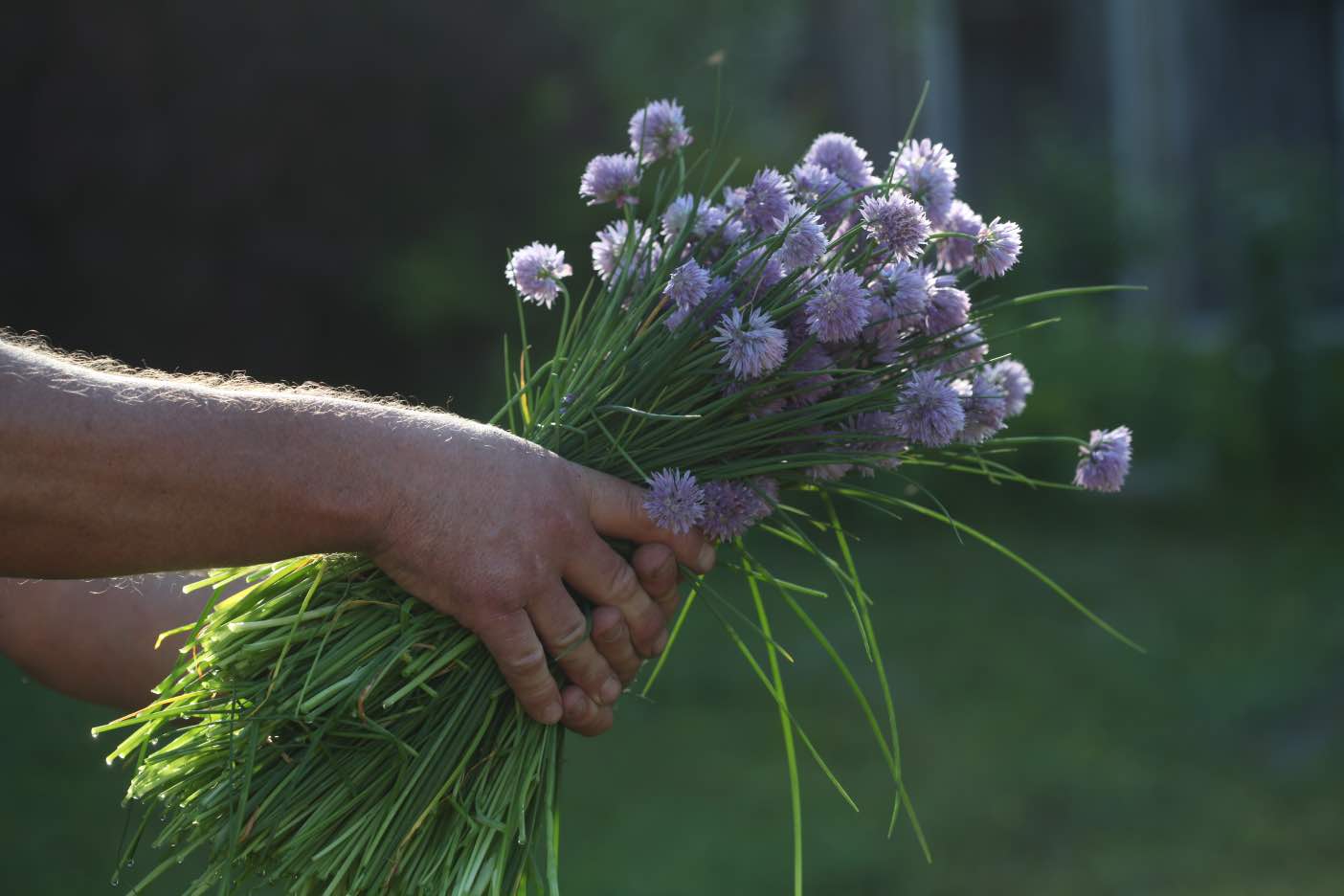 Growing your own chives organically will ensure fresh and chemical free herbs.
Chives are a great source of vitamins and minerals, including vitamins A, C, and K, as well as calcium and folate.
Here is a link to an article on the health benefits of chives from Medical News Today.
What To Do With Lots Of Fresh Chives?
If you have lots of fresh chives growing in your garden, it's good to know that you can use some now, and as well preserve some for later.
Chives are great if used in the fresh and uncooked state, such as in salads or dips in need of a wonderful herbal flavour.
Chives also cook well and can be added to any dish needing that slight savoury taste of onion.
Any extra chives that can't be used, can be frozen or dried for later use.
Chives can also be fermented, for a healthy probiotic alternative.
How Do You Preserve Fresh Chives For Later Use?
1. Freezing Chives
Chives are easily frozen after they are chopped. There are several ways you can freeze these tiny morsels of goodness.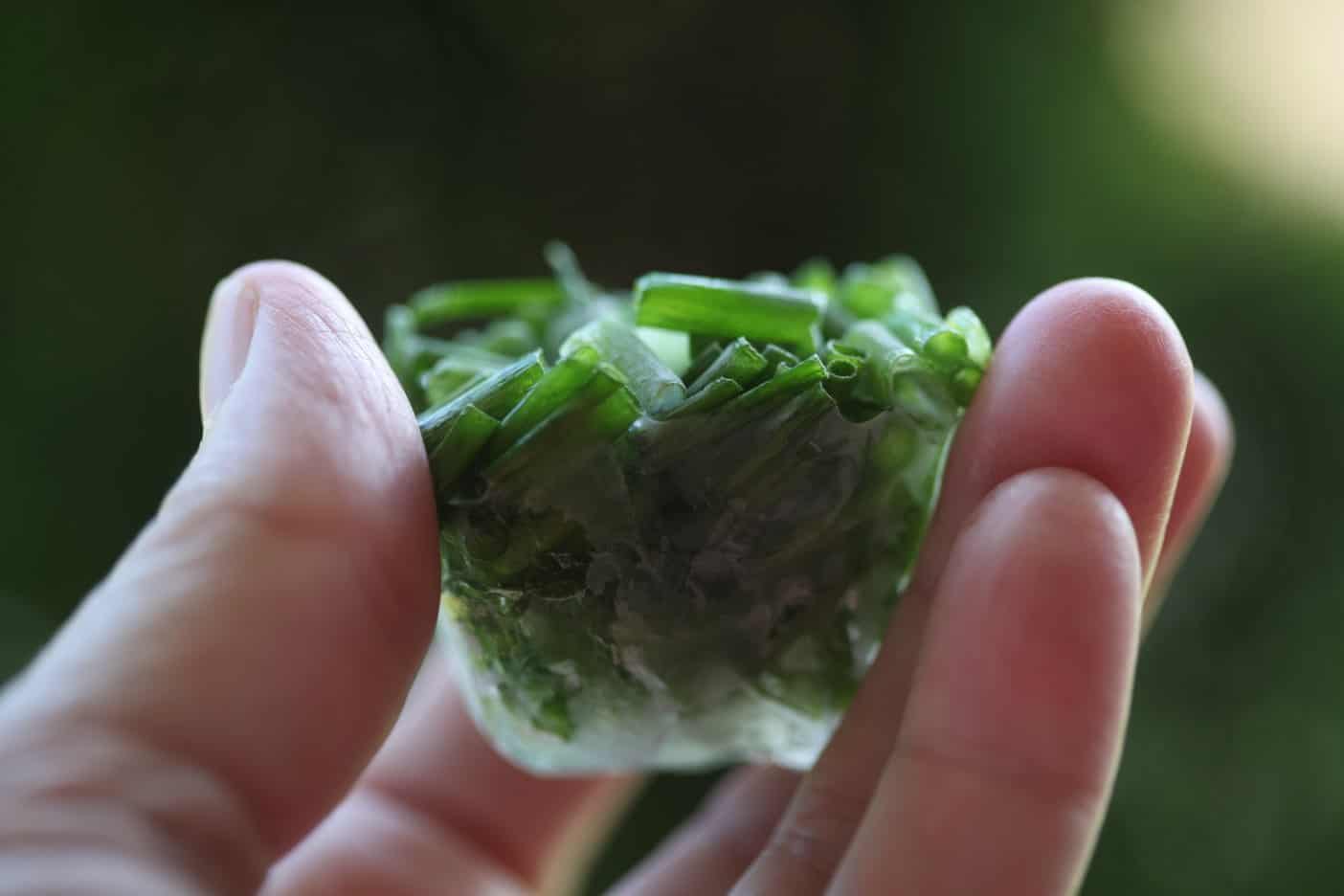 You can put them in separate servings in an ice cube tray, and cover them with water. Place the tray in the freezer until frozen, then place the frozen cubes into a freezer bag to store in your freezer.
Pop them out as needed during the fall and winter months.
Alternatively you can spread them out on a baking sheet and place in your freezer until frozen. Then place the frozen chive pieces into a freezer bag for storage in the freezer.
When you need them, just scoop them out with a spoon. They will not be frozen together.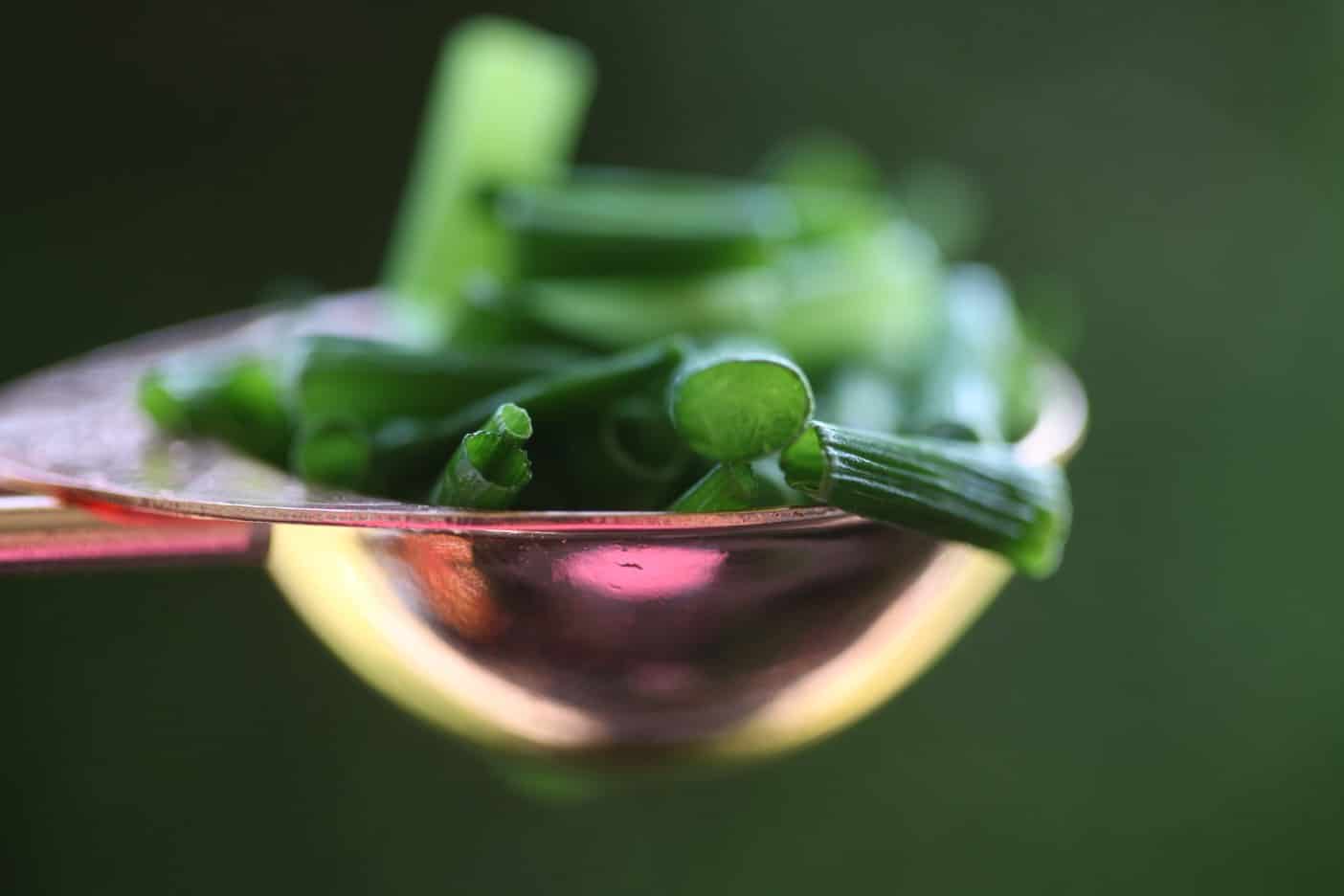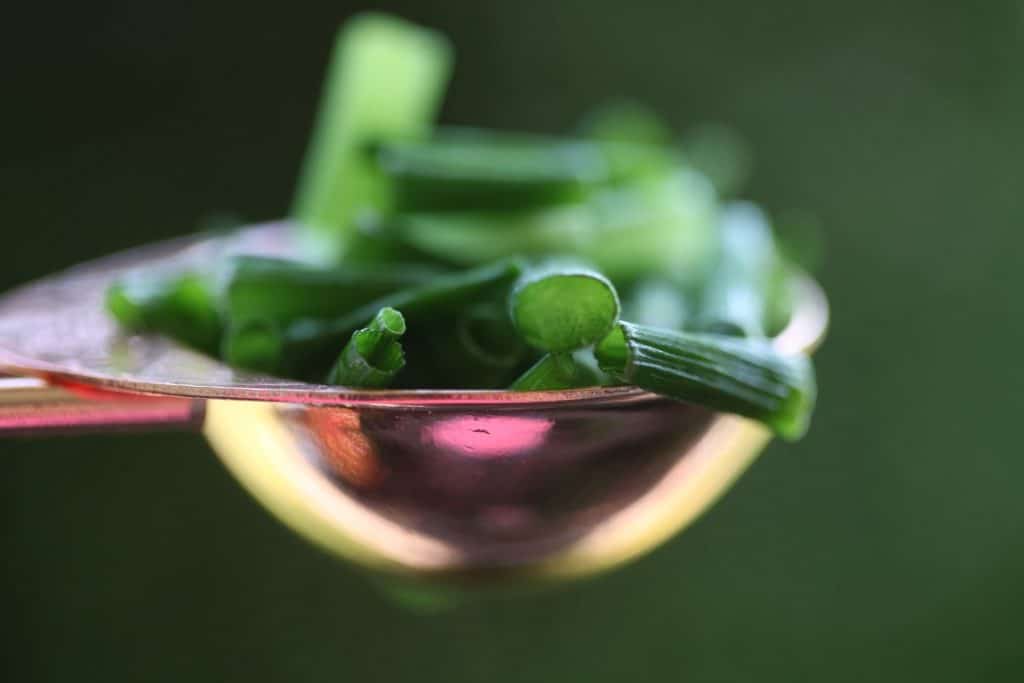 2. Drying Fresh Chives
If you have a dehydrator you can dry the chives for use all year round.
Keep them in a covered mason jar in your herb cupboard.
3. Fermenting Chives
Fermenting vegetables is a great way to preserve your garden produce, and a healthy alternative to other preservation methods.
Here is a great recipe for Fermented Chives from Lady and the Carpenter.
Simple Ways To Use Fresh Chives From The Garden
Here are some simple ways we use our chives.
~Chive Butter
Use a stick of butter which has been softened to room temperature.
Add several spoonfuls of freshly chopped chives to the butter and mix well.
Place the mixture on a piece of wax paper or parchment paper, and form into a small roll.
Chill the butter until firm.
To serve, sprinkle with fresh chives and flower buds.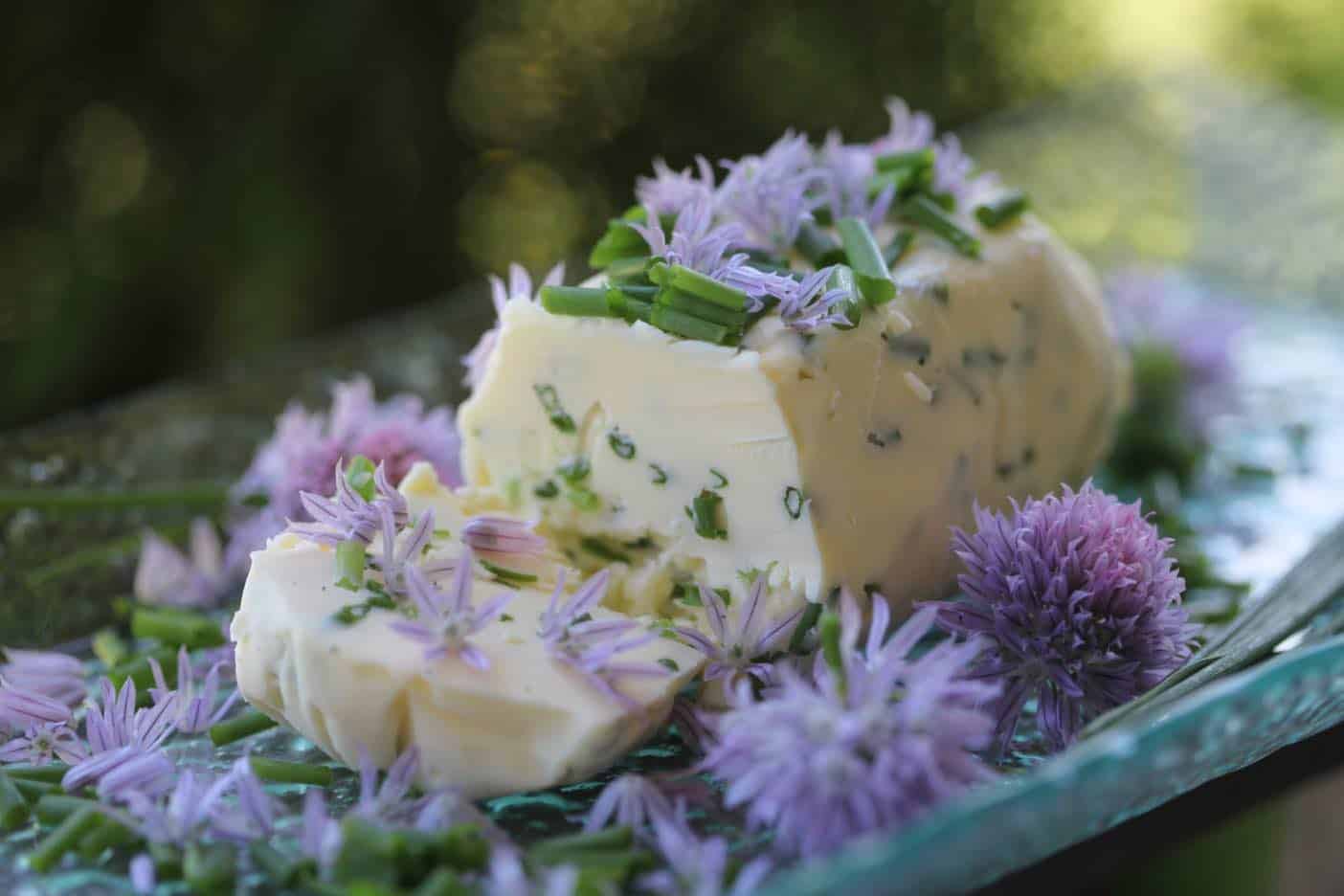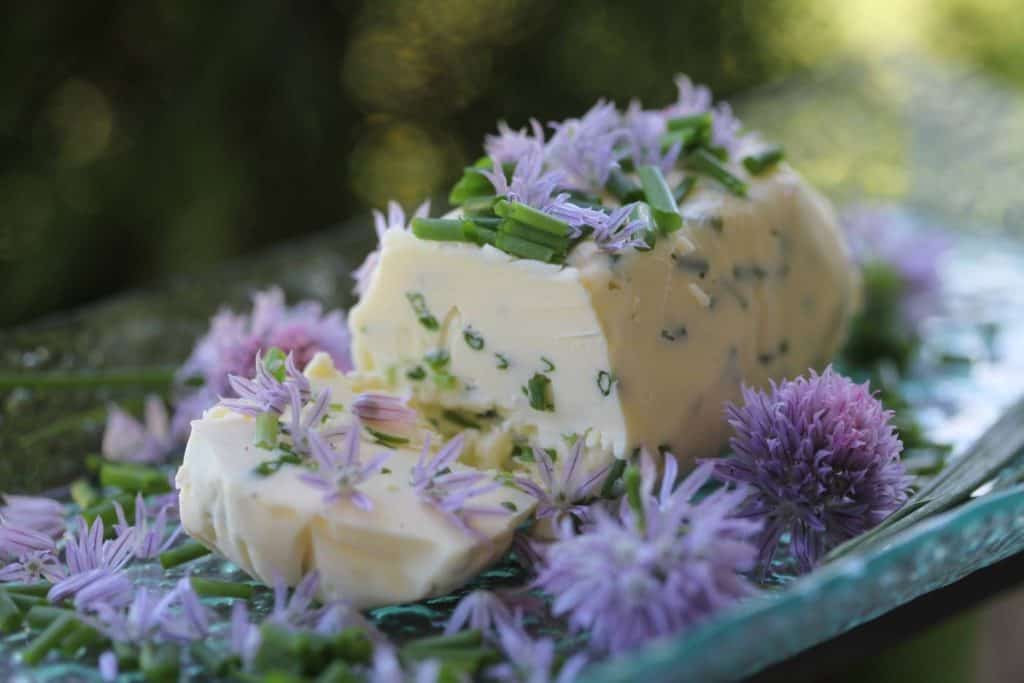 ~Chive Deviled Eggs
Cook eggs to hard boiled stage.
Allow to cool and slice each egg in half lengthwise.
Remove hard boiled yolks and set the whites gently aside.
Place the egg yolks in a bowl with mayonnaise, mustard and chopped chives, in amounts to taste.
Mix well, and place the mixture back inside the egg white halves.
Garnish with paprika and chive blossoms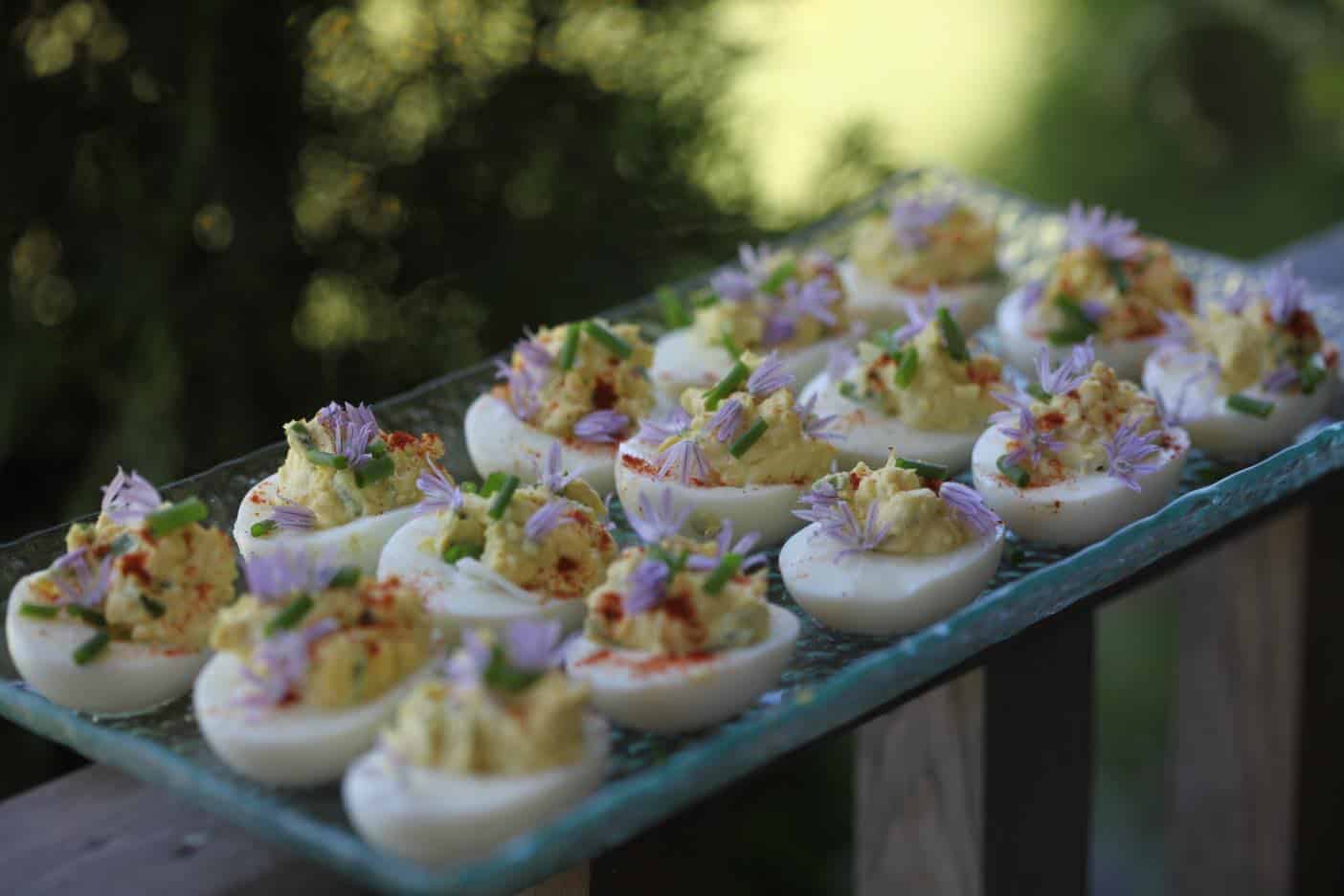 ~Chive Blossom Vinegar
Fill a mason jar full of chive blossoms.
Add distilled white vinegar to the jar, enough to cover the blossoms.
Set aside in a cool place, and allow the flavour to infuse.
The chives will give the vinegar a wonderful chive flavour.
The petals will turn the vinegar a rosy pink tint.
Use in a vinaigrette on your favourite salads!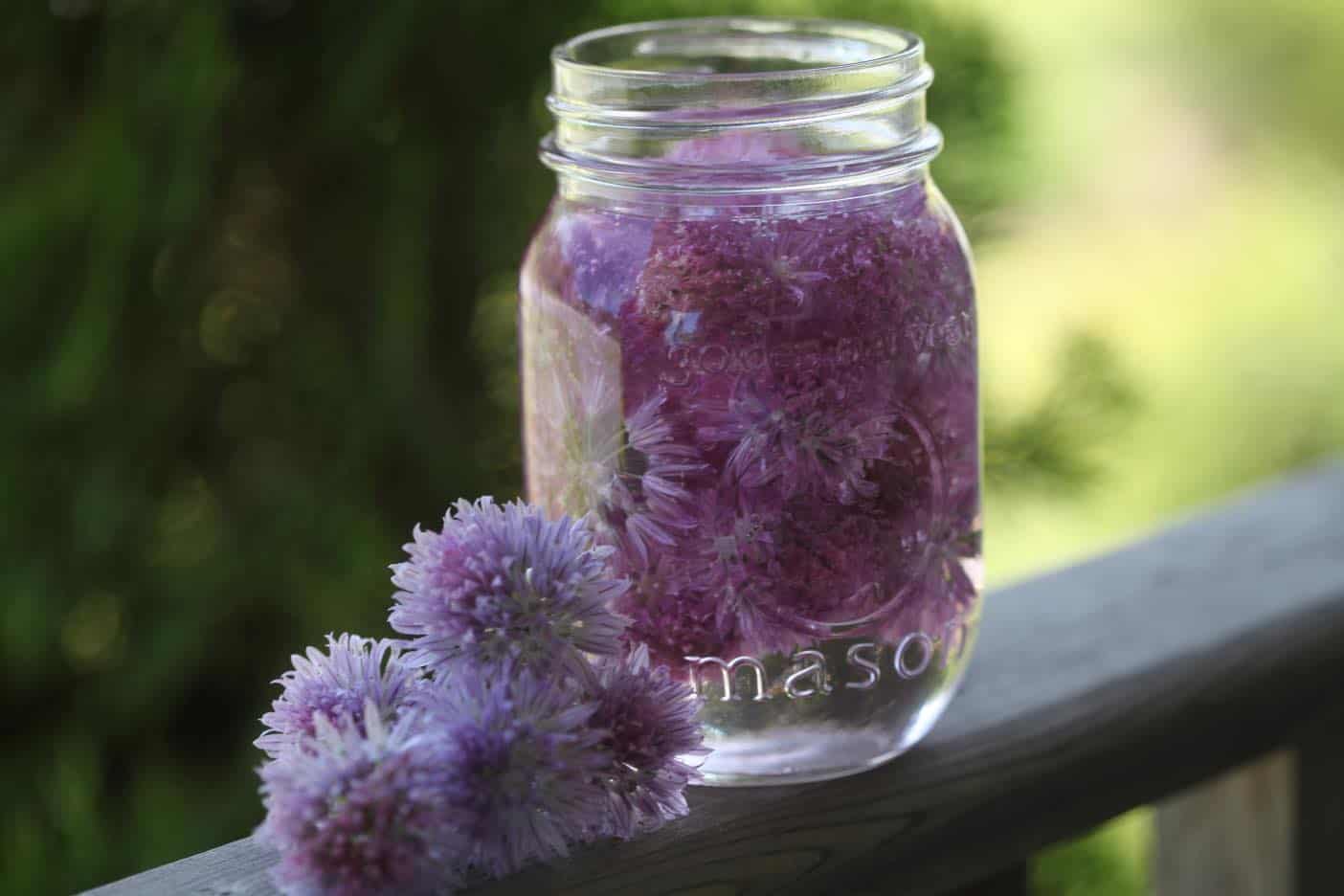 ~Chive Cottage Cheese
This lovely side has just two simple ingredients, chives and cottage cheese.
Chop fresh chives and add to cottage cheese. We like the creamed variety for added creaminess.
Stir the mixture. Garnish with chive blossoms, and serve with crackers.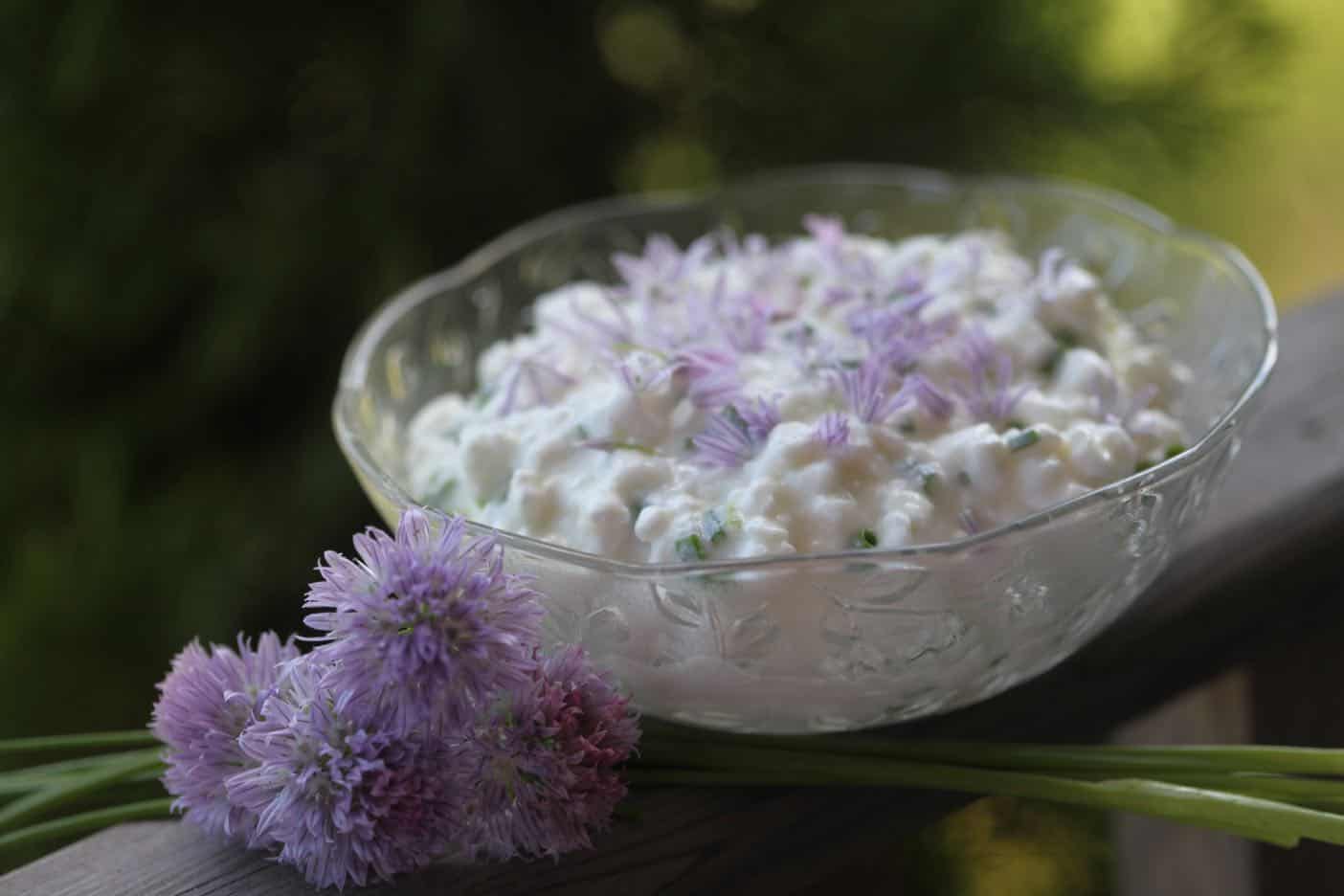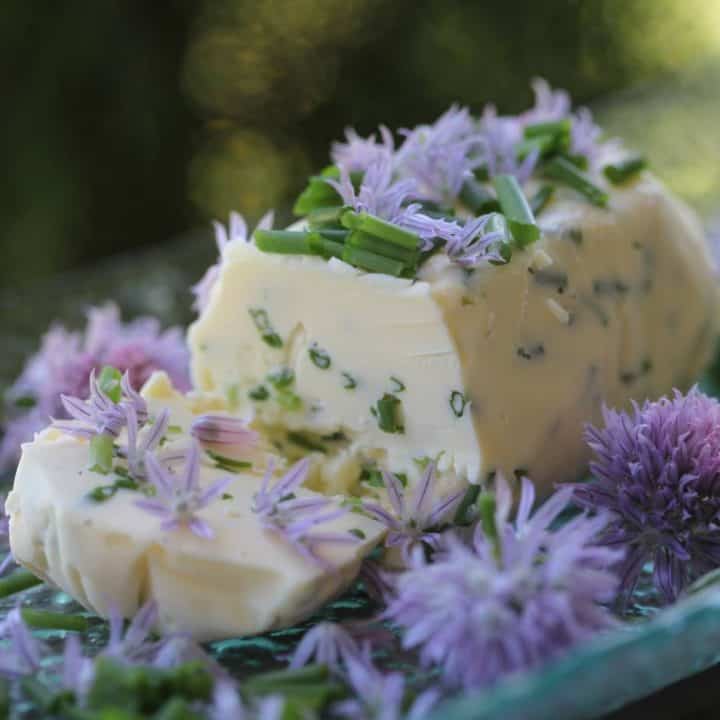 Chive Butter
This savoury butter is a wonderful treat, and a great way to use your fresh garden chives
Instructions
Use a stick of butter which has been softened to room temperature.
Add several spoonfuls of freshly chopped chives to the butter and mix well.
Place the mixture on a piece of wax paper or parchment paper, and form into a small roll.
Chill the butter until firm.
To serve, sprinkle with fresh chives and flower buds.
Nutrition Information:
Yield:

48
Serving Size:

1 teaspoon
Amount Per Serving:
Calories:

34
Total Fat:

0g
Saturated Fat:

0g
Trans Fat:

0g
Unsaturated Fat:

0g
Cholesterol:

1mg
Sodium:

2mg
Carbohydrates:

0g
Fiber:

0g
Sugar:

0g
Protein:

0g
Have you grown chives in your garden? Have you used them in your cooking and preserved for later use?
Be sure to leave a comment below to share your experiences on how you use fresh chives from the garden!
Other Posts You May Like:
HOW TO MAKE LILAC JELLY ~ PRESERVE THE TASTE OF SPRING
PERENNIAL BACHELOR BUTTONS IN THE GARDEN
HOW TO MAKE CASSAVA PIE- A BERMUDIAN TRADITION
See the Web Story on Using Fresh Chives From The Garden!
PIN IT FOR LATER!