Fresh chives offer a wonderful savoury flavor when added to dishes while in season. Those sweet and delicious chives don't last long in the garden however, and preserving them will allow you to use them for a bit longer. Learn how to freeze chives, and preserve your harvest for later to use in the kitchen.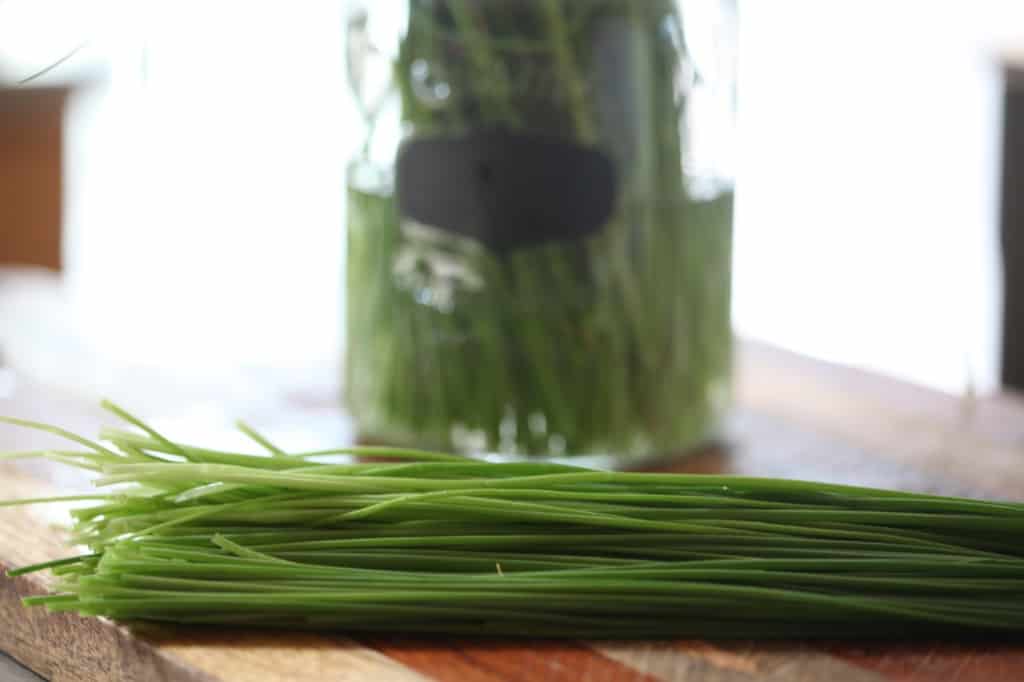 I absolutely love it when the chives start to bloom in the garden. These perennial herbs have adorable edible flowers that are just so photogenic.
They are also delicious to eat, and look amazing when added to fresh salads and sides.
The tiny purple or rose coloured petals within each chive bloom are lovely to use as a savoury garnish. They add a lovely and attractive color to any dish.
Chive blossoms have a subtle onion flavour which is not overpowering, and adds just the right touch of savoury flavour.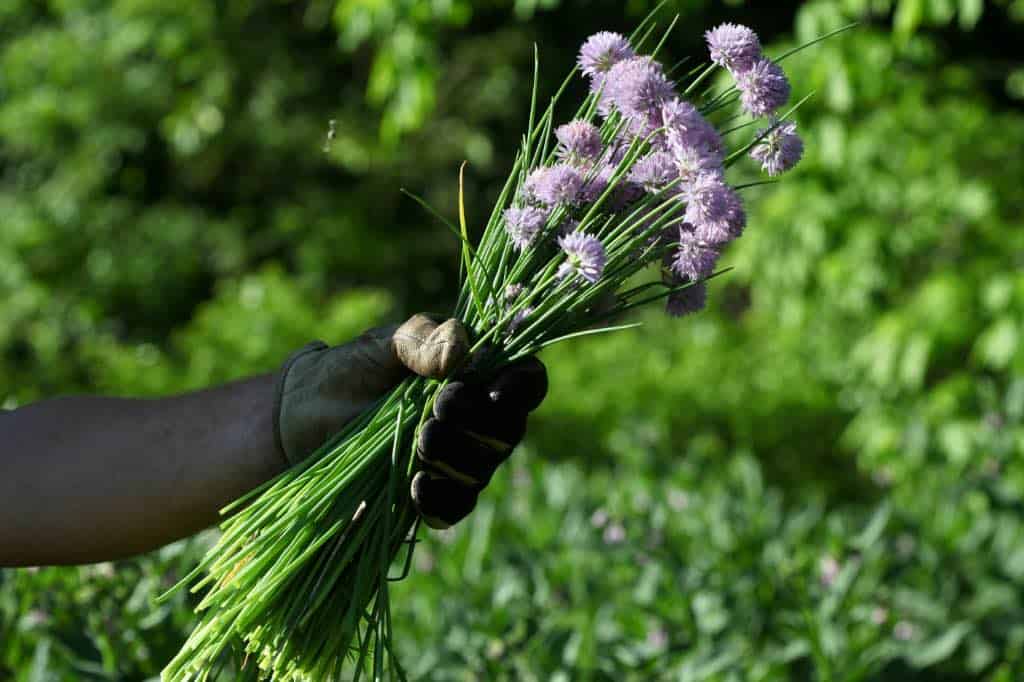 These sweet little herbs have a fairly short growing season however.
If you don't pay attention to them and catch them when you can, it seems that they just start to bloom, and then before you know it they are done again for another year.
If you like to use these green herbs in your cooking, you must catch them when they are fresh.
Consider preserving some of your chives when they are in season, so that you can use them all year round.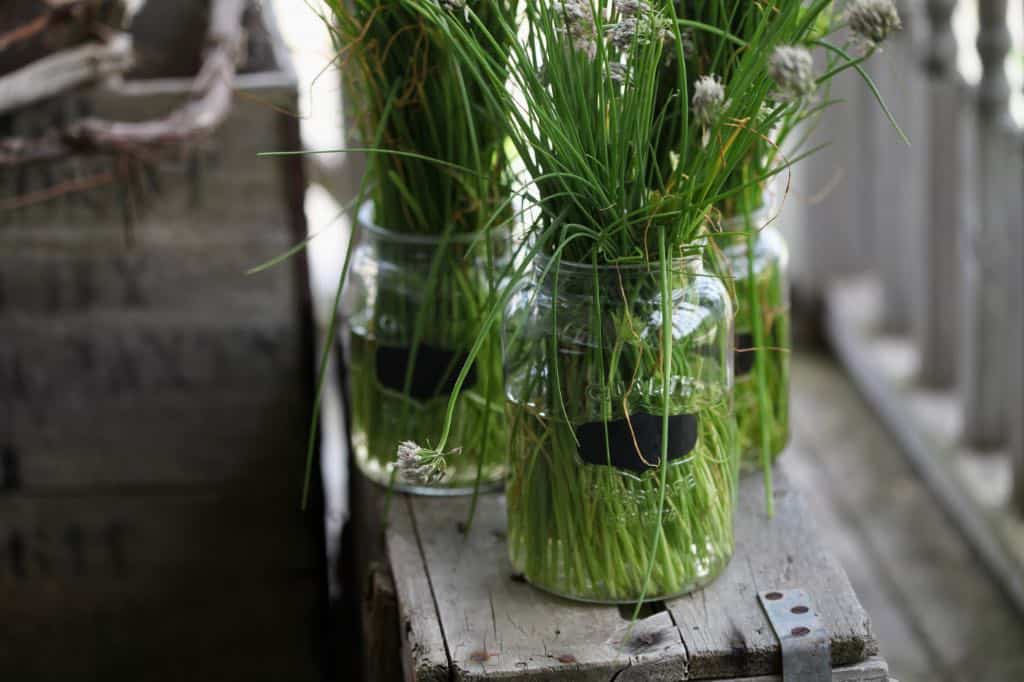 Consider Preserving Some Chives
Chive blossoms last approximately six weeks in the garden, and then they start to go to seed.
The chive leaves will still be usable, although not as new and fresh as they are at the beginning of the growing season.
If you have an abundance of chives, consider preserving them while they are still growing in the garden.
I like to collect chive blossoms and leaves, to preserve these fresh herbs to use throughout the year, long after the growing season is done.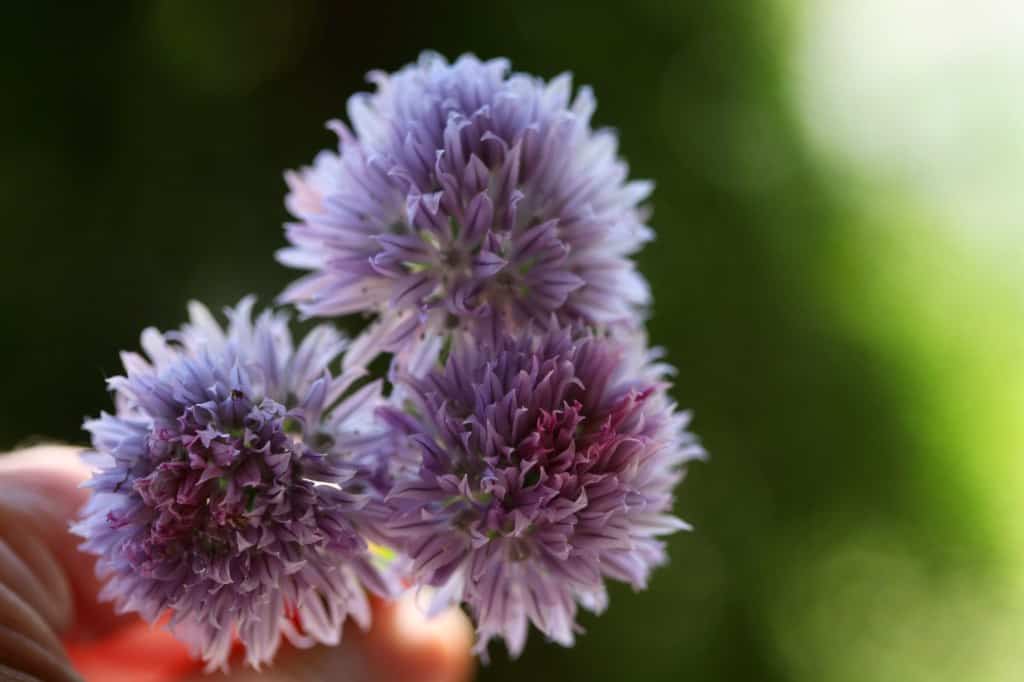 One excellent way of preserving chives is to freeze them.
Frozen chives are easily accessible from freezer to bowl, and to throw into many dishes. Freezing these herbs will allow you to use them long past the availability of the plant in the garden.
So let's have a look at how to freeze chives, both the leaves and the blossoms.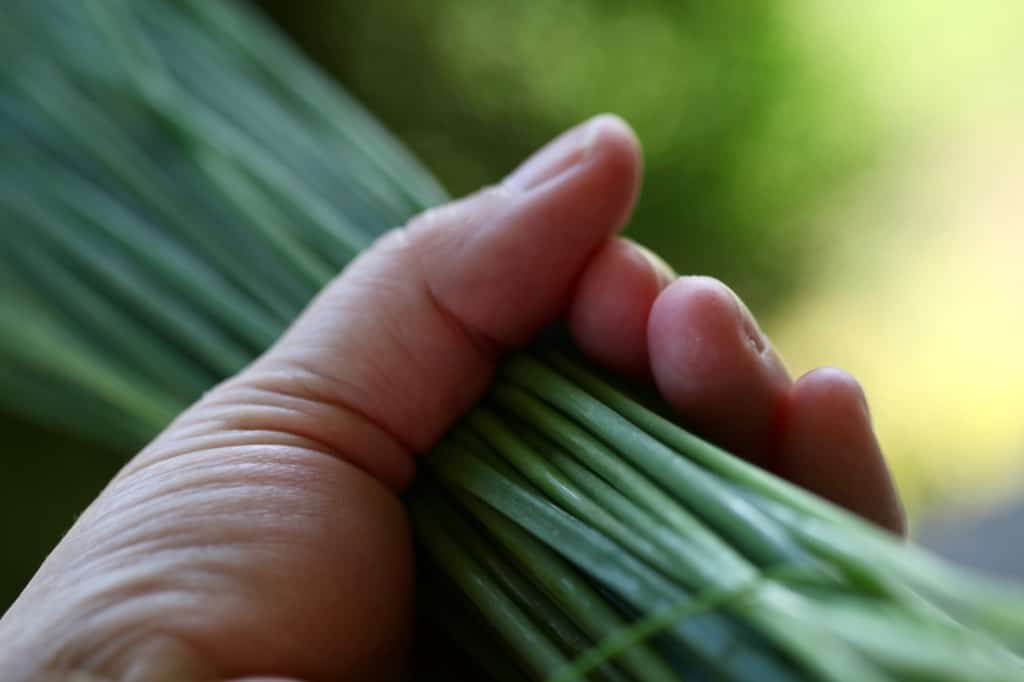 How To Freeze Chives
The wonderful thing about freezing chives is that they tend to tolerate the freezing process very well, and hold their texture and taste.
There is no need to rehydrate. All they need is some thawing, and if they are going into a hot dish, that will do the trick.
They can be used in cold dishes as well. Since the texture is mostly preserved, they can be added to cool dips and recipes that will benefit from the fresh flavor of the herb.
Freezing chives is also very simple, and takes no time at all. With minimal effort you will have a new batch ready and chilling in under an hour.
Harvest The Chives
Harvest the chives in the early part of the day, because this is the time when the leaves are the most hydrated.
Depending on the amount of chives that you will be processing, estimate how many handfuls you should be cutting. You can trim the leaves right back to within several inches of the ground.
When harvesting chives I tend to hold a handful of the stems and leaves, and cut underneath the handful, shearing off the chives with a pair of scissors.
Place the freshly harvested leaves into a clean container of water, to hold them until you are ready to process them.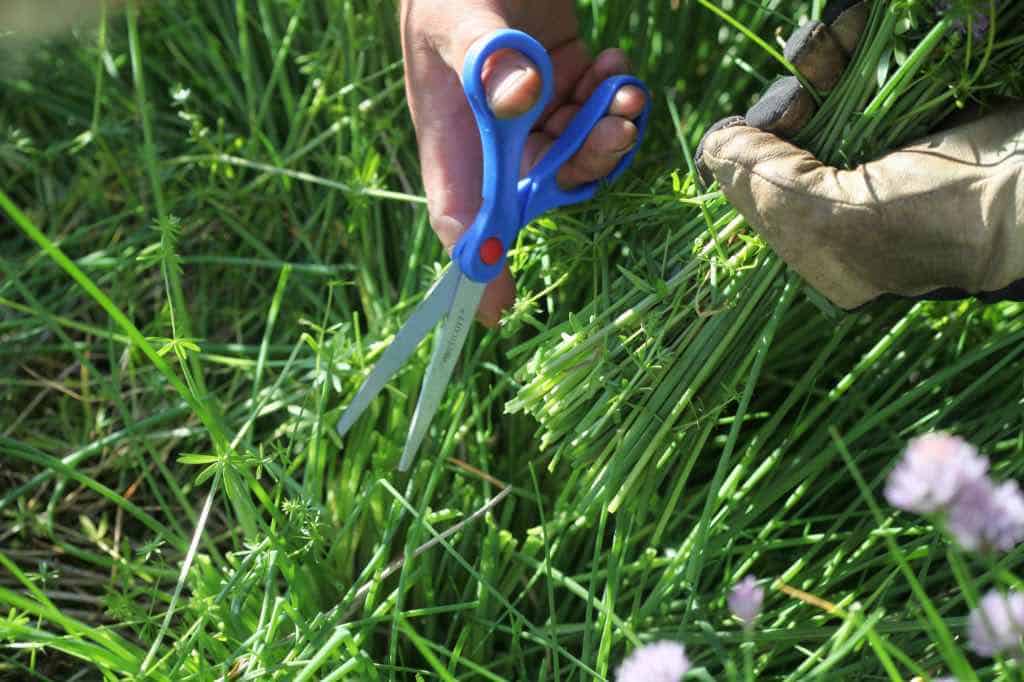 Clean The Chives
If you are harvesting chives from your garden, it's a good idea to give the leaves a good rinse in cold water. There is usually always a little bug or two, brought in on the fragrant leaves or blossoms.
Sometimes as well, you can have little bits of garden soil on the chives, which splash up onto the leaves on a rainy day. You may also find a weed or two that you have to remove.
Wash chives in cool water, and clean them well.
Give them a shake to remove excess water, then set them on a kitchen towel or cutting board to dry before processing.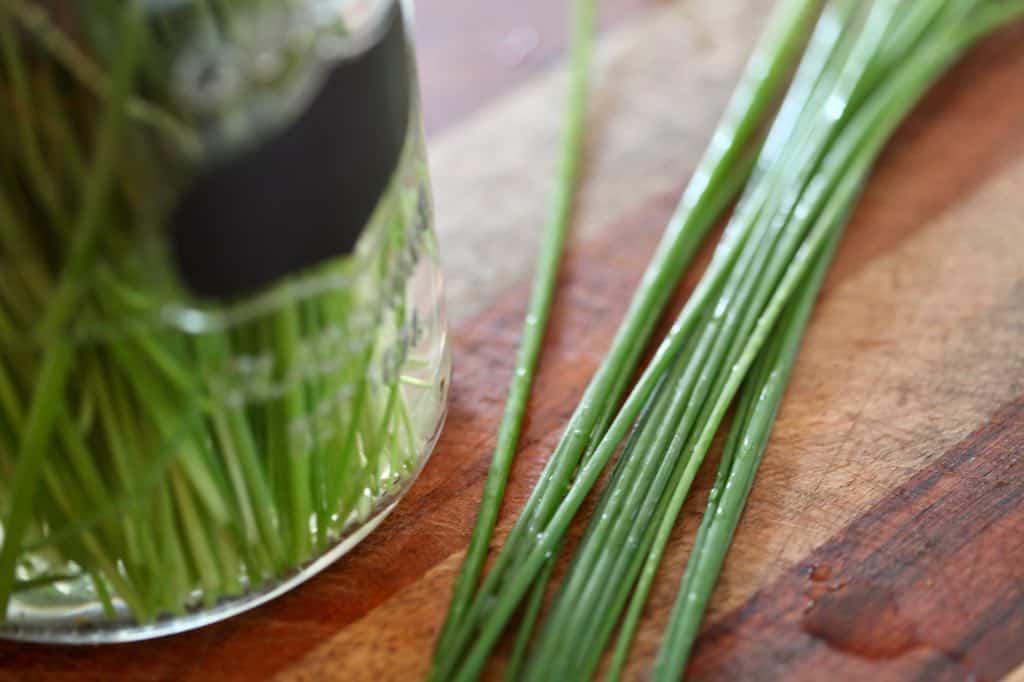 Chopping The Chives
The next step in the processing of the chives is to chop them up with a sharp knife.
Cut chives into small pieces, approximately one half inch or smaller in length.
The juice from the chopped chives will ooze a bit as you chop, making the pieces slightly moist.
You can pat these dry with a paper towel, which will help to keep the pieces from freezing together when they are placed in the freezer.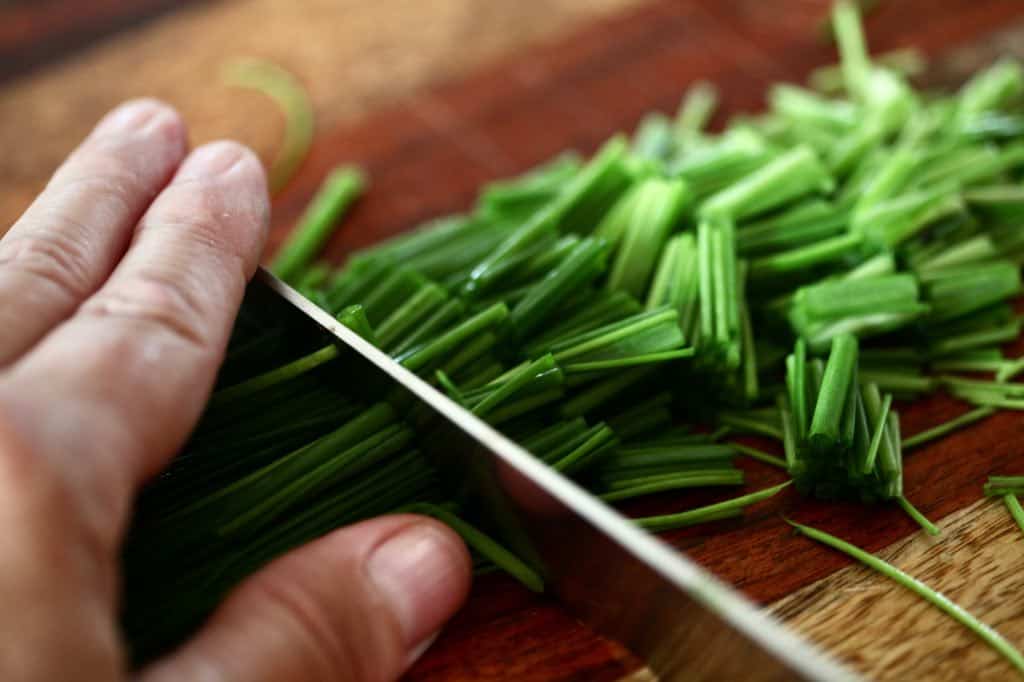 Freezing Chives In Freezer Bags
Freezing chives in freezer bags is an easy and cost effective way of preserving them.
It's important to freeze the individual pieces first however, before packing them all together in the freezer bag.
If you place the chive pieces into the bag directly after chopping, and freeze them together in this manner, all the pieces will stick to each other and form one large clump.
Rather, freeze the pieces individually first.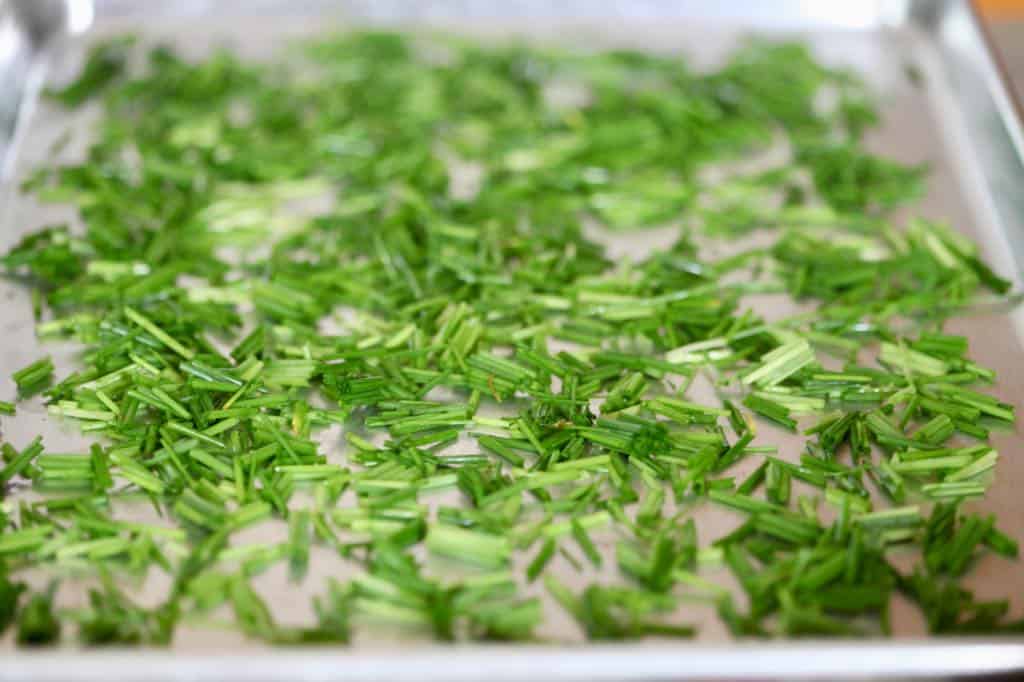 The best way to do this is by placing the chopped pieces in a single layer on a cookie sheet or sheet pan.
This will freeze the chopped pieces of chives separately, and make them easier to remove from the bag as needed.
This will allow you to reach into the bag and access just a few chives at a time, rather than removing the whole lot.
Place the pan into the freezer for several hours, until the chive pieces become frozen.
Remove from the fridge, and place the frozen pieces into a labelled freezer or ziploc bag.
Return the frozen chives quickly to the freezer before they begin to thaw.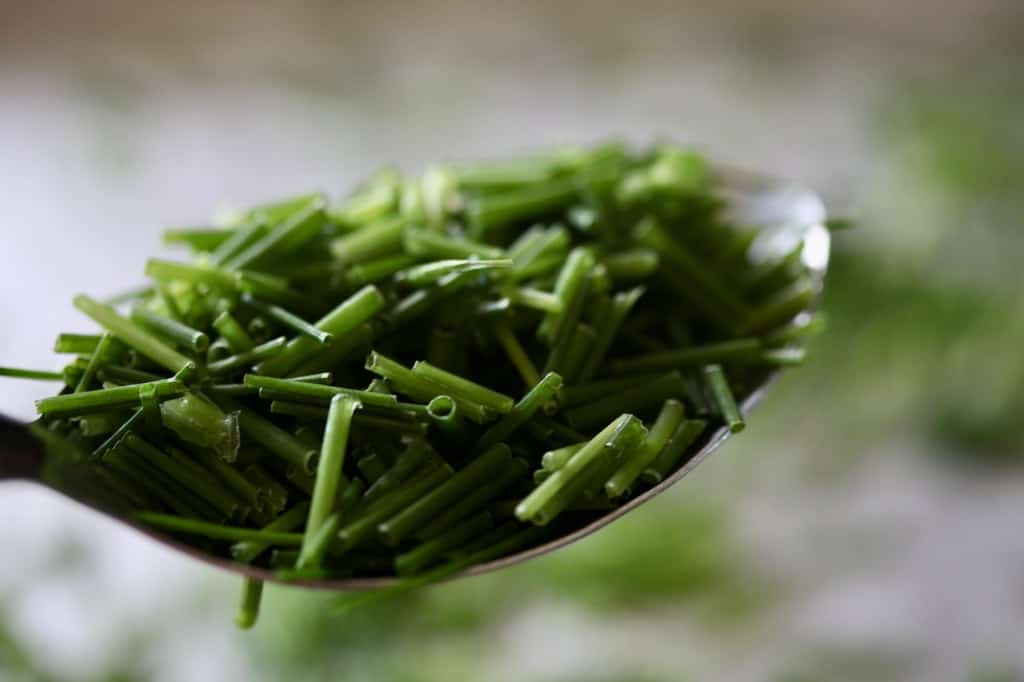 Freezing Chives In Ice Cube Trays
Freezing chives in an ice cube tray is another way of preserving them.
The chopped chive pieces can be frozen in the individual ice cube compartments, in either water or olive oil.
Place some of the chives into each compartment of the ice cube tray. Fill halfway with either water or olive oil, and freeze.
Once completely frozen, you can remove the cubes, and place them together into a labelled freezer bag.
Make sure to do this quickly for best results, and not allow the cubes to thaw out during the transfer, as they may stick together in the freezer bag if they start to melt.
Whenever you need some chives, just reach into your freezer for an ice cube or two.
It's the perfect way to preserve these delicious herbs.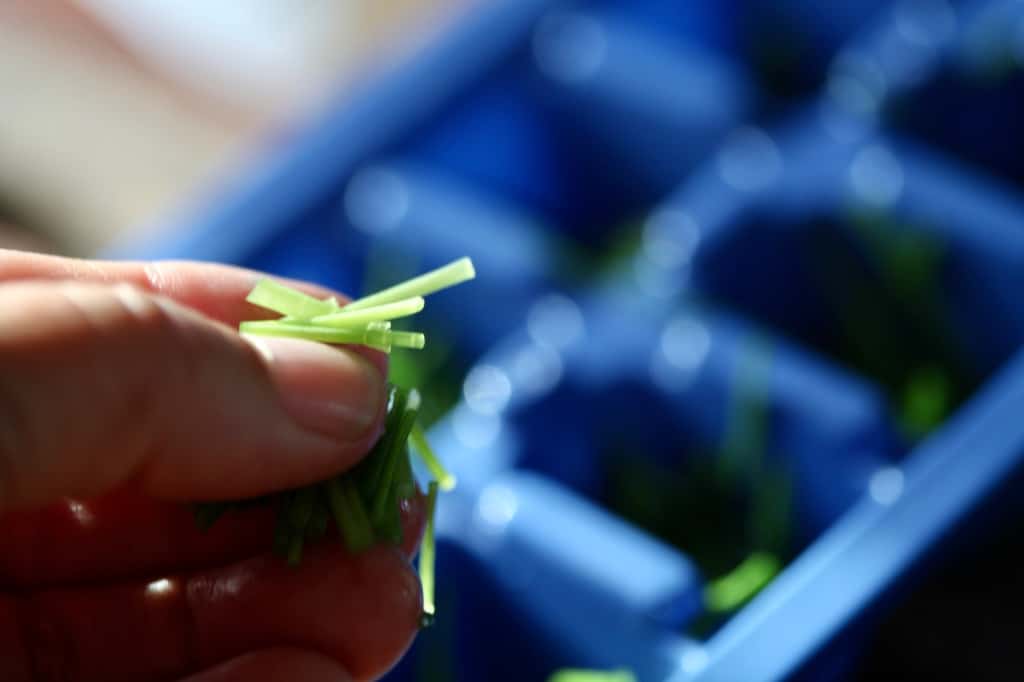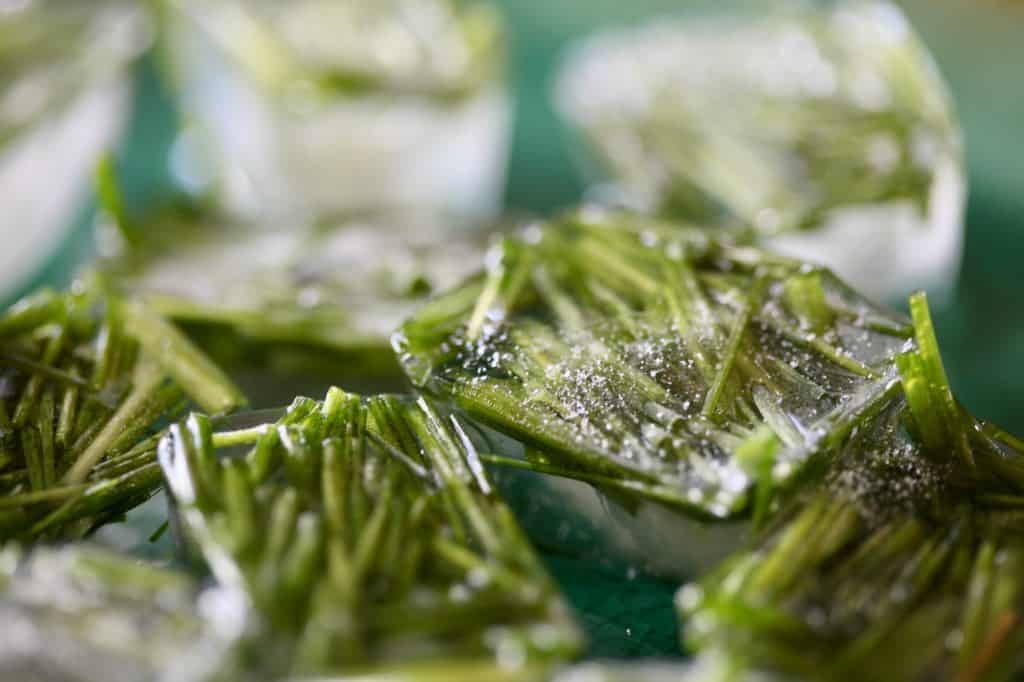 Freezing Chive Blossoms
Chive flowers can also be preserved by freezing.
I did another post on how to make edible flower ice cubes, and the basic concept is the same as far as preparing the flowers to freeze them as cubes
In the case of the chive blossoms however, rather than freezing them to use for decorating your drinks, you are freezing to preserve the blooms.
The easiest way to remove the chive petals is to cut them with a pair of scissors. You can also easily pull them off the flower when the blooms are fresh and new.
Place some petals in the ice cube tray, and add some water. Place in the freezer until frozen.
Once frozen, transfer the ice cubes to freezer proof plastic bags, or a freezer-safe container for long-term storage.
Chive blossoms are very sturdy, and will freeze and thaw out very well.
Whenever you want some savoury blossoms, just take out your frozen chive blossom ice cubes, thaw and decorate.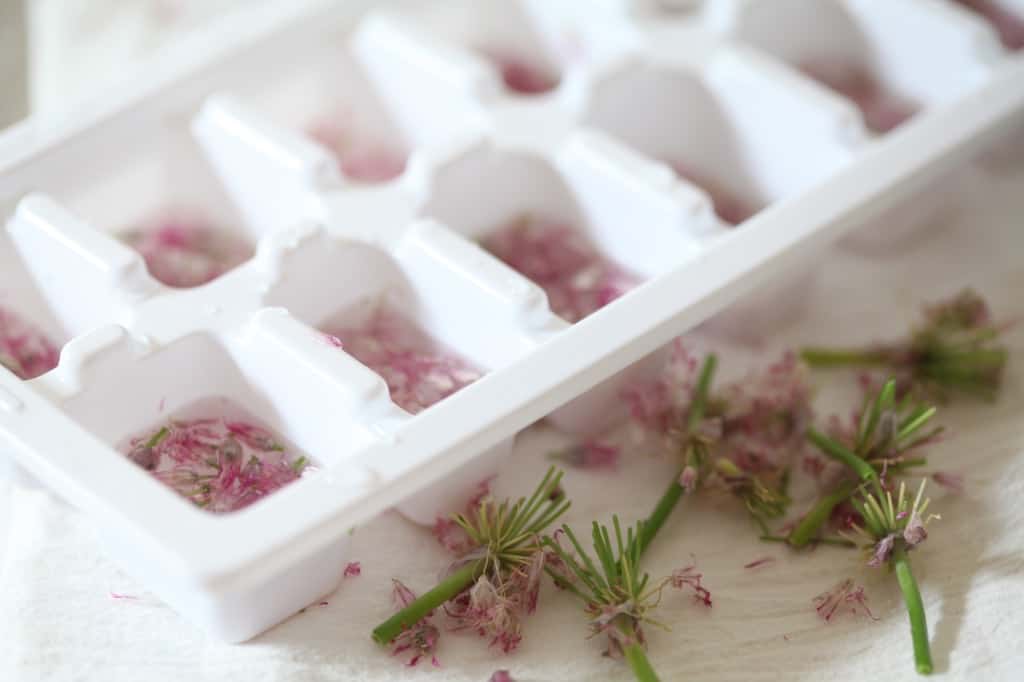 How Long Will Frozen Chives Last In The Freezer?
Frozen chives will last in the freezer for up to six months or longer, depending on your freezer.
As long as they are protected in freezer bags, you should be able to avoid freezer burn.
Make sure that you have the preservation date recorded on the top of the bag for safe usage.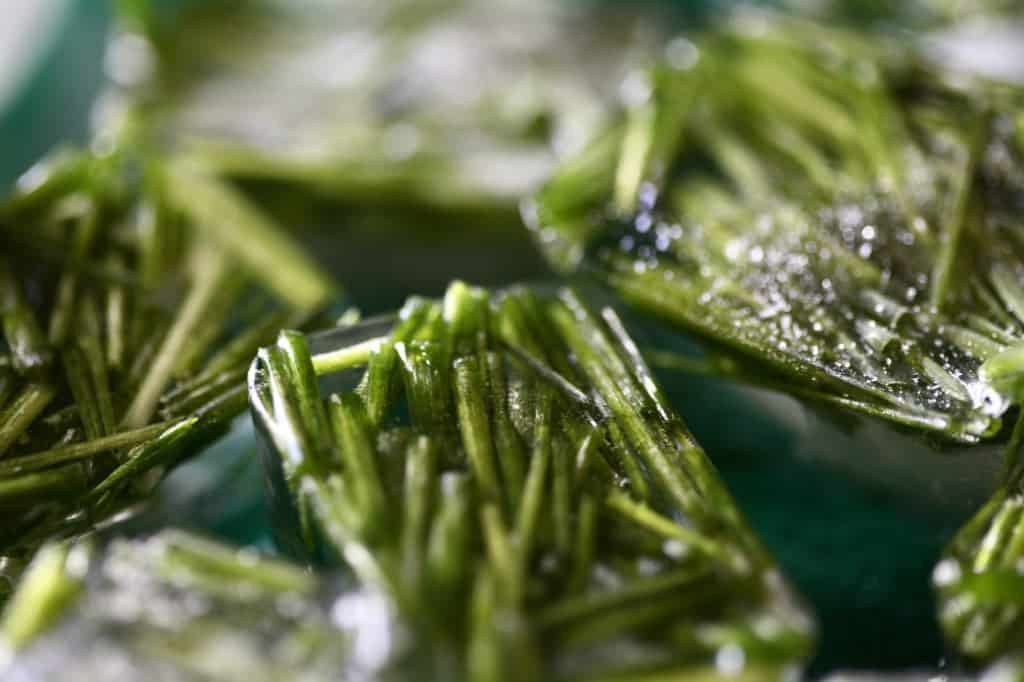 Thawing Frozen Chives
Thawing frozen chives is easy.
Remove from the fridge, place on a plate, and allow to thaw at room temperature.
If you are thawing out the individually frozen pieces, they will thaw in a matter of minutes, just with contact from room air.
Chives frozen in olive oil or ice cubes will take a little longer to thaw.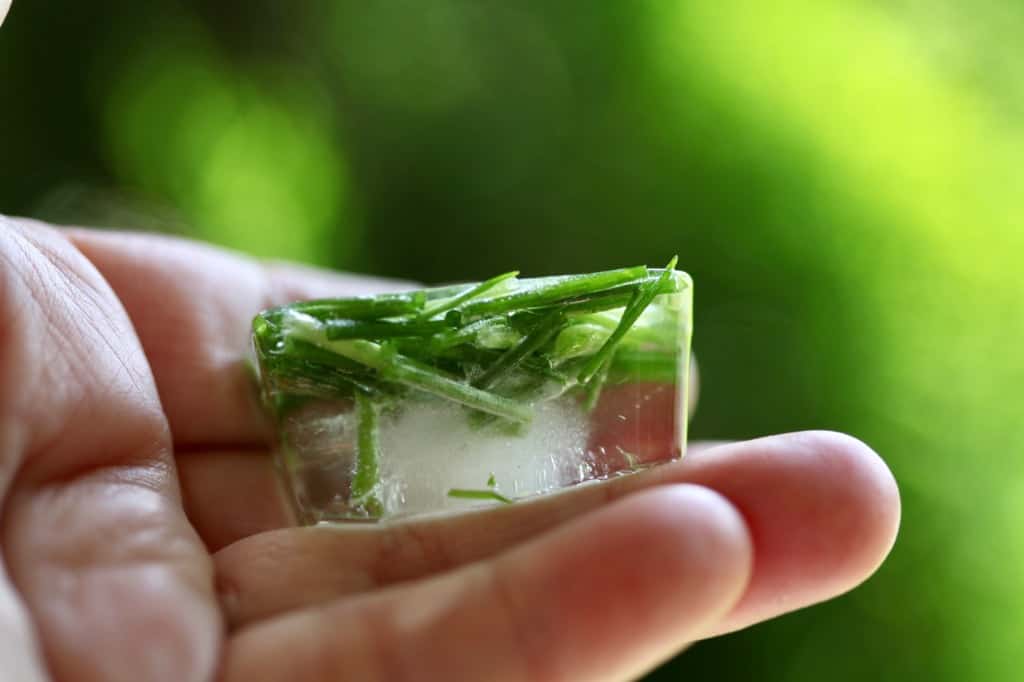 If you are using the frozen chives in a hot sauce or soup, just toss the frozen chives into the mix directly from the freezer. No need to thaw in this case.
Frozen chives hold up pretty good to the freezing process. They will darken in color and become somewhat softer than fresh chives once completely thawed.
They are best to use in recipes where they blend with other ingredients.
I do however throw them into salads and use them for their mild onion flavor.
The chive blossoms will also maintain their texture to some degree once thawed.
Allow them to dry once they have been thawed, and then add them to salads as a colourful garnish.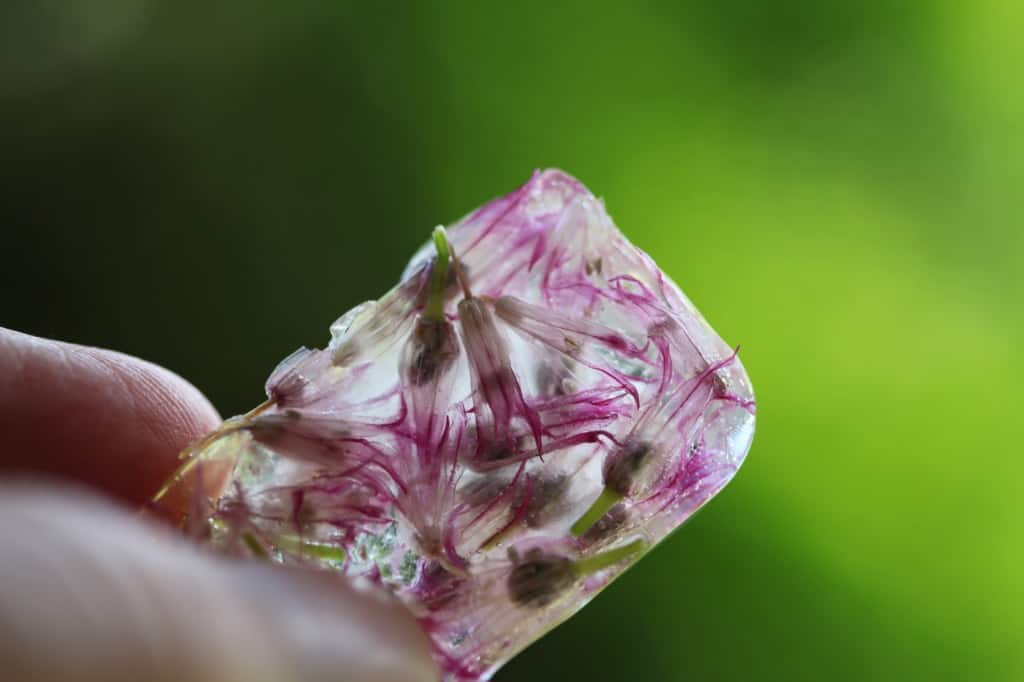 How To Use Frozen Chives
Frozen chives can be used in any recipes where you are looking for a mild onion taste.
They can be used in many of the same recipes that you would use fresh chives, such as chive butter.
Add them to soups, casseroles, and salads.
They are great in a potato salad, and a perfect substitute for onions.
I like to add the chives that are frozen in olive oil to sauces, such as spaghetti sauce.
Mix the plain frozen chives with sour cream or cream cheese for a savoury dip or bagel topping.
There are many ways to use these sweet herbs, and the list is endless.
Be creative, and you will likely discover your own favourite recipe in which to add your frozen and preserved chives.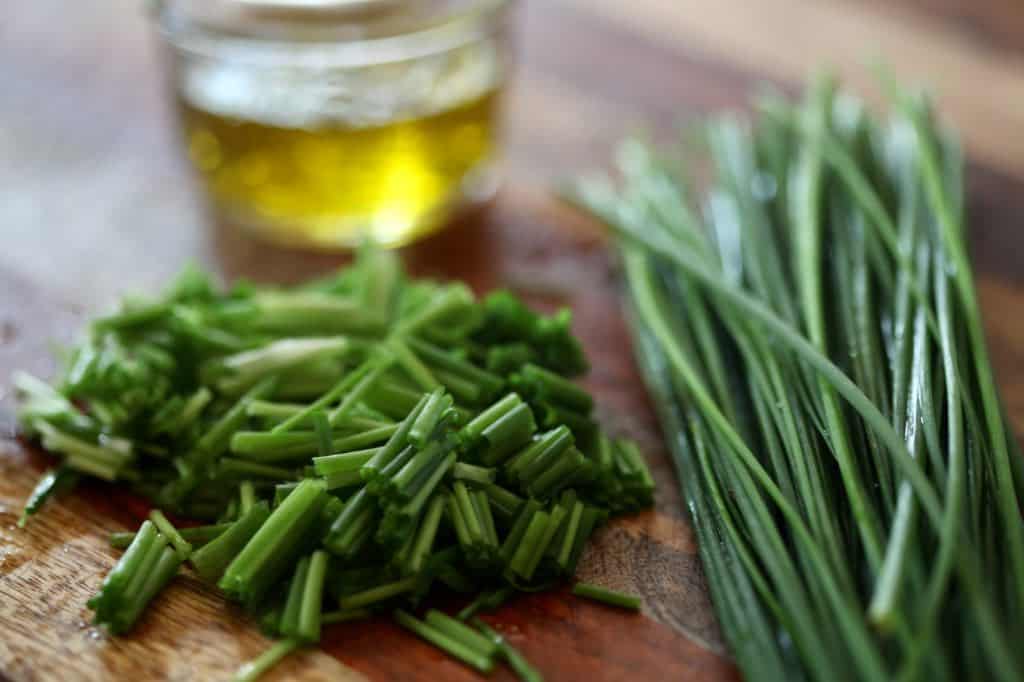 Is It Better To Freeze Chives Or Dry Them?
I like to preserve chives by both freezing and drying methods. It's nice to have different options available.
Both options are easy, and preserve the herb well.
For drying, the chive pieces are dehydrated, and will require rehydration. However this is simple enough, and occurs when you add them to any mixture.
Dried chives are easy to store, and perhaps easier than frozen, as they take up less room.
Frozen chives will require freezer space, so if your space is limited, drying may become your preference.
However frozen chives allows you to preserve the herb in olive oil, and as well to freeze the blooms.
I like both options, and have preserved our chives using both methods.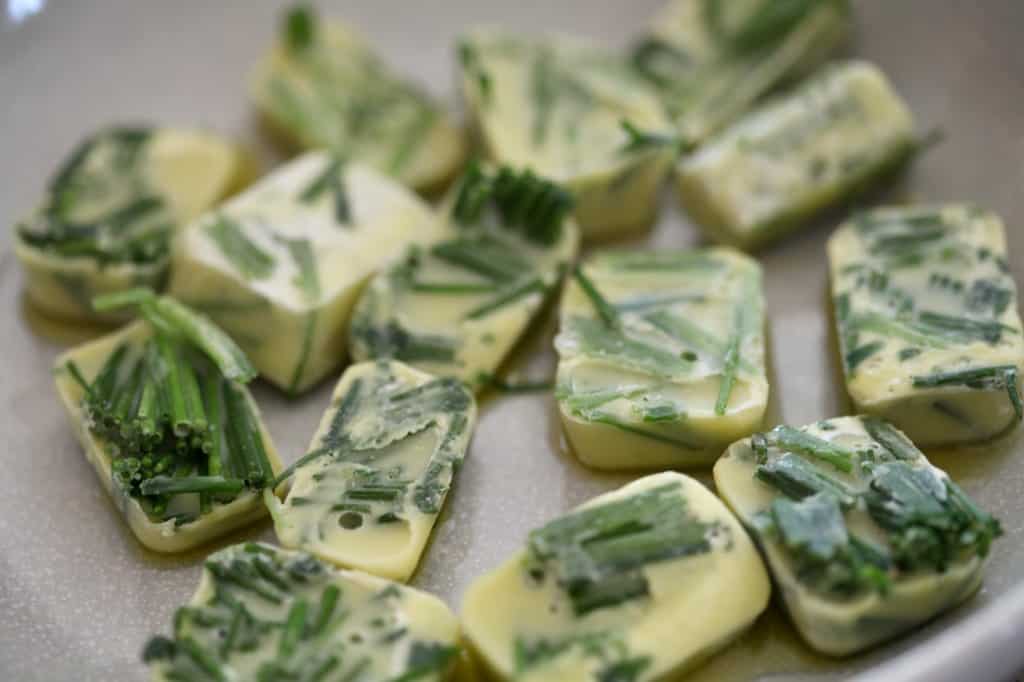 Conclusion
Perennial chives are a great addition to any herb garden, as they are easy to grow and easy to preserve.
If you grow chives in your garden, and like to use them to enhance the flavour of your food, consider preserving some to use throughout the year.
Chives are a perfect garnish for many dishes.
Preserving chives by freezing requires little effort, and the benefit is well worth it.
Try to freeze some chive blossoms as well.
Using frozen chives is a favorite way to add extra flavor to many recipes.
The frozen blooms may not be as fresh as chive blossoms in season, however they are savoury and colourful, and a great reminder of the growing season and abundance from the garden.
Have you ever tried to freeze chives from the garden, to preserve them for year round use? Be sure to leave a comment below to share your experience.
Other Posts You May Like:
PIN IT FOR LATER!