Last updated on October 22nd, 2023 at 08:58 pm
Saving Black Eyed Susan seeds is easy to do, and is an economical way of growing these bright and charming flowers from year to year. Learn how to save Black Eyed Susan seeds, and fill your garden space with these sweet cottage garden flowers.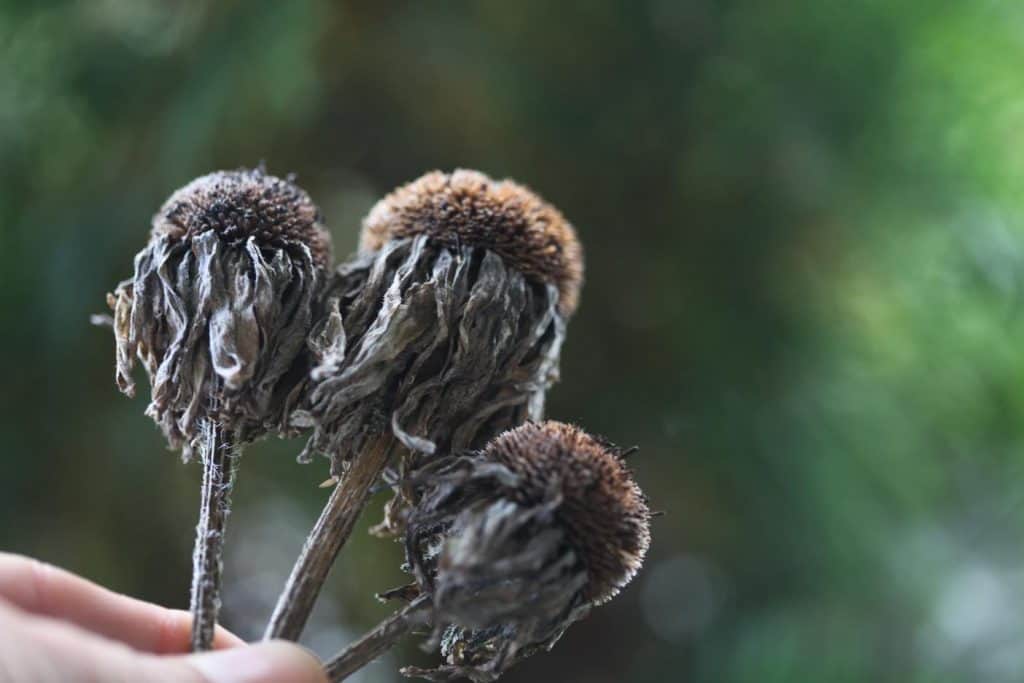 At the end of each gardening season we harvest flower seeds from our flower gardens and flower farming rows. We save the seeds to plant out again the following season.
Saving seeds has become a passion, and is part of the fall gardening activities done here at the flower farm.
The seed saving process allows us to continue to grow the plants that have flourished in our climate, and have adapted to grow in our location here in our zone 5b garden.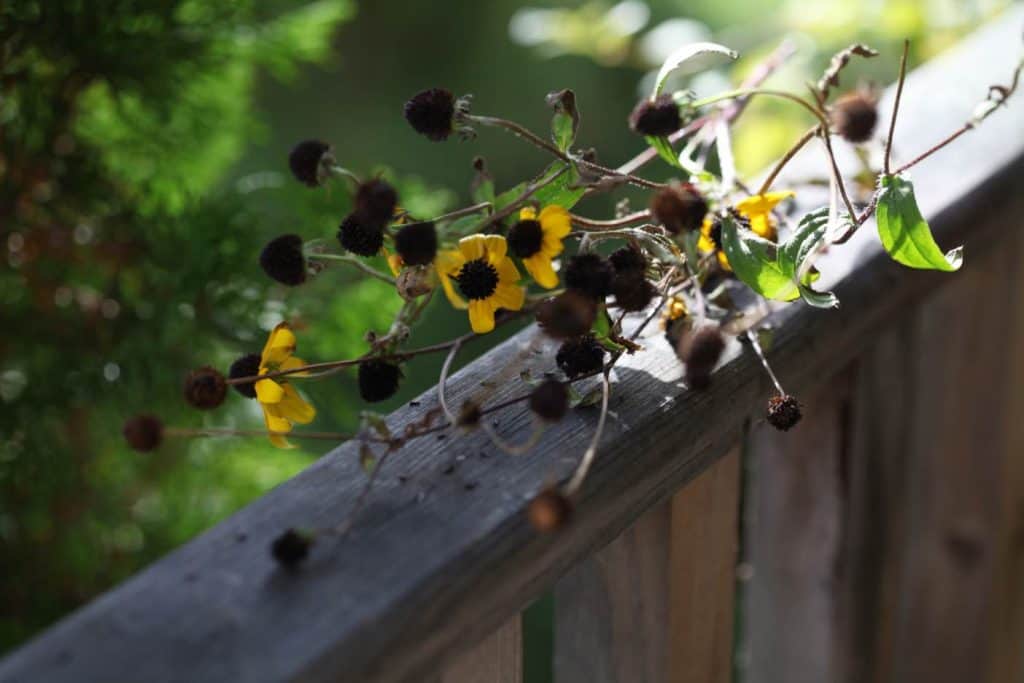 Black eyed Susans, also known as Rudbeckia, return to our garden every year, although it is not the same perennial plant that returns repeatedly. We have started to plant new seedlings every year, so that we are sure to have some plants growing in our garden.
Black eyed Susan is a tender perennial and is not long lasting in cooler climates. It can be grown however for a few seasons, and flourishes in the garden during its lifetime.
The flowers bloom in early to late summer, and make great cut flowers.
There are a number of perennial varieties which grow in full sun to partial shade, and they make a great addition to the flower and pollinator garden.
We grow two species of Rudbeckia in our flower garden here at the farm.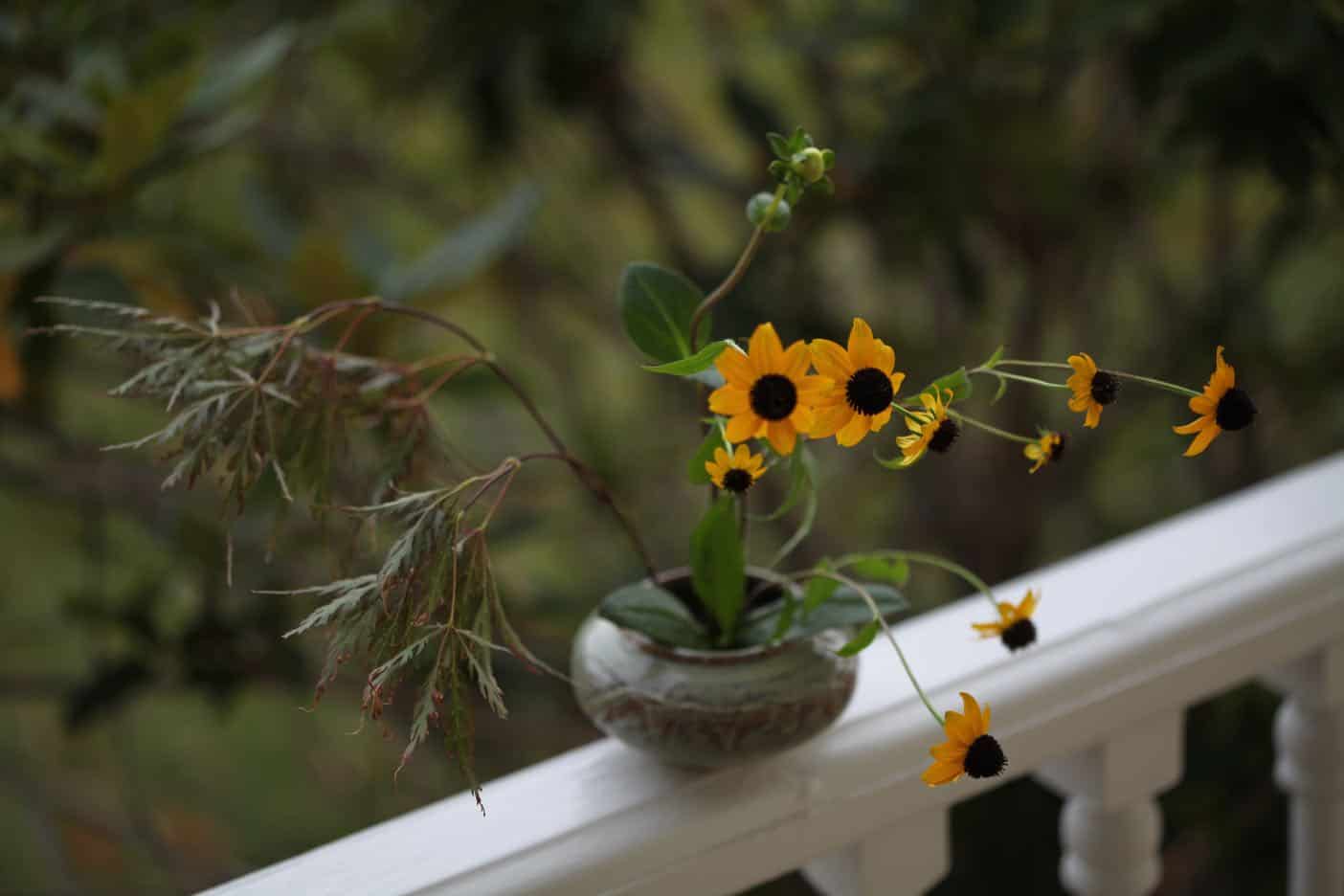 A Tender Perennial
This flowering plant is a tender perennial, and generally grows for a few years wherever it is planted. It's lifespan is short however in our USDA zone 5b, so we found a way to continue growing these flowers to always have them in our flower garden.
By saving Black Eyed Susan seeds, we can grow new plants, and we will have the flowers for as long as we continue to plant them.
Our winters can be harsh in zone 5b on the water's edge, and some years the plants are damaged or lost due to winter kill.
When I first grew Black eyed Susans, I grew them as annuals. I was surprised when they came back the following year with a larger clump and more robust flowering than in the first year of growth.
When I realized that they survived our winters I was hopeful of more years of blooming.
In the third year however, many plants perished through the winter months, although a handful had returned. That same year the second year plants that had been planted just the season before, returned with a vigor.
In my location these plants are more like biennials, and so I will be planting them as such.
For this reason I will always start a new patch of Black eyed Susans, knowing that in their second year they will grow with larger plants and blooms than when grown as an annual.
Can You Collect Seeds from Black Eyed Susans?
You can collect and save the seeds from Black eyed Susan if you allow the seed pods to mature on the plant.
If you collect the seed pods before they are mature, the seeds may not yet be viable.
Collecting seeds is a great way to propagate future plants, and an economic way to grow more plants in your garden.
Since Black Eyed Plants are generally not long lasting, having seeds ensures that you will be able to start some new plants in seasons to come.
Where Are The Seeds On Black Eyed Susans?
The seeds on Black eyed Susans are located within the dark center disc in the middle of the flower.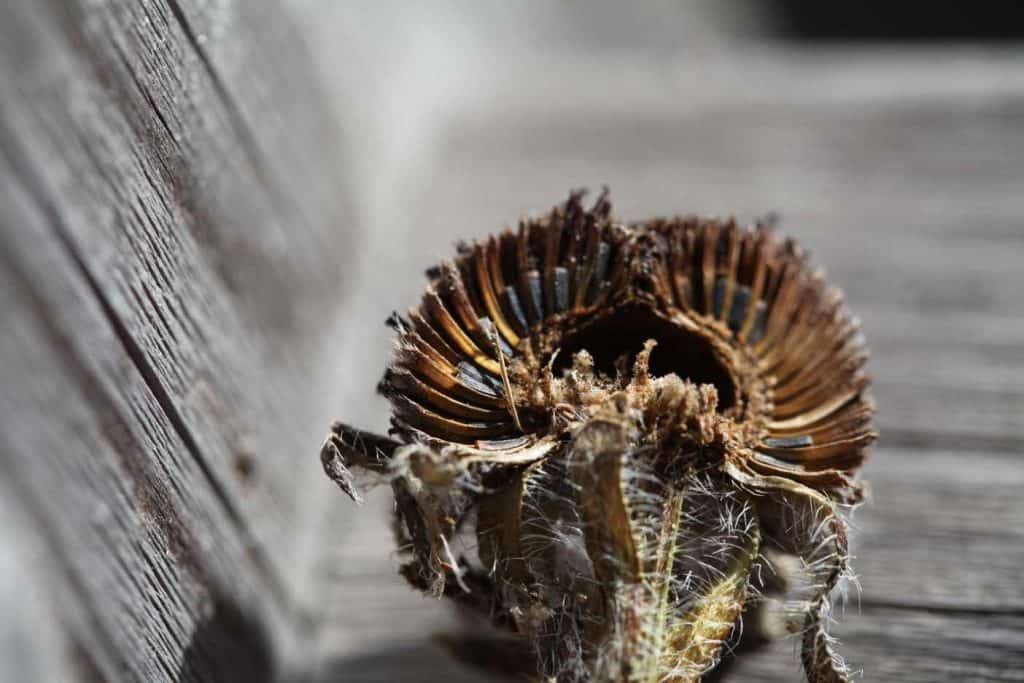 At peak bloom, this disc is covered with a velvety material, and has a smooth outer surface.
As the flower pod matures with the seeds developing deep inside, the smooth outer surface of the centre disc begins to wear away.
When the seed head is fully ripe, you will see tiny perforations or holes covering the top of the disc. These holes allow the mature seeds located inside the pod to escape and scatter into the environment.
Black Eyed Susan Seeds Pods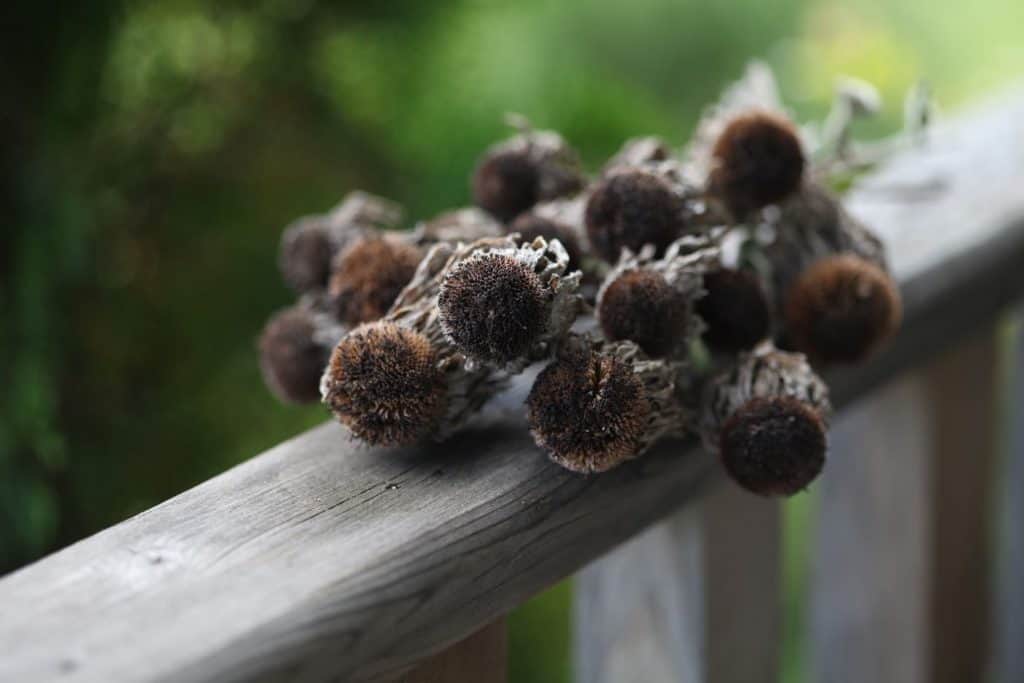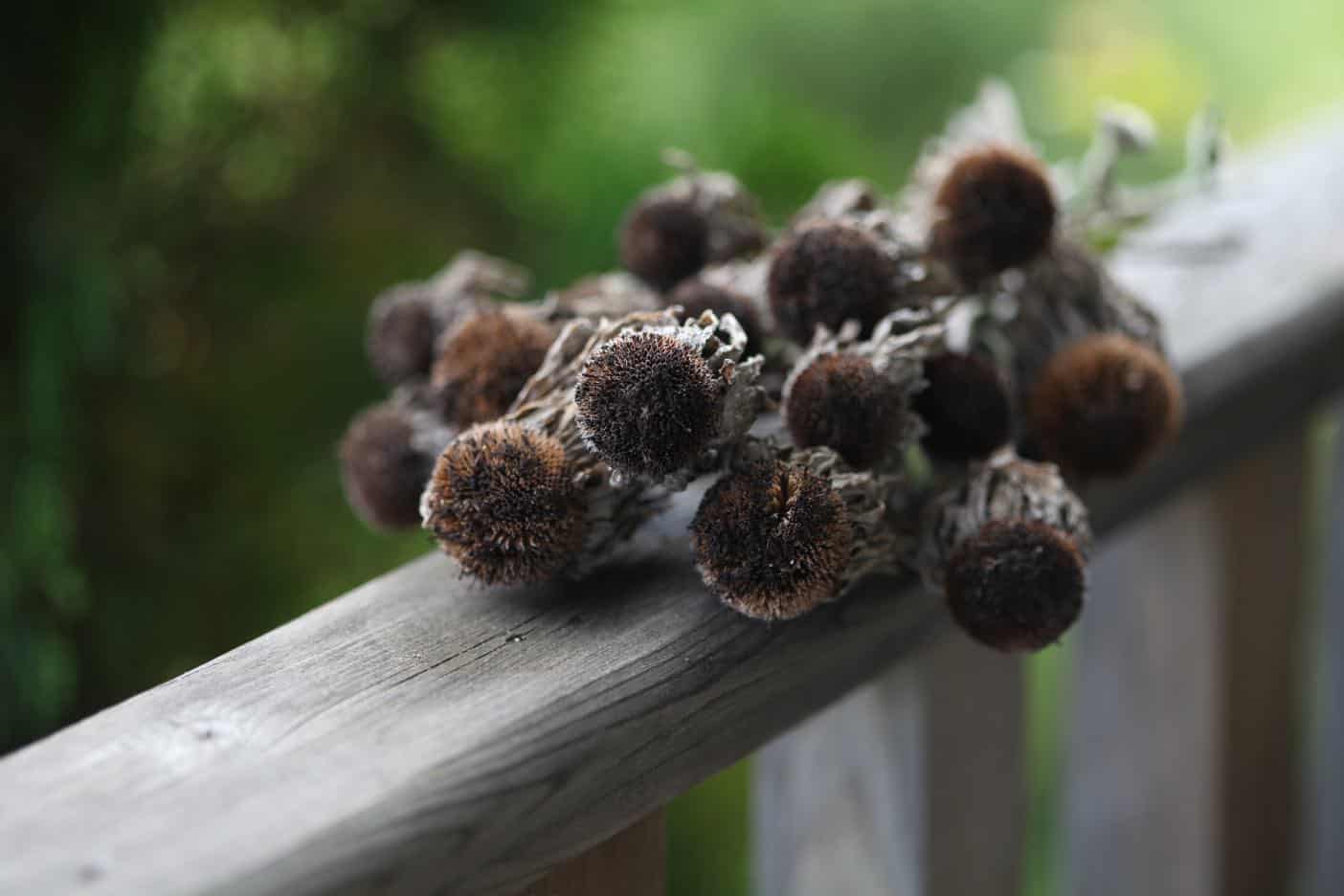 As the round central disc on the flower starts to mature, the covering will start to wear. This wearing exposes tiny openings from which the seeds are dispersed.
When fully mature, the seeds can be dispersed easily by a strong wind. They can also be knocked from the pods when a person or an animal brushes the stems of the plant.
Harvesting the fully mature pods or seed heads can also shake quite a few seeds out into the garden. If you are careful and keep the pods upright, you may not lose too many.
What Do Black Eyed Susan Seeds Look Like
Black Eyed Susan seeds from the different species of the plant look very similar, although some are thinner in shape and some are rounder.
The seeds are tiny, oblong and dark brown in color.
Most seeds measure at approximately 2 to 2.5mm in length.
How To Save Black Eyed Susan Seeds
Here is the process that I use to save the seeds from Black eyed Susans.
I collect the seeds on a dry afternoon in fall, and just a few minutes of harvesting can result in literally thousands of seeds for saving.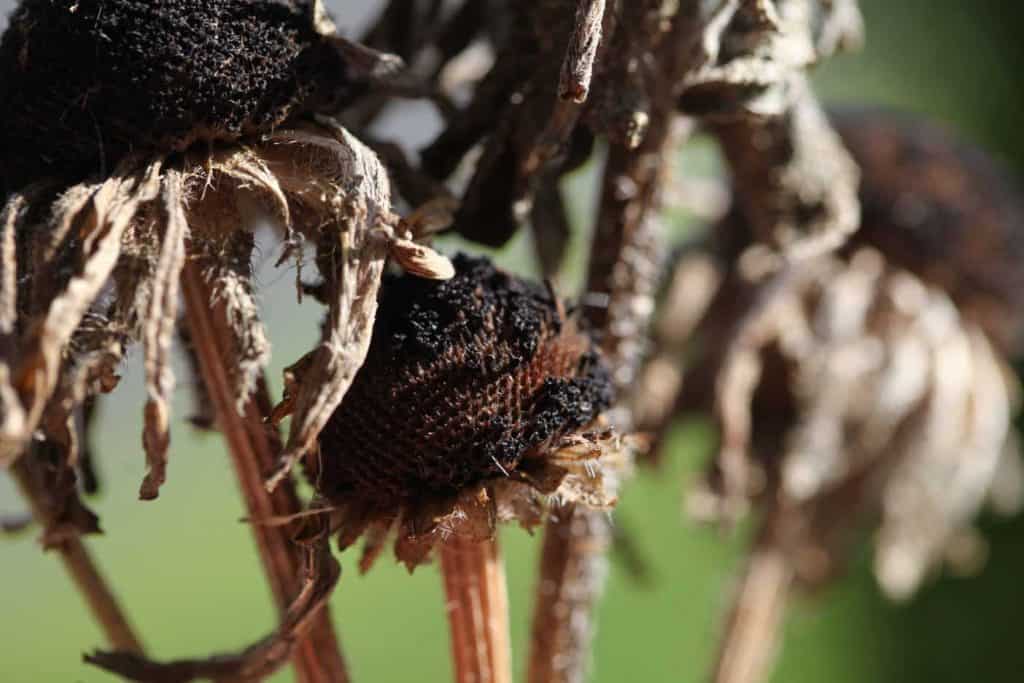 Tools For The Harvest:
Collection container, such as a seed tray, bowl, or paper bag
Sharp pair of scissors or snippers
A label to identify your seed type and variety, such as a post it note to stick inside the tray. If you are harvesting into a paper bag, bring a marker with you to write the flower type and variety right on the outside of the bag.
Collecting The Seeds From The Garden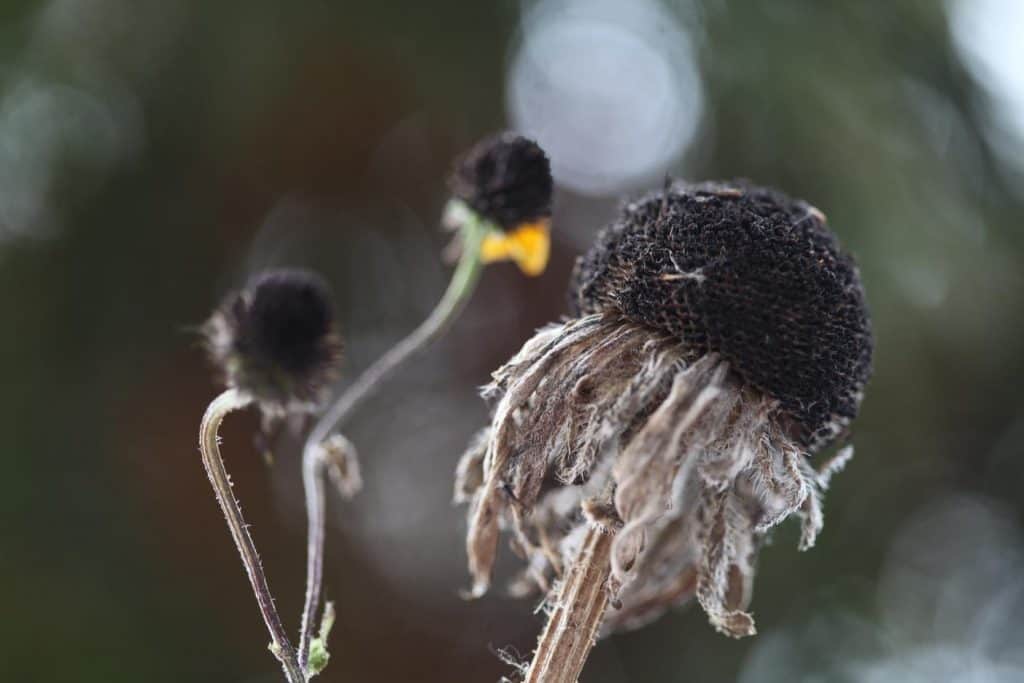 Collect the seeds in fall at the end of the blooming season, after the seed pods have become mature on the plant.
To collect the seeds, make sure that you do this activity on a dry day if possible. On a dry day the seed pods should be dry, unless there has been a lot of recent rainy weather.
The important thing is to harvest dry pods. Dry pods will help prevent moulding of the seeds, which is very Important for seed health.
Make sure to label your container with a plant tag or label. It can be difficult to distinguish the different varieties of Rudbeckia at the end of the season when the flowers are brown and dry, so I always place a label before I start the collection process.
Look for mature ripe seed pods with exposed holes at the top of the flower heads.
Choose the pods that you want to harvest. Then snip them off right under the pods themselves.
Hold the pod upright until you place it into your container. You will notice as you place the pod into the container that many seeds may spill out.
Thats's okay, as they have been safely collected and are now in your container for safe keeping.
Take the seeds inside until you are ready to sort them. There is no rush for this process, and you can let the seed pods dry out further if needed.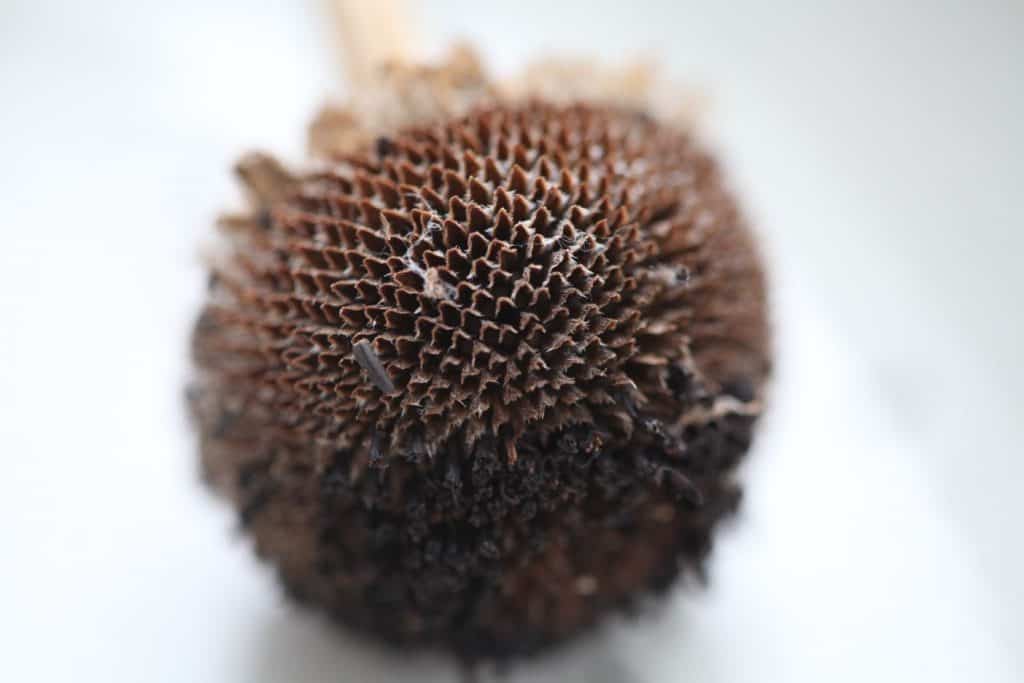 Removing the Seeds From The Seed Pod
Removing Black eyed Susan seeds from the mature seed pod is very easy.
Often just turning the pod upside down over a container and tapping the pod on the firm surface will dislodge the seeds and they will fall out.
You can also gently tap the seed pod on the bottom of the container, and both seeds and chaff will be released from the pod. Keep tapping until you have collected lots of seed.
How To Differentiate Seed From The Chaff
Black eyed Susans produce a lot of chaff.
The chaff and seeds are very similar in appearance.
If you look closely at the pile of seeds and chaff, you should be able to distinguish between them with a bit of observation.
The chaff is vegetative, soft and flexible. The seeds are firm, hard and have a plumper appearance.
When you identify your first seed, then you will know what you are looking for and they will be easier to find.
I find that picking the seeds up with a pair of tweezers will teach you to easily distinguish seeds from chaff. The seeds feel very firm, almost like little stones, when they are held between the tongs of the tweezers.
Separating The Seeds From The Chaff
Removing the seeds from the chaff does take a bit of effort, especially if there is a large amount of plant debris mixed in with the seeds.
If you have a special machine to winnow, that is ideal.
Here is a great article from BC Farms and Food on techniques to screen and winnow seeds to remove the chaff.
I generally remove the seeds manually with a pair of tweezers. This process works very well, although is somewhat time consuming for a large amount of seeds.
By using tweezers to remove the seeds from the chaff, I am able to get many seeds without much plant debris mixed in.
Drying The Seeds
After removing the seeds from the pod, and separating from the chaff, dry them for several days before storing.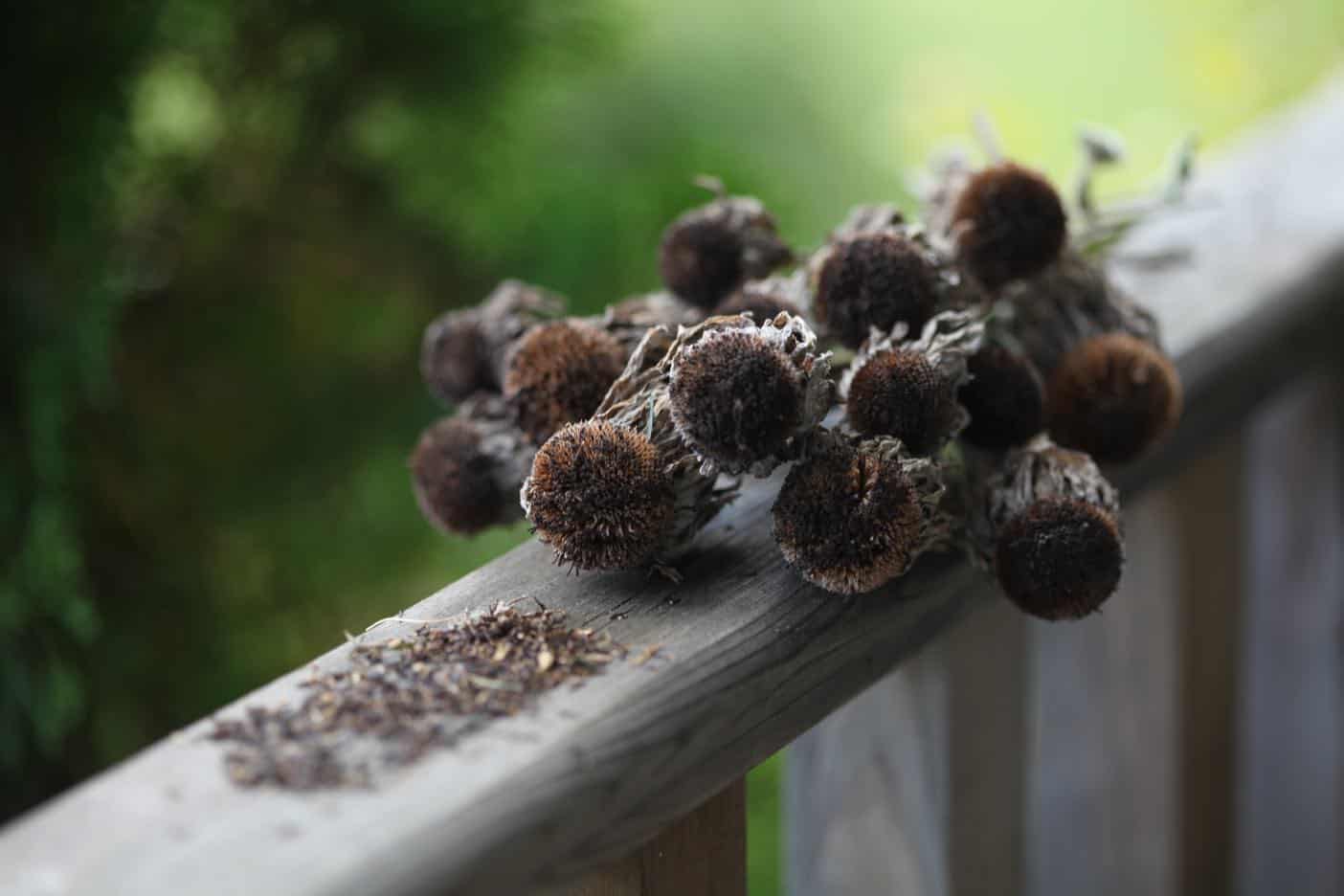 It's always a good idea to dry seeds to prevent any moisture during storage, which can contribute to mold formation.
To dry, place seeds on a plate or tray and spread them out so that they are exposed to the air.
After a few days the seeds will be ready to be stored.
If you removed the seeds from the pod, and dried them with the chaff, then consider them dry. They can be stored once you then separate them from all of the debris.
Storing The Seeds
Black Eyed Susan or rudbeckia seeds can be stored in paper envelopes or bags. Paper will help to wick away any moisture and will help to keep the seeds dry.
Make sure to label the envelope or bag with the seed type and variety, as well as the date and year of harvest.
Place in a cool dark spot and dry place for storage until ready to plant.
The seeds will last for several years , and can last even longer if stored correctly, although germination rates decrease over time.
Before planting it's a good idea to give them a chill in the fridge. This can help to stratify the seeds and help improve germination.
Planting The Seeds Next Season
We generally plant seeds the following season by first starting them indoors in late winter or early spring.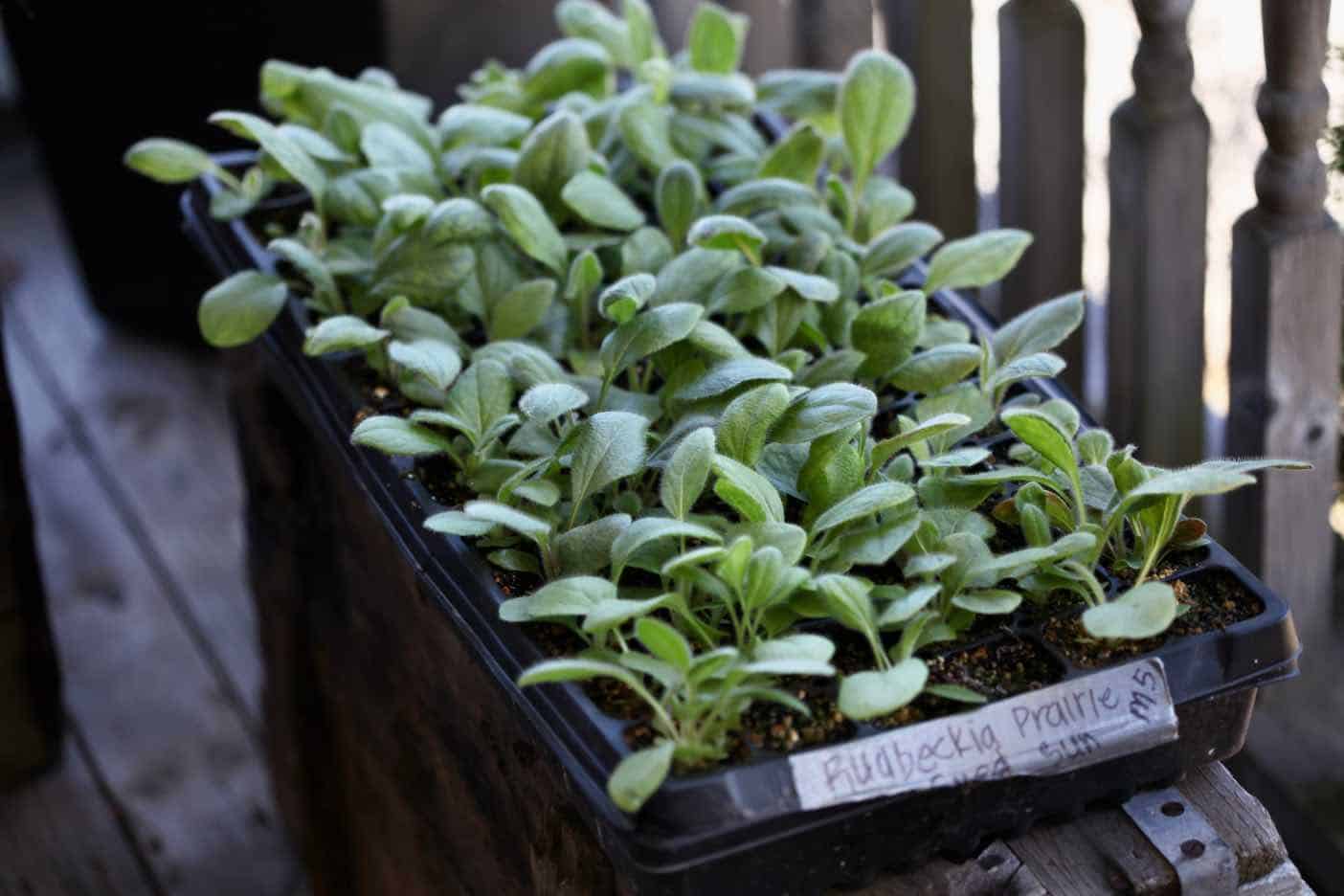 We sow seeds in cell trays and grow them under lights. You can also direct sow them outdoors into prepared flower beds in late fall.
If grown inside, the best time to transfer the new seedlings outside is after the last frost date in late spring, when the danger of frost has passed.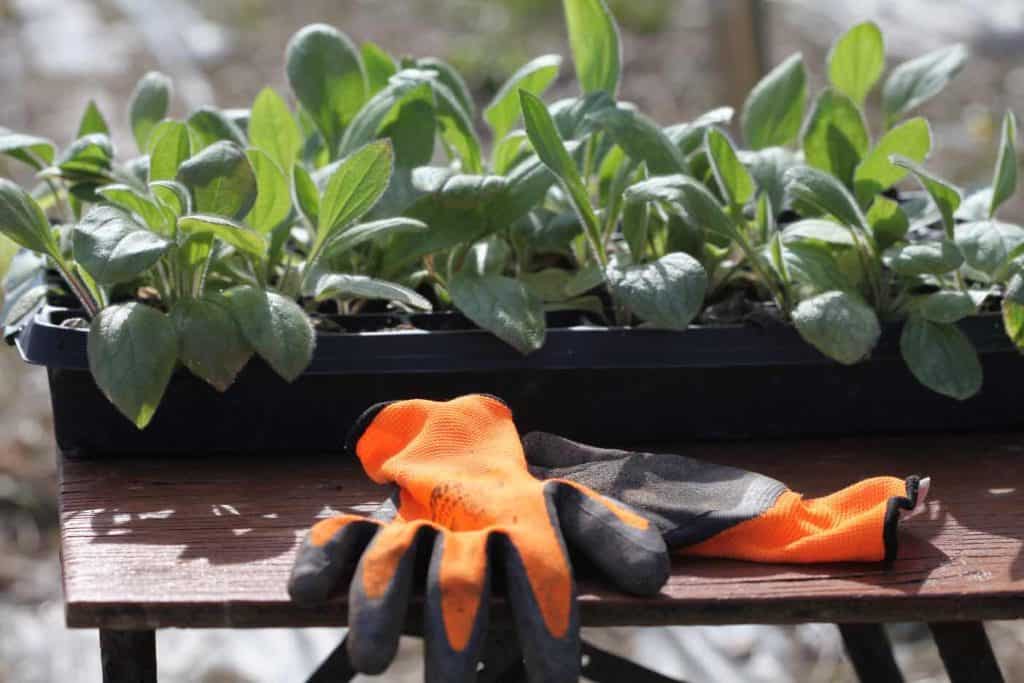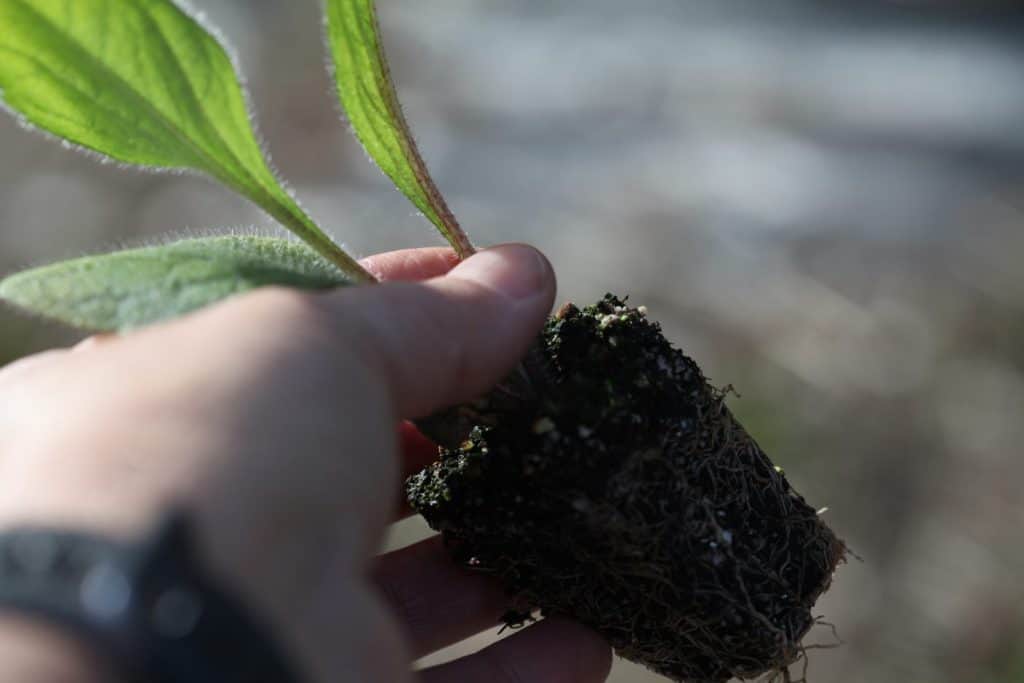 The seedlings will establish themselves throughout the growing season, and we may even get some blooming in late summer.
However the next year they will be even larger, with taller flower stems and big colorful blooms in early summer, and with a bloom period of about a month.
Do Black Eyed Susans Reseed Themselves?
Black Eyed Susans readily reseed, and I love this about this plant.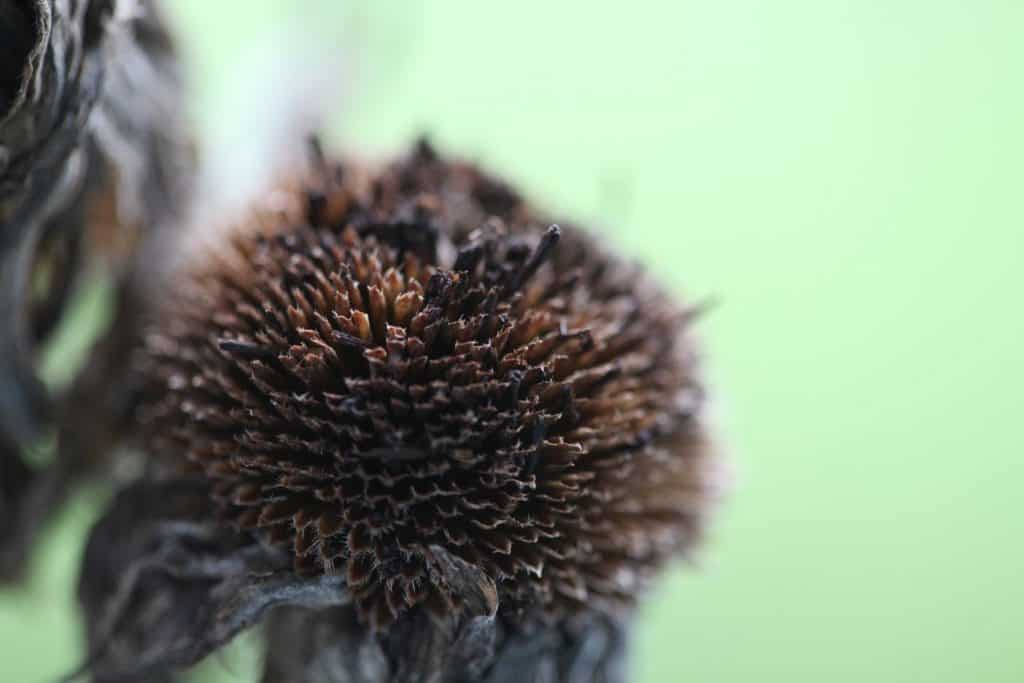 I generally leave them to grow wherever they come up, although they are easily dug up and replanted as well.
Saving the seed of this plant allows some control over the planting locations, and seedling placement in the garden.
As a flower farmer, saving seeds provides the opportunity to grow many plants all together, rather than scattered throughout the garden.
A small row of Rudbeckia Chim Chiminee or Sahara makes a colourful statement. And of course they are much easier to harvest if they are growing all together in a row.
Conclusion
Saving the seeds from Black eyed Susan flowers is one way of ensuring perpetuation of these wonderful plants in your garden.
Although the plants do not last long, they make a lasting impression during their short time in the garden.
The multiple species and varieties of rudbeckia make the garden pop with colour. It is for that reason that I love to save Black Eyed Susan seeds from year to year.
Do you save Black Eyed Susan seeds from your garden? Be sure to leave a comment below to share your experience!
Other Posts You May Like:
See the Web Story on Saving Black Eyed Susan Seeds!
PIN IT FOR LATER!