Last updated on August 22nd, 2023 at 08:47 pm
Every year we grow sunflowers and put them in the farm stand. And every year it never fails that someone asks: "Can you get seeds from cut sunflowers?"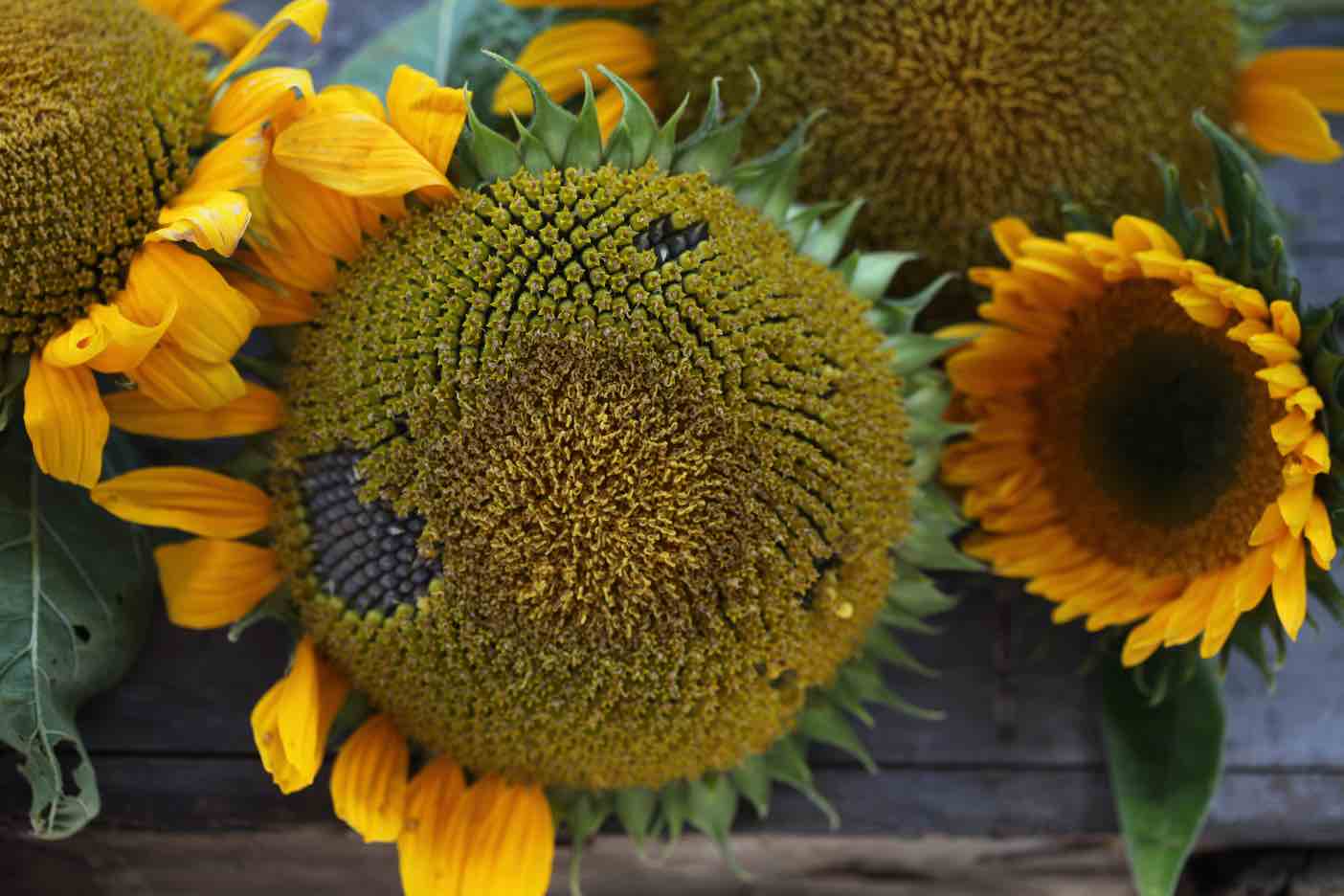 Of course, who wouldn't want to save seeds from cut sunflowers and grow these beauties in their own garden. However it's not that simple.
My answer for those that have asked the question has always been that the flowers need to mature on the plant to get viable seed.
When you have a sunflower patch, you can watch the sunflower blooms change over time.
As the flower heads mature and fill with seed, they grow round and large and start to nod with the weight of the seed.
The flower heads double, triple and sometimes quadruple their blooming size. It is always a wonder to see this growth.
This year however, we decided to put some cut sunflowers to the test and see if any would eventually make some seed.
We called it a trial.
We left some buckets of cut sunflowers out on the porch, long after they were spent.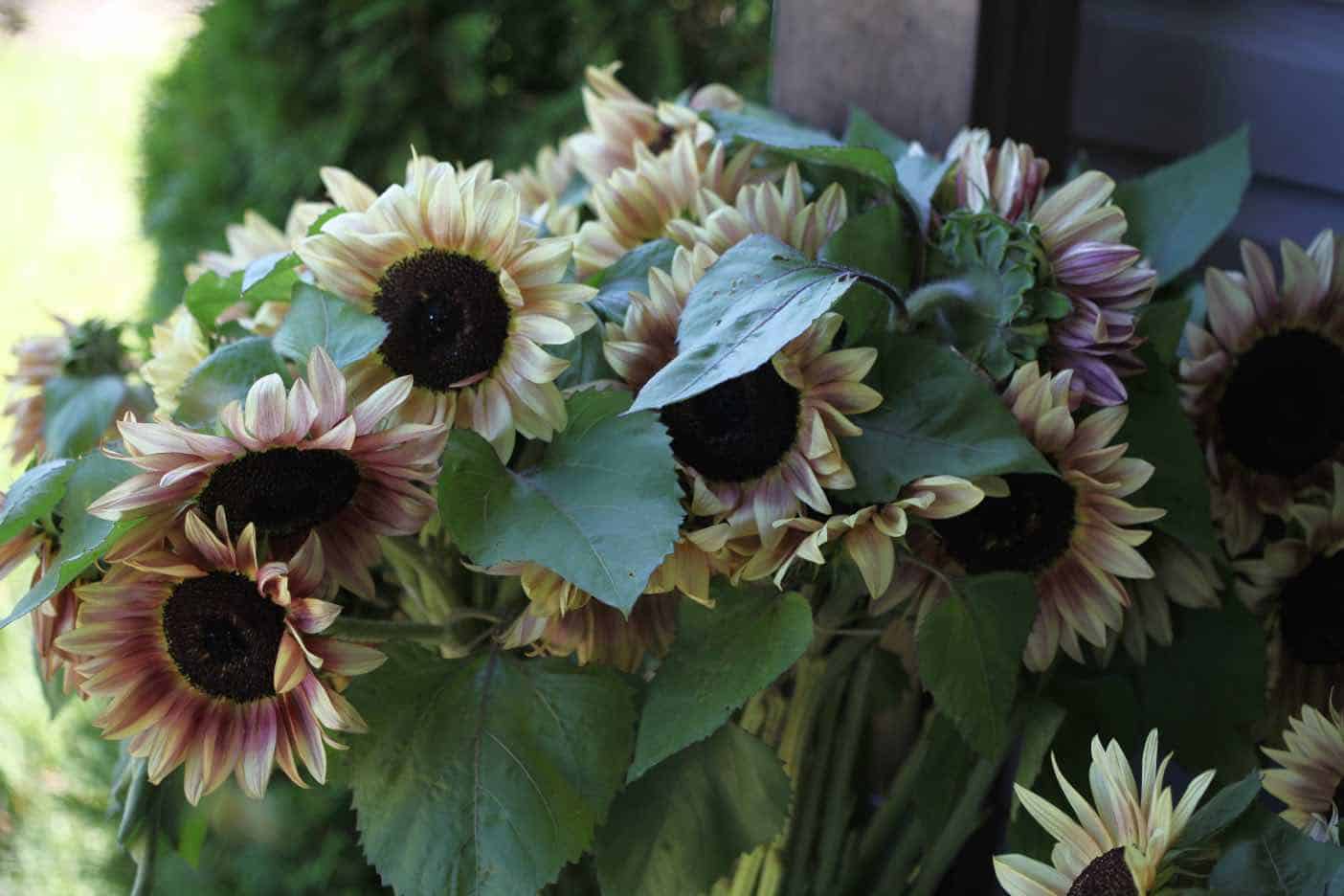 We wanted to see if some seeds might develop. They had access to bees, and were kept well hydrated.
Can You Get Viable Seeds From Cut Sunflowers Bought As Cut Flowers?
Not likely.
Sunflowers that have been cut for the cut flower market are harvested during a very early blooming stage. This is done so that they will have their longest blooming life in the vase.
As a result, the nutrients provided to the sunflower for growth have been essentially cut off. The cut sunflower harvested early in the flowering stage will not have the ability to go on to develop seeds, which requires a lot of energy from the plant.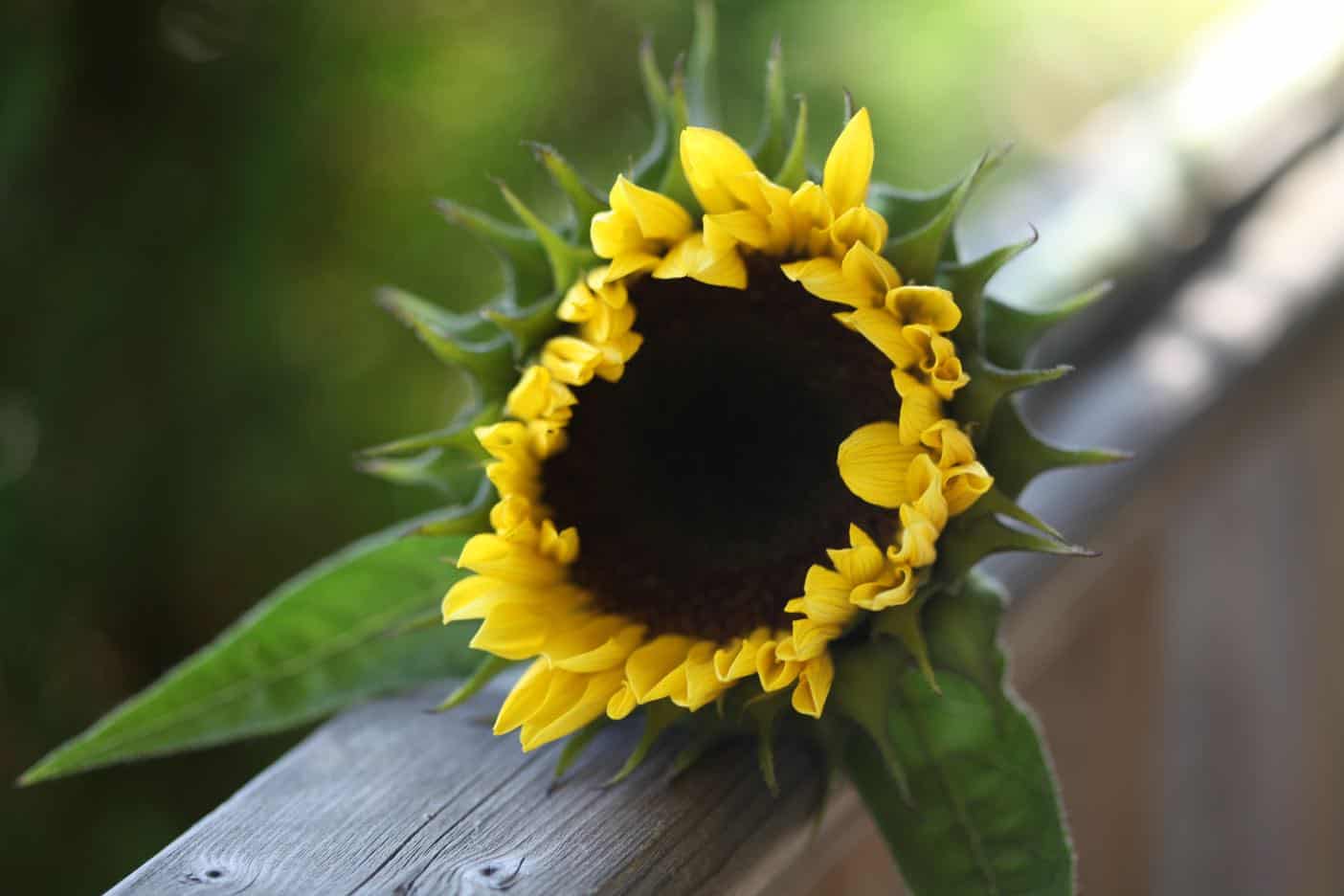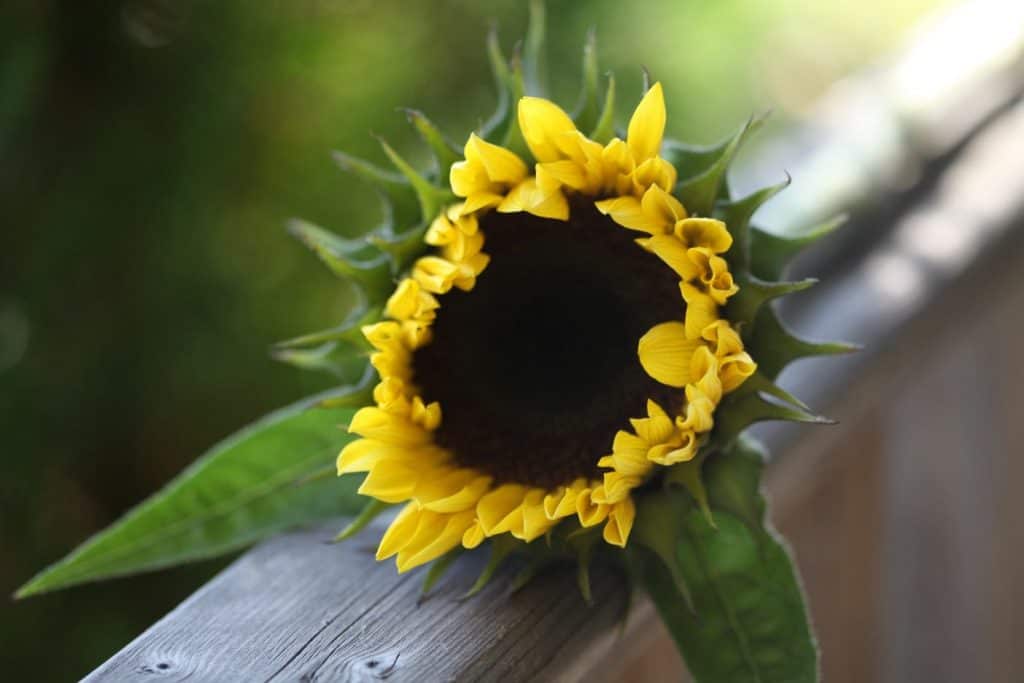 As well, these cut sunflowers are more vulnerable to bacteria the longer they stay in the bucket or vase of water. They will eventually start to compost unless they are dried.
If they are dried they will not produce seed.
Unless of course they ware picked at a much later stage and are already full of seed.
If by some chance however your cut sunflowers were harvested at a later stage after they developed seed, then there may be a chance that you can get some viable seed.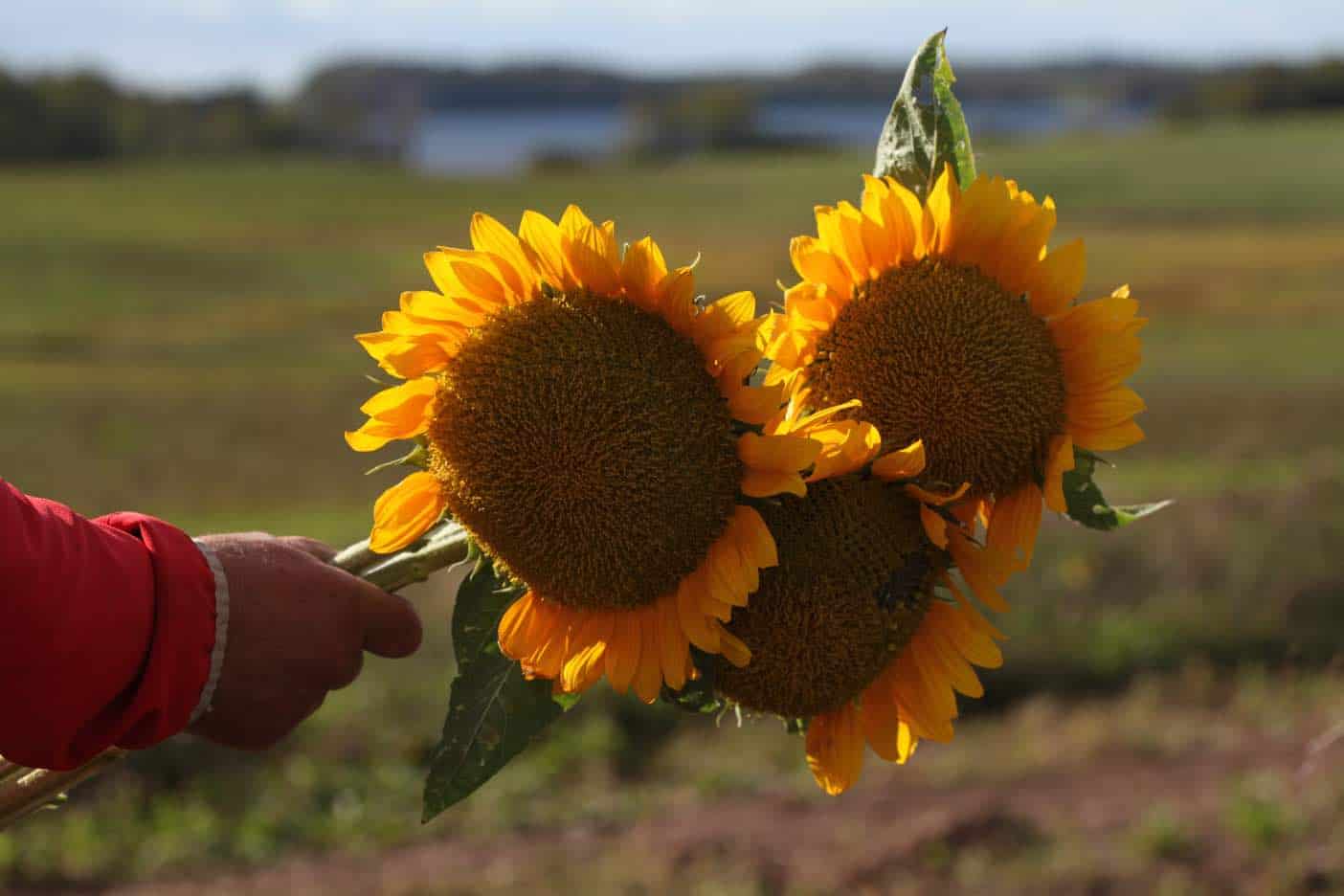 Say for instance you harvested them from your own garden. Or even directly from a sunflower patch where they may have been growing for more than a month. Then yes, you may get seed.
If you purchased them in a store or at a farm stand for instance, chances are that they would have been picked at too early a stage to be able to produce seed before cutting.
How Do Sunflowers Produce Seeds?
First let's look at how sunflowers actually produce their seeds.
Sunflowers have a growth timeline, and go through a lifecycle of stages from germination to seed development.
Sunflowers are annual flowers that go from the seed stage through the life cycle to seed production, all in one season.
Interference with any stage can ultimately interfere with the life cycle and seed development.
Sunflowers have a ray of petals all along the periphery of each bloom. These petals are called ray florets.
The ray florets attract the pollinators to the flowers.
Within each sunflower there are also many tiny flowers located within the central disc area of the bloom. These tiny flowers are called disc florets.
You can easily see them in the photo below.
Each tiny bloom has the ability to produce a seed if pollinated at the right time.
Pollination occurs during the flowering stage. This is generally done by the pollinators such as bees and other pollinating insects travelling from bloom to bloom.
Sunflowers will receive the pollen from other sunflowers, although can also self pollinate when their own pollen gets brushed onto the stigma of the tiny disc florets.
After pollination, the pollen germinates and travels down into the ovary of the disc floret. This is where a seed can form and begin to grow.
Each tiny disc floret has the potential to make a seed. Therefore each sunflower can make many seeds.
What Does This Mean For Cut Sunflowers?
While the sunflower is growing in the field, exposed to pollinators and growing on it's roots, it is much more likely to produce seeds, compared to a sunflower cut as a cut flower, which would not have had this opportunity.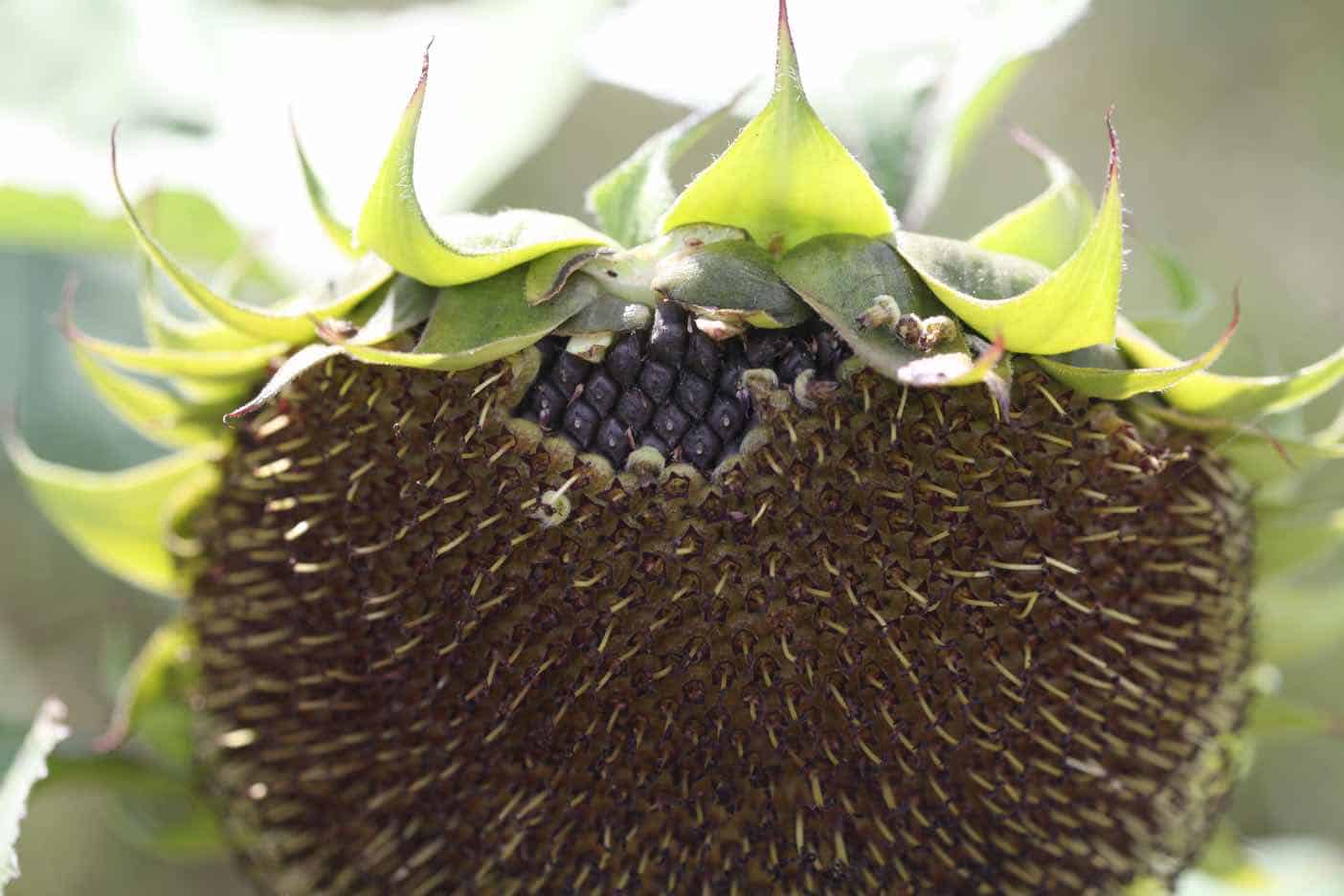 Do All Sunflowers Produce Seed?
Without pollen there will be no seeds produced. Sunflowers need pollen to produce viable seed.
Usually this is no problem, as the sunflower itself generally has loads of pollen that can be spread around by the bees creating large sunflower heads full of seeds.
There are pollenless varieties however that produce very little to no pollen.
These are the varieties that are choice for cut flower growers, since these flowers drop almost no pollen from the vase.
The pollenless varieties also have a longer vase life since they are not using their energy to produce seeds.
We grow the pollenless varieties, and people rave about the vase life. Some examples of these sunflowers are the Procut varieties.
We grew Procut Plum, Procut Gold, Procut Red, and Procut Orange to name a few. One of my new favourites this year was Procut Horizon, a beautiful orange sunflower with an upright face.
We grow some of the pollenless Sunridge varieties as well.
If you have a garden full of pollenless sunflower varieties you may not get many seeds.
That is, unless you have some other sunflower varieties with pollen growing nearby.
If you have neighbouring sunflowers with pollen, then the bees will do their work, and spread that wonderful pollen around. In this way you can get seeds from even the pollenless varieties.
The seeds and resulting sunflowers which grow from these seeds will not be true to the parent, although can be very similar.
At Which Stage Of The Sunflower Are Seeds Produced?
Sunflowers produce seeds during the pollination stage, which occurs simultaneously with the flowering stage. This stage will last from sixty five to eighty five days, depending on the variety of sunflower.
What Does This Mean For Cut Sunflowers?
Sunflowers cut as cut flowers are generally cut very early in the flowering stage. We often cut as the first petal begins to lift, even before the central flowering disc is exposed.
We also cut our sunflowers when the flower is teacup shaped, rather than flat faced. This teacup shape happens as the flower begins to open.
When we can catch the sunflowers in this stage, we know that they will be great cut flowers, and the petals won't be falling off soon after they are sold.
We cut before the possibility of seed production even has a chance to occur, because for cut flowers this is the best stage to cut.
This year our largest sunflower patch of Procut Plum sunflowers bloomed for two weeks. The patch was so large that we couldn't get to all the flowers for cutting.
We allowed the flat faced sunflowers to go to seed, and after two weeks the flowers began to show signs of pollination and changes in their central discs.
They lost their petals and the central discs grew large and round and full.
How Long Does It Take Sunflowers To Produce Seed?
Sunflowers begin to produce seed during the pollination stage after fertilization occurs.
The seeds will further develop into mature and viable seeds.
The seed development stage can last a month or two, depending on the variety of sunflowers.
What Does This Mean For Cut Sunflowers?
Cut sunflowers harvested by sunflower growers have long been separated from their energy source by the time the flower enters the seed development stage.
If you have a bouquet of sunflowers from the grocery store or farmer's market, these flowers will not likely be able to to provide the energy to any potential developing seeds.
Even if they have been pollinated and fertilized, they have been cut from their roots so will not likely be able to provide the energy for further growth and seed development.
Do Cut Sunflowers Have Seeds?
Cut sunflowers which have been cut for the sole purpose of living their best life in the vase will not have the opportunity or energy to produce viable seed.
If the sunflowers were cut however at a later stage of growth after pollination has occurred and seed formation has begun, then well, it is a possibility.
As a flower farmer and sunflower grower, I would never sell cut sunflowers at a later stage. This is because their petals fall off.
I'm sure people would probably not be pleased.
However if you have cut flowers from another source, say a friend or family member who cut them at a later stage, there could be a possibility that they will have some viable seeds.
Will Sunflower Seeds Mature After Being Cut?
If the sunflower seeds have developed on the sunflower prior to being cut, they can continue to mature for a short time after they have been cut.
This does not refer to sunflowers cut in the early stages of blooming prior to pollination.
This refers to sunflowers that have matured on the stem, and are not quite mature enough to harvest the seeds.
These sunflower heads can be cut a little early before the seeds are completely mature, when the backs of the sunflowers have yellowed. Let them dry for several more weeks, and you will still have viable seeds.
Can You Save Seeds From Cut Sunflowers?
Cut sunflowers will only be able to provide seed for saving if the are picked later in their growing cycle.
By the time they reach this stage however the petals will most likely be falling off, or already dropped, and they would not be great cut flowers.
If they are cut sunflowers for the purpose of seed saving, and cut when the seeds are mature or just about mature, then yes you can save the seeds from these cut sunflowers.
Here Is What We Found From Our Cut Sunflower Trial:
Our sunflowers cut in the early stages of blooming were placed on our porch in buckets of water.
There were some bees that were attracted to the blooms during the blooming period, and had an opportunity to spread some pollen.
The sunflowers bloomed for a good ten days in the buckets, then began to drop their petals.
Their field grown counterparts still attached to their root stems continued to grow. These field grown sunflowers doubled in size and became very large and hopefully full of seeds.
The cut sunflowers on our porch were some of the first cut flowers from this patch, so they had lots of time to form seeds if they were going to.
The Comparison
Three weeks in from the beginning of the flowering stage, we cut a field grown sunflower of the same age to compare to the cut sunflowers on our porch.
The field grown sunflower was so much larger, and contained viable seeds. The smaller cut sunflowers on the porch had stayed the same size, and did not develop any viable seeds.
The potential was always there, they had just been cut way too early to allow this to happen.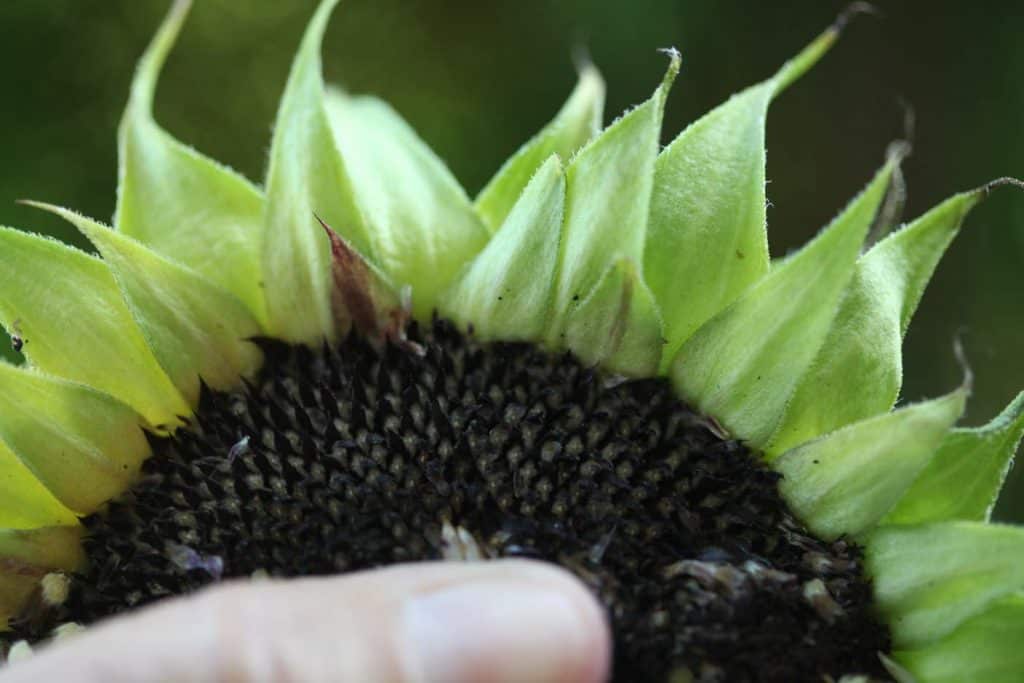 What I found inside these cut sunflowers on the porch were tiny white immature seeds that never developed.
The larger field grown sunflower had some seeds, although looks can be deceiving, and many were duds. Most likely due to the pollen less nature of most of the sunflowers.
These sweet cut sunflowers have been enjoyed thoroughly.
They were left on the porch for all the passersby to enjoy. They just never had that opportunity to produce any mature seed for planting, because they were cut too early.
However they were absolutely perfect in the vase, and that's exactly how we love them!
Have you ever tried to save seed from cut sunflowers? Be sure to share your experience down below in the comments!
OTHER POSTS YOU MAY LIKE:
See the Web Story: Can You Collect Seeds From Cut Sunflowers?
PIN IT FOR LATER!