Orlaya Grandiflora is a hardy annual flower that is a great addition to the cutting garden. With lacy white disc shaped blooms, it adds a romantic touch to flower arrangements. Learn how to grow Orlaya, also known as White Lace Flower, and enjoy this pretty flower in the garden this season.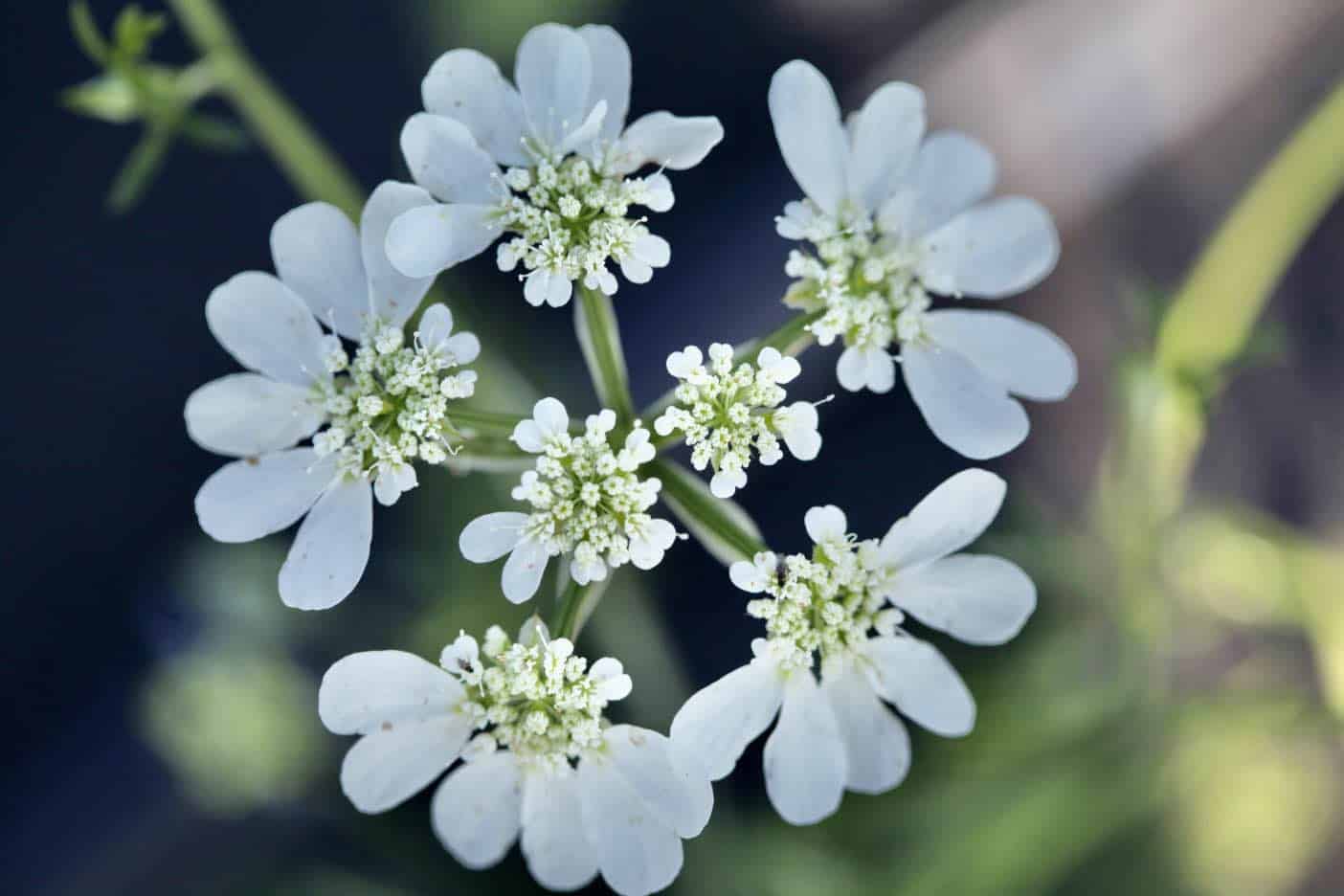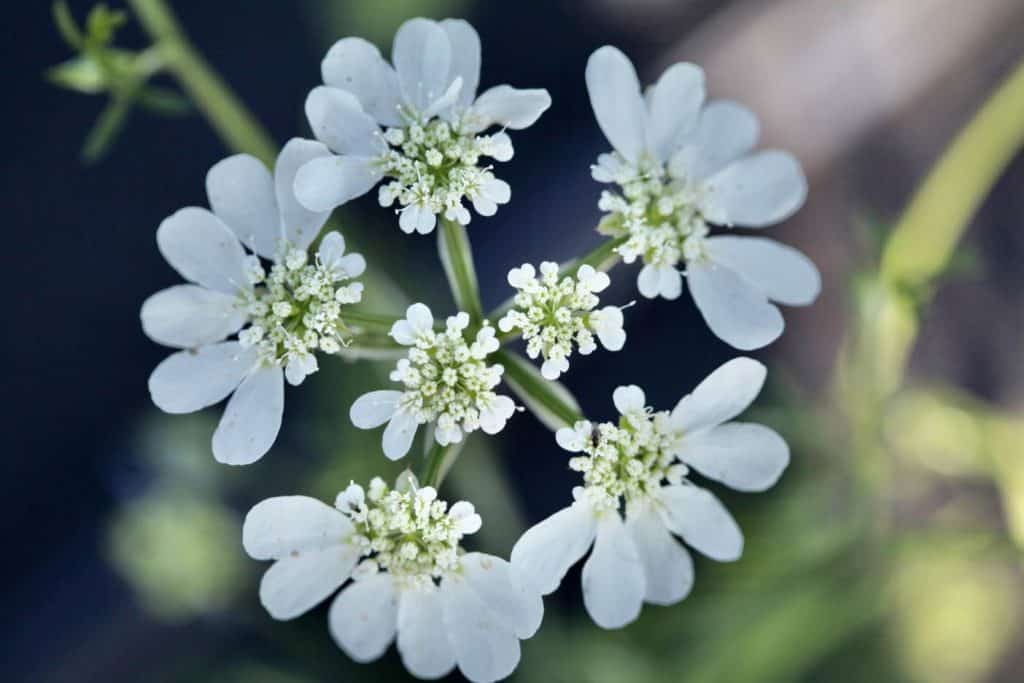 When I first grew Orlaya I was struck by the symmetrical patterns in the blooms. They reminded me of patches of antique lace, with a similar pattern across all of the flowers.
Although the stems were not as tall as I had hoped, the flower patterns more than made up for the stem length.
These plants are distantly related to Queen Anne's lace and Ammi Majus, the latter which we grow in the cutting garden. The flowers are different in subtle ways, although they all have sweet lacy blooms.
Orlaya is a great choice for cottage gardens with it's wild flower look.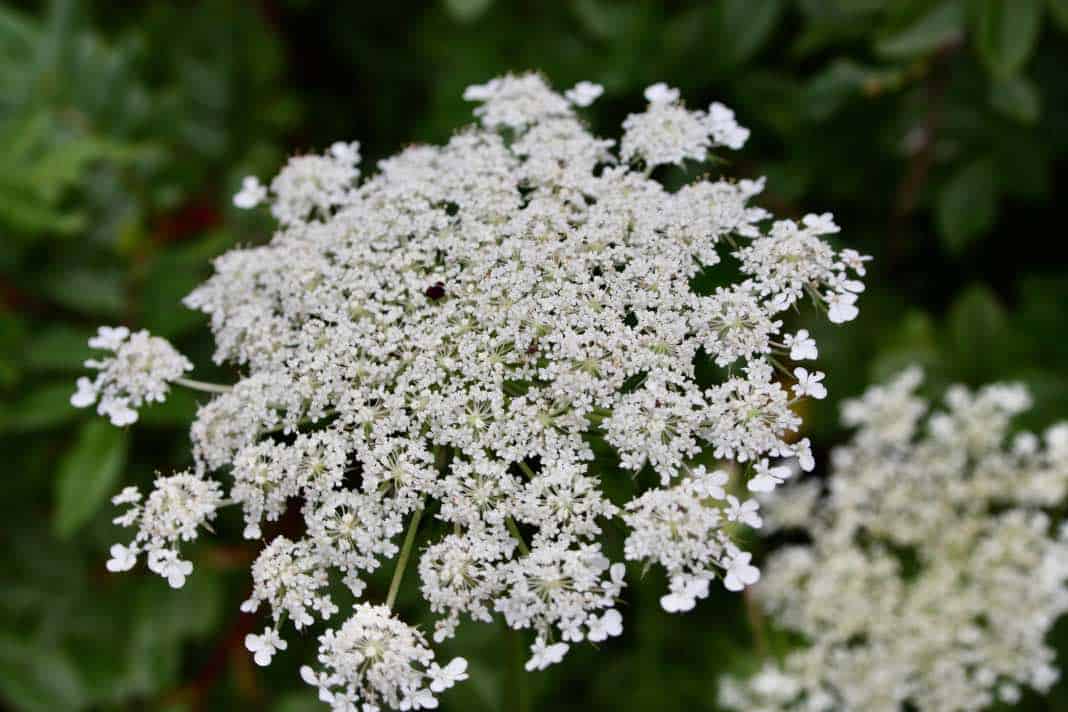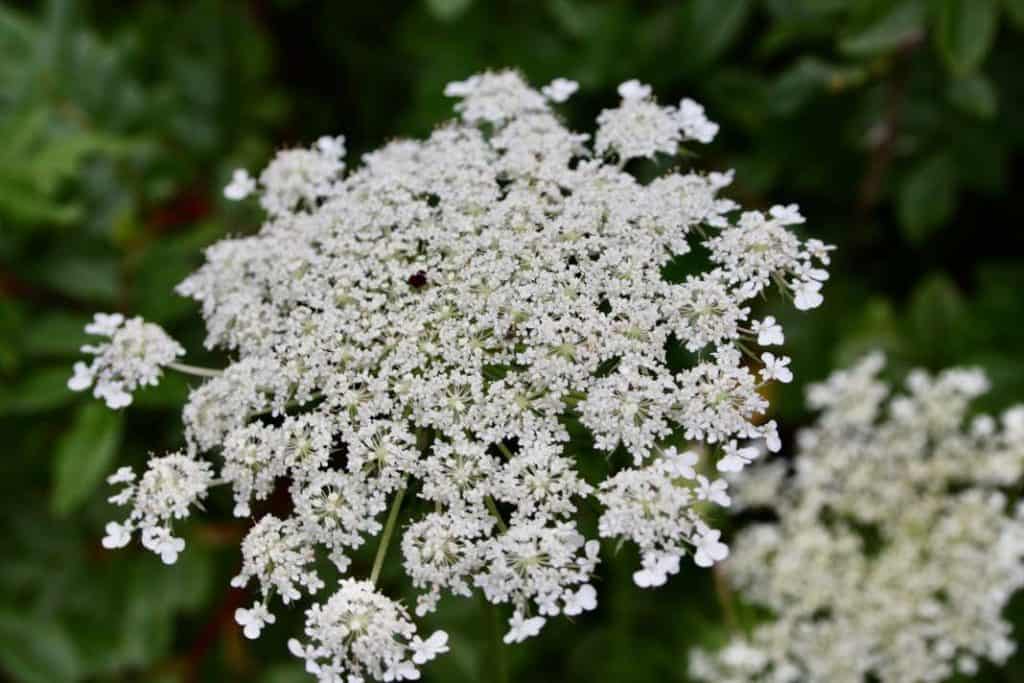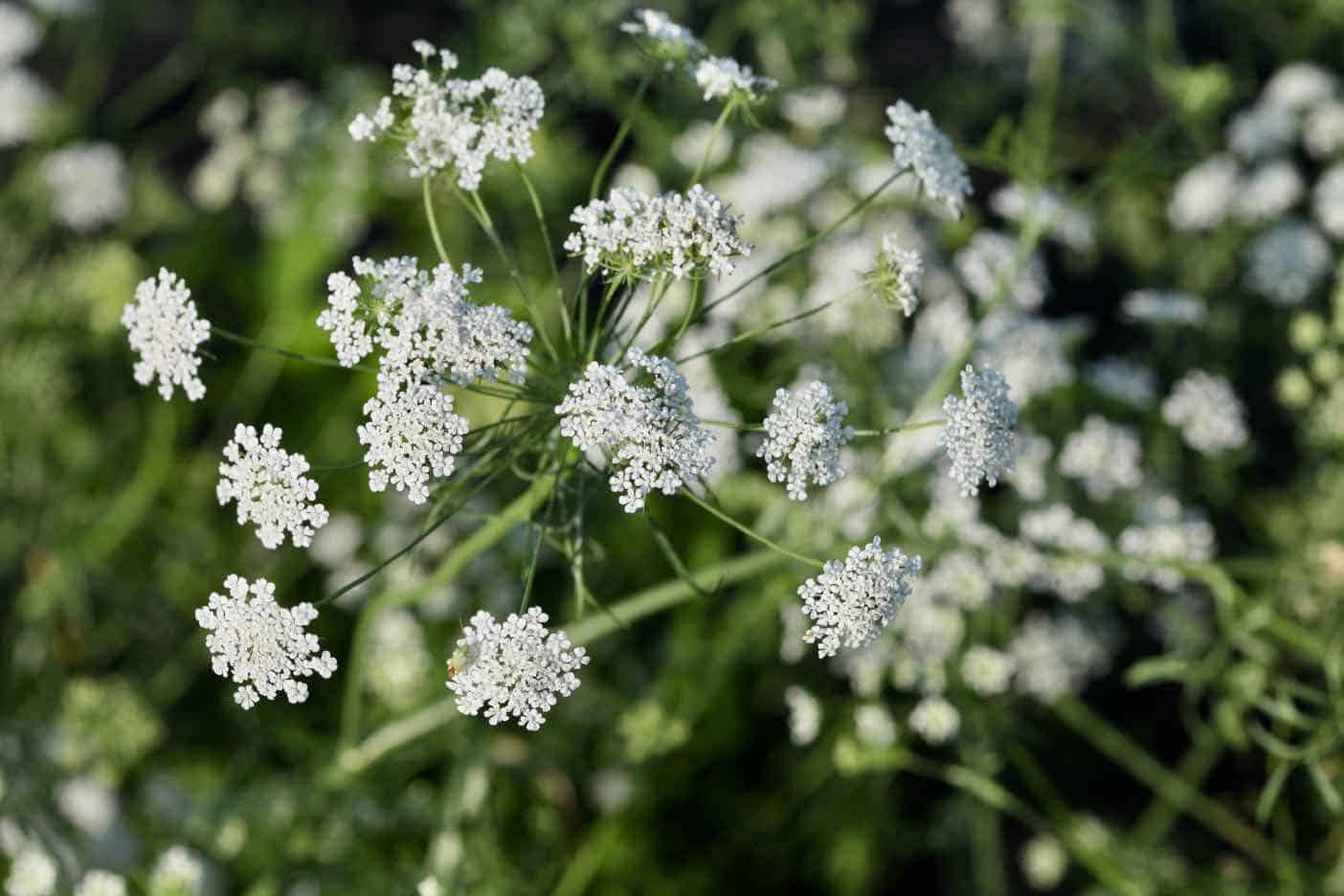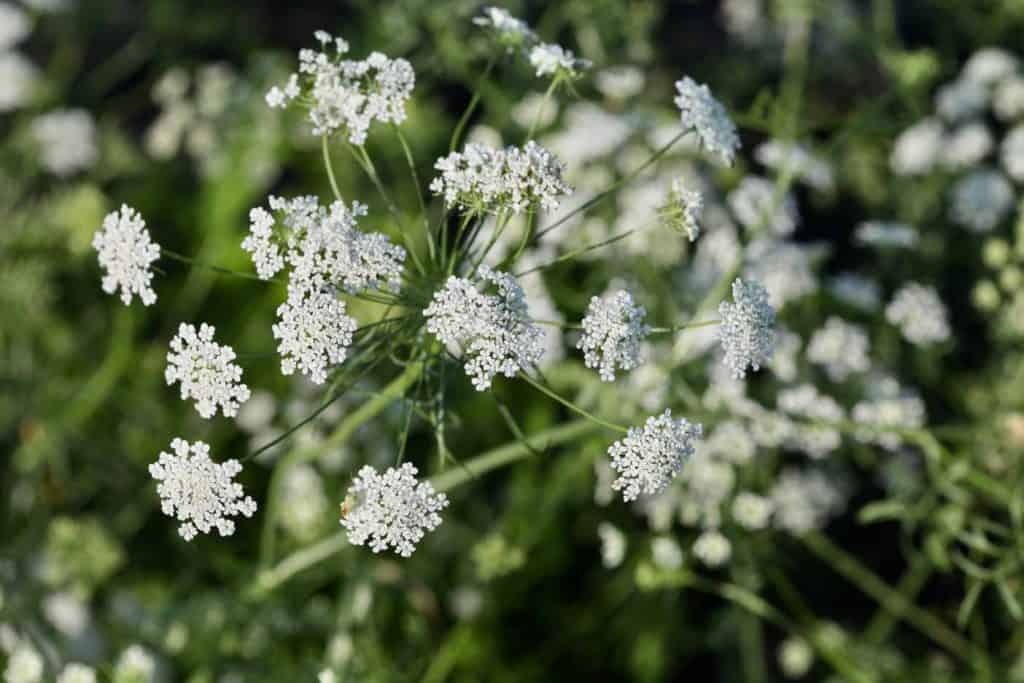 What Is Orlaya Grandiflora?
Orlaya grandiflora is the name of a species plant which belongs to the Genus Orlaya, and to the family Apiaceae. It is a hardy annual which originates from the Mediterranean.
This graceful plant is also known by common names such as minoan lace, White lace flower, White Laceflower, and French Meadow parsley.
Orlaya blooms are white and graceful, and due to their beauty and wild flower look, the flowers are excellent choices for cut flower gardens. The flowers can also be dried and are an excellent choice for dried flower arrangements.
Orlaya Plant Appearance
What Do Orlaya Flowers Look Like?
Each Orlaya plant produces multiple branches with straight strong stems.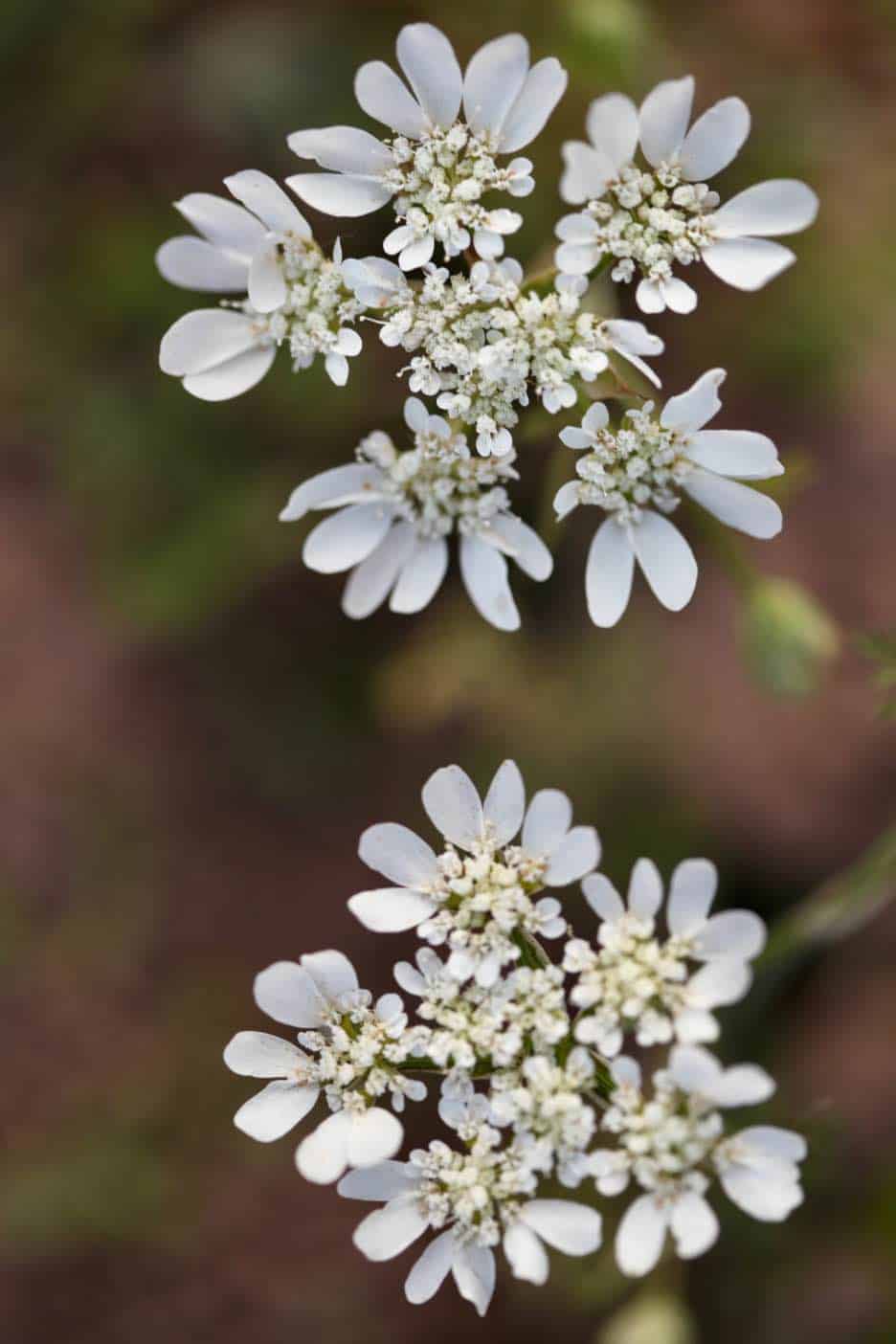 On the top of each stem are disc shaped umbels of white flowers. Each disc is approximately 2.5 to 3.5 inches wide, and usually contains about seven smaller flowers making up the larger disc.
The smaller blooms within the umbel are rimmed with large outer petals. These larger petals frame groups of small central florets inside each smaller bloom, making for an interesting pattern.
This shape is unique and attractive in arrangements.
The flowers of Orlaya remind me of lace-cap hydrangeas, which we have growing in our garden as well.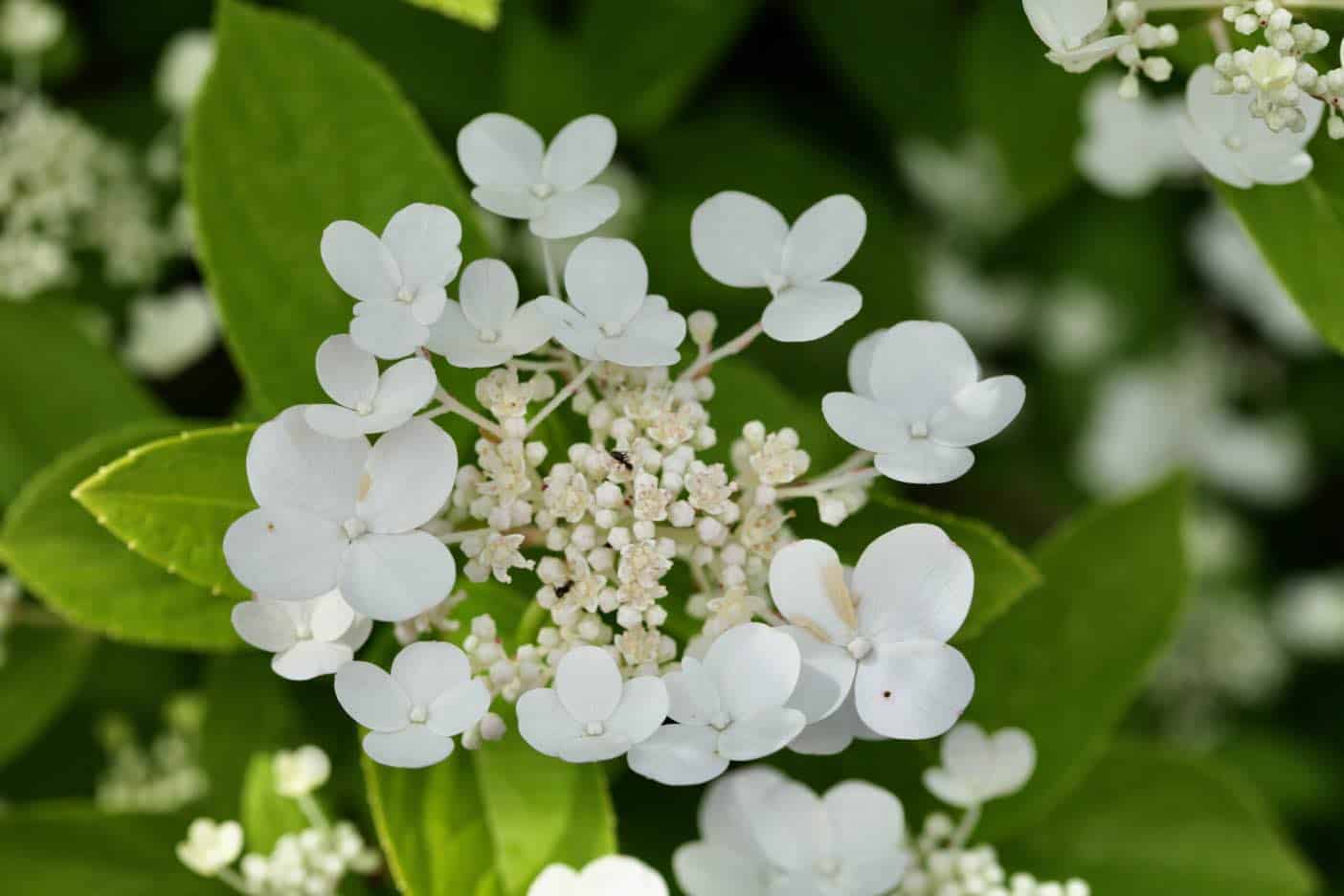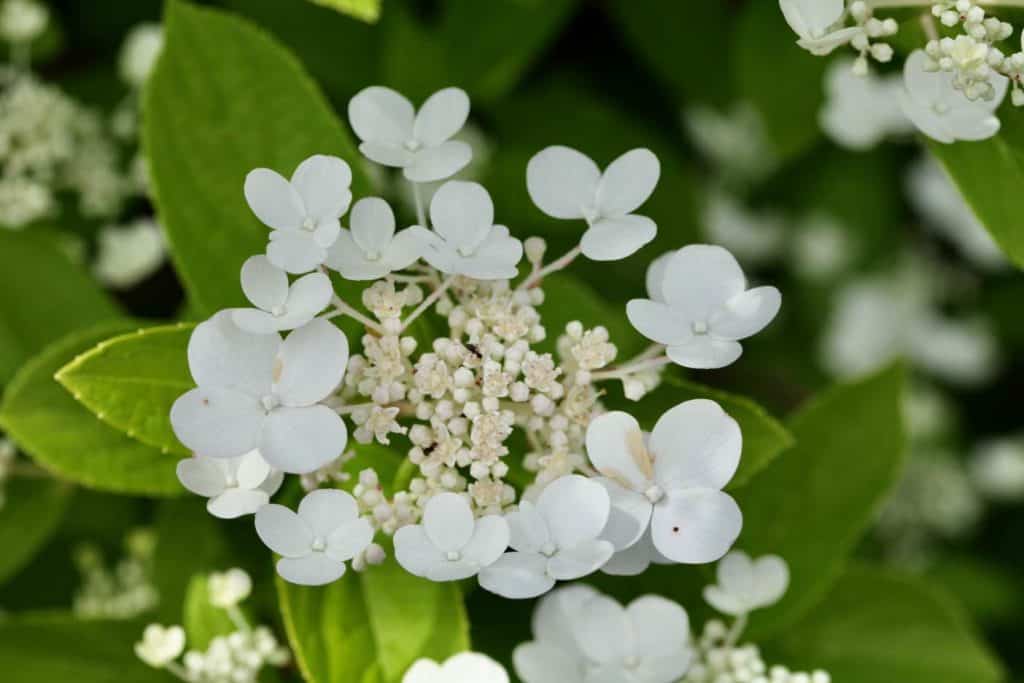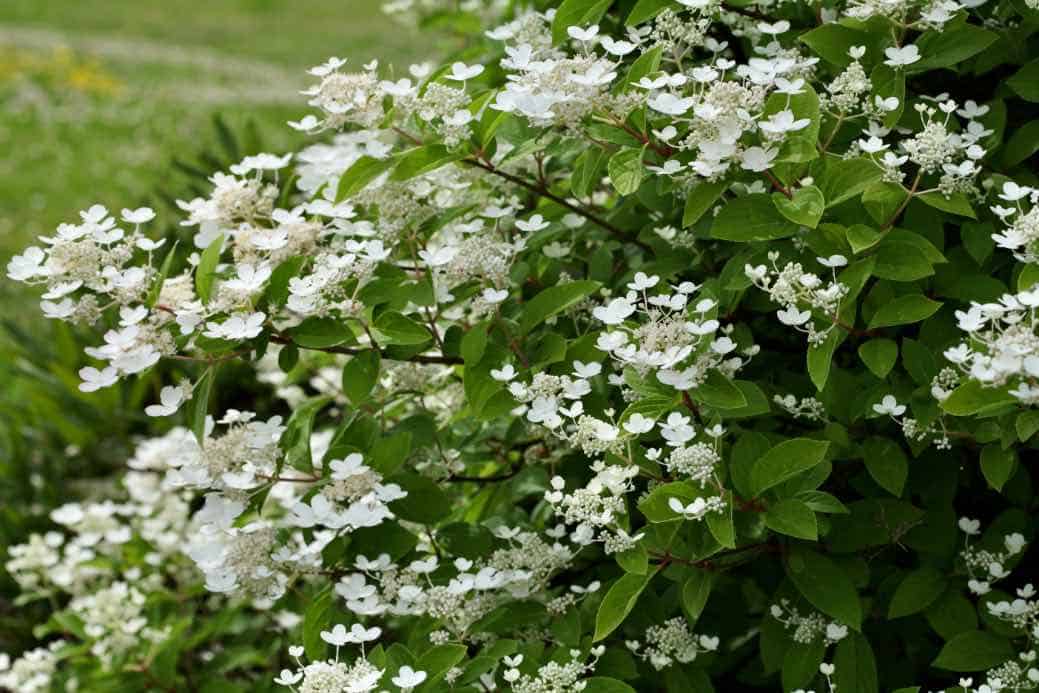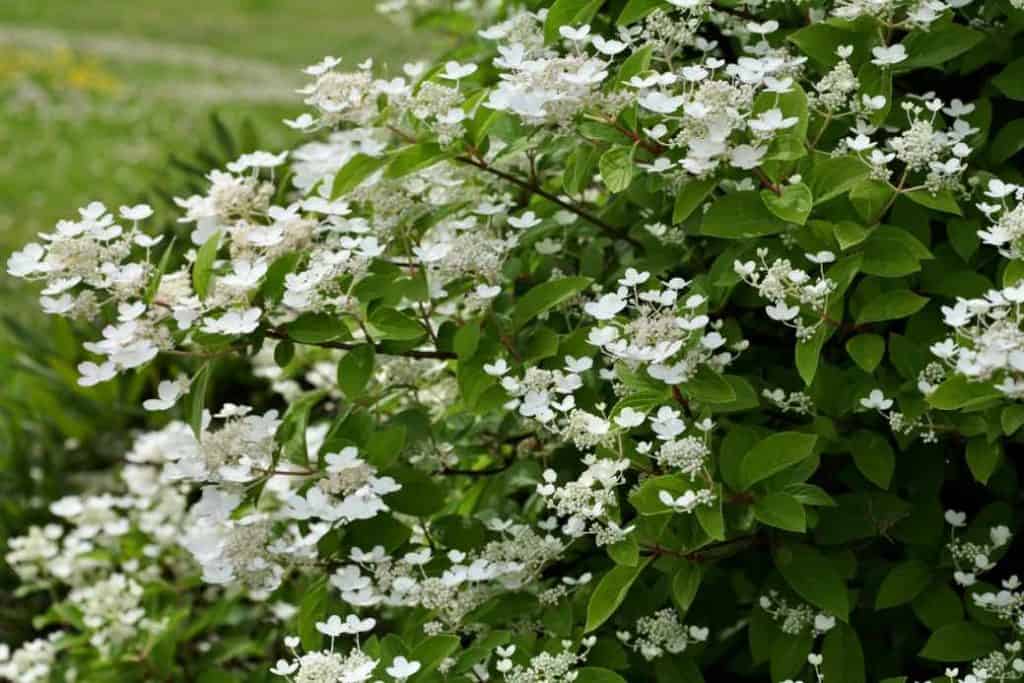 The hydrangea blooms have larger petals which ring smaller florets on the flower as well. These blooms resemble immature Orlaya blooms, before all of the smaller flowers in the Orlaya umbel are open.
The flowers of Orlaya are lacy, yet quite different in appearance compared the the blooms of Queen Anne's lace or Ammi Majus due to their larger petals surrounding the smaller ones.
The foliage of Orlaya is fernlike and soft, and similar in appearance to the Ammis and Queen Anne's lace. The dark green ferny foliage is easily identifiable in the garden by it's appearance.
How Tall Does Orlaya Grandiflora Grow?
Orlaya flowers are a shorter version of Queen Anne's lace.
The blooms can range in height from 18 inches to 29 inches.
The flowers in our garden, both the ones that we grew from seed, as well as those that volunteered and self seeded, remained at the shorter height with more compact branches and stems.
We planted out our seedlings in early spring.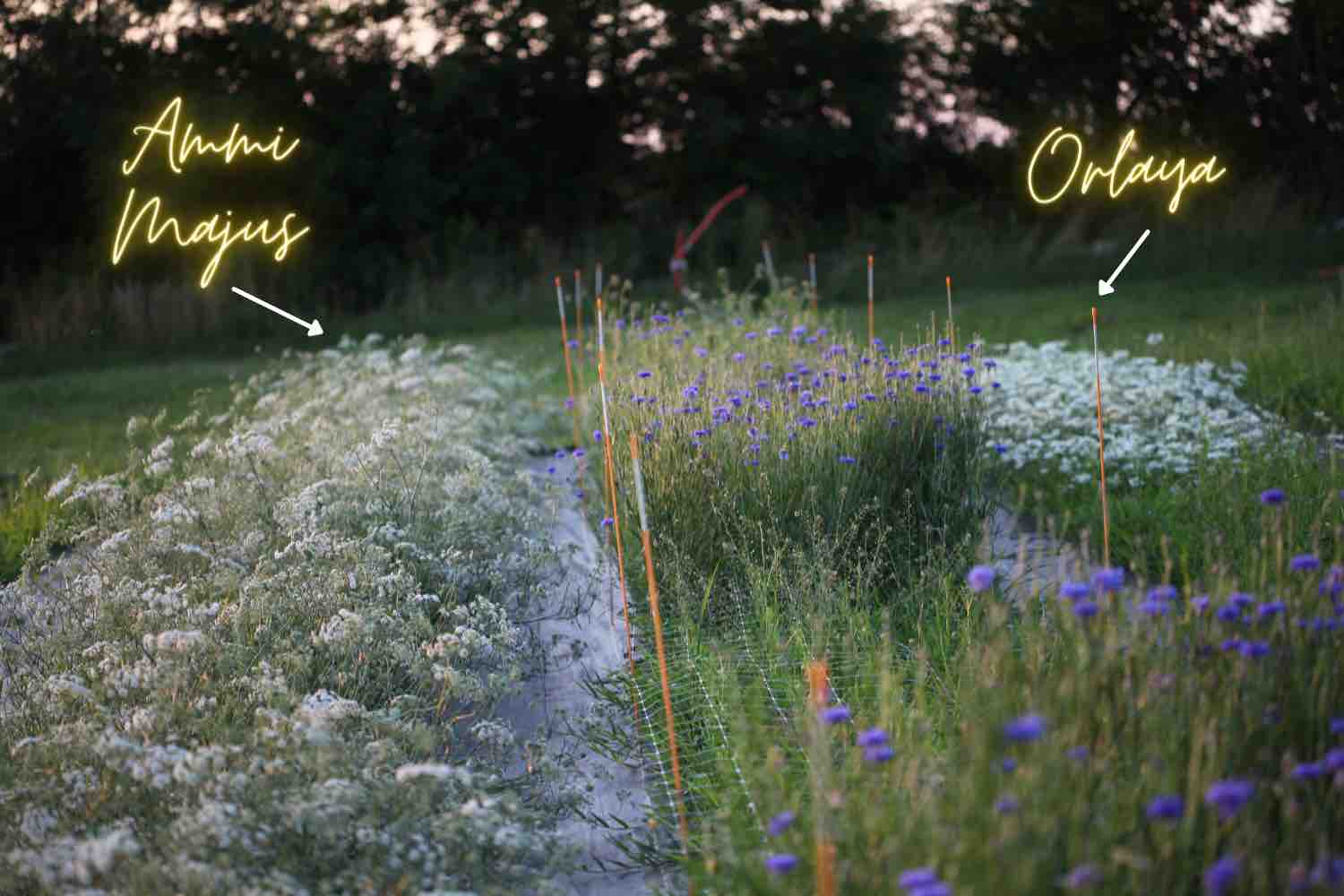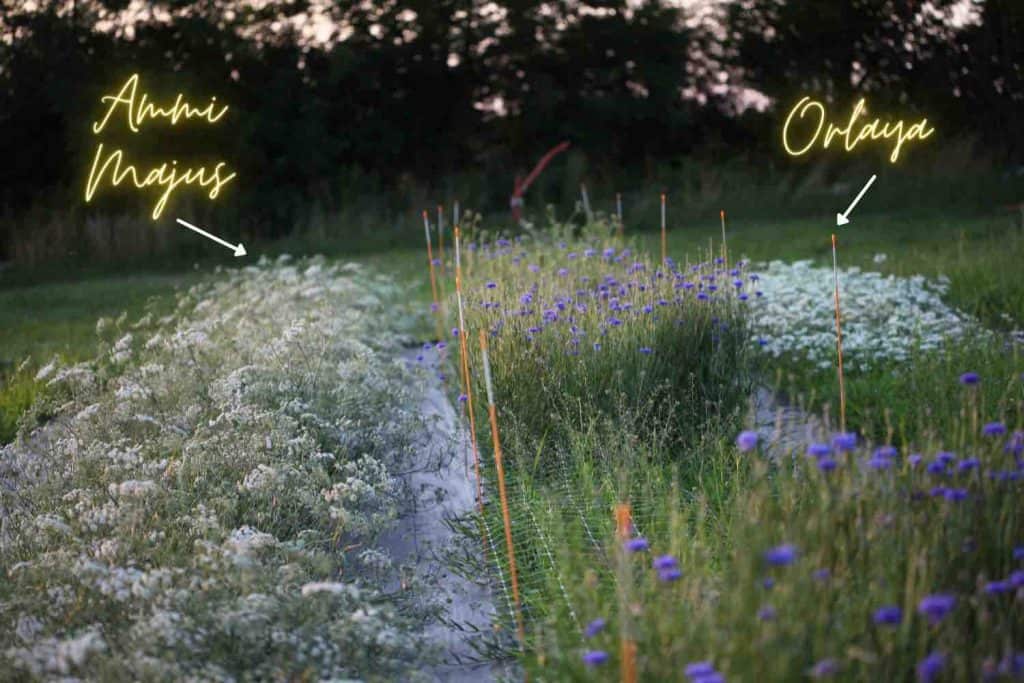 Some Options To Increase Orlaya Stem Height
Some gardeners have found that Orlaya can produce and grow a taller stem with a fall planting.
Often when hardy annuals are planted in the fall and allowed to undergo natural startification, the resulting plants the next season are taller and more robust. Orlaya as well seems to have more hardy and stronger plants when grown this way.
Planting out in fall into a cold frame or tunnel can also increase the height of these flower stems. Johnny's Seeds did a YouTube video on this topic, where they transplanted out seedlings into a tunnel to overwinter.
The next spring, the resulting stems and branches of Orlaya plants overwintered in the tunnel were quite a bit taller compared to the usual height of their field grown counterparts.
Another option for increasing plant height is pinching, which forces the plant to produce more branches and promotes growth.
As well, always harvest Orlaya from the base of the plant to produce a longer second flush.
Is Orlaya Easy To Grow?
Orlaya is very easy to grow once it has germinated.
It is however known at times to be somewhat difficult to germinate.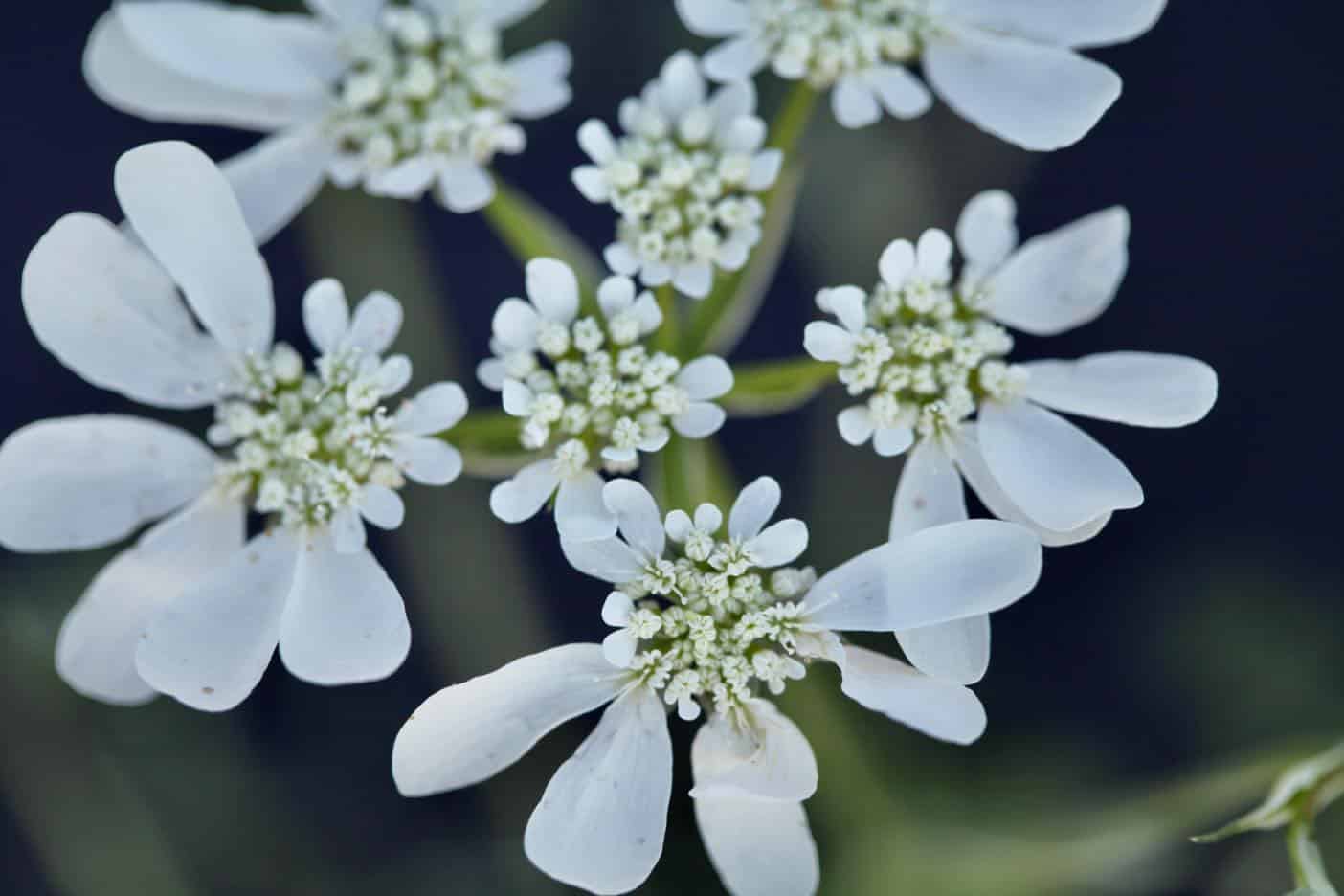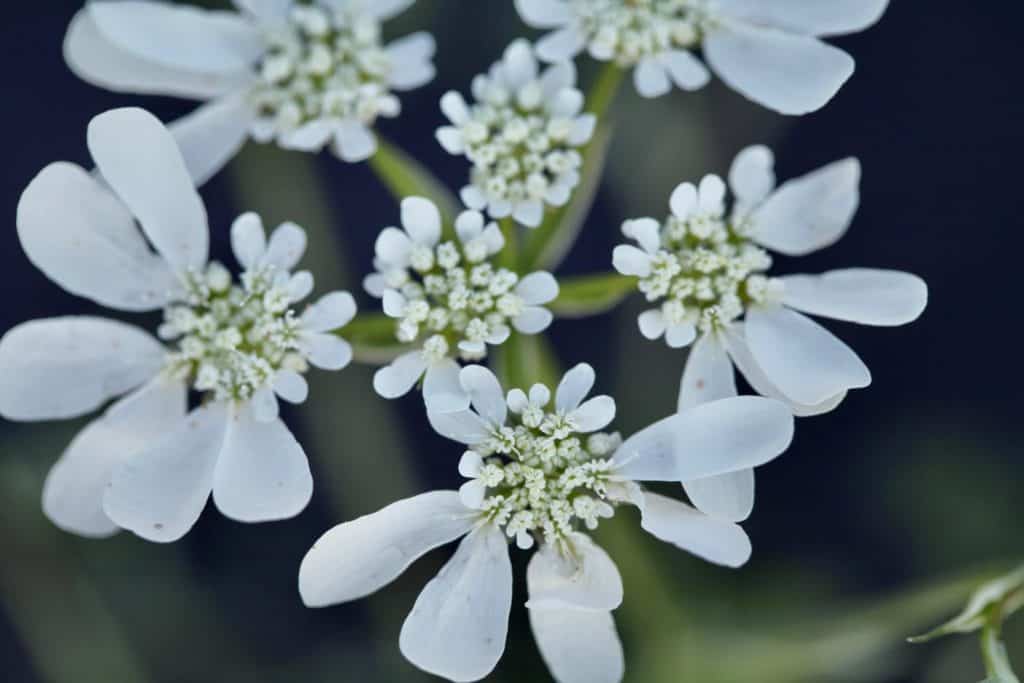 How Do You Germinate Orlaya?
If you are starting Orlaya seeds indoors, you may be wondering about germination.
The key to successful germination of Orlaya seeds is to follow the guidelines of growing hardy annual flowers for proper germination techniques.
Hardy annuals usually require exposure to cold temperatures over time to break dormancy.
Cold stratification can be done artificially by placing the seeds in the fridge for a moist chill, or naturally by planting the seeds outside for exposure to the cold and moisture.
If you are planning to start your flower seeds indoors in winter, sow seed at least four to six weeks before you plan to plant them out into the garden in spring.
Orlaya seeds benefit from a chill to stratify the seeds, so before sowing for best results make sure to chill them in the fridge for two to four weeks.
If you are planting your Orlaya seeds outdoors in fall, or even if you plan on winter sowing them, you don't have to worry about stratification, as this will naturally occur. The seeds will germinate at the time that they should for your growing area once the soil warms up.
Does Orlaya Need Light To Germinate?
Orlaya does need light to germinate, so whether you are sowing the seeds indoors or outdoors, make sure that they are uncovered.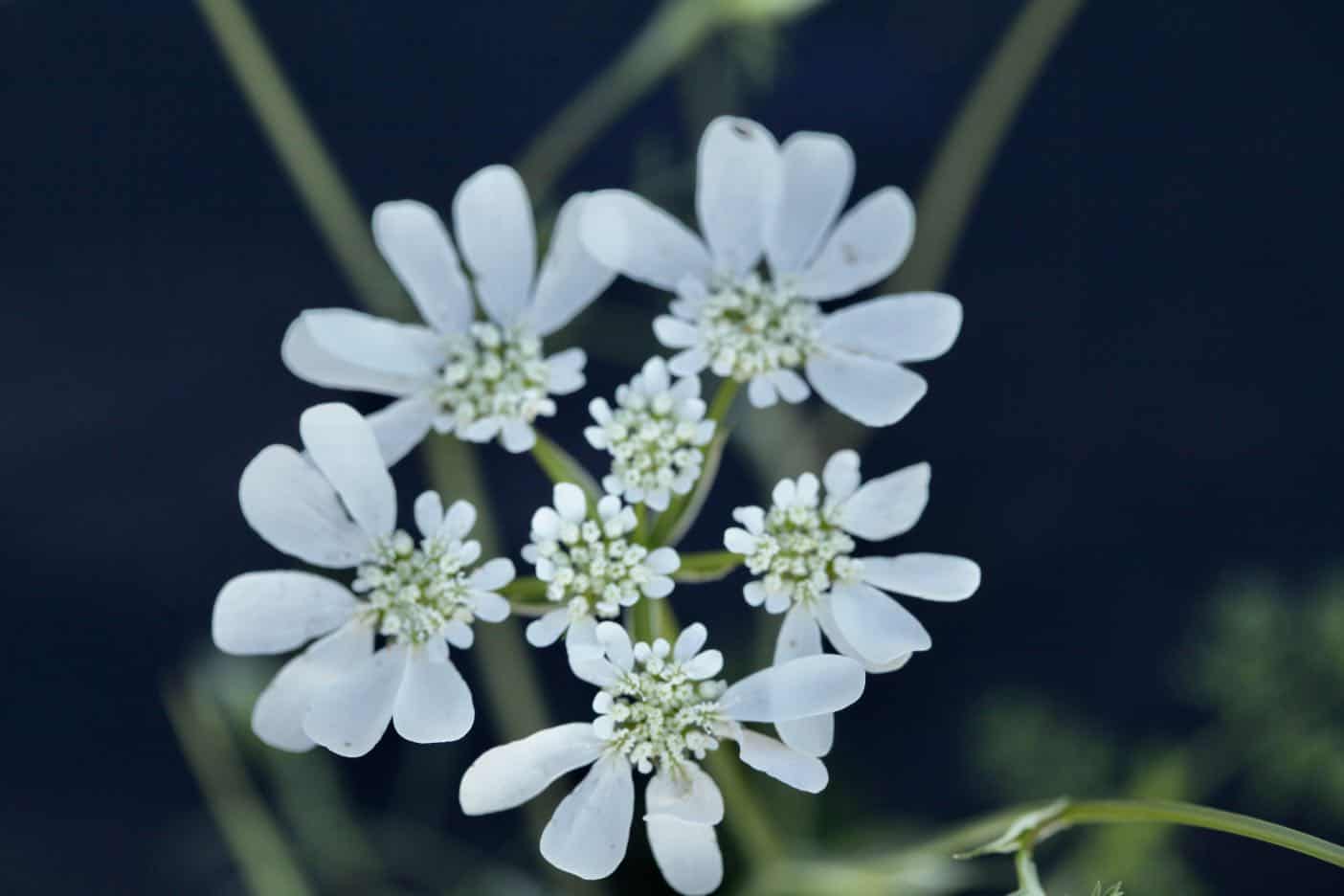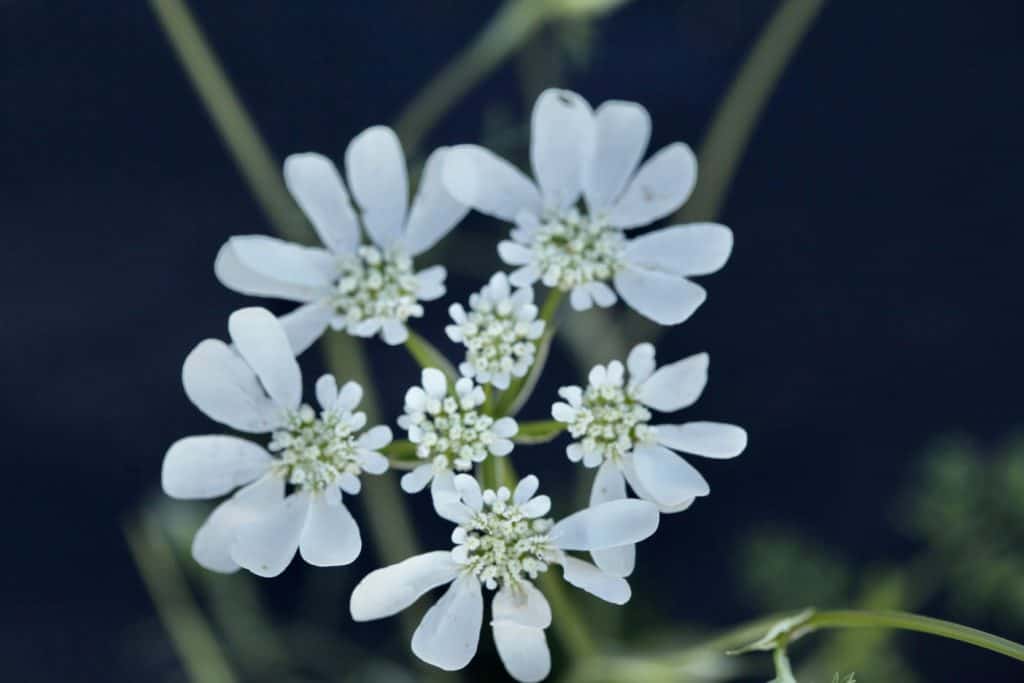 How Long For Orlaya To Germinate?
Orlaya will begin to sprout in two to three weeks inside, or whenever the weather warms up if they are planted outside.
Remember to keep the seeds moist during this time frame, and do not allow them to dry out.
When To Plant Out Orlaya
If you have sown your o. grandiflora seeds indoors in winter, the seedlings can be planted out into the garden in early spring. Transplant seedlings into the garden after they have been hardened off, and when the risk of frost has passed.
Although these are cold hardy annuals and they can tolerate some frost, they should be hardened off before frost exposure.
Is Orlaya Frost Hardy?
Orlaya is a hardy annual and will tolerate exposure to frost.
We transplanted seedlings out in early spring after our last frost date.
Here in zone 5b it is common to have late spring frosts. The Orlaya showed no damage after multiple frost exposures.
It's always best to wait for your last spring frost date before transplanting out. You can find your last spring frost date here.
If the seedlings do have frost exposure after they are hardened off and transplanted, they should be fine.
How To Care For Orlaya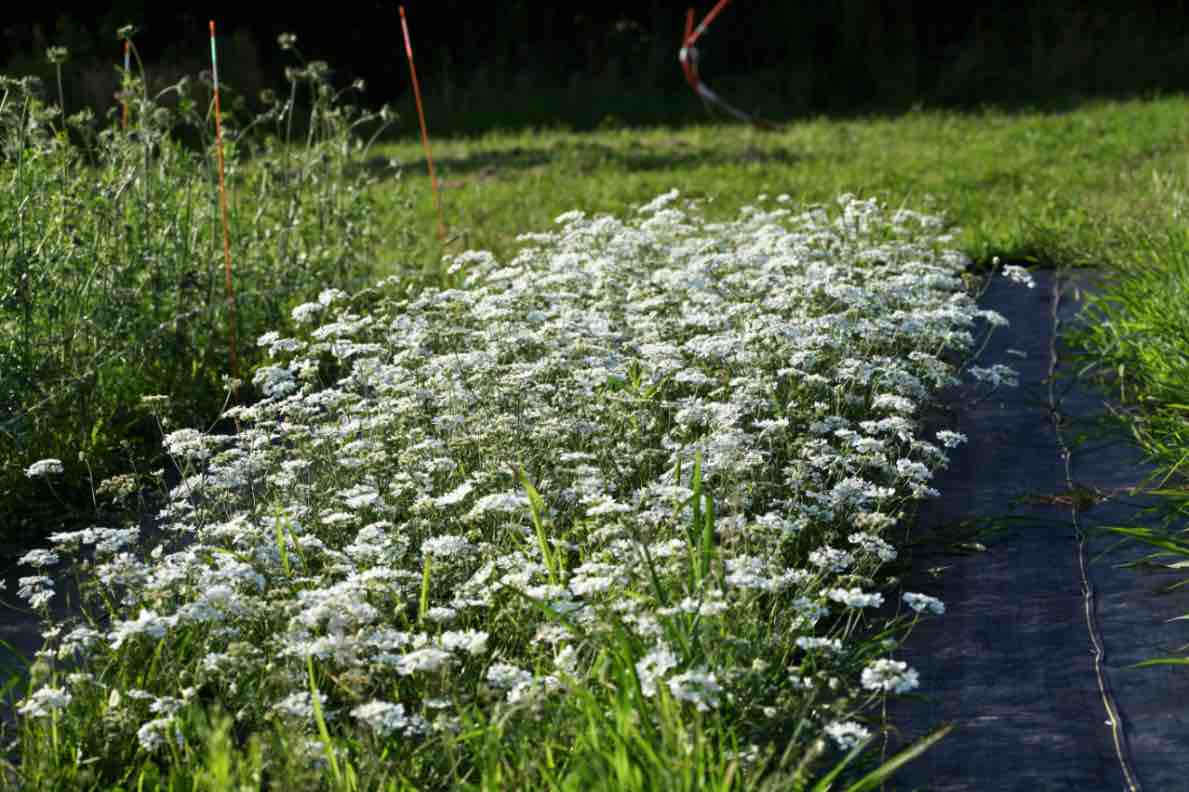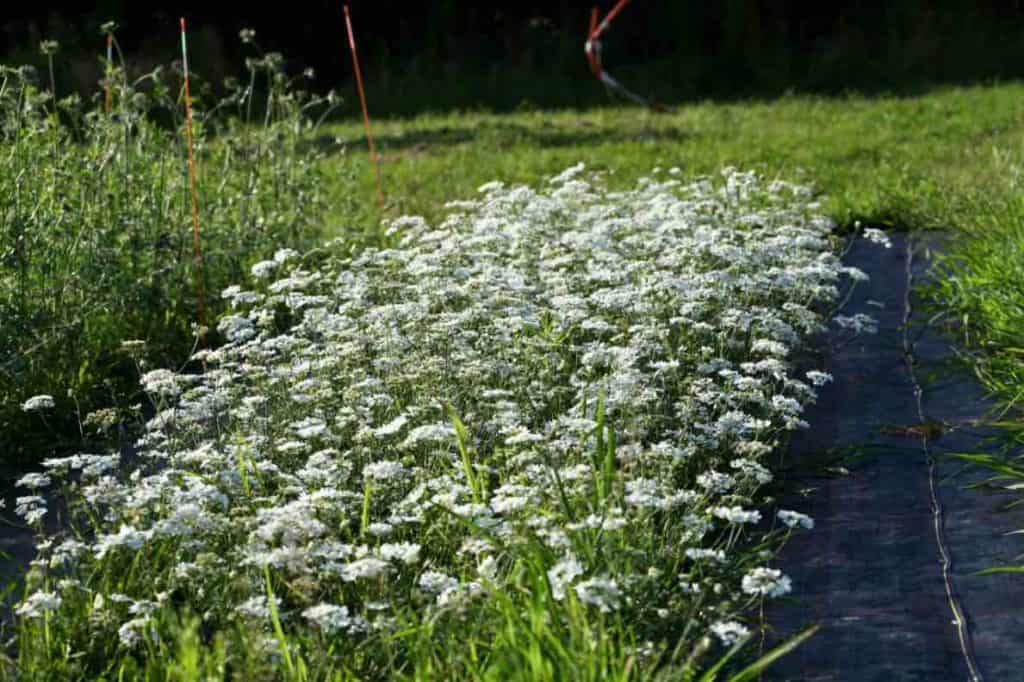 Growing Location
Although it originates from the Mediterranean, Orlaya is a cool hardy flower and does grow well with the cooler temperatures of spring.
It does not tolerate high summer temperatures above 29°C, or 85°F.
If direct seeding into a garden in fall, sow the seeds into a prepared bed that gets lots of sunlight during the daytime. If your summers are very hot however, consider a location with afternoon shade.
Light Requirements
Orlaya grows best in a full sun location.
If grown in partial shade ensure that the flowers get at least six to eight hours of sunlight for best blooming.
In warmer growing areas provide some afternoon shade.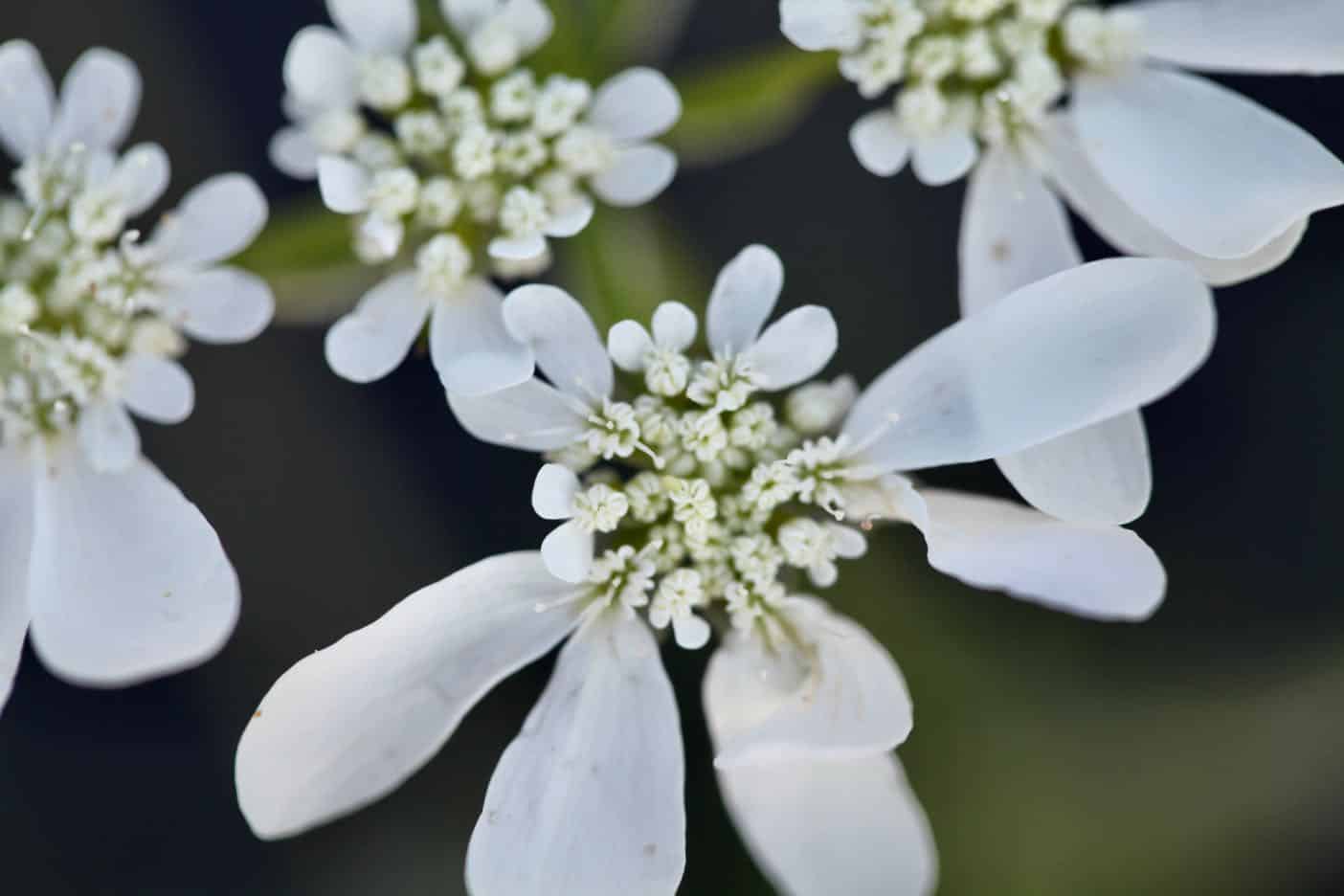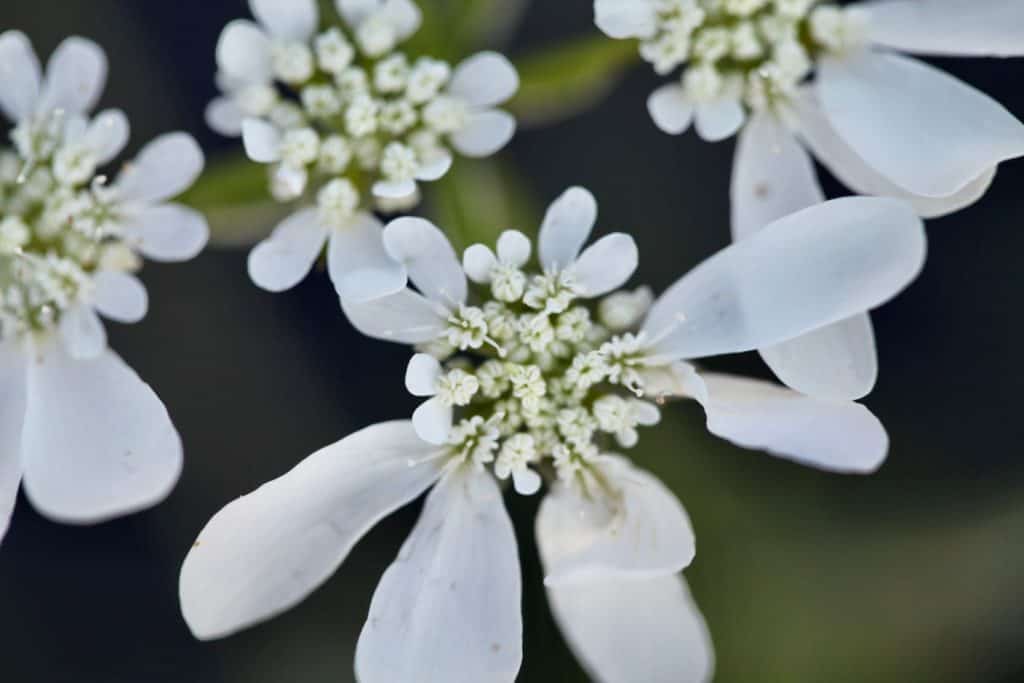 Soil And Spacing Requirements
Plants prefer rich to average well drained soil types.
We grew our Orlaya in clay soil and it grew very well, although it was somewhat on the short side.
Space the plants nine to twelve inches apart for optimal growth, as these plants tend to grow with a bushy habit.
Moisture Requirements
If planting as seedlings, water in well when first planting out. If it is dry, make sure to provide regular watering until the new plantings get established.
Orlaya will tolerate some drought once it is established.
When To Harvest Orlaya
From sowing to harvest takes approximately 70 days.
Orlaya ia a cool weather annual and begins to bloom towards the early summer. It was one of the first hardy annuals to bloom in our garden.
Harvest Orlaya for best vase life when 80% of the umbels are open on the flower disc. This makes for a beautiful flower and it is still fresh at this point and not dropping pollen.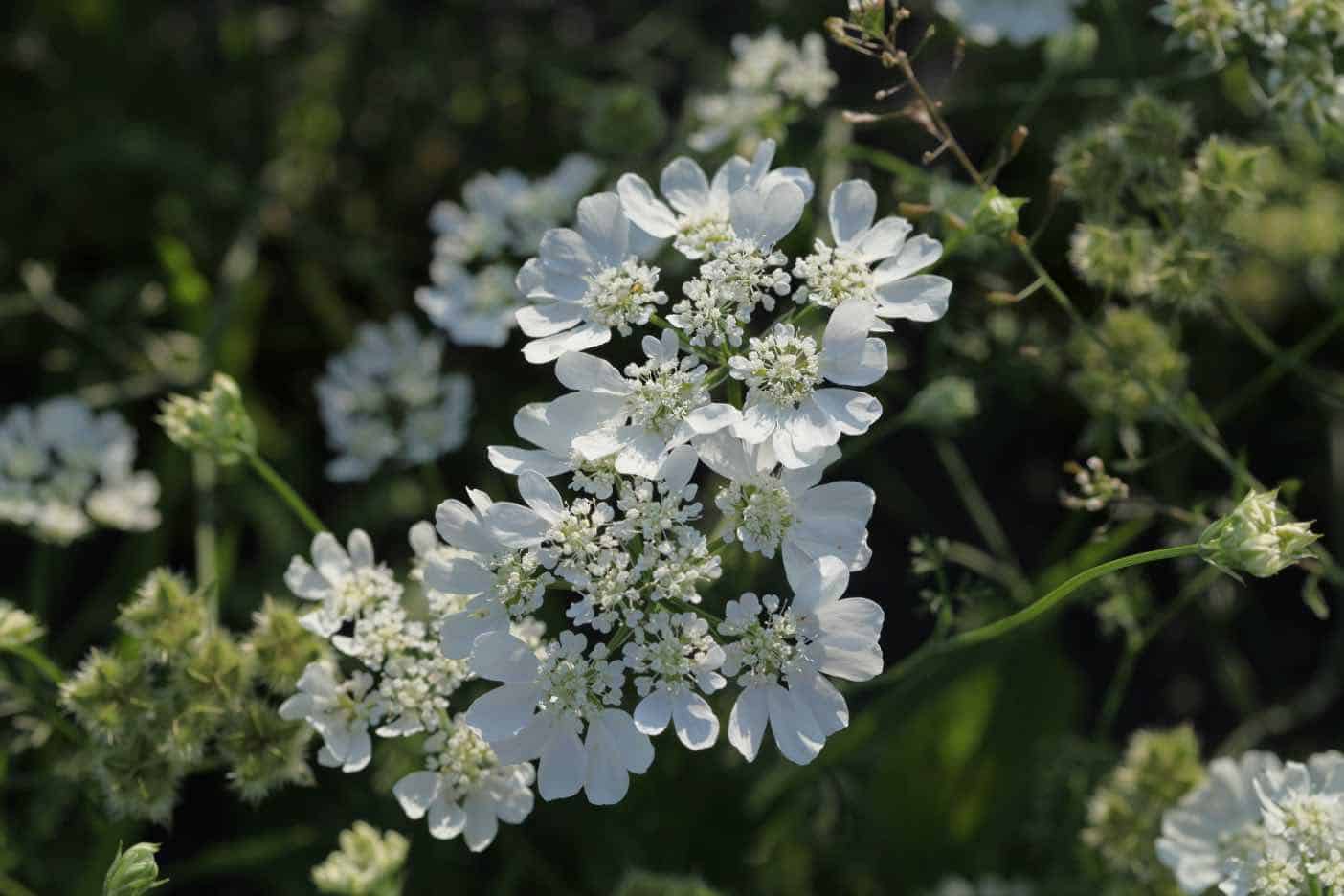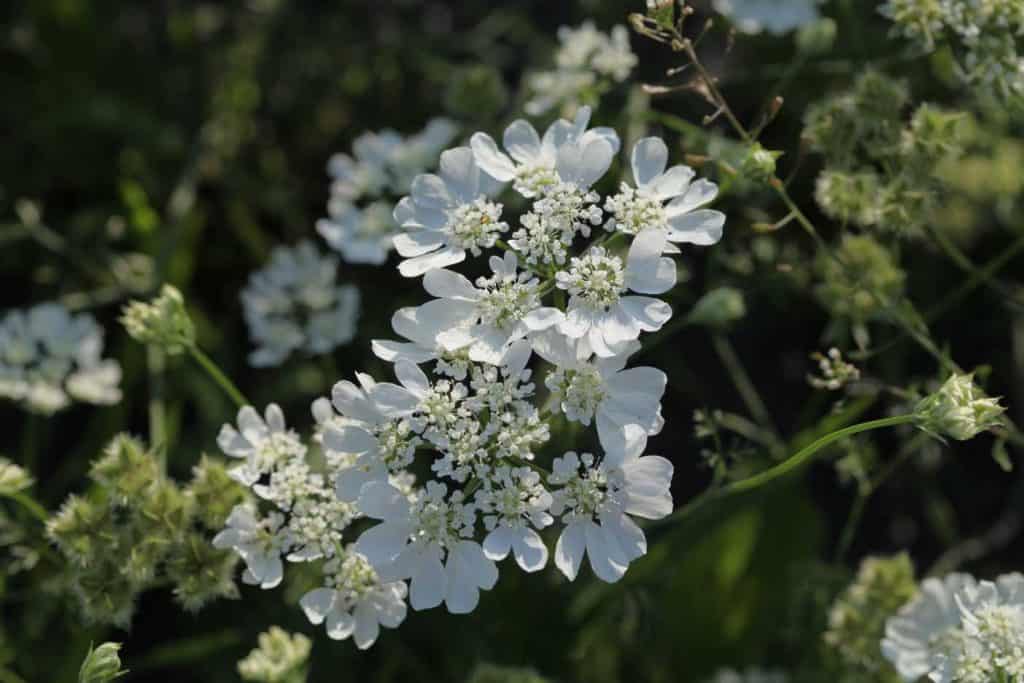 Is Orlaya Cut And Come Again?
This flower is considered to be a moderate producer rather than a cut and come again type plant. Throughout the summer months as you cut the stems for your bouquets, more stems will be produced.
Although not as prolific as cut and come again, you will be able to get multiple stems off each plant.
If you leave them in the garden and do not take cuttings however, the flowers will go to seed and the stem production period will be shortened.
The best way to harvest your Orlaya stems is to cut them at ground level. This will result in the next flush of flowers growing from the base of the plant and can result in taller stems.
Continue to harvest and remove spent stems from your plants, and they will continue to grow new stems throughout the summer.
Succession Plant Orlaya
The flowers will bloom profusely for about a month, and then start to set seed.
Harvesting regularly can help produce more stems, however these plants are only medium producers and will not bloom profusely all summer.
There is another option however.
For a continuous harvest of Orlaya throughout the summer months and into late summer, try succession planting the plants two weeks apart.
By succession planting you will be able to have Orlaya in various stages of growth, and once your first bed is done or not producing much, the second will be ready to cut from.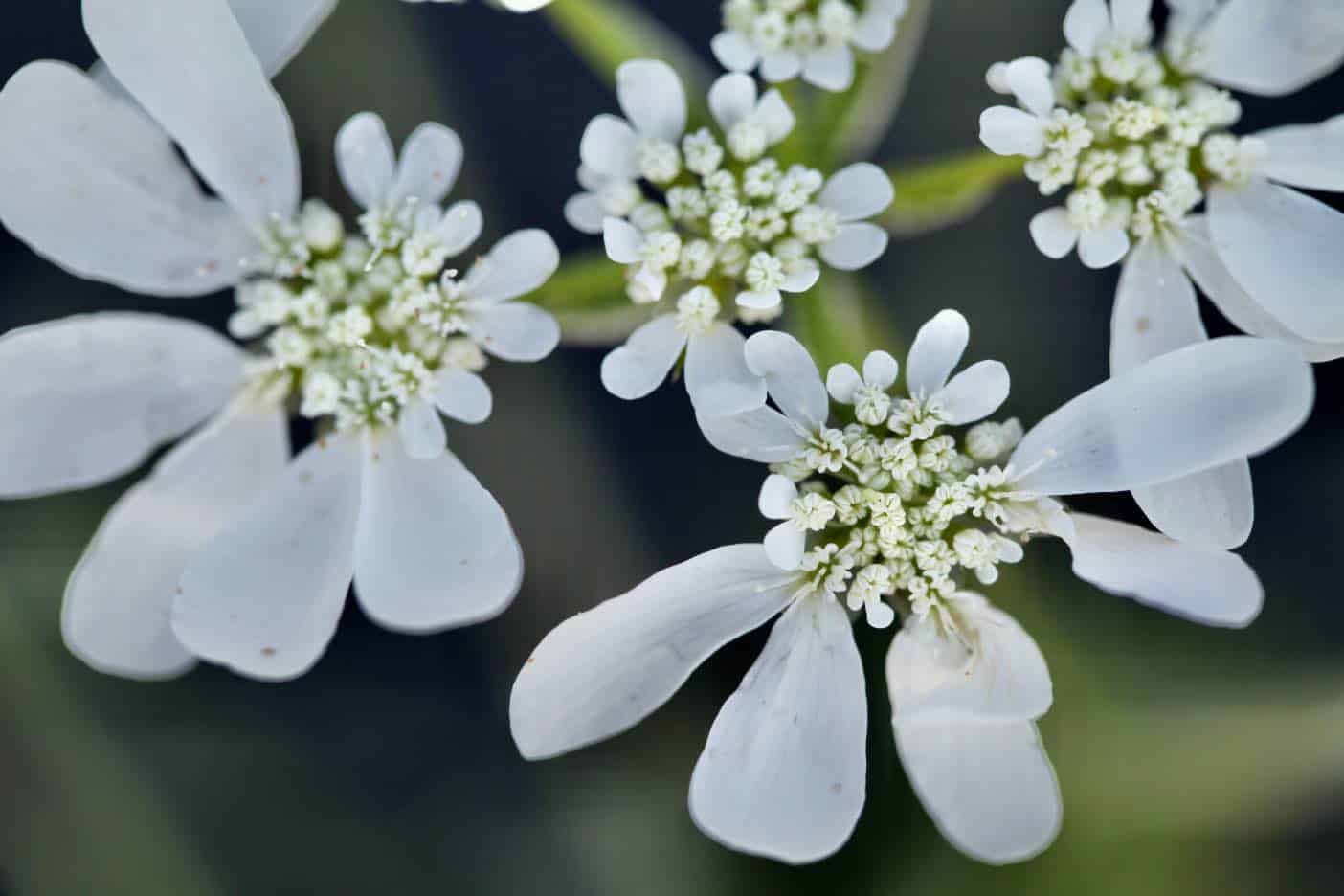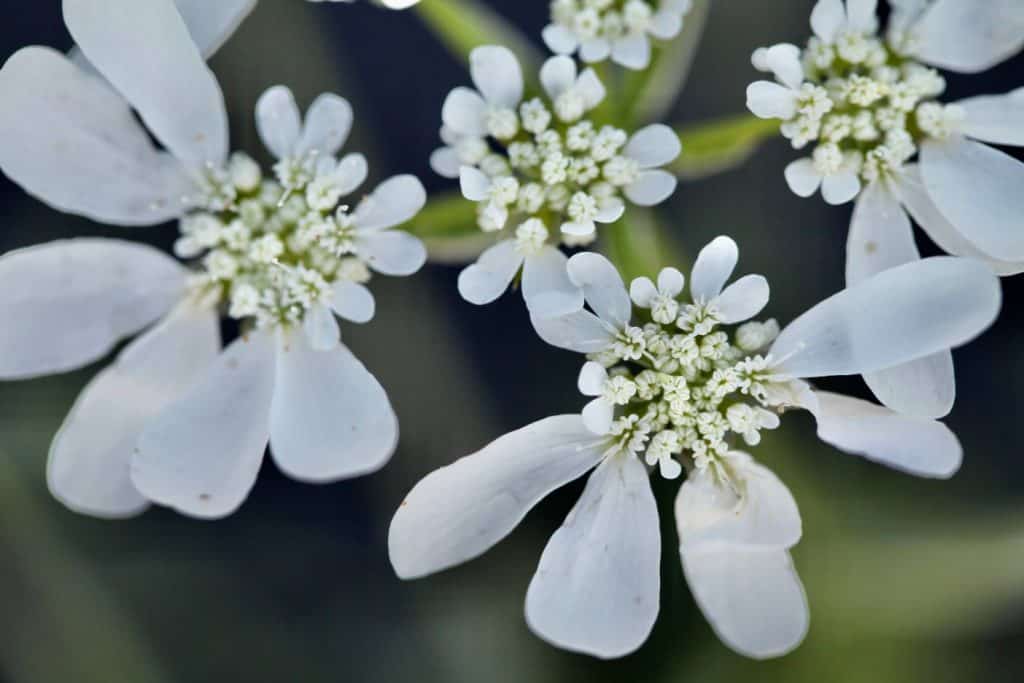 Does Orlaya Self Seed?
Orlaya does self seed in our zone 5b garden. Just along the edges of the garden in the grass close to where the bed of Orlaya had been several years before, we had volunteer Orlaya seedlings appear.
These flowering plants did not self seed in large amounts, however it was nice to see that they did.
I noticed a few a distance away from the original planting as well.
Orlaya is known to naturalize and grow where it is happy. In some locations it can grow as a wild flower.
This flowering plant is open pollinated, and the self seeded plants will closely resemble the parent plants.
Make sure to collect some Orlaya seed at the end of the season to have for next year's garden.
Harvesting the seeds is a great way to perpetuate these flowers in your garden, and in this case you can plant them where you want.
To Prevent Self Seeding
If you do not wish for the plants to self seed, make sure to deadhead the seed pods before the seeds are dispersed.
Regular deadheading of spent blooms is also a way to clean up your plant and stimulate new growth.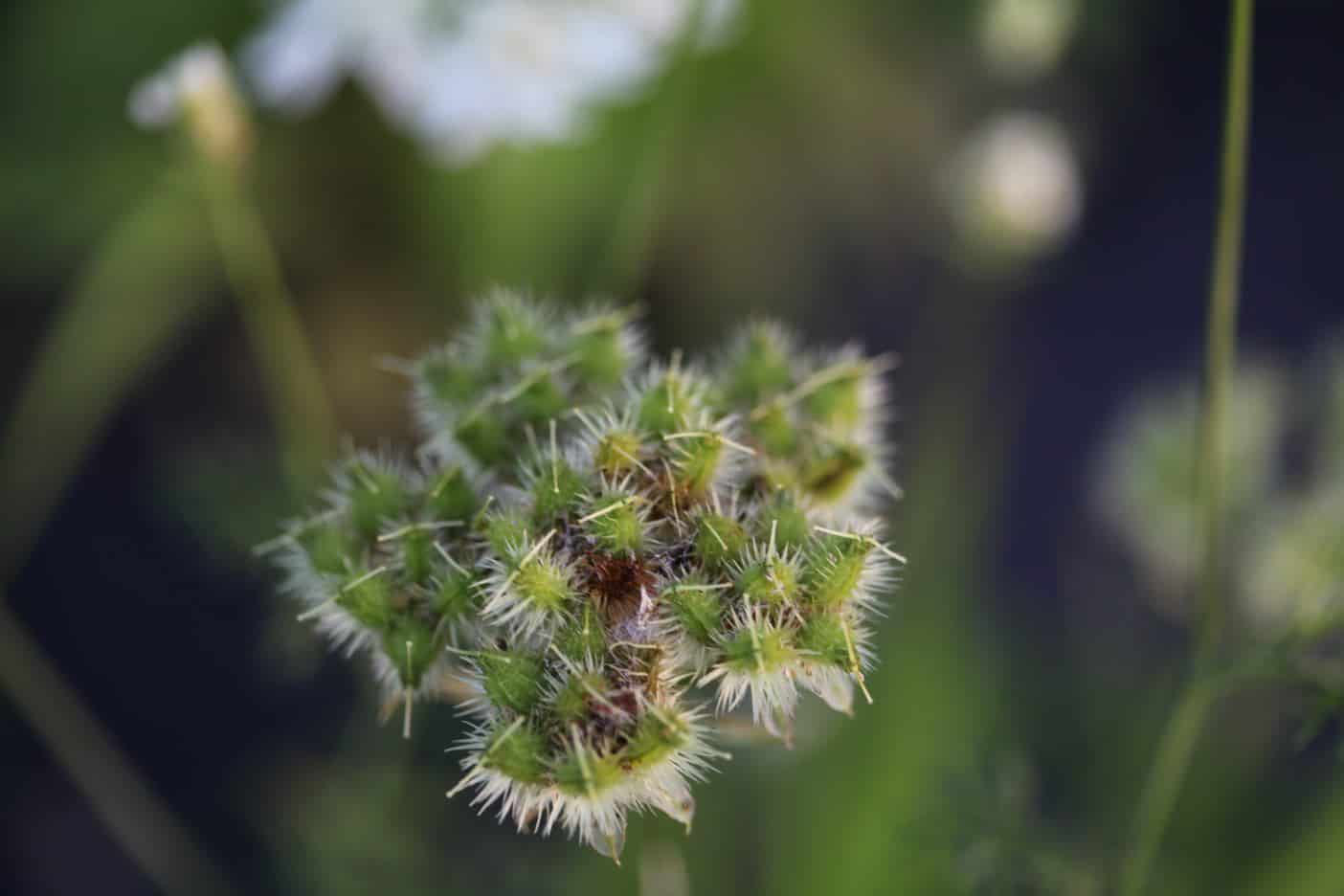 Conclusion
Growing Orlaya is generally quite easy, once you get past the germination stage.
This distinctive annual is a low maintenance plant for the garden.
It also makes an excellent cut flower with it's lovely pure white flowers.
These plants are great as filler flowers with their lacy blooms and soft fern-like foliage.
Orlaya are also pollinator magnets, attracting bees and beneficial insects.
Try your hand at growing this sweet flower this growing season, and see if you can get taller stems.
This year I will be trying to do just that.
Have you tried to grow Orlaya in the garden? Have you used it for cutting or drying? Be sure to leave a comment to share your experience!
Other Posts You May Like:
PIN IT FOR LATER!