Last updated on October 21st, 2023 at 11:04 pm
Every year when the kids were young they would pick tiny posies from the garden. One of the most popular flowers were the tiny blue Forget-me-nots, mixed in with a handful of Buttercups! They learned all about the joy of giving flowers, and received a little gardening lesson to boot. Growing Forget me nots in the garden has been a wonderful experience for our family, and we continue to grow them year after year!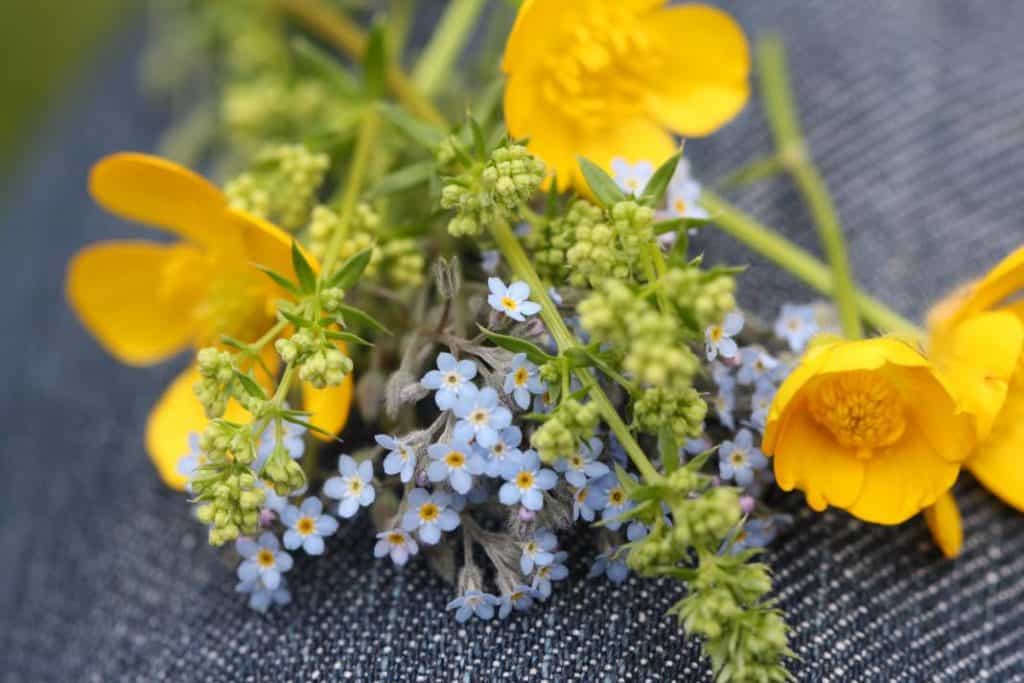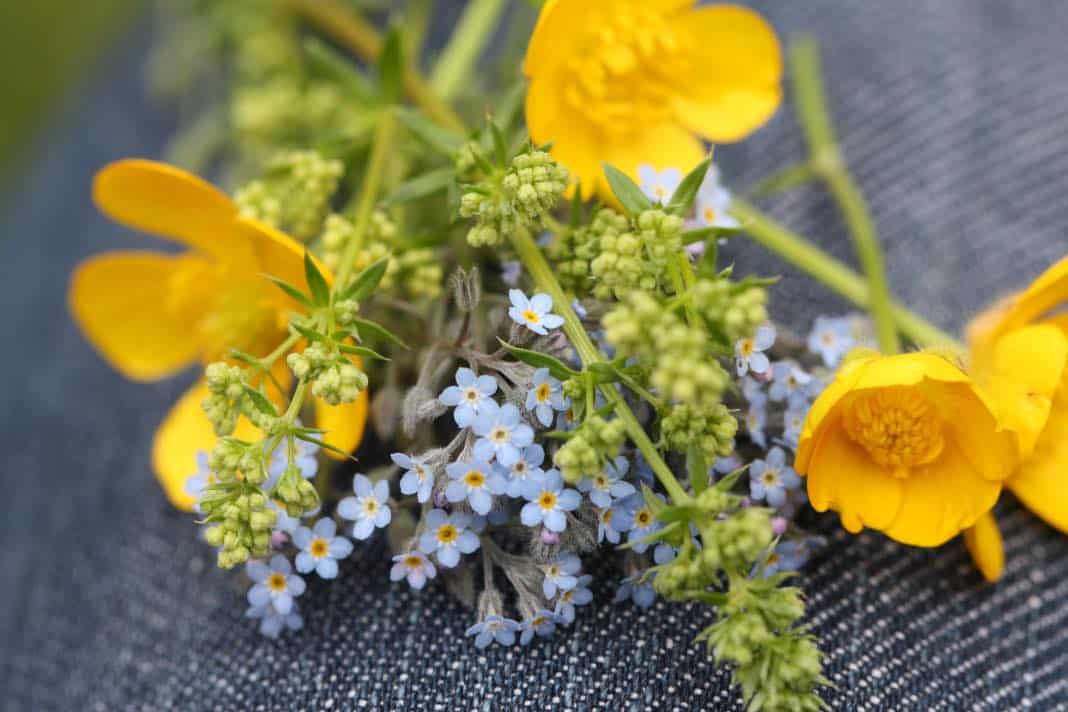 Classic Biennial Forget-Me-Nots
The flowers that we originally grew in the garden were the classic biennial Forget-me-nots, which are also known as Myosotis scorpioides.
These are shade loving plants, that readily self seed and would return year after year without needing to be replanted.
These tiny flowers are so romantic and just perfect in so many ways. The only issue that we have with them is that for cut flowers they are too small with shorter stems. They are perfect for posies, but not big enough for bouquets.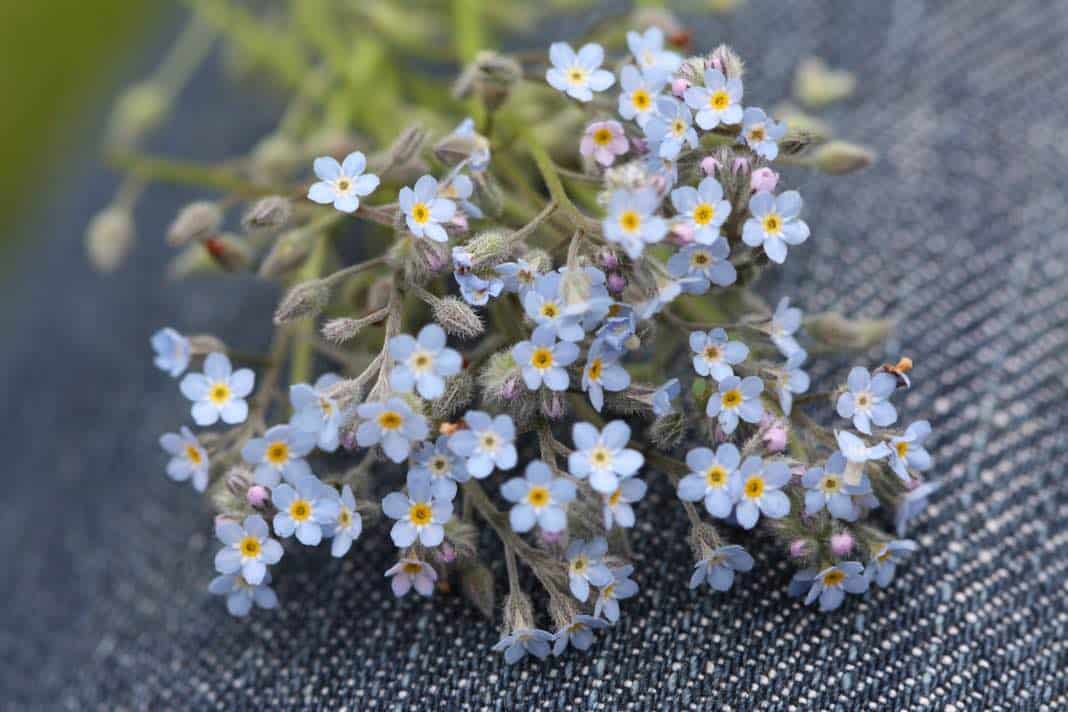 Chinese Forget-Me-Nots
Then we discovered a much taller variety of Forget-me-nots, also known as Chinese Forget-Me-Nots, or Cynoglossum amabile. These are not true forget-me-nots, but rather a look-alike flower.
These plants are also commonly known as Chinese Hound's tongue.
The flowers are so similar, yet often have a more intense and saturated colour. They are also tall enough to use in bouquets for a wonderful pop of blue colour.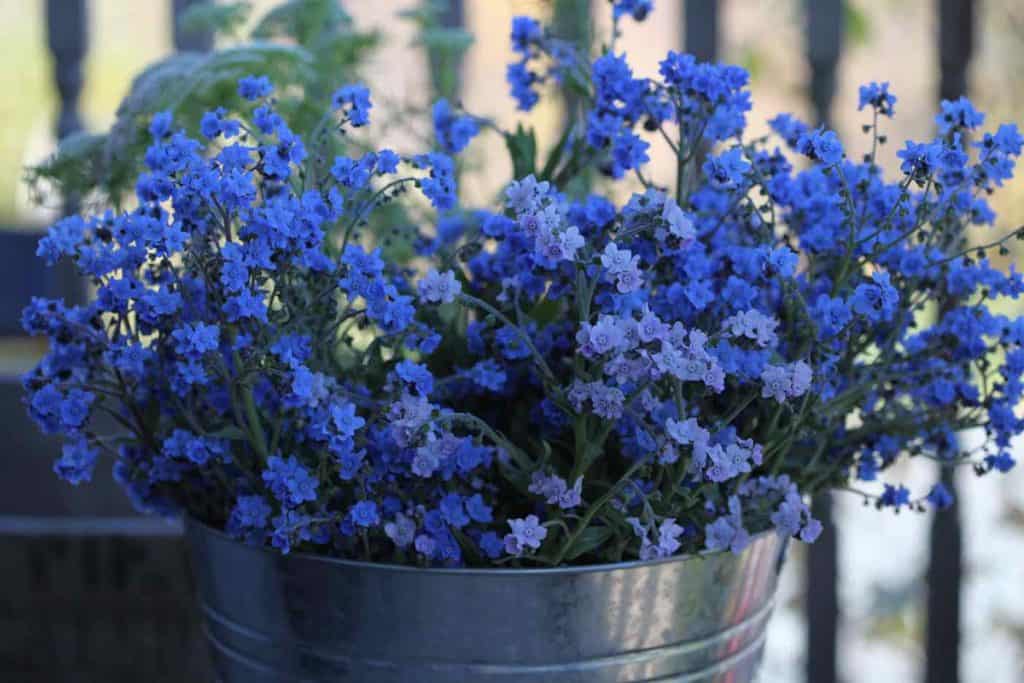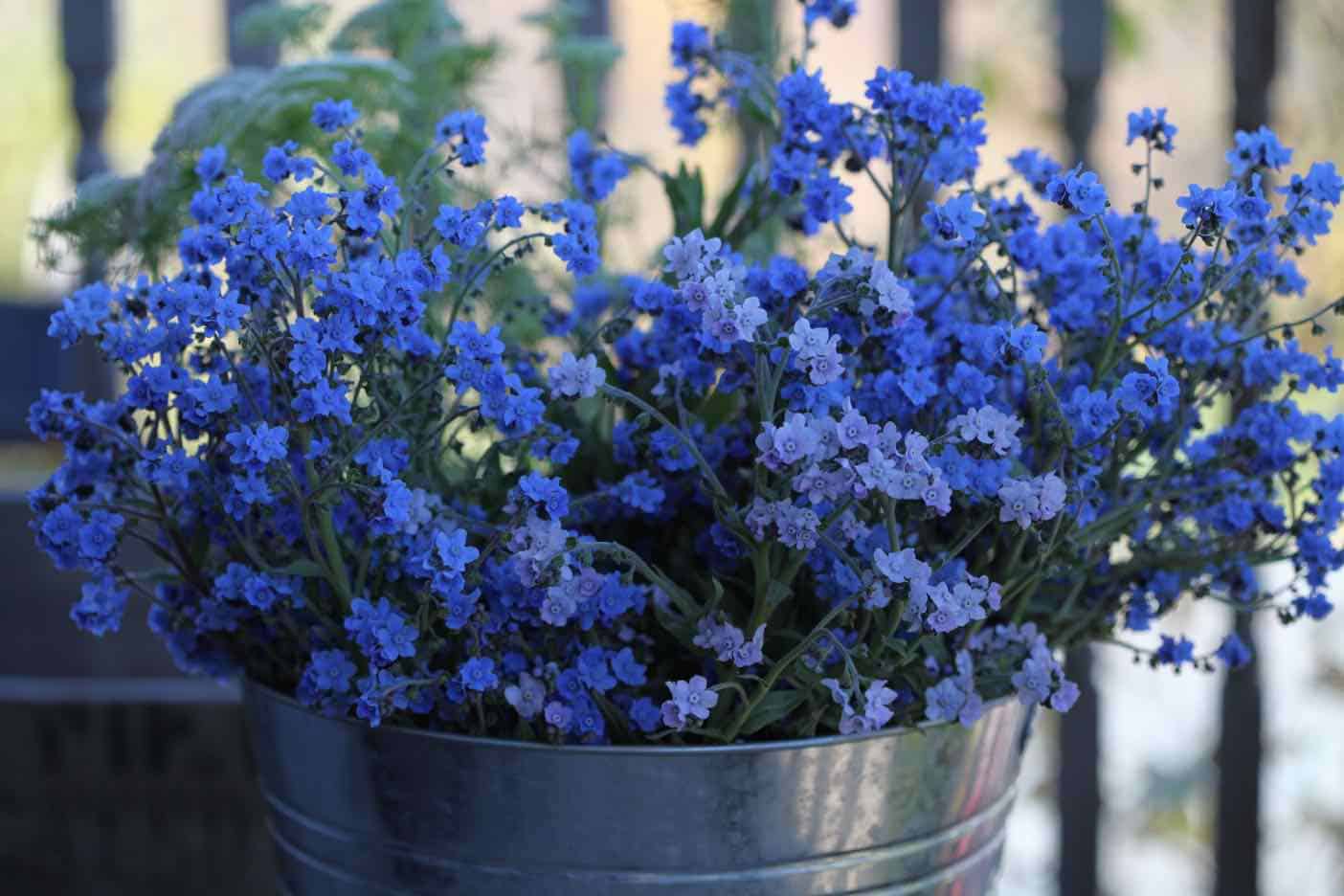 Are Forget Me Nots Perennials?
The classic shorter Forget-me-nots, myosotis, are biennial. These flowers generally will not bloom their first year, however will bloom the following year.
They may be perceived as perennials because they readily reseed, however they are not perennial.
Chinese Forget-me-nots are hardy annual flowers which we plant every year. These plants easily reseed, and often grow the following year in places where they weren't originally planted.
Last year we had a few volunteer Chinese Forget-me-nots in the sunflower patch! These seedlings grew to maturity and then we harvested them for bouquets.
Chinese Forget-me-nots can be perennials in warmer zones.
When Do Forget Me Nots Bloom?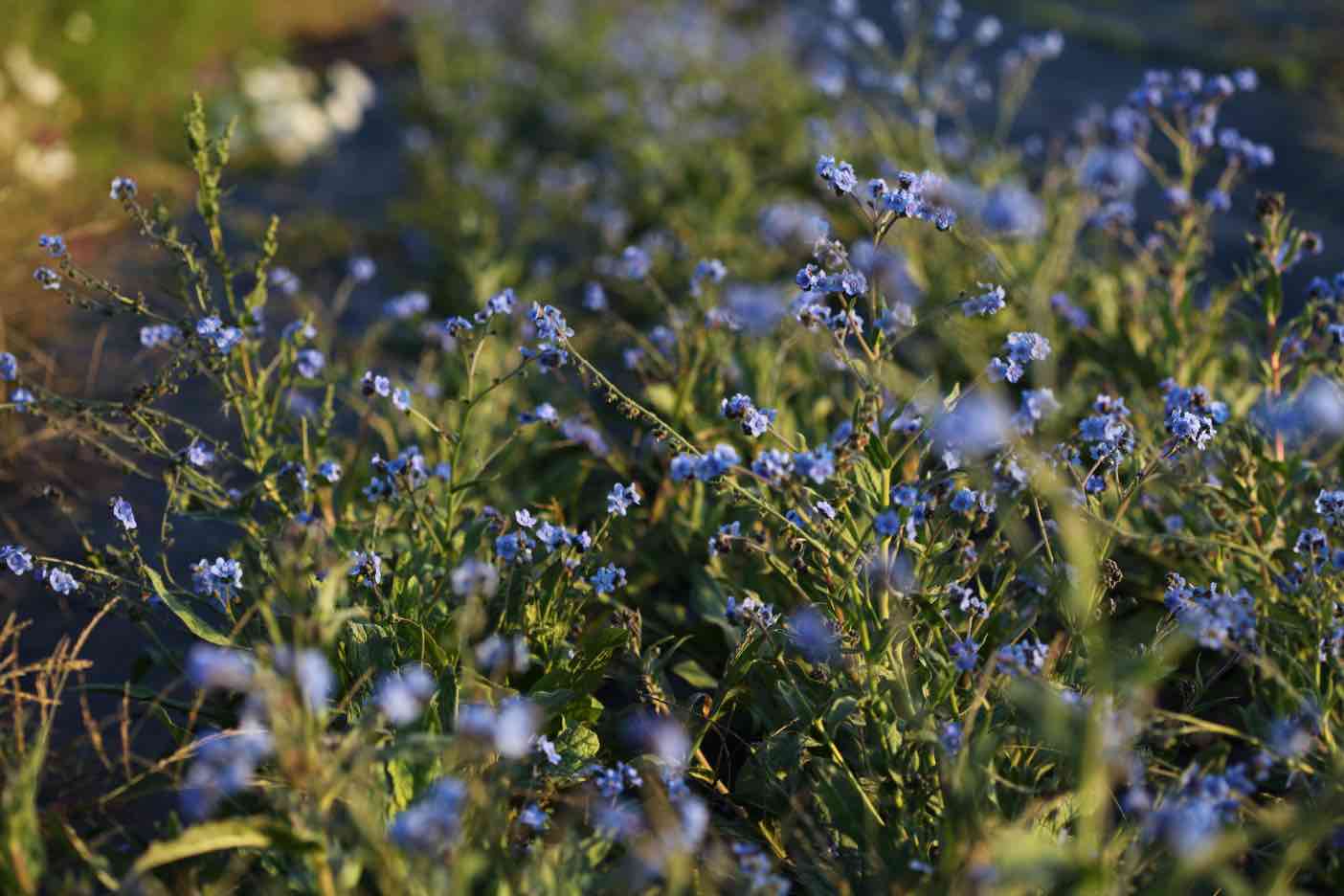 Biennial Forget-me-nots bloom in early spring.
Chinese Forget-me-nots bloom in mid summer at approximately 75 to 80 days from transplant date or seeding if sown directly into the garden.
How Tall Do Forget Me Nots Grow?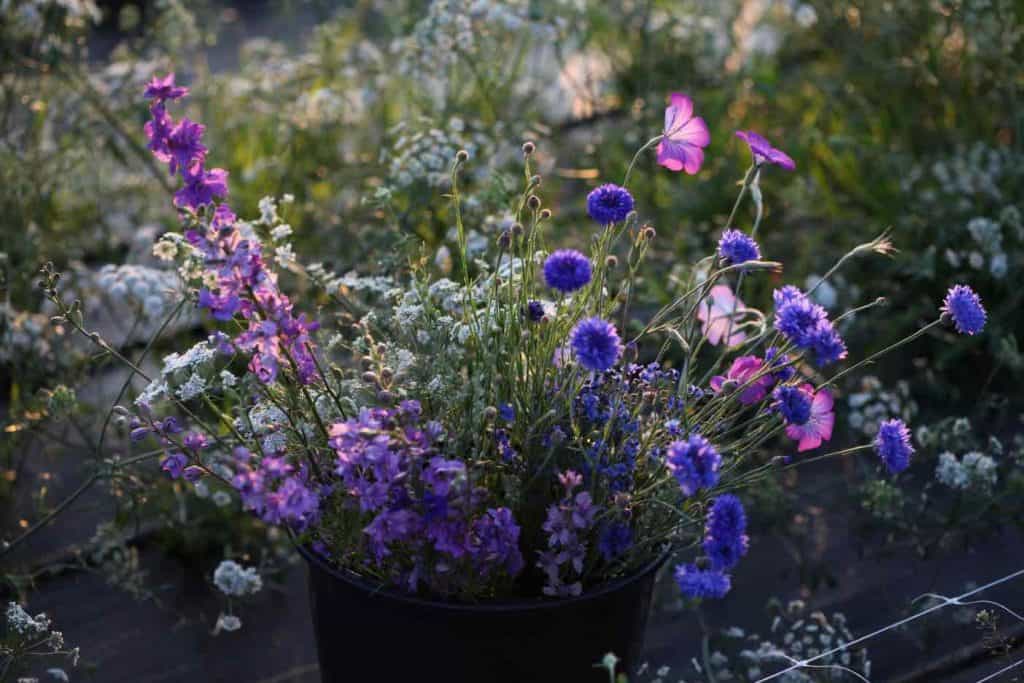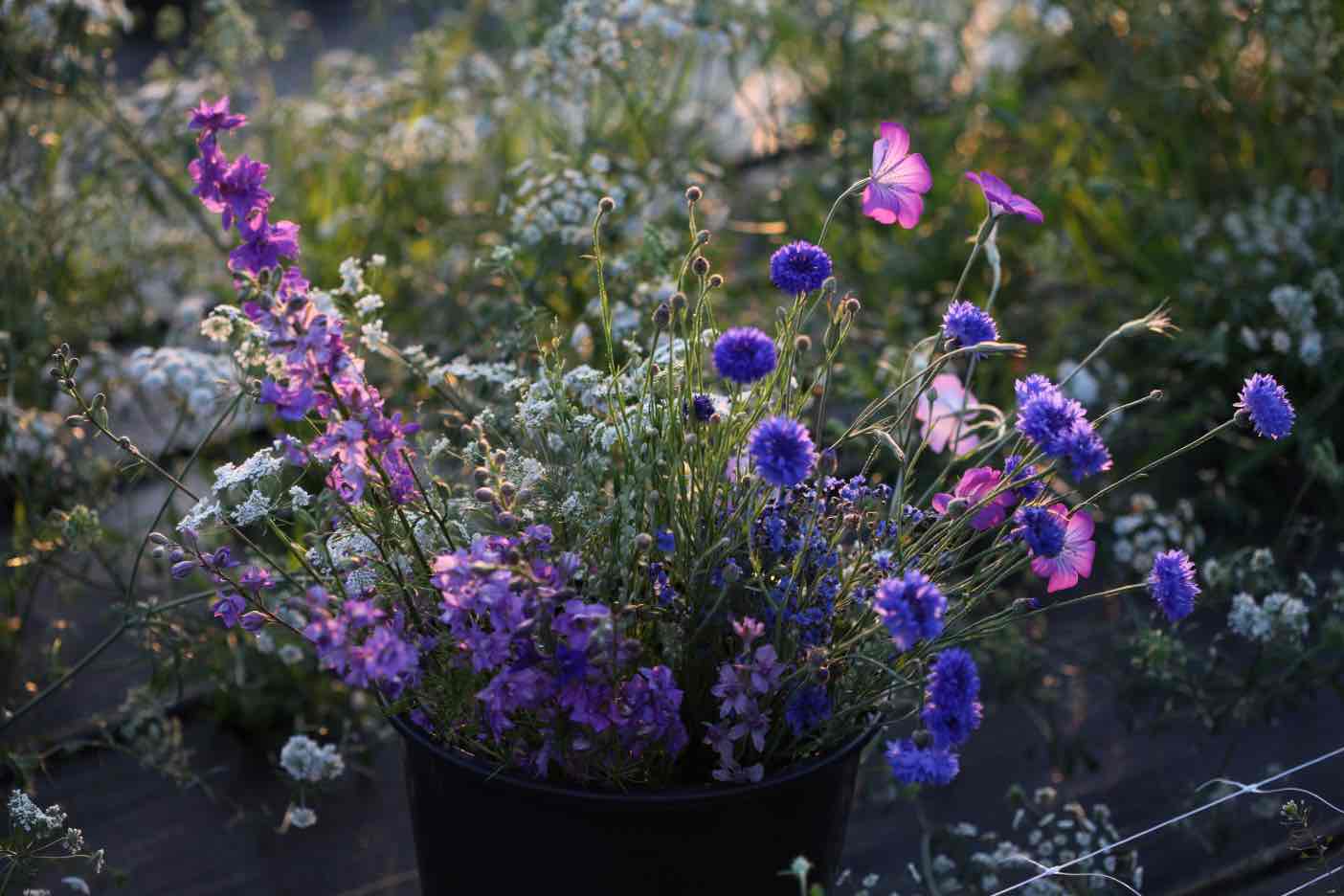 Biennial Forget-me-nots reach approximately two feet tall with proper growing conditions. In our garden they usually grow to about 6 to 8 inches high.
Chinese Forget-me-nots grow much taller for us at about 18 to 24 inches.
This year we will also be growing the Firmament variety, which has tall strong stems which may reach 36 inches in height.
Do Forget Me Nots Come Back Every Year?
Forget-me-nots are annuals or biennials, and the plants are not expected to come back every year.
They will reseed however, producing new plants every year with the right growing conditions in place.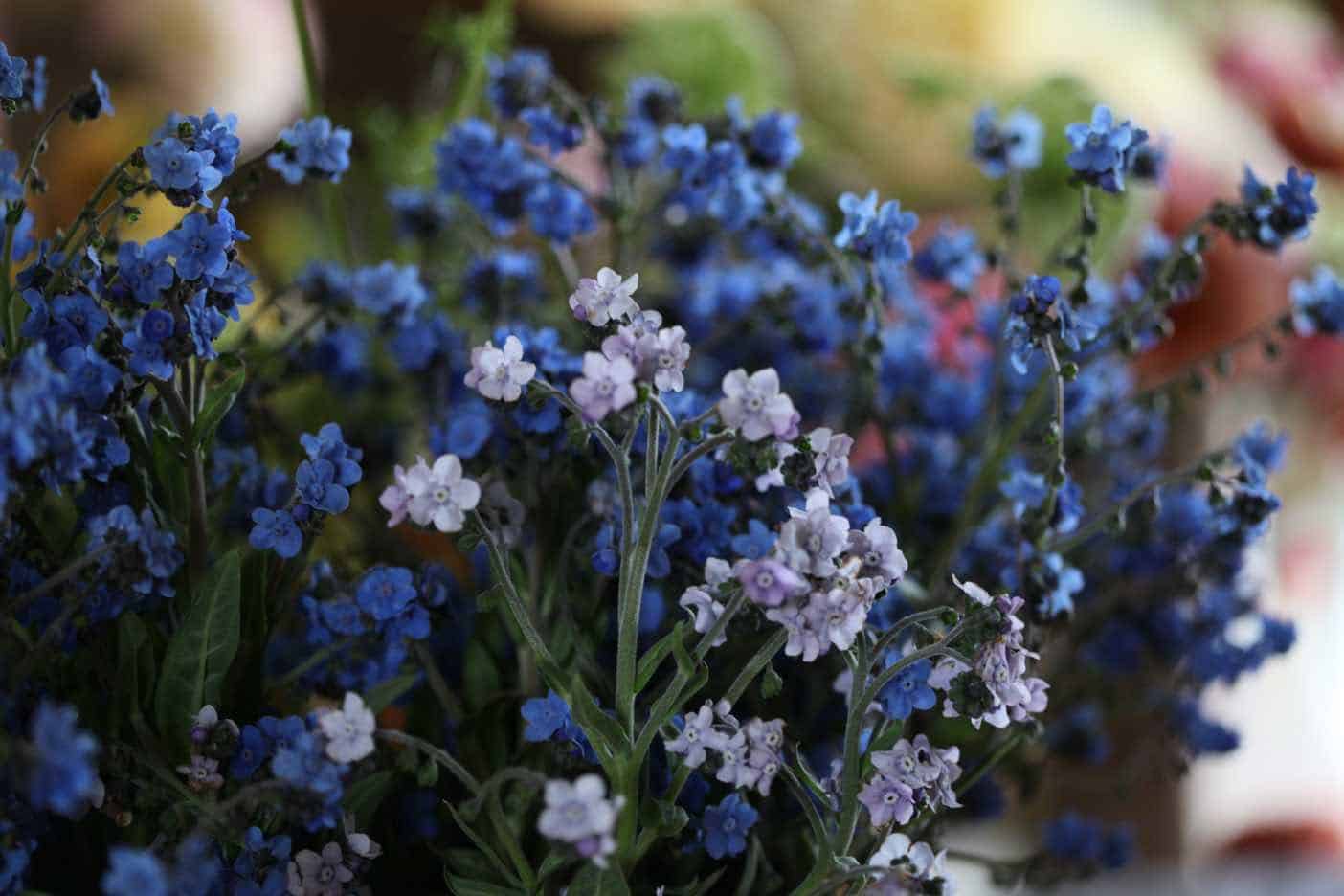 How To Grow Forget Me Nots From Seed
Chinese Forget-me-nots are easy to grow from seed.
The seeds can be grown indoors and transplanted out when the weather warms up. They can also be directly sown into the garden in spring.
What Do Chinese Forget-Me-Not Seeds Look Like?
Chinese forget-me-not seeds are small, brown and oval shaped.
The seeds are approximately 0.25 cm in length and are covered in tiny burrs.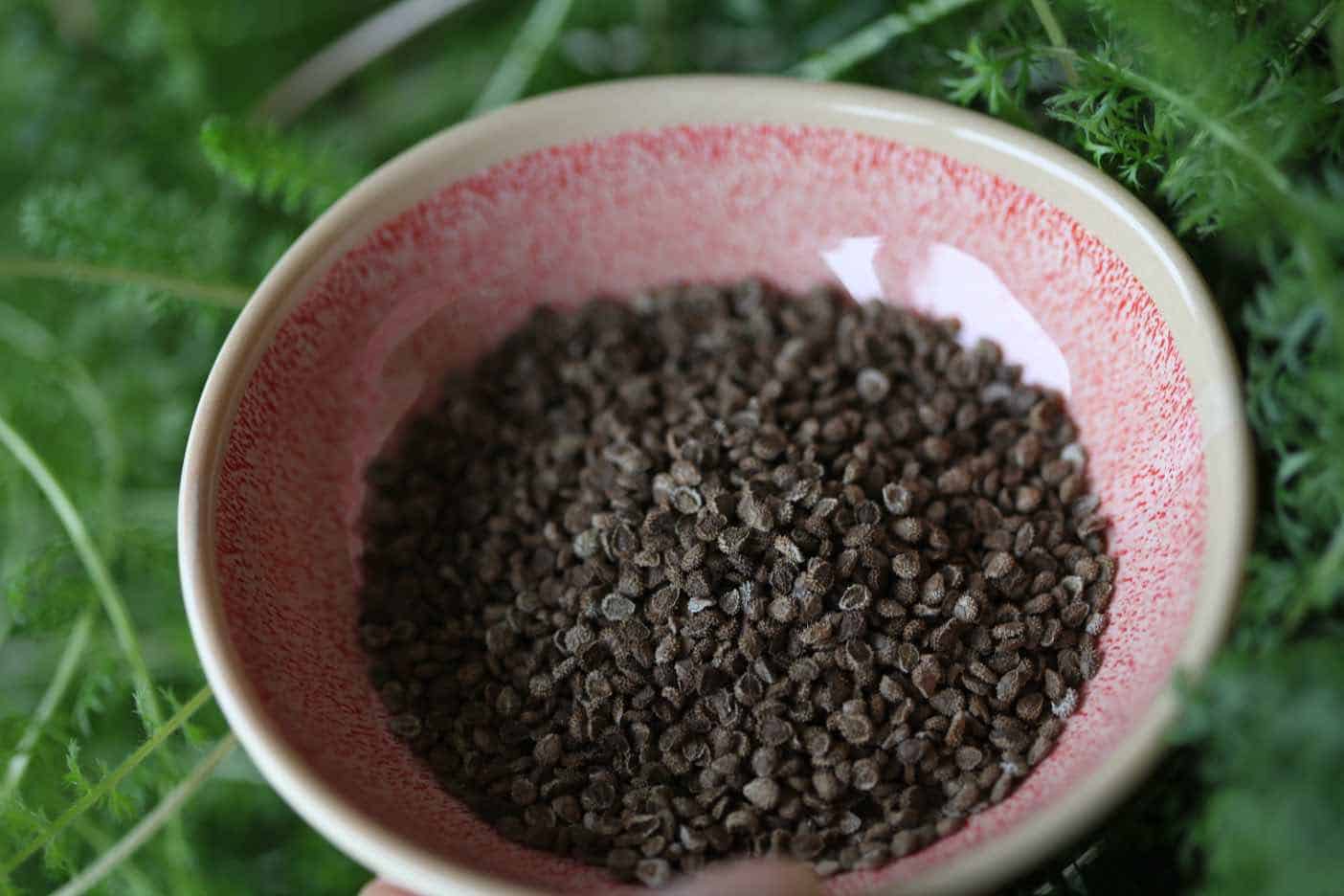 These burrs play a role in transporting these seeds to other locations, by hitching a ride on unknowing animals or people.
If you hold the seeds between your thumb and index finger and squeeze, the seeds will stick to your skin. It's easy to see how they will catch hold and spread to other areas.
The ornamental Chinese Forget-me-not is not considered to be an invasive species. There are however other species of cynoglossum such as Cynoglossum officinale which have been identified as a noxious weed. These plants have red flowers.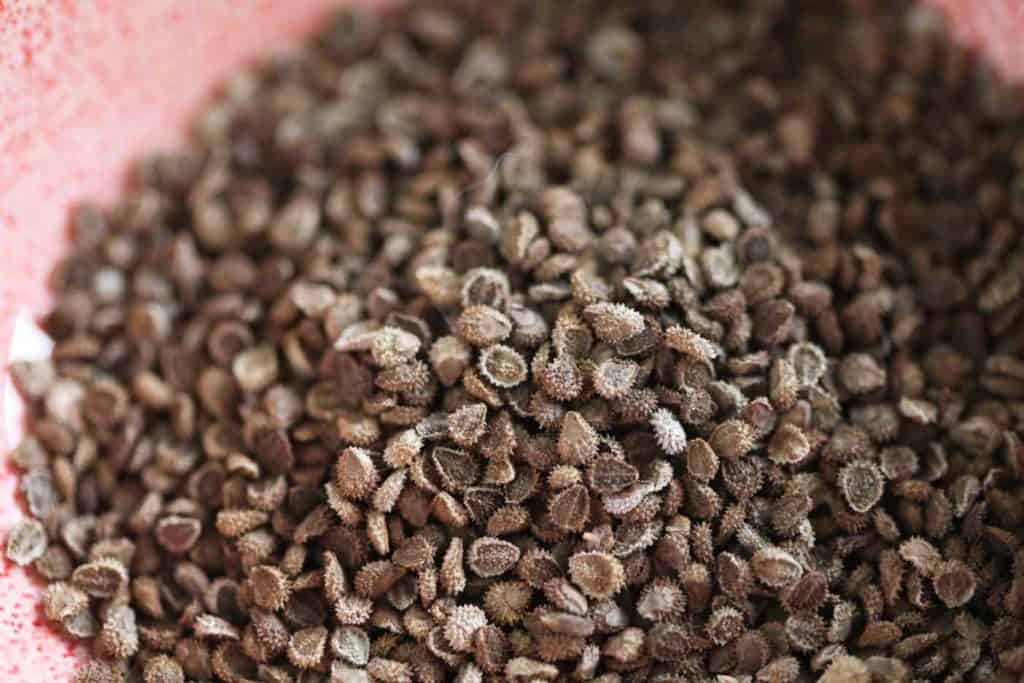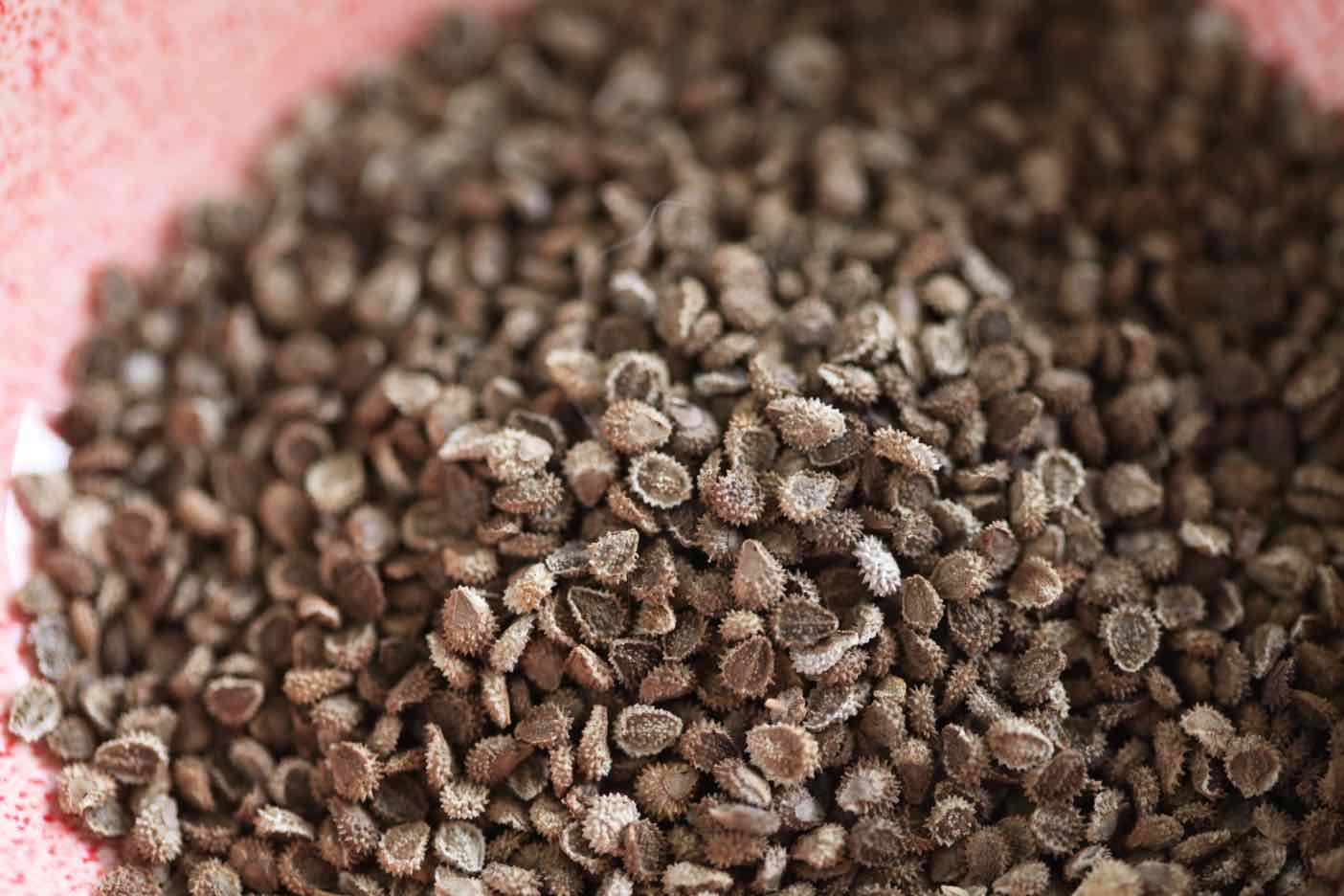 The Process Of Planting Chinese Forget-Me-Not Seeds Indoors
The seeds are planted in cell trays of 128 cells, using a good seed starting medium.
The seeds are covered with the starting medium or vermiculite because they need darkness to germinate.
We bottom water the tray, then put on a heat mat until germination occurs.
Germination should occur within 5 to 8 days
Trays are then placed under grow lights, where they will remain until the seedlings are ready to be hardened off.
At approximately 2 weeks before our last frost date we start hardening off the seedlings.
Once the seedlings are acclimatized to the outside environment they are ready to be transplanted out into the garden.
We transplant out into landscape fabric at 9 inch spacing.
Since they are hardy annuals they will tolerate a few spring frosts if these occur.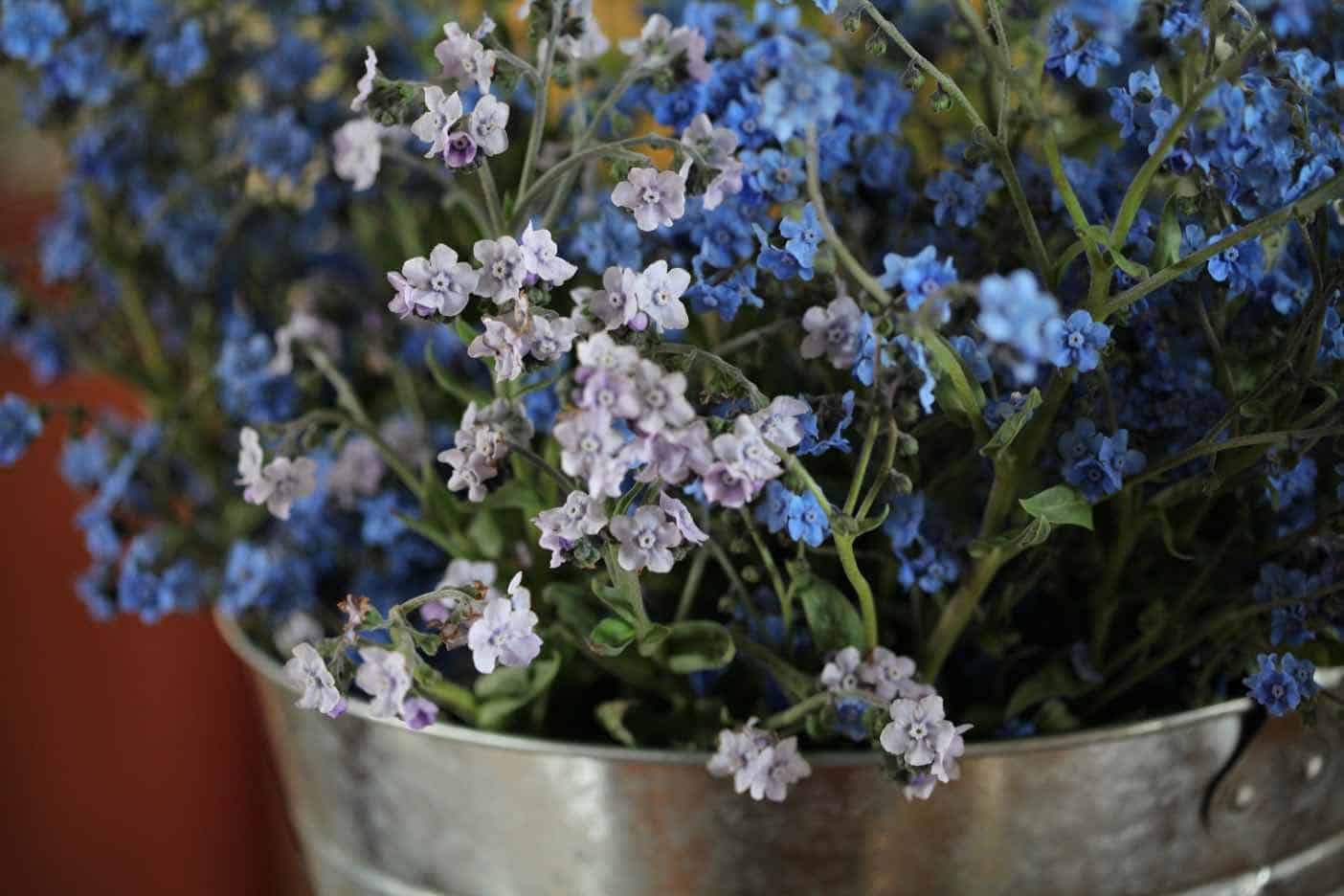 Where To Grow Forget Me Nots
Light Requirements
The small classic biennial Forget-me-nots grow best in shade.
Chinese Forget-me-nots grow well in direct sun or partial shade.
Soil Requirements
Biennial Forget-me-nots prefer a rich organic soil, although I have found them growing in gravel along the edge of our driveway in the shade.
Chinese Forget-me-nots prefer medium fertility soil with good drainage.
Water Requirements
Biennial Forget-me-nots like high humidity and are often seen growing along rivers and streams.
Chinese Forget-me-nots do not require any special watering schedule and will tolerate some dry periods.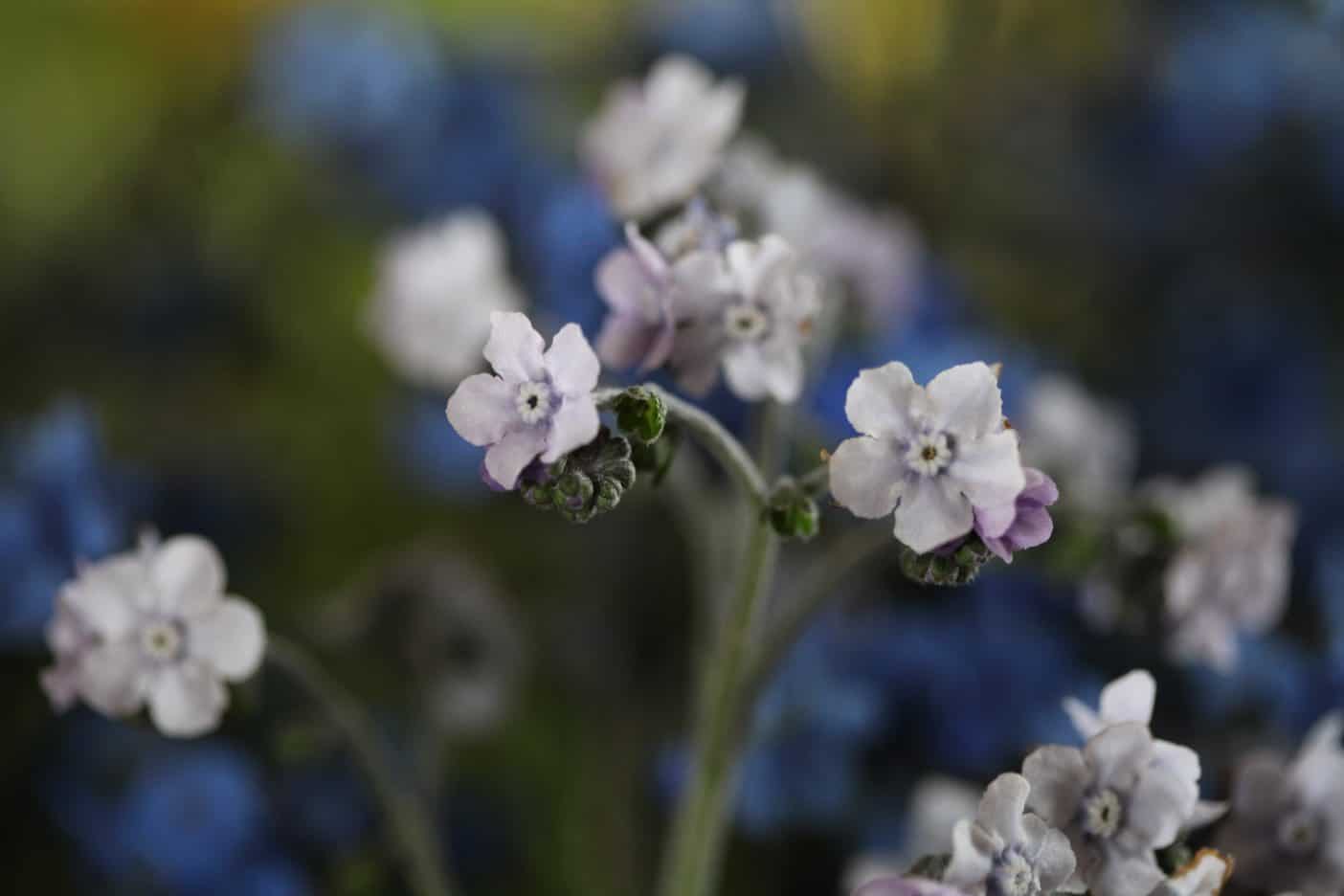 Using As Cut Flowers
Chinese Forget-me-nots are pretty in bouquets, however do require special care.
If picked in the heat of the day they have a tendency to wilt.
We cut the flowers early in the morning or later in the evening when the temperature is cooler. We then place the stems directly into water.
Conditioning these blooms is important for best vase life.
When To Cut
Cut the flowers when 1/4 to 1/2 of the blooms are open. If cutting when all blooms are fully open you will likely have some bloom drop with petals falling on your counter!
Vase life is 5 to 7 days.
Do These Flowers Attract Beneficial Insects?
Forget-me-nots attract bees and pollinators to the garden!
We are always happy to find flowers that the bees love and love having them in our garden!
I hope you enjoyed this post on growing Forget-me-nots in the garden. Any questions or comments are always welcome!
PIN IT FOR LATER!