Last updated on September 10th, 2023 at 05:40 pm
Perennial vegetables are easy to grow, and rhubarb is no exception. Growing rhubarb from seed is an easy and cost effective way to propagate this delicious plant. Learn how to grow rhubarb from seed, and add new plants to your rhubarb patch.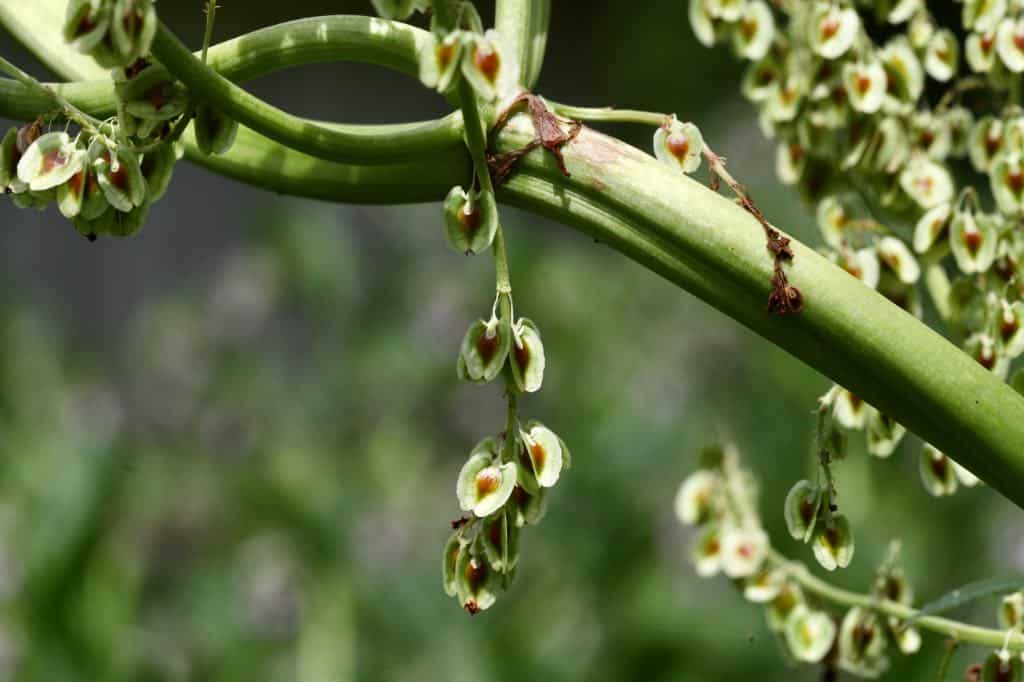 Most people grow rhubarb from division of rhubarb crowns in early spring, however growing from seed is also a great option.
Growing rhubarb from seed takes a bit longer, and requires a little more patience, however it is well worth the effort and wait.
Rhubarb is a perennial vegetable which produces large plants.
The plants are long lived, and once established in the garden, will return to grow year after year, as long as they receive the right requirements growth.
If you love rhubarb, having a rhubarb patch is a wonderful thing.
Having your own rhubarb patch makes it so much easier to harvest rhubarb any time you want during rhubarb season.
Growing rhubarb from seed will allow you to grow a lot of plants to meet your rhubarb needs.
Just remember, each small seed has the potential to grow into a large plant, so you may not need to grow too many seeds if your garden is small.
You don't need to grow a lot of rhubarb plants to fill a rhubarb patch, or to get a lot of rhubarb. Just one plant will grow quite large, and produce a ton of stems.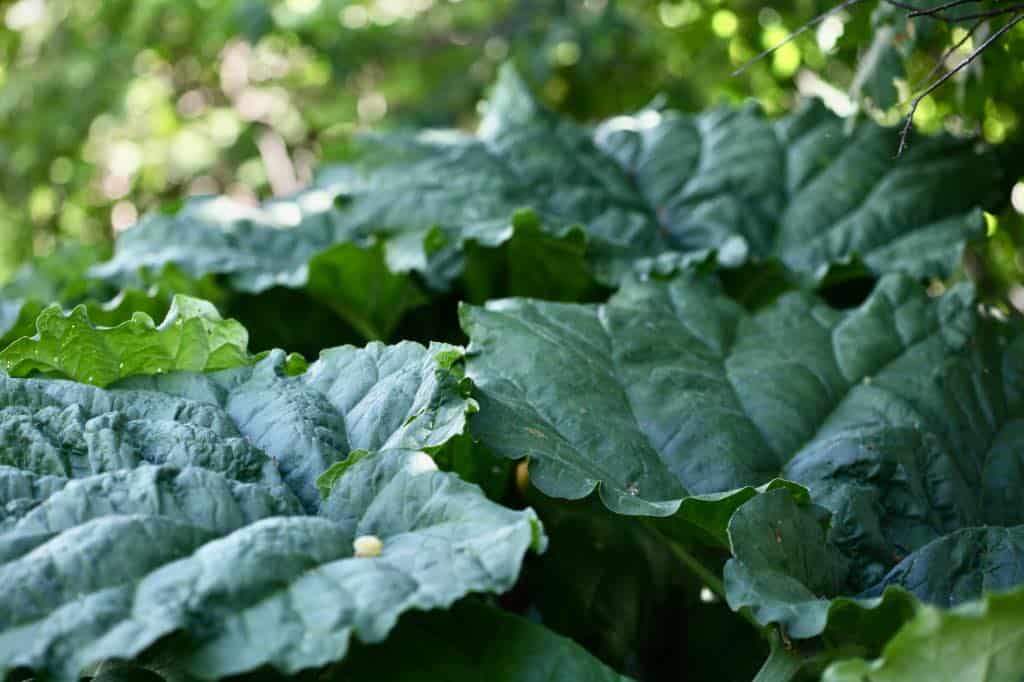 Is Rhubarb Easy To Grow From Seed?
Rhubarb plants are very easy to grow from seed.
Many gardeners propagate rhubarb by division, dividing at the crown of the plant.
A less common, yet very viable way of propagating rhubarb, is to grow it from seed.
When you grow from crown divisions, you are growing clones of the parent plant. The resulting plants will have the same characteristics as the parent, because they are the same plant.
When you grow rhubarb from seed, the seedlings will be unique hybrid plants. Although they may be very similar to the parent plant, there may be subtle differences.
This is because rhubarb seedlings are different plants than the parent.
Some rhubarb such as Victoria rhubarb, an heirloom variety, will produce seeds that are very similar to the parent plant. This makes the choice easy, as the seedlings will mostly be alike.
Rhubarb plants grown from seed will take longer to mature than those propagated by division.
However, when growing from seed you will likely be able to have more variety available for planting.
You will also be able to plant many more plants for a fraction of the cost.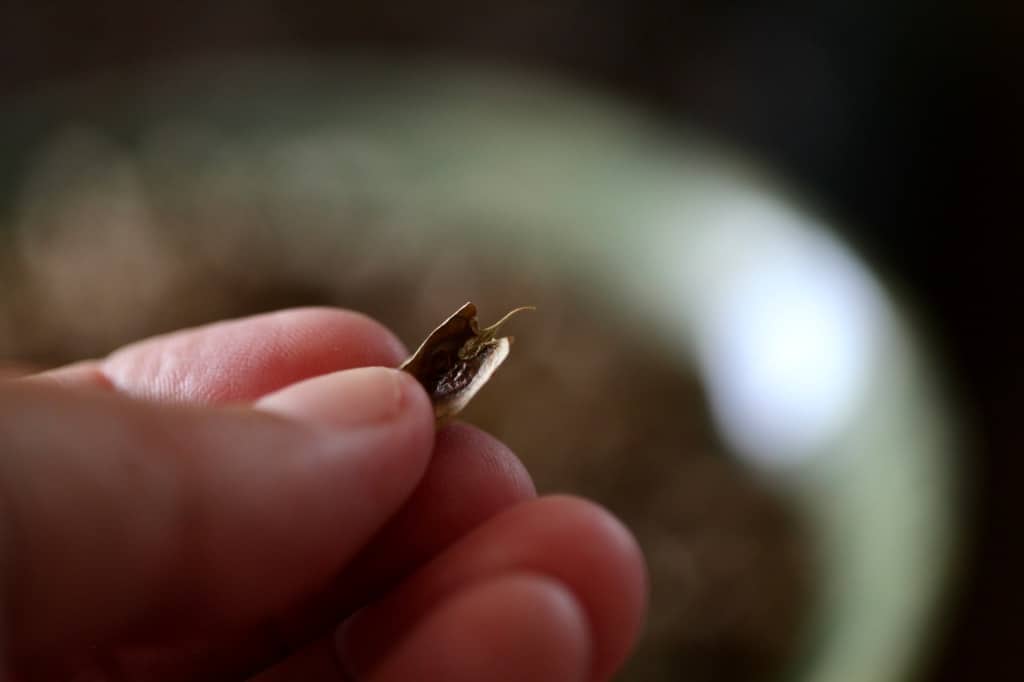 Rhubarb Flower Stalks
Occasionally a rhubarb plant will send up a flower stalk, which will eventually form seeds.
The seed stalk will produce lots of seeds, and is usually quite an impressive sight.
The process of sending up a flower stalk is called "bolting".
Not all plants will form a flower stalk, and some years none will be produced.
The rhubarb flowering and seed formation takes quite a bit of energy from the plant.
If you are not planning to plant any seeds, it's best to cut down the flower stalk. This will preserve the plant's energy for new growth.
However, if you plan to use some seeds for planting, allow the flower to remain, and let the seeds mature on the plant.
Harvesting the seeds too early may prevent seed germination, as the seeds will be immature. Allow them to remain on the plant and grow to maturity, so that they will be viable.
When the seeds start to turn brown and fall from the plant, they are ready to harvest.
Rhubarb produces loads of seeds on it's flower stalk, and much more than a gardener would have room to plant in a small garden. Just one rhubarb seed stalk can produce hundreds of seeds.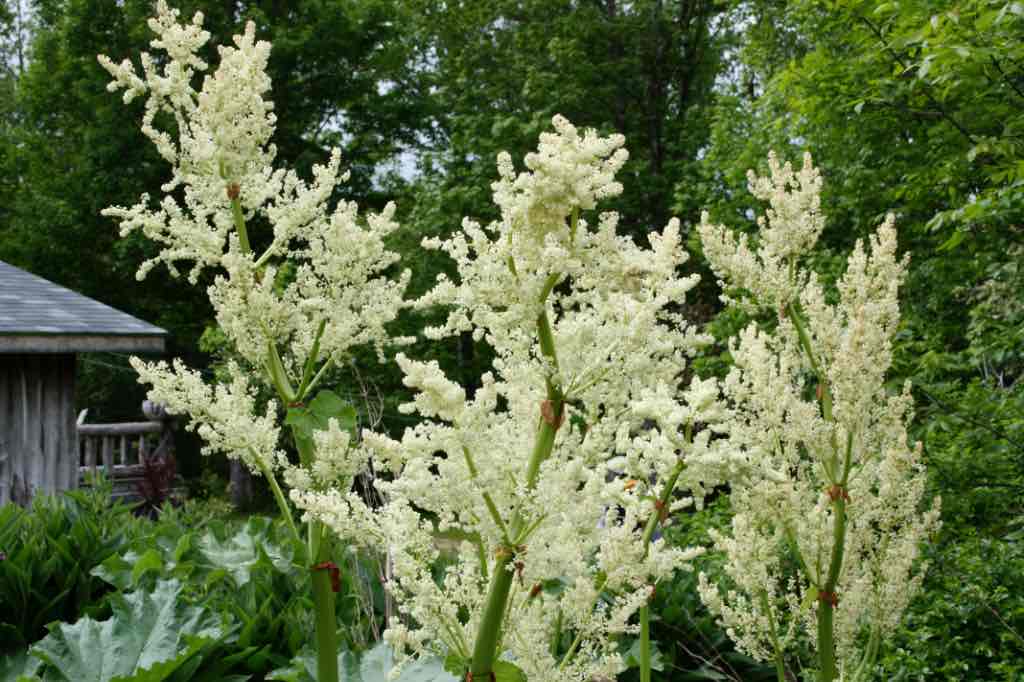 What Do Rhubarb Seeds Look Like?
Rhubarb seeds grow en masse at the top of a tall stalk.
The seed casings are initially green, then transition to cream, and then turn brown as they mature.
Mature rhubarb seeds are encased in a dry paper-like shell in a three dimensional shape, rather than flattened.
This shell has three fin-like structures evenly spaced on the outside of the seed, giving it an interesting appearance.
The structures are aerodynamic and allow the wind to carry falling seeds a short distance from the parent plant, as they fall to the ground.
Each viable rhubarb seed has the potential to grow into a massive rhubarb plant, depending on the variety and growing conditions of the plant.
Store the rhubarb seeds in a cool dry place, in a bag or an envelope. The seeds will remain viable for up to three years if properly stored.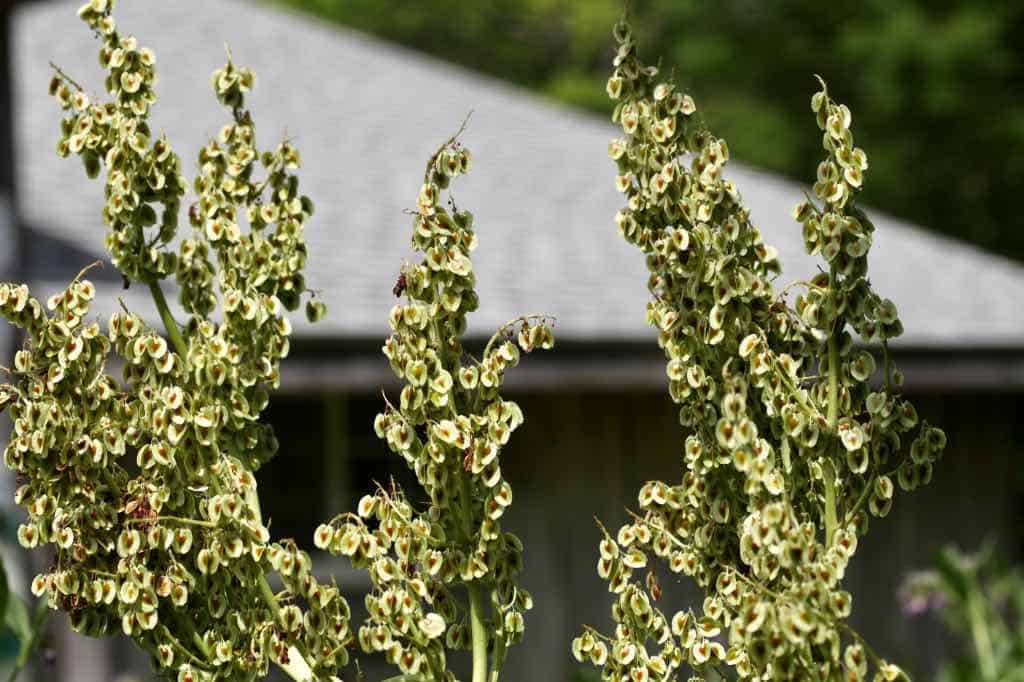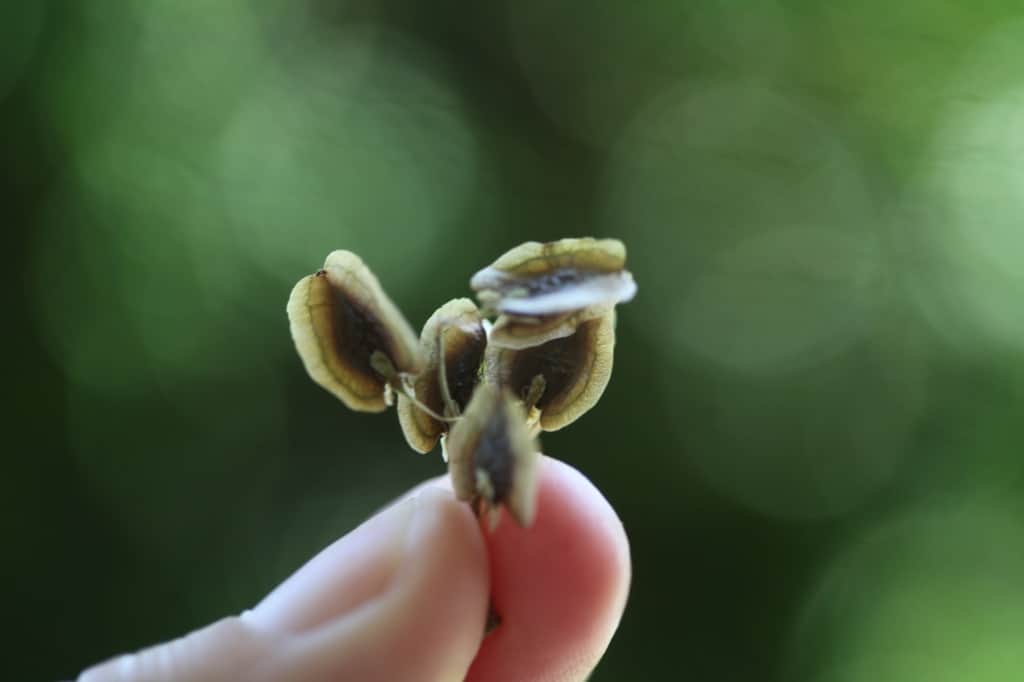 Do Rhubarb Seeds Need Stratification?
Unlike many other perennial seeds, rhubarb seeds do not require cold stratification.
These seeds will easily germinate once they are planted and exposed to moisture and warmth.
How To Grow Rhubarb From Seed
When To Sow Rhubarb Seeds
The best time to sow rhubarb seeds in cooler climates is at the beginning of the growing season, in late winter or early spring. This allows the tiny seedlings to be planted and established in the garden before fall.
If growing in a cooler climate, sow indoors approximately six to eight weeks before the last spring frost.
If you live in a warmer climate, a later sowing time is also an option.
In warm climates such as zones 9 and above, rhubarb can be grown as an annual. In this case the plants are planted in the cooler months of early fall, and grown through the winter.
They can then be harvested in spring, and used as an annual. These plants will likely not survive the hot summer or return to grow the following year, since these are cool season plants and do not do well in the heat.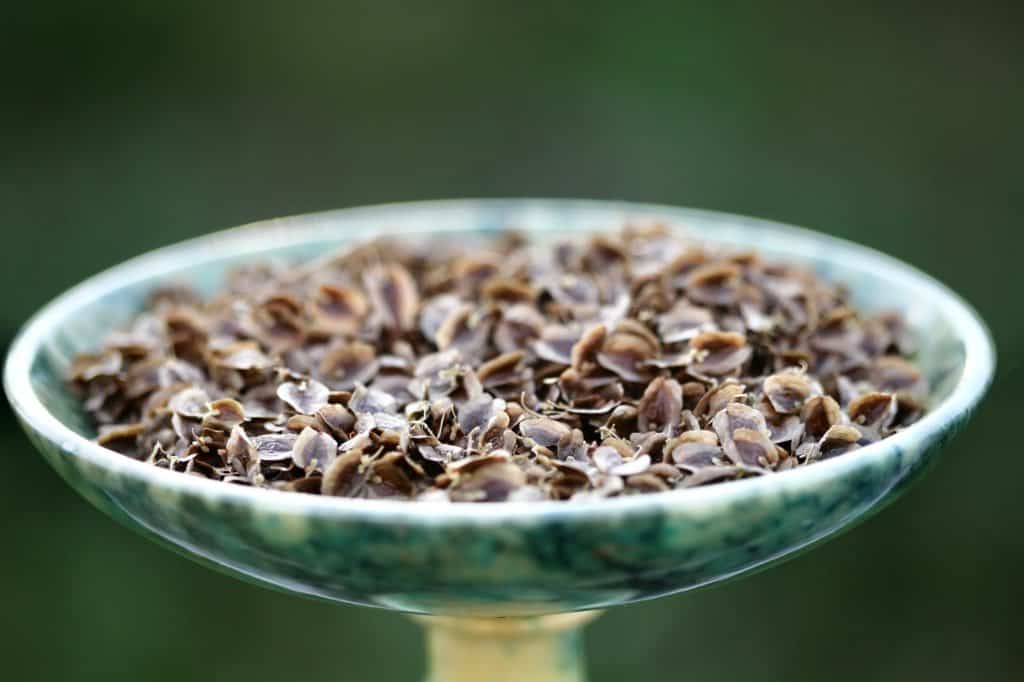 Sowing Rhubarb Seeds
Plant rhubarb seeds in larger individual containers, giving them room to grow and develop in their individual pots. These seedlings tend to grow pretty fast, so give them a bit more space than you would normally for many other vegetables.
If planting in cell trays, ensure that you use larger cells.
The seedlings can also be potted up into larger containers if they outgrow their growing space in the cell tray, before they are ready to be planted out.
Prior to planting, you can pre sprout the seeds in a moist paper towel and a plastic bag. This is an optional step.
Pre sprouting will help to eliminate dud seeds from taking up space in the planting trays.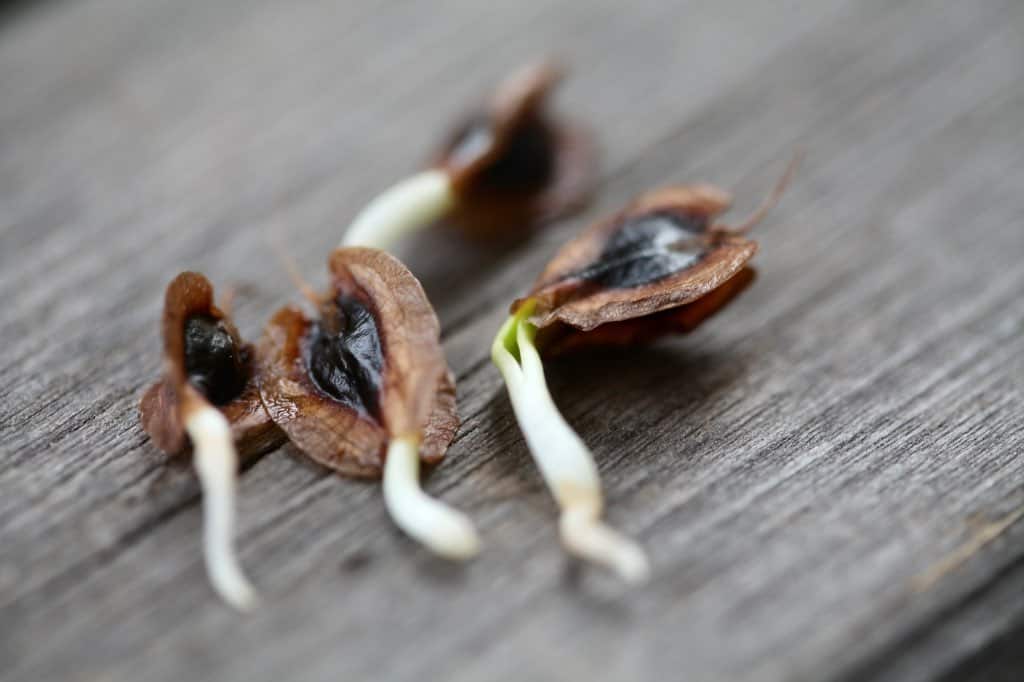 Winter Sowing Rhubarb Seeds Outdoors
Do not pre sprout if winter sowing.
Consider sowing only one or two seeds per milk jug, to give lots of space for growth.
There is no need to harden off the seedlings that are winter sown, as they are naturally hardened off where they are growing outside.
All you need to do is plant them in the garden, when they are about 4 inches high.
Sowing Rhubarb Seeds Indoors:
To sow indoors, use large cell trays or small plant pots.
Fill the cell trays or containers with a good soilless mix.
Make a hole in the centre of each cell or pot approximately 1/2″ deep, and drop a seed into each hole.
If you have pre sprouted seeds, be careful not to damage the new fresh root. Plant them soon after they have sprouted, so that the root does not grow too long before planting.
The longer the root, the more at risk for damage during the planting process.
If sowing unsprouted seeds, you can sow several seeds in one container to increase germination success. If two seeds sprout, make sure to cull one seedling as two plants in one hole will be too many.
Once planted, gently cover the seeds with more soilless mix, and pat down.
Water the planted containers.
Place in a bright area like a greenhouse, but not yet in a full sun location.
If planting indoors, place the containers on a heat mat until the plants have germinated or come up through the soil.
Once the tiny seedlings are visible, place them under grow lights, until they are ready to be hardened off and transplanted out.
Hardening off helps to acclimatize them to the outdoor environment, for a stress free transition to the garden.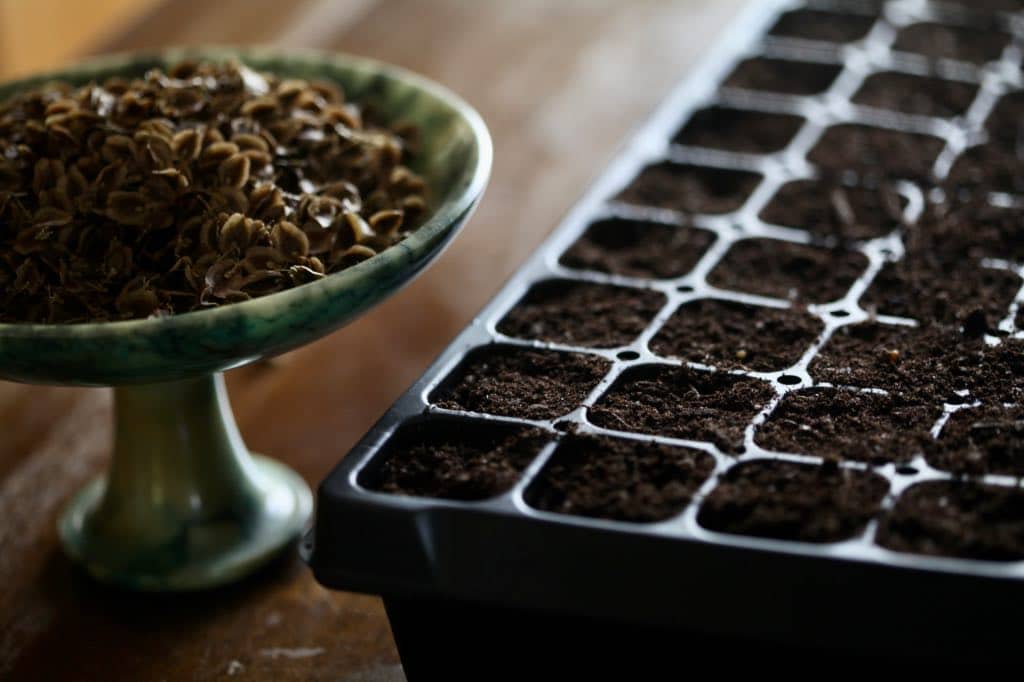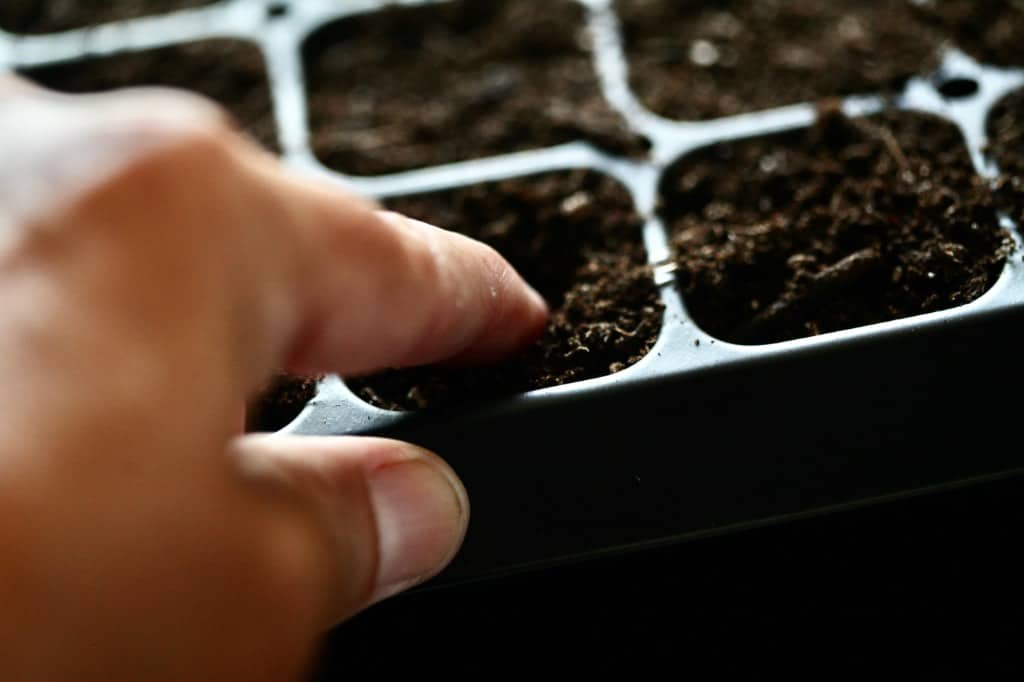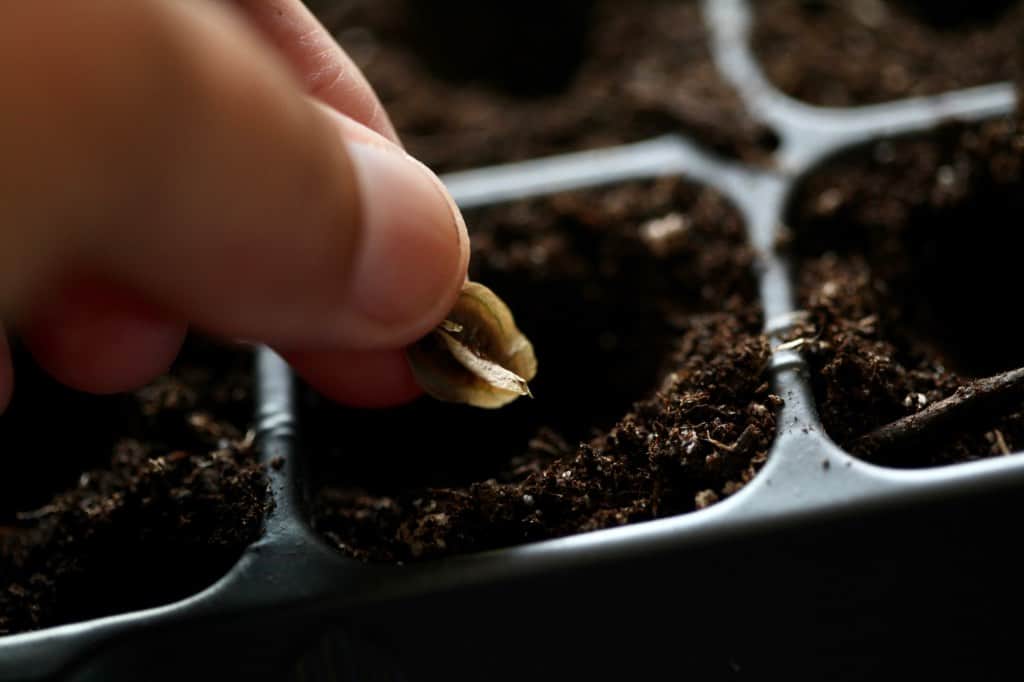 How Long Does It Take To Grow Rhubarb from Seed?
Rhubarb seeds germinate quickly, within several weeks.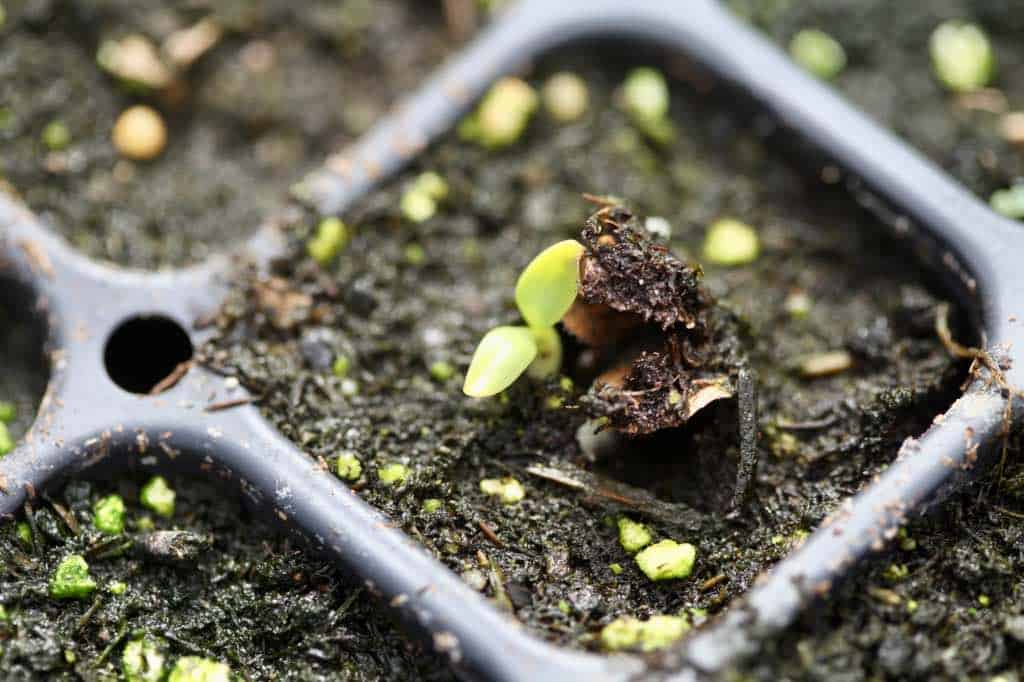 Once germinated, the young seedlings will grow quickly, so give them lots of space in their growing containers.
The seedlings can be planted out when the weather warms up.
In the garden the root systems will develop, as the roots grow deep into the ground.
The plants will require lots of nutrients for exceptional growth, so be sure to provide for the growth requirements for your new transplants.
Rhubarb grown from seeds will take several years before they can be harvested from. During the first two years the plants will put all energy into growth, and establishment in the garden.
It usually takes about two years to produce harvestable stems when growing rhubarb from seed.
Even then, the harvest should be light, allowing the rhubarb to use the leaves to produce energy to help with growth to reach maturity.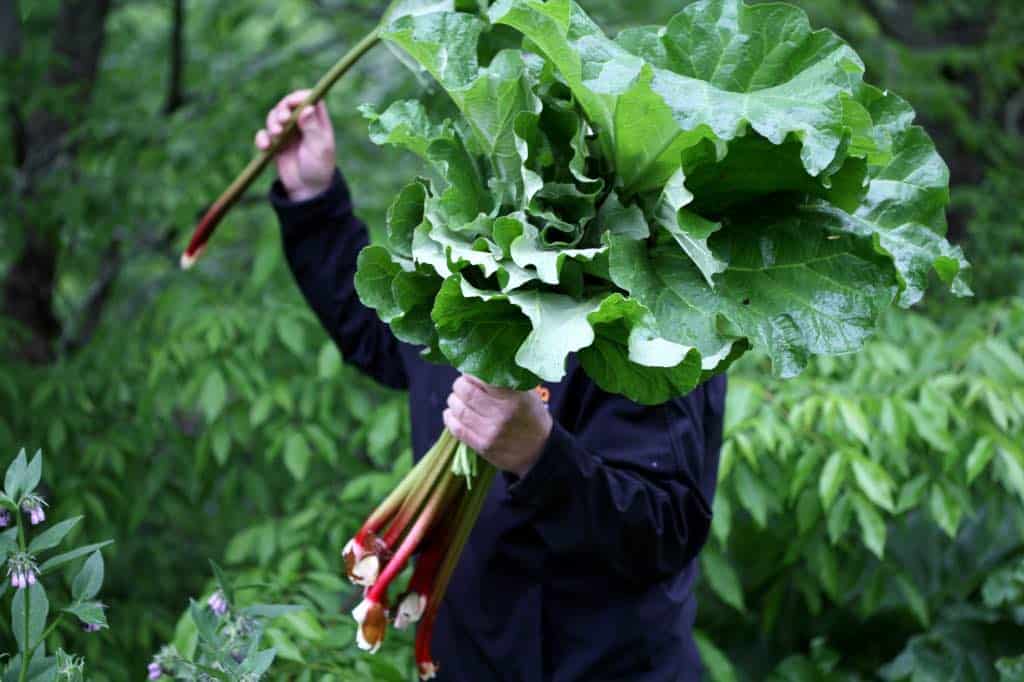 Rhubarb Seedlings
Rhubarb will not come true from seed, and may not be the same as the parent plant.
When you plant a number of seeds from the same rhubarb plant, you may find that the seedlings are all slightly different. This is because they are hybrids with different characteristics.
The differences may not be extreme. They may be as subtle as difference in plant size, as well as difference in color of the stalks.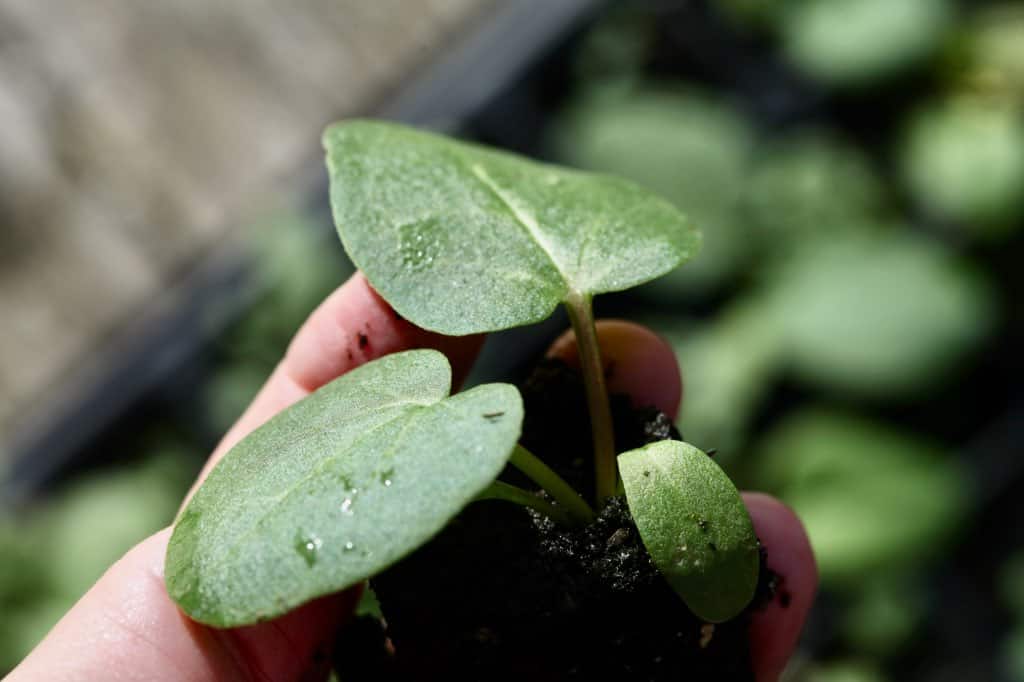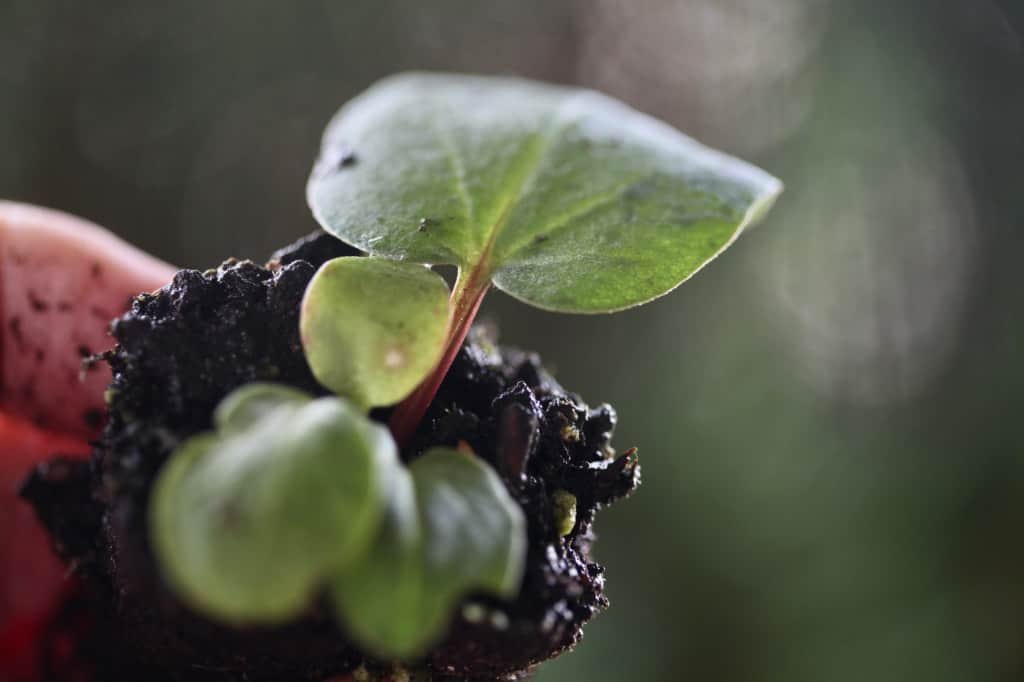 Planting Rhubarb Seedlings
Although rhubarb is easy to grow, it does require some special care to keep it healthy and in top notch shape.
Planting the seedlings in the right location, and providing the right nutrients from the start will make a big difference in the growth of your rhubarb patch.
Plant out after your last frost date, and after the small plants have been hardened off.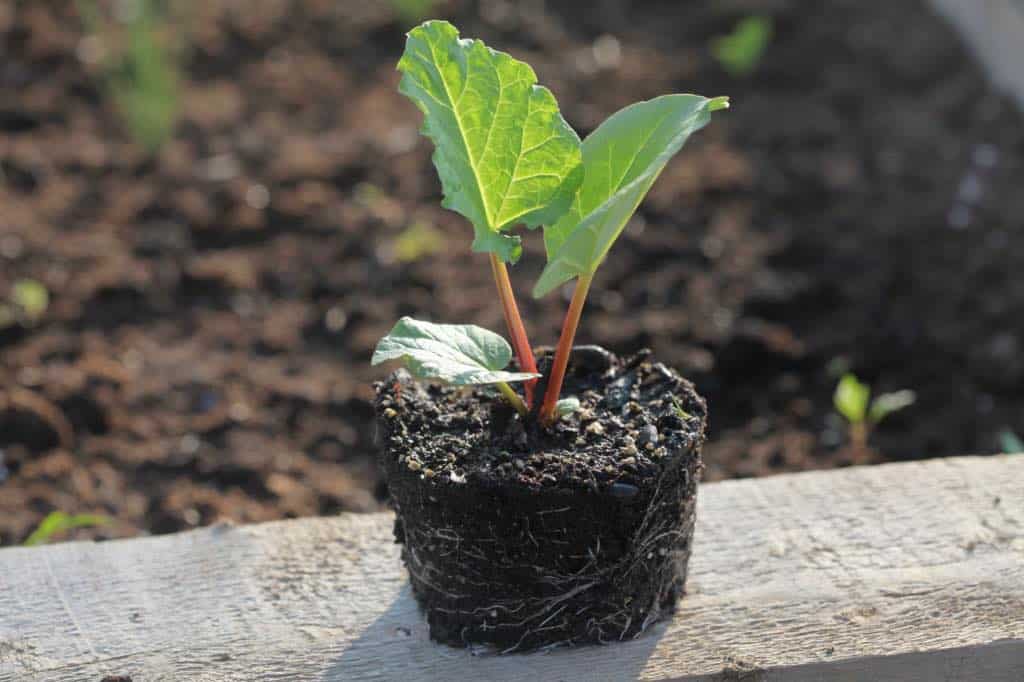 Growing Zone
Rhubarb is a cool-weather crop, so grows best and has the longest lifespan in the cooler climates.
In warmer growing zones rhubarb can grow as a short lived perennial. This is if the plant is grown under some shelter to protect it from the hot summer sun.
A location in morning sun and afternoon shade is best in hotter climates.
As well, as discussed in very warm zones, the plant may be grown as an annual.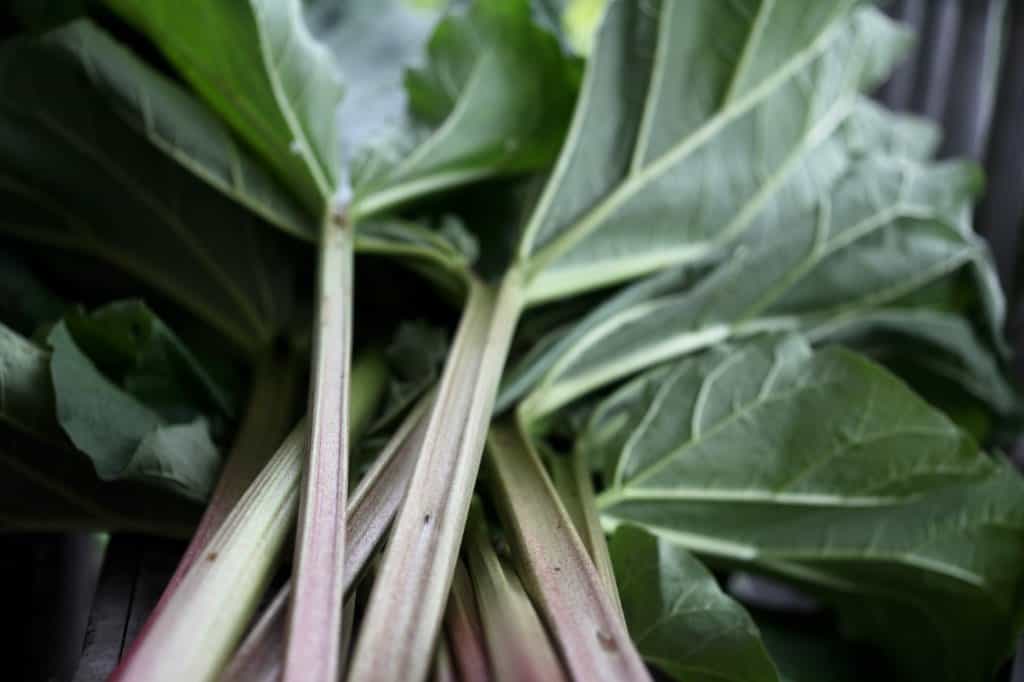 Soil Requirements
Rhubarb plants are heavy feeders, and require fertile soil with plenty of organic matter.
The organic matter will help to provide lots of needed nutrients for the growth of the plant. It will also help to hold moisture in the soil.
Soil should be well drained to prevent crown rot.
Light Requirements
For best results, plant the rhubarb seedlings in full sun, especially in colder growing zones where the rhubarb will tolerate the summer sun.
A sunny location will help your rhubarb plant to grow large healthy dark green leaves.
In warmer climates, rhubarb should have some protection from the hot afternoon sun.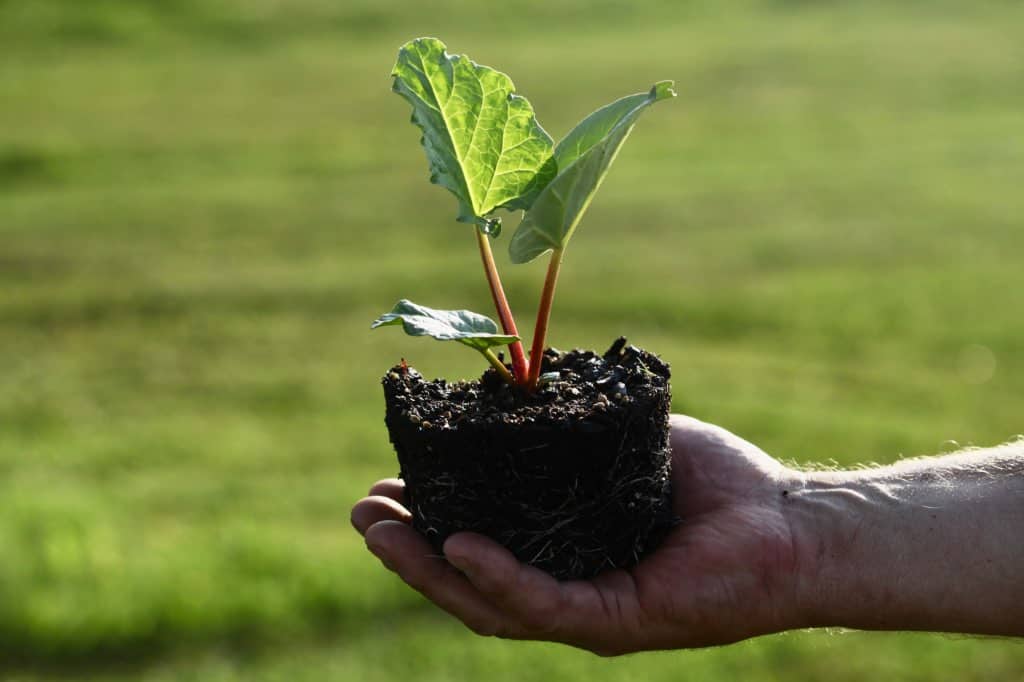 Moisture Requirements
Rhubarb likes moist soil, and frequent waterings are beneficial for the plants. Moisture helps the rhubarb leaves to grow large during active growth.
The large leaves are shaped so that the leaves are able to catch the water and funnel it right down to the crown of the plant.
It is important that the water is also able to drain away from the crown in the soil, and that the crown of the plant is not left sitting in water.
This is especially important with clay soil, which can retain moisture, yet sometimes have difficulty draining.
A strategy for keeping the crown of the plant high, is to plant your rhubarb in a mounded or raised garden bed.
Be careful however in very cold climates, as raised beds somehow make these plants more vulnerable to the cold winter freezing, and you may have winter kill.
Rhubarb is also drought tolerant, and will survive through dry spells without loss, especially if the plants are established.
Spacing The Seedings
Space the seedlings in the rhubarb patch at least three to four feet apart. This will allow for growth and a full sized plant at maturity.
Remember that these are perennial plants, and will remain where they are planted for many years. Give them lots of space at the start for optimal growth.
Lots of space for growth from the start will help to prevent overcrowding. There will be no need to disrupt them for transplanting, unless you decide that you want to.
If the plants do outgrow the space, you can always dig and divide the crown. Then you can transplant the pieces, or give some away to other rhubarb lovers.
This also creates more plants for your own bed.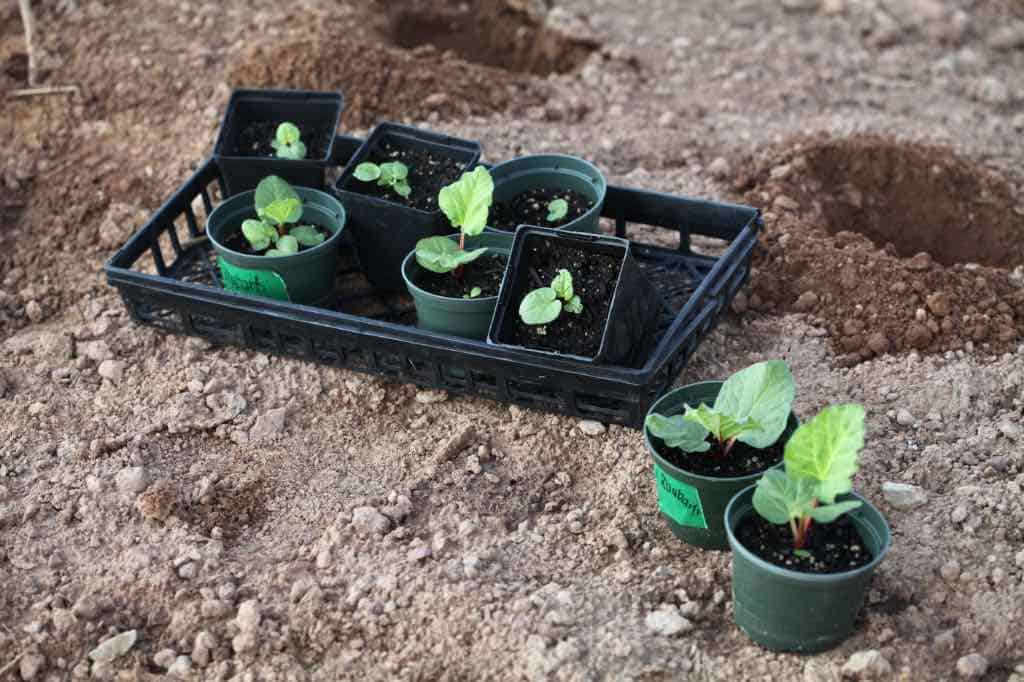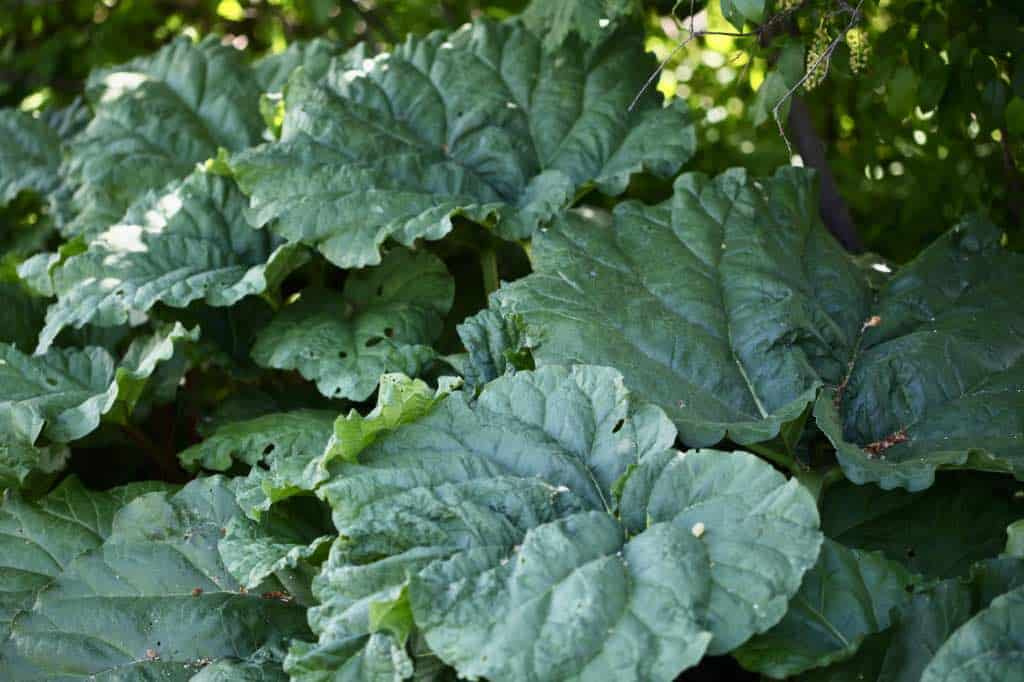 Harvesting Rhubarb Grown From Seed
Do not harvest the rhubarb plants in their first year of planting, while they are establishing in the garden.
Allow the first crops to grow and mature.
At the end of the season and after a hard freeze, the plants will become completely dormant. The rhubarb plants will die back down into the ground in late fall.
This is a good time to mulch around the plants with leaf mulch or compost, which will also add organic matter into the garden soil.
In spring of the second season, you will be able to harvest some of the stems of rhubarb.
Remember to leave at least half or more of the stalks on the plant, to allow for energy production and further growth of the plant.
If the new plants produce any flower stalks, it's a good idea to remove them immediately, and prevent their growth.
This will help the rhubarb plant to conserve it's energy for new growth.
Conclusion
If you love fresh rhubarb, consider growing some of this perennial plant from seed, to place in your vegetable garden or rhubarb patch.
We love to harvest fresh rhubarb stalks in spring, and use them in special rhubarb dishes.
If you have saved some seeds from a rhubarb flower stalk, you can plant a few rhubarb seeds and grow some new plants to add to your rhubarb patch.
You can also purchase rhubarb seeds from seed sellers.
Growing rhubarb from seed is an easy process. It's lots of fun to see the plants that develop.
Some will have red stalks, and others will have green. The redder the stem, the sweeter the taste of the rhubarb.
Use your home grown rhubarb for rhubarb crumble, rhubarb pie, or an easy rhubarb cake.
You will even be able to use some of the rhubarb leaves as stencils to make concrete stepping stones with leaves. This is an outstanding and easy DIY concrete project.
Enjoy your rhubarb plants, and know that they are extra special and unique, and grown from seed, by you.
Have you ever grown rhubarb from seed? Be sure to leave a comment below to share your experience.
Other Posts You May Like:
See the Web Story on Growing Rhubarb From Seed!
PIN IT FOR LATER!