Last updated on March 27th, 2023 at 08:36 pm
Sea Buckthorn is an hardy perennial shrub which produces bright orange berries in fall. These berries are tart but delicious, and filled with nutritional benefits. Learn how to grow Sea Buckthorn to experience these fabulous plants in your garden.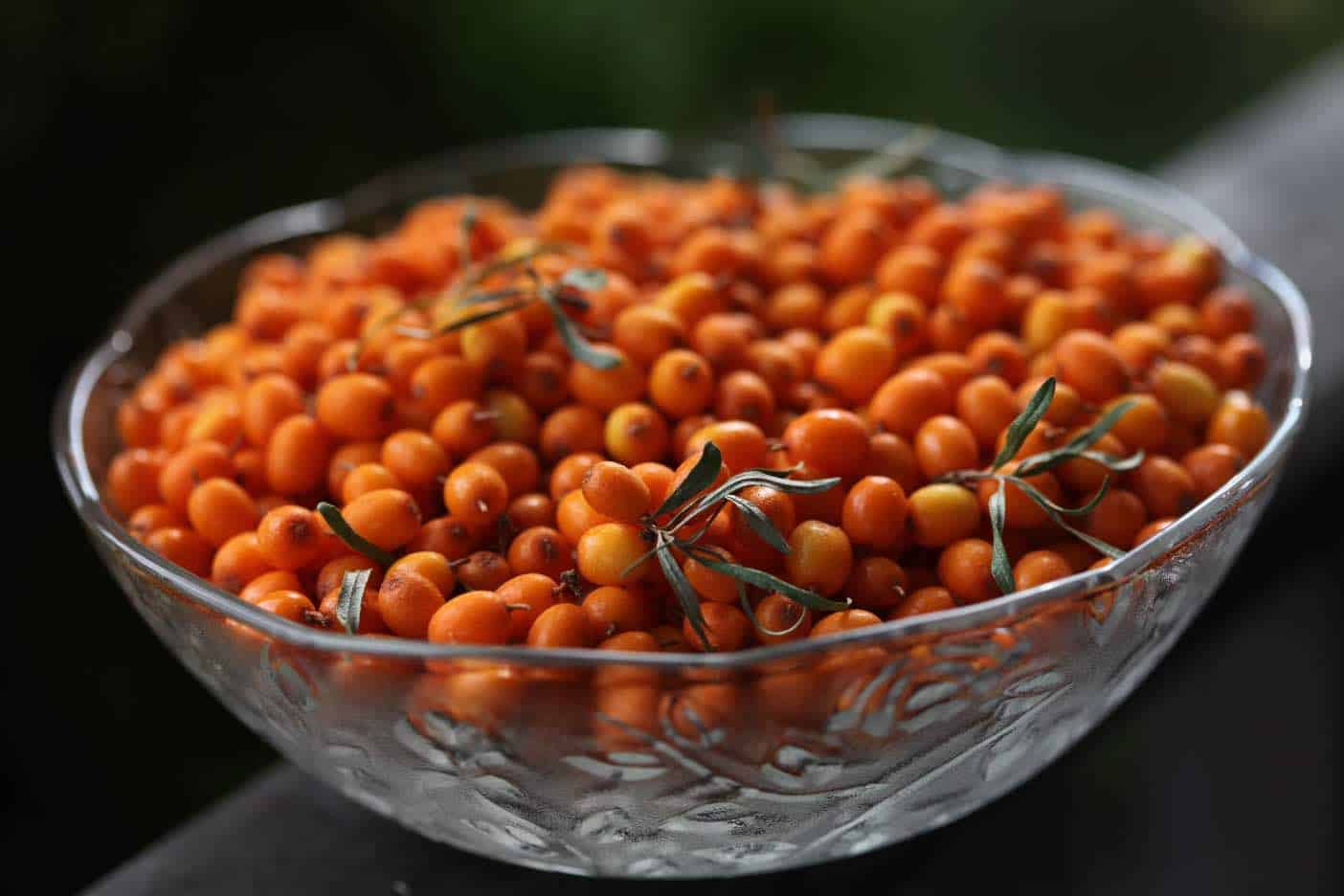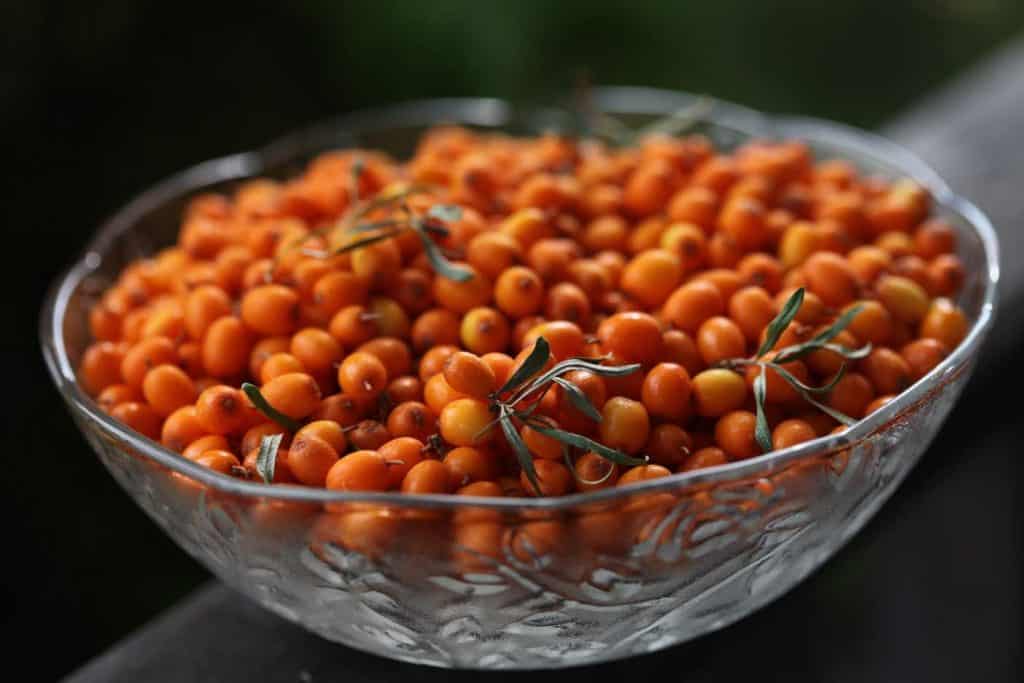 We planted our first Sea Buckthorn plants over ten years ago.
The shrubs have grown large, and produce an abundance of bright orange berries every fall.
In order to produce berries you require both a male and female plant. So we planted four shrubs that first year, one male and three female.
Since that time we have added several more, tried our hand at growing from seed, and grew from cuttings as well.
What drew us to the Sea Buckthorn plant is the nutritious berry that it produces. The berry is high in Vitamin C and is known to be a super fruit.
The berries however grow tightly inside branches which are covered with long sharp thorns. So it is a bit of a challenge to harvest these delicious tart morsels if you don't have a good strategy.
It's just about time to harvest now in early October, and the branches are laden with bright plump berries.
The picking is tenuous and the thorns are large. But it's well worth the effort for the beneficial fruit.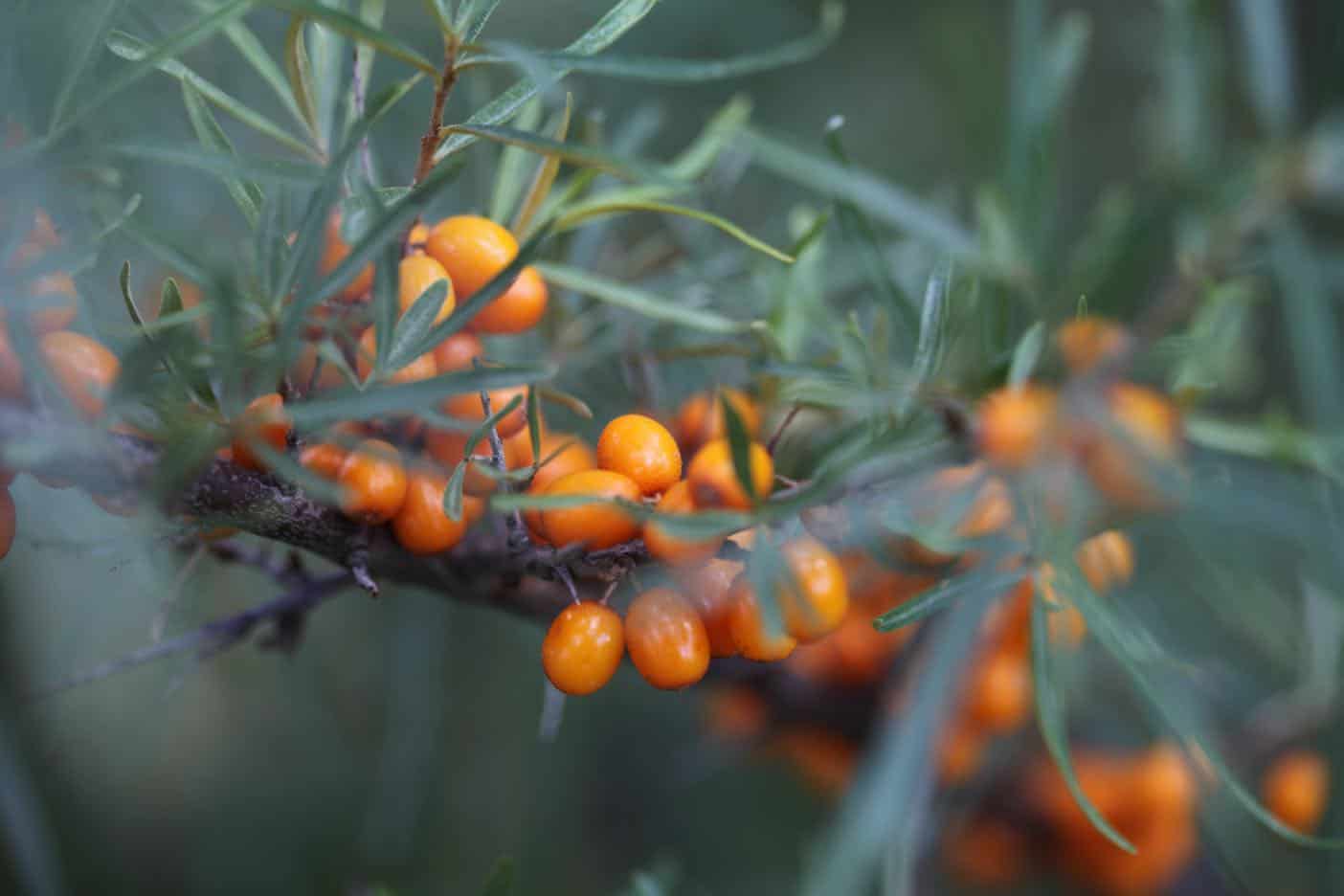 What Is Sea Buckthorn?
Sea Buckthorn is a hardy deciduous shrub which produces nutritious orange berries in the fall.
The life span of a Sea Buckthorn shrub is approximately thirty to forty years.
The genus of this plant is Hippophae from the family Elaeagnaceae.
The Common Sea Buckthorn is the species Hippophae rhamnoides.
There are a number of different species and subspecies of this plant.
It's origins are thought to be the Himalayan Mountains, and also include Mongolia, Russia, Ukraine and Northern Europe.
Common names for Sea Buckthorn include seaberry, sandthorn, and sallowthorn.
As these names suggest, Sea Buckthorn often grows well by the sea and is tolerant of even the roughest conditions along the coast, including exposure to salt and wind.
Sea Buckthorn is a very hardy plant once it is established.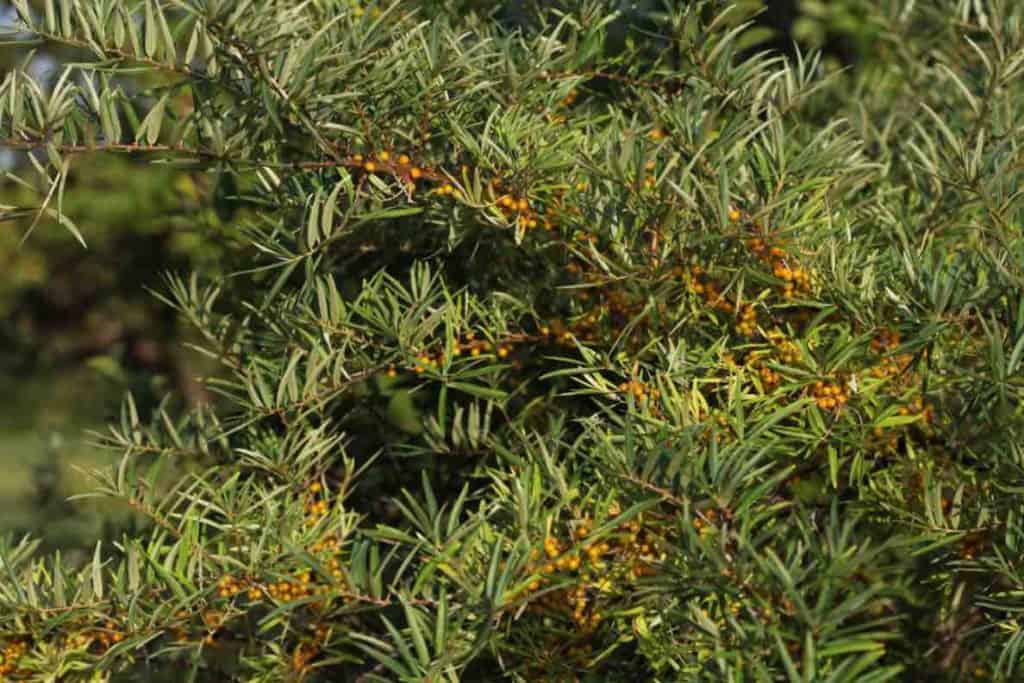 Characteristics Of Sea Buckthorn
Sea Buckthorn is fairly nondescript until you get closer to observe it's unique characteristics.
Sea Buckthorn Leaves
The leaves of the Sea Buckthorn grow in a linear fashion along the stem.
They are dark green, long and narrow. They are wispy similar to the leaves on a willow.
The leaves of the male Sea Buckthorn plant are said to be more narrow than those of the female. I have not really noticed much difference, and to the naked eye they seem very similar.
Sea Buckthorn leaves can be harvested for tea.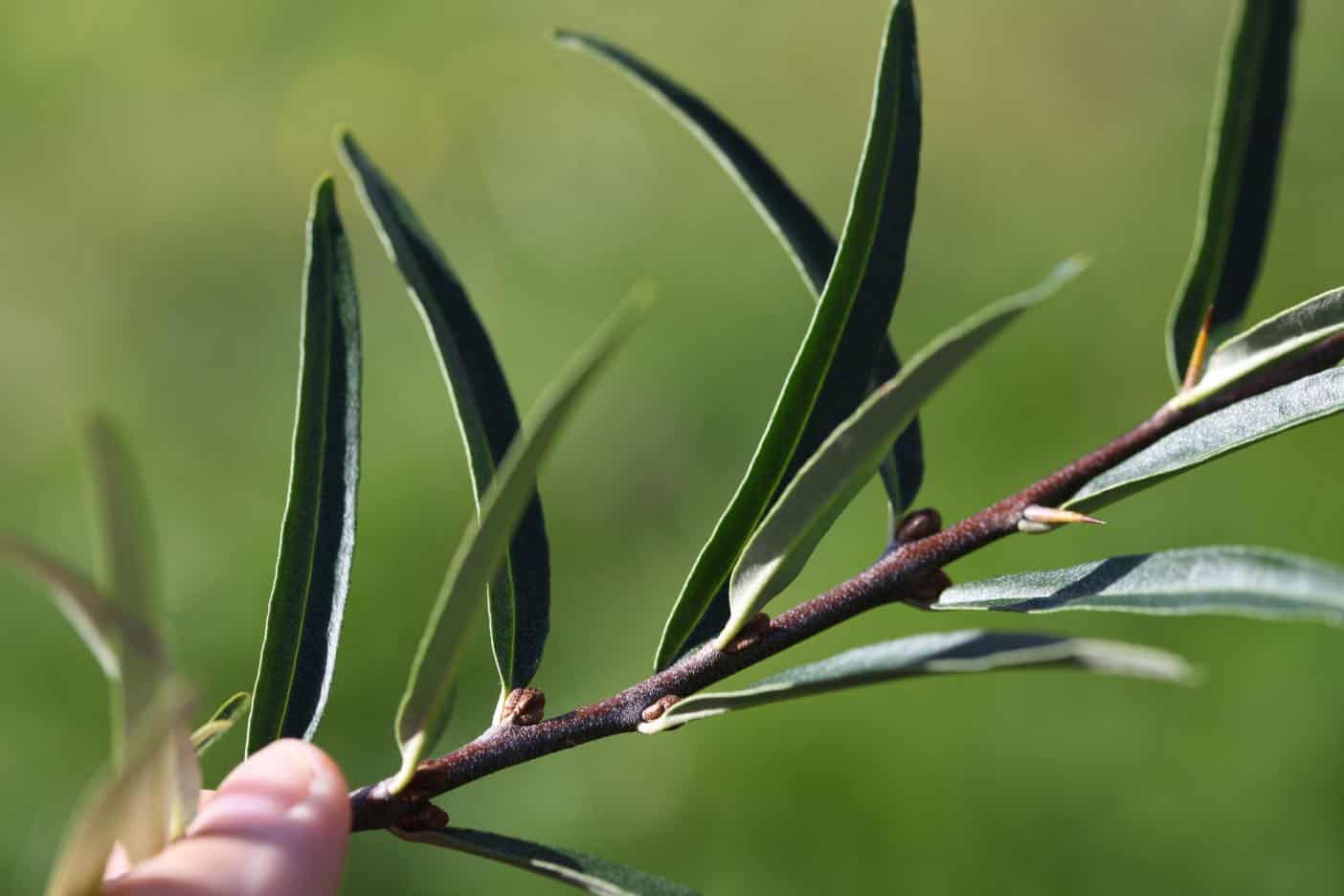 Sea Buckthorn Flowers
In the spring tiny yellow or brown flowers grow in clusters along the stem. You may not even recognize them as flowers unless you look closely.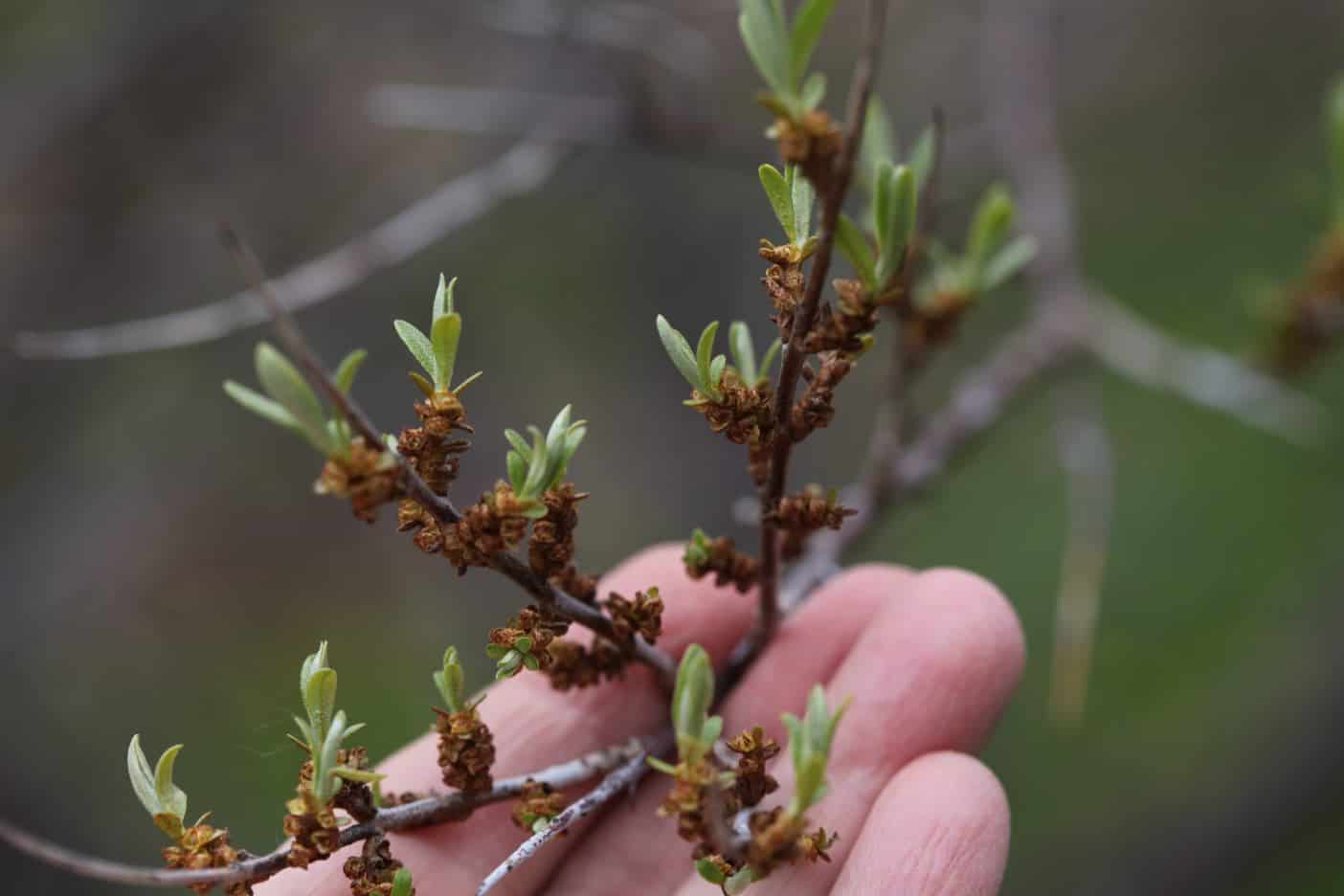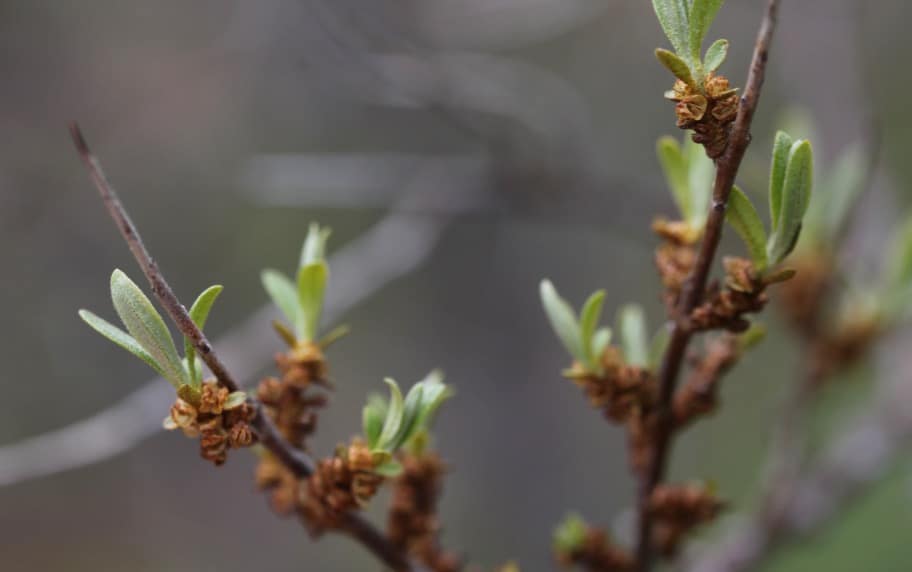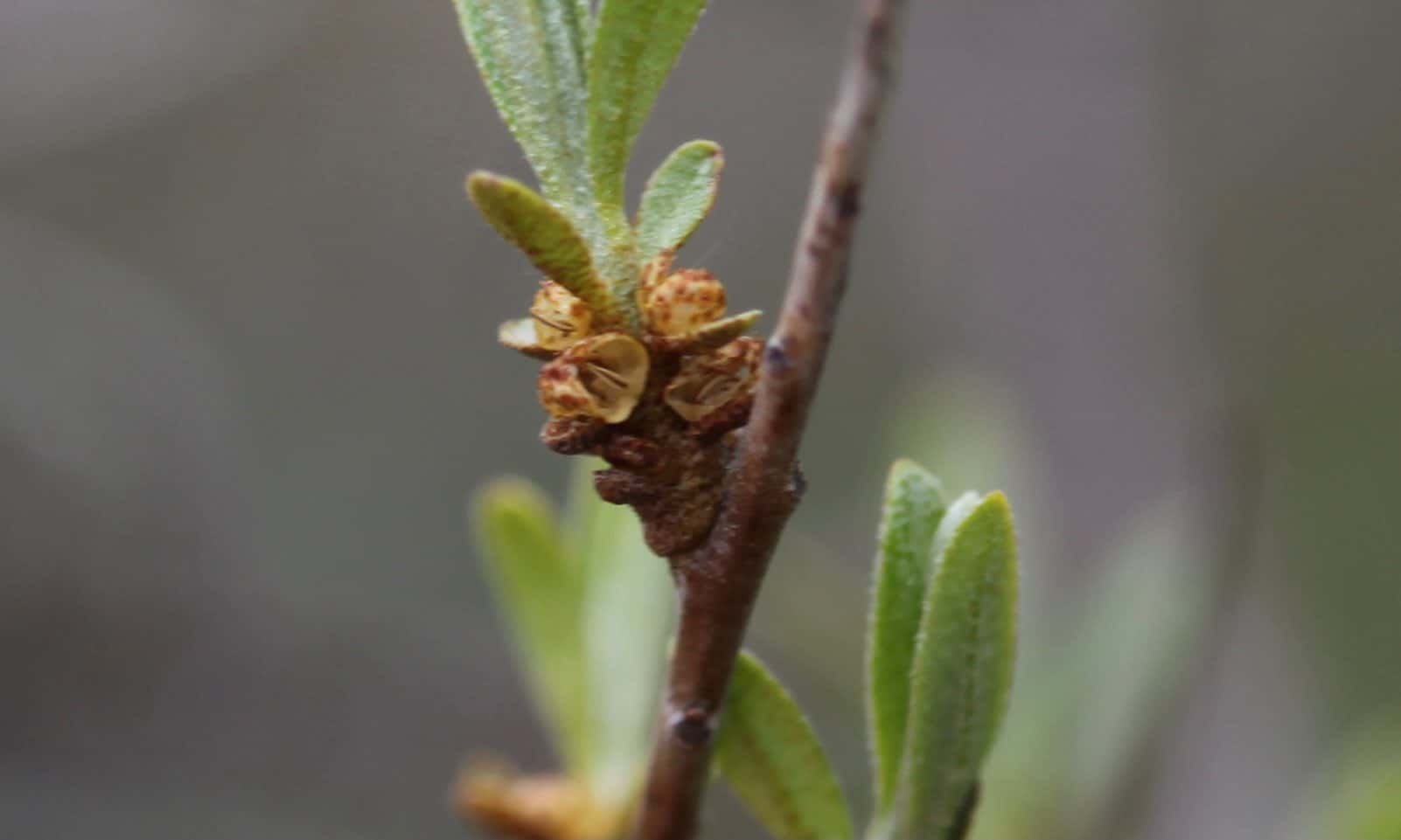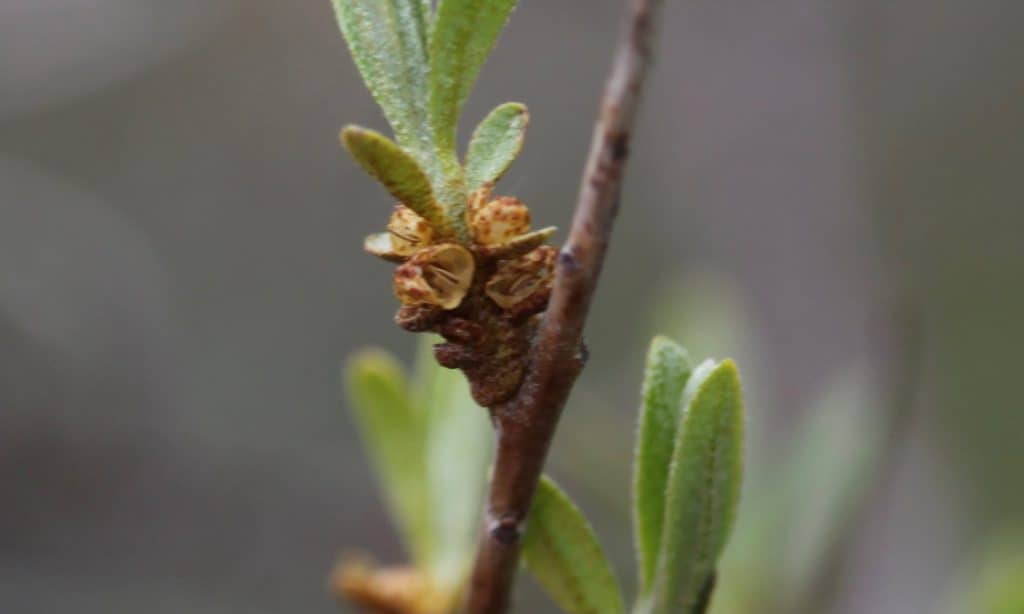 The flowers are produced even before the leaves, and grow on second year wood.
Fertilization occurs in May when the wind blows pollen from the male Sea Buckthorn to adjacent female shrubs and flowers.
When fertilized these flowers produce clumps of Sea Buckthorn berries in tight knit groups.
Sea Buckthorn Berries
Sea Buckthorn berries are only produced on the female plant.
The berries of the Sea Buckthorn can be oval or round in shape depending on the species.
We have both types in our hedge. The actual variety of each is unknown to us.
These berries start off as green and slowly transition to a bright orange colour at the end of the growing season.
They grow amongst the thorns, and are very difficult to harvest without getting pricked.
The berries also are firmly attached to their stem, and each berry needs a firm little tug to remove it from the stem at harvest.
If you don't harvest the berries, they will remain on the stem throughout the winter, and you can easily see the berries from the previous year still intact on the stem, and shrivelled with age the following spring.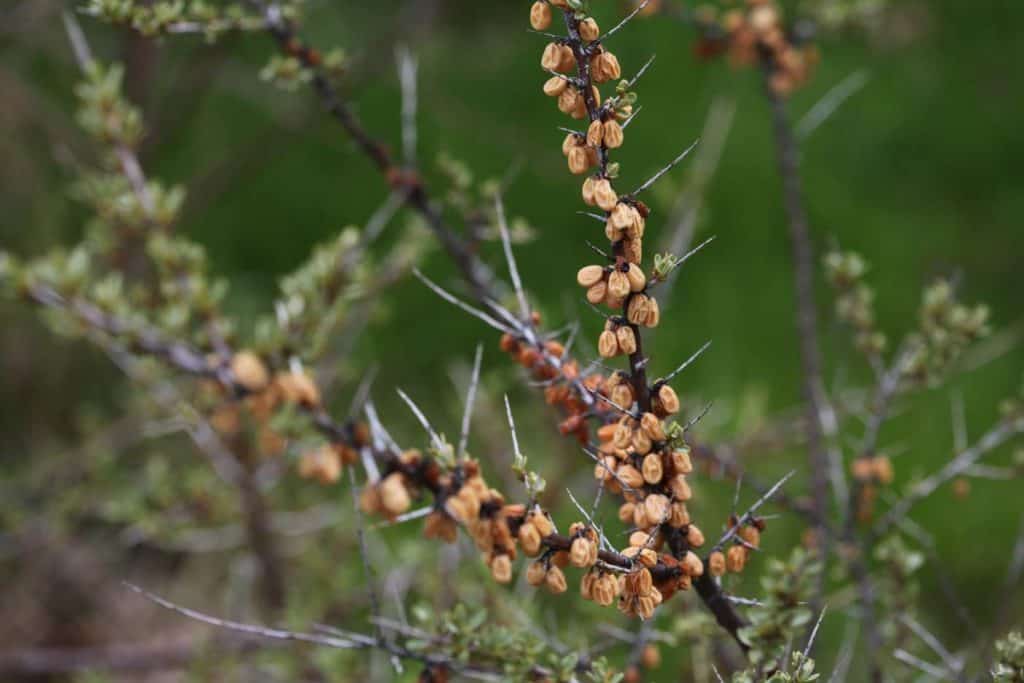 We harvest our berries in late August or early October, and pick them by hand.
The shrubs produce a lot of berries on each bush. Sometimes the branches get so heavily laden with the berries that the branch will break with the weight of the fruit.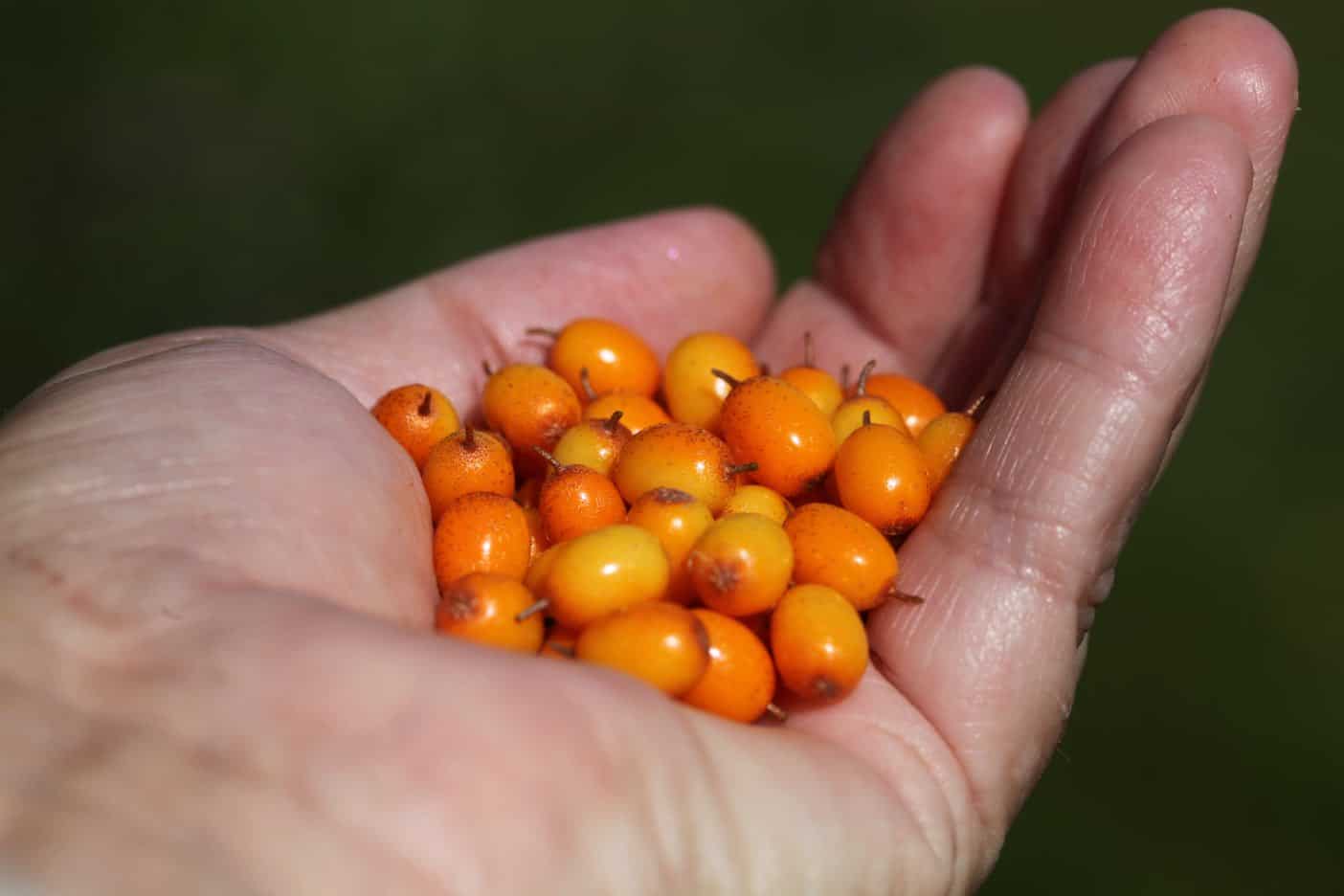 It can take up to four years for a newly planted Sea Buckthorn shrub to start producing berries. The new shrub will more than make up for lost time when it begins to produce berries, as they are generally produced in great abundance.
Sea Buckthorn Thorns
Oh those thorns, they are massive and inches long on some species, making the berries quite hard to pick.
There are thornless varieties being produced, although they not easily accessible.
Due to the thorns hand picking is a slow process. It is advisable to wear thick clothing and long sleeves so as not to get injured during the process.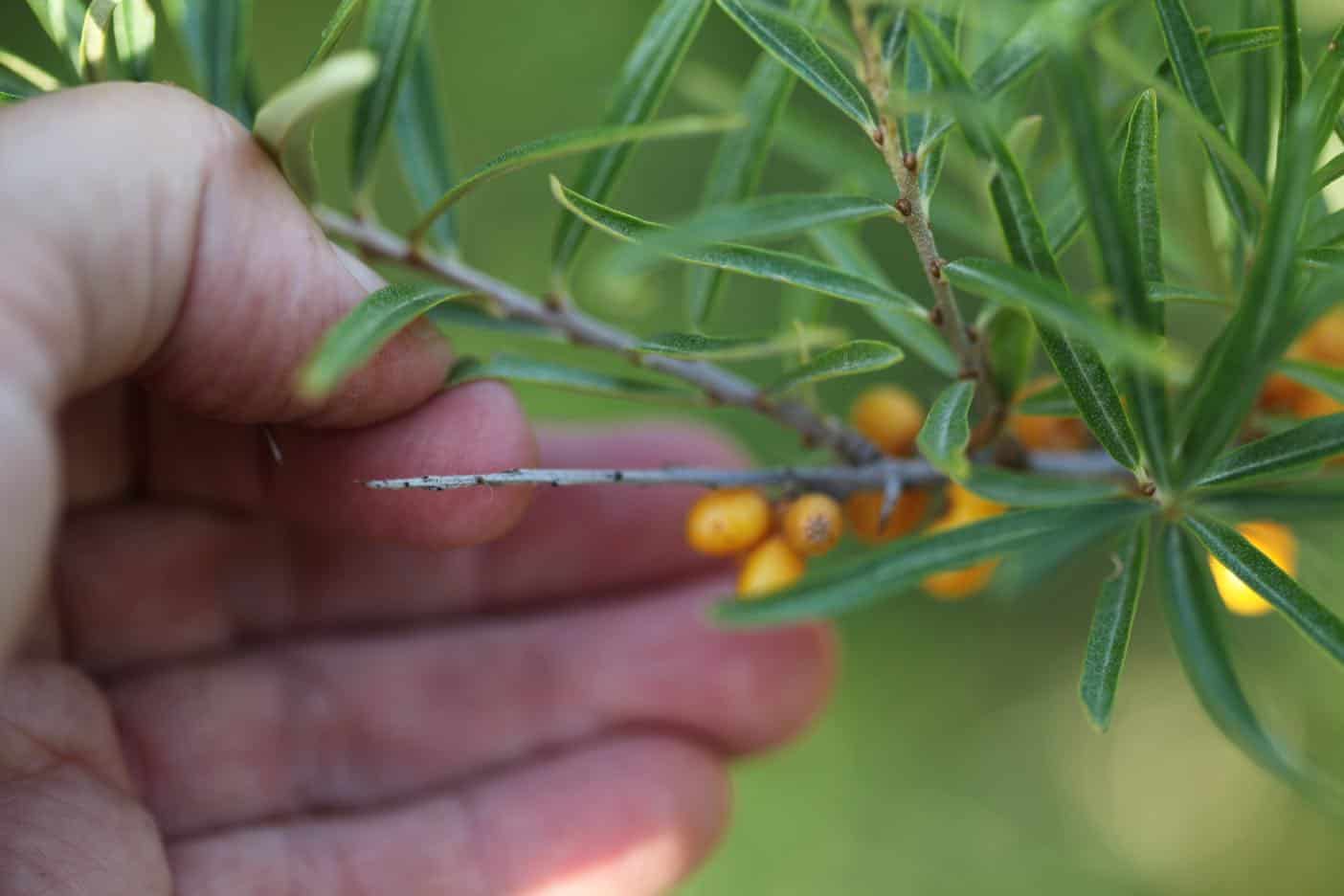 Wearing gloves may help although can make picking awkward.
Some gardeners use forks to pull the berries off the stem, giving a bit of distance between the hand and the thorns.
If harvesting in large amounts some growers will prune the branches with the berries attached, and freeze them, branches and all. The berries are easily removed from the frozen stems by knocking the stems, causing the berries to drop off.
Cutting branches may reduce the berry yield the following year.
Sea Buckthorn Male And Female Plants
Sea Buckthorn is dioecious, meaning that it has both male and female plants in each species.
To produce berries from a Sea Buckthorn shrub, you will require both a male and a female specimen. For every four or five female shrubs you will require one male shrub for fertilization. The berries are borne on the female plants, and the male plant remains bare of fruit.
The male plants tend to grow much larger than the female plants.
One of our first male Sea Buckthorn shrubs has reached a height of at least fifteen feet, compared to the females planted at the same time, which are only about six to seven feet in height.
Pruning can keep the shrubs at whichever height is manageable for the gardener.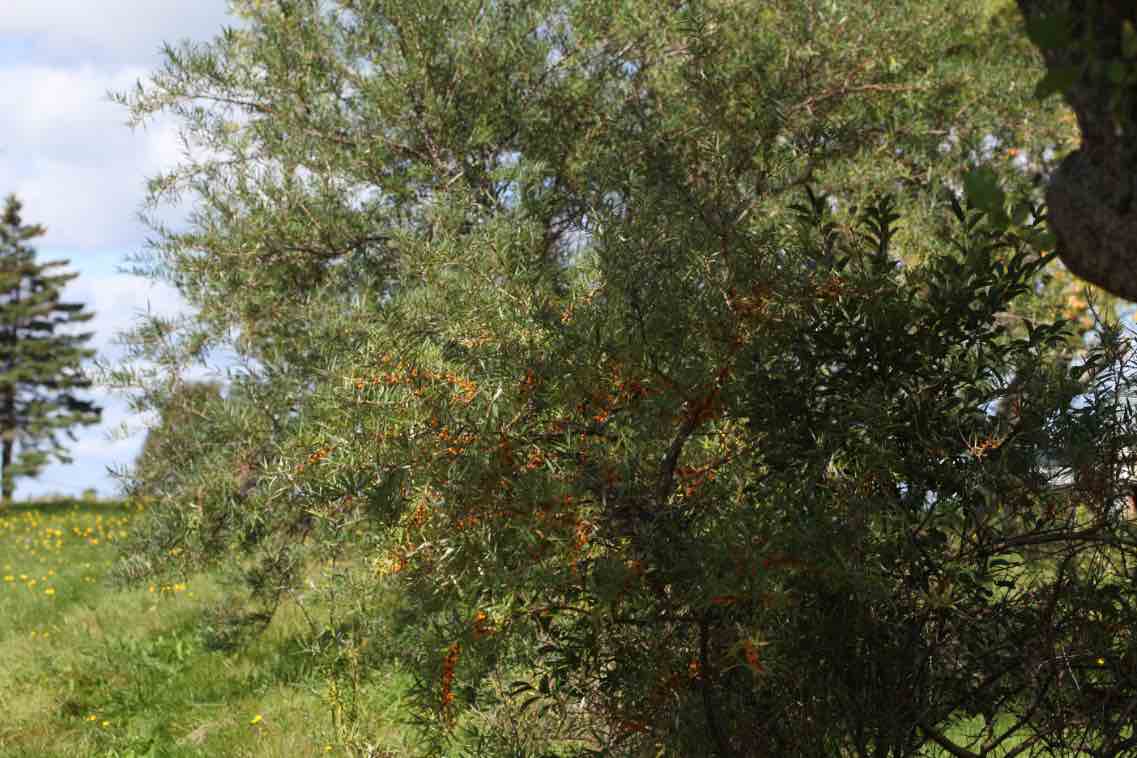 Why Grow Sea Buckthorn?
Growing Sea Buckthorn has many benefits, and this is the reason that we chose to grow this fabulous shrub.
These include nutritional as well as agronomic and environmental benefits, which we will review next.
Sea Buckthorn has culinary applications.
The berries can be used to make Sea Buckthorn jam, syrup, or juice. Sea Buckthorn berries are also used to make a rich and nutritional oil.
The leaves can be used to steep a delicious tangy herbal tea.
Nutritional Benefits Of Sea Buckthorn
Sea Buckthorn is considered to be a superfood and has an abundance of active nutritional ingredients.
You can consume both the berries and the leaves (as a tea). The seeds also have nutritional value.
The berries are full of juice, but also have a high oil content which contains nutritional benefits. If you make juice with the berries the oil will rise to the top.
Sea Buckthorn has a high protein content, is full of omega fatty acids, and contains multiple vitamins.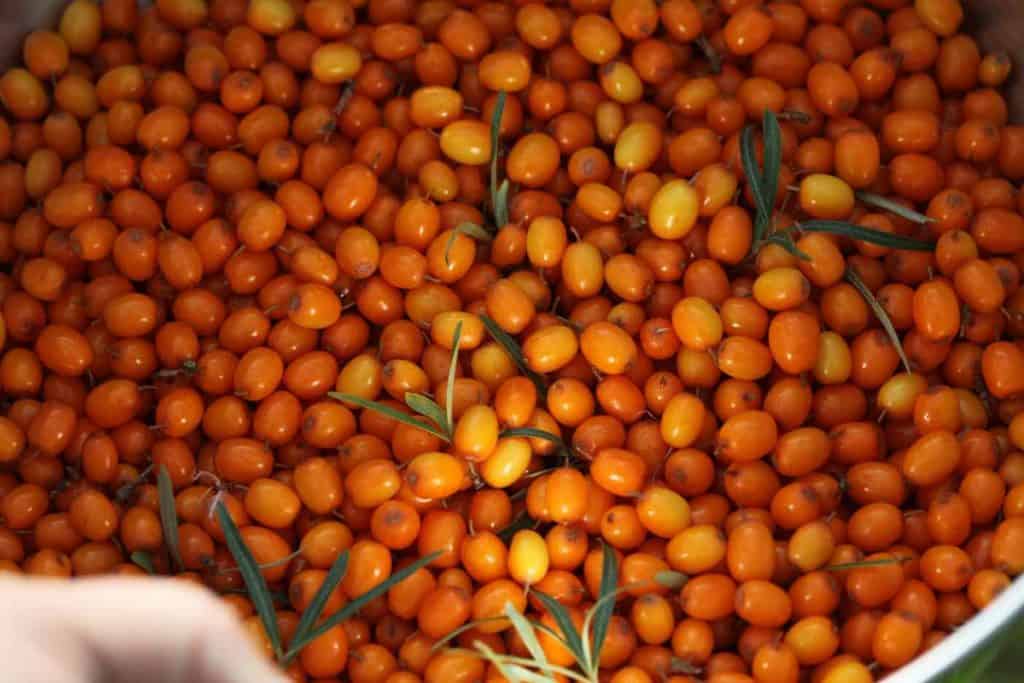 The berries of Sea Buckthorn are high in omega fatty acids, including Omega 3, 6, 7 and 9.
The oil itself is very high in omegas, with 40% of the oil containing omega fatty acids.
Omega 7 is known to be good for the skin and hair.
Sea Buckthorn berries contain vitamins A, C, E and beta carotene.
The berries are high in Vitamin C, and can have up to fifteen times the vitamin C of an orange, depending on the variety.
Sea Buckthorn is also high in Vitamin E, an important vitamin for the skin.
You will find skin care products on the market containing Sea Buckthorn due to it's beneficial nature.
Environmental Benefits of Sea Buckthorn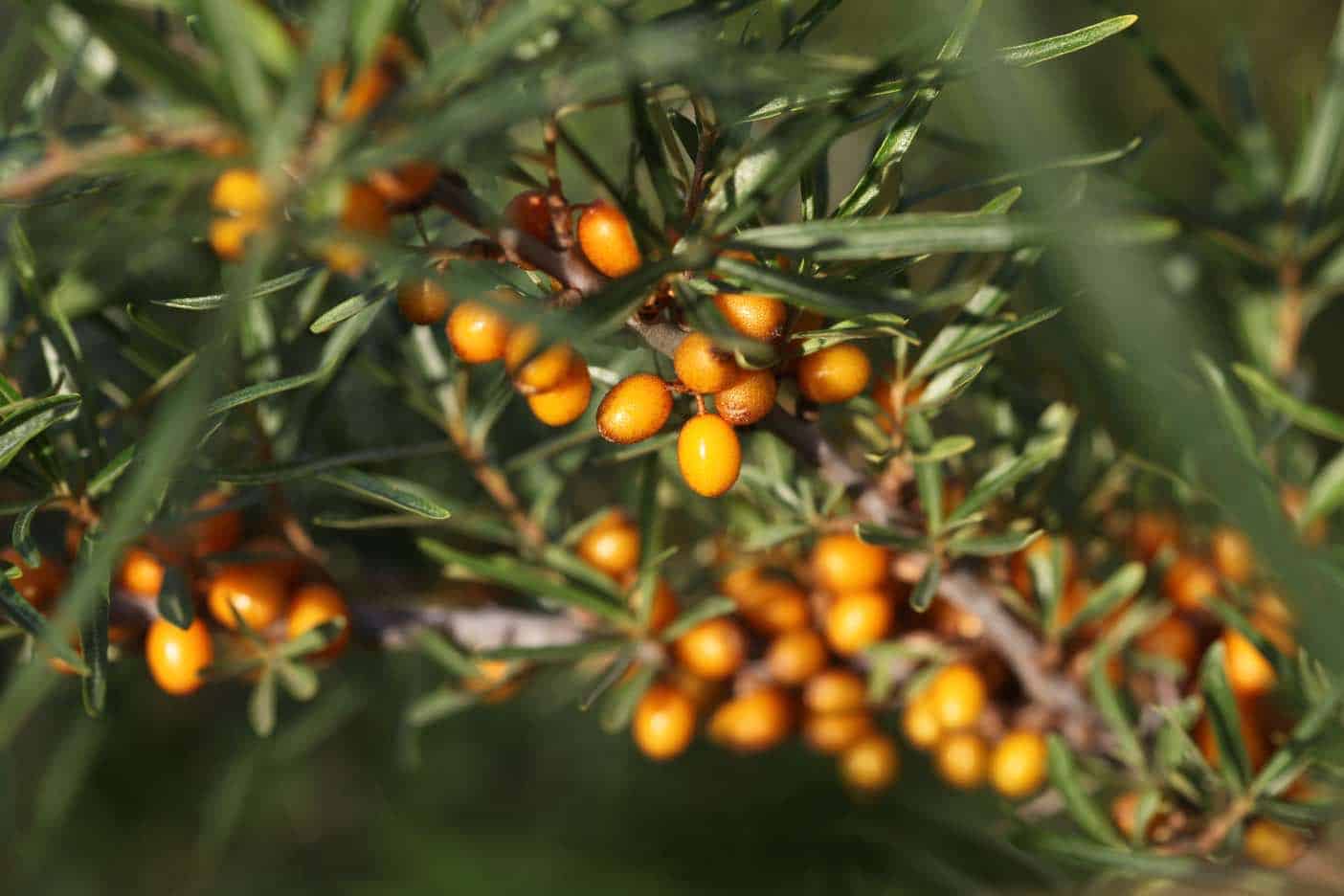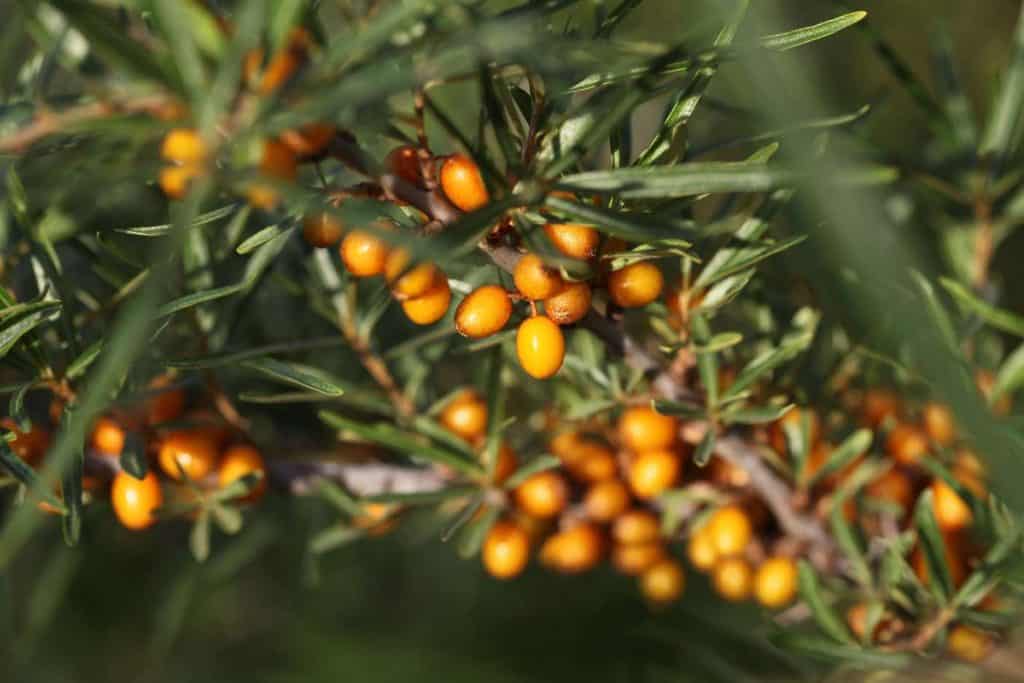 Sea Buckthorn is a nitrogen fixer, and improves the soil quality in the area in which it grows. It has an aggressive deep root system which can have environmental benefits.
The nitrogen fixing roots go deep into the soil, interacting symbiotically with a bacteria species in the soil from the genus Frankia, making nitrogen available in the soil.
Sea Buckthorn can be planted to enrich the soil and is used in land reclamation.
Due to it's extensive root system, it can also be planted in areas to prevent soil erosion.
Sea Buckthorn hedgerows are great for wildlife.
They offer protection for small birds and animals with their thorny stems. A Sea Buckthorn shrub offers a perfect nesting spot where no predator will venture.
They are also good barriers for keeping larger animals out of any location, such as the perimeter of a large garden.
How To Grow Sea Buckthorn
Sea Buckthorn can be grown from a nice sized potted plant obtained from a local nursery, or propagated from seed, hardwood and softwood cuttings, root cuttings, and suckers.
If planting a two or three year old potted plant you may have berries within several years.
If you already have some of your own plants established, you can also try propagation from cuttings and growing from seed.
This is a great way to increase your stock, and even start a small orchard.
How Do You Propagate Sea Buckthorn?
Sea Buckthorn can be propagated by seed, hardwood and soft wood cuttings, root cuttings and suckers.
Propagate Sea Buckthorn from Suckers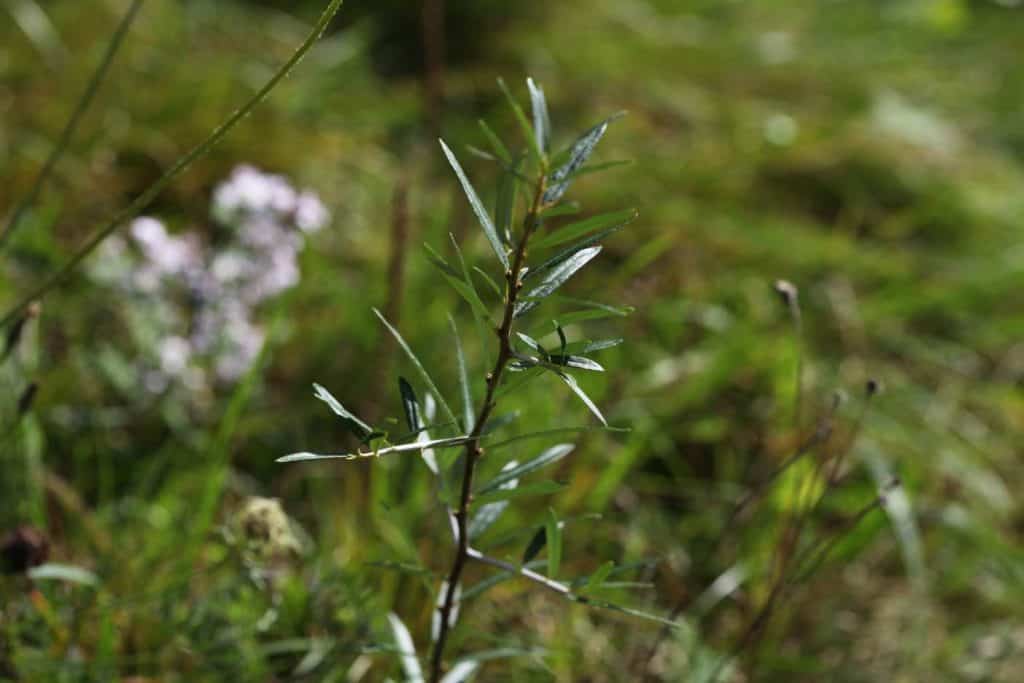 A mature Sea Buckthorn can send out suckers, which you can dig up and plant. The best time to do this is in early spring when the sucker is still dormant and before leaf formation.
Make sure that the sucker is cleanly cut from the root and try to preserve any roots coming off the sucker itself.
Dig down and cut the sucker from the root using a clean sharp tool or clippers.
The risk of doing this procedure during active growth is severing the sucker from it's root system , which may result in transplant shock.
Pot up the new plant and keep well watered until it is growing well, before planting out into the garden.
Propagate Sea Buckthorn From Root Cuttings
You can propagate Sea Buckthorn easily from root cuttings as well, and this is a great way to increase your stock.
Take root cuttings with active nodes, and plant up in pots with a good potting mix.
Once established after several months, plant out into the garden.
Growing Sea Buckthorn From Hardwood or Softwood Cuttings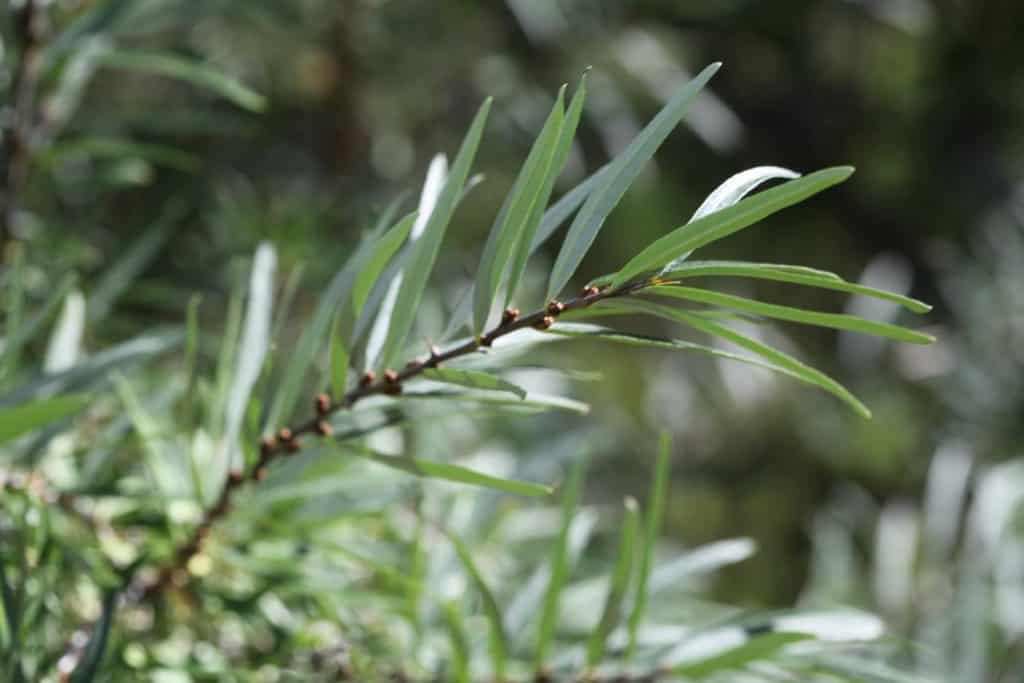 The best time to take hardwood cuttings is in the spring while the plant is still dormant.
Take the cuttings from one year old stems at 15 cm lengths.
Soak in water for a week, then pot up into a good potting mix.
You can use a rooting hormone prior to planting.
These cuttings are a clone of the parent plant.
The best time to take softwood cuttings is also in the spring after the fresh new growth has produced stems.
Cut the stems at approximately 15 cm.
Remove all but the top leaves from the stem.
Dip into rooting hormone and then plant up in a good potting mix.
Make sure that there are several leaf nodes under the soil, from which the rooting will occur.
These cuttings are also a clone of the parent plant.
Grow Sea Buckthorn From Seed
Growing Sea Buckthorn from seed is the easiest way to propagate this plant, however the seeds themselves can be difficult to germinate without using the right techniques.
These techniques include stratification and scarification.
Stratifying for a ninety day moist chill in the fridge should do the trick.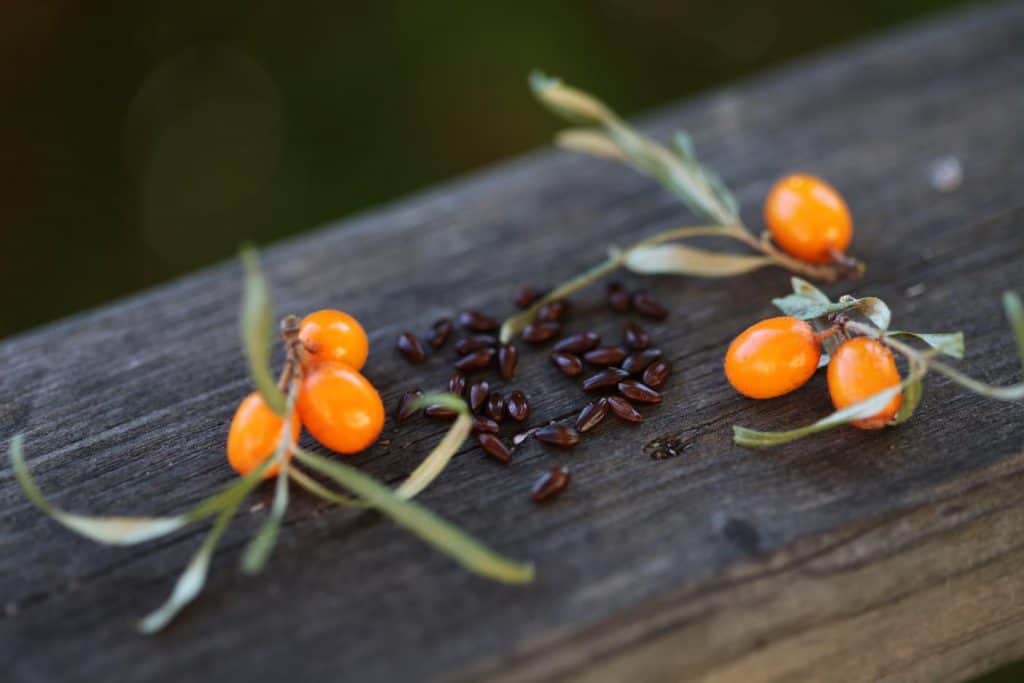 We stratify our seeds in moist vermiculite in baggies in the fridge with great success.
Place the seeds in a small baggie with vermiculite and a small amount of water, just enough to wet the vermiculite.
Pour any excess water out of the baggie. Place in the fridge for 90 days.
After the ninety day stratification period, start the Sea Buckthorn seeds in cell trays , using a good seed starting mix.
Cover the seeds with vermiculite.
Place on heat mats until germinated, then grow on under lights until ready to be planted out in spring.
Don't forget to harden off the seedlings before planting out.
Take special care with these new Sea Buckthorn plants, and keep well watered through their first season to help them get well established.
Seedlings grown from seeds make take longer to flower and produce berries than those grown from cuttings.
It may take up to five years to get berries from a plant grown from seed.
As well, the plant will be a new hybrid, and may be similar to or different than the parent plant. It can also be either male or female.
Where Does Sea Buckthorn Grow?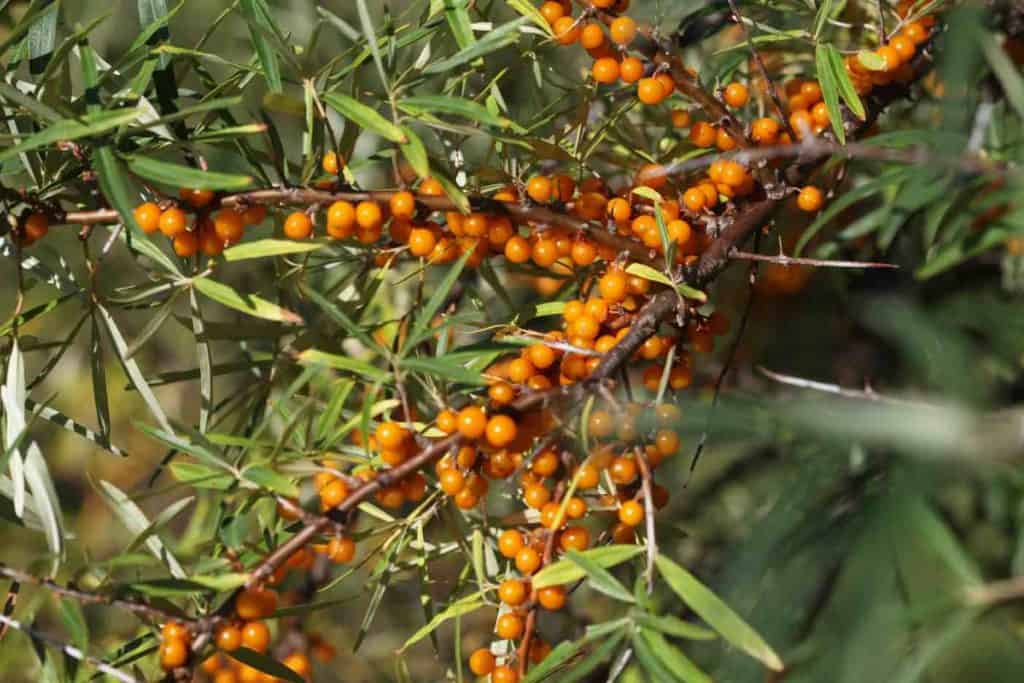 These are the growing considerations for Sea Buckthorn:
Growing Zone
Sea Buckthorn is hardy to growing zone 3 and -40°C.
These are exceptionally hardy shrubs and will tolerate harsh and cold weather.
Sun Or Shade
Plant Sea Buckthorn in full sun for best growth.
Soil Requirements
Sea Buckthorn likes a sandy loamy well drained soil, however grows in all types of soil.
A soil ph between six and seven is ideal.
Our hedgerow of Sea Buckthorn is planted on a slight slope, in clay soil and is thriving in that area.
Moisture Requirements
Be sure to keep newly planted seedlings, cuttings and plants well watered until established.
Sea Buckthorn does not like wet feet however, so make sure that it is planted in an area with good drainage.
Once it is established with a good root system, Sea Buckthorn is drought tolerant.
Although drought tolerant, it will require some moisture for adequate berry production.
Planting Sea Buckthorn
Recommended distance for planting Sea Buckthorn is two metres or six feet apart.
The shrubs will spread twelve feet, and when mature will send runners out five to ten feet away from the original plant.
If not maintained the plants can grow into a small thicket depending upon location.
In the past ten years our hedge has only just now started to send out small runners that we have noticed. Chances are they may have done so previously however were mowed down.
We are happy with the runners and plan to take root cuttings from them and relocate to another area.
Pruning Sea Buckthorn
Sea Buckthorn can be pruned in spring or late fall after the harvest.
Pruning will help to maintain the shape of the shrub and keep it at a manageable height, especially for picking.
As well, pruning allows for better plant health by trimming off old dead branches, and cleaning up the shrub in general.
A good time to prune is in the fall after you harvest the berries.
Pruning may reduce berry production the following year if you remove the stems on which berries will be produced.
How Long Does It Take To Grow Sea Buckthorn?
It can take several years to produce a good sized plant in the garden, and several more to start berry production.
The key is to keep the young seedlings well watered and free of weeds while they are small to give them a good head start.
It can take up to five years if growing from seed.
How Long Does It Take For Sea Buckthorn To Produce Fruit?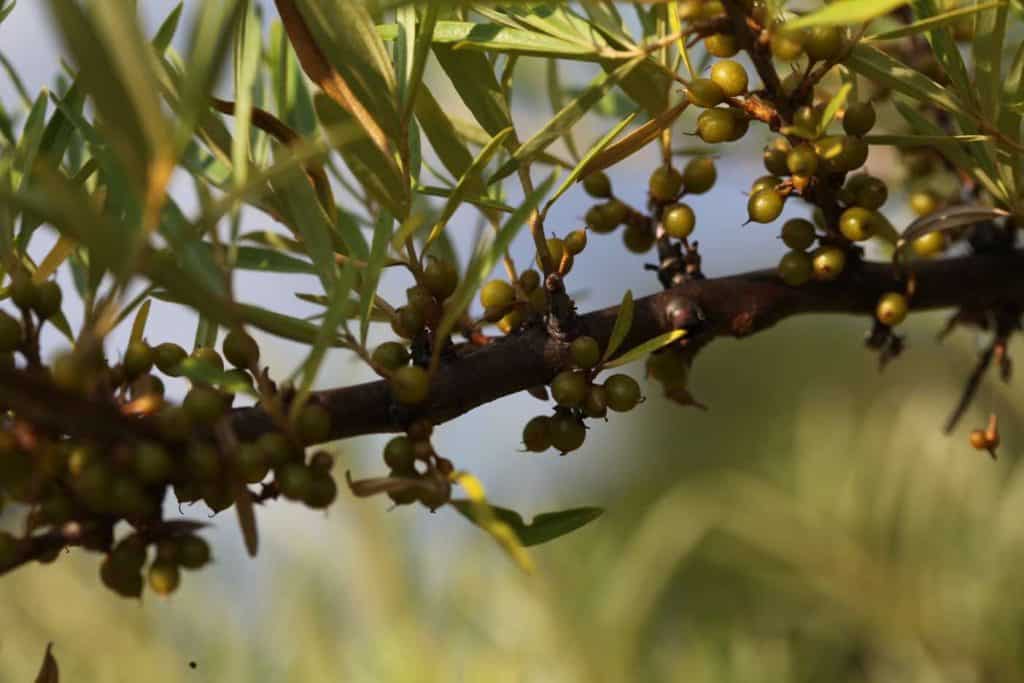 Sea Buckthorn should produce fruit by year four after planting from cuttings, suckers or root stock.
It will take a little longer if grown from seed, and those plants will most likely produce fruit by year five.
The energy of the plant first goes into growth and establishment of a good root system before starting it's growth above ground.
When the plants finally start producing berries however, they produce in abundance.
RECOMMENDED PRODUCTS FROM THIS POST
This post contains affiliate links, which means I make a small commission at no extra cost to you. See full disclosure on privacy policy here. As an Amazon Associate I earn from qualifying purchases.
Have you grown Sea Buckthorn in your garden? Be sure to leave a comment below to share your experience!
OTHER POSTS YOU MIGHT LIKE:
PIN IT FOR LATER!