Climbing hydrangea is a vining plant with glossy green leaves and beautiful lacy flowers which bloom in early summer. These plants are fairly easy to grow if planted in the right location, and will make a statement in the garden landscape once they are mature. Learn how to grow climbing hydrangea, and enjoy this beautiful flowering vine in your garden.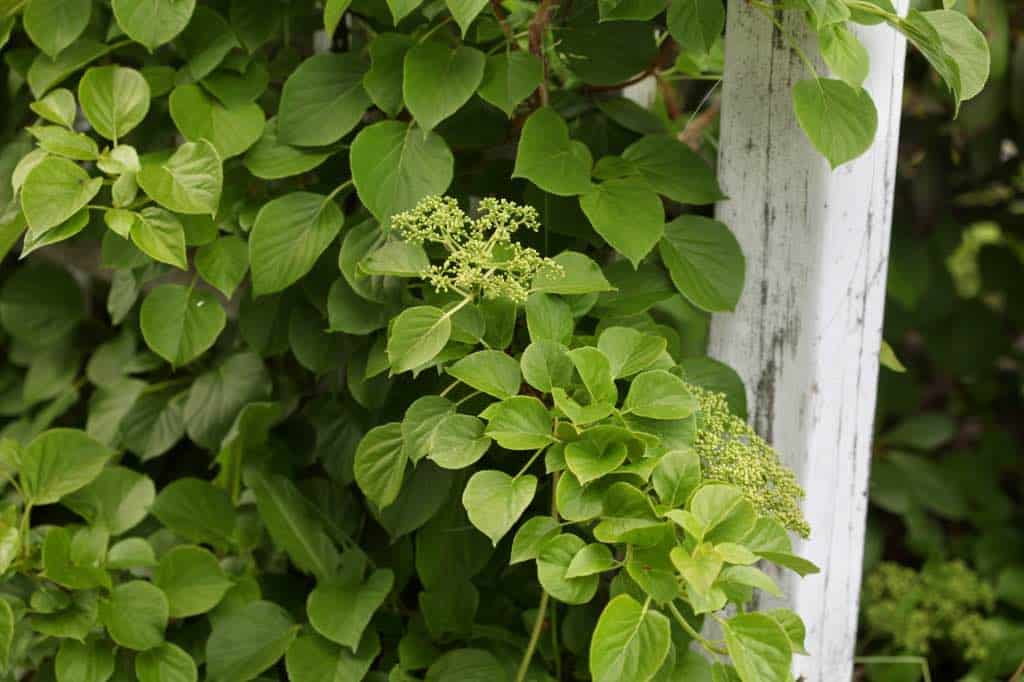 My first experience with climbing hydrangea was many years ago, when I discovered this very plant growing along a neighbour's fence. According to the neighbour, who was a master gardener, the plant had taken 7 years to bloom.
When the hydrangea finally bloomed it was well established, and was already a good sized plant. The blooms were abundant and lit up the darker corners of it's dappled shade location.
Not long after that I bought my own climbing hydrangea plant, and promptly planted it next to my own fence, with the support that it needed for climbing. The plant grew and slowly spread, although remained as a vine with just foliage for several years.
Before I had an opportunity to see the hydrangea bloom, I moved and left that garden behind. However I made sure to take a piece of the vine to transplant into my new garden.
Climbing hydrangeas are easy to transplant, and you will often find roots on the stems as they trail across the ground.
Relocated to a trellis with a climbing rose, the plant settled in very nicely, and grew and spread. This plant took a while before it found it's favorite spot, and then finally began to bloom.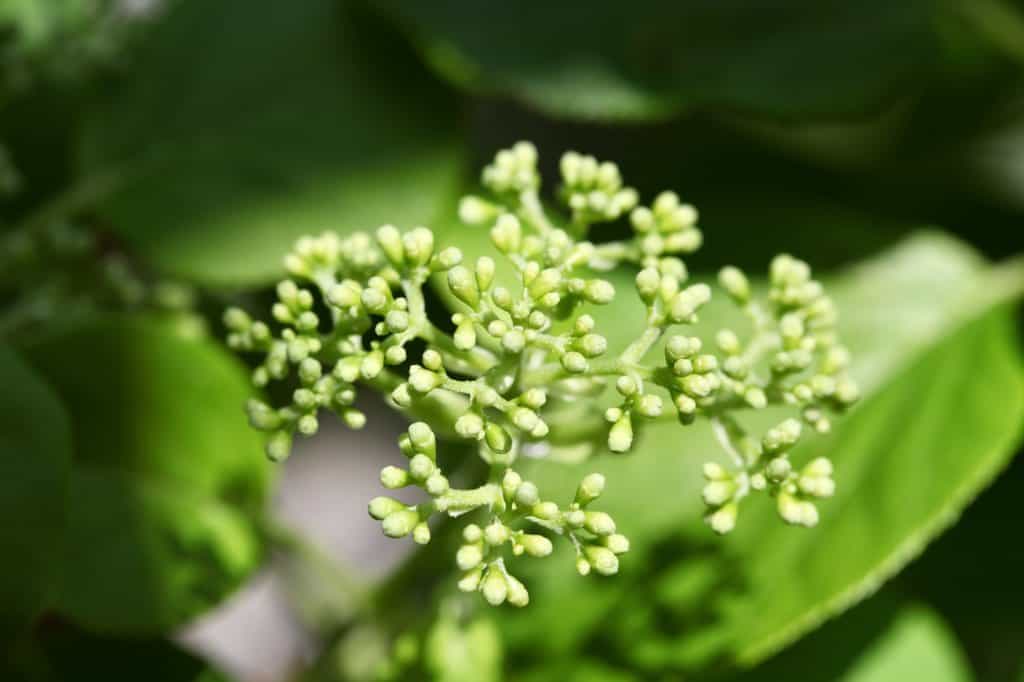 What Are Climbing Hydrangeas
"Climbing hydrangea" is the common name for flowering vines from the Family Hydrangeaceae and Genus Hydrangea. These vines are related to hydrangea shrubs, with similar lace-cap shaped flowers and green leaves.
There are numerous species of climbing hydrangeas, including both deciduous and evergreen types.
The most common climbing hydrangea is Hydrangea anomala subsp. petiolaris, also known as Hydrangea petiolaris. This deciduous plant has a number of different ornamental cultivars, including "Miranda", "Flying Saucer", and "Silver Lining", just to name a few.
Several evergreen species of climbing hydrangea include Hydrangea seemannii and Hydrangea serratifolia. These plants are less commonly found than the deciduous species.
Climbing hydrangea is native to Japan, the Korean Peninsula, and to Eastern Russia.
These hydrangea vines are slow to start growth, and initially appear as if they may not grow at all. Then after several years they slowly start to grow.
Then, when the plants become well established, they begin to grow in leaps and bounds, and often will demonstrate massive growth within just a few seasons.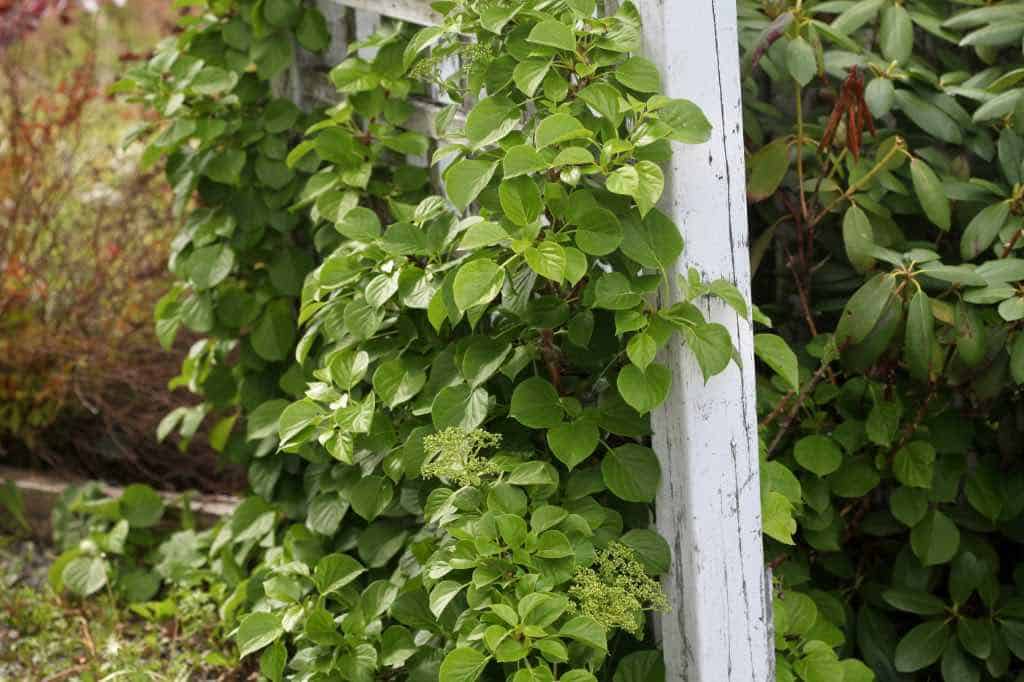 The Flowers
Similar to hydrangea shrubs, the white flowers of climbing hydrangea are made up of small cream colored central flowers borne on a structure called a corymb. Surrounding the central flowers are larger sterile peripheral flowers which frame the center blooms.
Flowers are borne on last year's wood, so be careful when pruning so as not to interfere with next year's blooming cycle.
Bloom time is early in the growing season, and the blooms begin to show just as the lilacs are in full bloom. The flowers can be damaged by late spring frosts if you happen to get a frost during bloom formation.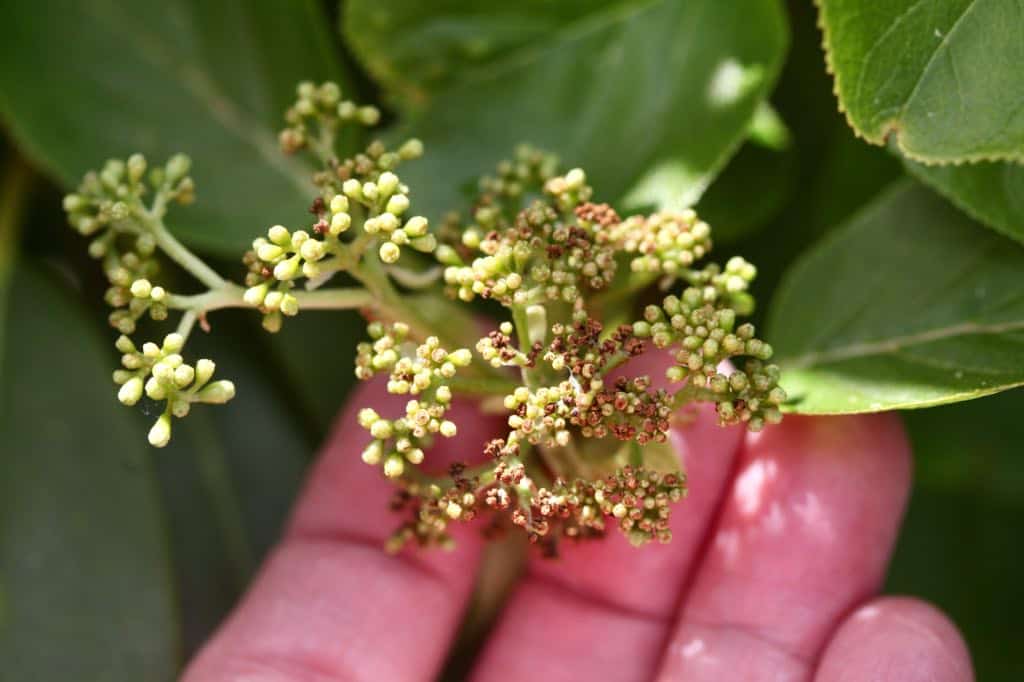 It can take a few years for the plant to produce flowers, and this is completely normal. Even if the plant is well cared for and healthy, the blooms will take time to appear.
When they are blooming, bloom time will generally last for 4 to 6 weeks every season.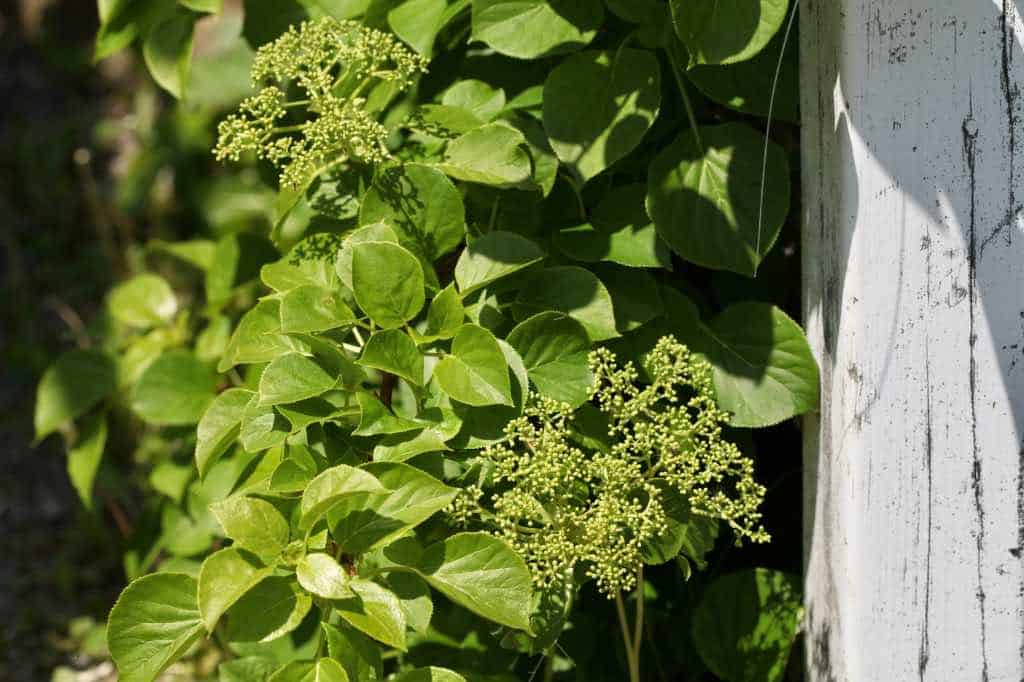 The Foliage
Foliage of the climbing hydrangea vine can be deciduous or evergreen. The most common species found in gardens are deciduous.
The new leaves appear every year in spring, as fresh green stems sprout from buds on the old wood.
The heart-shaped leaves are serrated and opposite, with a medium to dark green foliage color. Leaves often grow in a dense arrangement, contributing to their visual interest.
In fall the foliage turns an attractive yellow, adding to the plant's ornamental value.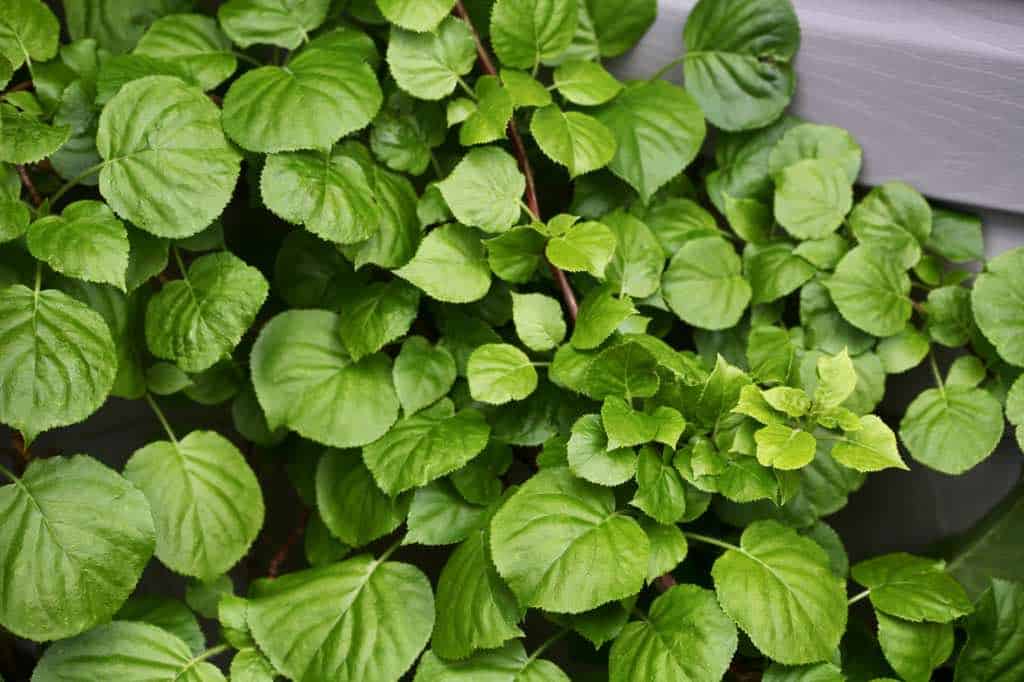 The Woody Stems
Old stem growth is woody and exfoliating. This interesting texture adds to the plant's appearance, especially when seen on the bare branches in late winter, adding winter interest.
Aerial roots form along the stems as they creep along their growth path, and lend to the clinging habit and nature of the vine.
The fine aerial rootlets allow the woody stems to attach to structures, such as fences, walls, and even to the siding on your home if planted close by.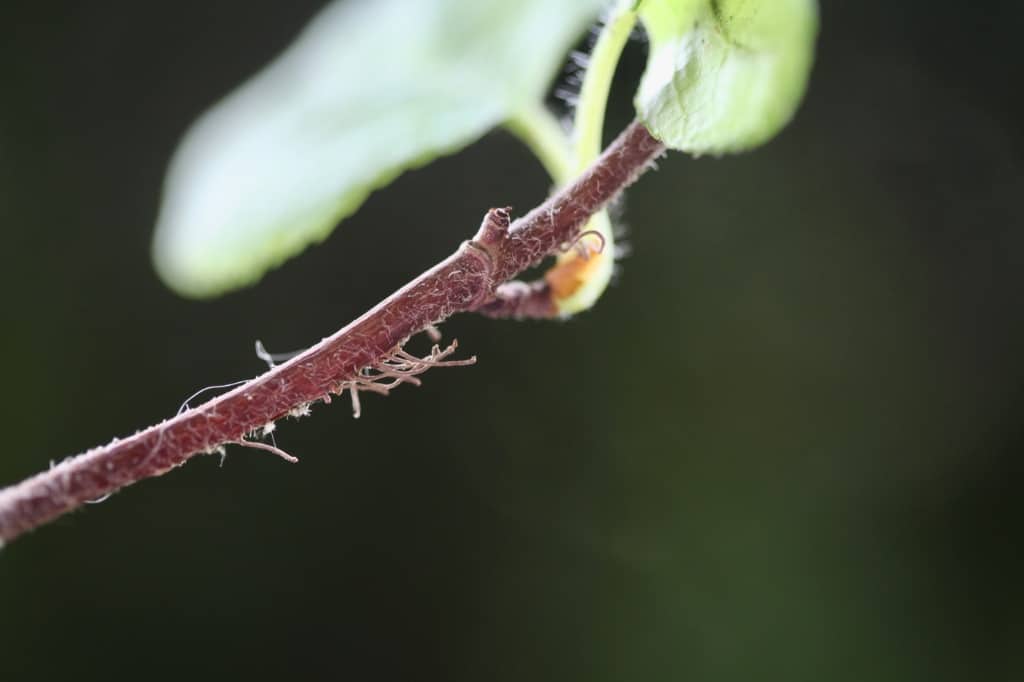 Avoid planting near buildings with wooden shingles or clapboard, as these materials can be damaged by the arial roots.
The climbing vines can grow up the side of a house, and across rooflines. If you want to avoid this, plant away from the house, and train the vines to grow in the area where you want them to grow.
Climbing hydrangea can spread quite far over time, with stems extending to 30 or 40 feet in length. Lateral stems also form, and crawl along structures, as well as over the ground, sometimes climbing over adjacent plantings and trees.
The hydrangea plants can be also be trained to grow up a tree trunk without causing any damage to the tree.
For this same reason climbing hydrangea is not considered to be a good companion plant, as it can overtake adjacent smaller plantings if allowed to spread out and grow laterally along the ground.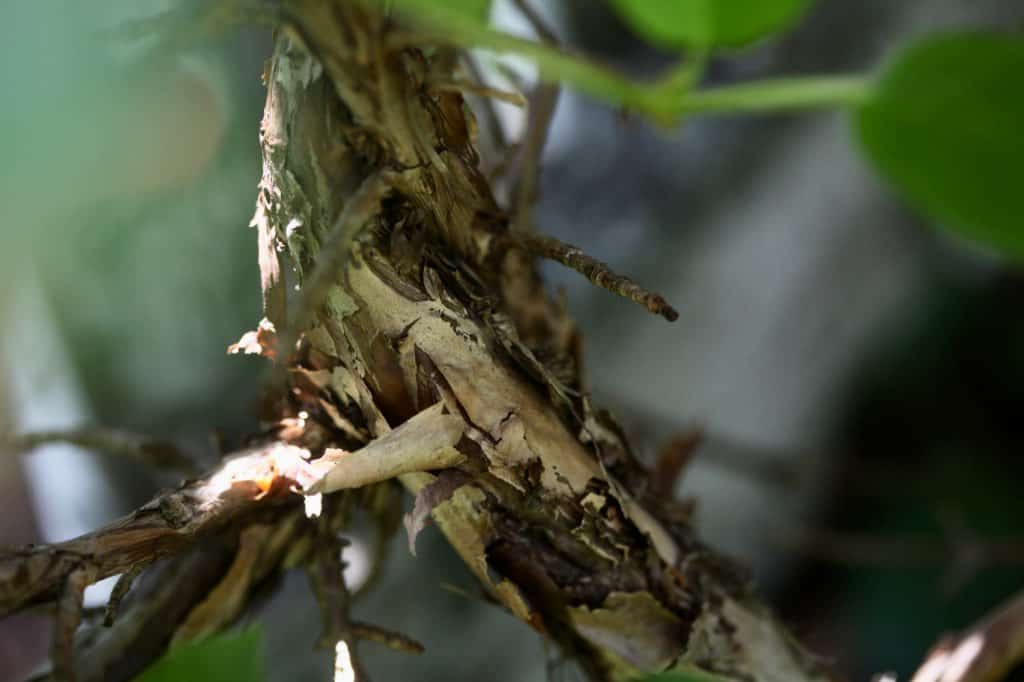 How To Grow Climbing Hydrangea
Climbing Hydrangea Propagation
First of all, let's quickly review propagation of the hydrangea vine, which can be useful if considering multiplying your stock.
Climbing hydrangea can be propagated in several ways.
Plants can be grown from seed, however a much faster way to propagate is to grow from cuttings.
Layering
One method of doing this is to nick a stem which is creeping over the ground and then secure in place, to maintain soil contact and encourage root development in that area.
Once the stem develops roots, the rooted stem can then be cut and potted up to make a new plant.
You can also find pieces of stem that have already adhered to the ground on their own, and which have developed roots.
Cut pieces from this stem with roots attached, and pot them up accordingly.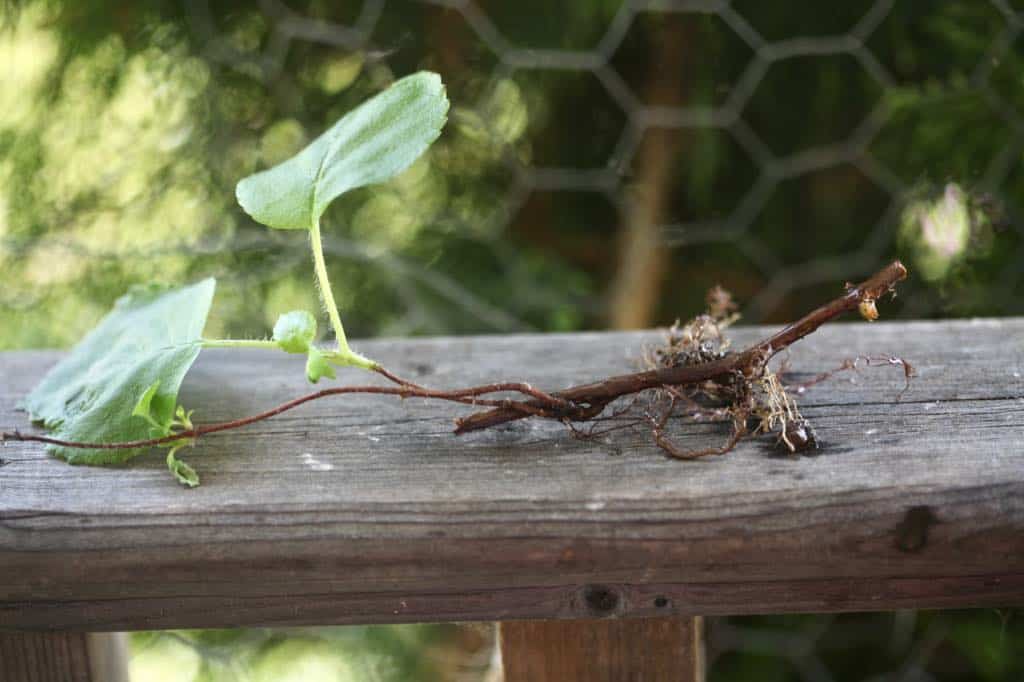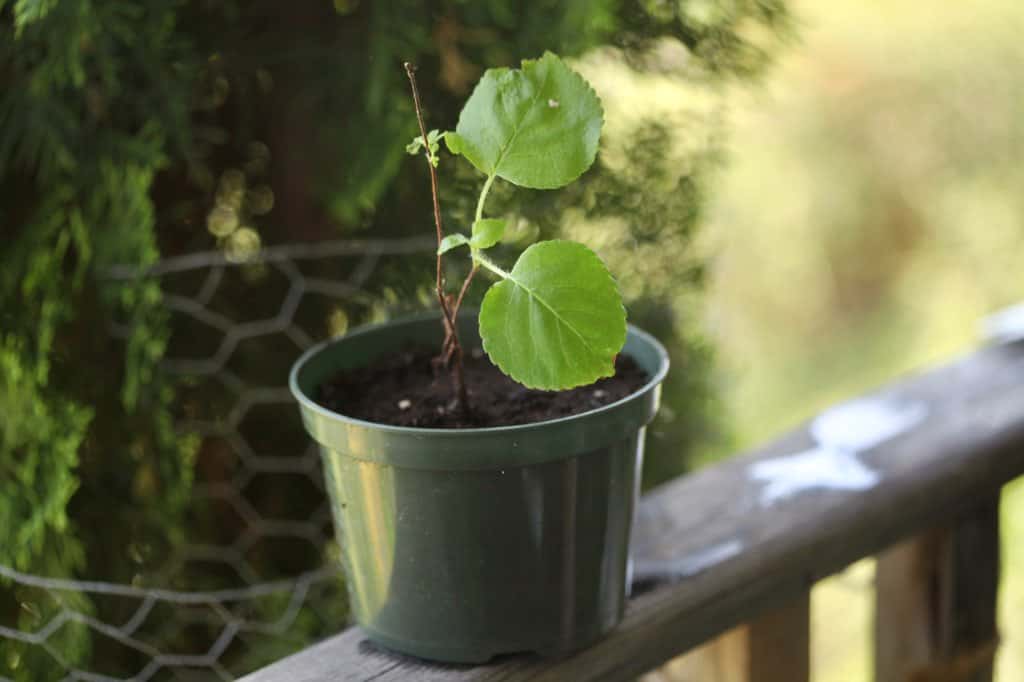 Softwood Cuttings
Another option is to take softwood cuttings in spring from non flowering stems.
Take a cutting that has 3 sets of leaves, removing the bottom two sets. These leaf nodes are the locations of new root formation.
Dip in rooting hormone, and place in a sterile soilless mix.
Use a humidity dome to help prevent transpiration of the remaining leaves.
Keep the soil moist until rooted.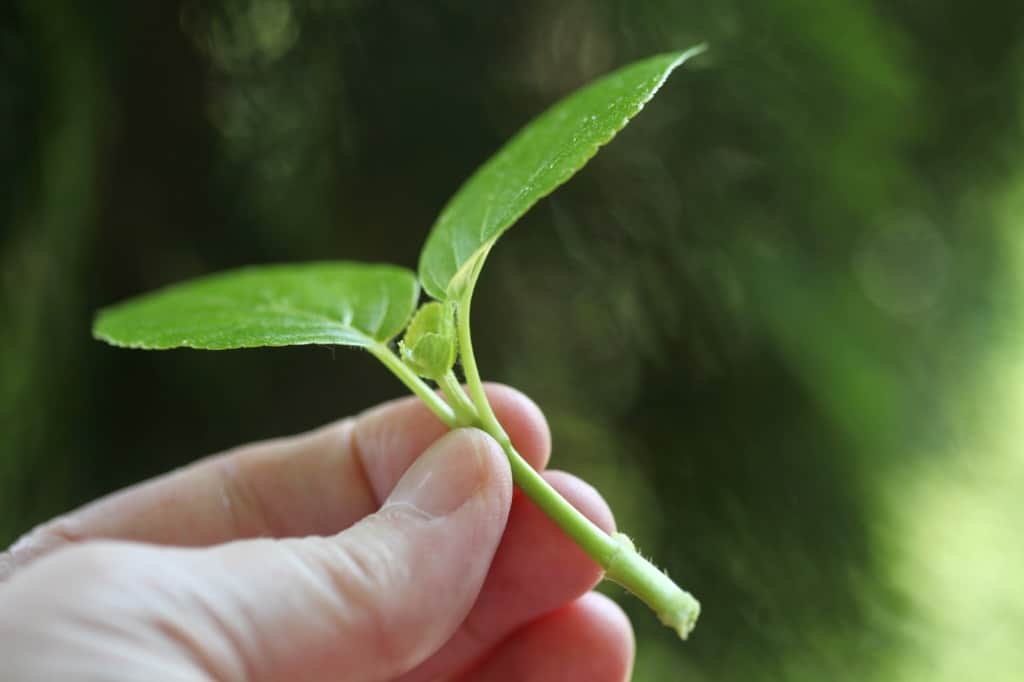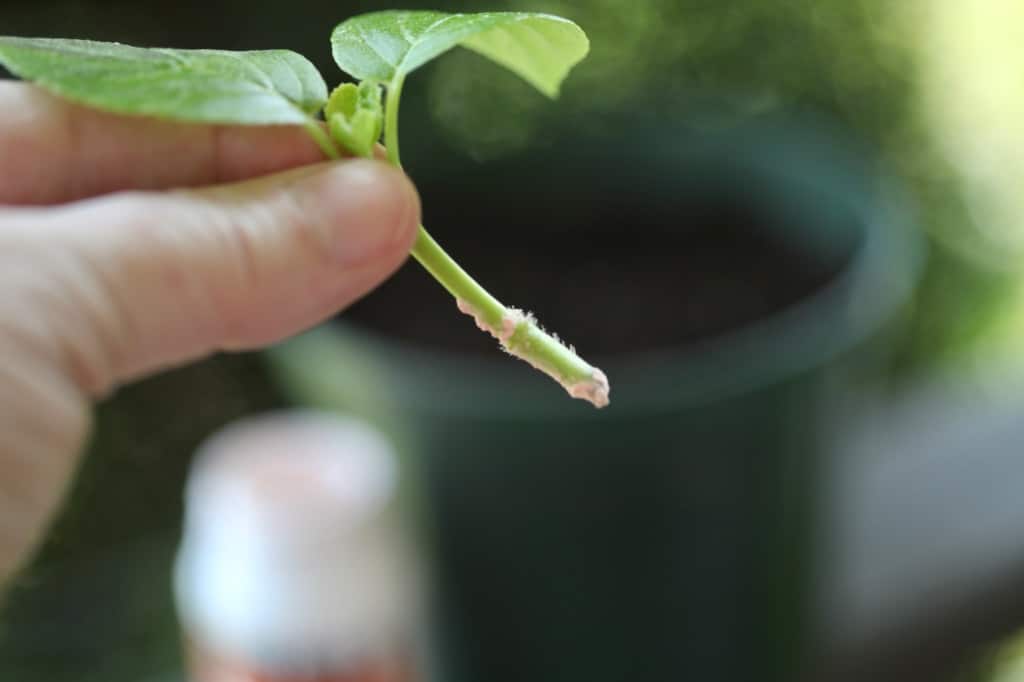 Planting
Climbing hydrangea grows tall and wide, and you will likely not need many plants in one location. If planting more than one plant, space at least 5 to 10 feet apart.
Consider the final height at maturity, which could be up to 40 feet tall or even higher, as well as the width, which can be approximately 6 feet or more.
Plant in a location where the plant will be supported, and where the plant can climb. Unless of course your intention is to use it as a ground cover.
The vines will also trail across the ground, and can provide a ground cover for hard to grow areas such as shady locations or steep slopes.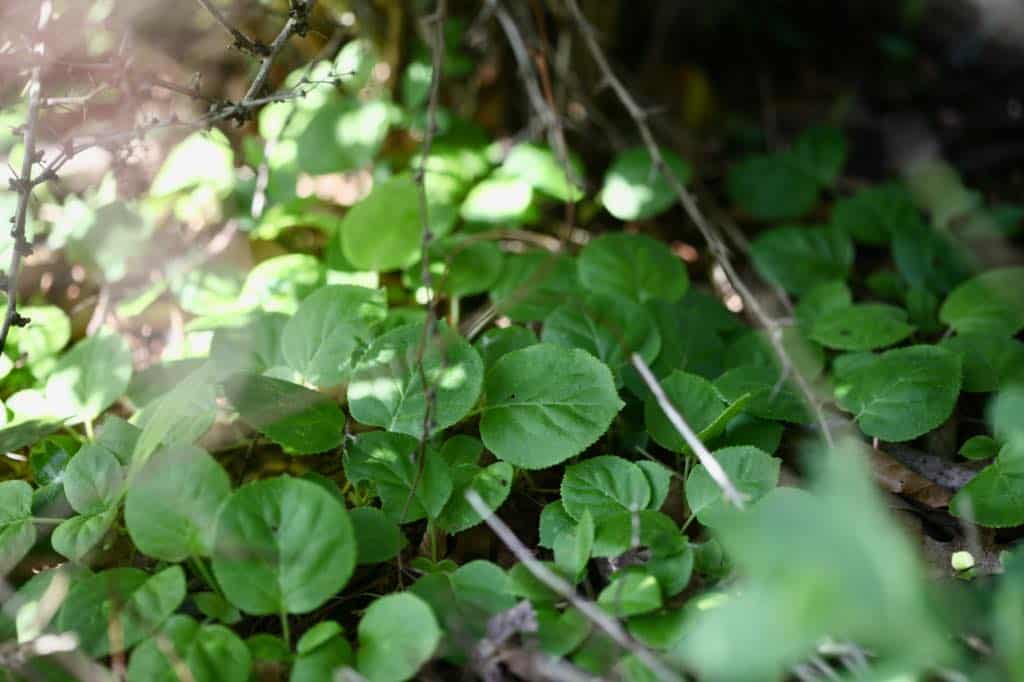 When planting your hydrangea plant, plant at the same soil level in which the hydrangea was growing in the pot.
It's a good idea to dig the hole wider than the size of the pot, and to fill the planting hole with fertile soil which is high in organic content.
Water the pot before planting, to moisten the soil.
Remove the plant from the pot, and place into the hole, firming the soil around the plant.
Water in well. Keep the soil moist while the plant is becoming established in it's new location.
Cover with a mulch to help to maintain the moisture in the soil over time, and to prevent it from drying out.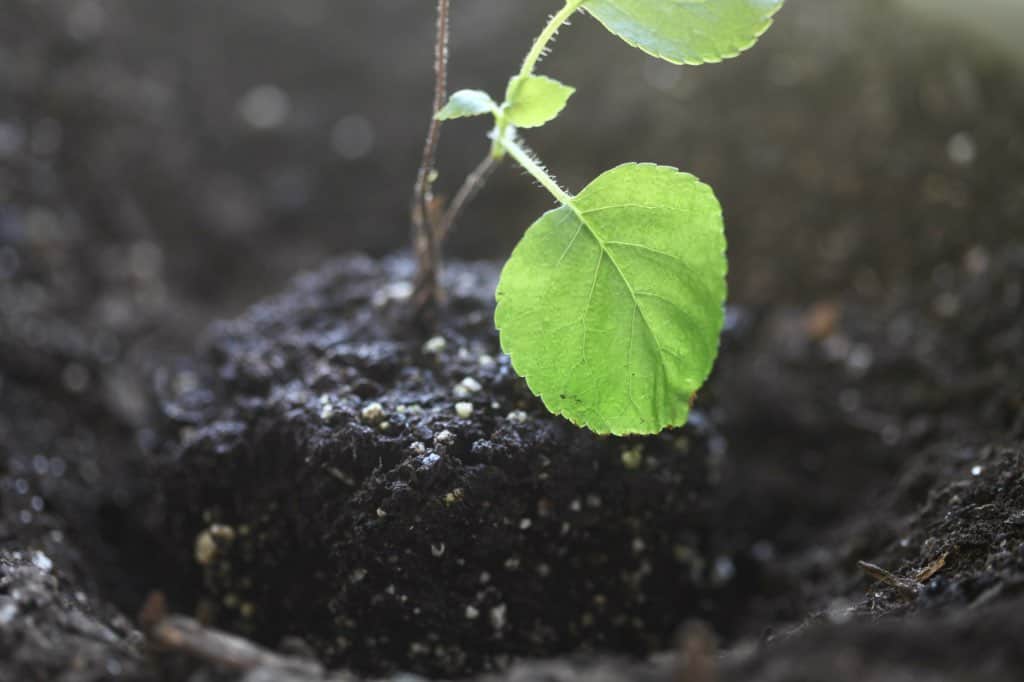 Climbing Hydrangea Care
Hydrangea anomala petiolaris is a low maintenance vine which is easy to grow. Let's have a look at some considerations for care.
Growing Zone
Some evergreen species are tender, and are best grown in warmer climates, and in a warmer growing zone.
Light Requirements
For best results plant climbing hydrangea in a dappled or partial shade location. These plants are great for a north or east facing area.
The plants also grow in full shade, however in a deep shade location there will be less flowering, and the blooms may not last as long.
In these shaded locations the bright creamy flowers will add a bright light to the space where they are growing.
Climbing hydrangea plants can also tolerate periods in full sun, if they receive lots of moisture, and the soil moisture is maintained. Aim for a spot with some afternoon shade if planted in a sunny location.
Moisture Requirements
Climbing hydrangea does best with a medium moist soil.
Make sure to water during periods of drought.
Mulching will help to maintain the moisture in the soil, and help to prevent the soil from drying out, especially if the plant is located in a sunny spot.
Soil Requirements
Climbing hydrangea likes a fertile and rich soil, which is high in organic matter.
It is also important to have well-drained soil.
Providing Support
Climbing hydrangea is a climbing vine which will benefit from a supporting structure on which to trail and grow.
Ensure that the structure is secure and offers a strong support for the weight of the vines, which can become heavy over time.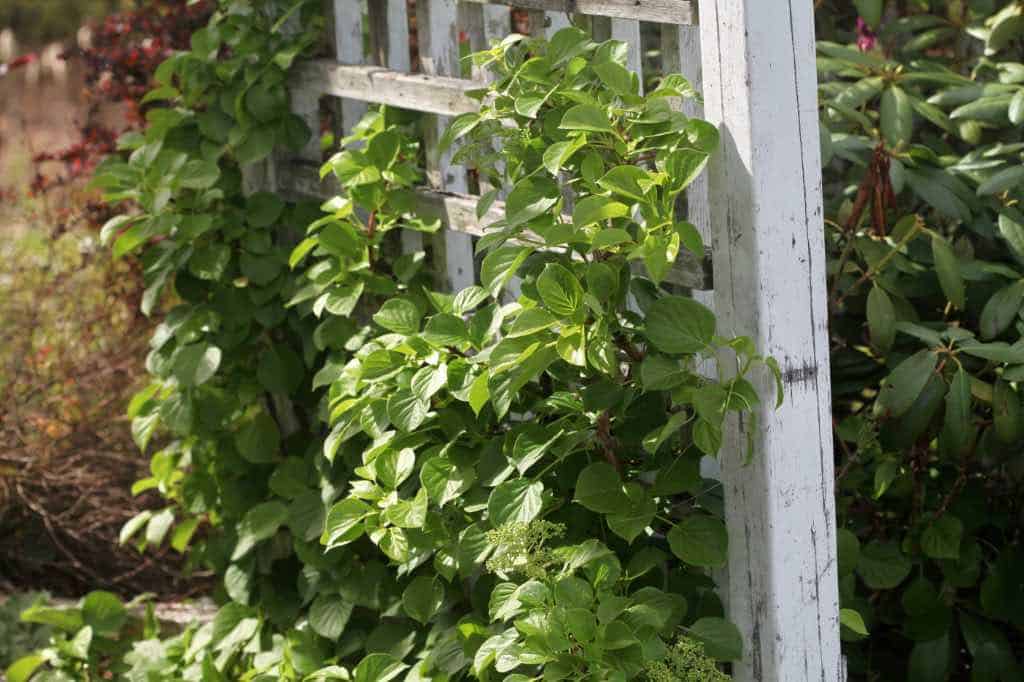 Pruning
Climbing hydrangea is easy to prune, although the plant generally requires very little pruning.
If pruning the plant, remember that the flowering occurs on last year's growth, so be sure to leave some growth for future flowering.
The best time to prune the plant is right after flowering, to ensure lots of time for this year's new growth and bud development during the growing season.
Climbing hydrangea will slowly grow and spread out in different directions over time.
In fact the plant may eventually end up in another location, different than the original planting if left to it's own accord.
You can cut back the plant if it has grown into unwanted spaces.
Just remove any unwanted stems. These stems can also be used to transplant pieces of the vine, especially if they have roots attached.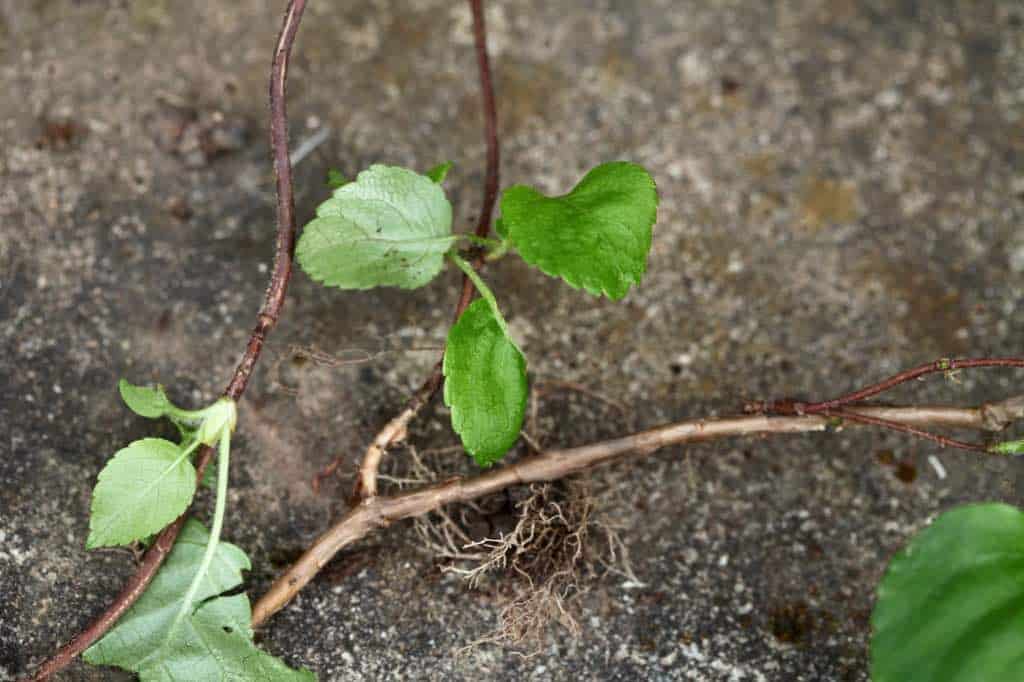 Pests and Diseases
Climbing hydrangea is relatively pest resistant, and a hardy plant to grow. However the plant can still develop pest problems, which may require treatment.
The plant can attract aphids and spider mites, which suck the sap from tender new growth. These pests are easily treated with an organic control, such as insecticidal soaps, as well as biological management.
Scale insects can also feast on the plant, and can be treated with manual removal, as well as organic control.
Powdery mildew may occur in moist environments and in humid conditions. To help prevent this fungal disease, use good cultural practices by spacing plants for good air circulation, and watering at soil level to keep foliage dry.
Treat with organic or diy fungicide remedies, such as neem oil or a diy milk spray.
Fertilizing
Regular feeding with a fertilizer is generally not necessary, as long as the plant is growing in fertile rich soil.
A top dressing of organic compost and mulch at the base of the plant in early spring is beneficial and will help to feed the plant.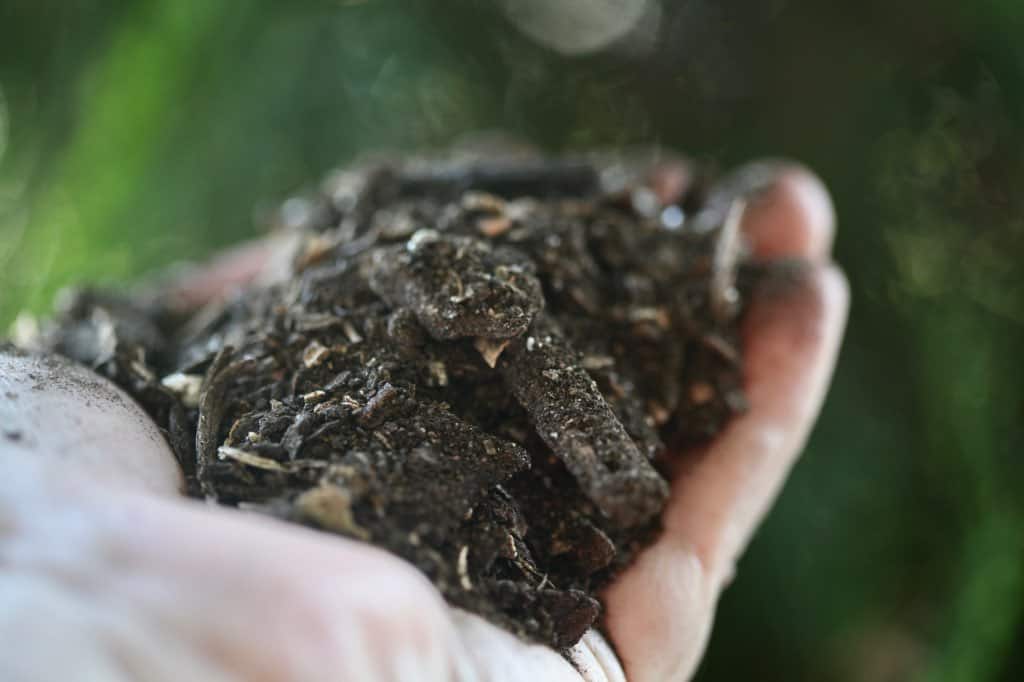 Frequently Asked Questions
How Do You Encourage Hydrangeas To Climb?
You can help to train a climbing hydrangea by guiding the growing tip of the vine and securing it in place with some loose twine.
If not trained in the space where you want it to grow, it may take a detour and grow towards another spot.
The good thing is that even if it gets off course, you can still attempt to reroute the vine with a gentle tug to detach the aerial routes with which it has secured itself.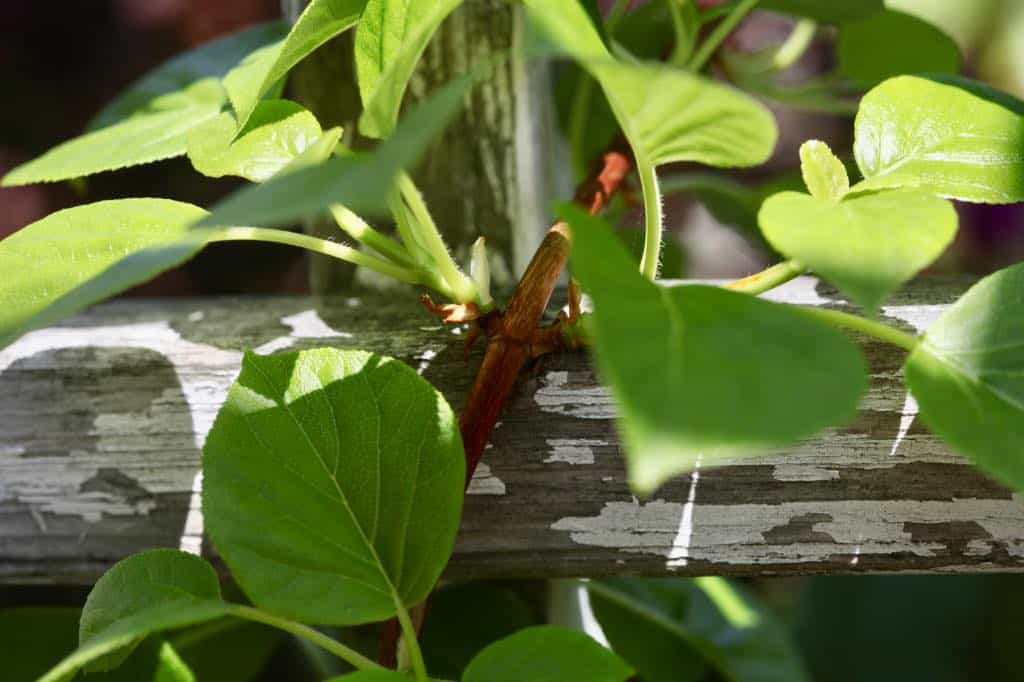 Why Is My Climbing Hydrangea Not Climbing?
If your climbing hydrangea is not climbing, it may still be in an early stage of growth. The young plants can be slow growers initially.
It can take a few years for the vine to establish and really start to take off.
At first, the plant sometimes does not appear to have much growth at all.
Allow the plant to settle in after planting, and give it time to get established in it's new planting location. Initially the roots will grow and take hold.
Then eventually the plant will begin to grow and climb, and once a mature plant, it will begin to produce blooms.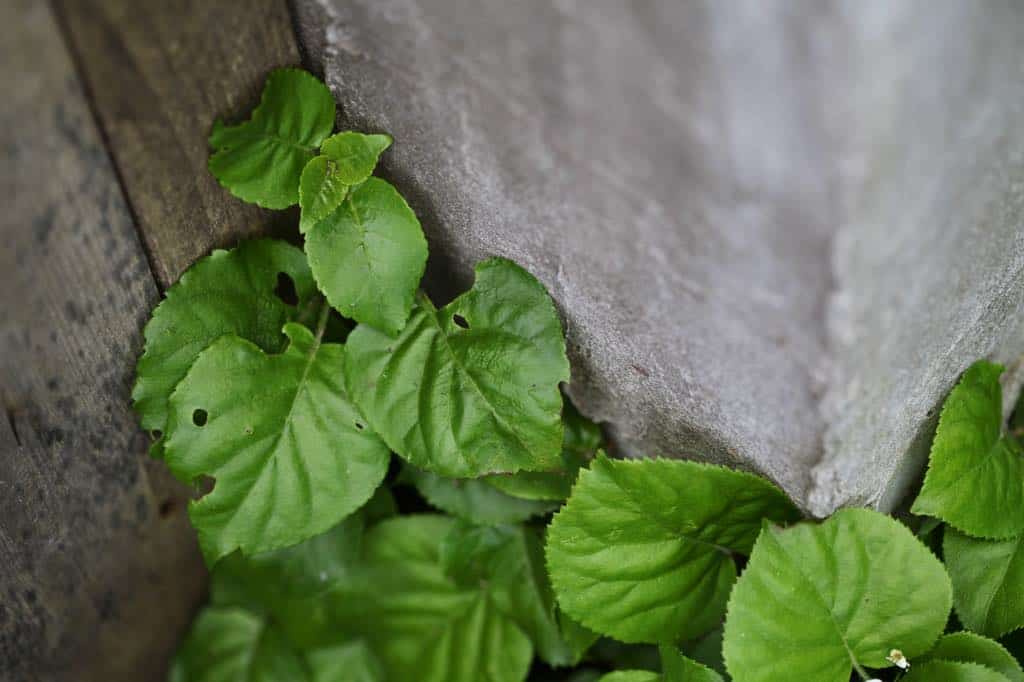 How Many Years Does It Take For Climbing Hydrangeas To Flower?
It can take 3 to 5 years, or even longer for a climbing hydrangea to flower.
Remember my master gardener neighbor? It took 7 years for her plant to bloom, and she gave it ideal conditions and top notch care.
My own transplanted cutting took even longer than that!
With a bit of patience, and with the right care, the blooming period will eventually arrive.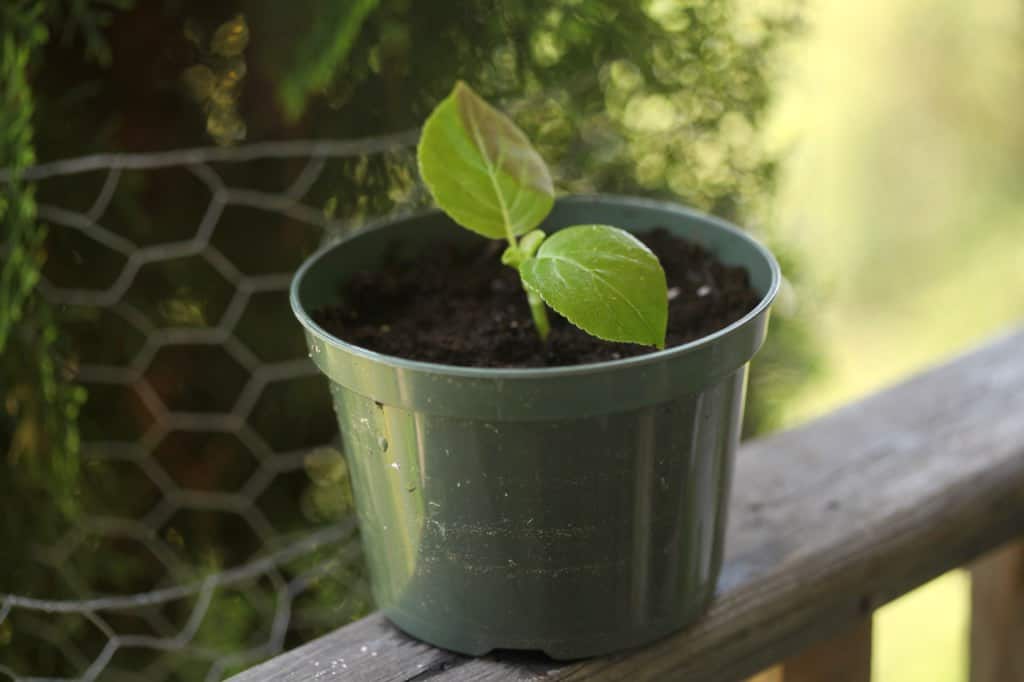 Conclusion
Climbing hydrangea is a beautiful flowering vine, which is easy to grow, even for the beginner gardener.
These low-maintenance plants add visual interest to the garden throughout the seasons, with their beautiful blooms, colorful seasonal foliage, and interesting exfoliating bark on the woody vine.
It takes some time for this plant to settle in and begin to grow, however once it is a mature vine it will grow prolifically.
Patience is key for this beautiful flowering vine, and it is well worth the wait.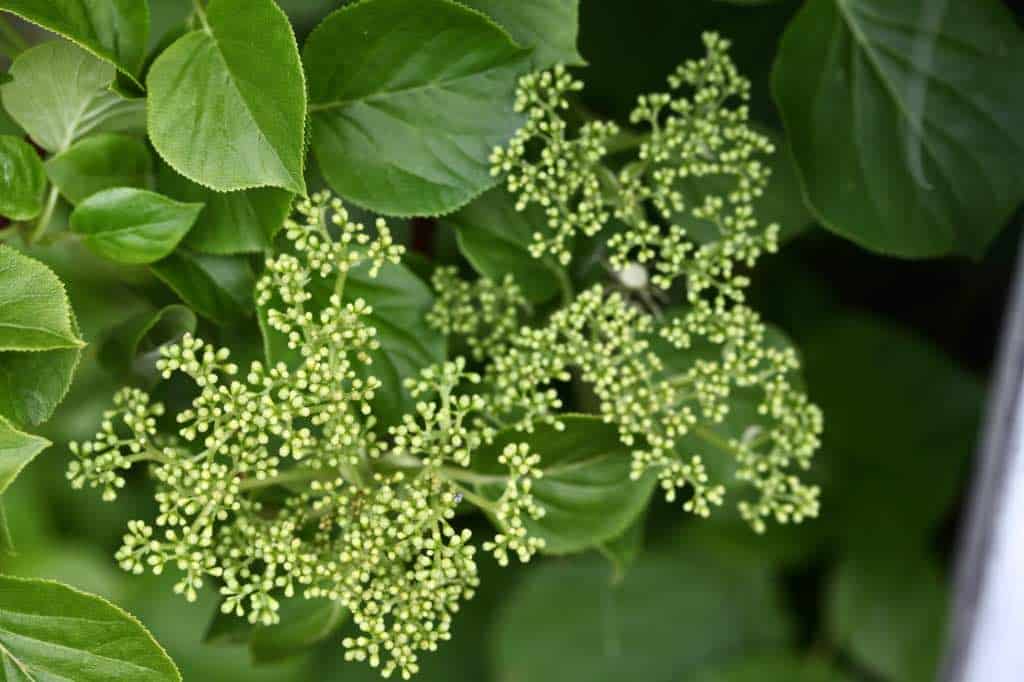 Other Posts You May Like:
PIN IT FOR LATER!